Our 2021 RAM Promaster Van Conversion
Questions or comments?
karen @ nwnative dot us
We take long road trips around the US, Canada, and Mexico. We happily traveled in a converted Chevy Express passenger van for 10 years, and when the time came to replace it, we knew exactly what features we wanted in a new van. [Update: we've now put 25,000 miles on the van and we still absolutely love it.]
Here is a two-minute video tour.
---
Our Spec
Things we did not want:
Shower (if we donít have access to one, we can make do just fine with sponge baths)
Toilet (most places we stay have a bathroom or outhouse; we just purchased a small Thetford porta potti)
Kitchen (weíre fair-weather campers, and we prefer to cook outside, but we can also use the bed as a counter top to do simple cooking inside)
Fridge (requires propane or electricity, and we didnít want to deal with the complexity; we donít mind using a cooler, and ice is available almost everywhere)
Things we did want:
To be able to stand up
A permanent ďnorth-southĒ (fore-and-aft) bed: no making the bed every night, and no climbing over each other to get in or out
Horizontal surface for cooking or eating inside in occasional bad weather or if there are lots of bugs
Swivel seats that double as dining or lounging chairs when facing backward
Basic electrical system with house batteries but no solar (we can always add that later).
At this point we didnít need a detailed design, we just wanted to be sure the van we chose would be the best height and length for our layout.


Our basic design



---
Why We Chose a Ram Promaster
Other van models were either not tall enough, or too tall. The Promaster is plenty tall enough for 6í1Ē Grant, even after factoring in a floor and ceiling.
Optional factory swivel seats
Flat floor between the seats makes it easy to walk between the cab and living compartment.
Boxy design maximizes interior space.
Price was more reasonable than some other vans.
We chose the following factory options:

The 2021 RV Prep Package included the following things we did want, plus a few things we didnít care about: 220-amp alternator, hitch, aux upfitter switches (allows alternator to charge house batteries), swivel seats, shelf above roof trim, fog lamps
We also got the following things that we have been happy with: Fwd Collision Warning, Power Folding/Heated Mirrors, Digital Rearview Mirror (we love this!) , Front Slush Mat, Rear Park Assist, 100 Amp Battery, Speed Control, Sliding Door Step.
Blind Spot and Cross Path Detection: When it works, it's great, but the feature keeps disabling. We're working with RAM to fix it, but we don't hold out much hope.

We opted for the 136-inch wheelbase. Anything longer could be hard to navigate in Mexican towns, where we spend a few months each winter.
We opted for a 2500 because it has a heavier duty suspension.


Picking up our new Promaster from the dealer in Idaho (we couldnít find a used one that met our spec)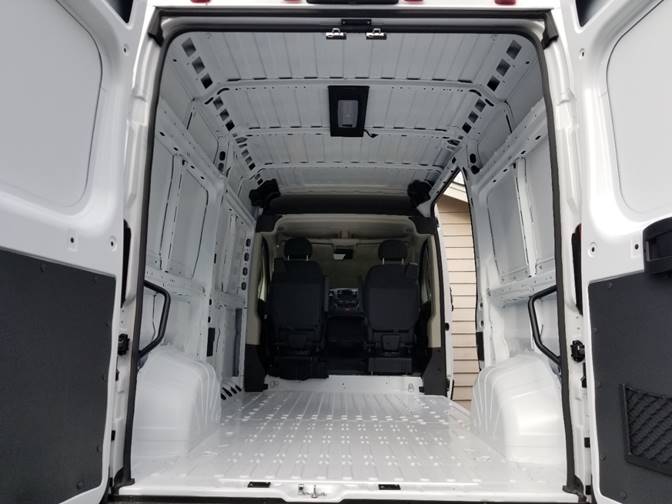 ďBeforeĒ (we removed the rear handles and ceiling light)



---
Electrical
Before we started insulating, we needed to decide where we would install the shore power port. That meant we needed an electrical plan before we did anything else. We decided to put the electrical panel up front for easier access, to increase storage space under the bed, and to reduce weight in the back of the vehicle.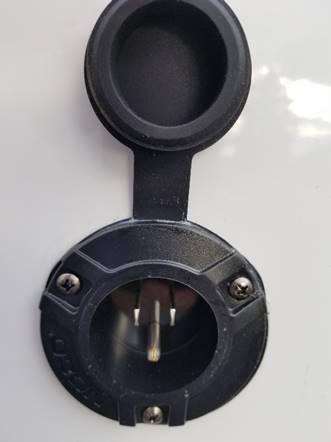 Installing the shore power port using a conduit punch


Our electrical needs are minimal. We made a list of everything we wanted to power or charge with an inverter (when we donít have shore power) and added up the total wattage (watts = amps x volts, or look up the wattage online). We bought a Renogy 700 watt pure sine wave inverter; we donít need that much wattage, but that was the smallest one they sold.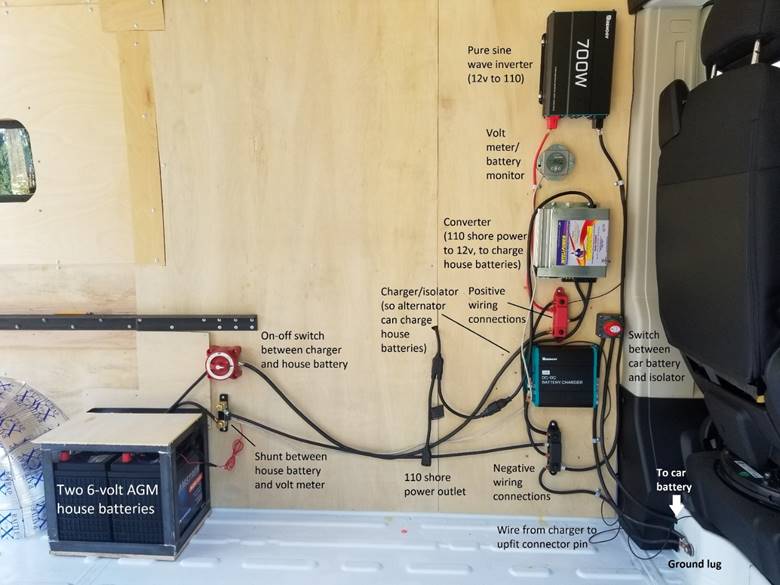 Electrical components. A shelf will sit in the open space.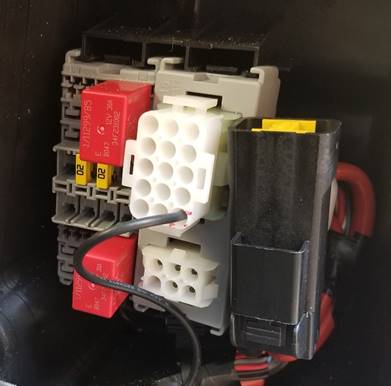 The upfit connector option (only available from the factory), allows us to charge our house batteries from the alternator when the van is running. The connector is located in pillar B, next to the passenger seat. You have to order the white connector plug and pin after market.





Power strip can be connected to either the inverter or shore power. We plan to install an AB switch.



---
Ventilation
We chose a Maxxfan because it gets great reviews and the cover design allows you to leave it open even when itís raining. We went with the 4-speed model (non-reversable and no remote). We paid about $500 to have the fan installed. After watching detailed videos on how to do it, we decided we were too old to be climbing up on the van roof with heavy tools. Also, the installer guarantees it wonít leak.


We installed the fan behind the cab, so it can pull air from the rear windows and create a breeze over the bed. We can also use it as a cooking vent fan.





Cutting the fan trim ring to the correct depth using an oscillating multi-tool





Installed trim ring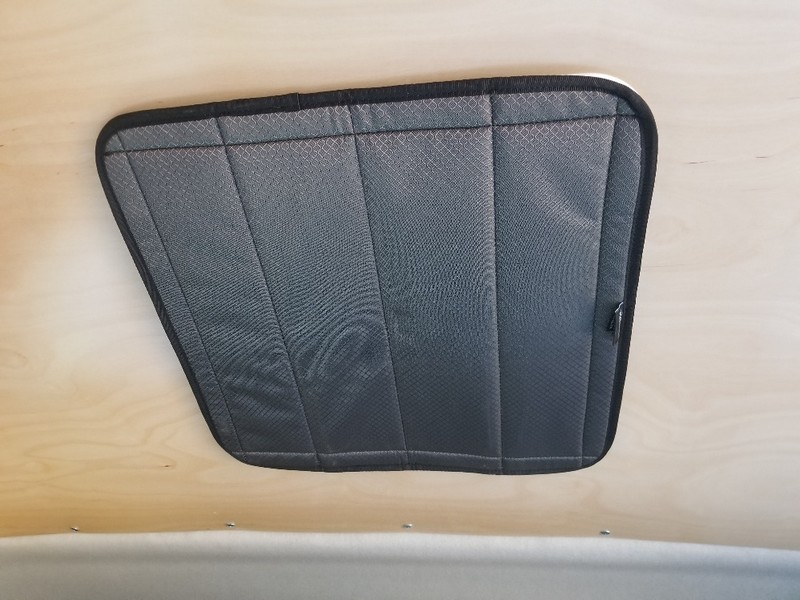 We noticed quite a bit of road noise, so we purchased this insulated fan cover for $40. Itís well made and really cuts the noise. It easily removes and folds for storage.



---
Windows
Factory windows donít open, and canít be replaced with aftermarket windows. If you want RV windows, buy a cargo van with no windows and purchase RV windows. We chose MotionWindows.com in Vancouver, WA, and weíre glad we did. They were professional, skilled, and very nice to work with. Their windows are well made and have built-in screens. They charge $200 per window if you want them to install. (We werenít comfortable cutting big holes in our new van...)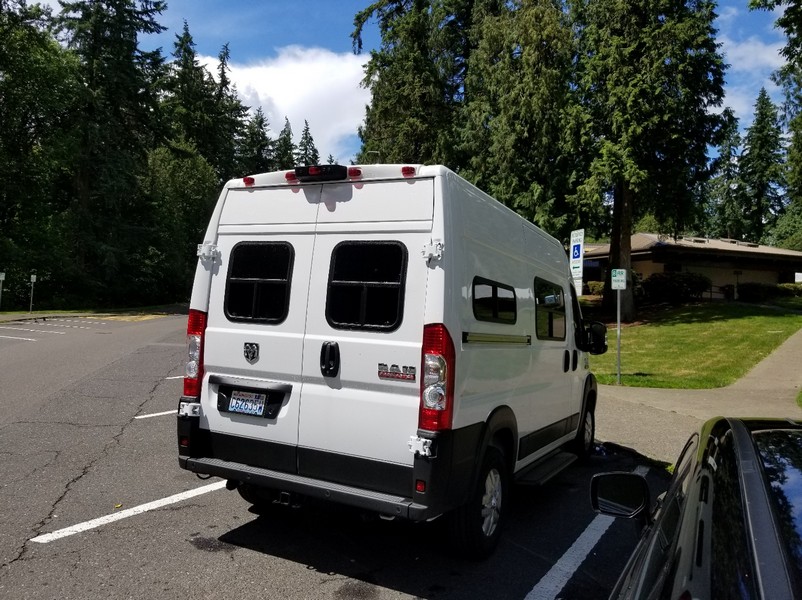 Slider windows with screens from MotionWindows.com



---
Sound Deadening
We applied Fatmat Rattletrap to the wheel wells and walls. It reduces road noise by dampening vibrations on the big expanses of sheet metal. They say you only need about 25% coverage, but since we had extra, we used more. A 50-square-foot roll was plenty for the whole van. We did not apply it to the floor or ceiling, because those are ribbed and have minimal vibration. Itís easy to cut and install.


Installing Fatmat sound deadener



---
Insulation
There is a ton of information online about the pros and cons of van insulation, and the various types. (We found this site especially helpful.)


We insulated to decrease noise, and to minimize temperature extremes (the van will take longer to warm up in hot weather, and will retain heat better in cold weather). We chose Polyisocyanurate (aka Polyiso) foam panels because it is affordable, easy to cut and install, and has a good R-value. It also doesnít absorb moisture. We used 1Ē on the walls and ceiling.


We made templates from cardboard, allowing a one-inch gap around the edges for spray foam.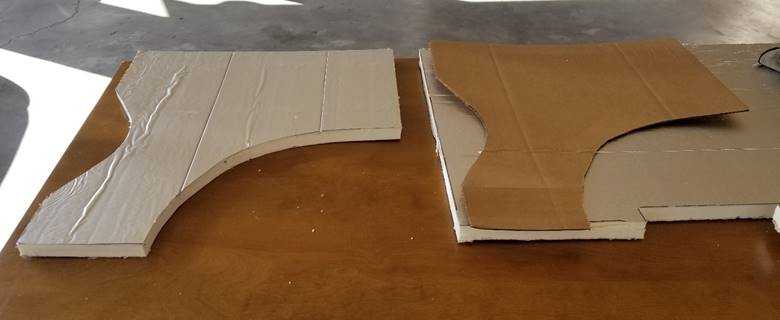 Polyiso insulating foam is easy to score and snap (for straight lines). We cut curves with a knife.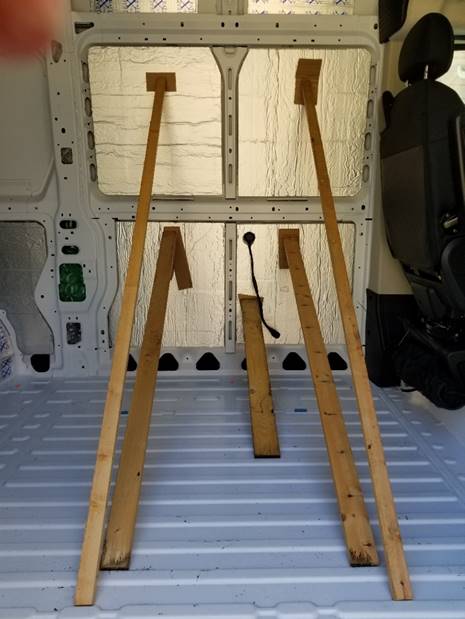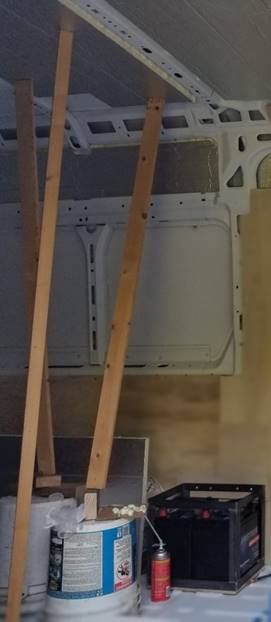 Polyiso is light, and easy to prop up with pieces of wood.





We used Great Stuff Gaps and Cracks spray foam to seal around the edges. It serves as glue, and prevents moisture from getting between the insulation and the van wall. Itís easy to carve away any excess with a utility or pocket knife.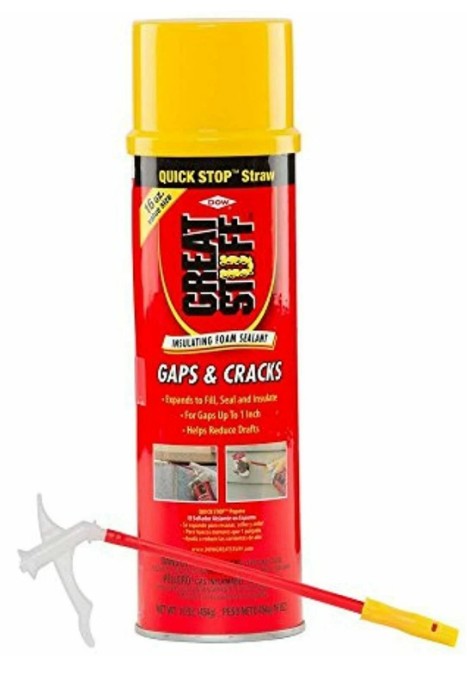 We used 3 cans of spray foam. We recommend the kind with the reusable applicator.



Tips for using Great Stuff Gaps and Cracks
Itís easy to use and pretty controllable. We recommend wearing old clothes and disposable gloves so you donít get it on your hands, as itís super sticky and hard to remove (and impossible to get out of fabric). A small piece of cardboard is handy for catching drips at the end of each run. To store the can for future use, we closed the applicator tip, left a lump of foam on it to dry and help seal the tip, then broke the foam off before the next use. An open can is supposed to keep for up to 4 weeks, but we wouldnít count on it being reusable for more than a couple of days.
What about those small spaces?
We started to stuff bubble wrap into the small spaces, before realizing that it doesnít hold up long-term. We did stuff a few pieces of pliable foam packing sheets into some of the rib spaces, but since we donít travel in cold places, we werenít too worried about making sure every space was fully insulated.
---
Paneling
We used 1/2-inch prefinished birch veneer plywood on the lower walls and 1/4-inch for the upper walls and ceiling.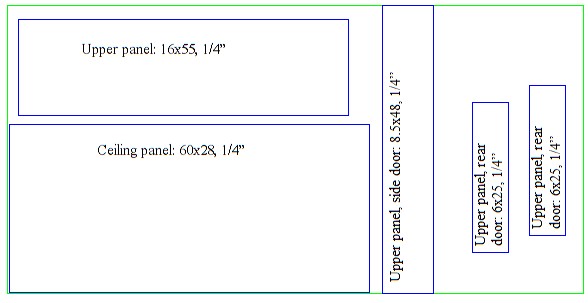 A plywood plan helps minimize wasteage



Before installing any plywood panels, we recommend taking tons of photos and measurements, so you will know what is behind the plywood after itís installed.
Every panel was a custom shape and size. We measured, measured, and measured again, and made cardboard templates.
We used wood furring strips and shims as needed to compensate for the fact that the van is not completely square. Plywood does bend a little.
Tools and Fasteners
We used self-tapping sheet metal screws and exterior grade wood screws in various lengths, and an impact driver.
We bought new blades for our saws, to ensure the cleanest possible cuts.
We donít have a table saw, so we used a Skilsaw with a plywood blade for straight cuts. It worked great (remember to place the good side down, and use a cutting guide; masking tape on the cut line makes a cleaner cut).
You can never have too many clamps.
For curved cuts we used a jigsaw with a ďclean woodĒ blade.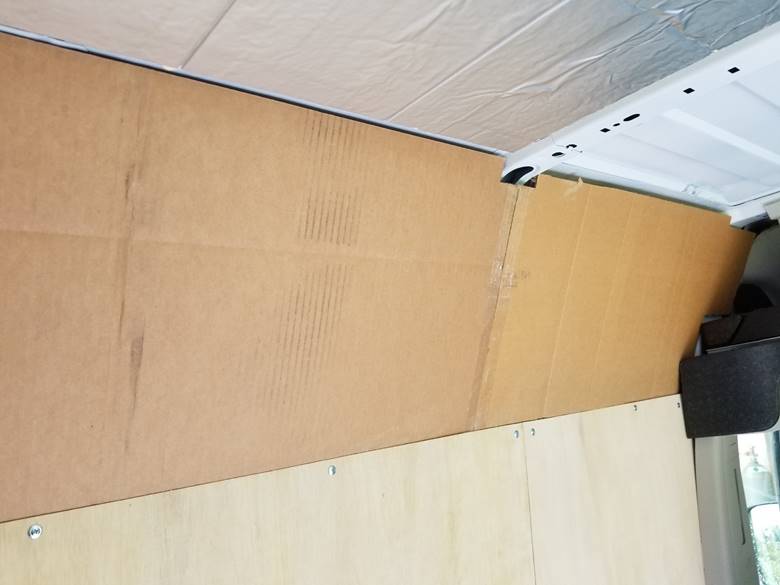 Cardboard template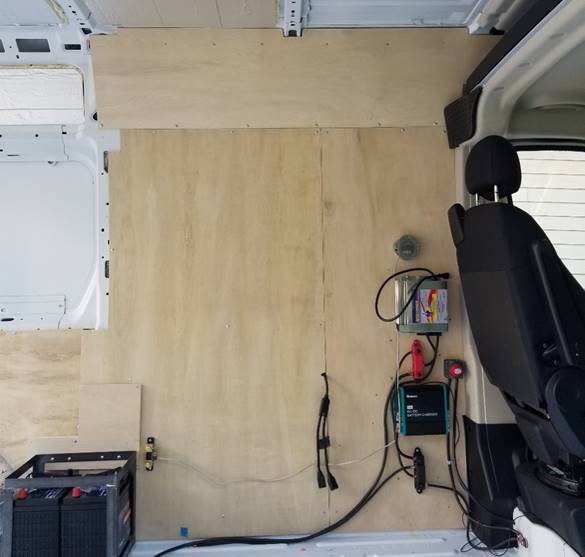 Installed plywood panels





Shims cut from moulding we had lying around; testing the angle to make sure the paneling will lie flat





Cobbled together supports hold up the ceiling panels for screwing in





We used small pieces of 1/4Ē plywood to cover up most of the holes; it was tricky due to the odd shapes and bumps



---
Window Frames
There is a 3-inch gap between the van wall and the back of the plywood around the side windows. You canít screw into the van wall. Thanks to Urban Explorer for this great window frame solution.
We cut curves out of 2x4s and screwed them together with 2x2s to create a frame that fit snugly around the window:


Window frame



We carefully measured four places to screw to the frame corners, placed the plywood over the frame (the frame and window were now hidden, thus the measurements), and screwed the plywood to the frame with wood screws (pre-drill the holes in the plywood).
Then we removed the plywood (with the frame now attached) and traced around the inside of the frame to mark the hole to cut.


Frame attached to back of plywood



We unscrewed the frame from the plywood, cut the hole with a jigsaw, reattached the frame, and screwed the plywood to the van ribs and window frame.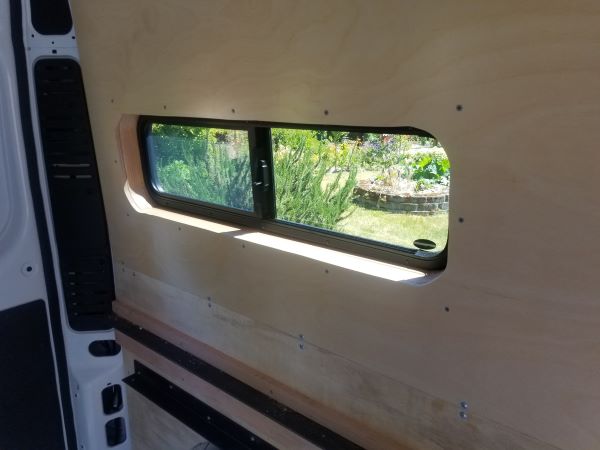 Finished window frame



---
Bed
We wanted a permanent north-south (fore-and-aft) bed so we donít have to make up the bed each night, and one of us doesnít have to climb over the other to get in or out.
We screwed a 3/4-inch-thick oak furring strip to the 1/2-inch paneling with wood screws, then used structural screws to attach 2x2x3/16 angle (because itís what we had on hand).


The long top rail holds the bed, and the shorter rail underneath is for a shelf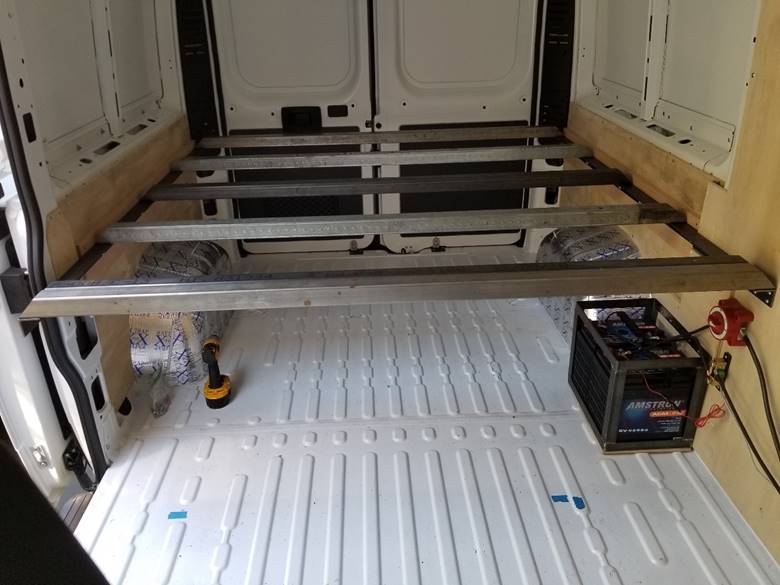 For the crosspieces (slats) we used 2x2 square steel tube (we wanted to use 1x1.5 to save weight, but it would have cost $300, and we already had the 2x2 stock). We did not want any supports under the bed itself, so the slats had to be strong. Note that the ends are cut at an angle for access to the bolt. We used two slats on the front edge for extra strength if two people are sitting on the end of the bed. We coated the metal with Flood Penetrol to minimize rusting.





Short bolts hold the slats to the rails, and one long bolt through each piece of plywood prevents the plywood from sliding around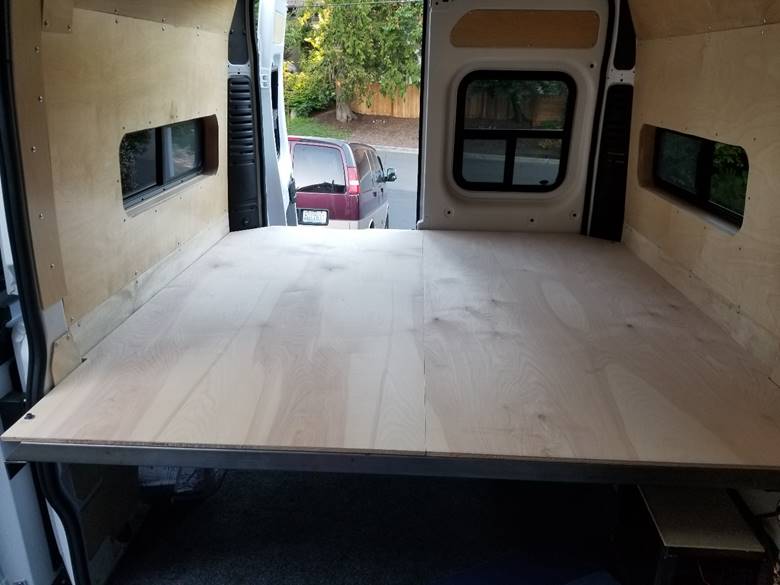 Two pieces of 1/2Ē plywood cover the slats; each piece is bolted to a slat in one place so it canít slide fore or aft





Queen size bed with storage space on each side





Storage bins on each side of the bed



---
Under-bed Storage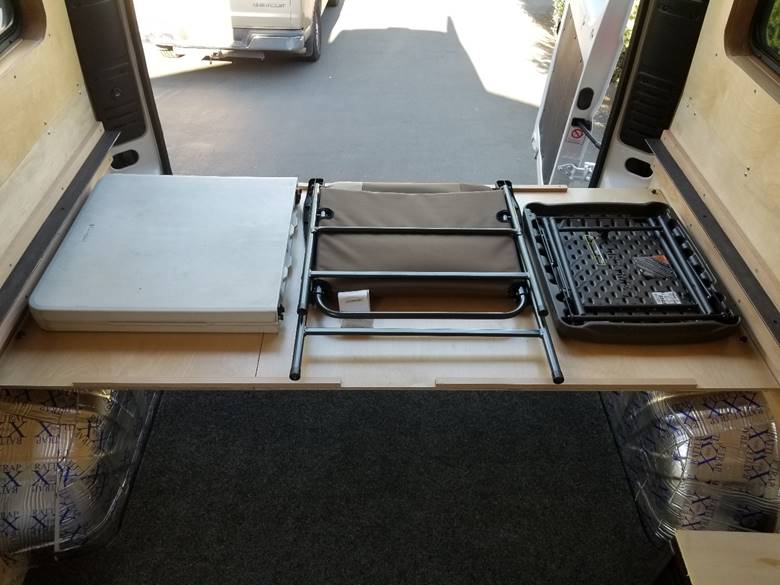 Under-bed shelf for storing bulky flat things





There is plenty of space under the shelf for tools, water, EZ-Up canopy, chair, propane fire pit, propane, etc.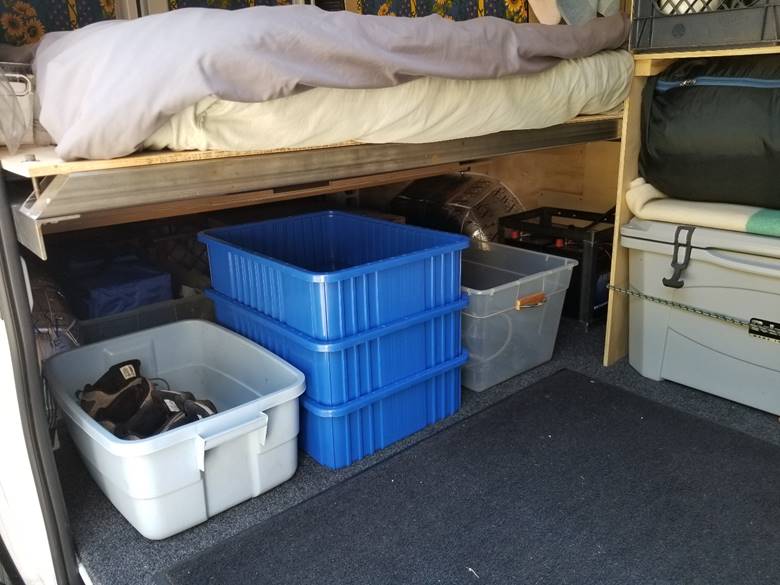 Clothes and shoes are accessible from inside the van. The heavy-duty nesting blue bins come with dividers.



---
Storage Shelves


Storage shelf made from 1/2Ē plywood, screwed to the wall in four places with L brackets. Bungee cords keep items in place while driving.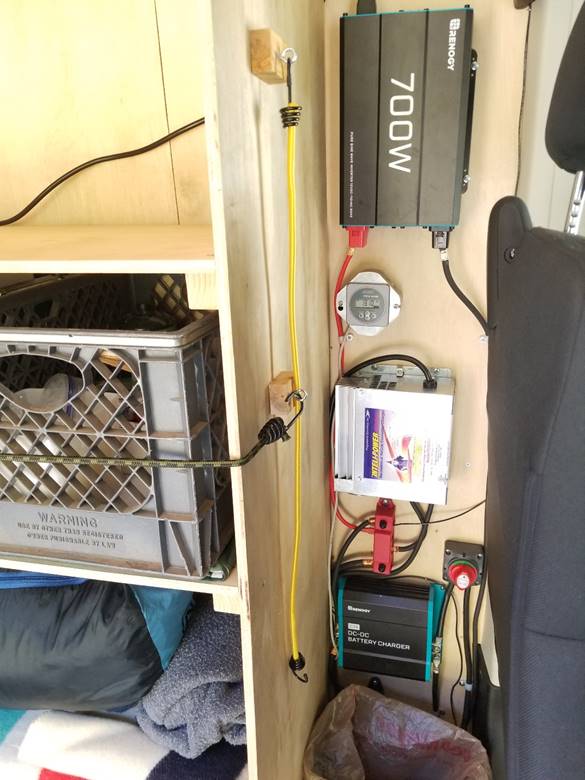 Bungee cords clip to eye hooks, and hang out of the way when not needed





Some people call the cubby above the cab "the pizza oven." We use it for trekking poles, hats, and daypacks. (It's part of the RV Prep package.)



---
Refrigeration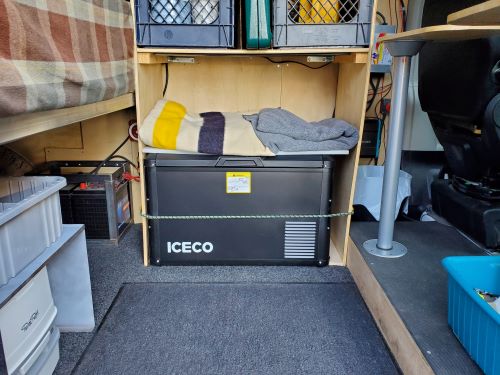 Thanks to advice from Gnomad Home, we chose an IceCo VL60ProS Single Zone Portable Fridge Freezer. It has a low battery power setting that will turn the fridge off if the house batteries get below a specified level. We can use ice if needed.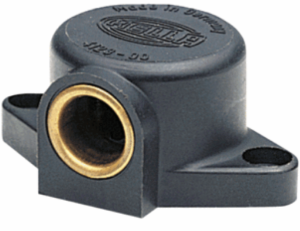 To plug in the fridge, we wired a 12V socket to the 12V bus. We chose a "merit" (hella) socket, which has more rugged construction and higher current carrying capability than a standard cigarette lighter socket.



---
Floor
After doing a lot of research into floor options, we went with this cargo mat and we are very happy with it. Our second choice would have been a wood framework with XPS foam squares in the openings, 1/2Ē plywood on top of that, then vinyl. (Note that it isnít necessary to glue or screw down the wood or XPS.) Thereís lots of good info online about the pros and cons of different types of flooring.


Cargo mat from bedrug.com fits perfectly and is squishy, tough, waterproof, and easy to clean



---
Footrest and Tables
The cab floor is taller than the van floor. When the seats were swiveled, our legs dangled, so we built a footrest. This also provides a place to screw in table leg receivers, and makes it easier to access the above-cab storage cubby.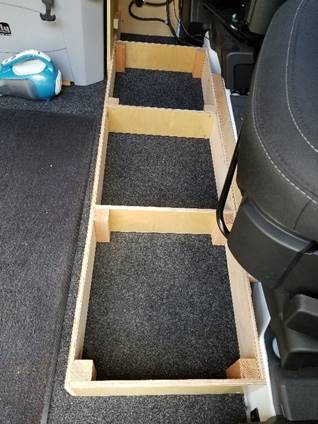 Swiveling table tops are 1/2" plywood. Tops and legs are removable. Purchase the leg hardware here.





A large cutting board stored on top of the cooler becomes a stable counter for food prep, cooking, and dish washing. We crack a window or the fan vent for CO safety. We donít use this setup for cooking anything that spatters!



---
Window Treatments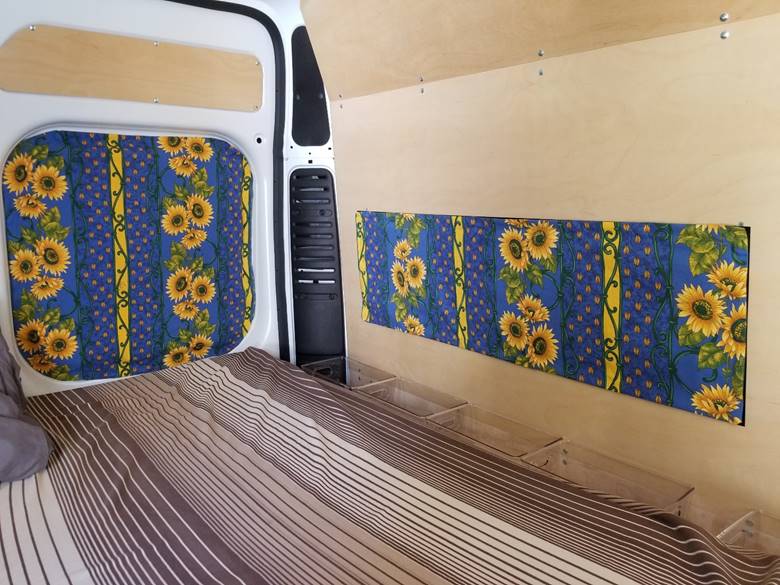 We sewed magnets into the curtains. The two back windows and door window are surrounded by metal; for the two windows surrounded by plywood, we screwed on metal strapping.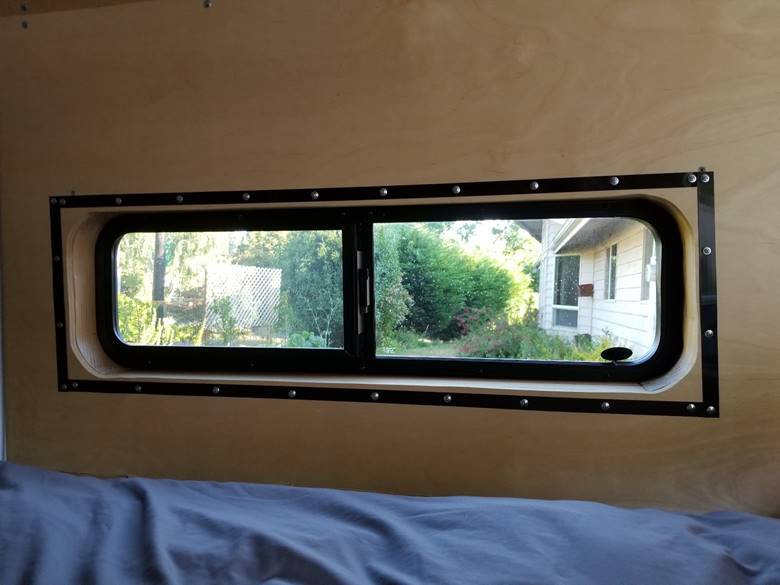 Metal pallet strapping was scrounged from a dumpster, cleaned, and touchup painted





The curtains fold back if you want them partially open. Theyíre easy to remove and install.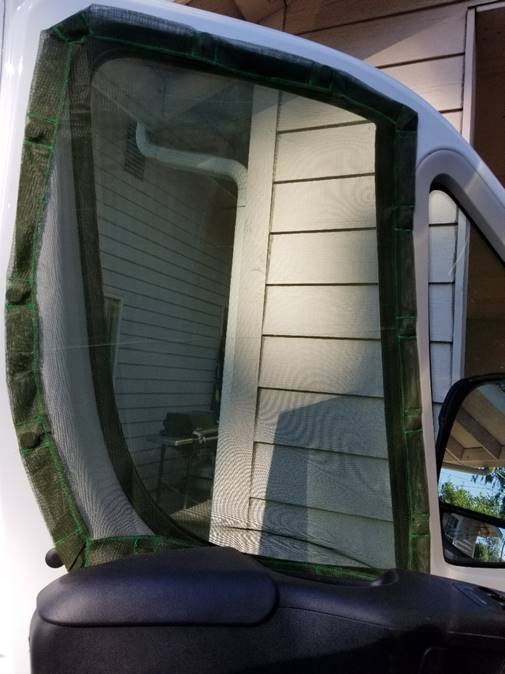 We made mosquito nets that magnet to the inside of the front windows and double as shade cloth on hot days





Custom mosquito doors for vans cost over $300. We bought this one for $29 and slightly modified it (added strong magnets, shortened the bottom, and sewed a small pleat to make it a bit narrower).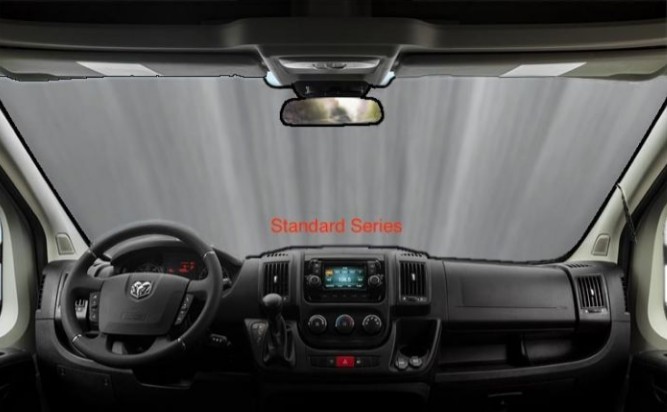 This rollup sunshade fits like a glove and is easy to install



---
Finishing Touches: Towel Racks, Lighting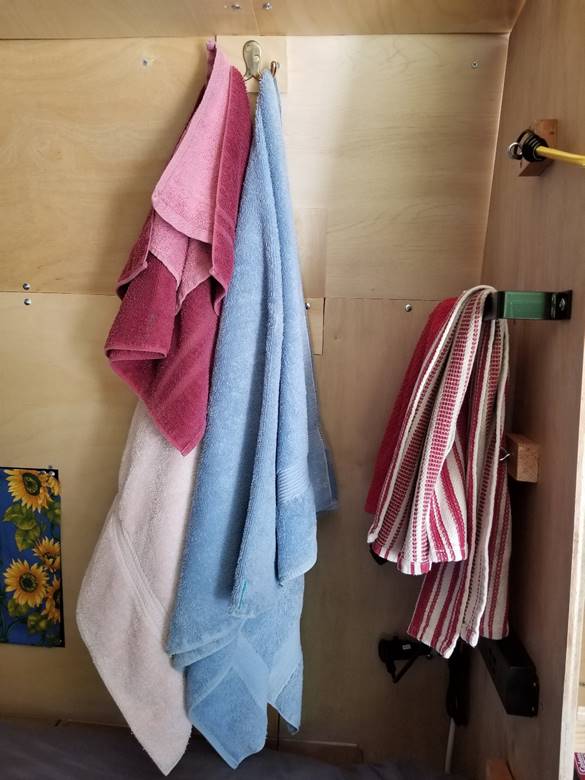 Towel hooks, and a towel rack made from flat bar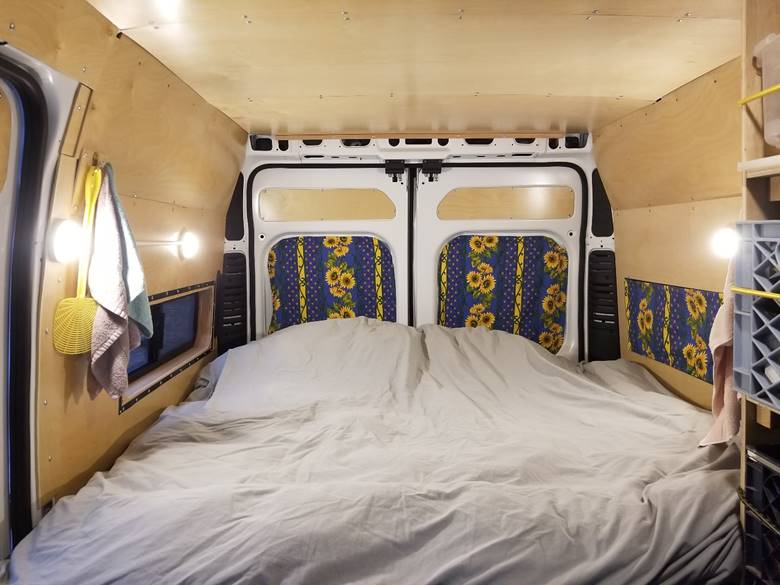 We installed four push-button 12-volt puck lights: one overhead, one we can reach from the door opening, and one on each side of the bed. We highly recommend using 3M butt connectors and these "T" connectors. Neither requires any wire stripping.



---
Things we Learned
Save all cardboard and wood scraps -- we used them!
Measure, measure, measure! Nothing is square or symmetrical.
Before cutting any paneling, buy new saw blades and several rolls of masking tape.
---
Costs
The build took four months at an average of 2-3 person hours per day.
Five windows, installed $2,872
Fatmat, 50 sq ft $121
Electrical components $1,352
MAXXAir fan + installation $775
Cargo mat $238
Three 1-inch Polyiso panels + spray foam $104
Eight sheets 1/2" plywood $479
Six sheets 1/4" plywood $209
Fasteners and miscellaneous $219
Other lumber (trim and furring strips) $155
Table legs $129
Mosquito net curtain $32
Lighting $80
Total cost of build $6,765
The costs above do not include:
tools (because every project deserves a new tool or two, right?)
steel rail and tube (we already had it)
window treatments (we already had the fabric and mesh; magnets were less than $20)
Accessories (windshield sunscreen, leveling blocks, storage bins, fan cover)