Puffins and Pools: A Journey through Iceland, Norway, Stockholm, Poland, Slovakia, and Hungary
Six weeks: August 15 to September 24, 2017
We have been blessed with friends all over the world.
This journey gave us a chance to reconnect with some of them and
visit six countries we'd never been to.
Use these links to jump directly to a particular destination:
Iceland Norway Stockholm Poland Slovakia Hungary


---
Iceland


We spent seven days in Iceland (the maximum allowed on an Iceland Air "free stopover"). The scenery is stunning, the people are friendly and worldly, and the pace of life is laid back. It seems like a great place to live. Yes, winters are dark, but Rejkyavik doesn't get brutally cold.





It's only a seven-hour flight from Seattle to Rejkyavik's small, easy airport.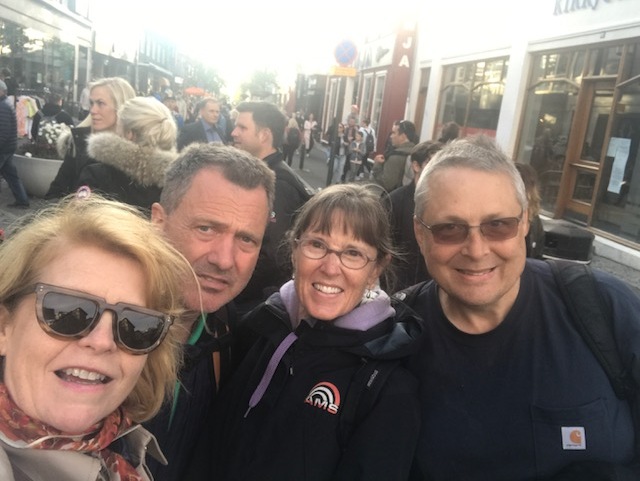 We met Hulda and Elfar in Morocco in 2013. She works for Iceland Air and has visited us in Seattle several times.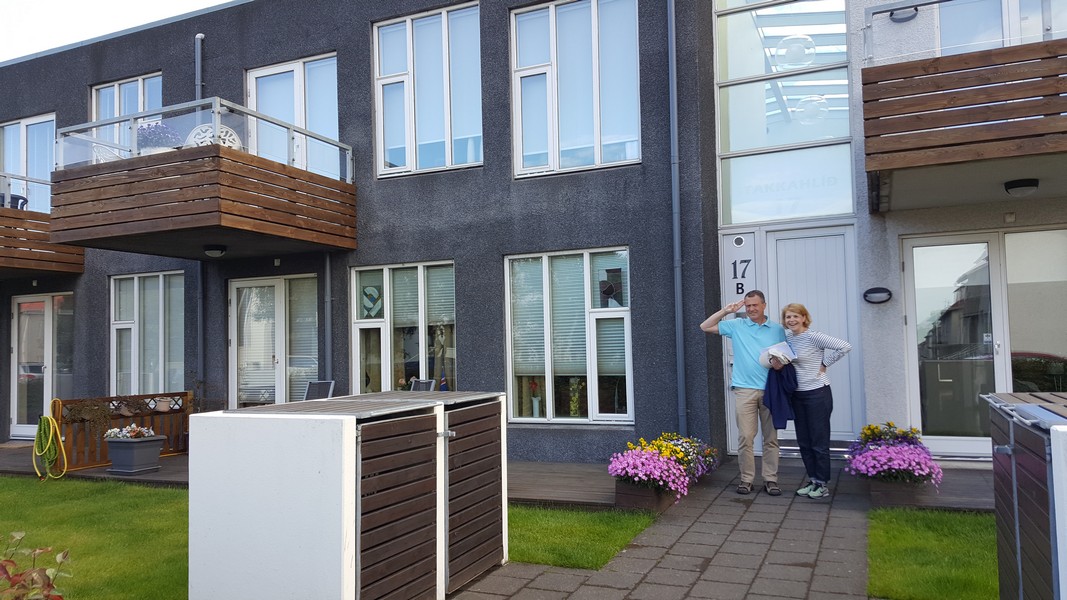 They own a condo in a charming neighborhood just a 20-minute walk from downtown Rejkyavik.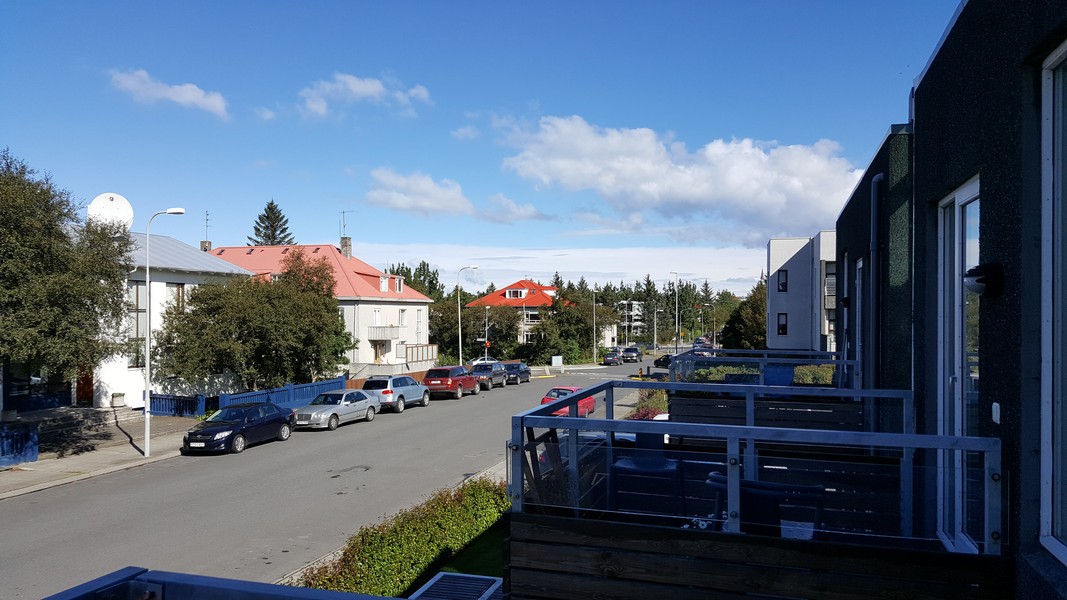 Their neighborhood.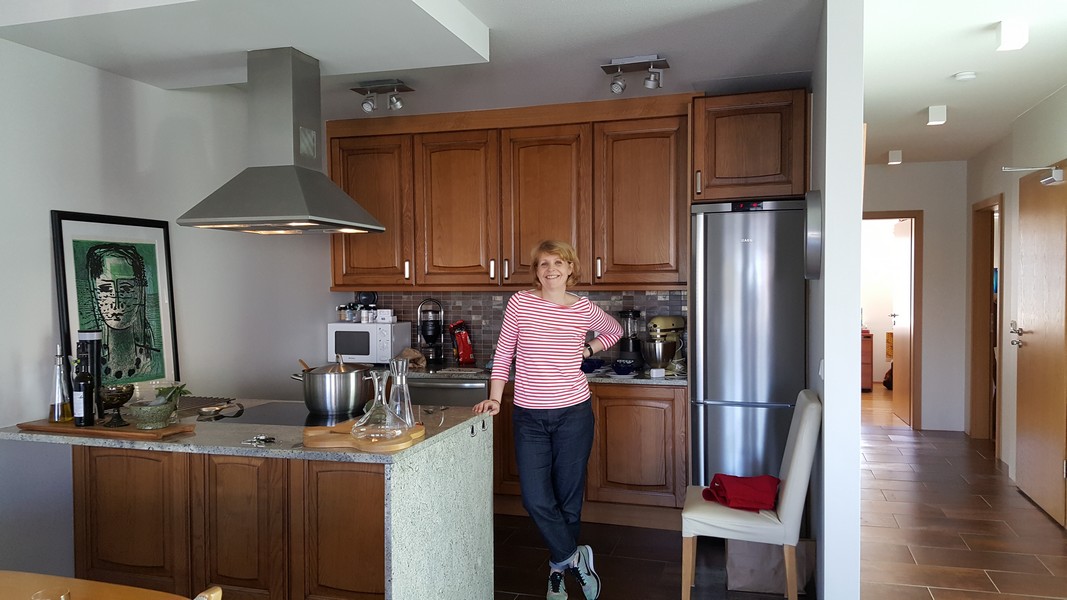 The kitchen of their bright, sunny condo.





Hulda took us for a tour of the Rejkyavik area. People were enjoying the sunshine on this man-made beach in a sheltered cove.





Happy locals relaxed in a pool of geothermally-heated water.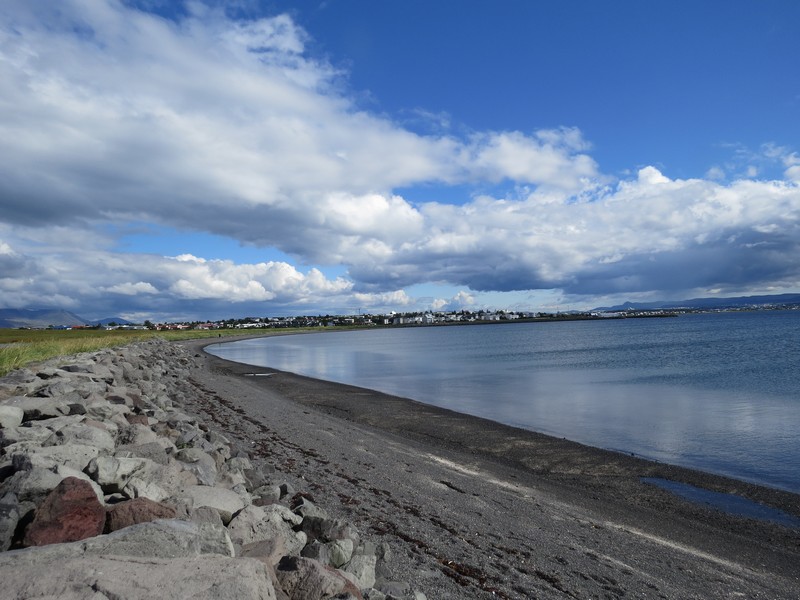 A black sand beach with Rejkyavik in the distance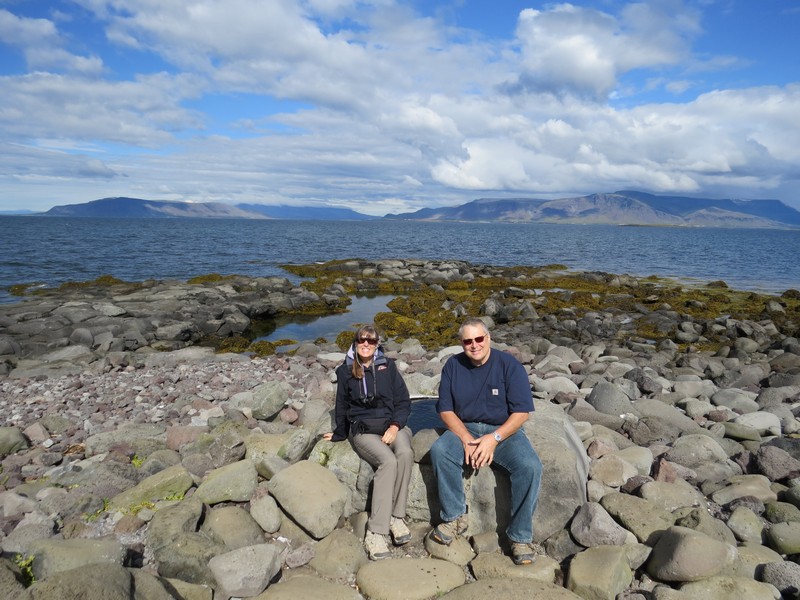 A rocky section of coast near Rejkyavik





Miles of bike lanes and walking paths line the coast.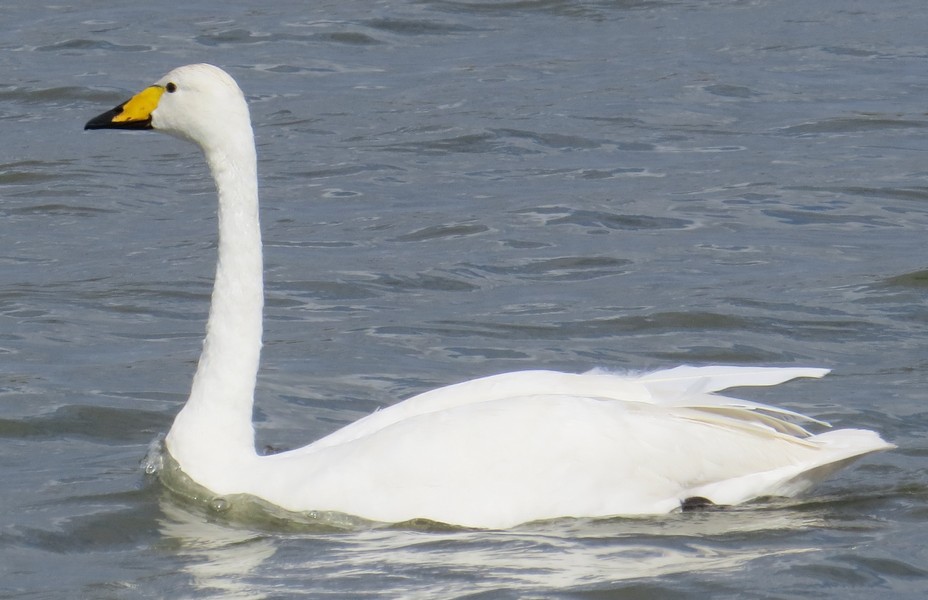 The beautiful whooper swan (pronounced "hooper"), is the Eurasian counterpart of the North American trumpeter swan.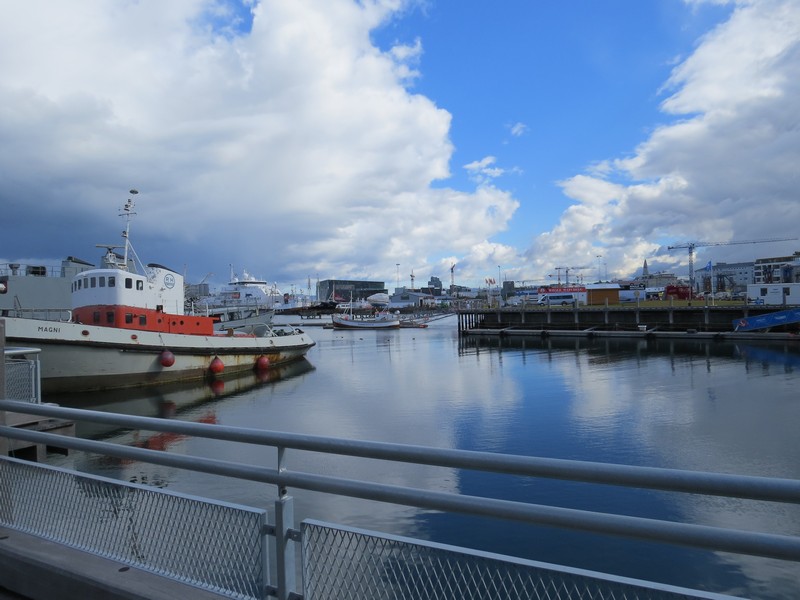 Rejkyavik's harbor is somewhat industrial but is rapidly converting to tourism.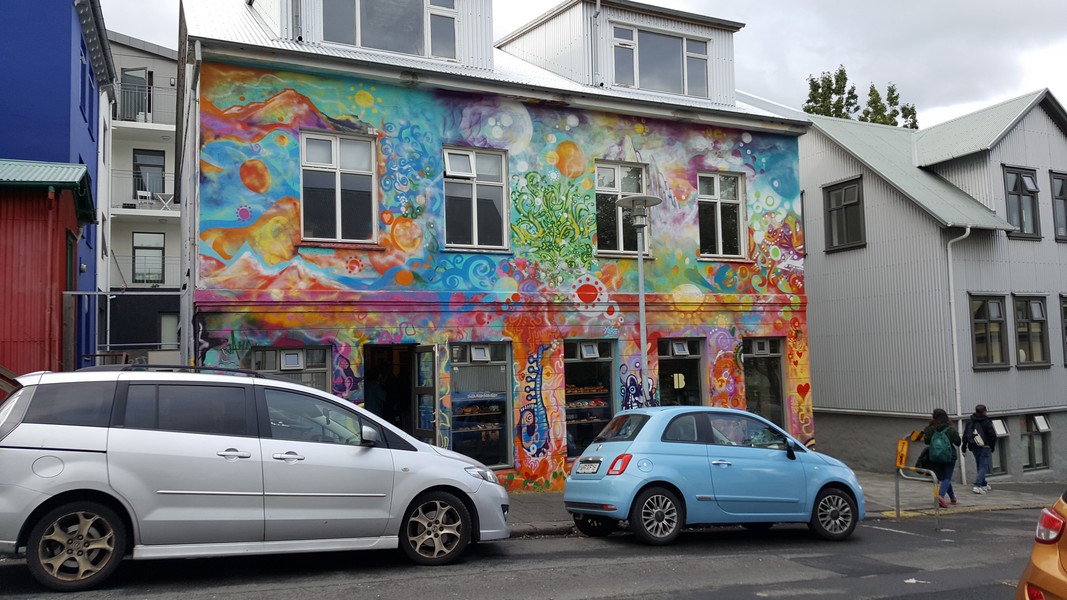 Rejkyavik has wonderful murals, reflecting the creative, talented Icelandic people. (Most Icelanders sing in a choir or play in a band at some point in their lives, and 10% publish a book.)





Bj÷rk is probably the most famous Icelandic musician. This is her home in Rejkyavik. Note that there is no gate or security fence; Icelanders leave her alone. (Not even the president's home has a security fence.)





This mural was inspired by a song called Pale Green Ghosts, by John Grant.





This mural was inspired by an Icelandic song called Ë­ur til Mˇ­ur, by Ylja.





The concert hall and conference center is called Harpa. The black glass facade was inspired by the basalt landscape.





Iceland has rebounded from its devastating 2008 financial crisis. Many of those responsible went to prison. This art piece is a plea for remorse.





Icelanders love hot dogs. This stand is famous because Bill Clinton ate here. The lamb/pork/beef dogs are served with ketchup, sweet mustard, remoulade (a mayo sauce), fried onion, and raw onion.





HallgrÝmskirkja, a Lutheran church built in 1940 and inspired by the rocks, mountains, and glaciers of Iceland's landscape.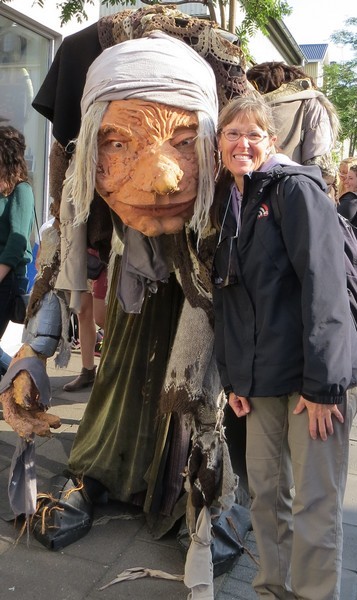 Grřla is a mythical giantess living in the mountains of Iceland. At Christmastime she hunts for bad children and eats them!





Fishing supports over 25% of the Icelandic economy. We stopped at a fish market and Hulda chose two kinds of fresh fish for dinner. They were both delicious.





One night Hulda made us an amazing meal of salt cod with mashed potatoes, caramelized onions, and herbed butter.





We put the cap on our first day in Iceland by going to the local pool. Pools in Iceland are like pubs in Ireland; there's one in every community, and it's where people gather to relax and socialize. There's an actual swimming pool, but the real focus are the hot tubs, in various sizes and temperatures. It's wonderful! I wish the US would adopt this custom. Remember I said that everyone leaves Bj÷rk alone? She was sitting in the hot tub right across from us, chatting with friends.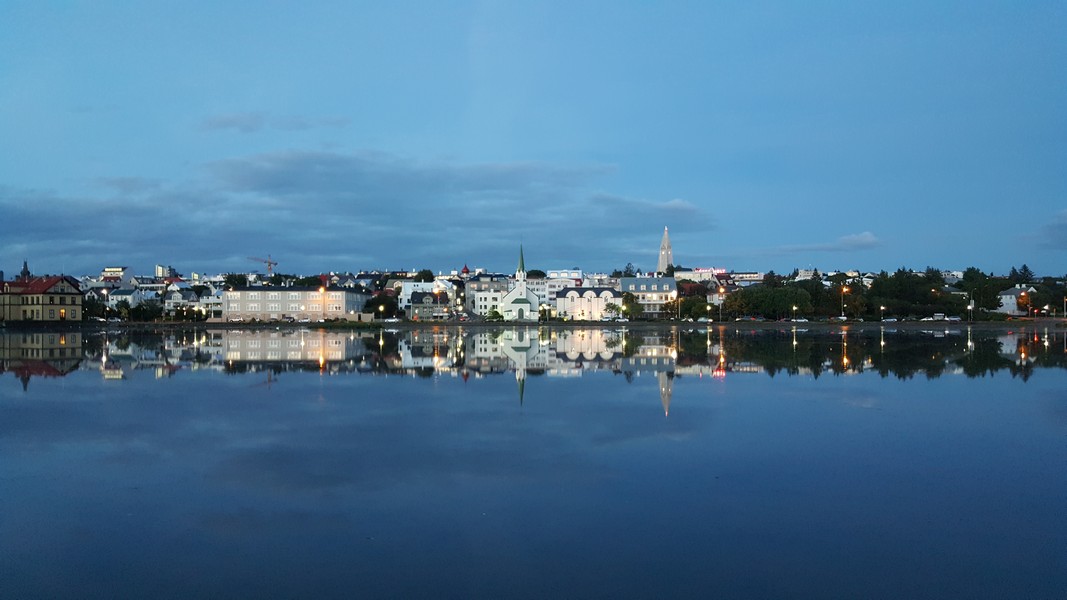 On the way home from the pool we caught this reflection of the city in Tj÷rnin lake. In mid-August in Iceland, it gets dark late and only stays dark for a few hours.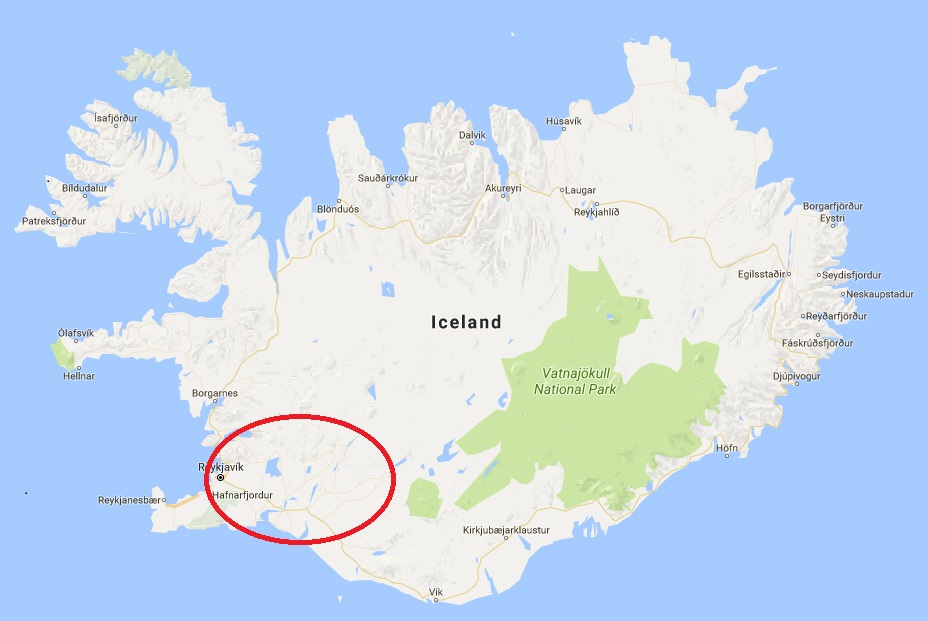 The next morning we embarked on a two-day sightseeing trip.





Icelandic sheep gorging on moss, lichen, and grass. They are comically round and waddle when they walk. They're mainly raised for meat. Icelandic lamb is the best we've ever had.





The sheep also produce wool. Icelandic sweaters differ from Norwegian sweaters in that they typically have a bold yoke design, the wool is usually left its natural color, and the wool is not spun before it is knit, which makes the sweaters fuzzier, and supposedly warmer.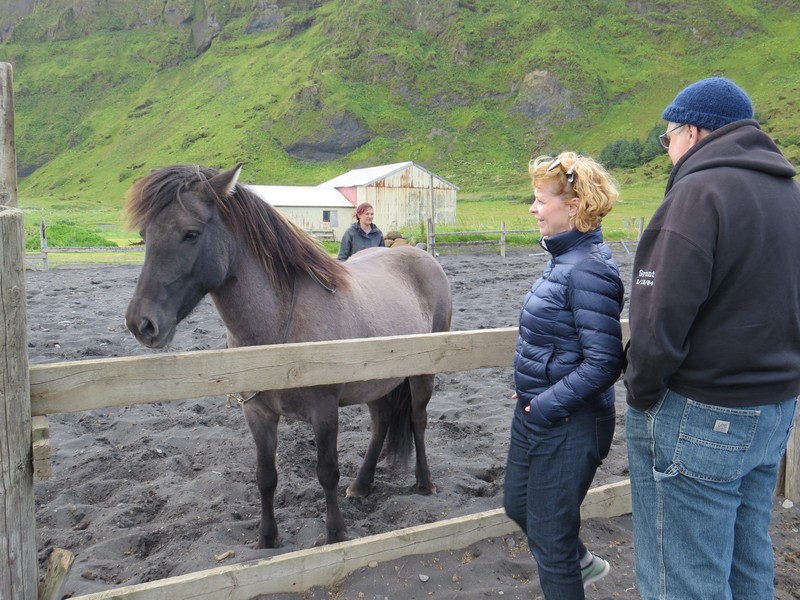 Icelandic horses are small and hardy.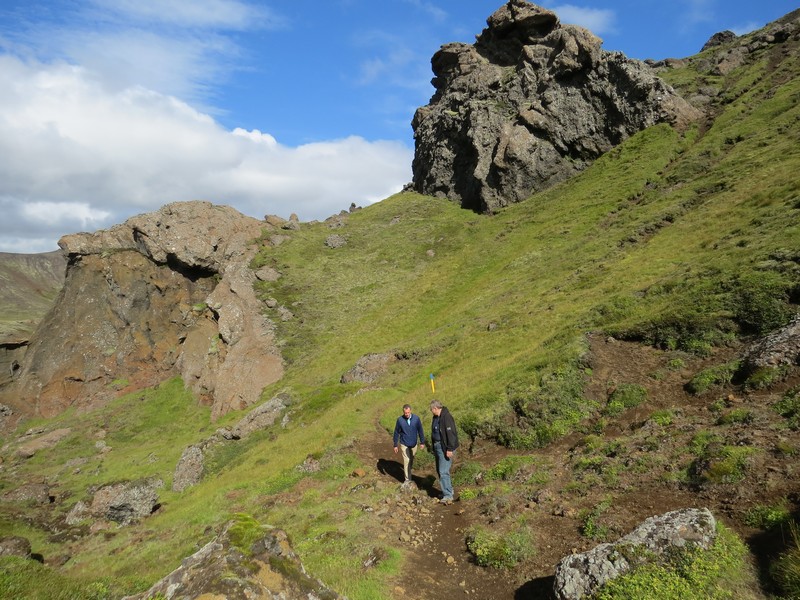 Hulda and Elfar love to hike, and took us on this trail. Iceland used to be covered in trees, but they were all cut down long ago. Although many trees are being planted, most areas we saw were open like this.





Geothermal power plants like this one seen steaming behind us produce around 30% of the country's electricity, and geothermal water provides heat and hot water for about 87% of the buildings.





Geothermally-heated greenhouses allow Iceland to grow produce year-round.



The Golden Circle
The three primary stops on the Golden Circle route are Thingvellir National Park, the Gullfoss waterfall, and the geyser area.


Thingvellir National Park lies on the crest of the Mid-Atlantic Ridge, where the North American and Eurasian tectonic plates are pulling apart at the rate of about one inch per year. In the distance you can see Thingvallavatn, the largest natural lake in Iceland.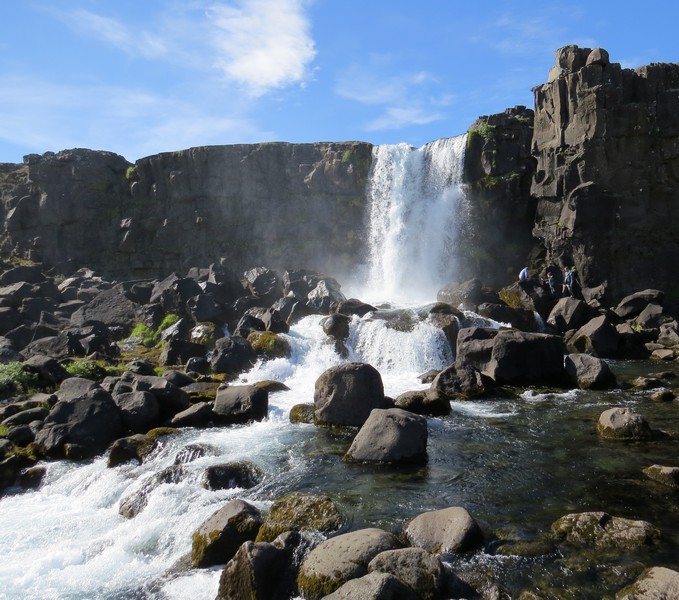 Thingvellir means "the fields of parliament," and this spot is where an assembly of Iceland's chiefs met for the first time in 930 AD to hash out a commonwealth.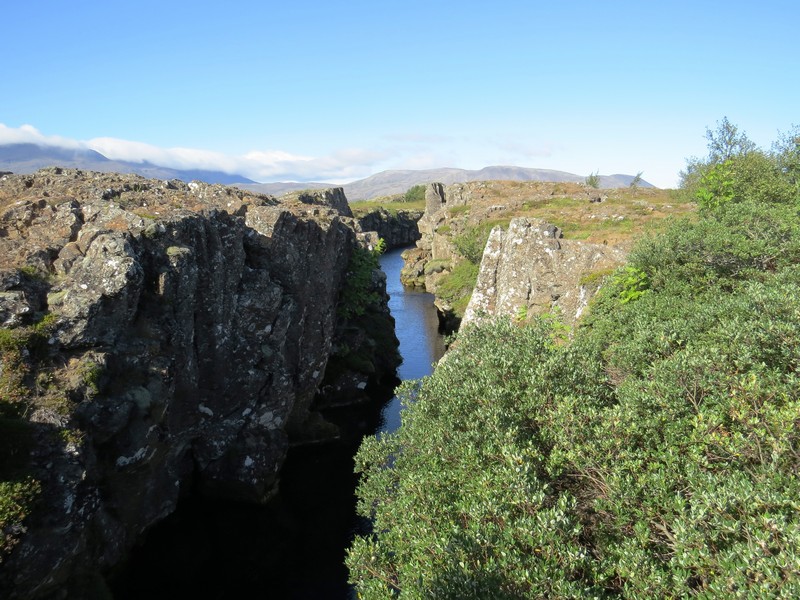 The Thingvellir rift





Gulfoss means "golden falls." You can walk right up close, feel the earth shaking, and get drenched in the mist.





Gulfoss is fed by Iceland┤s second biggest glacier, the Langj÷kull.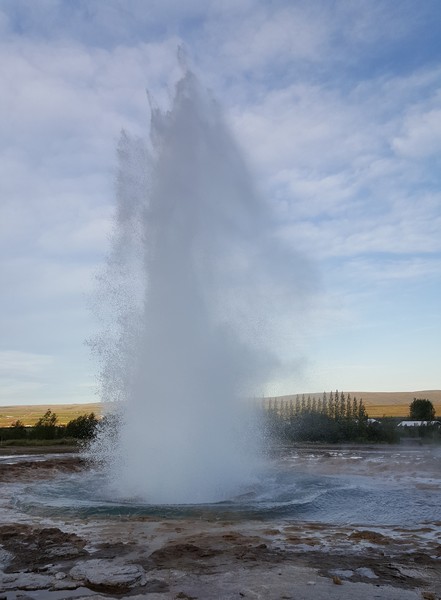 The English word geyser comes from Geysir, a place in Iceland where there are several geysers, including this one, called Strokkur.





Thunder bread is steamed rye bread baked in a wooden cask buried in the ground near a hot spring. It's dense and sweet. It's called thunder bread because excessive consumption is said to cause flatulence.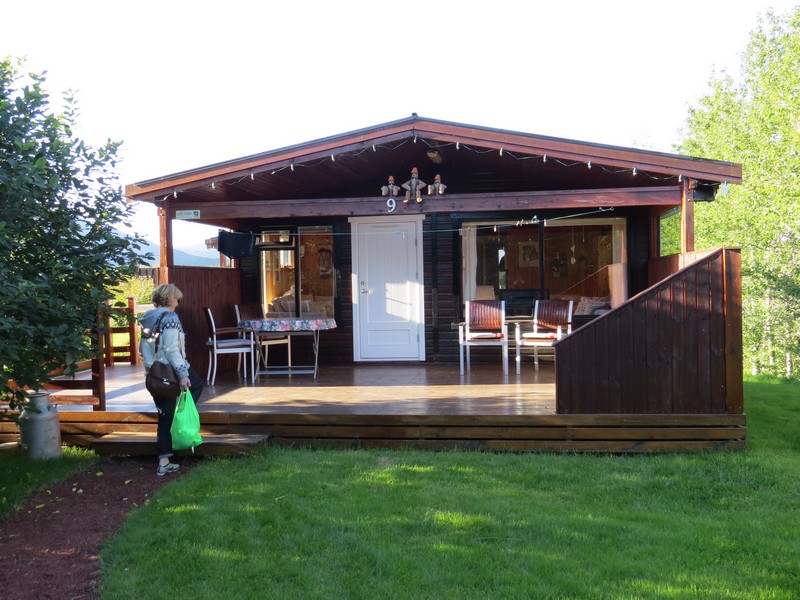 We spent two wonderful nights at Hulda's parents' cabin. Many Icelanders own small cabins where they spend as much time as possible hanging out with friends and family. It's one of the many things about Icelandic culture that really impressed me, and probably contributes to why Iceland seems so laid back.





Hulda loves to cook and made tender Icelandic lamb with blueberry sauce!





The area around the cabin reminded me of Eastern Washington.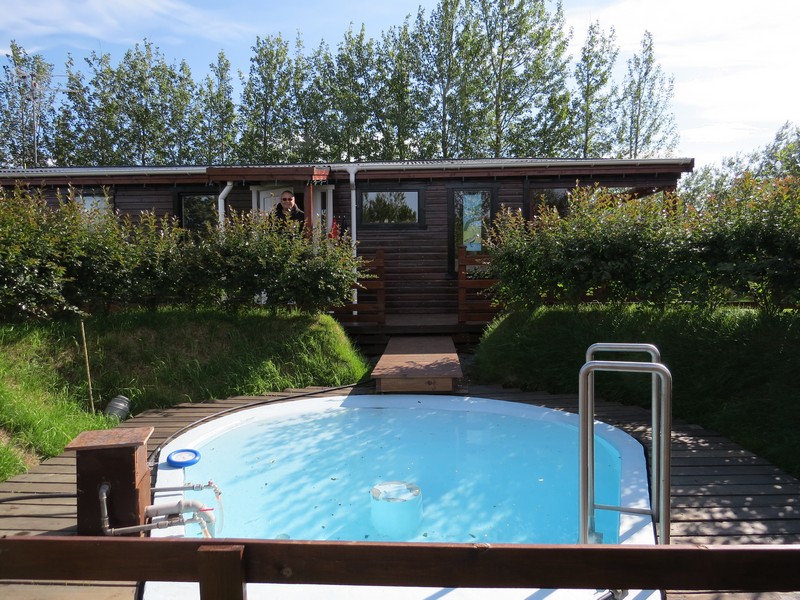 Hulda's parents built the cabin, and this hot tub. Both are geothermally heated.They only recently installed solar panels for lighting.





The next day we drove along the south coast.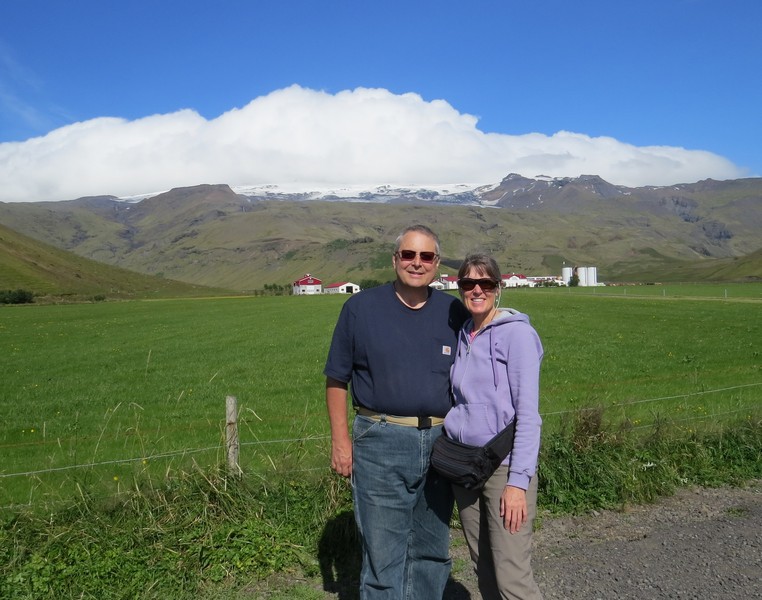 Remember the volcano that disrupted air traffic in Europe for a week in 2010? That was this cloud-capped beauty: Eyjafjallaj÷kull (say that three times fast).





Seljalandsfoss waterfall. You can walk on a trail behind it and peer out through the veil.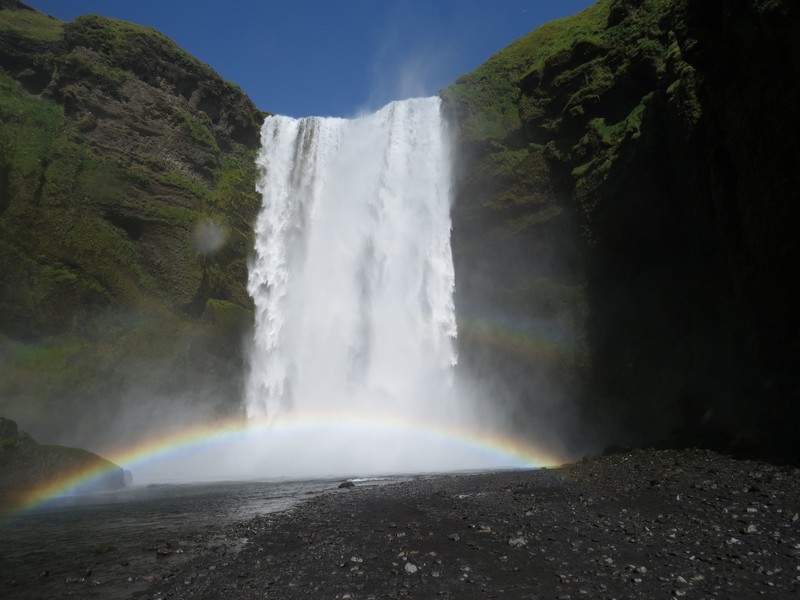 This is Skˇgafoss. Why are there so many waterfalls in a volcanic landscape? Because there are huge glaciers in Iceland.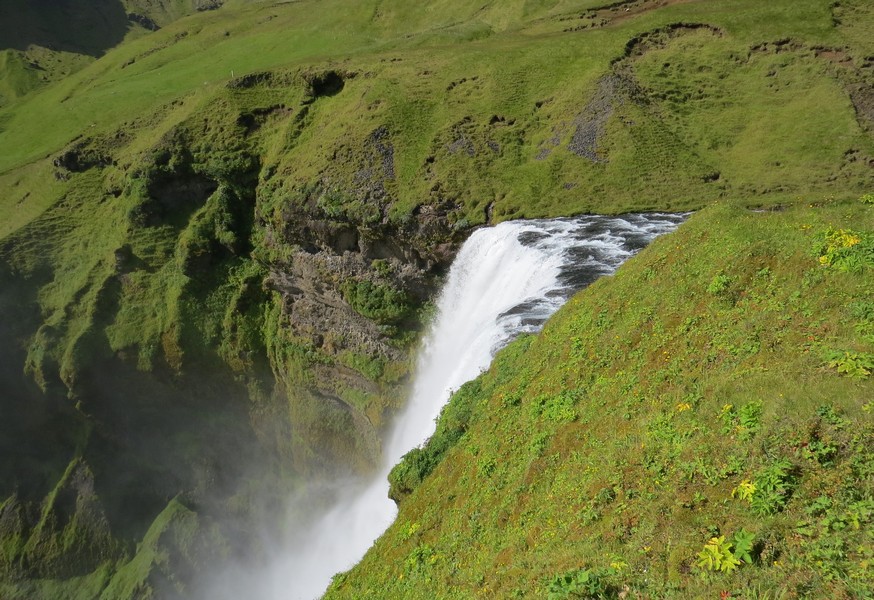 A trail goes to the top of Skˇgafoss.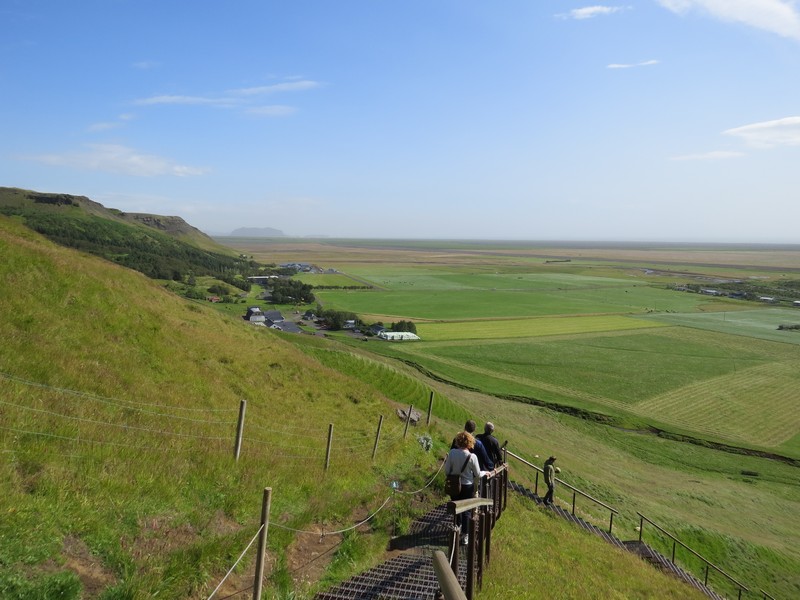 View from the top of Skˇgafoss. I loved the colors of Iceland.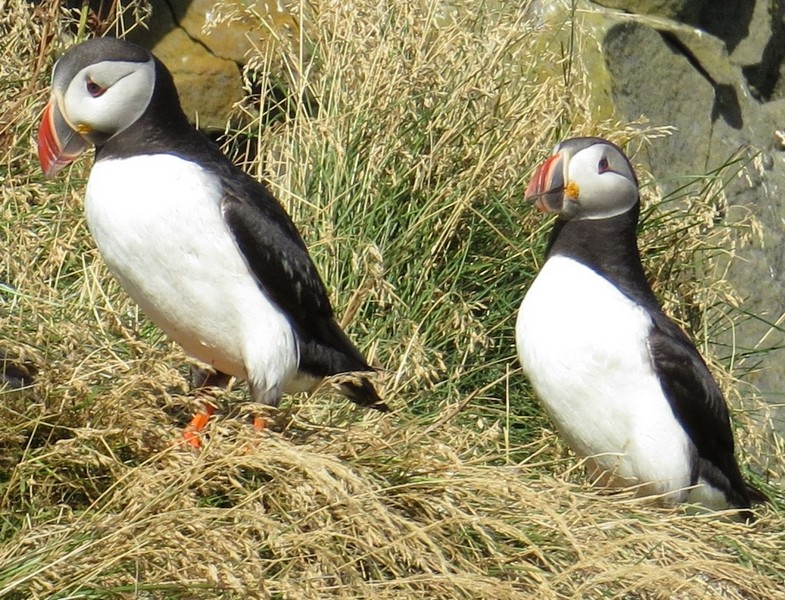 Seeing puffins has been on my bucket list for 40 years, so I was absolutely thrilled to get up close and personal with hundreds of them in Dyrhˇlaey, near Vik. I could have watched them for hours. They stand about 8 inches tall and are clumsy fliers, but great swimmers. They nest on land. Iceland is where about 60 percent of the world's Atlantic puffins breed, from early April until September.





Dyrhˇlaey means "the hill island with the door hole."





Basalt columns and black sand beach at Dyrhˇlaey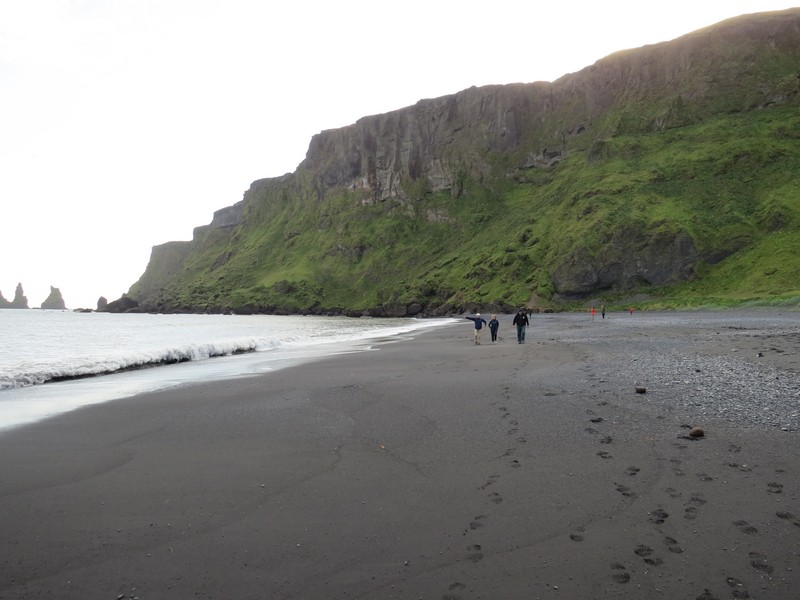 Walking on the beach in the nearby town of Vik. White foam, black sand, brilliant green moss and lichen.






Traditional turf houses at Skˇgar Museum. Turf, besides being free, and readily available in a place with few trees, is a good insulator. This was a primary form of construction until about 1900.





Back in Rejkyavik, we attended the 22nd annual Culture Night festival. The whole city pitches in to create a day and night of music, food, art, and socializing. This "pop up park" was created for the event.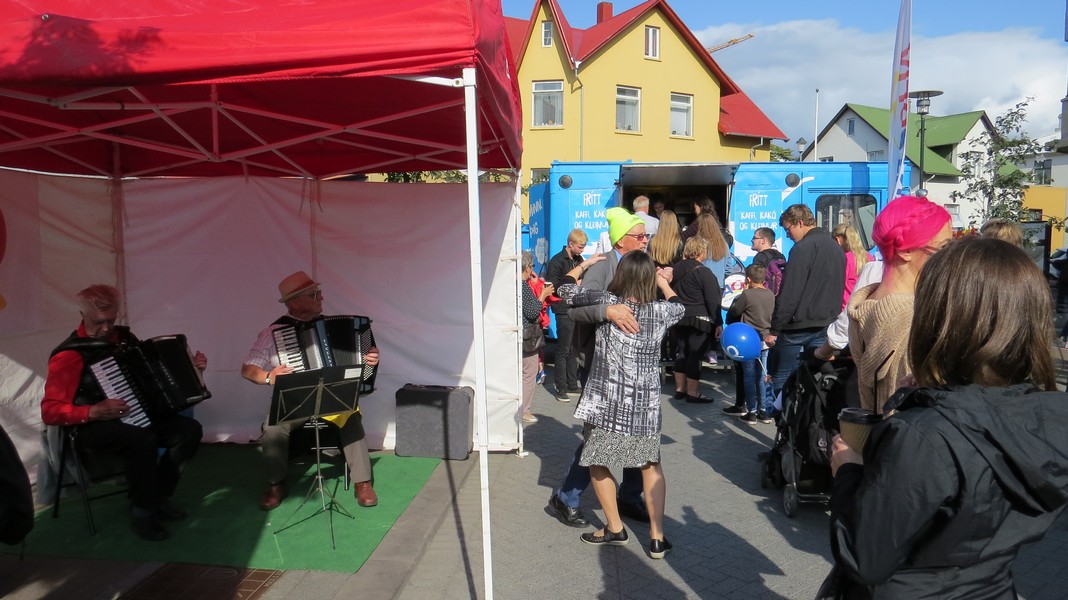 Happy Rejkyavikians enjoyed food booths, music, and dancing.





The mayor invites everyone to his home for waffles. Here he is saying "Hi, Seattle!" (we're sister cities).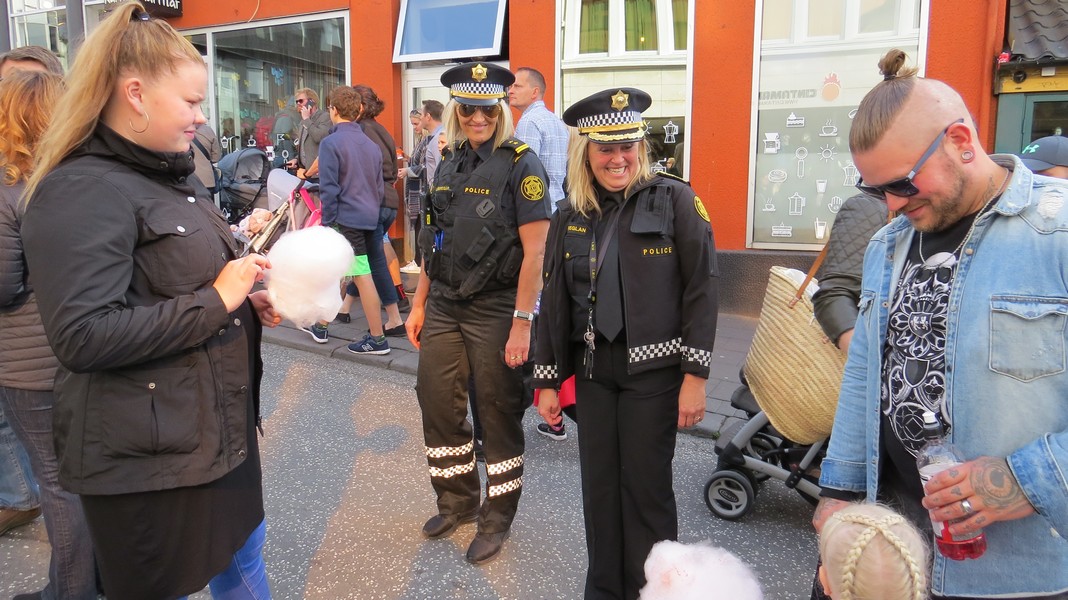 The Chief of Police of Iceland (left). It was so much fun being at the festival with people who could point out the local celebrities.





With incredible generosity, our friends loaned us their car so we could spend two days exploring the SnŠfellsnes Peninsula.





Scenery on the way to SnŠfellsnes





Hulda's friend loaned us this lovely house!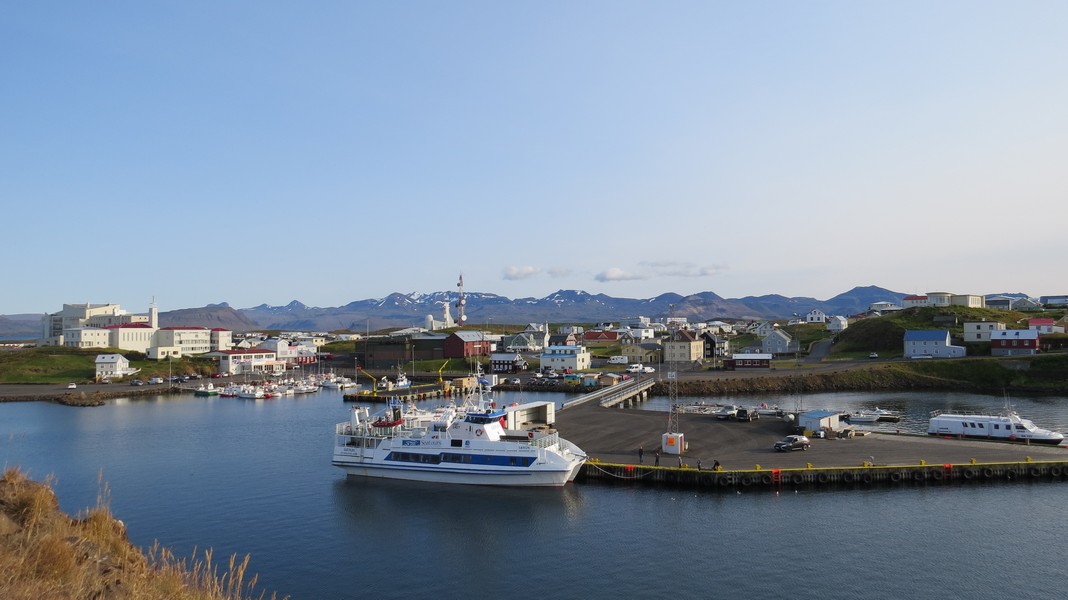 The tiny fishing town of Stykkishˇlmur





Fishing boats in the harbor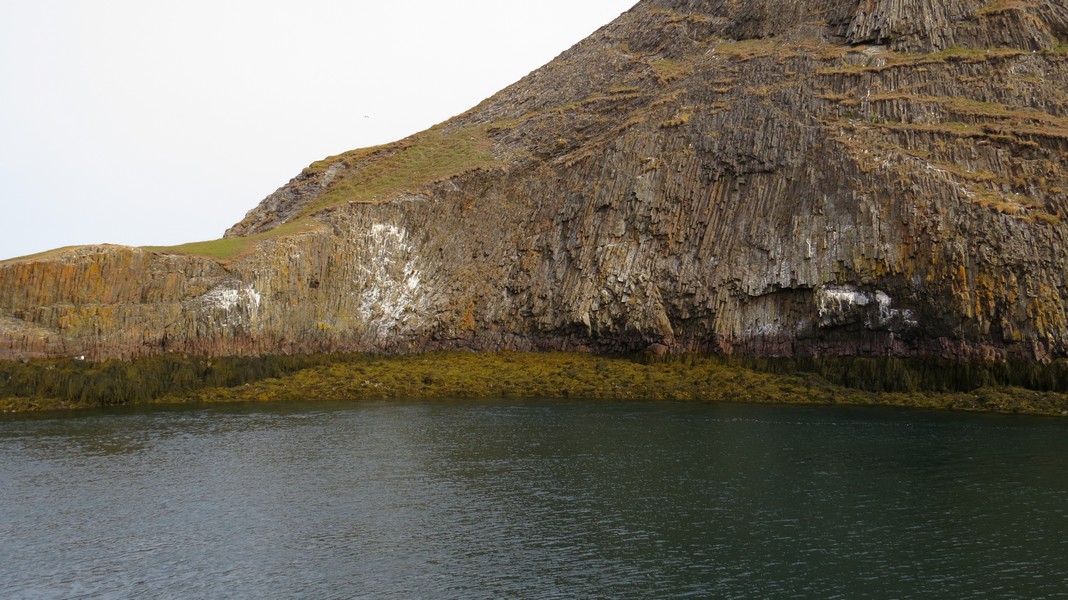 We took a boat trip out into the giant bay called Brei­afj÷r­ur, whose 3000 islands and islets are made of twisted and angled columnar basalt.





We saw many nesting seabirds. This kittiwake chick is almost ready to fledge.





This is a fulmar chick. These birds of the open ocean live for up to 40 years.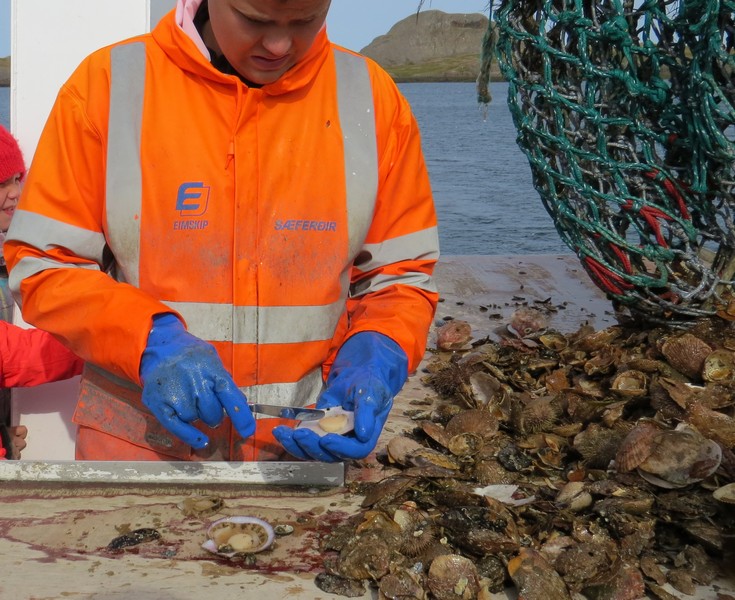 The boat served raw scallops, dredged from the bottom in a net. I was too busy taking pictures to try one.





This little Icelandic cutie, in her traditional sweater, gobbled down as many as she was offered. They were served sushi style, with soy, ginger, and wasabi.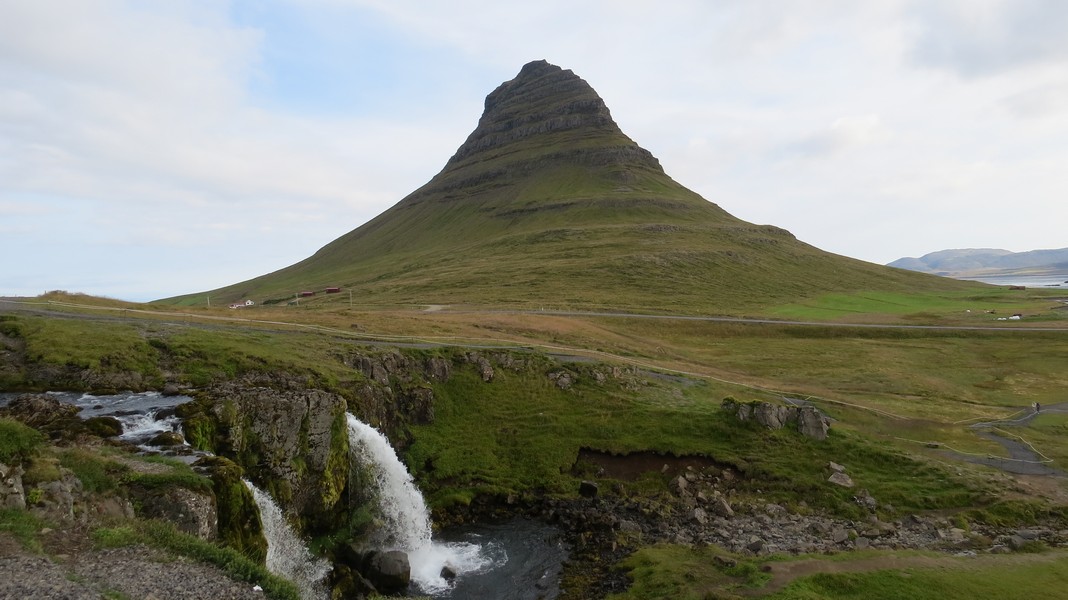 Kirkufell mountain and waterfall on the north coast of SnŠfellsnes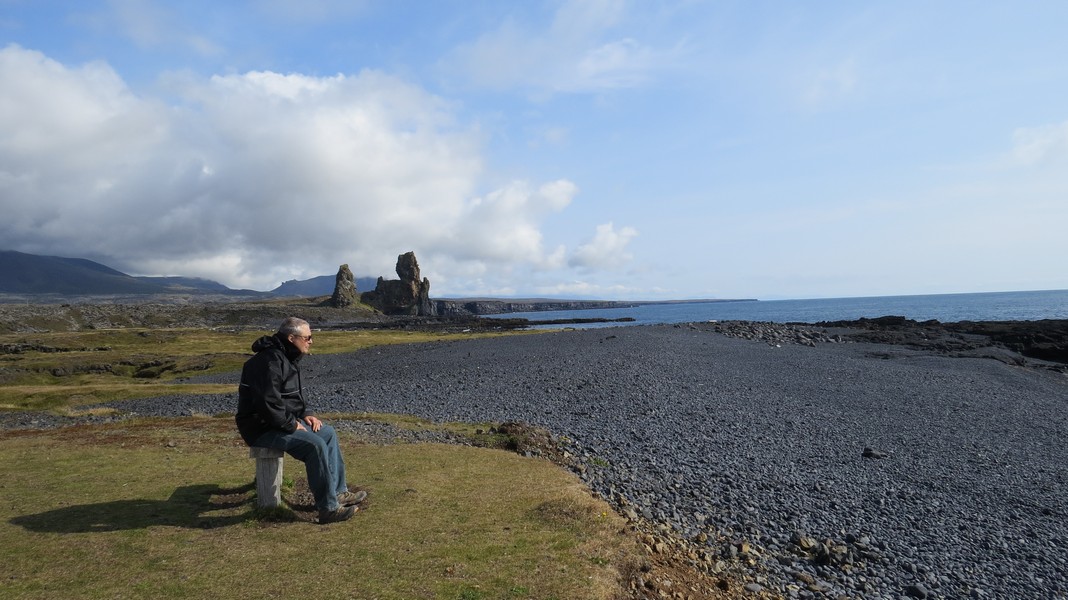 The western part of the SnŠfellsnes peninsula is a National Park. There's a wonderful visitor center and beautiful black stone beaches.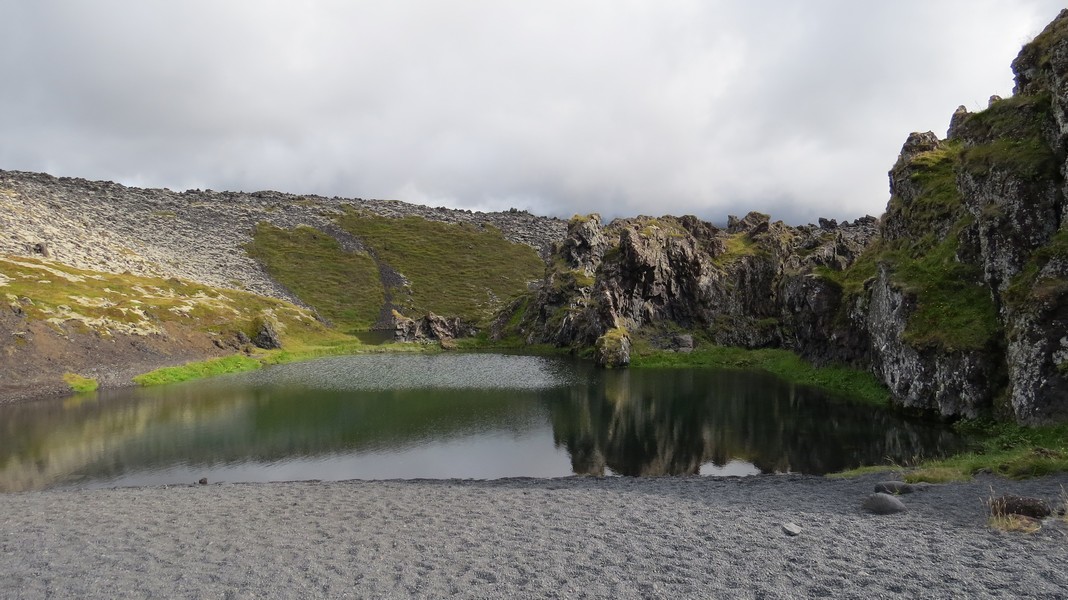 The lagoon and lava formations at Dj˙palˇnssandur. Some of these are the homes of elves and trolls. Having seen Iceland's Middle-Earth landscapes, I completely understand why they have so many stories of elves, trolls, and "hidden people."





Moss-covered lava flow at Dj˙palˇnssandur





At Arnarstapi there is a long, flat, smooth trail; guano-covered nesting rocks; basalt arches...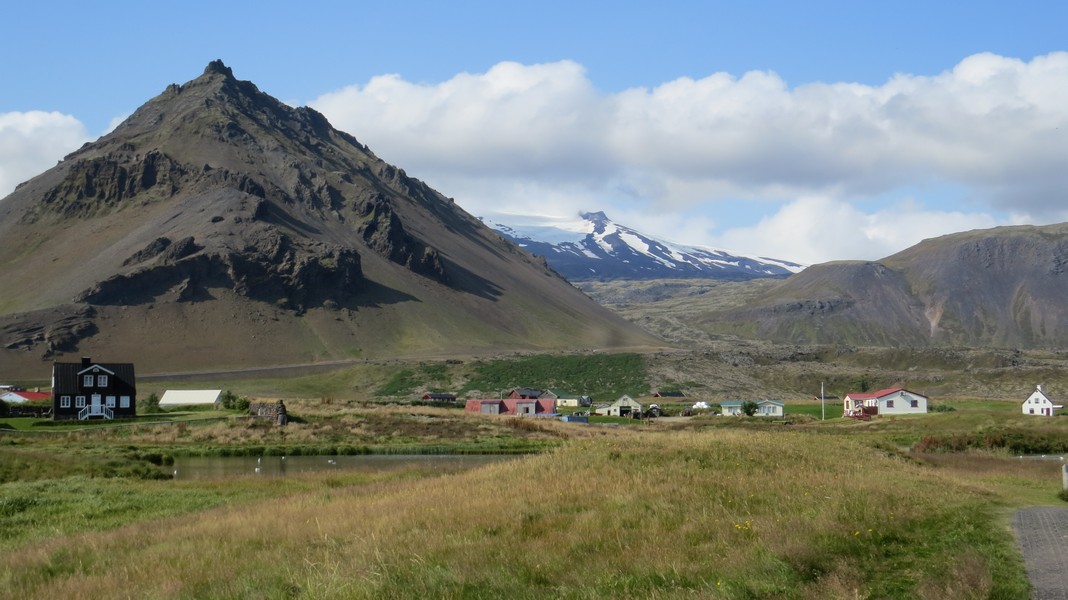 ... and views of the SnŠfells glacier, the location of the entrance to the subterranean journey in Jules Verne's Journey to the Center of the Earth.





Reluctantly leaving Iceland behind, we enjoyed aerial views of cinder cones, craters, and alpine lakes. It's a 2.5-hour flight from Rejkyavik to Oslo.



---
Norway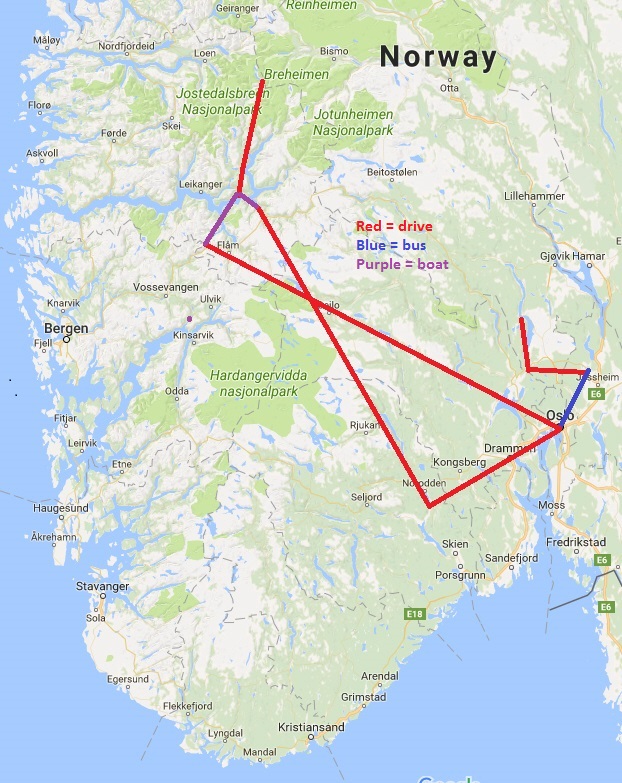 We spent 10 days in Norway, starting and ending in Oslo.





One of Norway's many fjords. A fjord is formed when a glacier retreats after carving a valley, and the sea fills the narrow, steep-sided inlet.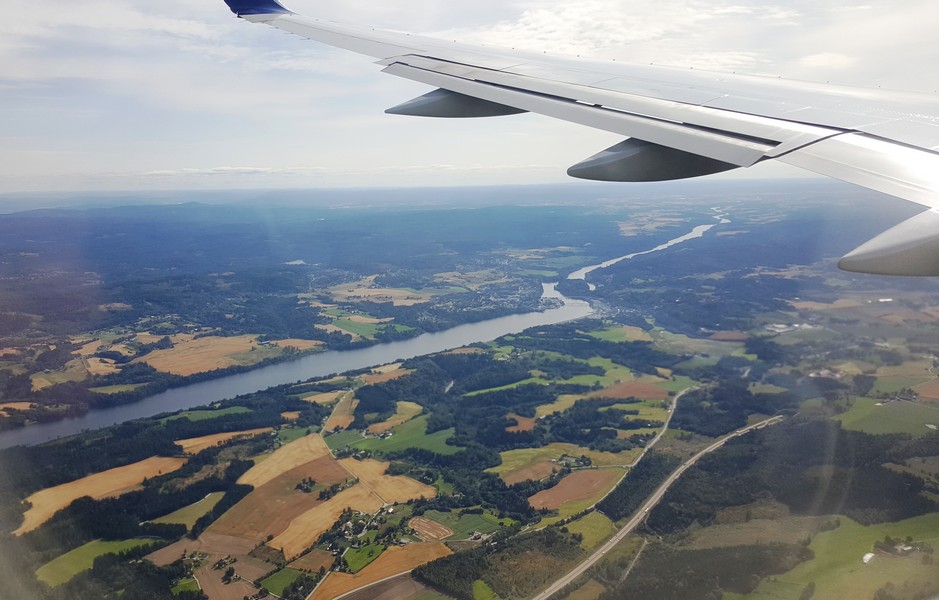 Norway has the most beautiful farms I've ever seen.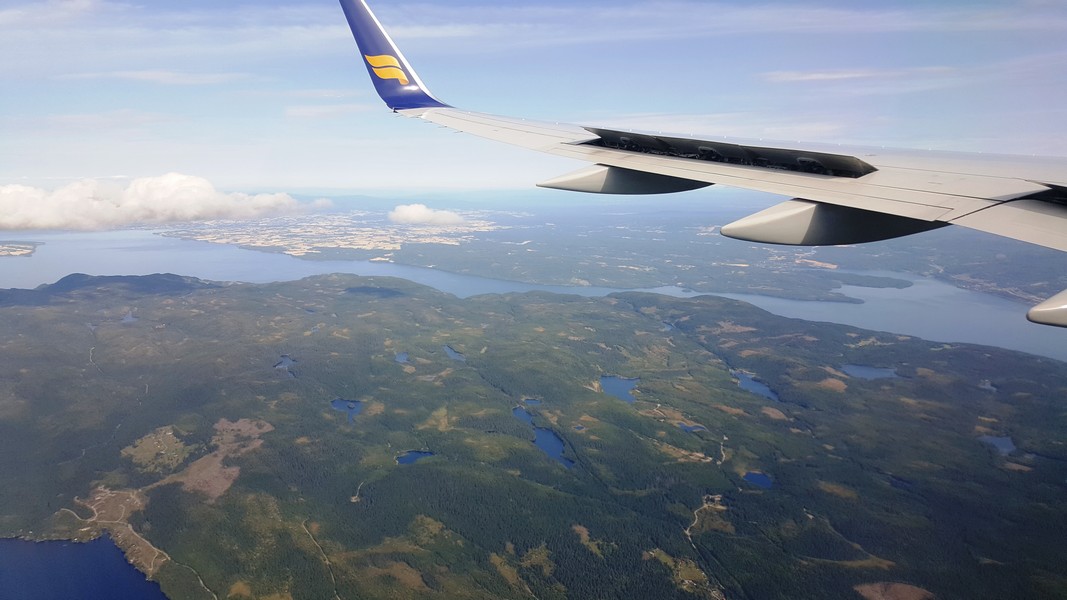 There are at least 450,000 freshwater lakes in Norway. Most were created by glaciers.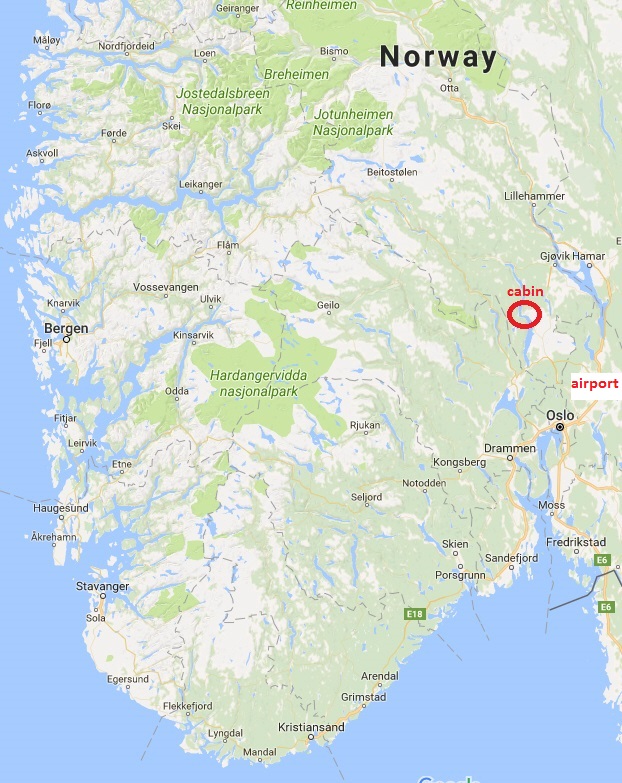 We visited an old friend of Grant's father at his cabin on a lake in Bjoneroa, about an hour and a half northwest of the Oslo airport.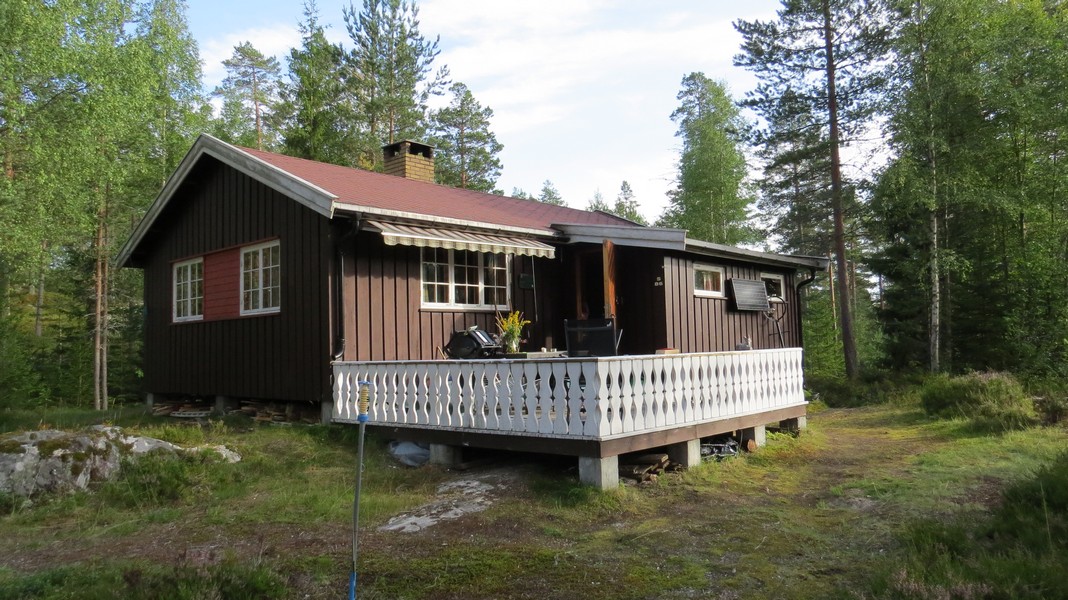 Norm's off-the-grid cabin. Widowed four years ago, he still spends the summers here.





A Brit who has lived in the US and Norway, Norm is a mathematician, author, outdoorsman, and storyteller extraordinaire.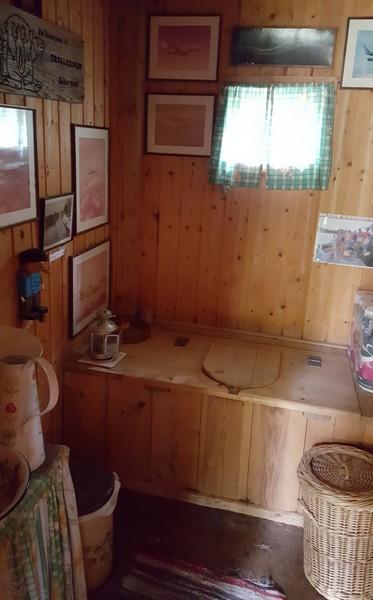 Norm's "loo" was decorated with framed photos, so Grant called it the "loo-vre (Louvre)."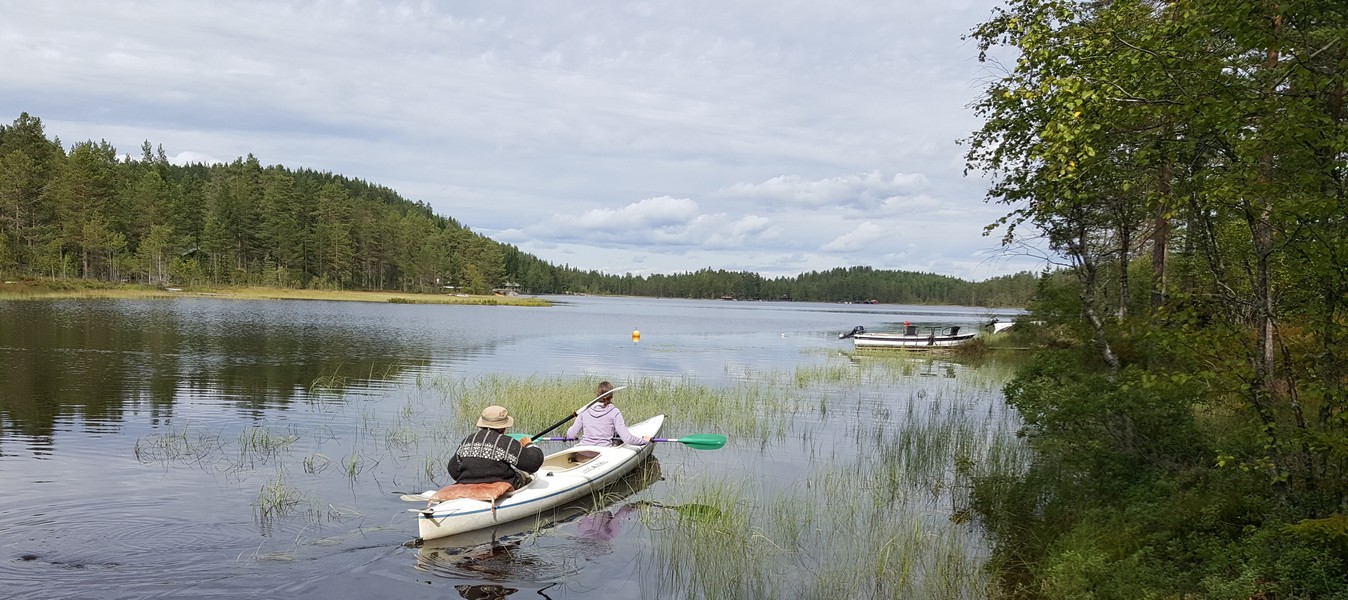 Kayaking on Fjorda, a large water system with many inlets and islets. The scenery in Norway reminded us a lot of Washington State, and we can see why Norwegian immigrants felt so at home when they came to the Pacific Northwest.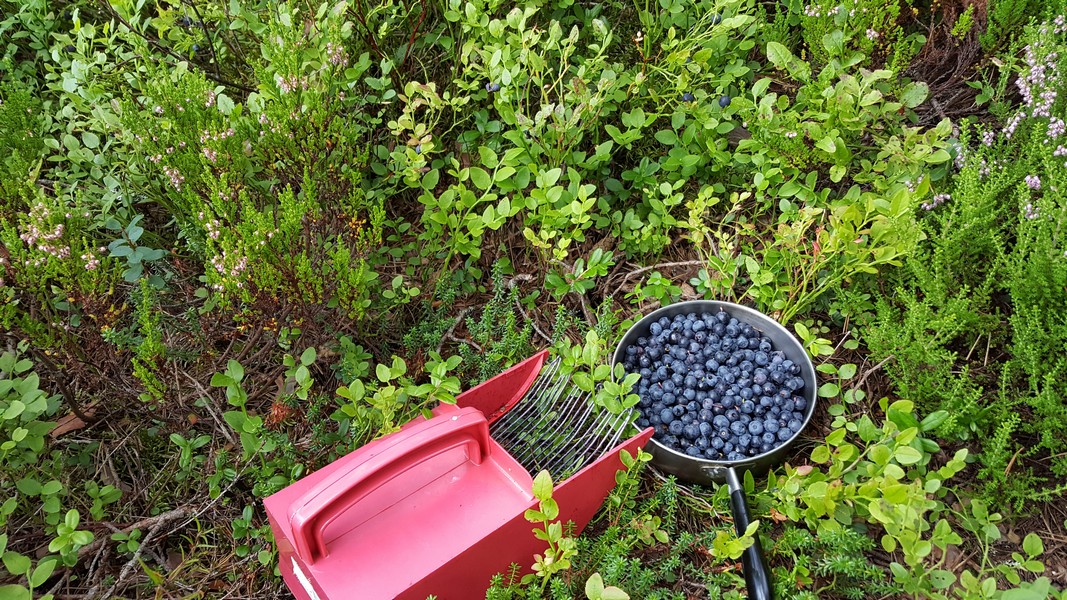 This "comb picker" made it easy to harvest the abundant wild blueberries.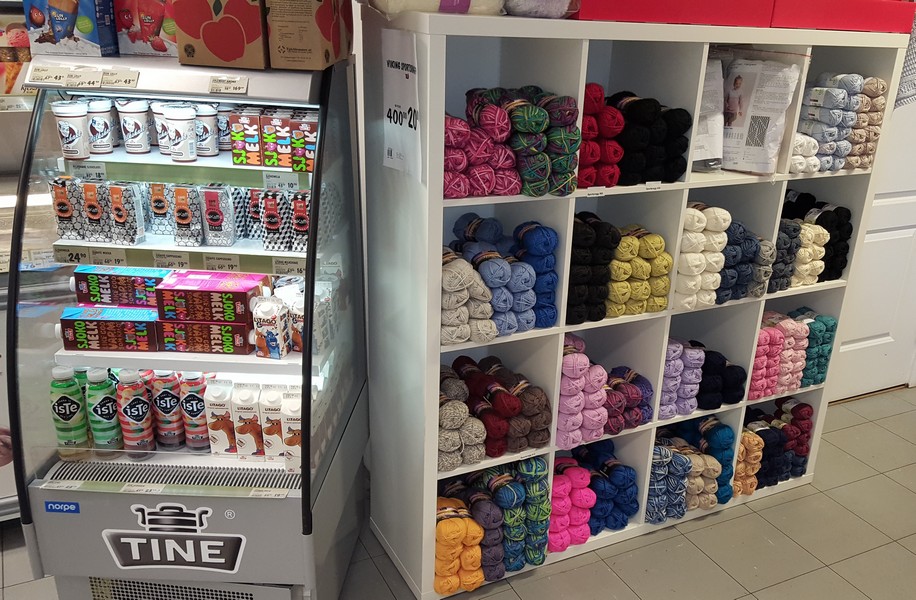 Yarn for sale in the small store near Norm's cabin. Norwegians love to knit!





After a too-short visit with Norm we headed for Oslo.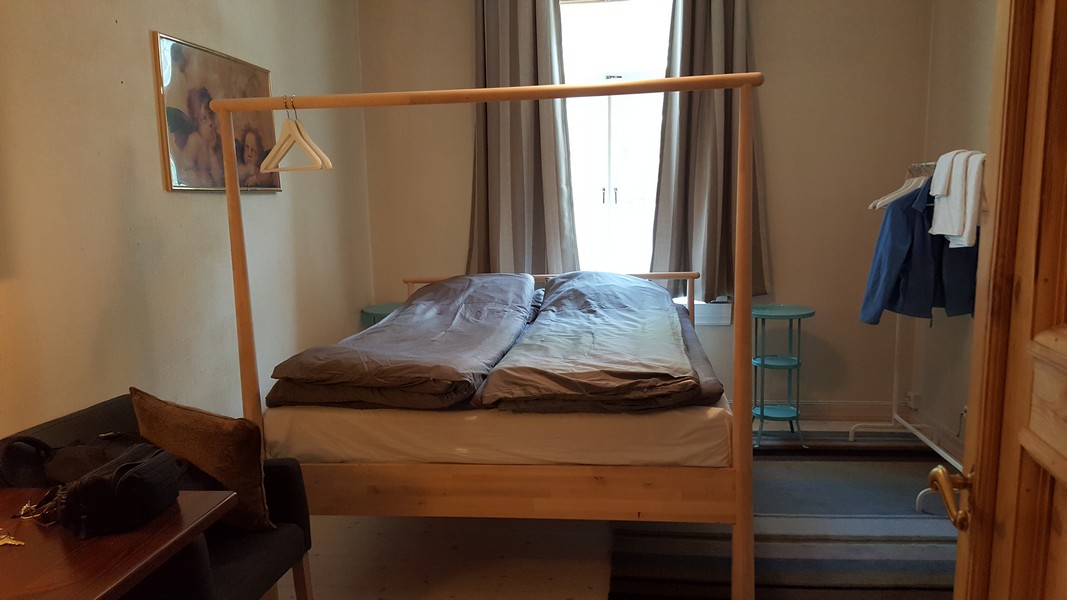 This is our spacious, comfortable $72-a-night AirBnB room (all rates I'll mention in this blog are totals after taxes and fees).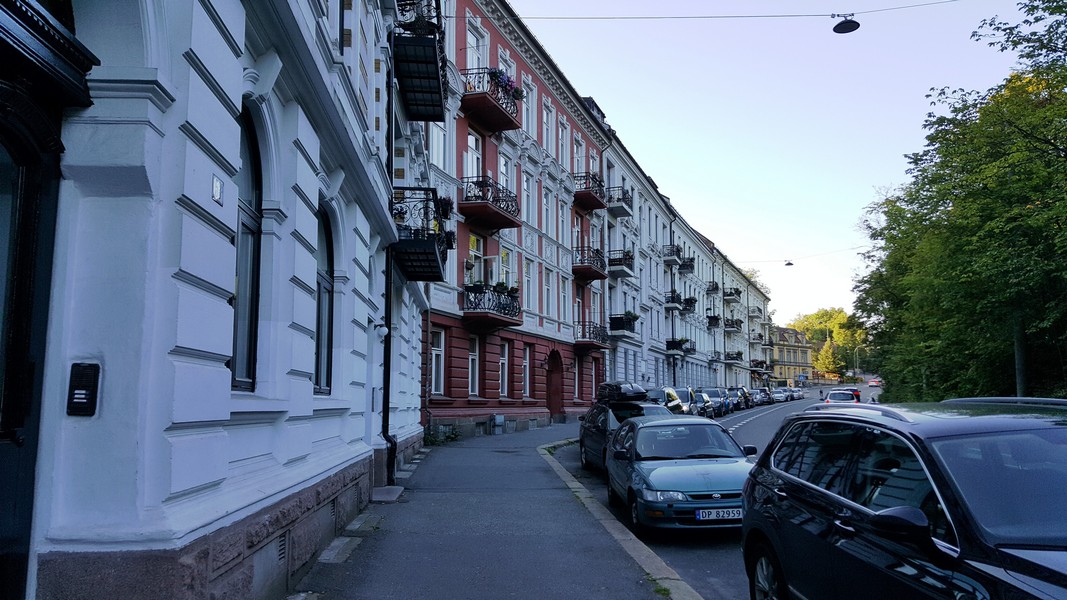 Our street in Oslo. Although Oslo has 650,000 people, it feels much calmer and quieter than US cities of that size, probably because they have such good transit and pedestrian and bike facilities.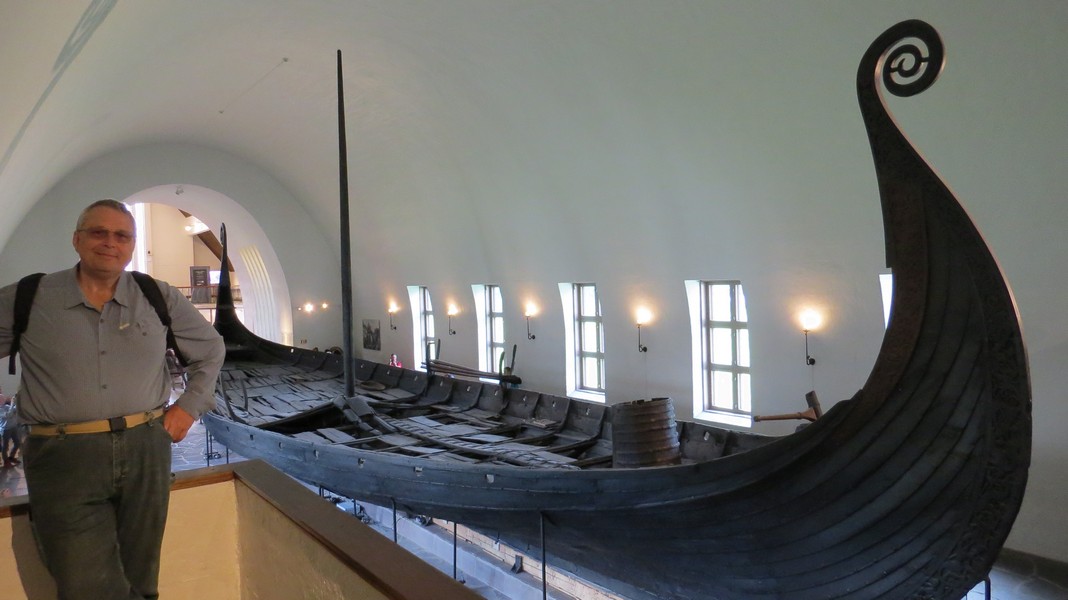 We loved the Viking ship museum, which displays three ships excavated from burial mounds, along with fascinating Viking artifacts.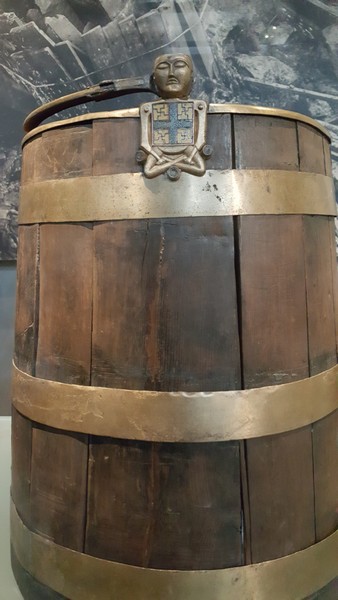 This brass and yew wood bucket is 1200 years old.





Intricately-carved animal head found in one of the burial mounds.





I love architecture and living history, and I loved Oslo's Folkemuseum, which showcases buildings from rural and urban Norway from the Middle Ages to the 20th Century. This is an 18th-century granary.





Farmhouse from 1800





Costumed staff answer questions and demonstrate how people lived.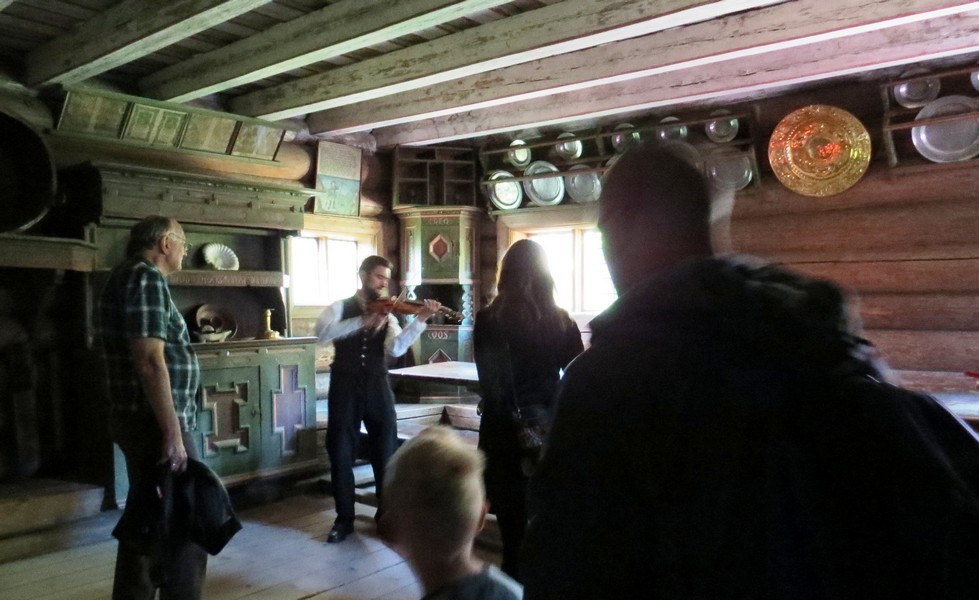 Costumed musician playing traditional music inside an old house.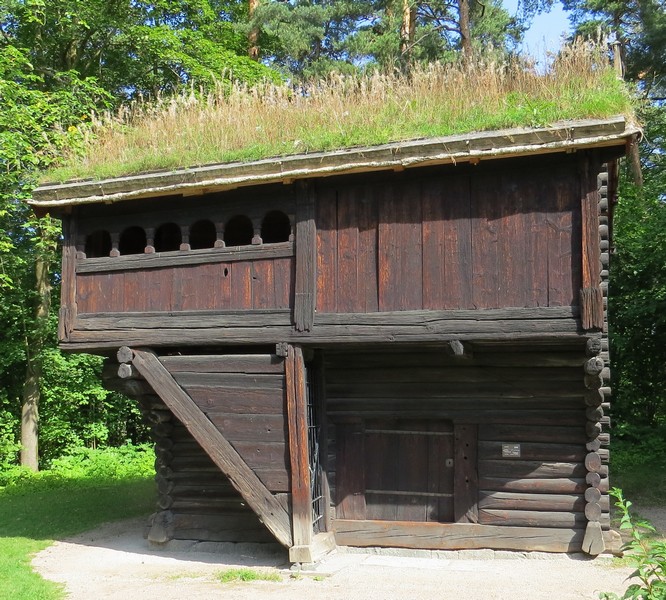 A turf-roofed "stabbur" for food storage





A house from the Oslo "suburbs" in the early 1800s.





This passenger boat ferries people around Oslo harbor to the museums and other sights.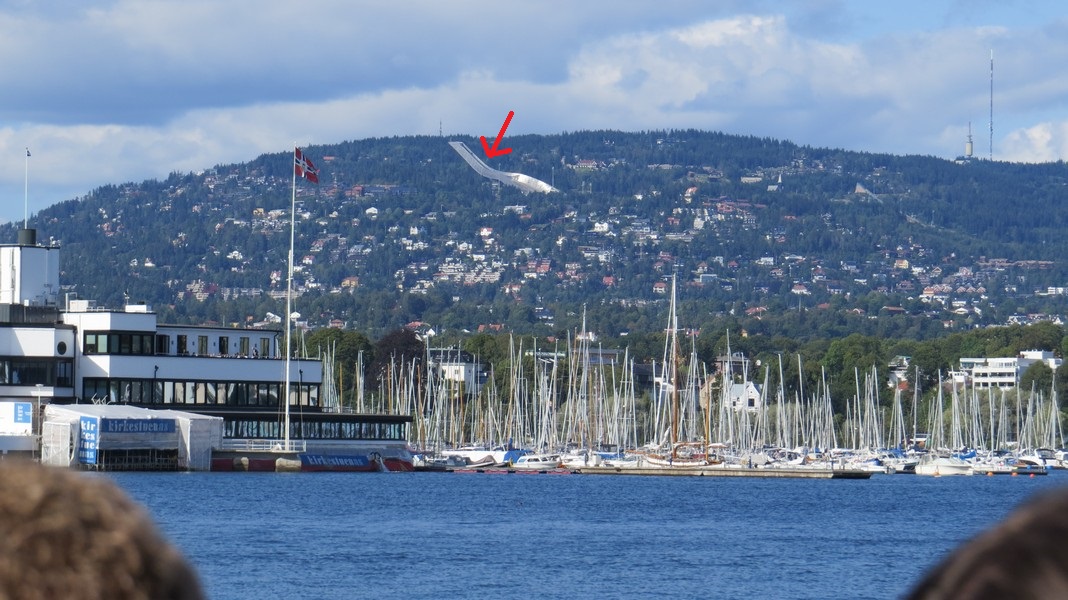 Holmenkollen has been the site of a ski jump since 1892. It was most recently rebuilt in 2010.





View of Oslo's harbor from the fortress. A harbor promenade runs nine kilometres along the pedestrian-friendly waterfront, with lots of places to sit and watch the boats and people.





Oslo's opera house has a gently-sloping roof that is often used for events.





Vigeland Park, completed in 1949, is the lifework of Gustav Vigeland, who designed the park and the sculptures. This 60-foot tall column was carved from a single granite block. It conveys manĺs yearning for the spiritual and divine. It took over 14 years and four sculptors to carve. The figures have no clothes because he wanted them to be timeless.





The fountain is surrounded by 20 tree sculptures that show the stages of life: childhood, adulthood, parenthood, old age, and death.





Beautiful old wood home in Oslo





We met Oda and Thomas when they stayed with us through AirBnB. They invited us over for waffles in their new kitchen.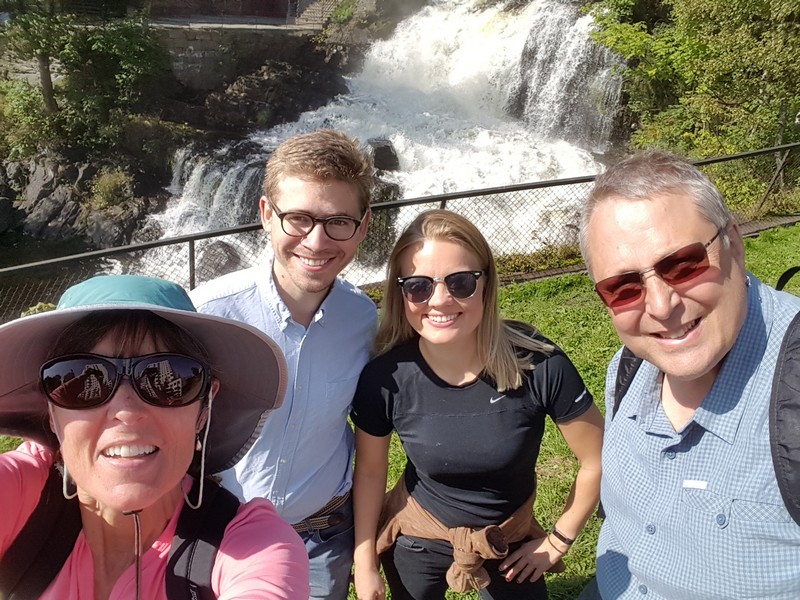 They took us for a walk through a park along a river.





On our walk we passed an old folks' home that was hosting a community music event. What a great idea.





Grefsenkollen is a panoramic viewpoint just 20 minutes from downtown Oslo. We took a bus up and walked down on a trail through the forest. Oslo is a very livable and green city, surrounded by easily-accessible natural areas.





The restaurant at the viewpoint is a popular hangout for locals.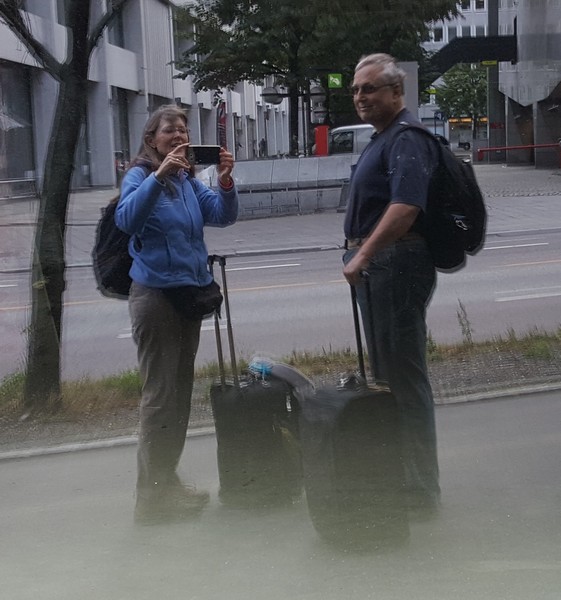 The next morning we walked to the rental car office downtown. Traveling light makes it easy to walk long distances if we want to.





Grant's maternal ancestors emigrated from this part of Norway (Telemark) in the mid-1800s. We went to meet descendants of those who stayed in Norway.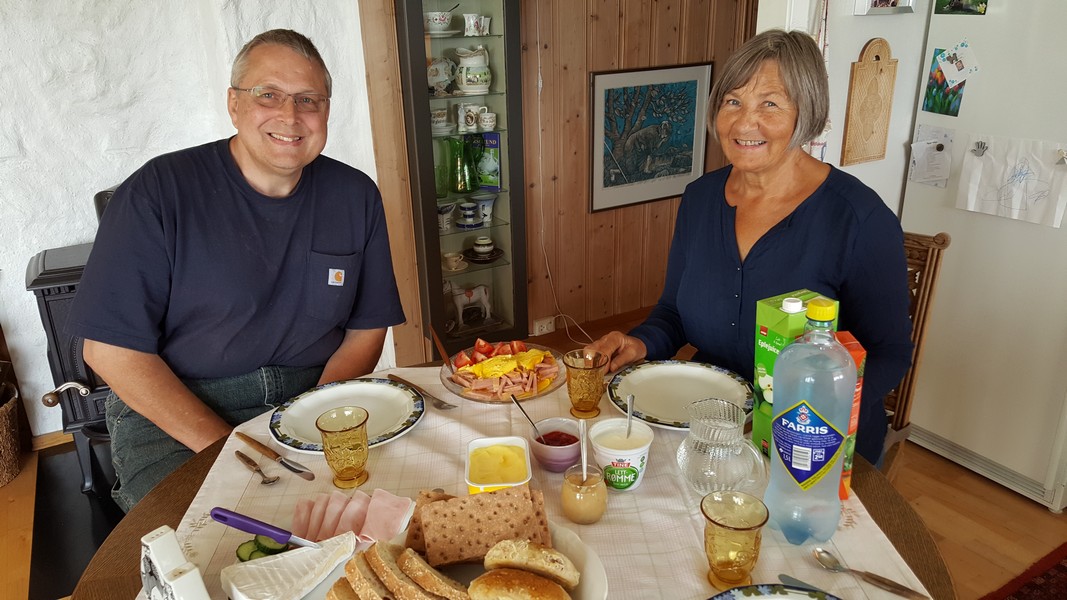 Jorunn is Grant's 5th cousin. They share 4th great grandparents. She welcomed us into her home and treated us like royalty! She is a retired school teacher who speaks excellent English.





Jorunn's brother Sigurd (also Grant's 5th cousin) still lives on the family farm, called Jonsaas. We arrived as he was harvesting barley.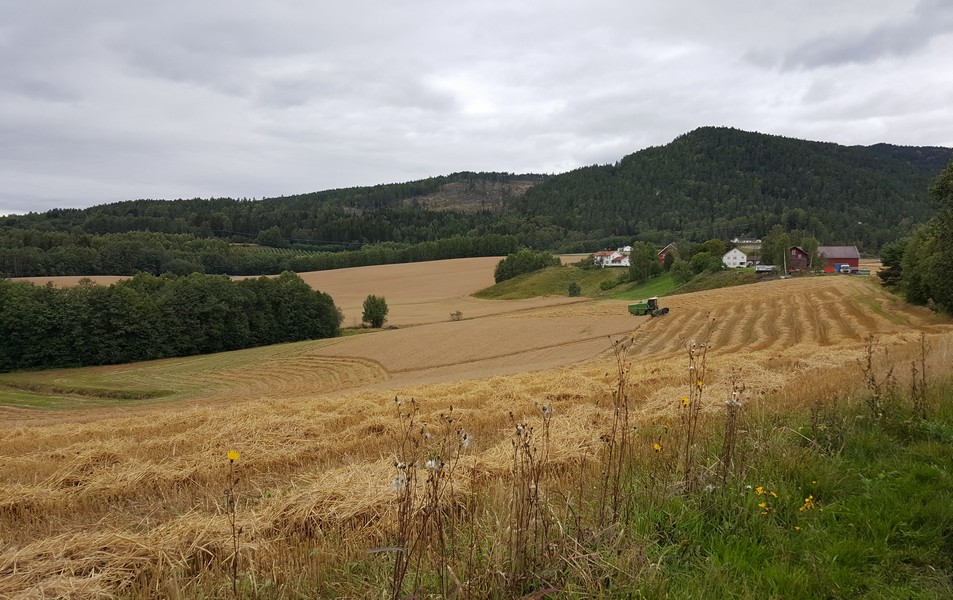 The Jonsaas family farm. That's Grant driving the harvester!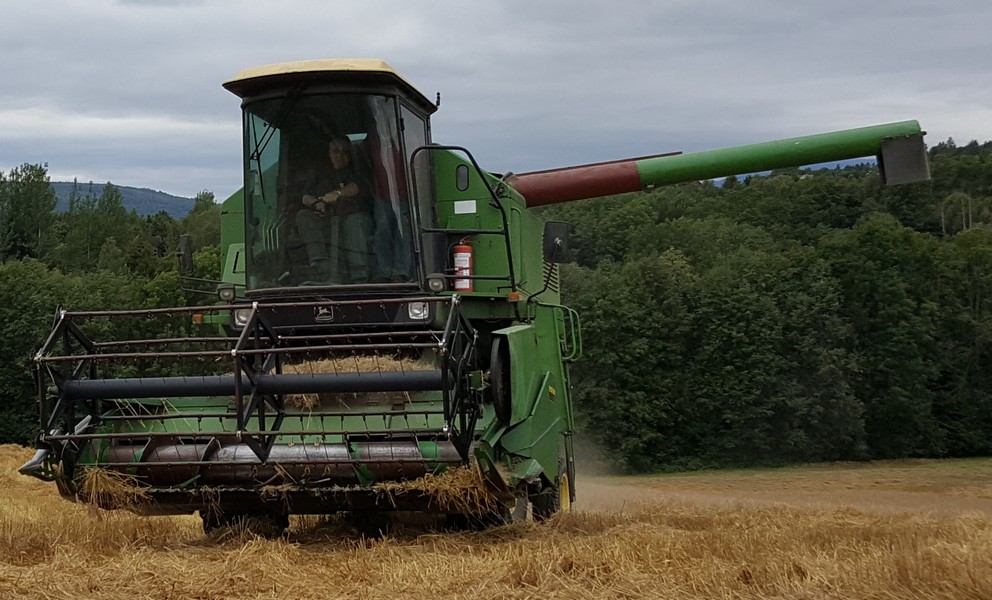 Grant the farmer





The Jonsaas farmhouse.





Grant's ancestors worshipped at Sauherad Church, a stone church built in 1100.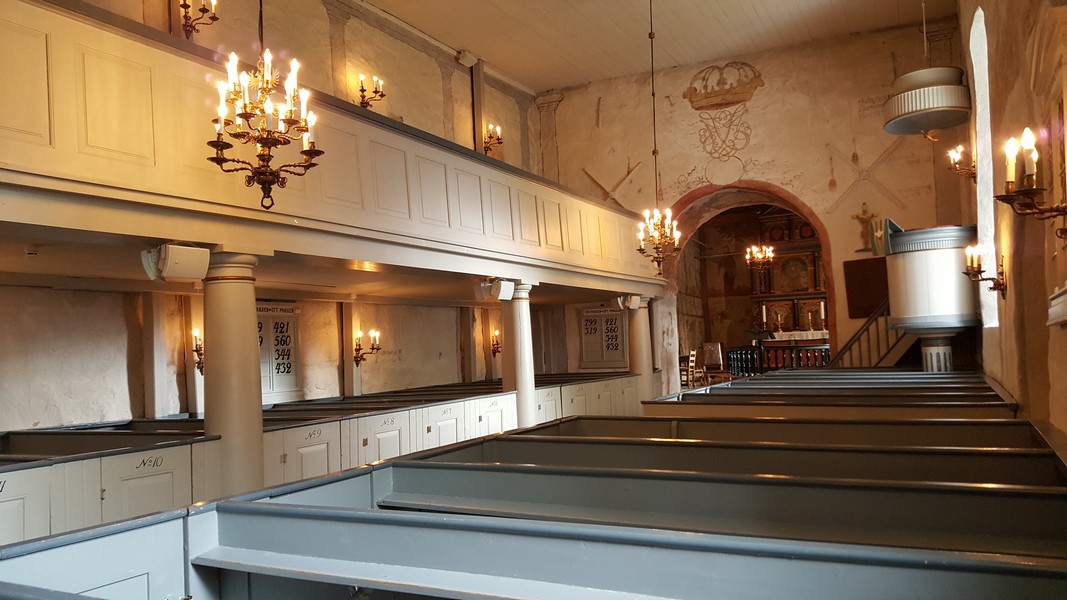 The church has been carefully preserved and is still in use. It gave us goosebumps to imagine his 4th great grandparents, Sigurd and Kari, worshipping here, and their parents before them. Each box was reserved for a farm, with the most important or prosperous farms sitting closest to the front. Women and men sat on separate sides.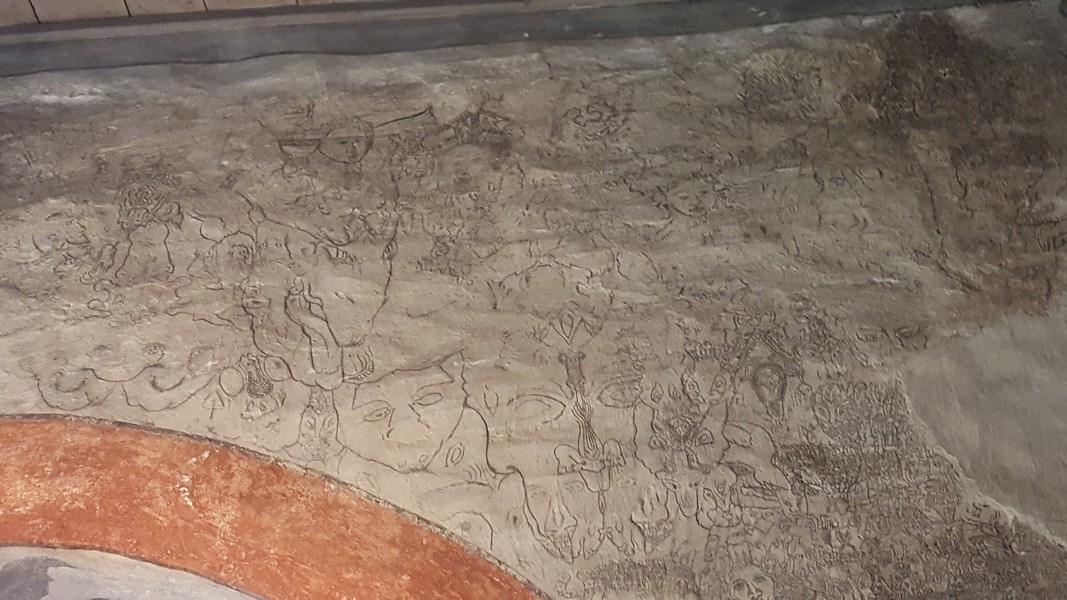 The Church is known for a fresco in the chancel called "The Thousand Demons." Visible only to the priest, and not to the worshippers, it depicts a myriad of fantastic devil faces. No one is sure what its purpose was.





The bride and groom sat on this bench during weddings. Note the skeleton; perhaps a reminder that death will be a part of married life, or that marriage is until "death do us part."





Jorunn's mother made this traditional, hand-embroidered outfit. Each region of Norway has its own colors and pattern. An outfit like this can cost up to $7500 to buy.





Look at this breakfast feast! The breads are homemade.





Our last stop before leaving Telemark was Heddal stave church, one of 28 stave churches left in Norway, and the largest. Built 700 years ago, it was restored in the 1950s. Of all the stave churches we saw, this one was the most spectacular.





The interior of Heddal church. It is still used, and is very popular for weddings.





After another reluctant goodbye we drove 6.5 hours north to the town of Solvorn on the Lustrafjord.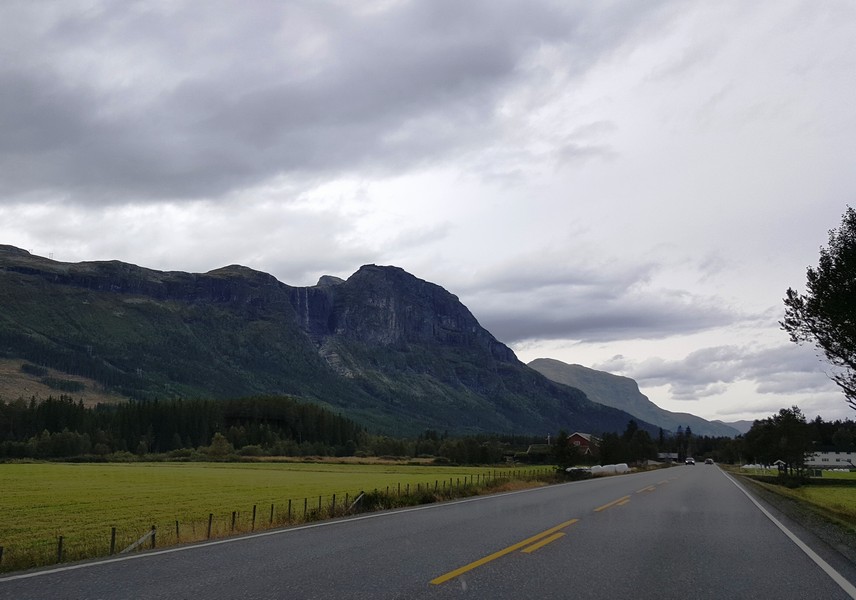 Scenery en route to Solvorn. All the roads we drove in Norway felt like mellow country roads.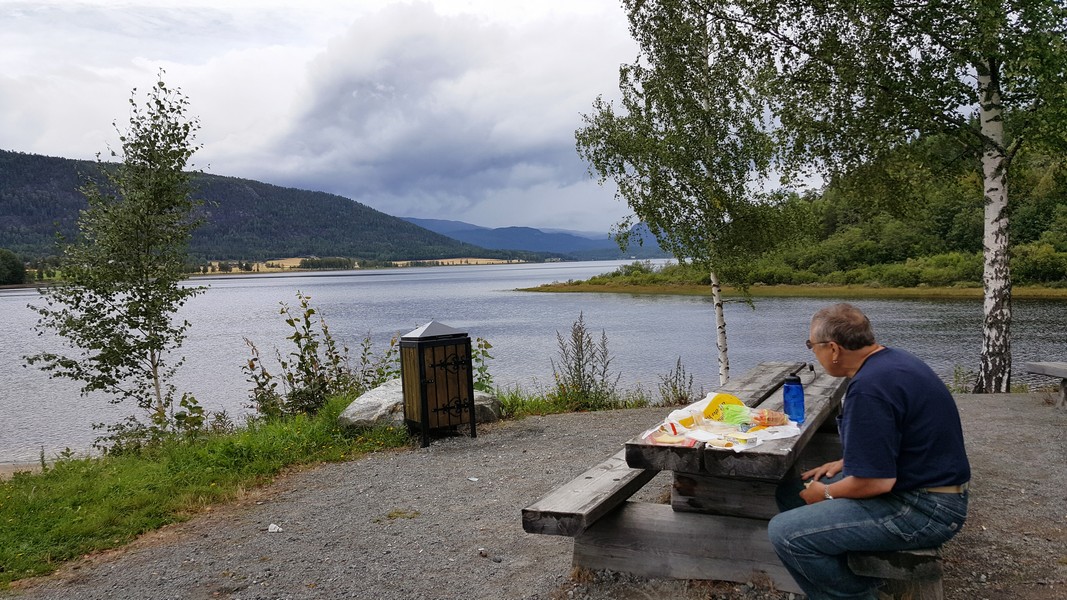 There were nice rest stops and picnic areas.





A Eurasian sparrowhawk on a fencepost. These small birds of prey are about a foot long tip to tail.





Fairytale farms near Solvorn





The picturesque town of Solvorn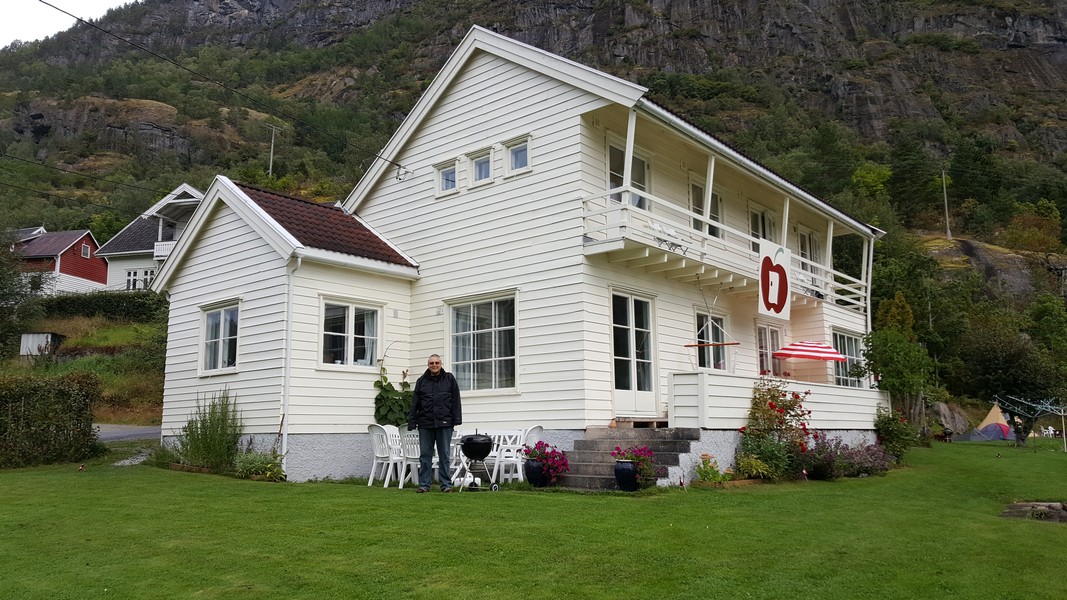 We stayed at "Eplet Bed and Apple," an apple farm and hostel. Our small double room was a bit pricey at almost $90 a night; Scandinavia is expensive.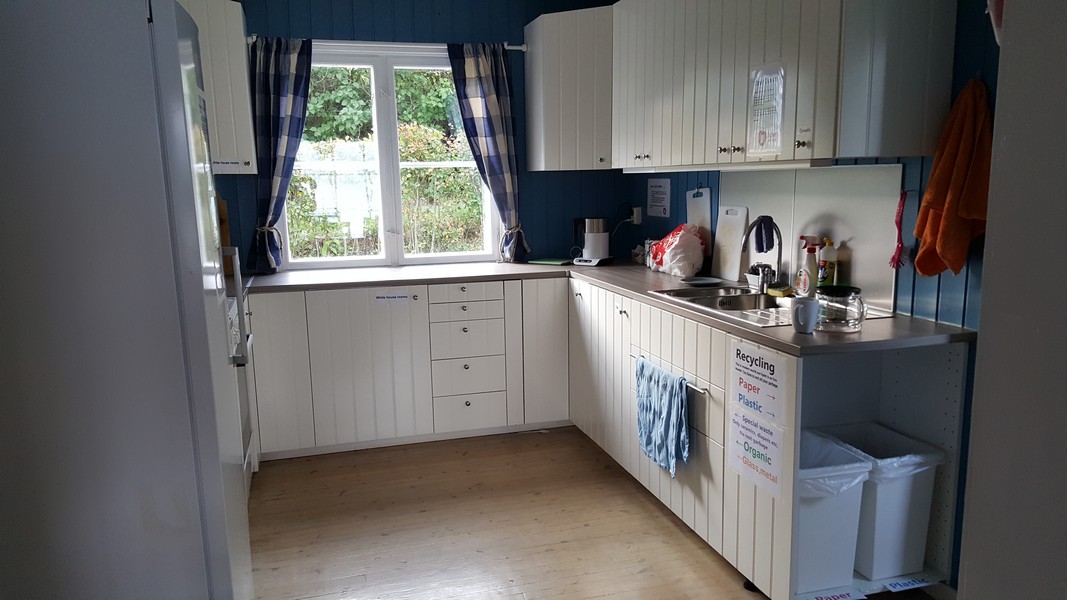 A nice shared kitchen allowed us to cook our own meals and meet other guests.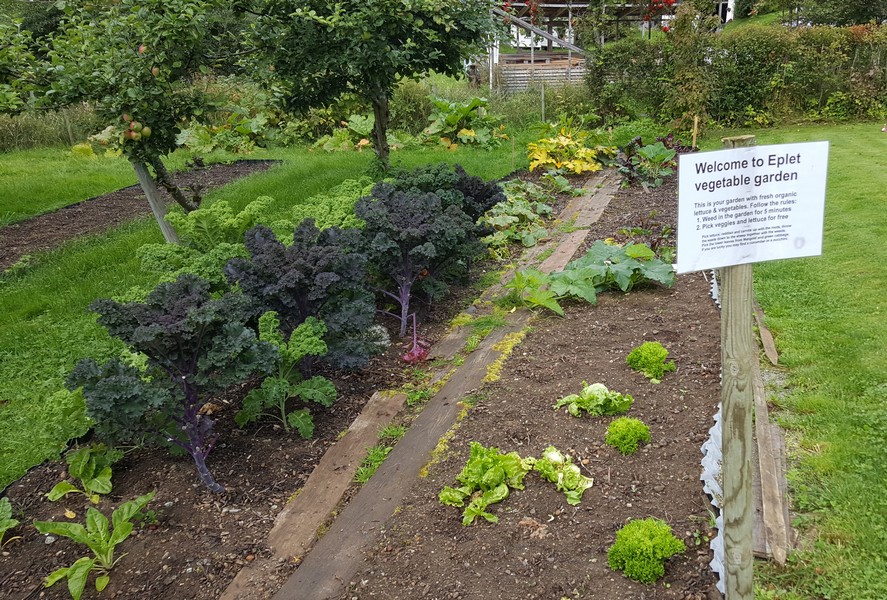 We enjoyed fresh vegetables from the guest garden.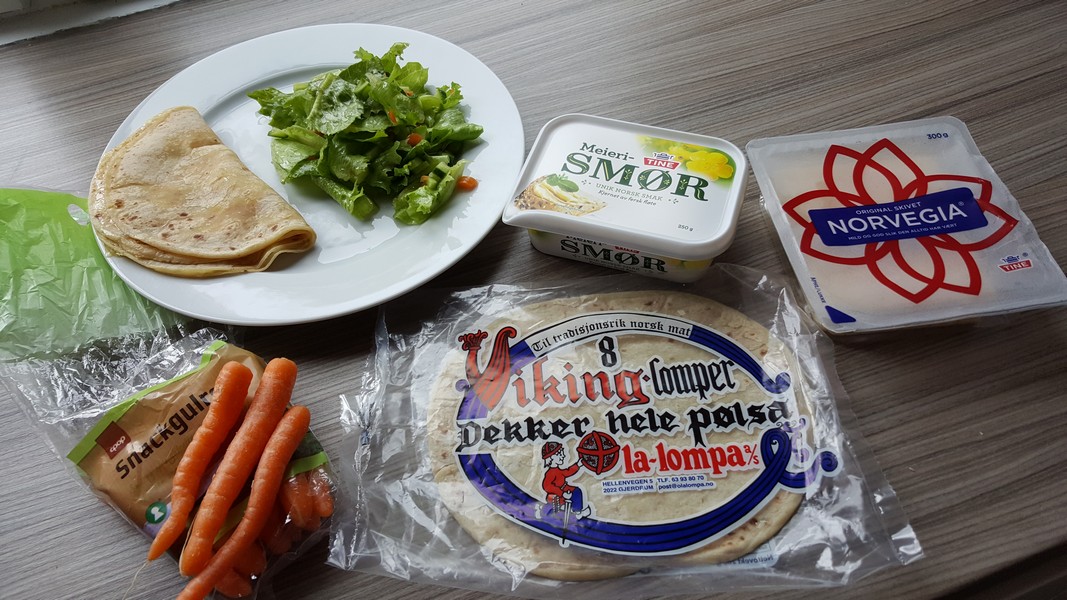 Some typical Norwegian fare: flat bread, cheese, butter (sm°r, sounds like "smear"), and sweet baby carrots.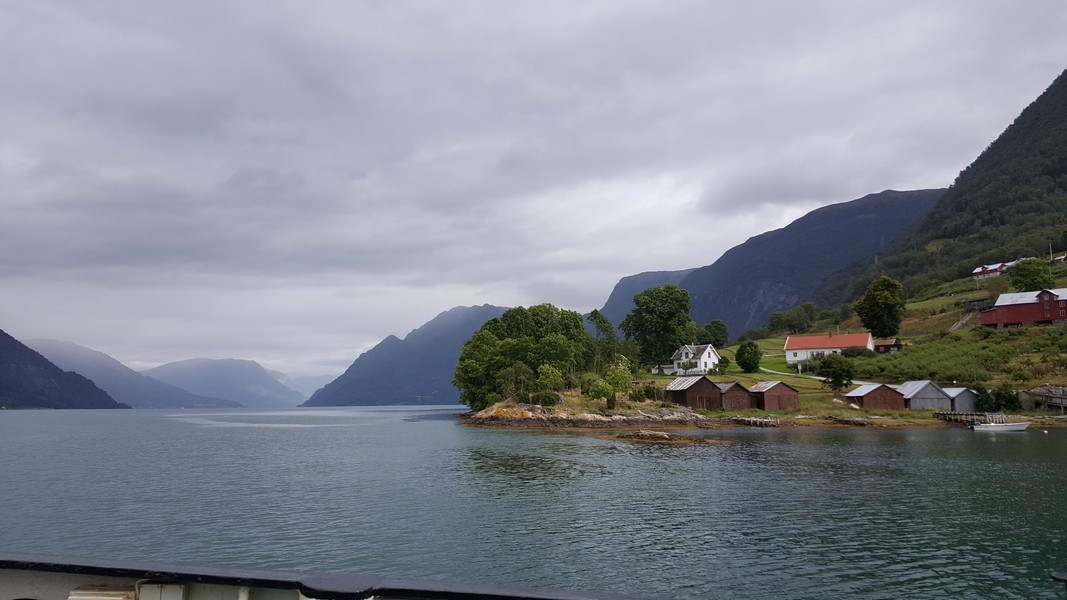 We took a short ferry ride to the tiny farming town of Ornes.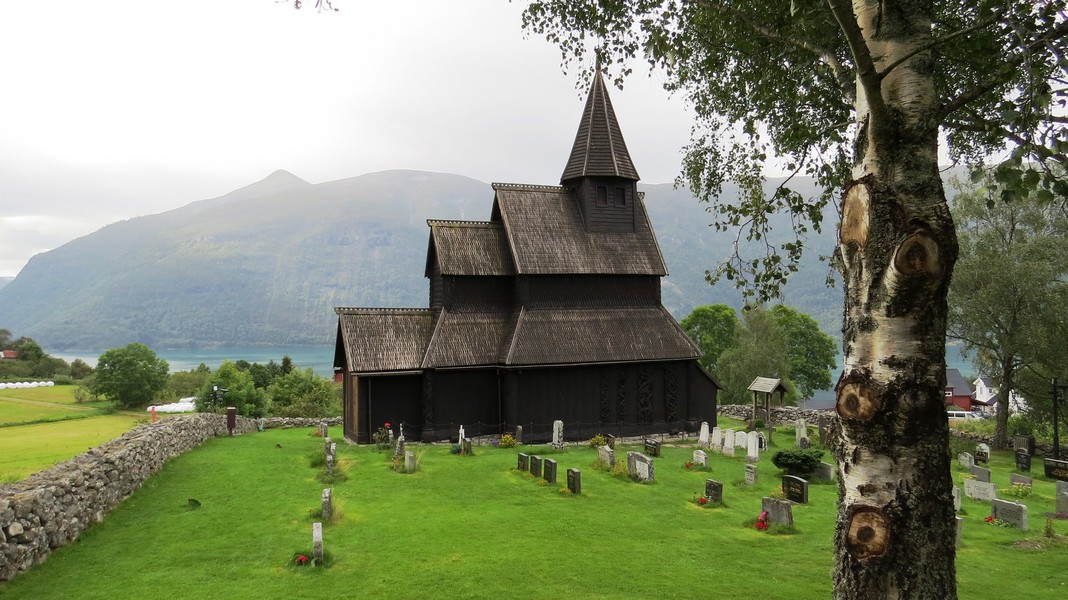 It's a brisk 15-minute walk up a hill, past farm houses and fields, to this 12th-century wooden church, a UNESCO World Heritage site and the oldest remaining stave church in Norway.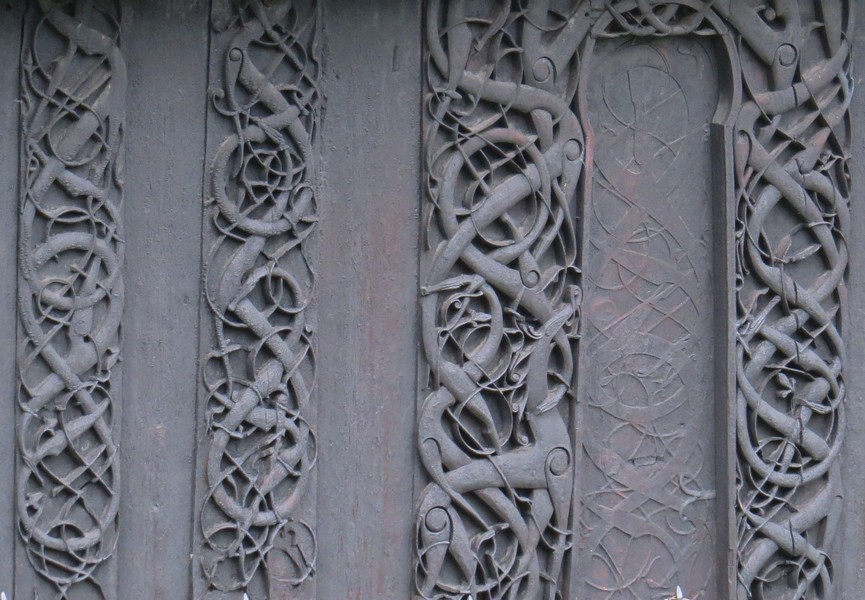 Elaborate wood carvings from an earlier church at this site adorn one of the exterior walls.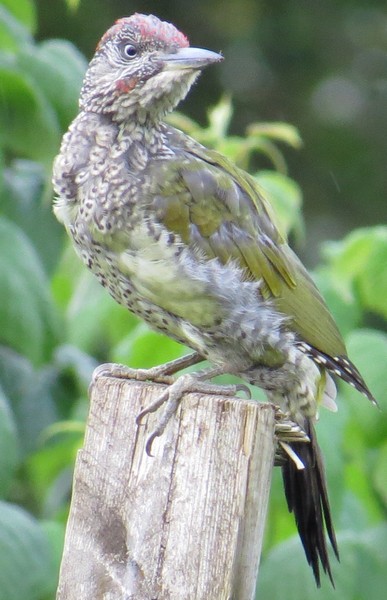 Juvenile green woodpecker; about 12 inches long





Hooded crows (hoodies) are found in Northern and Eastern Europe.





Returning to the small hamlet of Solvorn, I asked one of the ferry workers if he liked living here. He said "Yes, but a little bit too much vinter."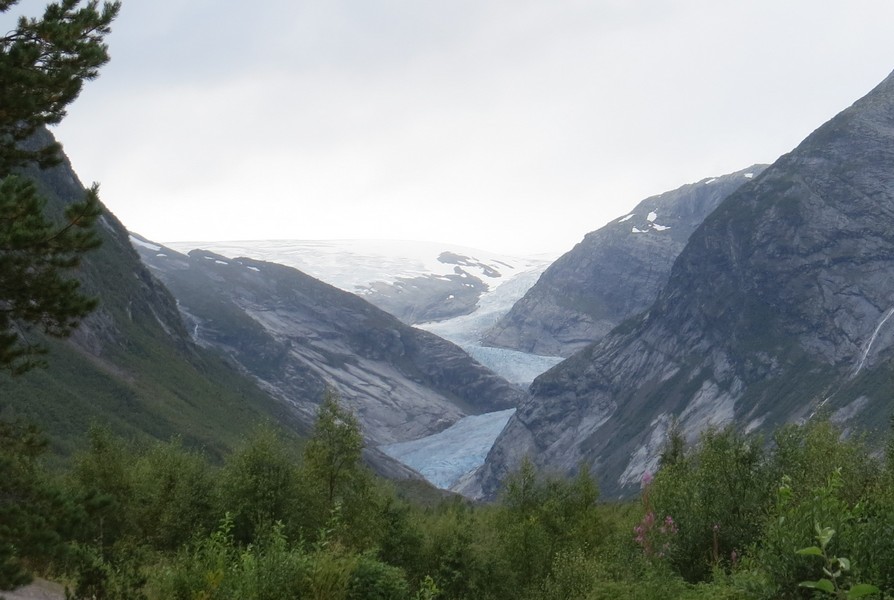 We drove about 1.5 hours north of Solvorn to see Nigards glacier, an arm of the Jostedal Glacier, the largest in Europe.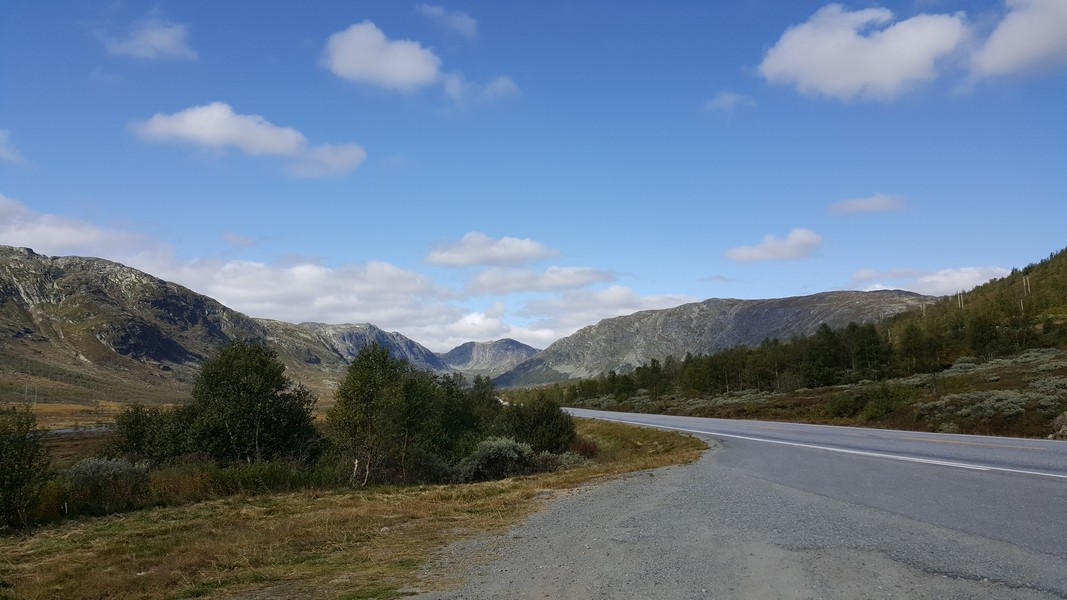 Driving down from Nigards glacier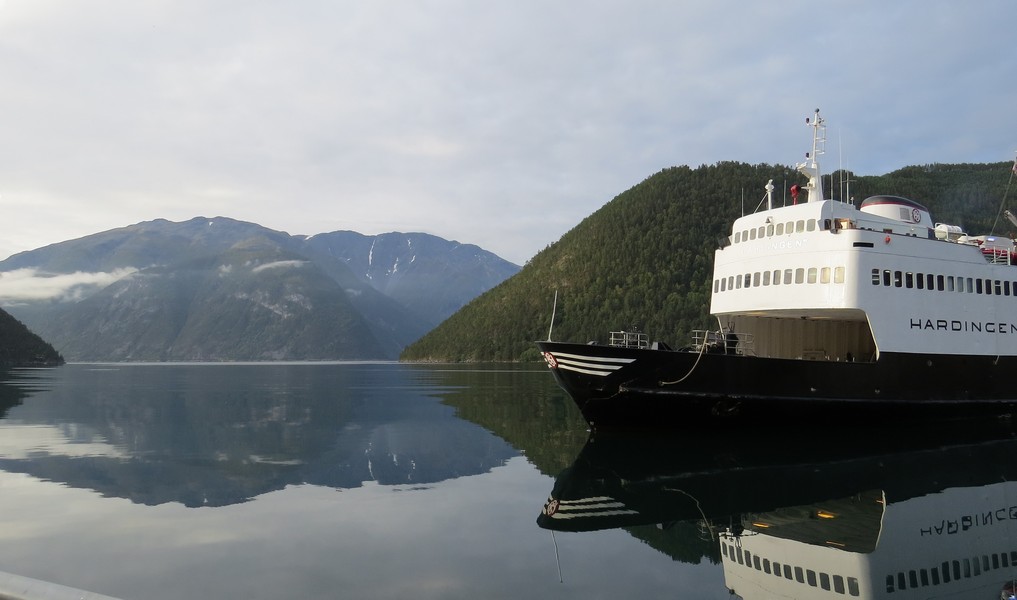 Leaving Solvorn behind, we took this car ferry from Kaupanger to Gudvangen so we could see the famous Naeroyfjord (narrow fjord). It cost $140 for one car and two passengers and took 2.5 hours.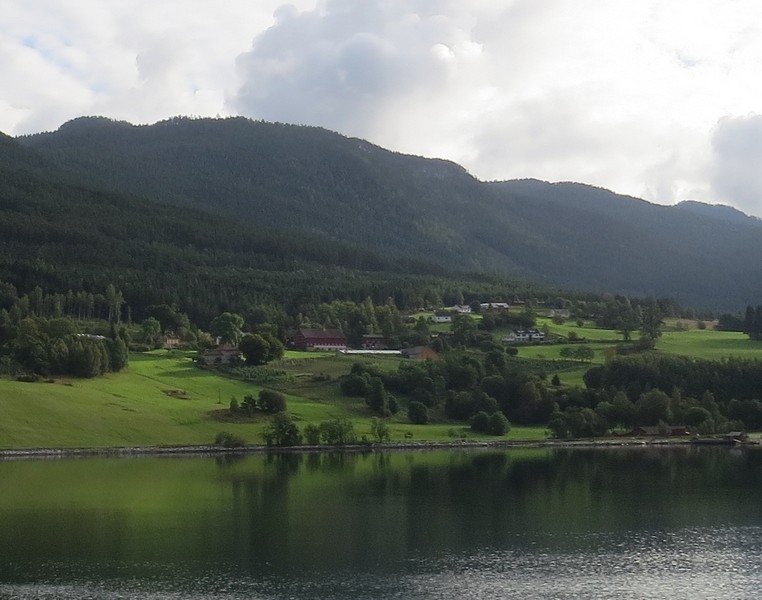 More fairytale farms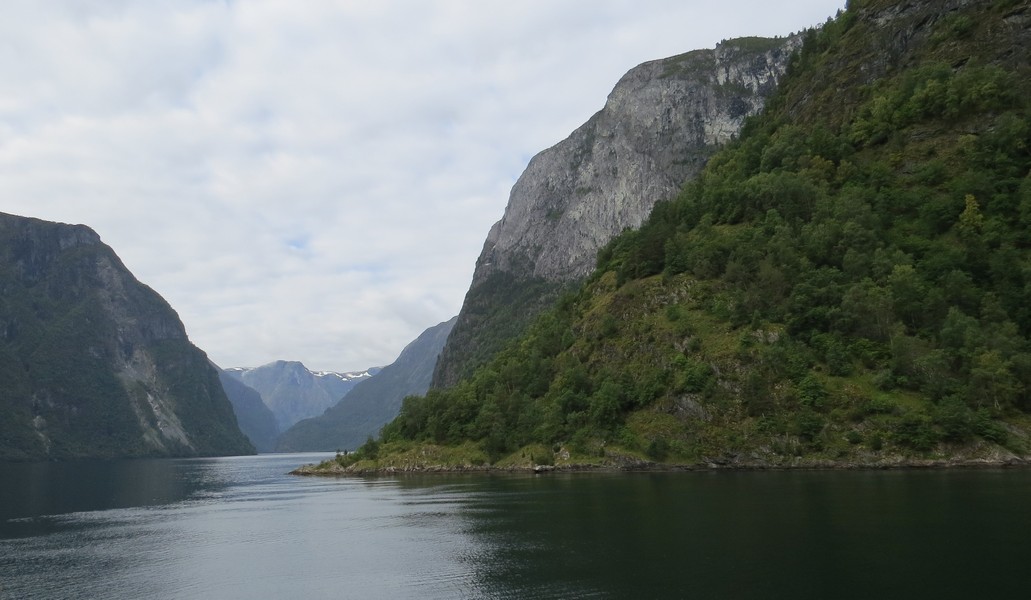 The Naeroyfjord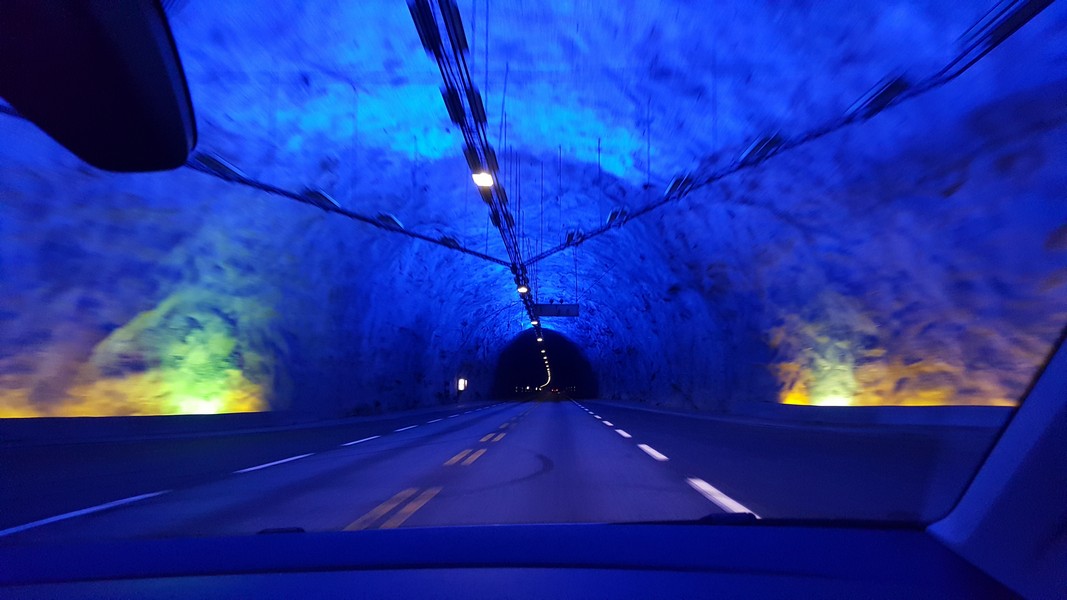 It was a 4.5-hour drive back to Oslo via the 15-mile-long LŠrdal Tunnel, the longest road tunnel in the world (Norwegians are master tunnel builders). To reduce the mental strain on drivers, the tunnel has rest areas at 4-mile intervals. The blue and yellow lights are supposed to look like a sunrise, but reminded me of ice caves.



---
Stockholm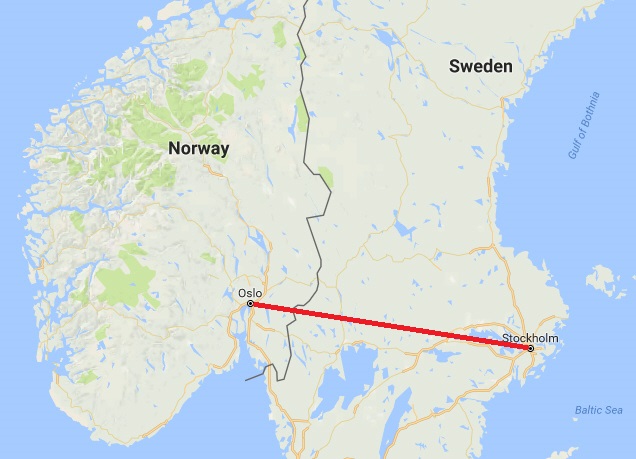 From Oslo we took a train to Stockholm.





The 6-hour ride cost about $60 each.





Stockholm is a city of islands. We stayed in S÷dermalm, the hip, trendy island south of the old town. Our AirBnB room cost $66 a night with kitchen privileges.





Stockholm's historic old town, called Gamla Stan, is a car-free maze of old buildings and cobbled streets.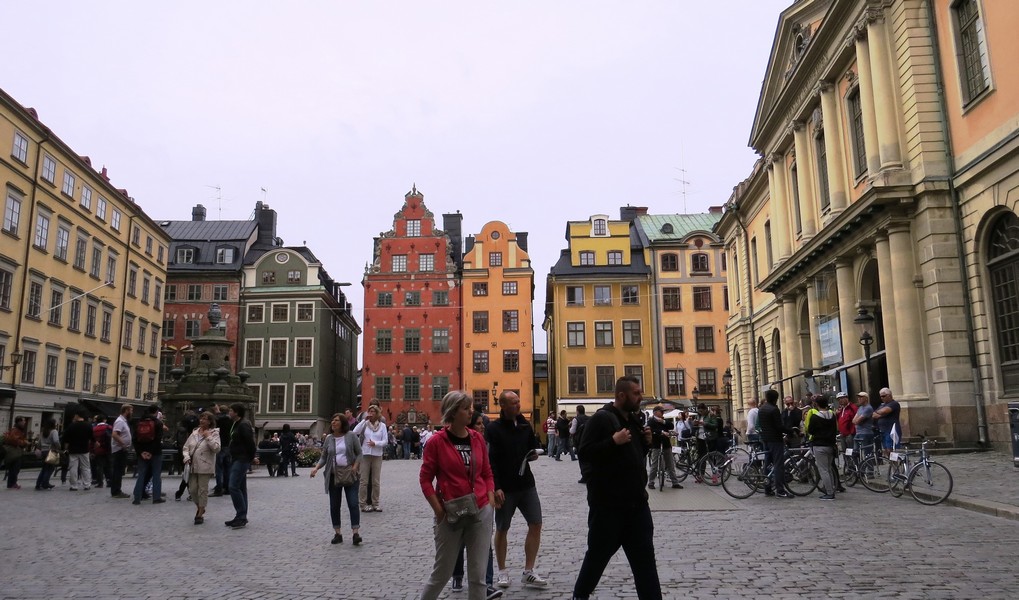 Stortorget, Stockholm's oldest square, was the heart of Medieval Stockholm.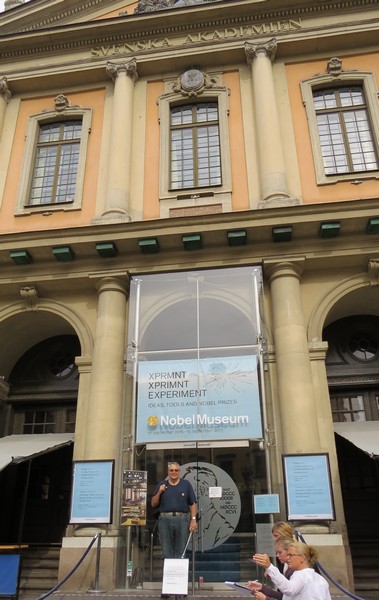 The square is also home to the Nobel museum. Alfred Nobel was born in Stockholm and all of the Nobel prizes, except the peace prize, are awarded in Stockholm.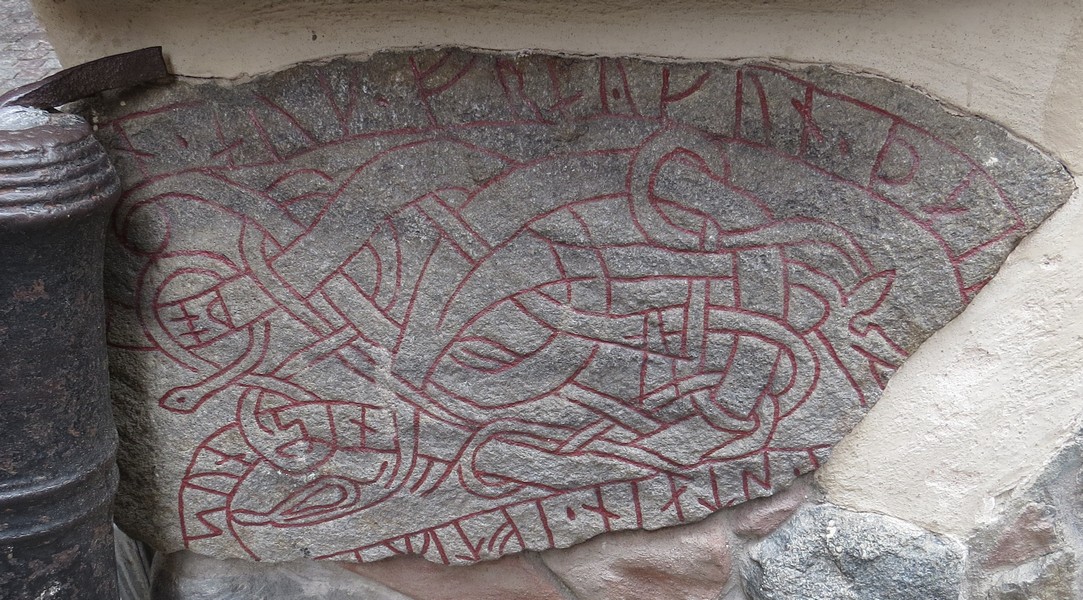 This Viking-era rune stone says "Torsten and Frogun erected this stone in memory of their son."





Skansen is the original "open air museum." Like the Folkemuseum in Oslo, it preserves traditional architecture from all over Sweden.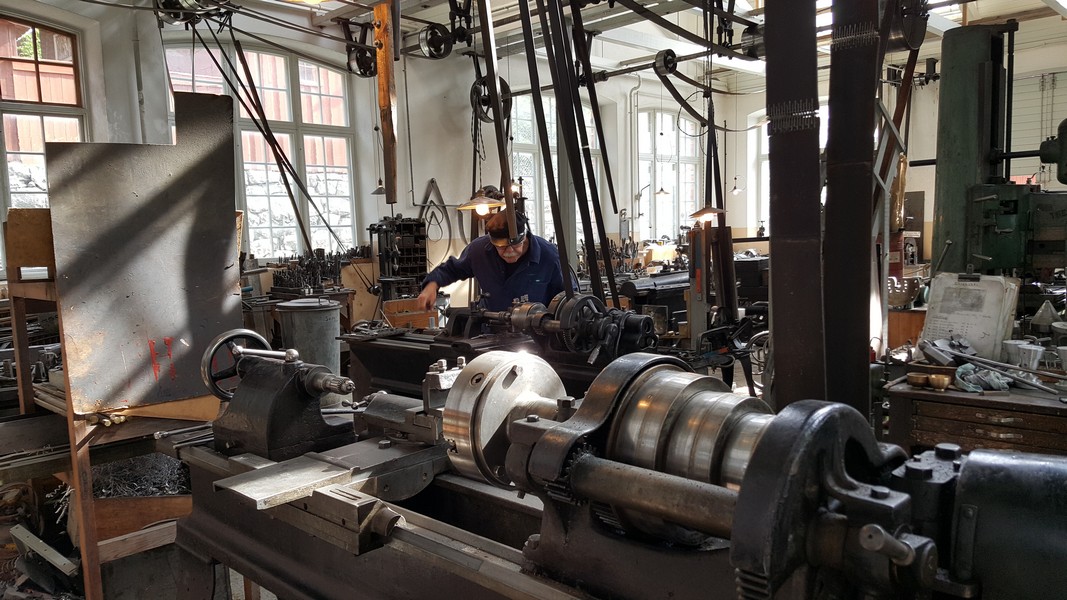 This old machine shop uses an overhead belt system to power the machines.





At the bakehouse you can watch them making barley flat bread in a wood oven.





It was fun to hear this old time band singing in Swedish.





A trip to Sweden wouldn't be complete without Swedish meatballs served with mashed potatoes, gravy, and lingonberry sauce (tastes like cranberries).





The flight from Stockholm to Gdansk, Poland, took one and a half hours and cost $80 each.



---
Poland
We visited Gdansk, Krakow, and Warsaw.
Gdansk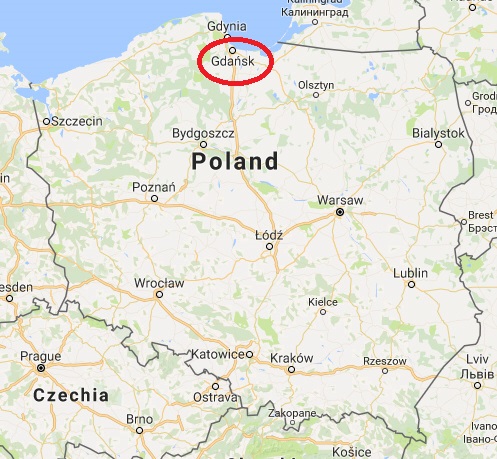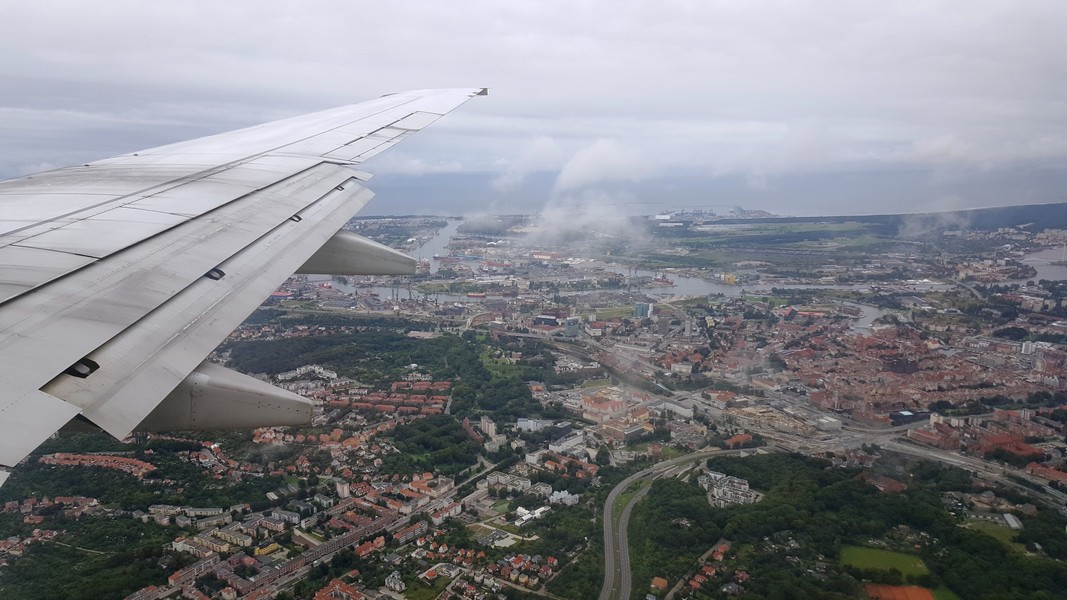 Flying into Gdansk.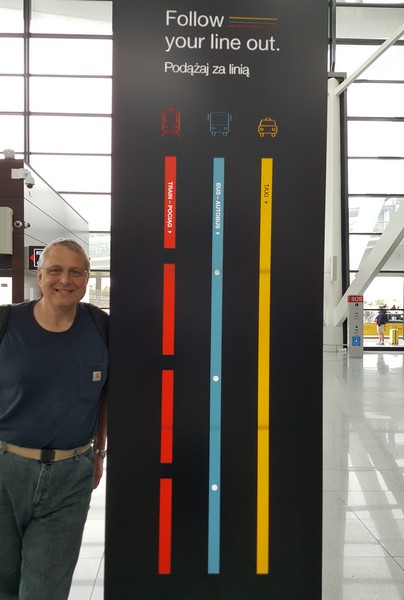 This navigation system at the airport was very helpful and we easily found the bus into town. These days you hardly need any cash when you travel; even bus stops have credit card ticket machines.





We had this entire apartment, with kitchen and washer, for $50 a night. Every place we stayed had good wifi. Although we like staying in peoples' homes, we couldn't always find a good option, and sometimes it's nice to have your own space.





Our apartment building.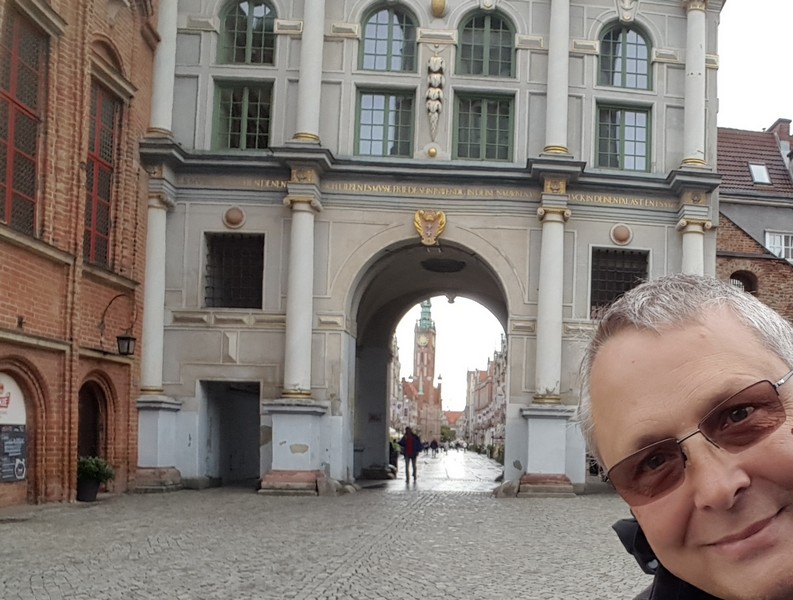 Peeking through the Upland Gate at Gdansk's Royal Way, the fanciest street in town, where the King would parade when he came to visit.





Destroyed during the war, the Royal Way was rebuilt to its mid-1300s grandeur. It is absolutely stunning.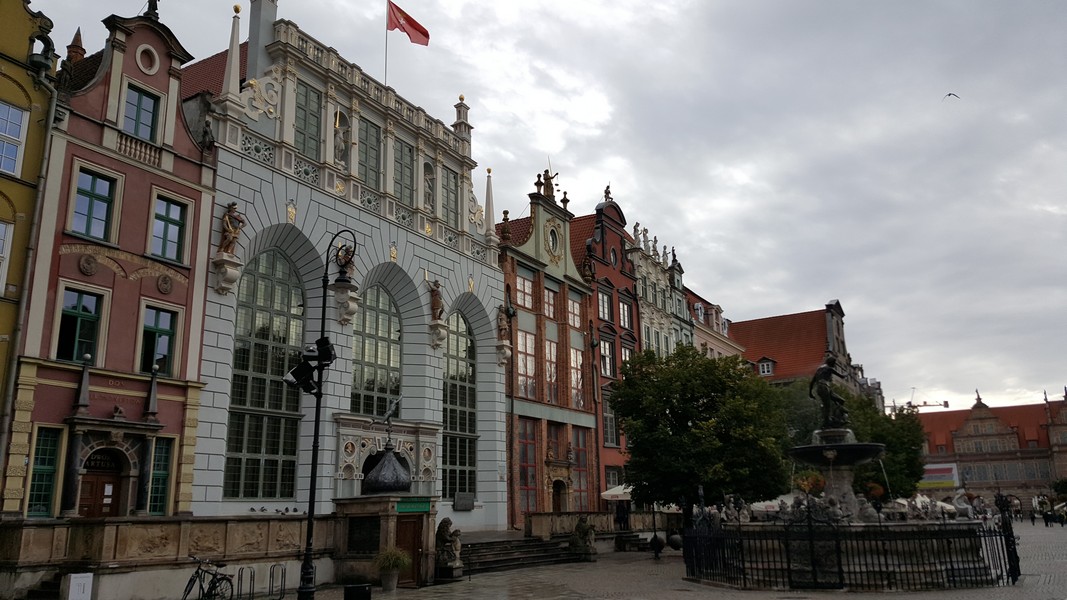 This street was the home of Gdanskĺs politicians, bankers, ship magnates, and other bigwigs. Buildings were taxed based on street frontage, so most of the houses were built skinny and deep. The widest homes belonged to the richest folks.





No expense was spared to outdo the neighbors with ornate detail.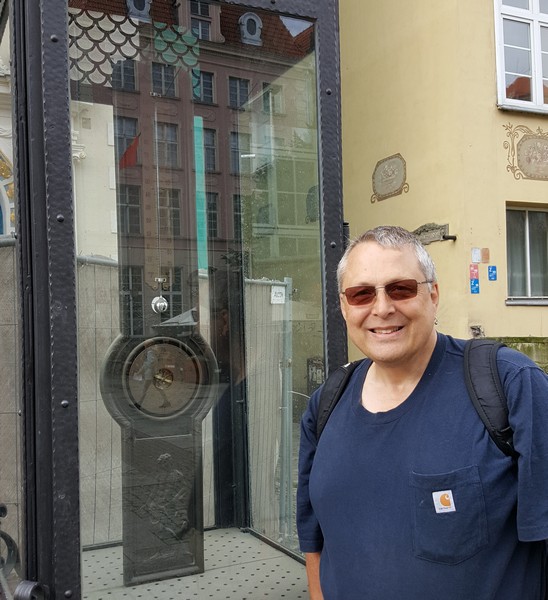 Daniel Fahrenheit was born in 1686 in Gdansk, just a block from this monument (a replica of an 18th century version of his 'Mercury in glass' thermometer and barometer).





This medieval crane on the Gdansk riverfront was once the biggest working crane in the world.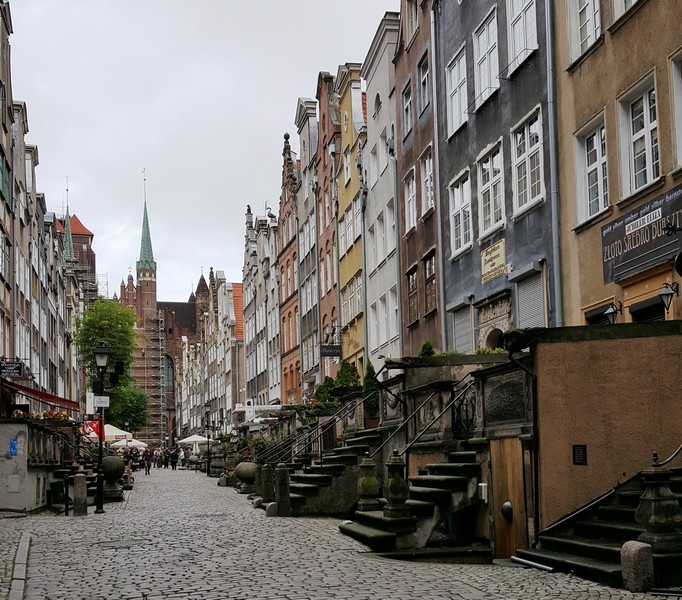 Harry Potteresque Mariacka Street was one of my favorite places on our trip. Utterly magical.





Pierogi for sale in Market Hall, one of the nicest markets we've been to, and not a tourist scene.





Meat counter in the Gdansk market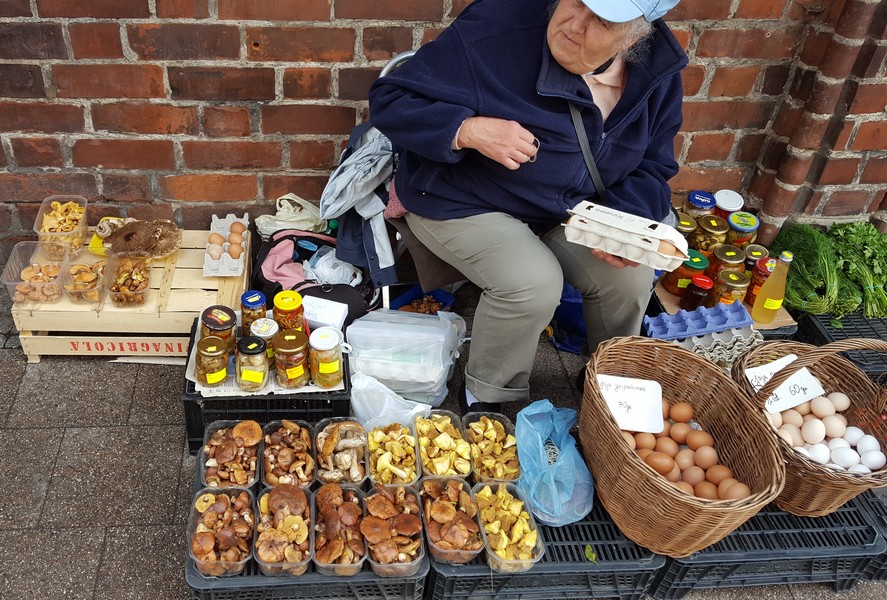 Mushrooms vendors were sprouting like ... mushrooms after a rain.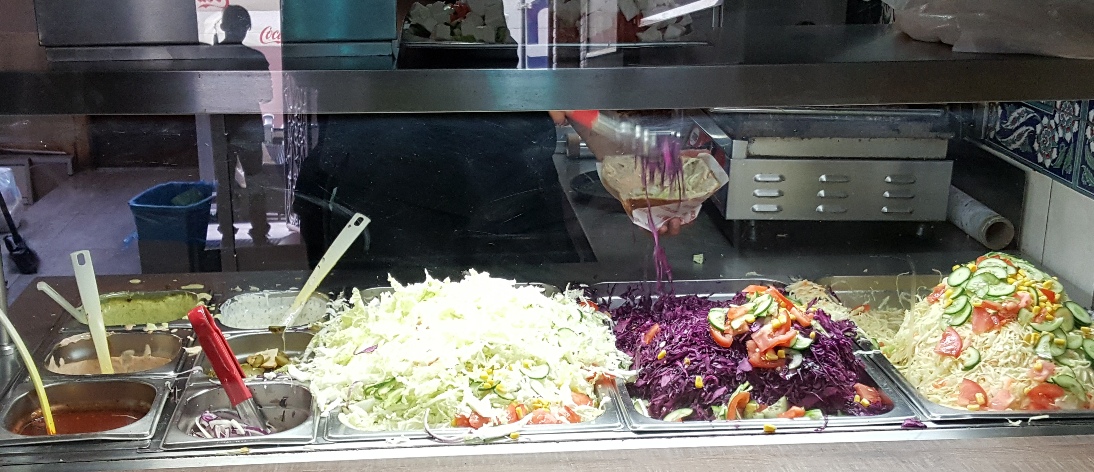 The best kebabs we have EVER had. Meat layered with three kinds of salad, pickles, and four sauces. To die for. $3 each.





Bar Neptune is a traditional Polish "Milk Bar." These cafeterias served subsidized food during the Communist era, and several still survive. The food has apparently improved, but the prices have stayed low, and there are still dour matrons behind the counter.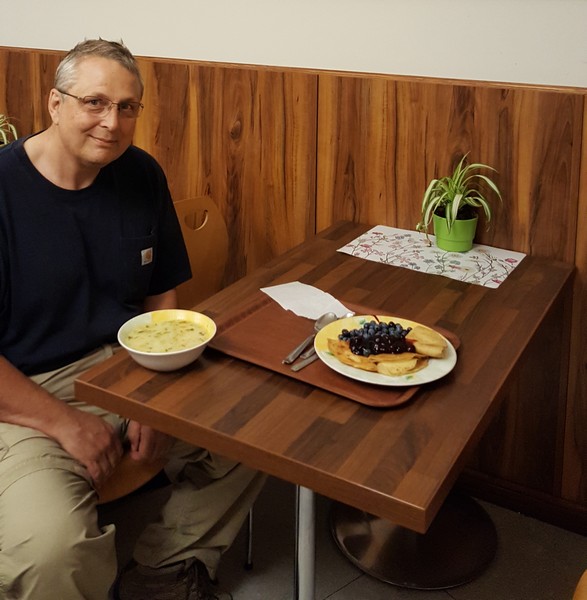 The decor is Communist cafeteria. The dill pickle soup (Ogorkowa) and cheese blintzes were delicious (Polish soups are amazing). Total cost $5.





Hungarian chimney cakes are popular in Poland.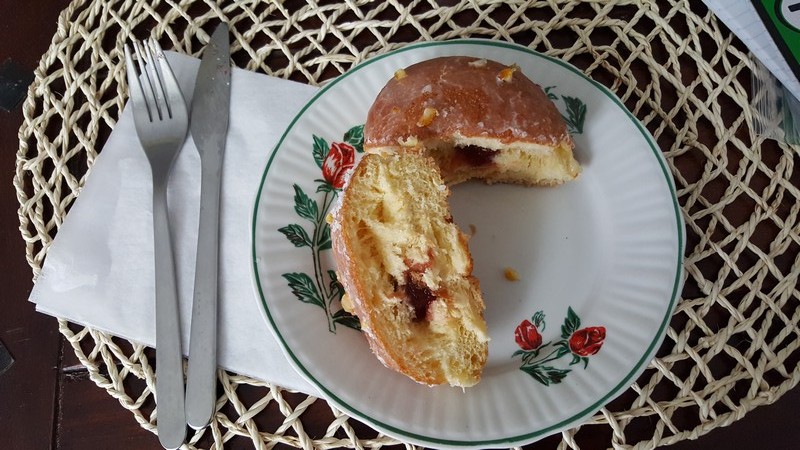 Polish jelly donuts (paczki) are chewy, yeasty, and not too sweet. This one was filled with rose hip jam.





This monument and mural celebrate Johannes Hevelius, a famous astronomer born in Gdansk in 1611.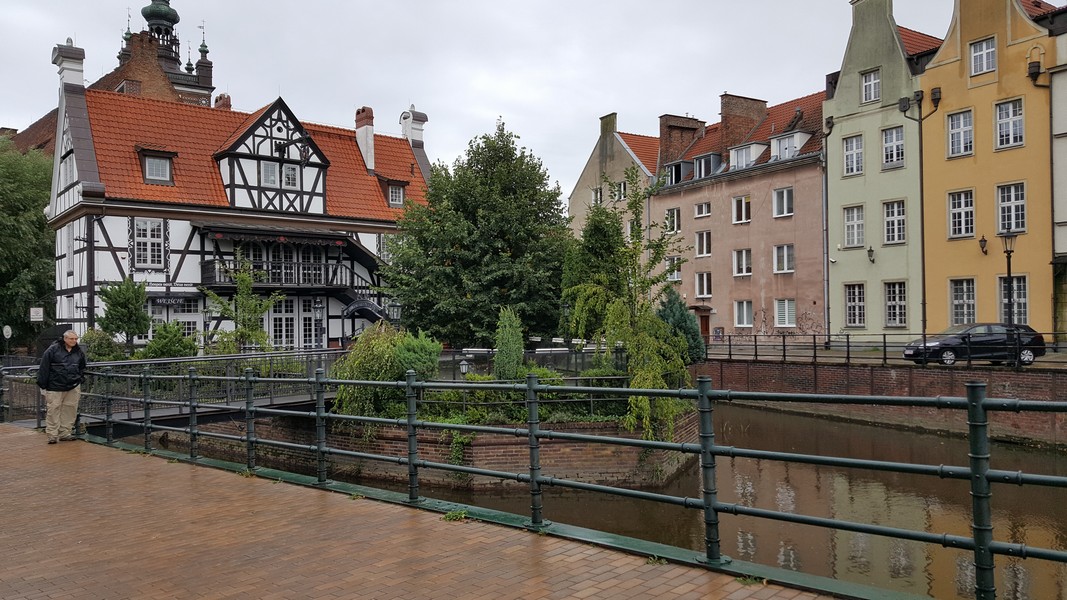 The miller's house in Gdansk (left)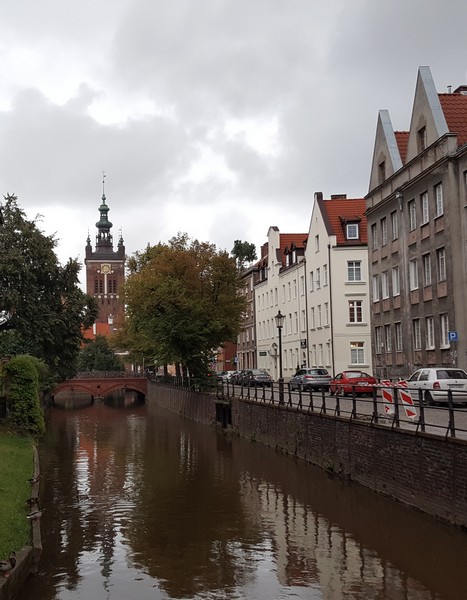 Gdansk canal





Remember Lech Walesa and the 1980 Solidarity movement? It took place here at the Gdansk shipyard. This is the gate where the workers camped out for 18 days, finally winning their fight for better working conditions. Their success sparked a wave of strikes and protests that eventually toppled Communism in Poland, and probably helped dissolve the Soviet Union.





We took a day trip to Malbork castle, an easy 30-minute train ride from Gdansk.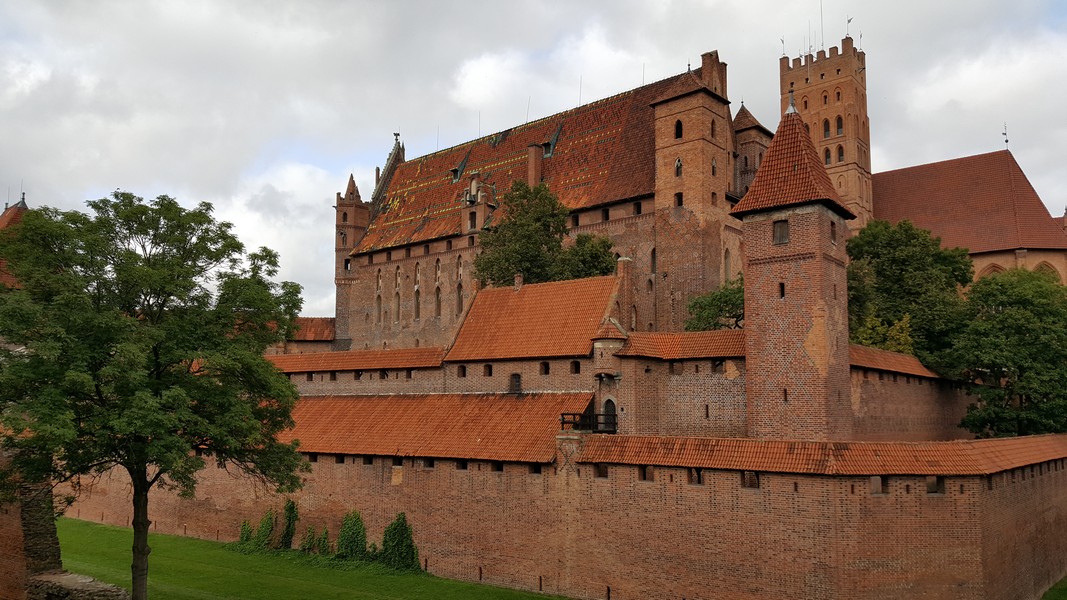 The Castle of the Teutonic Order in Malbork was originally built by the Teutonic Knights, who were Catholic crusaders. On its completion in 1406, it was the world's largest brick castle. The knights collected river tolls from passing ships, and controlled the trade of amber.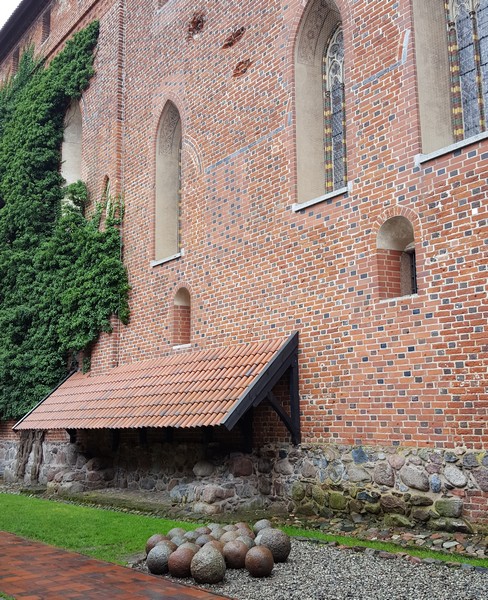 A pile of stone catapult balls that were fired at the castle during a seige and the dents they made in the brick walls (visible at top of photo)





The inside of the castle is stunning. This is the church.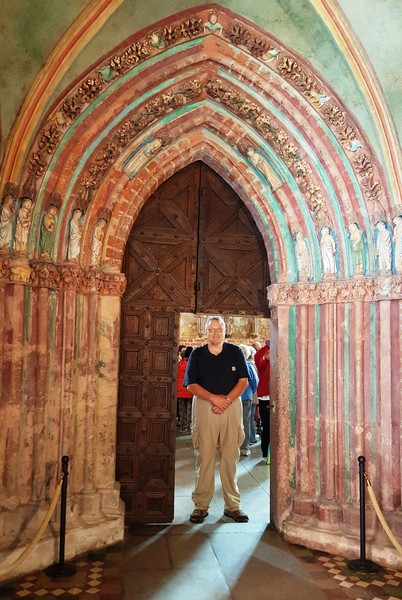 Door to the church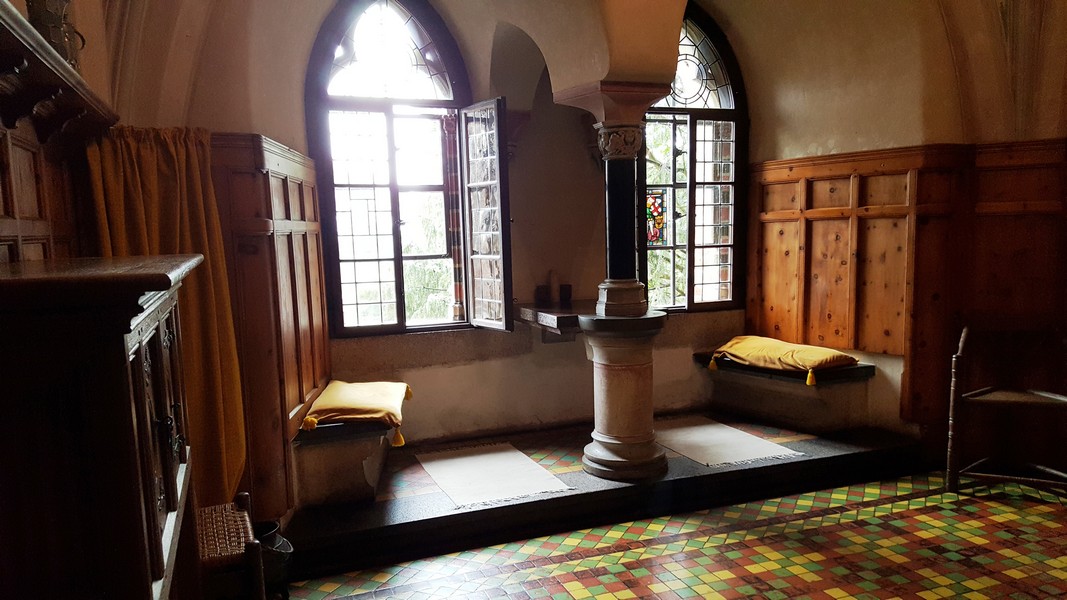 What a nice spot for a medieval chat.





The kitchen





The great refectory





Cupboards where the knights kept their eating and drinking vessels




Enchanting musician at Malbork Castle. Click to see a 16-second video.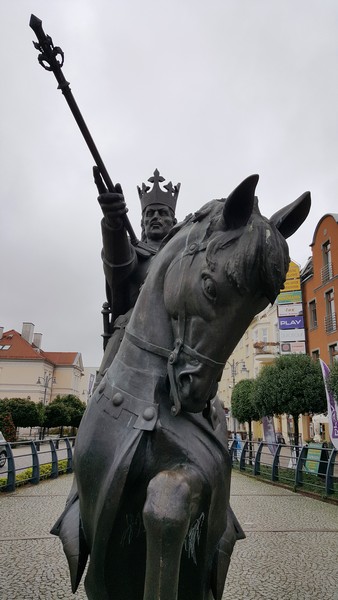 The Teutonic Knights were powerful rulers and ferocious warriors.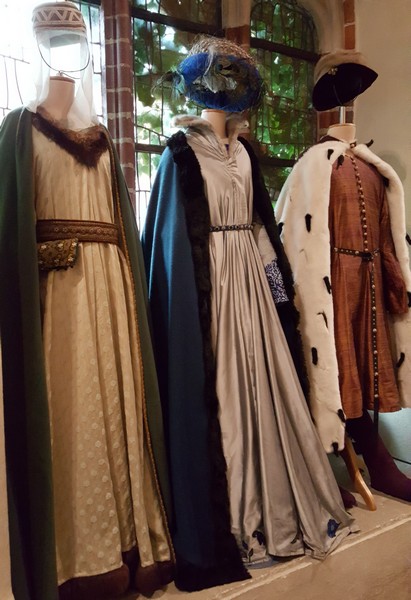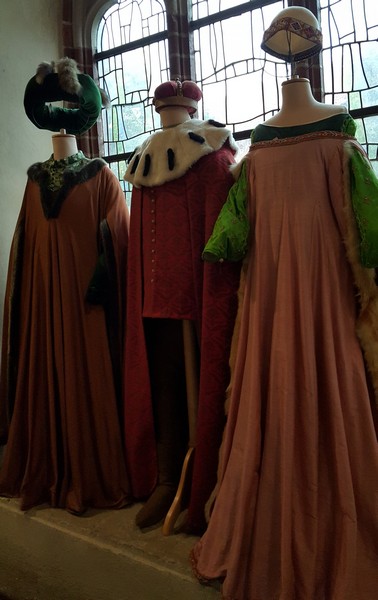 Period clothing at Malbork castle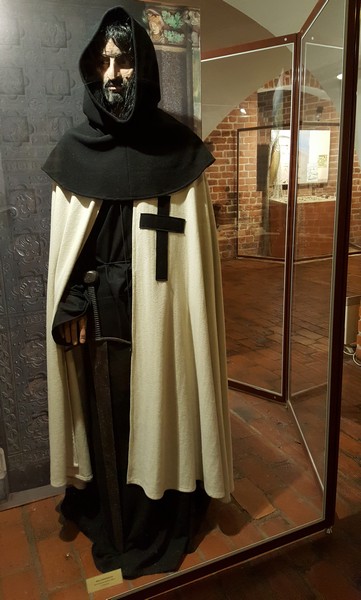 Period clothing at Malbork castle





Medieval horse armor in the extensive collection of the Malbork castle armory. If you like medieval weaponry, you won't want to miss this exhibit.





The Hussars were famous for their winged armor. The most common theory is that the loud, clattering noise of the wings made it seem like the cavalry was much larger, and frightened the enemy's horses.





Wooden altar piece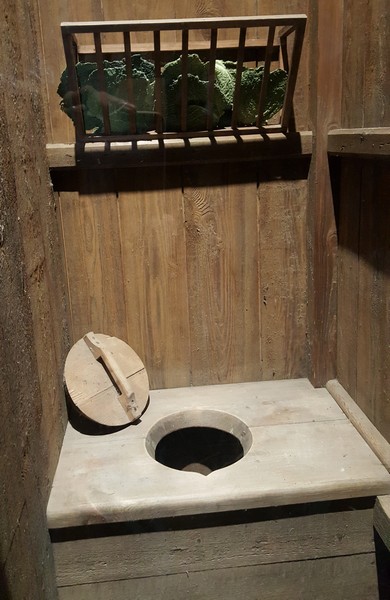 Cabbage leaves apparently had "medicinal" properties in addition to paper-like ones.





Malbork castle has an amazing amber collection. This 18th century cabinet is about 17 inches tall.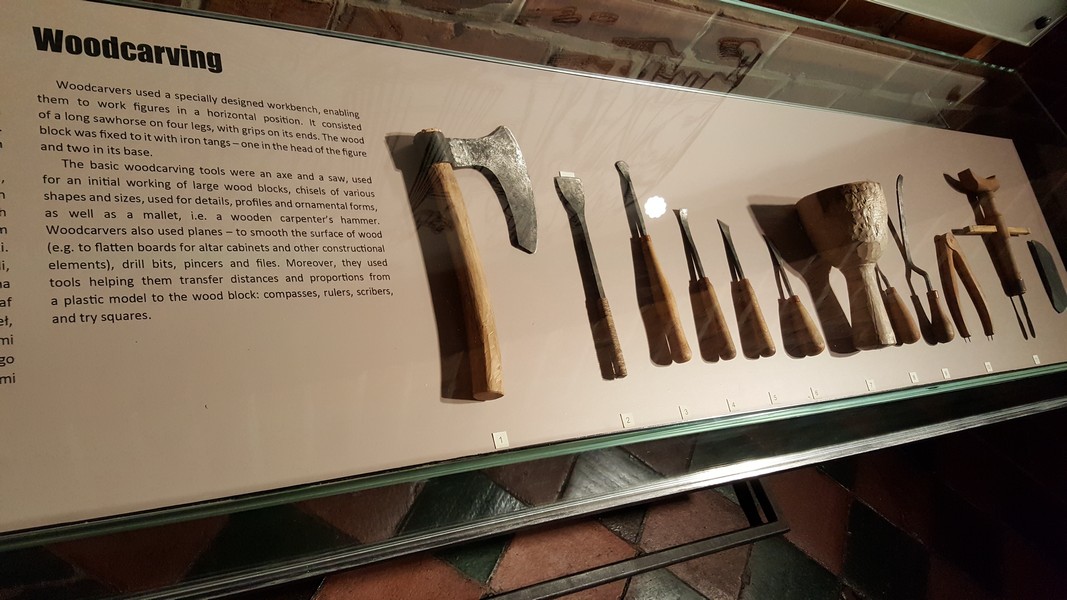 This display of woodcarving tools describes how intricate wood carvings were made.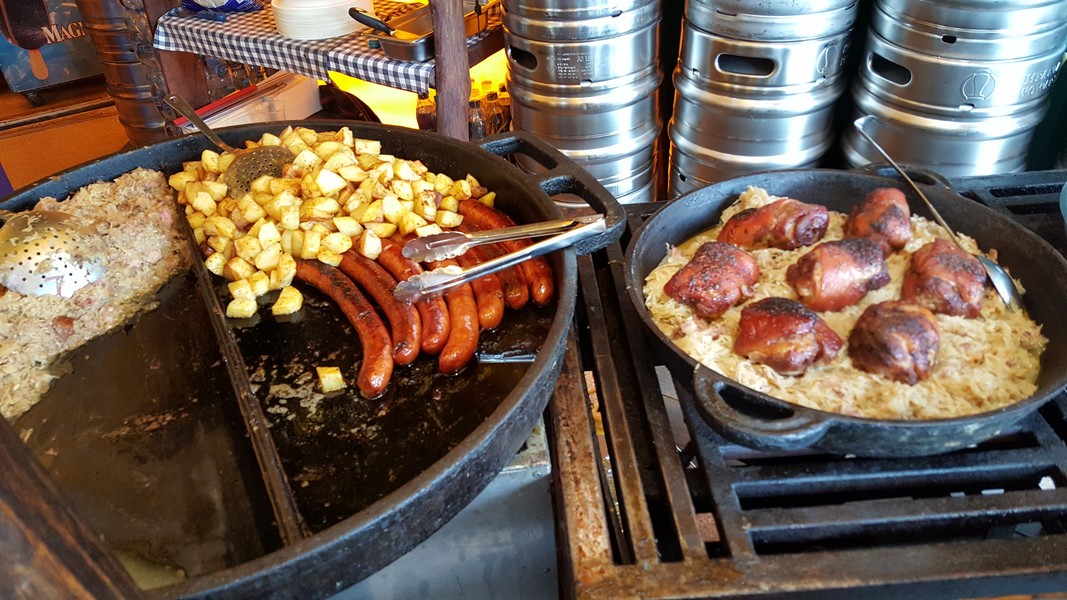 Fabulous fare is served at a medieval eatery on the castle grounds.





This is a pot of bigos, a delectable Polish stew made from cabbage, sauerkraut, onions, and various meats.



Krakow


We took an express 5.5-hour train to Krakow.





First class tickets were $75 for me and $50 for Grant (senior rate).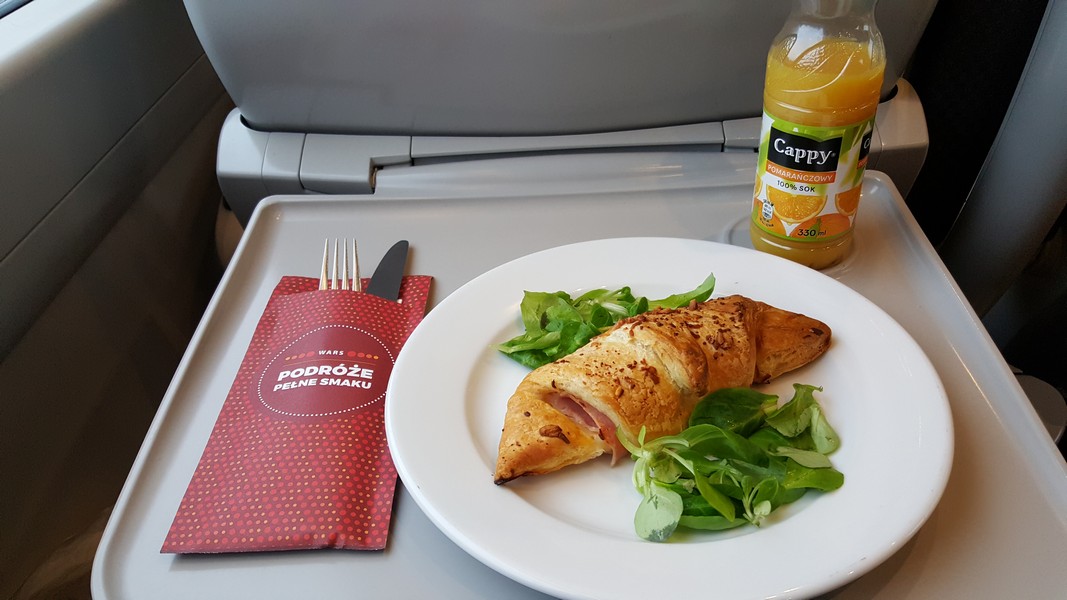 They served us a top-notch ham and cheese croissant.





All of the fields I saw were long rectangles, and I didn't see any farm animals - no horses, sheep, or cows grazing. Narrow lanes wound through charming small towns. Next time we'd love to drive through the countryside.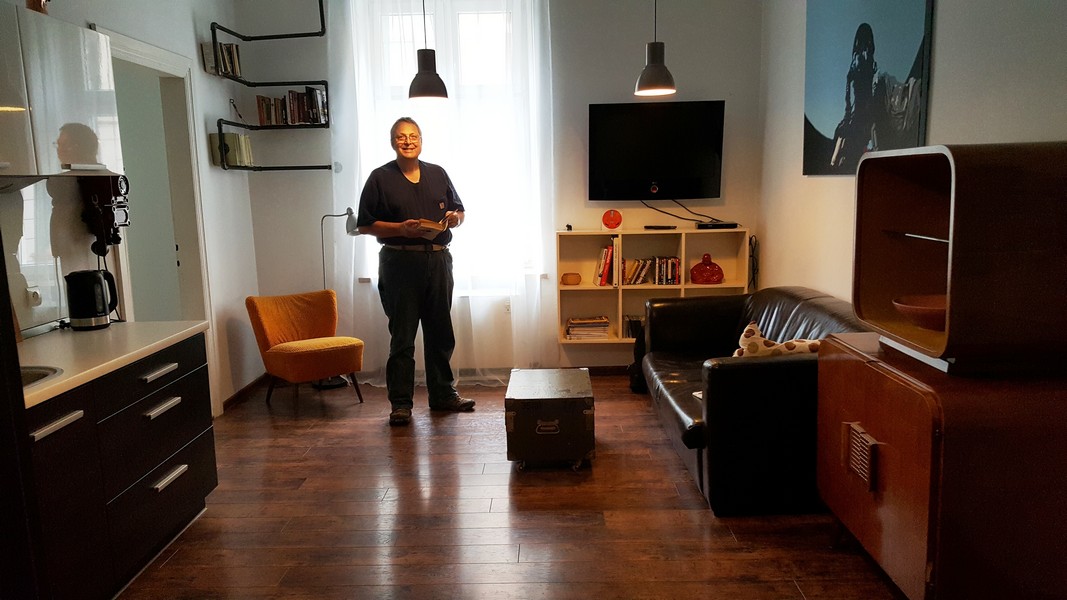 Our mid-century steampunk AirBnB apartment was $45 a night.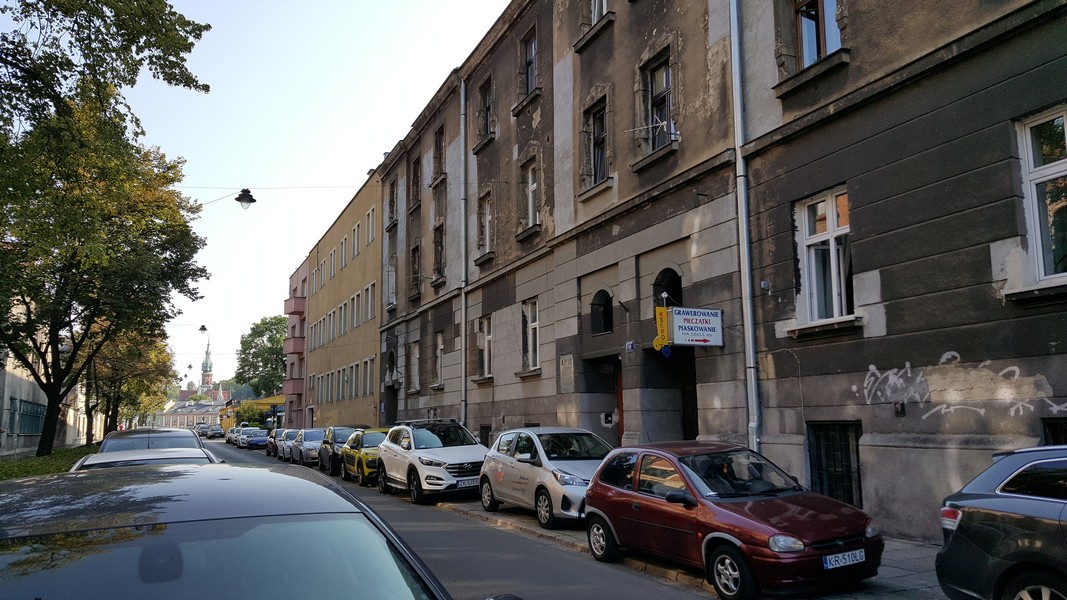 Our street in the old Jewish quarter of Krakow, called Kazimierz.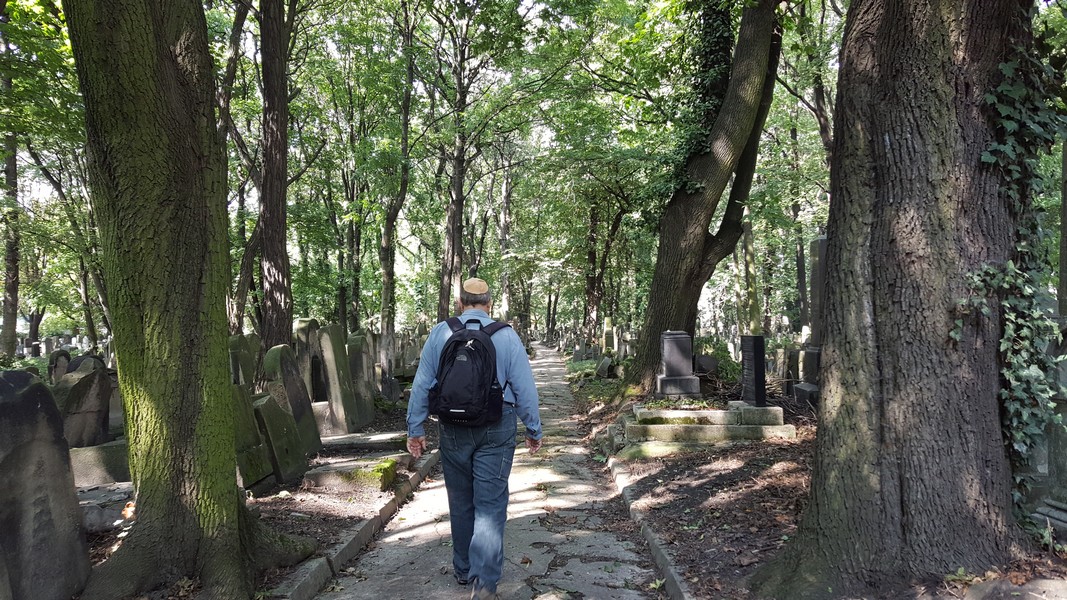 At one time most of Europe's Jews lived in Poland. Krakˇw was their social and political base, and Kazimierz was their neighborhood. This poignantly haunting Jewish cemetery was destroyed during the war, and has only been partly restored. Men are loaned yarmulkes when they enter. Although we did visit Schindler's Factory Museum, we just couldn't bear the heartache of touring Auschwitz, an hour and a half away from Krakow.





Jan Karski was a member of the Polish underground army who tried to stop the Holocaust. He snuck into the Warsaw Ghetto and Nazi concentration camps to witness what was happening and report it to the West. Unfortunately his report largely fell on deaf ears. In 1944 he published a memoir titled My Report to the World: The Story of a Secret State.





Metal chair sculptures in Heroes' Square commemorate the tens of thousands of Jews who were beaten or executed here, or deported from this spot. The chairs symbolize departure, absence, and the homes and belongings left behind.





The term klezmer covers a broad spectrum of Jewish folk music (Fiddler on the Roof is one example). It's played on a variety of instruments and sometimes has vocals. It was originally based on the chanted Hebrew melodies of the Jewish service.





We attended a concert in the 17th-century Isaac Synagogue. It was incredibly evocative to hear the music played in this sacred space.





Mural art in the Jewish quarter of Krakow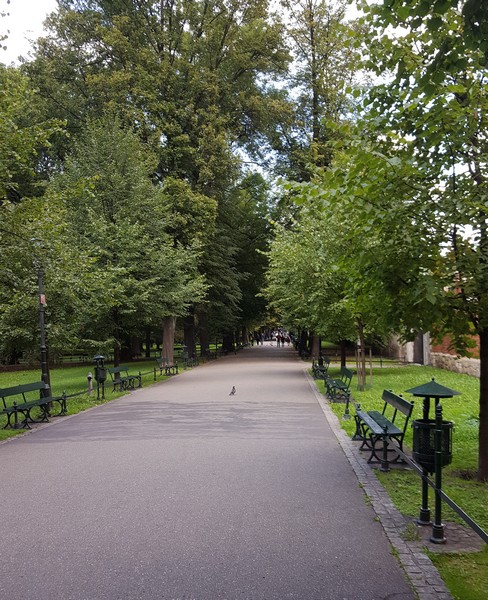 Planty Park is a 2.5-mile loop of greenery that encircles Krakow's old town. Delightful!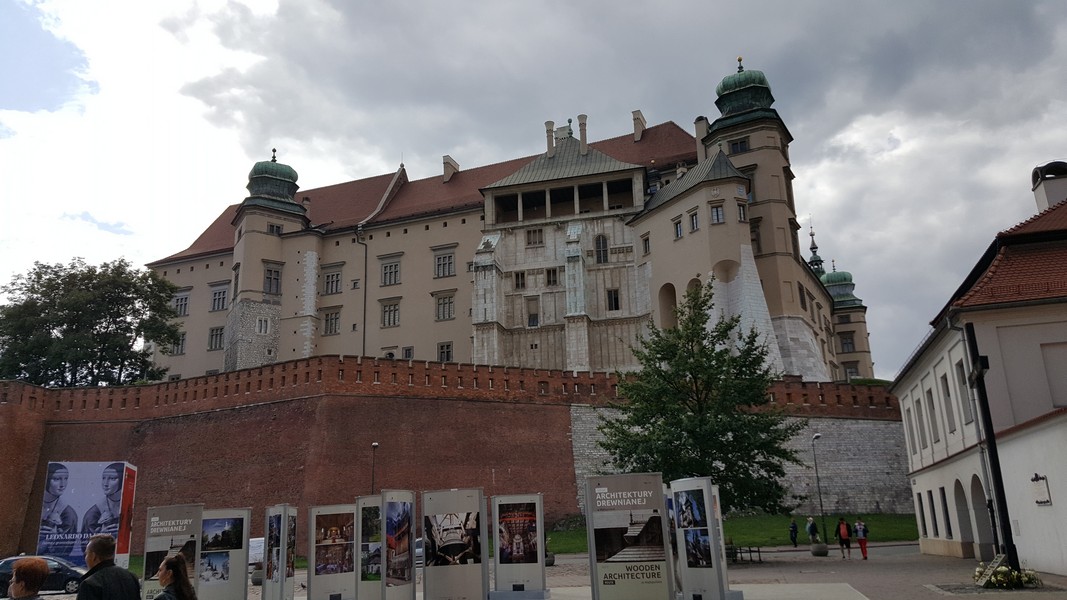 Wawel castle looms over the town. It's the most visited sight in Poland. A symbol of Polish royalty and independence, Poles consider it sacred ground.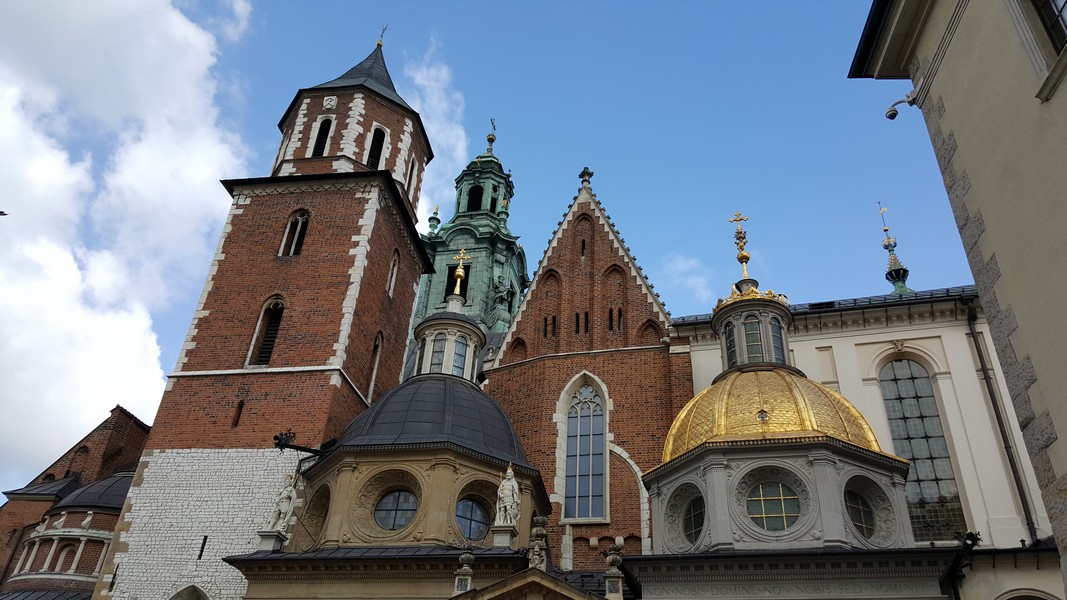 Almost every Polish king and queen throughout history has been crowned here in Wawel Cathedral.





Pope John Paul II was born near Krakow, and prior to becoming pope in 1978 he lived and preached in this city. Poles adore him and his death plunged Poland into national mourning.





A beautiful building in Krakow's old town





The wonderful old market in Krakow





Mushroom season!





Typical Polish souvenirs





We loved this restaurant so much we went there three times. Polish food is wonderful! A typical meal cost us about $2 each.





The menu includes a selection of typical Polish soups, such as borscht, sour soup, and cucumber soup.





We met these Polish IT guys and enjoyed talking with them about life in Poland. The economy is thriving and it seems like a great place to live.





This is a liquor store, and the name says it all.





Zapiekanki is Polish pizza: half a baguette with toppings.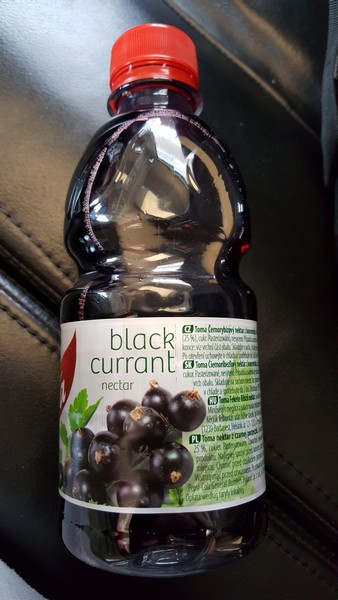 Black currant juice is nectar of the gods. Anyone know where I can get some in the Seattle area?!





Krakow sits on the Vistula River and the riverfront trail attracts throngs of runners, walkers, and bikers.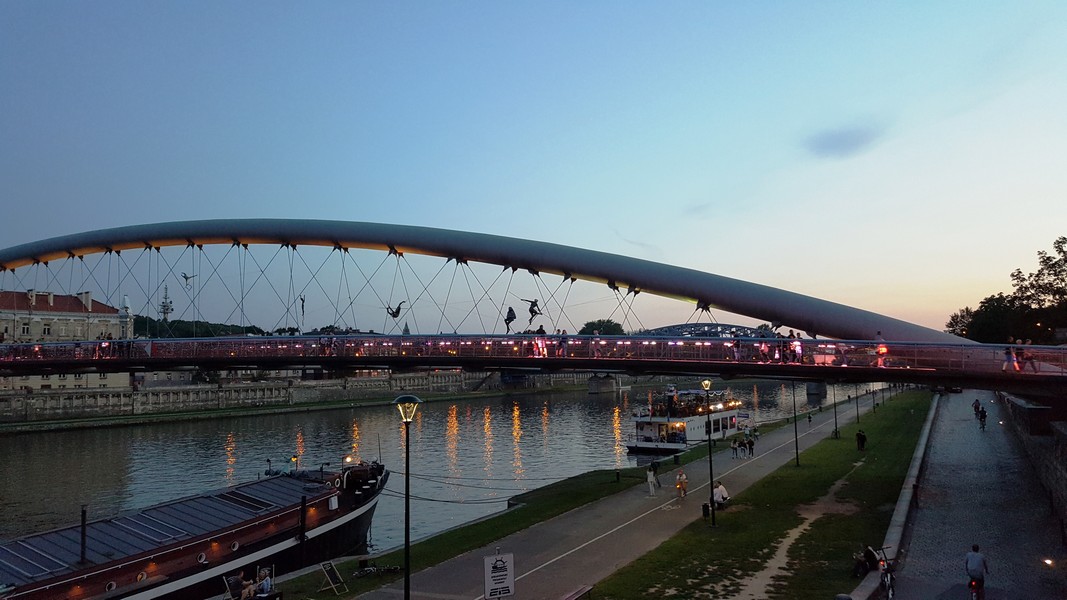 Enchanting acrobat sculptures on a pedestrian bridge in Krakow.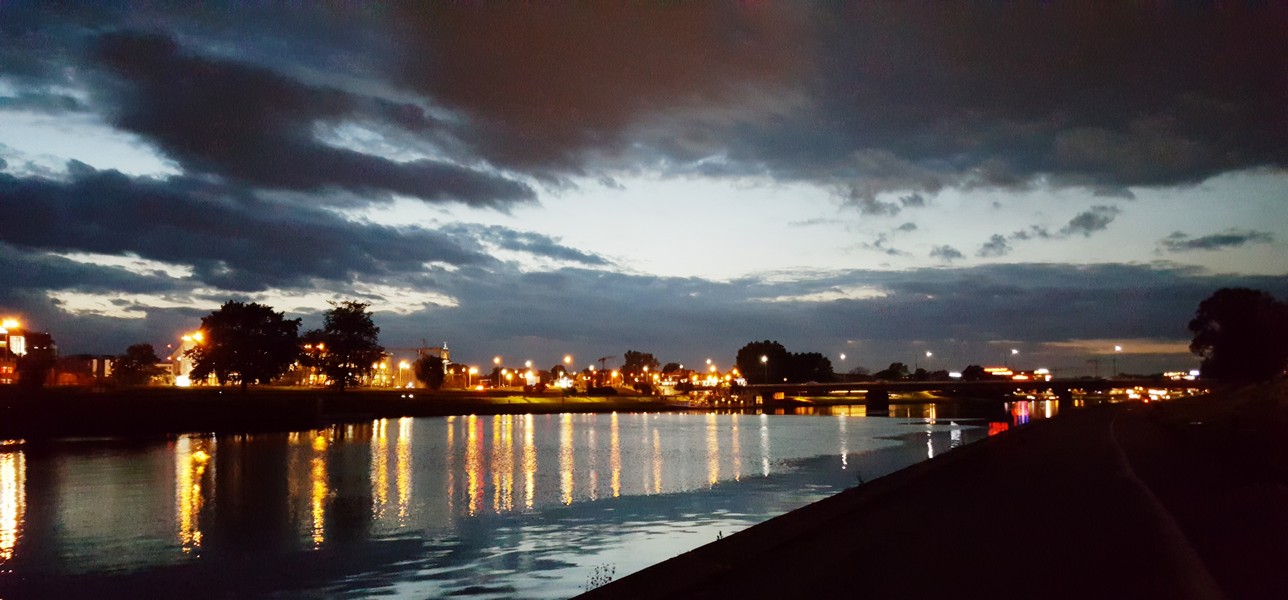 The Vistula river at night


(After visiting Slovakia and Hungary we returned to Poland to visit Warsaw at the end of our trip.)



---
Slovakia
Bratislava


Our 6-hour train to Bratislava, Slovakia, stopped at the Czech border, in the middle of nowhere, for a transfer. We were impressed when the next train showed up right on time. All of the trains we took departed and arrived on schedule.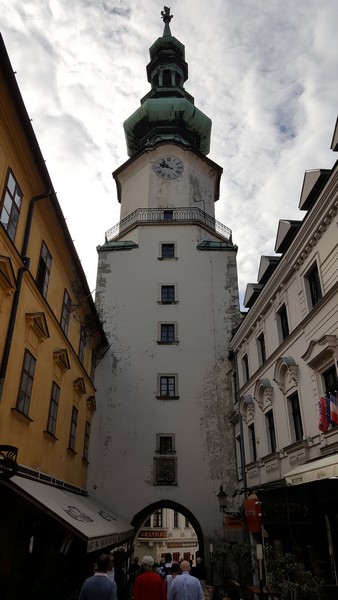 We stayed near St. Michael's Gate in the center of Bratislava's super charming, small, touristy old town.





The courtyard of our AirBnB building. Our door is the top one at the end.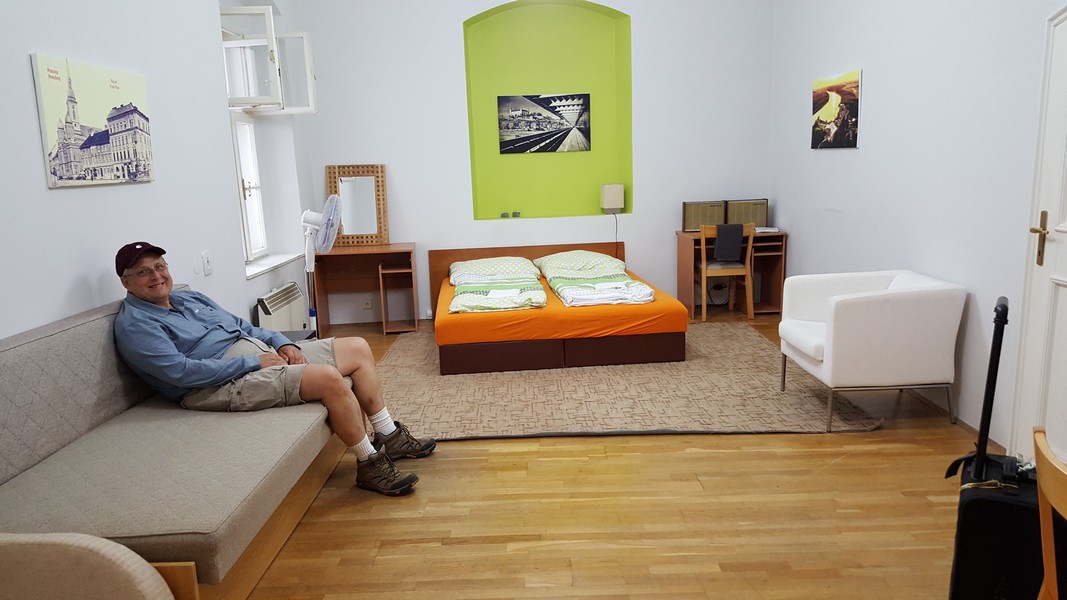 Our spacious room in Bratislava cost $46 a night. We had access to a small kitchen.





The beautiful main square in old town Bratislava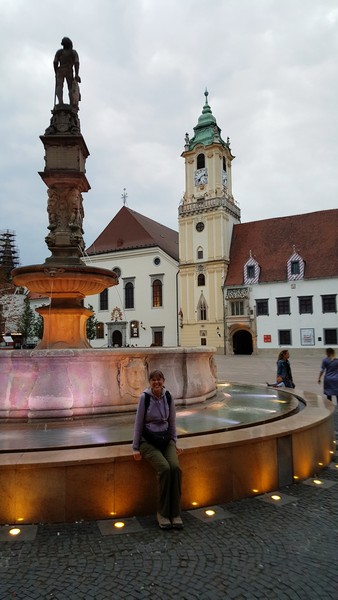 Old town Bratislava





It was a warm day and there were misters to cool you off.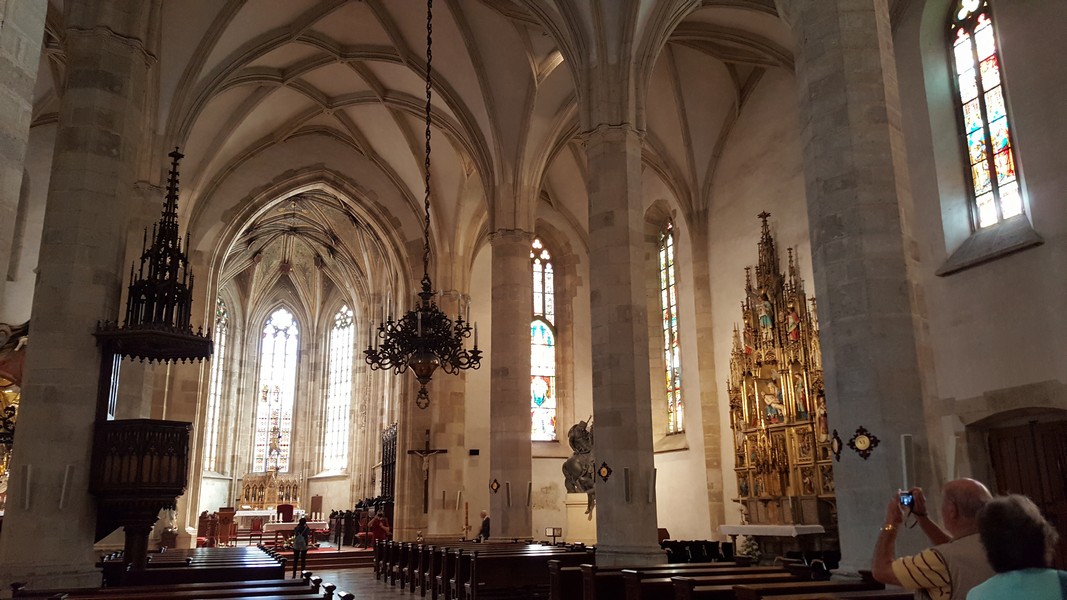 The Gothic interior of St. Martin's cathedral features elaborate carved wooden altarpices.





View across the Danube River to Bratislava's castle, sometimes called "the upside down table."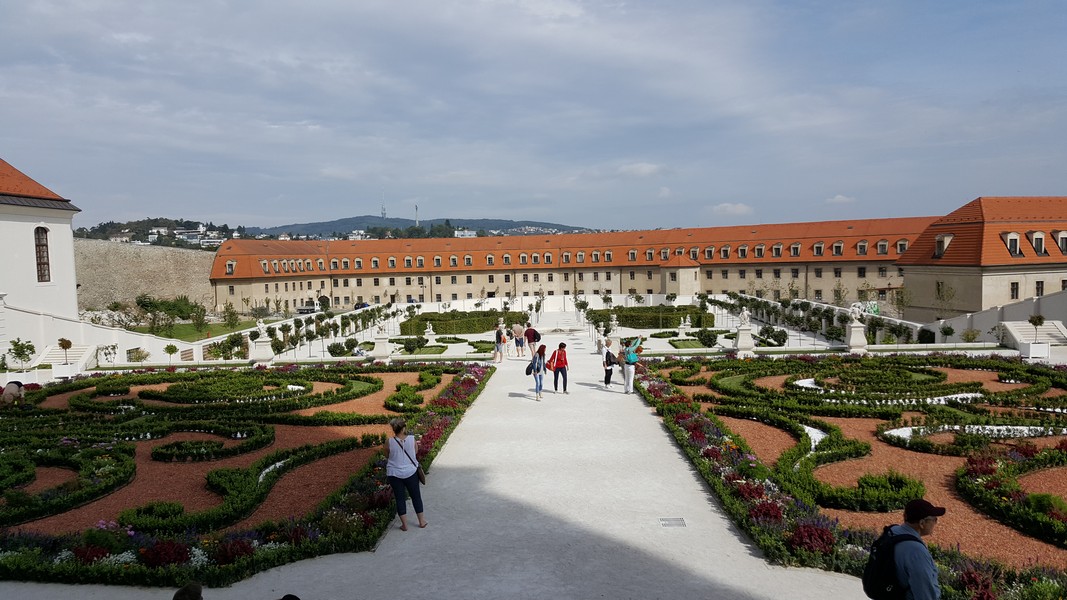 Bratislava castle garden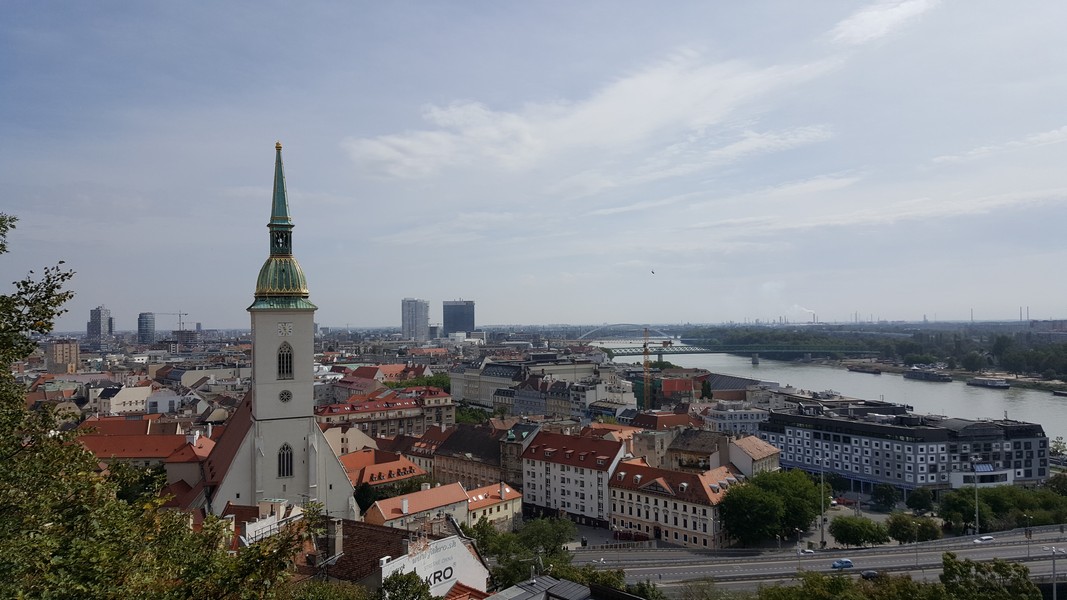 View from the castle of Bratislava





View of the Danube River and the SNP bridge, also called the UFO bridge. Its construction by the Communists in the 1960s required destroying large swaths of Bratislava's old town and Jewish quarter, forever altering the fabric of the city.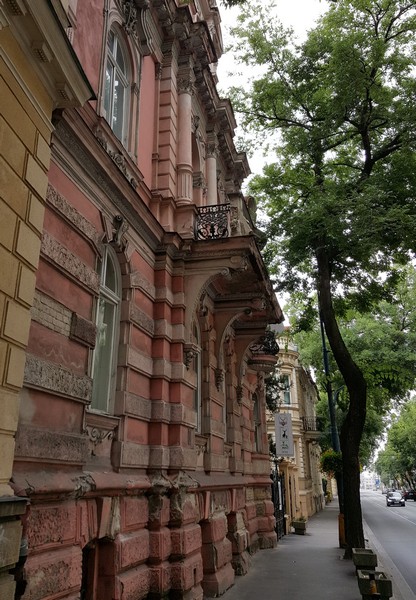 Bratislava is a wonderful mix of old and new, restored and decaying.





The decaying old buildings are glorious, like former beauty queens with wrinkles.





The economy appears to be thriving, and there is construction and restoration work everywhere, so I think many of the decaying buildings will soon look like these.





One sign of the thriving Eastern European economy are upscale new Western-style malls like this one.



---
Hungary
Eger


From Bratislava it was 2.5 hours to Budapest and another 2 hours to Eger.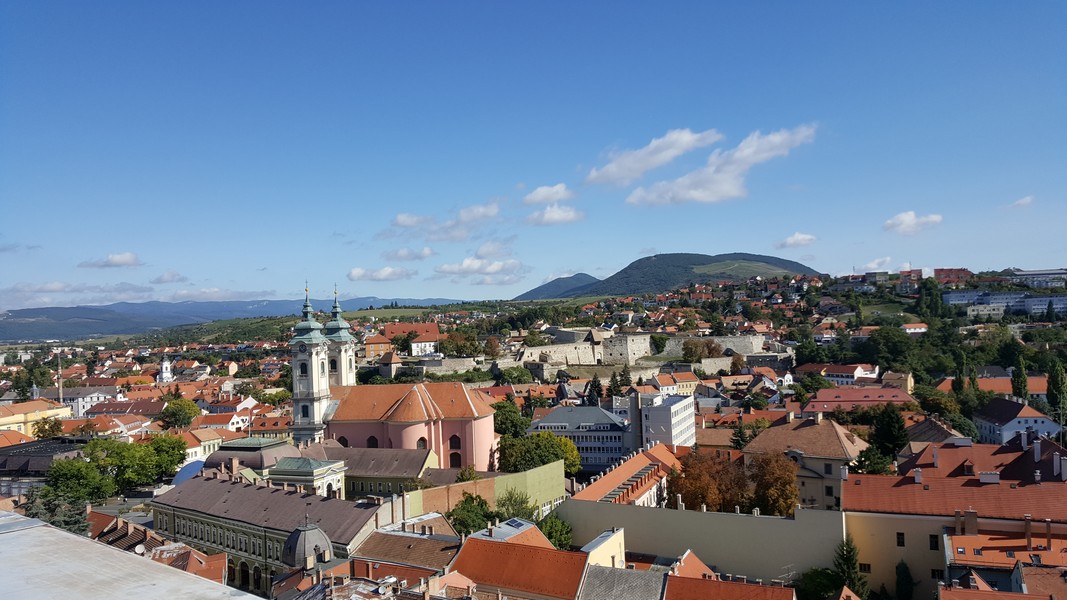 Eger is a delightful small town surrounded by vineyards.





Our apartment was on the second floor of this building on a quiet residential street about ten minutes' walk from the center of town.





The spotless and comfortable apartment was $42 a night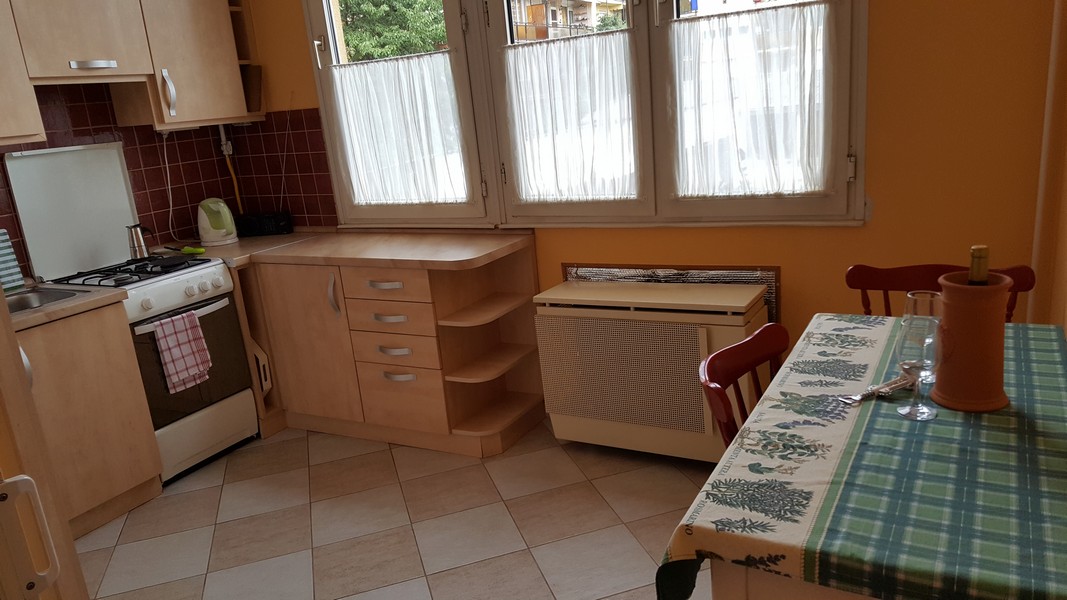 It had a nice kitchen





A small river with a walking trail runs through the center of town.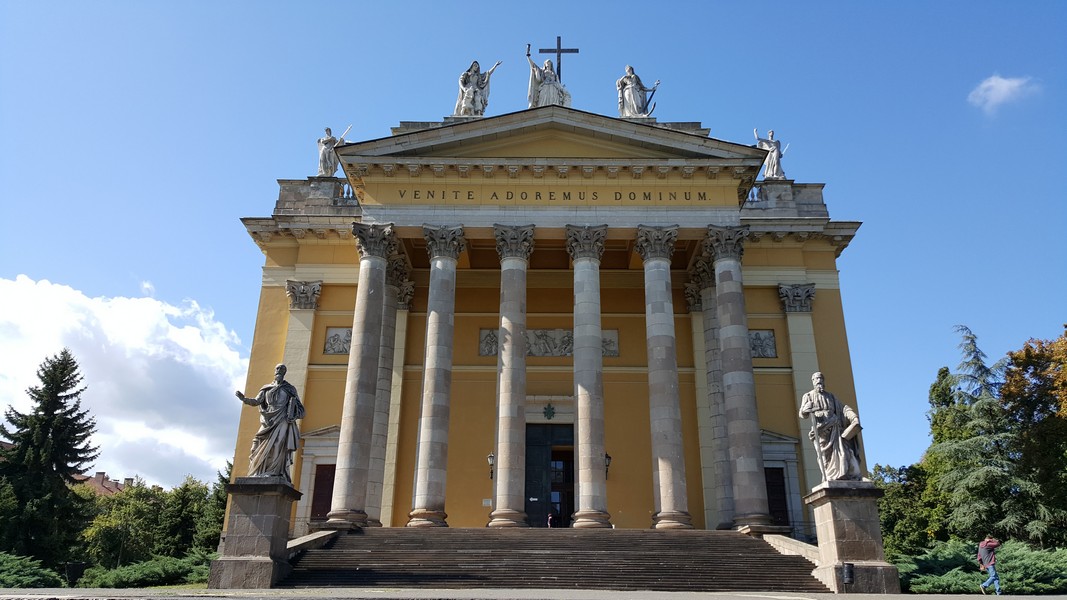 The imposing facade of the neoclassical Eger cathedral.





Inside the cathedral





Honey, peppers, and paprika at the Eger market. Sweet paprika is used liberally in Hungarian food, and hot paprika is put on the table for those who want to add it. Paprika means pepper in Hungarian.





Women fought alongside men to successfully defend Eger from the Ottomans in 1552. This statue in the main square includes a woman hurling a rock onto Ottoman heads. Behind the statue is the lovely Baroque Minorite Church.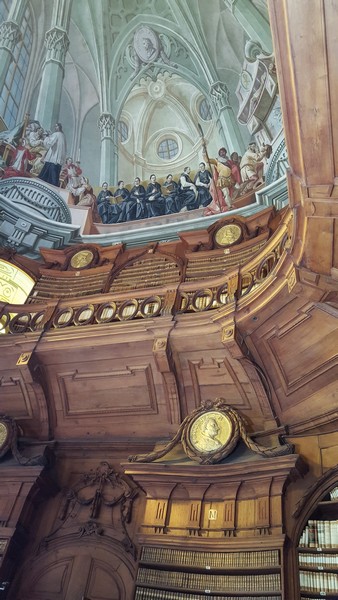 Pictures can not do justice to this jaw-dropping ancient library in Eger's lyceum, a teacher training college dating from the mid-1700s. The frescoes and woodwork are absolutely stunning.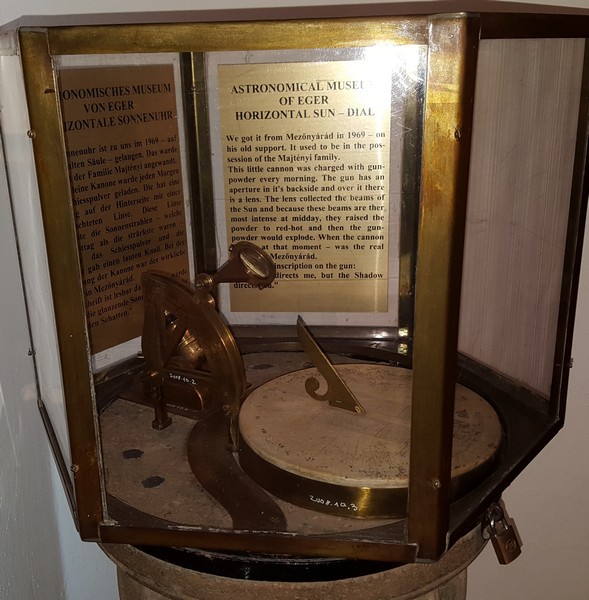 The lyceum's astronomy museum features this "noon cannon." The cannon was charged with gun powder each morning. A magnifying lens concentrated the intense mid-day rays of the sun, igniting the gunpowder and letting everyone in town know that it was noon.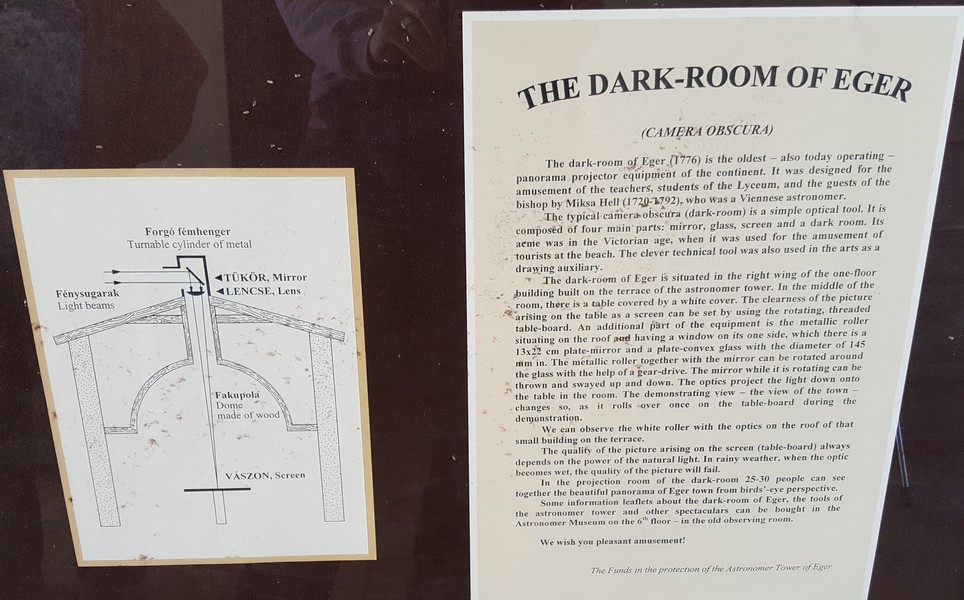 One of the highlights of Eger is the astronomy museum's camera obscura, one of only three left in the world. Real-time images of Eger are projected via the "camera" onto a bowl-like canvas. Using a system of levers, the guide flies you around the streets of town. It must have blown people away when it debuted in the 18th century.





The 17th-century Ottoman minaret is the northernmost in the world. (The scaffolding was for repairs.)





Hungary has a lot of hot springs, and Hungarians love to soak in them. This is one of the bath complexes at Egerszalok, a 20-minute bus ride from Eger. For years people soaked in the mineral terraces on the hillside, but now the area has been developed as a resort.





The town of Egerszalok has cave houses carved into the soft volcanic rock.





Egerszalok is a small town surrounded by farmland.





After two delightful days in charming, serene Eger we took the train to Budapest.



Budapest


The Hungarian Revolution of 1956 was brutally crushed by the Soviets.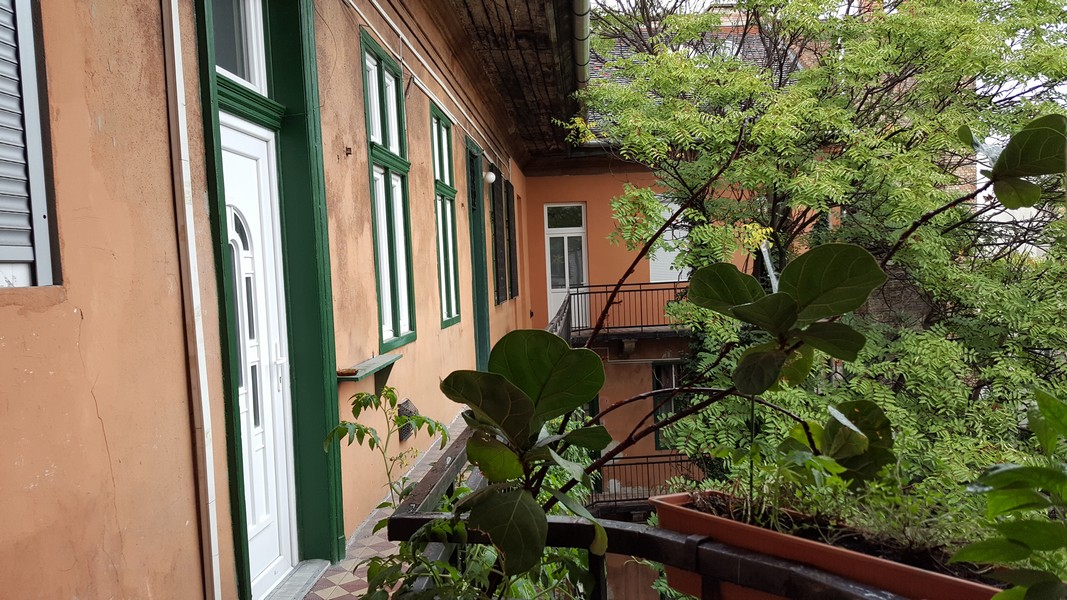 Our third-floor courtyard apartment in Budapest.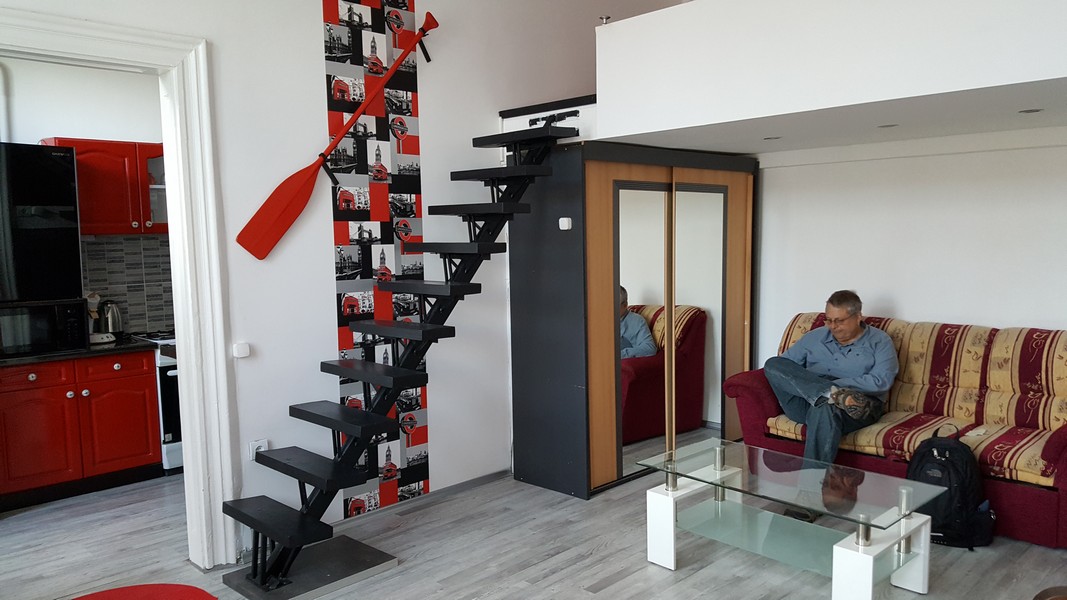 The cozy apartment cost $49 a night.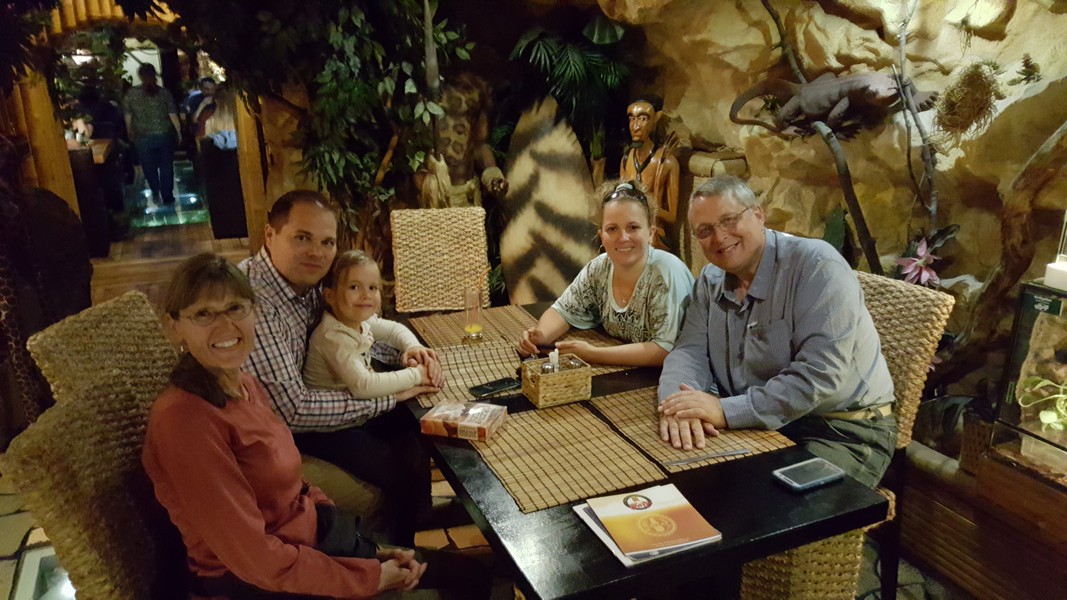 We met Evelin eight years ago in Turkey. We had a lovely reunion at the Jungle Cafe and got to meet her husband and cute-as-a-button four-year-old daughter, Bogi.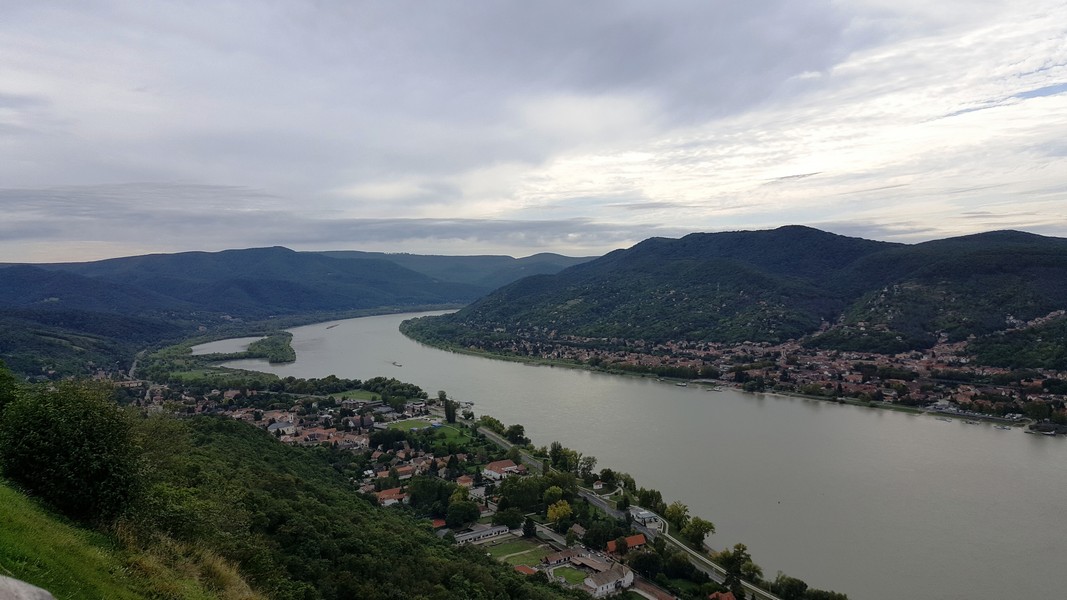 The next day they took us to Visigrad, a fortress town on a bend of the Danube River north of Budapest.





Old walls of Visigrad Castle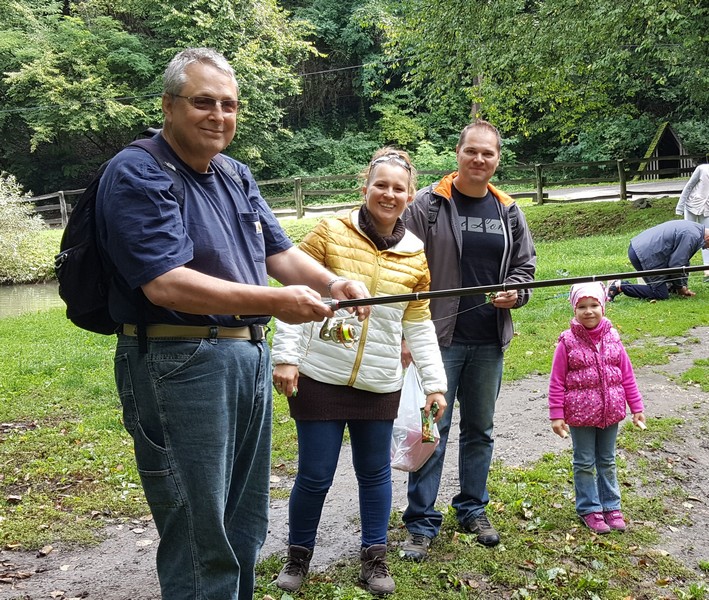 We went fishing at a trout pond and caught our lunch.





Bogi speaking fish language to the trout she helped catch.





You take your catch to a nearby restaurant and they cook the fish for you with your choice of seasonings. They were delicious!





Bogi ate a whole trout!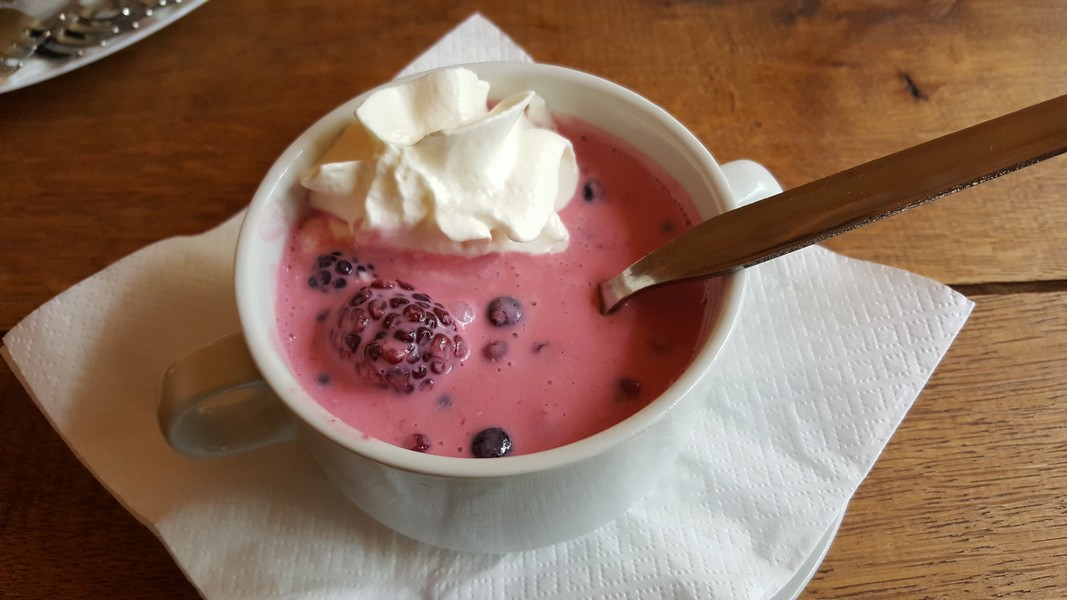 I tried fruit soup and loved it. Made with berries and cream, it's like a not-too-sweet smoothie in a bowl.





Budapest is really two cities in one. Flat Pest is on one side of the river and hilly Buda is on the other. This is the view of Pest and the Parliament building from the Buda side.





The magnificent Parliament building in Budapest





Budapest's Chain Bridge





Buda castle





Buda castle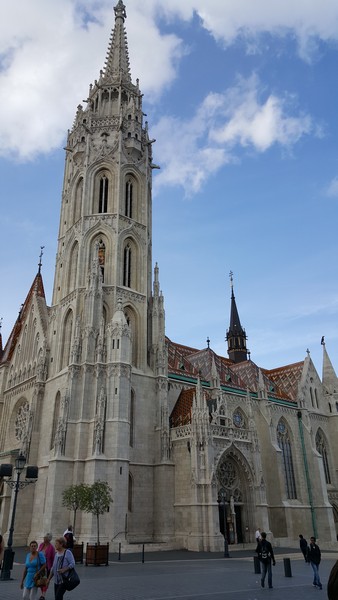 Matthias Church near Buda castle





Fisherman's Bastion, a series of terraces, towers, and steps leading from castle hill down to the river





The Great Hall Market is a fun place to shop for food.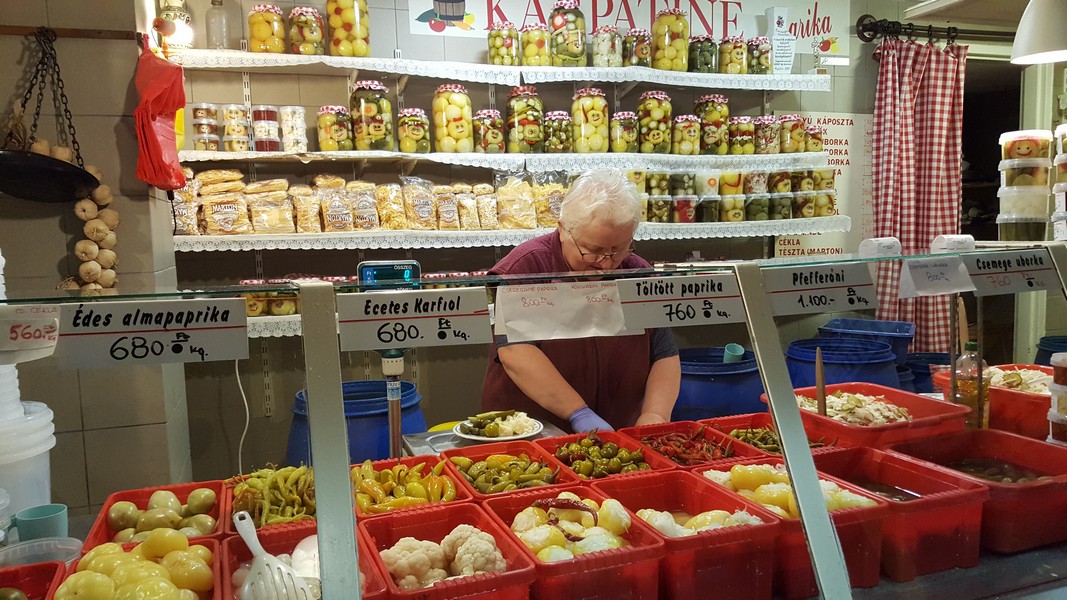 Hungarians pickle everything. Can you spot the happy pickles in the jars?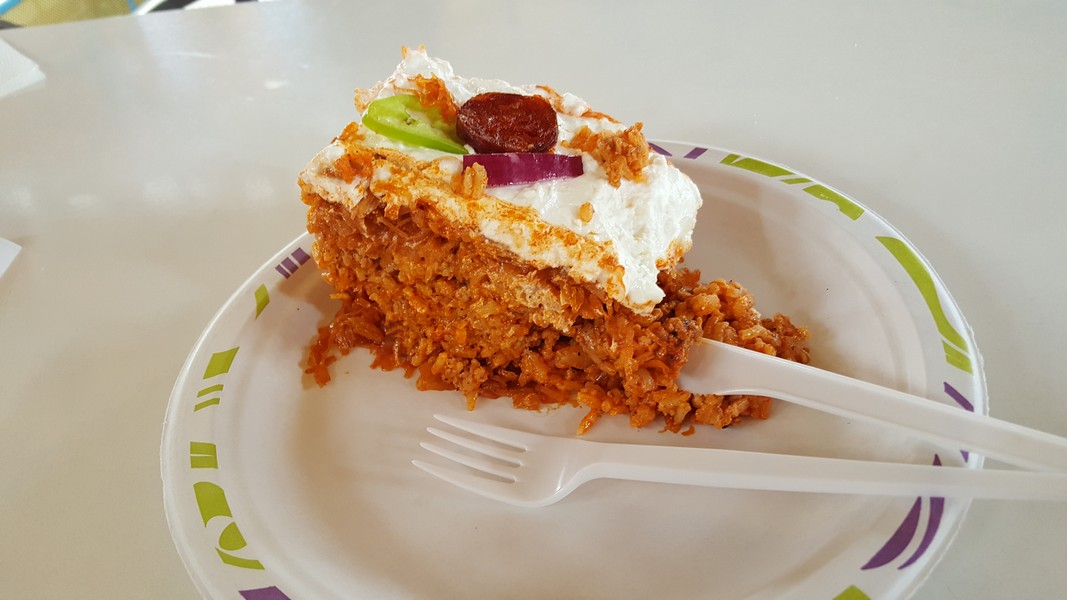 Delicious cabbage, rice, and meat casserole from a food stall in the market.





The ornate interior of St. Stephen's Basilica, dedicated to the first King of Hungary, is thick with gold leaf and gleaming marble.





Vajdahunyad Castle, a replica of a Transylvanian castle of that name, was built in 1896 as part of the Hungarian Millennial Exhibition.





No visit to Budapest is complete without a soak at the Szechenyi Thermal Baths.





Budapest has a modern, clean, easy-to-use metro system.





The Fat Policeman statue in Budapest; you rub his belly for good luck.





Budapest's Great Synagogue, built in 1859, is the largest Jewish house of worship in the world outside of New York City. The Tree of Life Memorial is a metal weeping willow sculpture with the names of Hungarian Jews killed during the Holocaust inscribed on the leaves.





Heroes' Square was decked out for the 10th annual National Gallup, a three-day festival to celebrate the equestrian arts.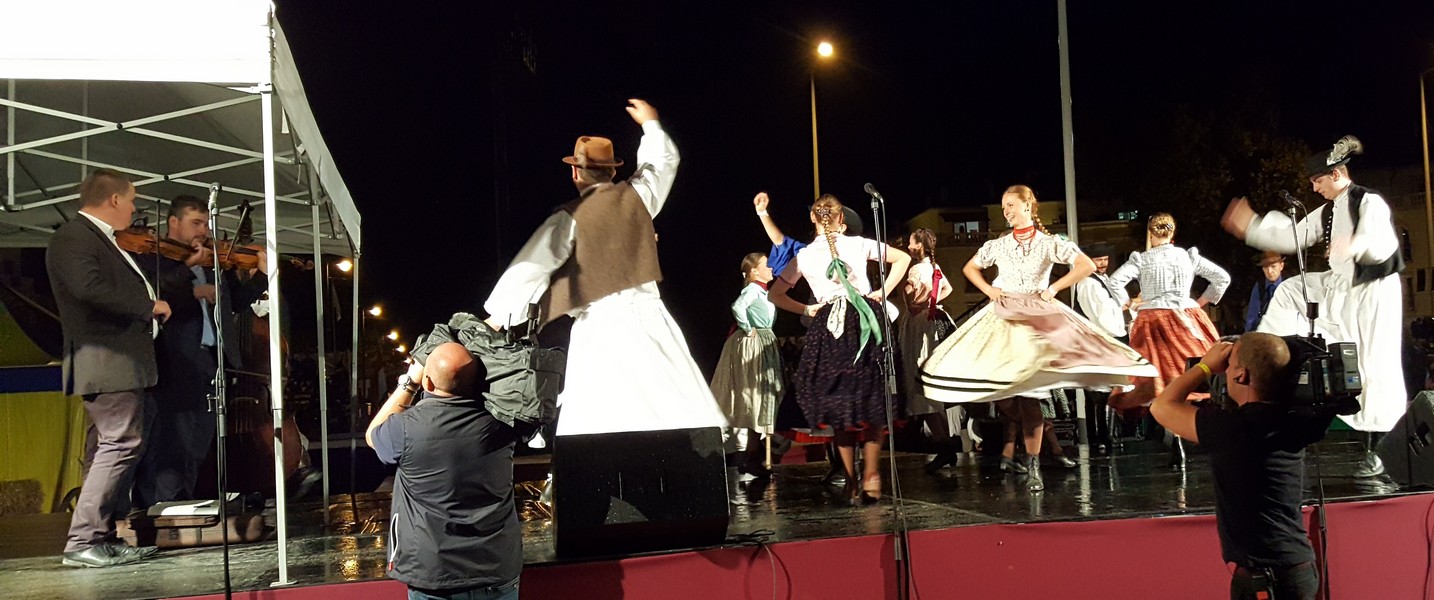 There were folk dancers from all over Hungary.





There were horse events of all kinds, including trick riders!





I got choked up watching the horses thundering around the track, just inches away from us, with soaring orchestral music playing over the loudspeakers, and the brave riders.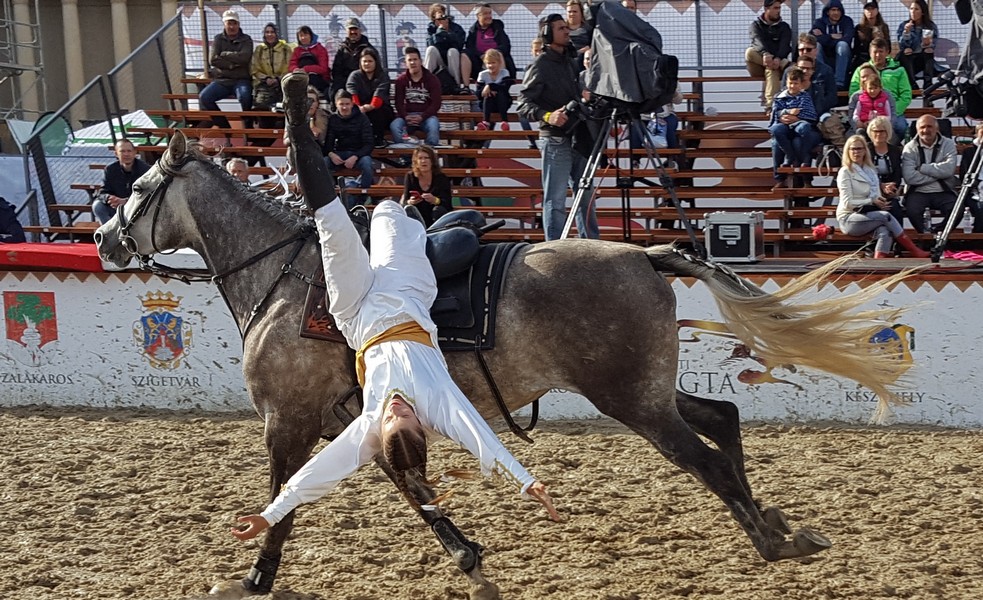 A trick rider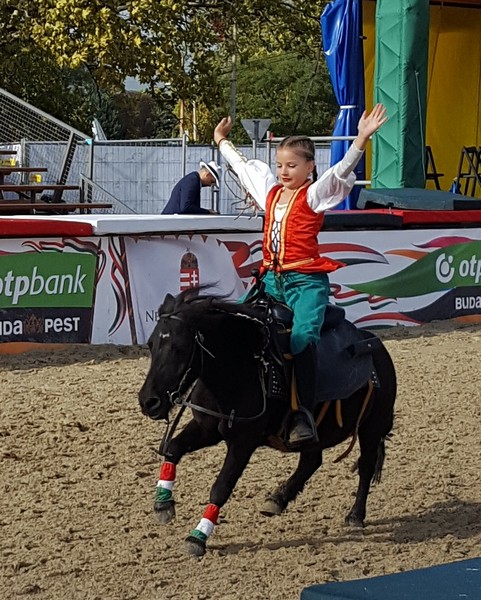 A young trick rider





There were also chariot races.





Budapest's main boulevard was closed to cars and lined with food, crafts, and booths representing each region of Hungary.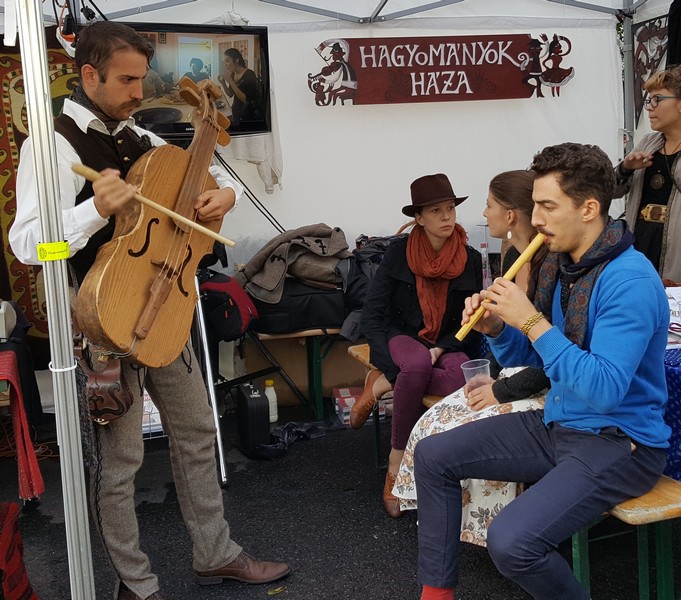 Some had food samples, others had musicians playing...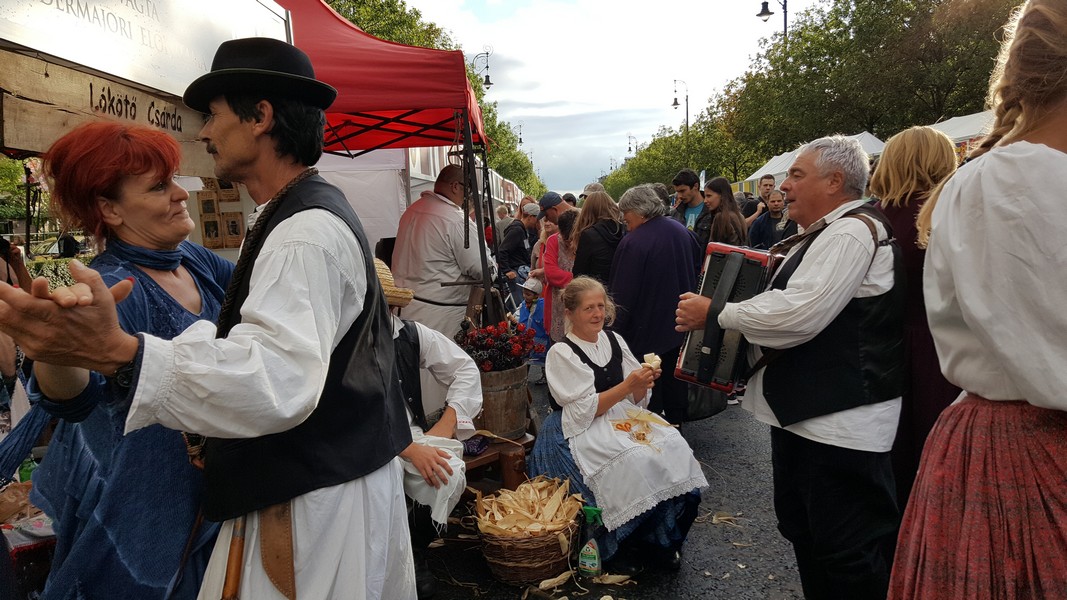 ...or dancers dancing.





Food offerings included chimney cakes cooked over charcoal and sprinkled with cinnamon and sugar.





Margaret Island is a quiet green oasis in the Danube River where people go to escape from the city.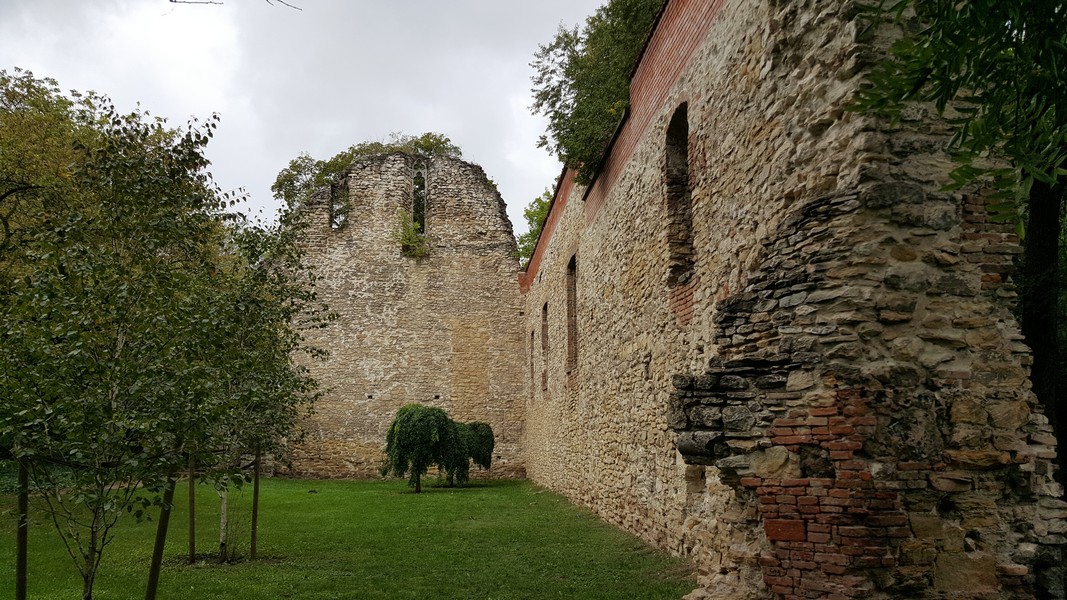 The ruins of a Dominican cloister on the island.



---
Back to Poland
Warsaw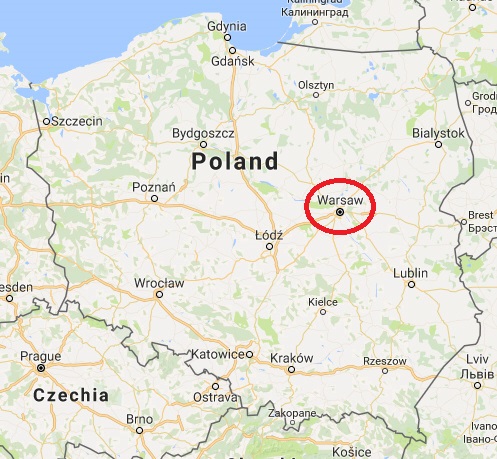 I really wanted to see an old Peace Corps friend after 30 years, but he had been out of town on our first pass through Poland. So from Budapest we took a 10-hour train ride back to Warsaw to visit him and meet his family.





John's father was Polish, and John married a Polish woman. They have now been living in Poland for about 20 years. This is their home in a quiet, green town on the outskirts of Warsaw.





John's wife and sons.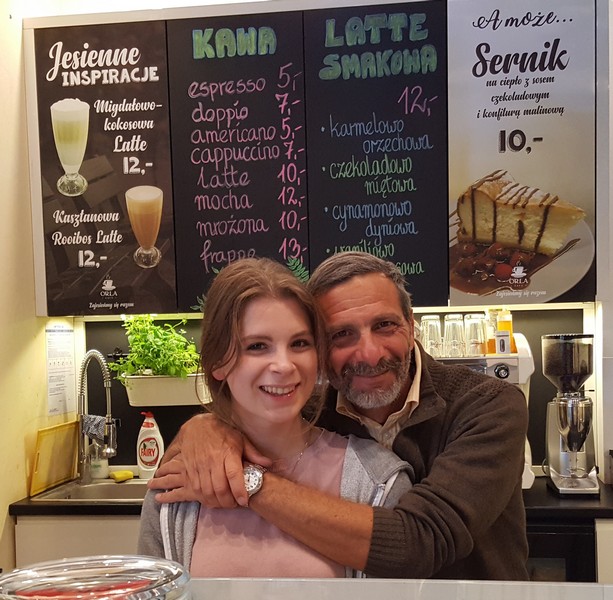 John's daughter at the cafe where she works.





The main square in Old Town Warsaw was reconstructed after the war, so it now looks just like it did when it was built in the 13th century.





The Warsaw Barbican (semicircular fortified outpost) is one of few remaining relics of the complex network of historic fortifications that once encircled Warsaw.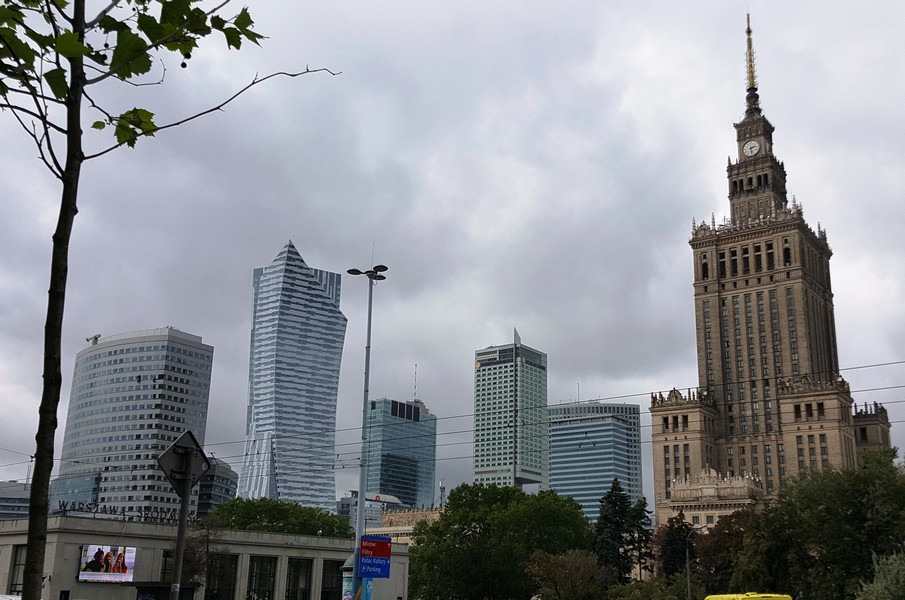 Warsaw old and new: Modern skyscrapers stand next to the loved and hated Palace of Culture and Science. Commissioned by Stalin as a 'gift from the Soviet people,' it was built after WWII when the city was still in ruins and under the thumb of an unpopular, Soviet-imposed government.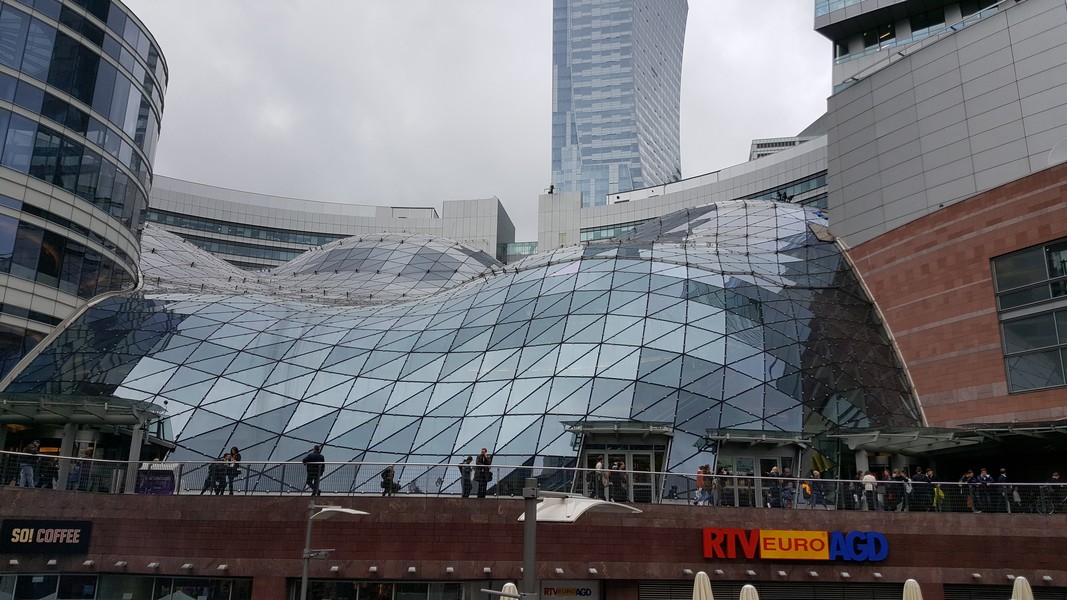 The roof of a huge, modern shopping mall in thriving, cosmopolitan Warsaw.





Warsaw has a beautiful riverfront trail.





The trail has beaches, cafes, rental bikes, and whimsical fish sculptures.





The entrance to the world-class Warsaw zoo.





If you've read The Zookeeper's Wife or seen the movie, you know the story of how the zoo directors rescued hundreds of Jews by hiding them in the zoo. This is the tunnel that led to a hiding place under the zookeepers' house.



---
From Warsaw we flew two hours to Frankfurt and then 9.5 hours non-stop to Seattle. Not including airfare, the 6-week trip cost us $4750. We stayed with friends for 13 of the 39 nights.