Going With the Flow: 12 Days on the Rio Negro, Brazil
June 2023
When a friend organized a 12-day boat trip on the Rio Negro River in Brazil (one of two large rivers that join to form the Amazon), it was too good an opportunity to pass up. (Grant, who is not a fan of heat and humidity, opted out of this trip.) The Amazon is the largest river in the world by volume (20% of global river discharge into oceans), and is more or less tied with the Nile as the longest river. The Amazon rainforest is the size of the continental US, and is home to an estimated 400 billion trees. It's one of the most biodiverse places on earth, with over three million species of plants and animals. It was indeed hot and humid, but there were no mosquitoes, because the larvae can't survive in the acidic water of the Rio Negro.
Getting There ... and Back!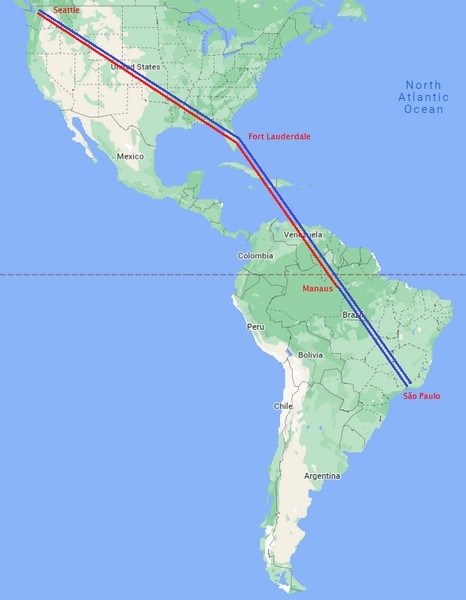 Red = outbound: Seattle to Fort Lauderdale (6 hours) to Manaus (6 hours).
Blue = return: Manaus to São Paulo (3 hours) to Fort Lauderdale (8 hours) to Seattle (6 hours).



Life Aboard the Dorinha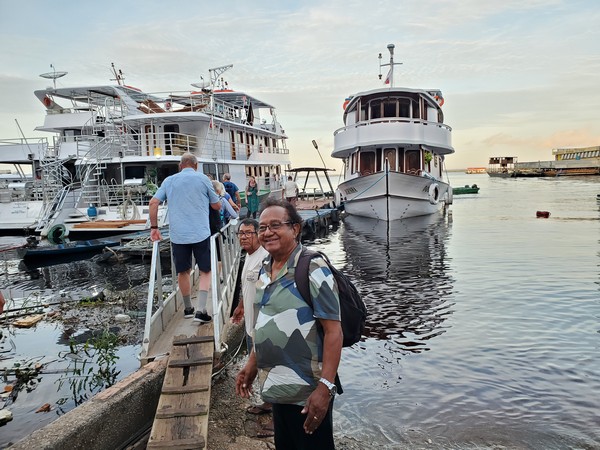 The owner of Amazonia Expeditions, 80-year-old Mo Fortes, met us at the airport in Manaus with a shuttle bus that drove us across town to the dock. His company owns several river boats. We sailed aboard the Dorinha (on the right), named for his wife. It is 81 feet long, 20 feet wide, and holds 24 passengers plus crew. (There were 19 passengers and 9 crew on this trip.)





Our hardworking and friendly crew spoke Portuguese, a little Spanish (the two languages have common roots), and not much English. We had no trouble communicating using a mixture of languages, plus Google Translate and sign language. (Mo speaks fluent English.) Back row: Captain Frajola; Manoel, Valder, Josenias, and Pedro (canoe guides, mechanics, and pilots); front row: Cleide (bar and housekeeping); Cris and Lily (cooks).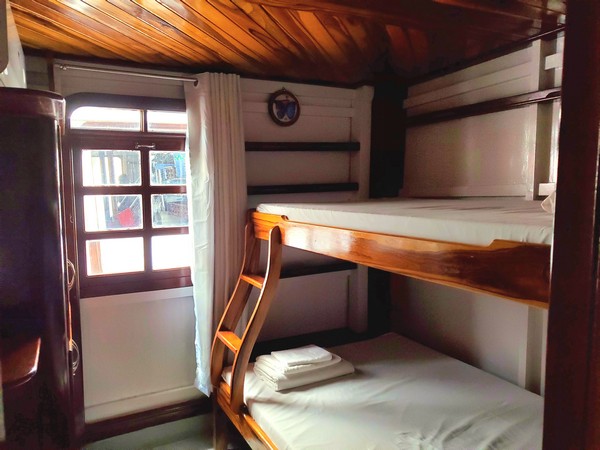 Each of the 12 air-conditioned cabins sleeps two and has gorgeous woodwork.





Storage cabinet in the cabin I shared with new friend Cindy





Each cabin has a bathroom with shower.





The top deck of the three-level boat was a delightful place to hang out. Although afternoons could be hot (high 80s and humid), there was often a breeze, and mornings and evenings were in the 70s. Every two days or so it rained for about an hour. We often saw specatuclar lightning in the distance.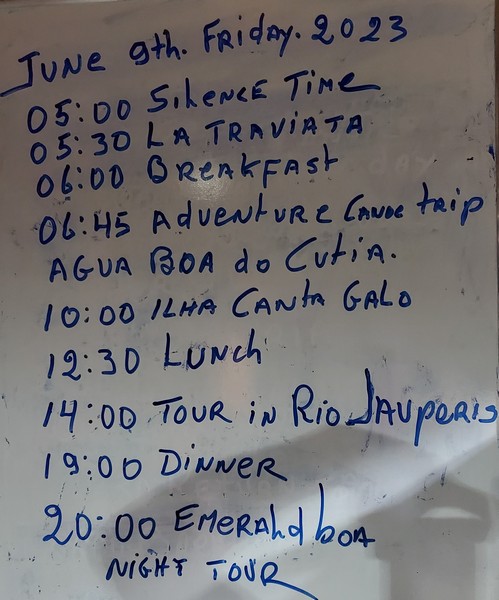 Mo wrote our schedule on a white board each evening. A typical day started early, and included several canoe trips to see plants, animals, and birds, plus three fabulous meals.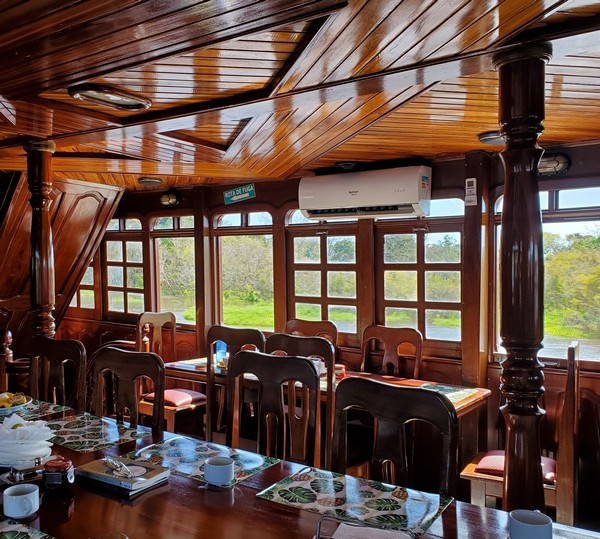 One side of the dining room





A breakfast feast of cheesy ham casserole, eggs, fruit, meat, cheese, plantains, and two kinds of manioc rolls. Often there were homemade wheat rolls and cake as well.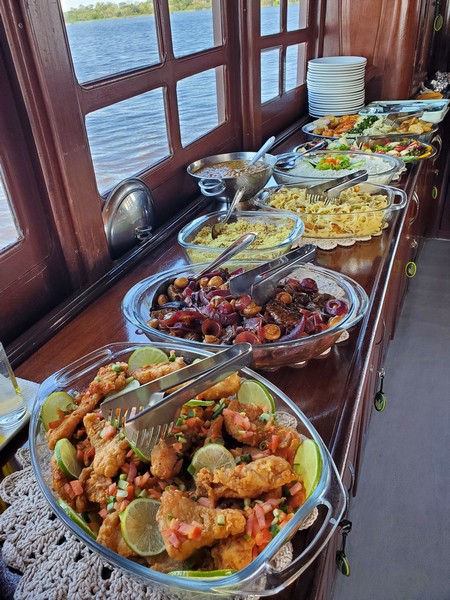 Lunches and dinners included fish, beef or chicken, various starches, vegetables, and soup or beans.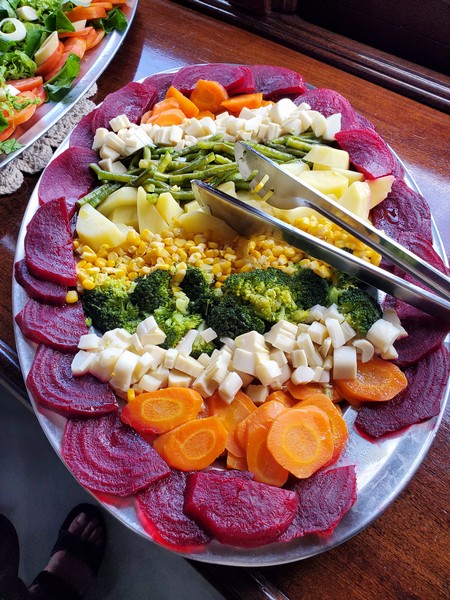 A vegetable platter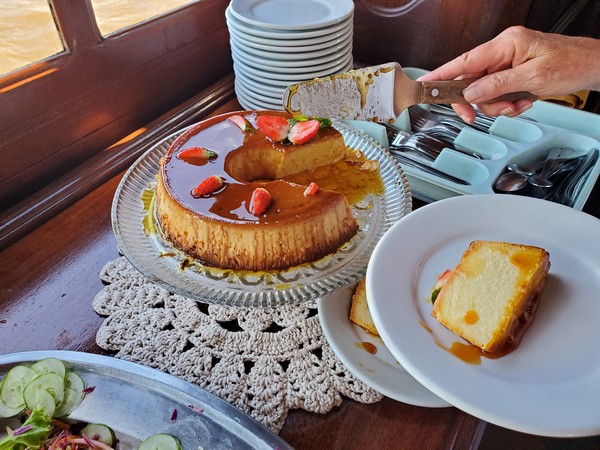 The desserts were to die for. This is a rich, creamy flan.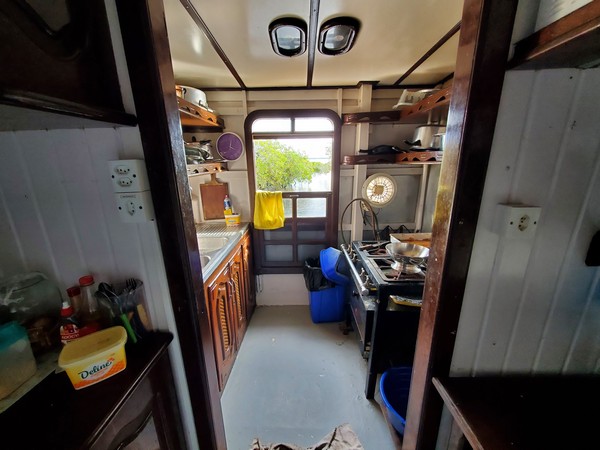 Food for 19 clients plus nine crew members came out of this tiny kitchen.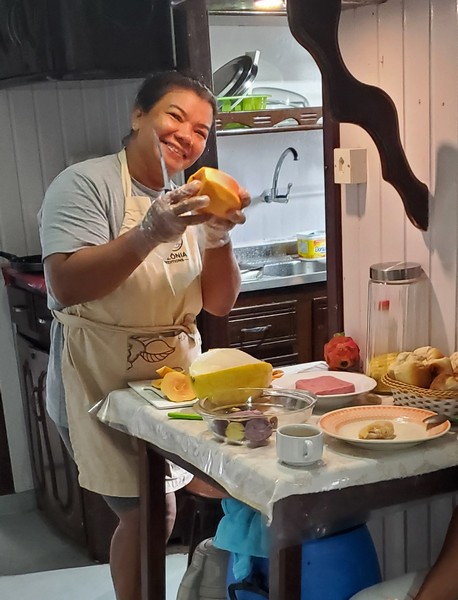 Chef Lily preparing fruit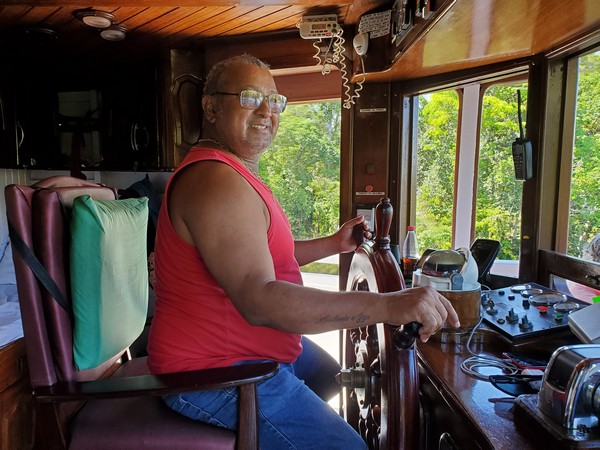 Captain Frajola at the wheel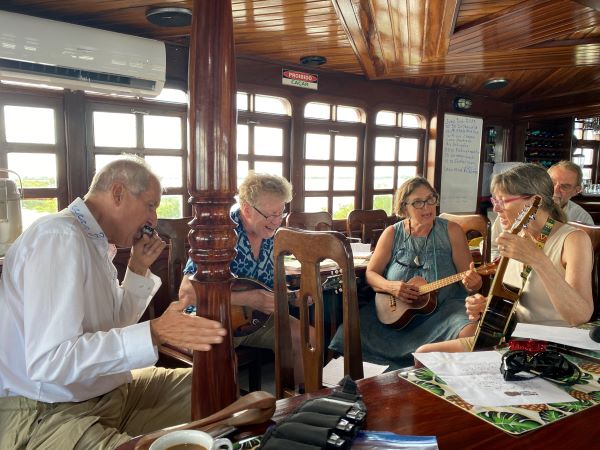 I brought my ukulele, and I loved playing music with some really talented people!




Siesta time on deck



Our Route


During our 12 days on the river, we cruised over 400 miles, visiting the confluence of the Amazon and Rio Negro Rivers, plus numerous locations along the Rio Negro. The Rio Branco, about 200 miles north of Manaus, was our turnaround point.



Manaus, Brazil


Manaus, near the equator (red line) in northern Brazil, is in the heart of the rainforest. It's the capital and largest city of the state of Amazonas, with over two million people, and is connected by road and river to the rest of the country. It has a large port accessible to cargo ships.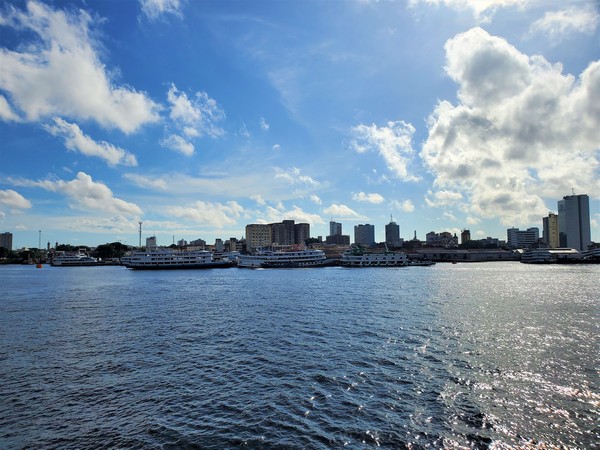 Manaus is sprawling, colorful, hot, humid, and gritty, with a lot of poverty. (Brazil, the fifth largest nation in size and fourth largest in population, has extremely high economic inequality.)





We moored at a public dock in Manaus to tour the city on foot.





Thousands of boats line the waterfront, to carry people and goods up and down the river.





Many kinds of fish for sale direct from the fishing boats at the dock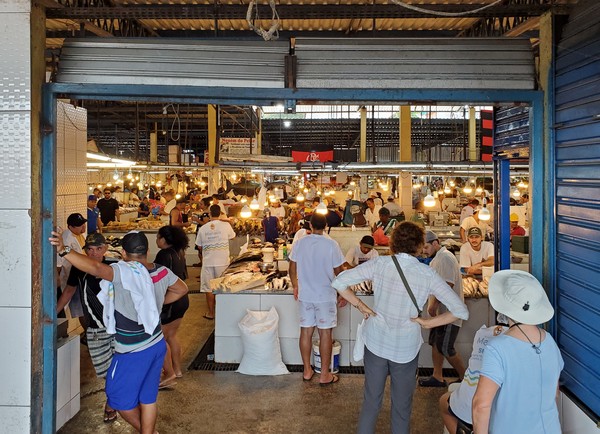 The enormous fish market was fascinating!





Manaus fish market





Manaus fish market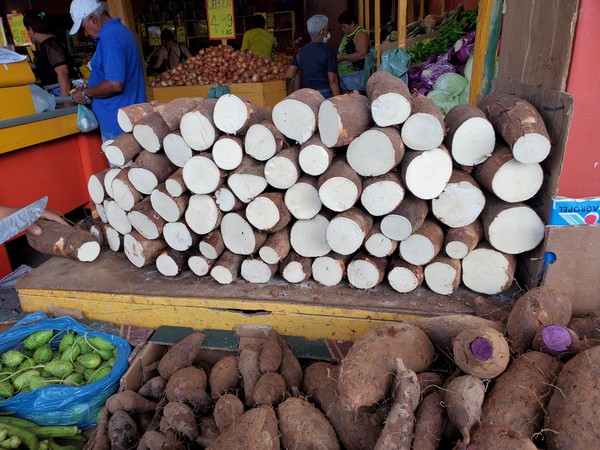 Manioc tubers (also called cassava) are the source of tapioca, and are a starchy, easy-to-grow food staple for many people all over the world.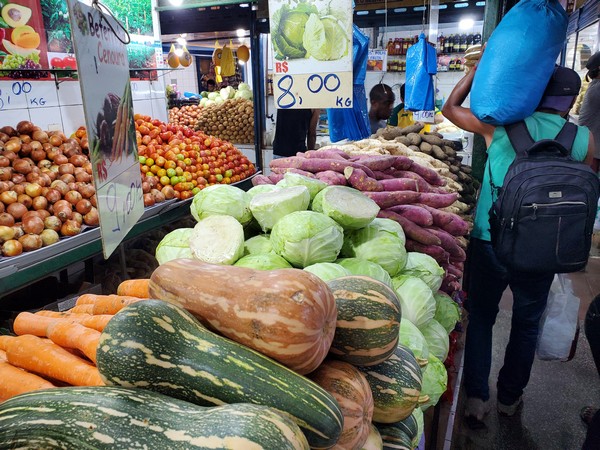 Manaus market (8 Reais is $1.66)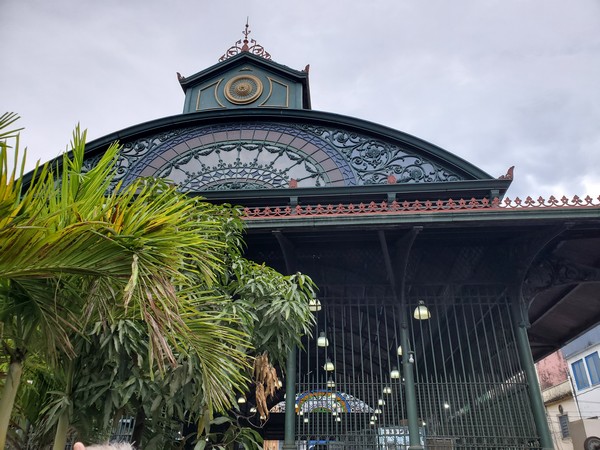 The Manaus market building was constructed during the rubber boom in the 1800s, and based on the design of the Les Halles market in Paris.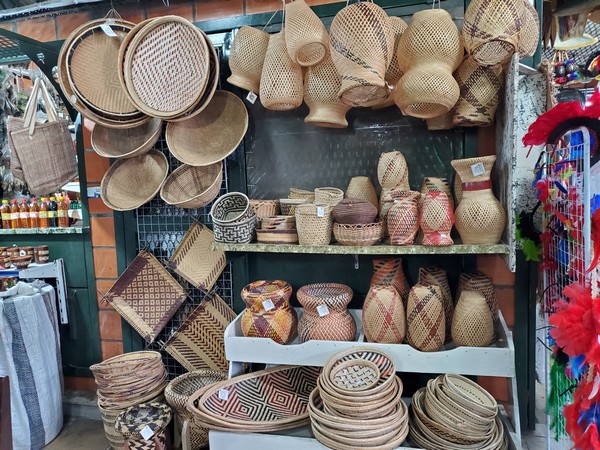 Handwoven baskets for sale in the artisanal market





Brazil nuts for sale near the market





The Amazon Theater Opera House was constructed in the late 1800s, during the heyday of the rubber boom, a horrific period in history during which enormous fortunes were made by enslaving and murdering indigenous people.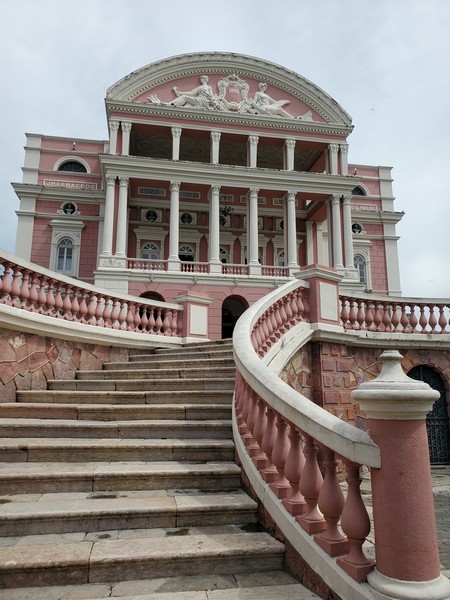 Rubber cobblestones below the grand entrance muffled the sound of carriages arriving.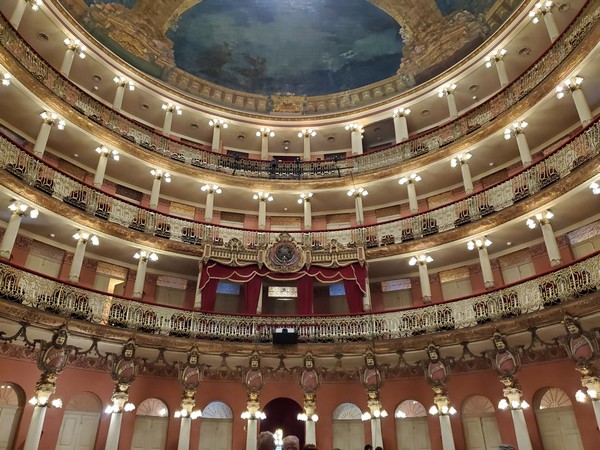 The opulent theater seats 700, and is still in use.





The grand ballroom of the Manaus Opera House features marble columns from Italy.





Young woman doing a photo shoot in front of the Opera House for her 15th birthday celebration.





Colonial-era houses across from the Opera House





Many colonial-era buildings, like this tile-covered one, have faded from neglect and the punishing equatorial environment.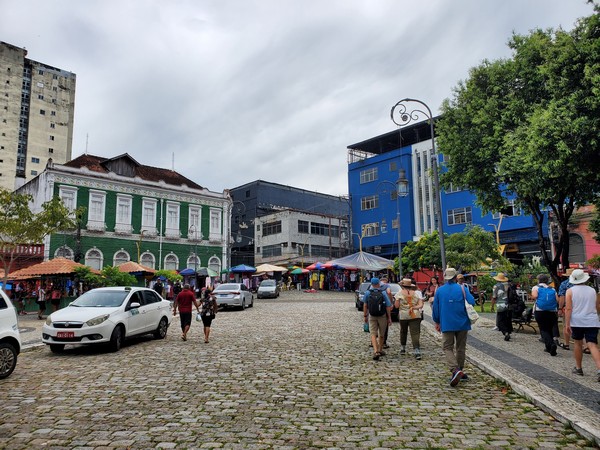 Manaus street scene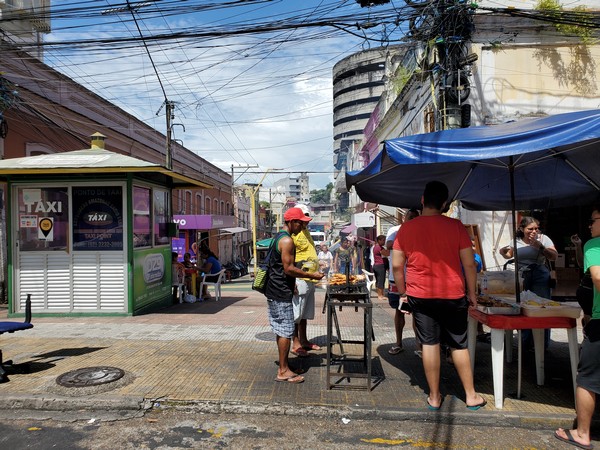 Chicken skewers are a popular street food.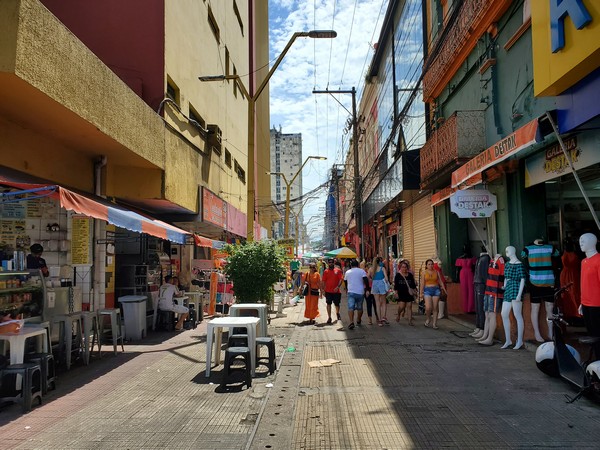 Pedestrian street, Manaus





The Rio Negro bridge, opened in 2011, spans the river in Manaus, just above the confluence with the Amazon River. It's the only major bridge in the Amazon basin.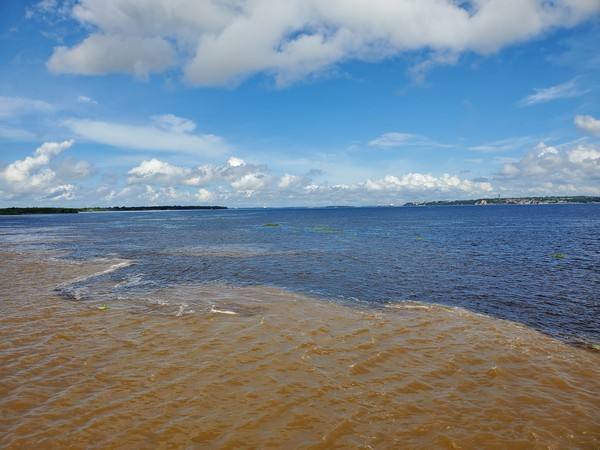 Near Manaus is the Meeting of the Waters, where the Rio Negro and Solimões join to form the Amazon River. Due to differences in temperature, current, and dissolved sediments, the clear water of the Rio Negro and the cloudy water of the Solimões run side-by-side for about four miles before they mix together. The Solimões contains sediment carried down from the Andes Mountains; the Rio Negro contains almost no sediment.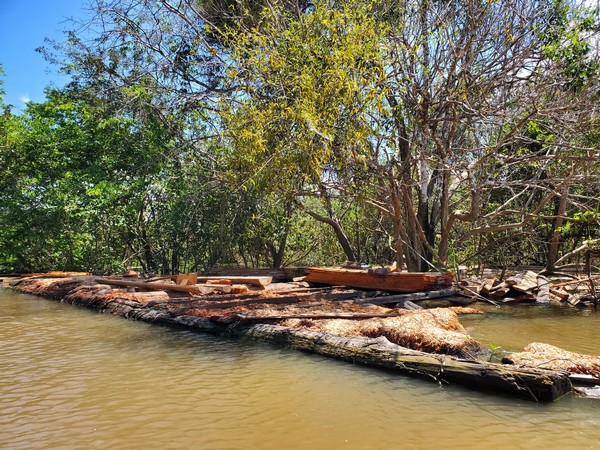 We did not see any clearcutting of the forest, but near Manaus we heard and saw small-scale chainsaw lumbermills.



The Flooded Forest


We left Manaus and headed up the Rio Negro, stopping several times a day to moor the boat and take canoe excursions. Here the Dorinha is moored for the night in the endless vast basin of the Amazon (drone photo courtesy of Mary Zuschlag).




The forest is flooded this time of year, just after the rainy season, making it an ideal time to visit, because you are floating up near the canopy, where many of the birds and animals live.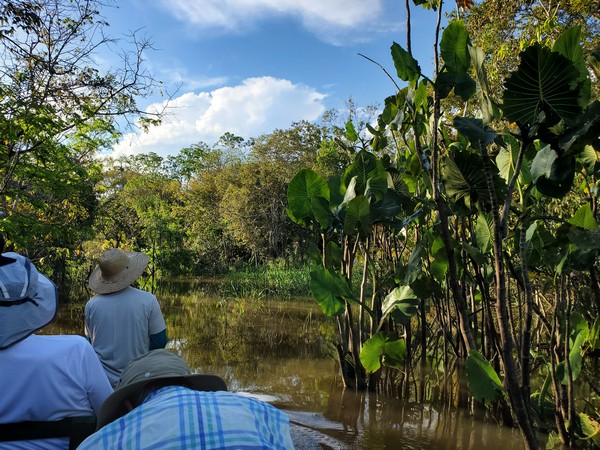 Floating through the flooded forest





The stable wooden canoes could maneuver through pretty dense vegetation.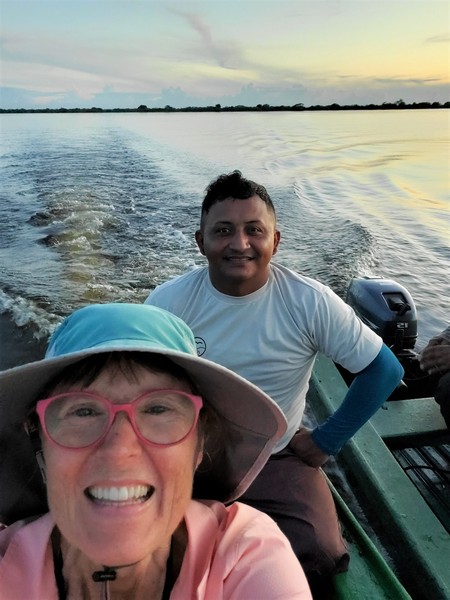 Josenias, age 33, canoe guide, wildlife spotter, boat pilot, patient teacher of Portuguese. He has worked on the boat for six years and loves his job.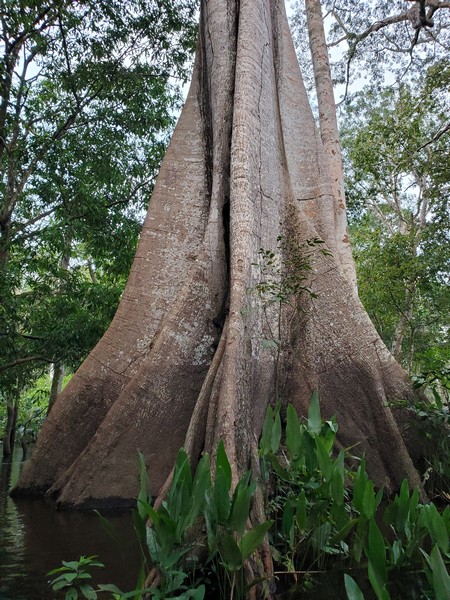 Majestic buttressed ceiba (giant kapok) tree soars into the sky.





When in flood, the river becomes a series of magical canals.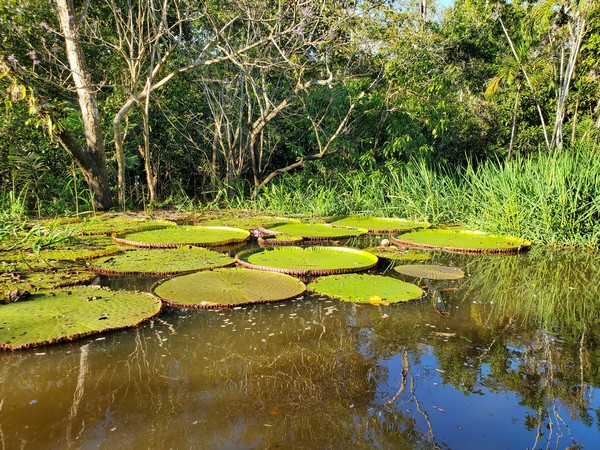 Victoria amazonica is the second-largest waterlily in the world, and is native to the shallow waters of the Amazon River basin. The pads can grow up to 10 feet in diameter.





Strangler figs start out as vines that climb a tree, and eventually get so big they strangle the host tree and become free-standing trees themselves.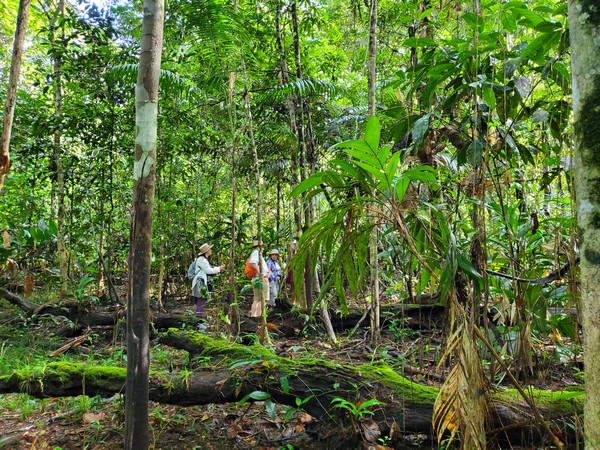 We occasionally went walking where there was higher ground.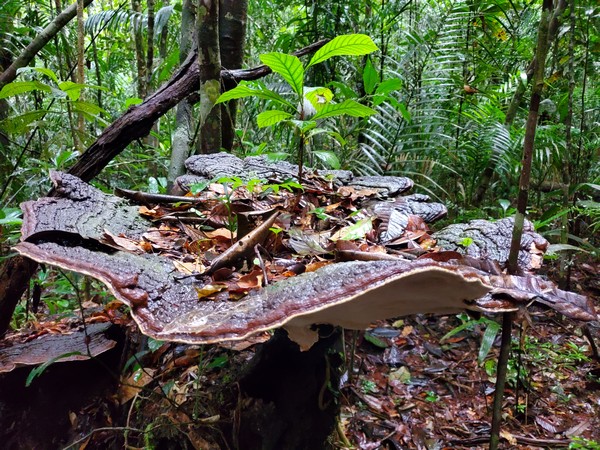 This shelf fungus was about four feet wide, and contained a whole miniature world of plants and critters.





Flower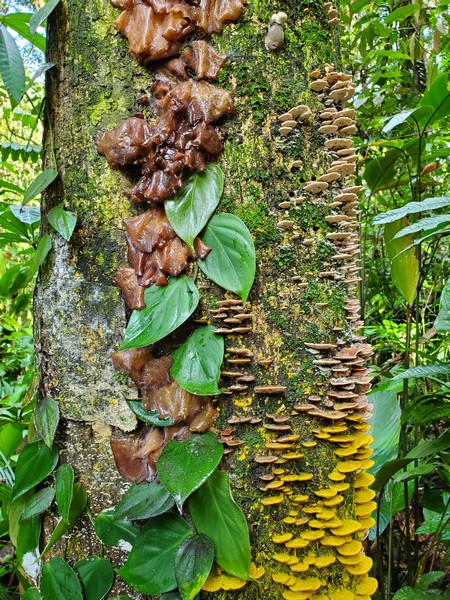 Fungus





Swimming in the Rio Aturia. The golden reddish color of the water is caused by dissolved organic matter, which also makes the water acidic. Mosquito larvae don't tolerate acidity, and there are almost no mosquitoes in the region.




This riffle becomes a waterfall when the river level drops.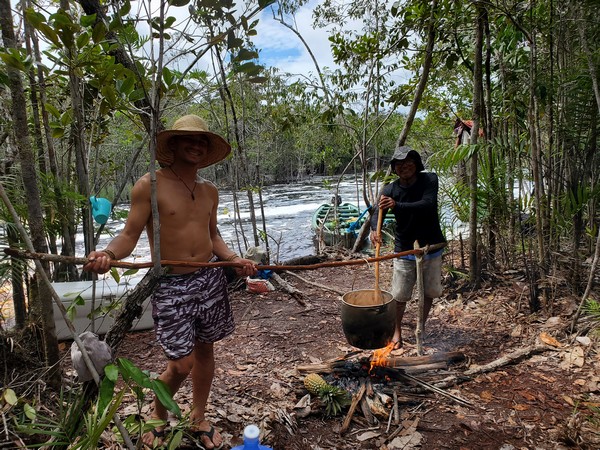 The crew heated chicken and rice soup over a fire for a picnic lunch. They also served pineapple roasted in the coals, and guava jelly with cream (yum).





We saw many rainbows.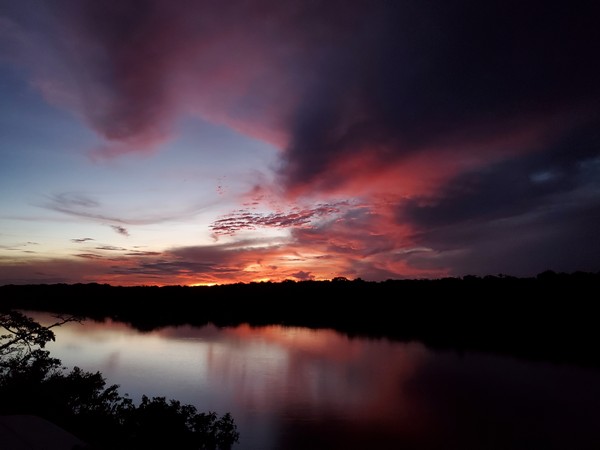 Sunrises and sunsets were spectacular.





Swimming in the warm water of the Rio Negro was the perfect way to cool off in the afternoon. (In general it is safe to swim, but our guides knew what areas to avoid.)





Orchids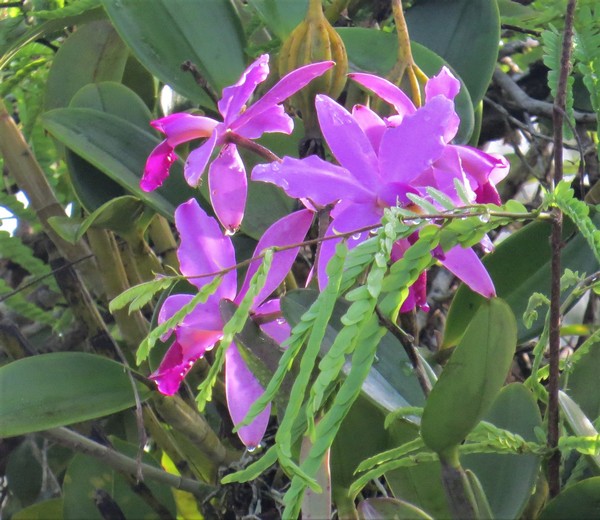 Orchids



Critters!
Sloths, iguanas, monkeys, tarantulas, caiman, dolphins, bats, and snakes! (I saw boas in the trees but was not able to get a picture.)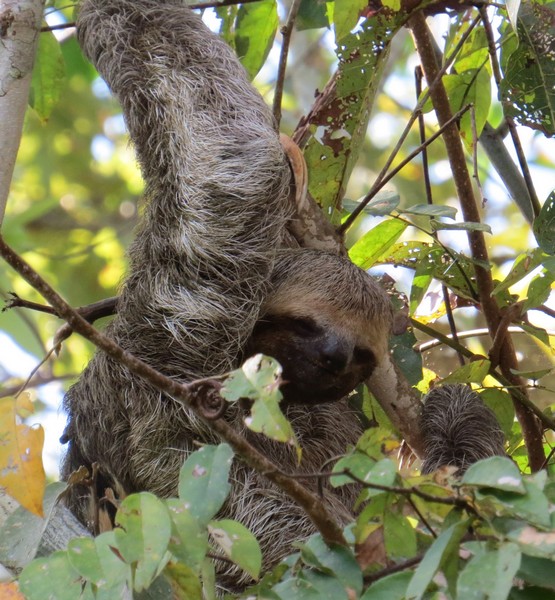 Brown-throated three-toed sloth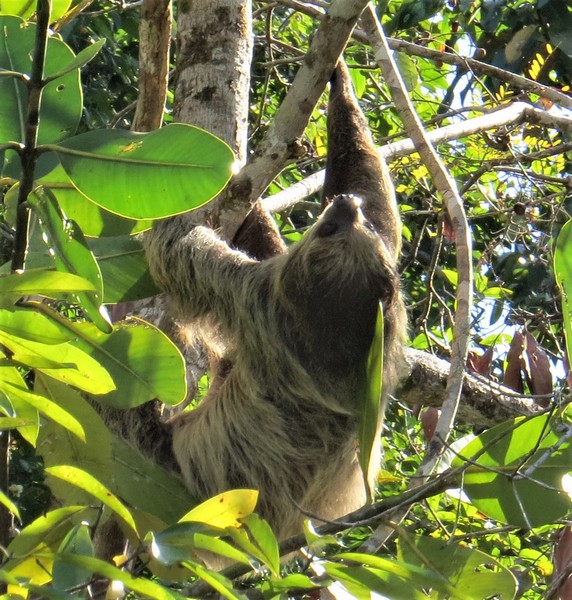 Two-toed sloths are larger than three-toed sloths, and move a bit faster.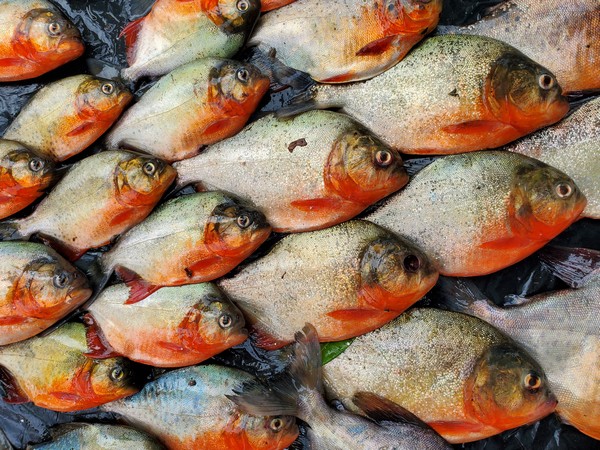 Some of the group went fishing and caught these piranha (the larger ones are about 6" long). Bony but tasty.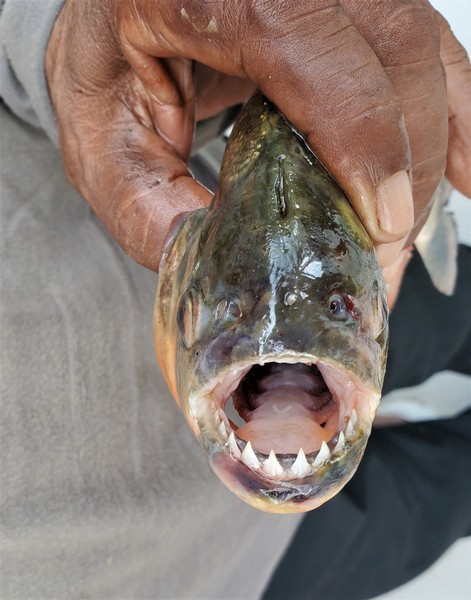 Piranha have sharp teeth! But they very rarely use them to bite people.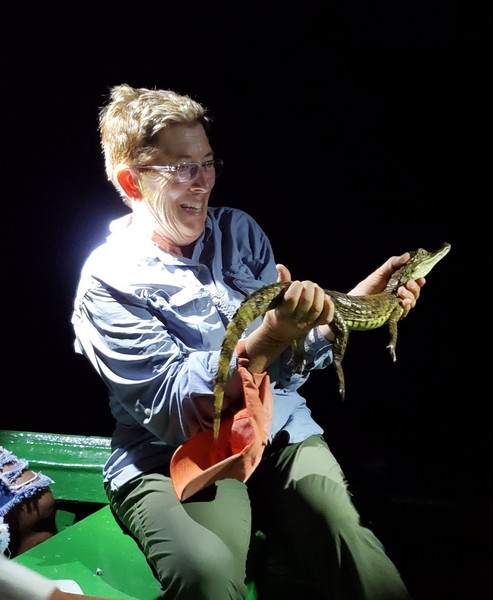 Janet holding a baby caiman. They are the smaller cousin of the crocodile, reaching up to six feet in length. We saw lots of little ones, but no big ones.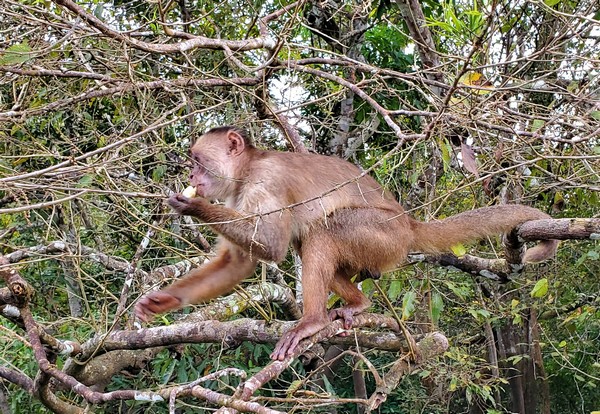 Capuchin monkey, about the size of a housecat.





Tarantulas live in palm trees and come out at night to eat insects and cockroaches.




The Amazon river dolphin (Inia geoffrensis), also known as the boto ("bootoo"), or pink dolphin, is a species of toothed whale only found in South America. They are the largest freshwater dolphin in the world, up to nine feet long and 400 pounds. They have a dorsal ridge instead of a fin, enabling them to more easily navigate the shallow waters and underwater obstructions of flooded forests.





Pink dolphins are born gray and slowly turn pink as they age. They are curious and approach people.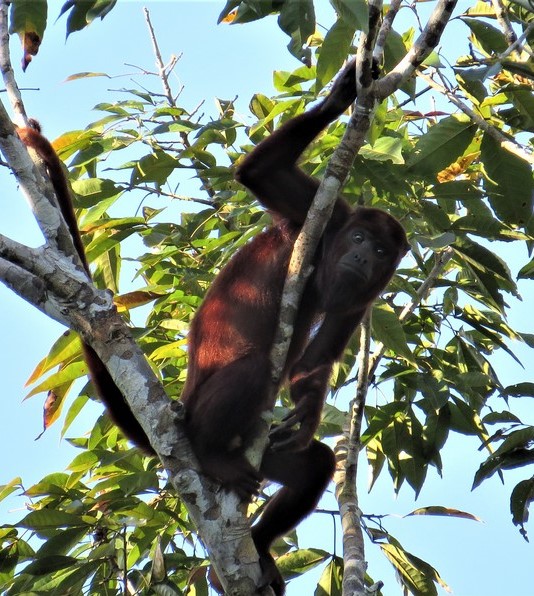 Howler monkey. You can hear their deep, primal calls echoing through the jungle, where they carry for miles.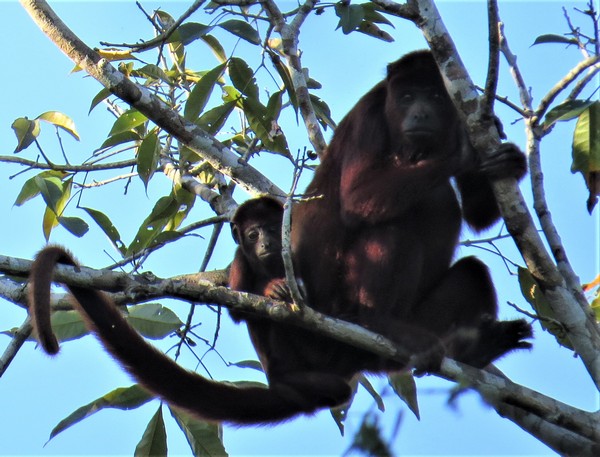 Howler monkey and baby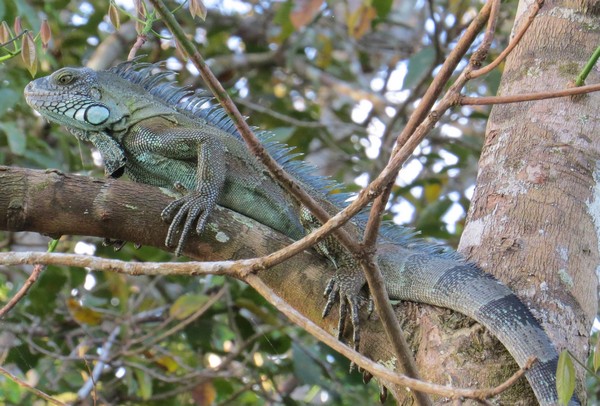 Iguana about two feet long





Squirrel monkeys are about 12 inches long (not including their tail). Babies ride on mom's back for about ten weeks, and oh my gosh are they cute!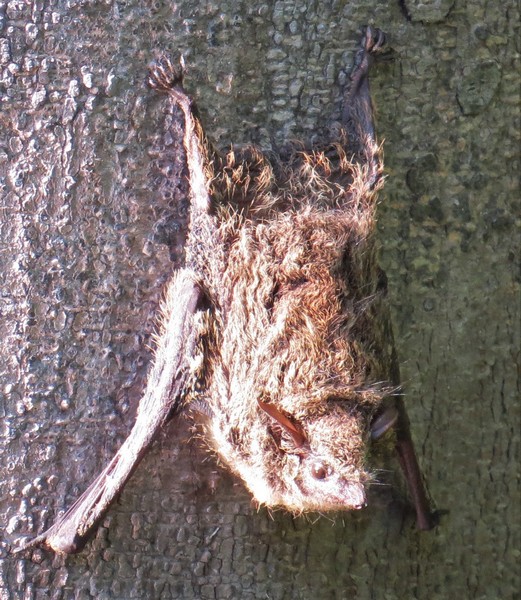 This tiny bat (about 3 inches long) was sleeping on a tree during the day.



People of the Forest


One of the highlights of the trip was a Tuyuca dance performance in a "maloca" ceremonial building.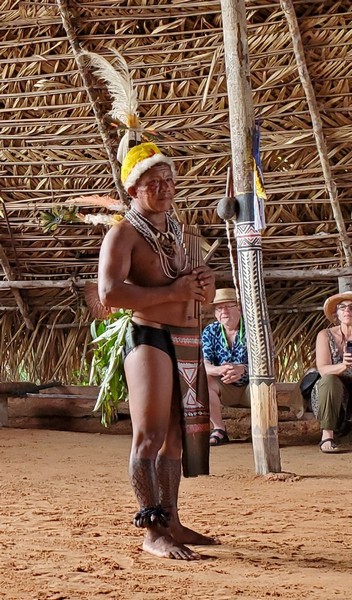 The chief greeted us and told us about his culture. The Tuyuca are an indigenous ethnic group of about 600 people, a subgroup of the Tucano. They are patrilineal and exogamous: each person belongs to their father's group and speaks his language, but they must marry someone from another group who speaks another language. The face painting is temporary, but I think the leg tattoos are permanent. The leg rattles are made from seed pods. He is holding a sacred palm wood flute.




Sacred instruments like these palm wood flutes are considered the bones of their ancestor and embody his breath and song.




A dance with sacred "trumpets" made from bark. I found this performance deeply moving, and felt incredibly lucky to witness it.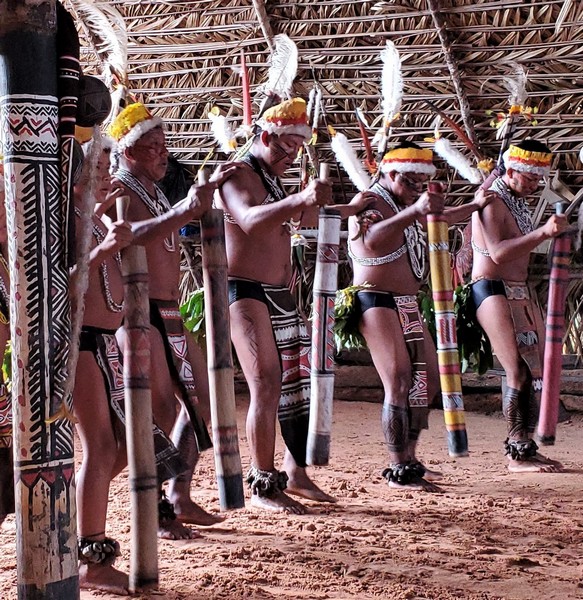 A type of drum made from hollow logs.





Young Tuyuca man





The group posed for pictures. It did not feel exploitative; it felt like something they wanted to do to share their culture and earn income. I hope I'm right, and that it allows them to retain their way of life. I'm so glad they're willing to share with outsiders.





They shared some of their foods. The white pulp in these pacay (also called ice-cream bean), pods is edible and sweet. You don't eat the black seeds.





The toasted ants were a bit spicy and chitinous for me.





Selling jewelry made from local materials provides a source of income.





Dream catchers made from palm fiber and parrot feathers



Life on the River


Boats of all sizes transport people and goods up and down the river.





The family car: people use boats for transportation.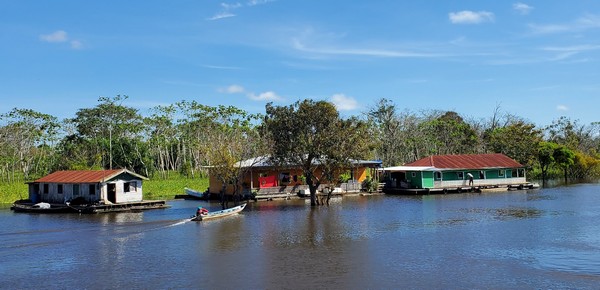 Some houses are built on floating logs. I think the advantage of these is that you don't have to own any land to build one.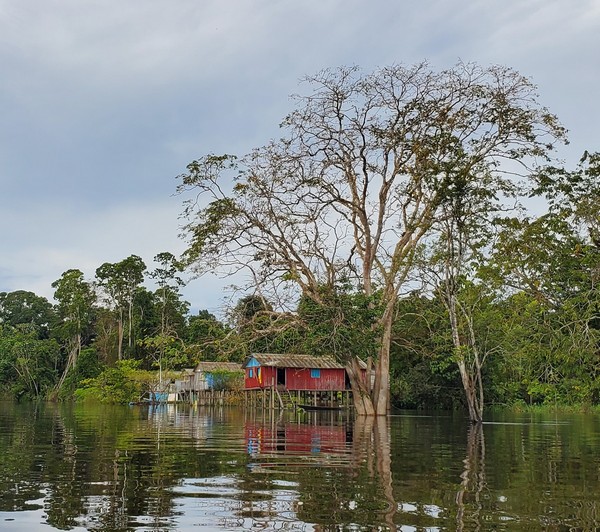 Many houses are built on stilts, so they don't flood when the river rises.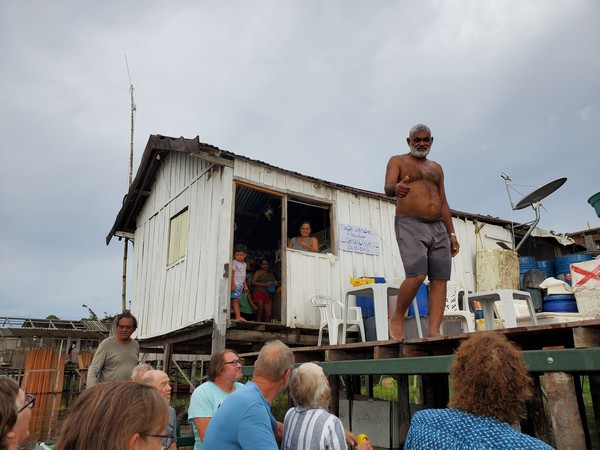 In one village we canoed up to a store on stilts to purchase cold beverages.





We visited a typical family compound along the river. People are allowed to harvest enough lumber to build a house.





The family has solar panels for electricity.





Adorable 18-month-old Josue with andiroba nuts. To earn income, his family grinds the nuts and presses them to extract medicinal oil for treating skin ailments.





The family also harvests and sells Brazil nuts. Each pod contains up to 30 nuts. Fresh Brazil nuts are delicious!





We pulled over at this house so Mo could chat with the family.



Nova Esperança


We toured the village of Nova Esperança (New Hope) on the Rio Cuieiras.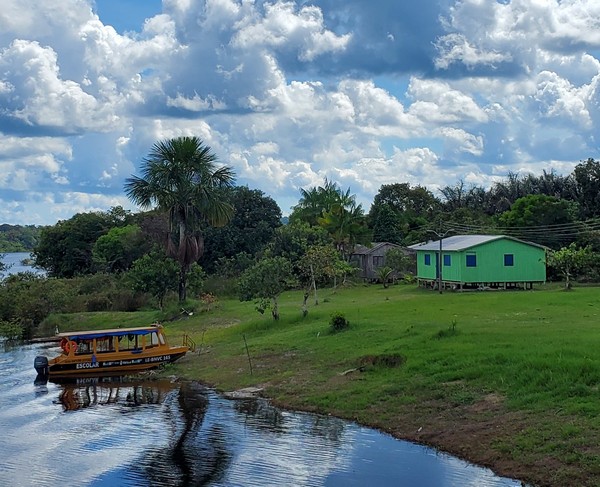 School bus boat in Nova Esperança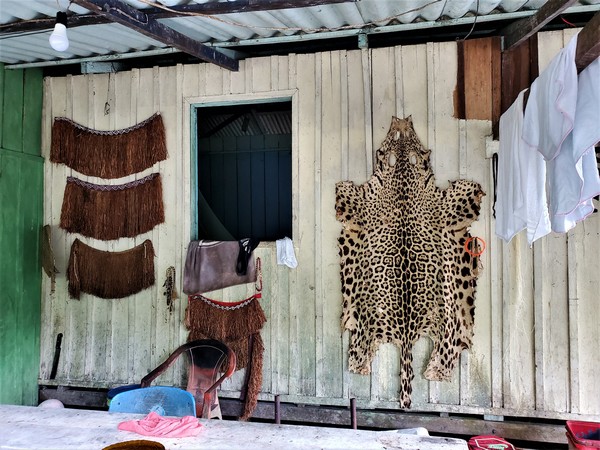 Jaguar skin drying on a front porch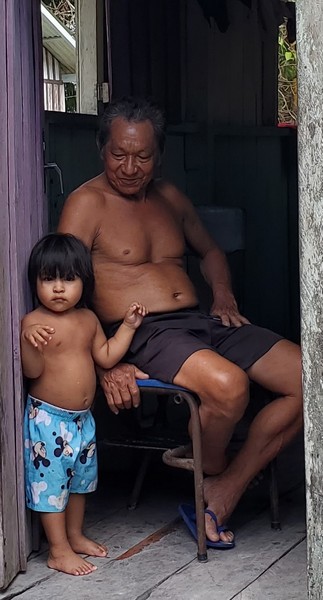 Little boy and his grandpa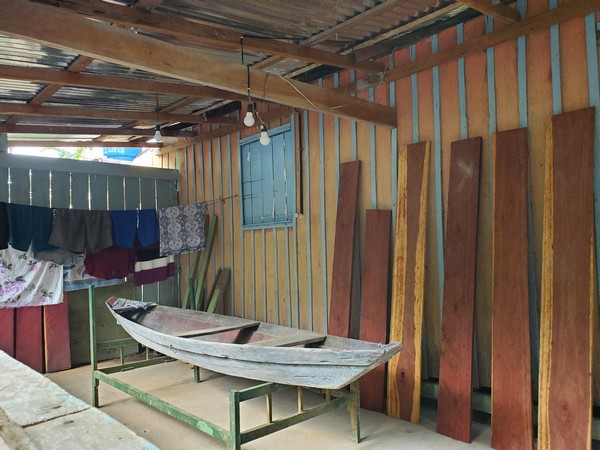 Lumber and canoe on a porch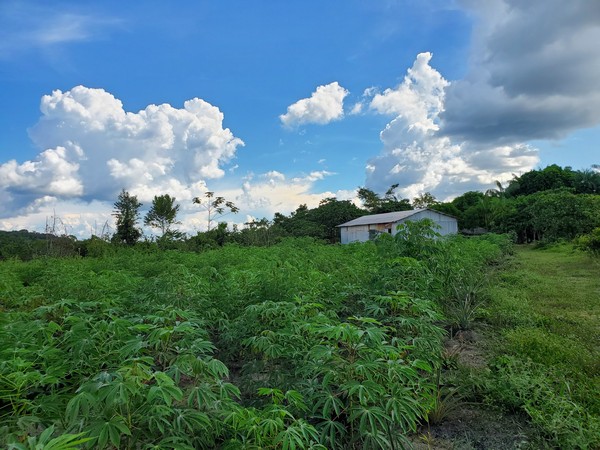 Manioc field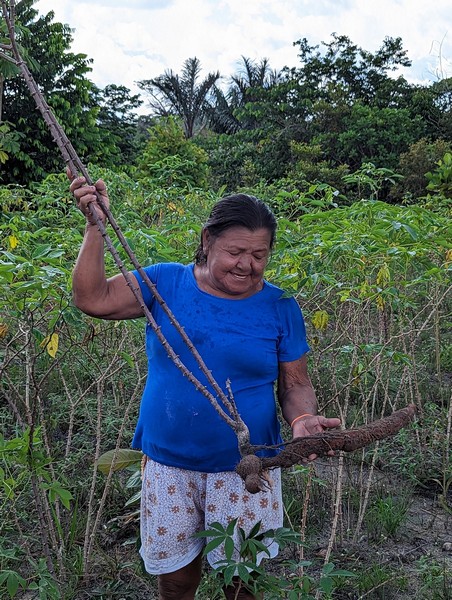 Manioc root. Dona Ugulina is the chief of the village of 117 people.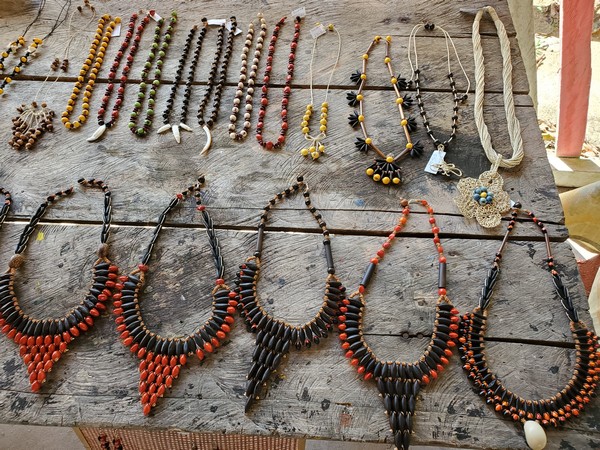 Jewelry made from açai berries, seeds, nuts, caiman teeth, and palm fiber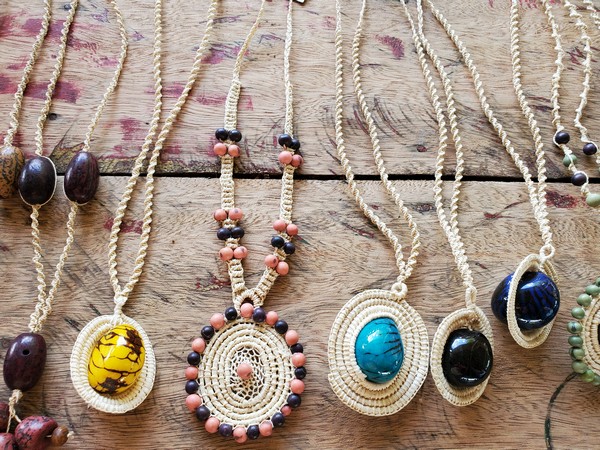 Seed, nut, and palm fiber jewelry made by residents





Beautiful wood carvings



Novo Airão


We stopped in Novo Airão for a couple hours so the crew could get supplies. This town of 20,000 is the jumping off point for Avilanhas National Park. It was Sunday and all the young people were swimming. I sat in the shade, people watched, and tried a tapioca popsicle (tasty).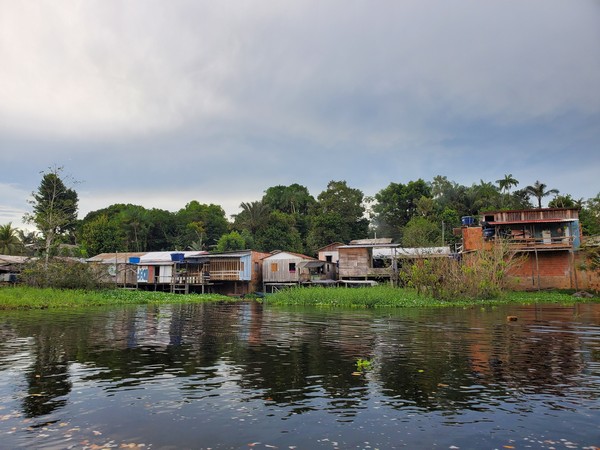 Houses crammed together along the Novo Airão waterfront





Feather headpieces for sale in a souvenir shop



Birds!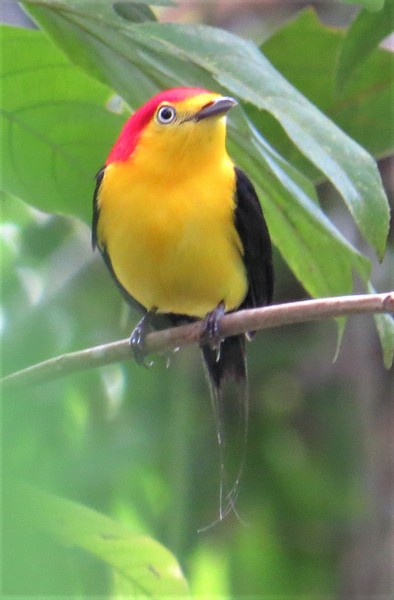 Here's where having a good guide makes all the difference: Mo knew where this Wire-tailed Manakin lived! These tiny, colorful birds (5" long) have developed elaborate courtship dances (check out the amazing documentary called "Dancing With the Birds").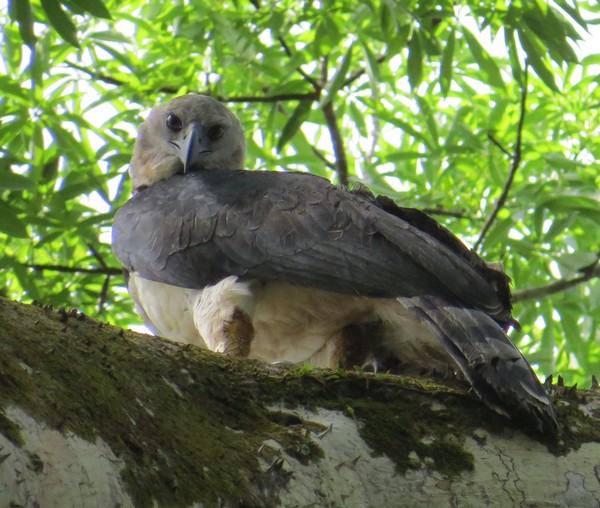 A Harpy Eagle! Her nest was nearby and she alternately glared at us and screeched loudly. These are the largest raptor in the Americas, bigger than the Golden Eagle. They have no non-human predators. They hunt tree-dwelling mammals such as sloths and monkeys; large birds; and reptiles, including iguanas and snakes. Their legs are as thick as a human arm and their powerful talons are three to four inches long.





Hoatzin sitting on a nest. This noisy and unusual bird is the size of a pheasant.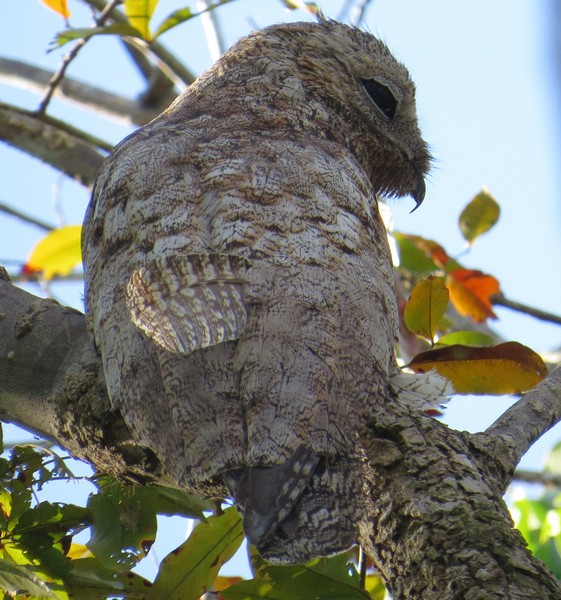 Potoos are nocturnal insectivores. During the day they perch on branches, so well camouflaged they are practically invisible.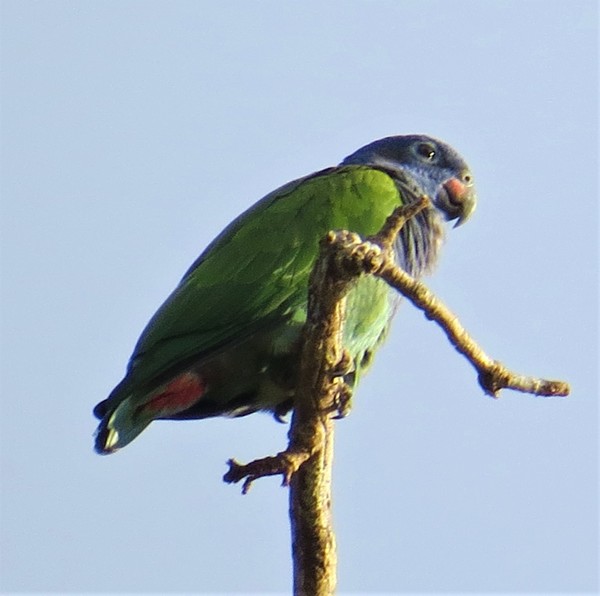 We saw a lot of parrots. This one is a Blue-headed Parrot.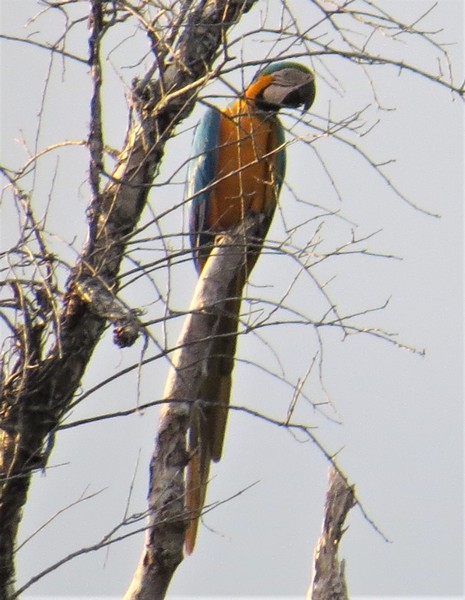 Blue-and-yellow Macaws chatter a lot and sound like ravens. With their three-to-four-foot wingspans and long tails, they are magnificent soaring through the sky. We also saw Scarlet and Chestnut-fronted Macaws.





Yellow-headed Caracara are scavengers, about the size of an osprey.





Black-throated Trogon, just a bit smaller than a Robin.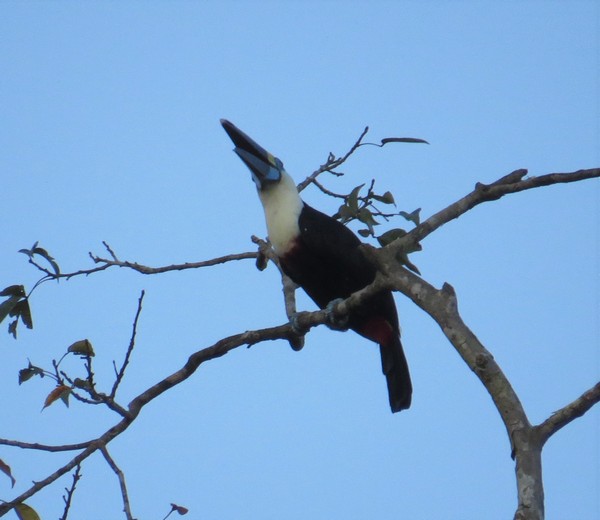 White-throated Toucan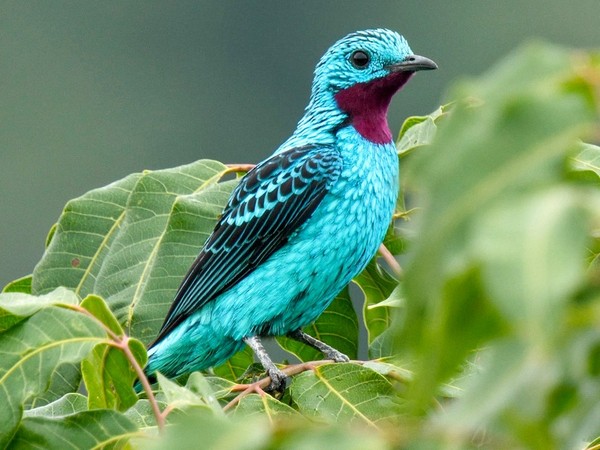 It was stunning to see a Spangled Cotinga! They are a little smaller than a Robin. (Photo courtesy of Ebird.com.)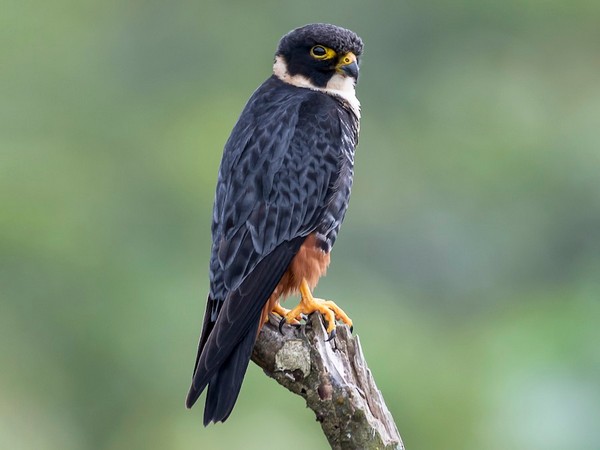 Bat Falcon, about 24 inches long. (Photo courtesy of Ebird.com.)





Another stunning sighting was the Olive Oropendola, about 20 inches long. (Photo courtesy of Ebird.com.)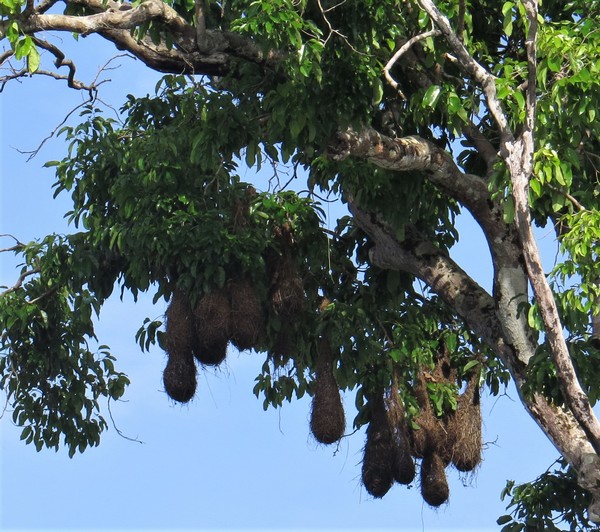 Oropendola nests are woven from plant fibers and can be up to six feet long. They look like tennis balls in old socks.



Trip Info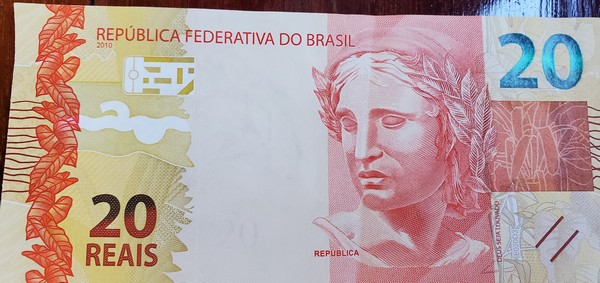 The Brazilian currency is the Real (plural Reais in Portuguese). The exchange rate was 5 to the dollar, so this bill is worth $4.
The company we went with is Amazonia Expeditions.
My friend who organized the trip chartered the boat directly, cutting the cost at least in half. We each paid $2160 plus 10% tip for 12 days all inclusive. My round trip flight from Seattle was $1000.
Pros and cons: This is a great trip for people who are really into birds, nature, and Amazon culture. There are many hours of sitting on hard canoe cushions (bring an inflatable pad) and very few opportunities for exercise (except climbing the boat stairs!). The food is great and the cabins are comfortable.
---