Monarchs and Mole: Caravanning to Oaxaca and back
December 2022 to March 2023
This year we caravanned through Mexico with friends Carole and Brud from Shaw Island. We showed them many of our favorite places, and discovered a few new ones along the way. Highlights of this year's trip included the mole (MOH-lay) capital of Mexico, Oaxaca (Wa-HAH-ka), and the monarch butterfly biosphere reserve way up high in the mountains. Click here to learn about our Promaster van.





7000 miles and 87 days (cost breakdown below)



---
Kirkland to Nogales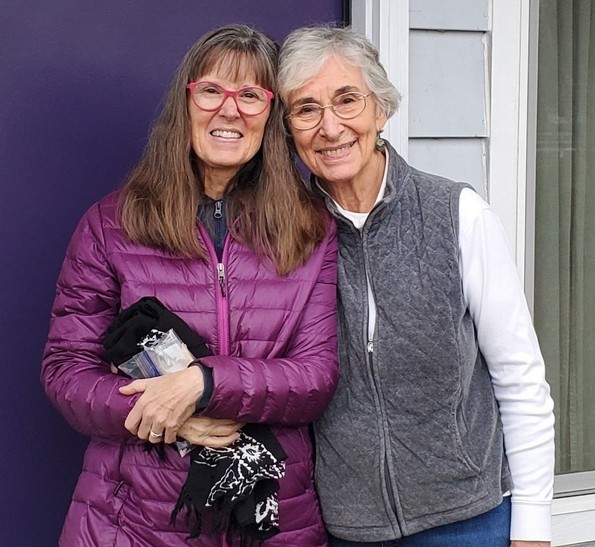 Dear family friend Judy fed us Cuban pork stew and apple strudel at her farm in Newberg, Oregon. Besides being a great cook, she's a talented potter and former Oregon coast BnB owner. I love her purple front door!





We visited Mexico friends Al and Marilyn at their home in Eugene, Oregon. They traveled to Mexico for decades, and boy do they have stories to tell! When people ask why they shouldn't drive at night in Mexico, one answer is because you might hit a cow. Well, on their first trip to Mexico, in 1975, Al and Marilyn were driving at night and hit a cow! Their home is filled with her art and treasures they've collected in Mexico.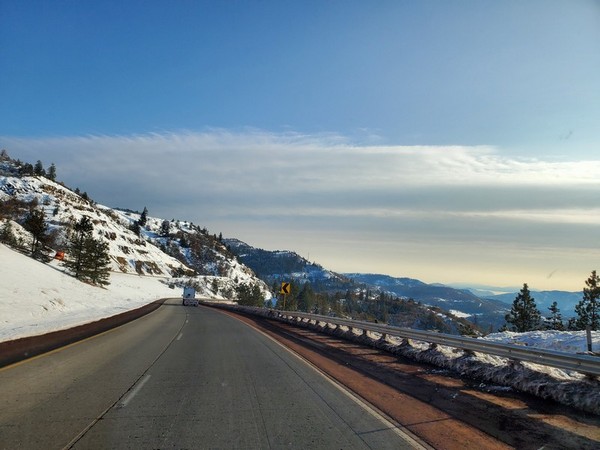 The diciest part of driving south in the winter is crossing Siskiyou Pass on the Oregon-California border. We got lucky with driving conditions this year.




The Garden of Lights at the Sundial Bridge in Redding, California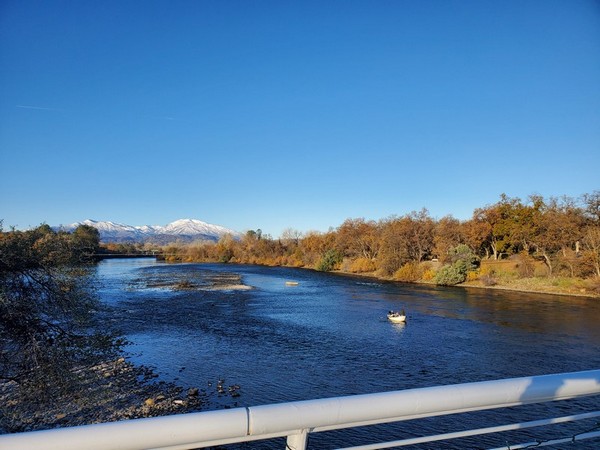 Snow visible on the mountains from the Sundial Bridge over the Sacramento River in Redding, California





Grant and I both worked with Denise over 25 years ago. We had a lovely visit with her and husband John at their winter home in Yuma. She is a great cook and made us delicious chicken piccata (with capers, butter, white wine, and lemon juice). She's also an engineer and has a black belt in karate. She and John have sailed the world.





Dr. Salinas is our dentist in Los Algodones, Mexico, just across the border from Yuma. Here he is with his wife and business partner, Irene. Their office has state-of-the-art equipment, and prices are a fraction of the US.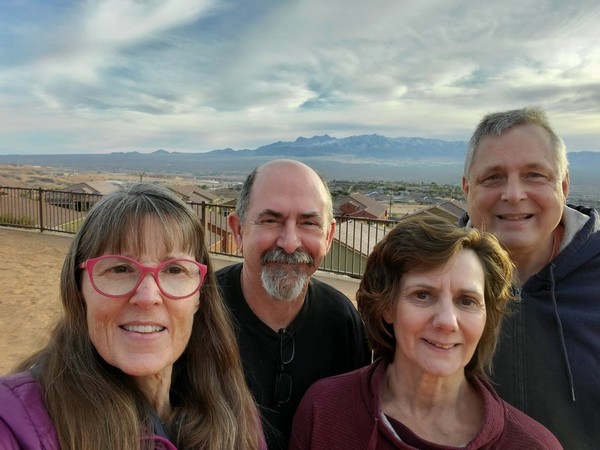 Mary, Mark, Grant, and I all worked together once upon a time in the Seattle area. We visited them at their beautiful new home in Mesquite, Nevada, with a sweeping view of the Virgin River Valley below.





Hiking in the spectacular Valley of Fire State Park in southern Nevada. Peppermint swirl rock formations and ancient petroglyphs.





A family reunion Christmas in Arizona with my mom, my four younger siblings, and their families. (My boys were unable to come.)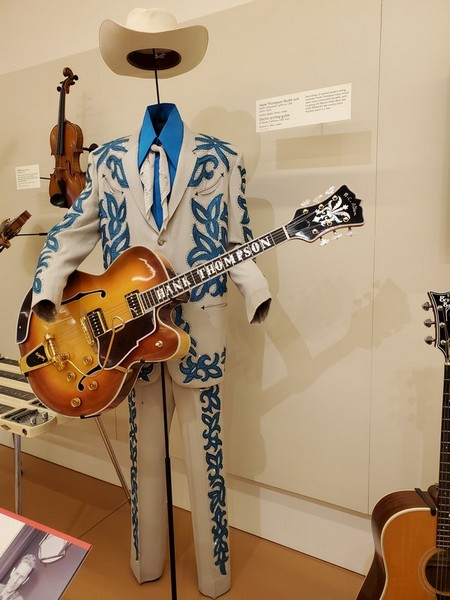 The Musical Instrument Museum in Phoenix showcases instruments, audio and video clips, plus costumes from all over the world. Recommended.





Beautiful Mission San Xavier del Bac, near Tucson, was built in the 1780s.



---
MEXICO
Sonora State


The town of San Carlos, about five hours south of Nogales, makes a good stopping spot the first night, with free beach camping, lovely rock formations, and legendary sunsets.





This roadside statue, over 100 feet tall, honors the indigenous Yaqui people and their sacred deer dance.



Alamos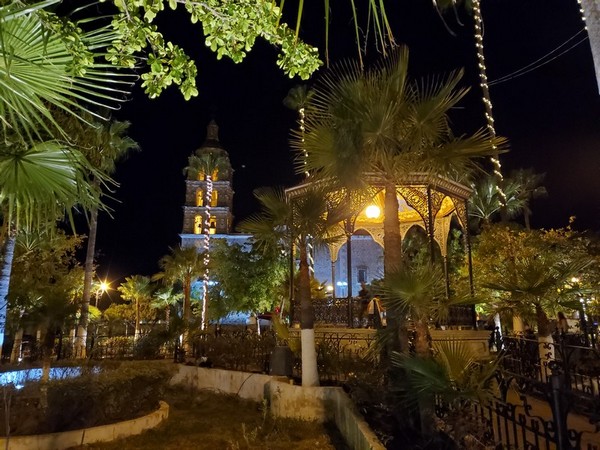 The main square in Alamos, a charming and laid-back, once-wealthy former silver mining town in the mountains. Founded in the late 1600s, it boasts beautifully-restored colonial architecture, but is basically a friendly ranching community.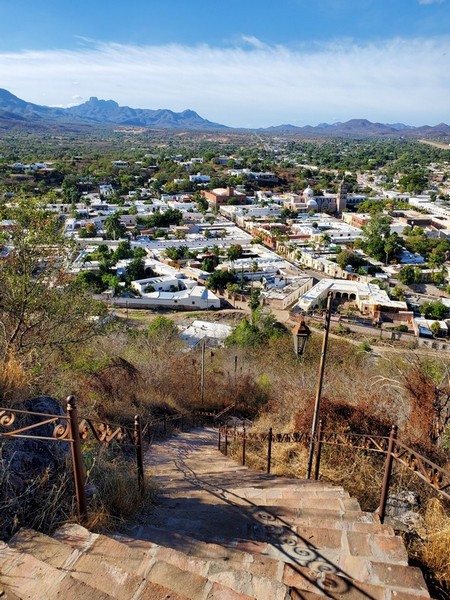 The tranquil town of Alamos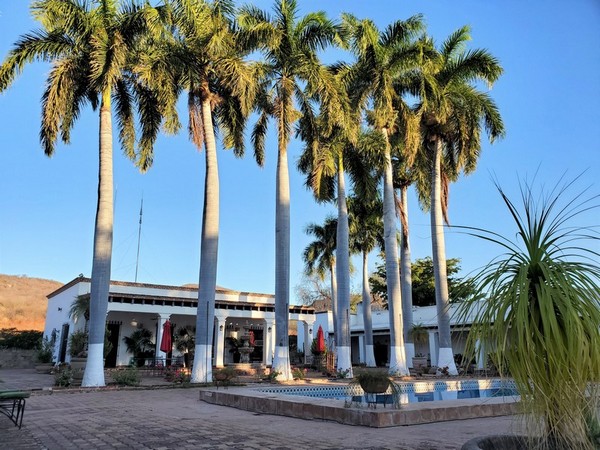 The campground has a nice pool and is walking distance to town.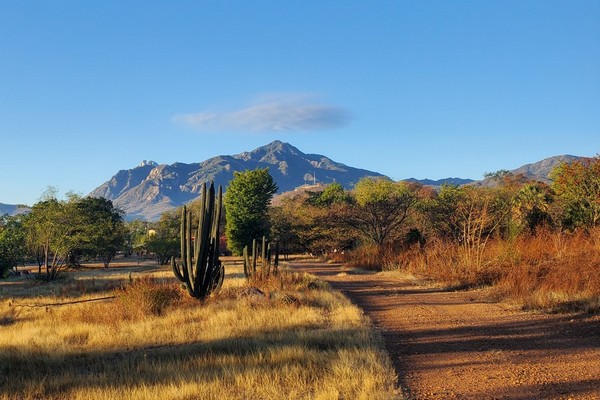 View from the campground





A typical restored building in Alamos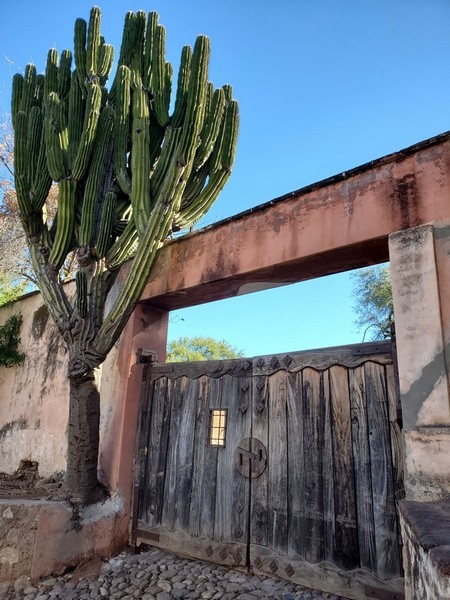 A picturesque Alamos street scene. The tree cactus is called etcho or hecho.



---
The Pacific Coast


We spent one night at a lake near Culiacan, Sinaloa, with fishermen netting bass, and great birdwatching.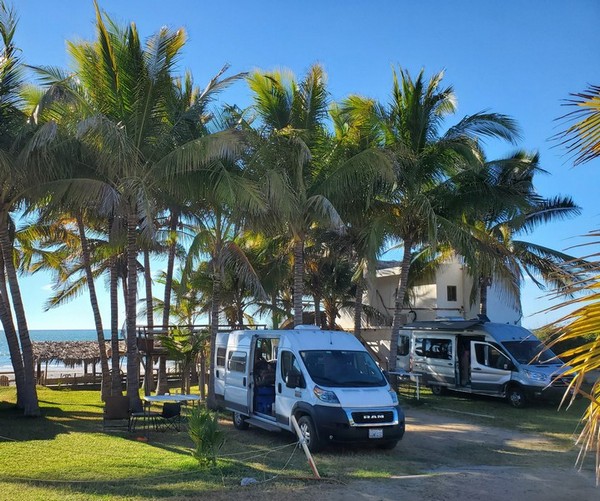 Our camp near the small fishing village of Celestino Gazca, Sinaloa




Turn up the sound for a 30-second video of the beach in front of the campground. Listen to the waves while you imagine the warm sun on your back and the breeze on your face.





The Sinaloa cartel blocked the main highway with burning semi trucks in retaliation for the arrest of their leader. The police opened the road after one day. We were never in a moment of danger, but it was surreal and sad to see dozens of truck carcasses along the road.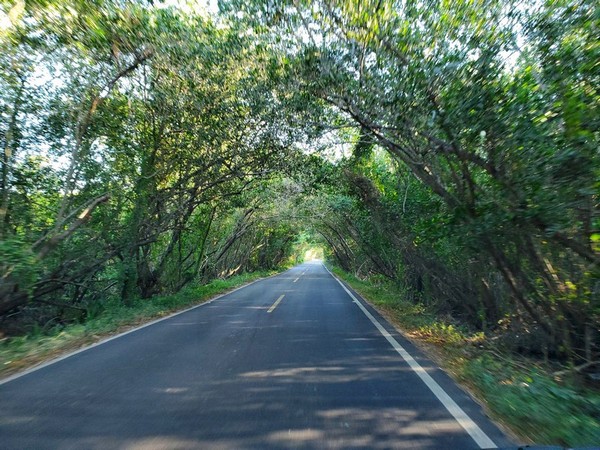 The road to the coastal town of San Blas, Nayarit. The tropical vegetation is lush and jungly. I think it's pretty cool that you can hop in your vehicle in the US and drive to the tropics!





La Tovara is a freshwater spring in San Blas. We took a boat ride through the mangroves to see crocodiles, iguanas, and exotic birds.





Crocodile





Boat-billed heron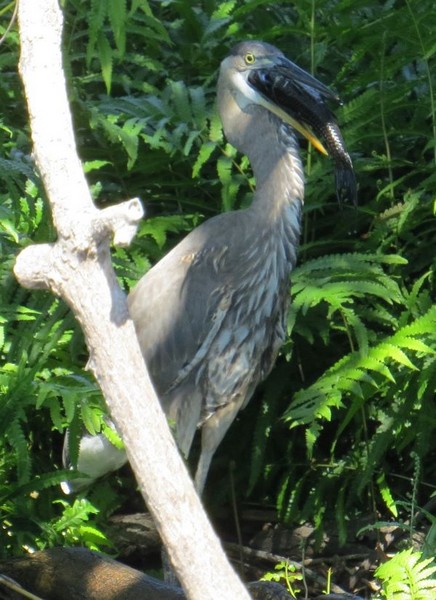 Tiger heron swallowing a fish





Look closely to see this iguana's beautiful markings.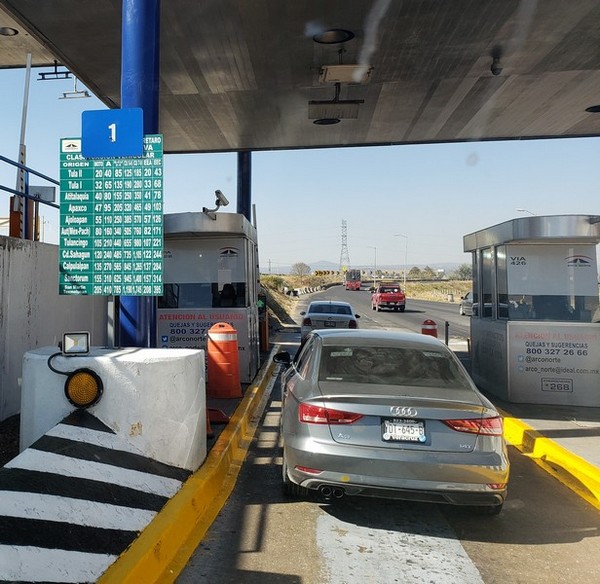 Mexico has excellent toll roads. They can be expensive, but are faster and smoother than the libres (free roads).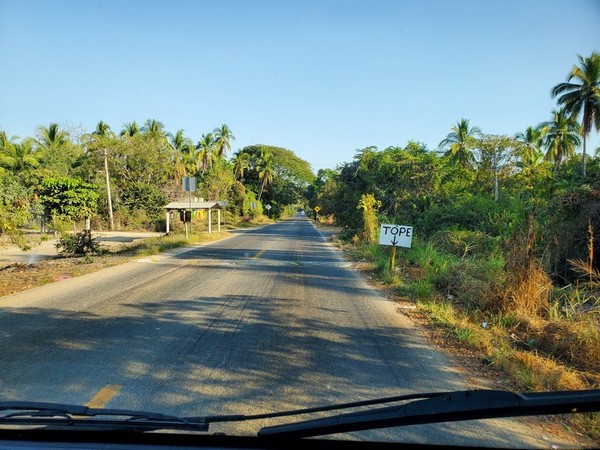 Best of all, toll roads don't have topes (speed bumps). The free roads have lots of them; they can be huge and hard to spot, and they can break an axle if you don't slow down!





Wherever there is a slowdown on the road (including topes and tollbooths), vendors appear out of nowhere. This one is selling stuffed animals to a trucker as the truck is rolling slowly along.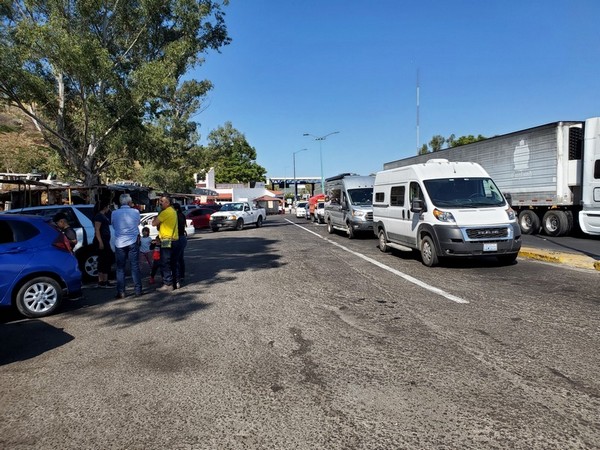 Rest areas along toll roads usually have nice bathrooms, and a convenience store or restaurant.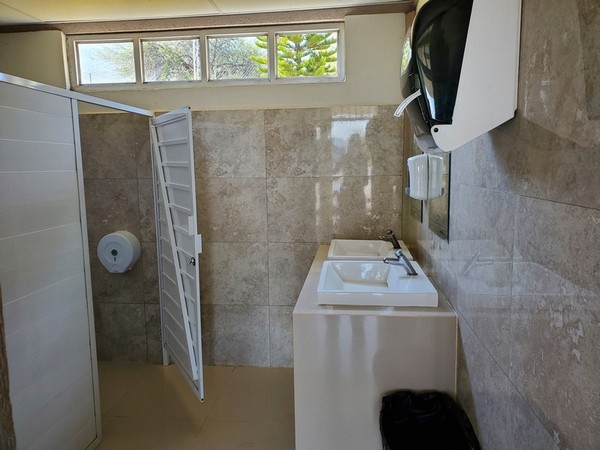 This clean bathroom is typical of public restrooms throughout Mexico.





After two weeks on the coast, we headed inland. Those are corn stalks stacked in the field.





In the mountain town of Villa Corona, Jalisco, there are several thermal pool waterparks with campgrounds. During the day the pools are open to the public, but campers get early admission each morning, when they refill the pools with warm water. It's a desert climate here, with 80-degree days and 40-degree nights, so the warm water feels mighty nice early in the morning!





This marsh near the campground is a great place for birdwatching.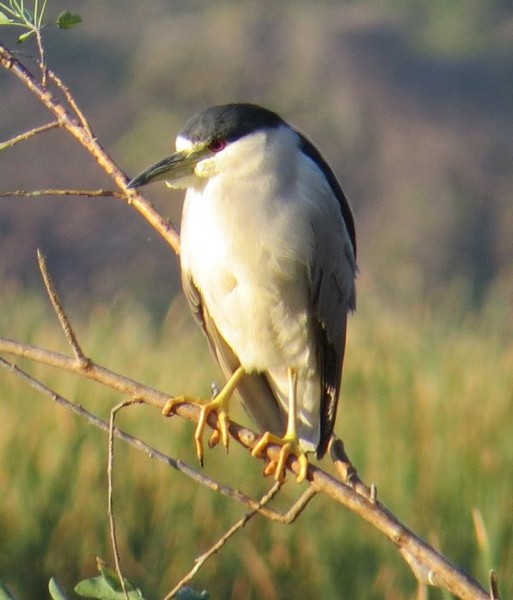 Black-crowned night heron





Luis runs this juice stand in the Villa Corona market, and suggested we try a mix of orange and grapefruit. Delicious!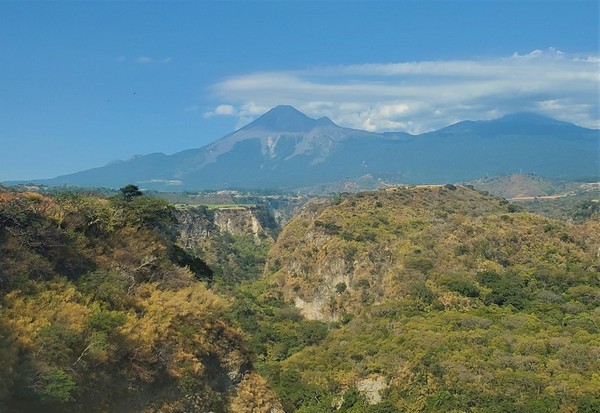 To continue our journey south, we headed back to the coast. The scenery on highway 54 between Guadalajara and Colima is beautiful.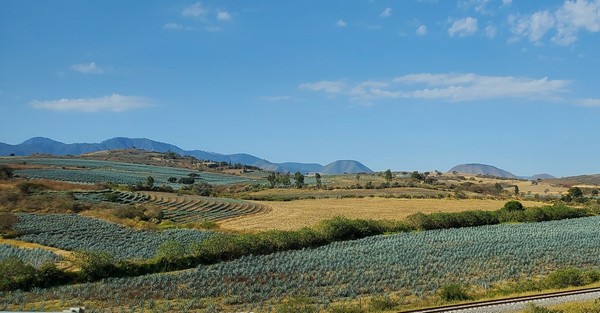 Fields of blue sword agave for mezcal or tequila





Workers harvesting agave. It takes about seven years to mature. They chop off the leaves and roast the hearts, called piñas, then grind them, ferment the juice, and distill.





I wonder how often someone actually gets to see a jaguar crossing the road?





We weren't able to reach our intended destination before dark, and stopped in a small beach town. The incredibly kind manager of this hotel said we could park out front and use their pool and restrooms -- for free. This is typical Mexican hospitality.





Agriculture workers heading to the fields in the morning





Bananas grow better when covered. In the old days they used banana leaves; now they use plastic.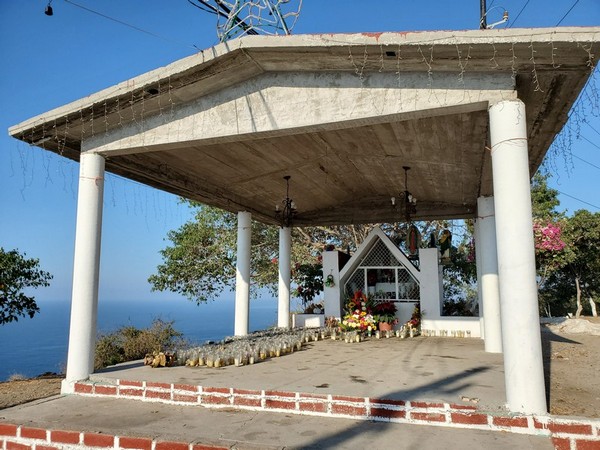 Roadside shrines are common. The more dangerous the road, the larger the shrine (my theory).





The Michoacán coast is stunning, with miles of empty beaches.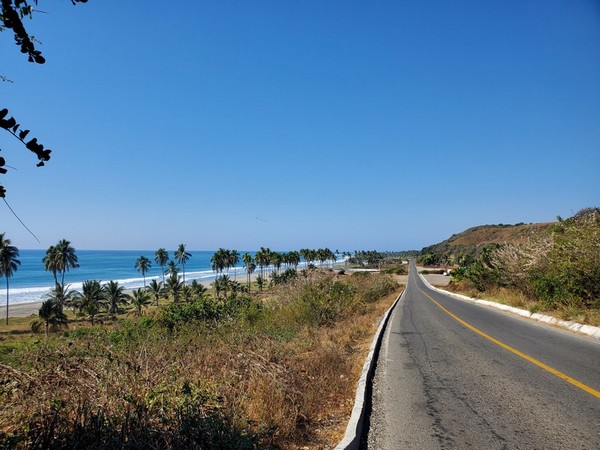 Highway 200 along the Pacific coast of Michoacán is reminiscent of California's Highway 1.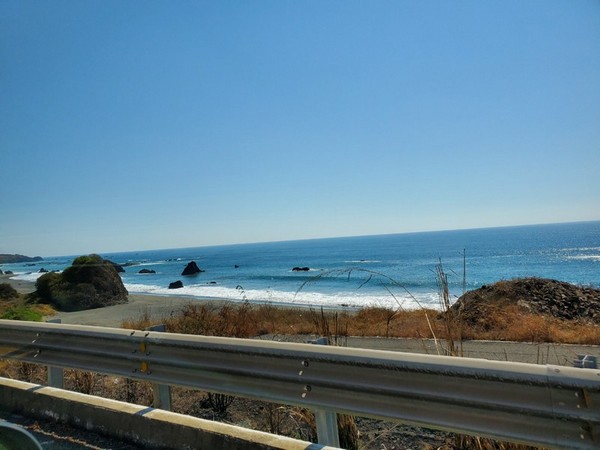 The Michoacán coast





The beach at Rancho Buganvilias campground on the coast of Michoacán





Dinner with other campers and the family that owns the campground





Our next stop was Casa Rayo del Sol in the tiny fishing village of La Barrita, Guerrero. This is the view from the campground.





Roadside fruit stands in this part of Mexico sell bananas, mangoes, and enormous jackfruit.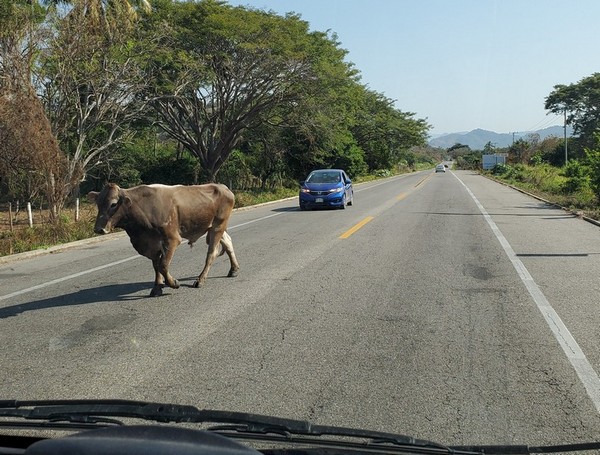 One reason you shouldn't drive at night in Mexico: you might hit a cow!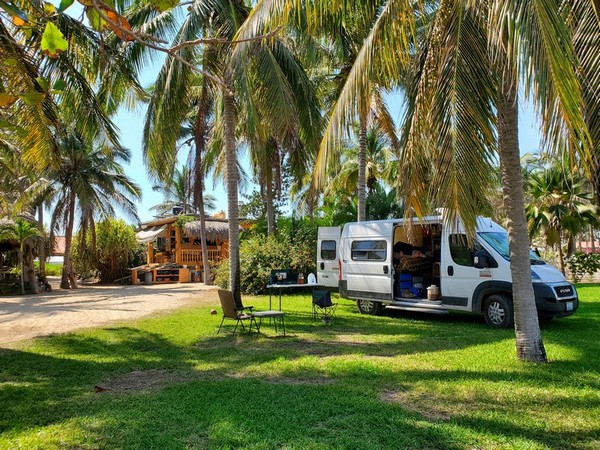 Camping at La Tortuguita on Playa Ventura beach, near Copala, Guerrero





Sunset at La Tortuguita





La Tortuguita is an authorized sea turtle sanctuary that protects eggs from human and animal predators. Viktor goes out early every morning to look for new nests, brings the eggs back to an enclosure, and reburies them. This species (Olive ridley) will hatch in about 45 days.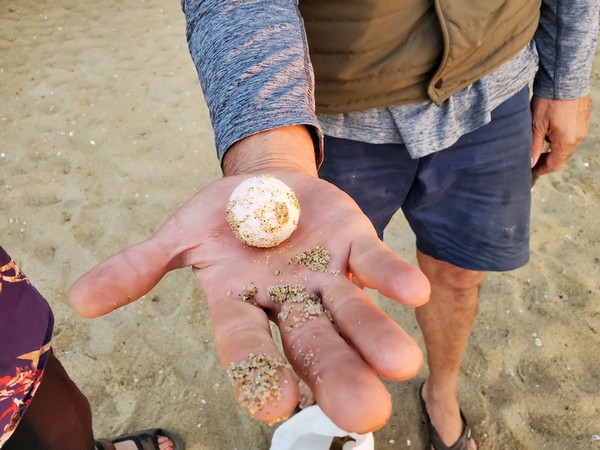 An Olive ridley turtle egg



---
Oaxaca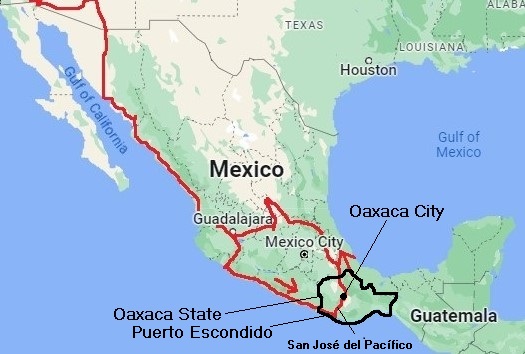 Oaxaca is both a state and a city.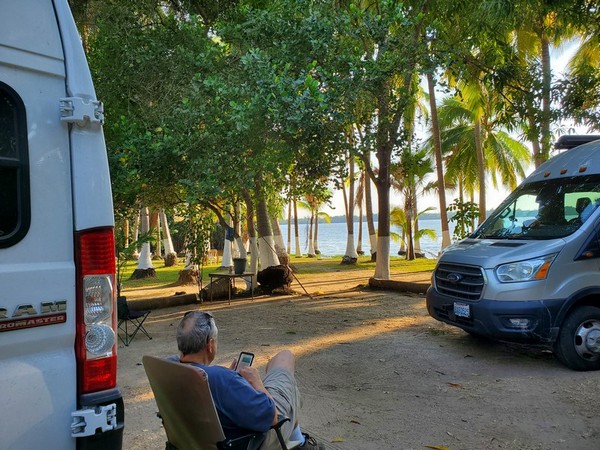 Our camp north of Puerto Escondido, Oaxaca, on a coastal lake





Estuary on the Oaxaca coast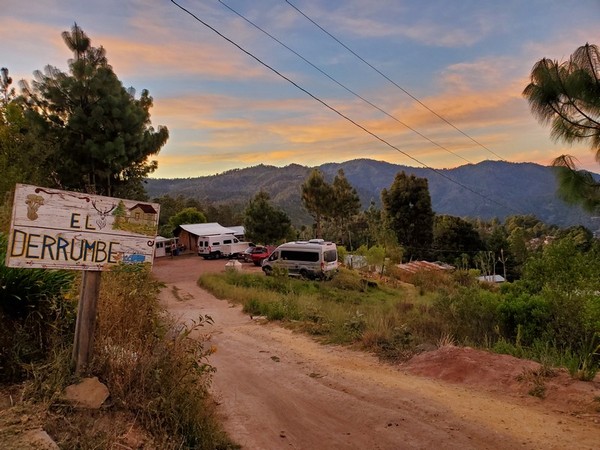 We left the coast and started up to Oaxaca city on Highway 175, a narrow, twisty mountain road. We spent the night in the town of San José del Pacífico at 8000 feet elevation. The town is perched on the side of a mountain, with few flat spots, and this property owner kindly allows vans to park here overnight. Most people give them a donation. El Derrumbe means "the landslide."





San José del Pacifico is known for the magic mushrooms that grow here in the rainy season and are used by the local people in their sacred ceremonies. The town is mushroom-themed.



Santa Maria del Tule, Oaxaca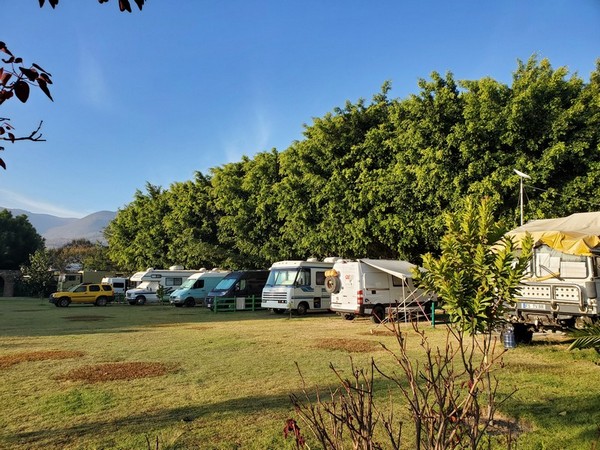 There are no campgrounds in the city of Oaxaca, so we stayed at this lovely place 10 kilometers away in the town of Santa Maria del Tule.





Santa Maria del Tule is famous for this tree, a 2,000-year-old Montezuma cypress that is one of the oldest, largest, and widest trees in the world. It dwarfs the adjacent church.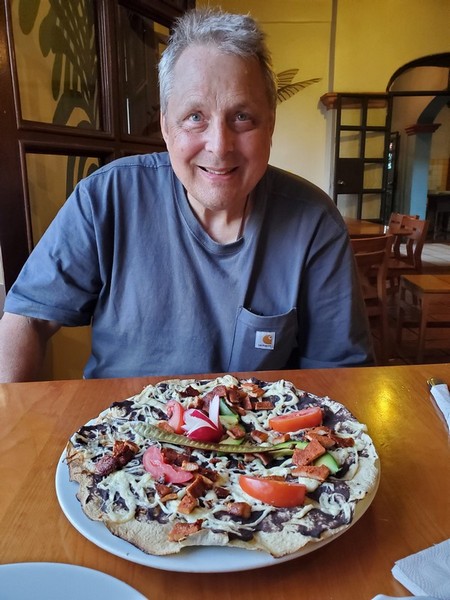 One of Oaxaca's signature foods (besides mole) is tlayuda, a thin, crispy flour tortilla covered with beans and cheese and piled with toppings of your choice.





This young woman is celebrating her quinceaños, or 15th birthday. The doll symbolizes her transition to adulthood, and away from childhood.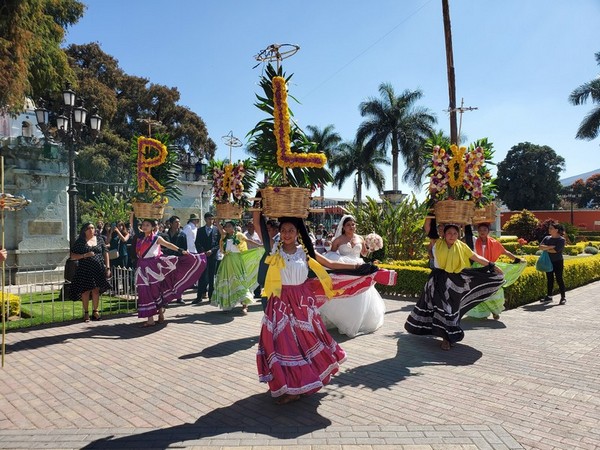 Here comes the bride! A wedding procession leaving the church led by traditional dancers. The letters are the bride and groom's initials (Rox and Leo). The parade wound through town to the reception venue.




No festivities of any kind are complete without the booms of giant firecrackers -- listen for them.





Wedding attendees in traditional Oaxacan embroidered dresses



Oaxaca City (Oaxaca de Juárez)
We love this city. It has perfect weather, beautiful architecture, tons of history, great markets, vibrant plazas, and wonderful food.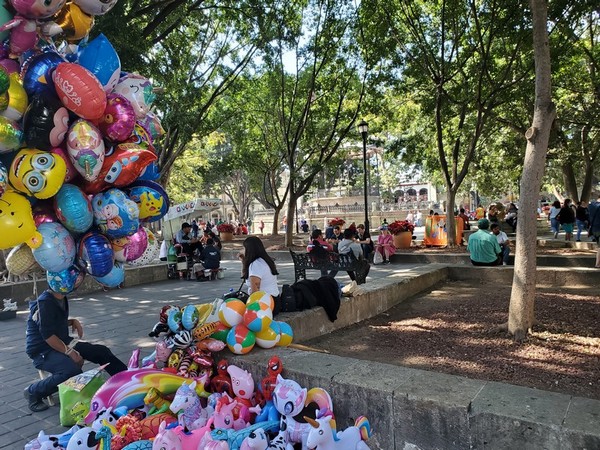 Balloon vendor in the main square, or zócalo, in Oaxaca city.




Oaxaca city zócalo on a Tuesday afternoon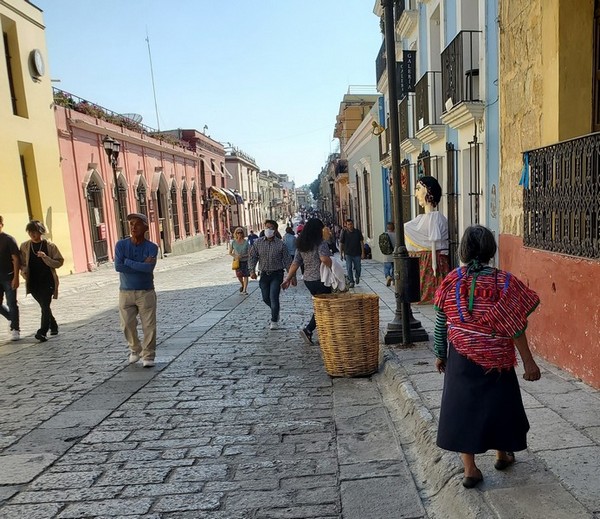 Oaxaca city has wonderful pedestrian streets. I love the colorful handwoven clothing worn by the tiny indigenous women.





The baroque-style Templo de Santo Domingo de Guzmán was started in 1572 and completed in 1724.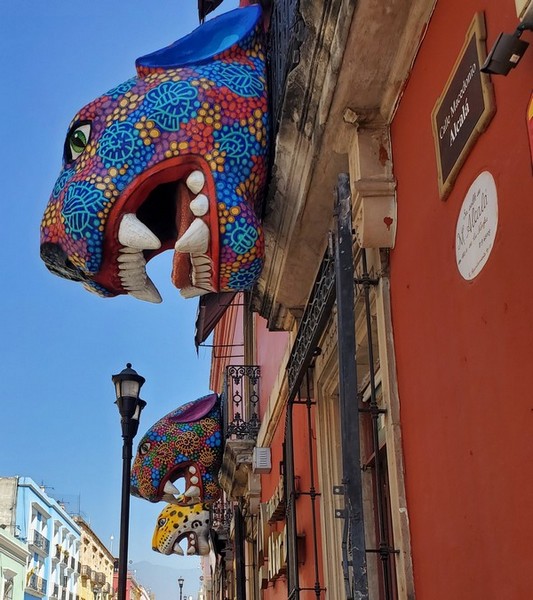 Colorful jaguar heads adorn a building.





Oaxaca's Xochimilco neighborhood has many murals.





An arch from a water aqueduct built in the early 1700s




Sundays are family day in Mexico. Most towns offer live music and activities and close off central streets to cars. In the main plaza of Oaxaca city, a band played music by a Oaxacan composer while dancers in traditional outfits performed.





Tacos del Carmen is known for its fiery hot chili relleno taco rolls.





Rich, creamy handmade ice cream abounds in Mexico. My favorite flavor is nuez (pecan).





Do you prefer lime or chile on your dried grasshoppers? Either way, they contain lots of protein! You can also buy grasshopper salt. I prefer my insects pulverized; you get the protein without the legs getting stuck in your teeth.





Tejate, a tasty and refreshing ancient Oaxacan beverage, is made from corn masa, cacao, mamey seeds, and palm fruit. It's served in painted gourd bowls.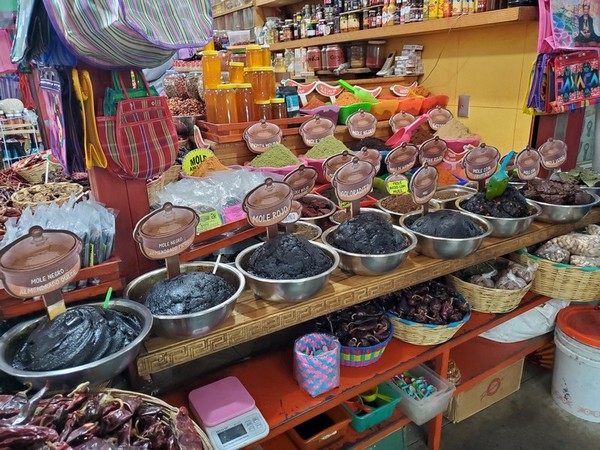 Oaxaca is famous for moles, intensely flavored sauces made with dried chiles and various combinations of nuts, fruits, seasonings, and chocolate.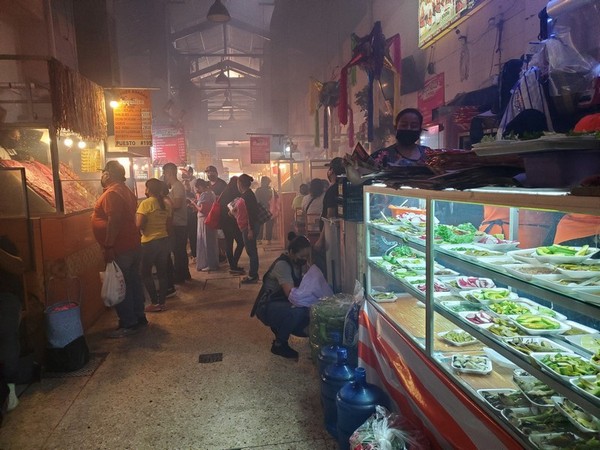 In El Pasillo de Humo (smoke hall), in the 20 November food market, you choose your meat and vegetables, they are grilled to order, and you eat at nearby tables.





Although there are vent hoods, they aren't turned on for some reason, and the workers spend all day breathing wood smoke.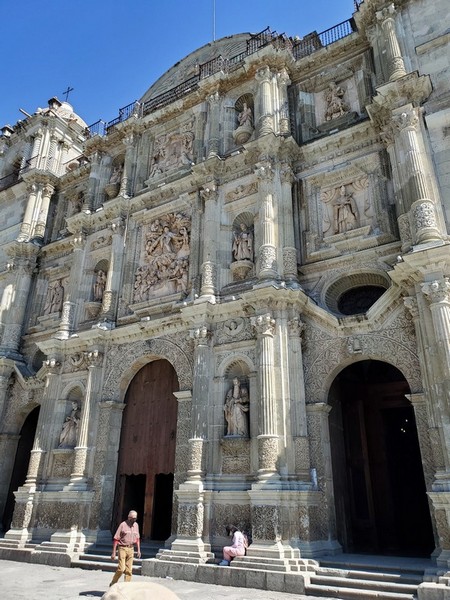 The Oaxaca cathedral was built between 1535 and 1733.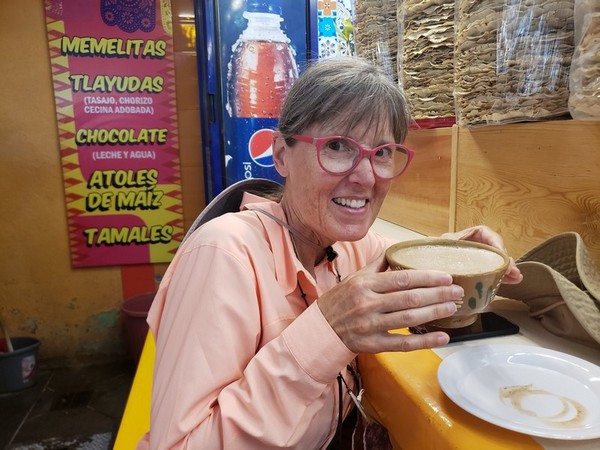 Taking an afternoon break at a market stall for a bowl of Oaxacan hot chocolate with cinnamon and vanilla. Nectar of the gods!





Ocotlán de Morelos is about 20 miles south of Oaxaca city. We drove there one day to attend their weekly market and see the beautiful old church.





The elaborately-painted interior of the church in Ocotlán de Morelos





Super sweet honey pineapples for sale at the Ocotlán market




The weekly market in Ocotlán de Morelos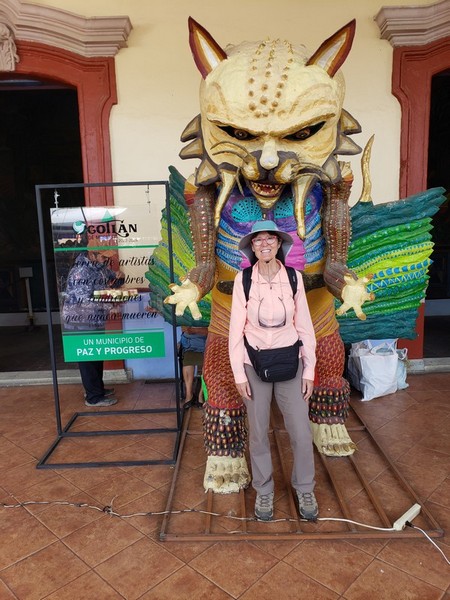 Oaxaca is known for alebrijes, fanciful creatures large and small, made from papier mache or wood.





This 12-inch-tall dragon alebrije came home with us. It was made in the town of San Pedro Cajonos. Each family has their own painting style, and each member of a family has a specialty animal. Dragons represent dreams and imagination.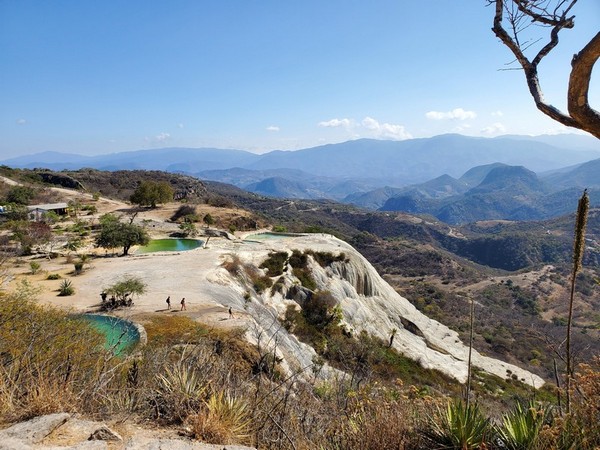 At Hierve el Agua, in the mountains near Oaxaca city, there are stunning travertine waterfalls formed over thousands of years by spring water saturated with calcium carbonate.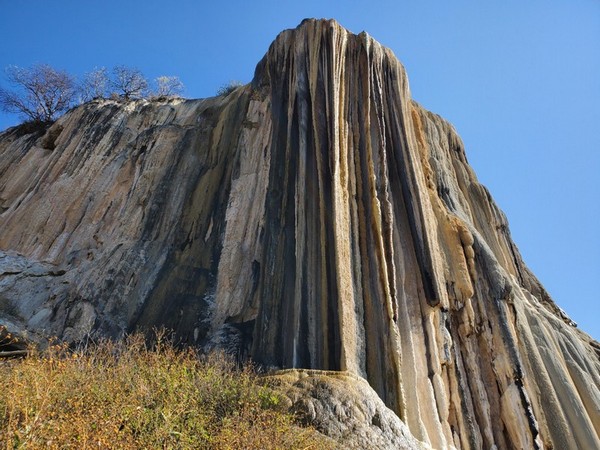 Many stone steps lead down to the base of the tallest stone "waterfall".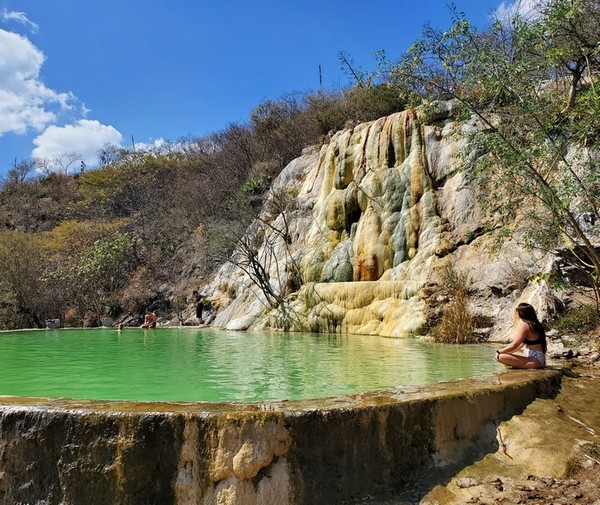 You can swim in the pools (the water is chilly!). The green color is from dissolved minerals.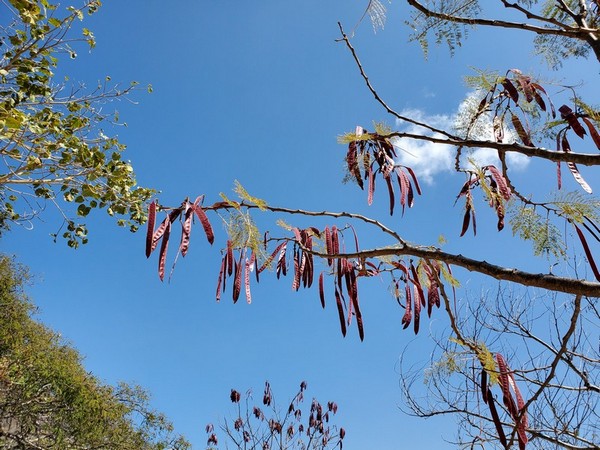 Pods of river tamarind, or huaje, from which the name Oaxaca derives.



---
Puebla


After a week in Oaxaca, we headed to Puebla city (in the state of Puebla), about five hours northwest of Oaxaca city. Columnar cactus covered the hillsides.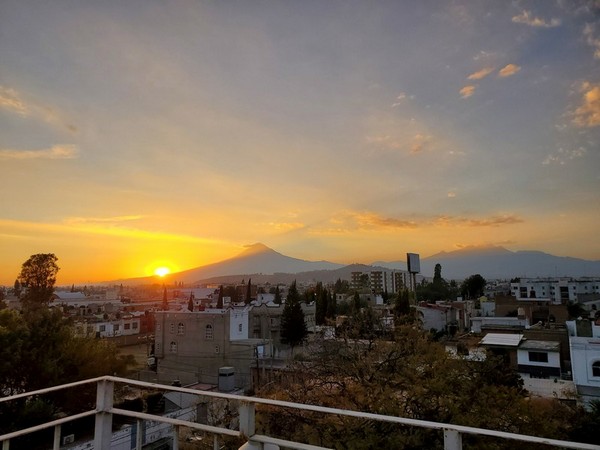 I climbed a tower in our campground near Puebla to watch the sun set beside Popocatepetl, an active volcano.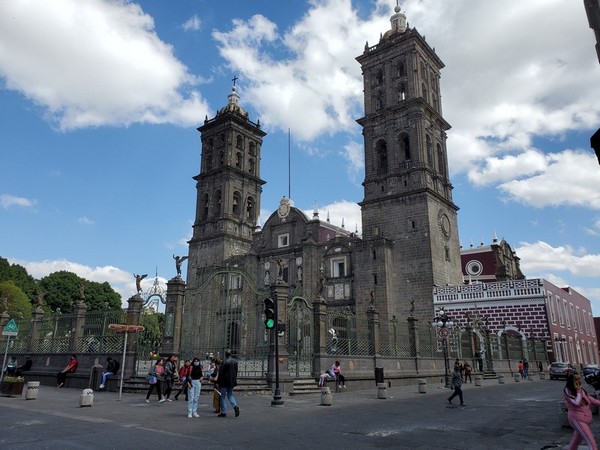 The Basilica Cathedral of Puebla was completed in 1649. It houses priceless art treasures.





The main altar in the Puebla cathedral. The church is so ornate that it's hard to take it all in.





Altar of the Kings, Puebla cathedral





Puebla has delightful pedestrian streets lined with shops and restaurants.





The stunning Rosario Chapel, completed in 1690, is covered in 24-carat gold leaf. It was considered the Eighth Wonder of the World at the time.





Puebla is a beautiful, elegant city with gorgeous architecture and inviting green spaces. The city is known for finely-painted ceramic work, and the tiles that adorn many buildings.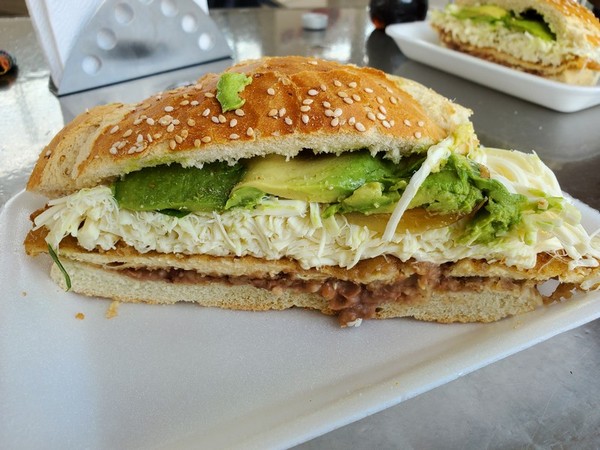 A cemita is a giant roll piled with refried beans, a chicken cutlet (or other meat), caramelized onions, salsa, a mountain of shredded cheese, and an entire avocado. It was big enough for four people.





The restaurant owner's adorable two-year-old granddaughter entertained us by jumping off her little stool. Those are cemita rolls stacked above her.





The Palafoxiana library in Puebla was founded in 1646. It is the first and oldest public library in the Americas, with manuscripts going back to the 15th century. The woodwork is jaw dropping.





The book wheel allowed researchers to have up to seven books open at once.





Examples of the talavera pottery made in Puebla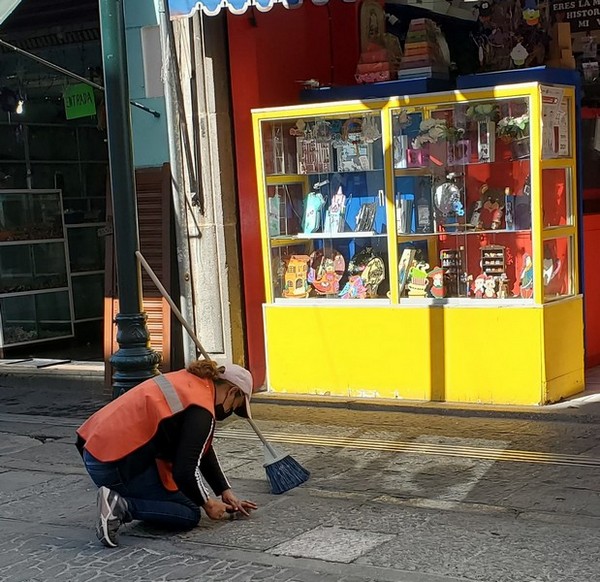 Puebla pays an army of people to keep the town spotless. (It's common throughout Mexico to see shop owners sweeping and washing the street in front of their business every day.)



---
San Miguel de Allende


San Miguel de Allende is one of our favorite winter hangout spots because there is so much to see and do. The campground is right in town, so you can walk to everything.





The centerpiece of San Miguel de Allende is the neo-Gothic 17th-century pink stone church in the central plaza.





San Miguel is one of Mexico's colonial silver cities. Great wealth was wrested from mines using slave labor starting in the mid-1500s. Some of that wealth was used to construct lavish churches and buildings. Many of these survive and have been maintained or restored.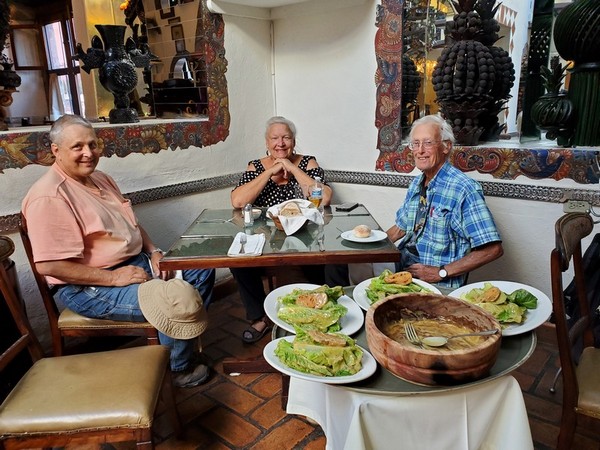 Our caravan buddies, Carole and Brud, took us out to dinner at a beautiful restaurant that was decorated with locally-made ceramics.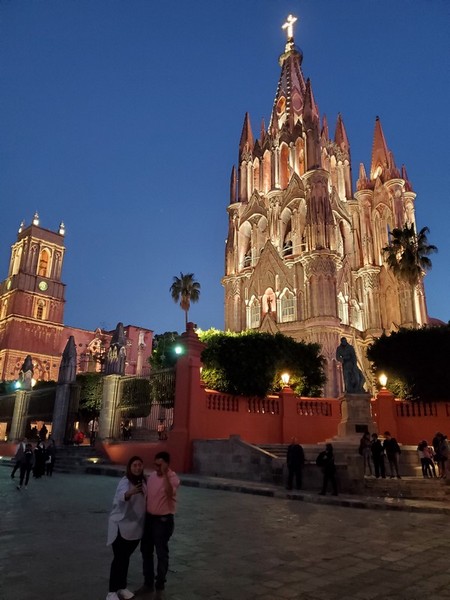 San Miguel de Allende at night is truly magical!





The streets are festooned with tin stars.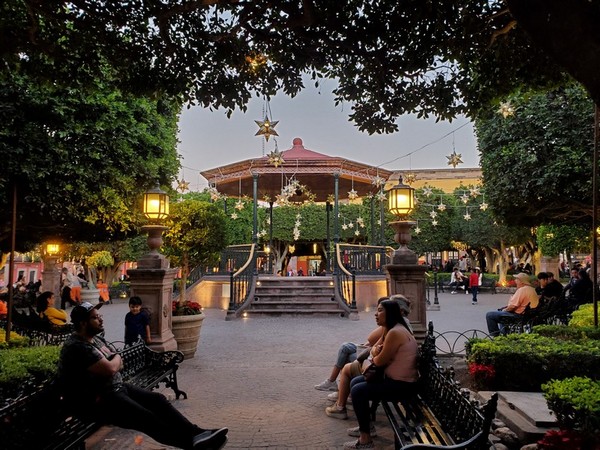 The main plaza was lit up as well, and filled with people strolling and chatting.




Mariachi bands roam the square selling songs.





Calendaria (Candlemas), on February 2, is a big deal in Mexico. Indigenous and Catholic beliefs combine on the night of February 1. People create altars to bless the earth, plants, and animals. They sing songs to the Virgin, who is believed to watch over the earth and all of its creatures. They burn copal incense, and people line up for blessings. Later in the evening, tamales and atole are passed out to everyone.





A statue of Mary arrives on a platform and is blessed with copal incense before being placed on the altar.




The park near our campground hosts a two-week Candelaria festival, with a giant plant sale, and nightly music and dance performances. This talented group of young people performed dances celebrating the cultures, dress, and music of Mexico.





Mojigangas are giant puppets with papier mâché heads set on wooden frames covered with costumes. A person can stand inside and dance or walk around. The puppets are often 12 to 15 feet tall. Their features are limited only by the imagination of the maker. They are seen at weddings and festivities of all kinds.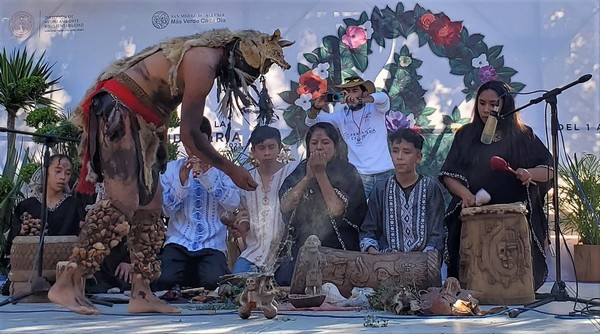 A performance of prehispanic dance in the park in San Miguel. The dancer is wearing a coyote skin, and leg rattles made of dried moth cocoons. Instruments included simple flutes, a turtle shell played with deer antlers, skin drums, bones, and rocks.





Another Calendaria tradition is the blessing of Niños Dioses (Baby Jesus dolls), commemorating that 40 days after he was born, Jesus was taken to the temple for the first time. These dolls are kept in places of honor in the home the rest of the year, and people save up to buy more elaborate dolls and clothing. This woman is on her way to church with a baby Jesus doll that has been in her family for years. Dolls are passed down through generations.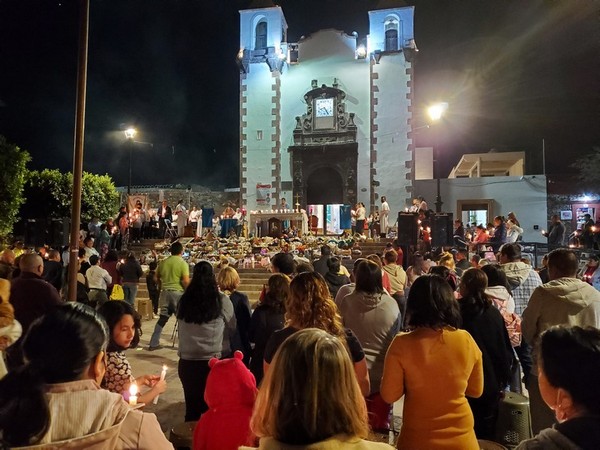 The blessing of baby Jesus dolls and candles outside the church adjacent to our campground. There was a lot of singing.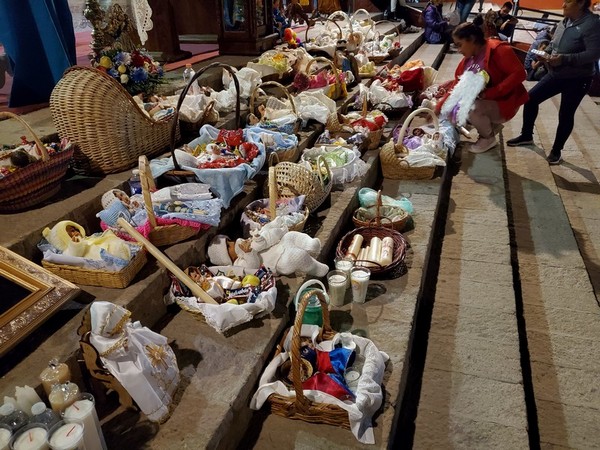 People from all over the neighborhood brought baby Jesus dolls and candles to be blessed.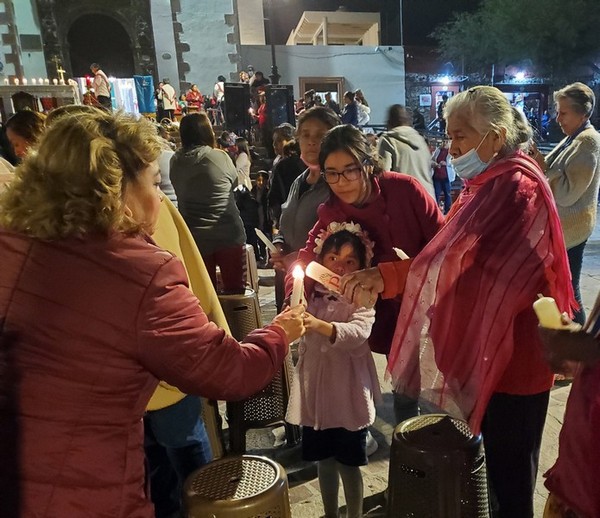 Lighting of the candles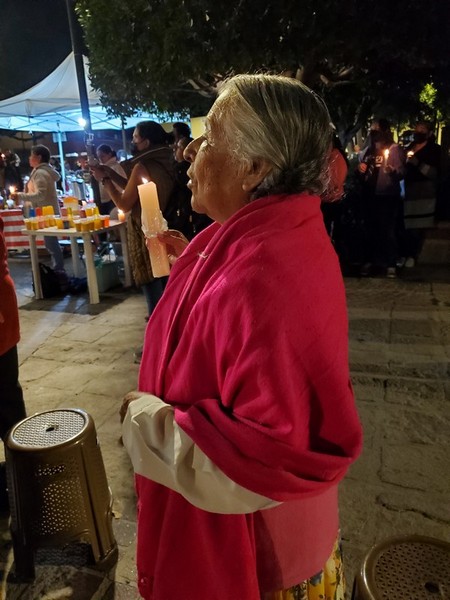 Beautiful old woman singing with candle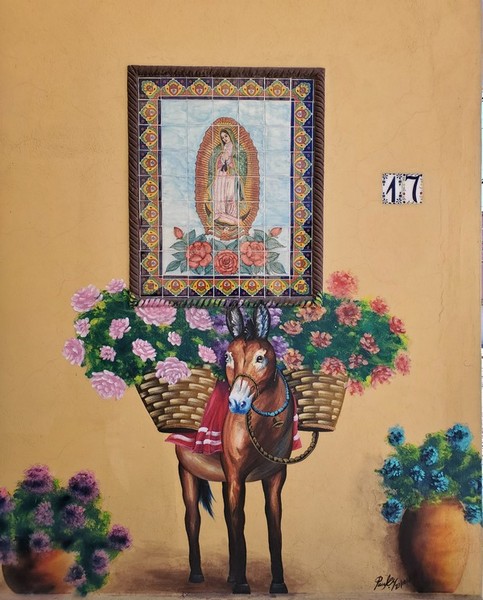 Many homes in Mexico have a Virgin of Guadalupe mural or shrine. This one is tile, and the donkey and flowers are painted.





Murals are very common in Mexico. This is one of my favorites.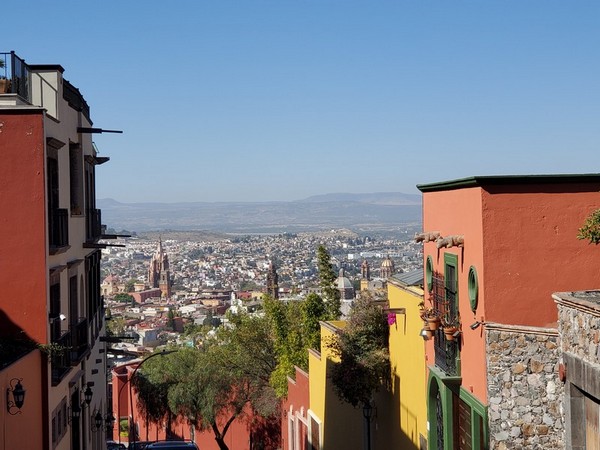 San Miguel seen from a hill above town. At 6200 feet elevation, the town has nice weather year-round, with average high temperatures in the 70s and 80s. It's semi-desert, so winter nights can be chilly. Winter is dry season, and the air can be a bit dusty.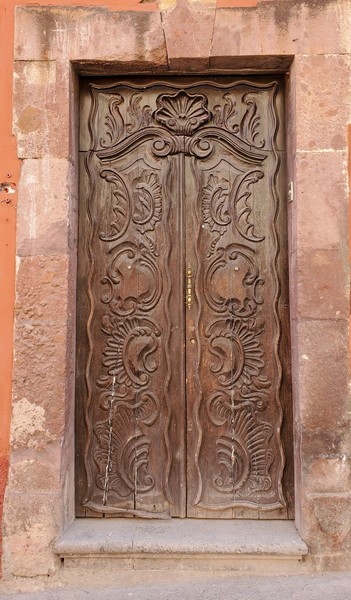 Whole photography books have been published about the carved wooden doors of San Miguel. Many of the doors are quite old.





Great Egrets nest in the trees above San Miguel. During breeding season they develop lacy plumage and bright green eye spots. The long feathers were once prized for ladies' hats, and the egret narrowly escaped extinction.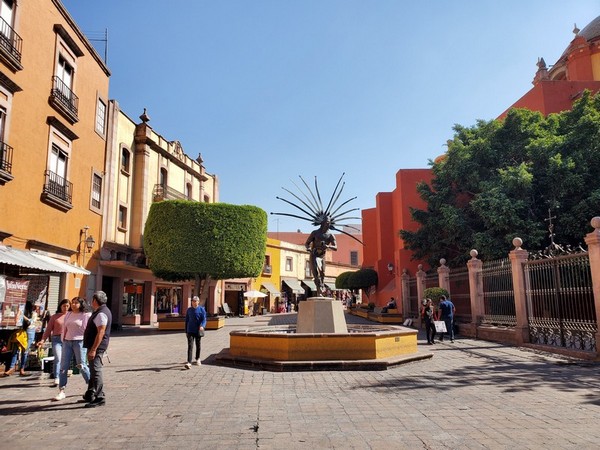 On a too-quick day trip to the beautiful colonial city of Queretaro we saw a small fraction of the historic, pedestrian-oriented city center.





We did have time to eat churros, which are like extruded donuts. They pair especially well with chocolate sauce!



---
Mountains and Monarchs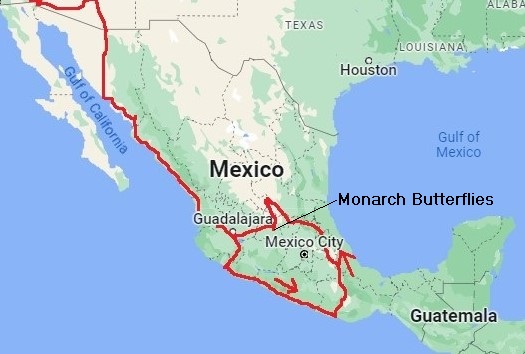 After 11 days in San Miguel we headed south to the monarch butterfly sanctuary. Along a rural road in Michoacán, we happened upon this weekly livestock market. People come from miles away to buy and sell livestock, saddles, boots, and hats. There are also vendors selling potions that cure anything, fried fish, tacos, and pulque (the fermented sap of the maguey plant, with the approximate alcohol content of beer), along with live music, and opportunities to socialize. A surprising number of people speak English in rural Mexico, because they've spent time working in the States.





Goats for sale





How to eat a taco: tilt your head, not the taco. Keep a lime handy to cut the heat!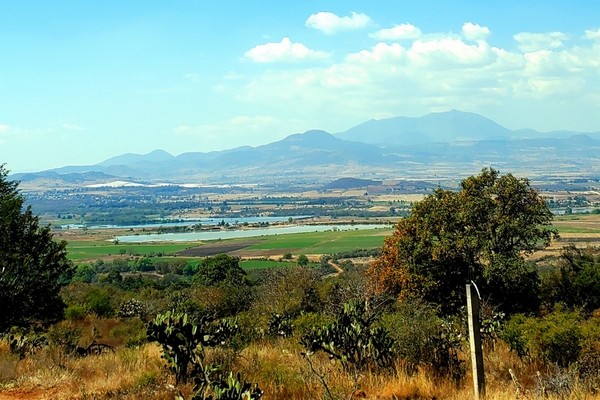 Scenery along the road to the Monarch Butterfly Biosphere Reserve in Sierra Chincua, Michoacán





The entrance road to Sierra Chincua, one of the places you can see the butterflies. The reserve entrance is at 10,700 feet in fir and pine forest.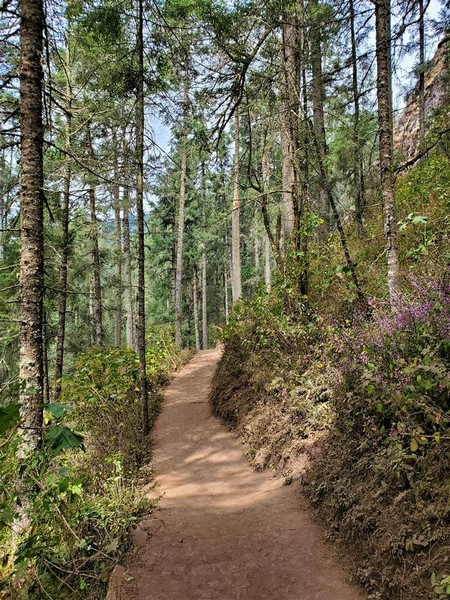 The moderately strenuous trail (mostly because of the altitude) has some gentle ups and downs and many flowers blooming, including purple lupine. It takes about an hour each way.





The trail climbs to over 11,000 feet, with views of the mountains of interior Mexico.




Every autumn, millions of butterflies from wide areas of North America return to this area to spend the winter. All of those clumps that look like tent caterpillar nests are thousands of monarch butterflies, packed tightly together! In the spring, the butterflies begin an eight-month migration northward. Between the time they head north and the time they return to Mexico, four generations are born and die.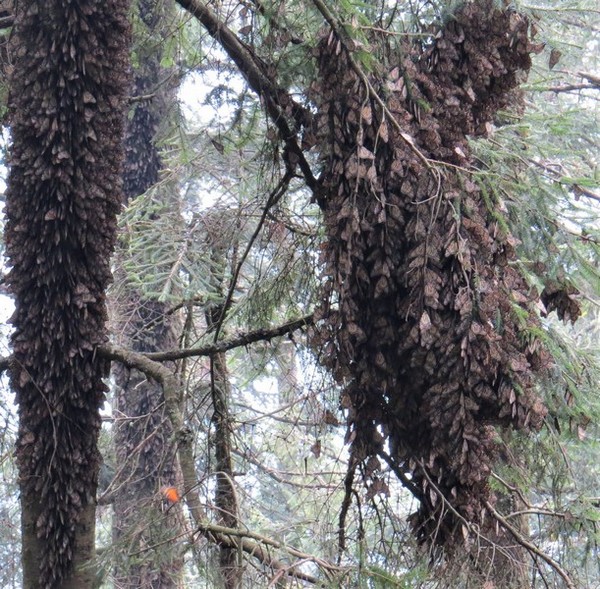 Butterflies cover the tree trunk on the left, and the fir branch in the center. Although each butterfly weighs almost nothing, their collective weight is enough to make the fir branches hang straight down.





The butterflies pack tightly together to keep warm. Illegal logging threatens the sanctuary, but ecotourism helps by providing alternative sources of income.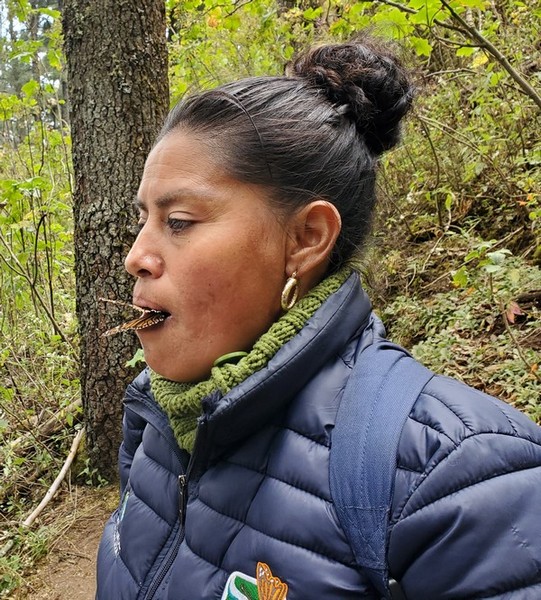 This reserve worker is warming up a butterfly that got too cold and fell to the ground.




Although it was overcast, and the butterflies were not very active, visiting the sanctuary was an incredible experience.



Angangueo, Michoacán


Nearby Angangueo is a former silver mining town. It oozes Old Mexico charm, with two churches, a mix of restored and dilapidated old buildings, steep cobblestone streets, and murals galore.





One of many butterfly murals in Angangueo





Angangueo nestles in a valley at 8500 feet. At right is a monument to miners.





This monument to fallen migrants in Angangueo touched me deeply. Can you imagine being so desperate to provide for your family that you risk your life to go far away, hoping you can earn enough to send some home, and save enough to come back to them someday?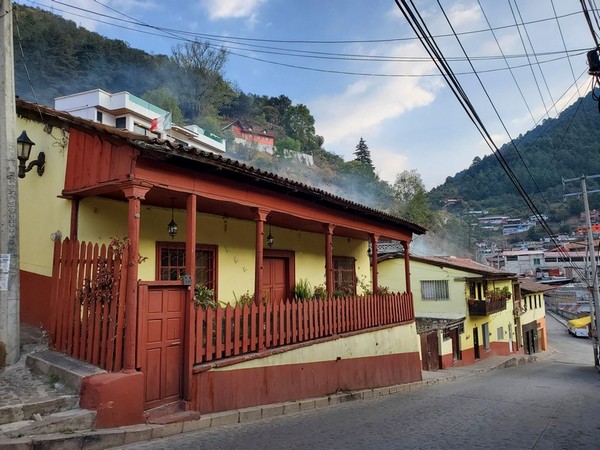 Houses in Angangueo. The roofs are steaming in the cool morning air.



---
Pátzcuaro, Michoacán


Pátzcuaro is the center of the Purépecha indigenous culture (the inspiration for the Disney movie Coco).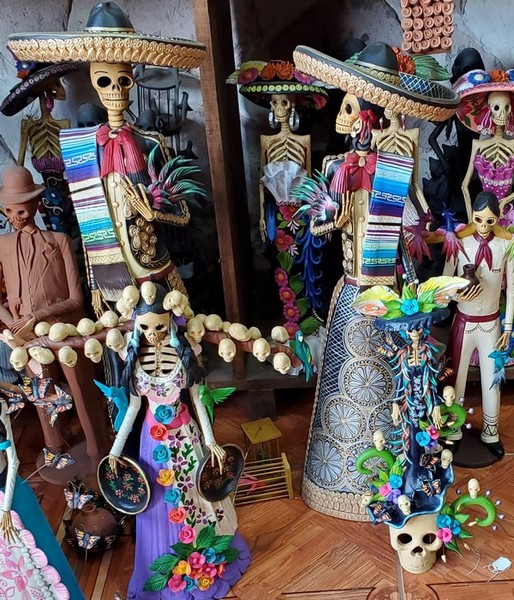 On the way to Pátzcuaro, we stopped in Capula, a town known for handpainted Day of the Dead catrinas.





The Basílica de Nuestra Señora de la Salud (Our Lady of Health) in Pátzcuaro.





Inside the church is an almost-human-size image of the Virgin of Health, made in the 1500s by local people out of corn stalk paste (and later dressed in elaborate robes). Soon after she was made, miraculous cures began to happen. Each December 8, pilgrims come from far and wide to pray for cures.





In case prayers don't work, in front of the church you can buy traditional cures for many ailments.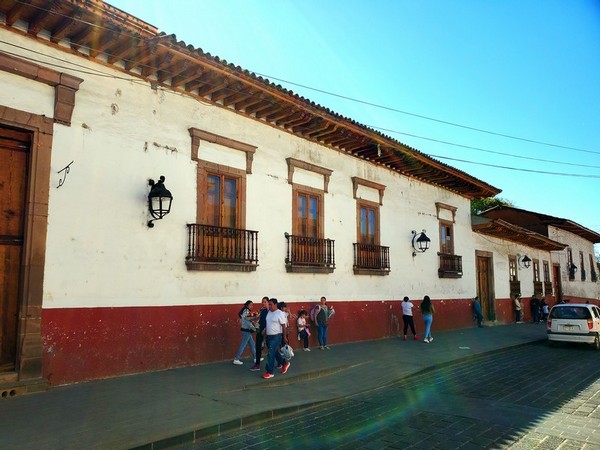 Pátzcuaro is a beautiful town with restored Colonial-era buildings





The campground in Pátzcuaro is a tranquil oasis, and walking distance to town.





This is Obdulia. The campground property is her family home. She has been welcoming travelers here for over 30 years, and says many of the old timers are like family to her. It makes her happy that others can come here and enjoy this beautiful place. Behind her is a forest of yucca and pines. She is in her mid-80s, still actively gardening and keeping an eye on the place.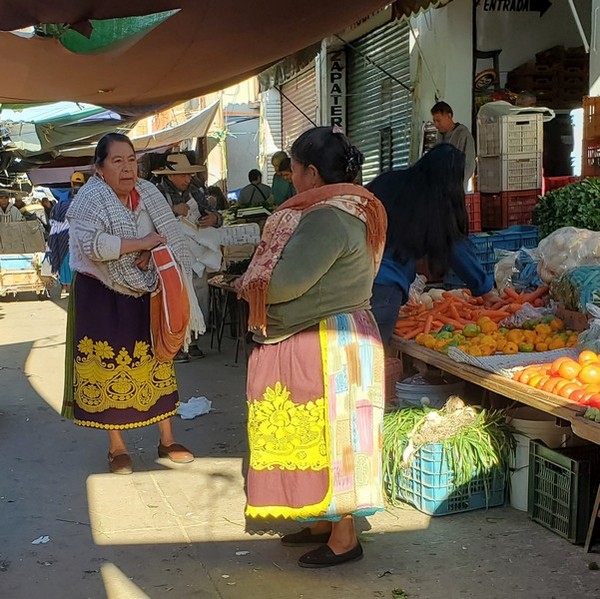 The market in town is a place to shop and socialize.





Carts laden with fresh produce wend their way through the narrow market aisles.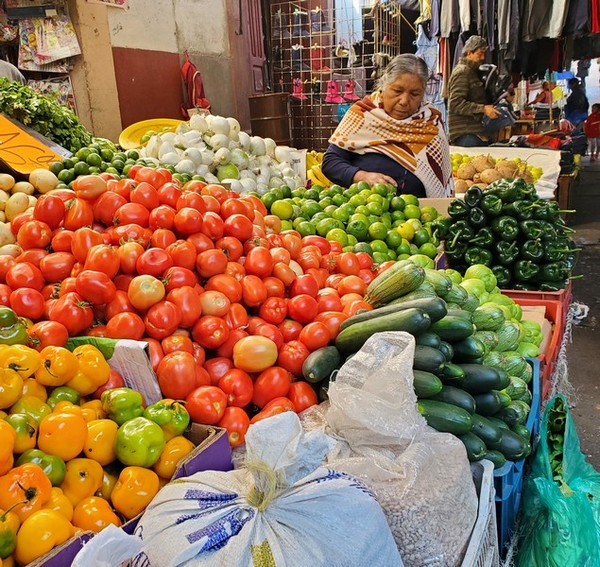 A local woman shops for limes, a staple Mexican food.





Beans, corn, and garlic for sale in the market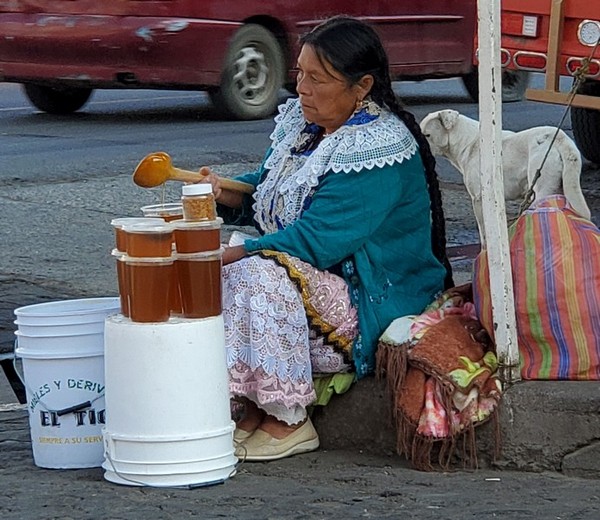 Purépecha woman selling honey





Grant's favorite breakfast is a triangular tamale called a corunda, stuffed with cheese and strips of poblana pepper, and drenched in crema and salsa.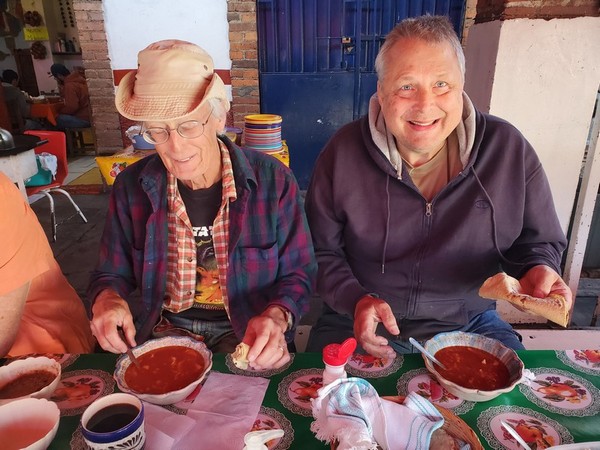 Brud and Grant wanted to try menudo, a Mexican weekend staple that is supposed to cure hangovers (la cruda). They didn't have hangovers, but they did like the menudo.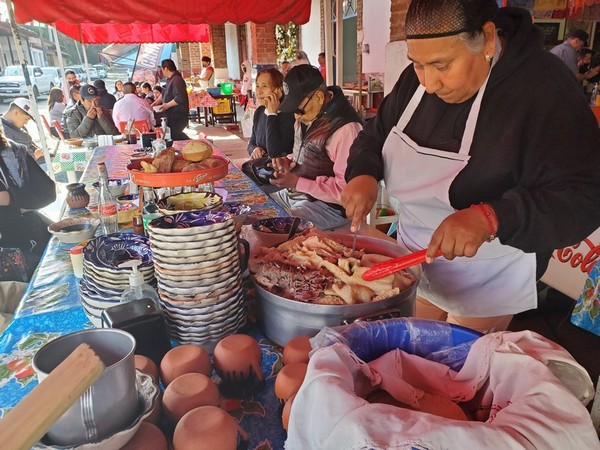 Preparing menudo, a traditional Mexican soup made with cow's stomach (tripe) in a red chili pepper broth seasoned with hominy, lime, onions, and oregano.




The Danza de los Viejitos (Dance of the Little Old Men) is a traditional folk dance from Michoacán. Here it is being performed in Pátzcuaro's beautiful Plaza Grande.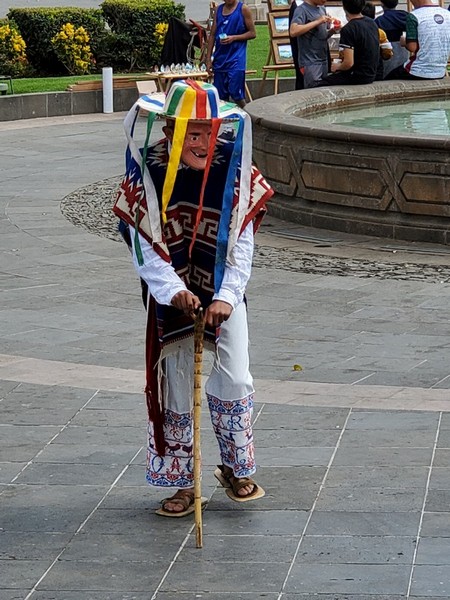 The dancers wear traditional embroidered pants and shirt, a woven sarape cloak, a straw hat with colored ribbons, and sandals with wooden soles that make loud tapping noises.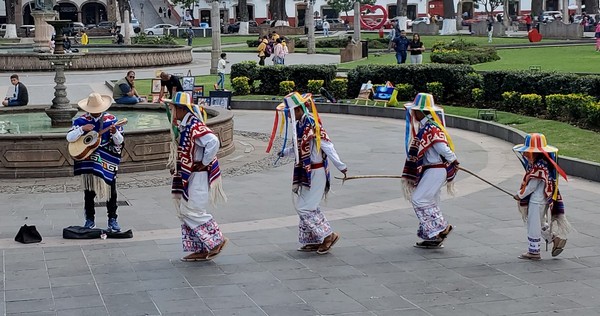 The dance is said to go back to pre-Hispanic times, but after the colonization by Spain it became a humorous parody of old Spanish men. The dancers start hunched over, as if in pain, walking slowly with canes, then they straighten up and dance energetically.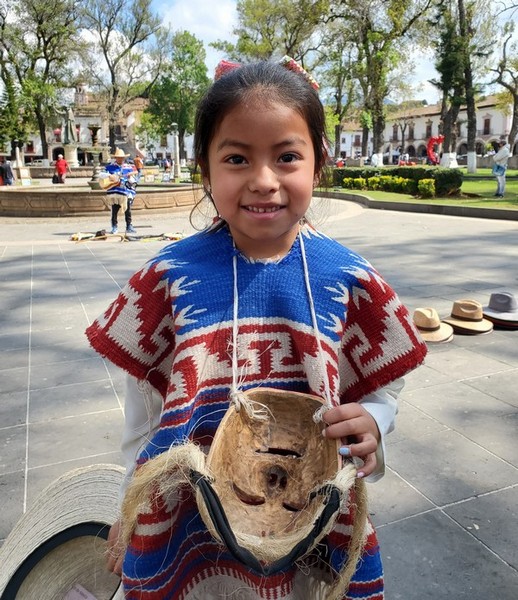 Though it's traditionally danced by men and boys, this six-year-old girl joined her family in the dance.




On Valentine's Day a guitar choir performed romantic songs in the main plaza.





This woman sat across from me on the bus coming home from town. I love her braids and clothing. She probably did the embroidery herself.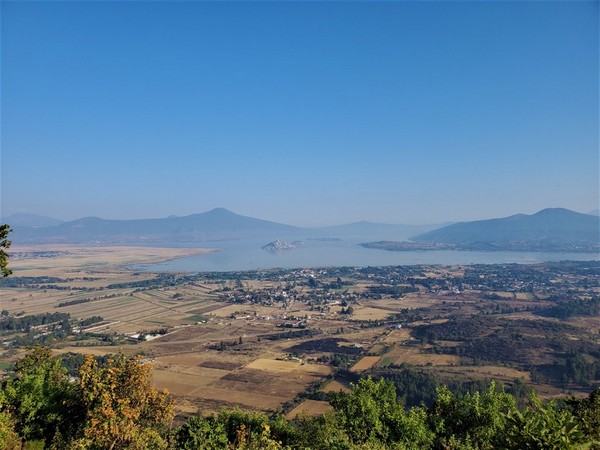 Lake Pátzcuaro from the viewpoint above town. In the foreground are ranches and farm fields. The tiny island is called Janitzio.



Janitzio Island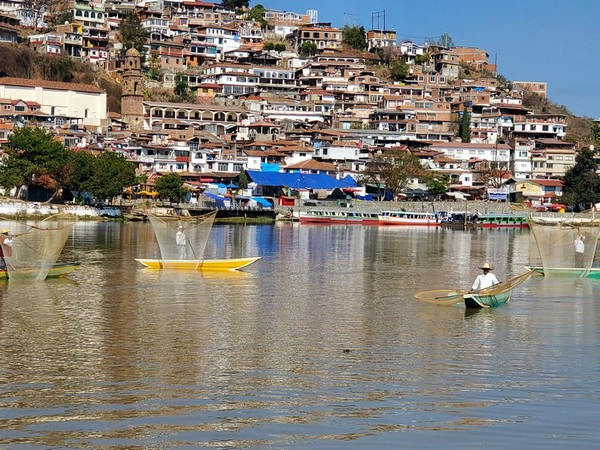 It's a 30-minute boat ride from the dock in Pátzcuaro to the tiny island of Janitzio, with 2400 residents. As you arrive, fishermen demonstrate the use of traditional fishing nets.





You climb 365 stairs or a winding road (no cars here) to the top of the island, where there is a plaza, a 120-foot-tall statue of an Independence hero, restaurants, and amazing views.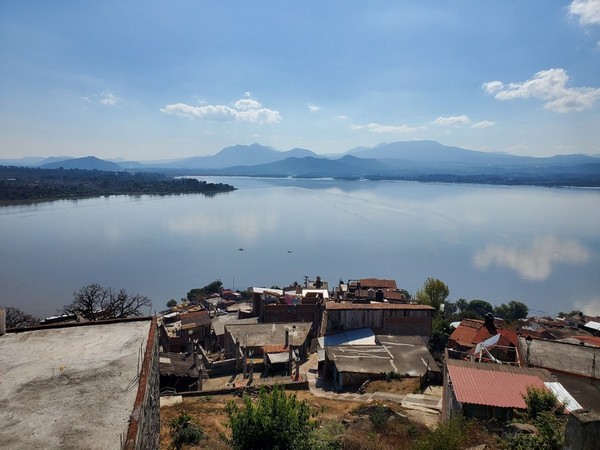 View from the top of Janitzio Island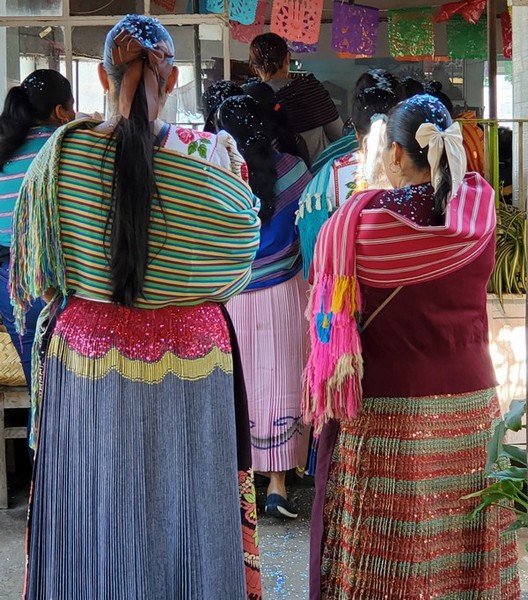 This is a Purépecha community, and the women wear beautiful dresses and shawls. These women have confetti in their hair for a religious ceremony.



Tzintzuntzan


The ceremonial site of Las Yácatas, on the shore of Lake Pátzcuaro, is in the town of Tzintzuntzan, near Pátzcuaro. These round pyramids were built by the Purépecha people between 1200 and 1521 BC.





The ceremonial site of Las Yácatas. The Purépecha region was the last in Mexico to be conquered by the Spanish.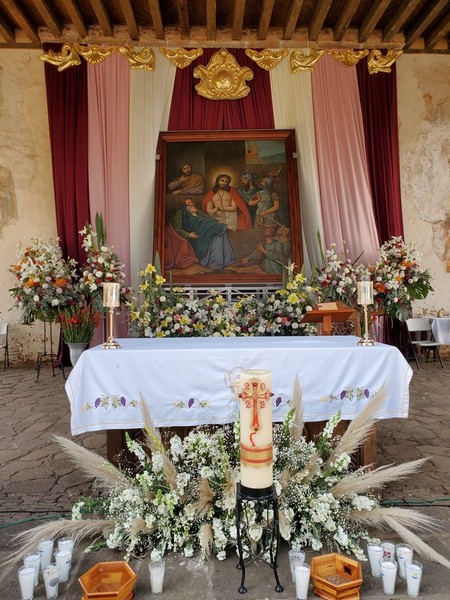 Sometime in the 1700s, smallpox struck the town of Tzintzuntzan. Prayers to this painting of Christ coincided with the epidemic ending.





Every year there is a festival to honor the painting. Pilgrims come from all over by foot, bicycle, horse, or car. The celebration lasts four days and includes music, masses (like the one above), carnival rides, processions, fireworks, and vendors galore.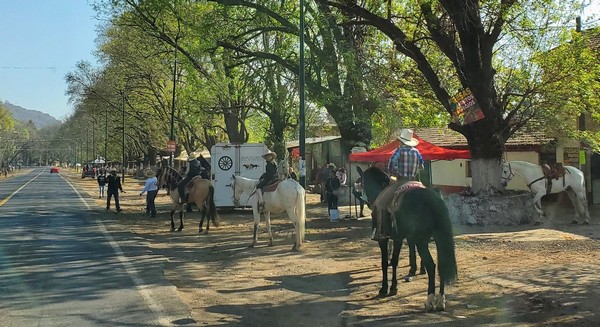 Horse pilgrims heading to Tzintzuntzan





Tzintzuntzan is known for handwoven straw goods.





Marigolds adorn a grave in the Tzintzuntzan cemetery.



Santa Muerte Sanctuary, Santa Ana Chapitiro


Santa Muerte is a Mexican folk figure who personifies death. Worship is a blend of traditions, including Pre-Hispanic rituals, Day of the Dead, and Catholicism. For devotees, death is not bad, since it is part of life. It can be seen as a suffering being who was given great power by God, but an even greater burden.





Death is seen as an angel, but is also treated as a member of the family, with respect and without fear. If you are interested in reading more, this is a good article (Google should auto-translate).



Santa Clara del Cobre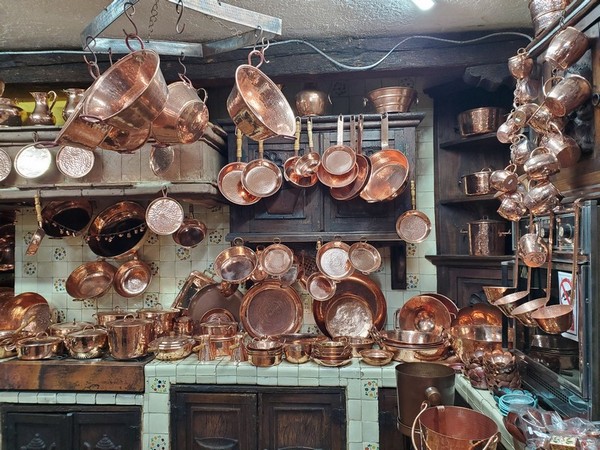 In the nearby town of Santa Clara del Cobre, they make beautiful copper things by hand.



---
Northbound


After eight days in Pátzcuaro we began to make our way north. This forested rural road took us out of town.





Igloo Kokolo, on the south shore of Lake Chapala, is a peaceful eco-haven. You can camp here, sleep in an "igloo," or attend a retreat or igloo-building workshop. The igloos are made of sand bags covered with concrete. The toilets are waterless (composting).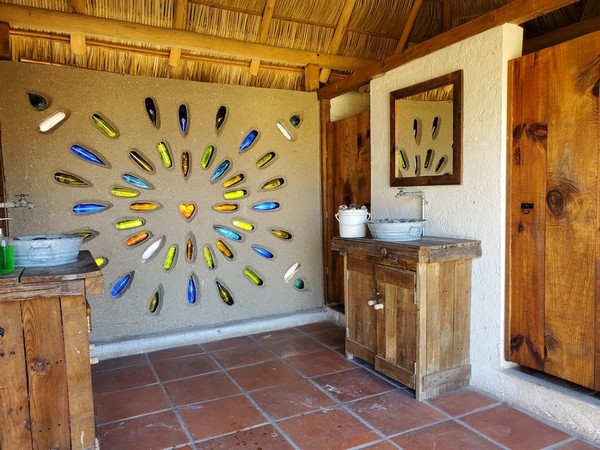 Glass bottles embedded in an earthen wall let in colored light.





View of Lake Chapala from Igloo Kokolo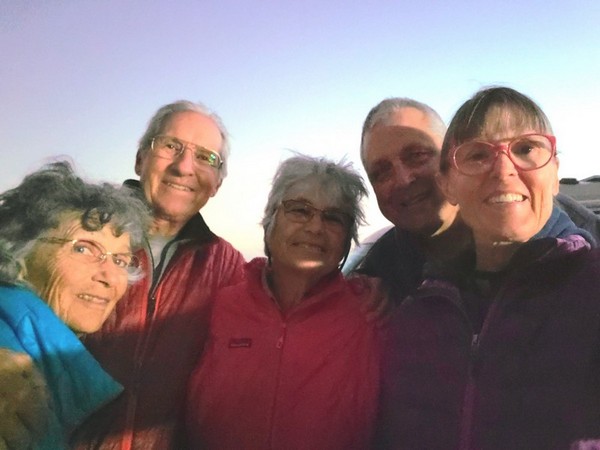 It was so nice to rendezvous on Lake Chapala with Bobbi, Sky, and Mary, three of the wonderful people we've met on our travels in Mexico.





Scenery on the road to Etzatlan





Sugar cane field on the road to Etzatlan





Sugarcane truck. After the cane is harvested they burn the fields, which can make for some bad air quality in the winter.



Etzatlan, Jalisco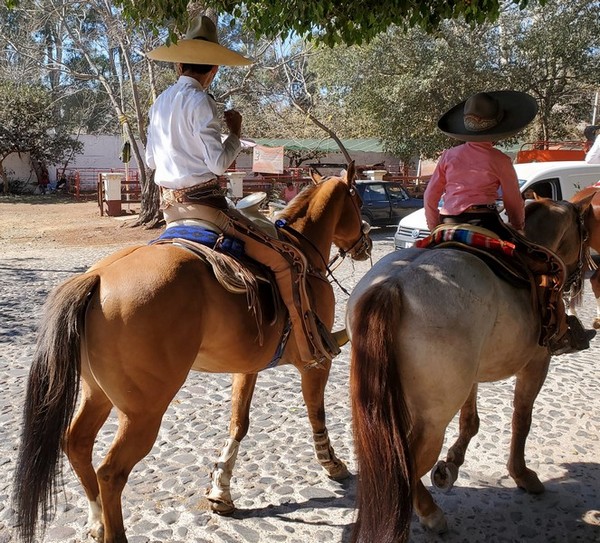 Father and son heading to the Carnival rodeo in Etzatlan





Men's rodeo outfits





Girls dressed for a dance performance in the arena (we arrived too late to see the performance). They are carrying stick ponies.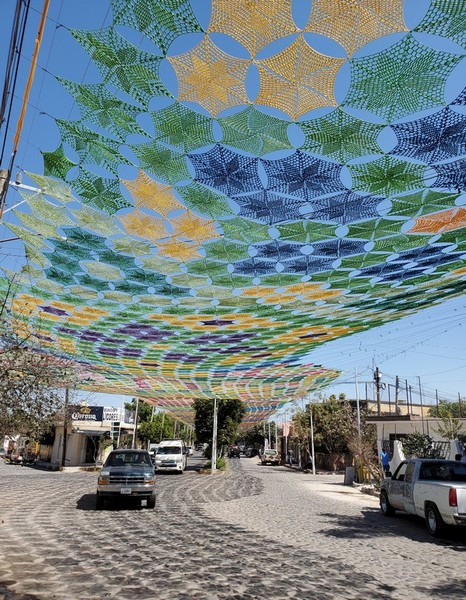 The world's largest crocheted canopy stretches for many blocks and into the main square.





Guys dressed as girls, and an "ugly king," are a Carnival parade tradition.




Etzatlan Carnival parade, with dancing horses





Miss Etzatlan wore a stunning embroidered dress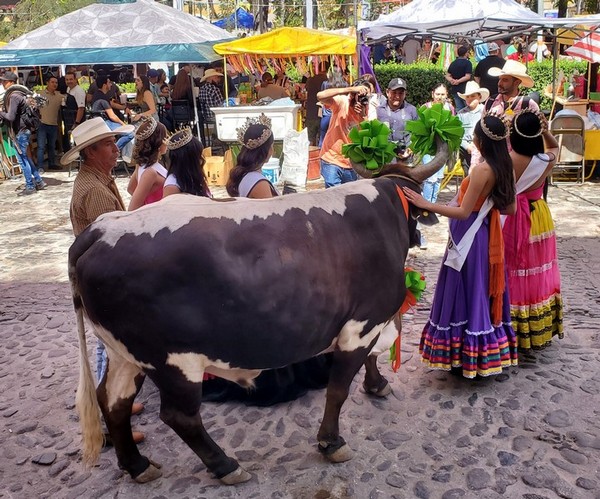 Miss Etzatlan poses with her retinue and the prize-winning cow.



Mazatlan, Sinaloa


It was so nice to meet up with former coworker Paul and his wife, Trish, for tacos in Mazatlan.



---
Back in the US


My mom with her five kids and eight grandkids, the day after my niece's wedding in Scottsdale (my niece is in the front row in the white jacket and blue dress, next to my mom). Dad is smiling down from heaven.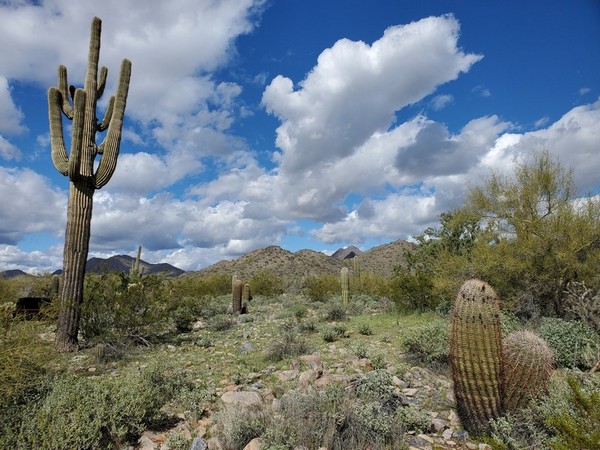 Hiking in the Sonoran desert in Phoenix





Cell block at Yuma Territorial Prison State Historic Park





Sandhill cranes in Cibola National Wildlife Refuge, an hour north of Yuma on the Colorado River





The shakes at Shield's Date Garden in Indio are delicious and filling; we shoulda split one! They also have date ice cream, which I'll try next time.





Hiking in Palm Desert. I find the stark desert scenery hauntingly beautiful.





The mountains of Southern California got a lot more snow than usual this year.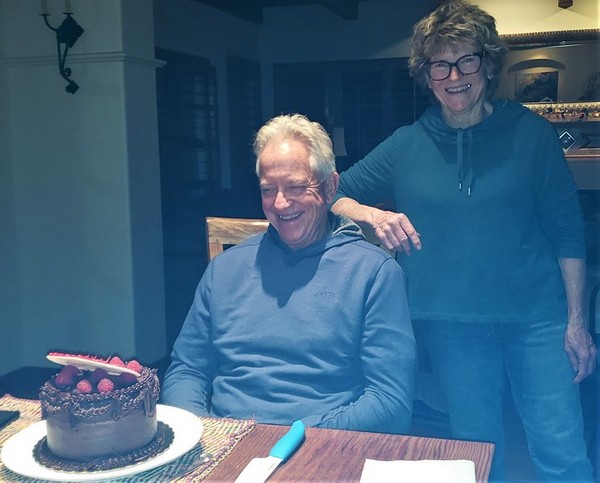 We visited Grant's cousin Gretchen in the charming town of Redlands, California. Cousin Rudi popped in from San Bernadino for a birthday dinner.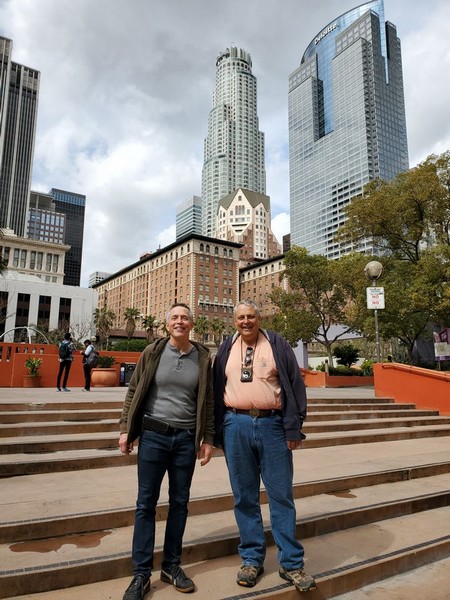 Our fun day visiting Grant's brother in Los Angeles included a nice long walk to Little Tokyo (not pictured here) to sample imagawayaki (pancakes stuffed with sweet red bean paste).





The usually brown hills north of Los Angeles were coated in green due to all the rain they had this winter.





To avoid winter conditions on Siskiyou Pass, we headed for the coast. CA Highway 16 through Rumsey Canyon is gorgeous.





There was snow on the Redwood Highway north of Willits, California, but the road was clear and it was above freezing (barely).





There's nothing like the beauty of a redwood forest in any weather.





Scenery along the spectacular southern Oregon coast


---
Click here to see our other travelogues.


---
Trip Costs
Our total trip cost was $4900 for 87 days ($56/day). 52 of those days were in Mexico.
Gas was about $1600 (7000 miles at an average of about $4 per gallon; our van gets about 18 miles per gallon).
Camping was about $700 (48 nights paid camping at an average of $15 a night).
Mexico road tolls were $315.
The remaining $2285 ($26 per day) covered groceries, restaurants, supplies, and excursions.
The exchange rate was about 20 pesos to the dollar.
Gas was cheaper than last year but campgrounds and tolls were higher.