Karen and Ian's Trip to France and Spain, April 2012
I've always wanted to take my kids to Europe. When my 22-year old son, Ian, a University of Oregon Masters in Architecture student, announced that he would be spending spring quarter in Italy, I suggested heading over together two weeks early.


We visited Paris, Avignon, Madrid, and Granada.





We flew Iceland Air to Reykjavik and then on to Paris (unfortunately we didn't have time to stop and see Iceland this time).





We arrived in Paris about 1 pm and hopped on the RER train to Gif-Sur-Yvette (45 minutes south of Paris; 90 minutes from the airport).





Family friend Emmanuel Michal picked us up at the station in Gif and drove us to his home nearby.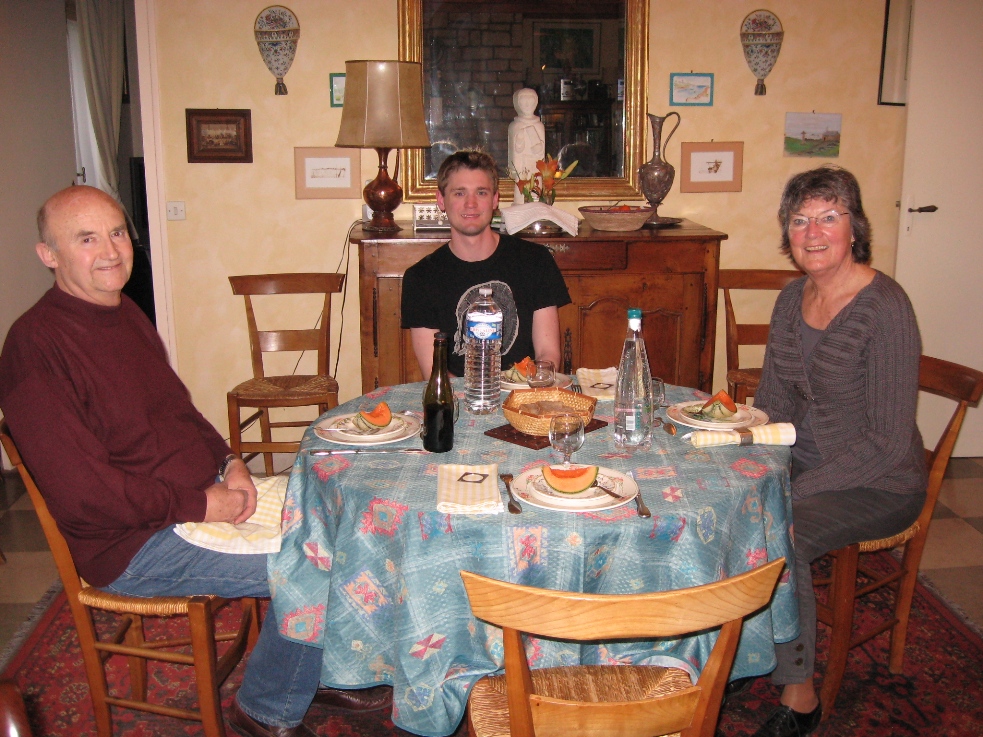 Emmanuel and his wife, Genevieve, fed us a lovely multi-course French meal. They have been family friends for over 40 years, and have hosted Karen four times in the past 30 years!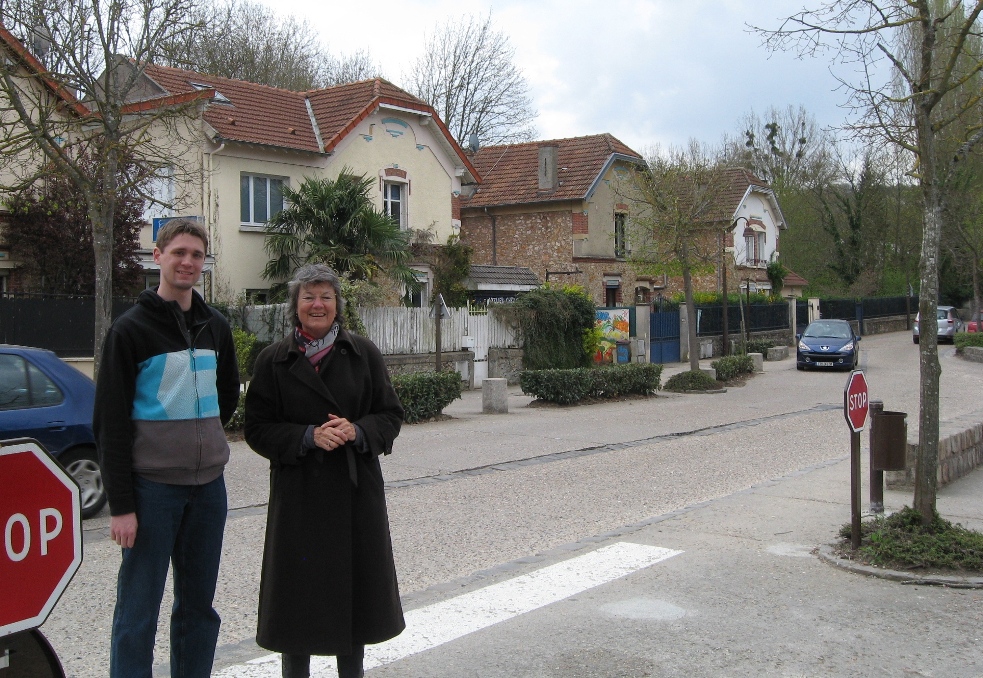 Genevieve took us for a walk around the small town of Gif-Sur-Yvette.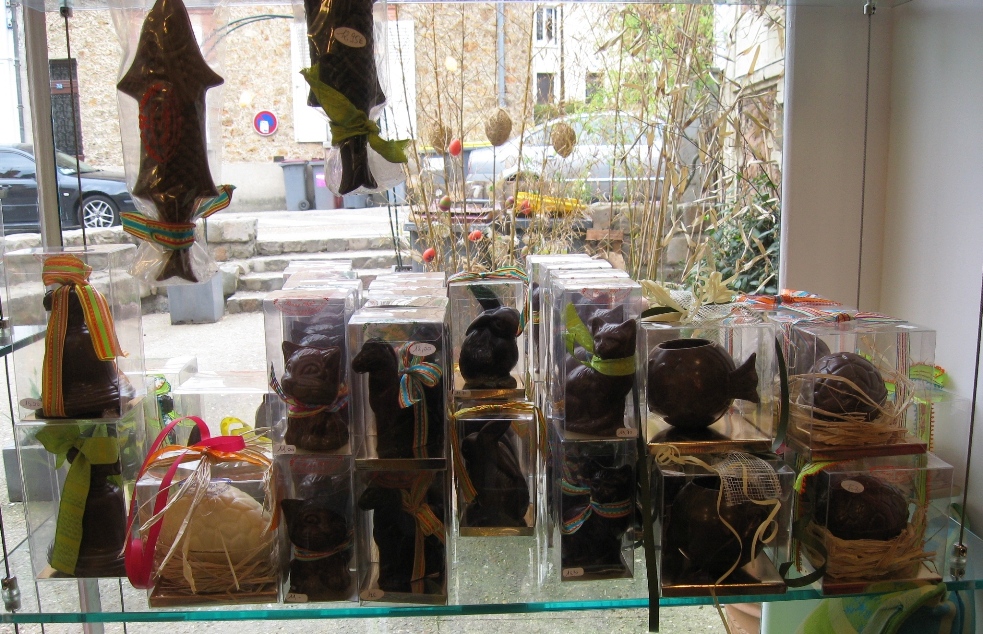 The local chocolate shop was geared up for Easter. In France, you have your choice of not only chocolate bunnies, but cats, bells, turtles, fish, and more.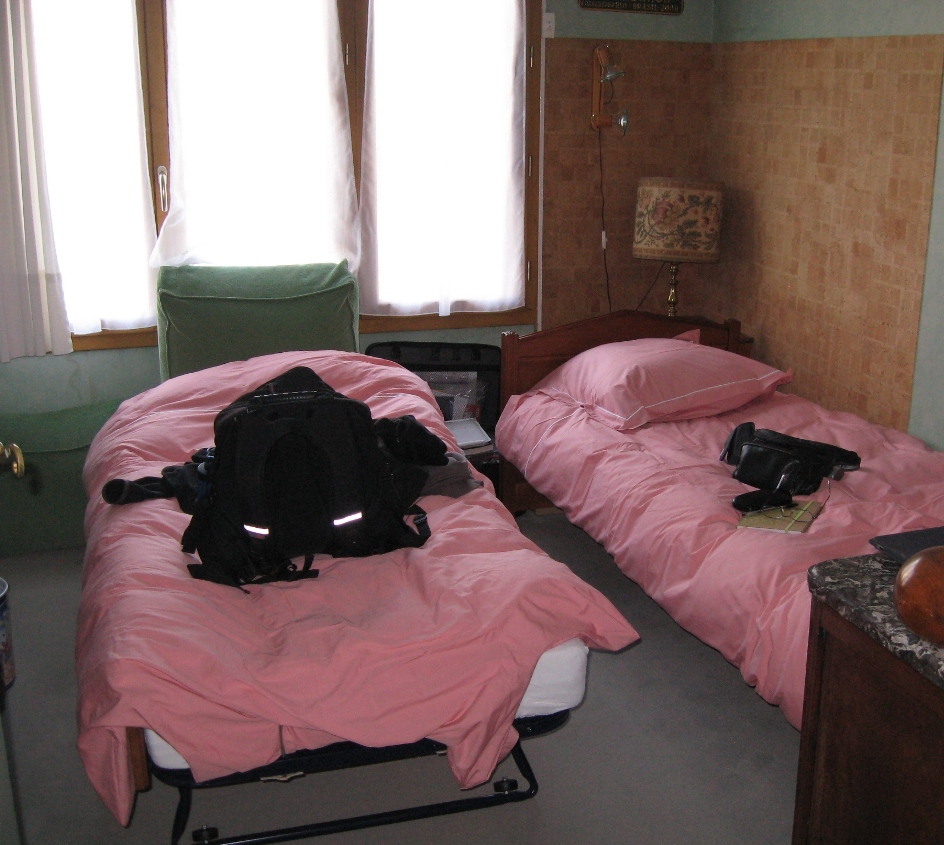 Our comfortable room "Chez Michal."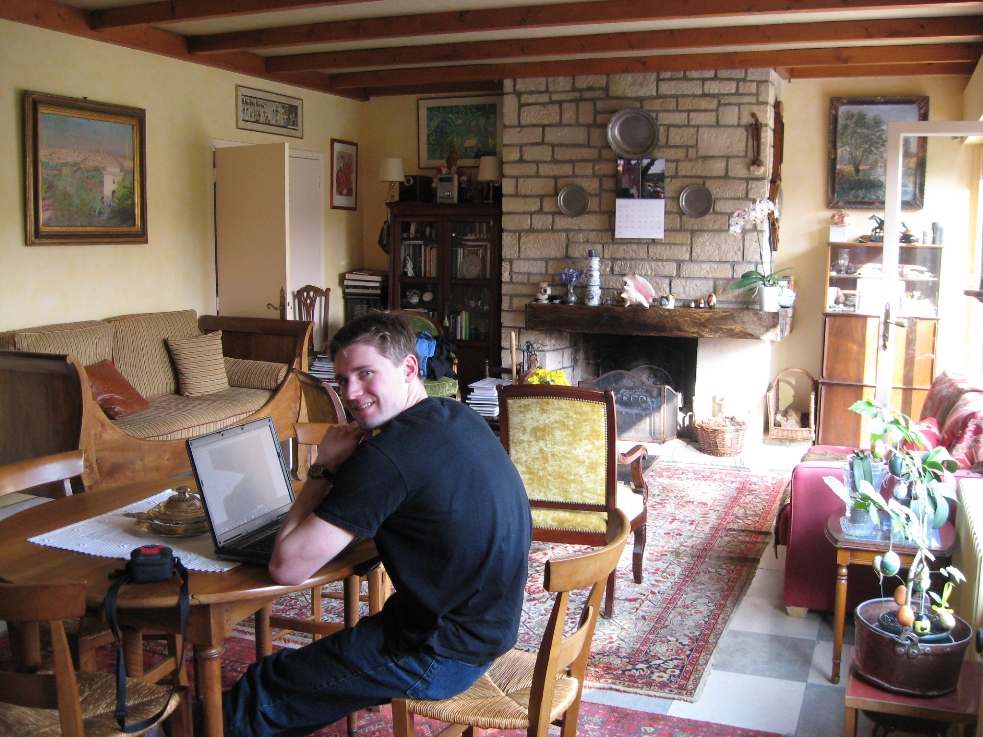 Catching up on email in the Michal's living room.





The next morning was cool and foggy. Ian and I caught an early train for the 45-minute trip to Paris. First stop: the Arc de Triomph.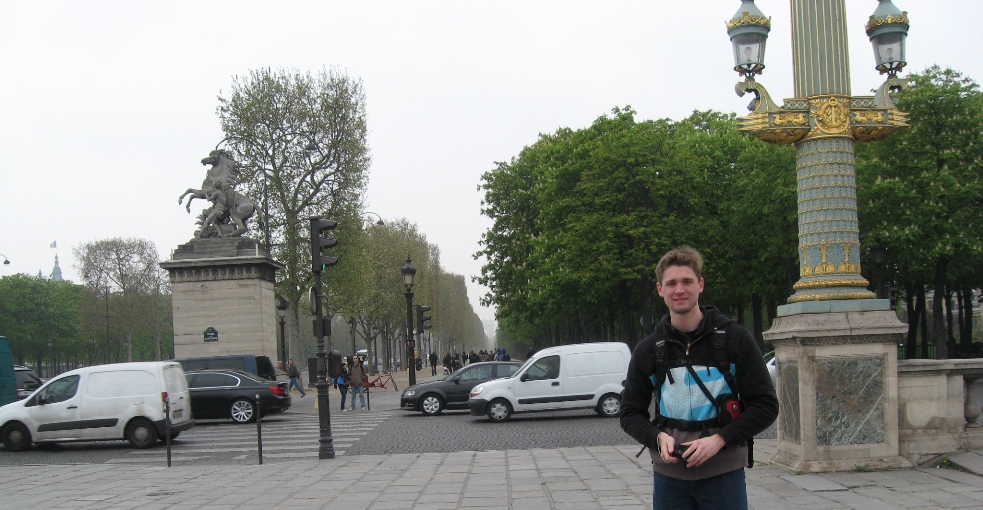 From there we took a long stroll down the Champs Elysees.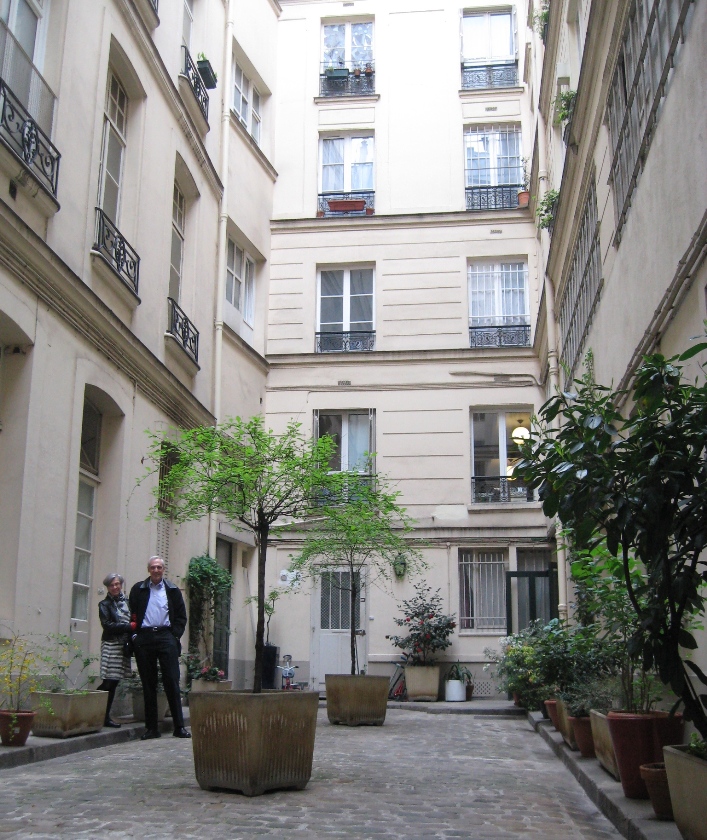 After getting a bit lost, we finally made it to our Kirkland friends Karen and Steve's. This is the courtyard of the building where they were renting an apartment for a month.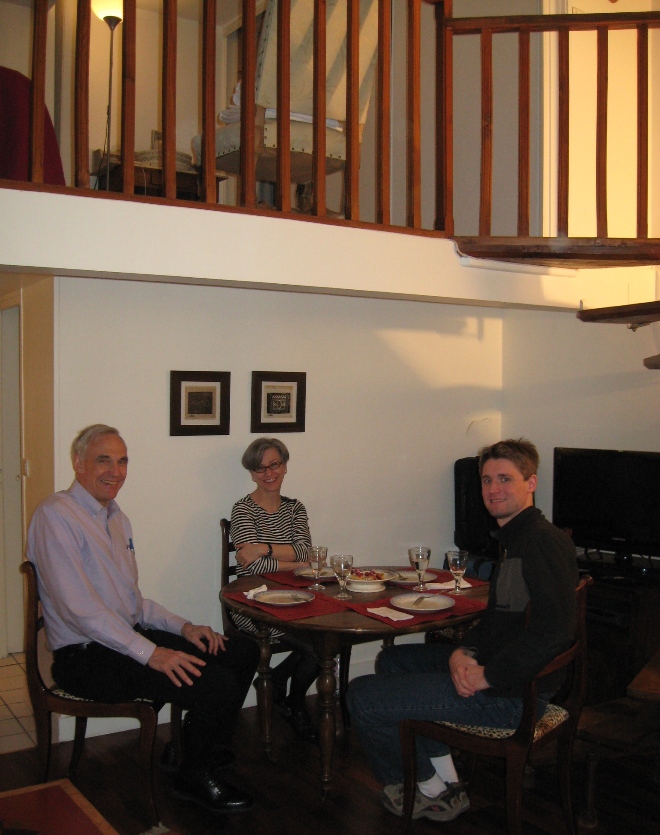 The cozy apartment has a bedroom loft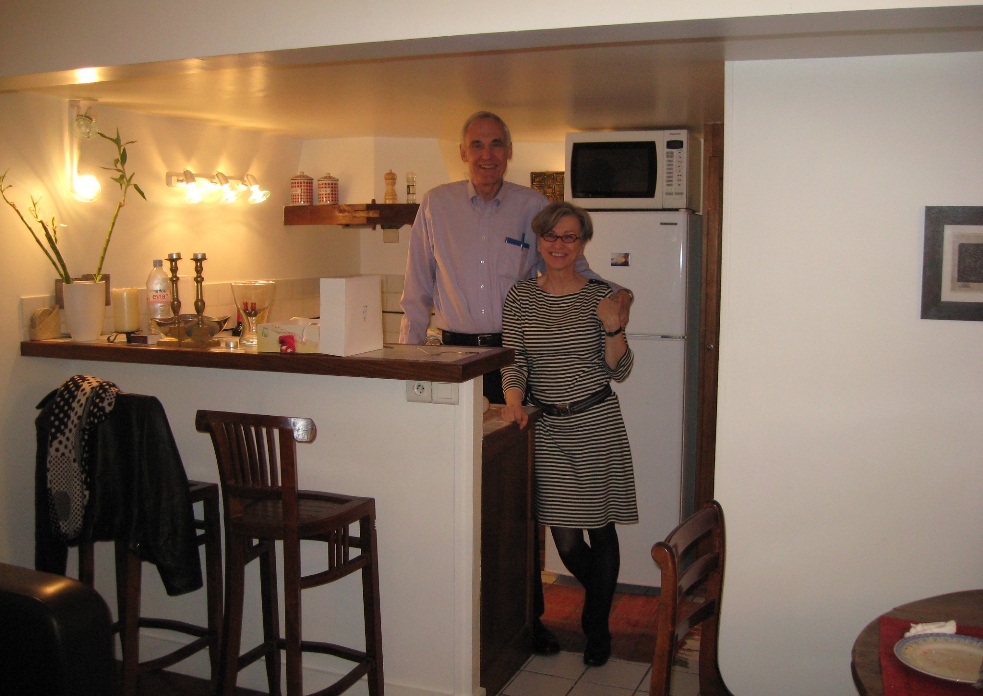 and a compact kitchen, where Karen whipped us up a delicious lunch including Salade Nicoise and a sampling of pastries from their local patisserie.





Karen and I met in a French class 18 years ago, and were delighted to finally be together in Paris for the first time.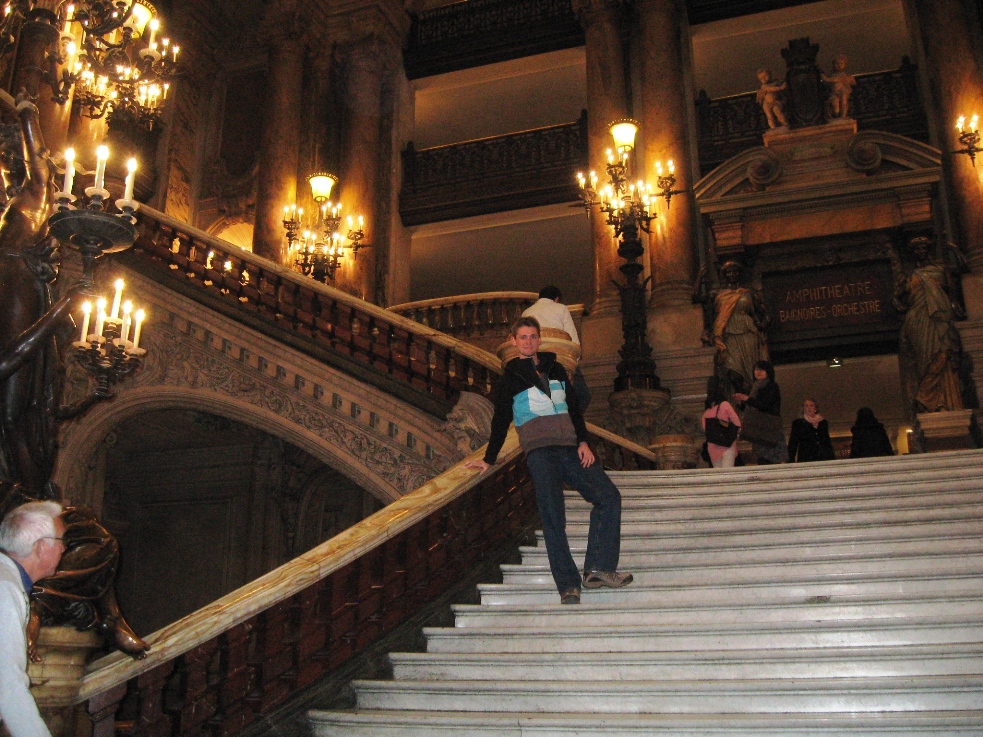 After a too-short visit with Karen and Steve, we continued on our whirlwind one-day overview of Paris. Here is the grand staircase at the exceptionally opulent Palais Garnier opera house, which Ian had learned about in Architecture classes.





En route to the Louvre, we passed this delightfully whimsical metro entrance.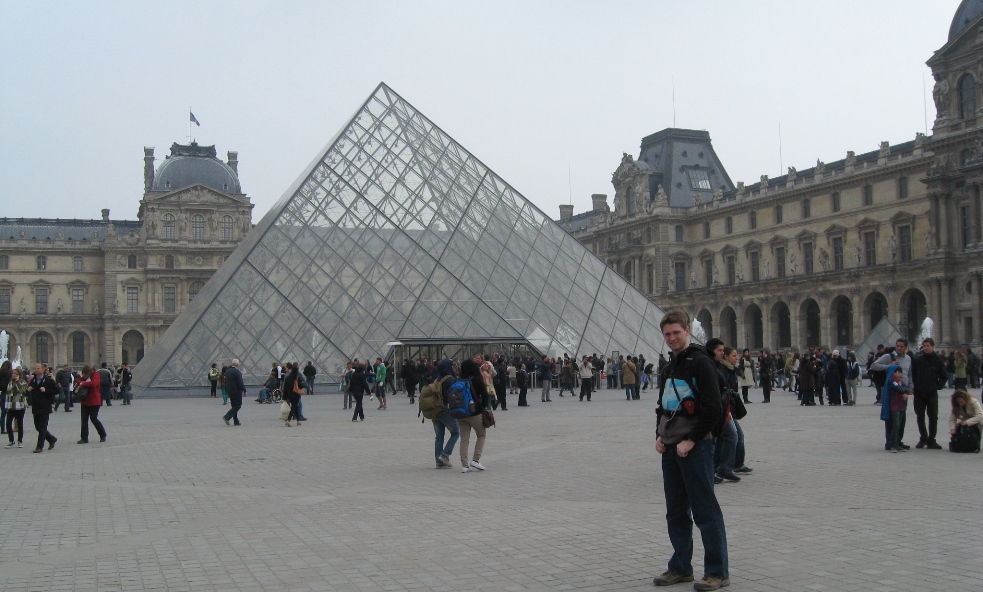 Although we didn't have time to go inside, we ogled the pyramid entrance to the Louvre.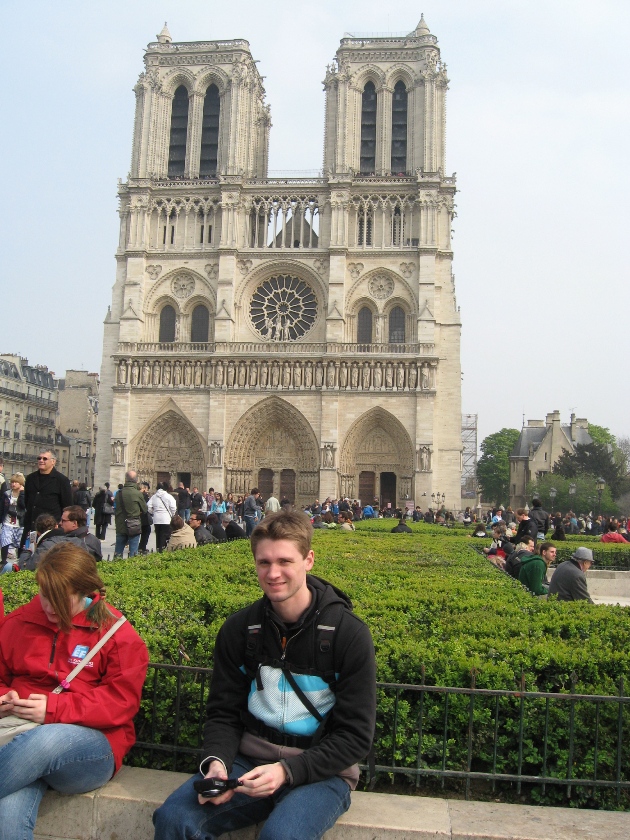 By sheer luck, we happened to get to Notre Dame cathedral just as the Easter Thursday mass processional was beginning. The organ was playing, the choir was singing, and a parade of priests walked solemnly down the long aisle with censers swaying, just as they have been doing for hundreds of years.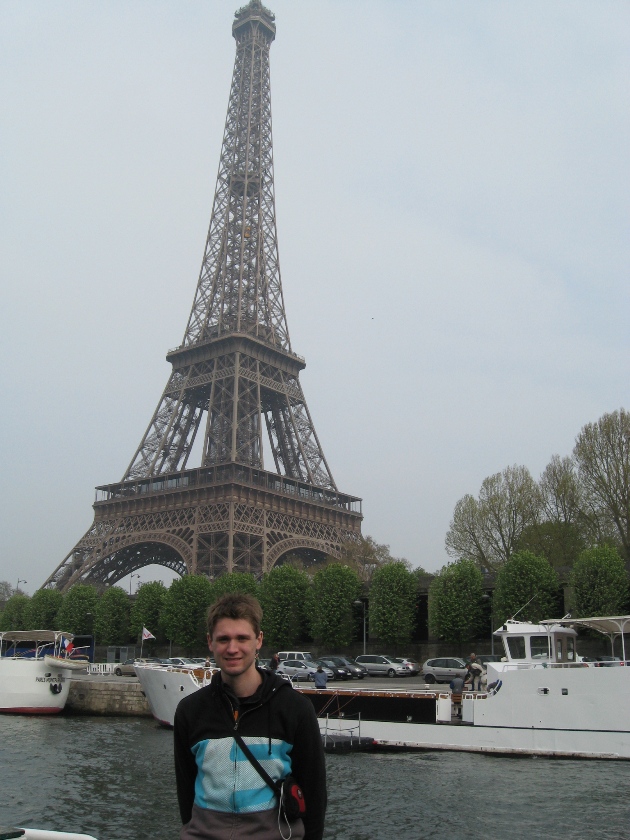 We took a one hour "Vedette" boat ride on the Seine, something I had never done before. We had a great view of the Tour Eifel, and learned about the many beautiful bridges of Paris.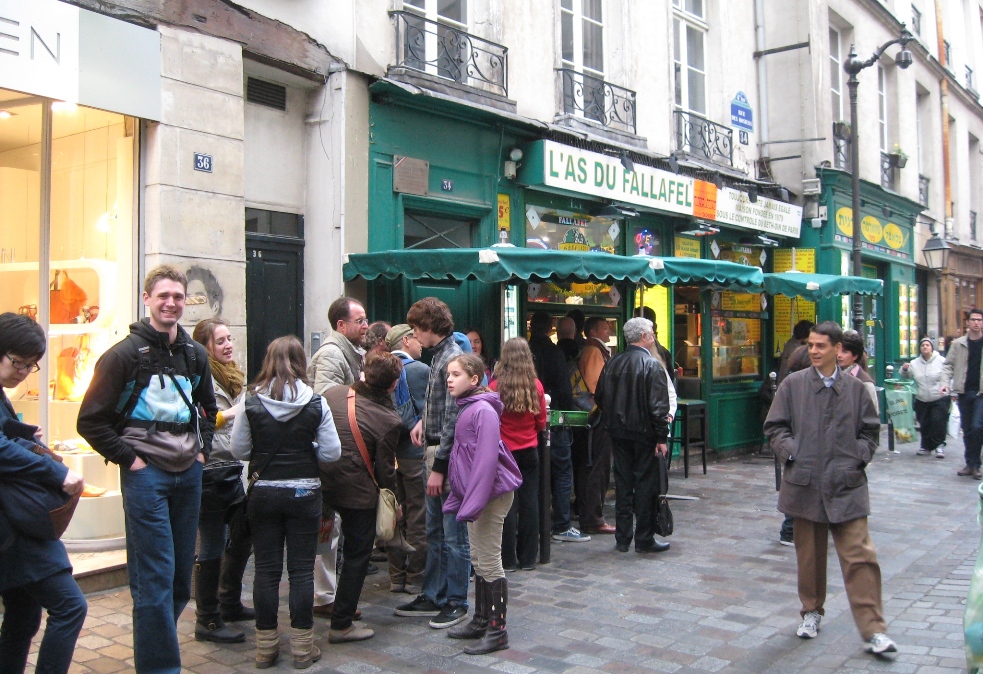 Having worked up quite an appetite after all that walking, we headed to the most popular felafel shop on the Rue Rosier, in Paris's Jewish Quarter.





Into each pita pocket they stuff a medley of flavorful vegetables, felafel balls, and yogurt sauce. Fabulous!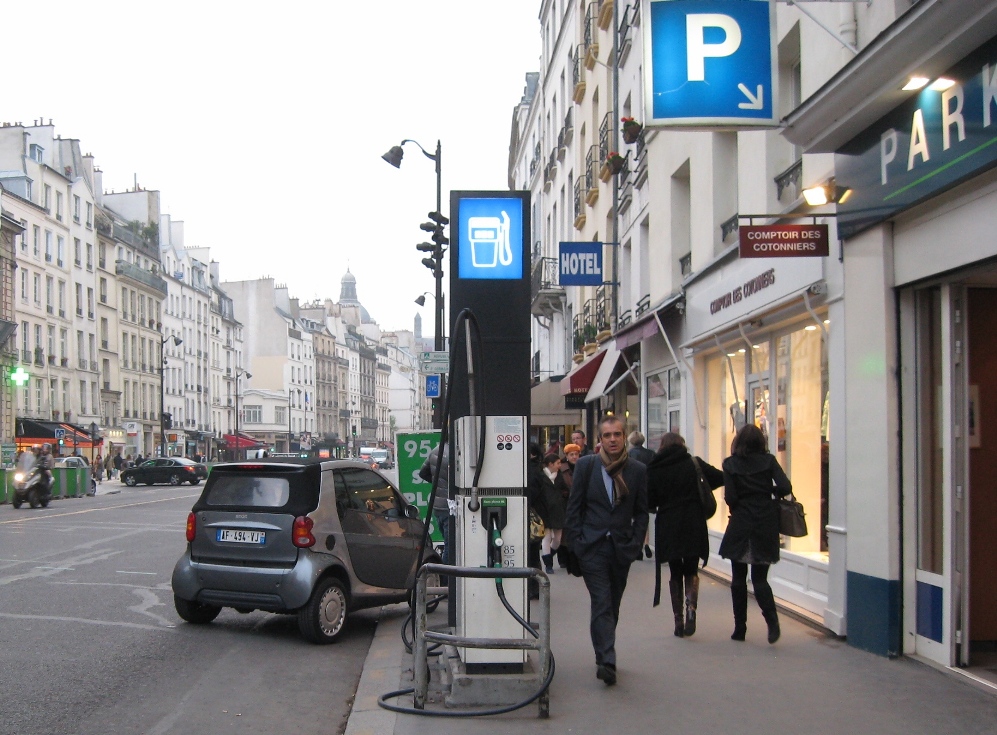 Check out the space-efficient location of this gas station.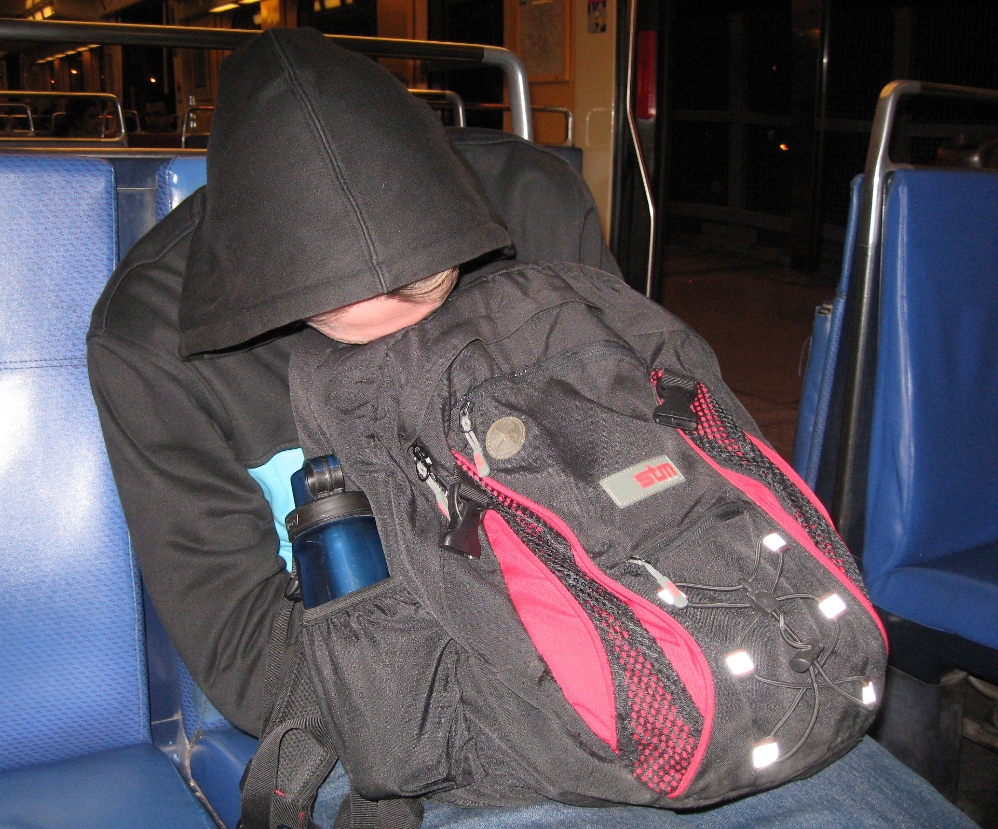 We returned to the Michal's after 9:30 pm. Traveling is tiring!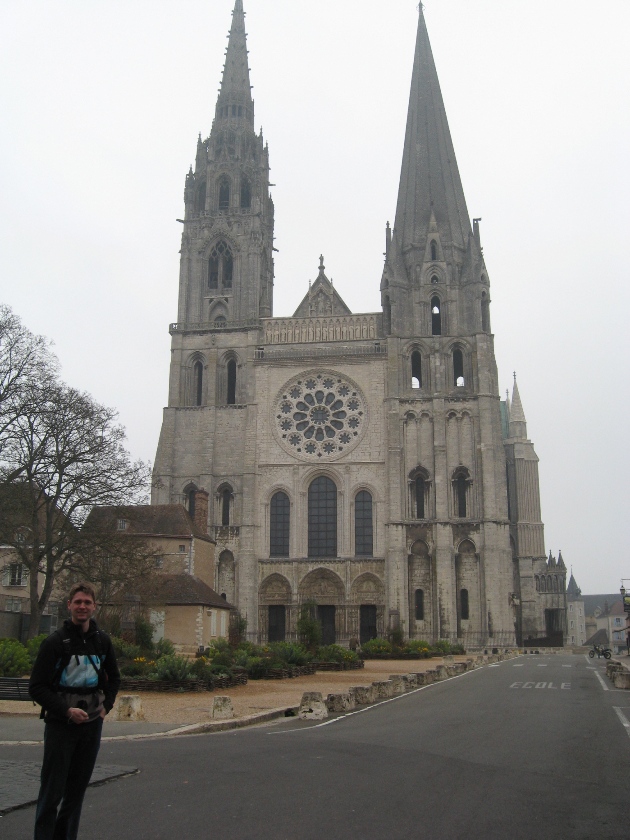 The next morning the Michal's drove us to Chartres cathedral, about an hour from their house, giving Ian glimpses of rural France en route.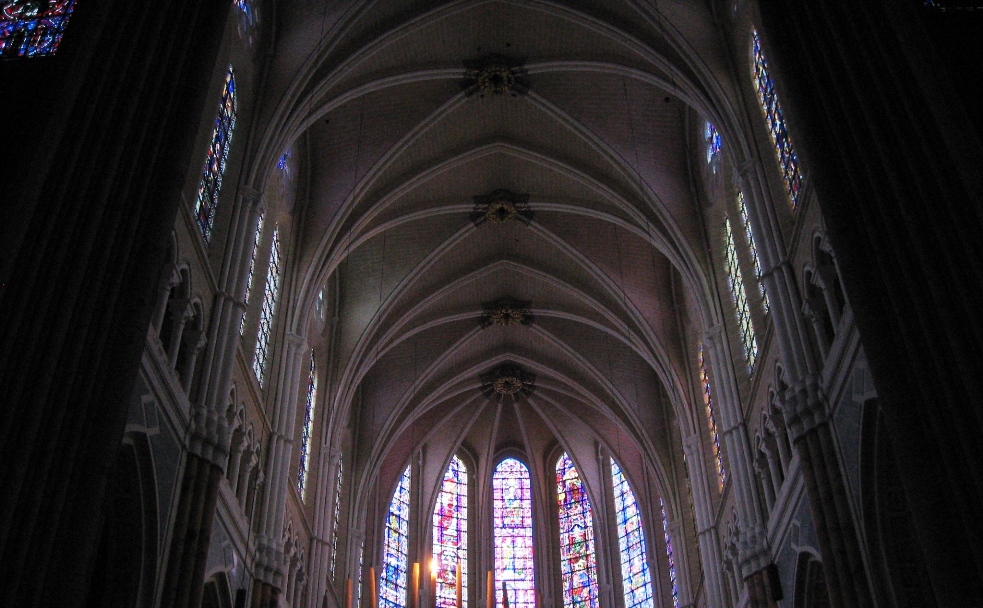 The cathedral is famous for its blue stained glass windows, breathtakingly beautiful even on the cold and sunless day.





Ian has been fascinated by things medieval since he was young, and was thrilled to get to see medieval buildings for the first time.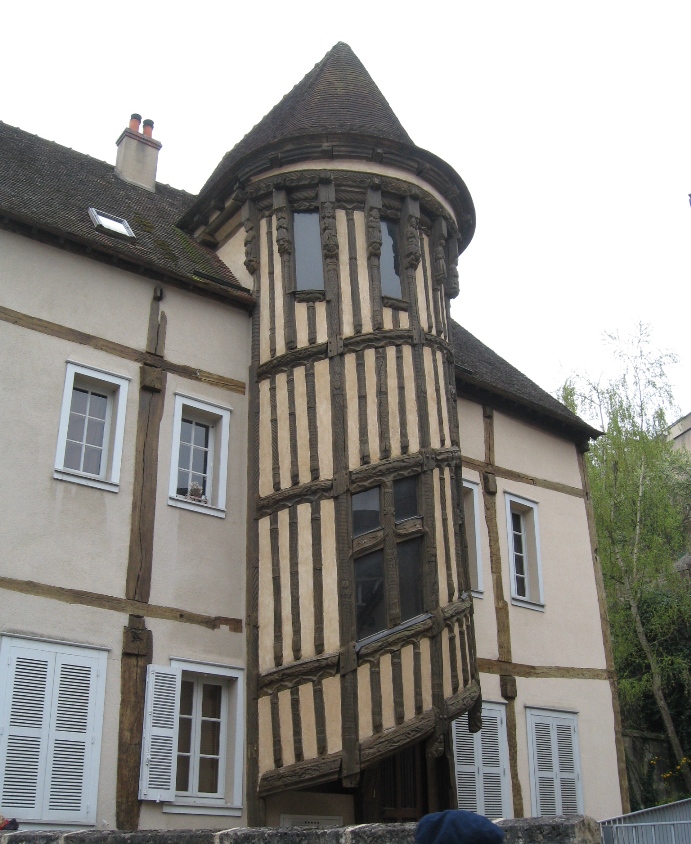 Chartres is very picturesque.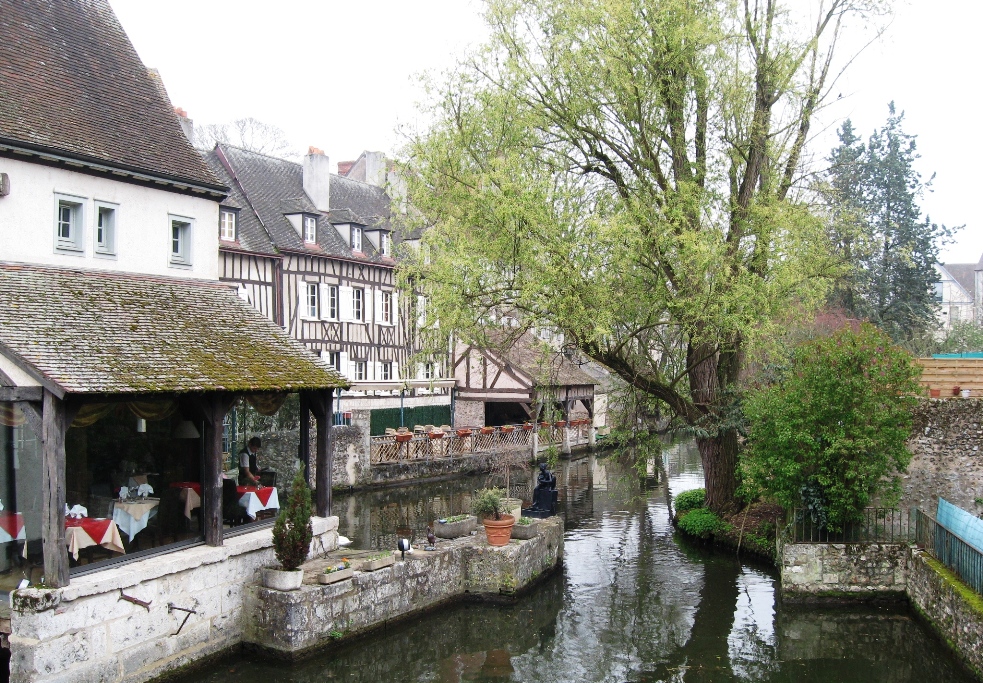 A peaceful river winds through the town.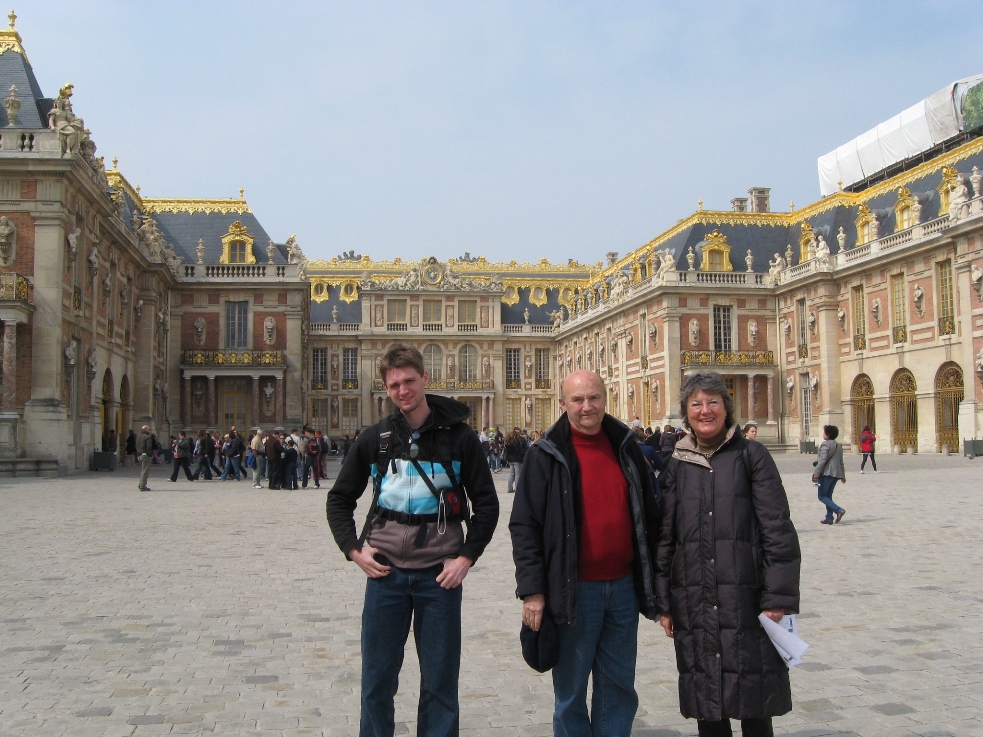 After lunch in Chartres, our generous and tireless hosts then drove us to Versailles.





One of the entrance gates to Versailles.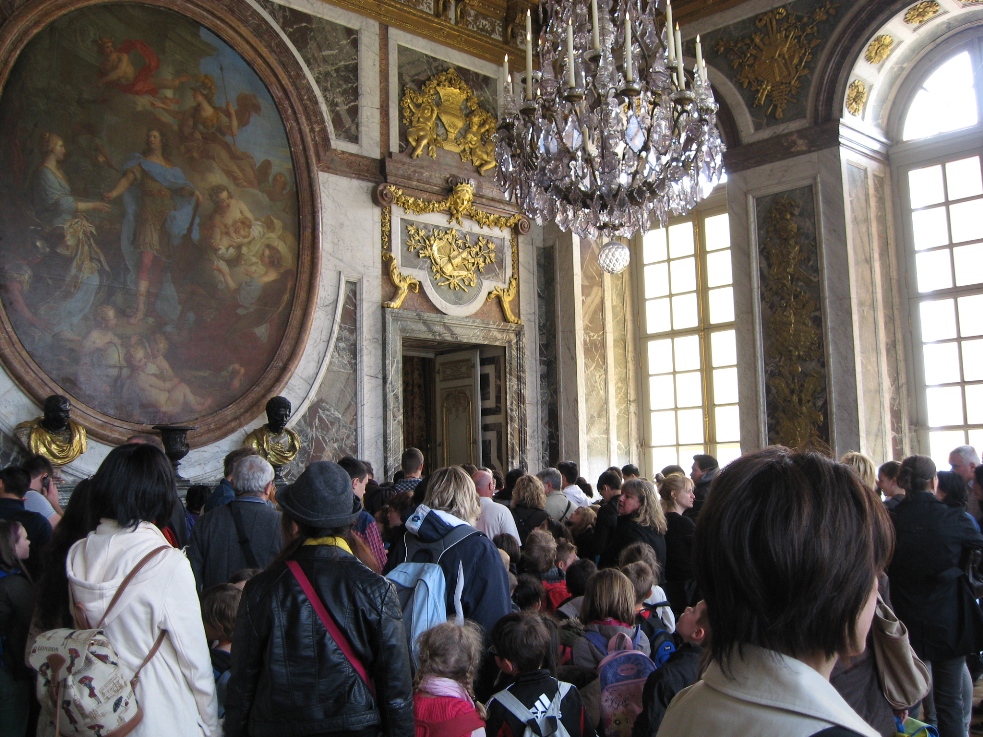 It was Easter Friday, and Versailles was the most crowded I've ever seen it.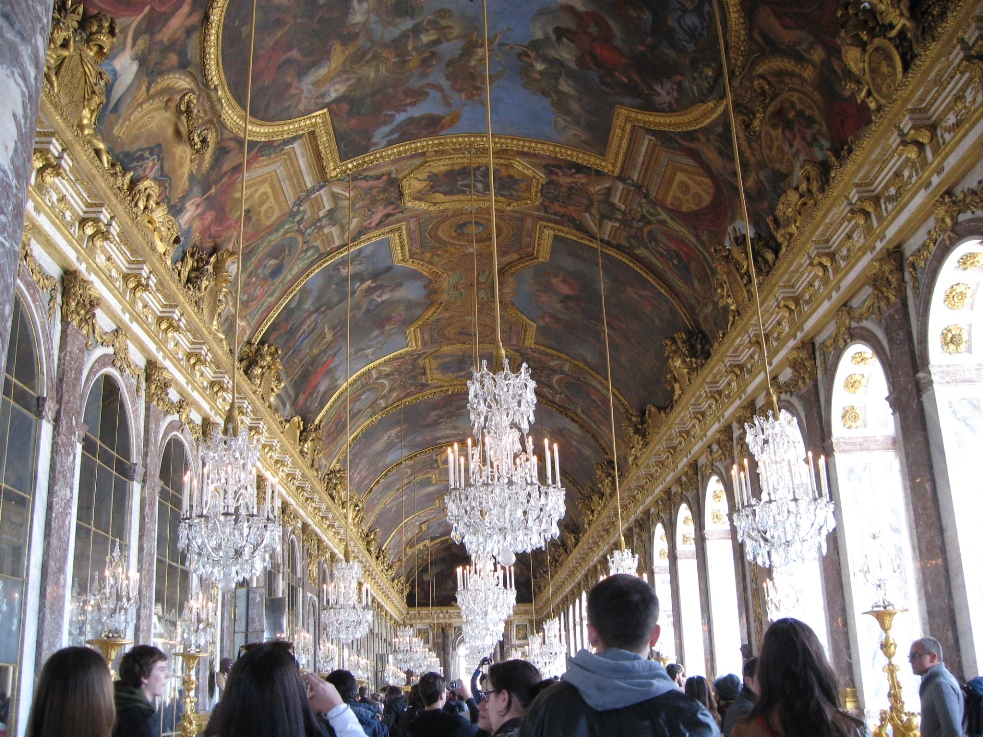 The hall of mirrors.





I was saddened to see graffiti etched into some of the mirrors.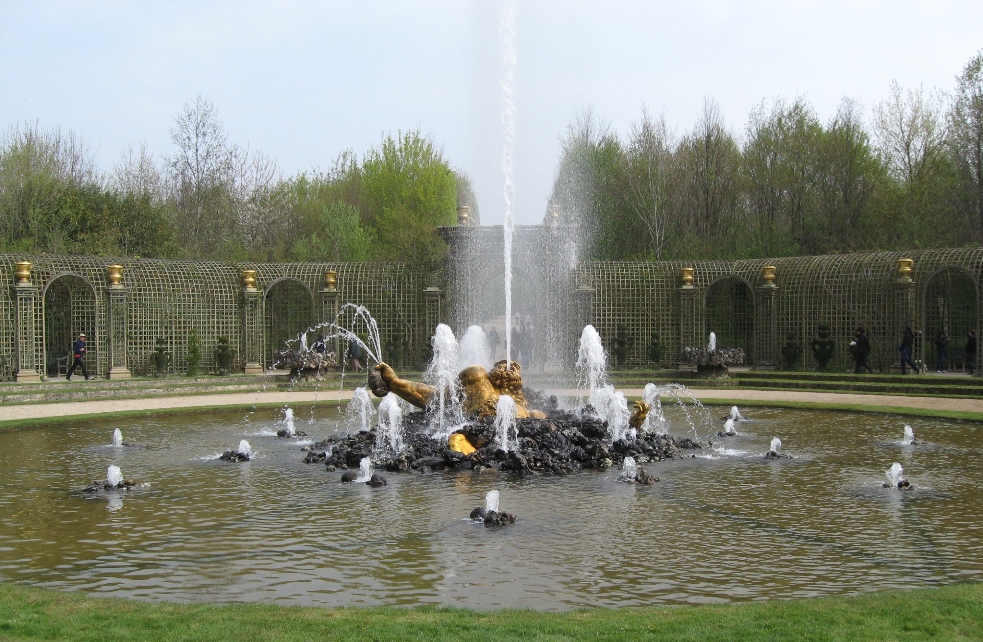 We got lucky and arrived during the spectacular musical fountains display.





One of the many incredible fountains - marvels of 17th century engineering - on the 1800 acre grounds.





It's worth the extra admission fee to see the fountains in action.






Boats for rent on the Grand Canal. After a stop for an afternoon snack of pain chocolat, we returned to the Michals for a delicious dinner of smoked salmon and leek tart whipped up like magic by Genevieve. It was another long and wonderful day.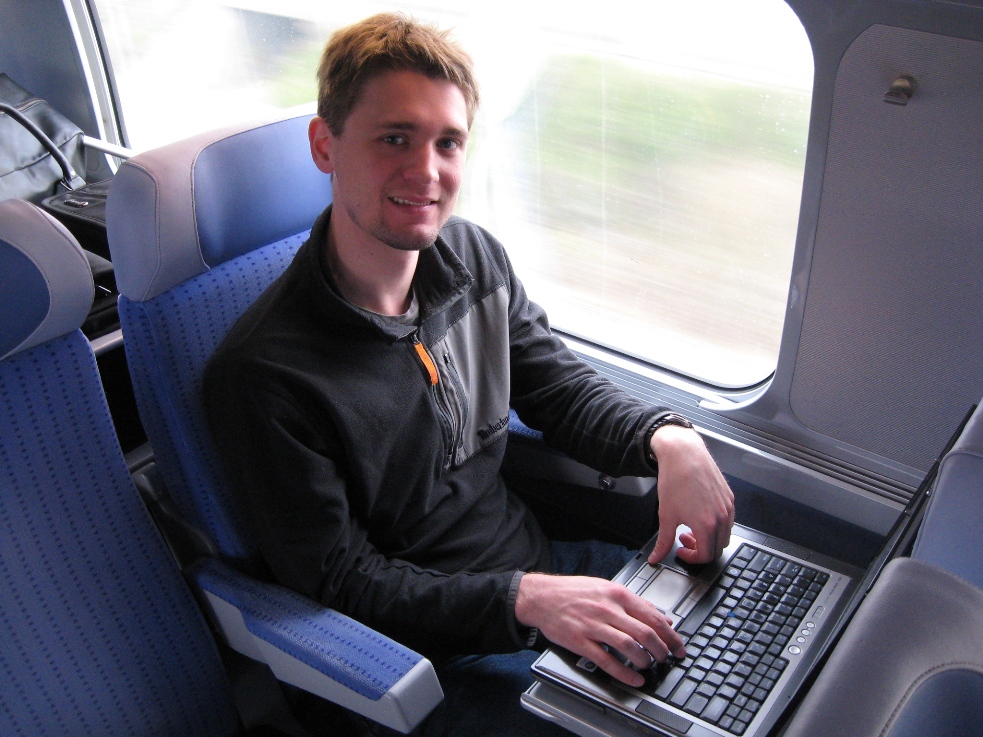 Saturday morning we said goodbye to our hosts and boarded a TGV (high speed) train to Avignon. The trip took about 3 hours.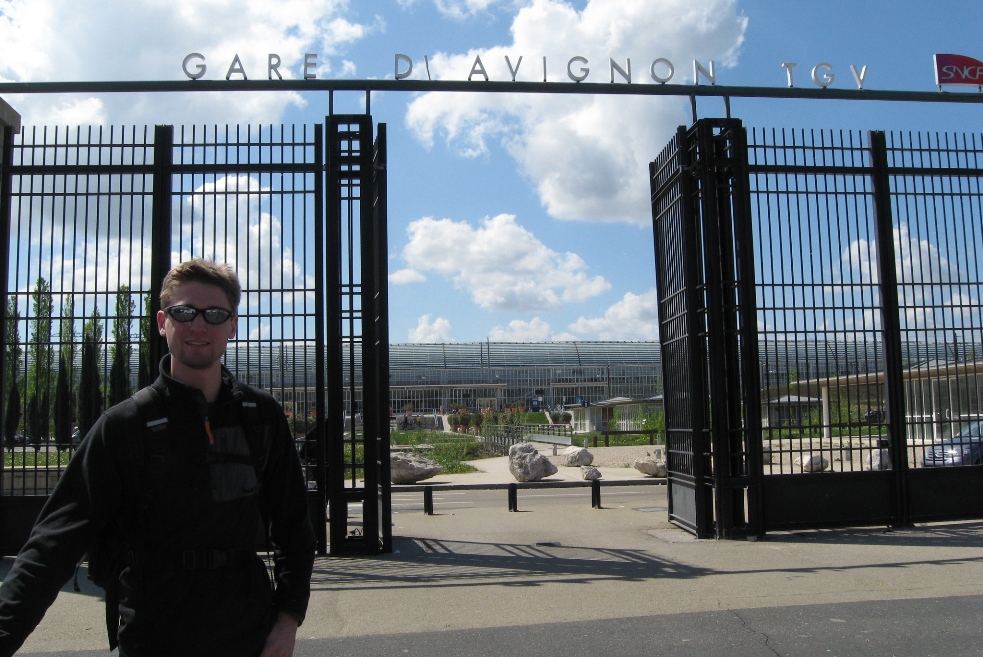 Grant's step cousin, Madeleine, picked us up at the station...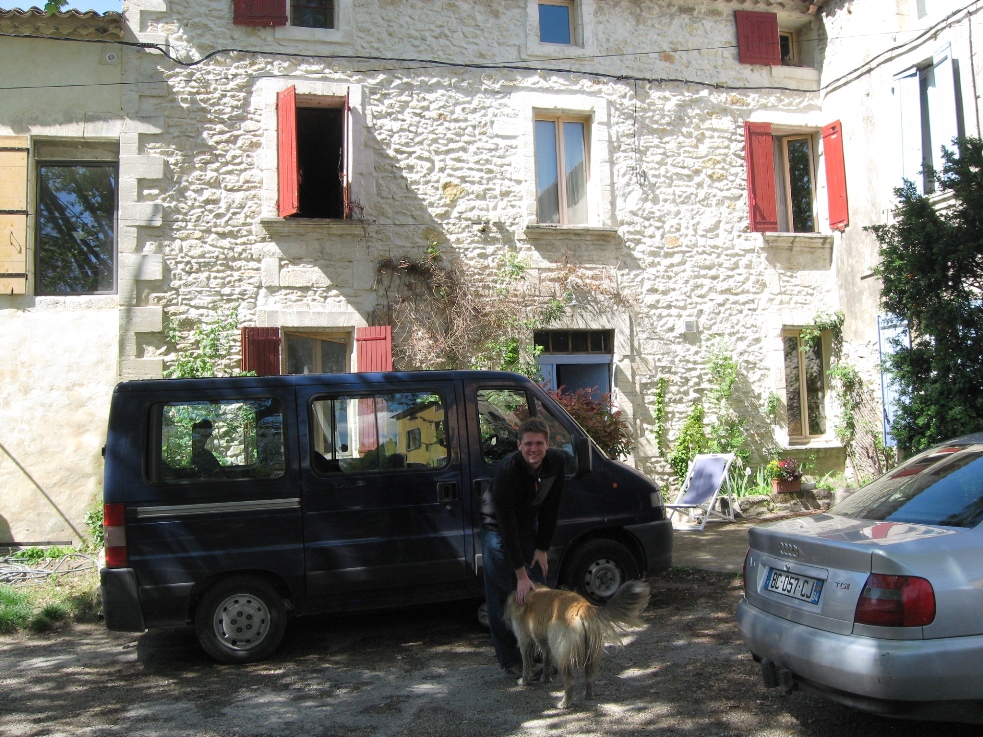 and drove us to her charming farmhouse on Barthelasse Island, across the river from Avignon.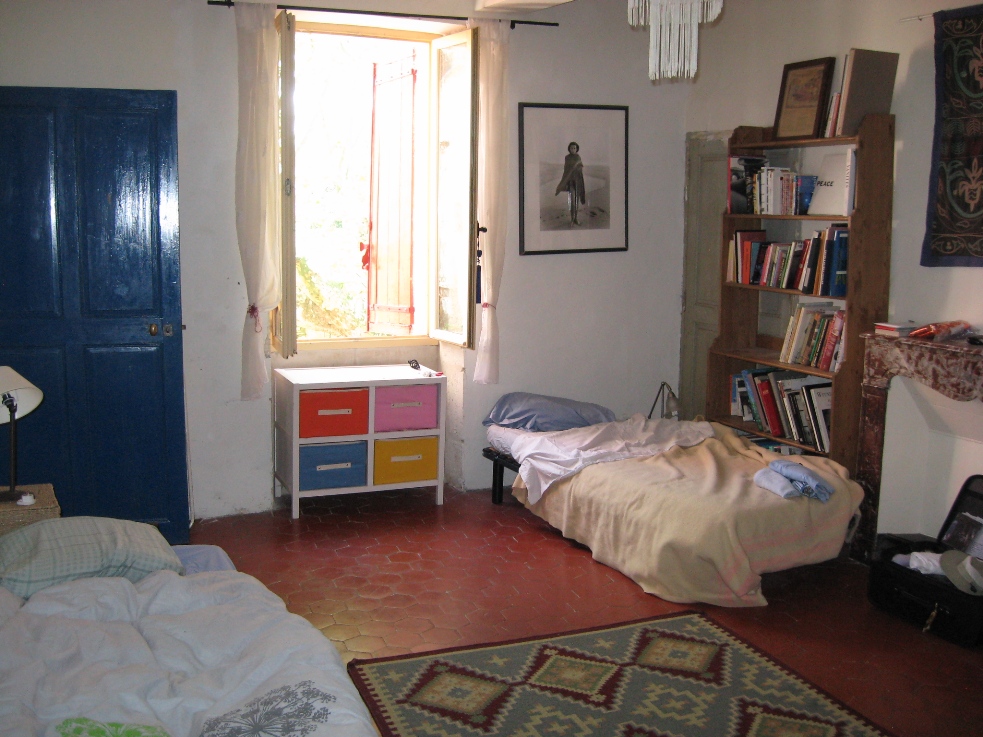 Our room.





Madeleine in her kitchen. An American, she has lived in France for 17 years.





The peaceful country road to Madeleine's.





The bathroom-dressing room.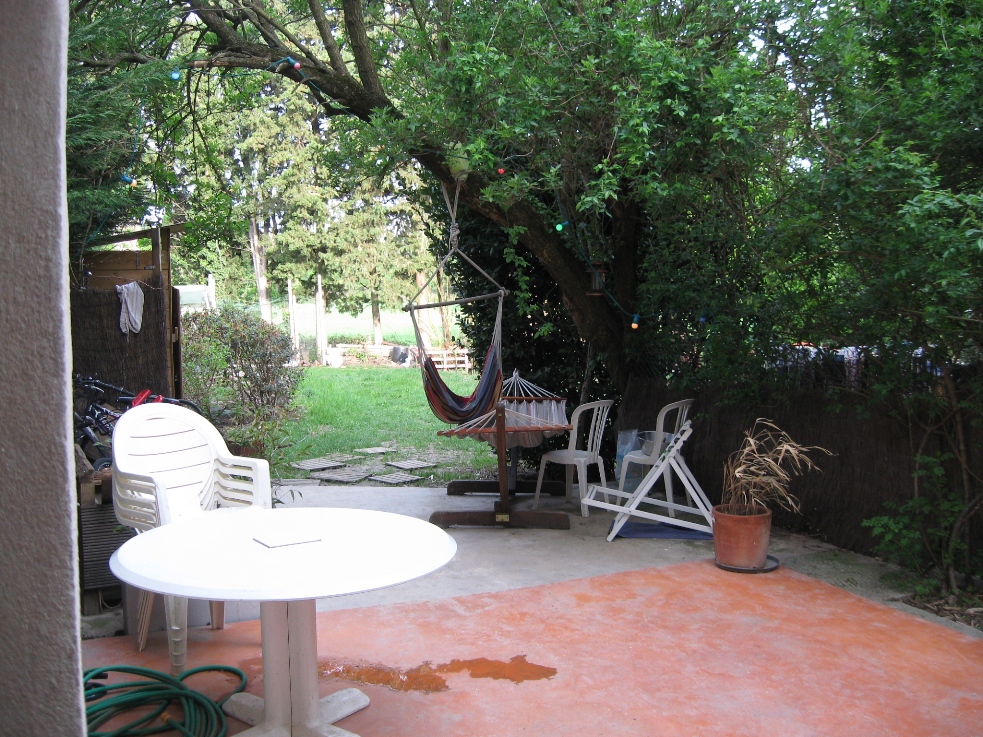 The back porch.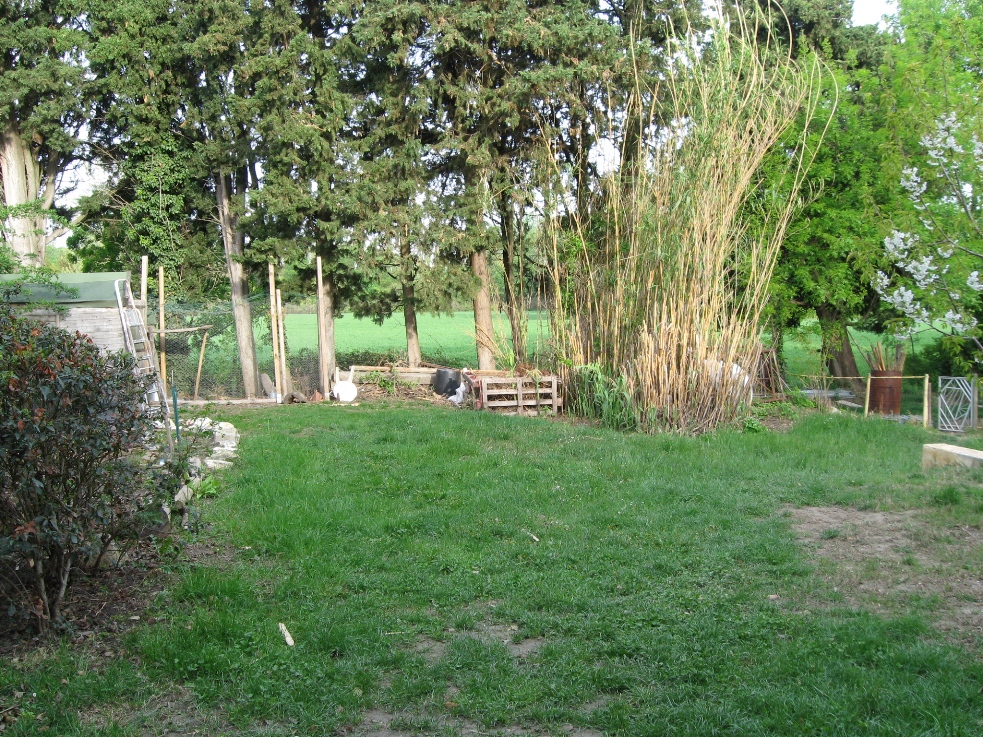 The yard, with chickens on the left, and a view to the neighbor's fields.





Delicious thin-crust pizza at their favorite restaurant down the road. Madeleine's children Jonas (10) far right, Leo (14), second from right, and their friend, Vivien (left).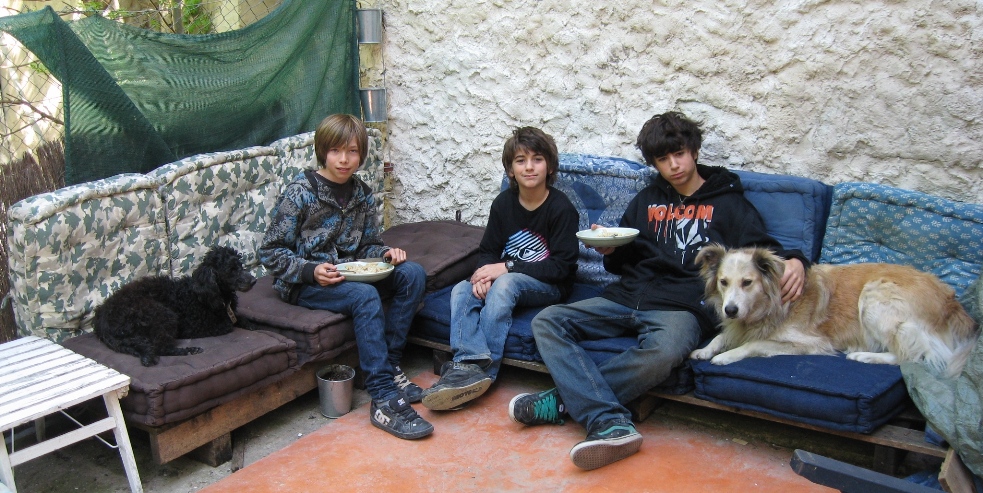 The boys and dogs on the back porch.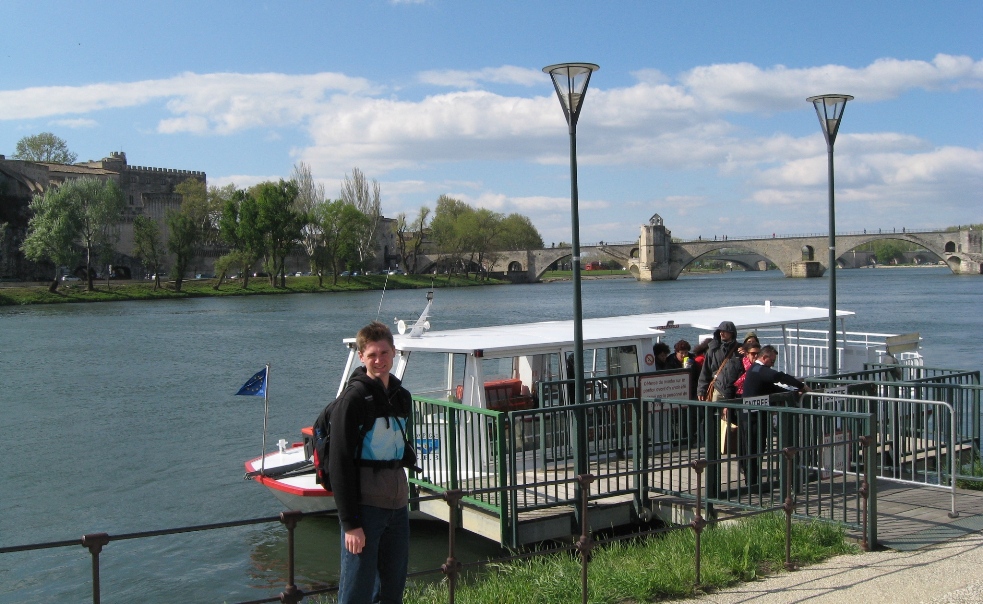 Just a 20-minute walk from Madeleine's is a free ferry to Avignon.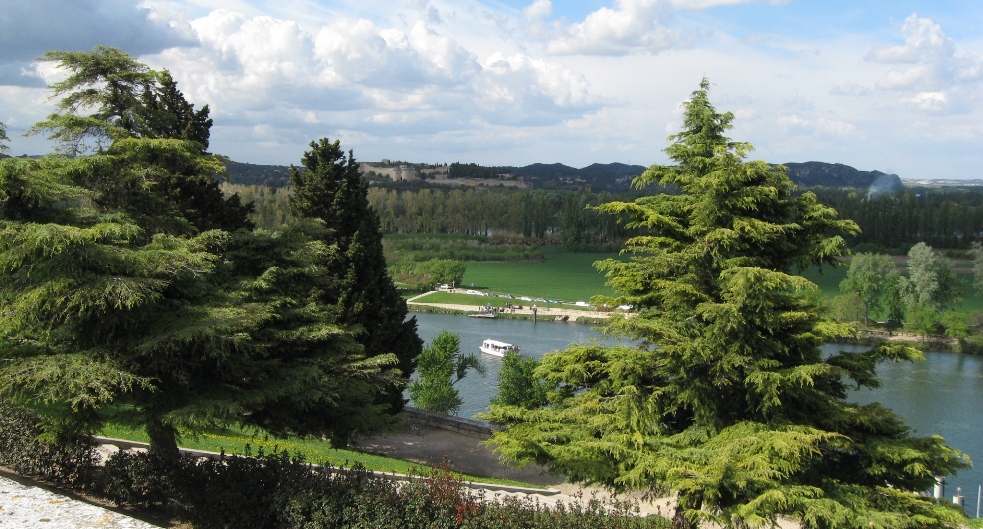 Looking down from the top of Avignon hill to the Rhone River, the ferry, and Barthelasse Island.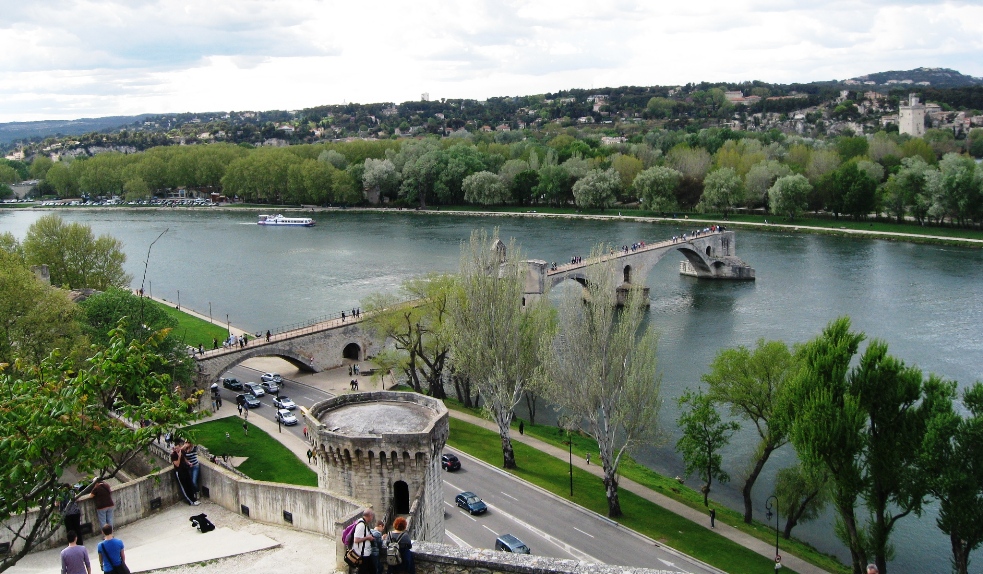 The remains of Pont Saint-Bénezet, the bridge made famous in the song "Sur le pont d'Avignon."





In one of Avignon's plazas, trying to look French by carrying a baguette wrapped in a twist of paper.





The "Green Wall" of living plants on Avignon's covered market was created in 2005.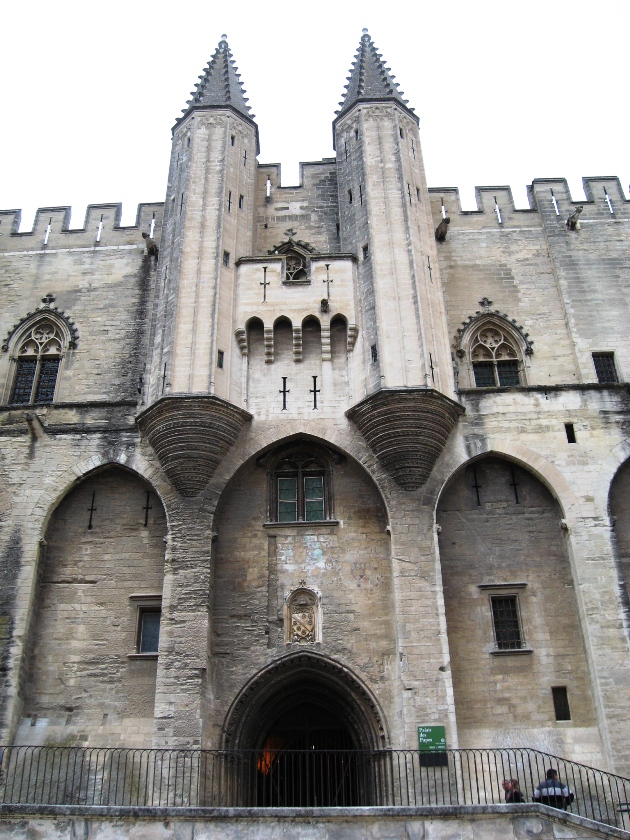 Avignon's biggest claim to fame is the Pope's Palace, one of the largest and most historic medieval Gothic buildings in Europe. The Popes lived in Avignon from 1308 to 1377.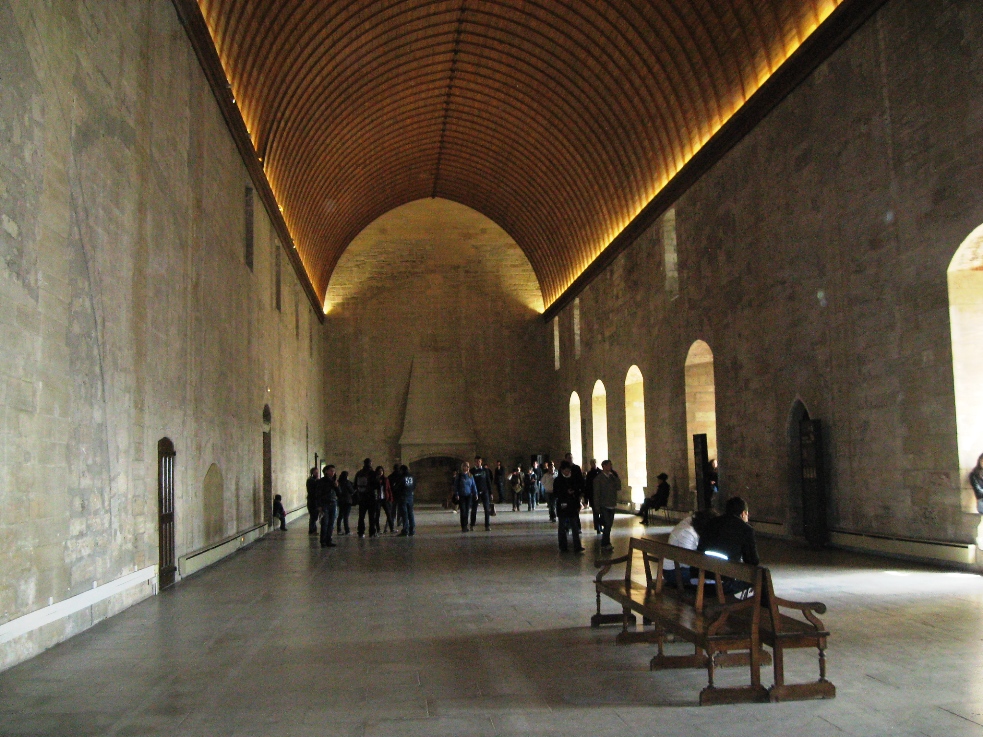 The refectory of the Popes Palace.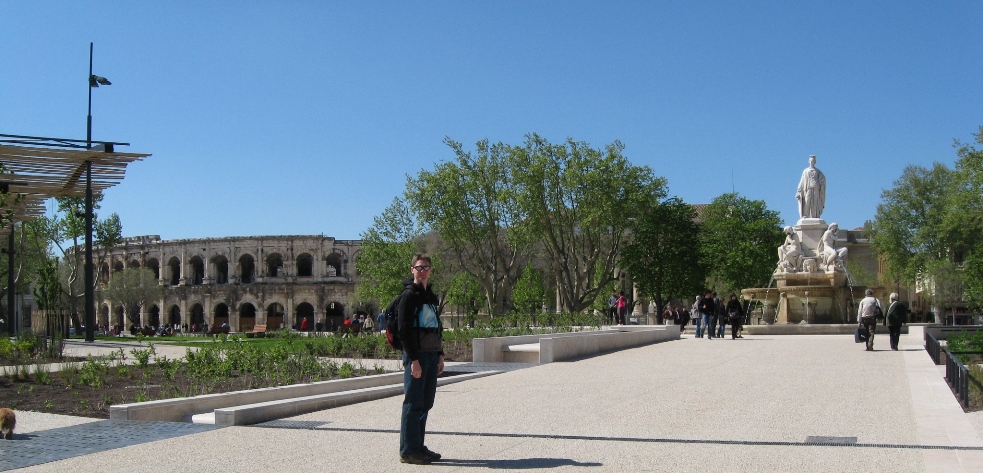 In another stroke of luck, Madeleine was going to Nimes, 45 minutes from Avignon by car, and dropped us off for a half a day. The city has undergone enormous civic improvements. This plaza, once a parking lot, is now a grand city park. The Roman arena is to the left.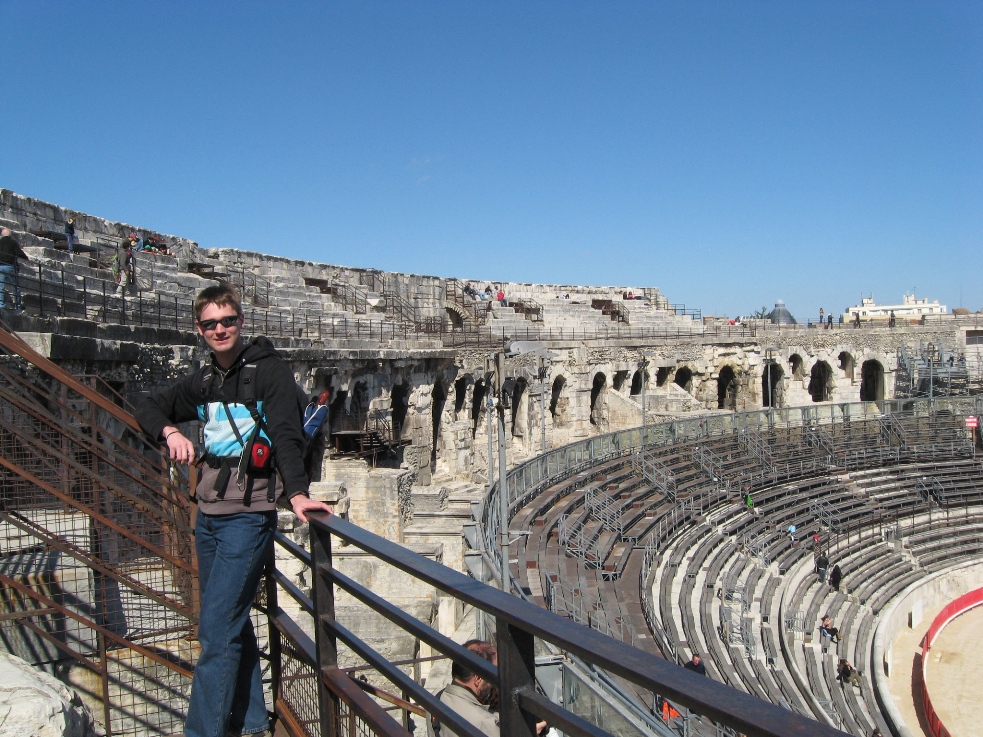 Nimes is known for its Roman ruins. The well-preserved arena is still used for various kinds of shows.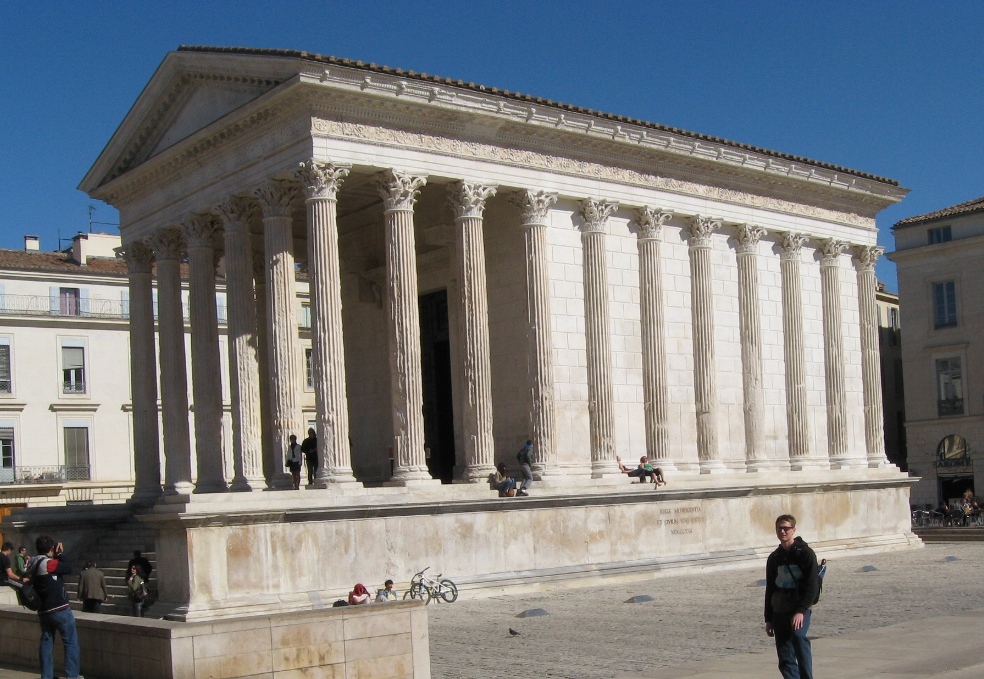 The Maison Carre, or square building, is one of the best preserved temples in the former Roman Empire. It was built in 16 B.C.





Don't miss the 20-minute film inside, which brings the history and region to life. The panaromic aerial views of Provence are stunning.





The Quais de la Fontaine - the embankments of the spring that first provided water for the city.





One corner of the classical 18th-century Jardins de la Fontaine, the first civic gardens of France.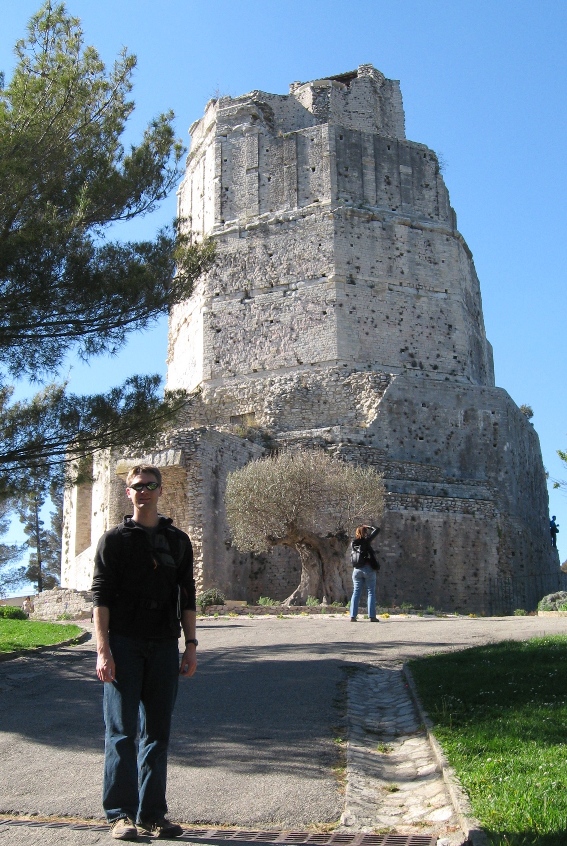 The stairs in the previous picture lead to the Magne Tower, built in about 15 B.C., and originally part of the Nimes city walls.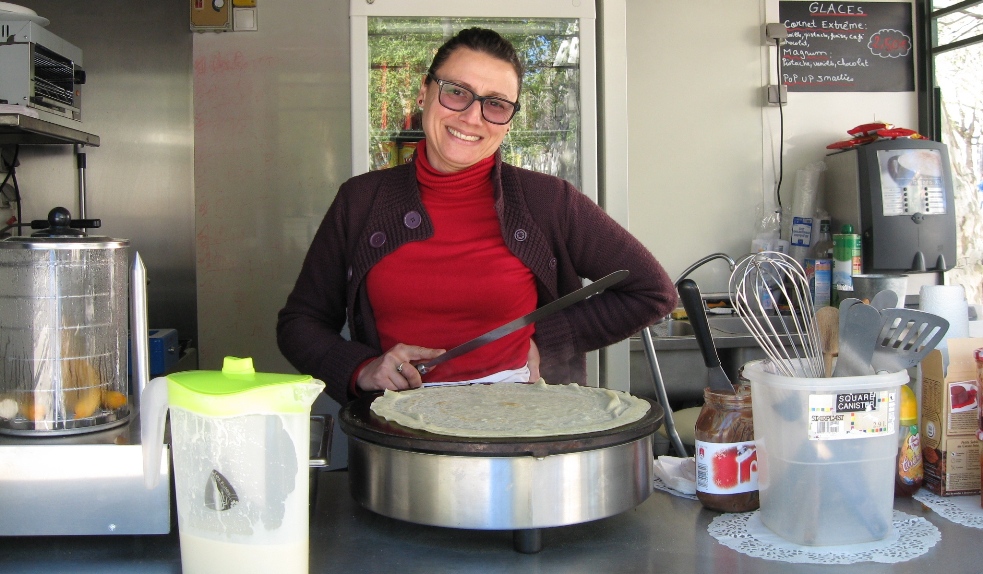 No trip to France is complete without a Nutella crepe!






Monday was our last day in Avignon, and we spent it walking to the other side of the river to see "Villeneuve," or "new" Avignon, so-called because the cardinals moved here in the 14th century when "old" Avignon became too crowded and smelly. These are houseboats moored along the river.





The Saint André fort, a 14th-century watchtower in Villeneuve.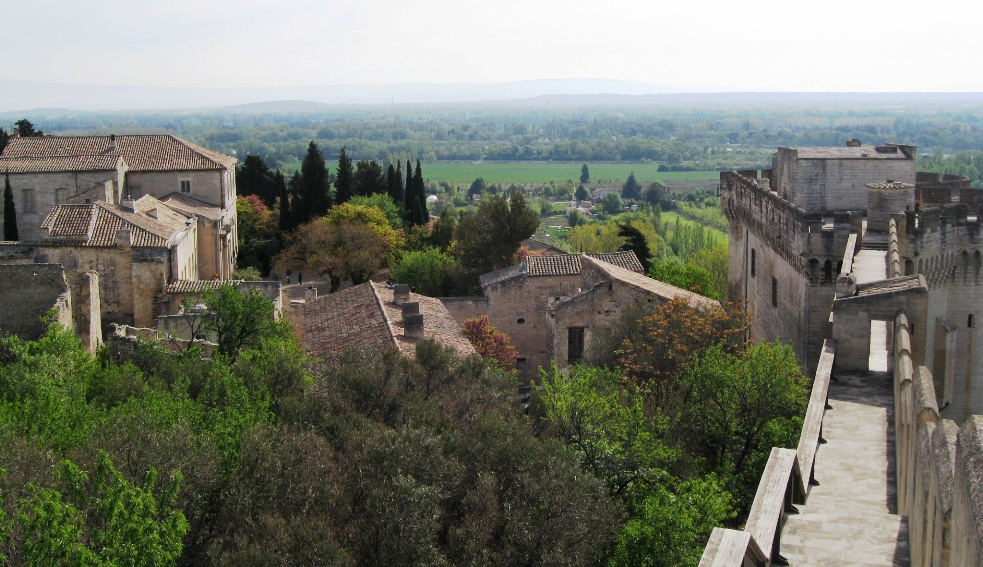 The fort offers wonderful views of "old" Avignon, the river, and the Provencal countryside and mountains beyond.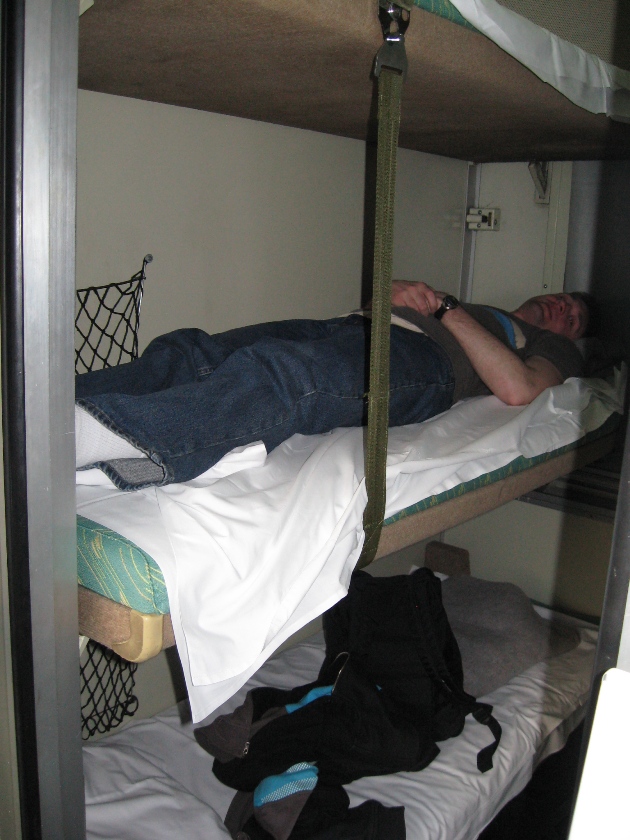 Monday afternoon, Madeleine drove us to the train station where we caught a slow train to Port Bou, on the Spanish border. This 4-hour ride gave us great views of French coastal towns and the Mediterranean. In Port Bou we boarded a 12-hour sleeper train to Madrid. The three-tiered berths were comfortable, if a bit cramped. When not sleeping, we had to either stand in the corridor or lie down. We arrived in Madrid at 7:30 am.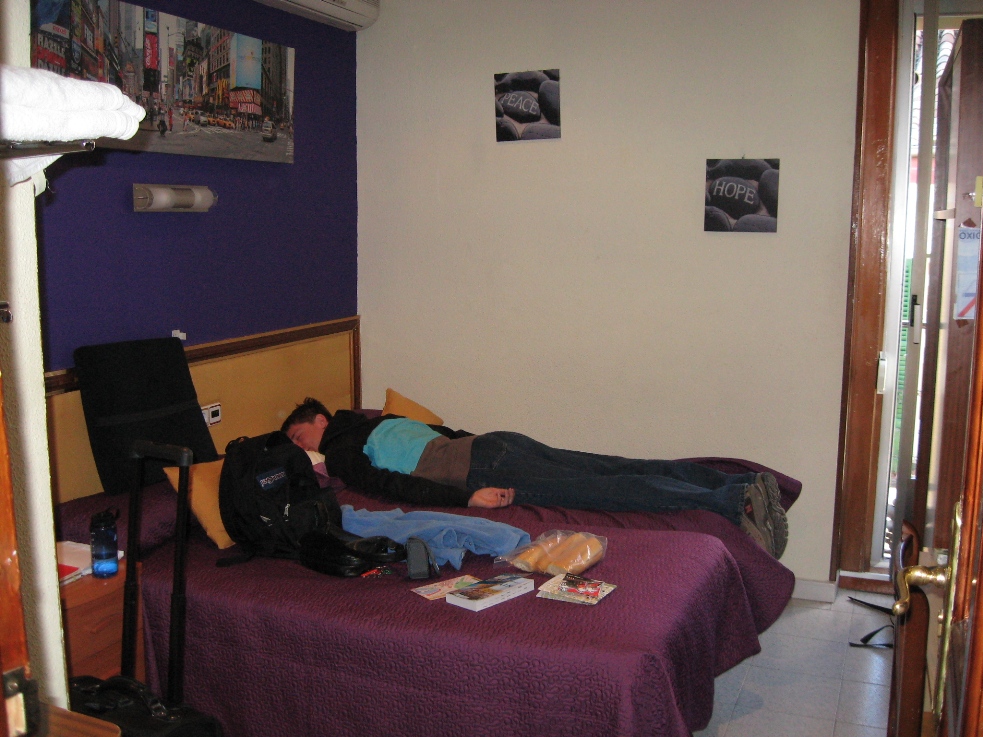 At 40 euros a night (about $56), Hostal Jaen was not only affordable, but very clean, quiet, and ideally located near the Prado. Poor Ian had caught a cold and needed a nap before we headed out exploring.





The room was small, but had all the basic necessities, including wireless internet.





The Neptune Fountain near the Prado Museum in Madrid.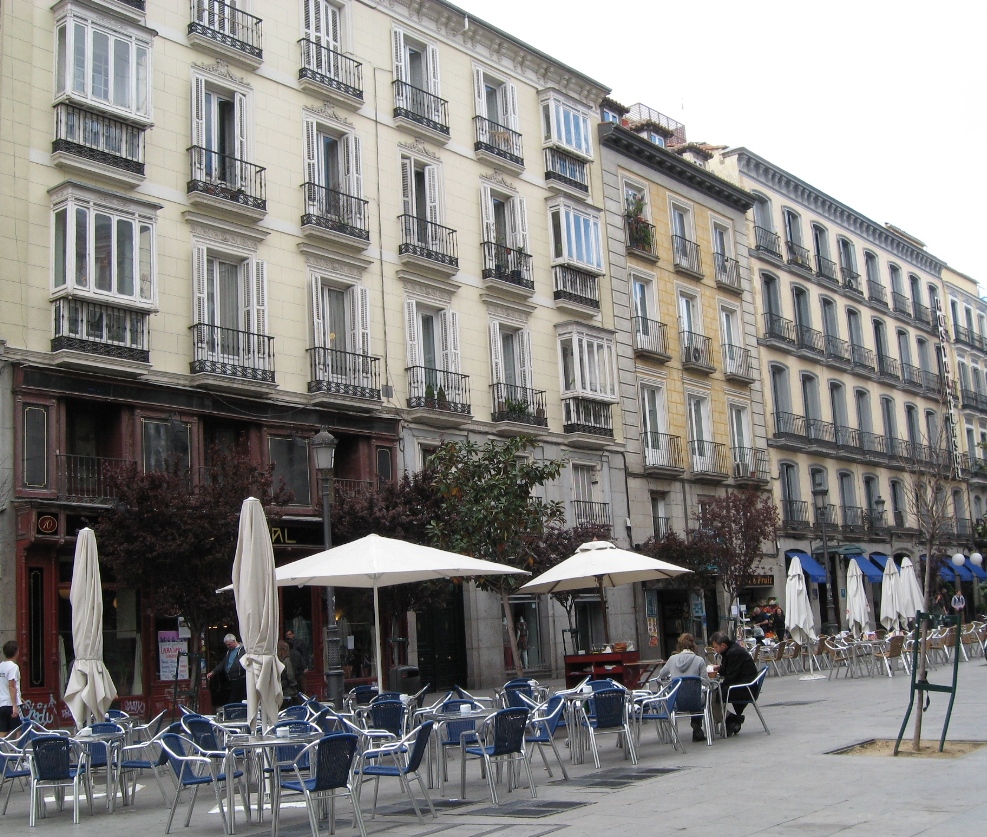 The buildings in downtown Madrid are understated and elegant, like a beautiful woman who doesn't need layers of makeup to turn heads.





Madrid is clean and beautiful - we were impressed. Its center is compact and walkable. This is beautiful, lively Plaza Mayor.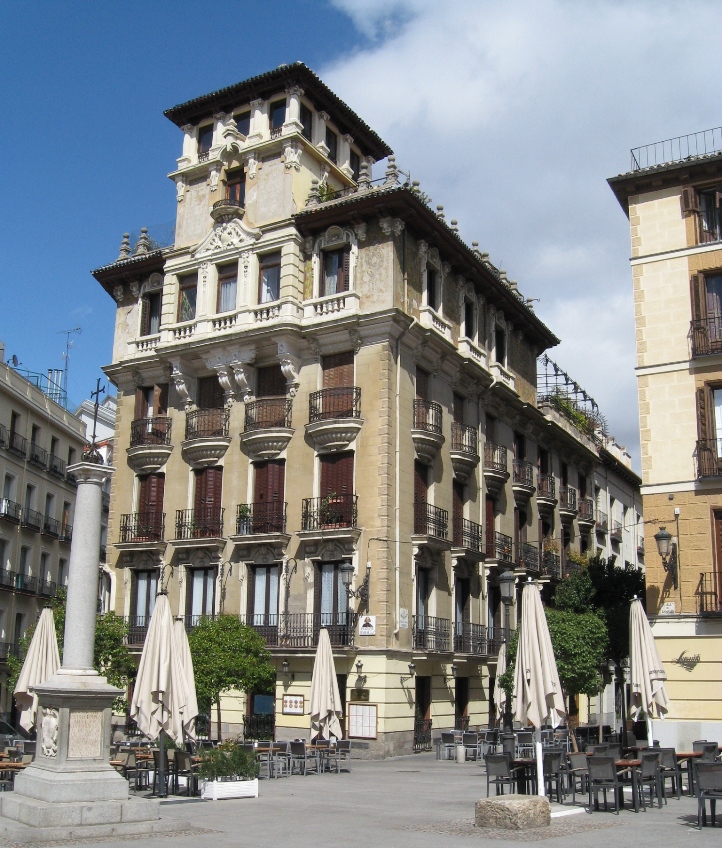 One of many inviting street corner plazas.





Madrid's Royal Palace, built by Philip V of Spain, grandson of Louis XIV, is modeled after Versailles. In some ways we liked it even better than Versailles (it's certainly less crowded).





Courtyard of the Royal Palace. We weren't allowed to take pictures inside. Ian, a medieval history buff, especially loved the armory, which boasts an amazing collection of human and equestrian armour.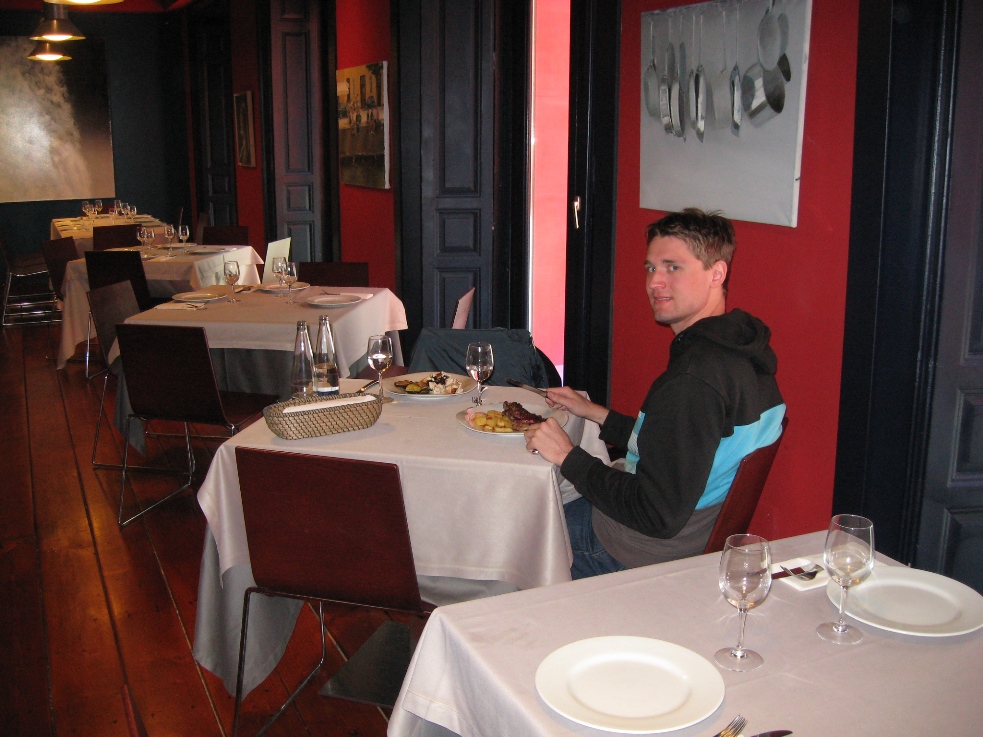 We were on a tight budget, but treated ourselves to one nice sit-down meal. Locals rarely eat before 8 pm, but we were famished (and it was raining), so we ate early and had this whole restaurant to ourselves. The "menu del dia" meal - at 13 euros each, or about $17 - was fantastic: fish soup and steak for Ian, vegetable tempura and chicken in spinach cream sauce for me. We savoured every bite. The chocolate "pouf" with strawberry ice cream was ambrosial. Our waiter was solicitous and cheerful, singing as he bustled about.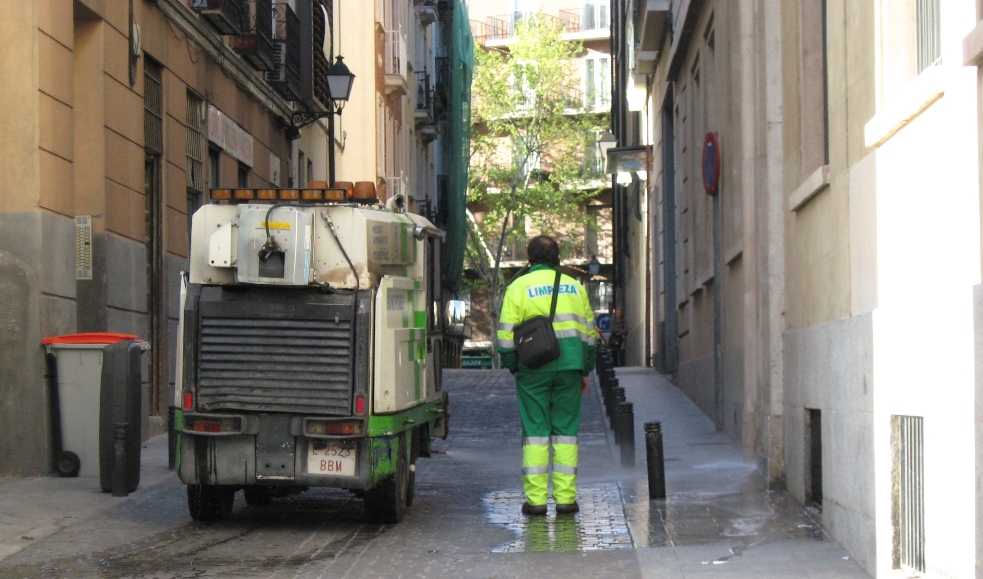 Trucks wash the streets of Madrid with soapy water every night, explaining the delightful absense of dog poop, cigarette butts, and litter. Speaking of which, most (all?) of the EU countries have banned indoor smoking in public places. Although more people seem to smoke than in the US, perhaps that number will decrease as smoking becomes less socially acceptable (and as proposed cigarette tax increases go into effect).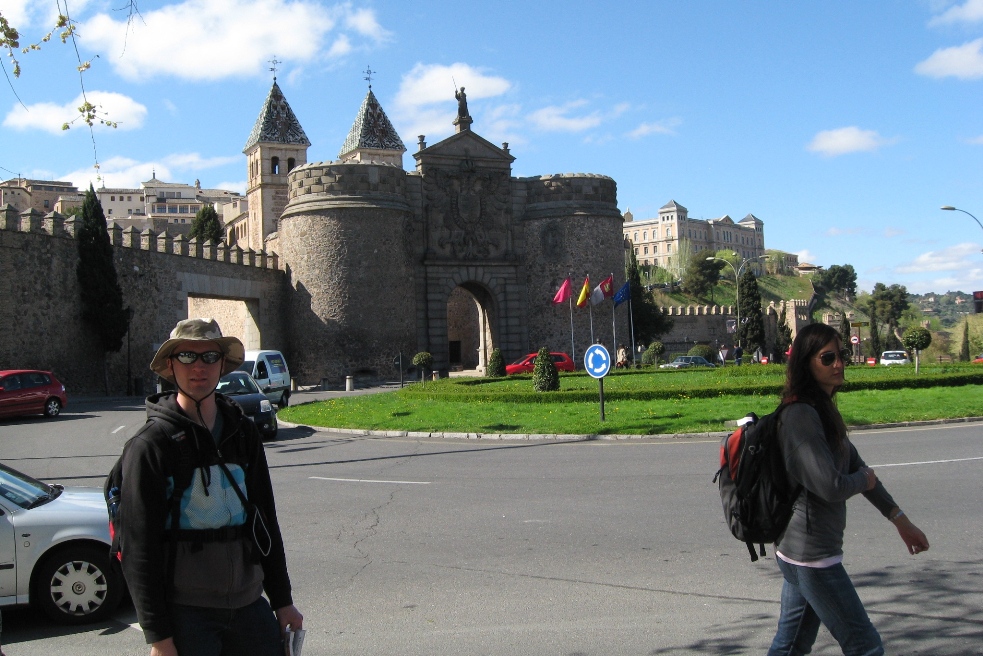 Our second day in Madrid was spent on a day trip to Toledo, less than an hour from Madrid by bus. Toledo is a well-preserved medieval city whose walls are still intact.





I've seen a lot of amazing cathedrals, but the interior of Toledo's made my jaw drop open and stay there.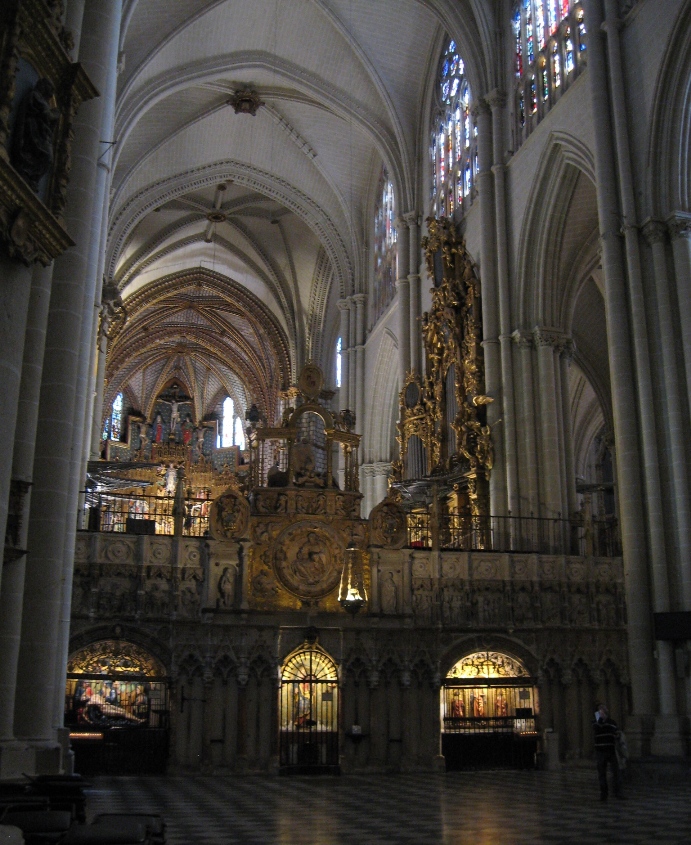 The interior is immaculately scrubbed - gone are all traces of the dark soot that renders so many cathedral interiors gloomy. It's easy to imagine the awe medieval peasants must have felt on entering it.





View from the cathedral cloister.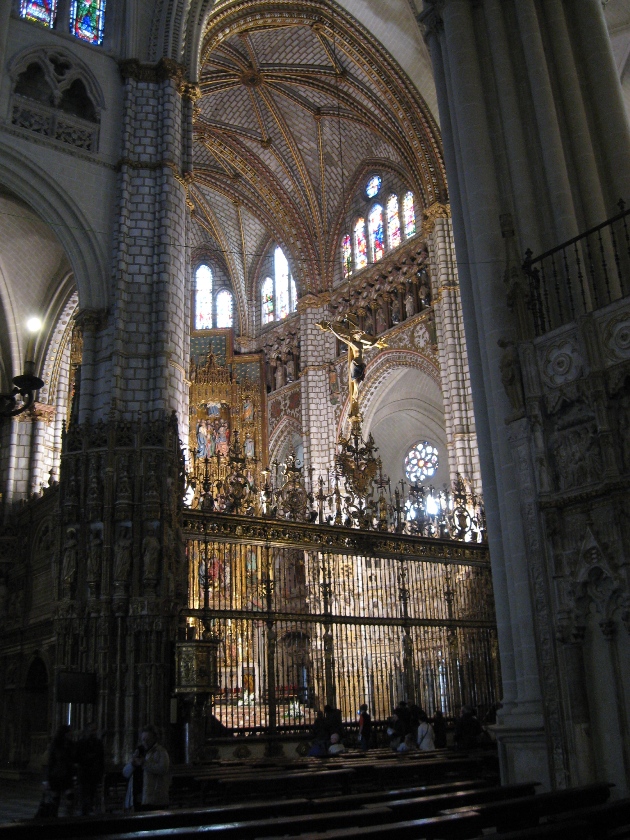 The high altar.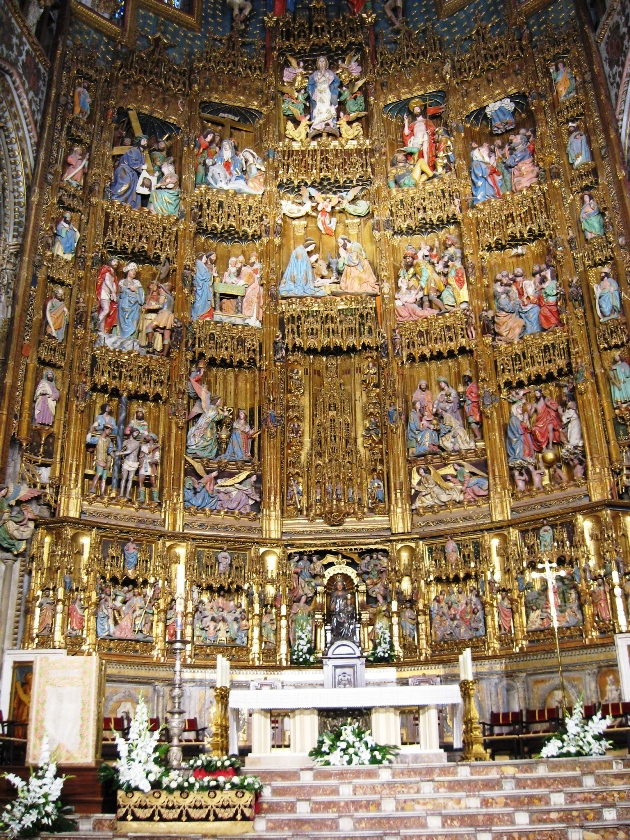 The high altar.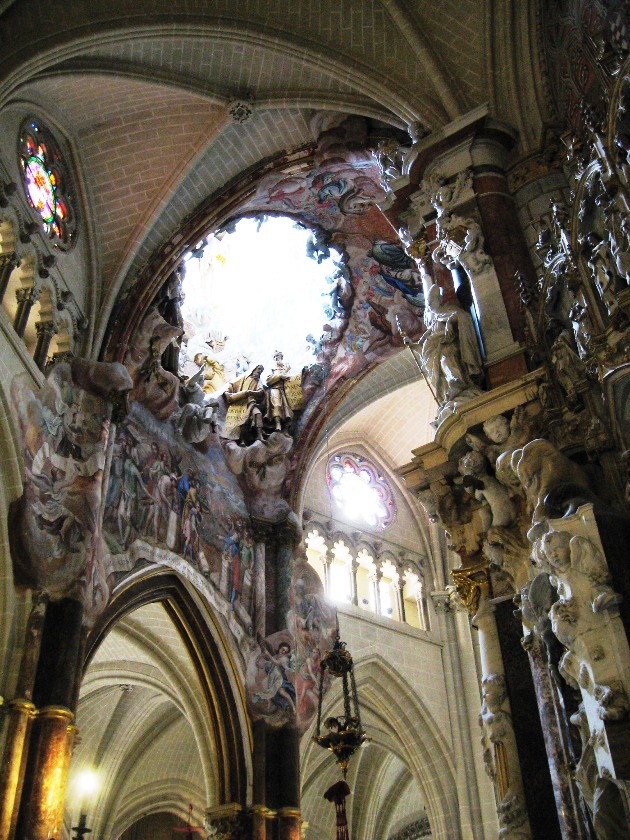 The Baroque altarpiece called El Transparente - a large skylight cut high up in the wall that allows shafts of light to strike the tabernacle. Adorned with fantastic figures in stucco, bronze, and marble, it's stunning, unlike anything I've ever seen, and is alone worth a trip to Toledo.





The tabernacle in the Toledo cathedral.





Given its charm, it's not suprising that Toledo is touristy. Souvenir shops abound, with the emphasis on medieval armour and weaponry.





Ian's first experience of hot chocolate and churros, Spanish style (the chocolate is almost as thick as pudding, and you dip the crispy churros in it with sighs of pleasure).





Back in Madrid, we sampled tapas at a local eatery. My favorites were the toast with caramelized leeks and brie, and the "Spanish omelette" (like a potato fritatta).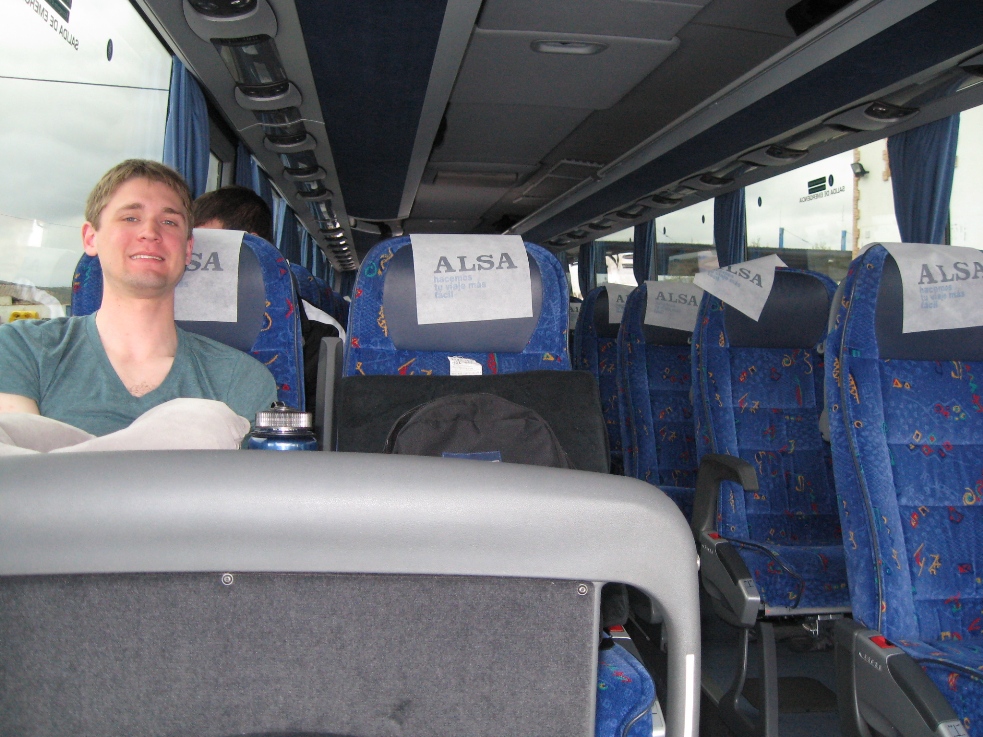 We opted for the 5-hour bus ride to Granada - cheaper than the train, and we thought it might give us better views of the countryside.






However, the weather was cold and drizzly (just like Seattle), so the views were muted. Still, the rolling hills covered with quilt-like olive groves and vineyards were lovely, and we enjoyed seeing windmills in the "La Mancha" region of Don Quixote fame.





The Maktub guesthouse in Granada.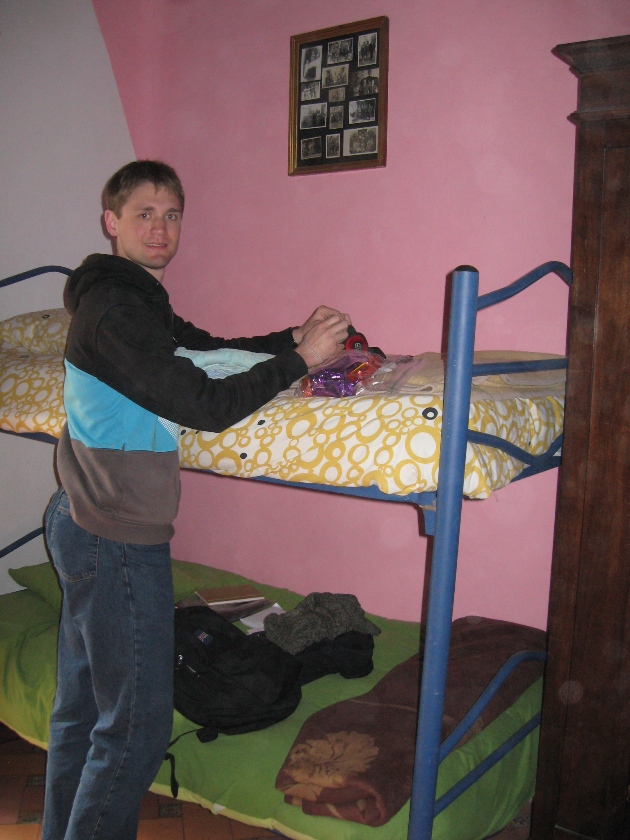 We shared a 5-bed dorm room with a parade of young travelers. At 15 euros per person per night, it doesn't promise luxury, but offers something more priceless - the chance to meet other travelers.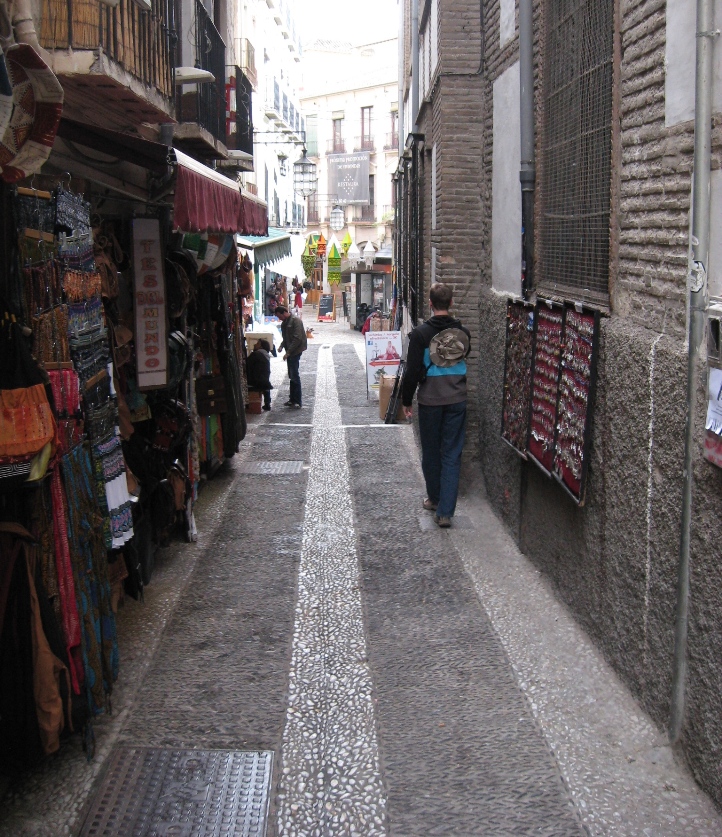 The Moorish influence is strong in southern Spain. Shops run by Arab-speaking merchants sell Moroccan lamps, jewelry and scarves.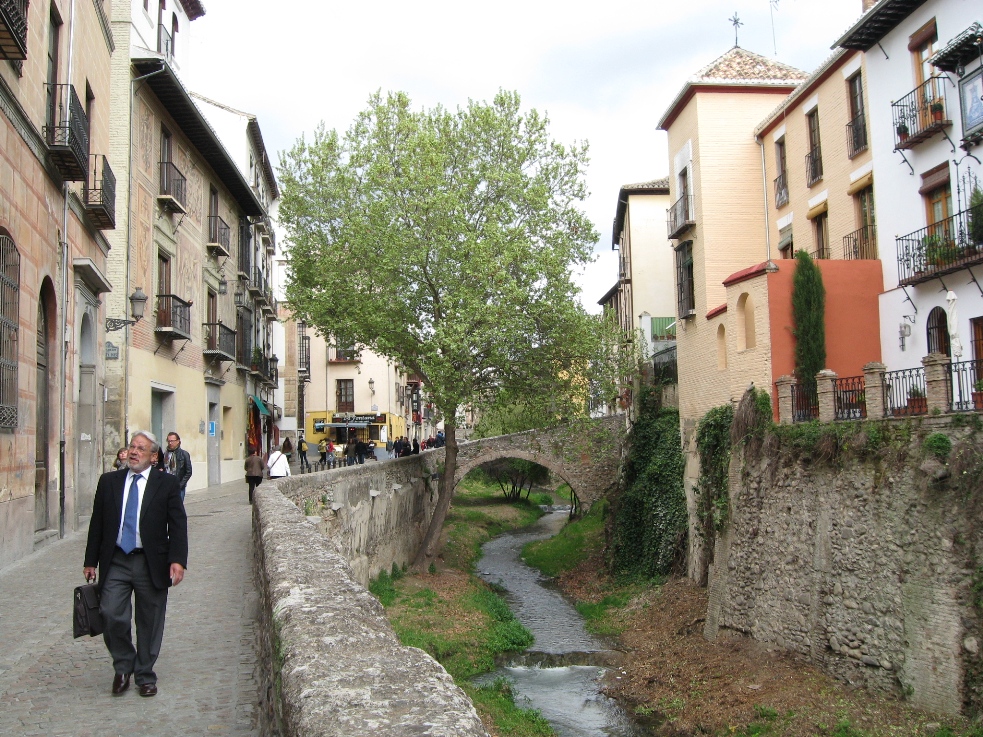 Granada oozes charm and walkability.





Our first breath-catching view of the Alhambra, perched high above us.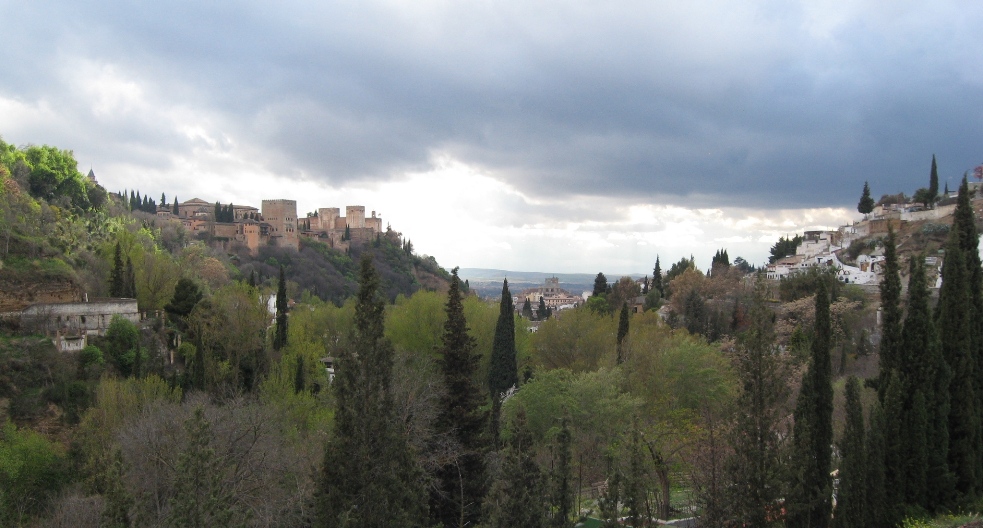 The Alhambra (left), cathedral (center), and Albaicin (Moorish quarter, right).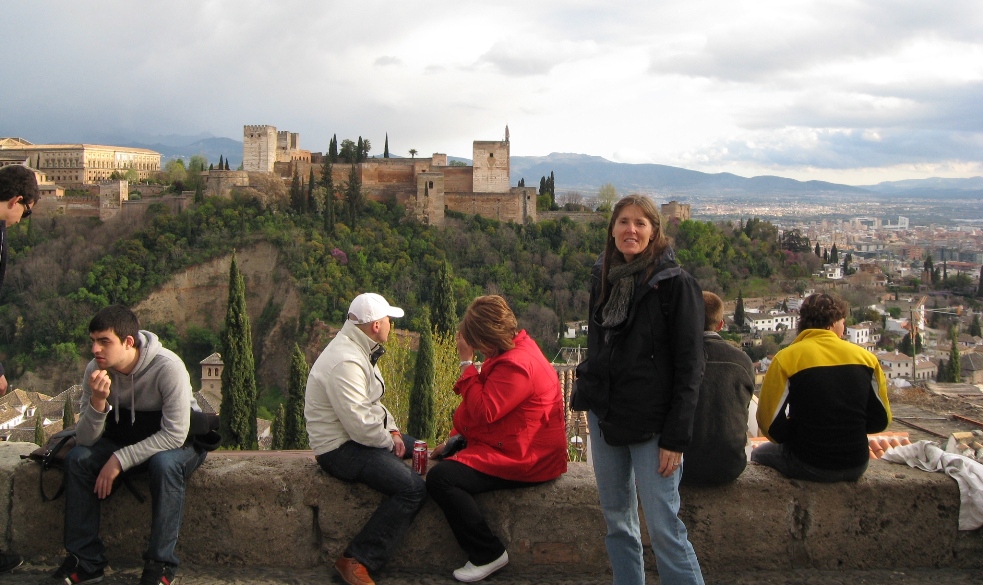 The Alhambra from the St. Nicolas viewpoint.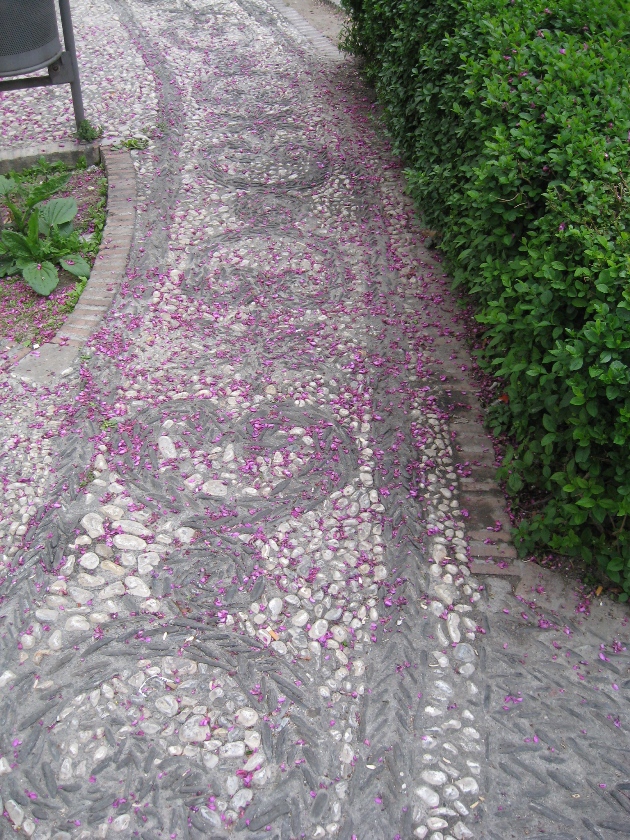 Granada is known for the beautiful stone mosaics that abound on streets and plazas. This one is strewn with purple jacaranda petals.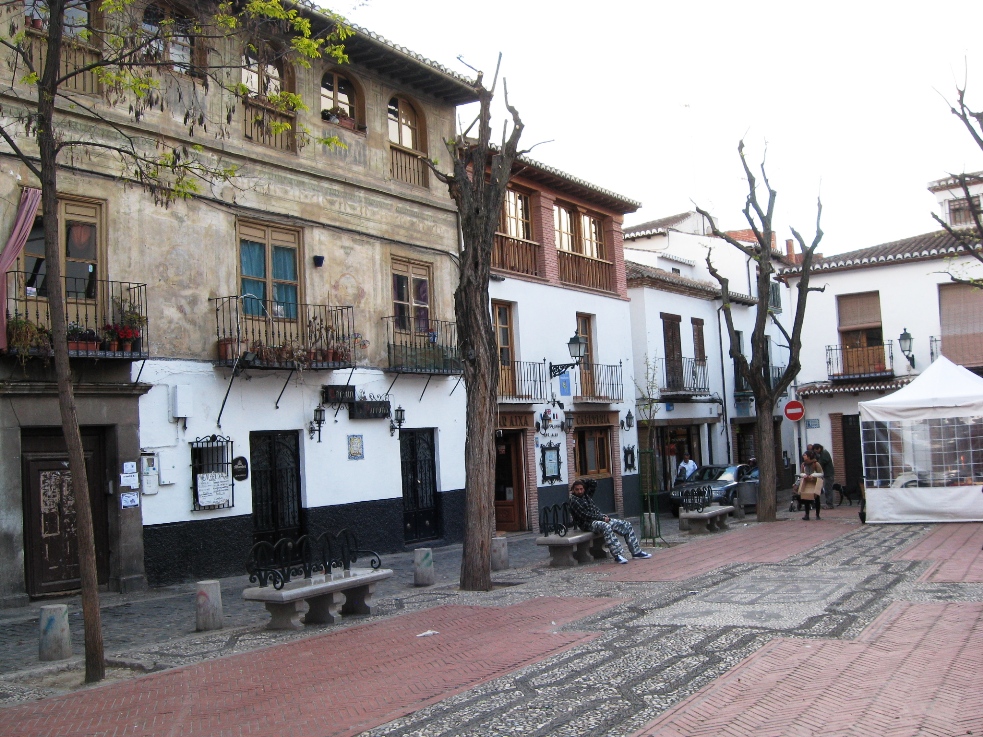 We loved Granada's plazas and gritty charm. It felt "real" and not polished up for tourists.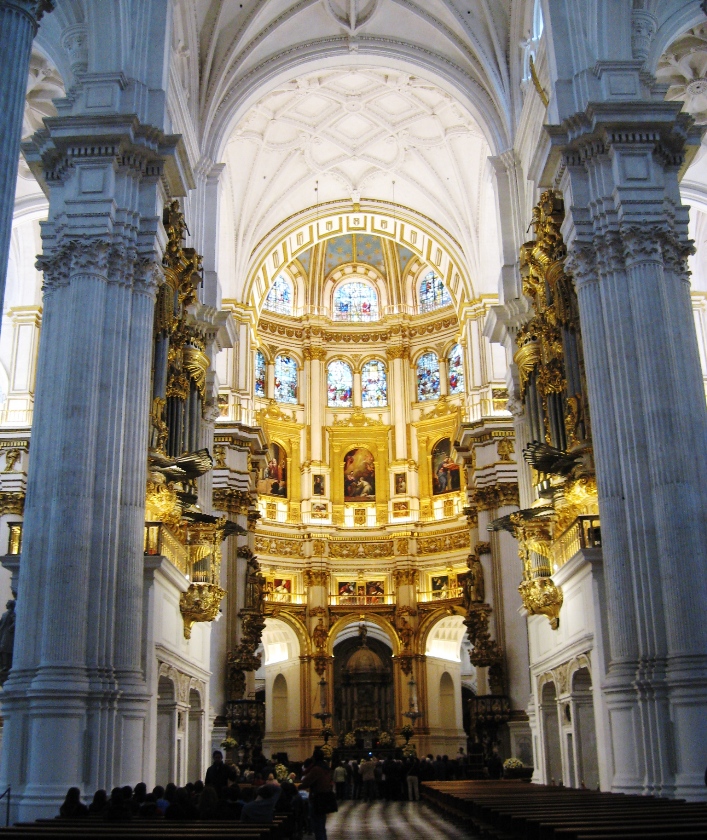 It too has a beautiful cathedral.





Cathedral ceiling.





Gregorian chant sheet music books from the 16th century. Imagine the hours that monks spent "illuminating" (illustrating) these.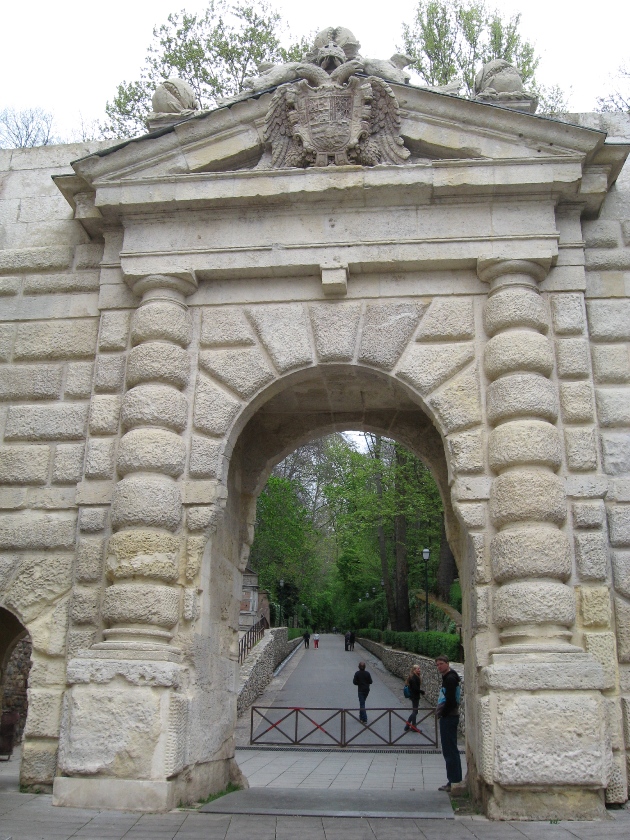 At last, the main reason for our trip to Granada: the Alhambra. You approach on foot through this arch and into a cool, green forest filled with the sound of spring water running down channels on both sides of the path.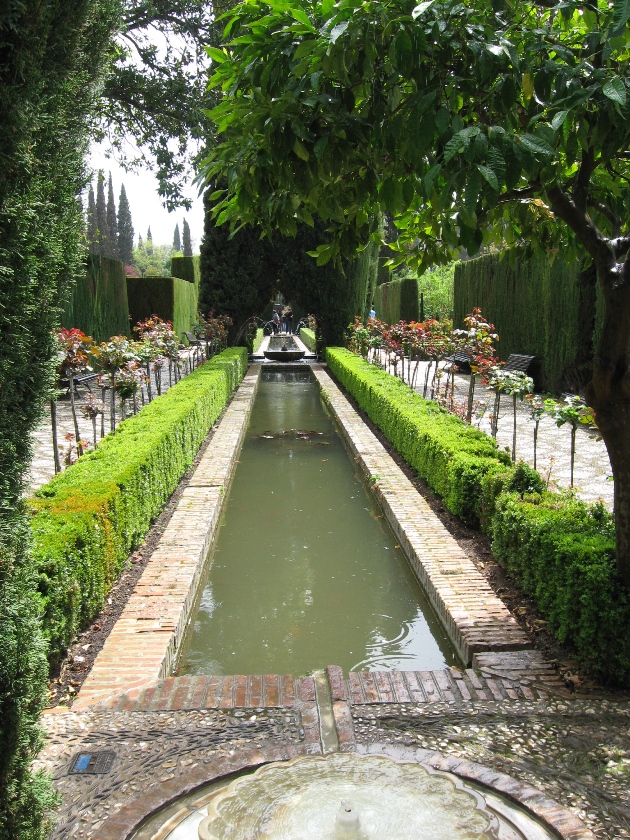 The Alhambra was a walled city and is a large complex that includes the Generalife Gardens.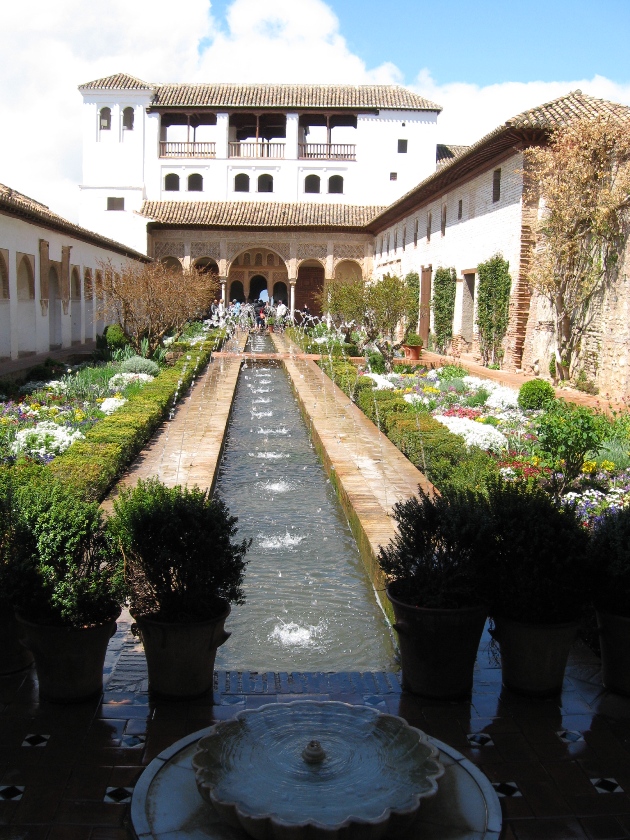 The retreat in the Generalife Gardens, where the Sultans could escape the pressures of life in the nearby palace.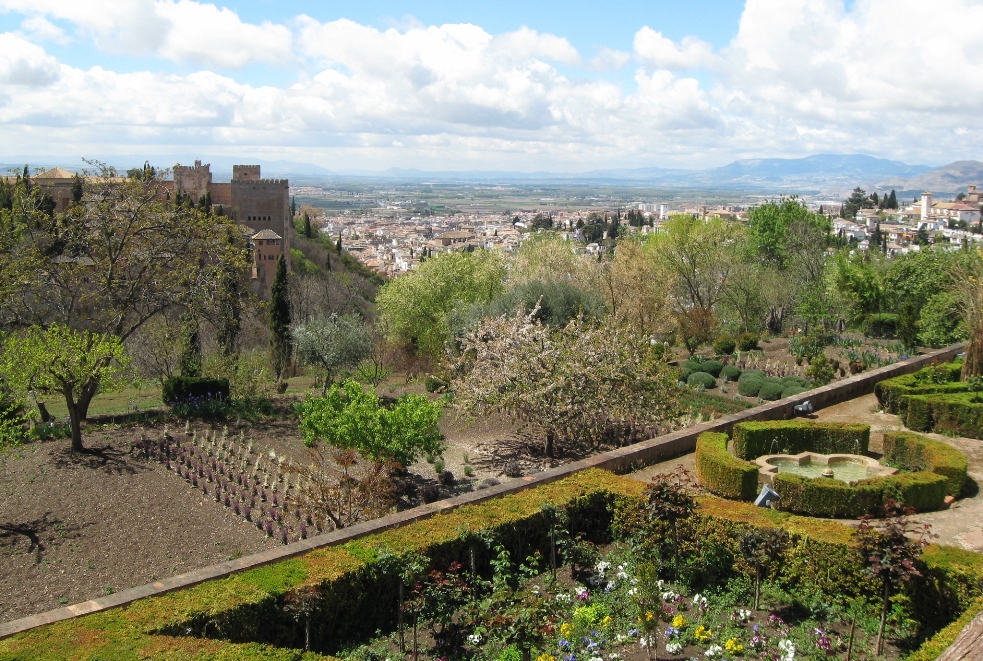 View of the Alhambra tower and the city beyond.





The retreat.





After leaving the Generalife, we walked toward the main palace, passing the original burial place of King Ferdinand and Queen Isabel, of Christopher Columbus fame.





More Granada mosaic - dark and light rounded stones set in mortar.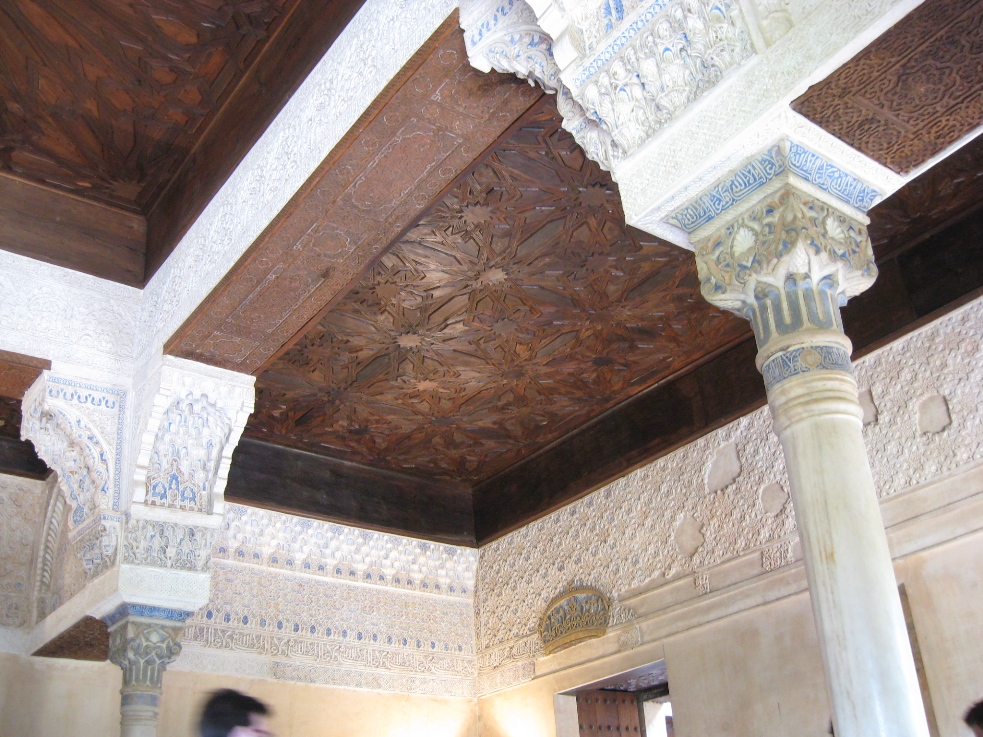 Wood and plaster ceiling details in the Alhambra's main attraction, the Nazares Palace. Make reservations before you go, as they limit the number of visitors.





Court of the Myrtles.





Restoration of the fountain in the Court of the Lions is nearing completion.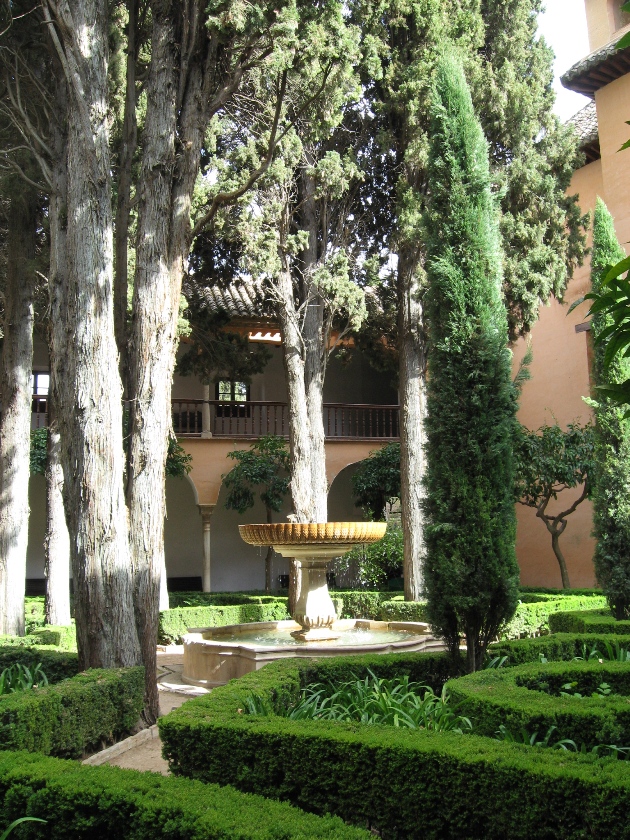 Peaceful central courtyard.





The weather was alternately sunny and sprinkly, with a cold wind (note my gloves).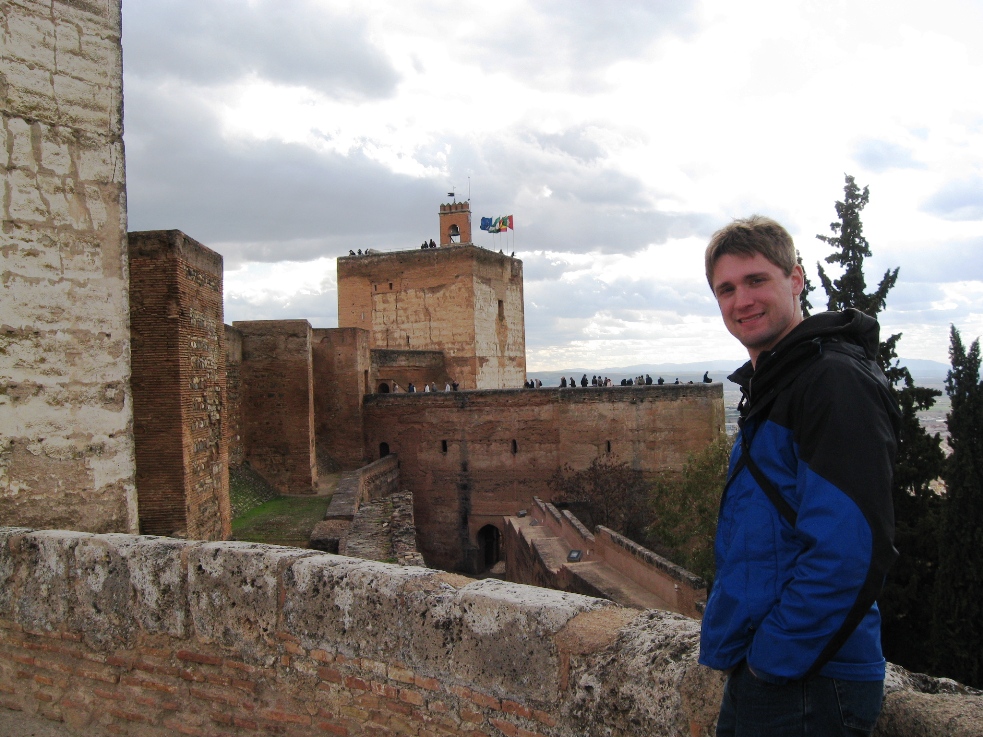 The Alcazaba is the fort of the Alhambra.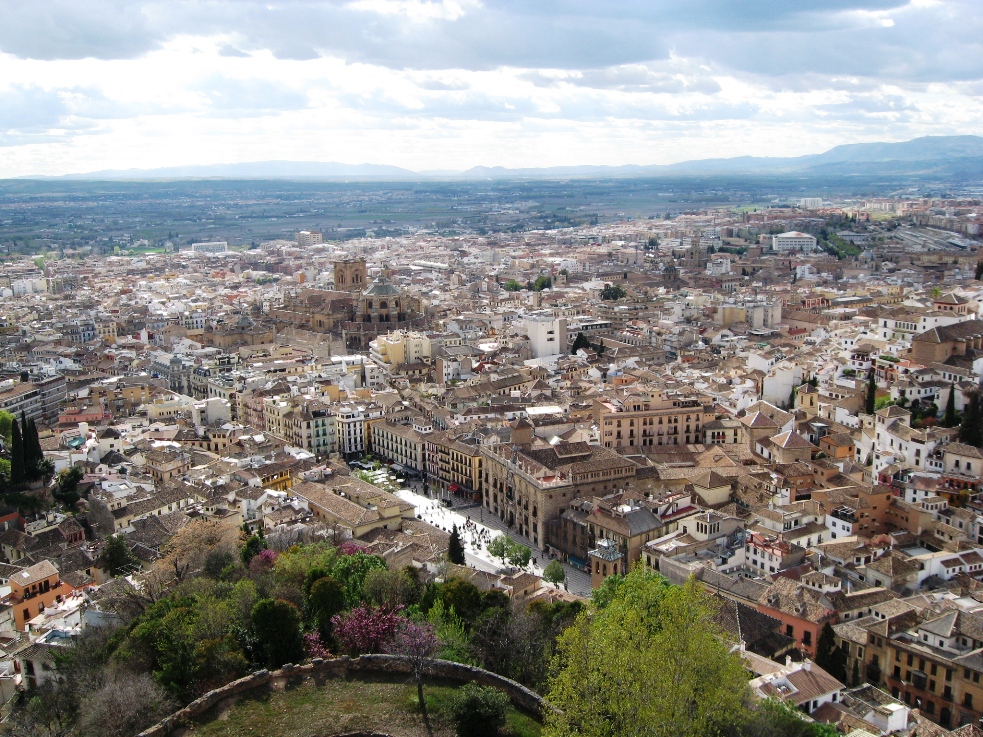 Spectacular view of Granada from the tower. The open space is Plaza Nueva, near our hostel.





The Sierra Nevada mountains with a fresh dusting of snow. Southern Spain was experiencing a very cold spring.





Another tapas meal.Tapas are basically highly flavored hors d'ouevres. To control costs, consider ordering a fixed price sampler like this one (14 euros, about $19 - plenty for two people).





Our last day in Granada was cold and wet, so we splurged on a hammam, or Arab bath. For 32 euros each (about $45), we spent 1.5 hours soaking in the hot, warm, and cold tubs, with a 15-minute massage and sweet mint tea included. The interior is more dimly lit than this photo. The only sounds are splashing water from a fountain and soft Arab music. (Photo courtesy Aljibe de San Miguel.)





On our last evening in Granada, we chipped in for a delicious vegetarian paella cooked by Laney (center), and enjoyed multi-lingual conversation with other hostel guests. After I went to bed, Ian went out dancing (clubs here open at midnight). (We did see a flamenco show one night, but my camera batteries died.)





Fields of spring growth and red clay on the bus ride back to Madrid.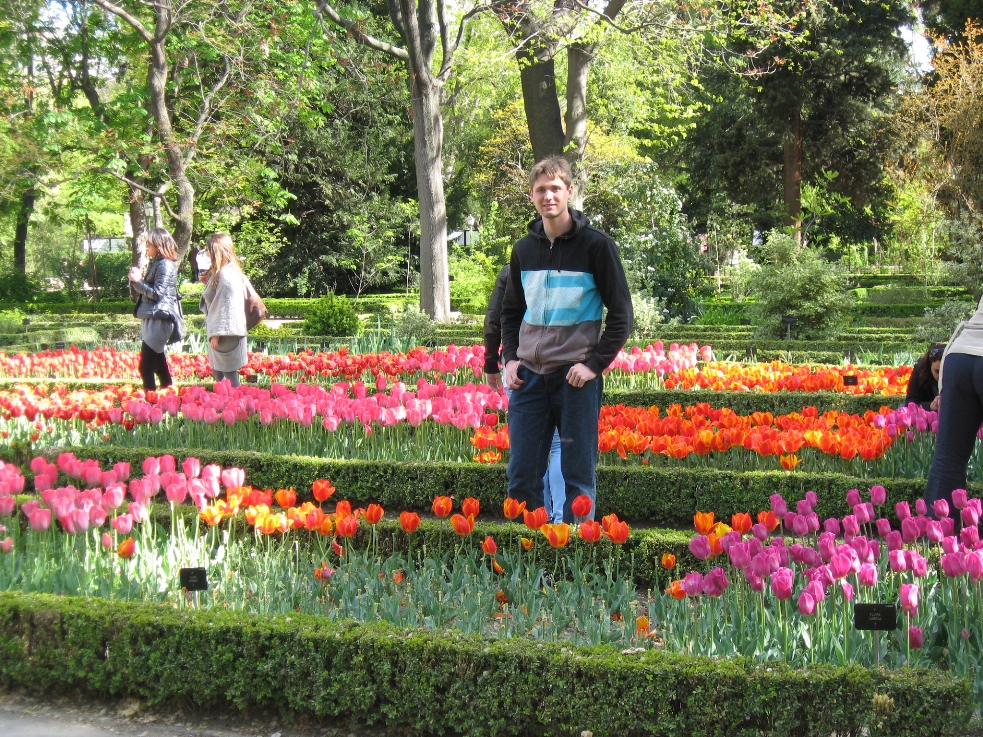 Tulip displays in Madrid's Royal Botanical Gardens.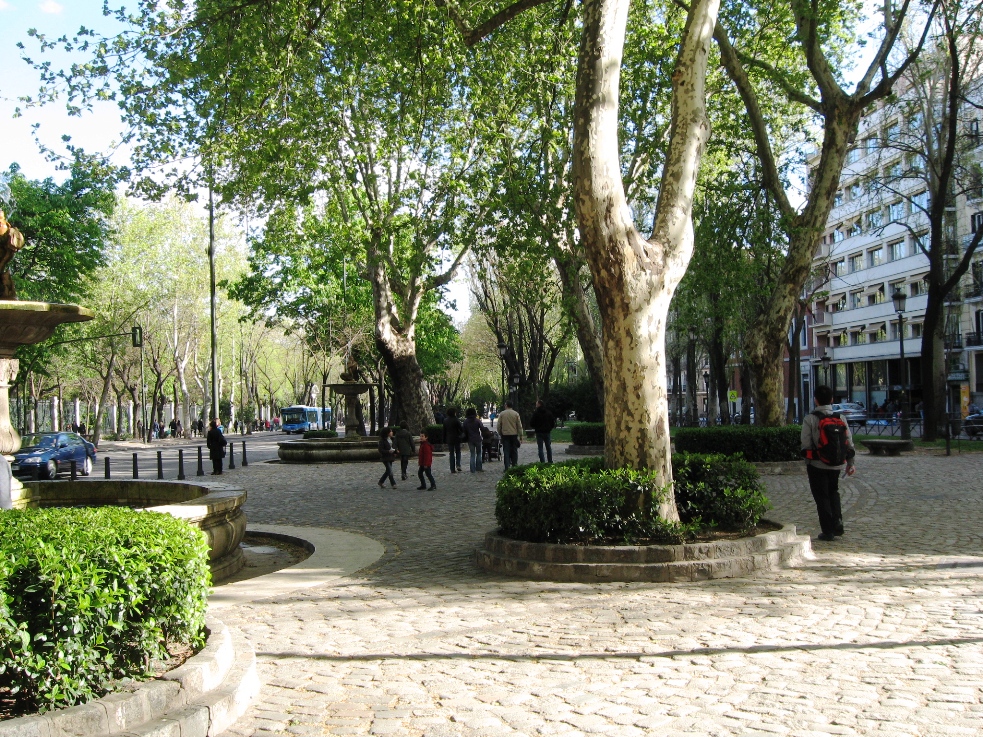 Wide pedestrian pathway gardens line each side of the Prado boulevard.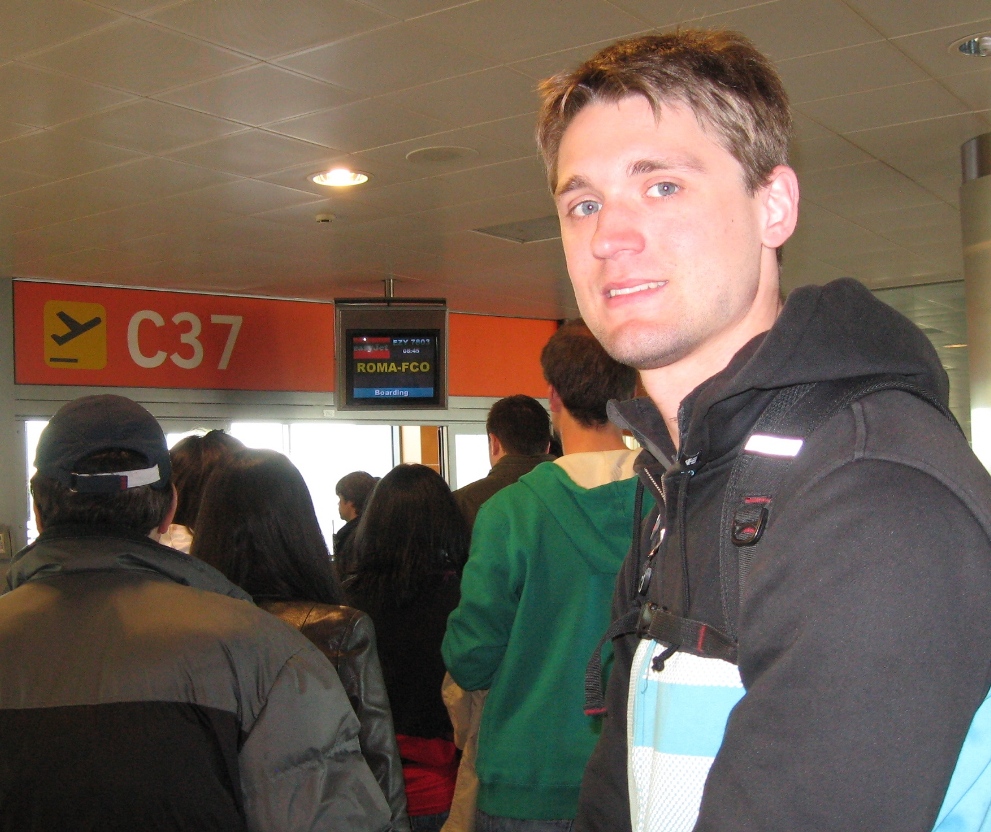 Monday morning Ian boarded a plane to Rome to meet his University of Oregon group and commence his spring quarter studies. I then boarded a plane for Seattle. After twenty minutes in the air, the pilot announced that we had to turn back due to technical problems. United Airlines put us up in a nice hotel, fed us well, and got us home the next day. Along the way I met some nice people.