Grant and Karen's Fall 2011 National Park Tour
Celebrating Karen's "semi-retirement"
4 weeks, 9 National Parks and Monuments, 10 states, and 6000 miles of back roads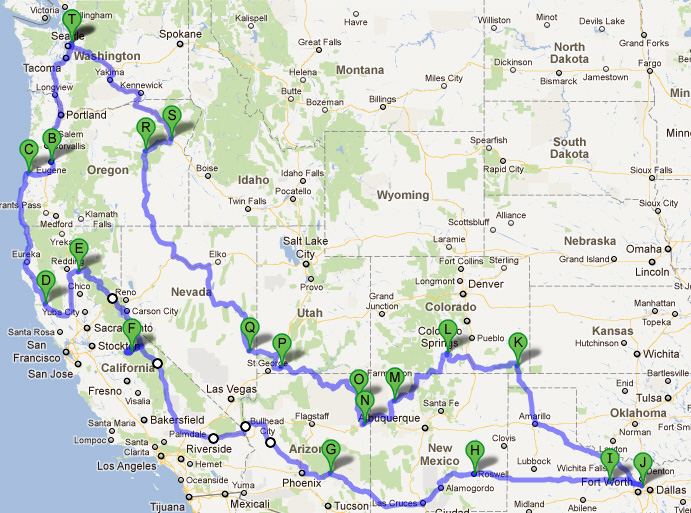 (Ignore the markers - not all of our destinations are marked, and some markers are just waypoints to force Google Maps to follow our actual route.)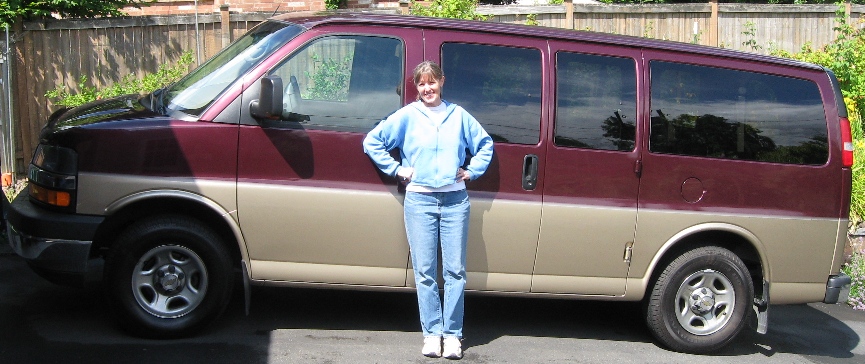 August 2011: Karen buys a used Chevy Express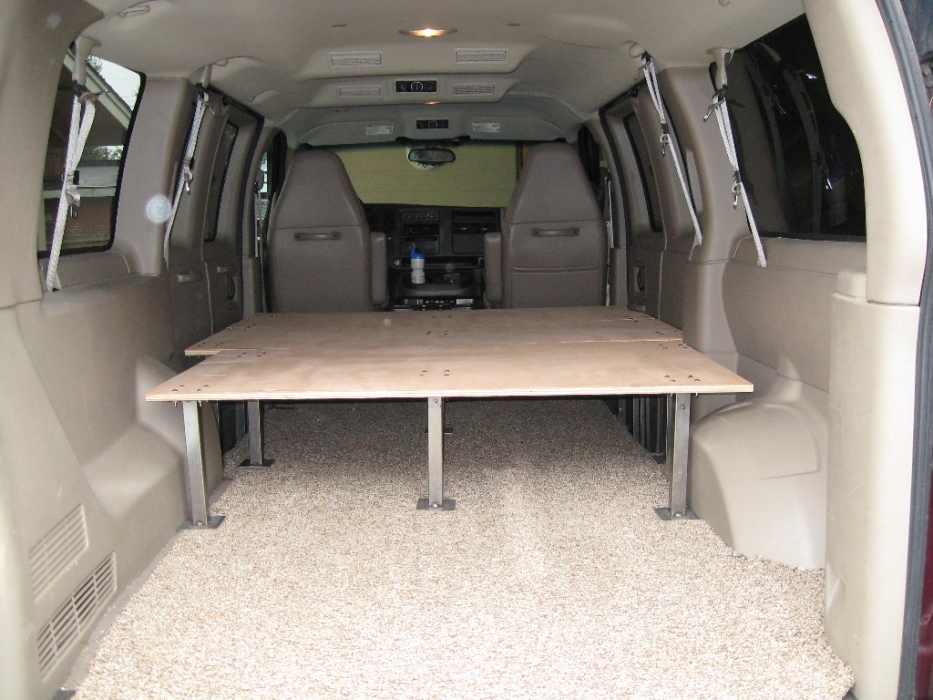 Grant, Karen, and Karen's dad design and build a 3-piece sleeping platform with room for gear underneath. The sections stack for storage between trips.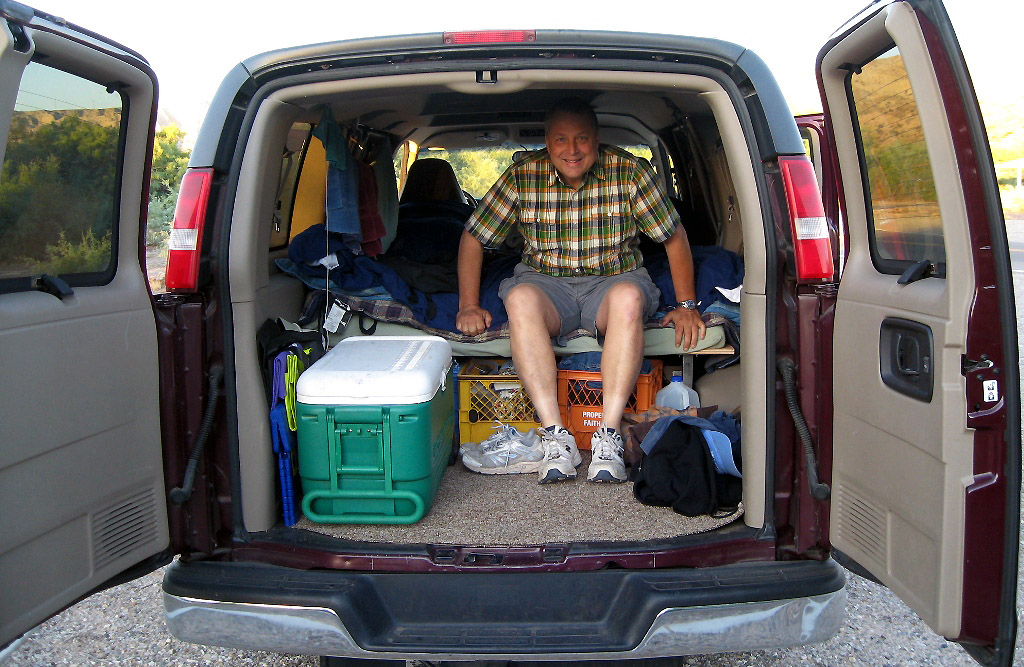 Loaded up with mattress, quilts, camping gear, and cooler. Roomy and comfy!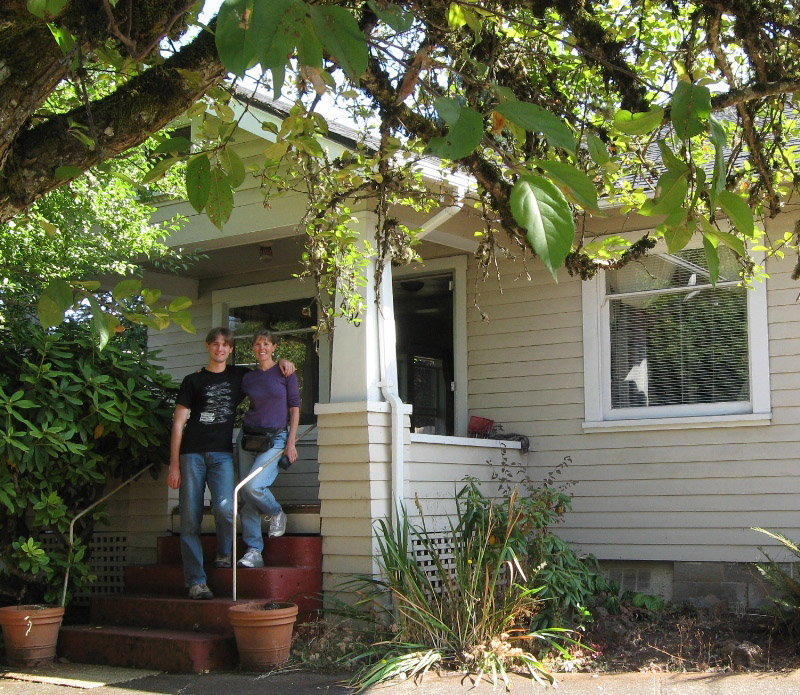 September 20. First stop Eugene with a one-way U-Haul trailer containing Ian's stuff.
He moved into this great house with two housemates and is starting his Master's in Architecture at the University of Oregon.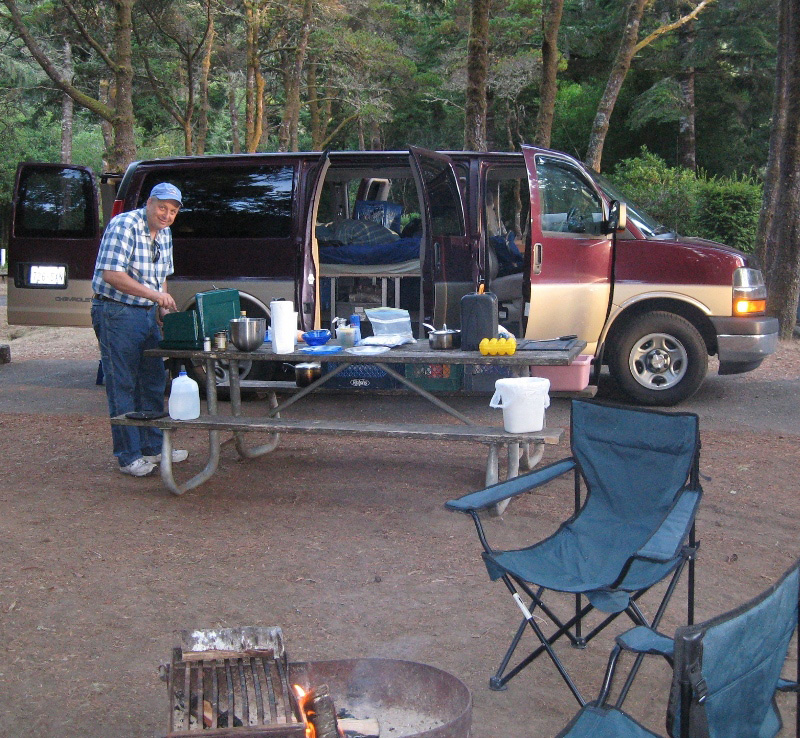 We said goodbye to the interstate, drove one hour to the Oregon coast, and stayed in this lovely campground at Umpqua Lighthouse State Park in Reedsport.
You can rent adorable cabins or yurts here as well!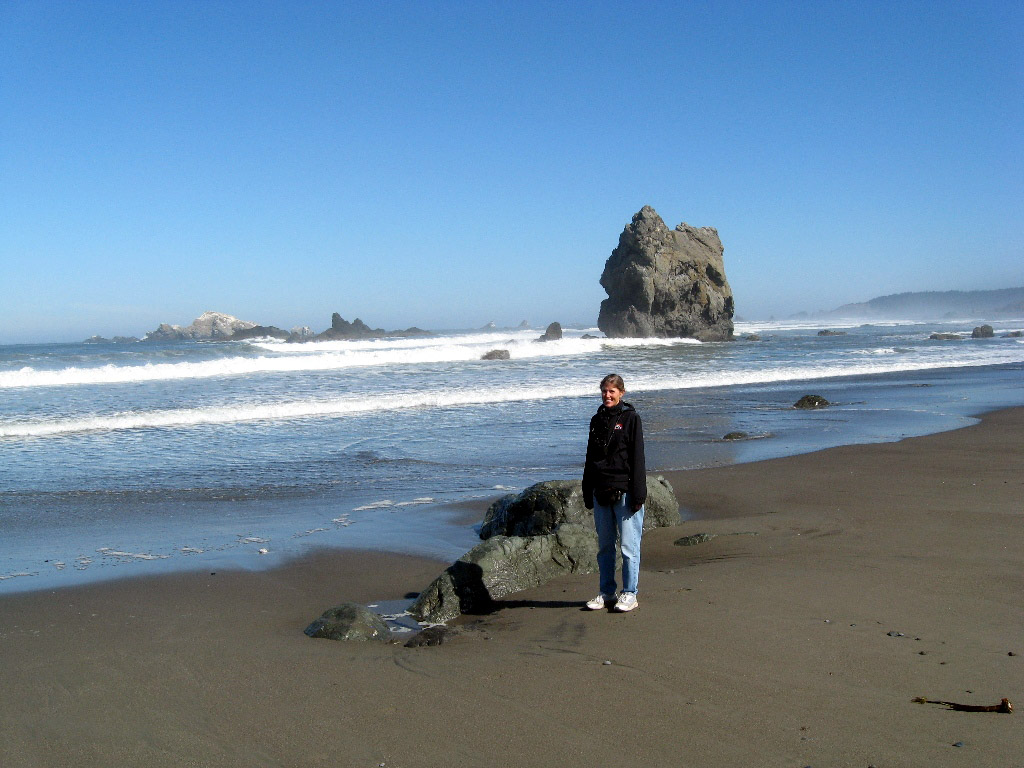 At Cape Blanco State Park we had this beautiful beach all to ourselves.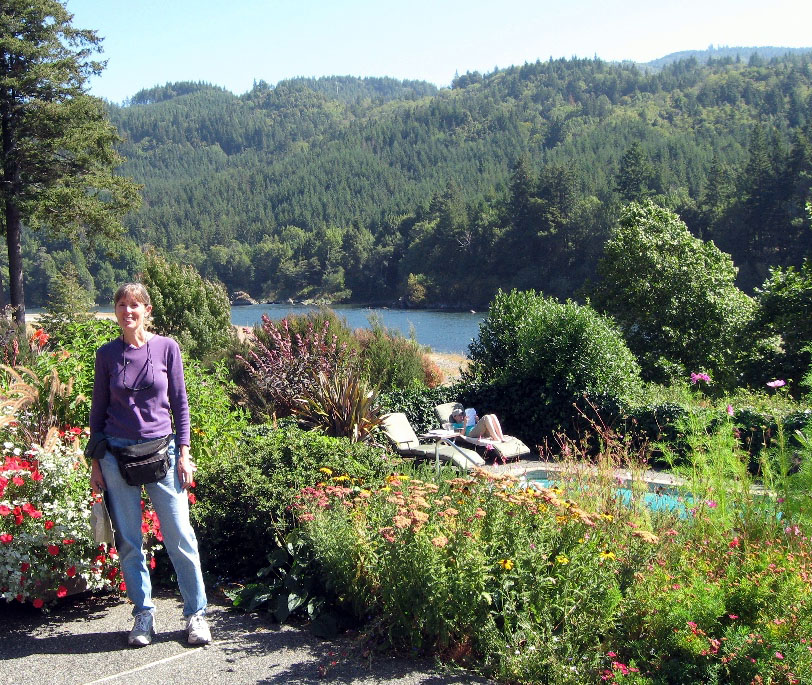 We took a short side trip to ogle the grounds at the $300 a night Tu Tu Tun Lodge on the Rogue River.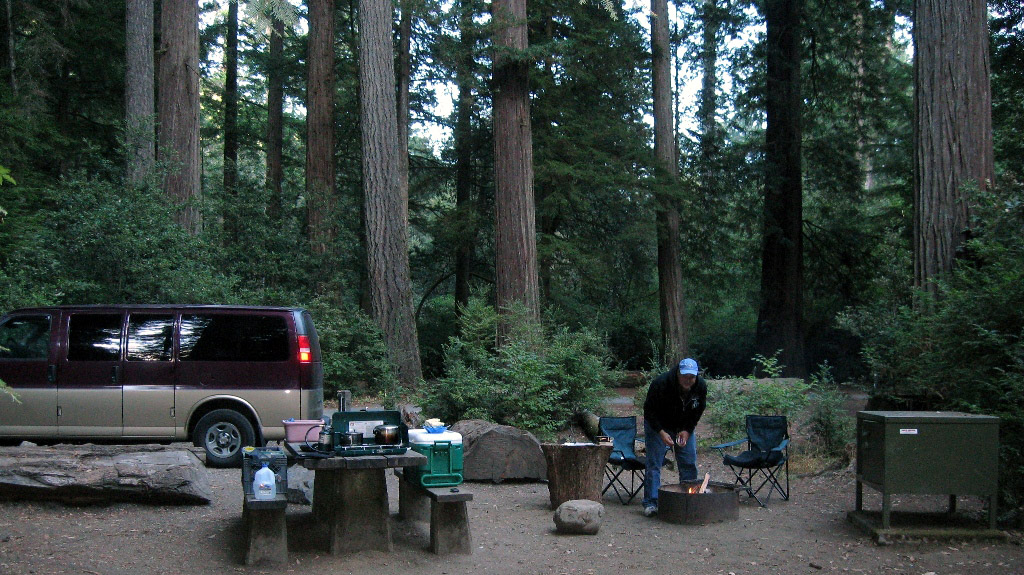 After a beautiful drive down the coast of southern Oregon and northern California, we spent the night in Jedediah Smith State Park in Redwoods National Park.
Due to budget woes, California State Parks now charge $35 a night - but you'd never get this view in a hotel room!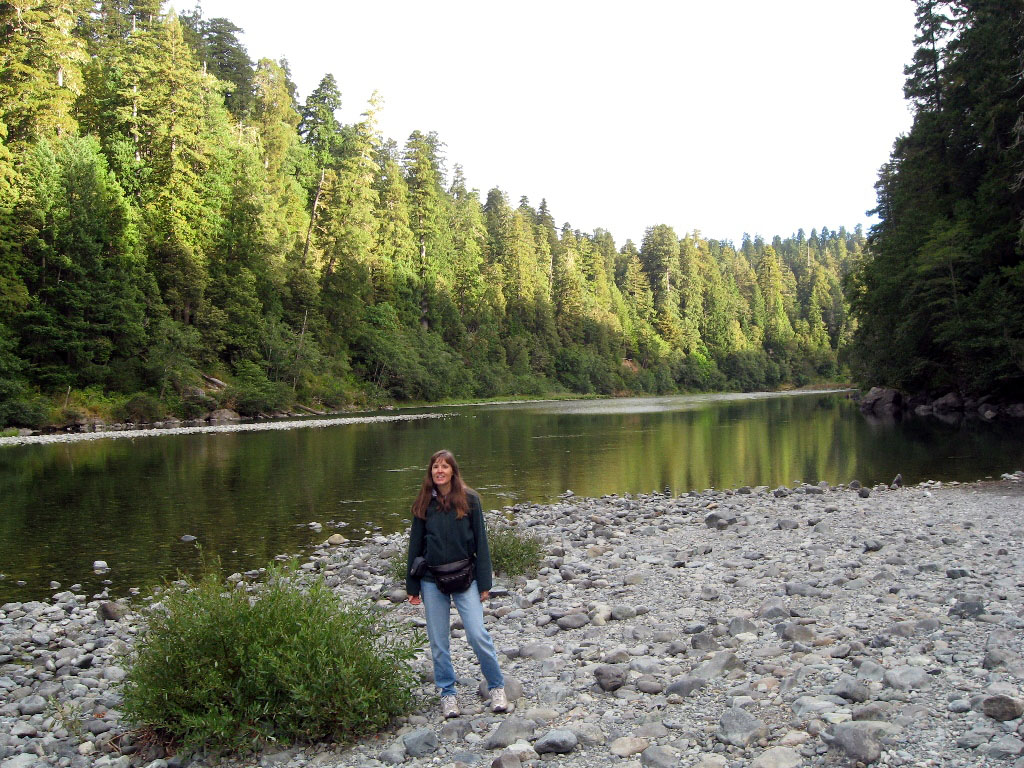 The Smith River flows past the campground, and there's a nice river trail.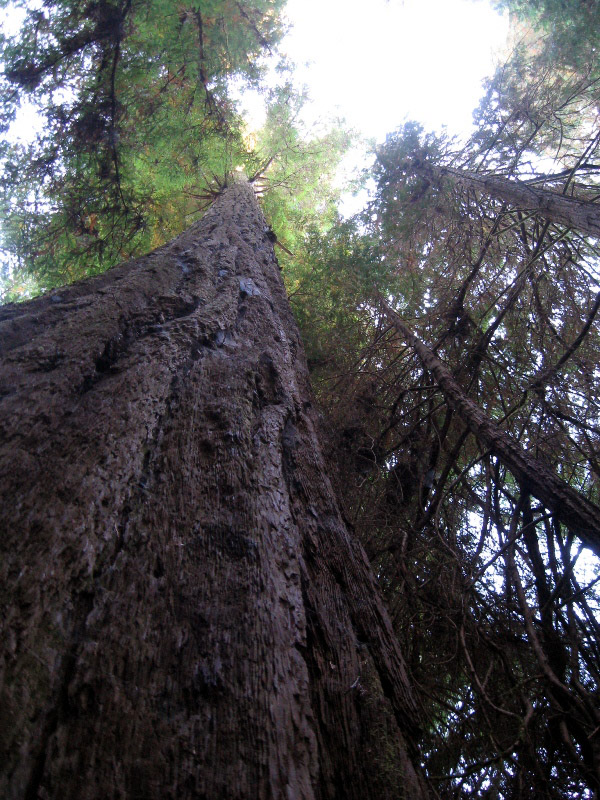 The coast redwoods (Sequoia sempervirens) are the tallest trees in the world.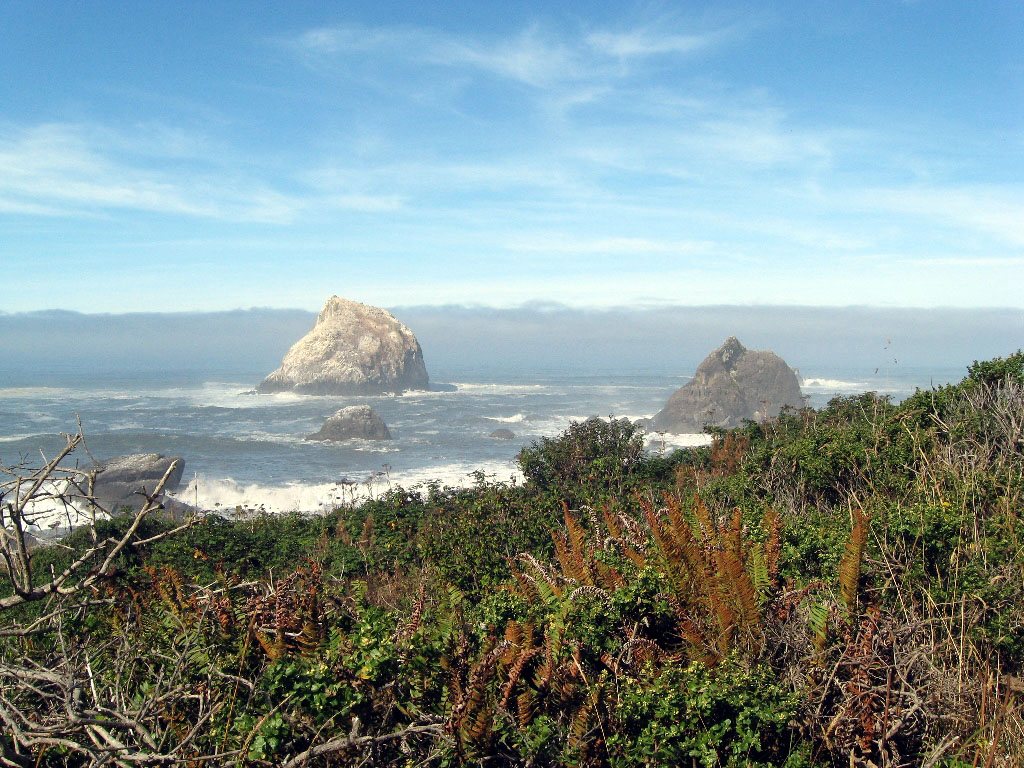 More gorgeous coastal scenery on the short, and highly recommended, Yurok Loop trail in Redwoods National Park.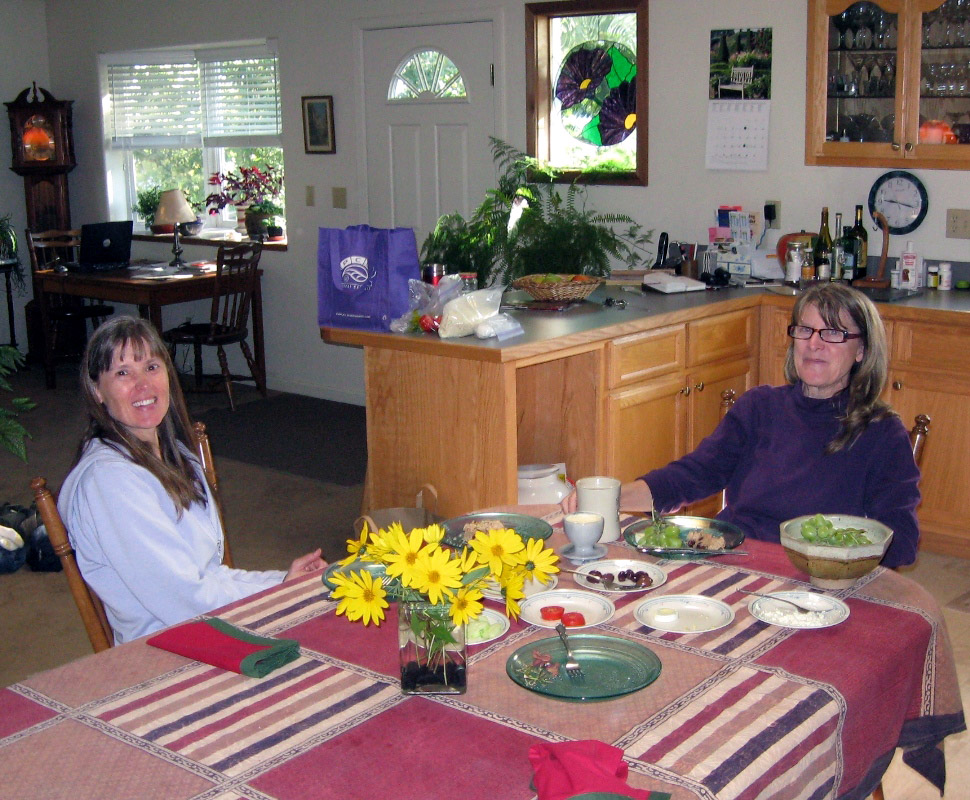 A great visit with Karen's Peace Corps friend, Louanne, in Willits, California.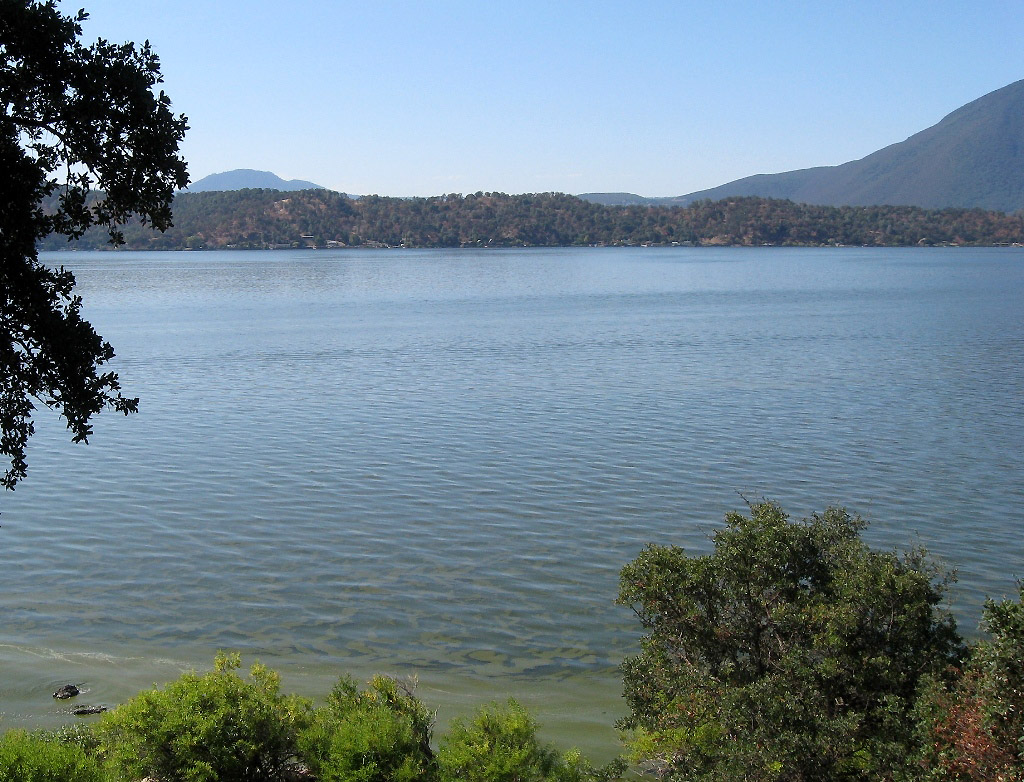 Clear Lake, on scenic Hiway 20 west of Willits.




Thank you to Colusa, California for providing this nice park for our picnic lunch of tortilla wraps. Most towns have a park, and we often used them for our lunch stops.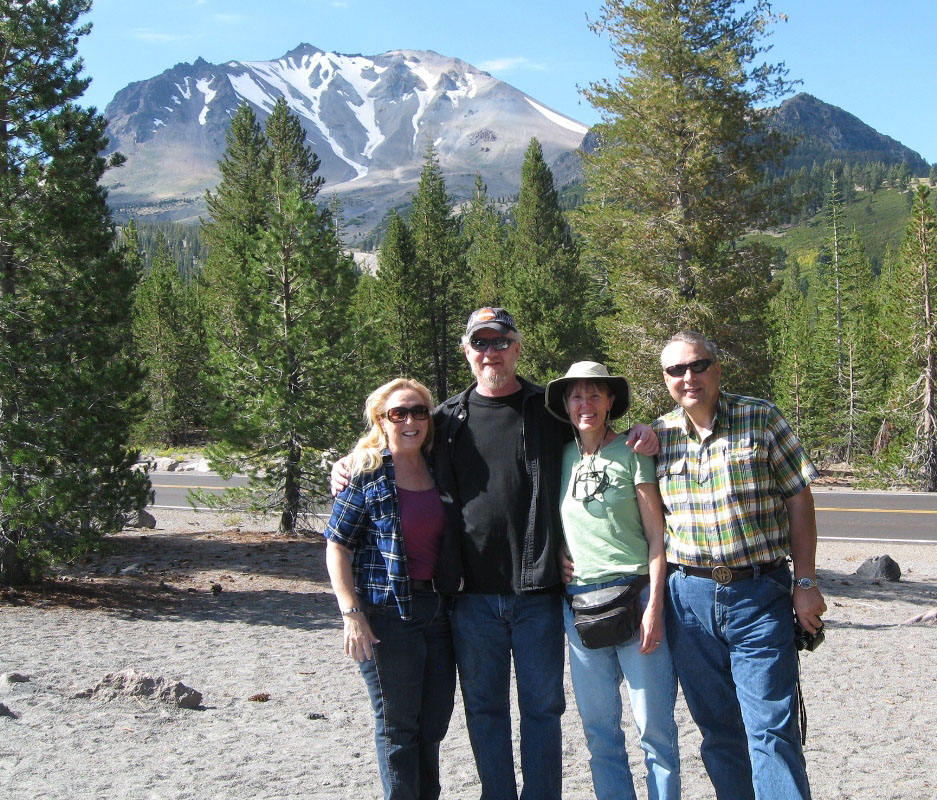 Some beautiful back roads took us to visit Karen's cousin Michael and his wife Linda in Shingletown, California, near Mt. Lassen Volcanic National Park.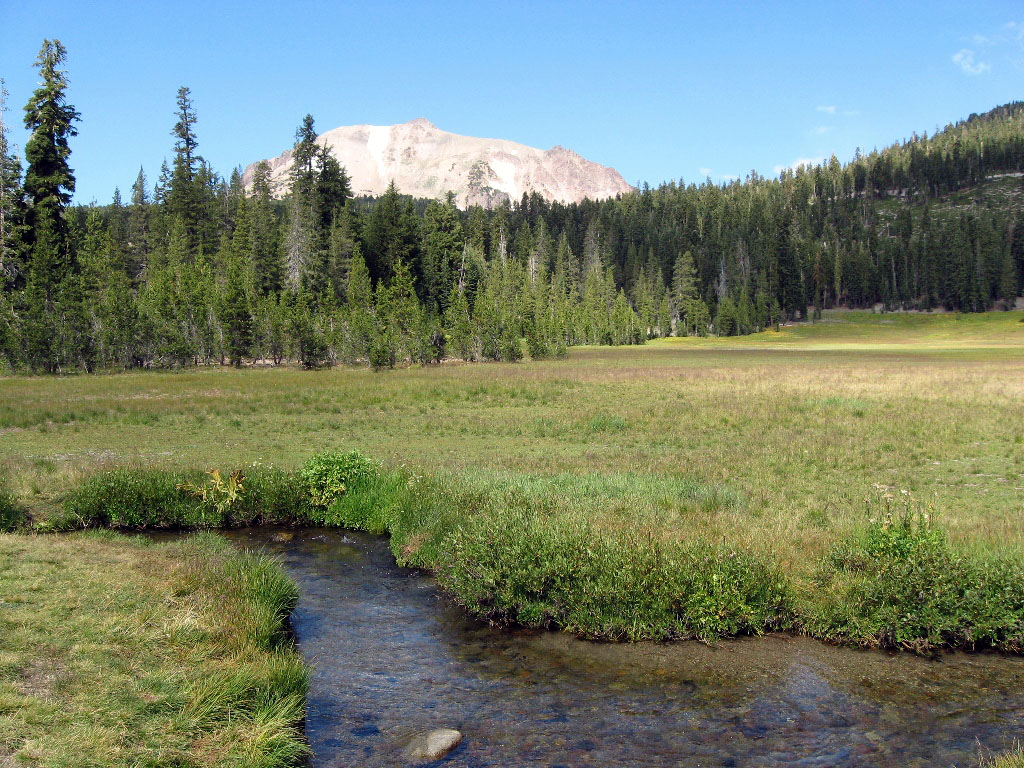 This volcanically-active park is lightly visited and boasts a variety of landscapes, including sweeping meadows,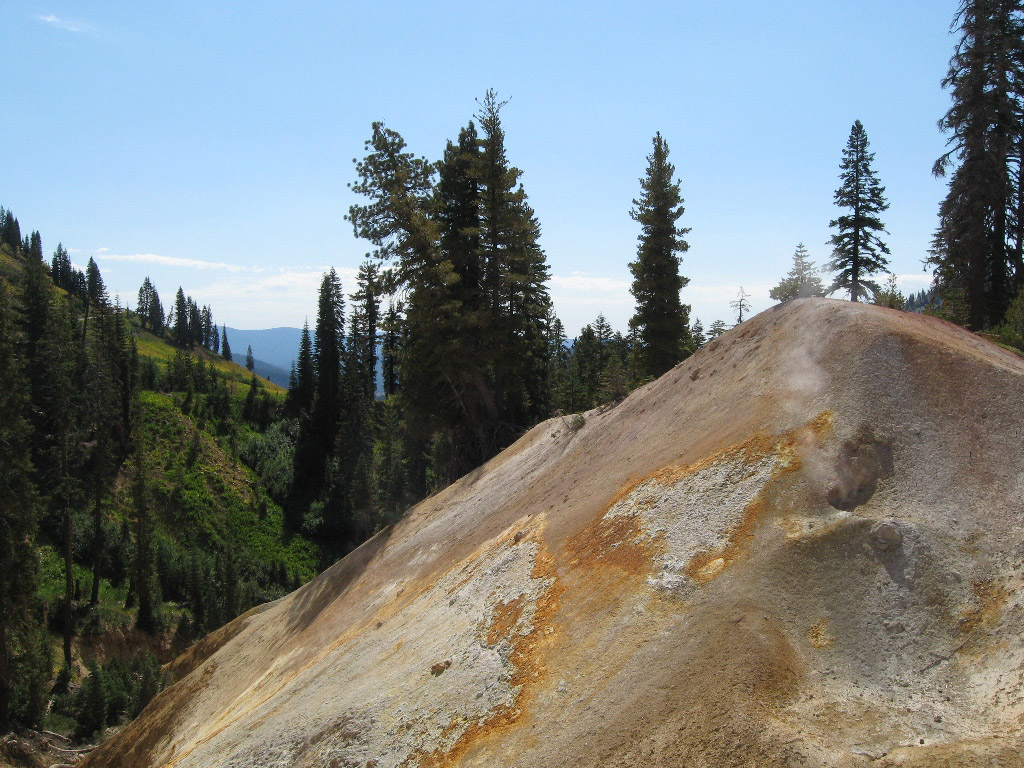 fumaroles and boiling mud,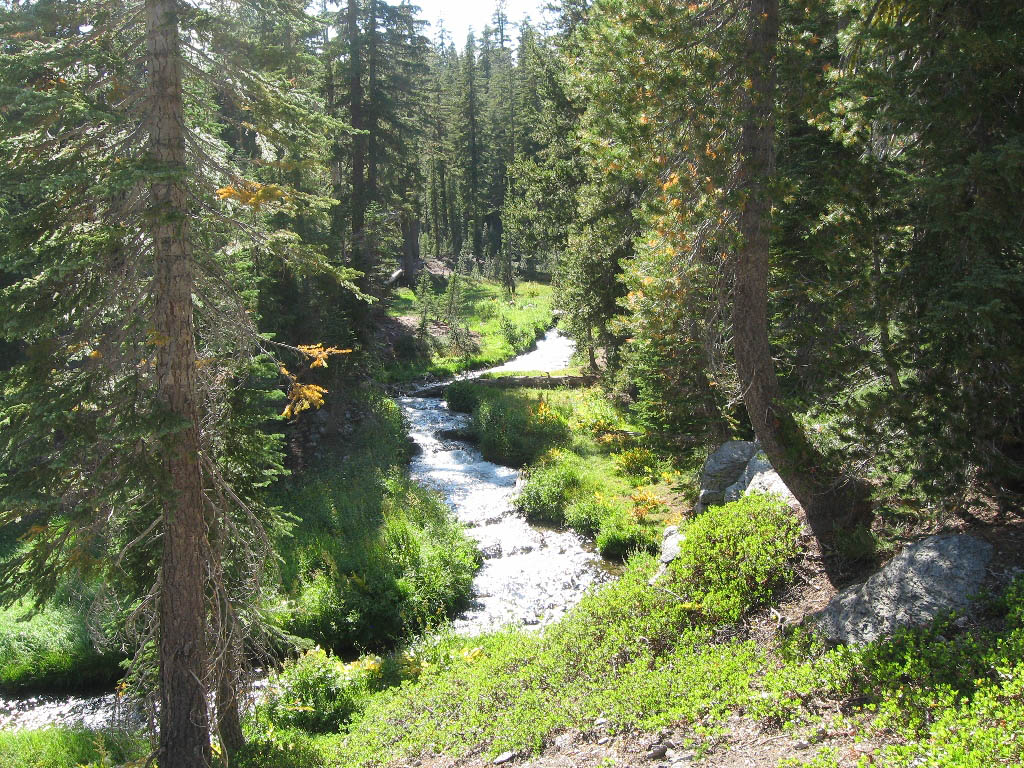 hiking trails, forests, rivers, and ponds.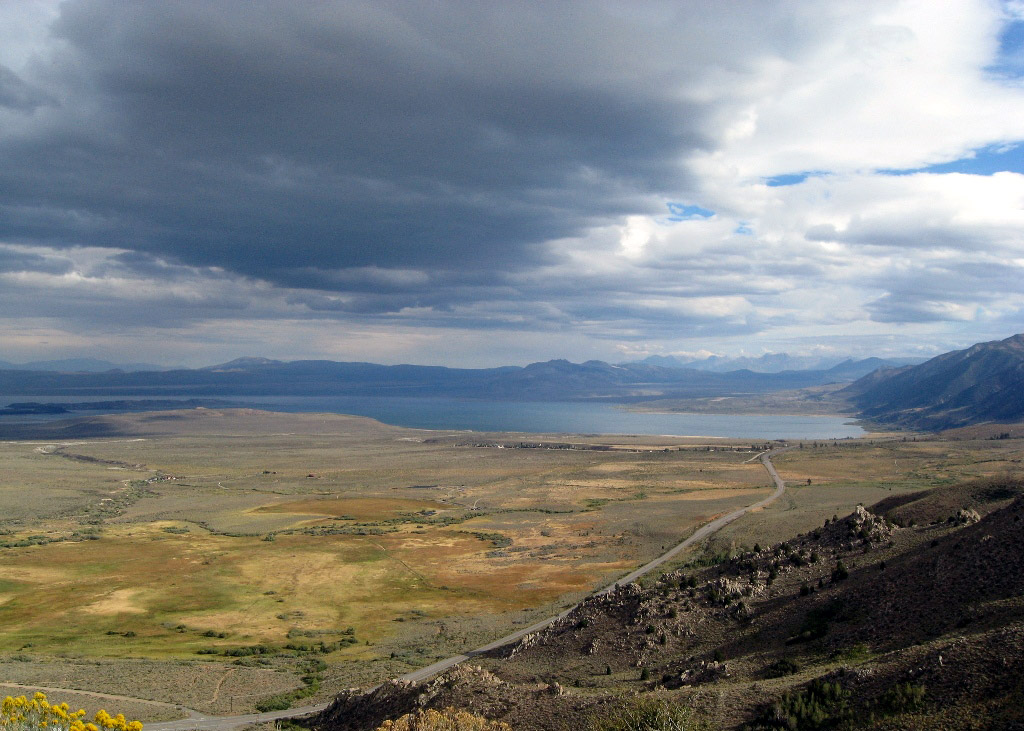 From Shingletown we drove peaceful, scenic Hiway 89 to Mono Lake.
The lake has no outlet, so the water is very salty and alkaline. Many birds nest here, feeding on the abundant brine shrimp.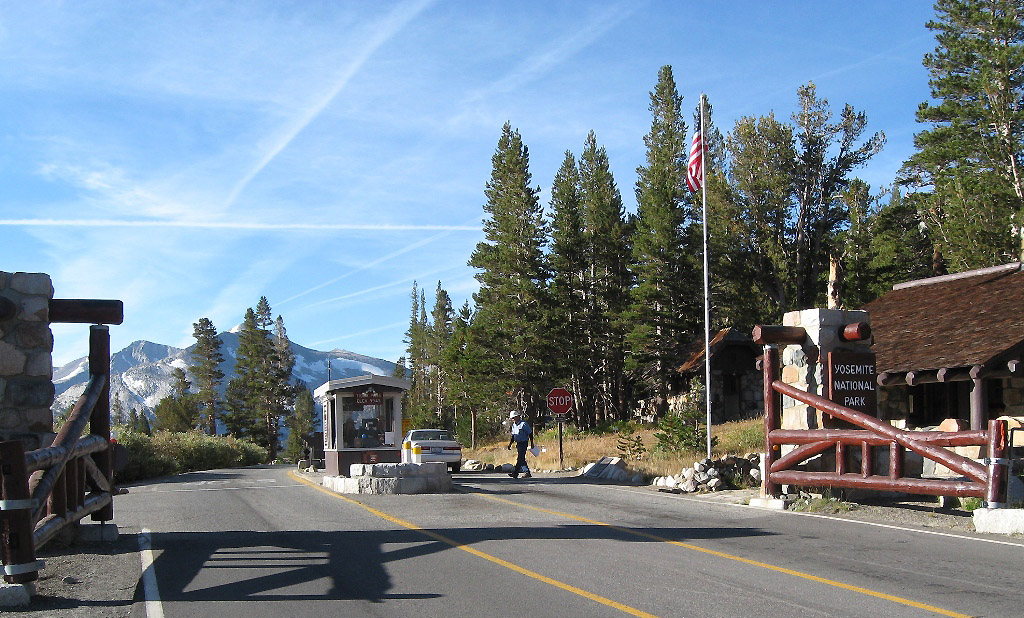 From Mono Lake we climbed up to the east entrance of Yosemite National Park at 9945 ft. Tioga Pass. Lesson learned: never arrive at a new campground after dark. You may get kicked out of two campsites that you didn't realize were reserved (one of them when you're halfway through cooking dinner and you're so hungry you're practically weeping).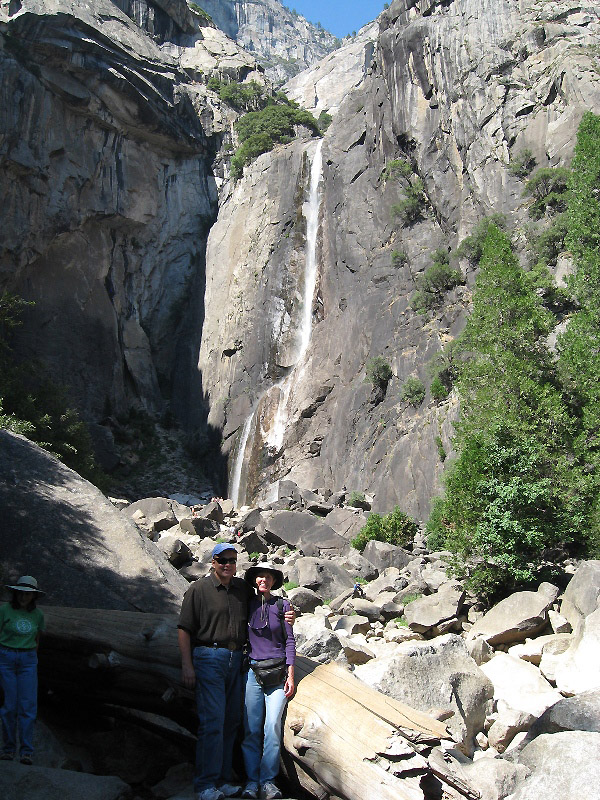 Lower Yosemite Falls. Not much water in late September, but still beautiful.



At long last I got to see iconic Half Dome in person. Photos do not do it justice!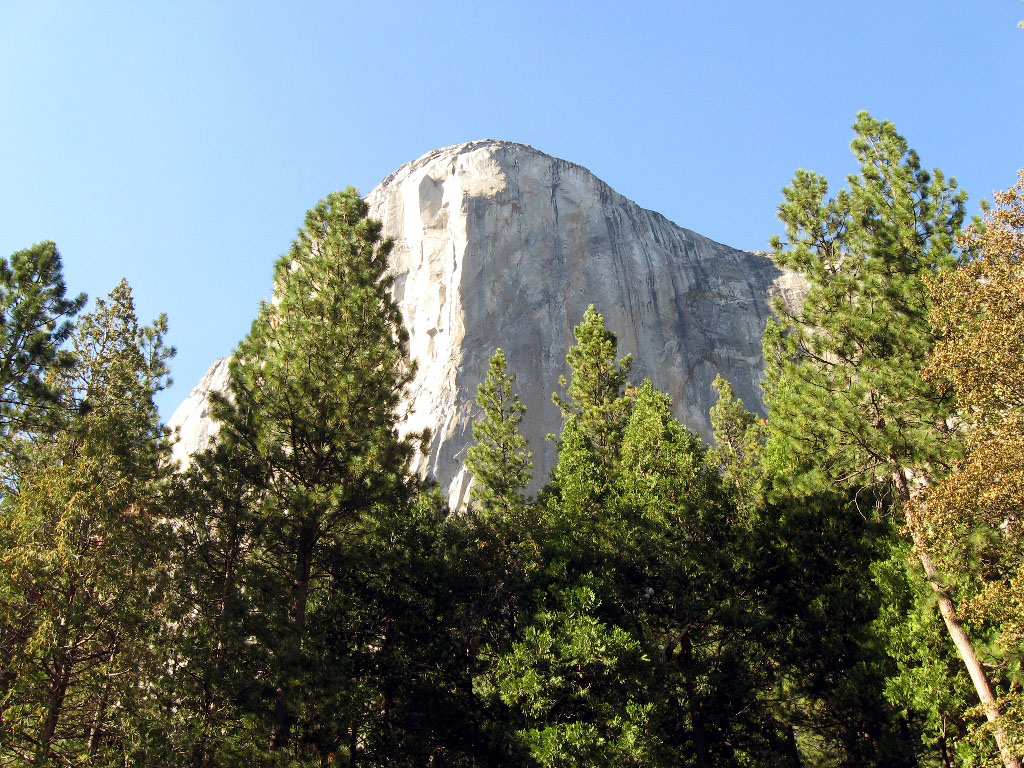 Icon #2: El Capitan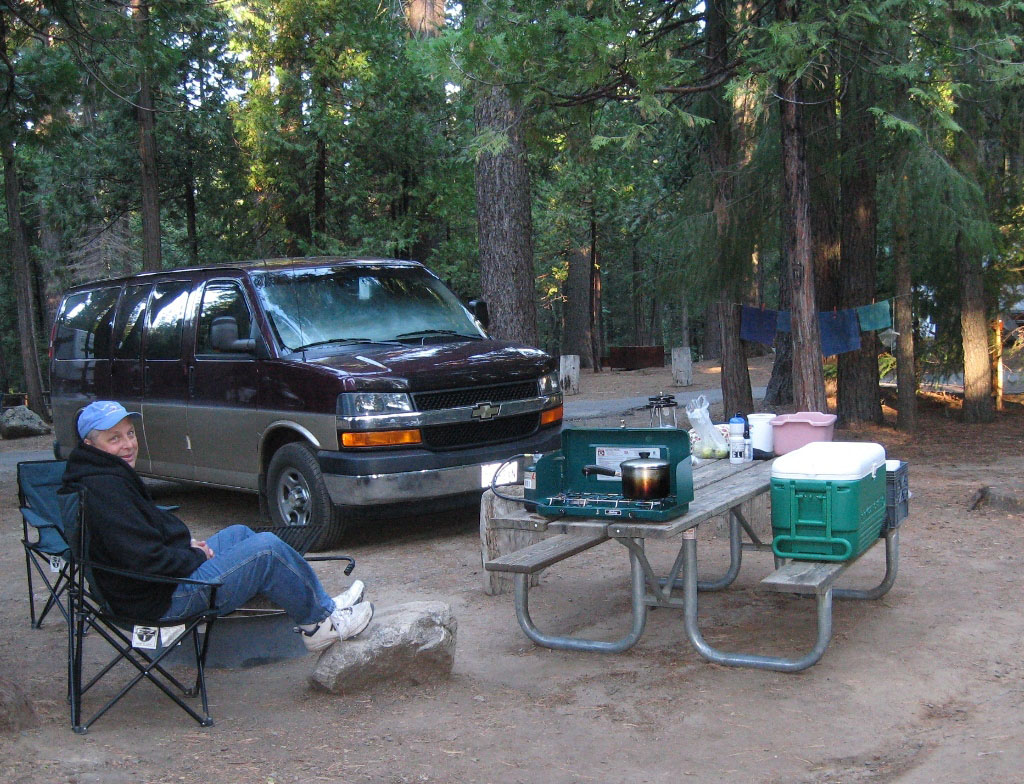 Yosemite is a very large park. Our campground (Hodgdon Meadow) was an hour's drive from the main sites in Yosemite Valley. If it's your first visit to the park, stay in the Valley (you may need to make reservations six months ahead). If you're camping, stay in one of the "Pines" campgrounds.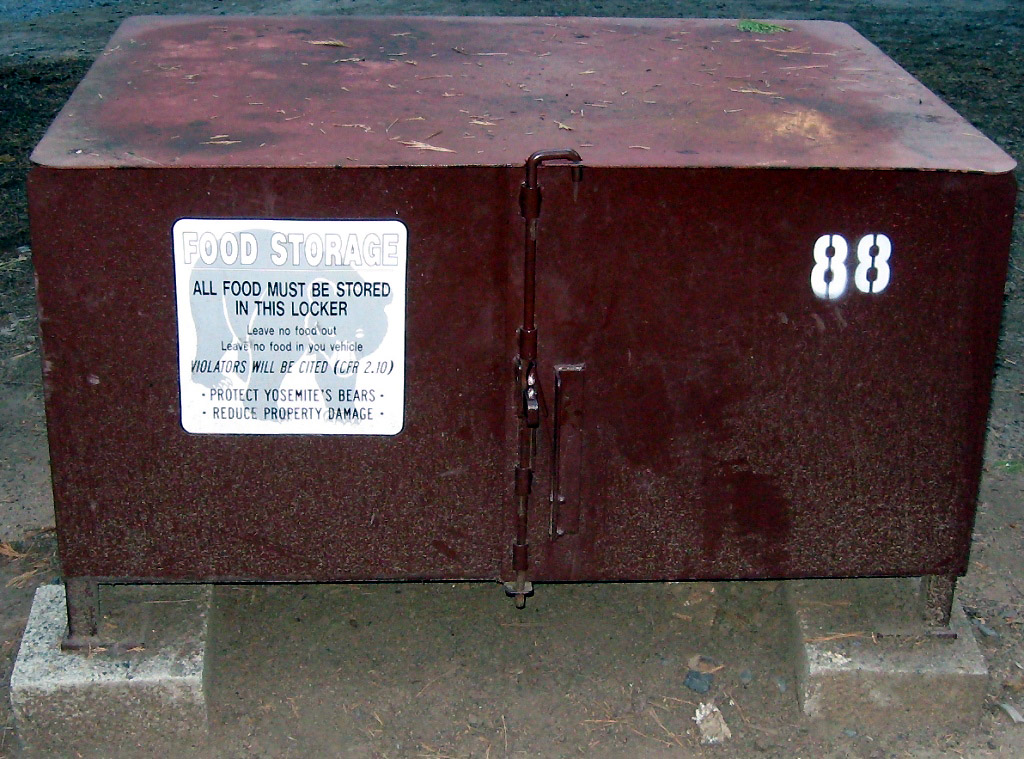 Each campsite has its own bear box to protect food and cosmetics.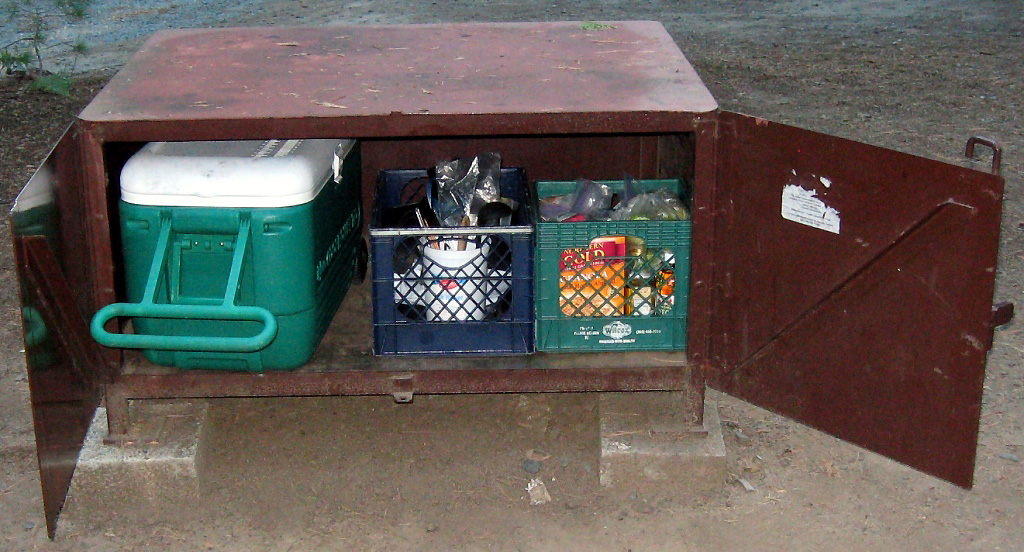 Bears do a lot of damage to vehicles containing food when people don't use the boxes!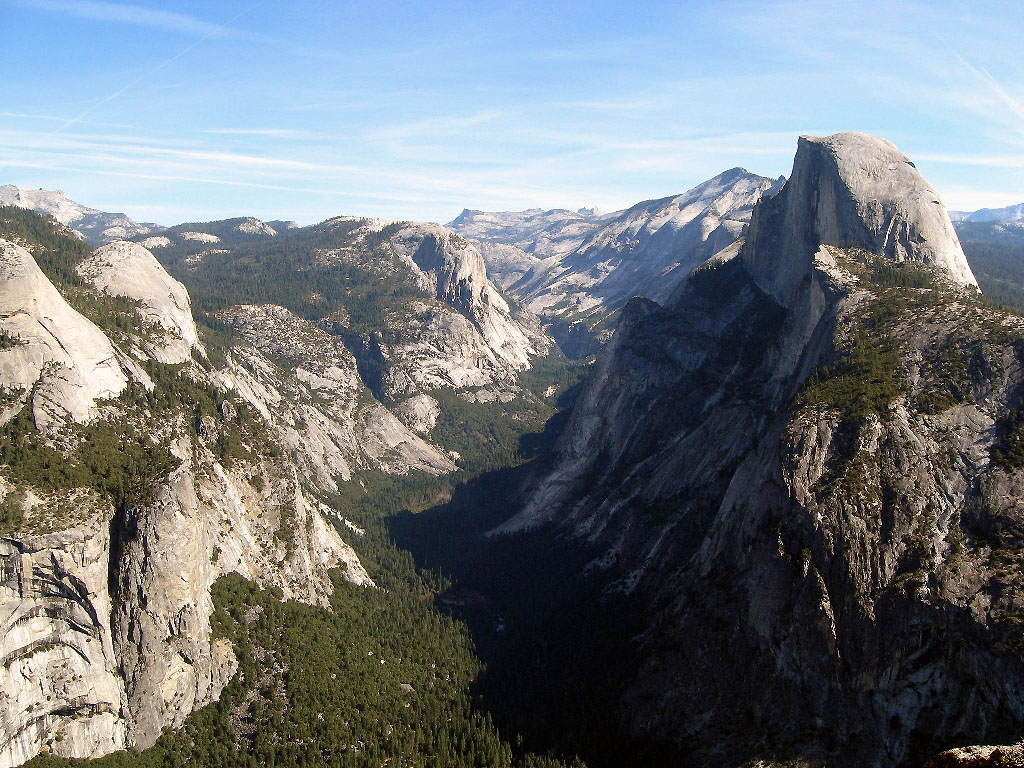 Our second day in Yosemite we drove up to Glacier Point for this stunning view down into Yosemite Valley.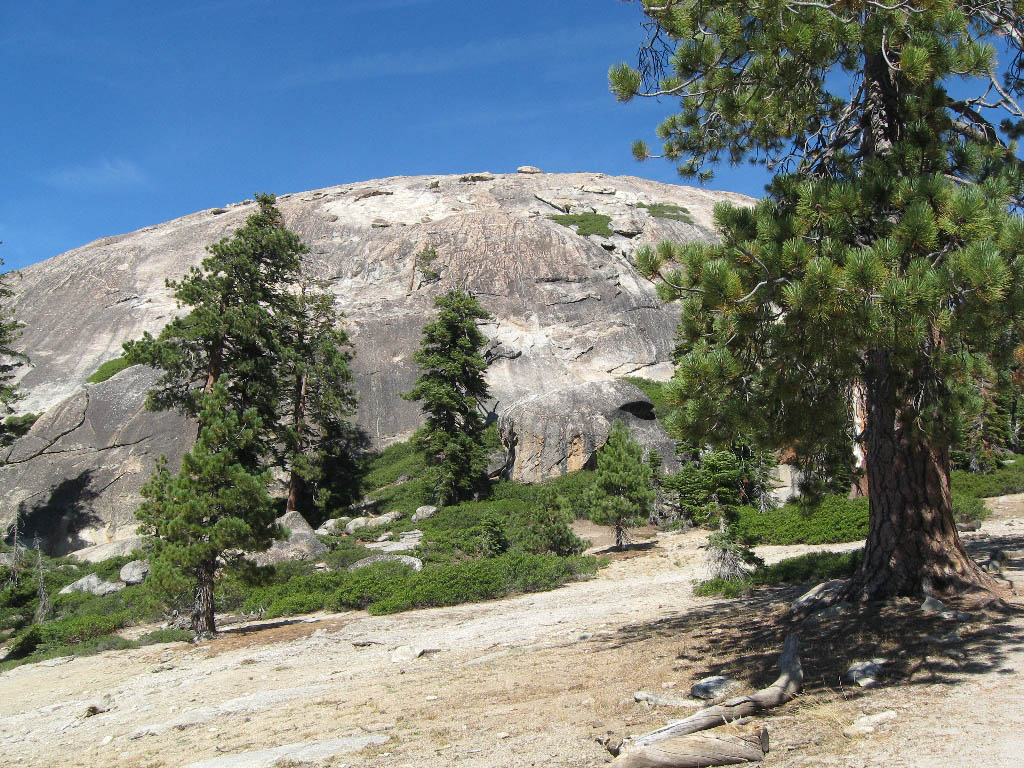 Then we hiked 2 miles round trip to Sentinel Dome, where a woman just ahead of us had a bear run across the trail just a few feet in front of her!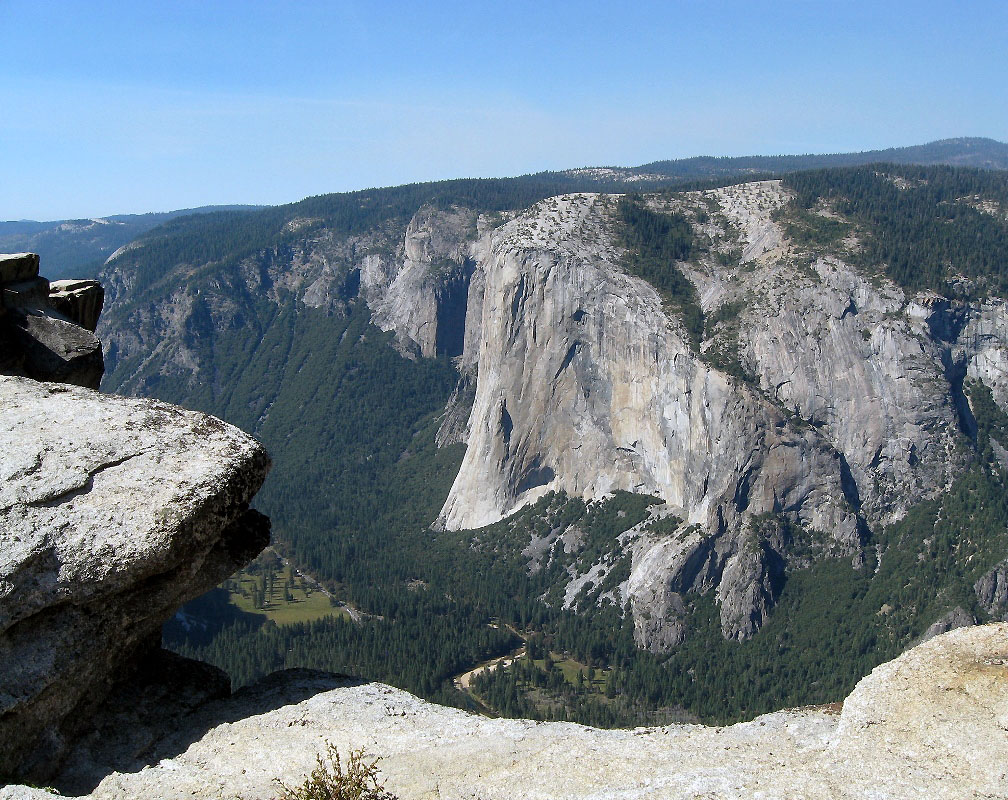 El Capitan and Yosemite Valley from Taft Point, another 2-mile hike.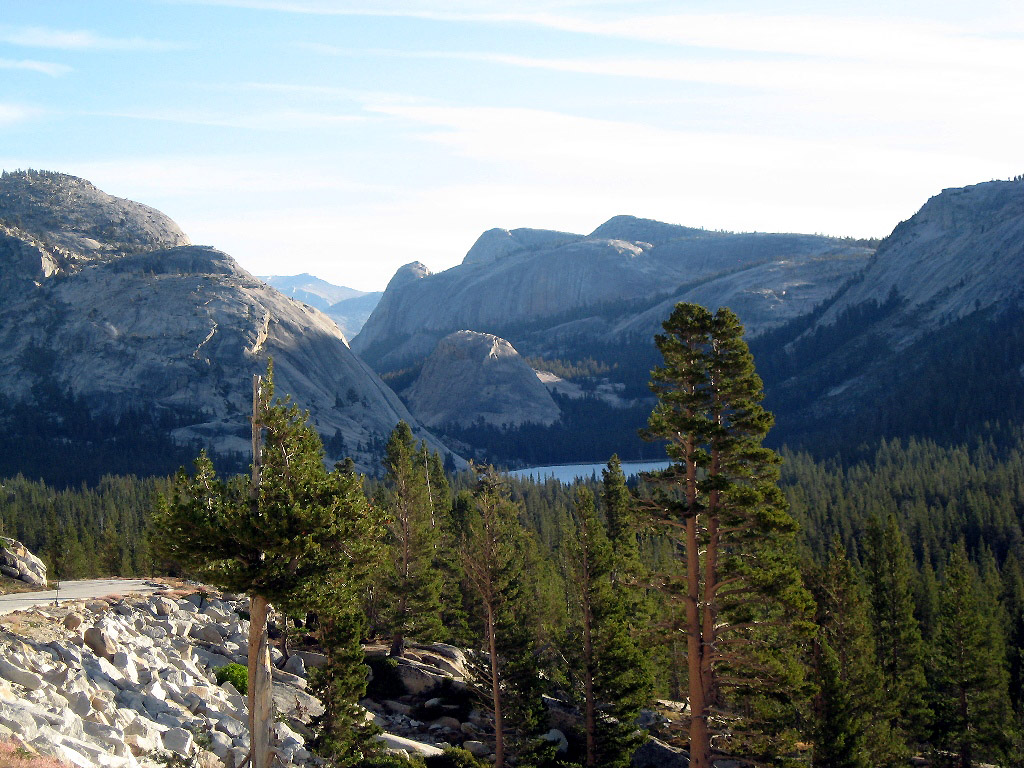 Upper Yosemite is high alpine country, with lakes, glacier-polished granite knobs, and sweeping views.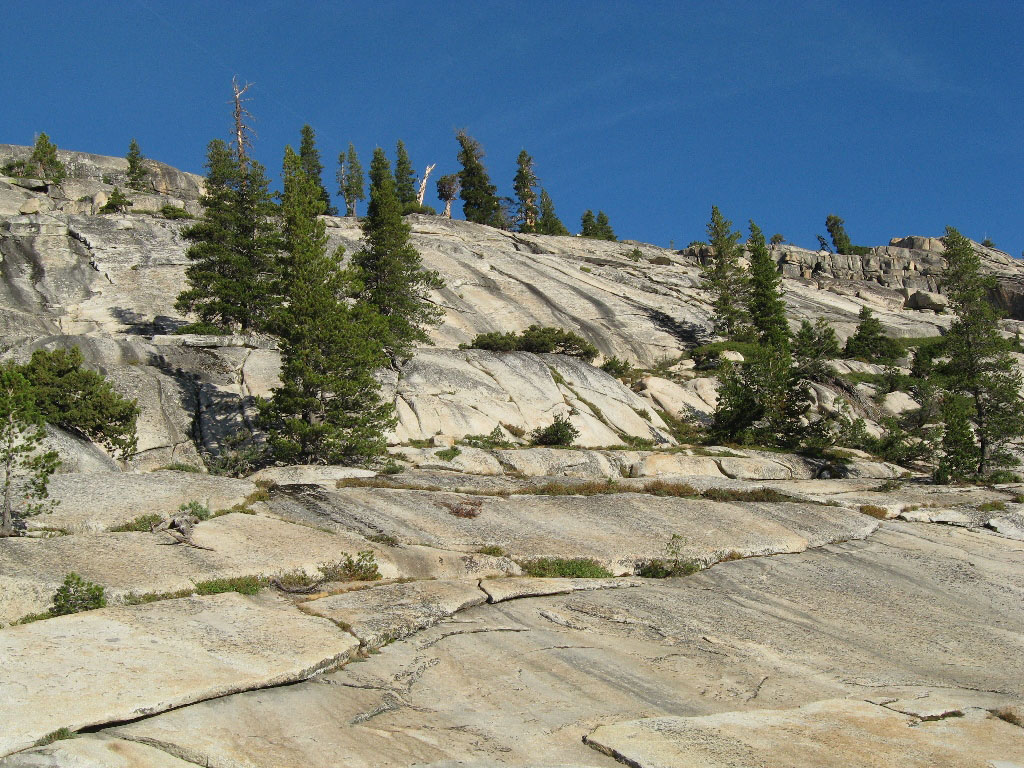 The less-visited upper part of the park attracts hikers and the crowd-averse.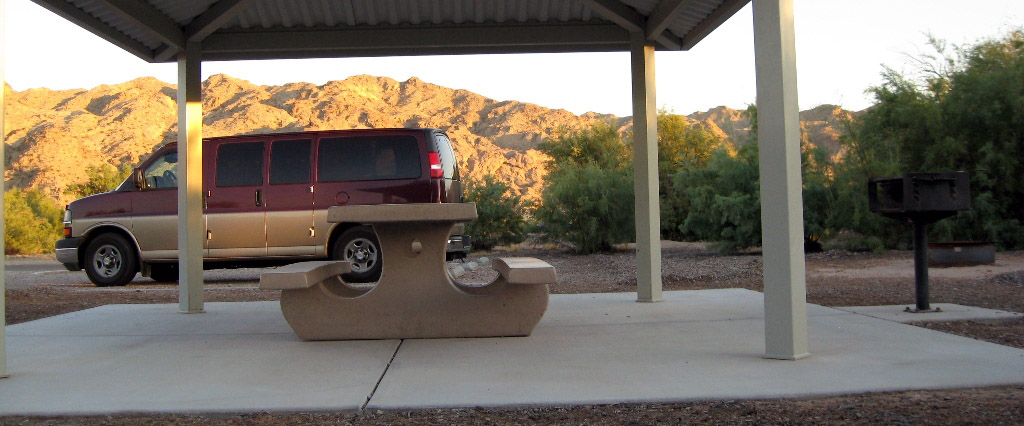 We drove Hiway 395 south, alternately pretty and dreary, and spent the night in brand new, nearly empty Big Bend State Recreation Area on the Colorado River near Laughlin Nevada.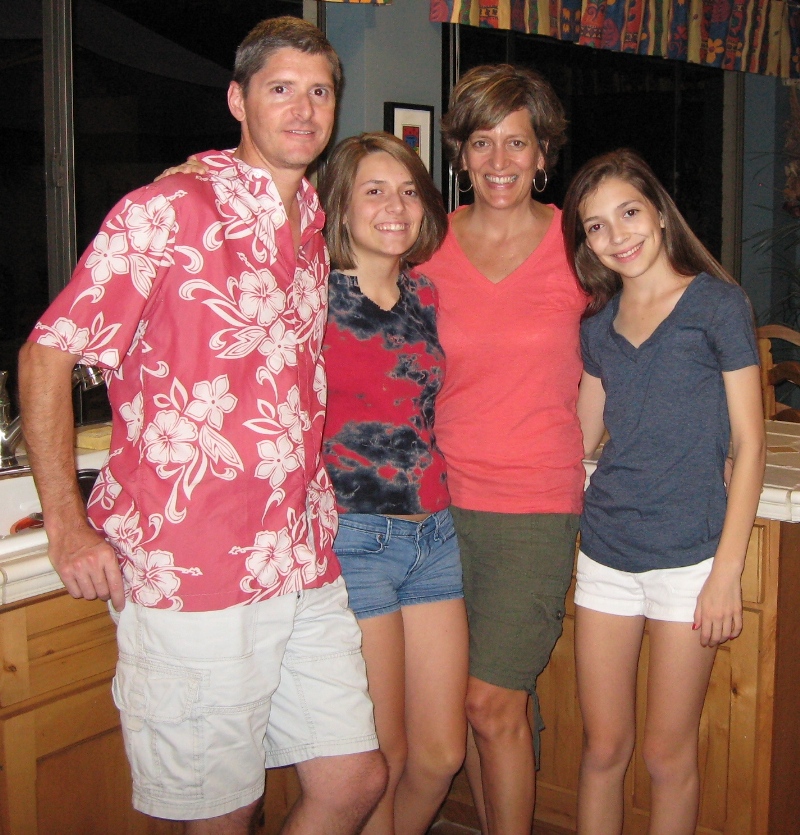 Karen's brother Mark, his wife, Denise, and their daughters Emma (16), and Casey (14) live in Scottsdale, Arizona.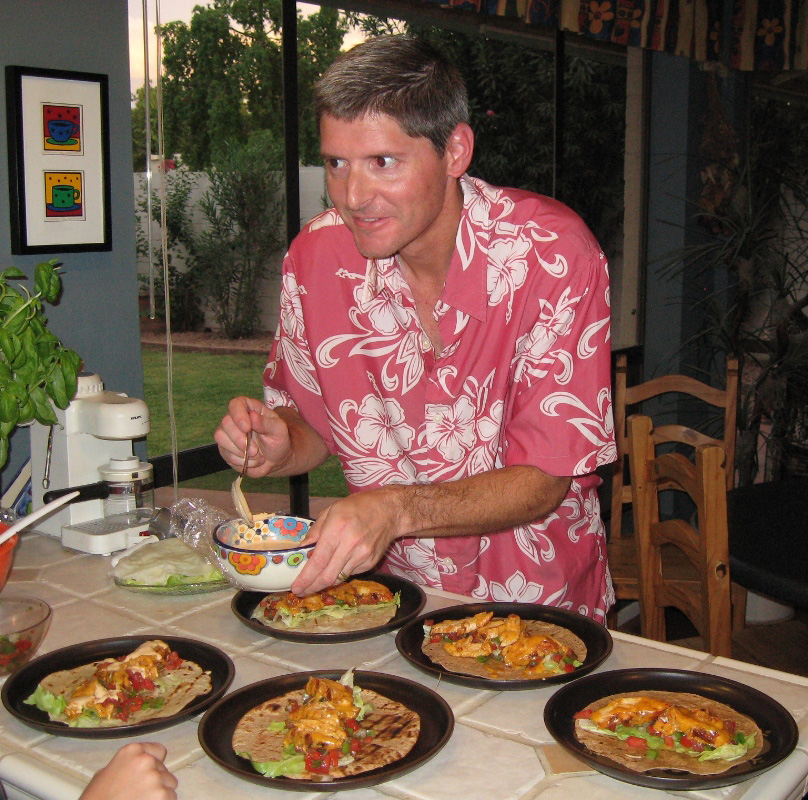 Mark making his prize-winning chicken tacos - they're delicious!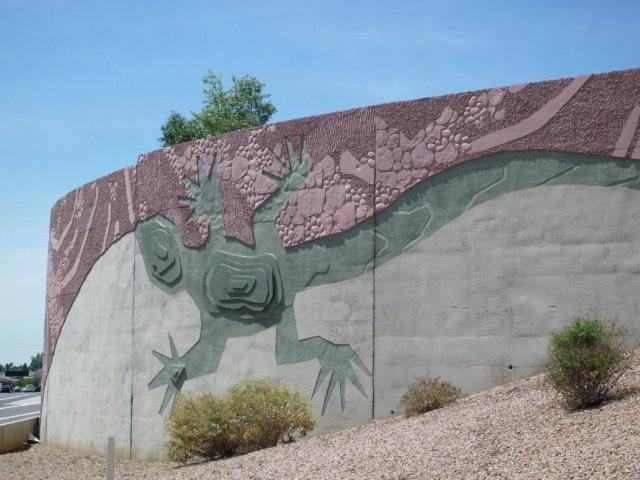 Scottsdale has incredible freeway art!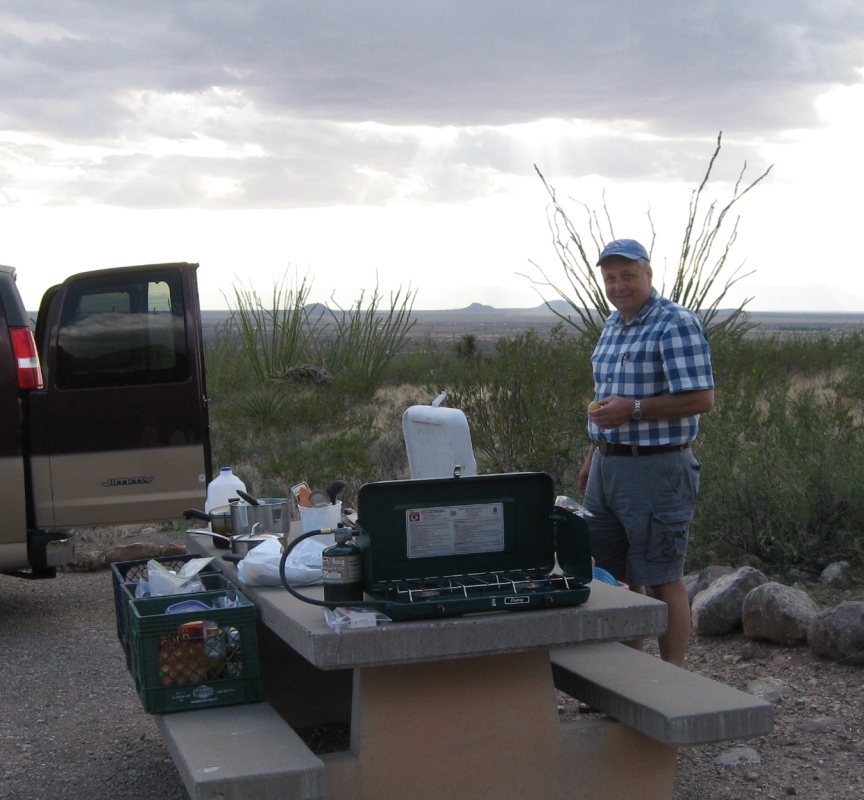 After a couple of days in Scottsdale, including a day trip to visit a friend in Prescott, we continued east via back roads to beautiful Oliver Lee State Park near Alamogordo, New Mexico.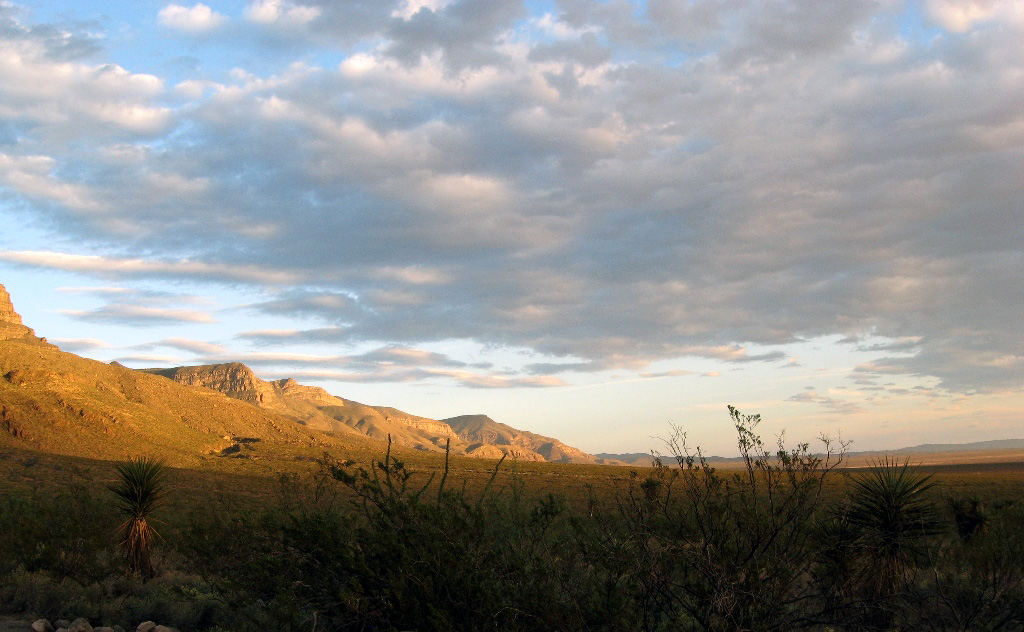 The campground sits on a slope overlooking desert and mesas, and we were treated to a glowing sunset and after-dark heat lightning in the distance.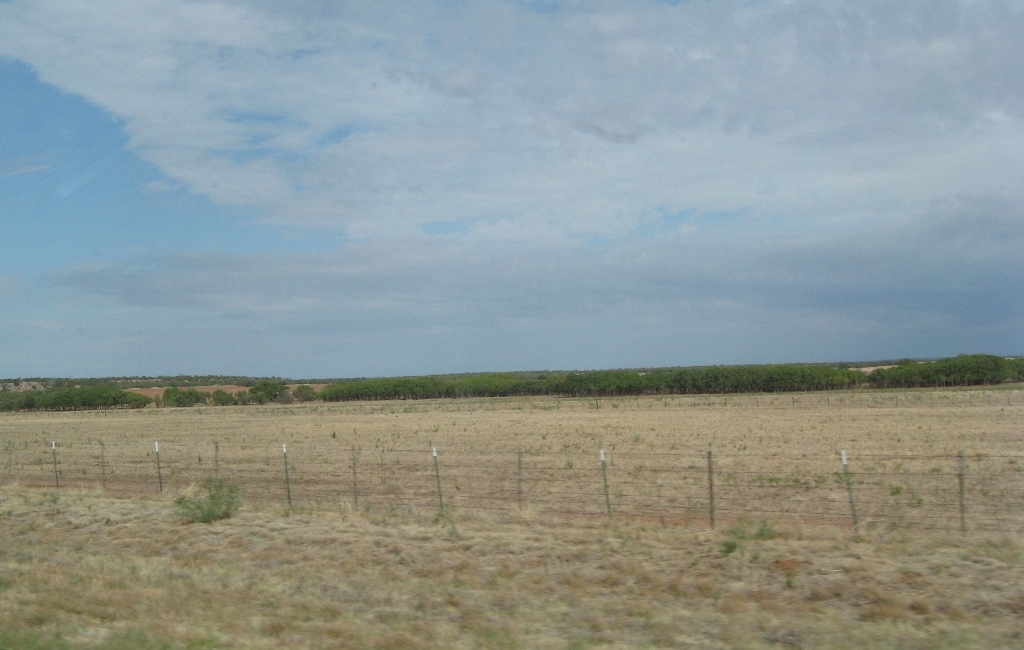 Avoiding the interstates (trucks! billboards! ugh!) we took Hiway 380 across Texas - it was a lovely drive. We brought books on tape and music, in case we got bored, but we found that we never tired of gazing at the scenery, even sagebrush, cactus, and miles of rolling hills.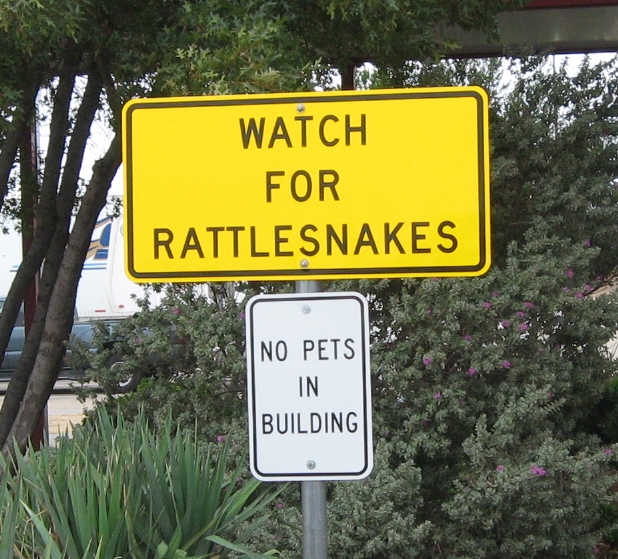 I found the juxtaposition of these two signs at a Texas rest area humorous...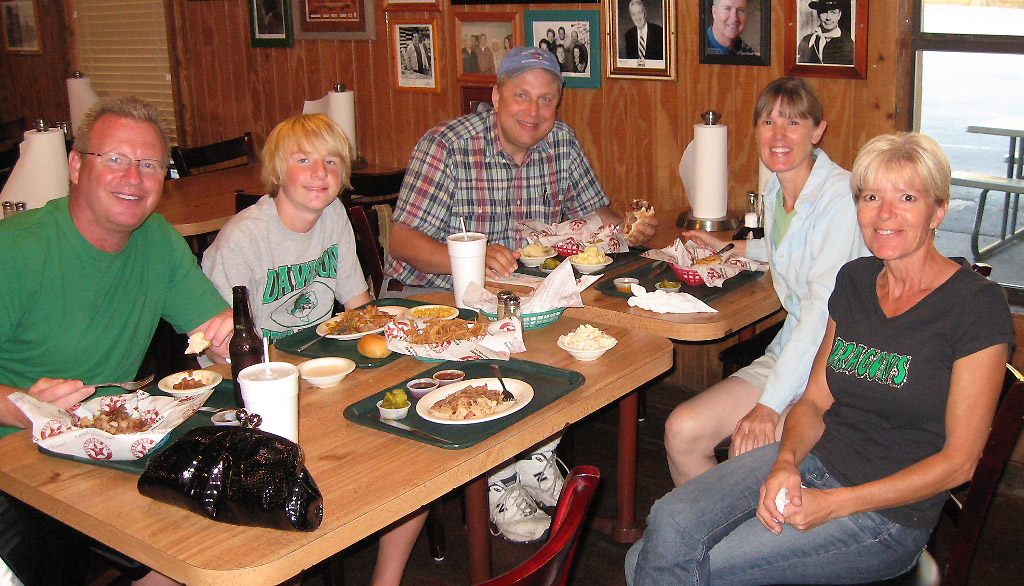 Here we are eating Texas BBQ at The Feedlot with Karen's sister, Kelly, her husband, Rob, and their son, Levi (13). We spent one day and two nights with them in Southlake, Texas, near Fort Worth.



A day's drive from Dallas brought us to the "cute as a button" town of Trinidad, in SE Colorado, and this lovely state park on Trinidad Lake.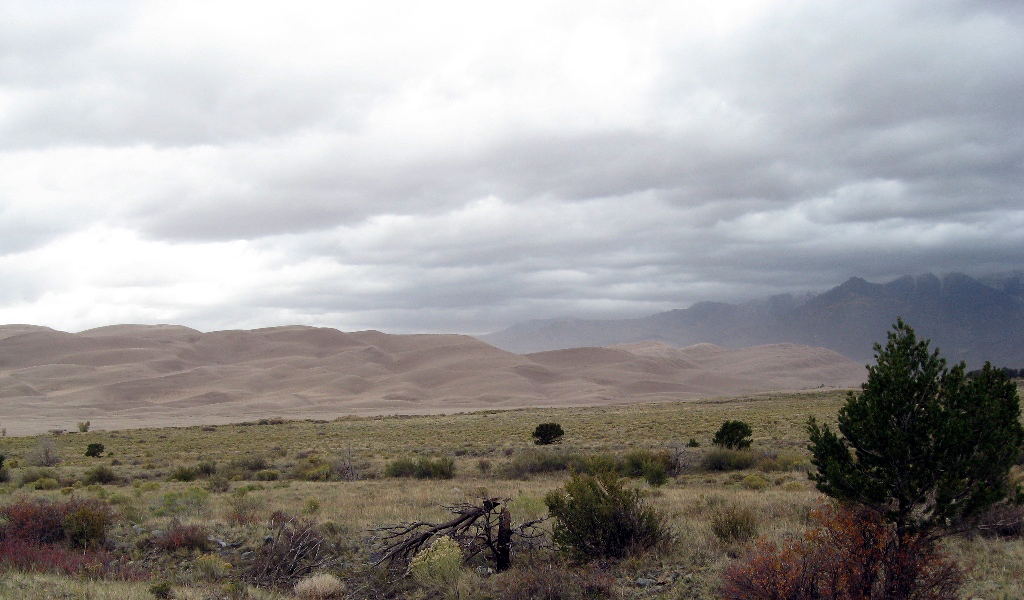 The next day we took a short jaunt into Great Sand Dunes National Park in southern Colorado. A storm was brewing, so we didn't linger, but we'll be back to explore this unique park that has a river flowing past enormous sand dunes.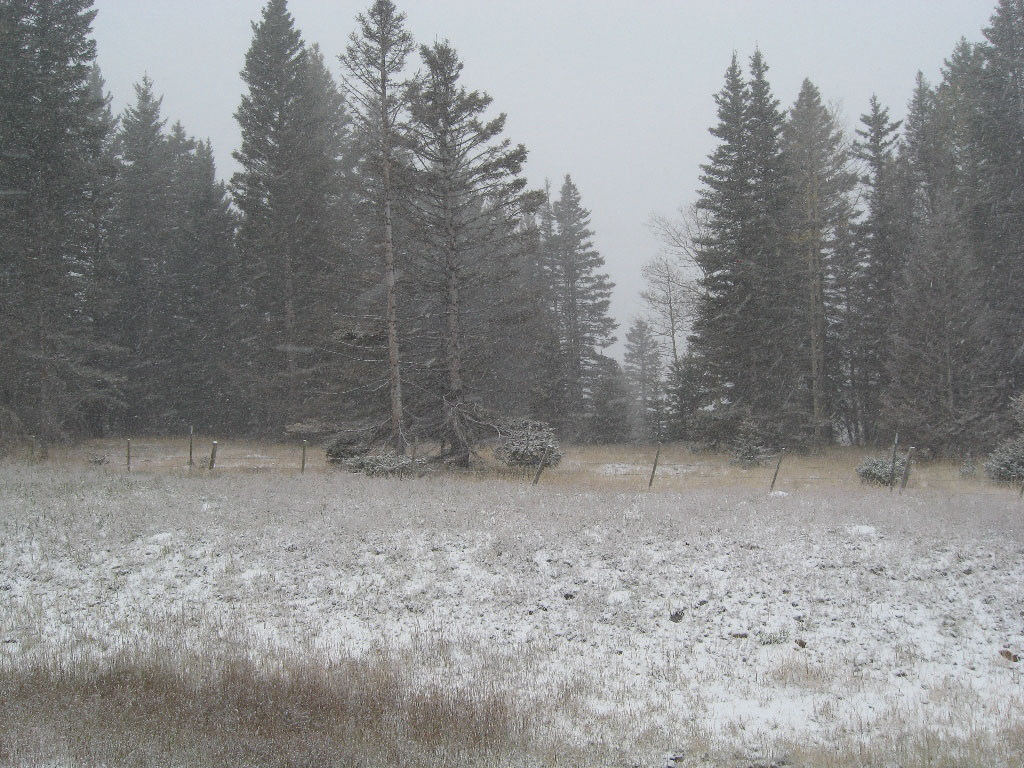 A fluke early October snowstorm closed Mesa Verde and chased us south. We drove through a dust storm and high winds down into New Mexico. It was snowing heavily on 10,000 ft. Brazos Pass, and we had to stop several times to de-ice our wipers.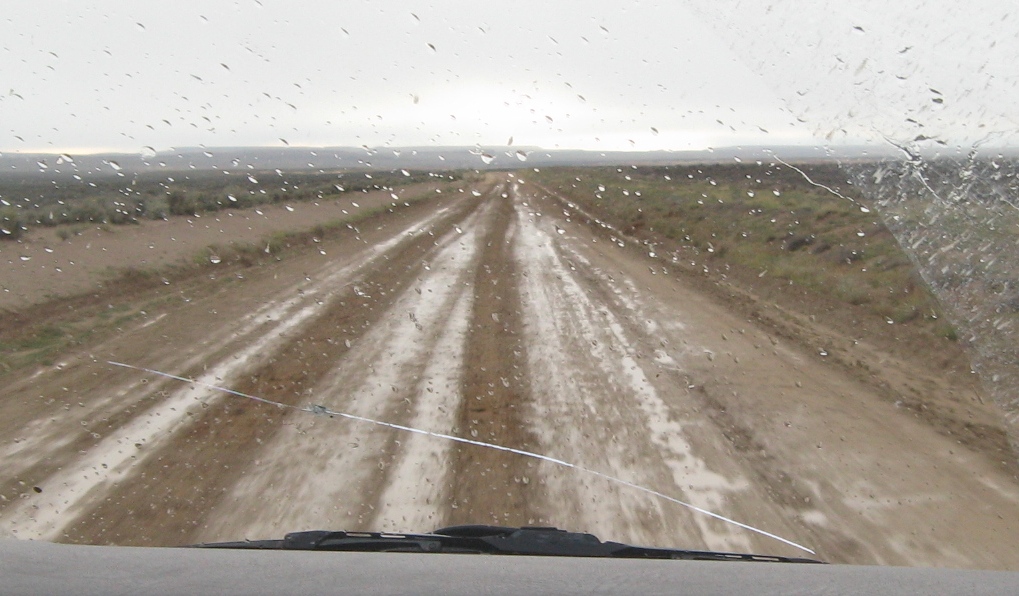 Chaco Culture National Historical Park (formerly known as Chaco Canyon) is only accessible via 13 miles of unpaved road that become impassable in wet weather. When we called, the ranger said the road was still OK, so we surfed in on some very slippery mud, hoping we'd be able to get out the next day! Note our windshield, cracked when a fire truck flew past us and threw a rock.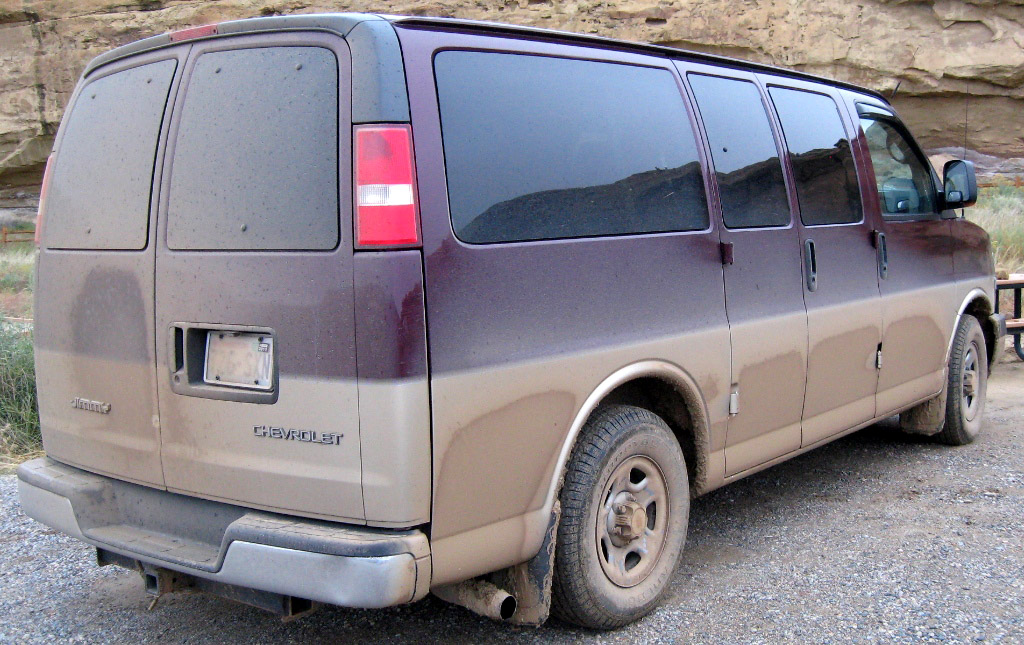 The van arrived safe and sound, and coated in red clay mud. We were told that the reason the road hasn't been paved is to keep out tour busses, and I must say I approve...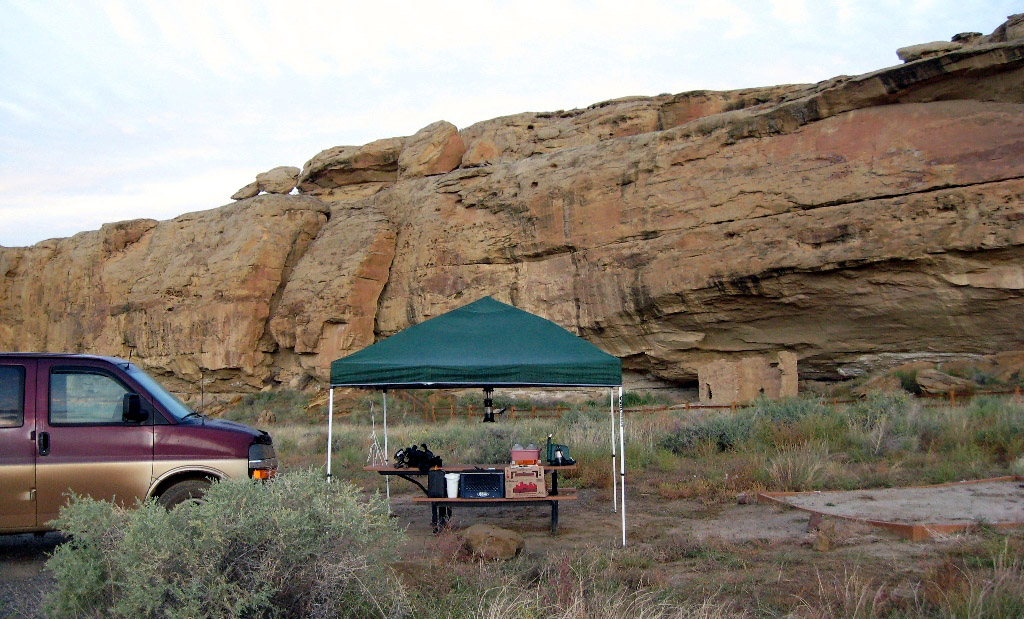 This was the only night we needed our canopy, but we were glad we had it. Note the small ruins of an ancient Pueblo house. In case you're wondering, camping meals included hobo stew, chili, and variations on eggs, all quick, easy, healthy, and tasty. Lunches were tortilla wraps or chef salads.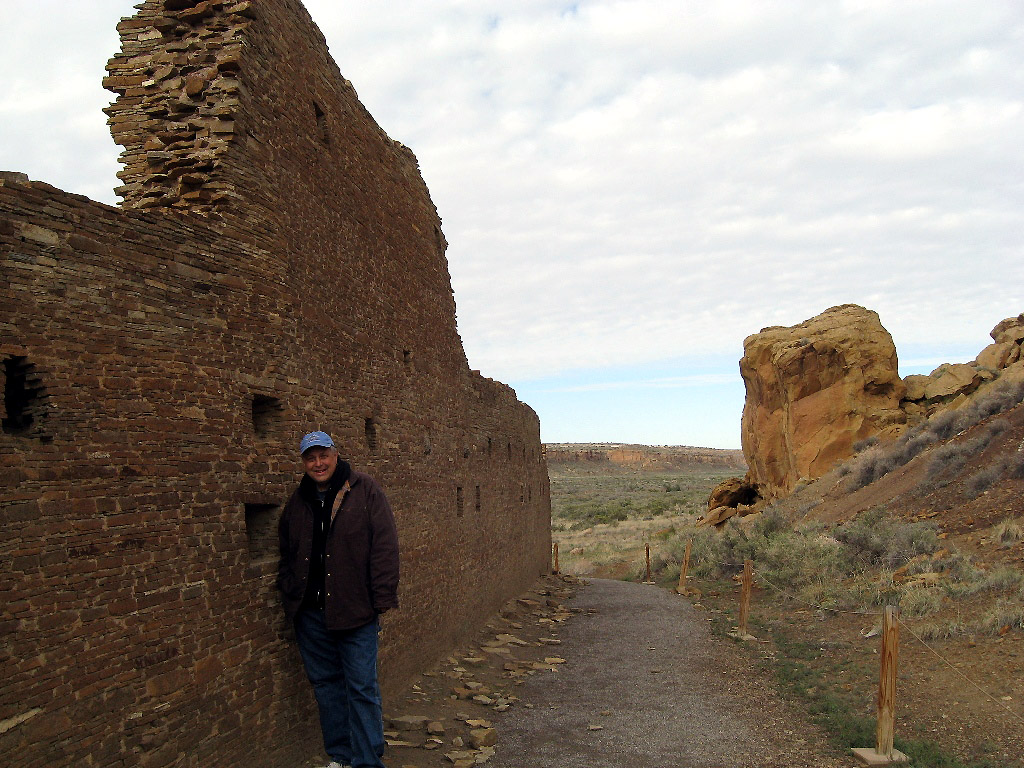 Chaco is famous for its ancient pueblos. It was a hub of ceremony, trade, and administration for the ancient Puebloan peoples of the Four Corners area.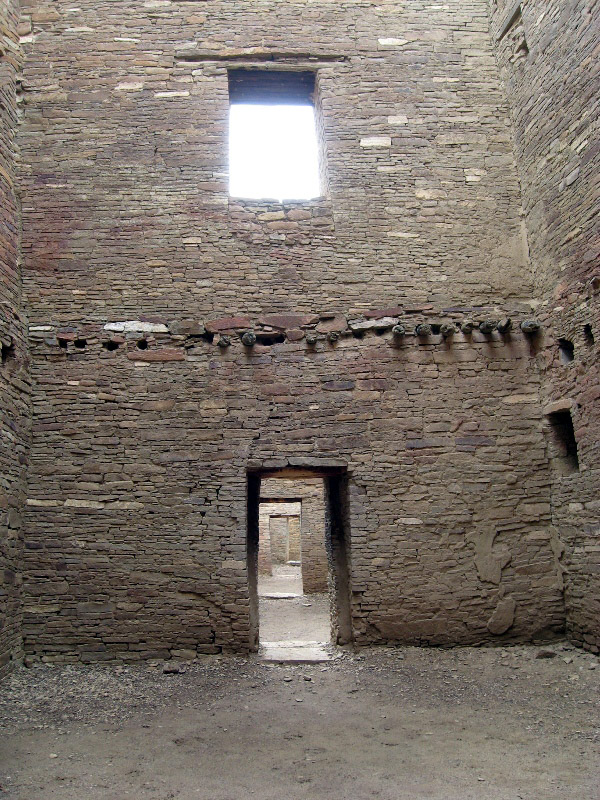 Chaco is remarkable for its up to four-story buildings and distinctive architecture. The stone buildings were constructed between AD 850 and 1250.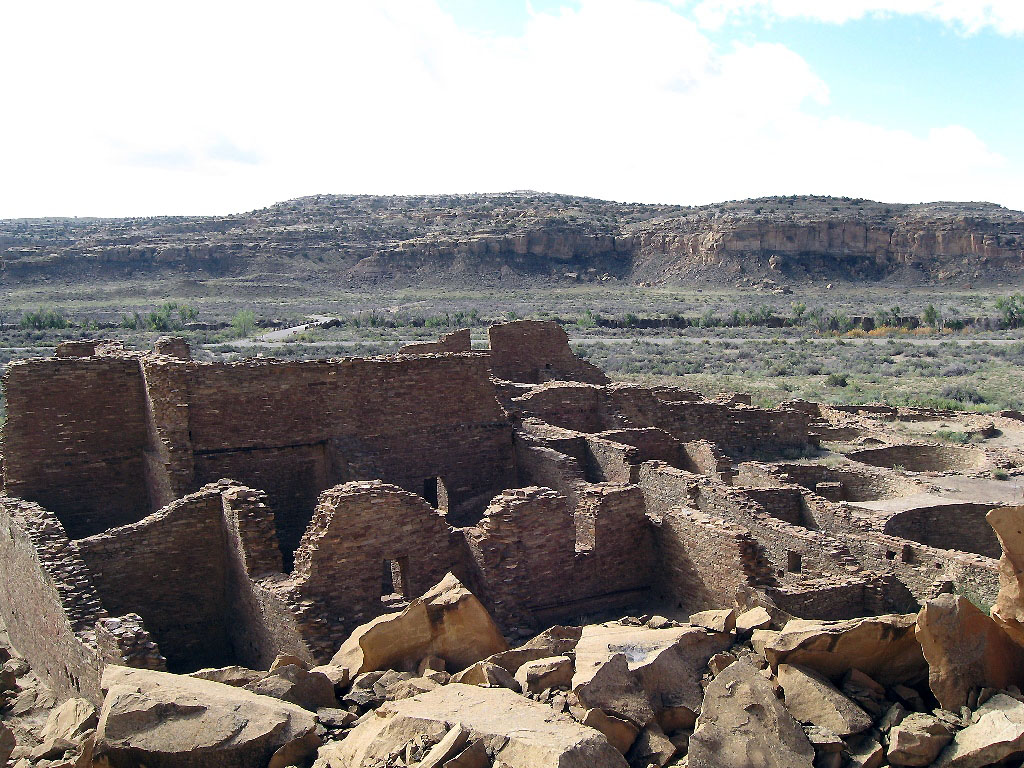 These structures required considerable planning, designing, organizing of labor, and engineering to construct. For more information, see this Wikipedia article.



Picnic shelter at the entrance to one of Chaco's hiking trails.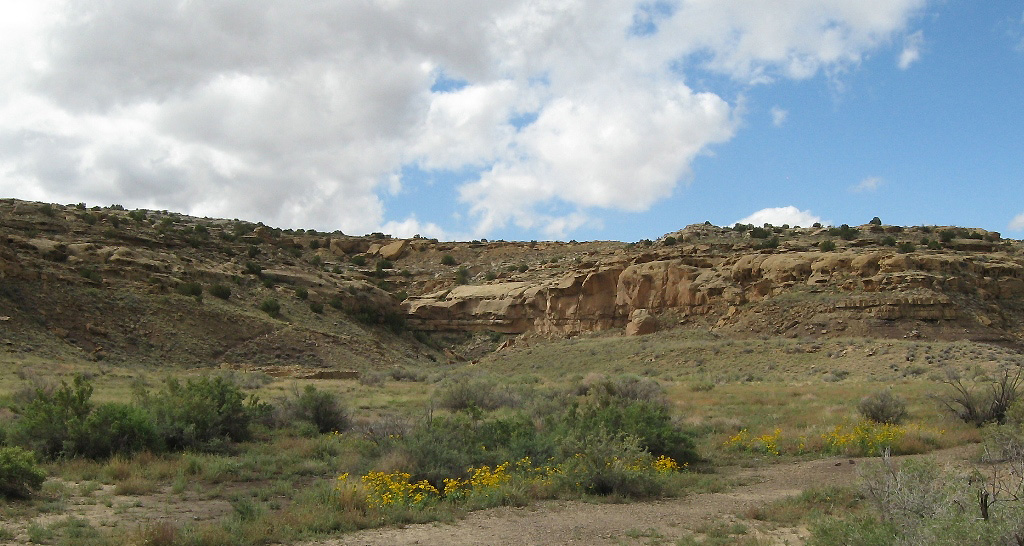 Sunflowers blooming at the base of Chaco cliffs. Lots of extra rain in September created a green and blooming desert in October.



The remains of an elaborate ceremonial kiva at Casa Rinconada.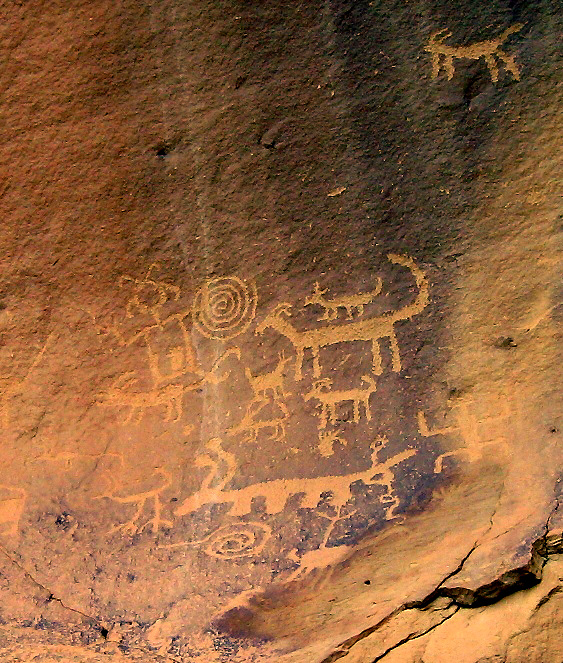 Ancient petroglyphs in Chaco.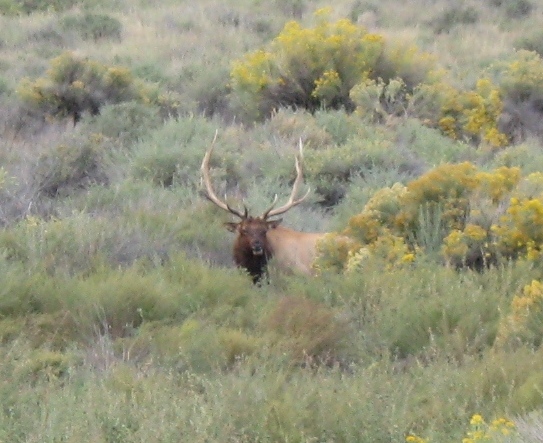 Leaving Chaco (the rain had stopped and the road was less muddy), we saw this enormous 6x6 bull elk and his harem.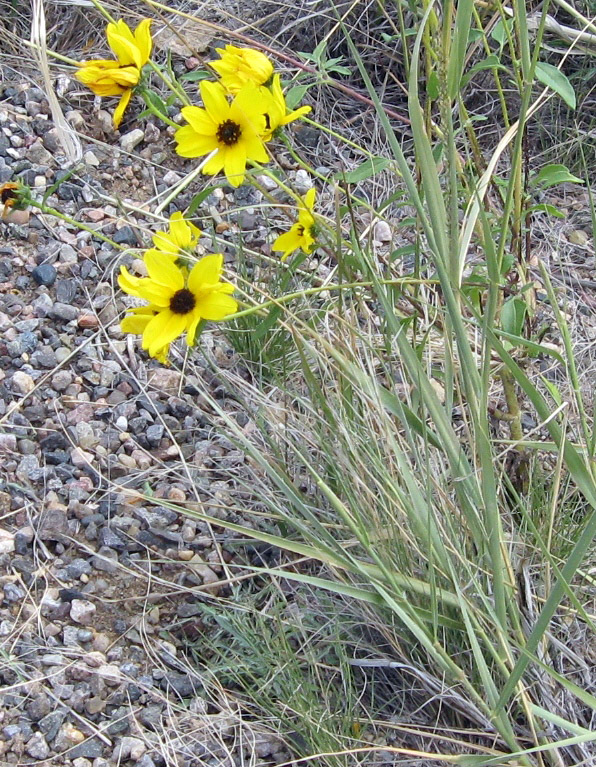 We saw these beautiful sunflowers in bloom throughout the southwest.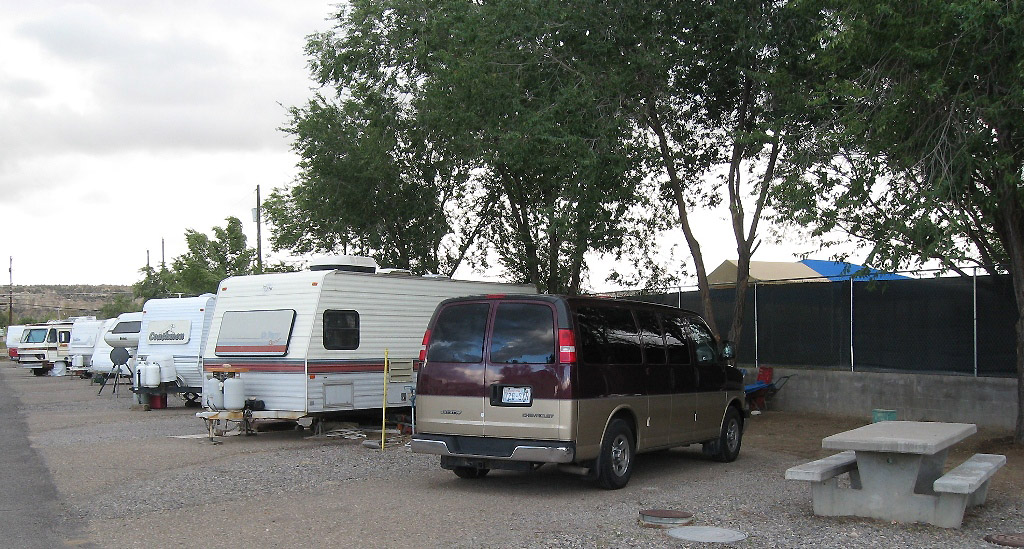 Running out of daylight, and in need of a shower, we opted for an RV Park in Farmington after leaving Chaco Canyon. What it lacked in ambience it made up for with its hot showers and friendly owner. Across our great country, many people live fulltime in trailer parks like this. At $10-$15 a day, utilities included, it's a way to get by when you don't have much. One resident of this park lives in a tent, and it gets very cold here in the winter.



Driving through Shiprock, NM early the next morning, we chanced upon the 100th anniversary of the Navajo Nation Shiprock Fair. Although the parade didn't start until 10:00, people were already streaming in at 7:30.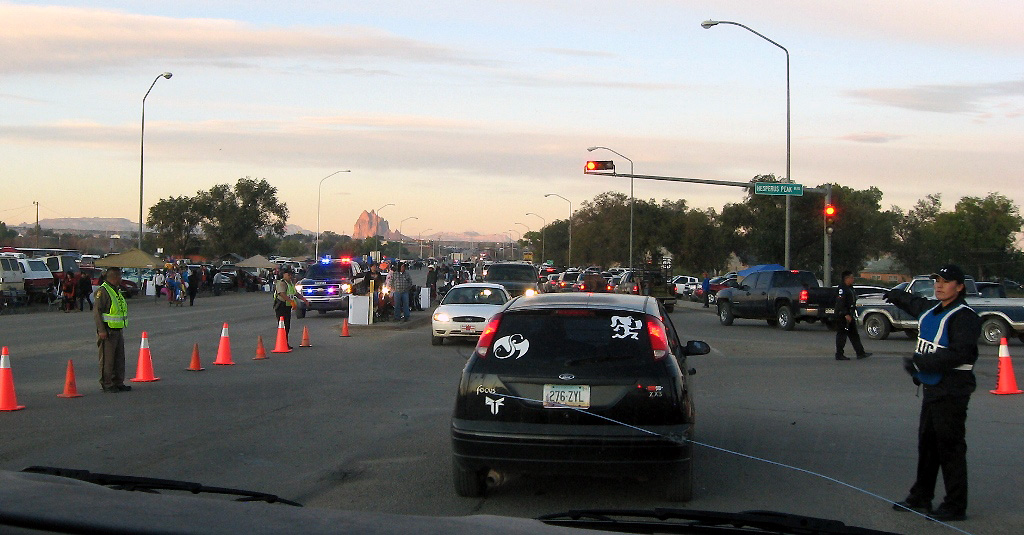 Although we didn't have time to stay for the parade, we enjoyed seeing all the beautiful Navajo people, many in traditional dress, as we crawled slowly through the traffic. In the distance, you can see the rock after which the city is named.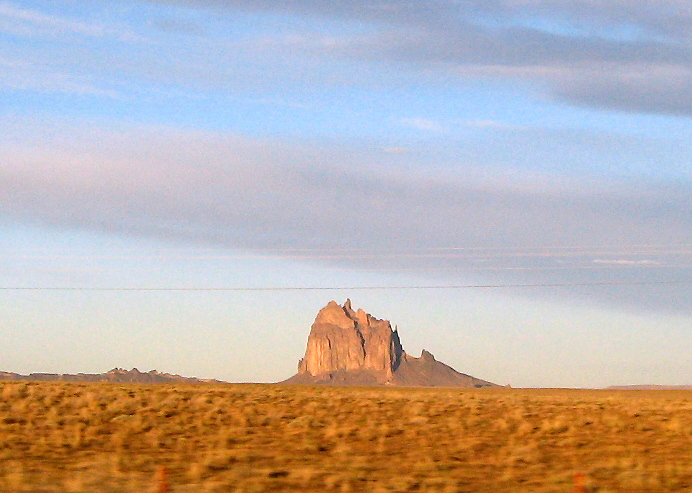 Shiprock is the most prominent landmark in northwestern New Mexico. The Navajo call it "rock with wings" or "winged rock," and it plays a significant role in Navajo mythology.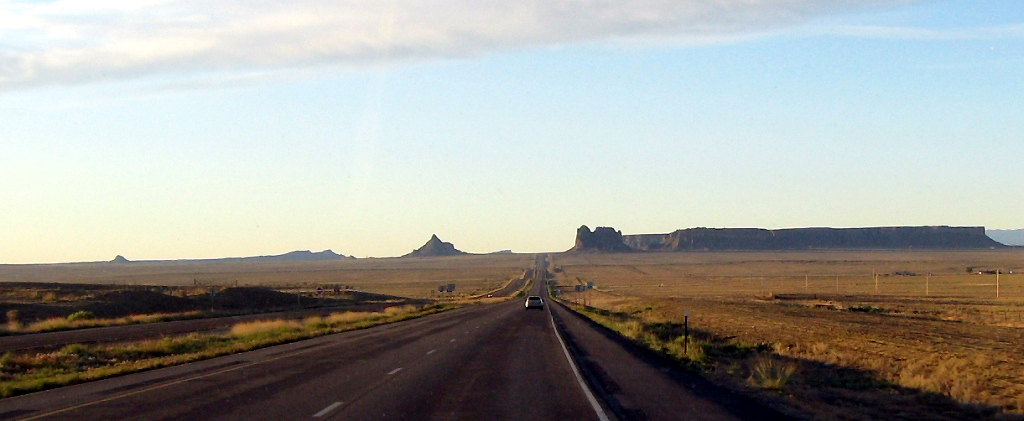 Hiway 491 took us south to Gallup through peaceful, empty reservation land sprinkled with striking rock formations.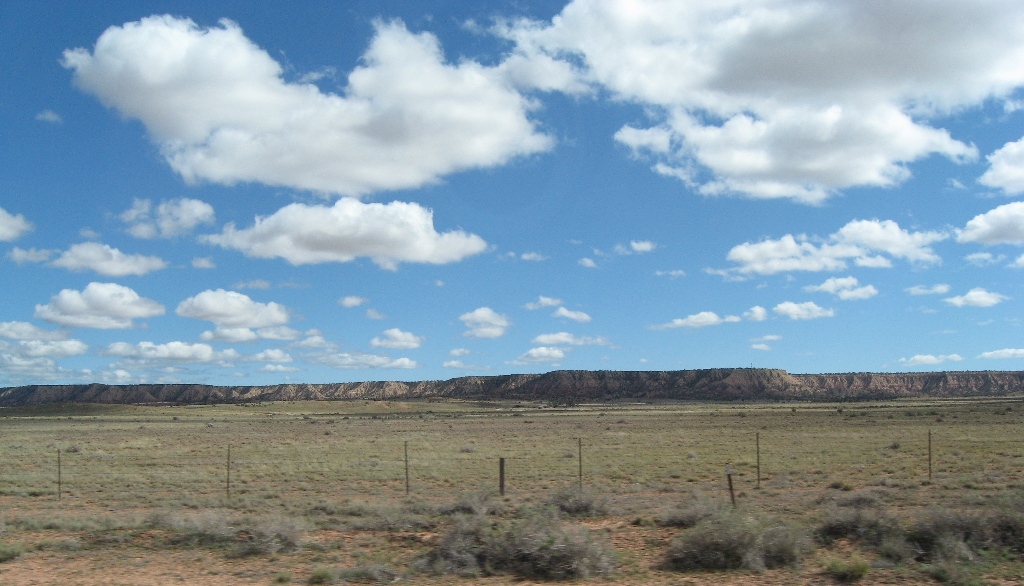 After getting our windshield replaced in Gallup we continued west to Window Rock, then north to Chinle and Canyon de Chelly National Monument.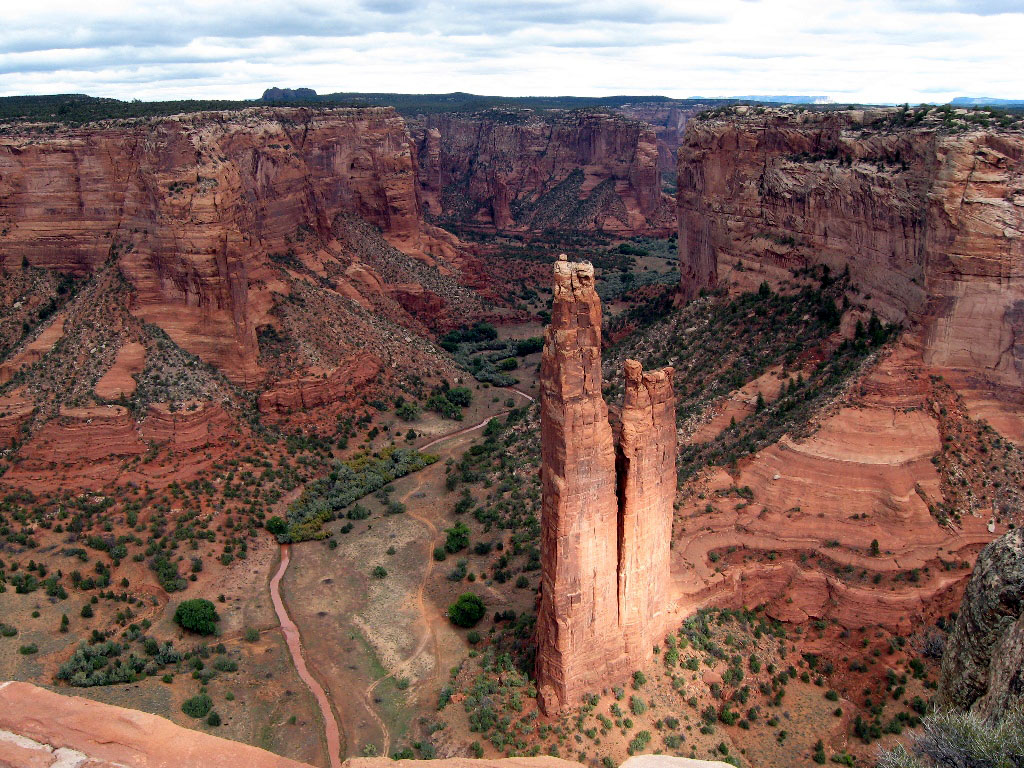 Canyon de Chelly is stunning. The park's distinctive geologic feature, Spider Rock, is a sandstone spire that rises 800 feet from the canyon floor.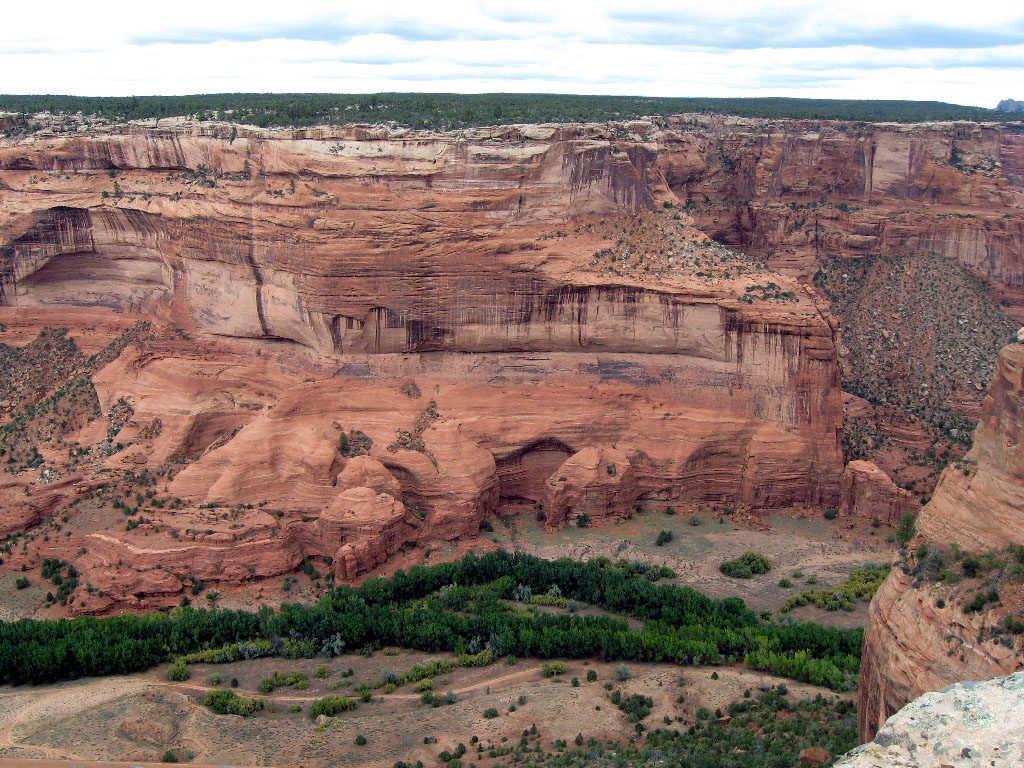 There are many ancient ruins in this park as well. They aren't visible in this picture, but there are ruins in the horizontal crack halfway up the canyon wall. How did people get up there?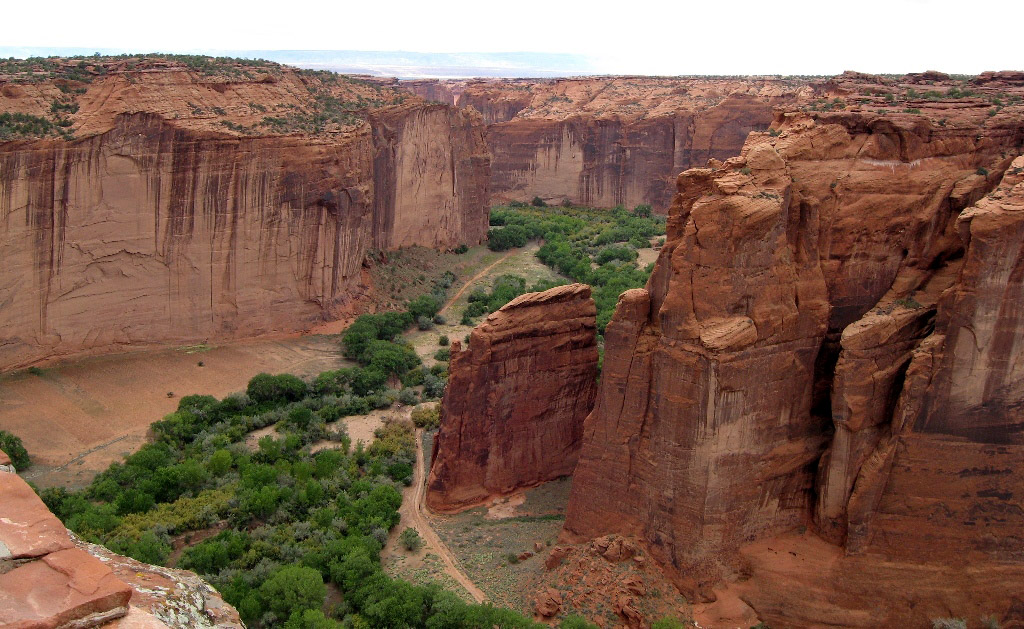 Two paved rim roads allow you to look down into the canyons. This National Monument is unique in that it consists entirely of Navajo-owned Tribal Trust Land. Visitors are allowed to travel in the canyons only when accompanied by a park ranger or an authorized Navajo guide (on a jeep or horse tour). The only exception to this is the White House Ruin Trail (more on that in a minute).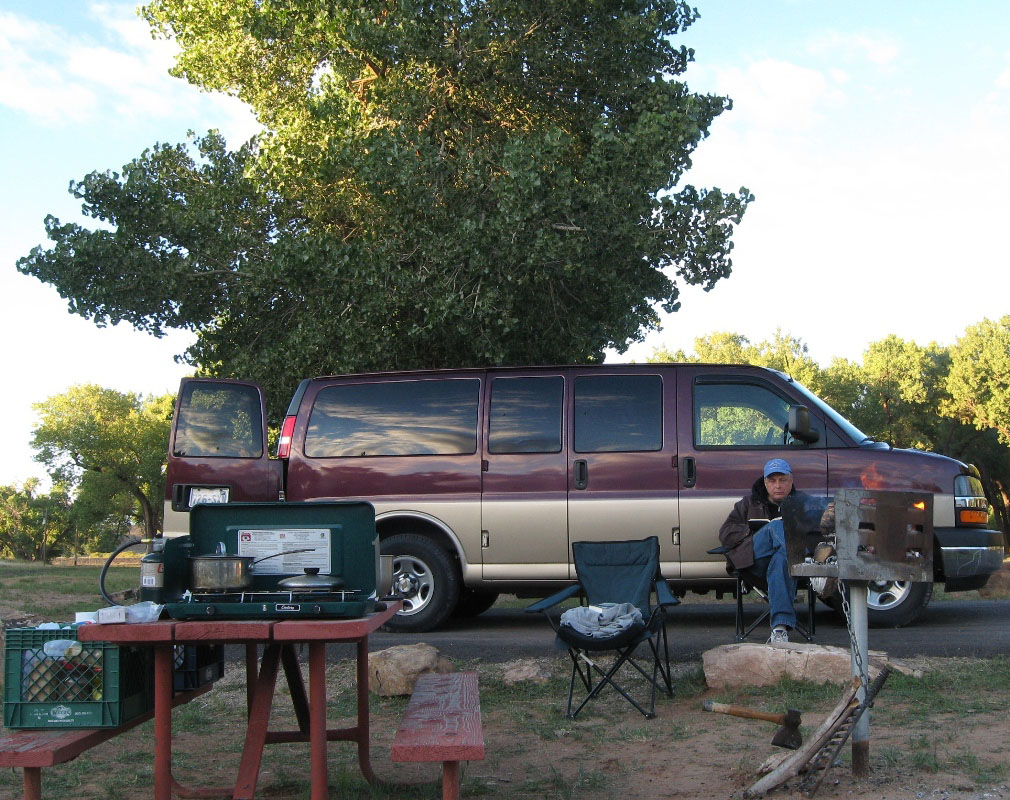 Our camp had no fire ring, but it was cold and windy, so we built a fire in the raised grate.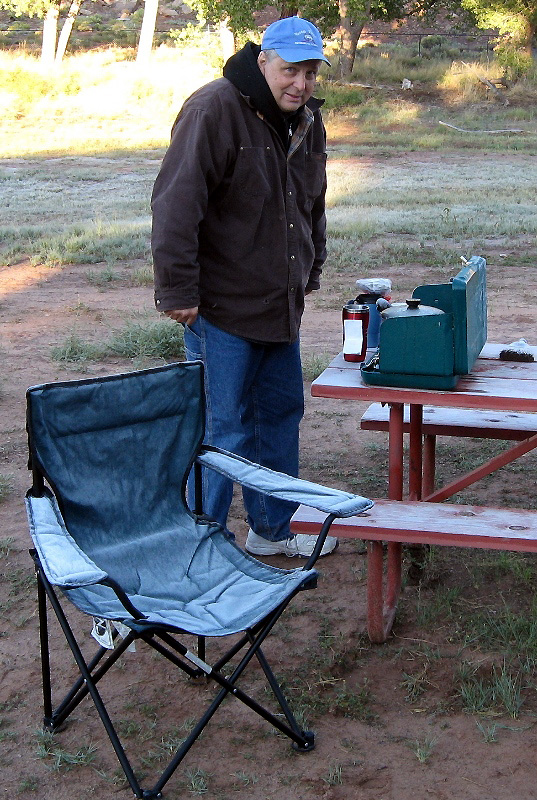 In the morning, everything was covered in frost.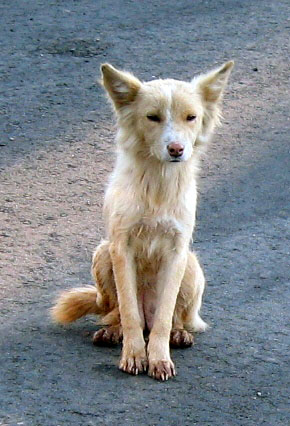 Even this hungry little beggar doggie was cold - but very well-behaved.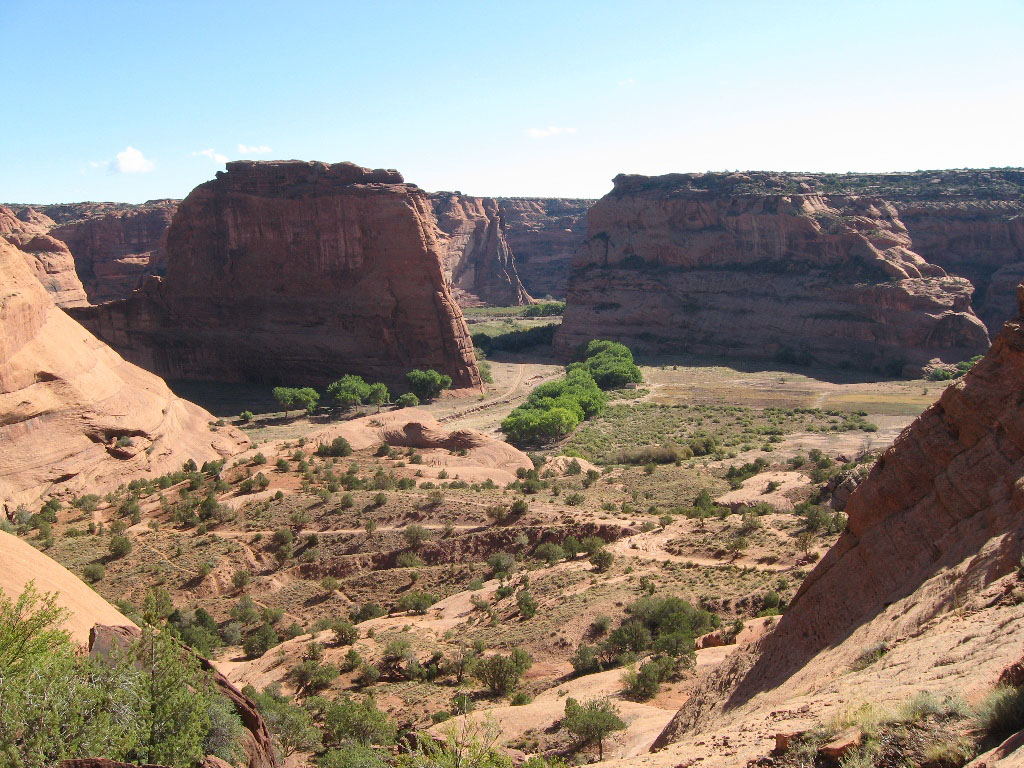 As the day warmed up we started down the 2.5-mile roundtrip White House Ruins trail.



The trail gently slopes about 500 feet to the canyon floor.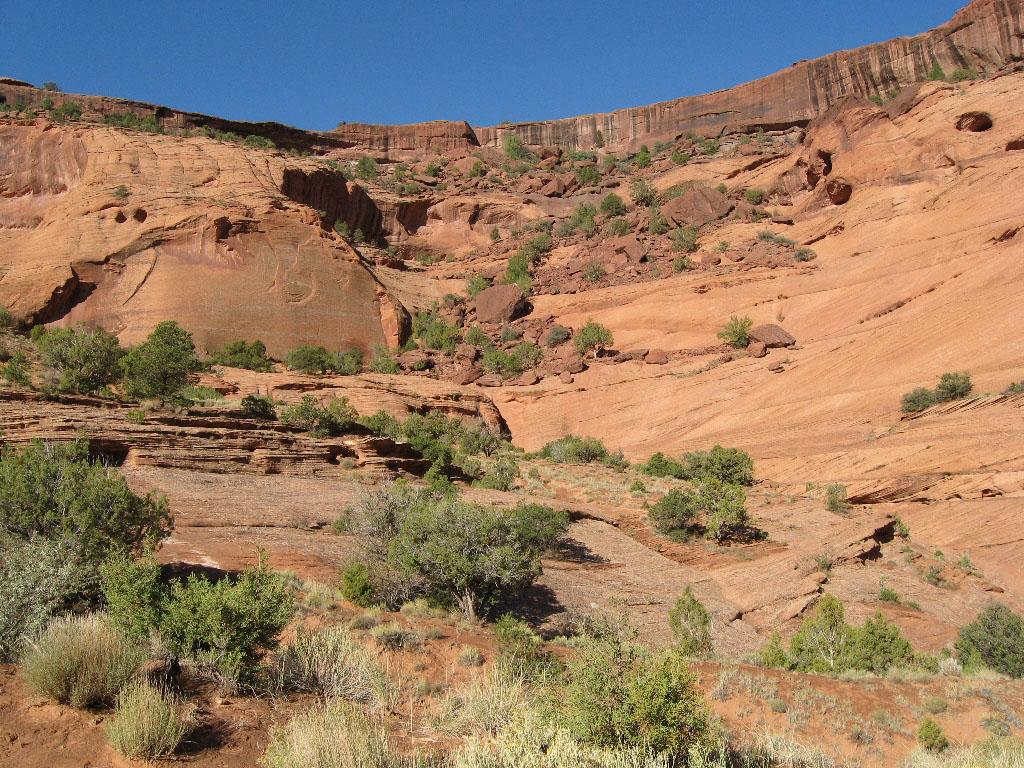 Looking back up to where we started.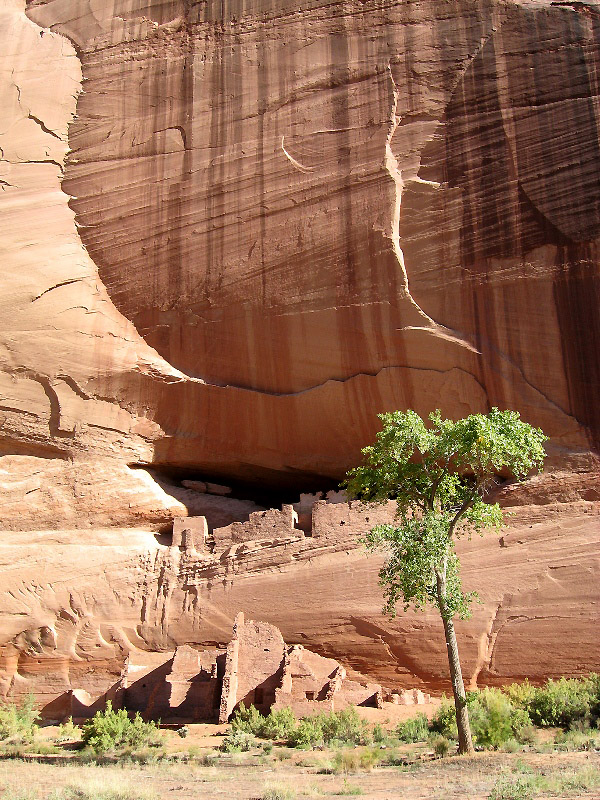 White House Ruins tucked into the canyon wall. The ruins are named for the top structure, which is coated with white plaster.



Climbing back up was quicker and easier than we expected. We highly recommend this trail!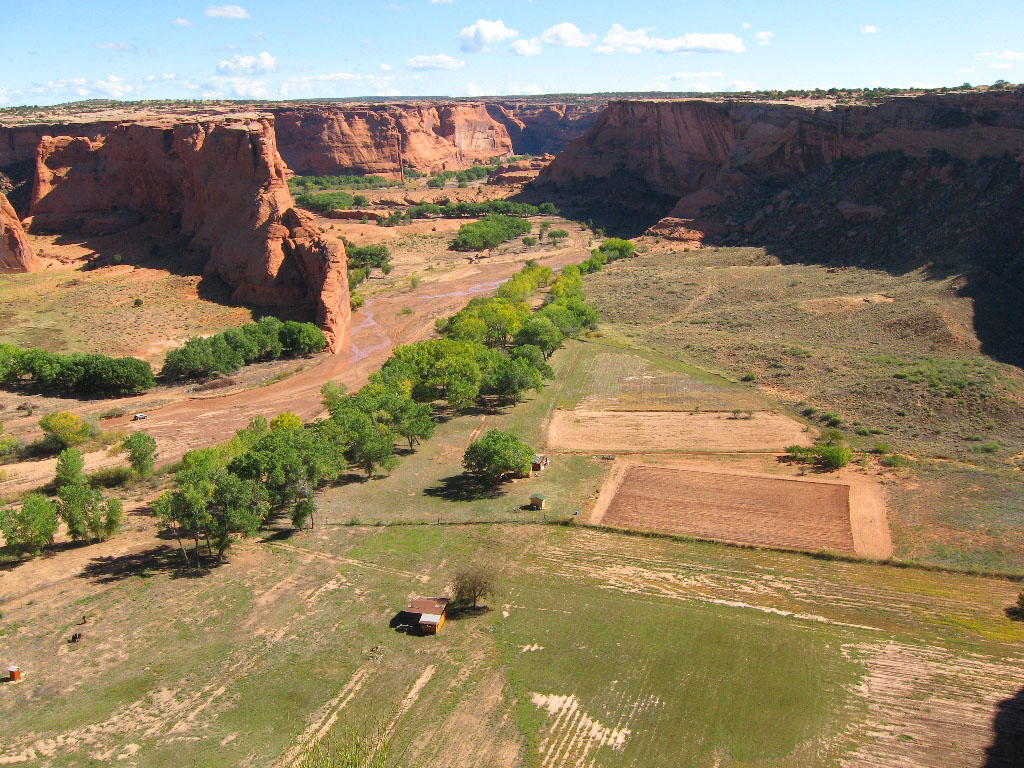 Navajo people still live and farm in the canyons.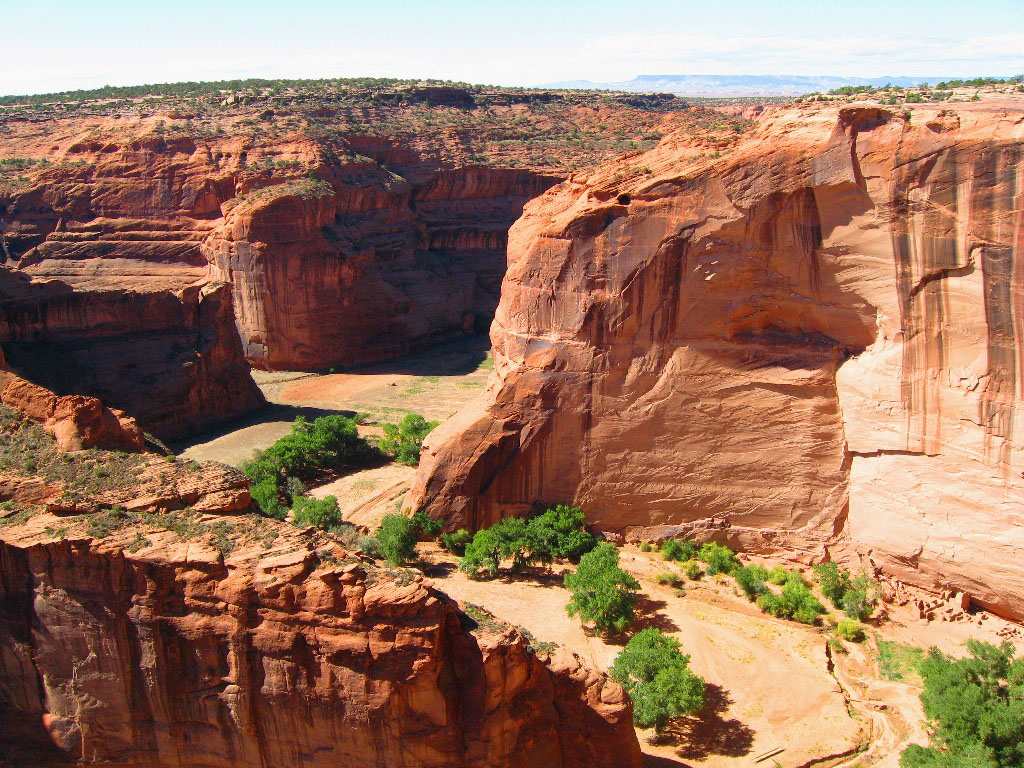 Note the ruins at the bottom right.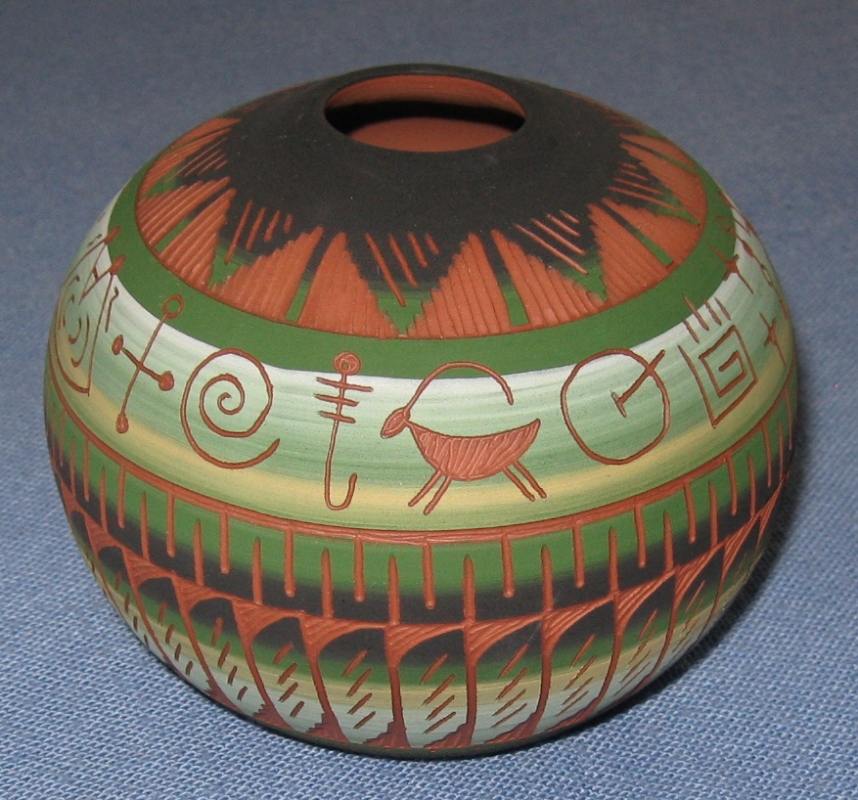 We were dismayed to find Navajo vendors at every stop in the park. Although they deserve to make a living from their arts and crafts, it's awkward for park visitors. However, I did end up falling in love with this pot, which I purchased from the very sweet Navajo woman who made it. Unfortunately she does not have a website.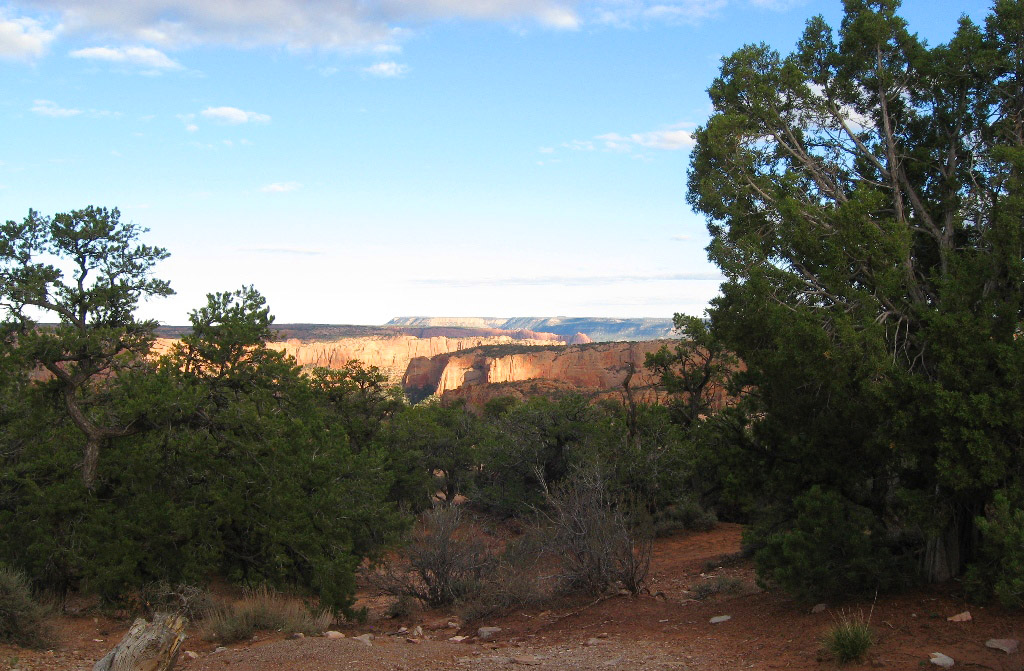 From Chinle we drove north to Kayenta and Navajo National Monument, a treasure we hadn't even known existed. The free Canyon View campground had stunning views, and we'd highly recommend it except that no fires are allowed.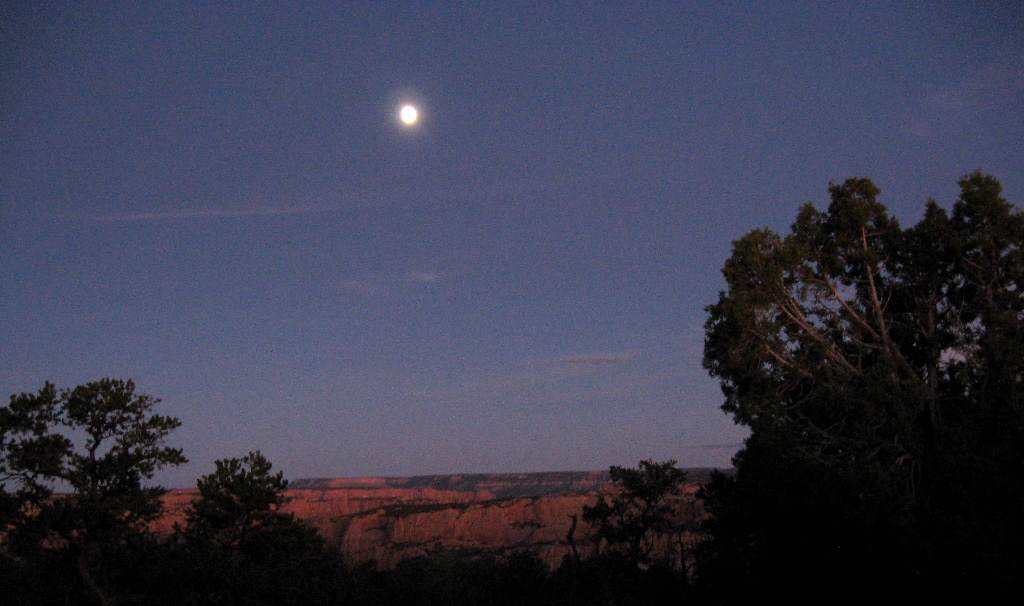 The full moon illumates the red cliffs - magical!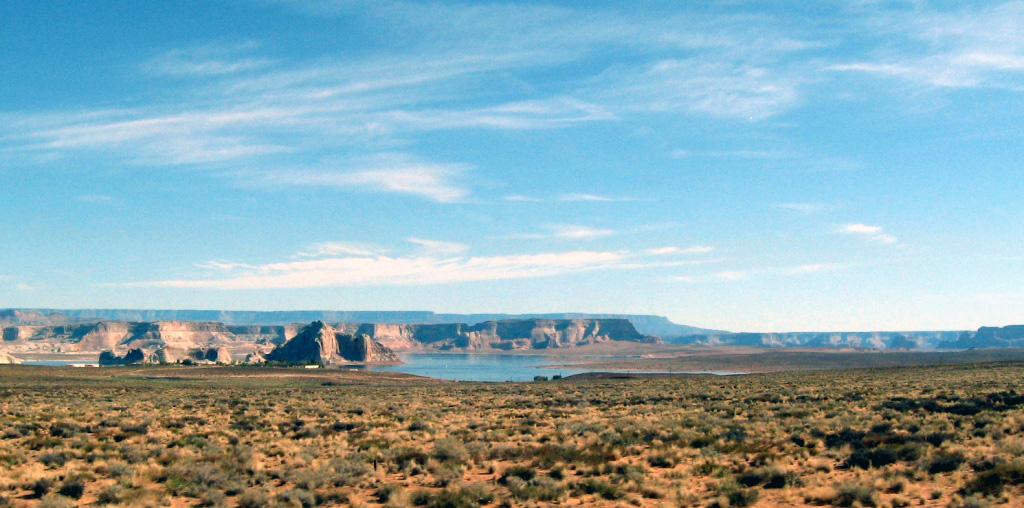 Driving north we passed Lake Powell, an enormous reservoir that was created when a national treasure, Glen Canyon, was flooded by the controversial Glen Canyon Dam.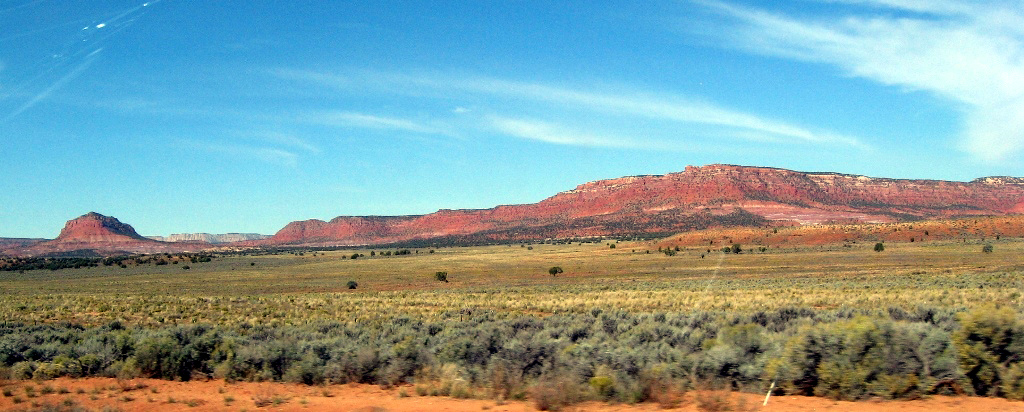 Gorgeous southern Utah scenery.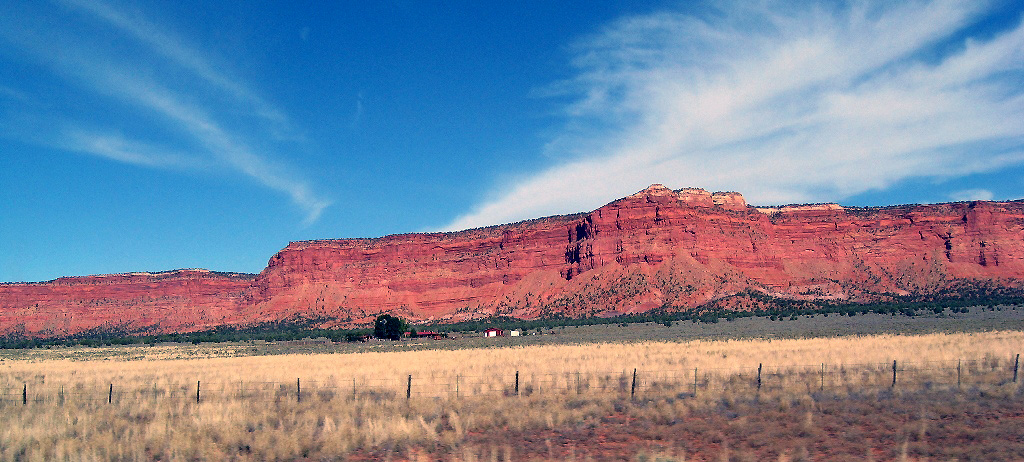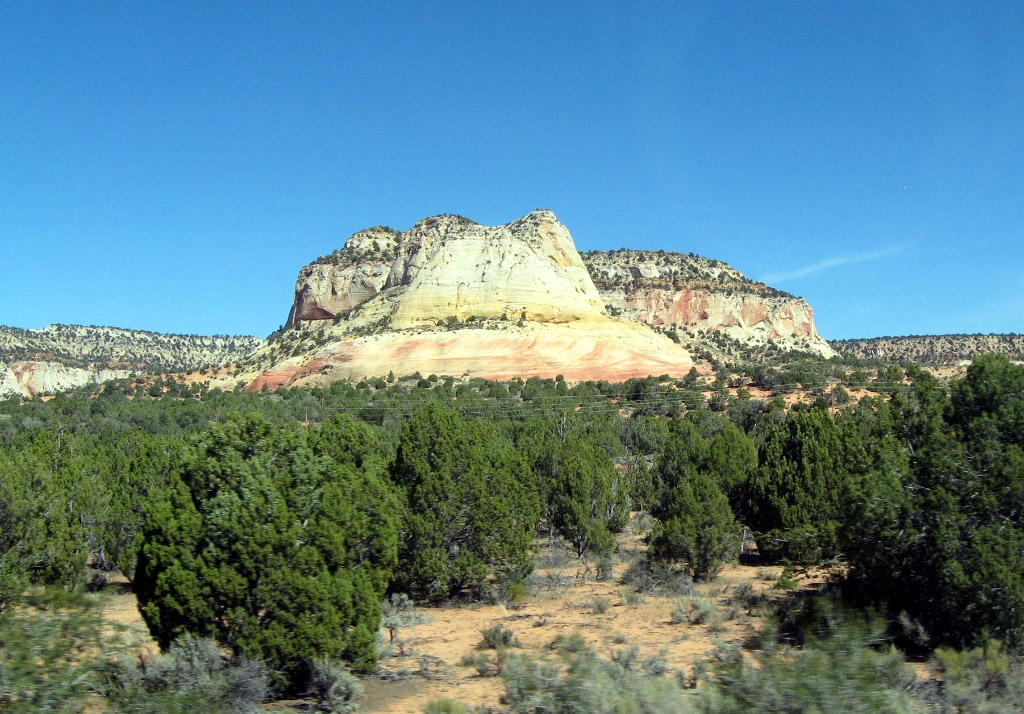 The east entrance to Zion National Park.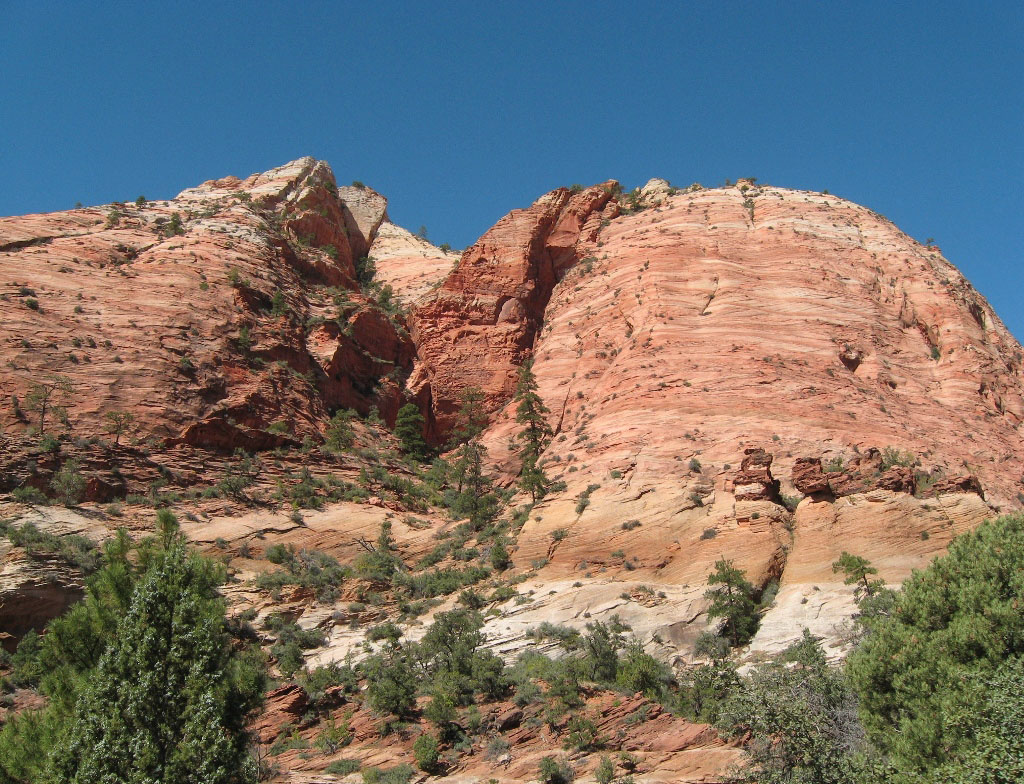 Zion's soaring sandstone spires attract visitors from all over the world.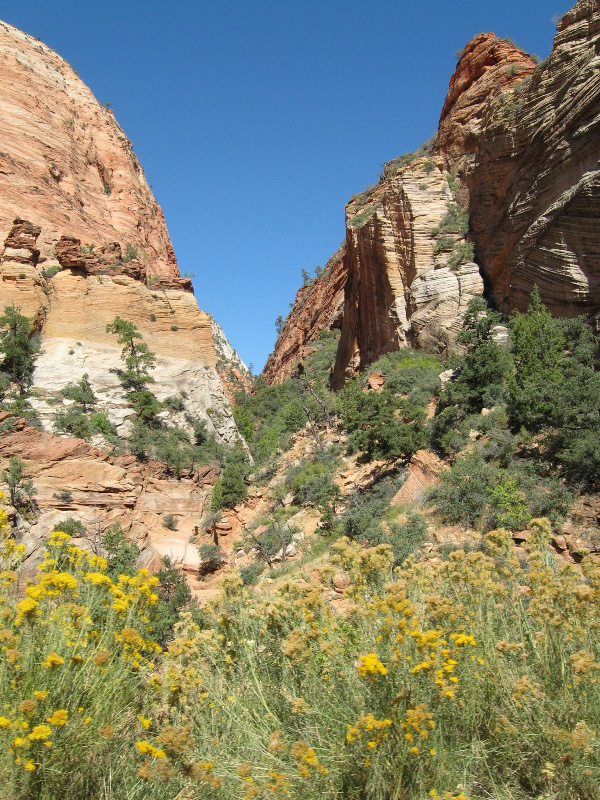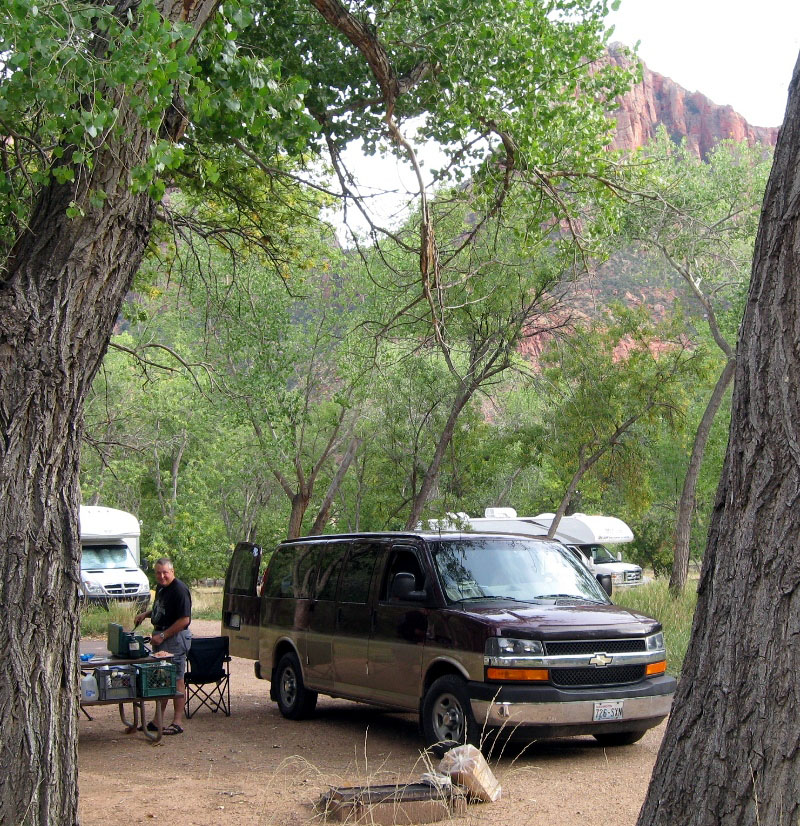 We enjoyed meeting people in the campground.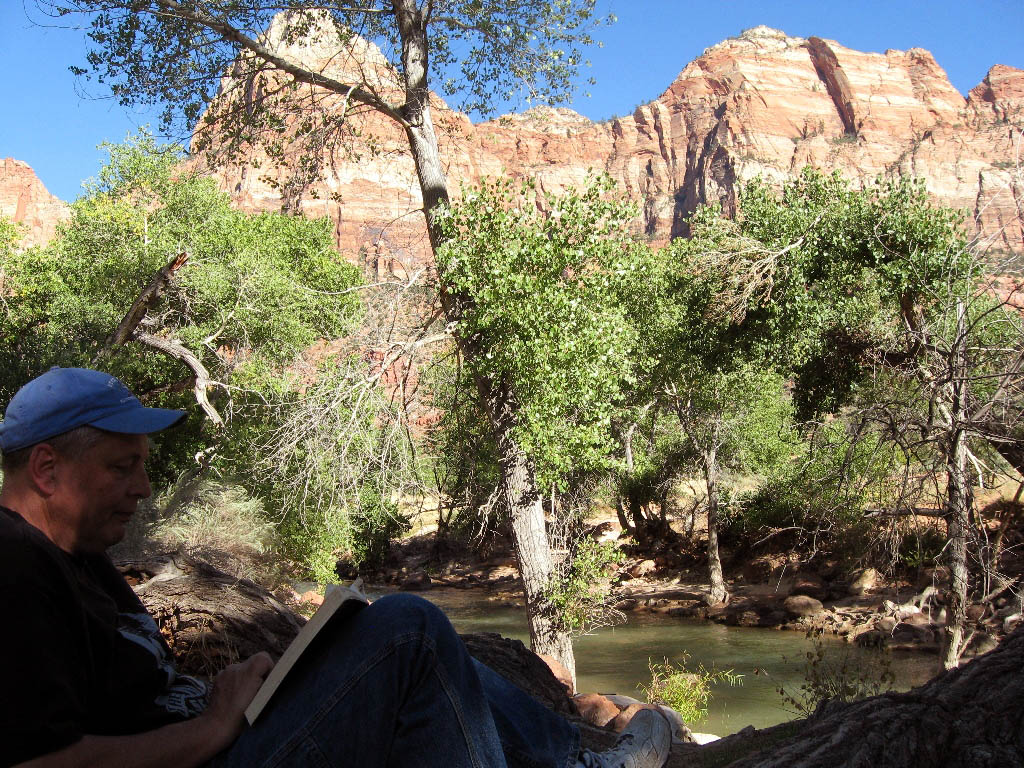 Reading by the river in camp. It got up to about 75 during the day.



Sunset on the rocks surrounding the campground.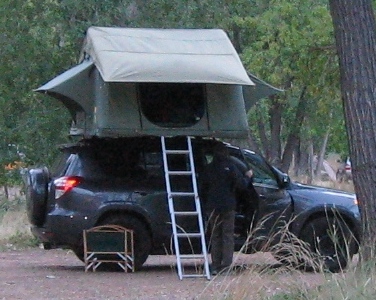 Some of the interesting camping vehicles included this pop-up car roof tent (6x8 feet). These are popular in Africa and Australia, to keep critters from crawling in at night.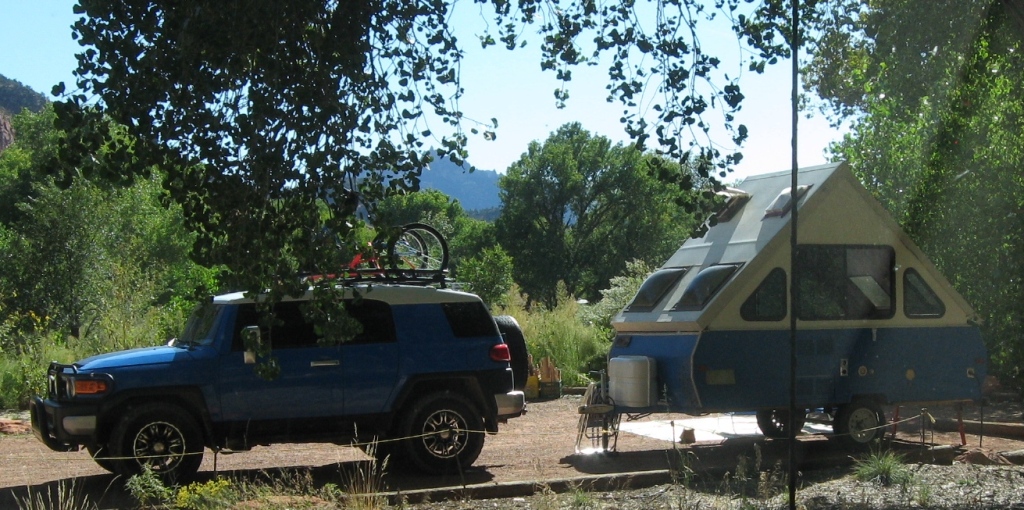 An interesting pop-up trailer.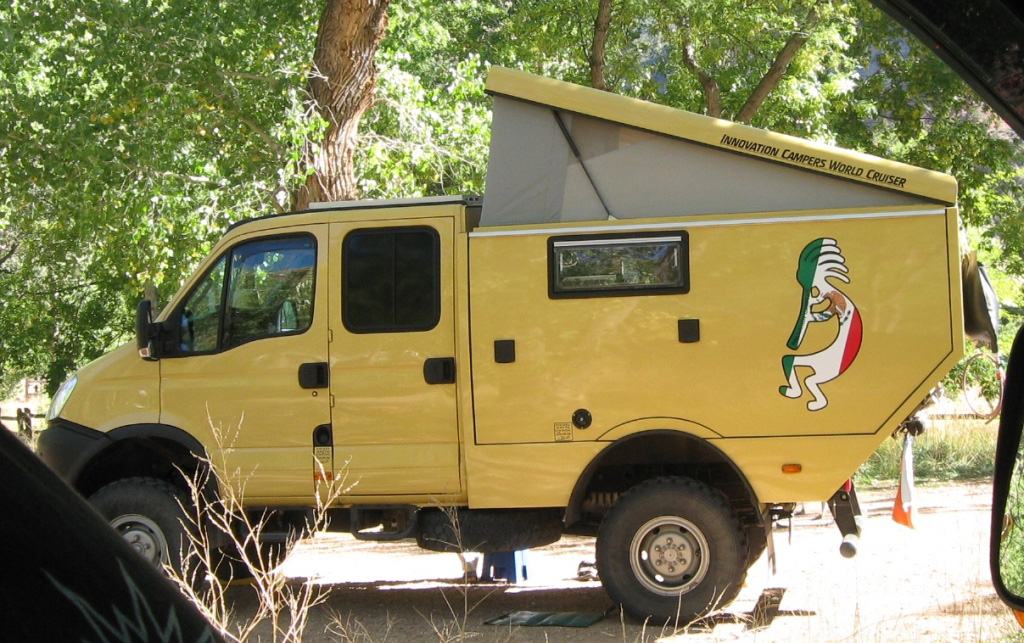 A custom-made camper from Germany.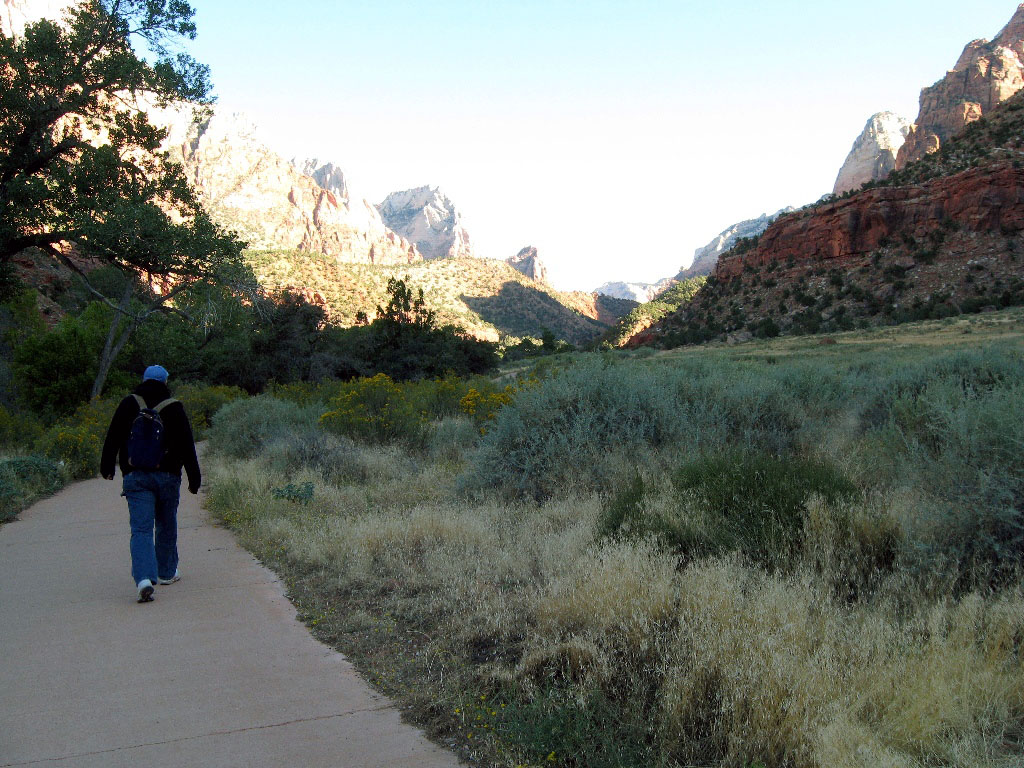 Hiking the beautiful Par'us trail along the Virgin River near the campground.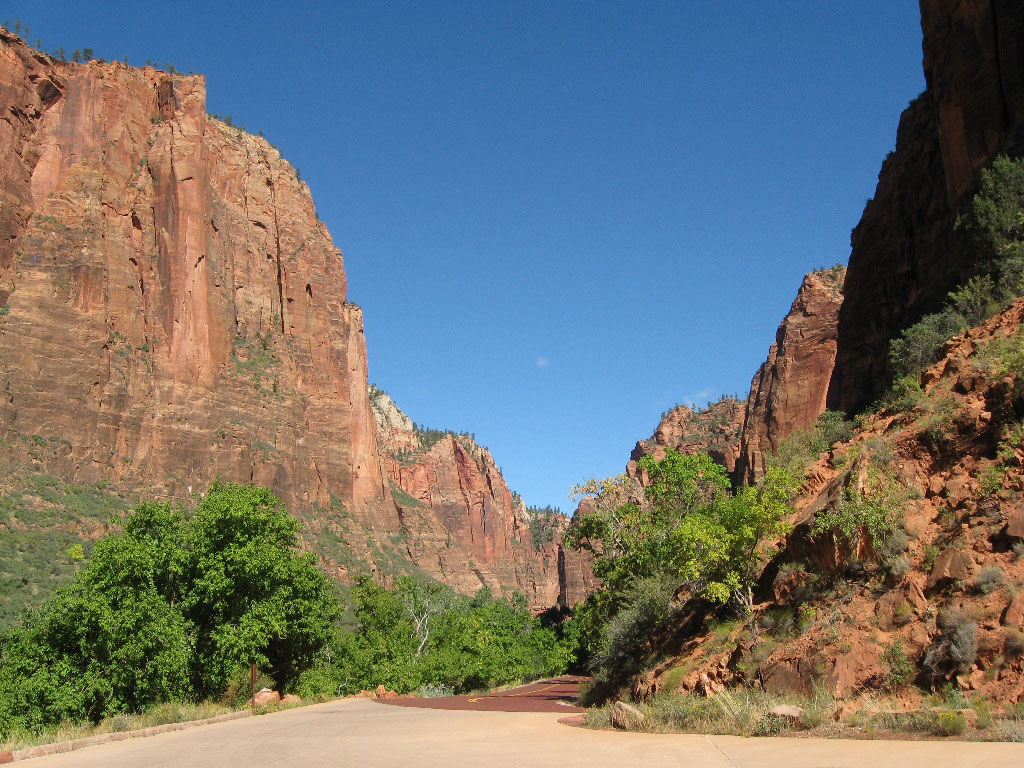 Although you can't see them in the picture, there are three climbers halfway up the rock face on the left. Climbing is very popular in Zion.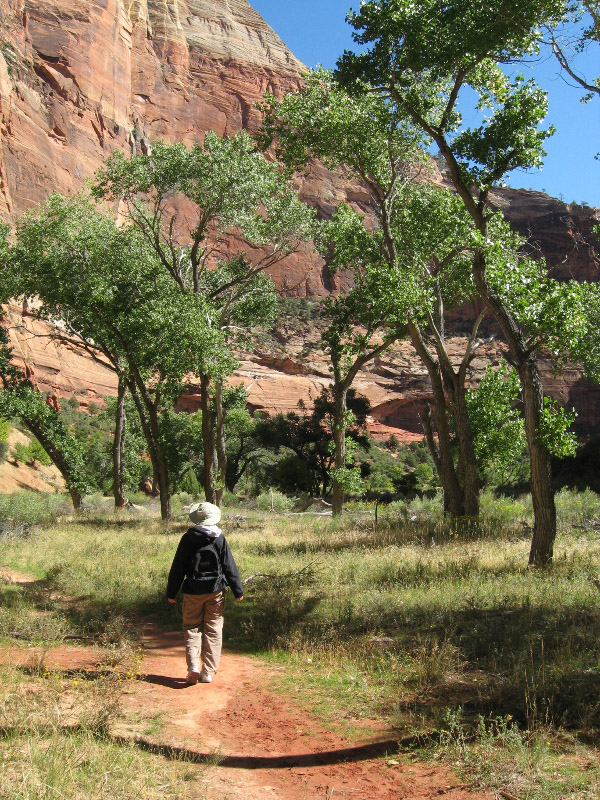 In 2000, Zion implemented a free shuttle system to reduce traffic jams on the Zion Canyon road. It's great! You can get on and off at any stop. Here we're walking on a riverside trail between stops.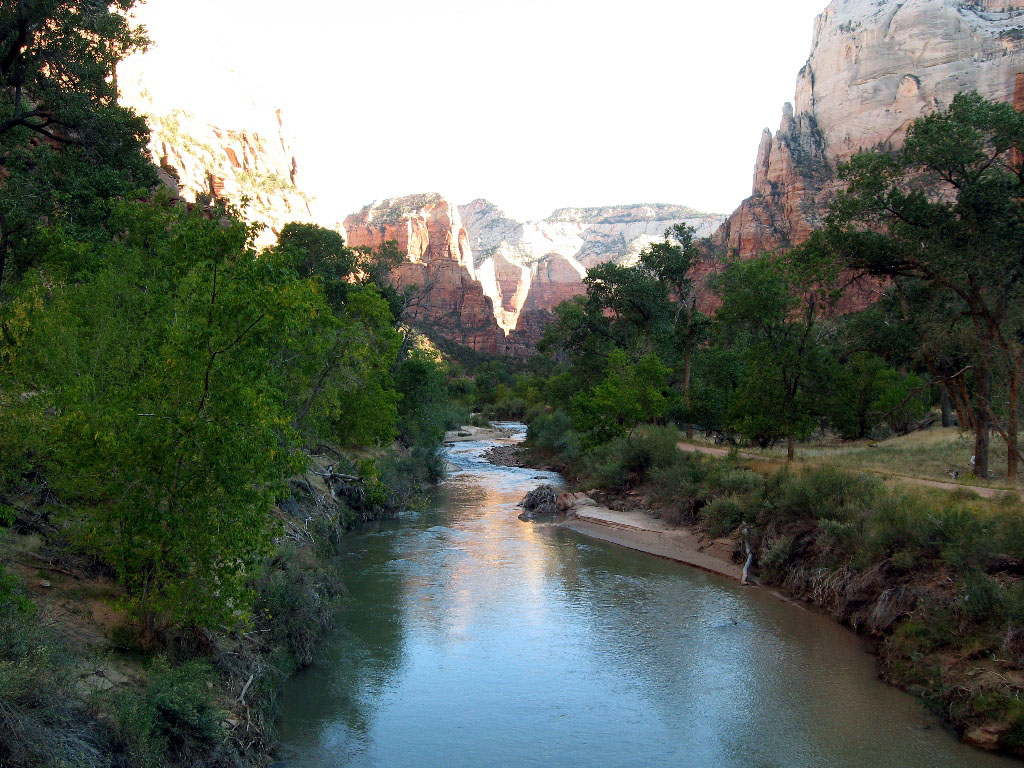 There are lots of things to do in Zion - it would be easy to spend many days here.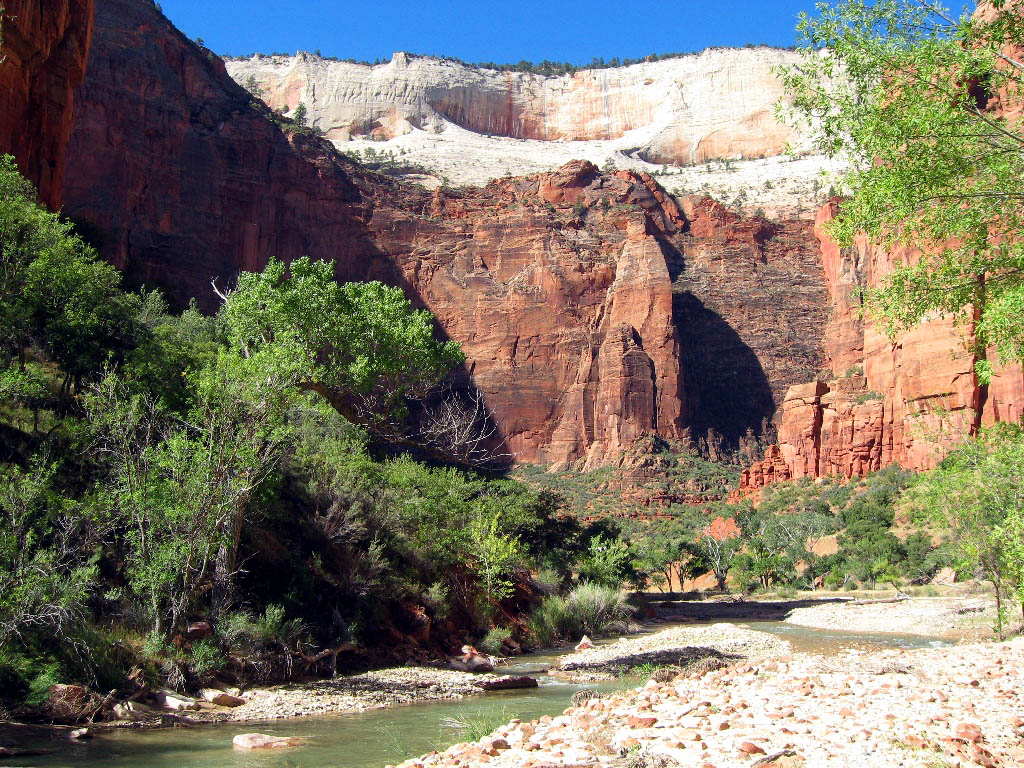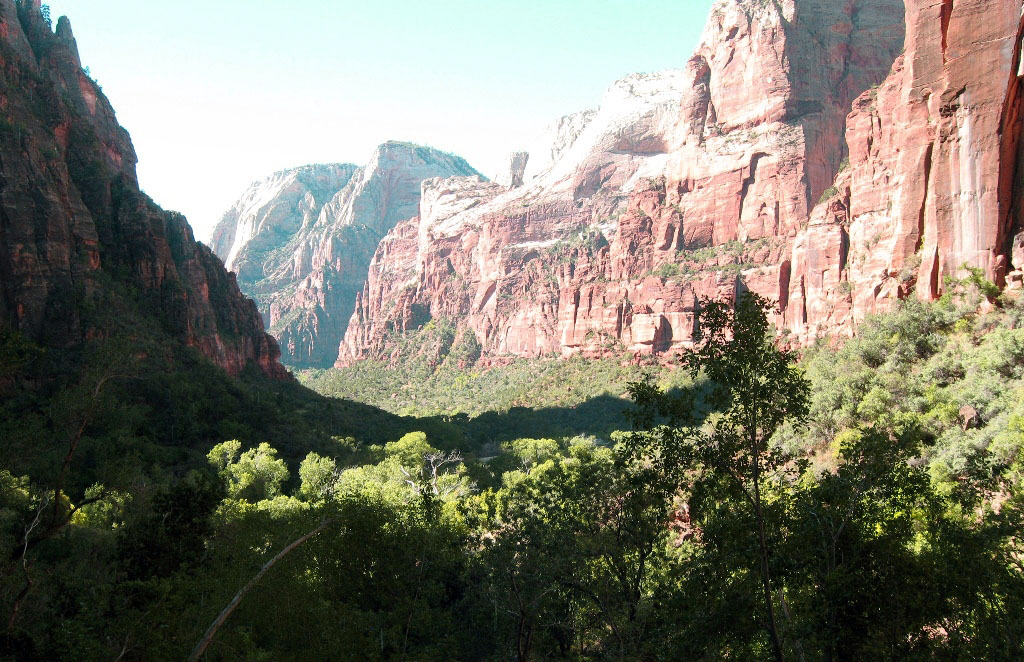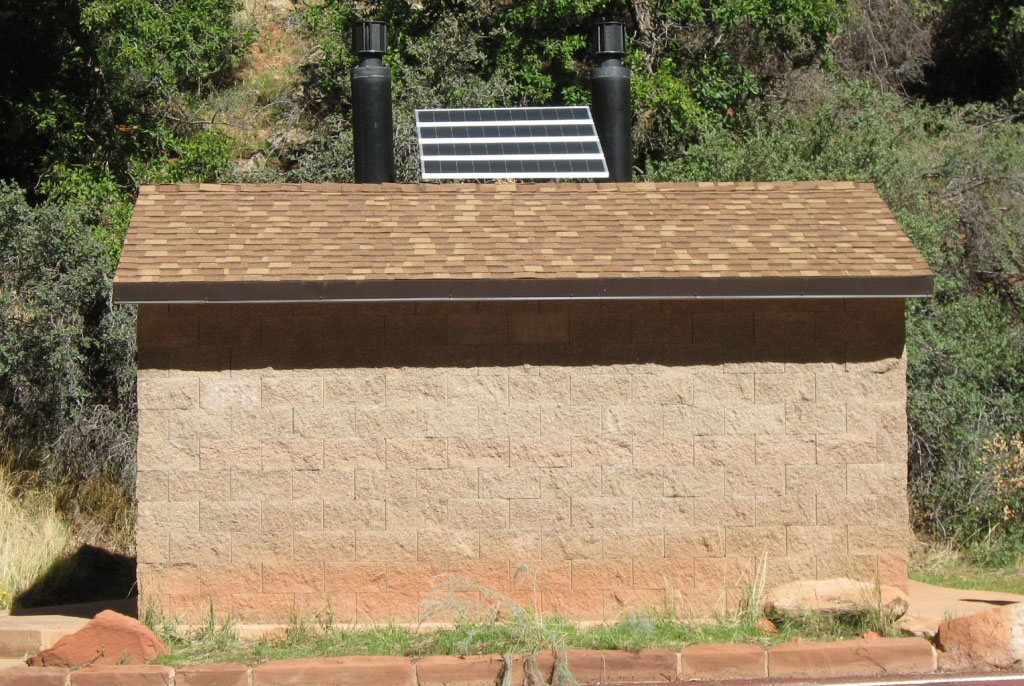 We christened these outhouses "fanny whistlers." Solar-powered fans keep them odor-free, but quite chilly on the nether regions!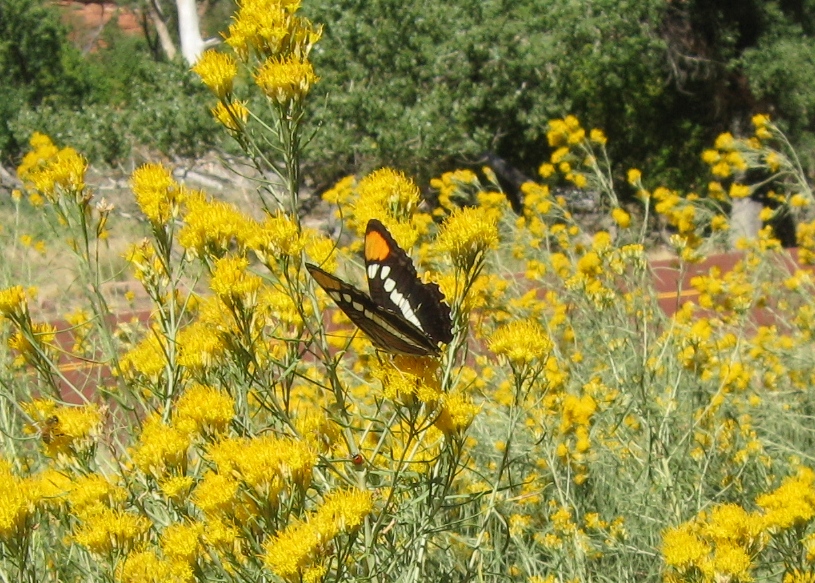 Butterfly on Rabbitbrush, the ubiquitous yellow shrub of the desert.




We said a reluctant goodbye to Zion and headed east to Great Basin National Park in Nevada. We approached from the west, with great views of 13,000 foot Mt. Wheeler.



The aspen leaves serenaded us in nearly-empty Baker campground, where we enjoyed a toasty, roaring fire under a nearly full moon.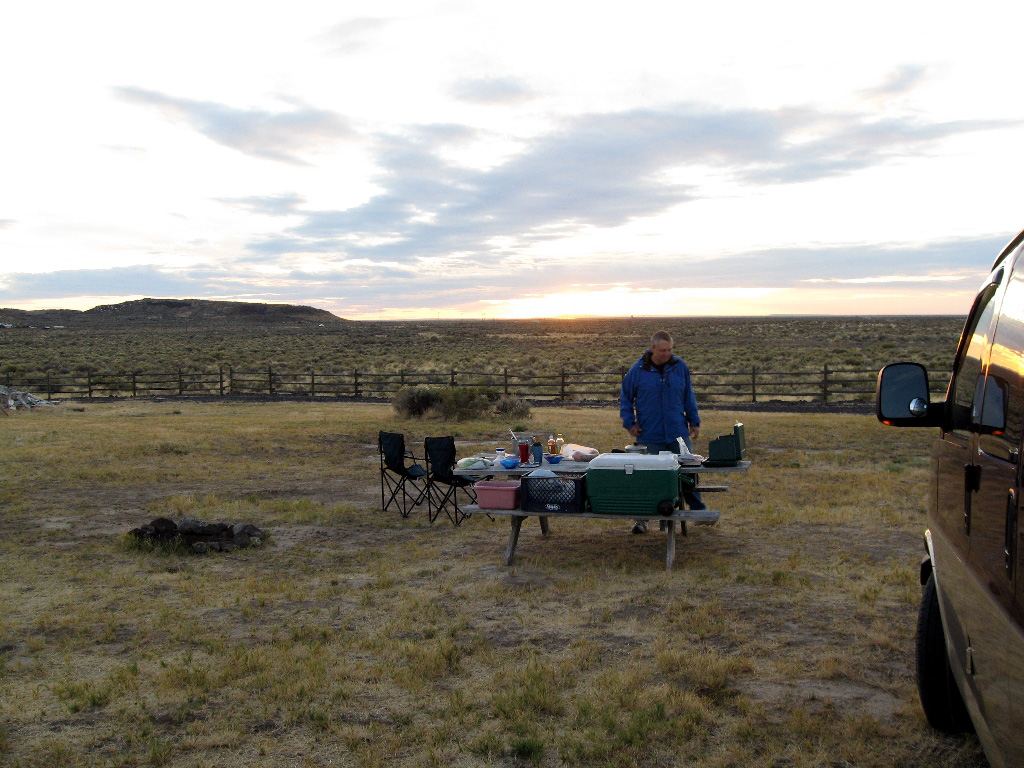 Camping at Crystal Crane Hot Springs near Burns in SE Oregon.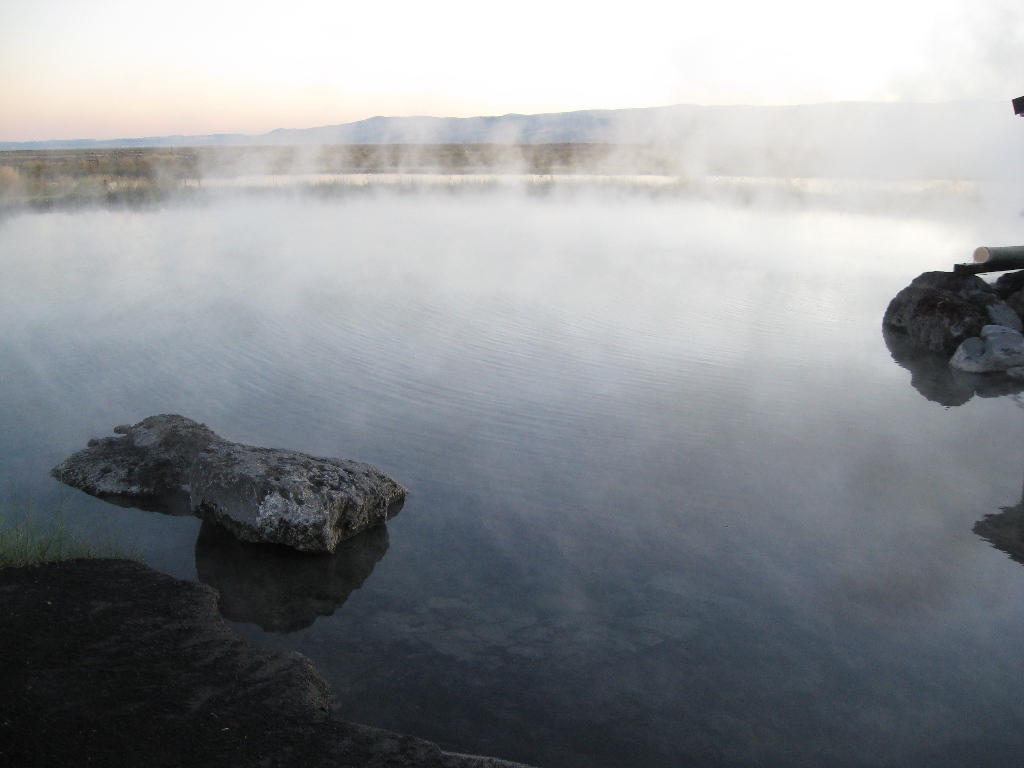 The thermal pool was 102 degrees.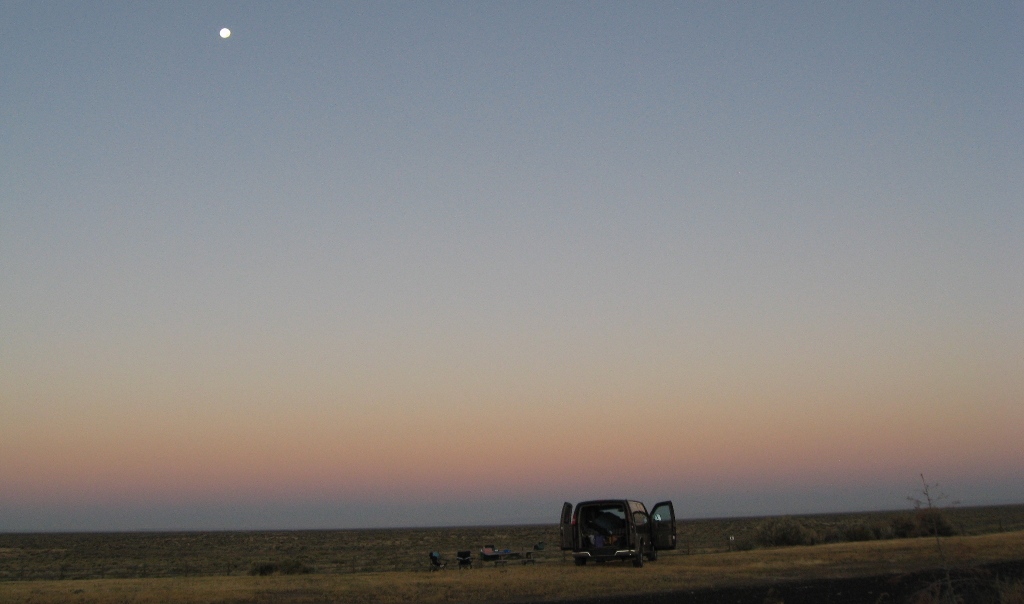 Back to our comfy camper after a delightful moonlight soak in the hot spring.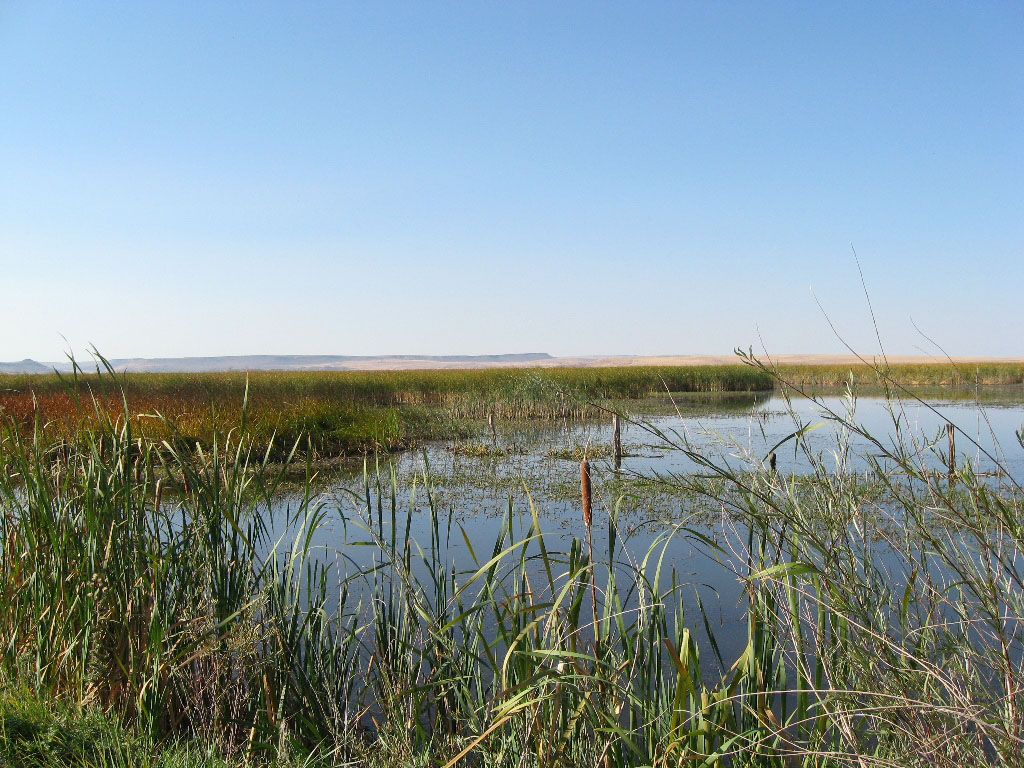 The next morning we drove through nearby Malheur National Wildlife Refuge, a bird watcher's paradise.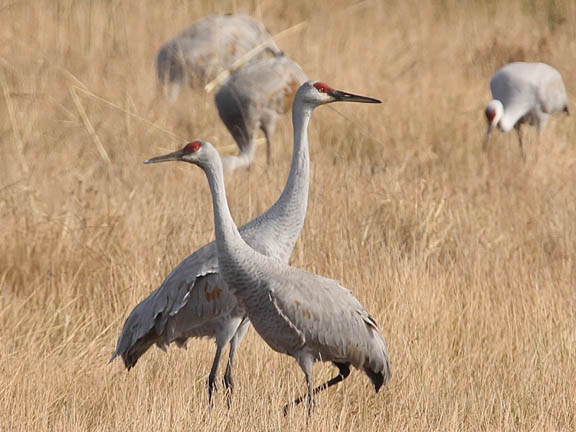 We were thrilled to watch migrating Sandhill cranes feeding and flying (photo credit NPS)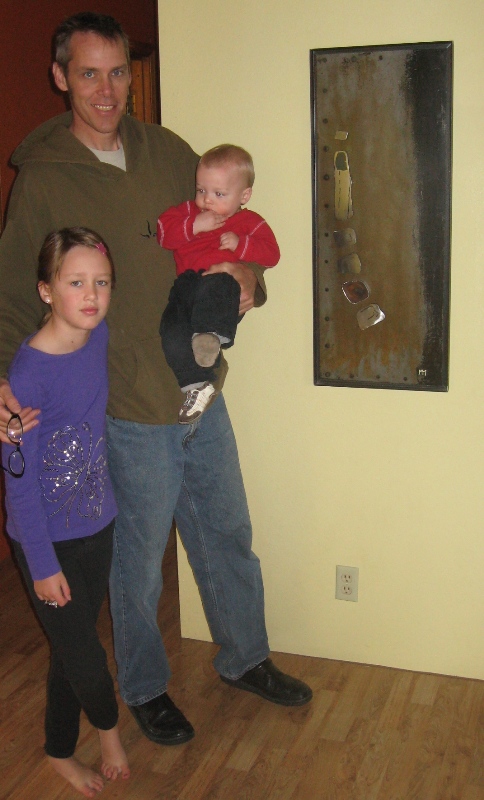 In John Day, Oregon we stayed with a former coworker, metal artist Mytchell Mead. Here he is with his kids Rhea and Cassidy, and one of his early pieces. To see more of his work, go to http://mytchell.com/.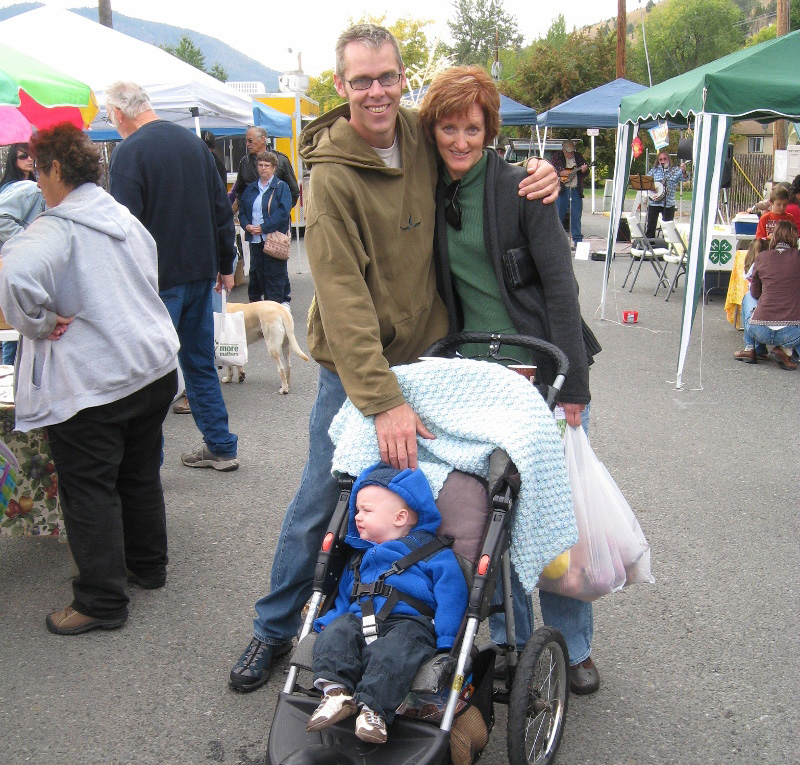 He and his wife, Jan, took us to the local farmer's market, where they know everyone, and can buy local goodies of all kinds. I love the slow pace and scenery of small towns, but jobs can be scarce.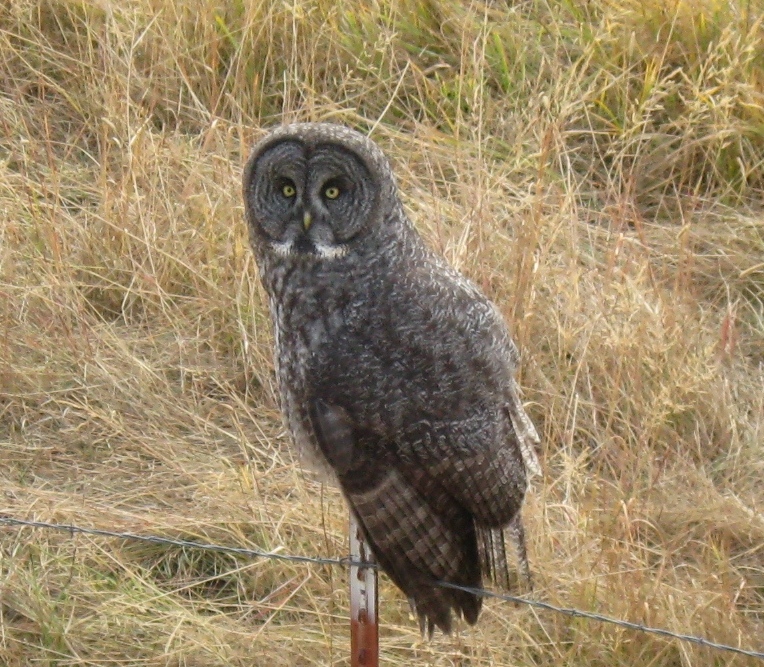 Driving along idyllic Hiway 7 between Prairie City and Baker City, we chanced upon this Great Gray Owl perched on a fencepost next to the road. We stopped and watched it for quite a while (cars make good bird blinds). These magnificent birds are over two feet tall.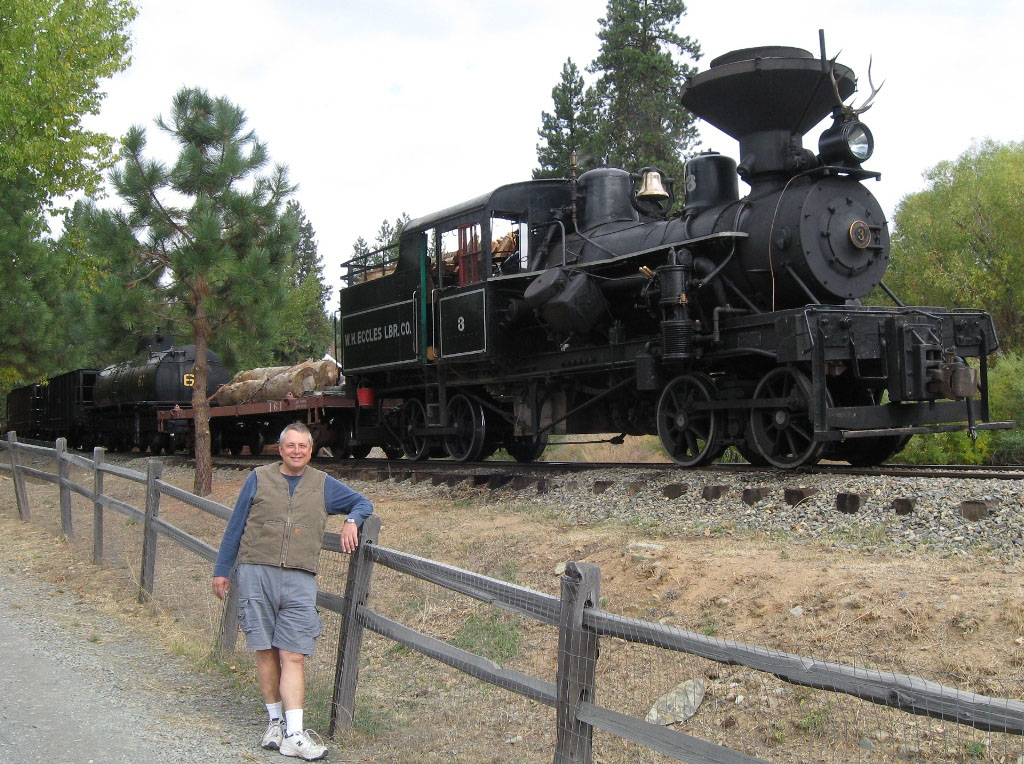 In another piece of luck, we drove three miles out of our way to Sumpter Dredge State Park, and chanced upon the "Fall Color" event, in which they fire up this wood-fired steam engine and take folks for short rides.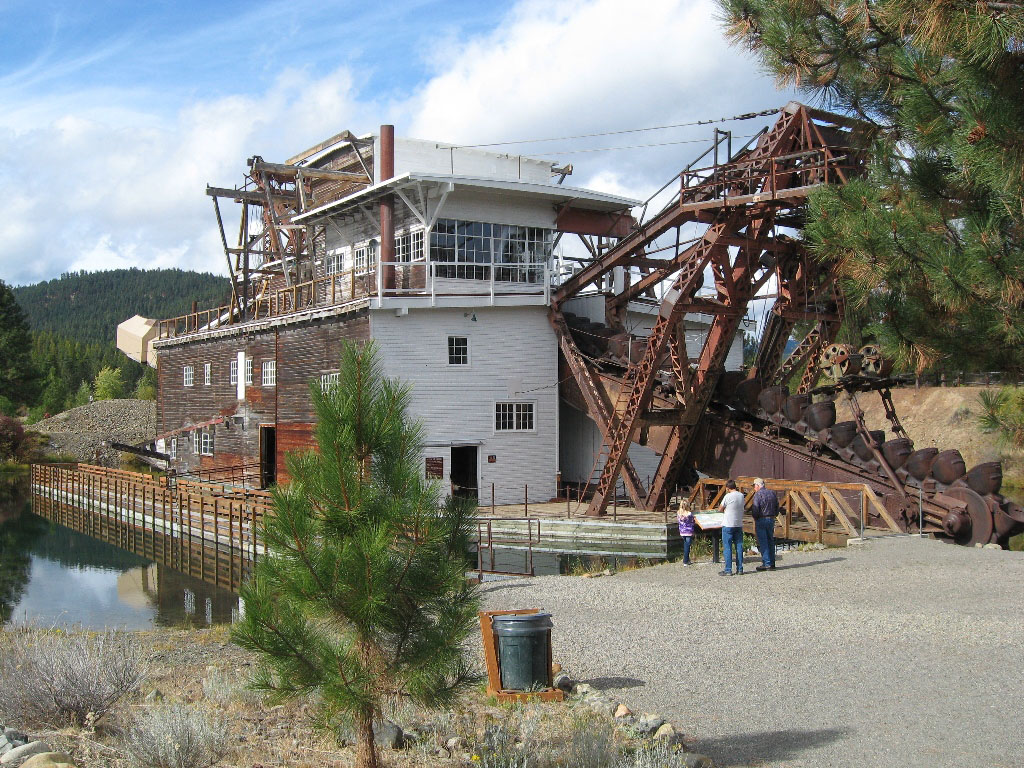 This dredge was used to "mine" gold by digging up the river bed in front, "panning" through the rock, and spitting it out the back of the dredge. In this way the dredge moved slowly through the valley, taking its pond with it.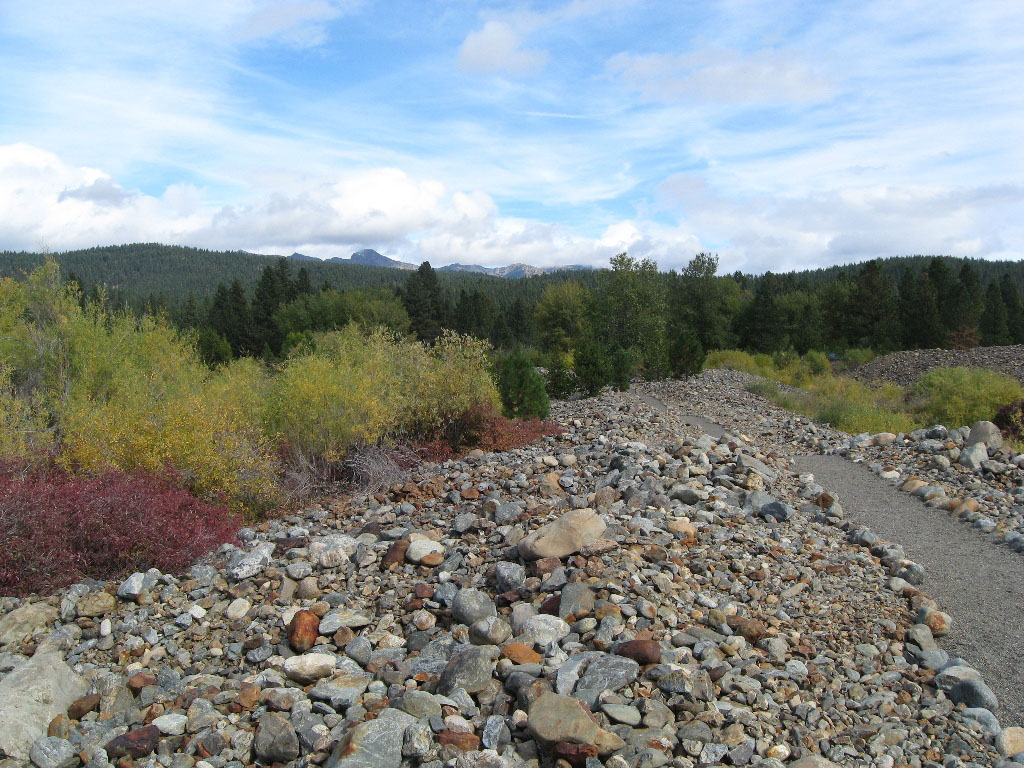 The dredge left behind piles of rocks that are slowly being hidden by vegetation. There are nice walking trails here, and we recommend stopping. You can walk through the dredge for free, and it's really interesting.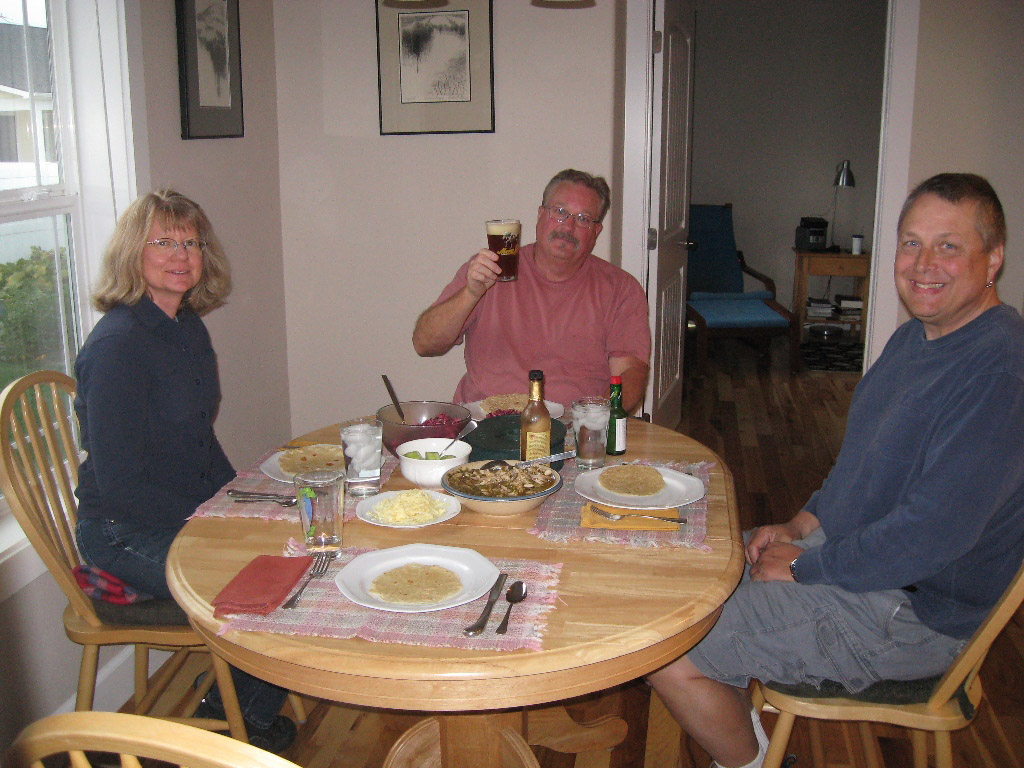 In Baker City we stayed with Karen's Peace Corps friend, Nancy, and her husband, Andy, both semi-retired geologists.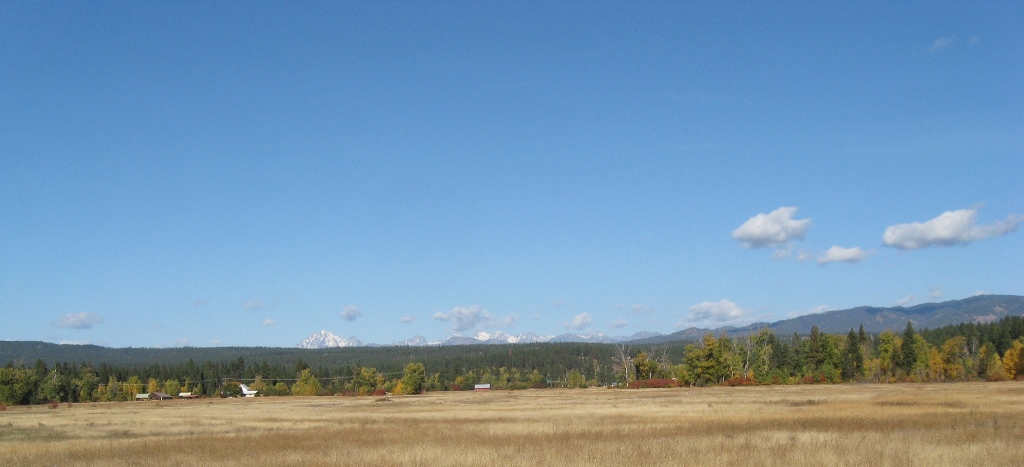 The final day of our trip took us back over the Cascade Mountains to western Washington.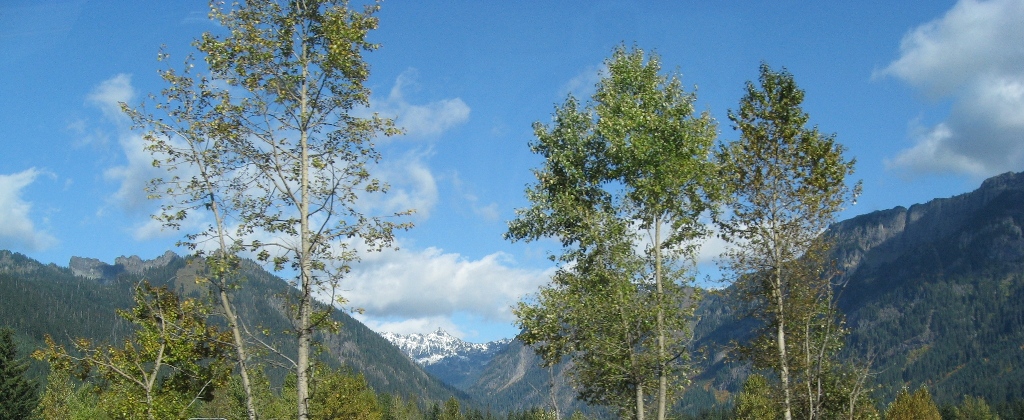 Although we were sad to have to end our trip, we are grateful that we live in such a beautiful place.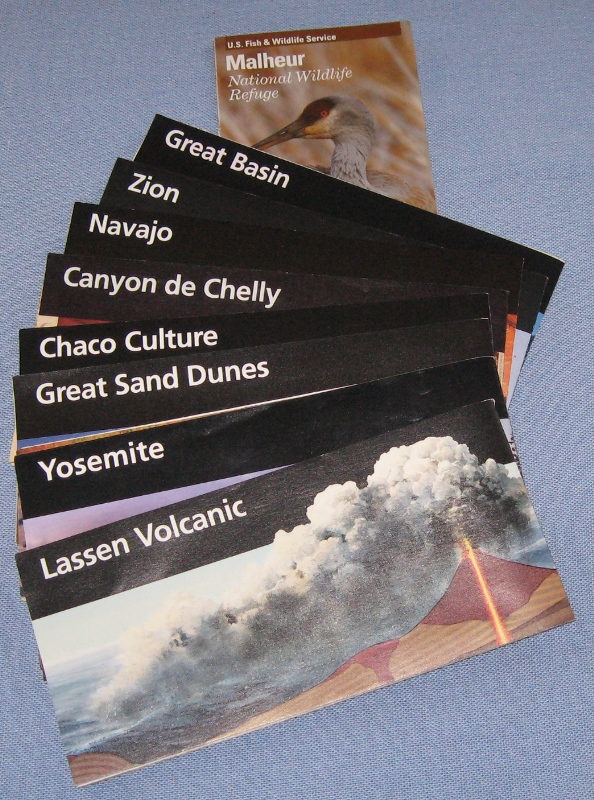 The parks we visited (missing: Redwoods).


---
Total cost for the 27 days: $2343
Gas $1541 (at 17.2 miles per gallon)
Food and supplies $419
Camping $ 177 (average $16 per night)
Miscellaneous (annual park pass, etc.) $ 206