Grant and Karen's Road Trip, Fall 2012
Eight weeks, 13,000 miles of back roads and byways, 26 states,
nine National Parks, and many friends and family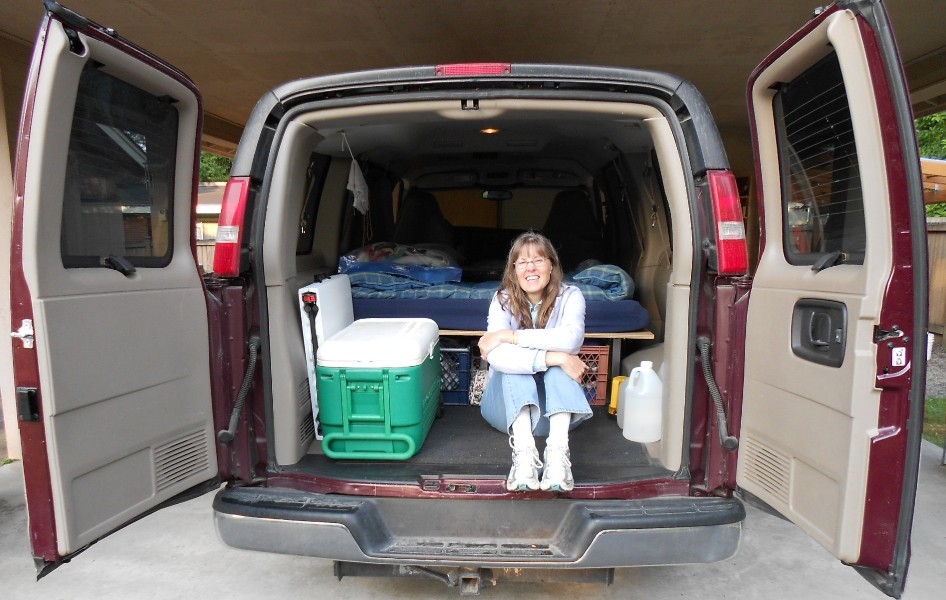 On September 24, 2012, we piled into our trusty 2004 Chevy Express for another road trip. We built a very comfortable
queen-size platform bed with plenty of storage underneath for our clothes and camping gear.





Our 13,000 mile path along the back roads and byways of WA, ID, MT, WY, SD, MN, WI, MI, OH,
WV, PA, MD, VA, NC, SC, GA, FL, AL, MS, LA, TX, NM, AZ, NV, CA, and OR.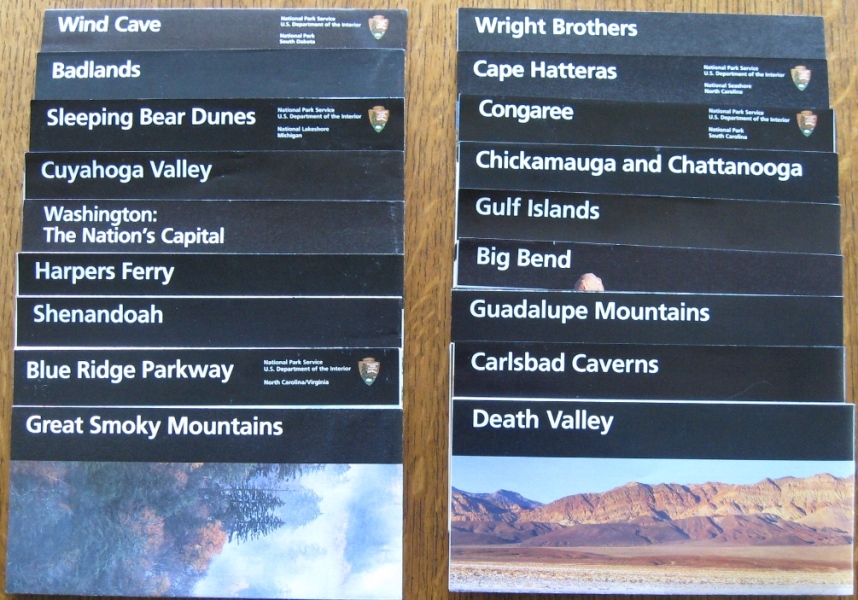 We visited nine National Parks and an assortment of National Seashores, Monuments, and other public treasures.





An excellent lunch at Tacos mi Casa in Moses Lake with our friend Al-Kareem Shadeed.





Wild turkeys in Montana.





A quiet campground in Montana. The sky was hazy due to smoke from forest fires. Our van has doors on all sides, making it easy to access our gear.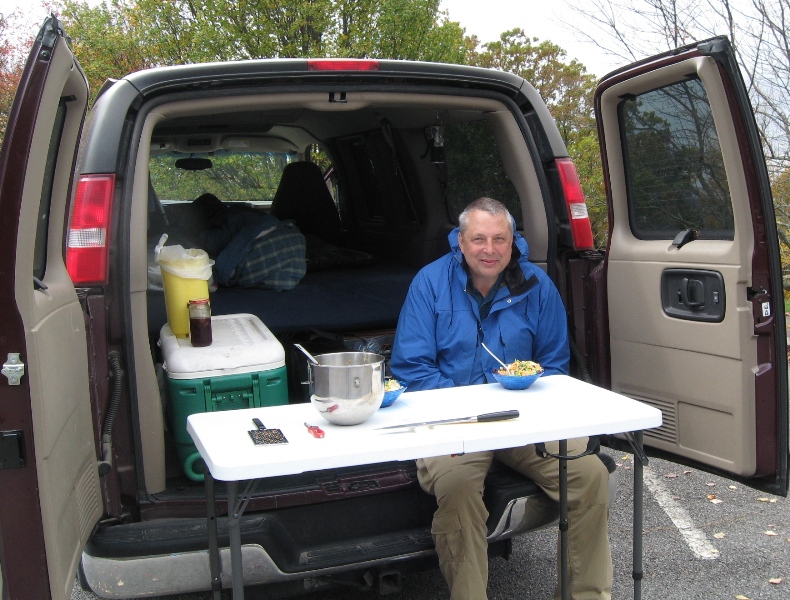 We were very happy with our latest camping acquisition: a height-adjustable, folding table.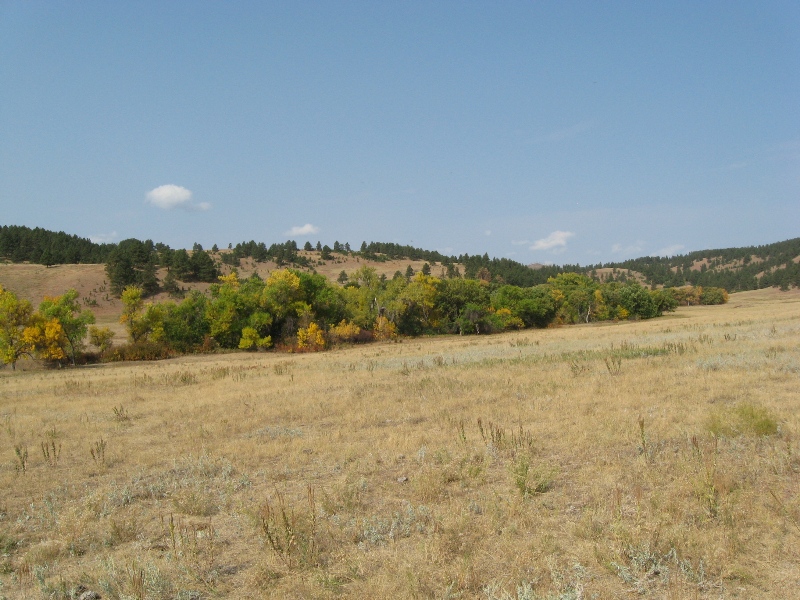 Wind Cave National Park in the Black Hills of South Dakota.





Bison in beautiful Custer State Park in South Dakota's Black Hills (so-called because the thick pine trees look black from a distance).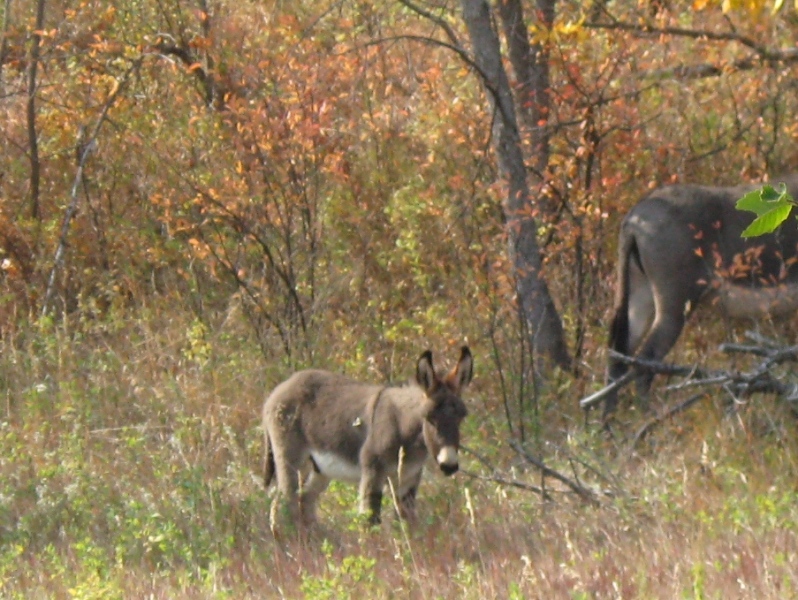 Wild donkeys in Custer State Park. (You're allowed to feed them.)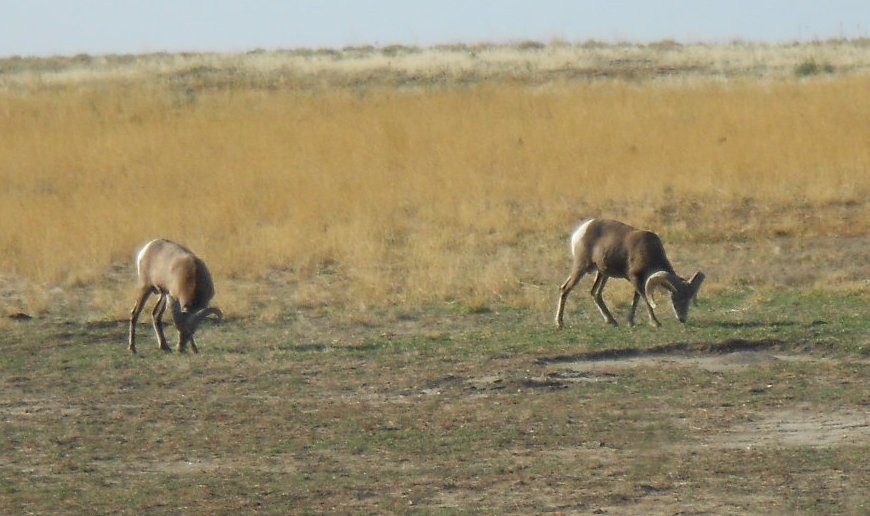 Bighorn Sheep in Custer State Park.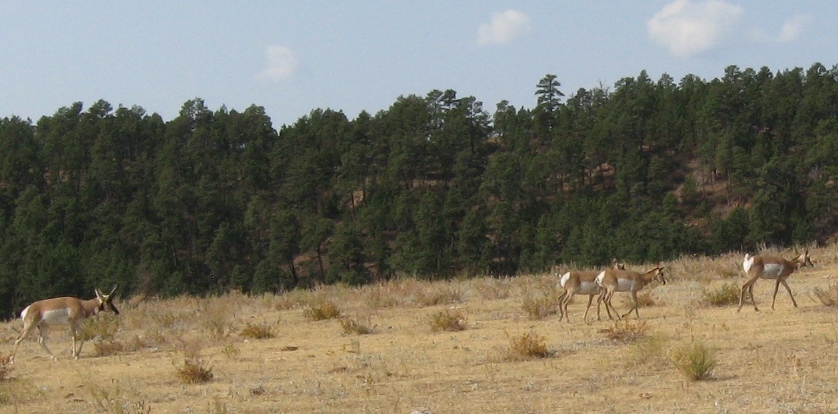 Pronghorn Antelope in Custer State Park.





View of Mt. Rushmore from Iron Mountain Road in Custer State Park.
Drive north so you can see Mt. Rushmore framed in the tunnel openings.





A closeup view of George from Iron Mountain Road.





Granite formations on the uber scenic Needles Highway in Custer State Park.





Needles Highway is an engineering marvel...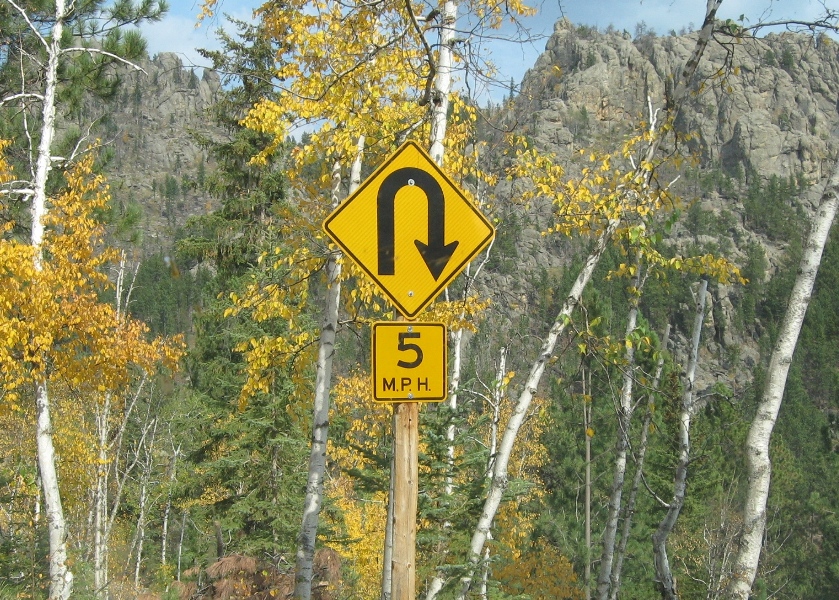 ...a twisty engineering marvel!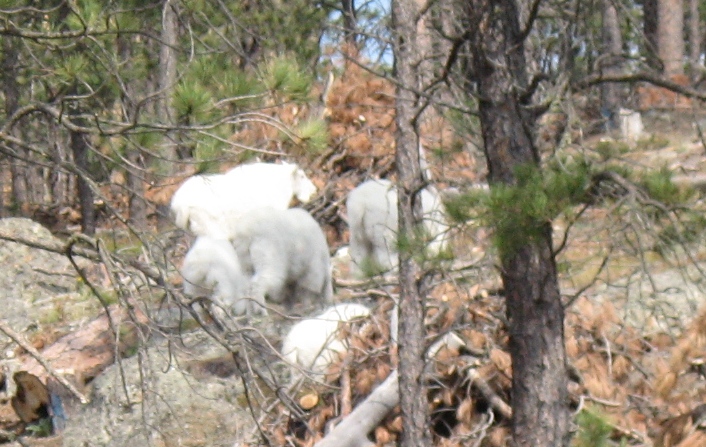 Mountain goats on the Needles Highway.






Badlands National Park, South Dakota.





Hiking in the Badlands.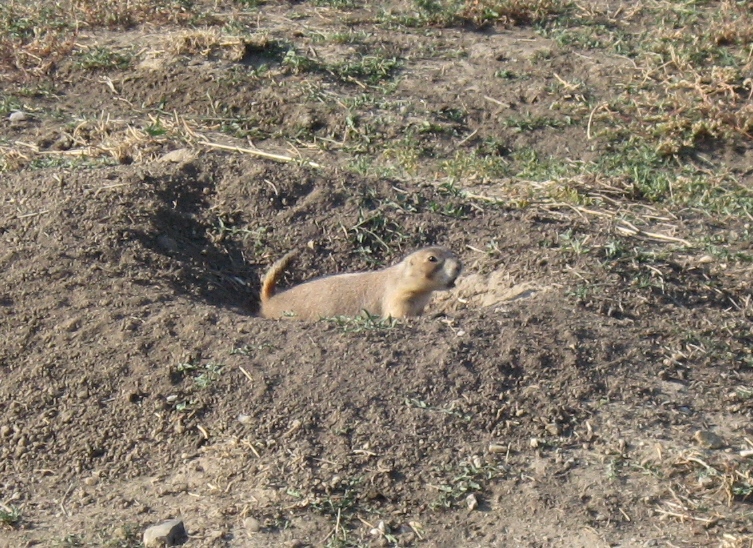 Prairie dog.





We love traveling during harvest season. We saw many acres of these large, round hay bales.





"Star Wars" harvester.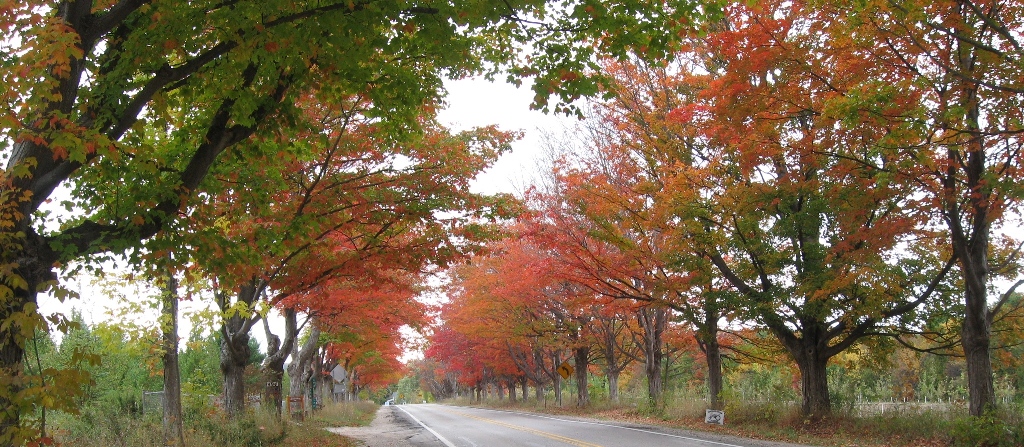 The fall color was incredible.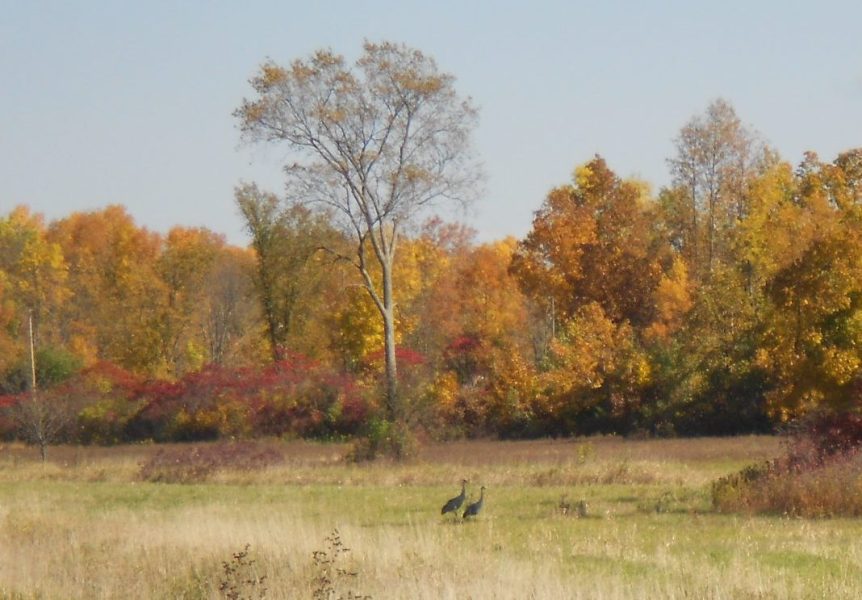 Sandhill cranes in Wisconsin.





Many midwest farms featured postcard perfect harvest displays.





Berlin, WI, where Grant's mother and uncle grew up.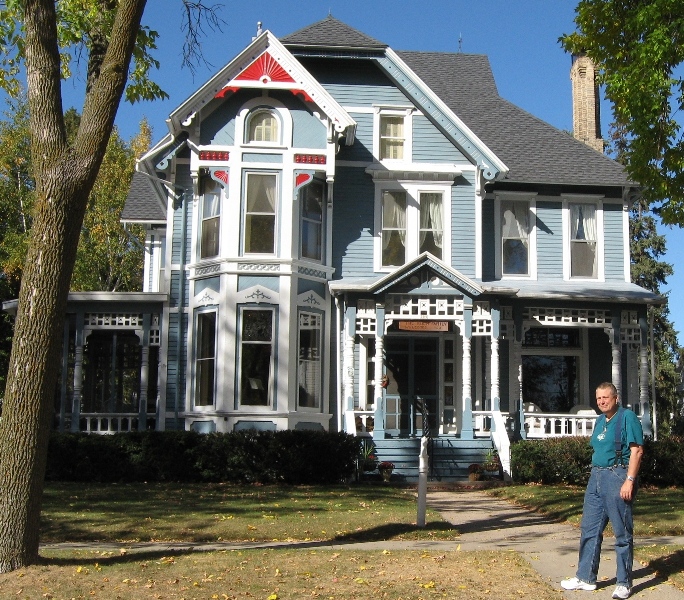 Grant's uncle's Victorian home is now owned by Grant's cousin, John. It's known as the
Lucy Smith Morris house, for the noted suffragette leader who lived here in the late 1800's.





Grant's cousins Tom, Tim, Dave, Greg, John, and Gretchen, plus John's daughter,
Greta, and Tim's son, Michael. Not pictured: cousins Kristin and Jim.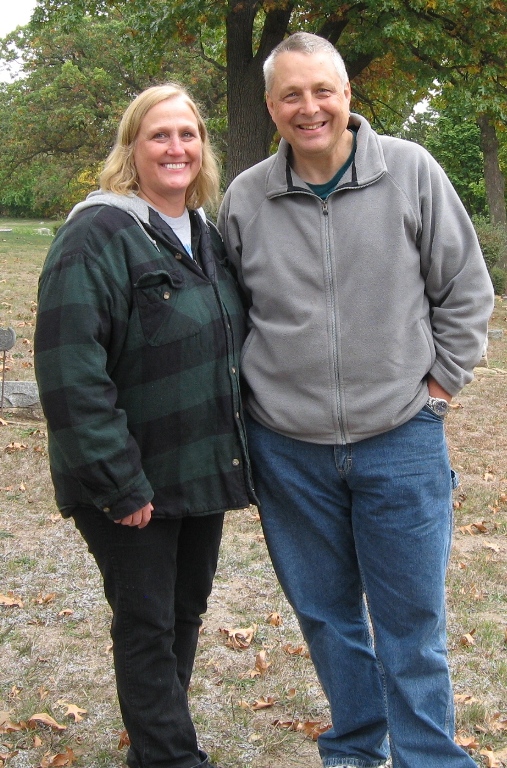 Cousin Kristin.





Grant and Tom at the Koch family cottage on Silver Lake near Wautoma, WI.





Rather than drive around the lake, we took the SS Badger, a coal-fired ferry, from Manitowoc, WI to Ludington, MI.
We do not recommend it. It's expensive, slow, smelly, and uncomfortable, and there's nothing to see but water for four hours.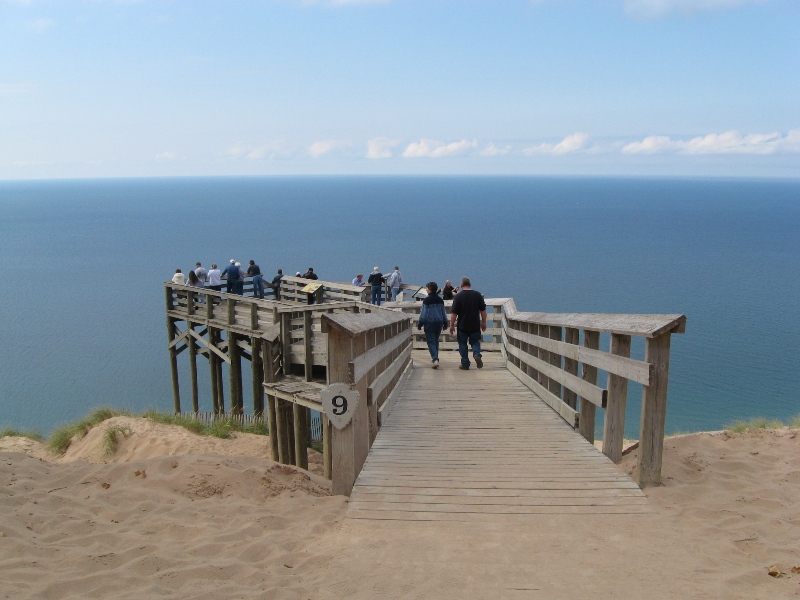 Sleeping Bear Dunes National Lakeshore, Glen Arbor, MI.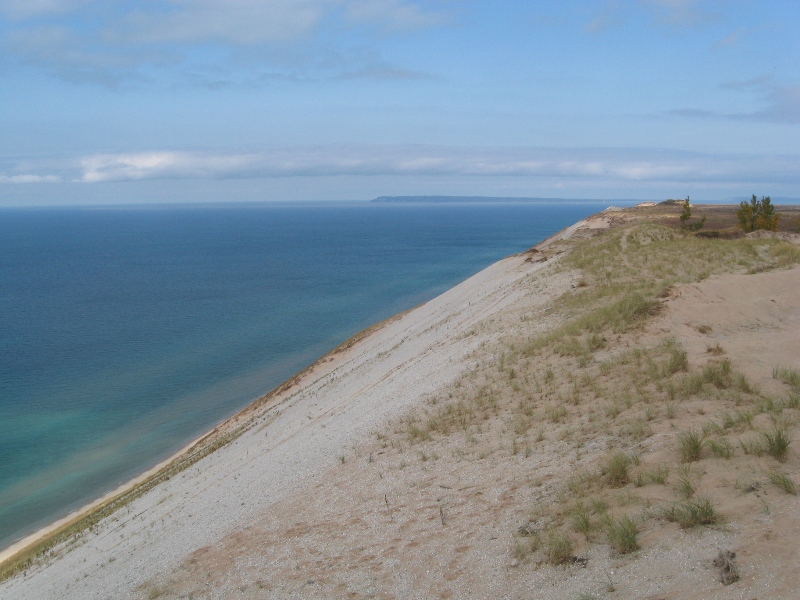 High dunes and sweeping views of Lake Michigan.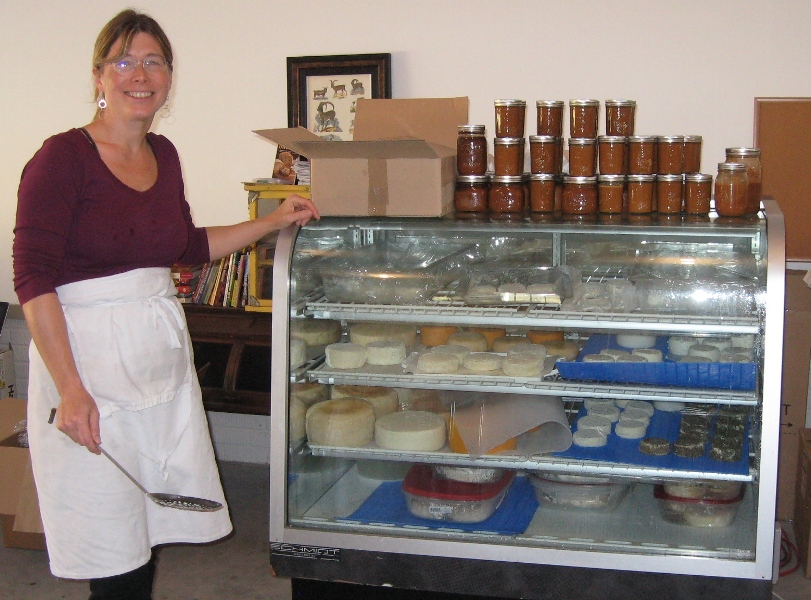 Grant's step cousin Madeleine manages Idyll Farms creamery in Northport, MI.
Here she is with a sampling of the goat cheeses and caramel she is developing.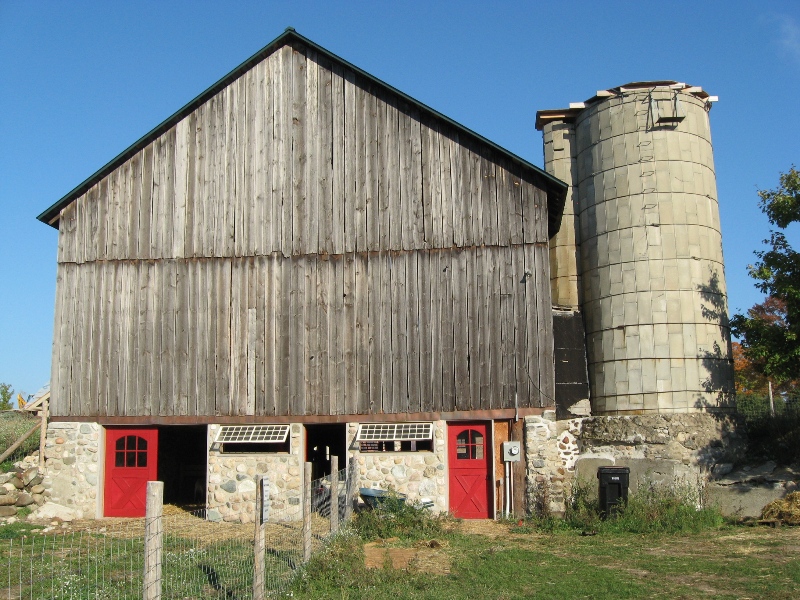 This is the goat barn. The creamery is under construction.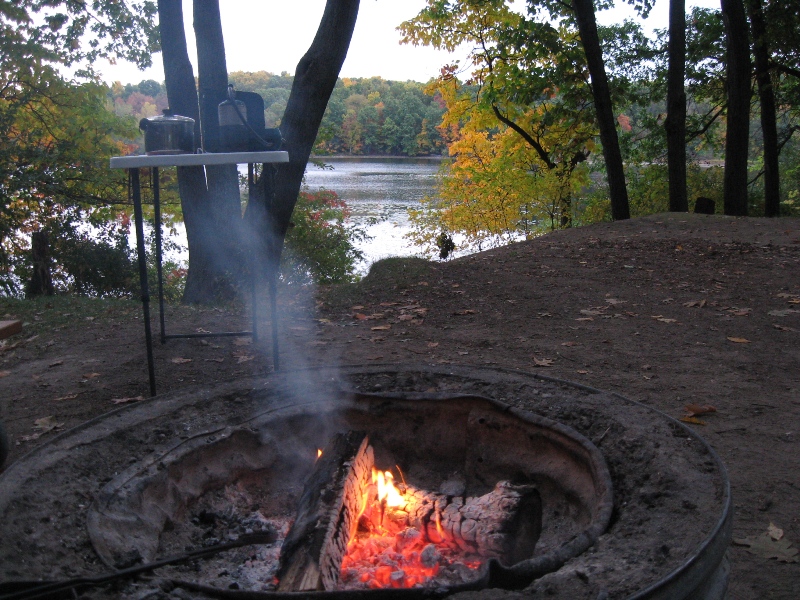 Green Lake campground near Stockbridge in southern MI. This is the life!





The aptly named town of Charm, in the heart of Ohio's Amish country.





I'm sure the Amish people wish they didn't have to share their peaceful roads with hordes of tourists in cars.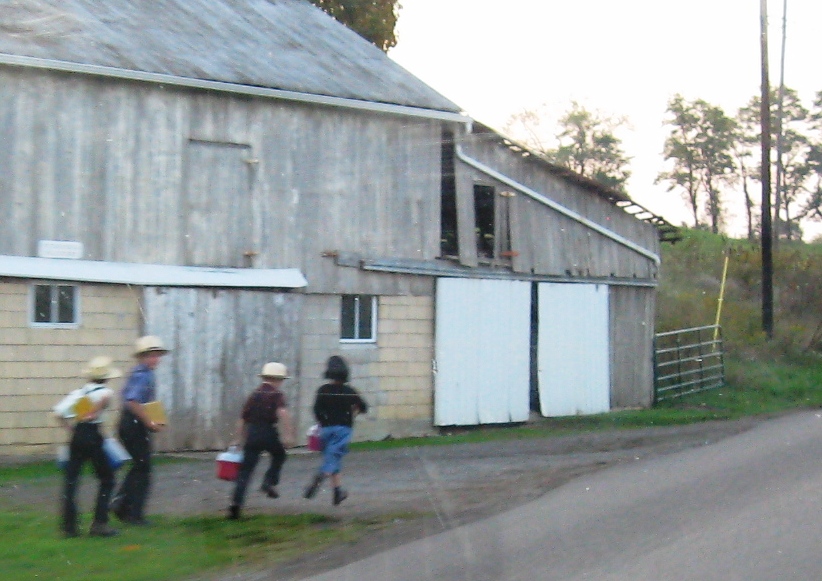 The Amish people don't like to be photographed, so I surreptitiously snapped this picture through the windshield. These are Amish kids running to school.





Although Amish dress is plain, it is not drab! (Photo not taken by me.)





We enjoyed going in to the stores to listen to the Amish people speaking Pennsylvania Dutch. It's like being in another country.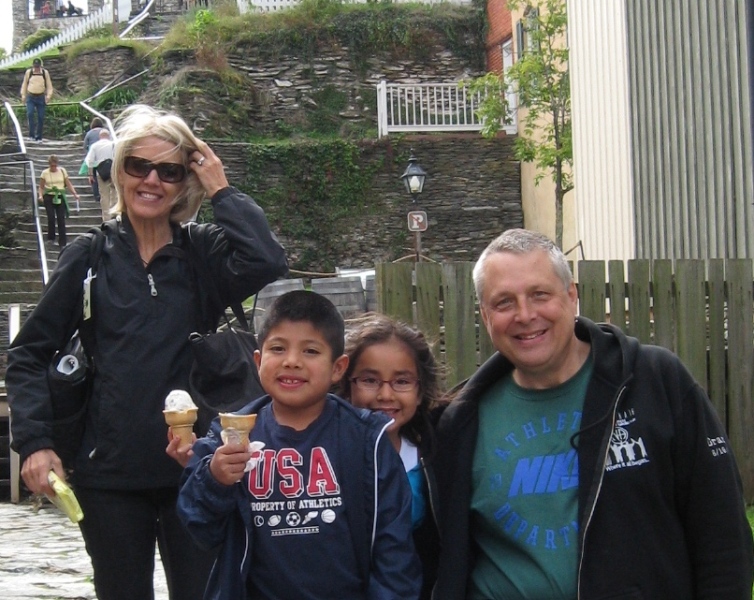 With Karen's sister Susan and her kids, Brandon and Kylie, at Harper's Ferry, VA, a restored historic town at the confluence of the Potomac and Shenandoah rivers.





A nice, long walk on a drizzly day in DC.





With Karen's old friend Julie at Monticello, Thomas Jefferson's home near Charlottesville, VA.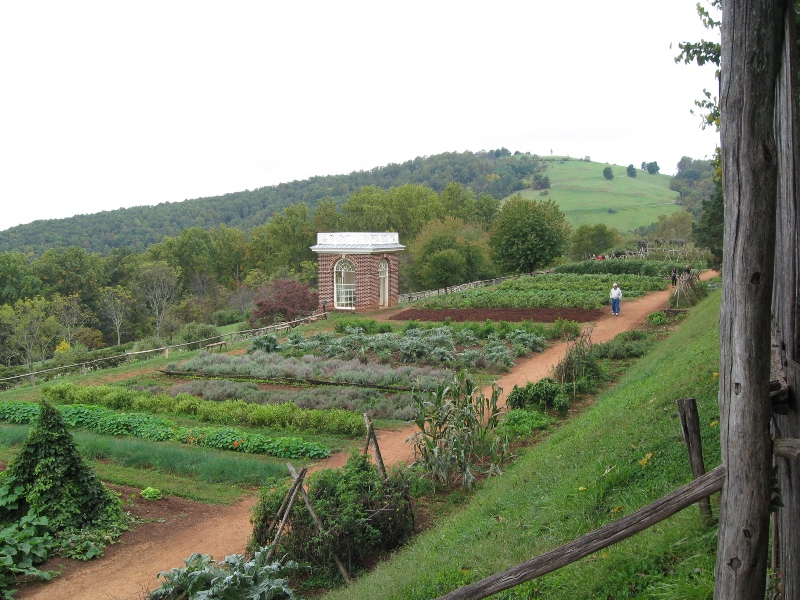 The terrace vegetable garden at Monticello, where the amazing TJ grew hundreds of varieties of edibles, and made scientific observations about them all.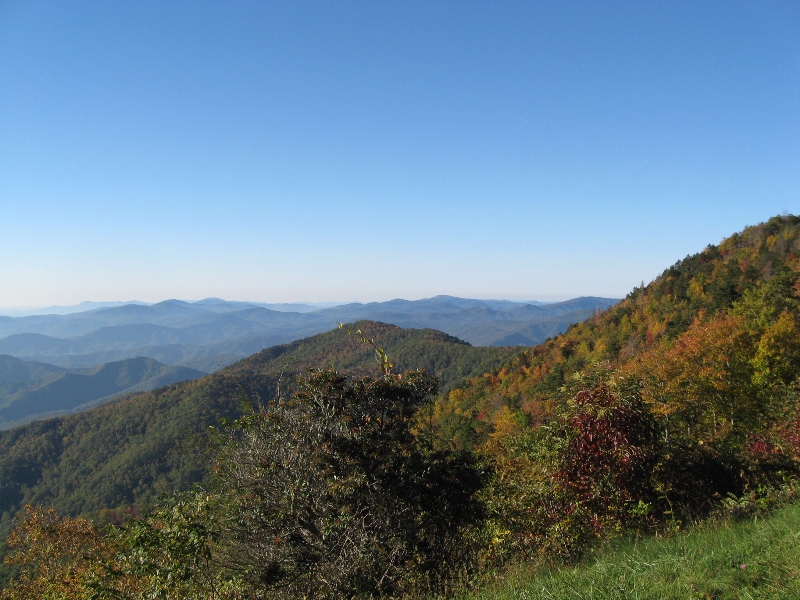 Sweeping views from the Blue Ridge Parkway. We drove all 469 miles, plus half of Skyline Drive in
Shenandoah National Park to the north. We especially loved the southern section of the BRP, in North Carolina.
The BRP can be quite crowded in the summer, but was very quiet in early October.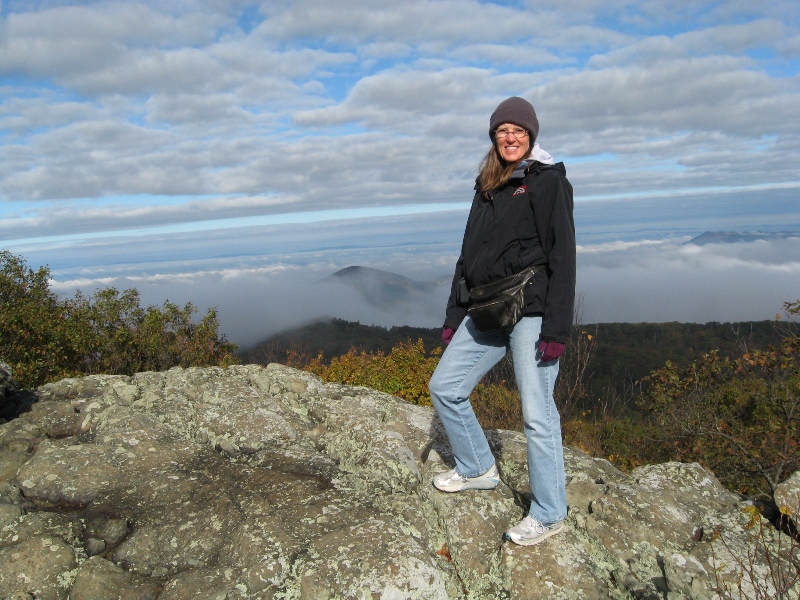 Loft Mountain, Blue Ridge Parkway.





Fall color on Mt. Pisgah.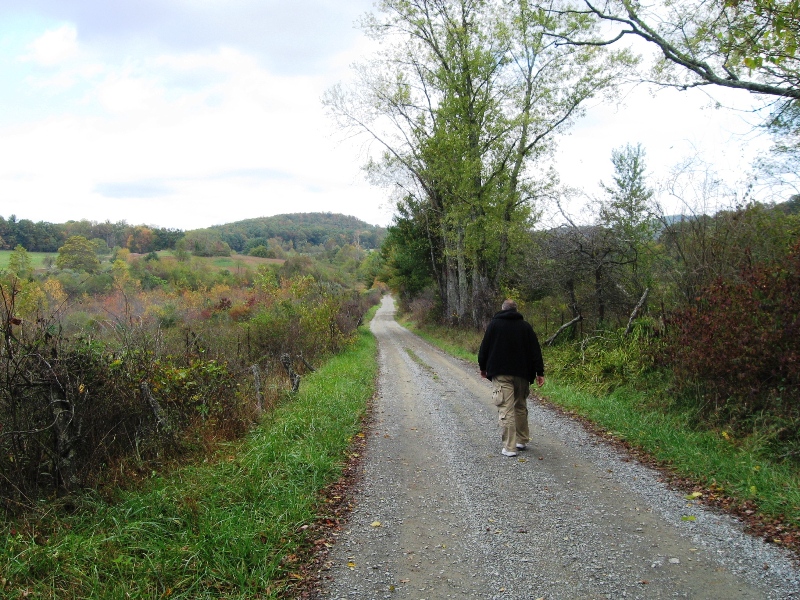 Walking on a country road along the Blue Ridge Parkway, near the Blue Ridge Music Center.
The center showcases the Appalachian roots of American music, and is a must-see.





Mabry Mill on the Blue Ridge Parkway.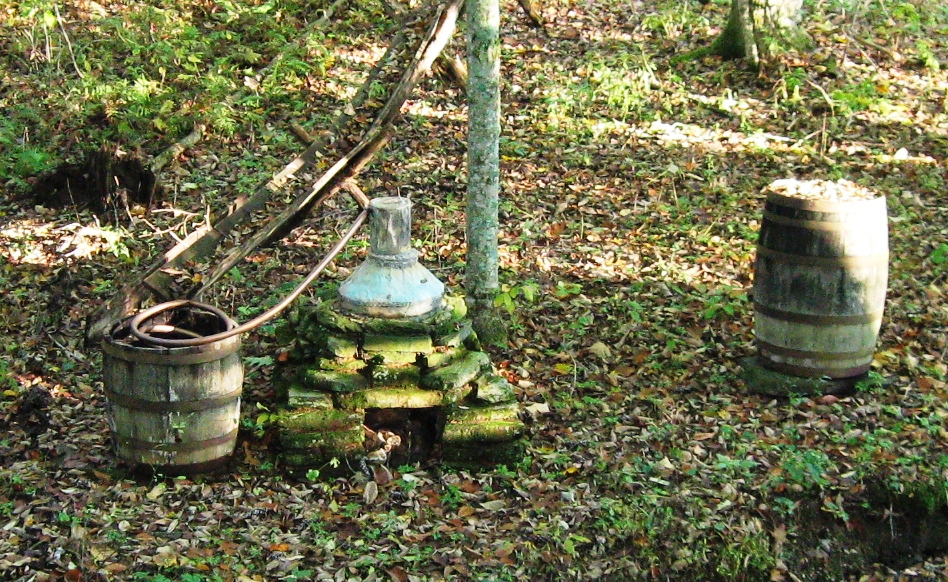 A long-unused whiskey still at Mabry Mill.





Elk in Great Smoky Mountains National Park, NC (most of the park is in TN).





We made it to the Atlantic Ocean! This is Virginia Beach, VA.





We spent a day in Colonial Williamsburg, a living history town that recreates the year 1775, during the build-up to the American revolution.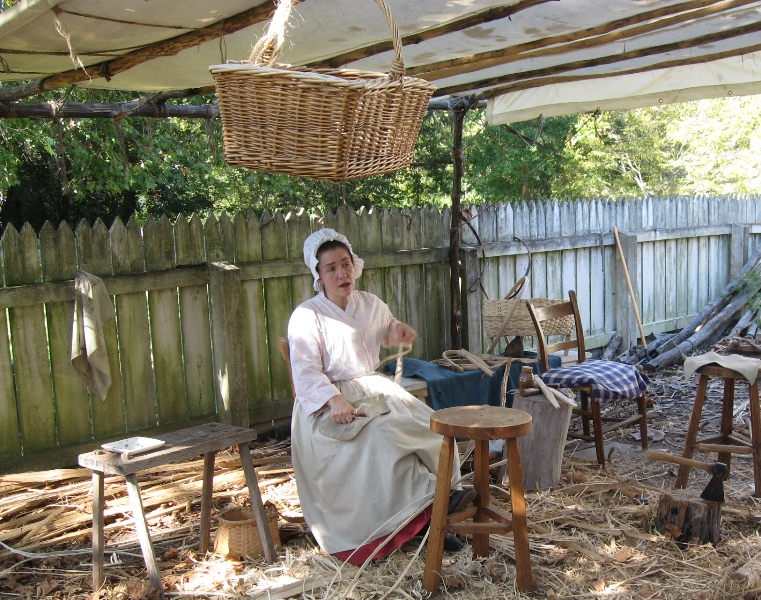 People in period costume, like this basket maker, demonstrate how things like shoes, clothes, wigs, and medicines were made in 1775, and answer questions.





One of the ferries we took along North Carolina's Outer Banks. The ferries connect the Outer Banks islands to each other and the mainland, and most of them are free.





Sand dredges keep boating channels open.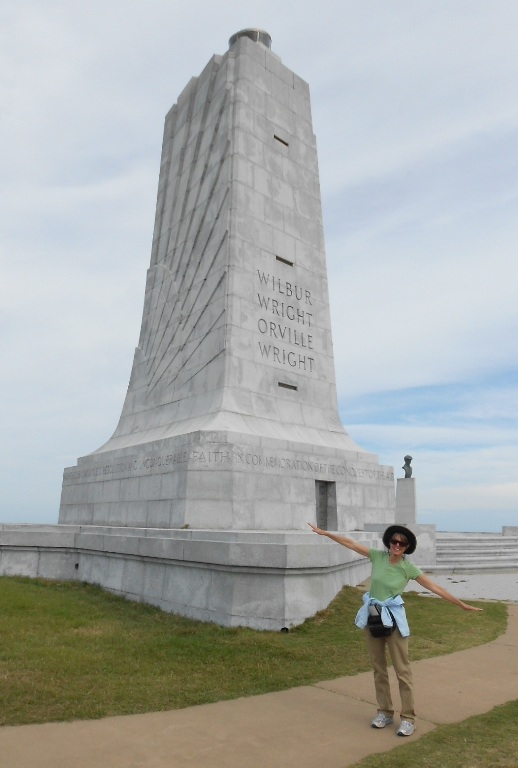 Wright Brothers memorial in Kitty Hawk, North Carolina.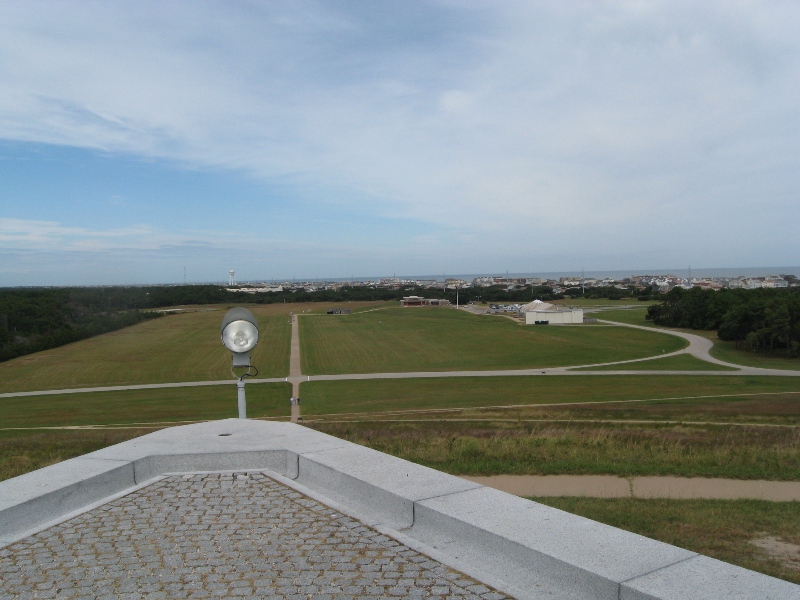 The brothers flew from the top of this 90-foot tall sand dune (now stabilized by grass), taking advantage of the sea breezes.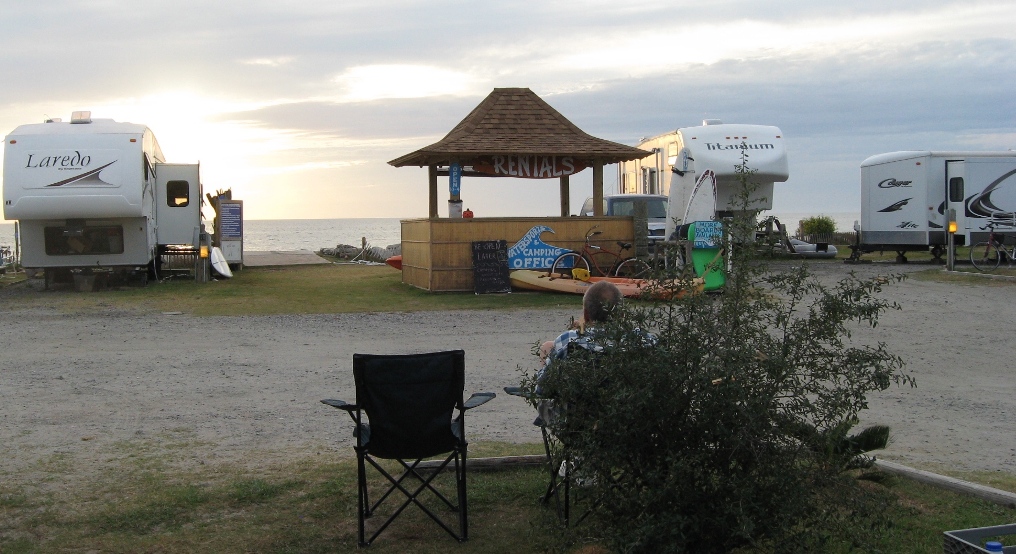 Camping in Rodanthe, on North Carolina's Outer Banks, with a friendly group of avid windsurfers and kite boarders.





A week later, Hurricane Sandy blew in and destroyed sections of the road we had just driven down, including this stretch in Rodanthe.
The Outer Banks are a narrow, mostly-man made ribbon of sand that is extremely vulnerable to storms.
(Photo not taken by me.)





Iconic Cape Hatteras lighthouse, on North Carolina's Outer Banks.





Pea Island Wildlife Refuge, Outer Banks.





Great egret, Little Blue Herons, and White Ibis on the Carolina coast.





Great egret.





Buying a chunk of fresh grouper (tastes like halibut) from Clyde Phillips at his seafood shop in Swansboro, NC.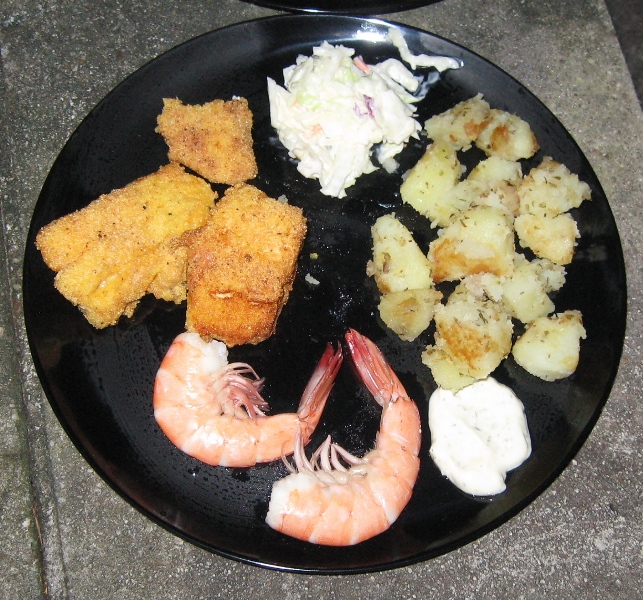 That night we made fried grouper, shrimp, potatoes and coleslaw for dinner! We enjoy camp cooking and went to very few restaurants.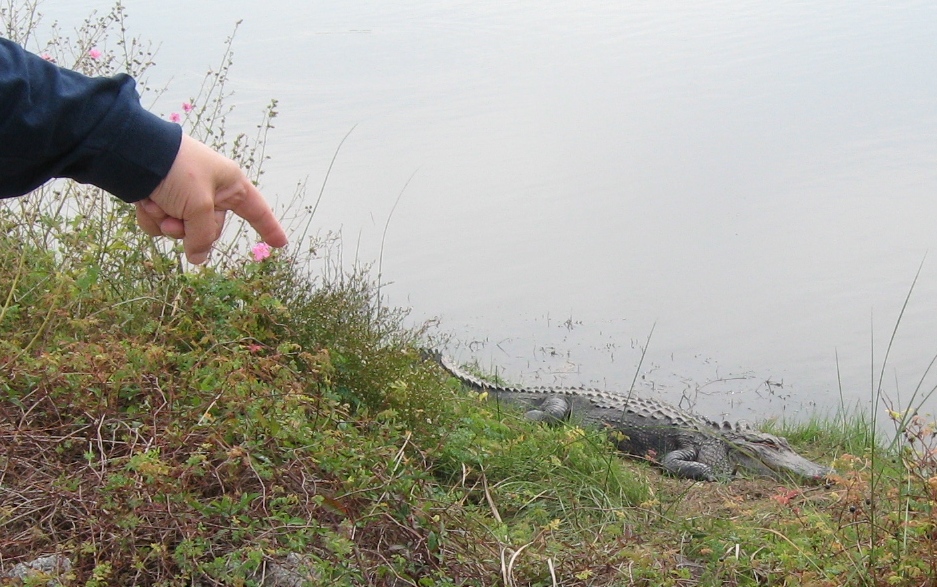 Alligator in Huntington Beach State Park, South Carolina. A magical place.






The waterfront in Charleston, NC. Parts of the city are a few feet below sea level.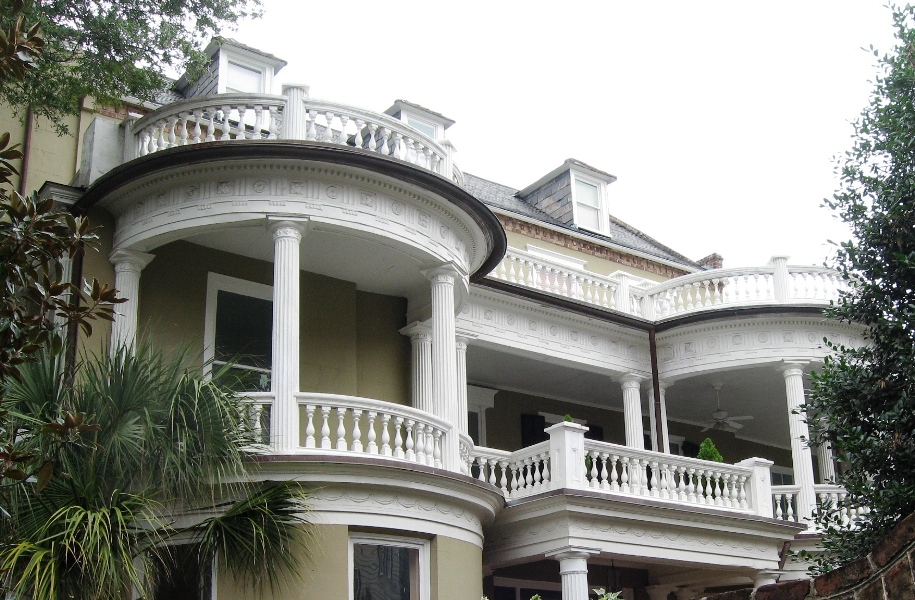 It's delightful to walk around Charleston and see the beautiful old homes.





The pleasant waterfront boasts a promenade, shady swings, and fountains.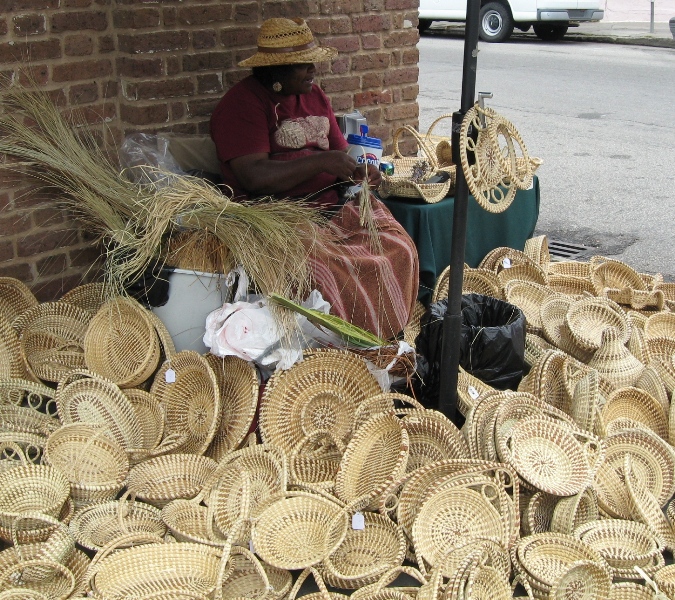 Handwoven sweetgrass baskets are beautiful, famous, and very expensive. Most of the "simple" ones in this picture cost $200 or more.





The "Mosquito Meter" at Francis Beidler Forest, an Audubon wildlife sanctuary near Harleyville, SC. We were happy to be there on an "All Clear" day!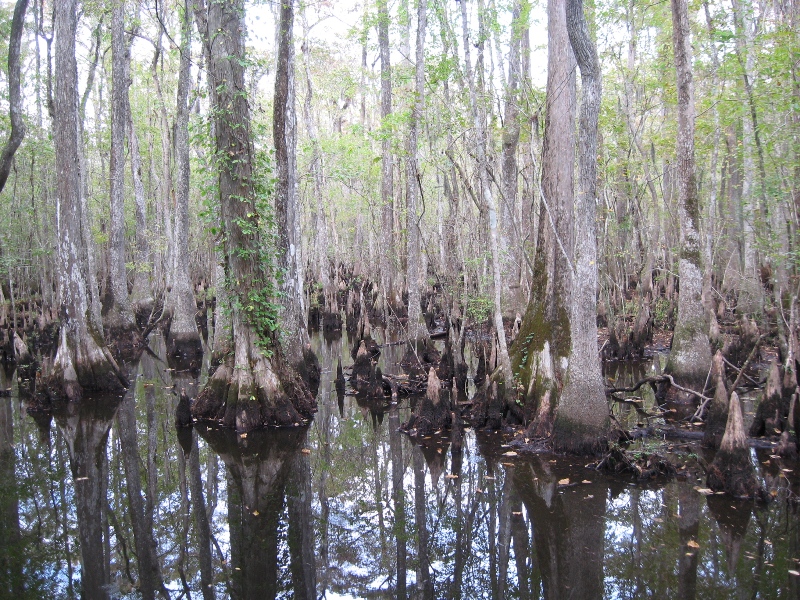 Bald Cypress trees along the Francis Beidler swamp trail. Tannins make the water very dark.
The knobs sticking out of the water are called "knees," and no one is sure what their purpose is.





Bald Cypress are so called because they are deciduous conifers, becoming "bald" in the winter.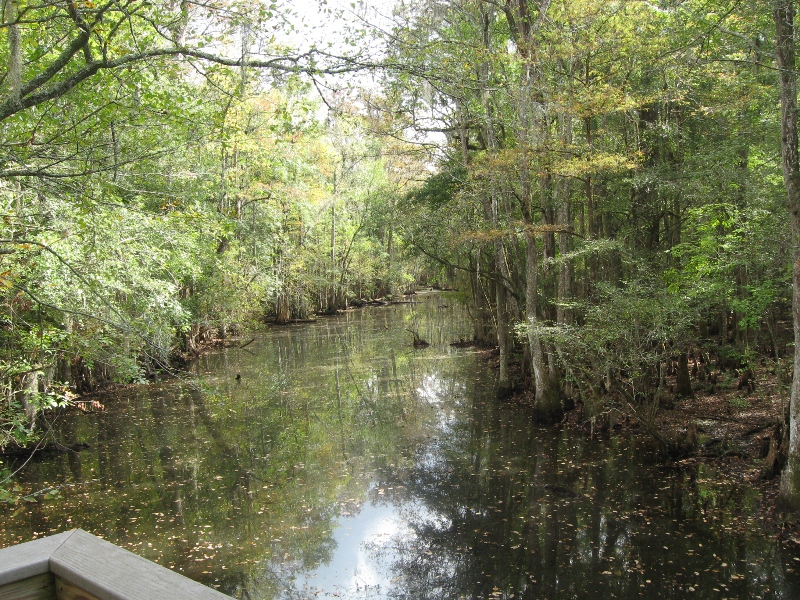 Four Holes Swamp, Francis Beidler Forest, Harleyville, SC.





The boardwalk trail in Congaree National Park, SC, a mystically serene place that we had mostly to ourselves.





The riverfront in Savannah, GA.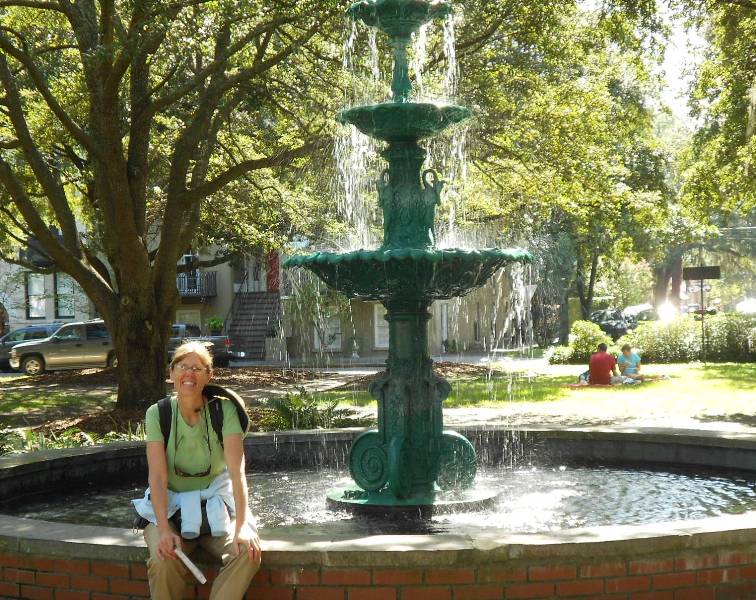 The old part of Savannah is known for its many small, green squares surrounded by stately homes. Some of the parks have fountains.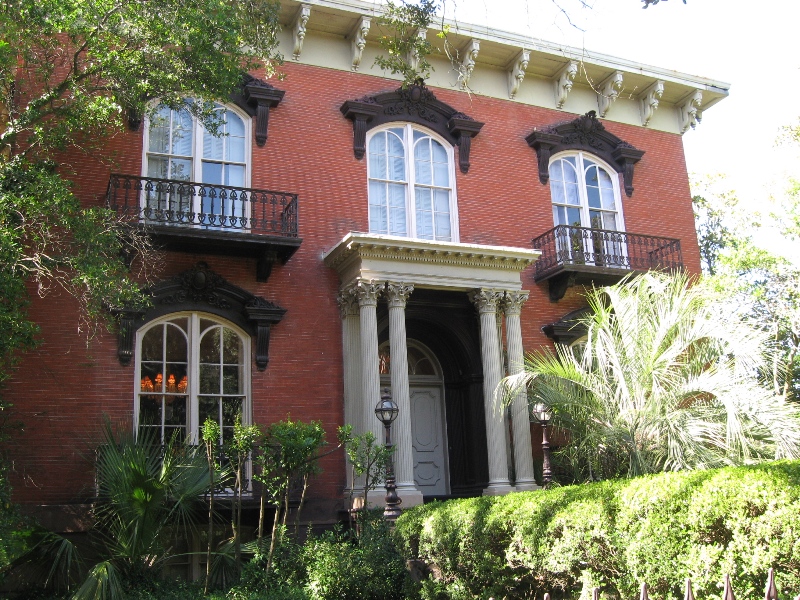 The Mercer Williams house in Savannah, GA. This is the "Midnight in the Garden of Good and Evil" house.





No photo tour of the old south would be complete without a photo of a live oak tree dripping with Spanish moss, so here you go!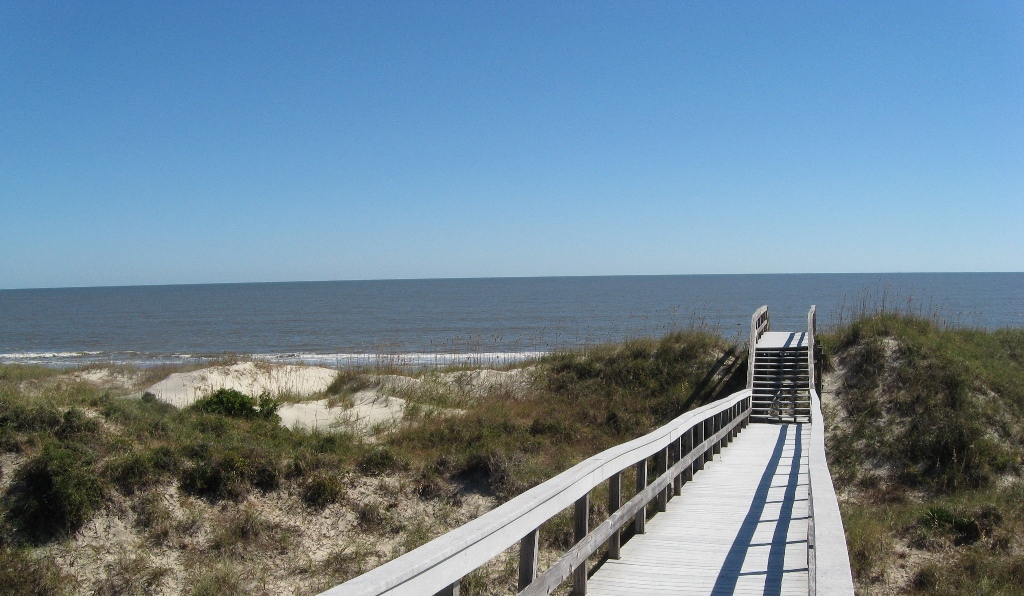 Jekyll Island, GA is very beautiful.





The beach on Jekyll Island, GA.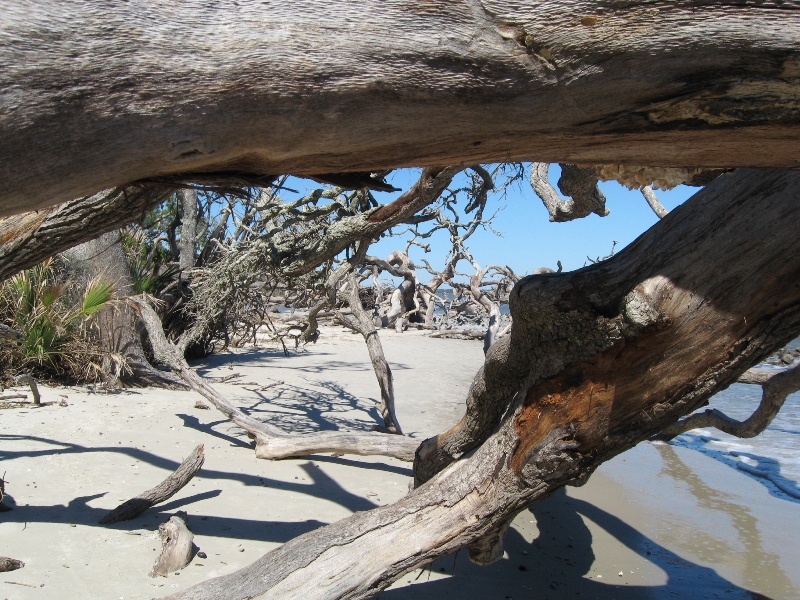 Driftwood on Jekyll Island, GA.





Jekyll Island, GA.





Pine-palmetto forest in southern GA. There are a LOT of pine trees in southern GA.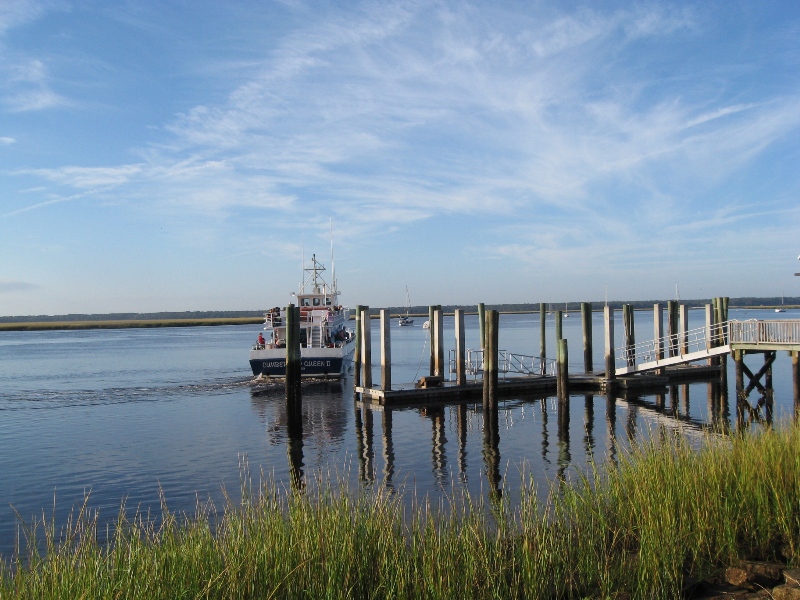 The ferry to Cumberland Island National Seashore leaves from St. Marys, GA.
It's a wilderness island with no cars or pets. In the busy season you need to make reservations months ahead. (We did not go to the island.)





A boat ride on the Suwanee River in Okefenokee Swamp in southern GA.





Alligator in Okefenokee Swamp.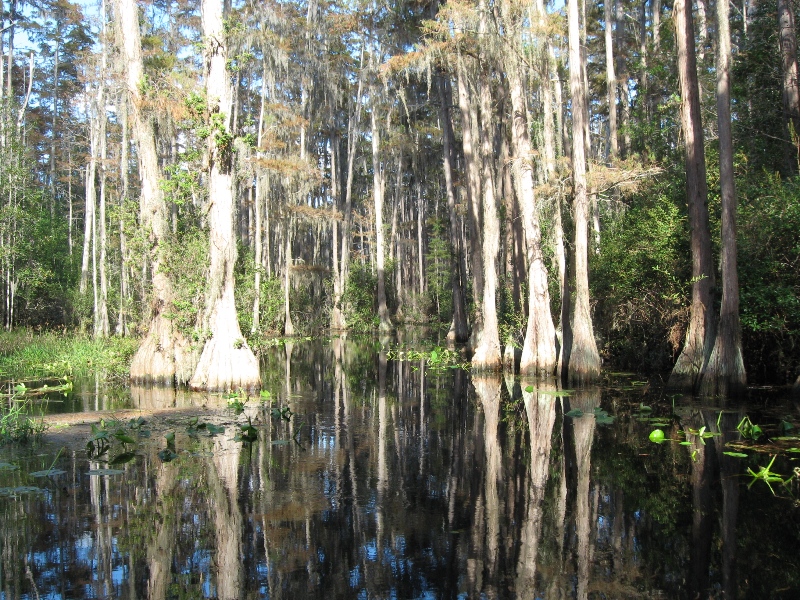 The swamp is a magical world, where all travel is on water "roads."





Wanting to see the Georgia mountains, we headed north. Soon we left the pines behind and entered a world of deciduous fall color.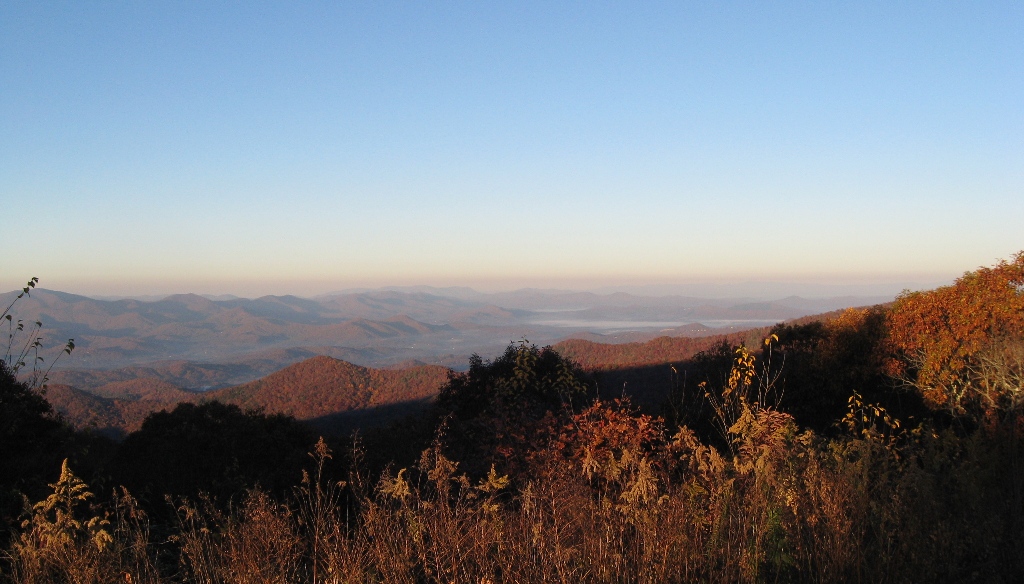 View from the parking lot of Brasstown Bald, the highest point in Georgia (4783 feet).





More fall color in the mountains of northern Georgia. We really liked Georgia.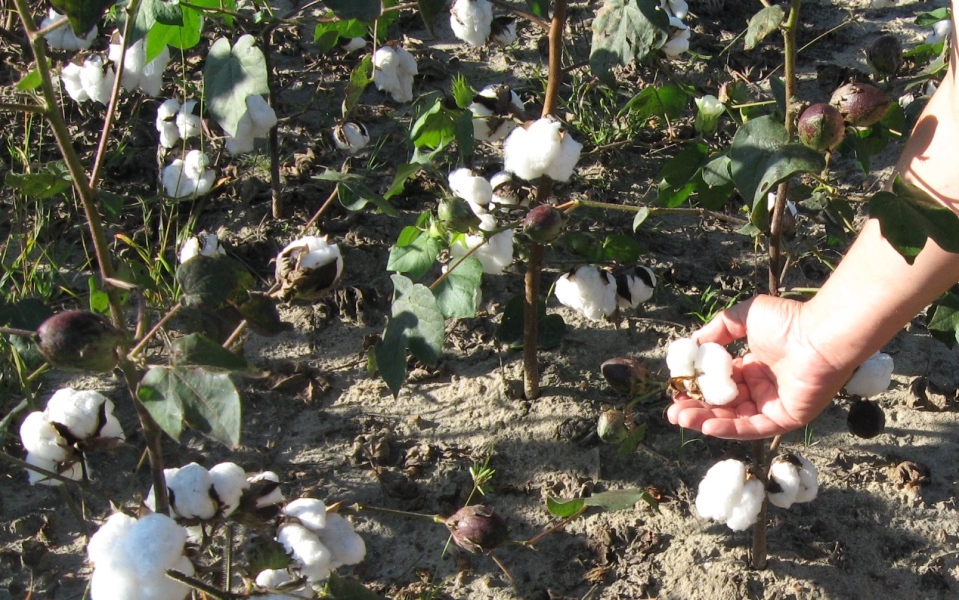 Cotton plants.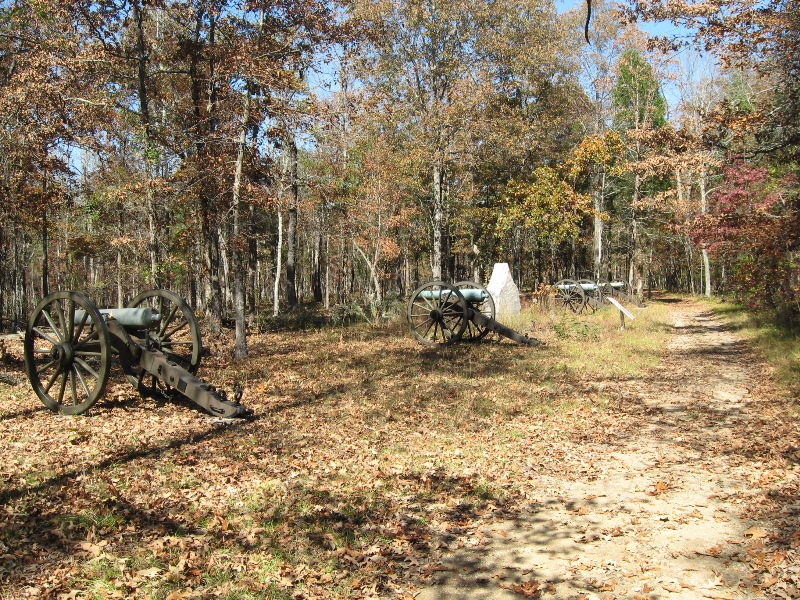 Chickamauga & Chattanooga National Military Park in northern Georgia, where 35,000 men were killed during three days of fighting in 1863...





Crystal River State Park, on the west coast of Florida. We took a boat ride down the river
to the Gulf of Mexico. It was windy due to Hurricane Sandy.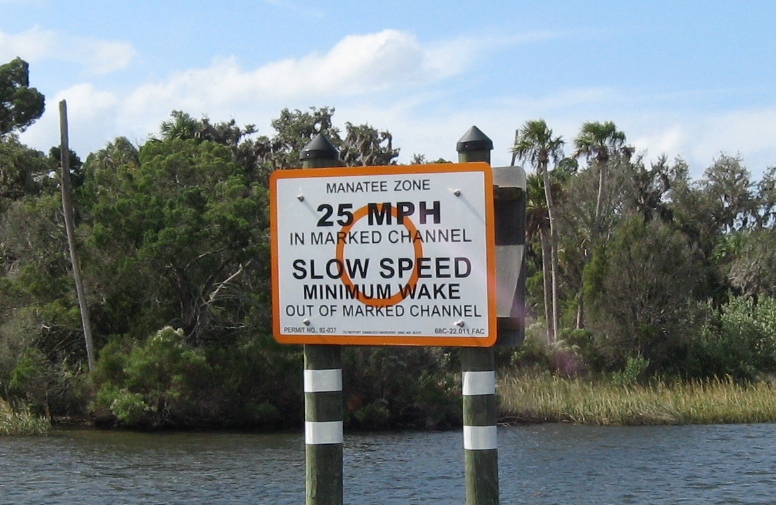 We were just a few weeks too early to see manatees migrating up the river to spend the winter in the warm springs along the coast.





However, there is a small resident population of manatees in Homosassa Springs. These three are sharing a clump of weeds.





Manatees are also called "sea cows" because they live on sea grass.





Typical beach along the west coast of Florida.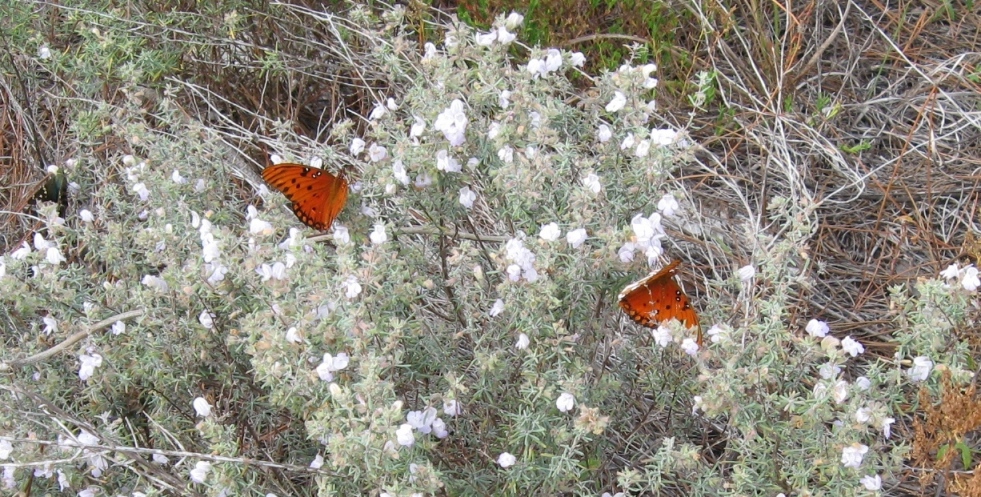 We saw thousands of overwintering Gulf Fritillary butterflies on St. George Island, FL.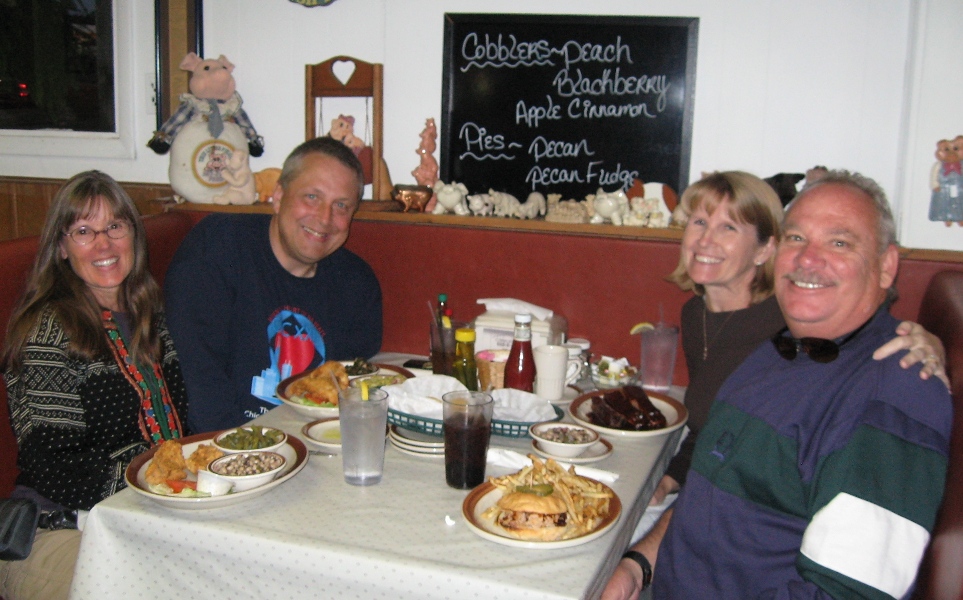 Visiting with Grant's old friend Ned Langdon and his wife, Carol, in Destin, FL.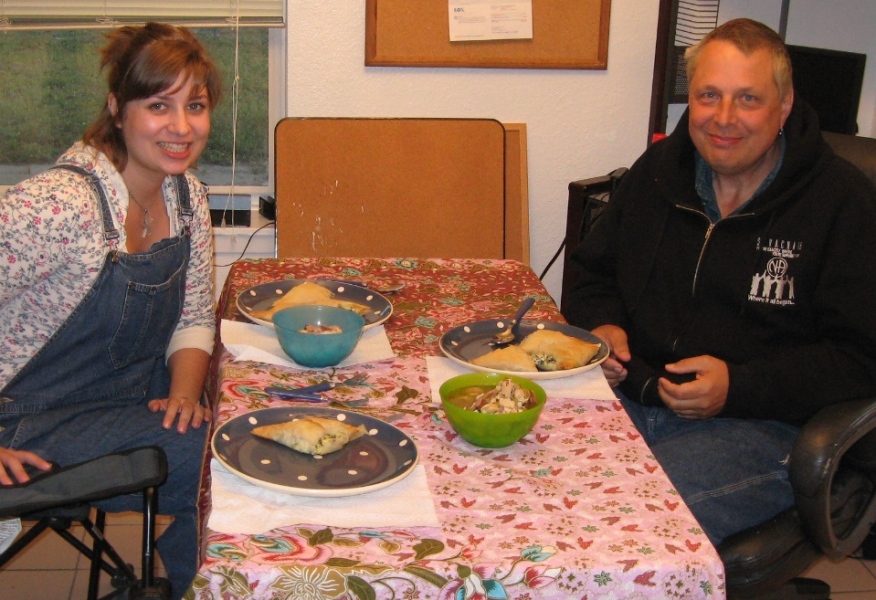 Grant's daughter, Alex, made us fabulous spanakopita and jambalaya.





Alex and Ben France in front of their house on Hurlburt Field Air Force Base in Florida.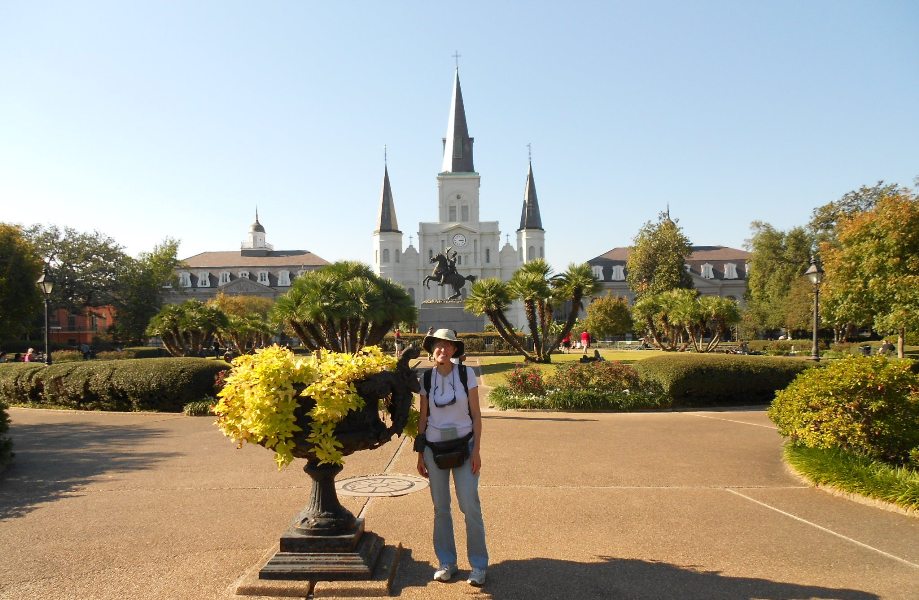 Jackson Square and St. Louis Cathedral, New Orleans, LA.





A French Quarter balcony in New Orleans. The French Quarter is not our cup of tea - kind of an endless party scene...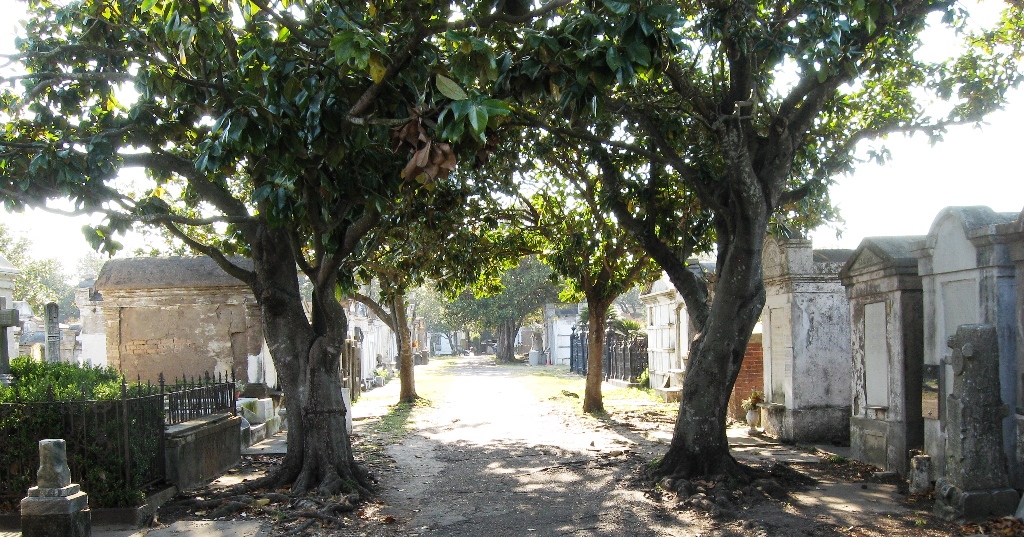 Lafayette Cemetery in the Garden District of New Orleans, where above ground burials have been a tradition since the early 1800's.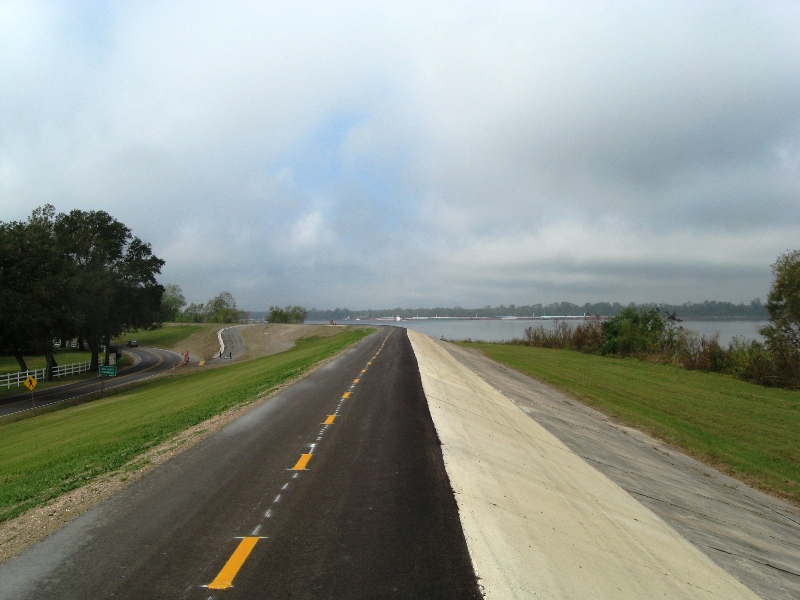 We drove our Chevy to the levee, and then we walked on it--the levee, that is. This paved section is near Oak Alley plantation.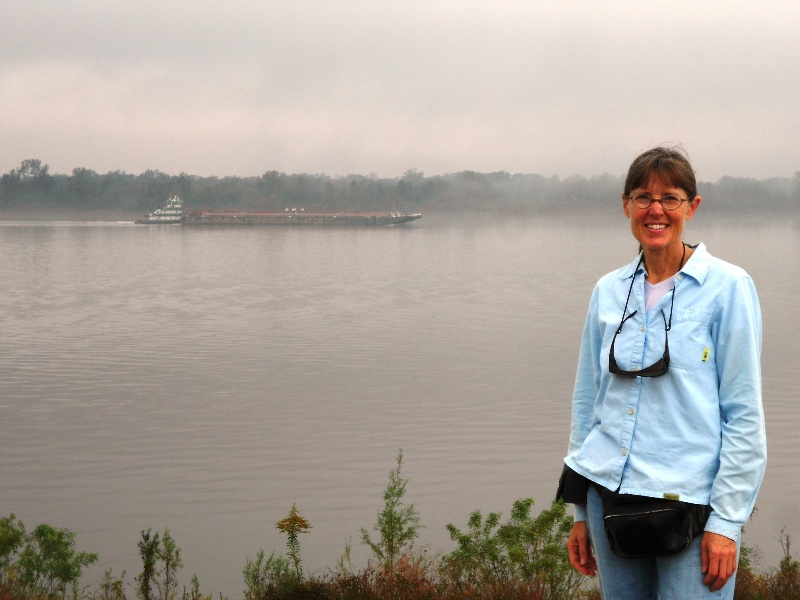 The levee protects New Orleans from Mississippi River floods (except when it doesn't).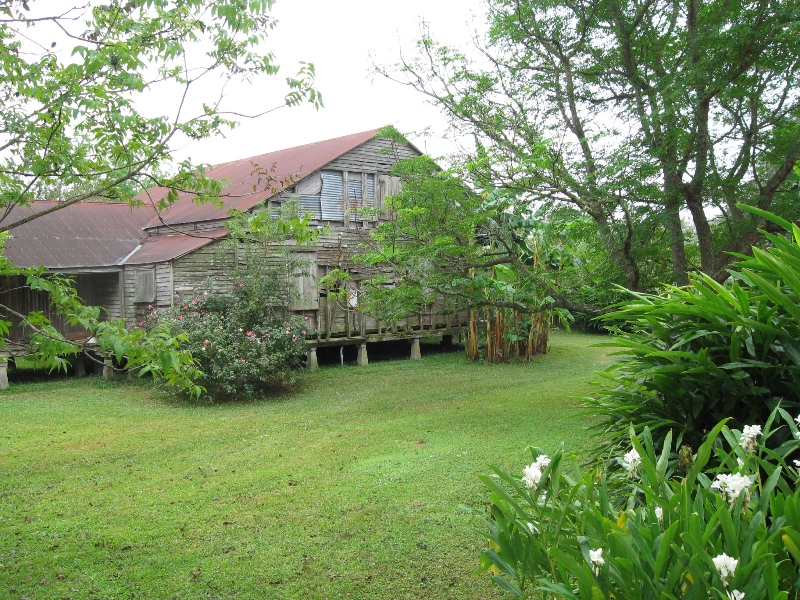 Laura Creole plantation. We did not take the tour because we're allergic to the slow pace of tours...





Oak Alley plantation.





Sugarcane field, LA.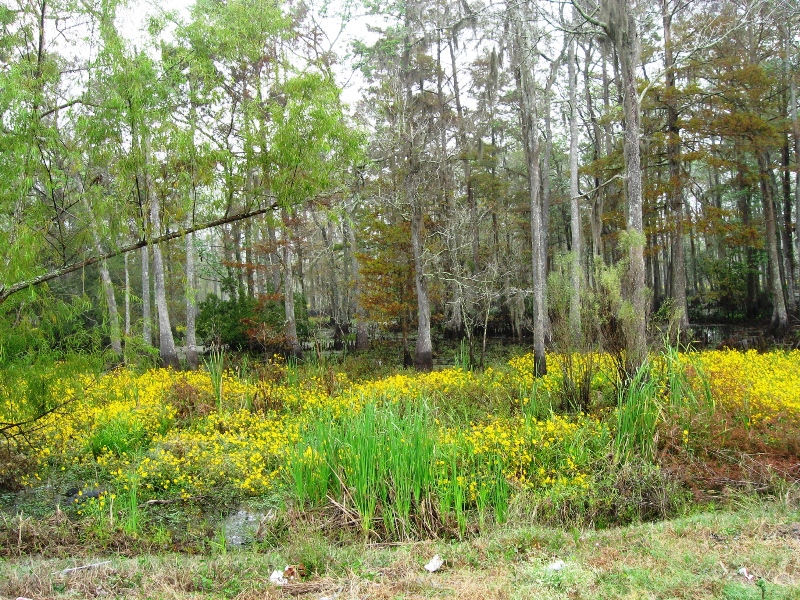 Wildflowers along the road in southern LA. The bayou country is beautiful.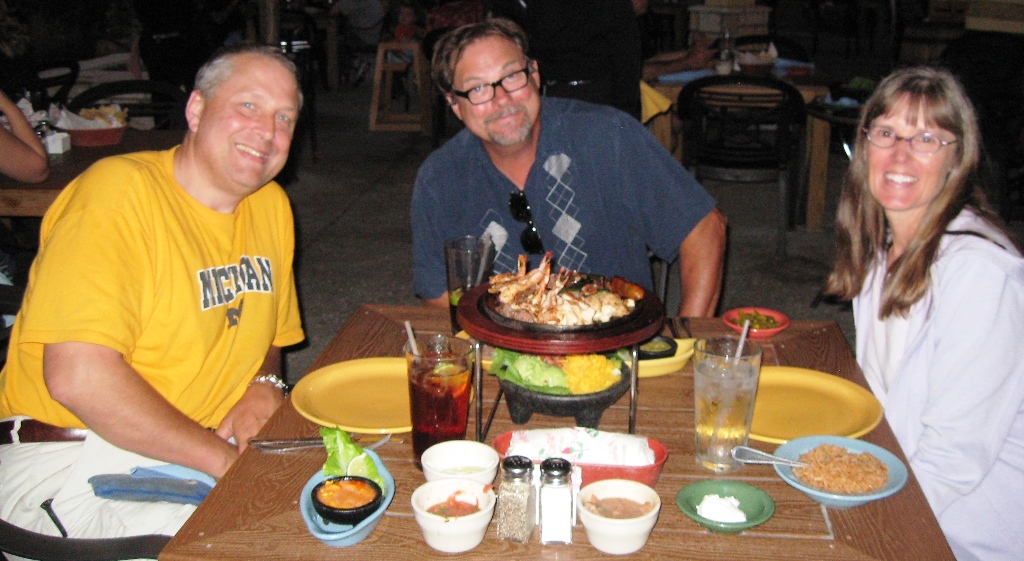 Celebrating Grant's 60th birthday with our friend Dan Harsh and really excellent fajitas at Lupe's in San Antonio.





Remember the Alamo!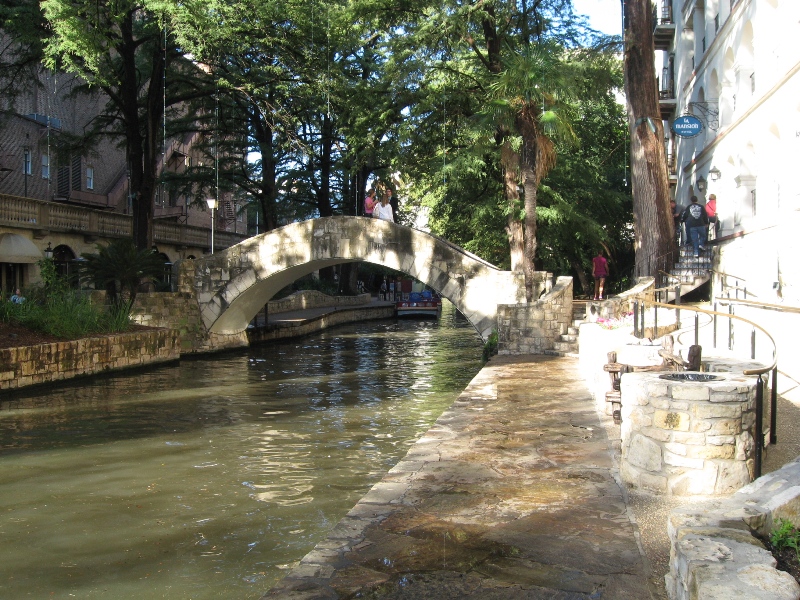 The San Antonio Riverwalk is beautiful! We were there on a quiet Sunday morning. We're told it can get quite crowded in the evenings.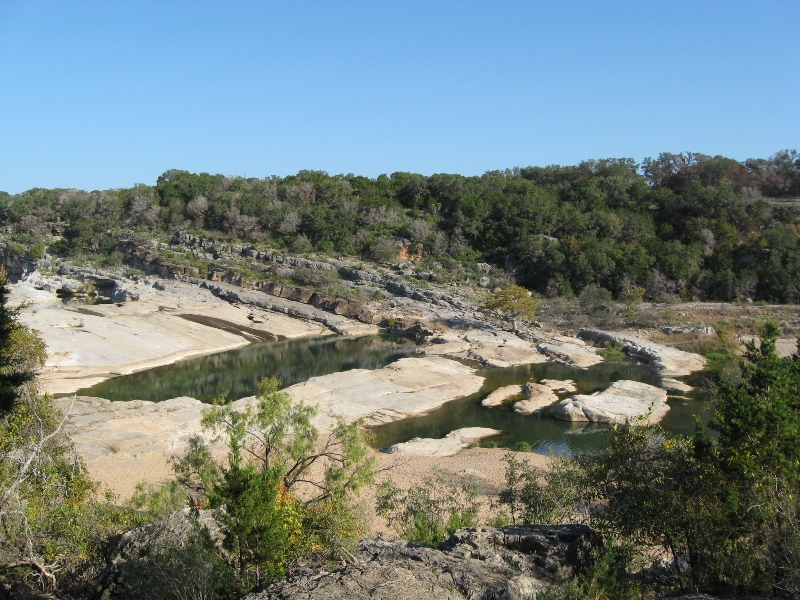 Pedernales Falls State Park, near Austin, TX.





The Texas Hill Country reminds me of California with cactus. It's a very nice combination.





Watching the election results in Fort Worth with Karen's sister, Kelly Gallant, her son, Levi, and husband, Rob. Obama, y'all!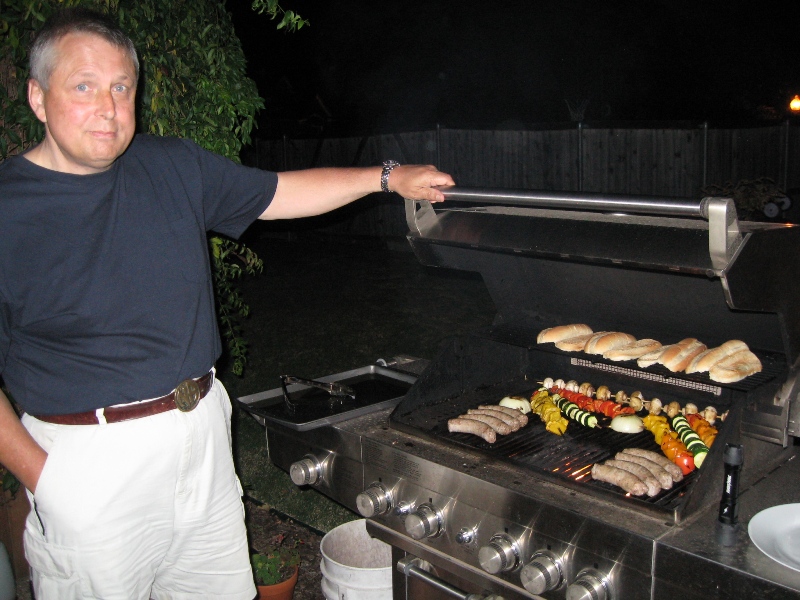 Polish grillers from Wenzel's Lonestar Meats in Hamilton, TX.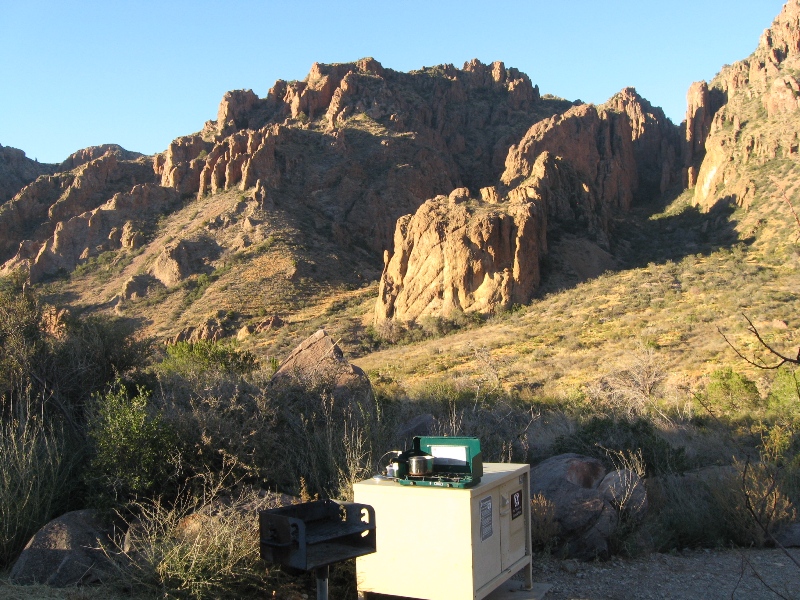 Sunset at camp in Big Bend National Park, TX. That night we saw the most stars we've ever seen.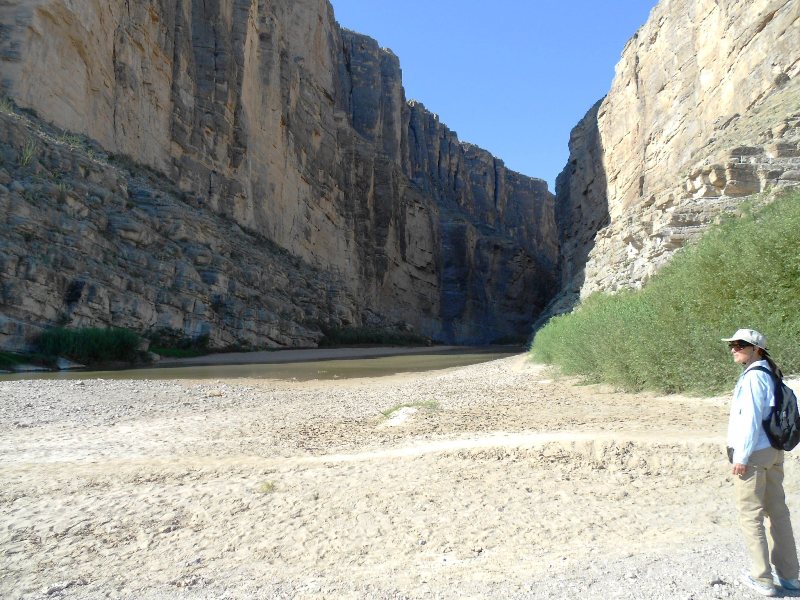 Santa Elena Canyon, Big Bend National Park. Mexico is on the other side of the Rio Grande river.






Ocotillo along Old Maverick Road, Big Bend National Park.





Sunset at camp in Guadalupe Mountains National Park in northwest Texas.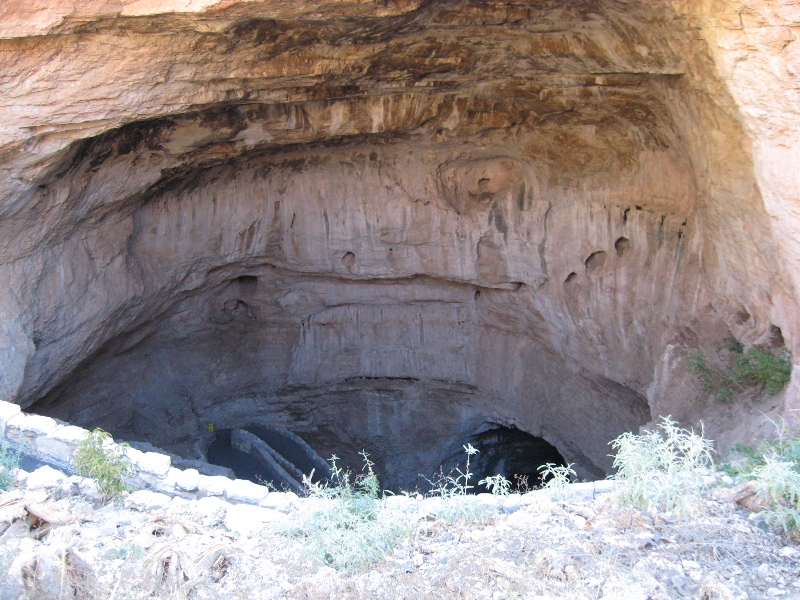 The entrance to Carlsbad Caverns National Park in southern New Mexico. We chose to walk down (rather than take the elevator), and are glad we did.
It's an easy, if steep, 1.25-mile paved trail that descends more than 750 feet into the earth.





We had the trail to ourselves. The dim lighting, silence, and limestone formations transport you to another reality.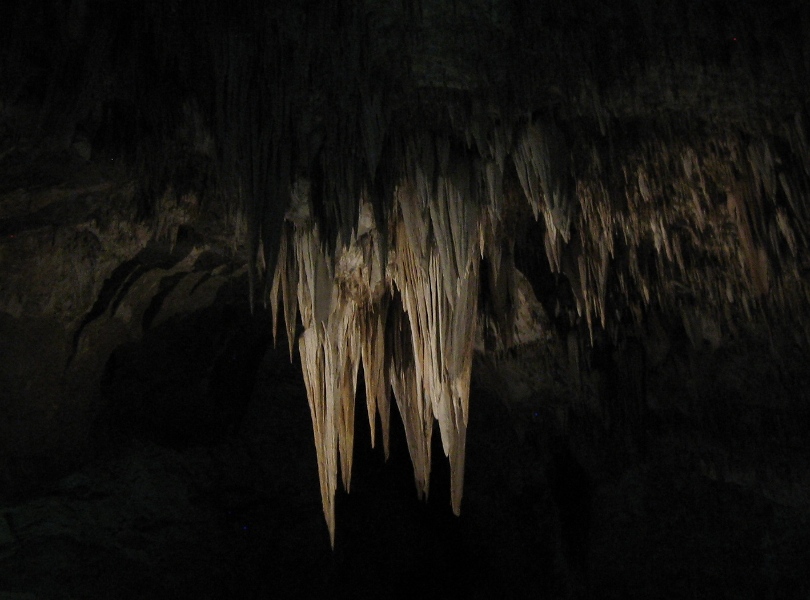 An enormous chandelier-like formation hangs high in the main part of the cavern, called the Big Room.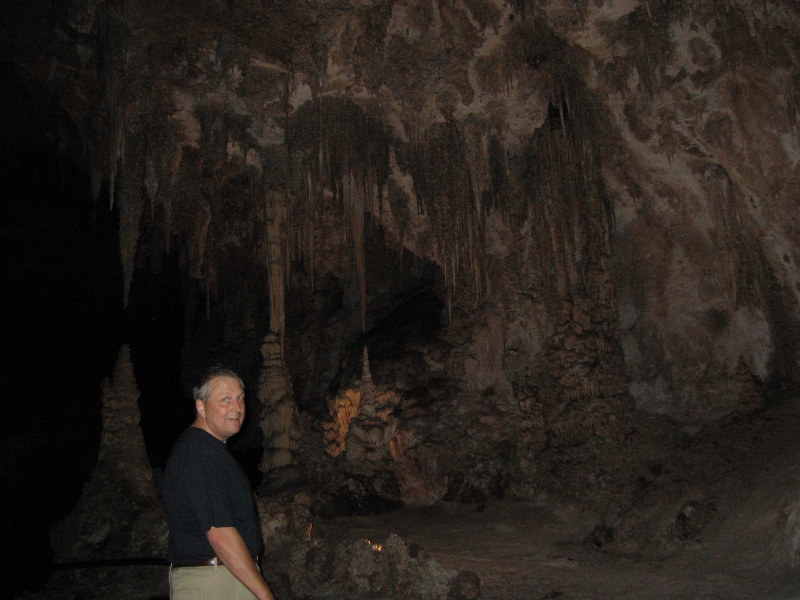 Carlsbad Caverns, NM. Don't miss it.






Red peppers near Hatch, New Mexico, a small town famous for growing really good chiles.





A roadside red pepper vendor in New Mexico.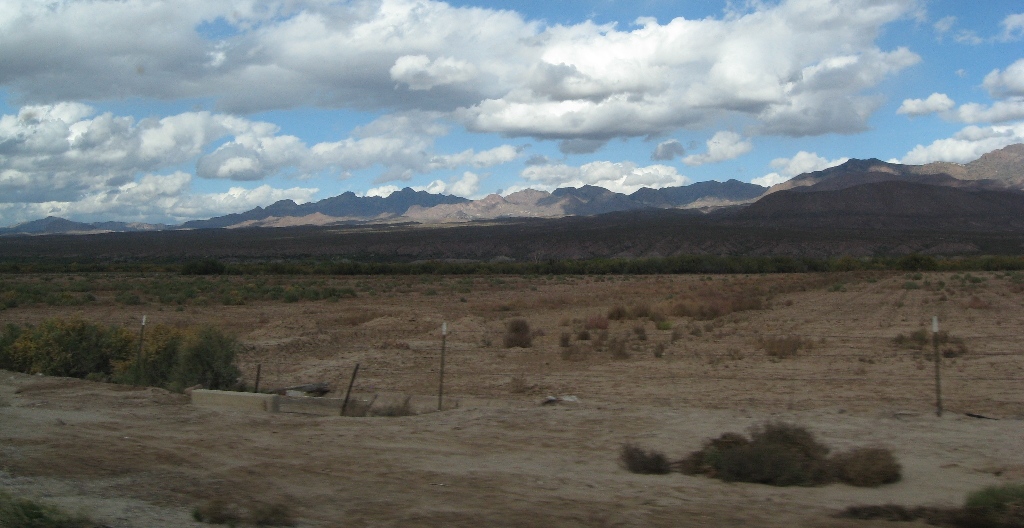 The Caballo Mountains, north of Las Cruces, NM. Just another beautiful back road!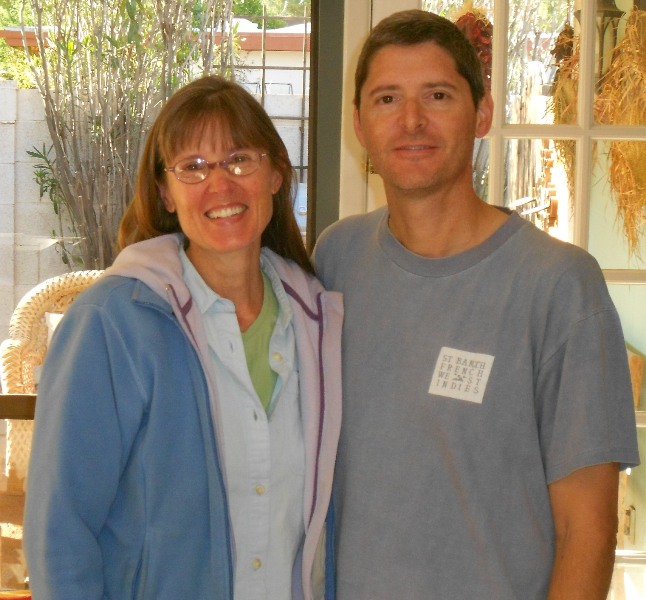 Karen's brother, Mark Von Der Linn, in Scottsdale, AZ. (We didn't get a photo of his wife, Denise.)





Karen's nieces, Emma (17) and Casey (15).





Joshua Tree Scenic Byway, AZ.





Zabriskie Point, Death Valley National Park, CA.





A palette of mineral pigments at Artist's Point, Death Valley, CA.





Hiking Golden Canyon, Death Valley, CA.






The Sierra Mountains along hiway 395 north of Bishop, CA.





Emerald Bay, Lake Tahoe, CA. Note the snow in the foreground.





Karen's cousin Mike Gerlach and his wife, Linda, in Shingletown, CA, near Mt. Lassen.





Mt. Shasta near Weed, CA.





Reconnecting with old friend John Blixt in Grants Pass, OR.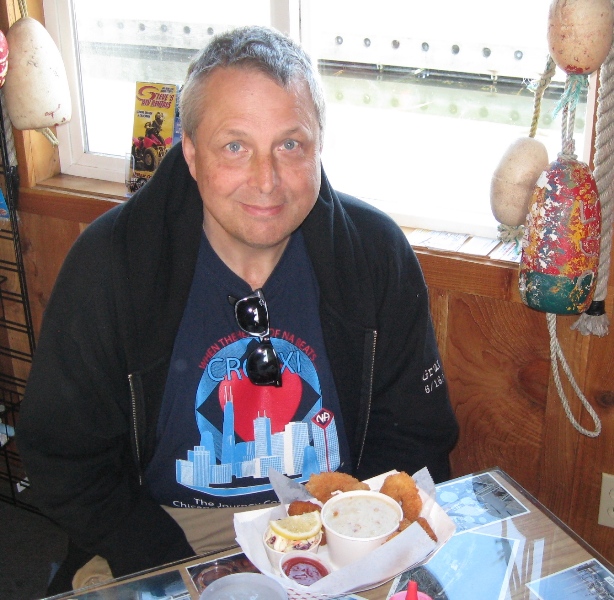 Fish and chips on the boardwalk in Coos Bay, OR.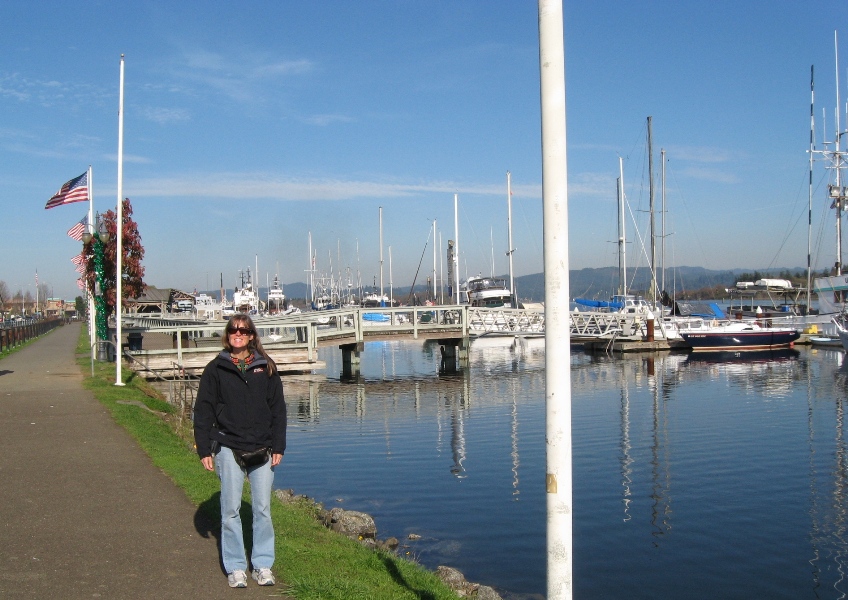 Coos Bay, OR.





The Pacific Ocean at Heceta Beach, OR.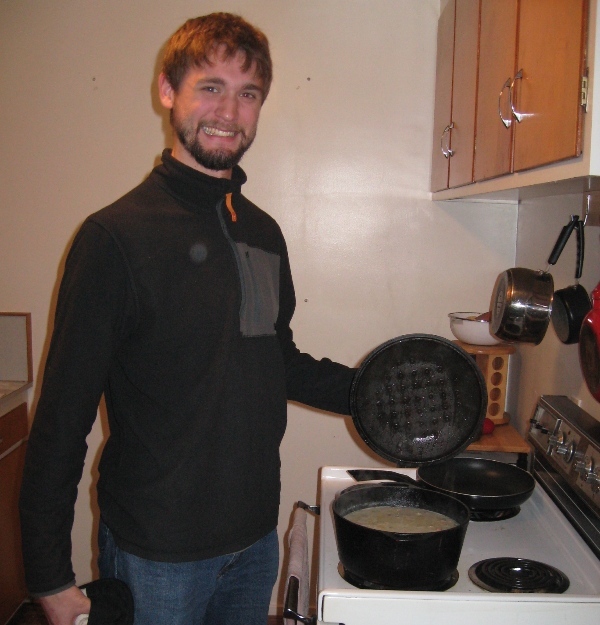 Karen's son, Ian (22) made delicious salmon chowder at his house in Eugene, OR.





Ian's house in Eugene, where he is an architecture student.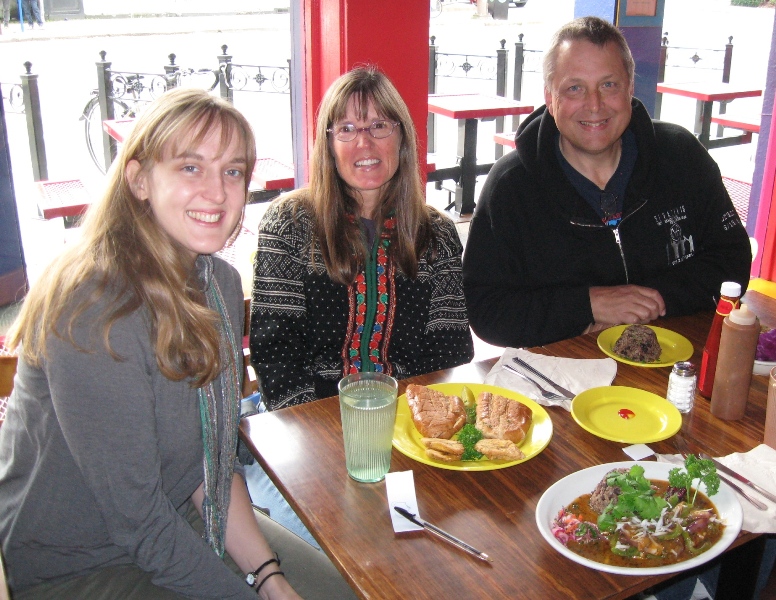 With Grant's first cousin once removed, Jennifer Koch, at Pambiche Cuban in Portland, OR.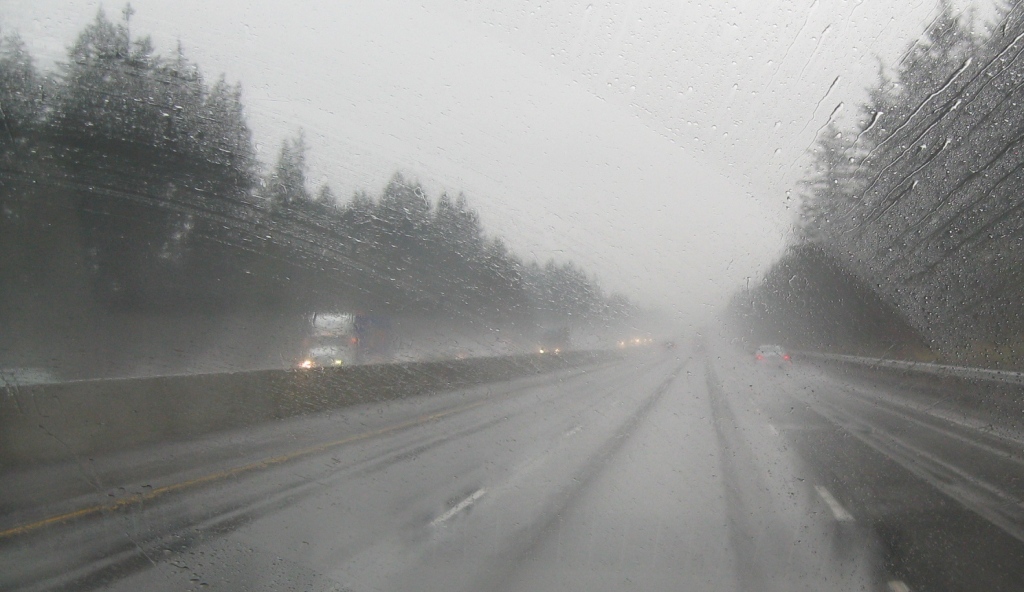 November 16, 2012: Back home to rainy Washington state!

--------------------

That's as brief a summary of our trip as we could manage, though we had to leave out a lot.
To the many friends and family we didn't have time to visit, we hope to see you next time!
Trip costs:
Total $4013 ($76 per day, not including groceries, which we would have bought anyway if we were home)
Gas $2705 (about 20 cents per mile; we get about 17 miles per gallon)
Camping $560 (average $21 per night)
Ice, Wood, Park fees, Ferry boats, Restaurants, Miscellaneous $748 (about $14 a day)