Around the US and Canada in 60 days
Backroads and Byways from Seattle to Quebec to Florida and Back
September 5 to November 2, 2014
Traveling by car is a great way to stay connected with far away family and friends, and to explore the nooks and crannies of this amazing continent!
Our Route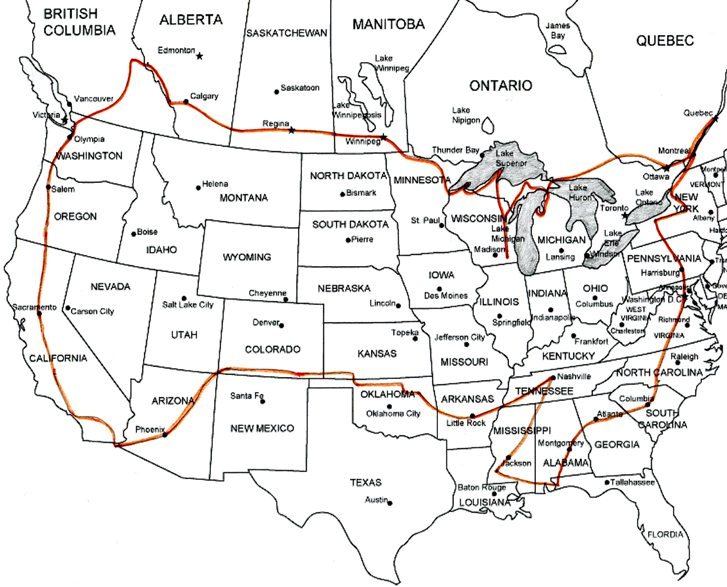 13,000 miles




Our Home Away from Home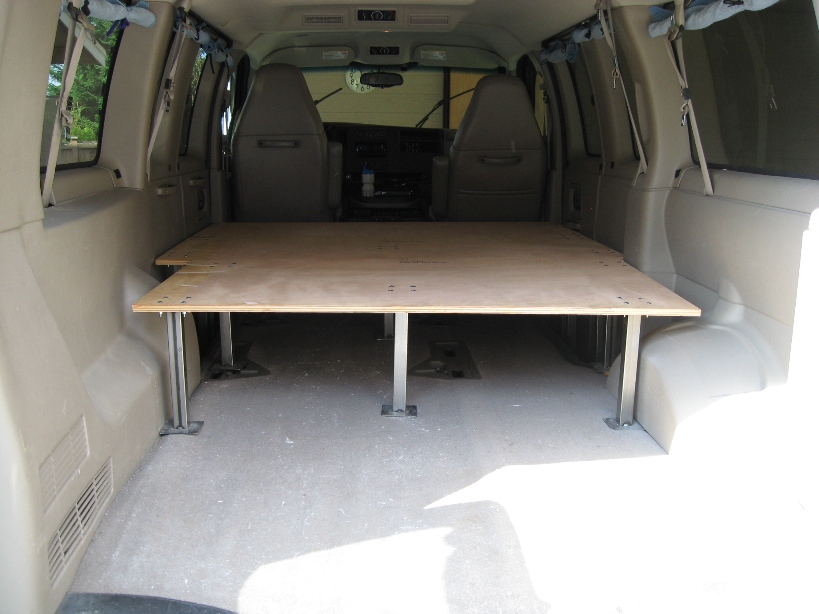 2004 Chevy Express 1500 standard passenger van (approx. 17 mpg). Remove rear seats, build 3-piece plywood platform with metal legs (stacks to form storage shelves when not in use).





The platform is covered with a queen-size mattress (camping foam plus memory foam). In the back of the van are a cooler, folding table, clothes, clothesline, and dressing area. We can sit on the bed without our heads touching the ceiling. We can even cook back here in a pinch (we put the stove on the cooler and open the rear windows for ventilation).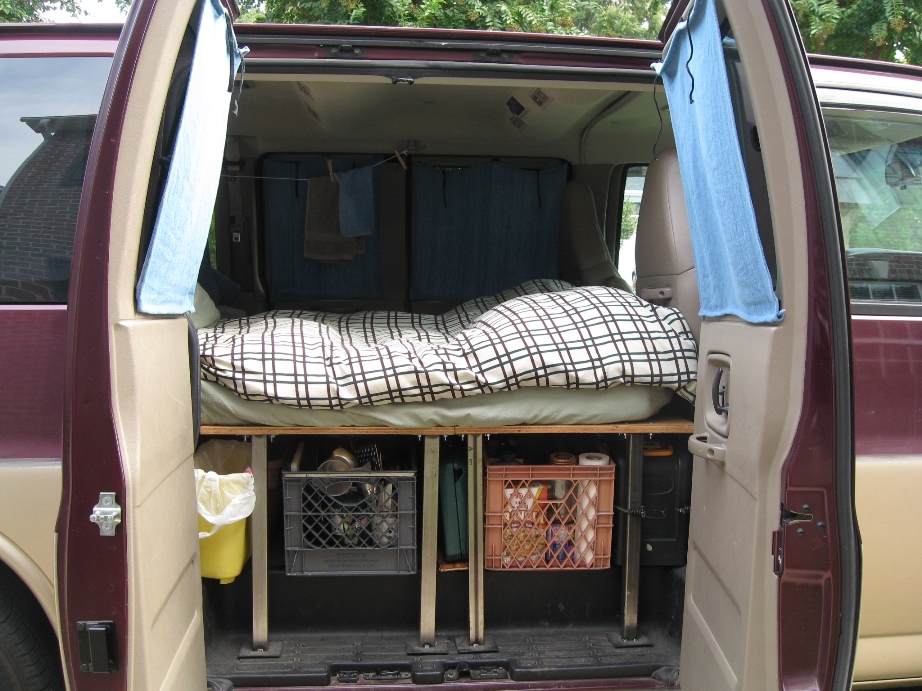 Passenger side doors access pantry box, 2-burner propane stove, lantern, dishes, garbage can, dish tubs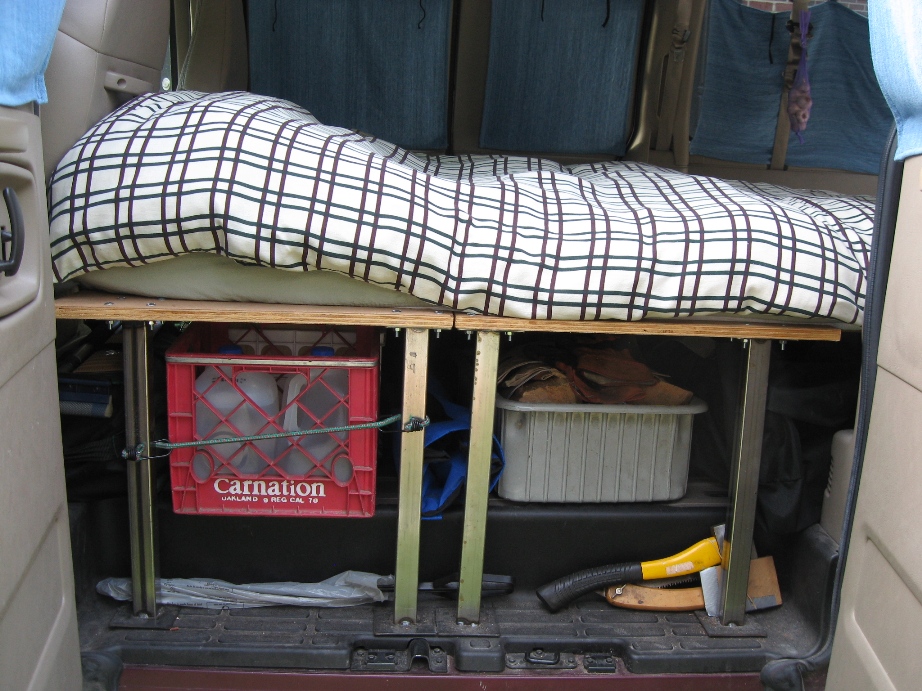 Driver's side doors access camp chairs, firewood bin, crate with 4 gallons of water, tools (behind water), EZ-up canopy





Plastic tub between front seats holds maps, journals, binoculars, and all the little stuff we need during the day.





At night we put the lid on the box and it becomes our night stand. We plug a reading light and a fan (if needed) into a 12-volt inverter (which plugs into cigarette lighter).



On the Road!


On September 5, 2014, we left Kirkland and headed north to Jasper National Park in the Canadian Rockies.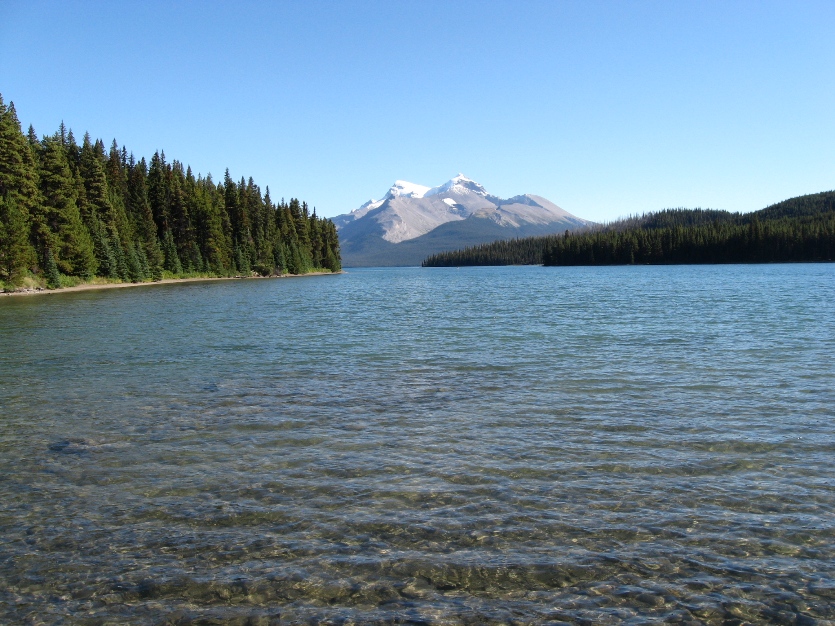 Glorious scenery and warm, sunny weather.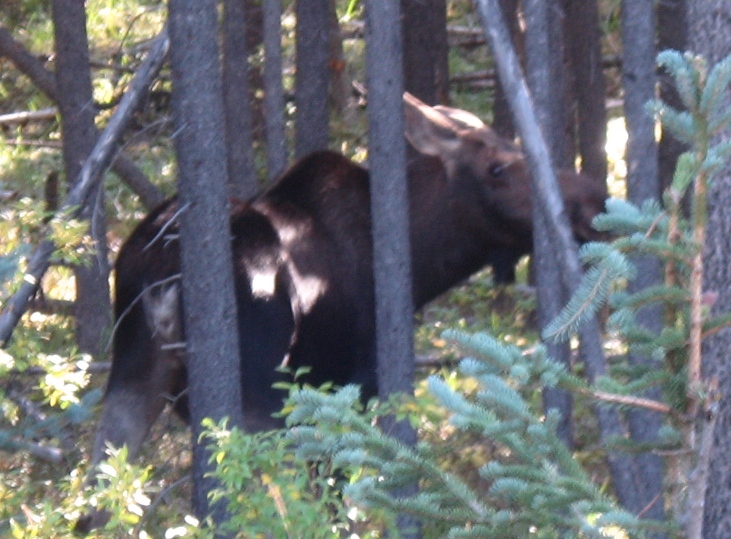 A female moose by the side of the road!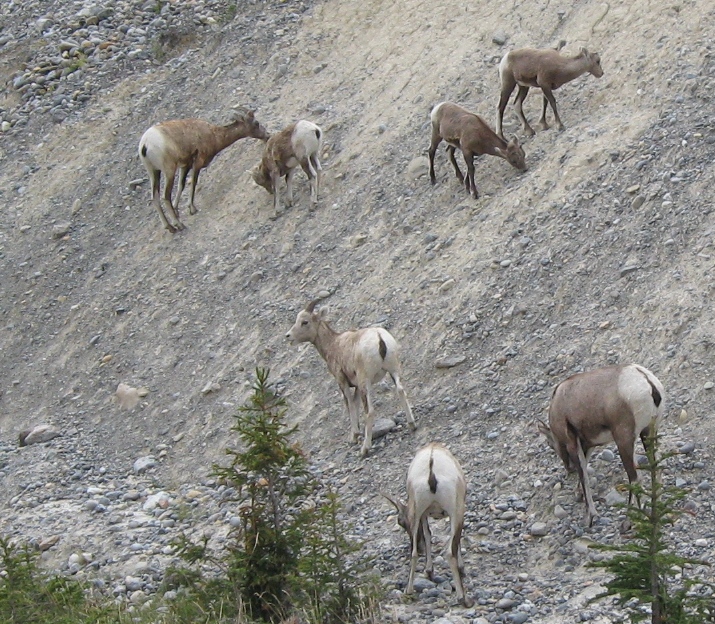 Bighorn sheep abound.






There are two dozen wildlife bridges in the park. These, plus fencing along the road, prevent animal-car collisions.





Athabasca Falls, one of many beautiful waterfalls in the park.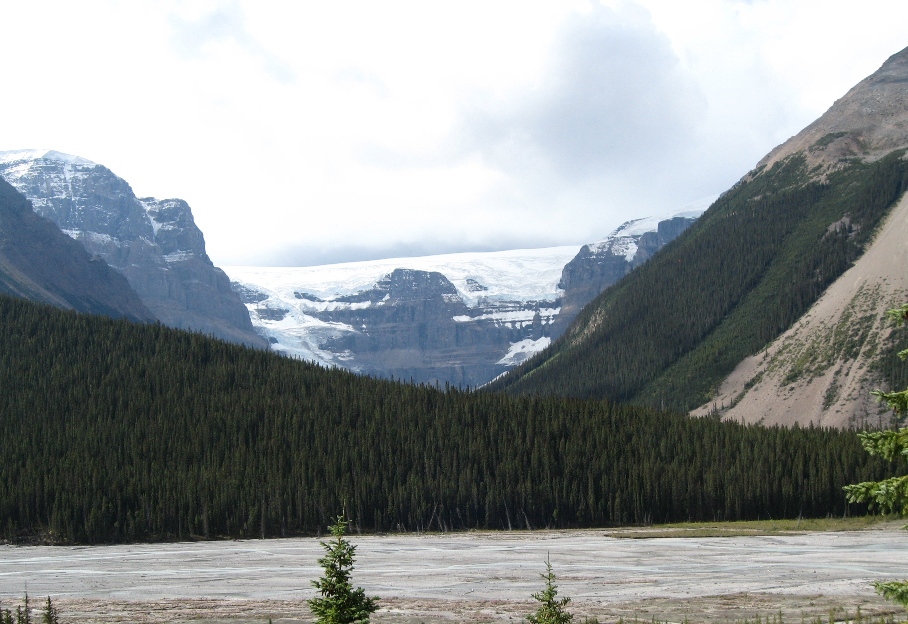 The spectacular 144-mile-long "Icefields Parkway" follows the spine of the Rocky Mountains between Jasper and Banff National Parks. A glacier lover's delight.





All of the glaciers are fed by the enormous Columbia Icefield. This is Athabasca Glacier.





Glacial silt gives the water this soul-stirring turquoise color.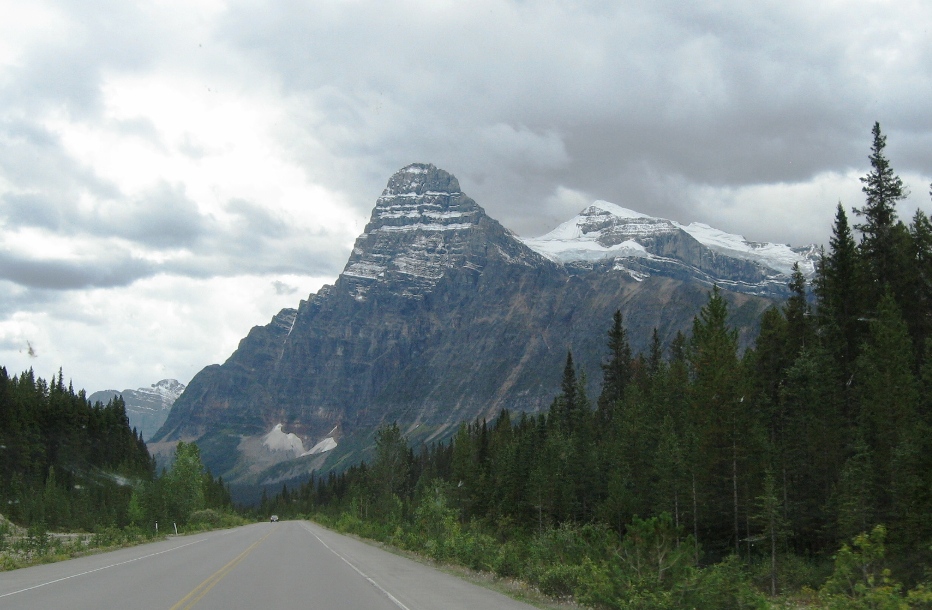 Mountains, glaciers, and a dramatic sky along the Icefields Parkway. A storm was brewing...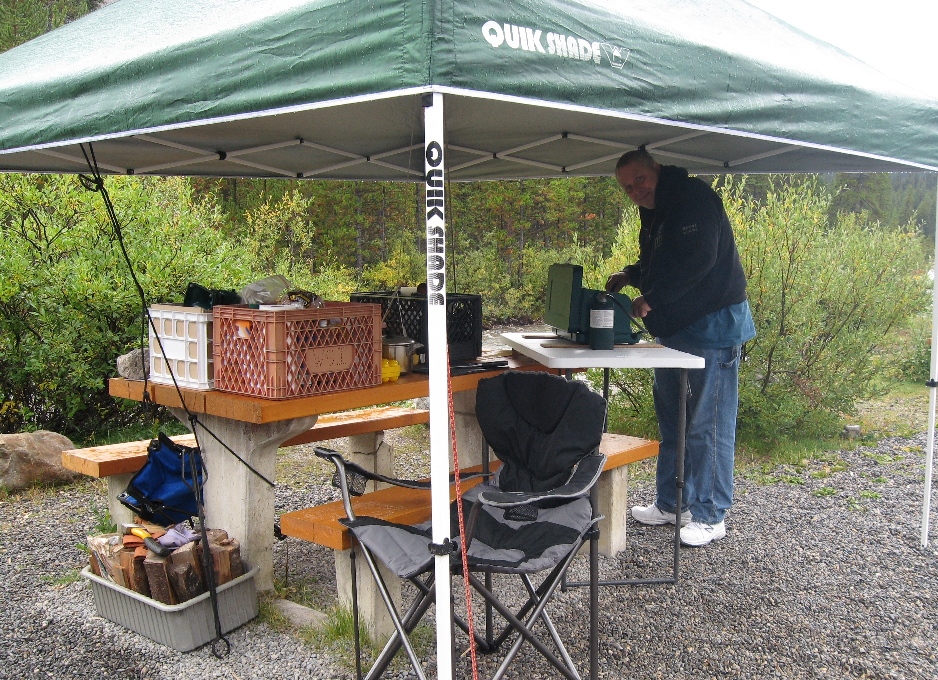 We were very thankful for our canopy when the skies opened and the thunder rolled!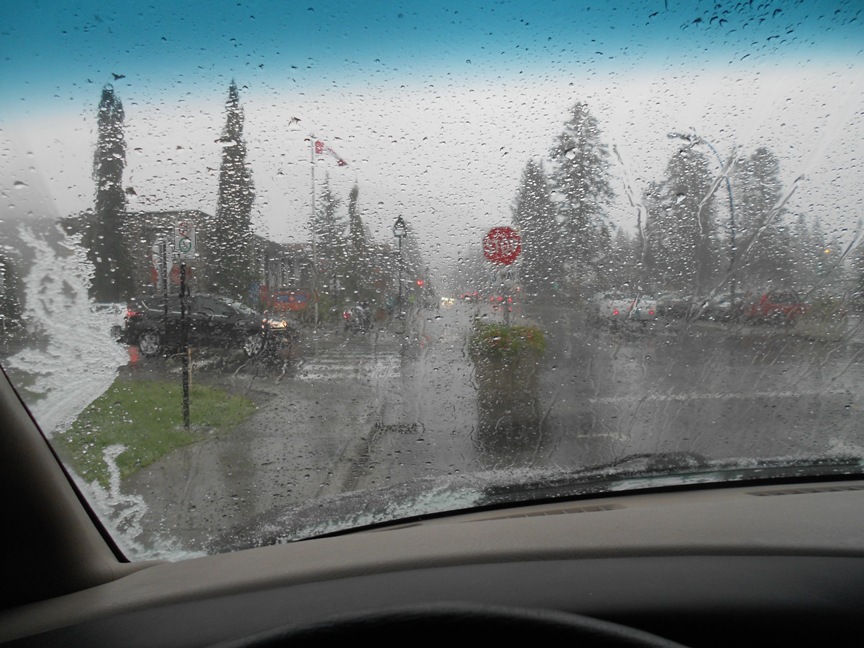 We arrived in Banff National Park just as an earlier-than-usual snowstorm began. We played it safe and headed east (the storm ended up dropping 20 inches of snow). We'll have to see Banff another time!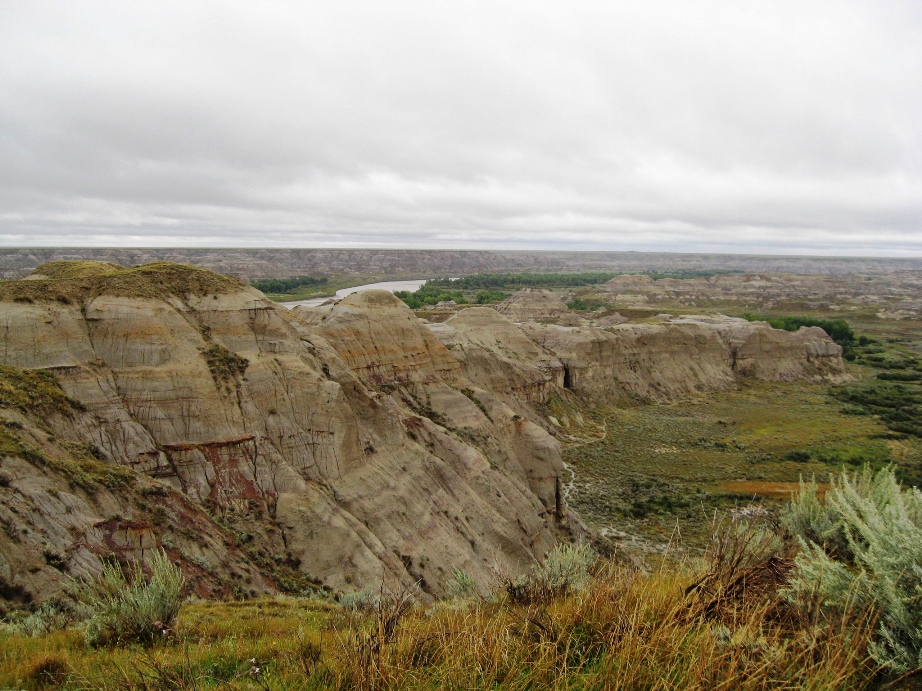 We outran the storm and arrived at fascinating Dinosaur Provincial Park in Alberta's beautiful Badlands desert. The park is packed with fossils. The in-ground dinosaur exhibits are superb.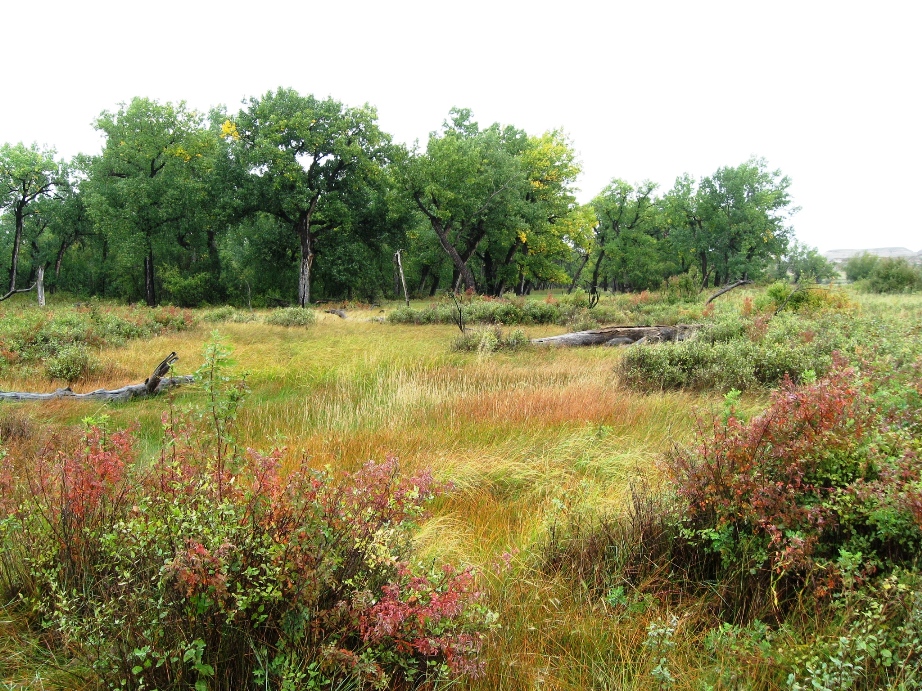 Cottonwood Flats is a lush oasis in the desert.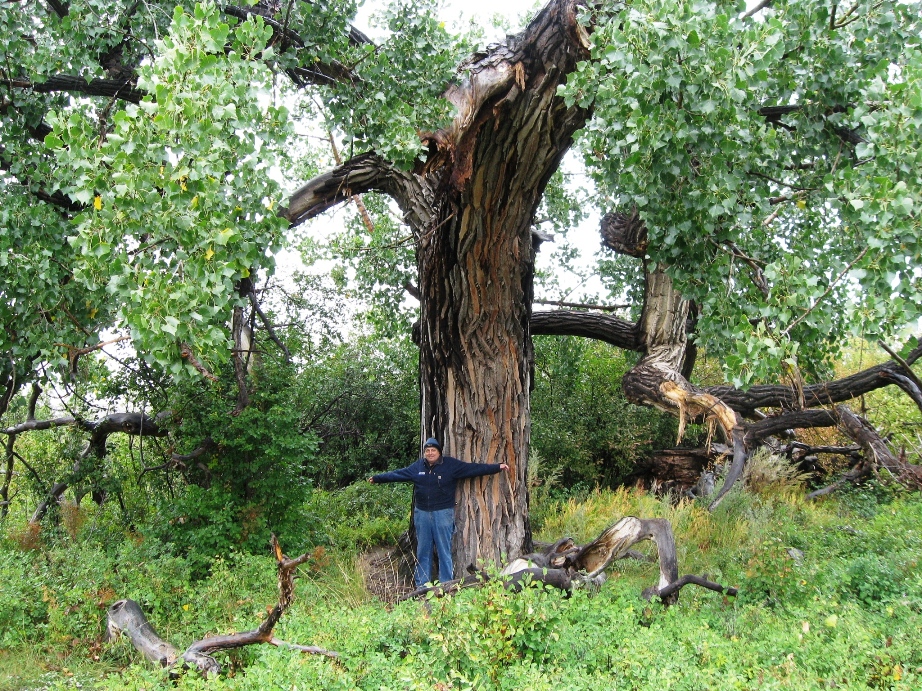 This magnificent cottonwood is over 200 years old, and is probably nearing the end of its life.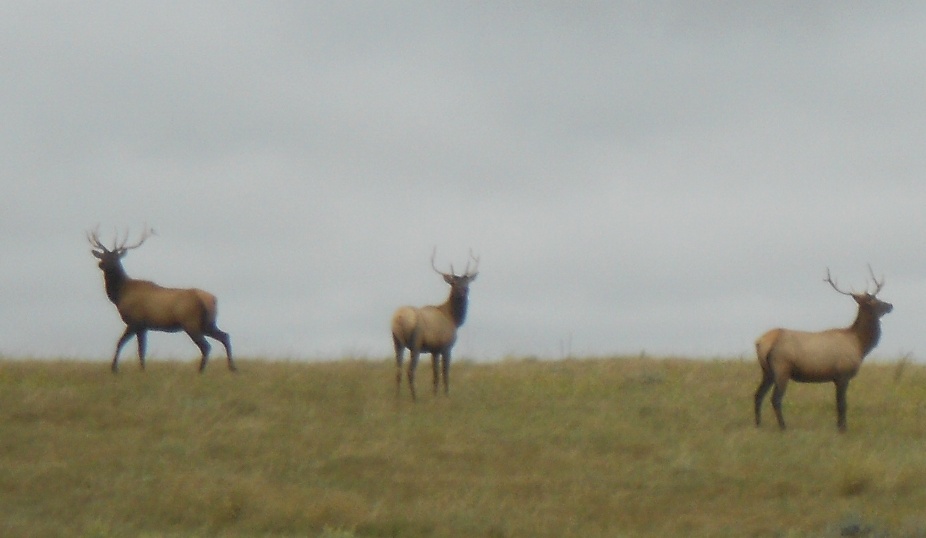 As we drove across the prairie, three male elk crossed the road in front of us, leaping nimbly over the barbed wire fencing. We loved the Saskatchewan prairie, with its sweeping sky and endless views. The scenery in southern Manitoba was a gorgeous patchwork of fields studded with hay bales and duck-covered ponds.






Our route across Western Canada: Banff (A), Dinosaur Provincial Park (B), Zippel Bay State Park, Minnesota (C).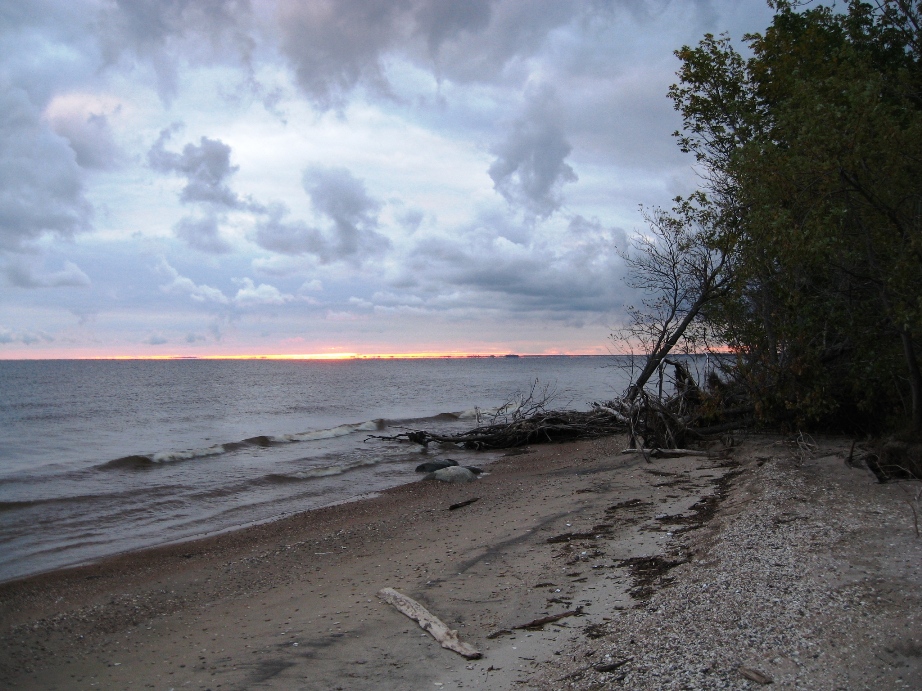 Zippel Bay State Park on Lake of the Woods in northern Minnesota.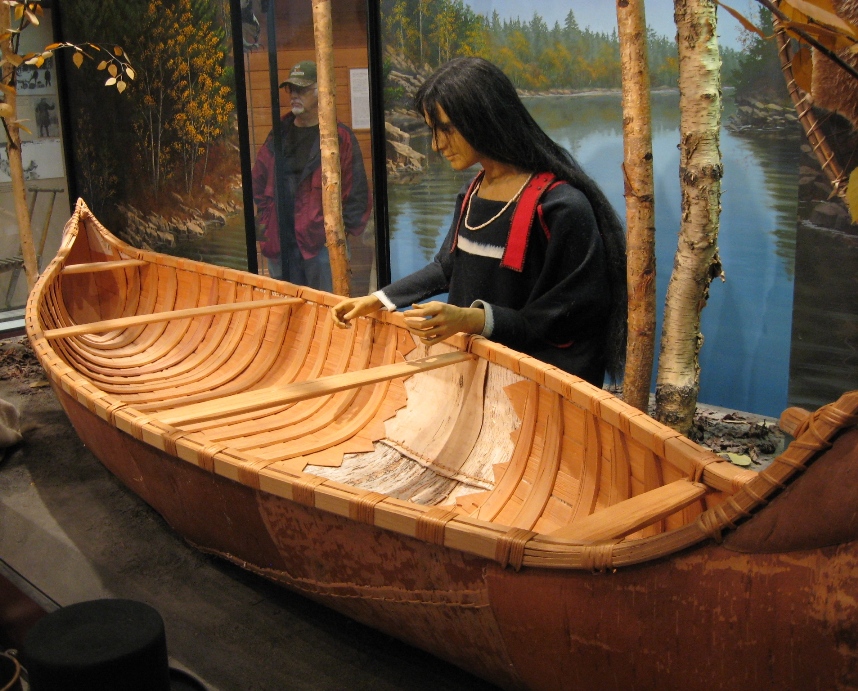 At the Voyageur National Park visitor center we learned how birch bark canoes are made.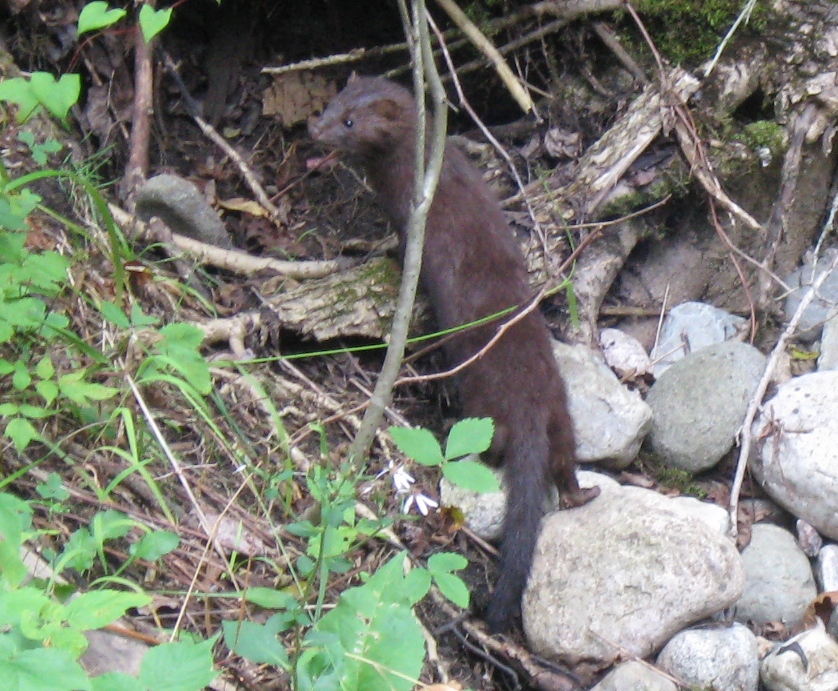 We felt privileged to get up close and personal with this mink (we think) on the Sullivan Bay trail in Voyageur National Park in Minnesota.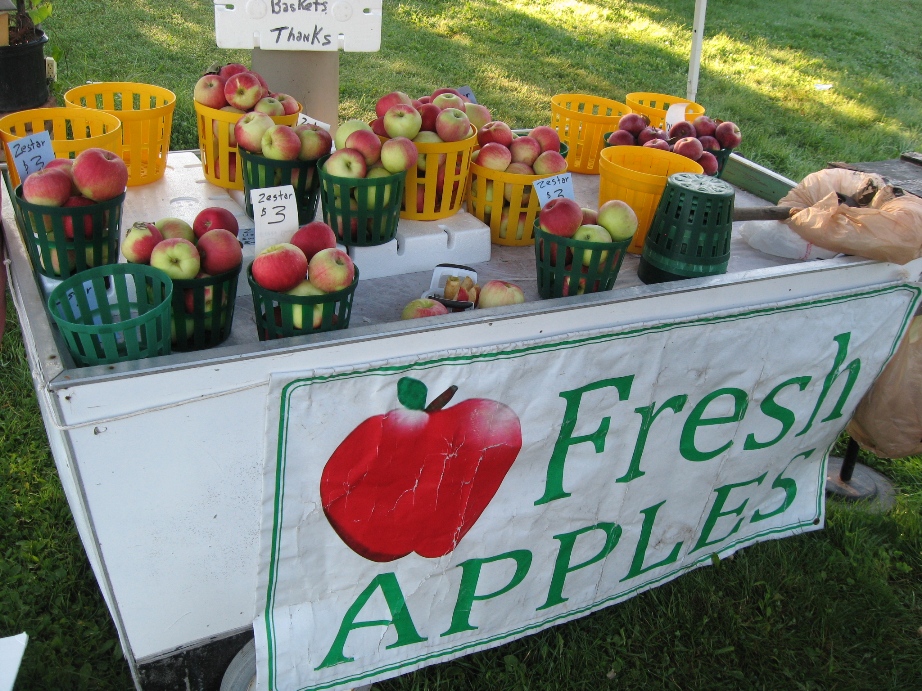 A roadside stand on the Bayfield Peninsula in northern Wisconsin. The Zestar apples were fantastic!





In Ashland WI with our friend Charlene, an immigration attorney, barefoot marathoner, and fabulous cook. She made us homemade chapatis and goat curry!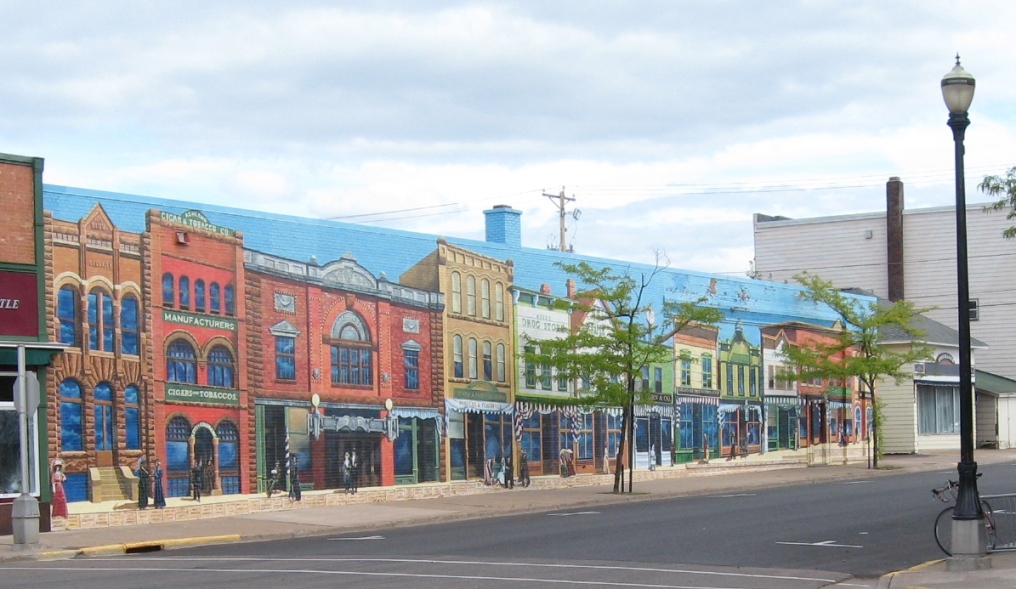 The small town of Ashland, on the shore of Lake Superior, features a dozen murals depicting the town's history. Ashland is one of the oldest communities in Wisconsin.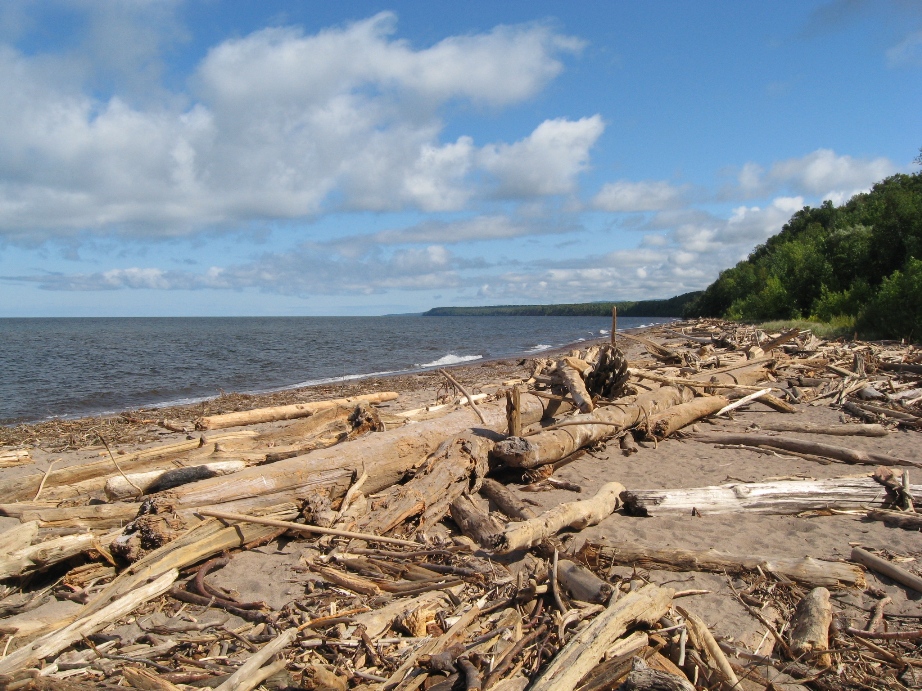 The Lake Superior shore at Black River Harbor on the Keweenaw Peninsula in Upper Michigan.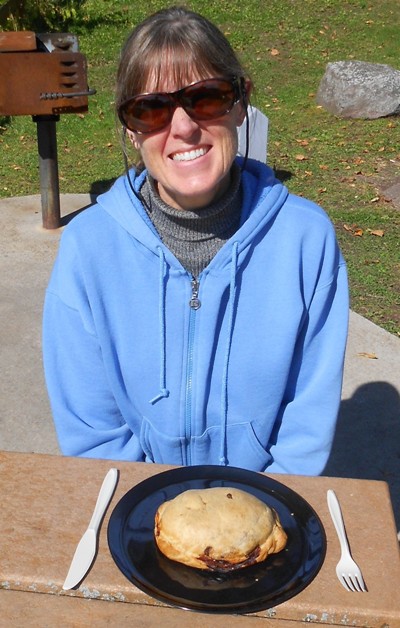 Half a pastie (they're huge). A "U.P." (Upper Peninsula) specialty, they're like a calzone pot pie, with a thick crust and a beef, rutabaga, carrot, potato, and onion filling. We found them a bit heavy and bland, but worth trying! They were the standard lunch for Cornish miners, many of whom immigrated to Michigan. ("U.P." is pronounced "yoop," and residents call themselves "yoopers." Yooper humor abounds.)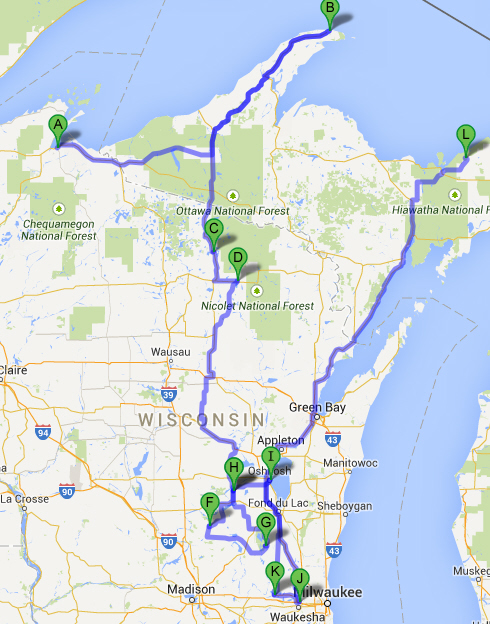 Our path through Wisconsin and the U.P.: Ashland (A), Keweenaw Peninsula MI (B), Three Lakes (C), Richardson Lake (D), Berlin/Green Lake (H), Dalton (F), Horicon Marsh Wildlife Refuge (G), Oshkosh (I), Waukesha/Pewaukee (J), Oconomowoc (K), Pictured Rocks National Lakeshore MI (L).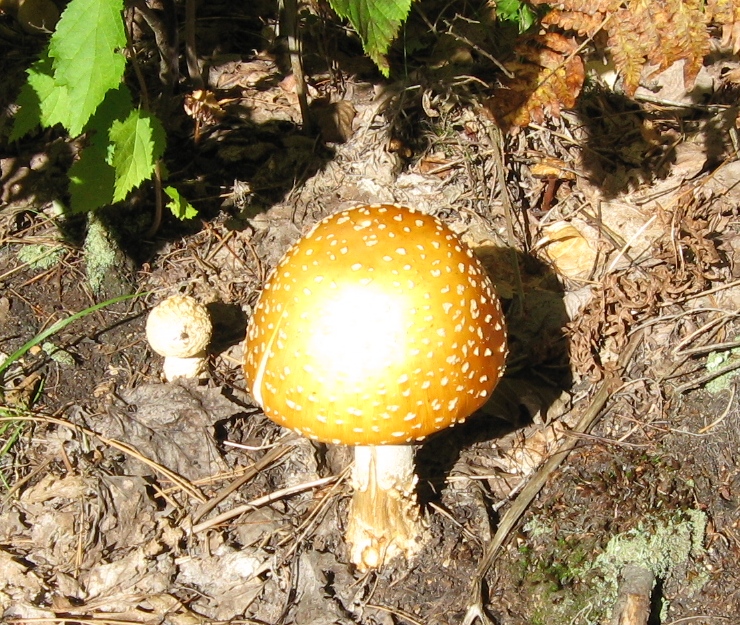 A large golden amanita mushroom on the beautiful Three Eagle trail near Three Lakes Wisconsin.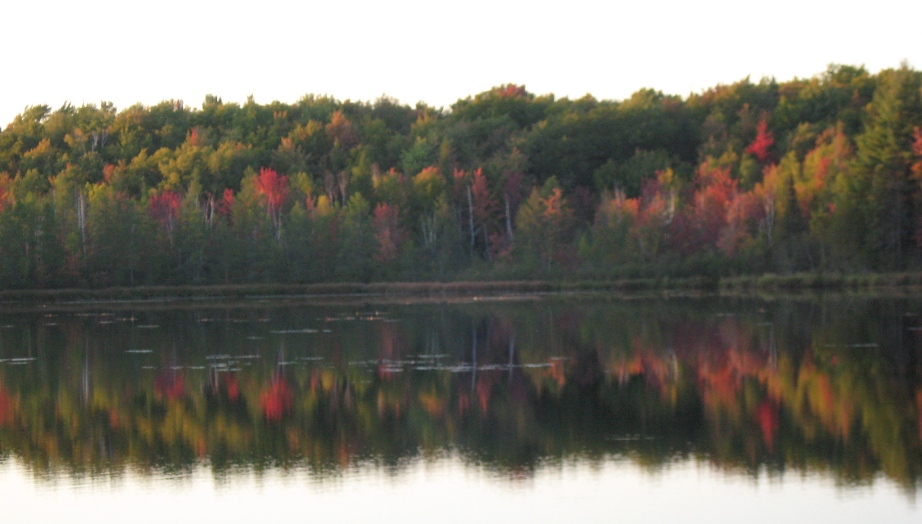 Fall color on Richardson Lake, near Crandon, Wisconsin.





Wisconsin in the fall is stunningly beautiful.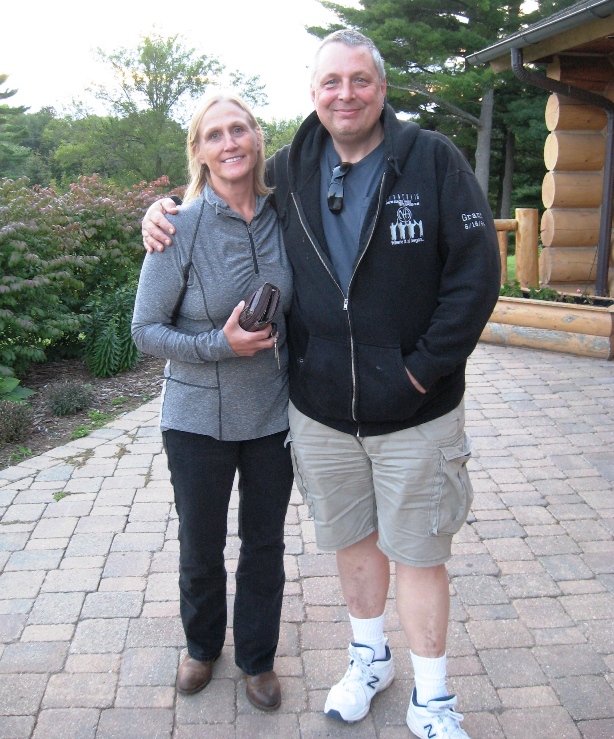 Grant's cousin Kristin in Green Lake, Wisconsin. She is a nurse anesthetist, hunter, and Harley rider!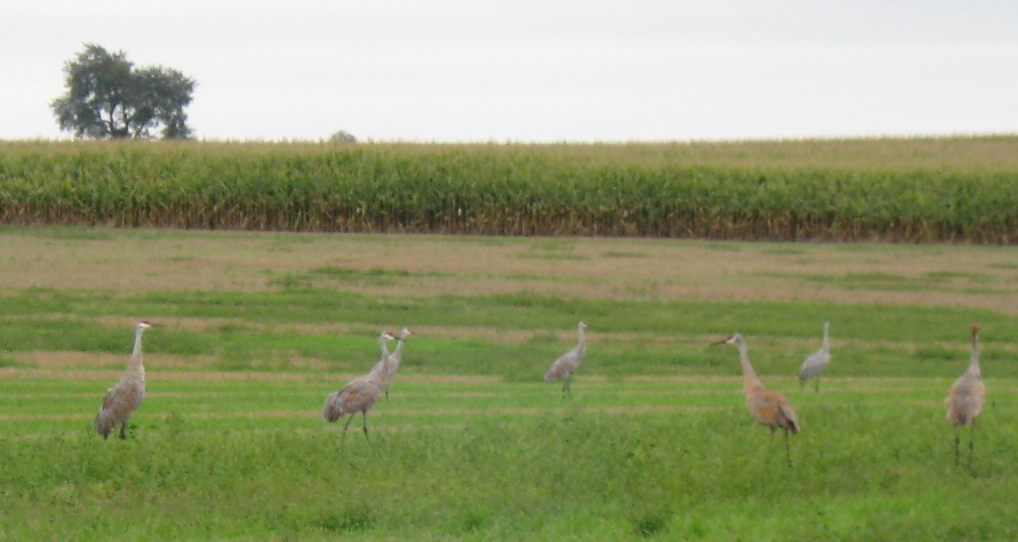 Sandhill cranes love Wisconsin farmland! These magnificent birds stand four feet tall and have a wingspan of over six feet.





Grant's cousin Gretchen at her new house in Oshkosh, Wisconsin. She is a grief and loss counselor.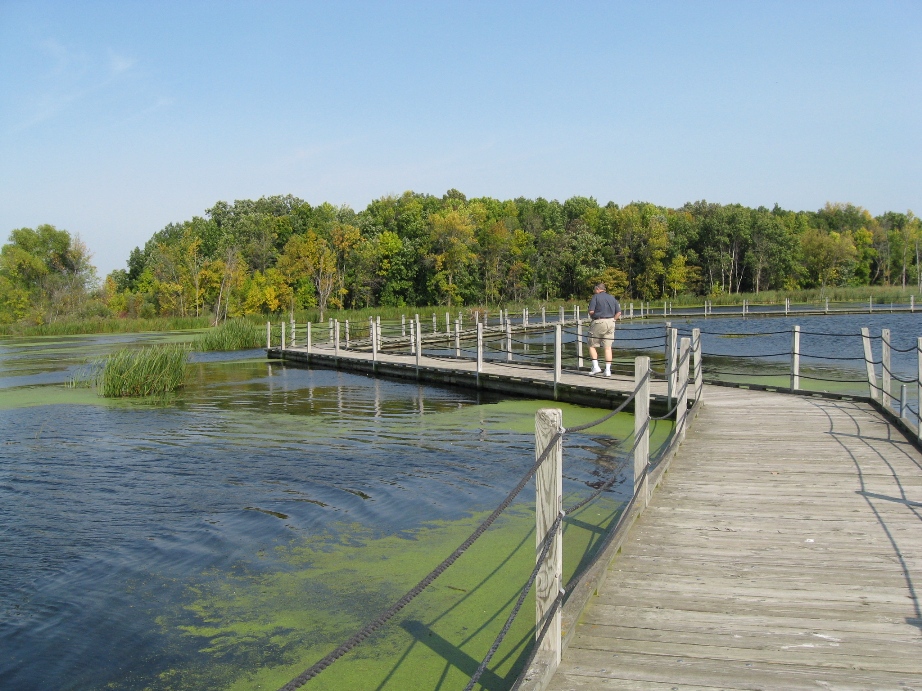 Floating boardwalk at Horicon Marsh National Wildlife Refuge in southeast Wisconsin. It's a magical place with walking and driving trails where you can see birds, frogs, and turtles.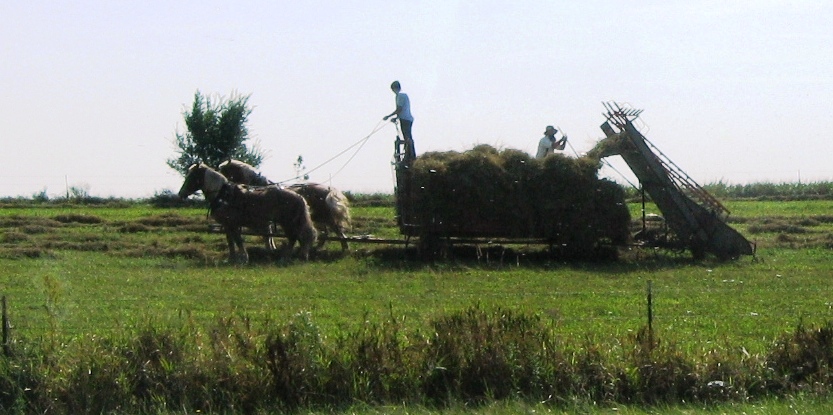 Dalton, Wisconsin is Amish country. This father and son team are harvesting hay.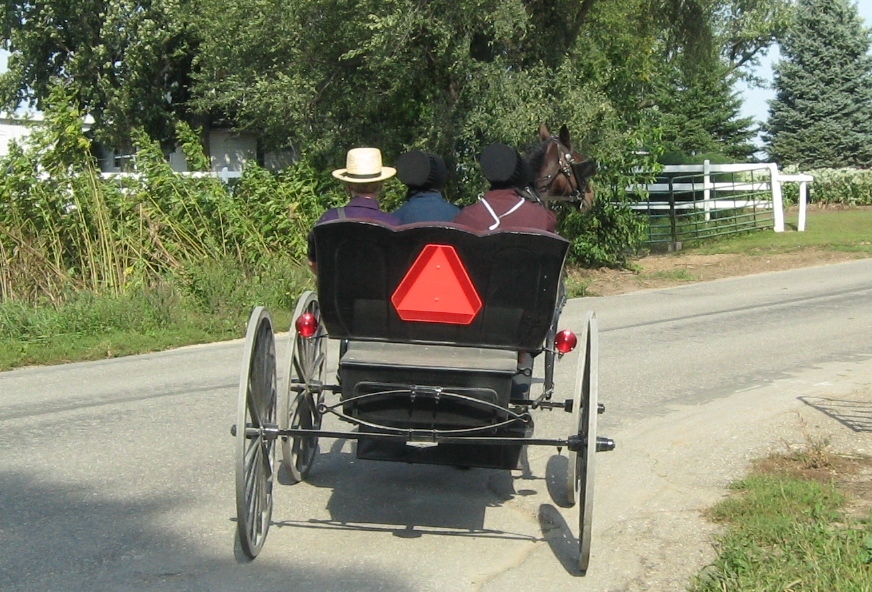 Amish kids in a buggy.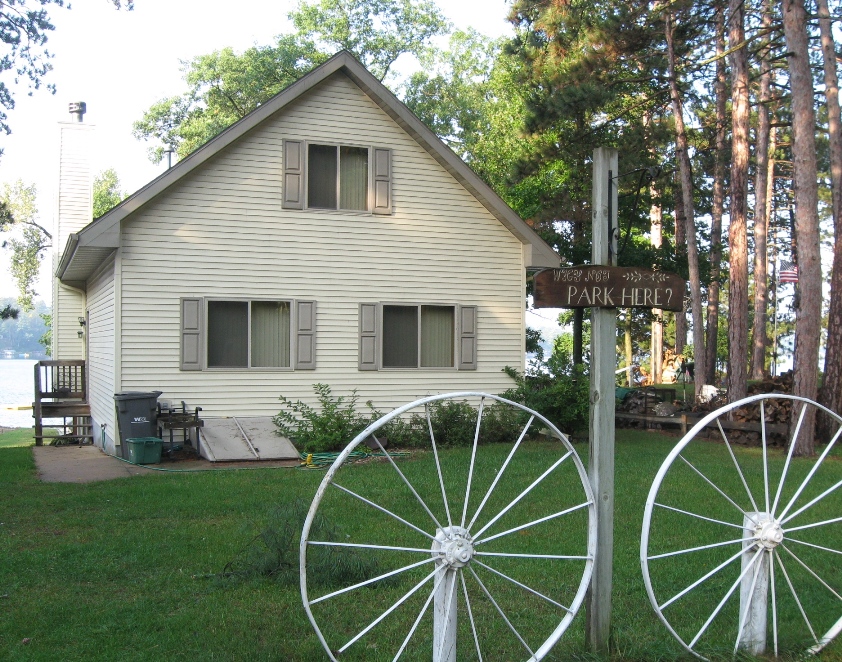 Grant has eight Koch cousins, seven of whom live in Wisconsin. They co-own this "cottage" on Silver Lake, near Berlin. They have a hilarious, dry sense of humor. The sign says: "Why not park here?"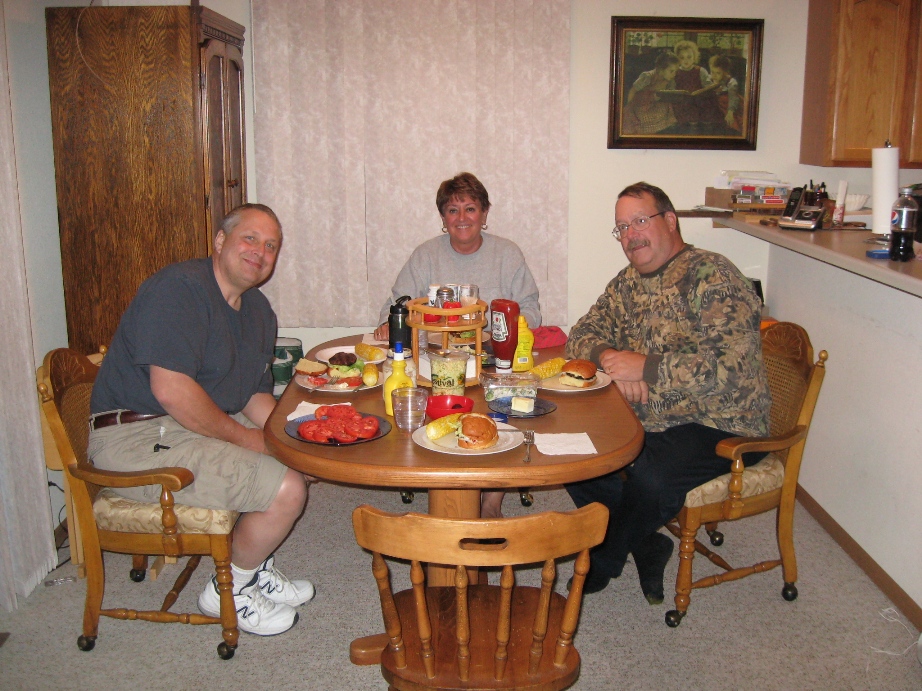 Dinner at the Koch cottage with Grant's cousin Dave, a pharmacist, and his wife Mary.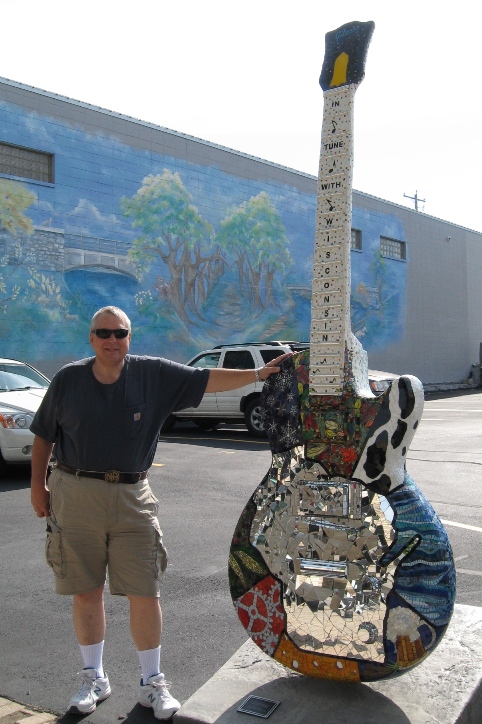 Ten-foot tall guitar sculptures dot Waukesha, WI, aka "Guitar Town," the home of Les Paul, father of the solid-body electric guitar. It's a very cute town, with many music-related things to do and see.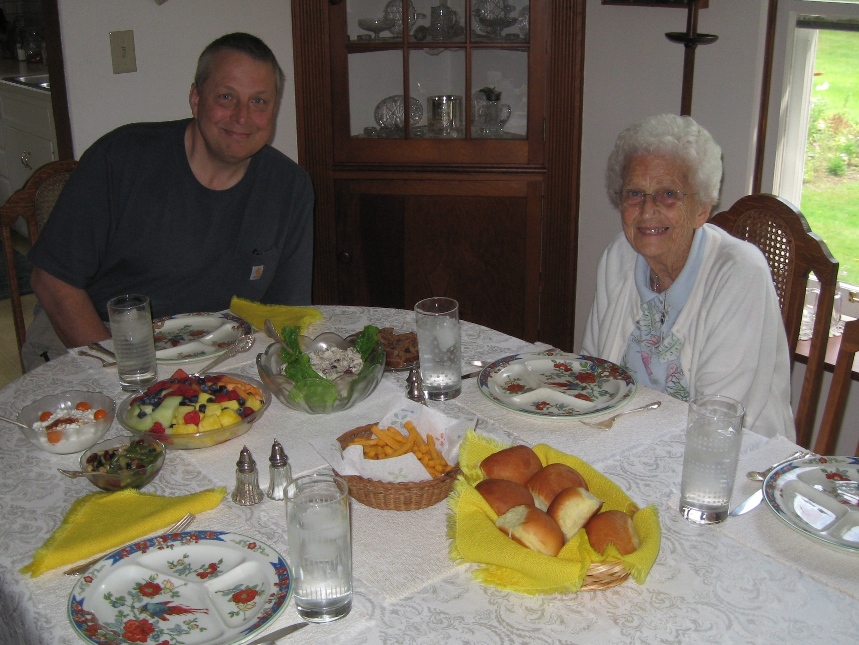 Grant's "Aunt" Debby (really his dad's cousin's wife) at her home in Pewaukee, WI. Still going strong at 93, and eager to pick Grant's brain about Erwin family history.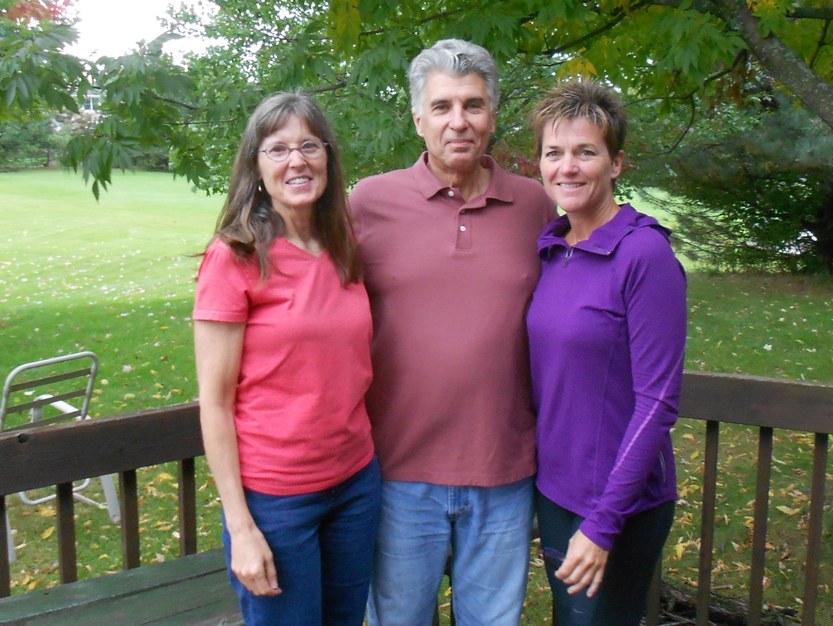 My third cousin Bob (we share the same great-great-grandfather) and his wife Wendy in Oconomowoc, WI. Bob and I are both family genealogists and it was great to meet in person for the first time. We are a lot alike! Oconomowoc's lakes were a summer destination for the Chicago elite, and the Wizard of Oz film premiered there in 1939.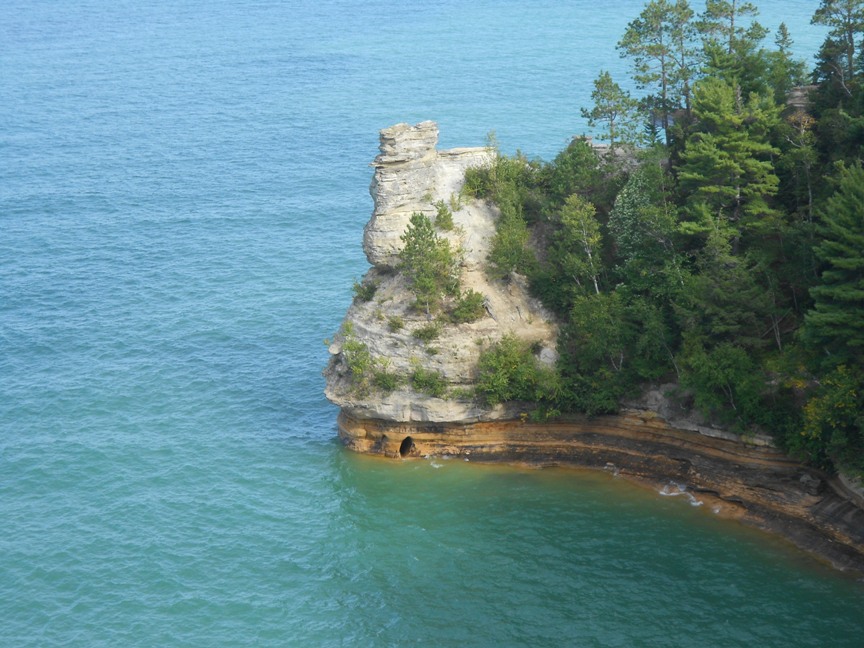 Multicolored sandstone cliffs in Pictured Rocks National Lakeshore on Lake Superior.





Miners Castle, Pictured Rocks National Lakeshore.





Miners Beach, Pictured Rocks National Lakeshore.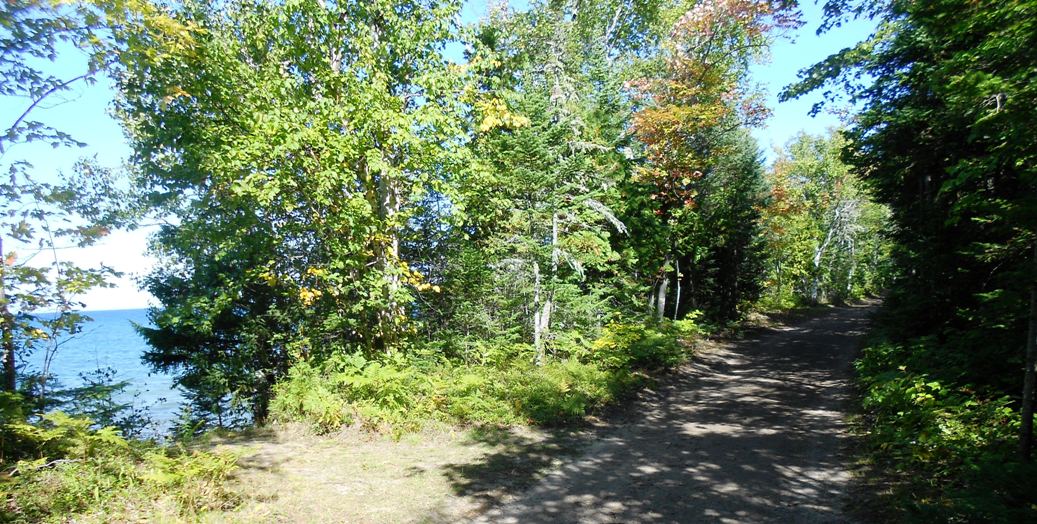 The lighthouse trail in Pictured Rocks National Lakeshore was one of the nicest walks we've ever taken (and that's saying something, because we walk a lot). Three miles round trip through a dappled-sunlight forest, with the sound of waves and views of the lake.





The walk ends at Au Sable lighthouse, with more sweeping views of Lake Superior and miles of sand dunes (just visible in the distance).





Spectacular fall color in Upper Michigan.






Our route across the Northeast: Pictured Rocks National Lakeshore MI (A), Northport MI (B), Serpent River Ontario (C), Ottawa Ontario (D), Mayo Quebec (E), Quebec City (F).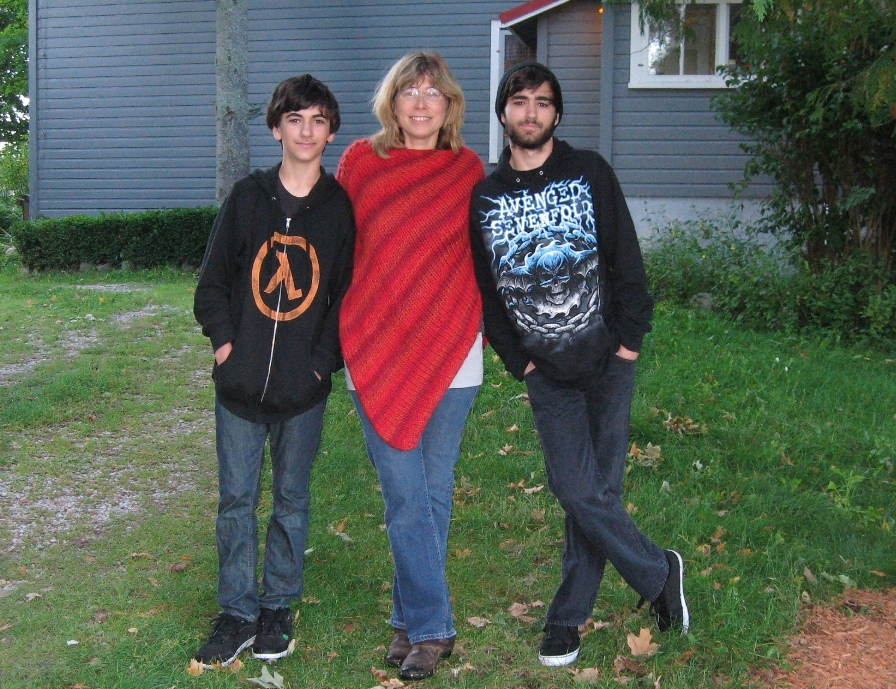 Grant's step cousin, Madeleine, and her adorable half-French boys, Jonas and Leo, in Northport, MI. Madeleine manages a goat cheese creamery called Idyll Farms.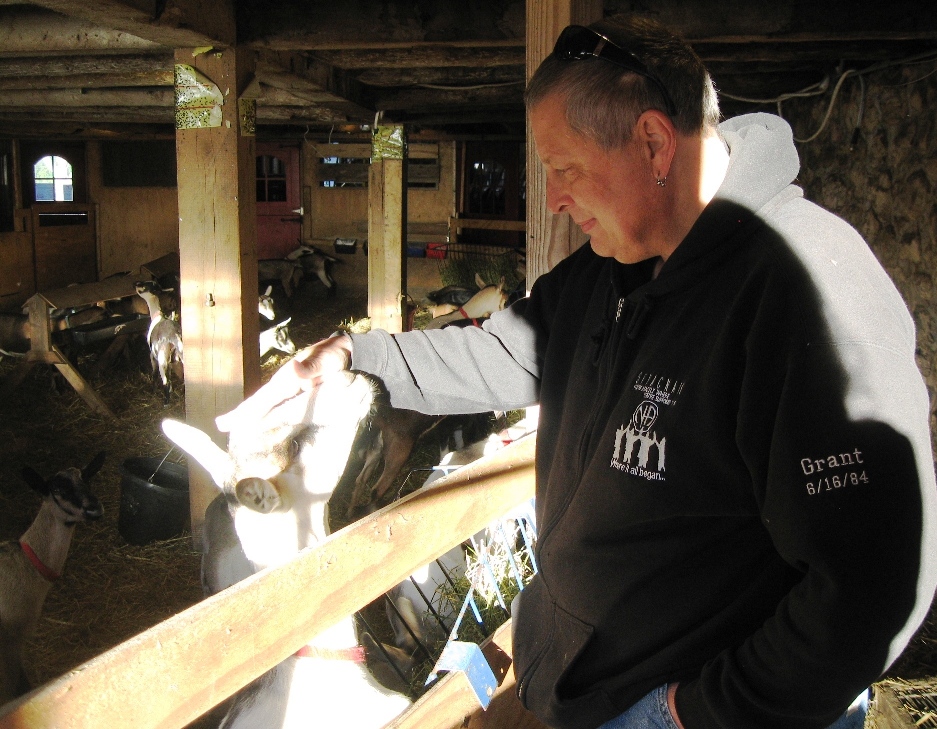 Grant petting one of the Idyll Farms goats.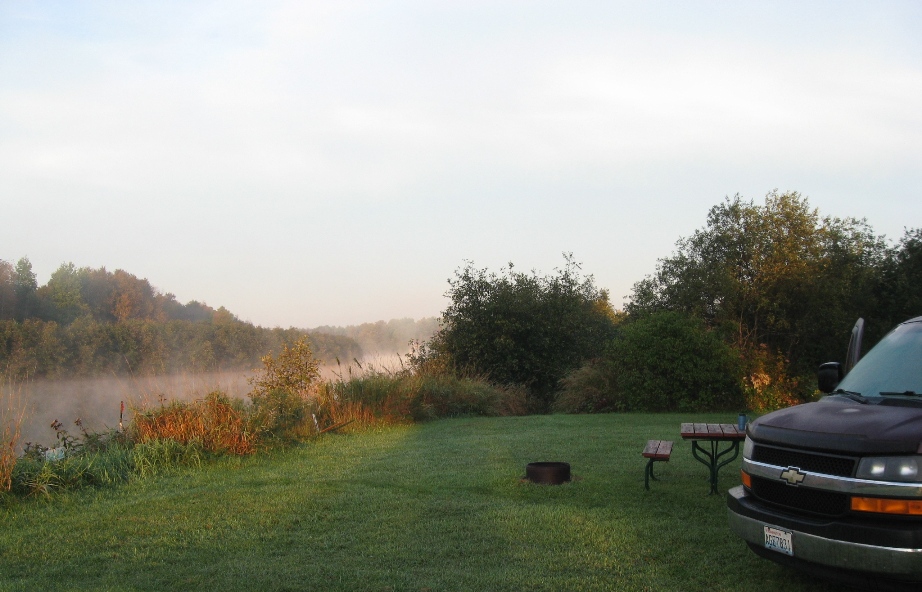 Mist rises off the river at our campground in Serpent River, Ontario. At this time of year campgrounds are mostly empty.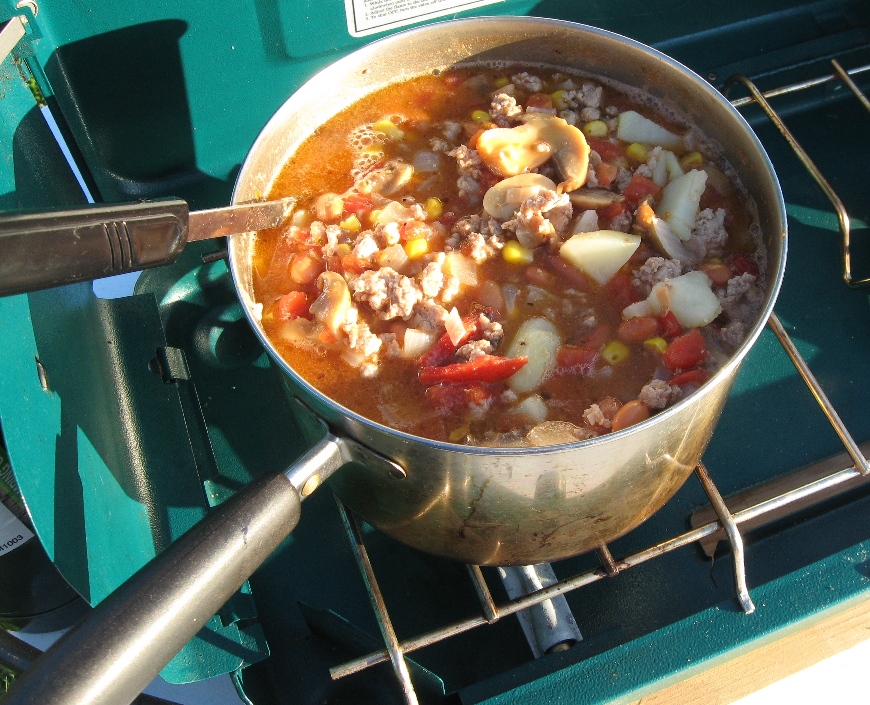 Hobo stew (aka Campfire stew), one of our camping staples. Ground turkey, onion, potato, corn, mushroom, tomato, beans, and seasonings.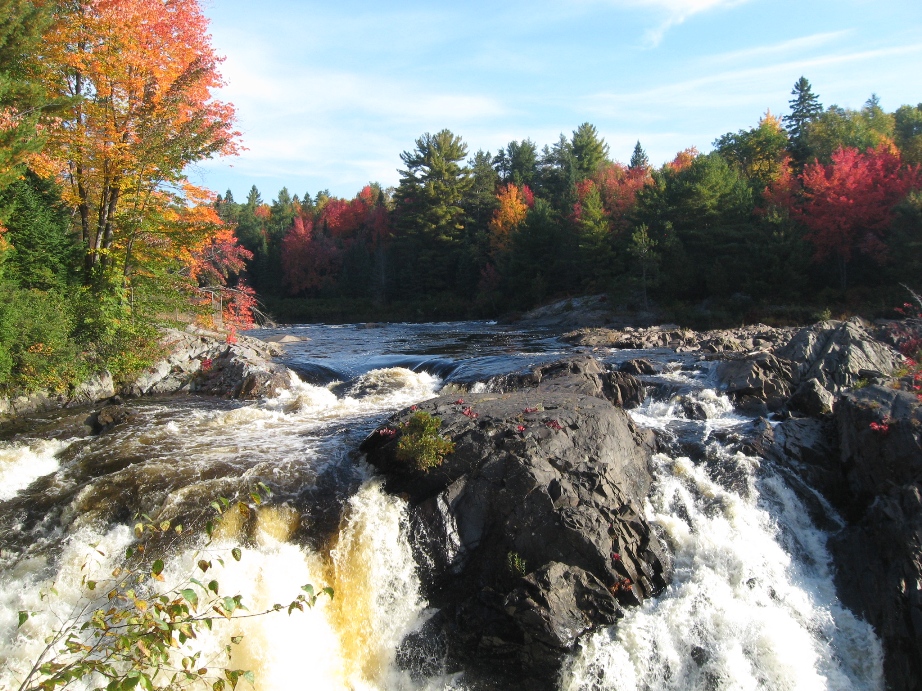 Chutes Provincial Park, Ontario, was a great place to go for a walk.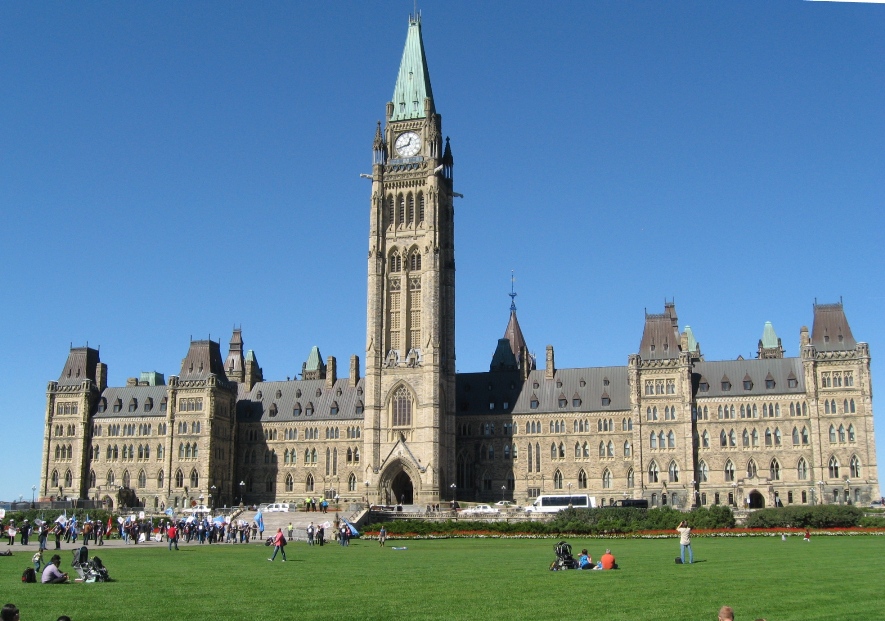 The Parliament building in Ottawa, Ontario, Canada's capital city.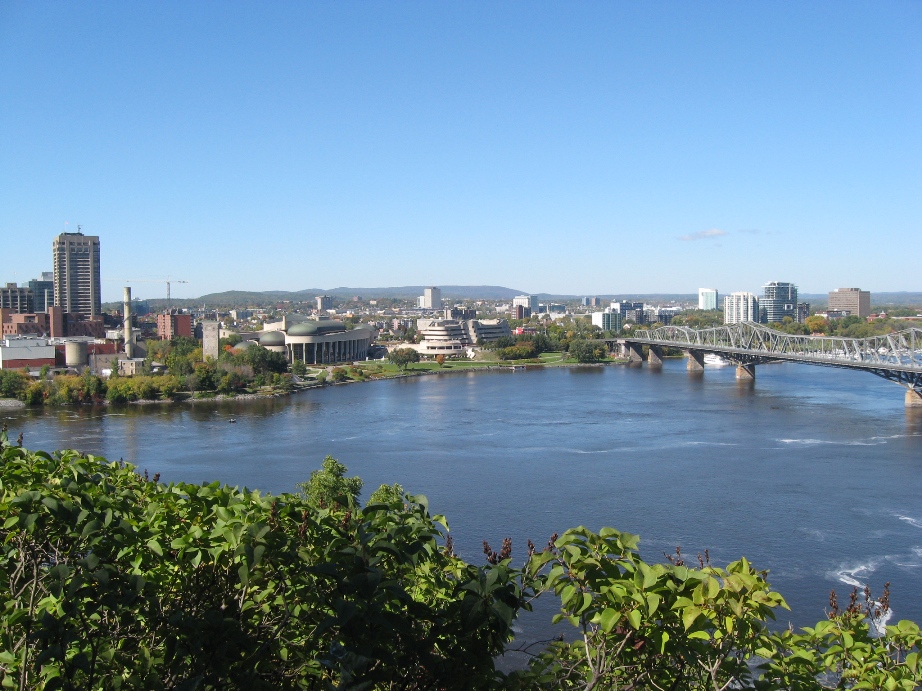 Ottowa is a beautiful city on the banks of the Ottawa River.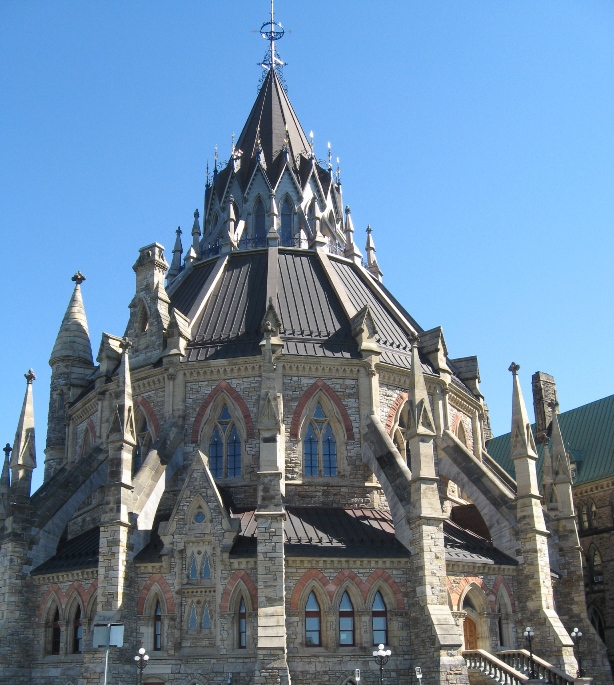 The Library of Parliament in Ottawa dates from 1876.





The 125-mile-long Rideau Canal connects Ottawa to Lake Ontario and becomes the world's largest ice skating rink in the winter.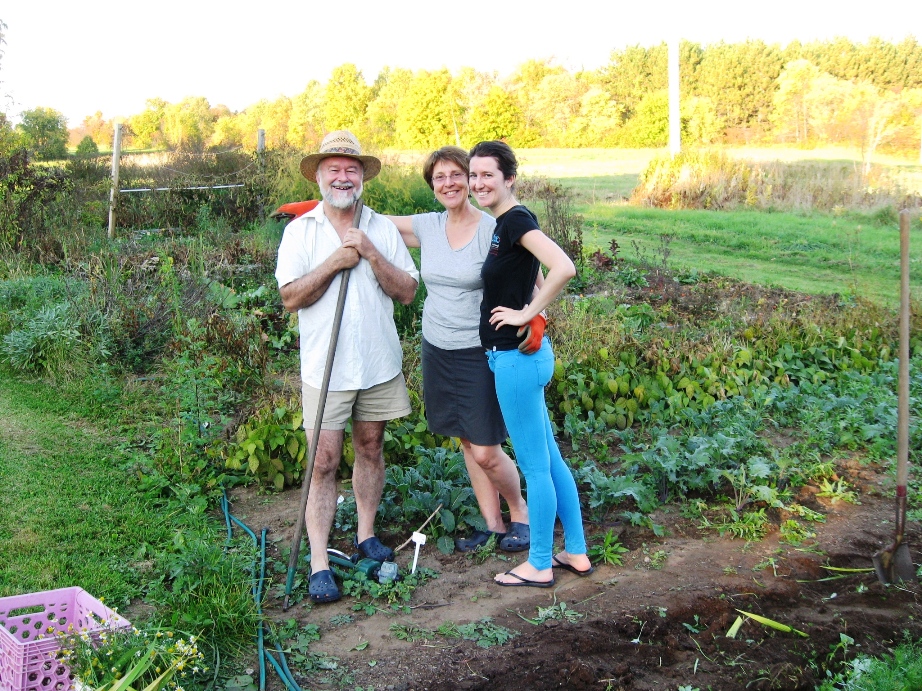 My friends Gary and Renee and their daughter Katherine. I met them in 1985 when I was Peace Corps volunteer in West Africa. Katherine was 2. We hadn't seen each other since 1987. We had an absolutely delightful visit with them on their farm in Mayo, Quebec, near Ottowa. Gary is a massage therapist and organic farmer; Renee works in international development.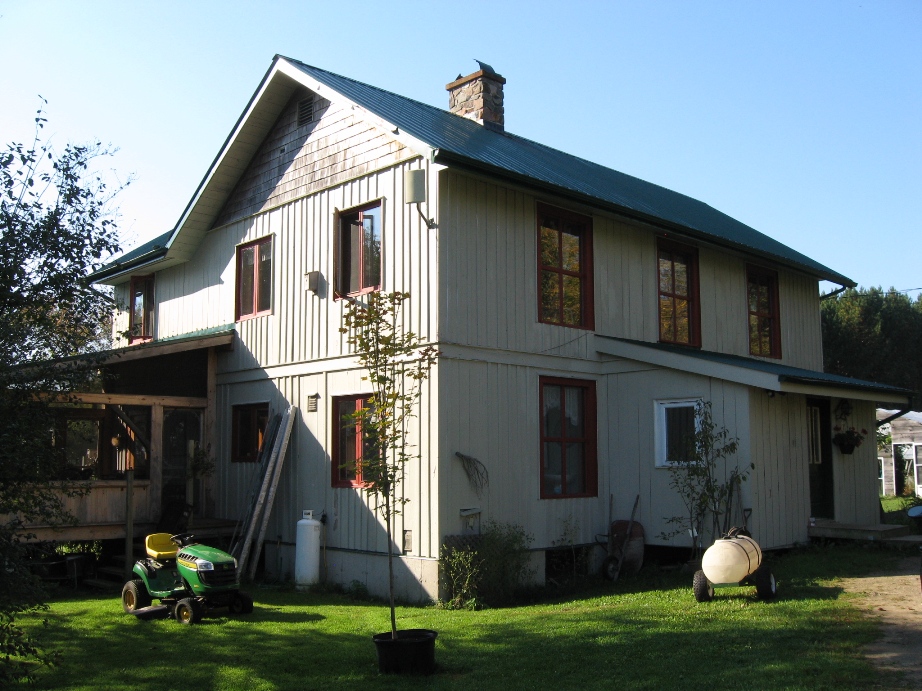 This is the house they built themselves.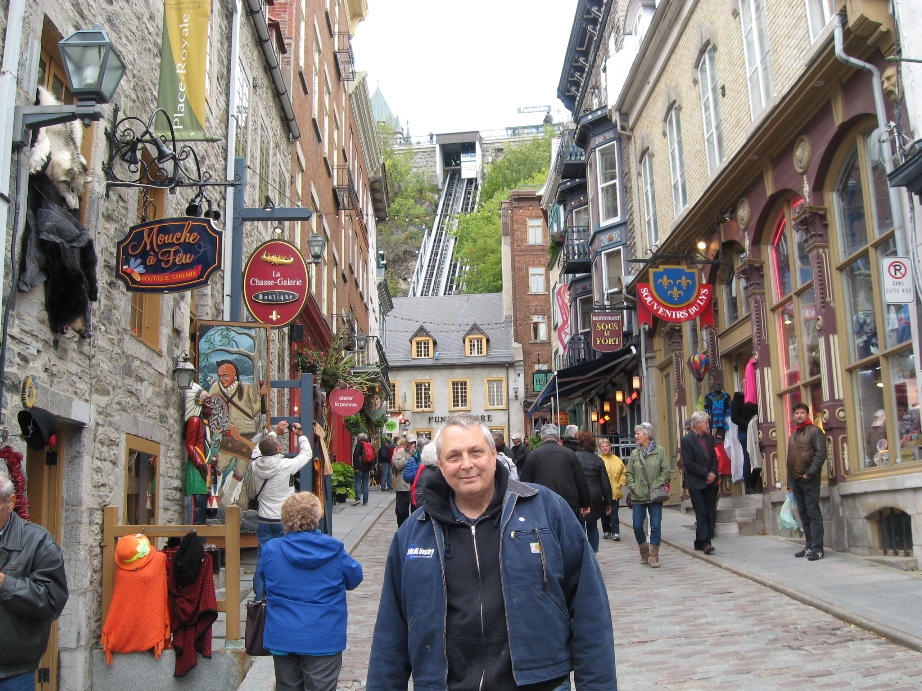 Here we are at the easternmost point on our journey: Quebec City, one of the oldest European settlements in North America (1535), and the only fortified city north of Mexico whose walls still exist.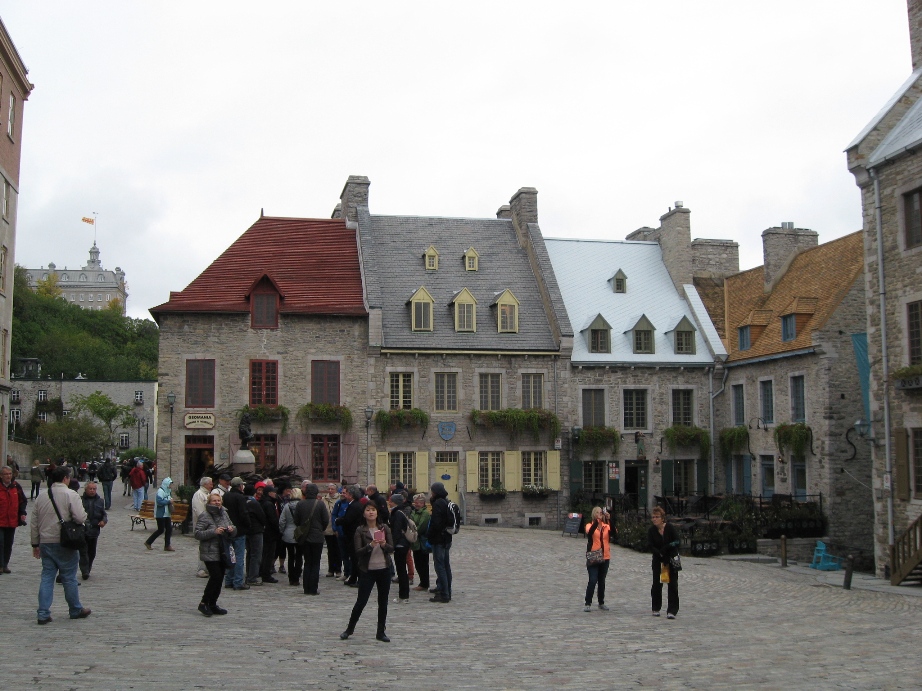 The beautifully preserved city feels like Europe.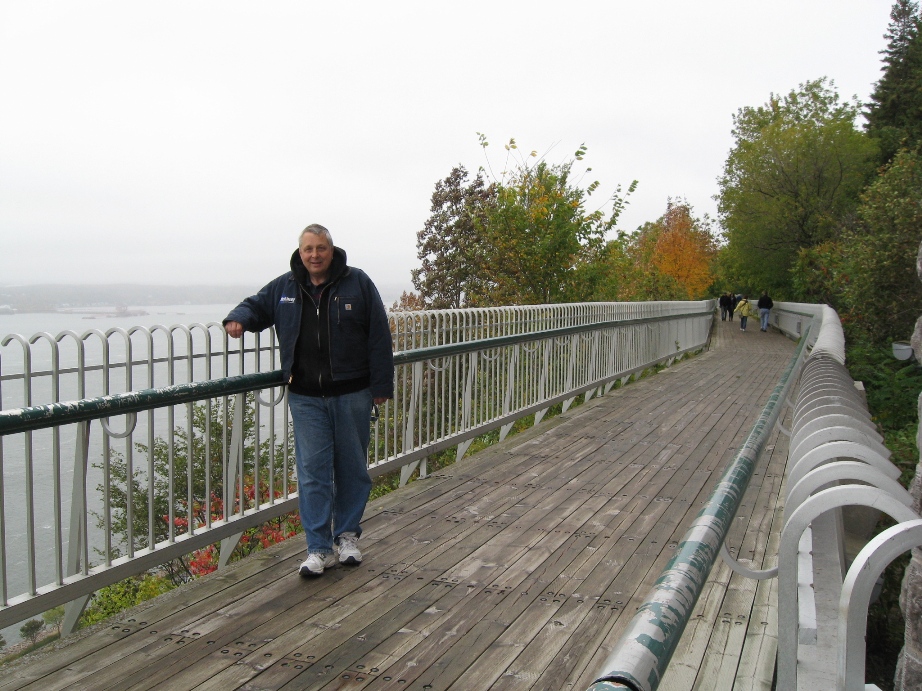 View of the Saint Lawrence River from the Governor's Promenade below the old city walls.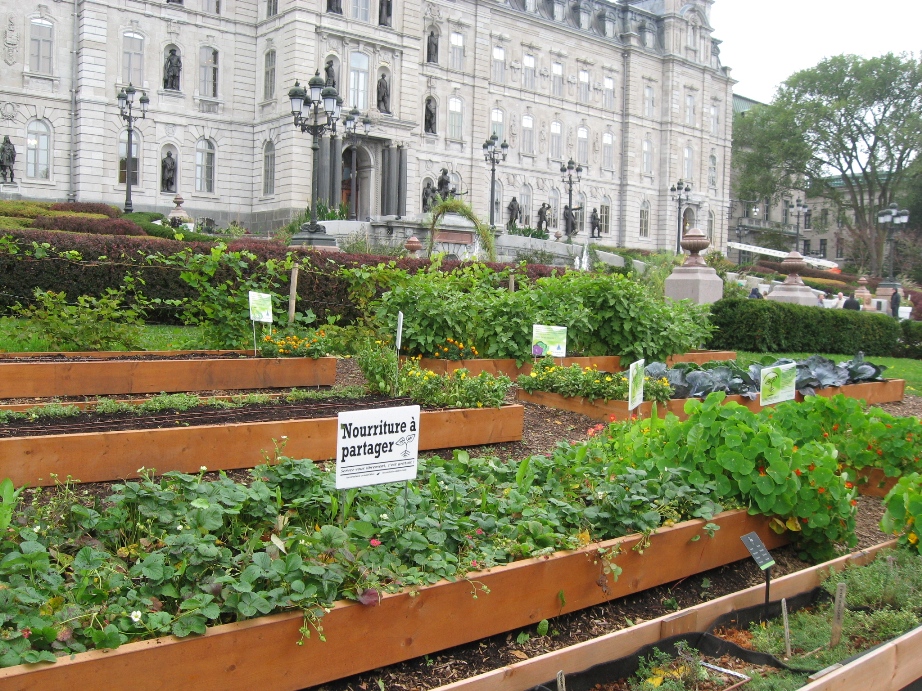 This garden in front of the Quebec City parliament building encourages folks to help themselves to edibles! ("Nourriture a partager" means "Food to share.")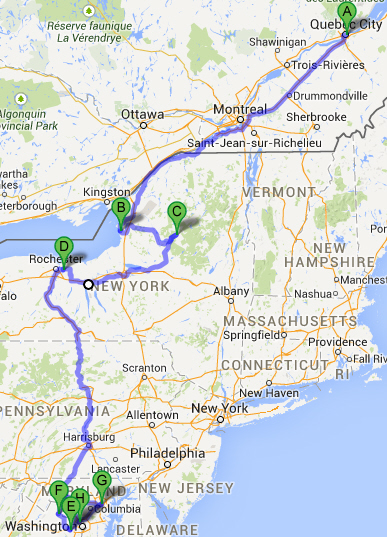 Our route from Quebec to Virginia: Quebec City (A), Southwick Beach (B), Old Forge NY (C), Rochester NY (D), Fairfax VA (E), Leesburg VA (F), Baltimore MD (G), Kensington MD (H).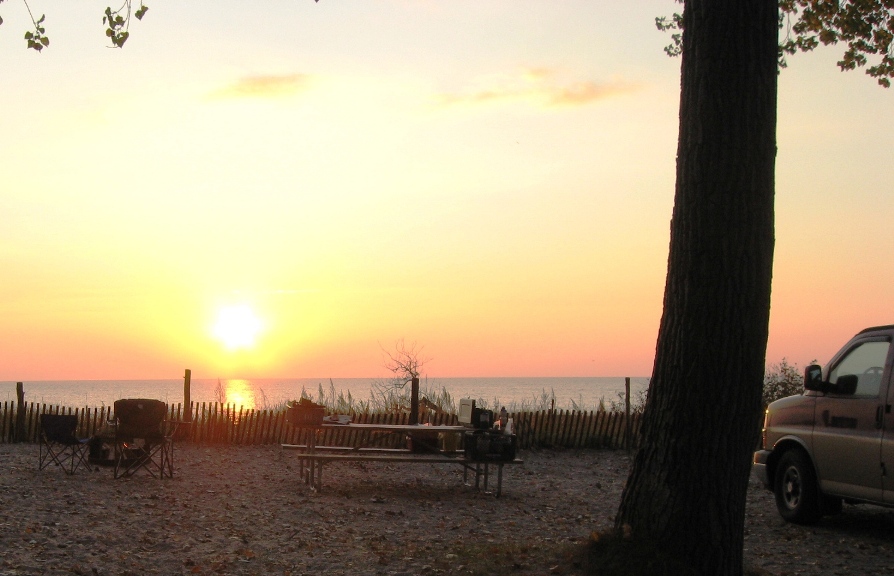 Back in the U.S., we found this idyllic campsite at Southwick Beach State Park on Lake Ontario in upstate New York. Balmy weather, sandy beach, glorious sunset, and the gentle sound of waves. It felt like a tropical paradise!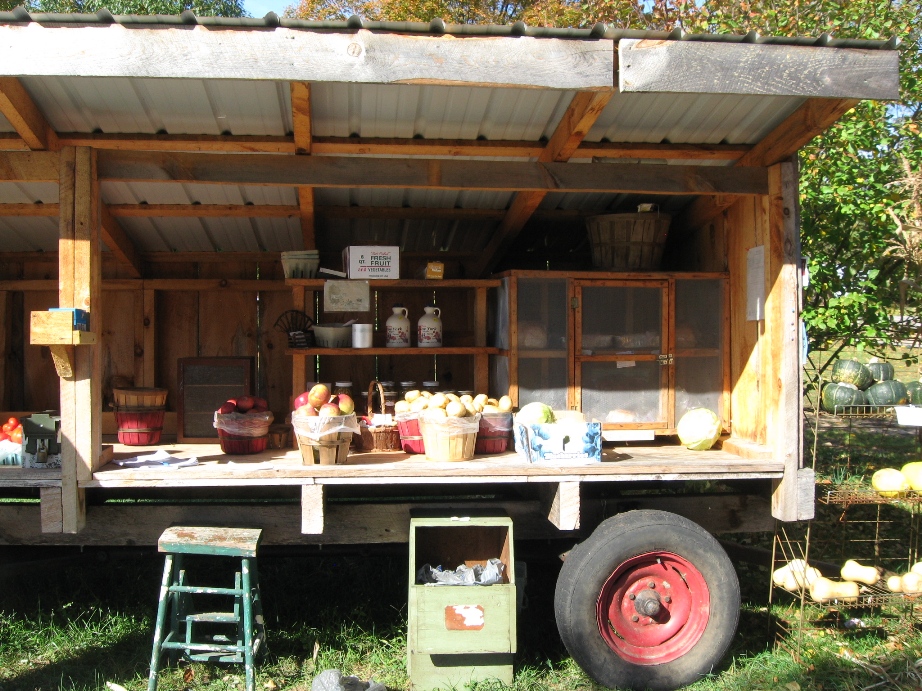 One of our rules of travel: If you see a roadside stand selling produce from someone's garden, stop! Payment is on the honor system.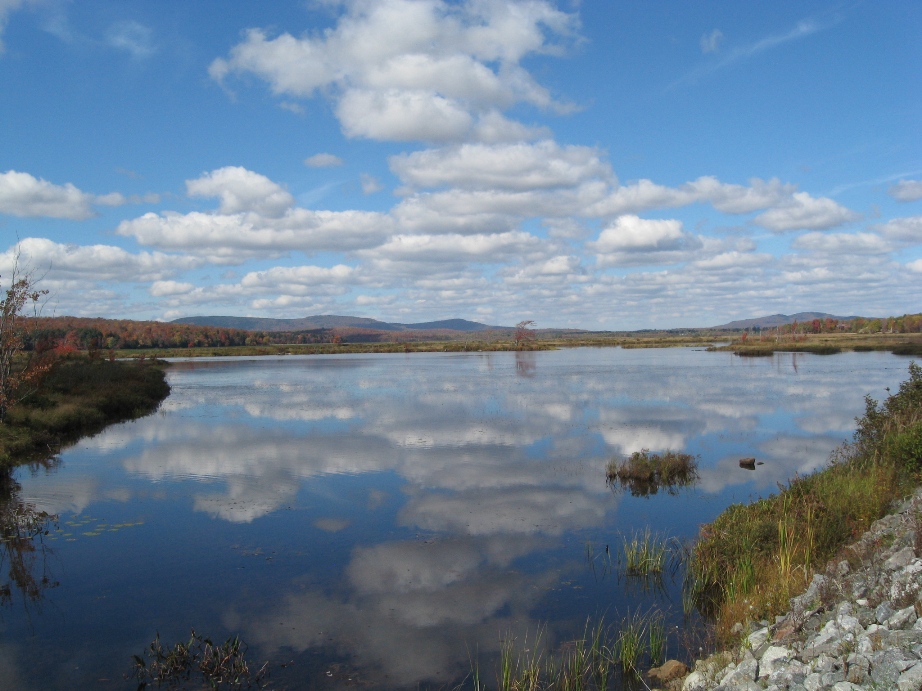 You just can't beat driving through the Adirondacks in the Fall.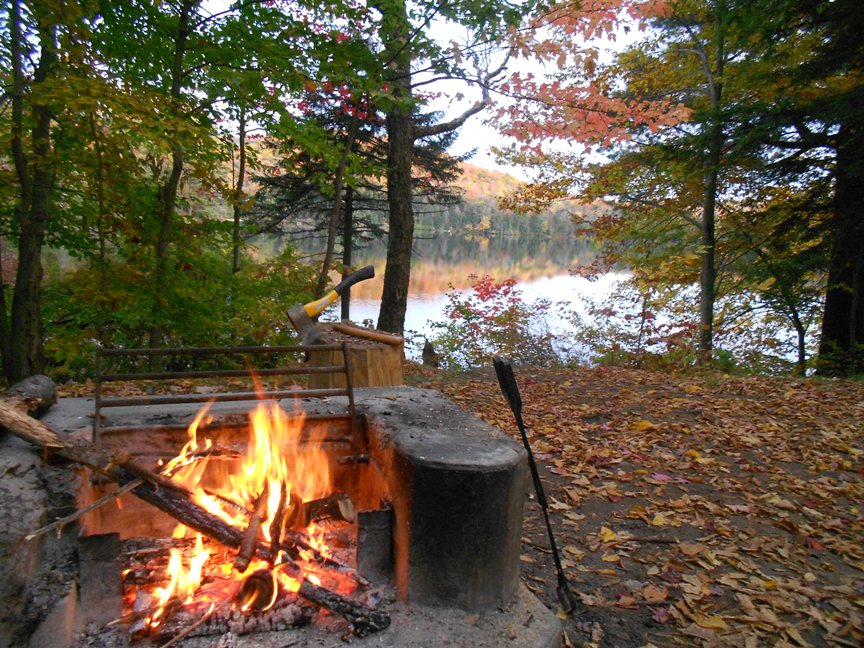 Nick's Lake Campground, Old Forge, NY, in the Adirondacks. Seven mallards came calling, hoping (in vain) for handouts.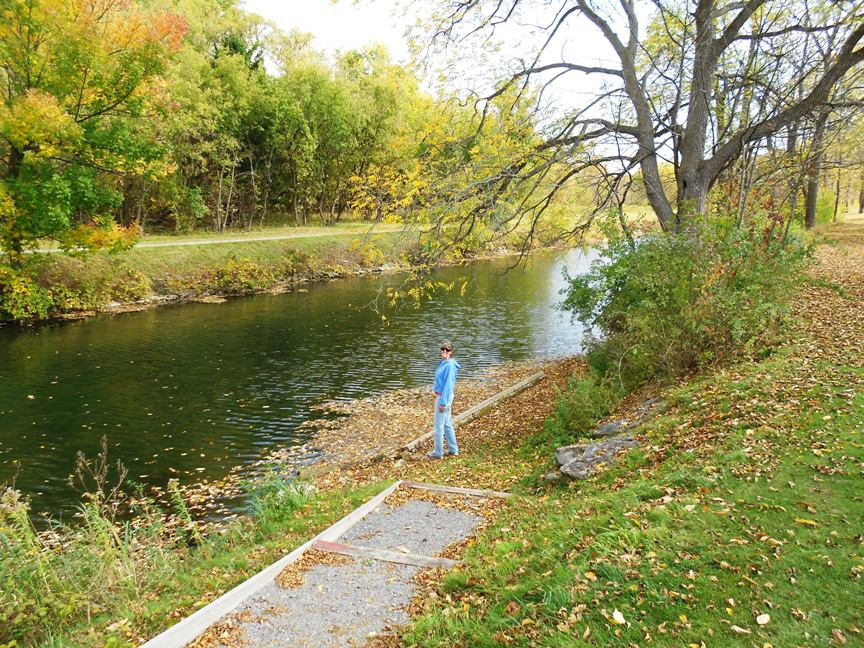 The Erie Canal in Chittenango, NY, birthplace of L. Frank Baum (author of The Wizard of Oz).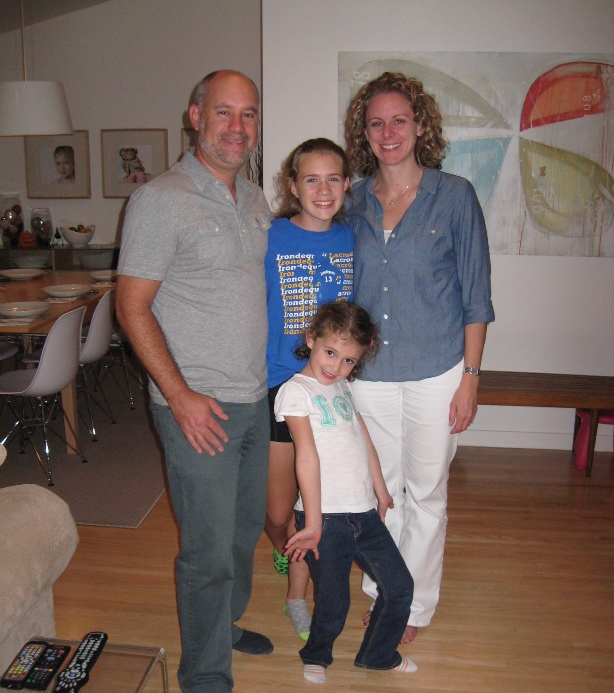 A lovely visit with Karen's cousin Pete, his wife Donna, and their kids, Emma (14), and Zoe (6). They work in advertising and live near Rochester in an amazing mid-century modern house they remodeled.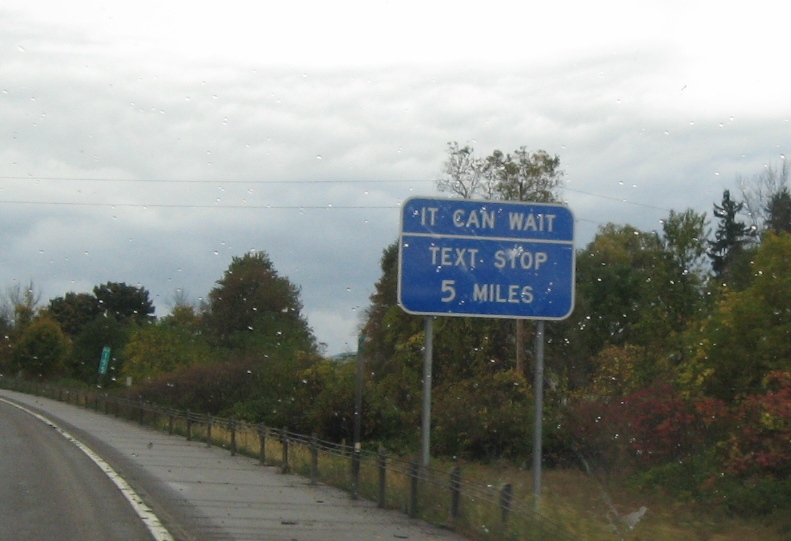 We saw signs like these all over the east coast. What a great idea!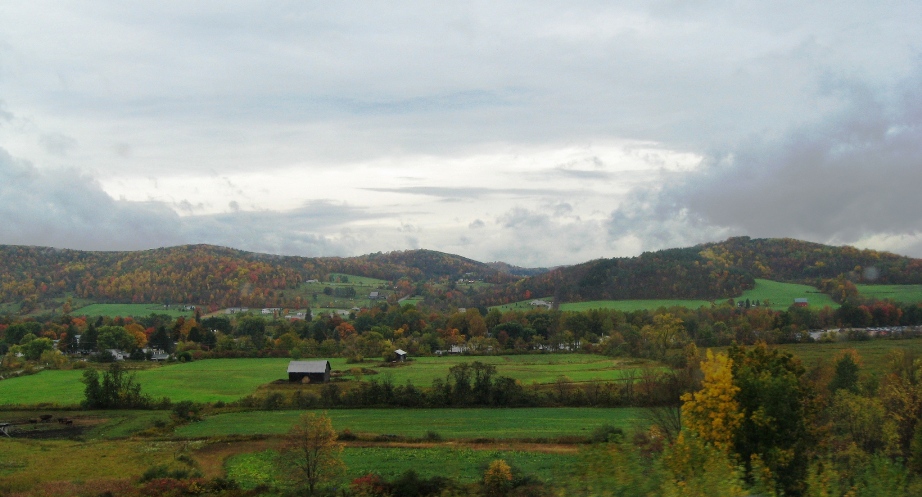 Heading south, we drove through beautiful, sylvan Pennsylvania - wow!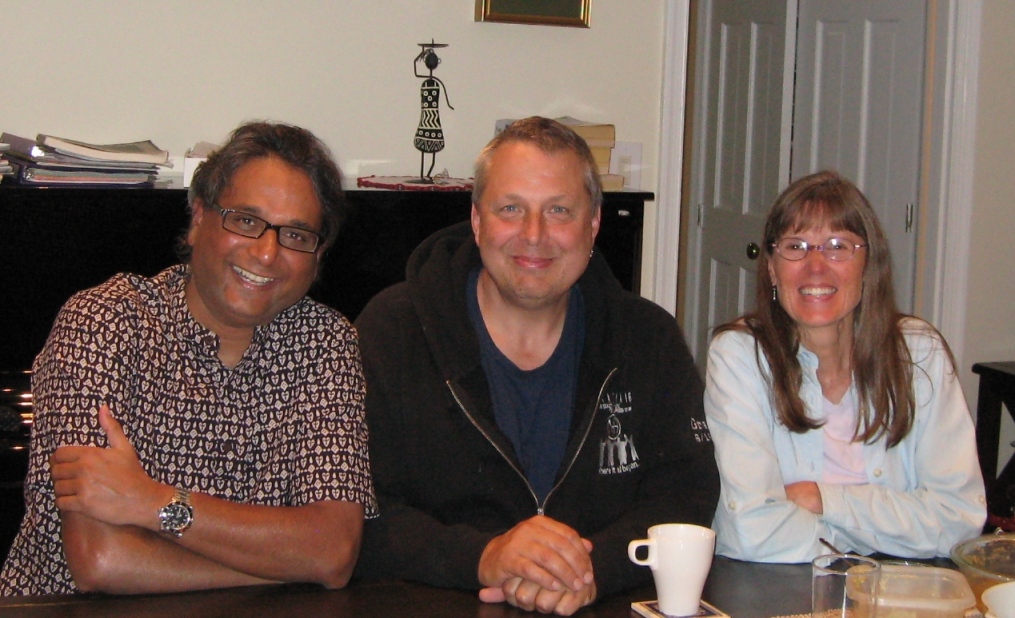 In Fairfax Virginia we visited Pradeep, a favorite coworker we hadn't seen in many years. He and his wife, Rashmi, served us an amazing meal of homecooked Indian food - what a treat! He is a management consultant and she is a history professor.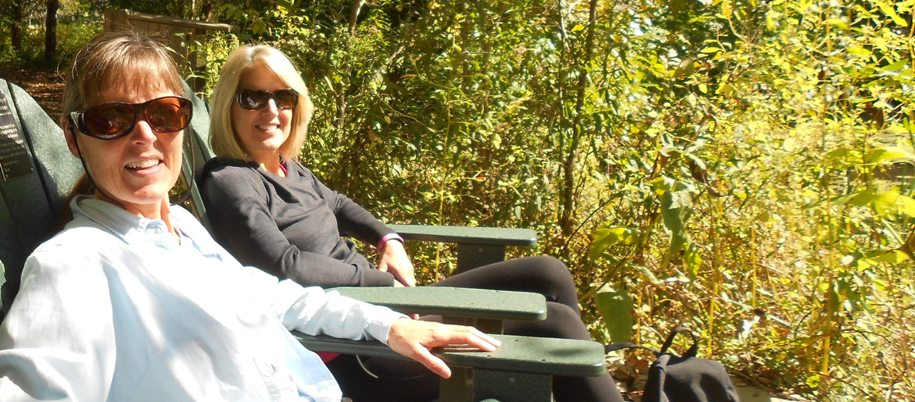 In Landsdowne Virginia (near Leesburg), we visited my sister Susan. Here we are enjoying a sunny picnic by a turtle pond at Meadowlark Botanical Garden.





My niece Kylie (8) and nephew Brandon (9) with their guinea pigs.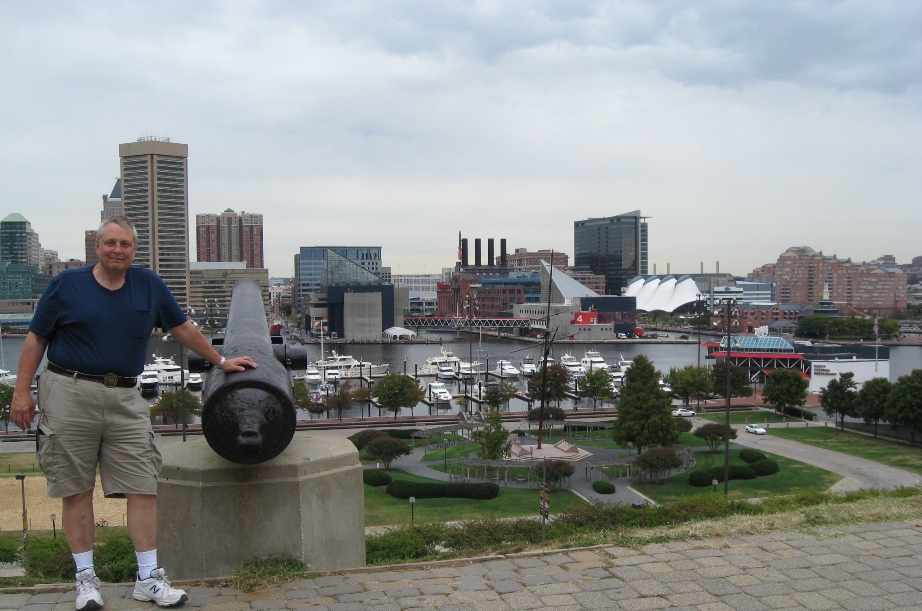 After eating crabcakes in Baltimore's Cross Street Market, we walked up to Federal Hill for this view of the Inner Harbor, a historic seaport, tourist attraction, and "model for post-industrial waterfront redevelopment."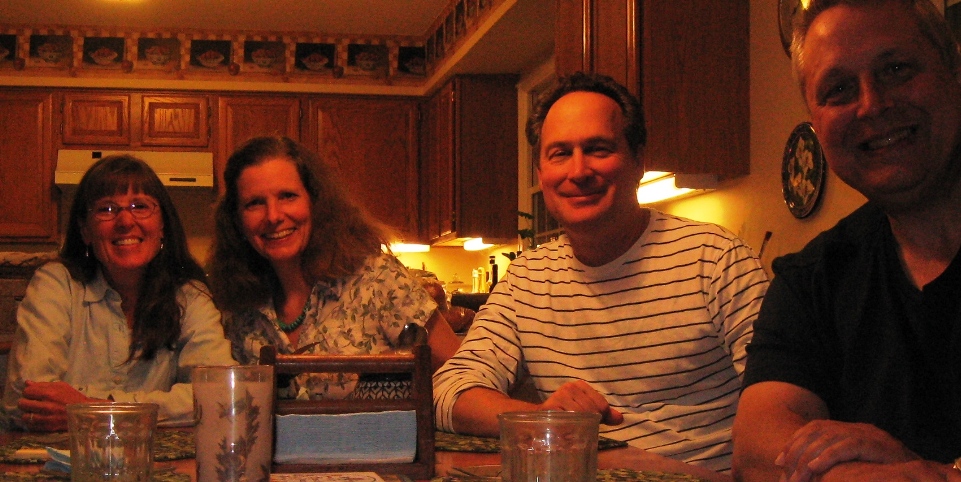 Laura and I were in the Peace Corps together in the mid-80s. She has continued to work for international development organizations fighting poverty all over the world. She is an inspiration! We had a lovely visit with Laura and her husband Peter (an author and senior policy advisor) at their home in Kensington Maryland.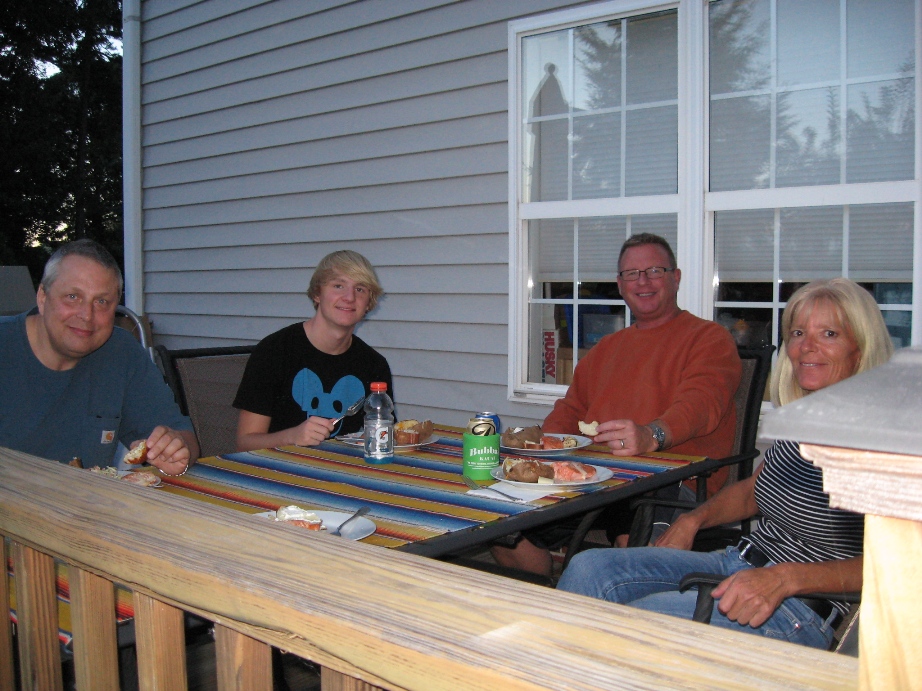 My four siblings are spread around the country. Sister Kelly, husband Rob, and son Levi (16) recently relocated to Cornelius, North Carolina, just north of Charlotte. Here we are enjoying a warm evening on their deck...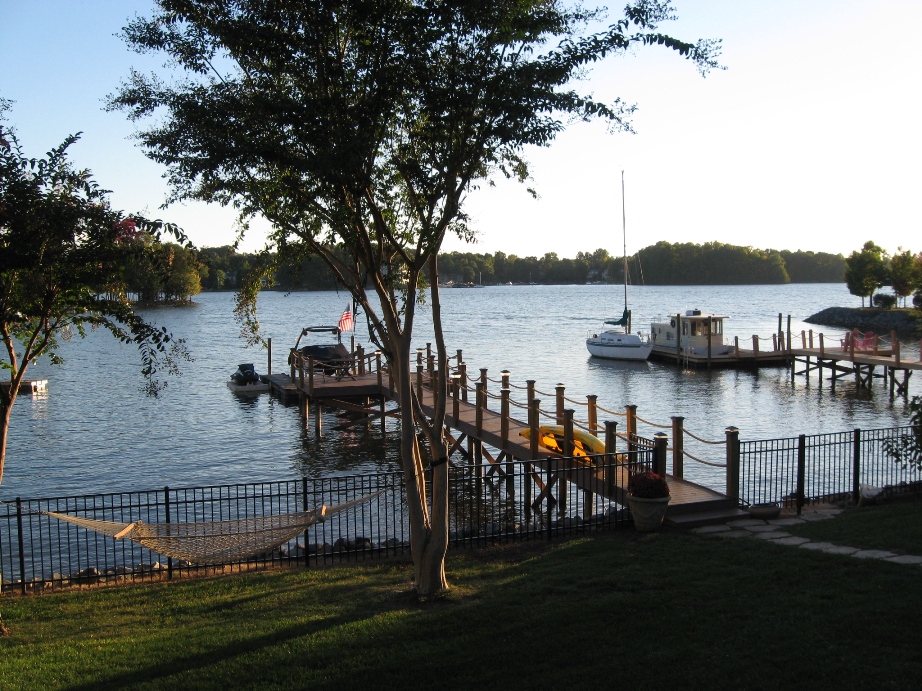 ... and their beautiful view of Lake Norman!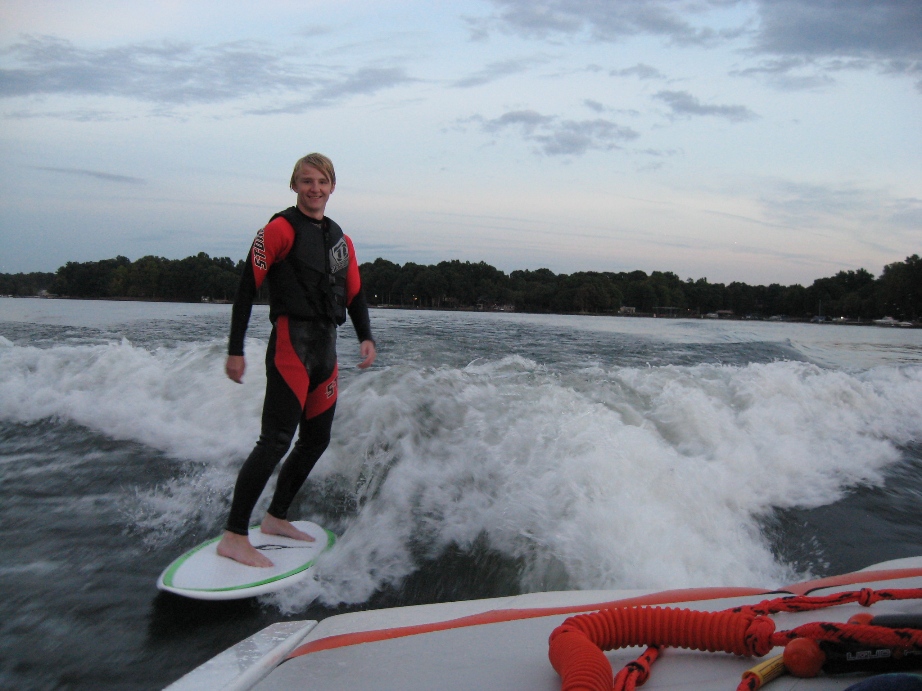 Levi wave surfing.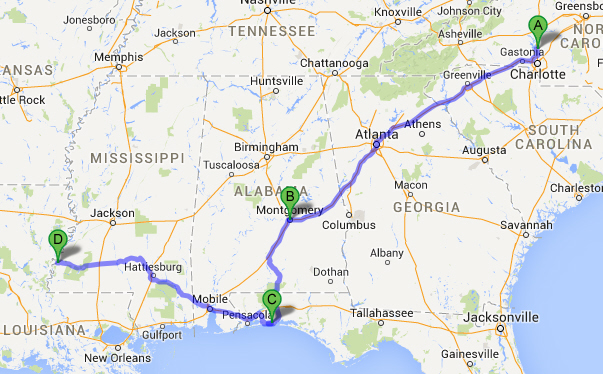 Our route through the Southeast: Cornelius NC (A), Montgomery AL (B), Hurlburt Field FL (C), Natchez MS. (We normally take back roads, but didn't always have time on this trip.)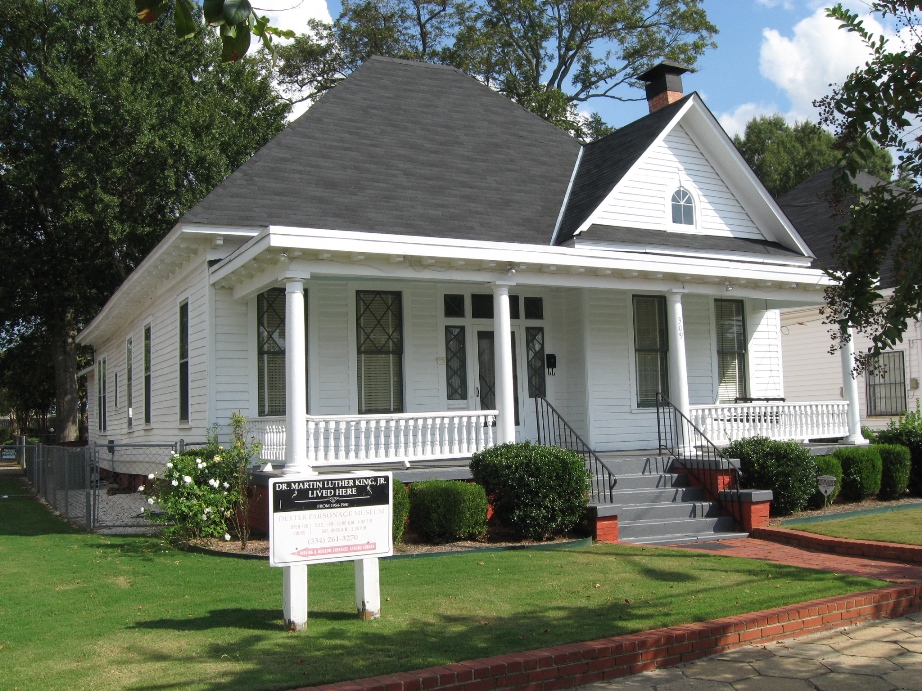 Heading south, we stopped in Montgomery, Alabama, the site of many civil rights milestones, including the Rosa Parks bus boycott. Here is the home of Martin Luther King Jr.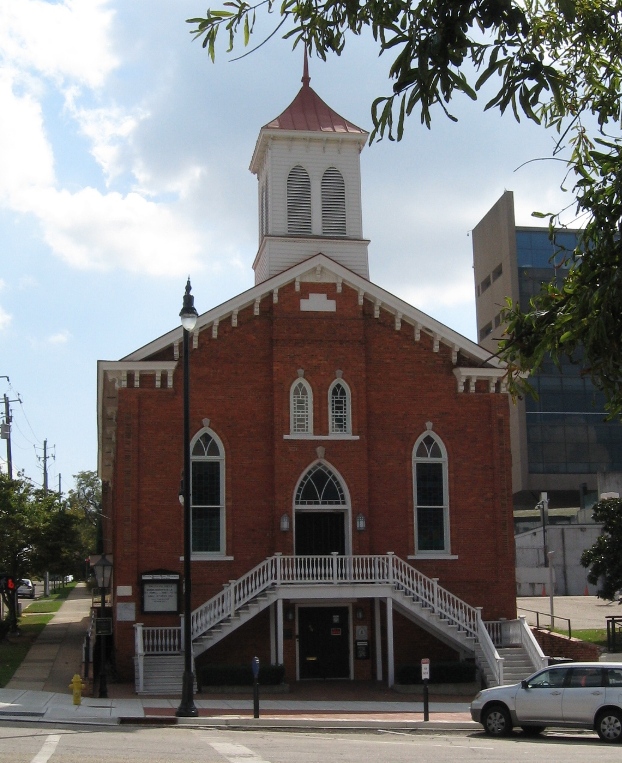 This is the church where King preached.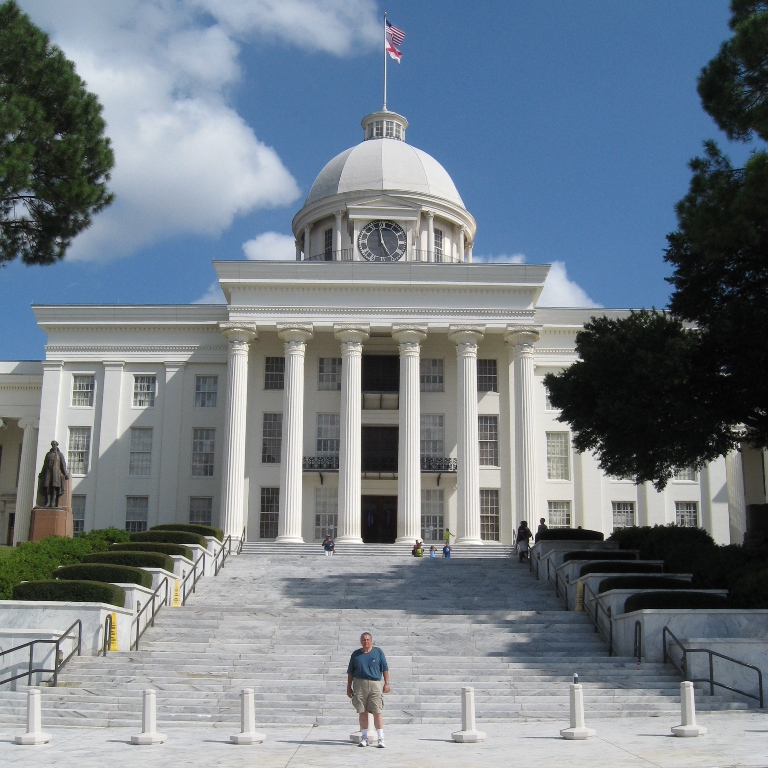 Here is the state capital, where King spoke to a crowd of thousands on March 25, 1965, at the end of a 5-day, 54-mile march from Selma to Montgomery to campaign for voting rights.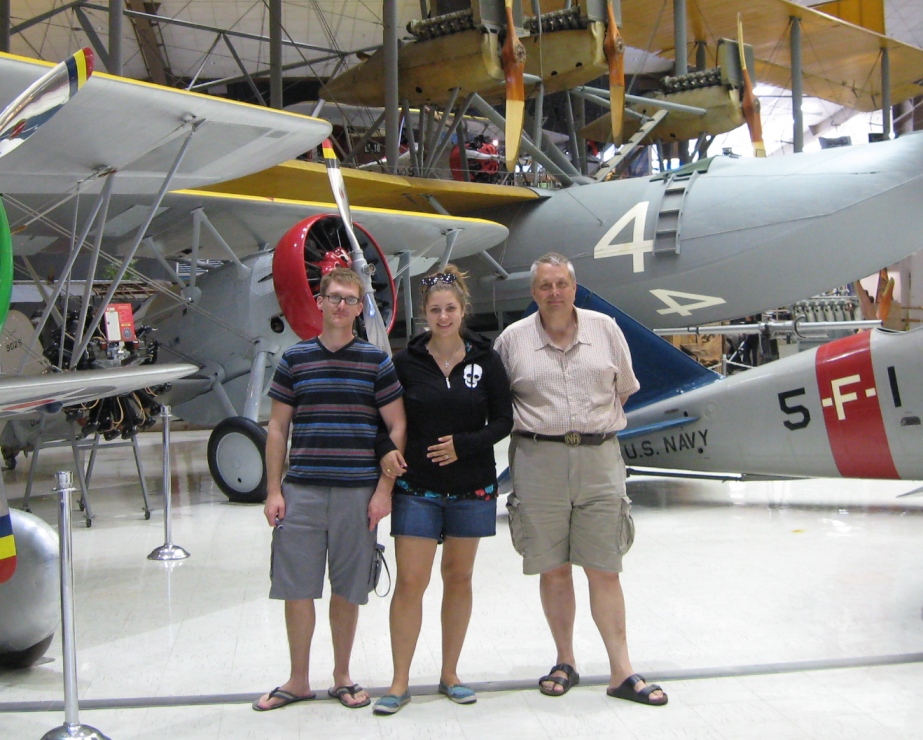 Grant's daughter Alex, and her husband Ben live near Pensacola, Florida. Ben is an Air Force mechanic. We took a field trip to the U.S. Naval Air Museum in Pensacola.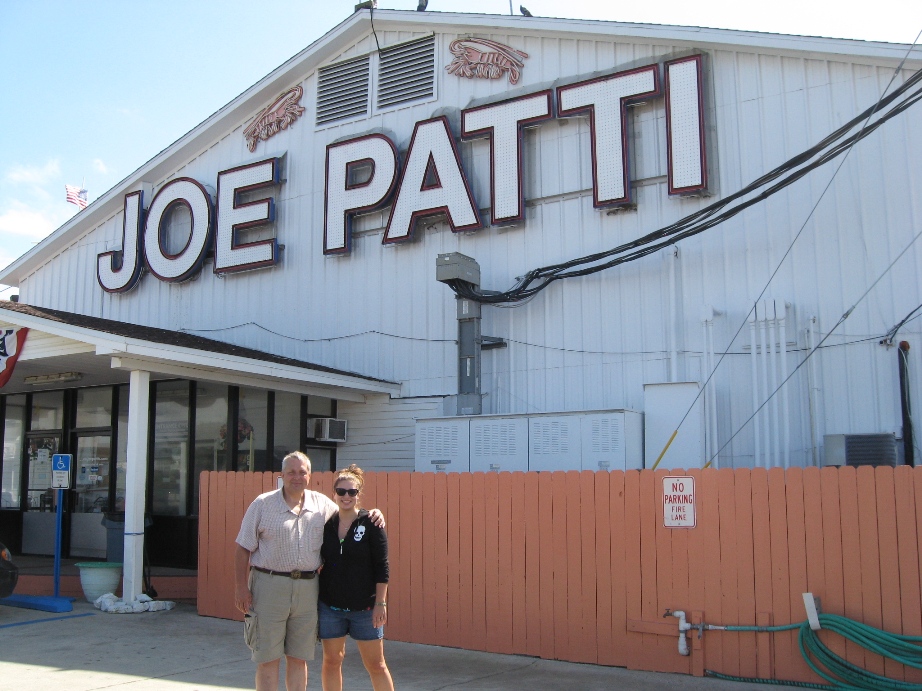 Grant and Alex at Joe Patti's fish market in Pensacola, where you can buy many fascinating and unusual things, such as alligator meat.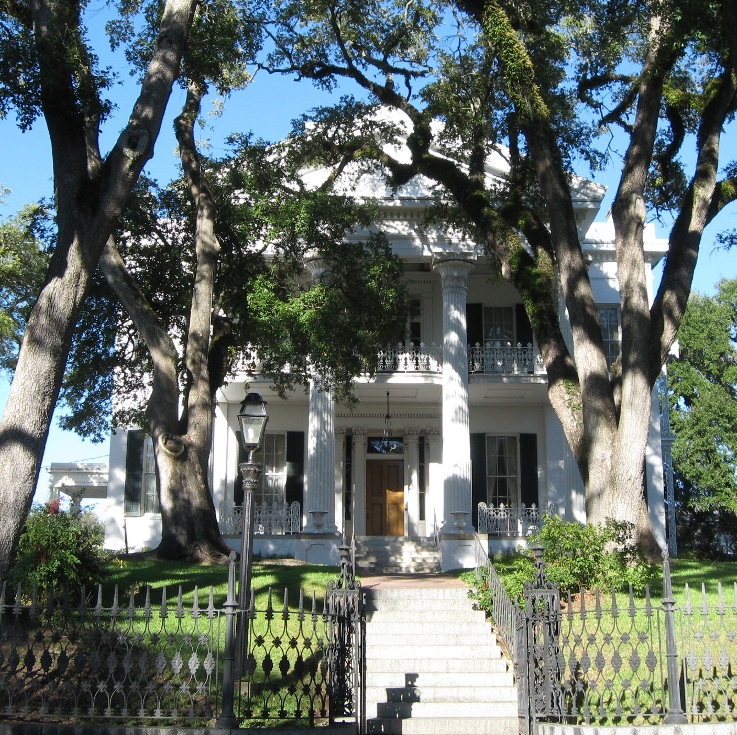 Natchez Mississippi is known for magnificent antebellum homes.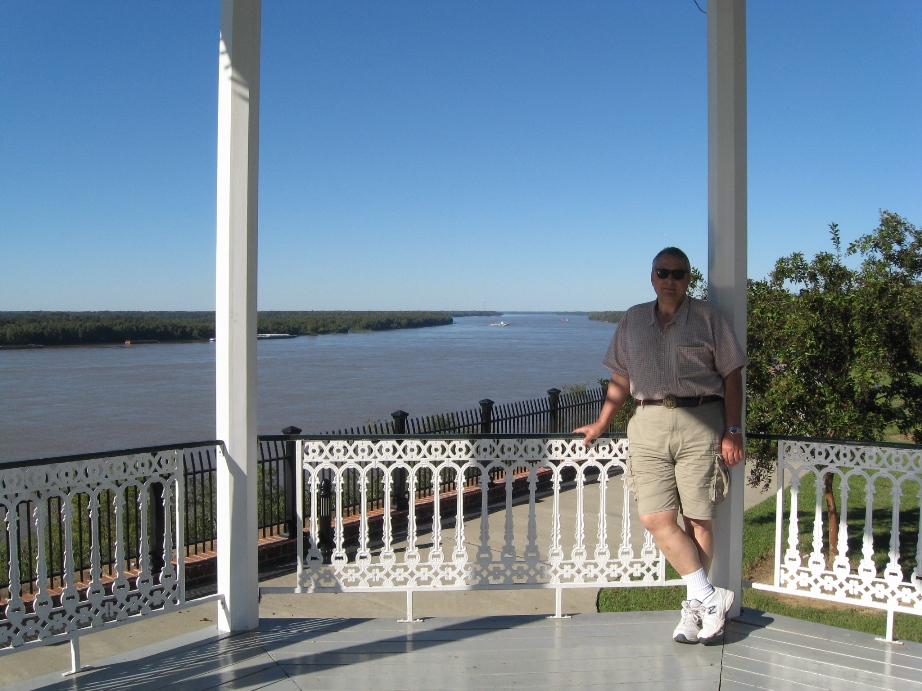 The Mississippi River at Natchez.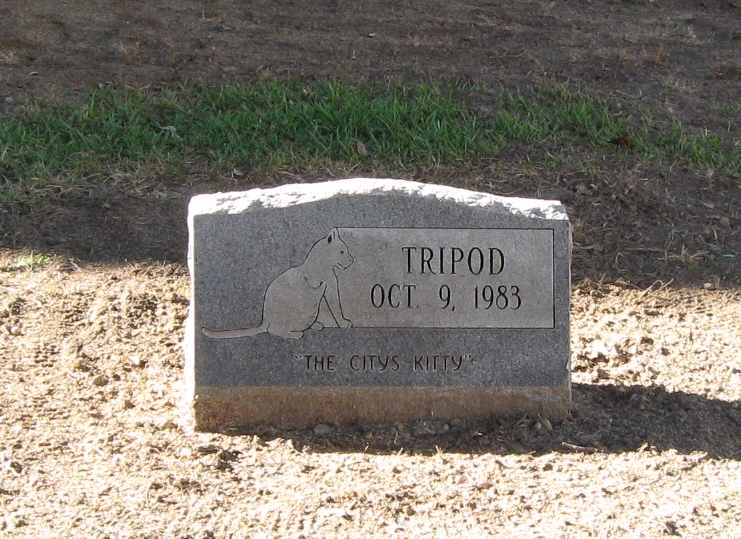 In front of Natchez City Hall. You gotta love a city that loves cats.





Natchez is also the southern terminus of the Natchez Trace Parkway, a 444-mile historical road that connects Natchez to Nashville, Tennessee. (Trace means "track" in French.) The Trace follows a path that was used for centuries by Native Americans, and then by explorers and traders in the late 1700s and early 1800s.





The Natchez Trace Parkway (the black squiggles on the left are the state line/Mississippi River). There are dozens of points of interest along the Parkway. Milepost markers help you track the stops.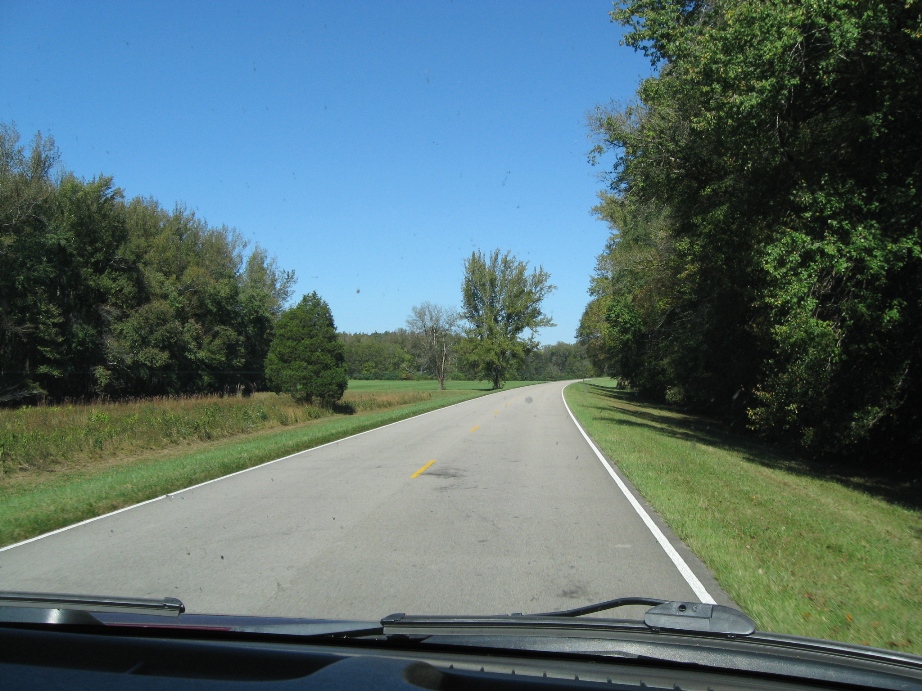 The two-lane road is green and serene.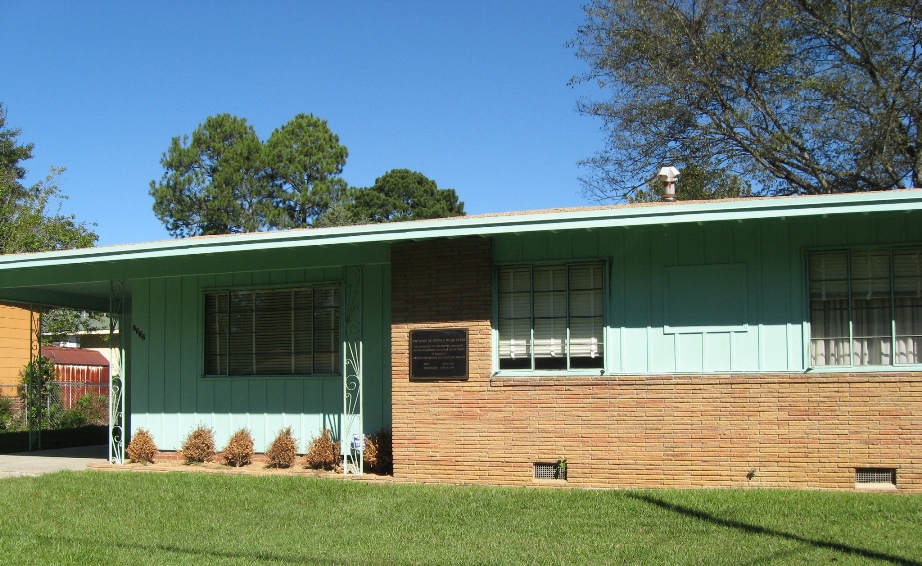 We popped off the Trace to see a bit of Jackson MS, including the home of Medgar Evers, NAACP field secretary. He was assassinated in this driveway in 1963. Civil rights history is so much more real and interesting in person than in books or movies.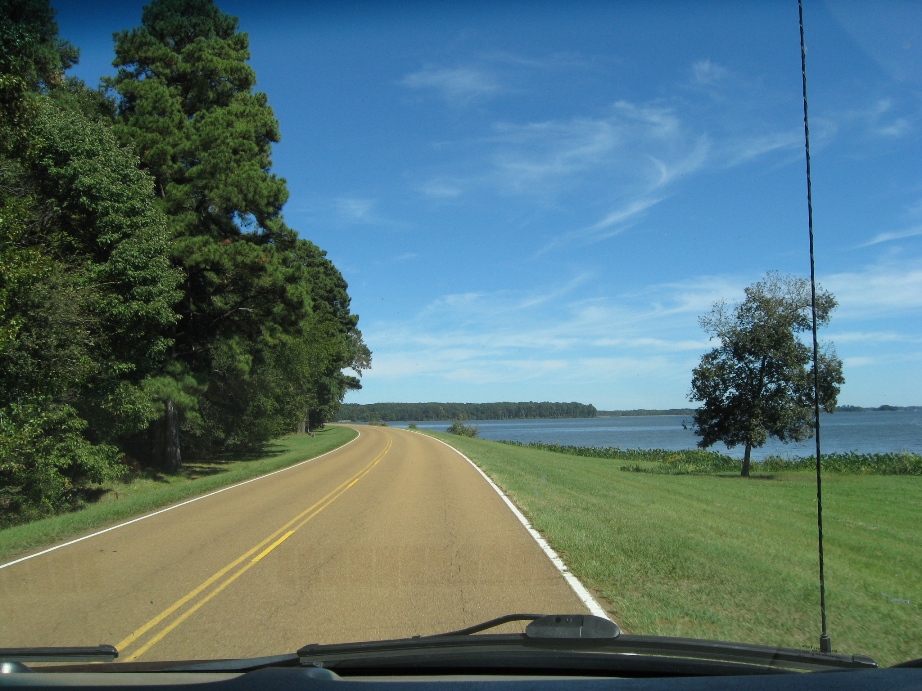 The Ross Barnett Reservoir at milepost 106.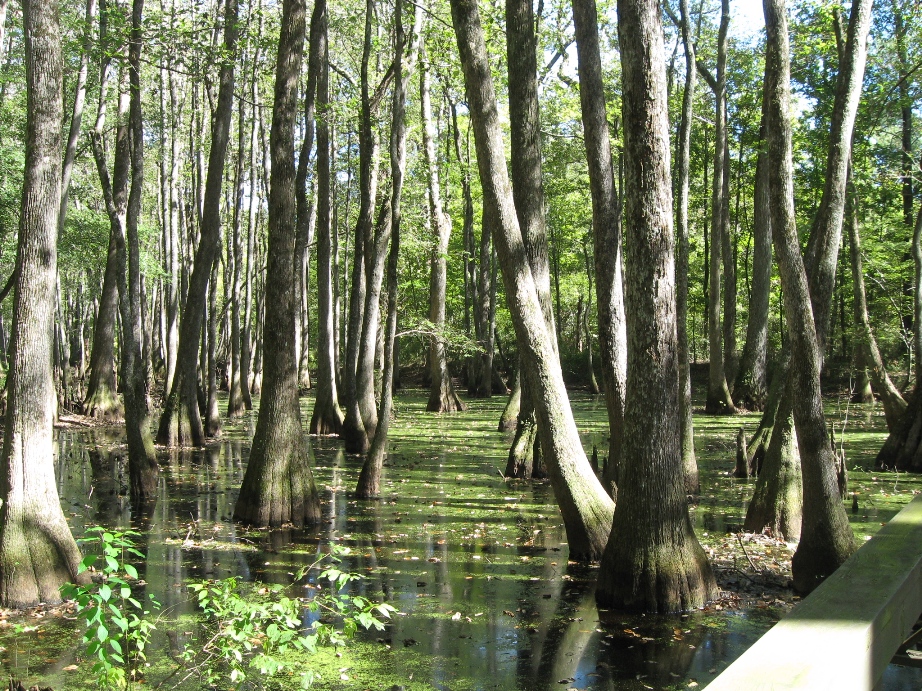 A magical Bald Cypress swamp at milepost 122.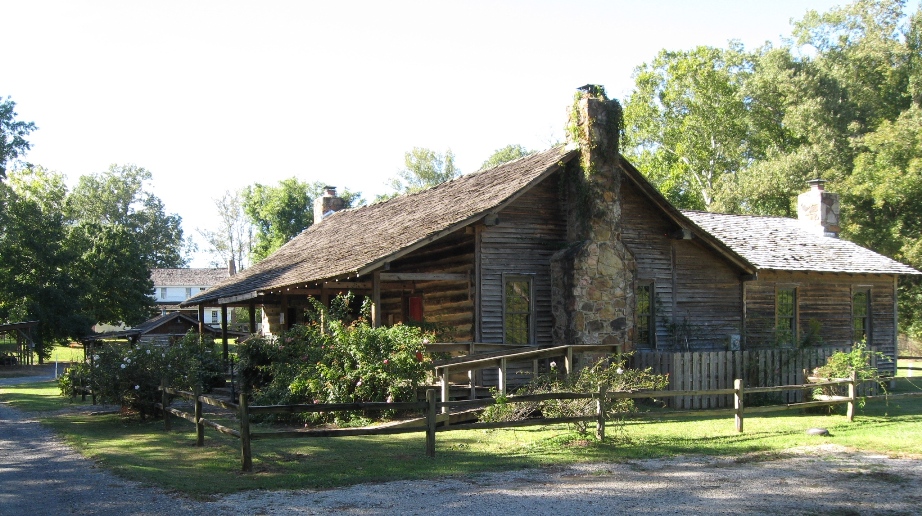 A restored log cabin at French Camp, milepost 180.7.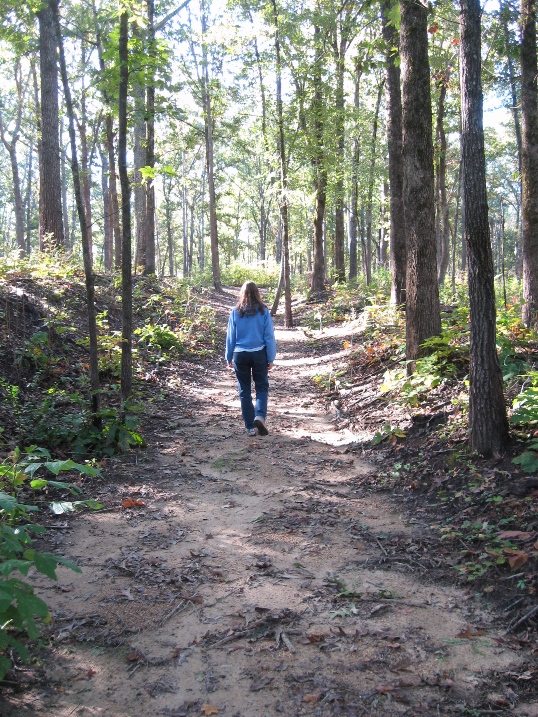 Feeling the ghosts of the past on the old trace.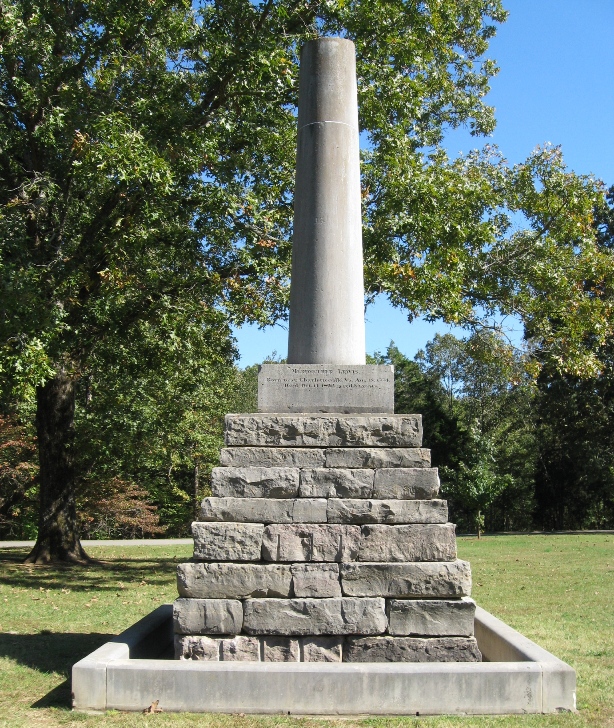 The gravesite of Meriwether Lewis, milepost 356. He died under mysterious circumstances while walking the Trace to deliver his journals to his publisher.





Tobacco (foreground) and drying shed at milepost 401.4.





Grant's cousin Jim and Jim's wife Louanne live in Nashville and took us for a tour. Here we are on Broadway.





This party town was already hopping at noon on Saturday!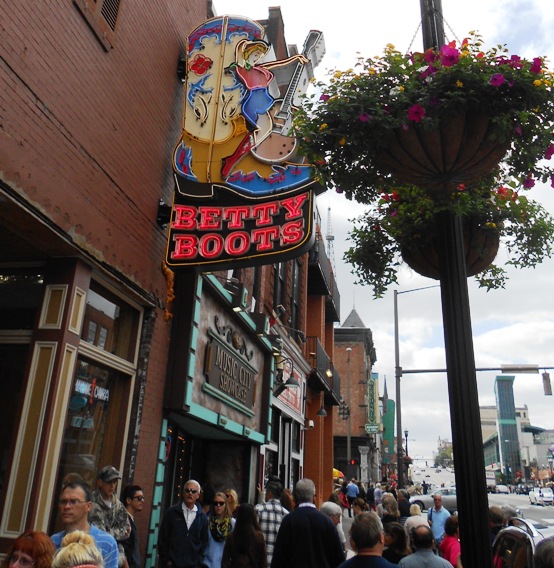 You can hear free live music in bars up and down the street from about ten a.m. to the wee hours of the morning.






Our route from Nashville to Colorado: Nashville (A), Little Rock (B), Hot Springs (C), Lake Meade State Park (D), Mesa Verde National Park (E).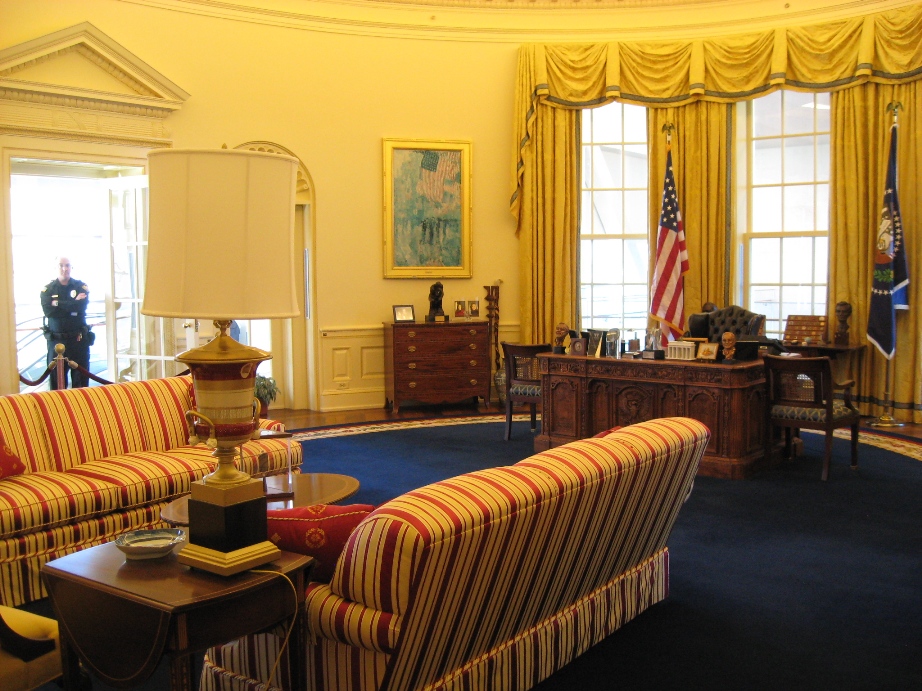 The Clinton library in Little Rock, Arkansas, is one of a dozen privately-funded presidential libraries. These are repositories for the papers, records, film, photos, and artifacts (including gifts from foreign heads of state) of a President's life before, during, and after the White House. The Clinton library includes this full-sized replica of the Oval Office, decorated as it looked during the Clinton Administration. The pieces that belong to the White House, such as paintings and furniture, are replicas.





Bathhouse Row, Hot Springs National Park, Hot Springs, Arkansas. The park preserves thermal springs and historic bathhouses dating from the early 1900s.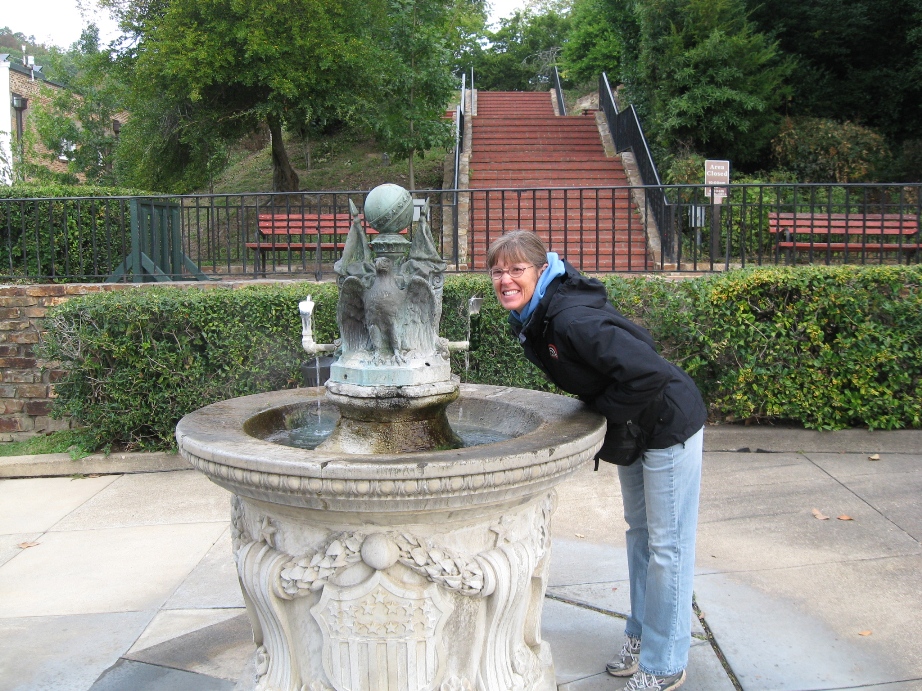 The warm, mineral-laden water is purported to be good for you. People fill jugs to take home.





The National Park visitor center is in the beautifully-restored Fordyce Bathhouse, built in 1915. This was the music room.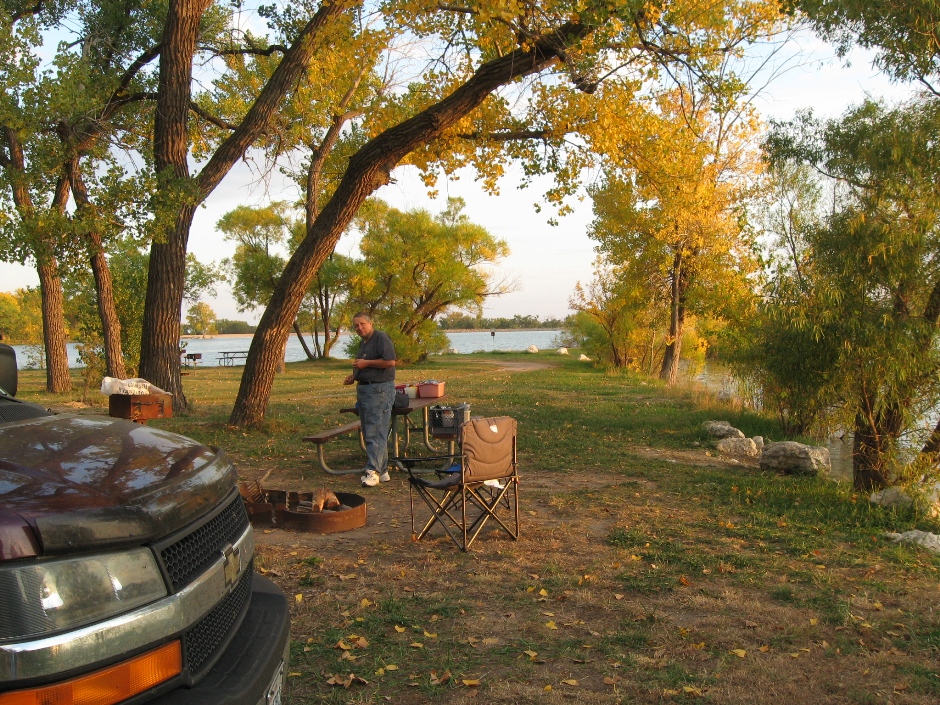 Lake Meade State Park, in the southwest corner of Kansas.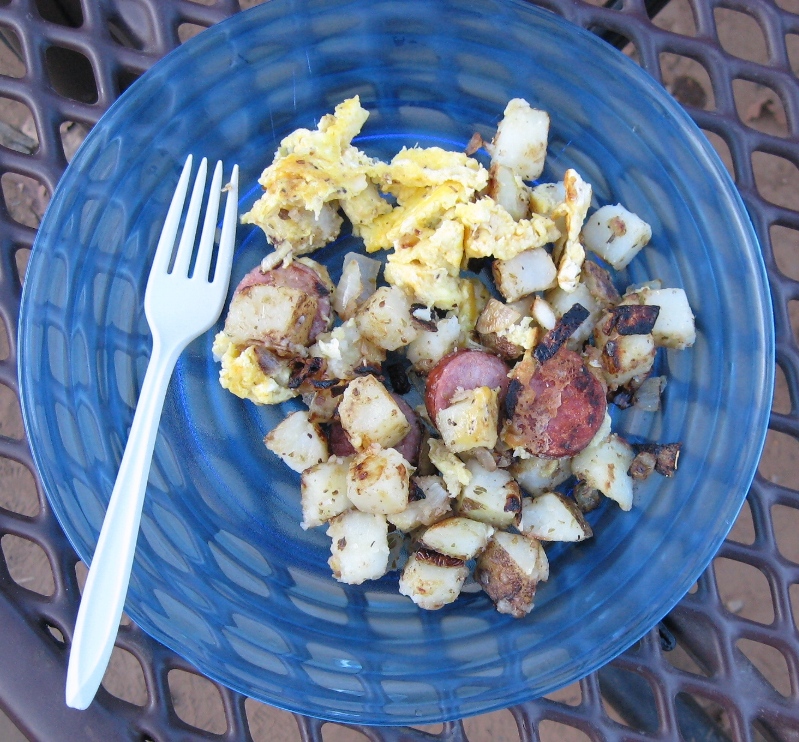 Another favorite camping meal, we call Sloppy Jack: onion, potato, sausage, egg, cheese.





A sunrise walk in Kansas.





Heading west across southern Colorado.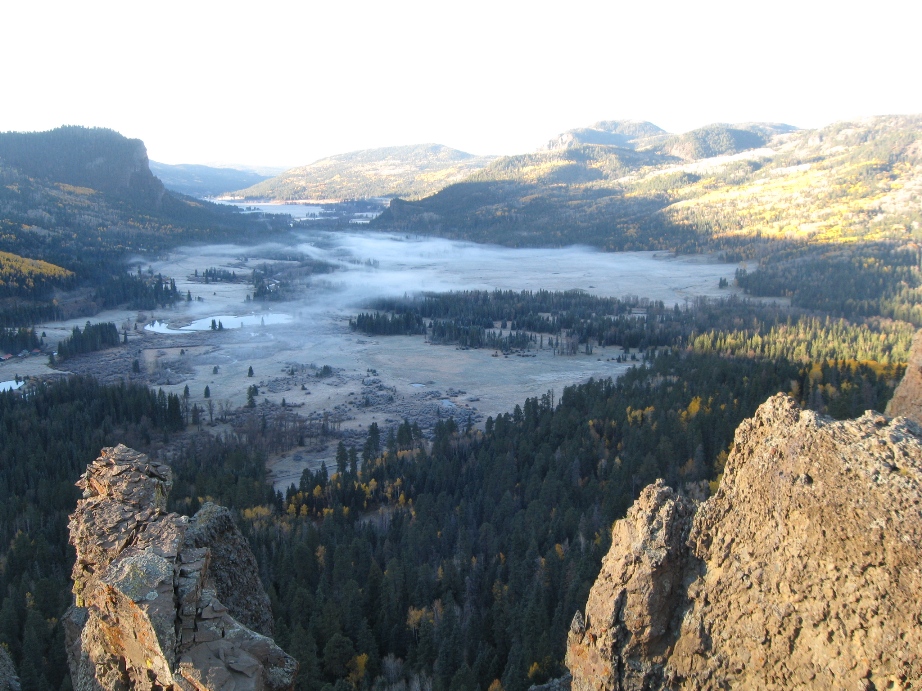 Descending Wolf Creek Pass. Make sure your brakes are in excellent condition!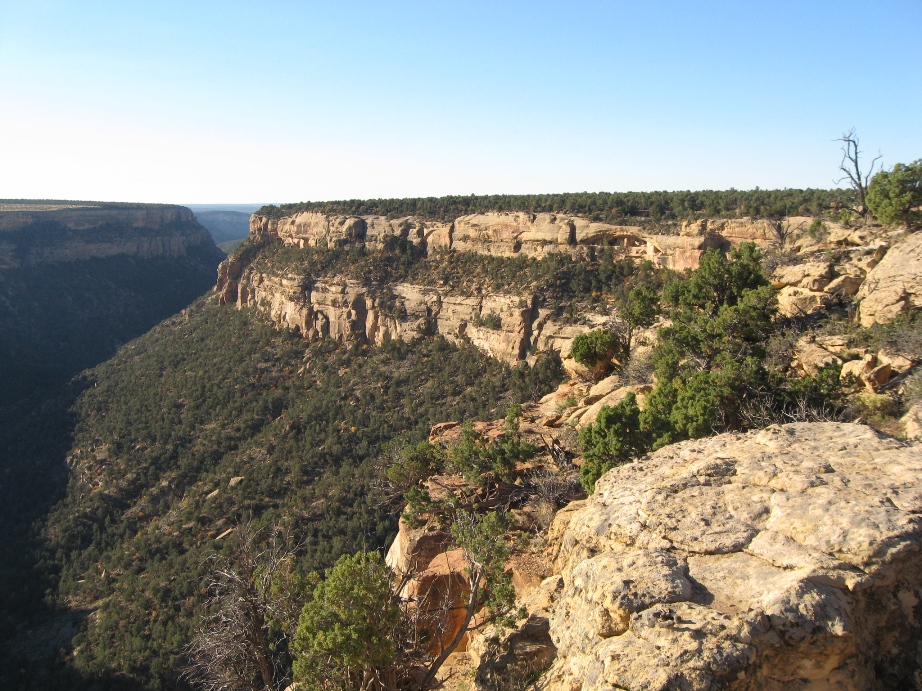 Mesa Verde National Park, a UNESCO World Heritage Site, contains ruins of homes and villages built by the Ancient Pueblo peoples, sometimes called the Anasazi. There are over 4000 archaeological sites and over 600 cliff dwellings tucked into these beautiful valleys.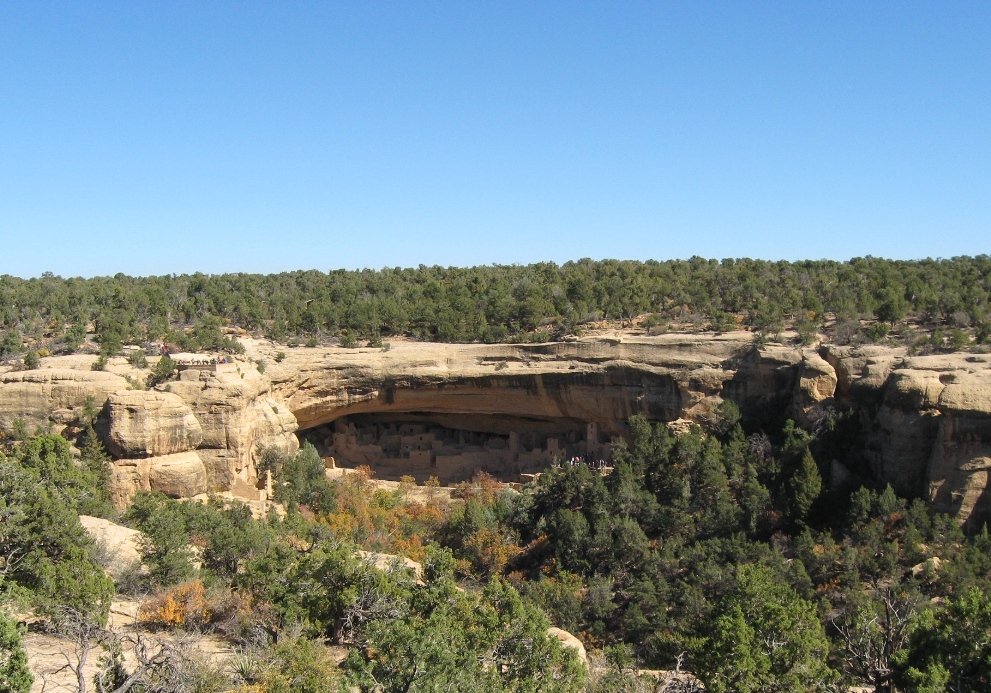 This is Cliff Palace, thought to be the largest cliff dwelling in North America.





Photos can't convey the feeling of wonder that envelops you when you climb down the steps and arrive at this ancient stone village. Archeologists think that about 250 people once lived here.





Cliff Palace is 100 feet below the mesa top. Modern access is via stone steps and ladders (the cliff dwellers used foot notches and handholds).





A series of dioramas at the Chapin Mesa museum depict life in the ancient pueblos. Here, hunters stalk bison. The dioramas were built in the 1930s by the Civilian Conservation Corps. They are incredibly life-like, and took hundreds of hours to construct. The human figures are a few inches tall.





Coyote Village is an example of a mesa-top village, where the Pueblo lived before they created the cliff dwellings. 40 to 50 people probably lived in these stone rooms around the year 1000.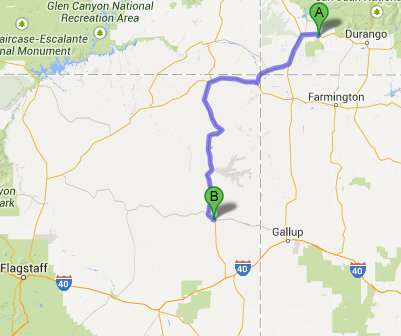 From Mesa Verde we drove through the Navajo Reservation to Hubbell Trading Post National Historic Site, near Ganado, Arizona.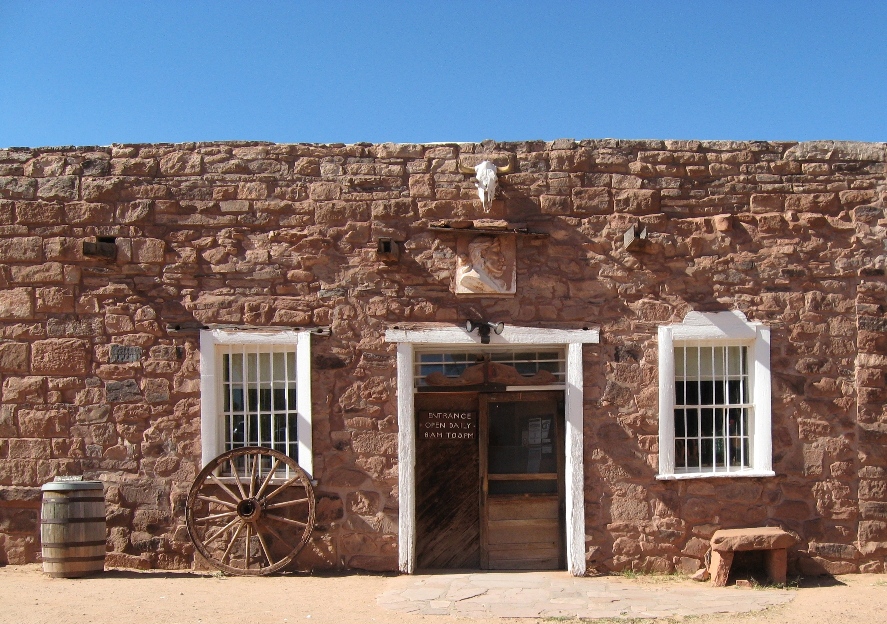 Hubbell's has been selling groceries, grain, hardware, horse tack, coffee and Native American Art since 1878. As a National Historic Site, it is preserved for posterity, but is still in operation.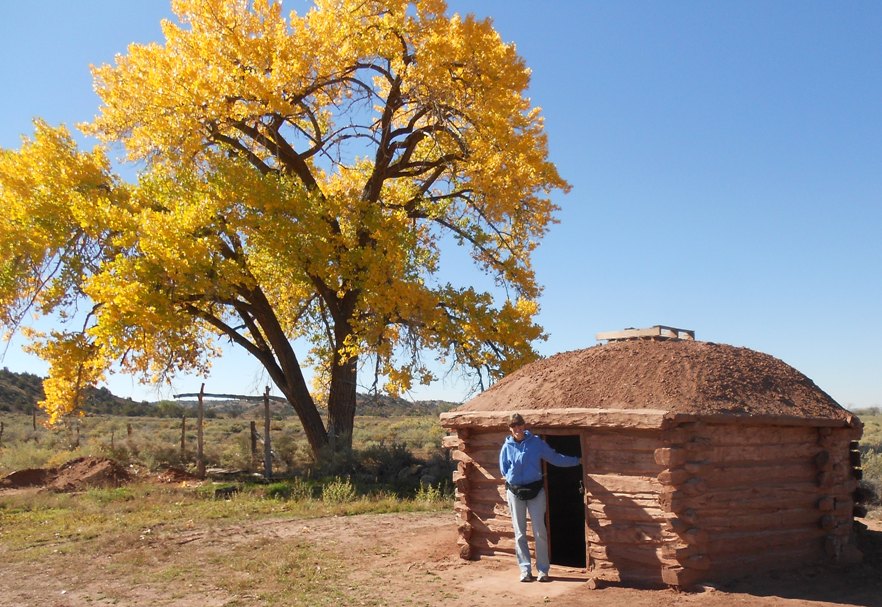 A traditional Navajo hogan (hut) and golden cottonwood tree on the trading post grounds. There are also interesting old barns, equipment, and homes on the property. If you go, be sure to tour the Hubbell home (check the website for times).





Tonto Natural Bridge State Park near Payson Arizona. The 180-foot-tall arch is believed to be the largest natural travertine bridge in the world. You can hike down under the bridge.





My brother Mark, his wife Denise, and Casey, one of their two girls, at their home in Scottsdale Arizona. Mark is a business analyst and Denise is a real estate agent.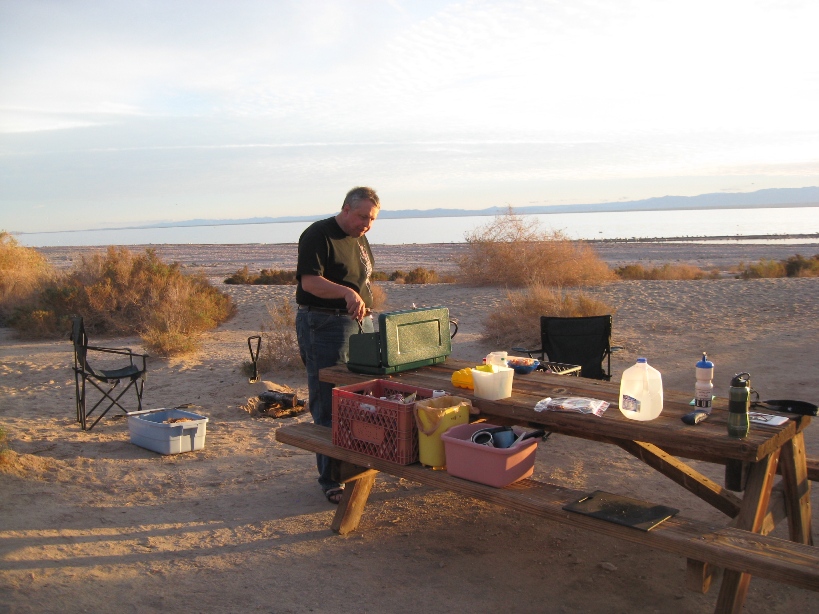 We popped over the border for some dental work in Los Algodones (Grant's implant $1600, my crown $370), then headed back to a favorite campground on the east side of the Salton Sea. It was just us and the pelicans.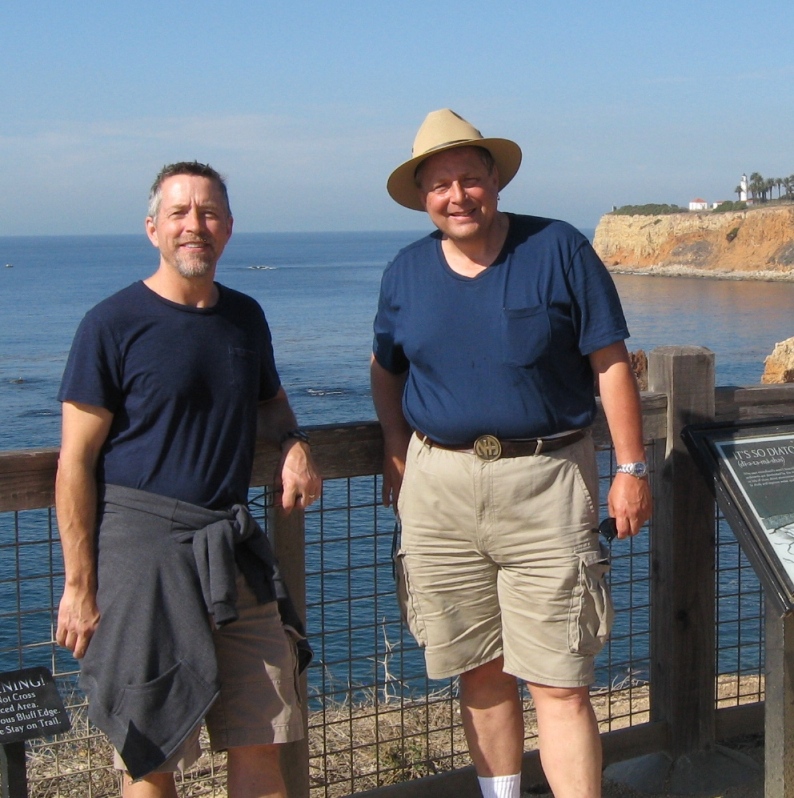 Grant's brother Dan lives in Long Beach CA. He met us in Palos Verdes for a walk on the bluff. He's the chair of the Astronautics department at USC.





In Burbank CA, we were thrilled to finally meet our new niece, 6-month-old Ava, who is even cuter in person than in pictures, if that is possible.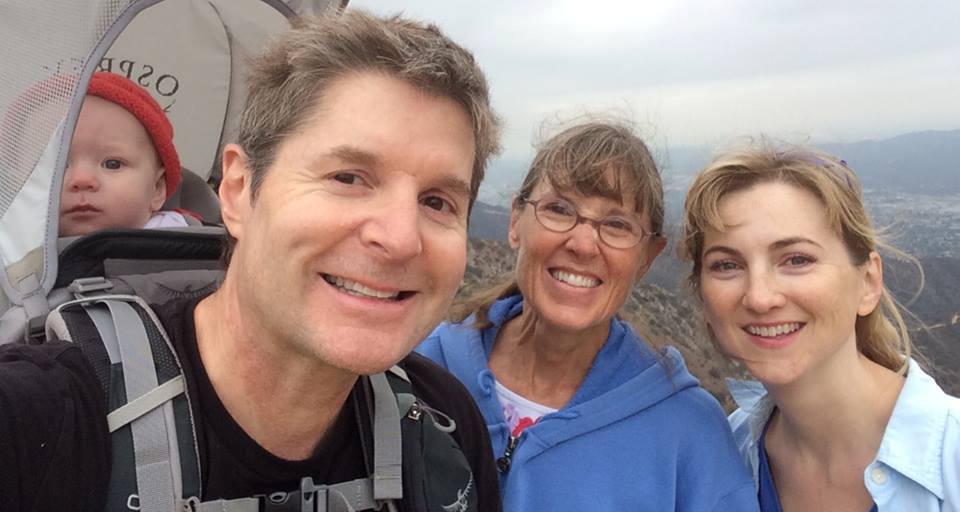 Hiking with my brother David, an extremely talented graphic artist, his wife Annie, and Ava.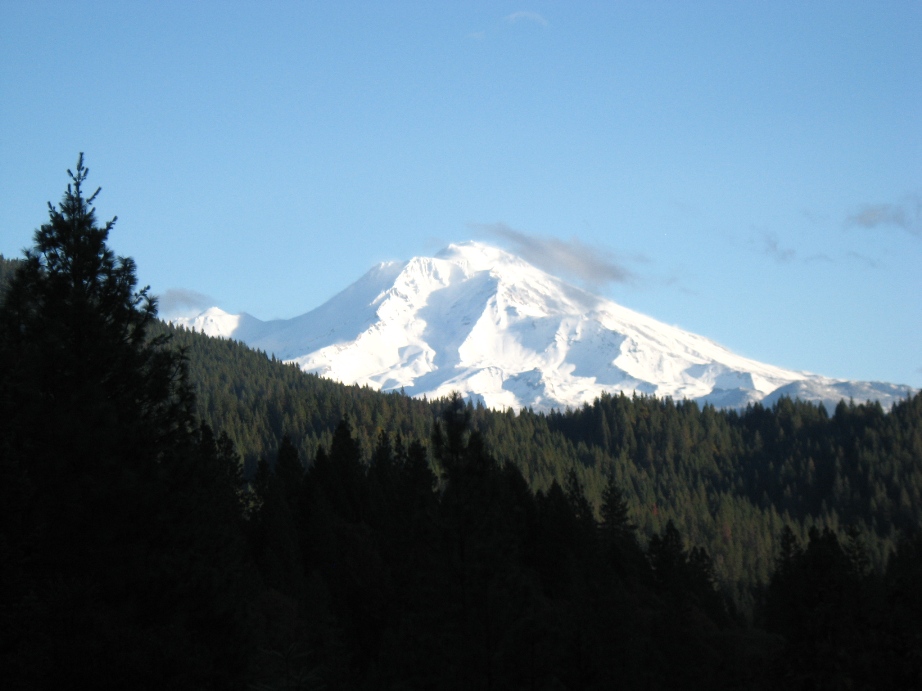 Beautiful Mt. Shasta visible in northern California. I always forget how beautiful that part of California is.



Costs
Gas $2869 (13,000 miles at approx. 17 mpg)
Camping $417 (Cost range $0 to $35 per night. Eastern Canada is expensive; rather than pay up to $56 a night, we sometimes slept in rest areas. We camped about half the nights, and spent the others with friends and family.)
Firewood $15
Ice $18