Karen and Grant's 2015 Fall Road Trip
In which we explore the American West
and visit three states we'd never been to:
Iowa, Nebraska, and Missouri
Warning: This blog may contain more than the recommended daily allowance of superlatives.
September 8 to October 13, 2015
Our Route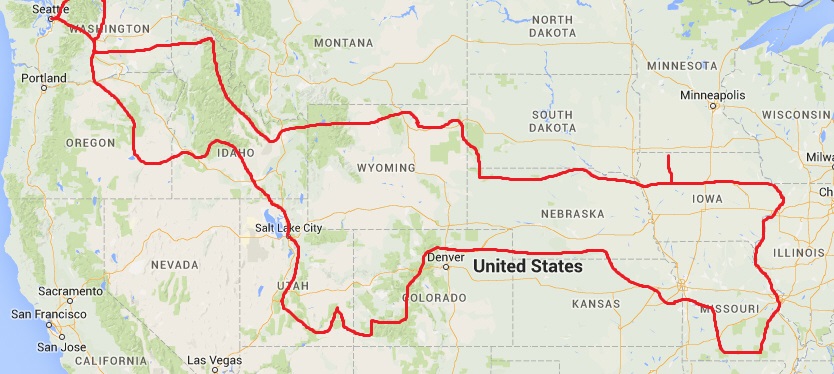 We avoid interstates and take the smallest paved roads we can. They are almost as fast as the interstates (not that we care about speed), and oh so much more serene! No semis, no billboards, no traffic. And the scenery! Small towns, farms, rivers, forests. Food for the soul. We can not sing the praises of back roads highly enough.



Our Rig


Our 2004 Chevy Express gets 17 miles per gallon.





We built a queen-size platform bed. Our gear stores underneath. There's room in the back for a cooler, a table, getting dressed, and even cooking in a pinch. We can sit on the bed without hitting our head on the ceiling.





Doors on each side let us access our water, tools, firewood, chairs,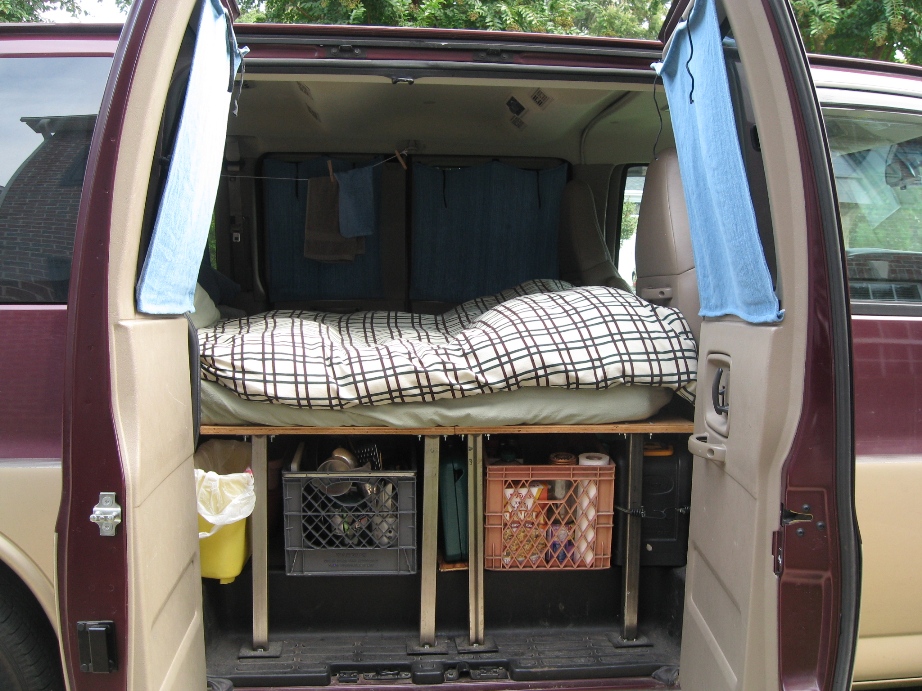 and portable kitchen.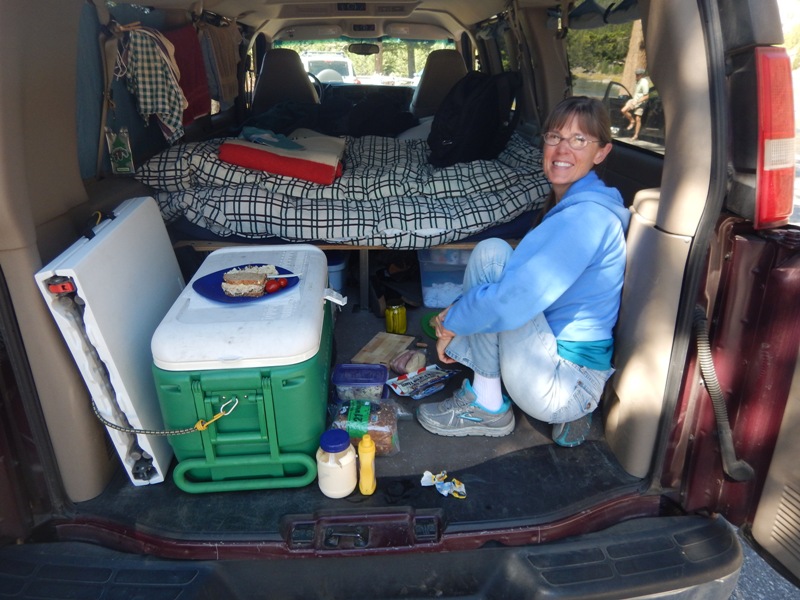 Making sandwiches in the back of the van is easier than hauling everything to a picnic table!



Washington State


First stop: a walk on the Iron Horse Trail in Cle Elum, Washington. This 100-mile long section of former railroad runs from North Bend across the Cascade Mountains to the Columbia River.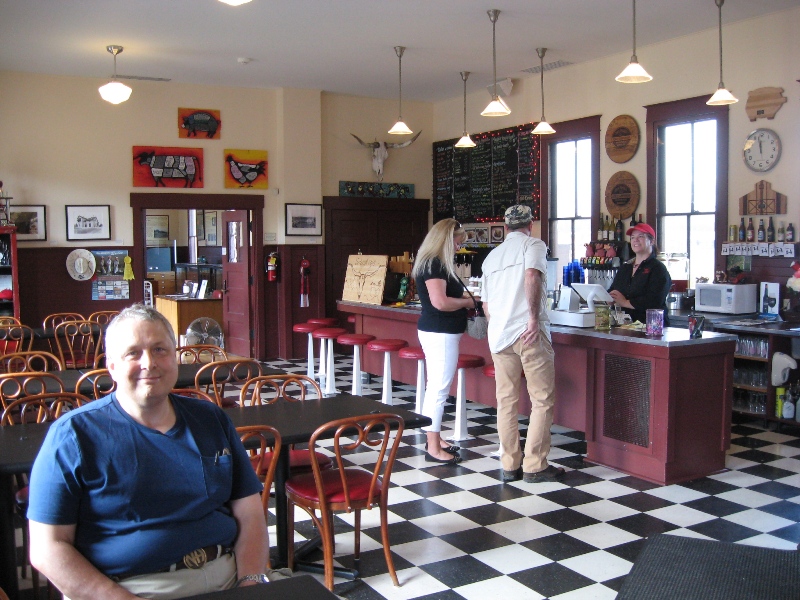 We rarely eat out on our road trips, but celebrated our first day with pulled pork sandwiches and collard greens at Smokey's BBQ in Cle Elum. The food and atmosphere are great.





Salmon La Sac campground, in the eastern foothills of the Cascade Mountains. Like most campgrounds in beautiful places, it is mobbed in the summer, but after Labor Day, we had it almost to ourselves.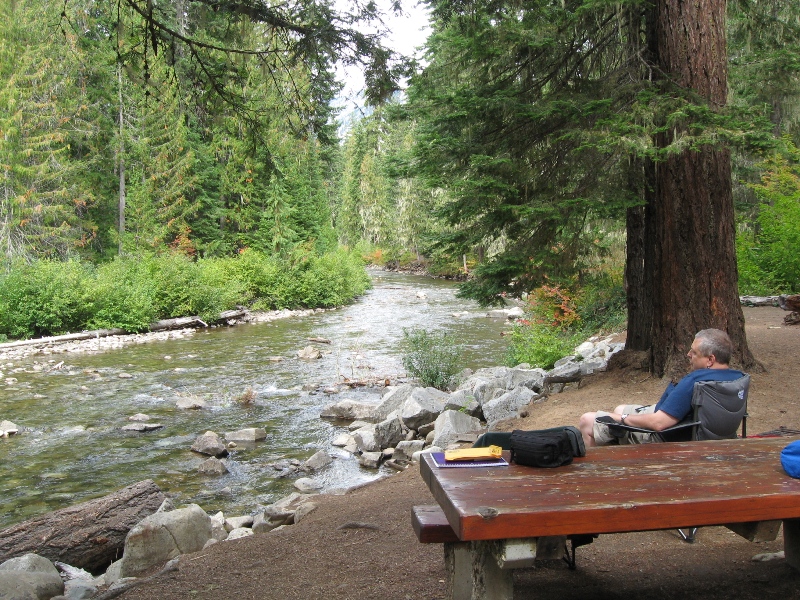 We love Forest Service campgrounds! They're more rustic and serene than State and National Park campgrounds.





Washington had a VERY dry summer and many devastating wildfires. No campfires were allowed in the campground.





Even the campground well had run dry.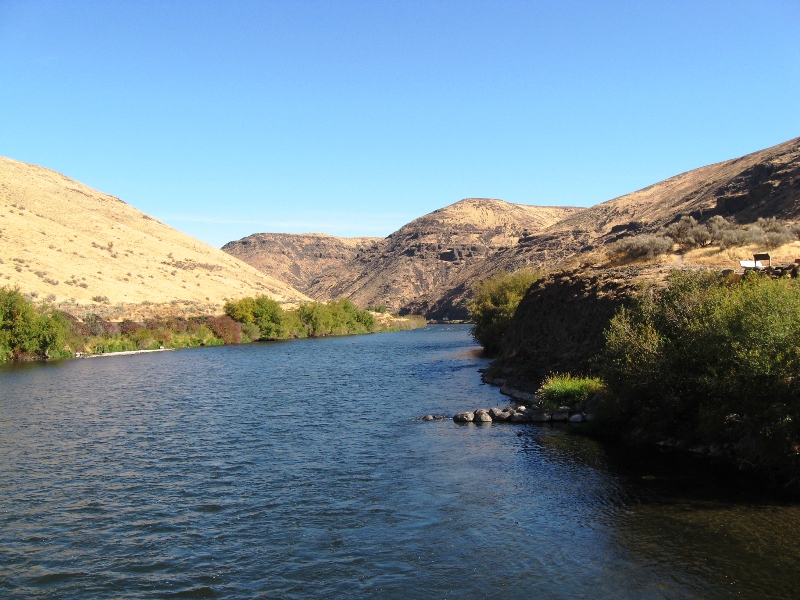 The next morning we drove down the Yakima River Canyon, one of Washington's most scenic roads.





We hiked the beautiful Cowiche Canyon trail in Yakima, where the sumac was turning red.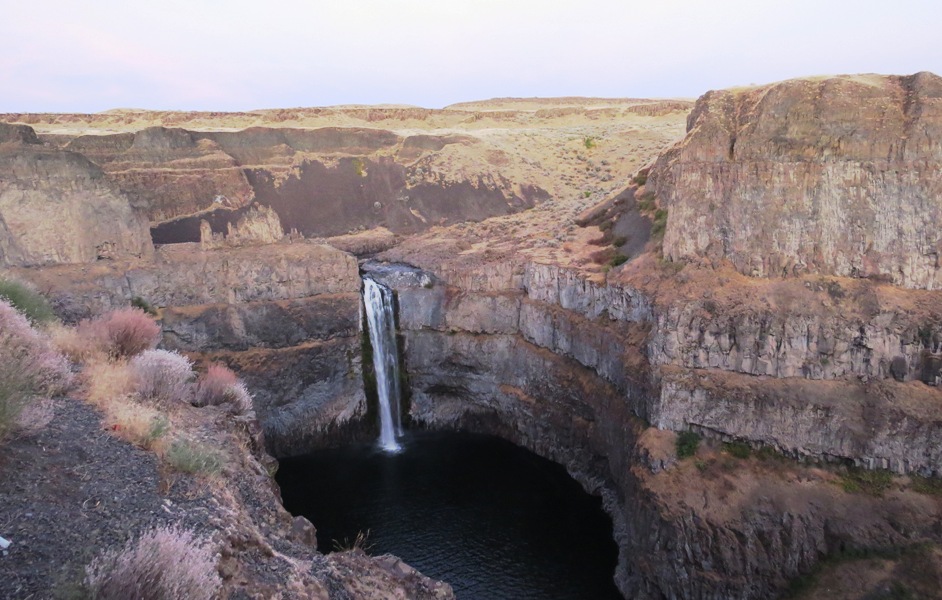 Palouse Falls in eastern Washington, part of the channeled scablands created by the great Missoula Floods that swept across eastern Washington during the Pleistocene epoch. That was a really long time ago.





The Palouse River Canyon below the falls.





Prairie sunflowers were blooming.





The Palouse region of southeastern Washington is a topsy turvy, Seussian landscape of ancient dunes. The mild winters, wet springs, and dry summers are ideal for dry farming soft white winter wheat.



Idaho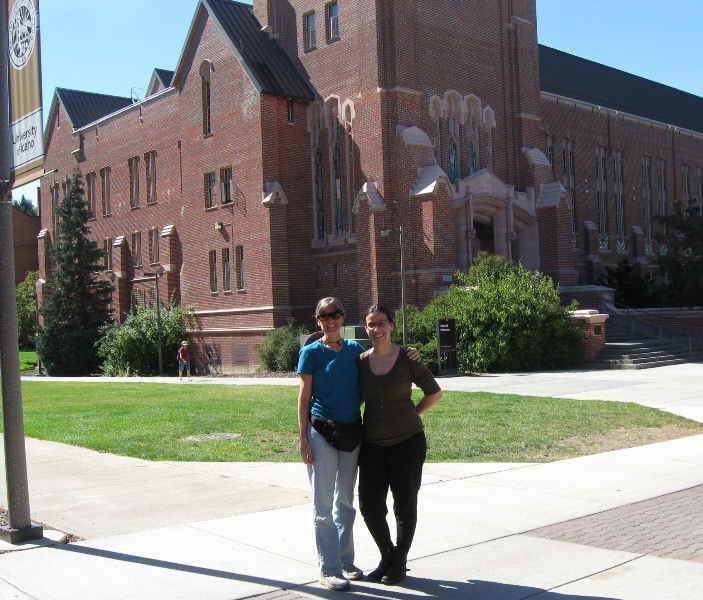 A walk around the University of Idaho campus with our friend Rebeca in Moscow.





Idaho's Highway 12 was probably the most scenic road we've ever driven. We stayed at a Forest Service campground on the Lochsa River near Lowell.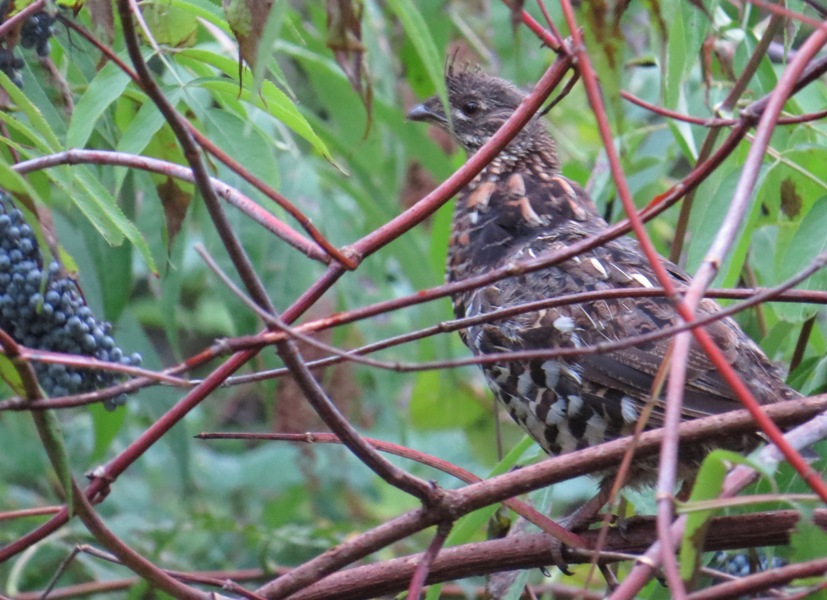 Note the ripe, blue elderberries on the left. This grouse badly wanted to eat them. But every time he tried to get close, the branch he was on would sag down and down... He finally resorted to flying up from the ground, and grabbing one berry at a time!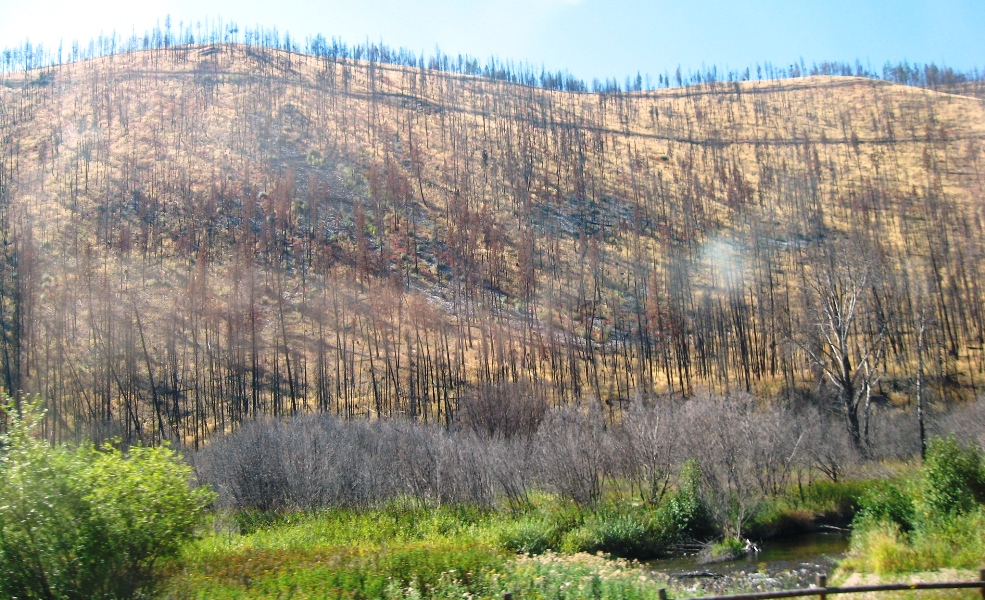 We saw many fire-scarred forests. Some fires were still burning. There was smoke in the air all the way to the middle of Nebraska.





The Great 1910 Fire burned about three million acres and killed 87 people. It is believed to be the largest forest fire in U.S. history. The Big Burn, by Timothy Egan, is a can't-put-down story of the fire and the founding of our National Forests.





At last the fire danger began to drop and we were allowed to build campfires.





More beautiful Idaho scenery along highway 93.



Wyoming


Just inside the west entrance of Yellowstone National Park.





Yellowstone is basically the heart of a big volcano. It contains half the geothermal features and two-thirds of the geysers in the world. Hot springs like these can reach boiling point.





Cross-section of the North American tectonic plate, showing the Yellowstone hotspot. We're not talking wifi.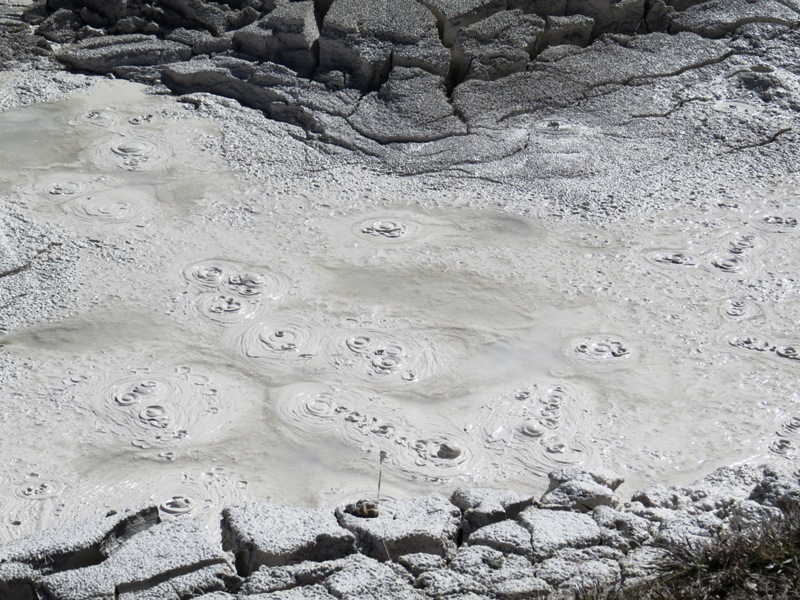 Boiling pool of mud in Yellowstone National Park.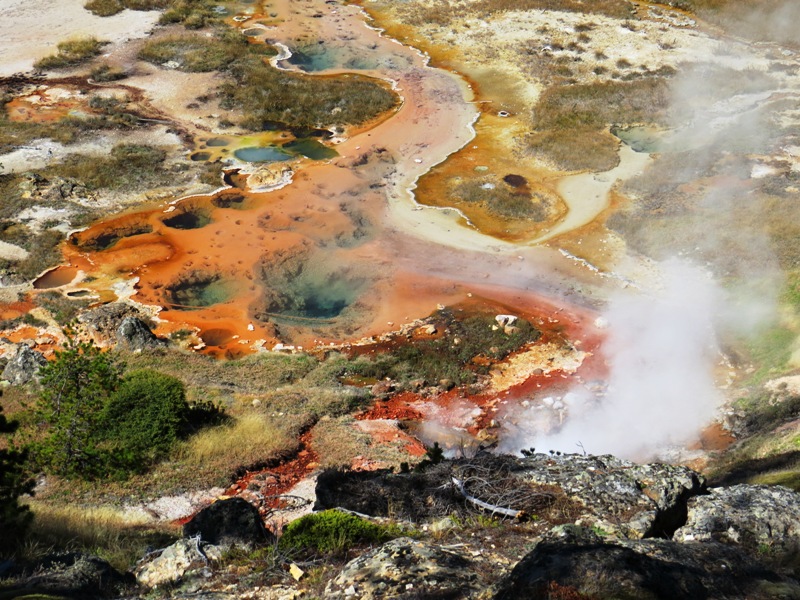 Hot springs in Yellowstone National Park. Many of the bright colors come from "thermophiles" - microorganisms that thrive in hot temperatures.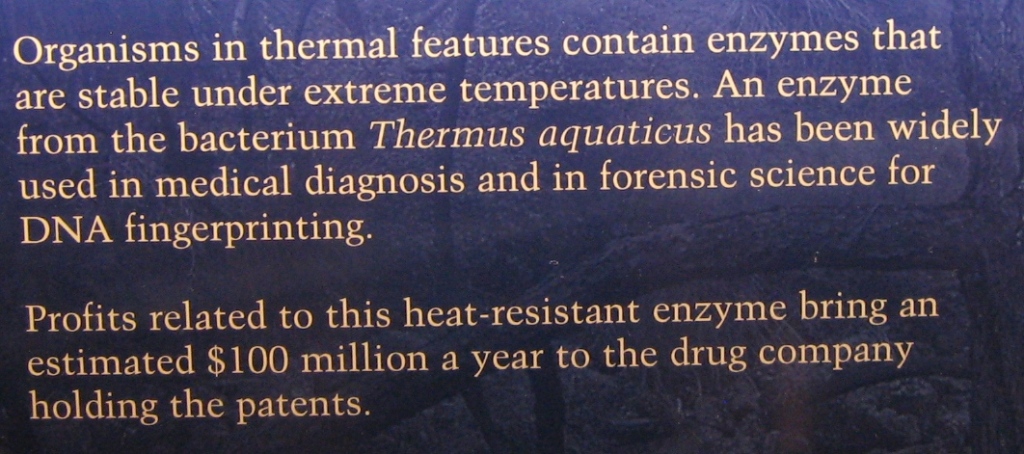 Who knew?





Yellowstone is also known for its herds of wild bison.





Camping on the Shoshone River east of Yellowstone. Just before dark, rangers came to tell us there was a grizzly passing through the campground, trying to get away from the cars that were pursuing it down the road. We never saw it, which was sort of a relief... Because it's grizzly country, there are no tents allowed in some campgrounds. You have to sleep in something made of metal.





The next morning, the sun lit up the rocks above our campsite.





The Buffalo Bill Center of the West in Cody, Wyoming is a collection of five museums. You could easily spend a whole day here, although you'd be exhausted and glassy-eyed. We're not big museum people, but there was some cool stuff, and I gained a new appreciation for Buffalo Bill, the first "international superstar." His Wild West show toured the world, educating people about the Indian and cowboy cultures.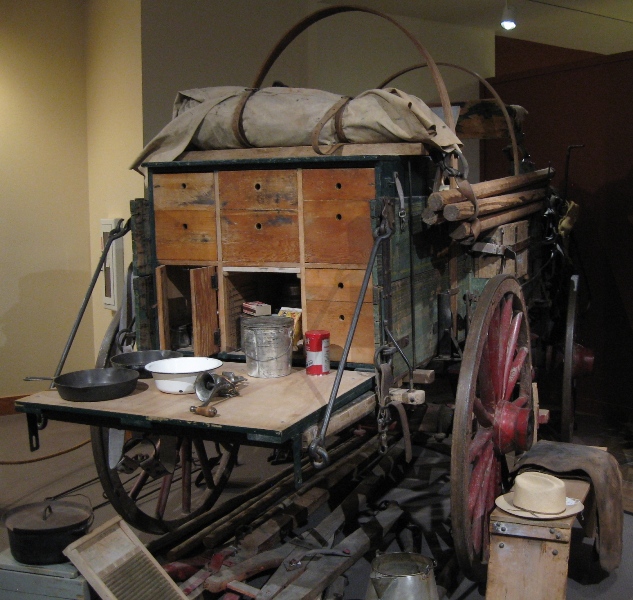 A chuck wagon was a kitchen on wheels for cattle drives. I think Grant wants one of these for throwing barbecues...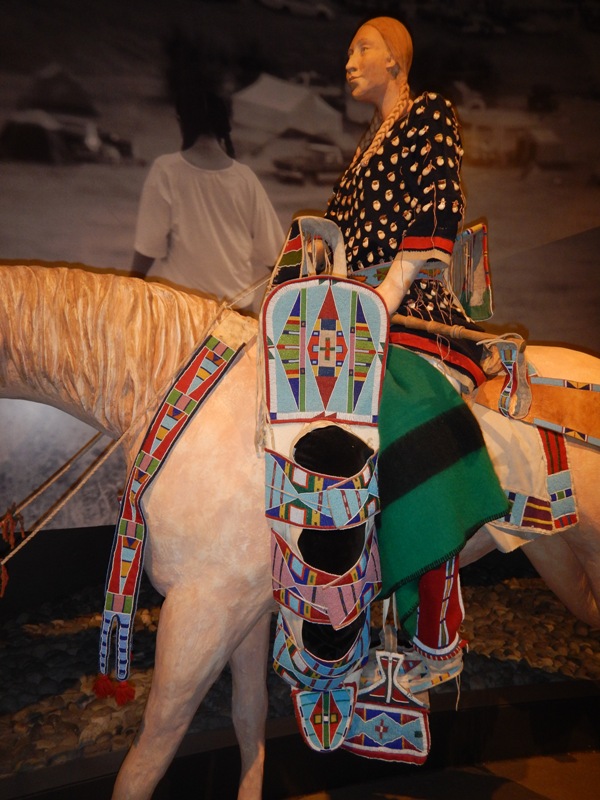 The Museum of the Plains Indian was filled with beautiful crafts.





One of the many interesting displays in the Natural History Museum.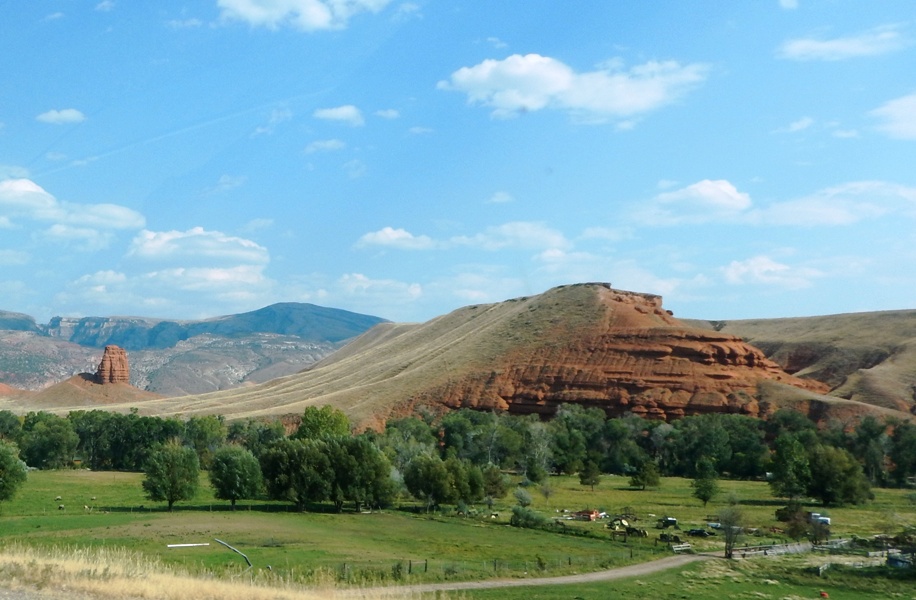 We headed east across northern Wyoming





and into the spectacular Bighorn Mountains in north-central Wyoming.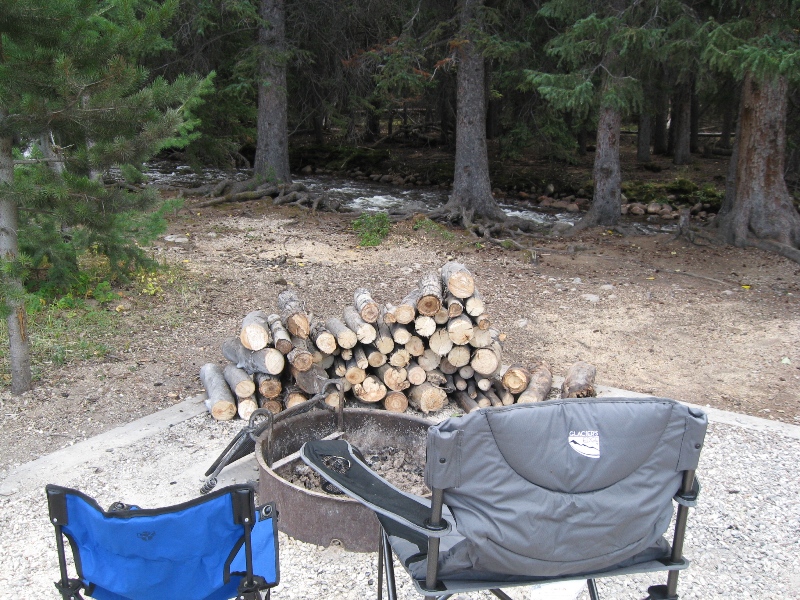 At our camp in the Bighorn Mountains we found this pile of firewood! We left some for the next folks.





Driving in the Bighorn Mountains is not for the faint of heart.





Numerous markers point out geologic formations in the Bighorn Mountains.





On top of the Bighorn Range, 9,642 feet high and only snow-free for about two months each year, lies the Medicine Wheel/Medicine Mountain National Historic Landmark, an 80-foot diameter wheel-like pattern made of stones. To get there you walk one mile on a gravel road.





For eight centuries, the Medicine Wheel has been used by Native Americans for fasting, vision quests, and offering thanks and prayers.





It is a magical and sacred place, and we felt very lucky to be alone there. The only other creature we saw was a magnificent golden eagle.





We saw several adorable pika along the trail (they are about 6 inches long).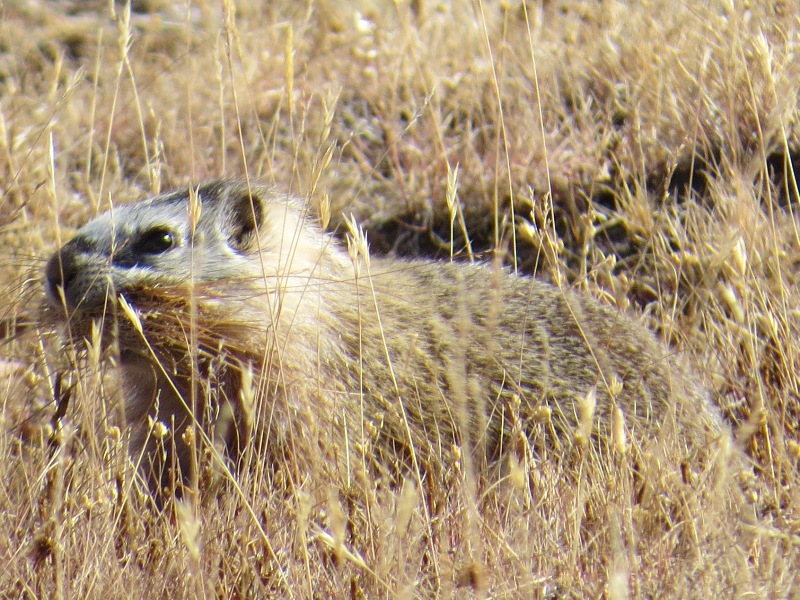 Marmots were collecting grasses to line their burrows for the winter.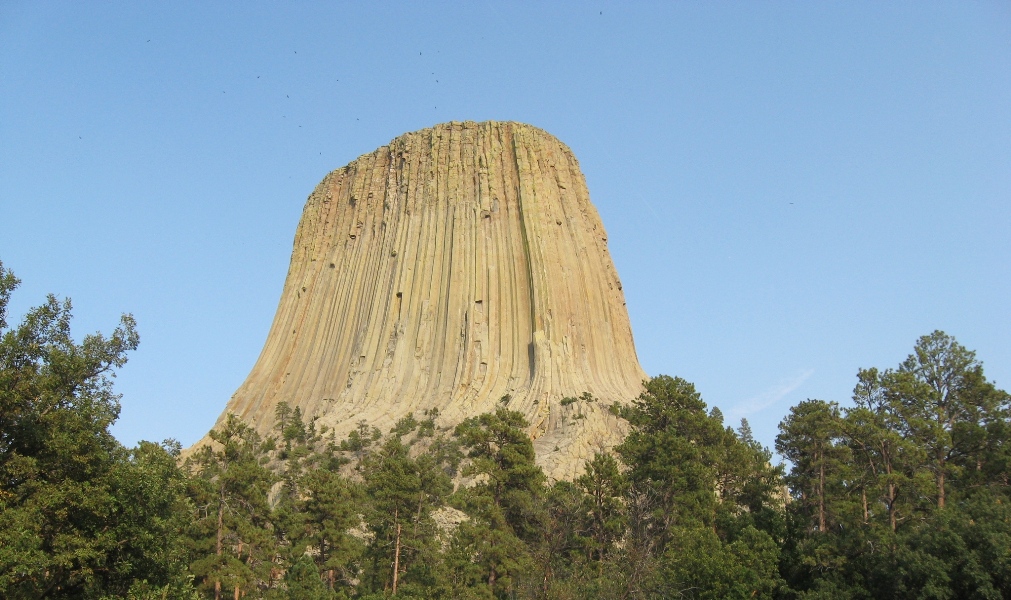 Devil's Tower is a National Monument in northeastern Wyoming. The tower is the core of an old volcano, rising 1200 feet above the surrounding plain. The tiny black spots in the sky are vultures. The tower is very popular with climbers. Those two things are not related.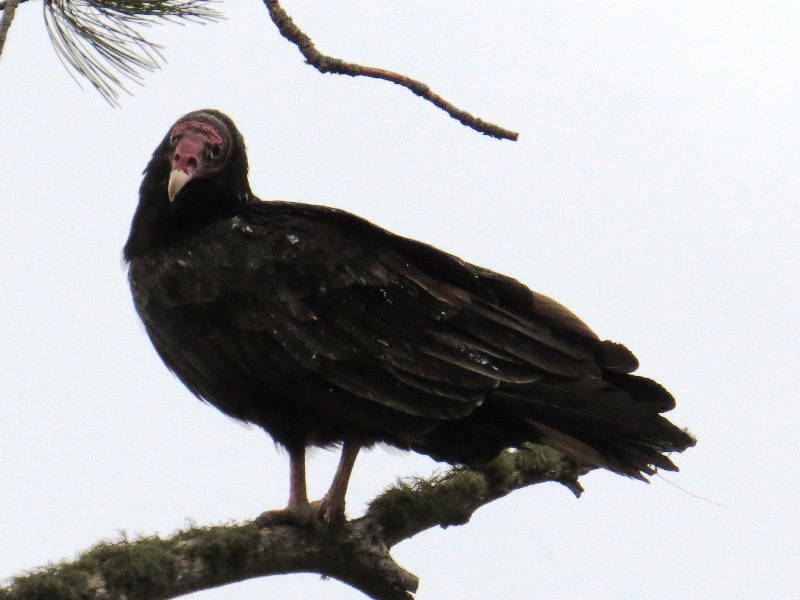 A turkey vulture up close. They look like wild turkeys when they're on the ground; thus their name.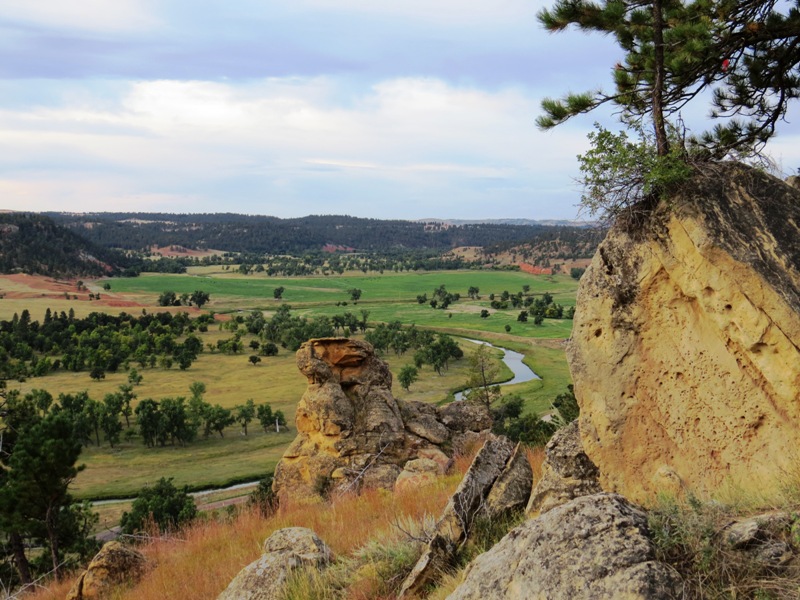 Devil's Tower has a nice trail around its base, with views of the surrounding valley.





We had a great view of the tower from our campsite.





A lightning strike left a swirl of charring on the trunk of this pine tree.





There is a large prairie dog town next to the campground. They are quite entertaining. When they're fattened up for hibernation they're REALLY CHUBBY!



South Dakota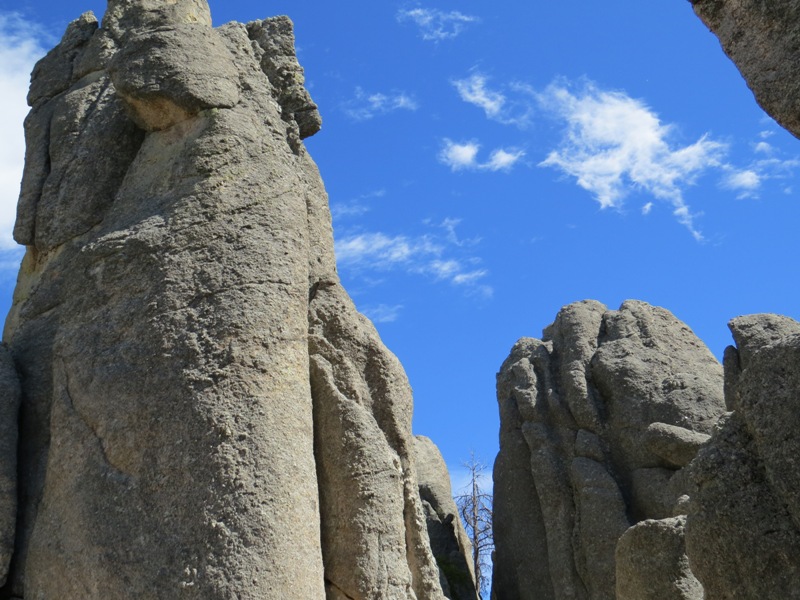 Next we headed for the Black Hills in the southwestern corner of South Dakota, and drove the magnificent Needles Highway in Custer State Park, where a narrow road weaves through granite spires.





A herd of feral horses have learned where to wait for handouts in the park. You're not allowed to feed the other animals, but apparently it's OK to feed the horses.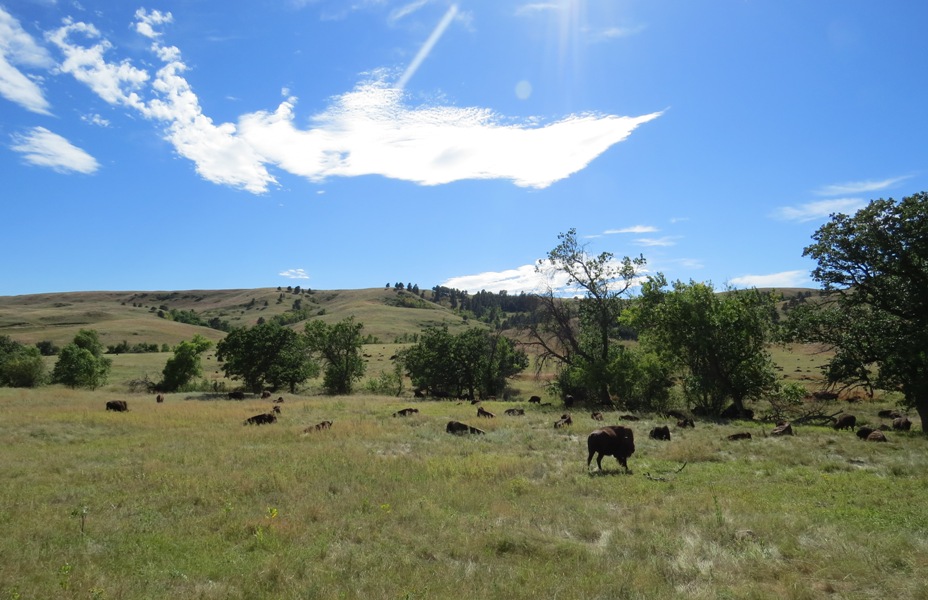 Custer State Park is an amazing place. In addition to bighorn sheep, mountain goats, pronghorn, and elk, it is home to over 1,300 free-roaming bison. Each fall, the bison are herded into a corral where they are vaccinated and counted, and some are selected for auction, to ensure that the herd doesn't get too large. The roundup was featured in the movie Dances with Wolves. It is open to the public.





Pronghorn, a common and beautiful sight throughout the open lands of the American West, are the "antelope" referred to in the song "Home on the Range." They are the fastest land mammal in the Western Hemisphere.



Nebraska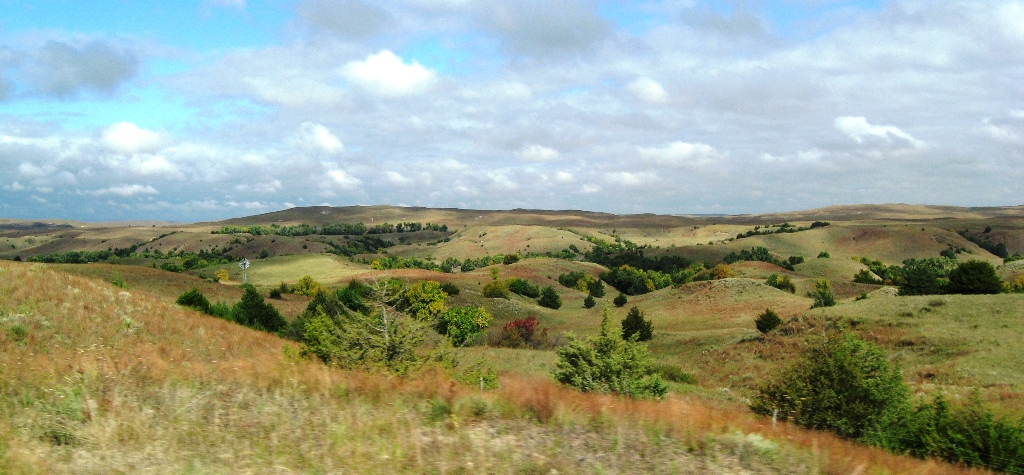 We drove south into Nebraska, then east on highway 20, through the Sandhills, a beautiful region of rolling prairie covering ancient sand dunes. A nice recreational trail parallels the highway. Called the "Cowboy Trail," it runs 195 miles, and will be 321 miles long when it's completed.



Iowa


In Iowa, we headed north to see Okoboji Lake, where my parents spent part of their honeymoon in 1958.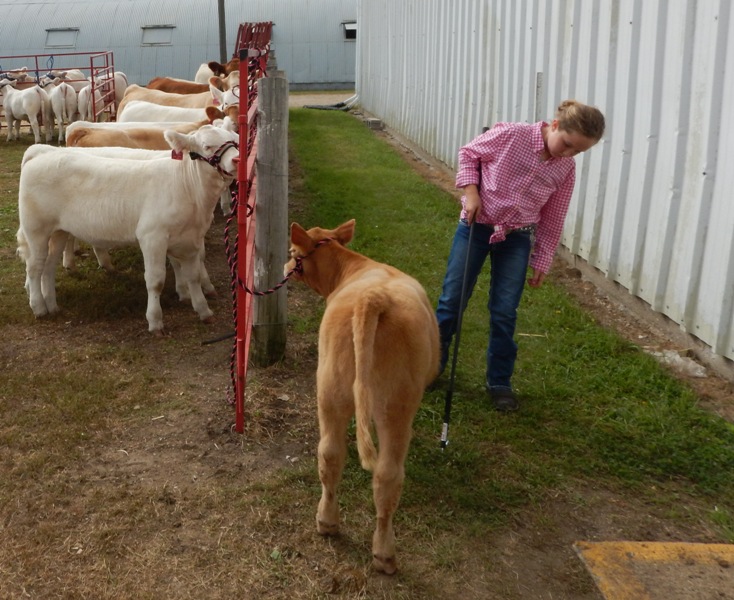 The next day we drove south to Spencer for the Clay County Fair. This young lady is preparing her calf for the cattle show.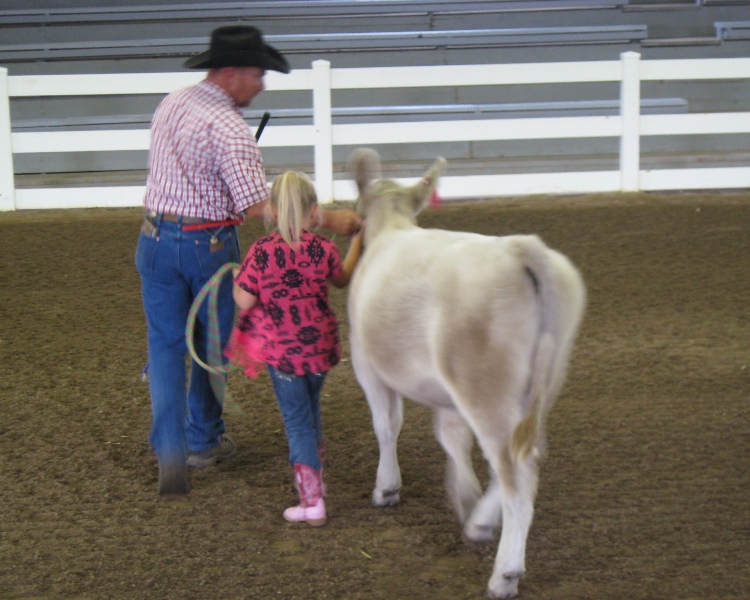 This even younger lady is getting a little help to show her cow.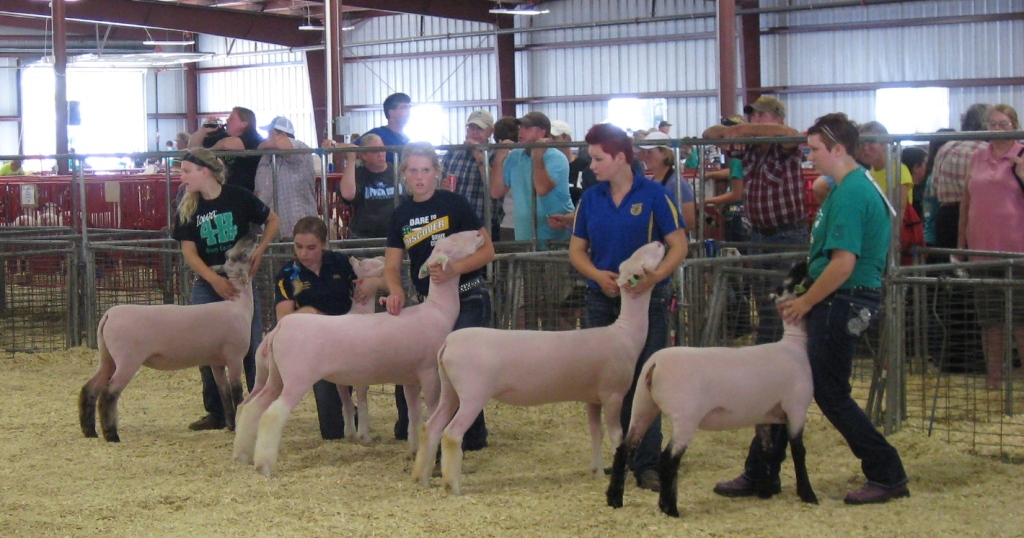 These kids are waiting to be called to show their sheep.





Entertainment included African acrobats.





The ample and caloric food options included chocolate-covered bacon. I sort of regret not trying it.





There was a lot of farm equipment on display. Augers like this one move grain from one container to another.





A souped-up tractor in line for the tractor pull competition (note the roll cage and helmet). The noise and black smoke were impressive! Apparently it's a very expensive hobby.





Just east of Sioux City, we visited Drey Farm, owned by the nephew of an old family friend.





Dean and his wife Deb graciously showed us around their 700-acre corn and soybean farm, and answered our many questions. This is a combine with an attachment for harvesting field corn. The points go between the corn rows and feed the corn into the combine, where the kernels are removed, and the remainder of the plant is chopped up and spread back onto the field. It's really fun to watch a combine convert corn plants to a river of golden corn kernels.





We were a bit too early for harvest, but Dean gave us a tour of the combine. This is a "small" combine.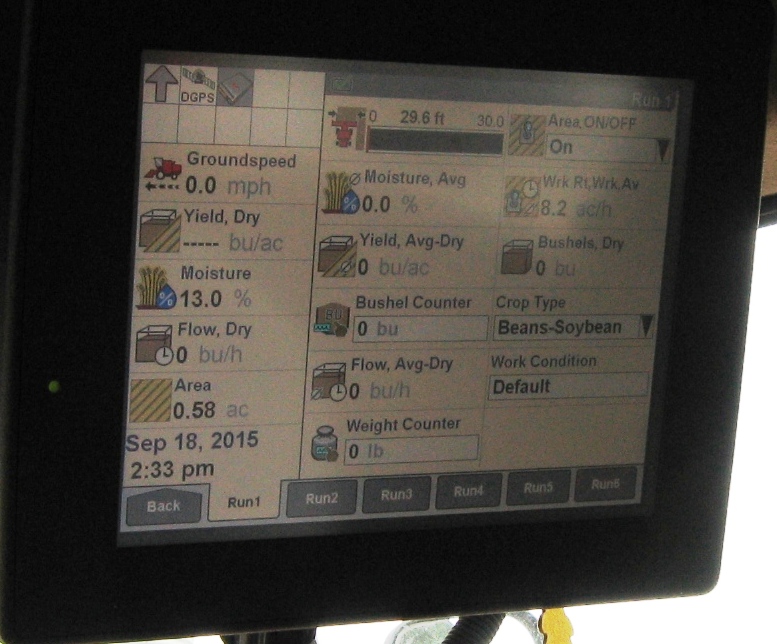 The digital display inside the cab gives real-time data about the crop, including yields. The combine can steer itself automatically.





Dean's mom, Lorraine, ran the farm with her late husband until they sold it to Dean. She lives nearby and treated us to a delicous Midwest "supper" (evening meal). Having grown up in an urban area, it's fun to get a taste of life in a small town. It has many charms.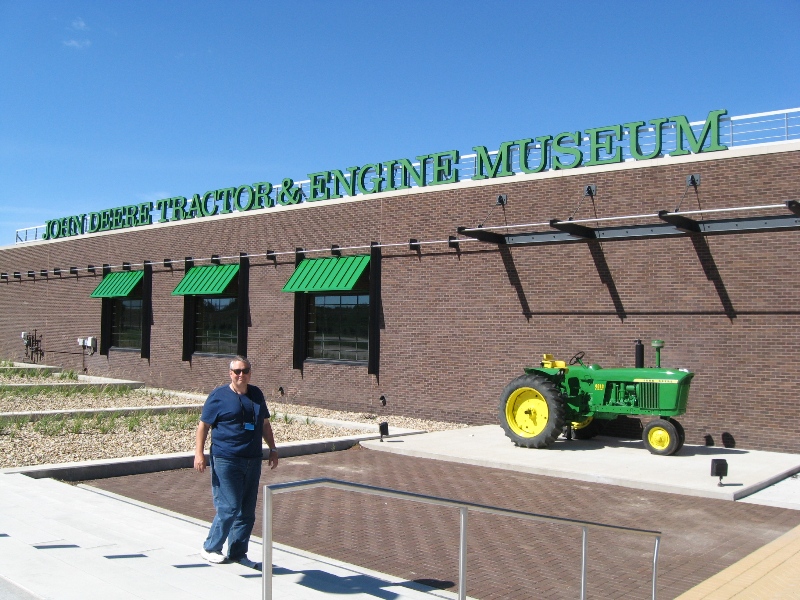 We enjoyed the John Deere Museum in Waterloo, Iowa, and learned a lot of interesting things, for example: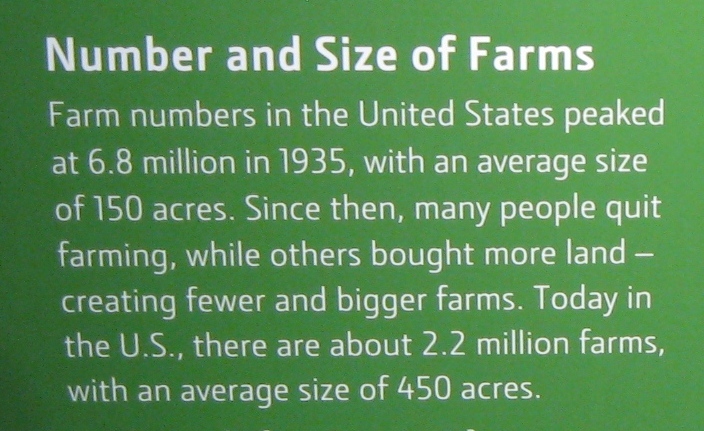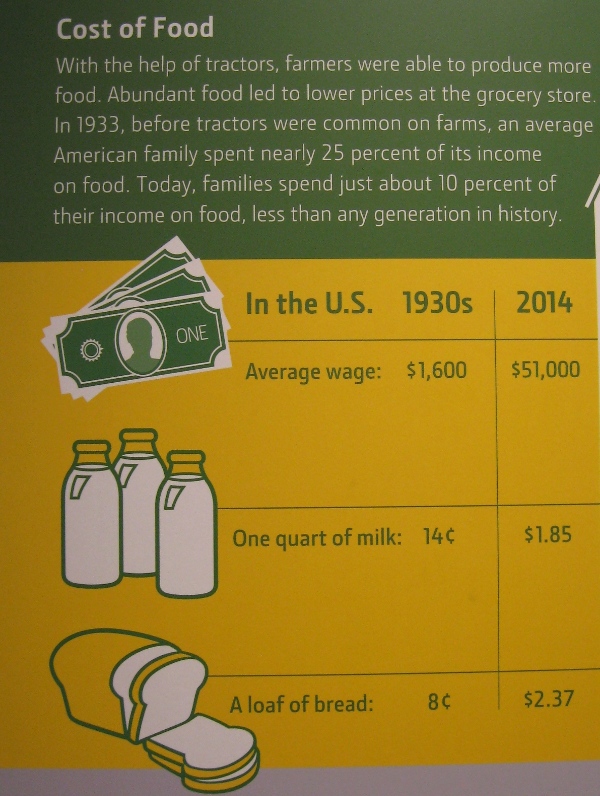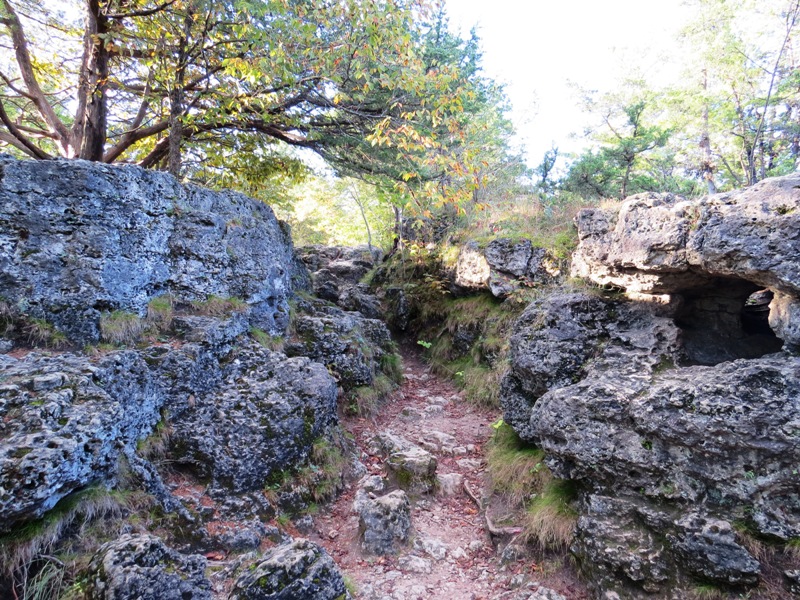 Hiking in beautiful Backbone State Park in eastern Iowa. The park is named for a narrow and steep ridge of bedrock carved by a loop of the Maquoketa River.





A patchwork quilt of farms in northeast Iowa's beautiful Hill Country.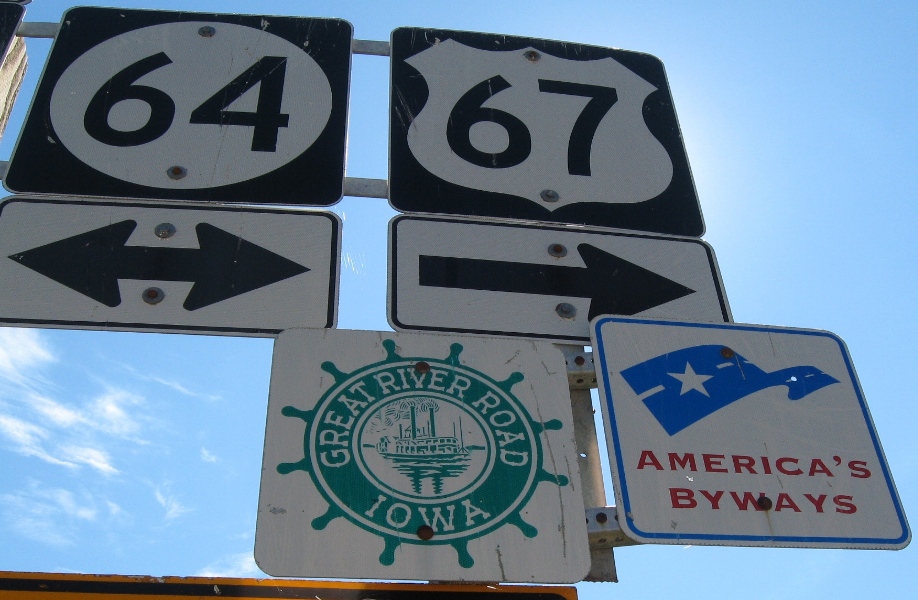 In Dubuque, Iowa, we got on the Great River Road, which follows the Mississippi River. Part of the time we drove on highway 61, which was immortalized in a Bob Dylan song.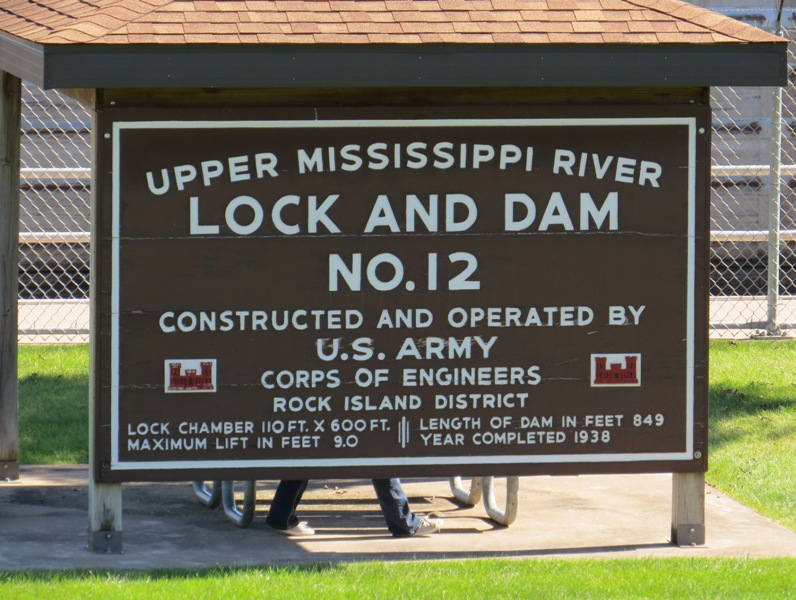 There are 29 locks and dams on the Mississippi River, making it essentially a series of lakes.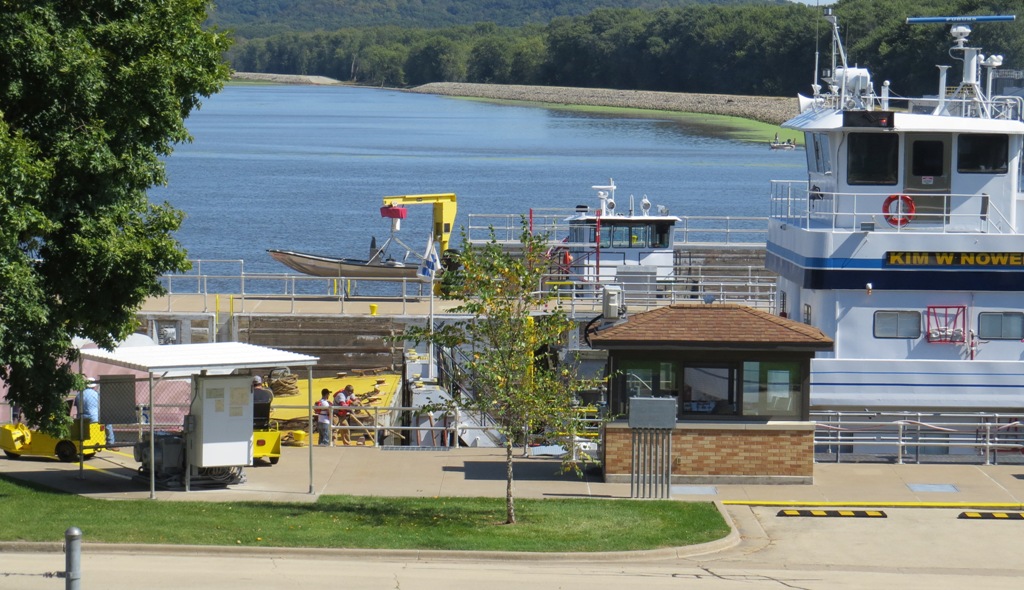 Barges are pushed by towboats. If the barge and towboat don't fit in the lock together, they must go through separately. Here, the bow of the white towboat is being reattached to the stern of the yellow barge after passing through the lock.



Missouri


Farther down the river, Hannibal, Missouri was the home of Mark Twain (Samuel Clemens) from age 9 to 18 (the white house). He found the inspiration for many of his stories while living here.





The National Historic Landmark preserves nine buildings, including the homes of "Becky Thatcher" and "Huck Finn" (real people Twain based his characters on).





St. Louis is also on the Mississippi River. The iconic Gateway Arch is 630 feet tall. It's run by the National Park Service.





It's a short ride to the top in small five-person pods.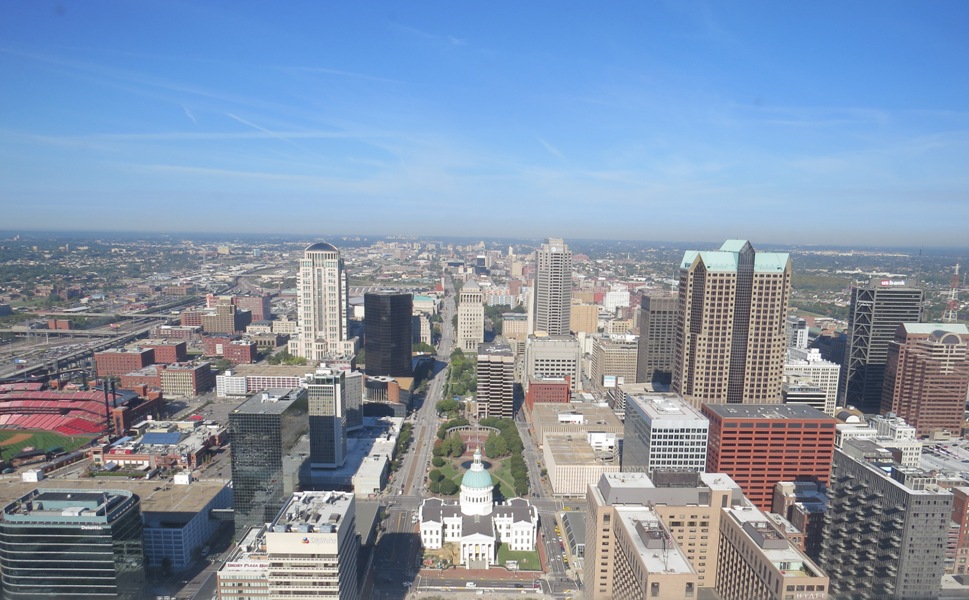 The view of downtown St. Louis from the top of the arch. The Mississippi River is on the other side. The area under the arch is being redeveloped as a big riverfront park.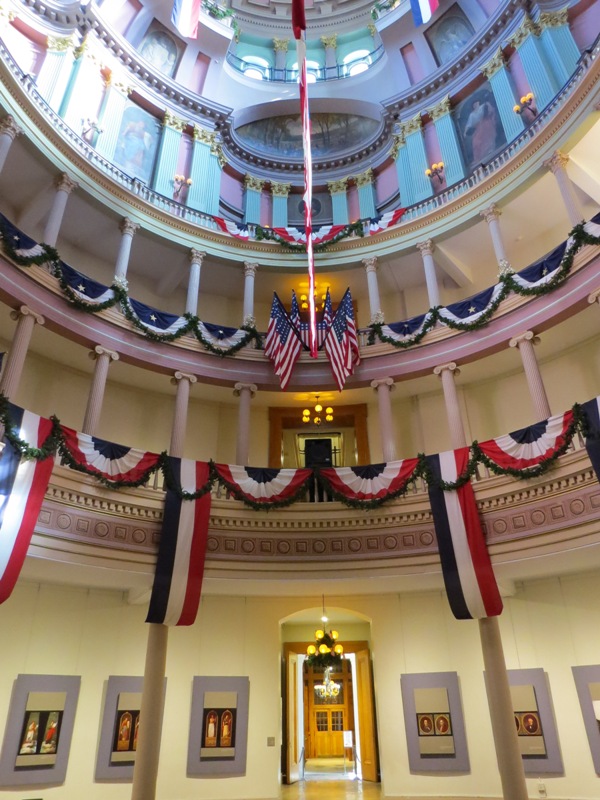 The historic Old Courthouse in St. Louis, where former slave Dred Scott sued for freedom.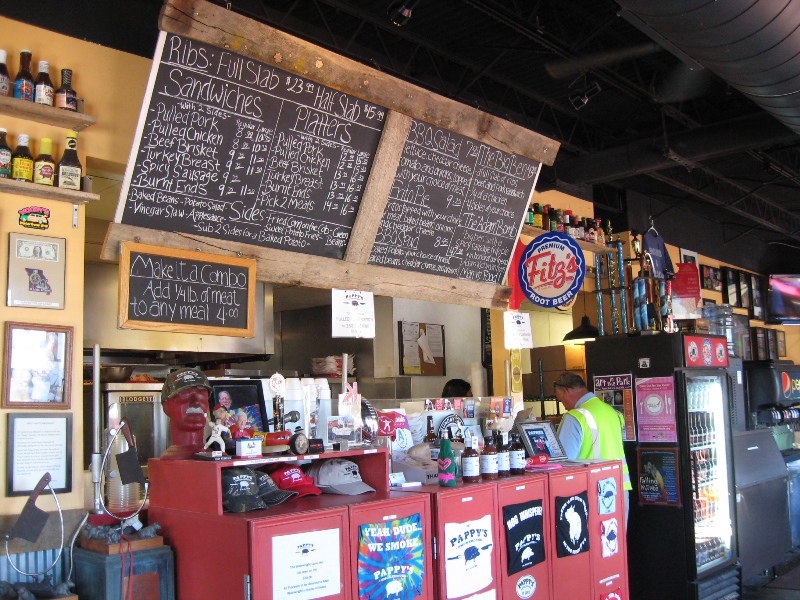 Pappy's Smokehouse is said to be the best BBQ joint in St. Louis. The atmosphere is great, but we didn't think the food was anything special.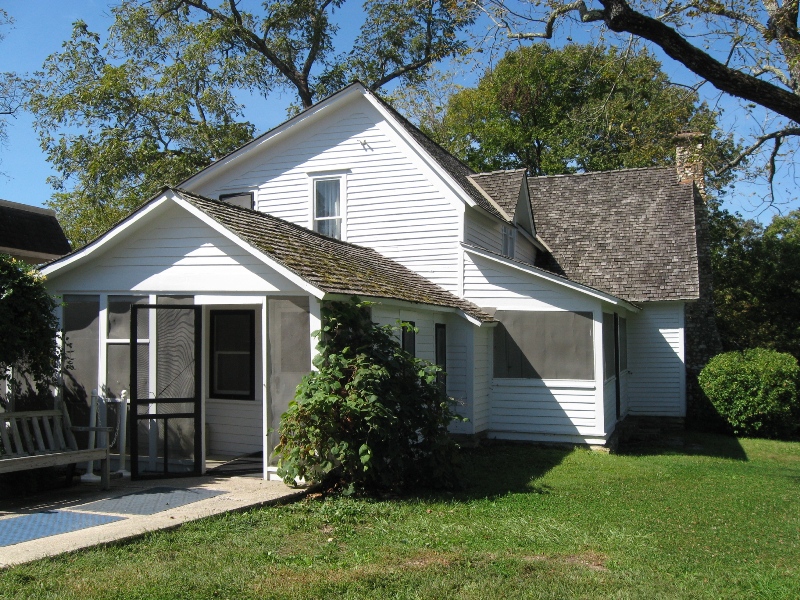 We headed south from St. Louis and into the Missouri Ozarks, a land of Baptist churches and Bible verses on every corner. Rocky Ridge Farm in Mansfield, Missouri, was the home of author Laura Ingalls Wilder from 1896 until her death in 1957. This is where she wrote the Little House books.



Kansas


At our campground in eastern Kansas, we came upon this rattlesnake skin. Note the open jaws, upper left.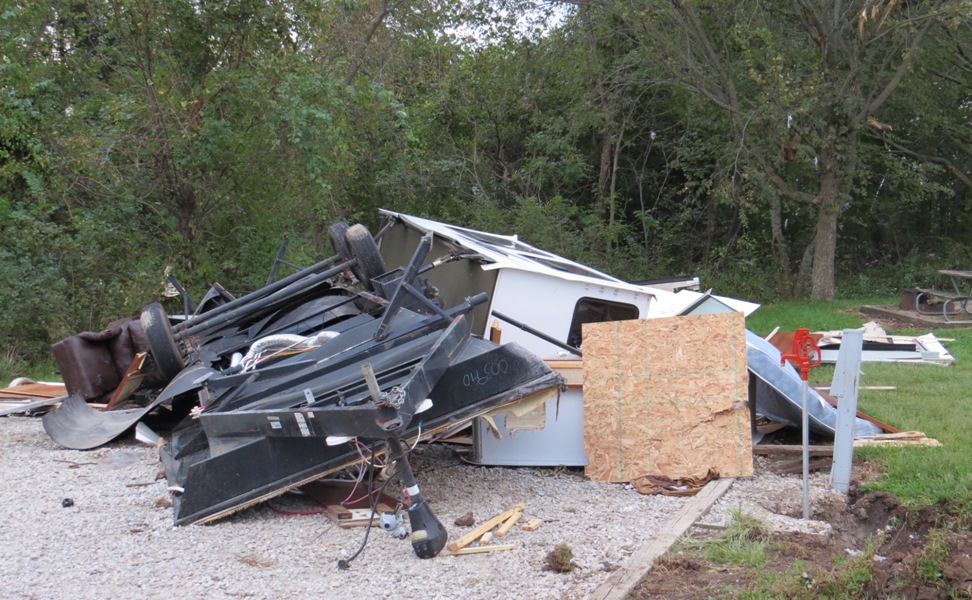 A tornado had come through the campground five days before we arrived, destroying several RVs.





The Brown v. Board of Education National Historic Site in Topeka, Kansas, commemorates the 1954 U.S. Supreme Court decision aimed at ending racial segregation in public schools. The site consists of the Monroe Elementary School, one of the four segregated elementary schools for African American children in Topeka.





Kansas sunflowers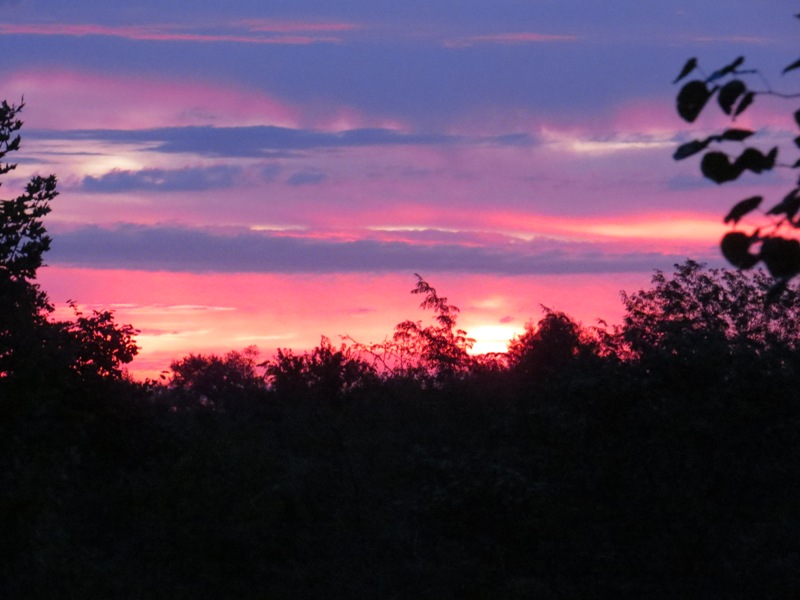 A Kansas sunset



Nebraska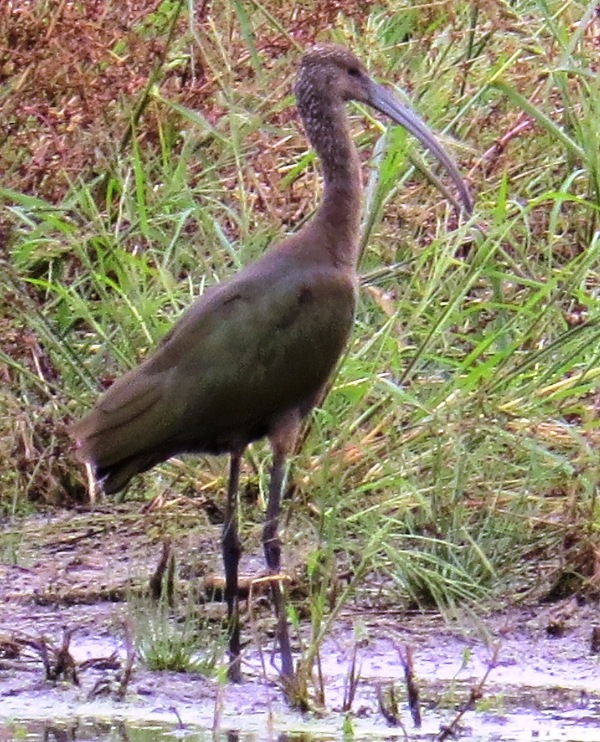 Heading west this time, we drove across central Nebraska on highway 2, the Sandhills Journey Scenic Byway. It was beautiful. We saw a flock of iridescent glossy ibis. These exotic-looking birds are about 20 inches tall.





The Nebraska National Forest was established in 1902 as an experiment to see if forests could be recreated in treeless areas of the Great Plains. The resulting 20,000-acre forest is the largest human-planted forest in the United States. This is the nursery, which grows up to 3 million seedlings per year.





The Oregon Trail passed by Scotts Bluff, now a National Monument in western Nebraska.



Colorado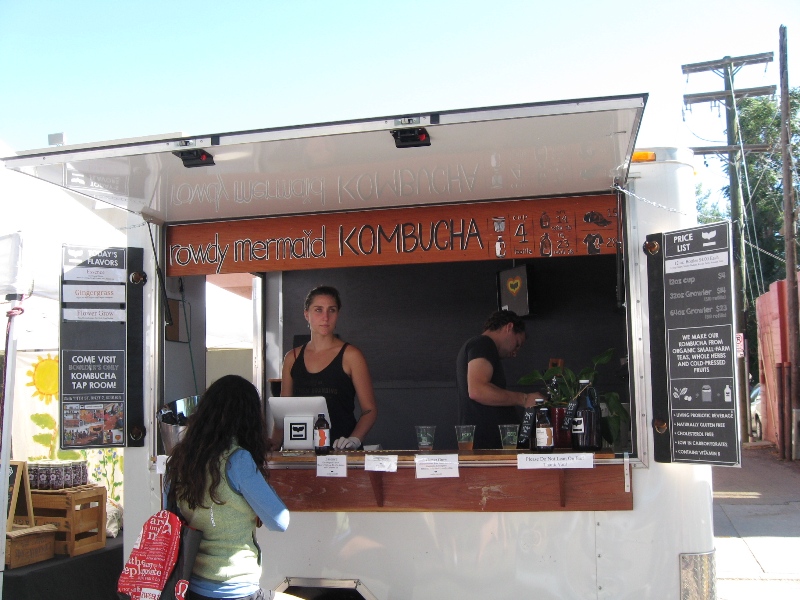 We really liked Boulder, Colorado, an earthy university town with a world class farmer's market.





UC Boulder looked like a great place to go to college!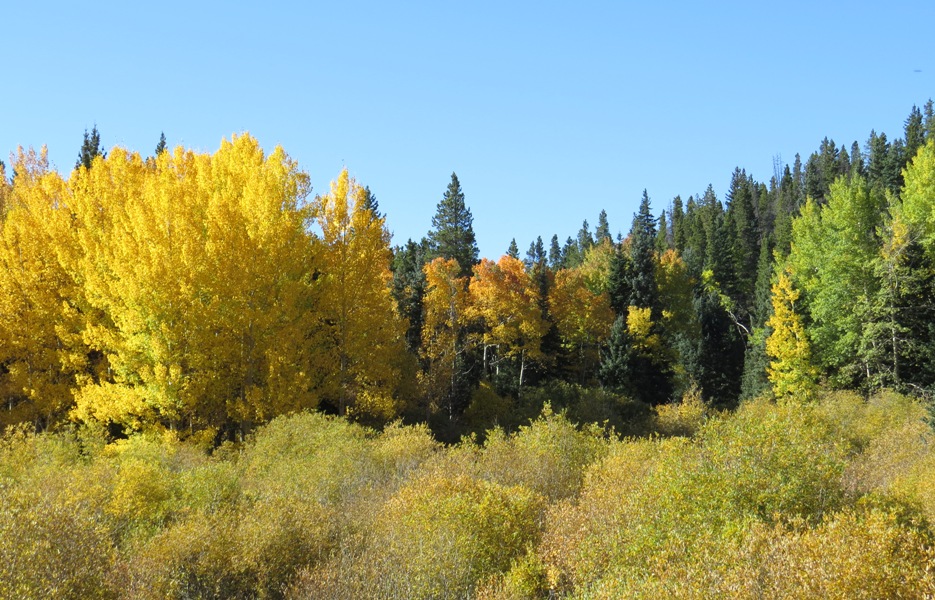 Fall color in Rocky Mountain National Park, near where Grant attended the first Rainbow Gathering of the Tribes in 1972.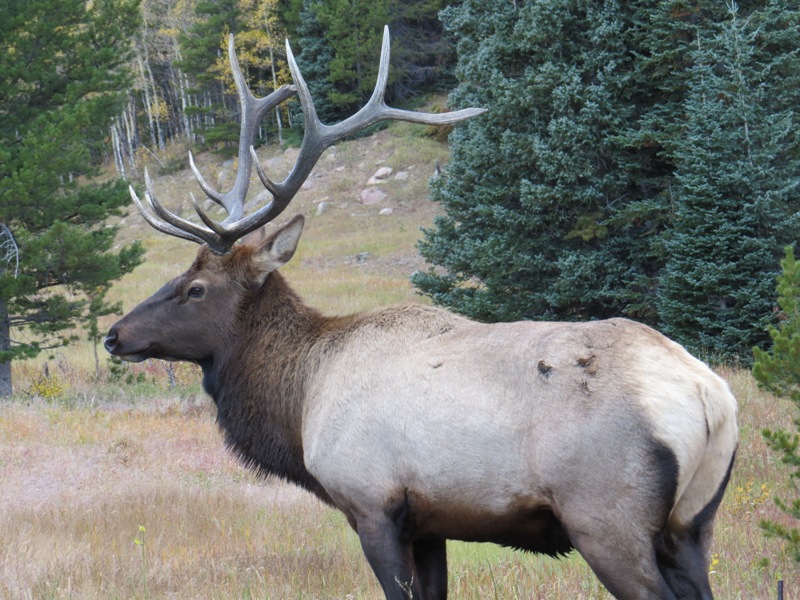 It was elk rutting season in Rocky Mountain National Park. This bull elk was guarding his harem. We could hear the males bugling at night.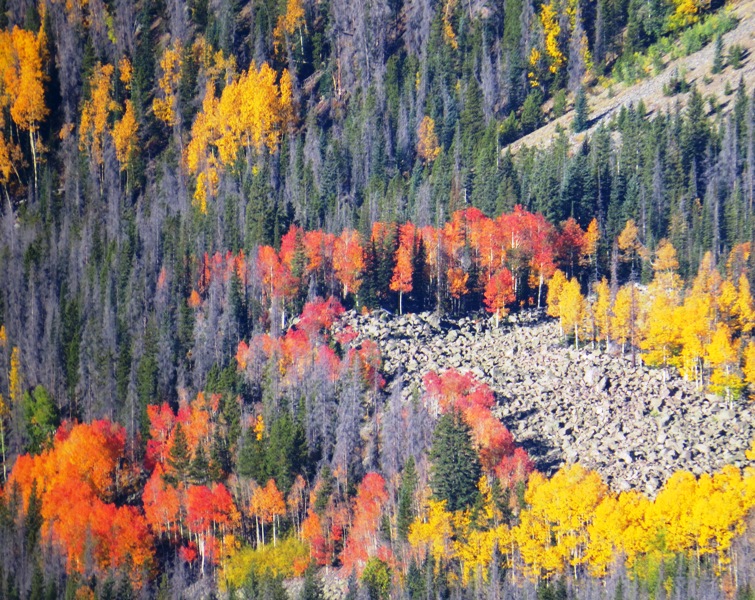 The stunning fall colors draw crowds of leaf peepers.





With their white trunks and bright gold leaves, aspen fairly glow.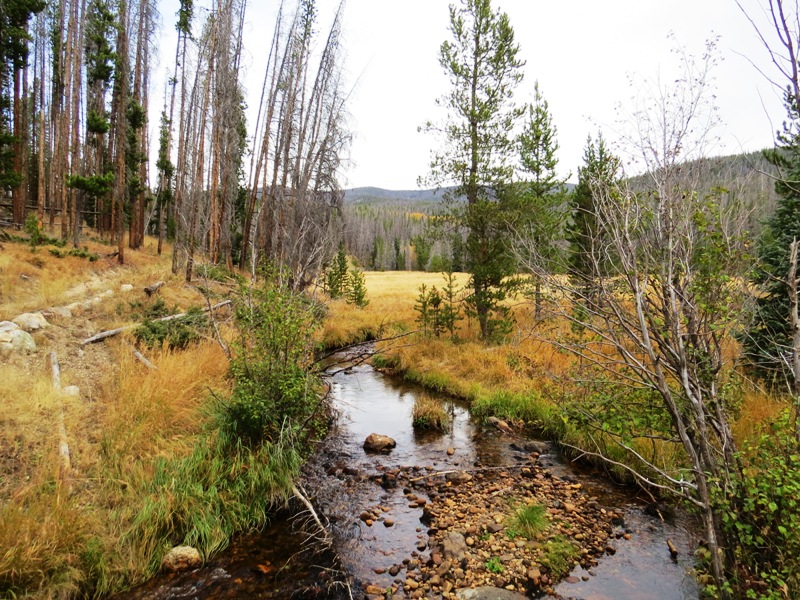 Streams and meadows in the park provide ideal elk habitat, and wonderful hiking trails. This is also the headwaters of the mighty Colorado River.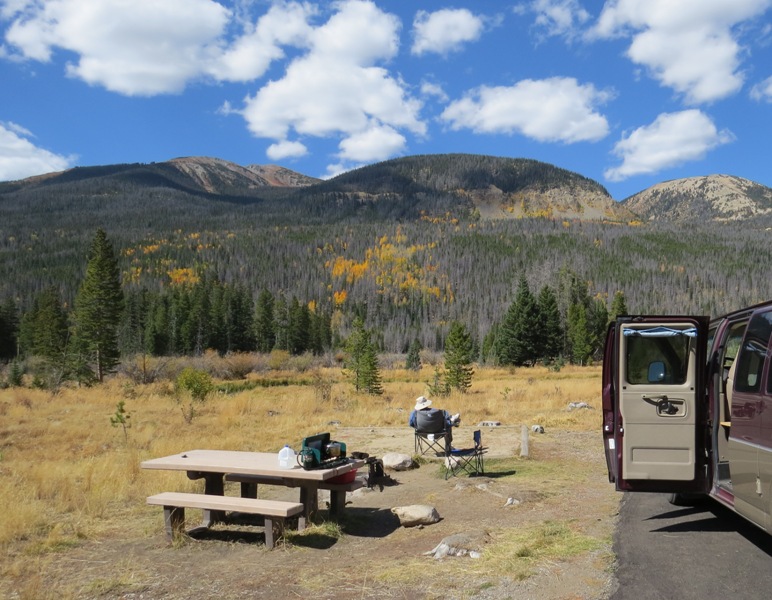 Our camp in Rocky Mountain National Park. We watched the lunar eclipse before falling asleep, and heard elk bugling in the night. It's a wild and primal sound. At one point we woke up and could see them running in the moonlight. It was a magical place!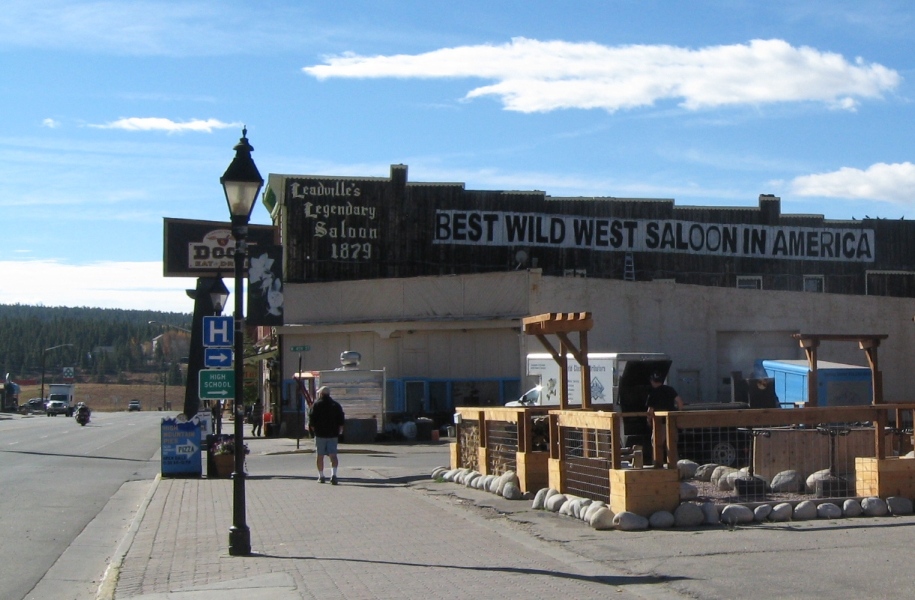 The drive through central Colorado was gorgeous, and took us through Leadville, a former silver mining town that's proud of its colorful heritage, and its elevation: 10,152 feet! We appreciated its friendly laundromat with hot showers.





The pass through Rocky Mountain National Park is higher (12,183 feet!), but it didn't have a sign...





Black Canyon of the Gunnison National Park features some of the steepest cliffs, oldest rock, and craggiest spires in North America.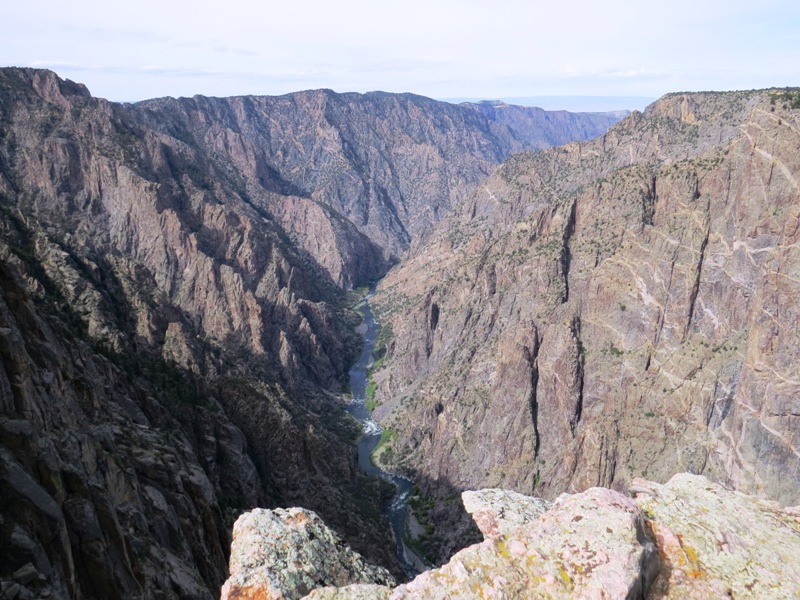 Because the canyon is so steep, deep, and narrow, the walls are often in shadow, which makes them look black.





Painted Wall, 2,250 feet high, is the tallest cliff in Colorado. The pink swirls are intrusions of pegmatite, a type of granite with quartz, feldspar, and mica crystals that make the rock sparkle.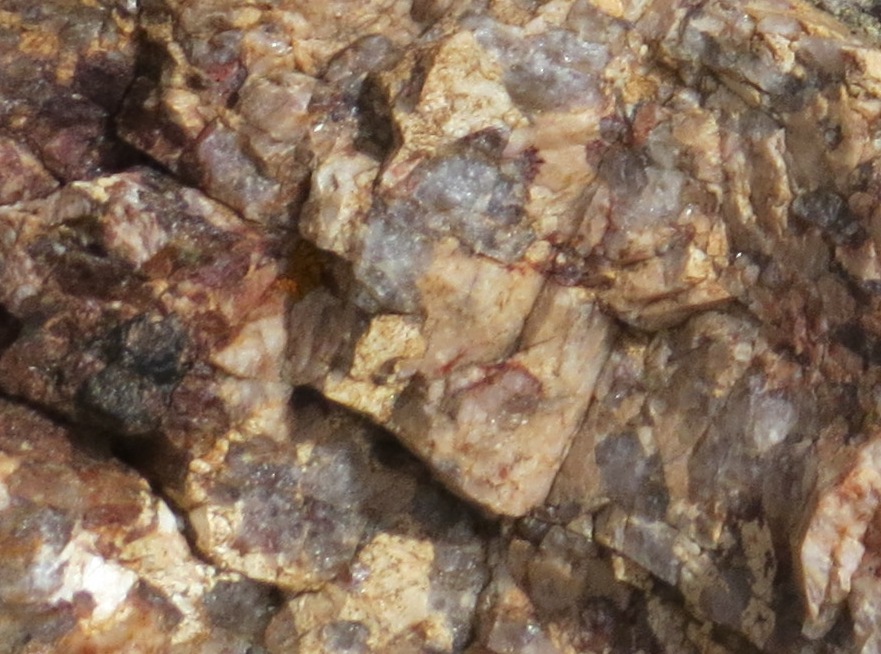 Up close, you can see the big quartz crystals in the pegmatite.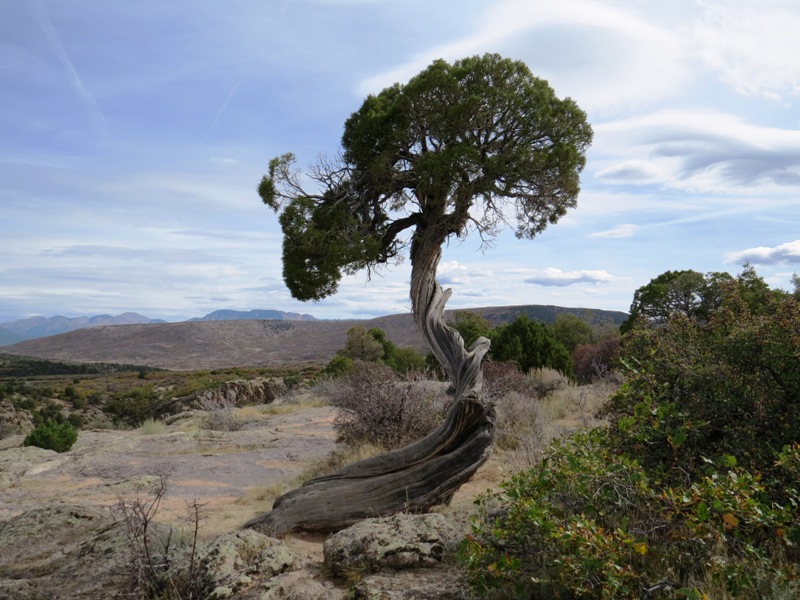 Juniper trees thrive in the intense heat, cold, drought, and winds. The wind and snow twist them into living sculptures.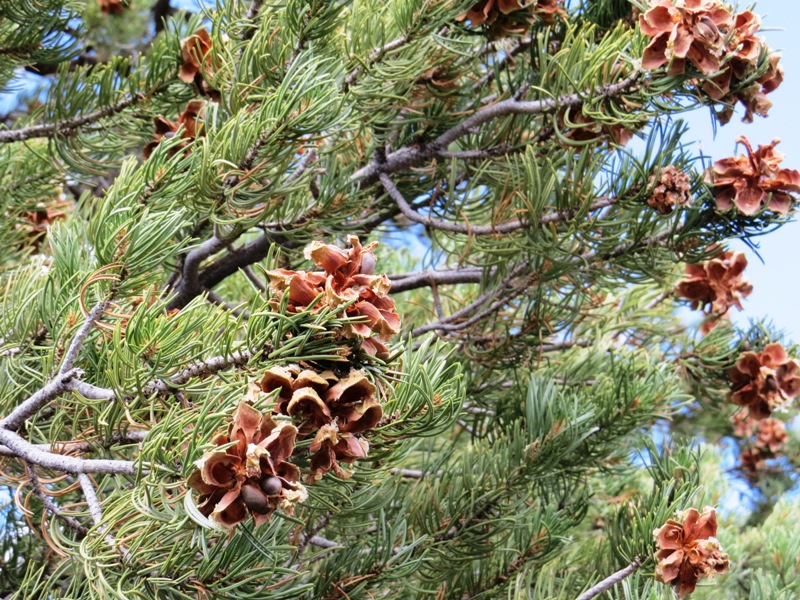 Pinyon pine grow here too. The pine nuts were a staple food for Indians. Note the nuts still in the lower left cone.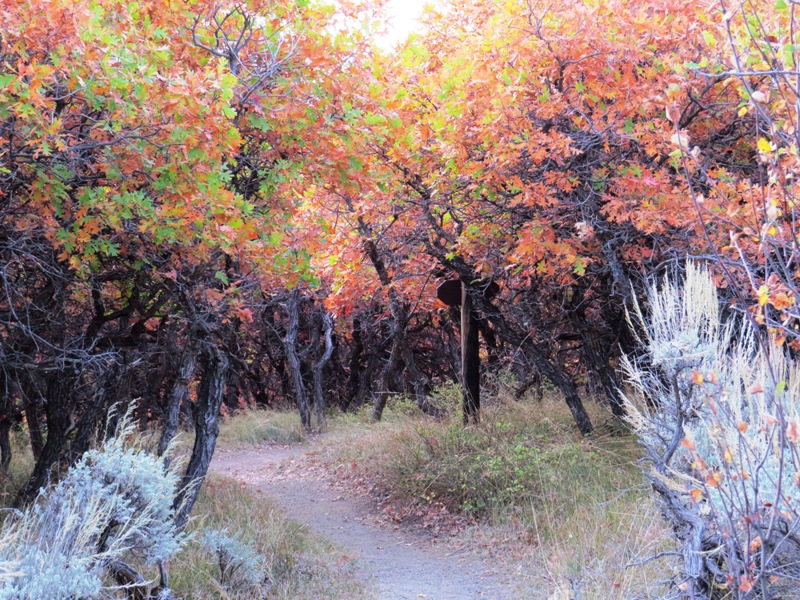 A magical hike through a lilliputian forest of gambel oak on the Black Canyon rim.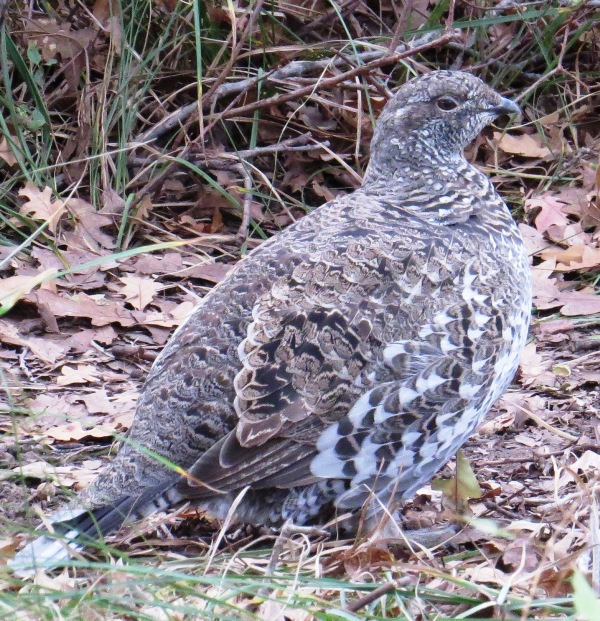 We shared the campground with a friendly covey of blue grouse.





Fall color on the San Juan Skyway, one of Colorado's scenic byways.





Fall color in the charming ski town of Telluride.





Telluride is nestled at the base of a beautiful bowl-shaped valley.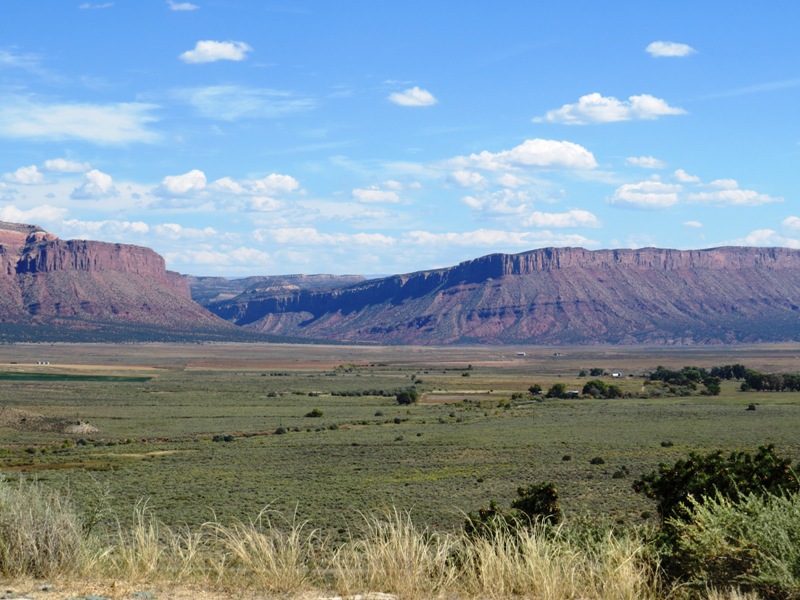 As we neared Utah, we entered red rock country. The Dolores River Valley, along highway 90 in southwest Colorado, is movie-set gorgeous.



Utah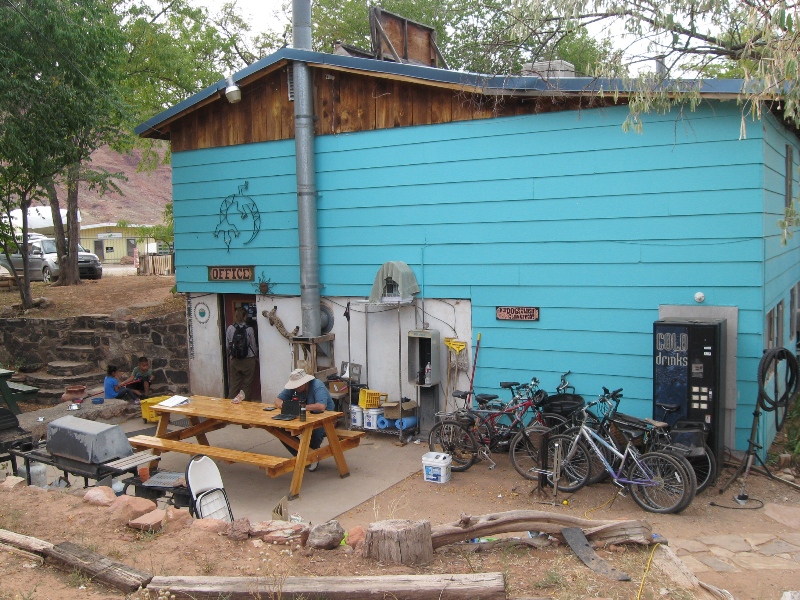 In Moab, Utah, we stayed at the Lazy Lizard International Hostel. For $8 a night we camped in their lot and had use of their wifi, hot showers, kitchen, and common areas. It was a fun place, with people of all ages from all over the world.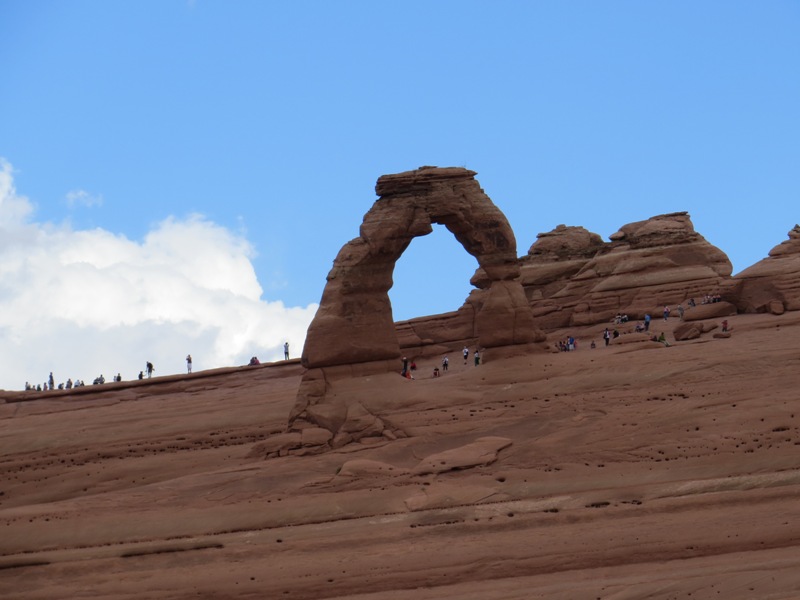 Arches National Park is a wonderland of red rock formations, and one of the most popular national parks. This is Delicate Arch, the arch that is featured on Utah license plates.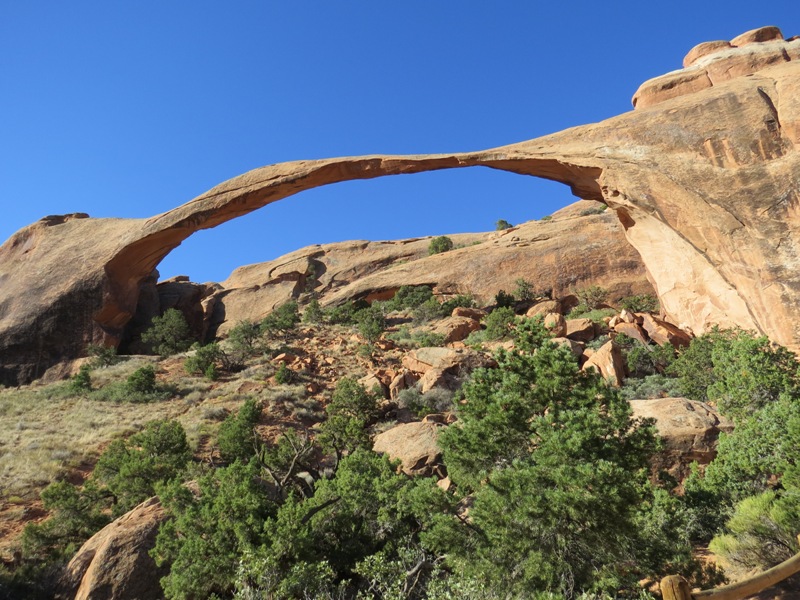 As arches age they become thinner, until they finally fall. This is Landscape Arch.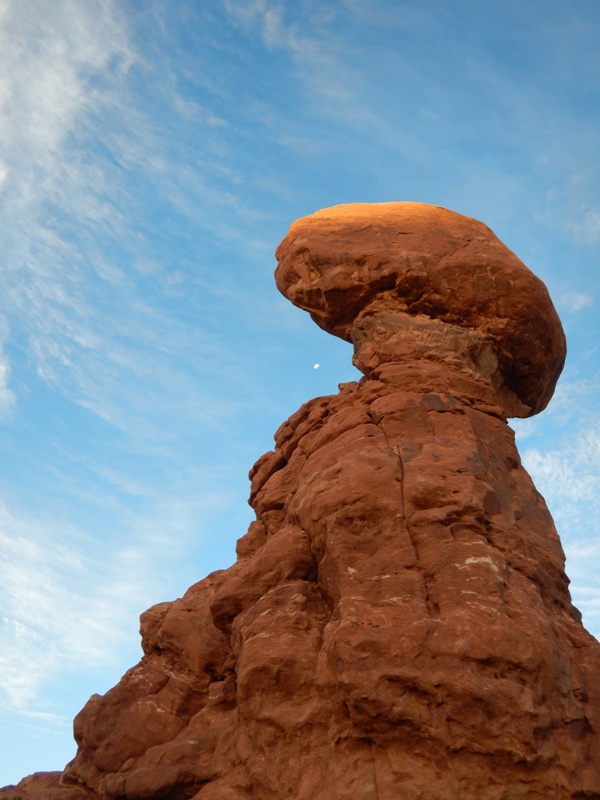 Arches are not the only rock formations in the park. This one is called Balanced Rock, and that white spot is the moon.





Nearby Canyonlands National Park celebrates the canyons and buttes carved by the Colorado River.





The Island in the Sky mesa rests on sandstone cliffs over 1,000 feet above the surrounding terrain.





Layers of sediment were laid down, uplifted, and eroded over millions of years, exposing swirly layers of sandstone.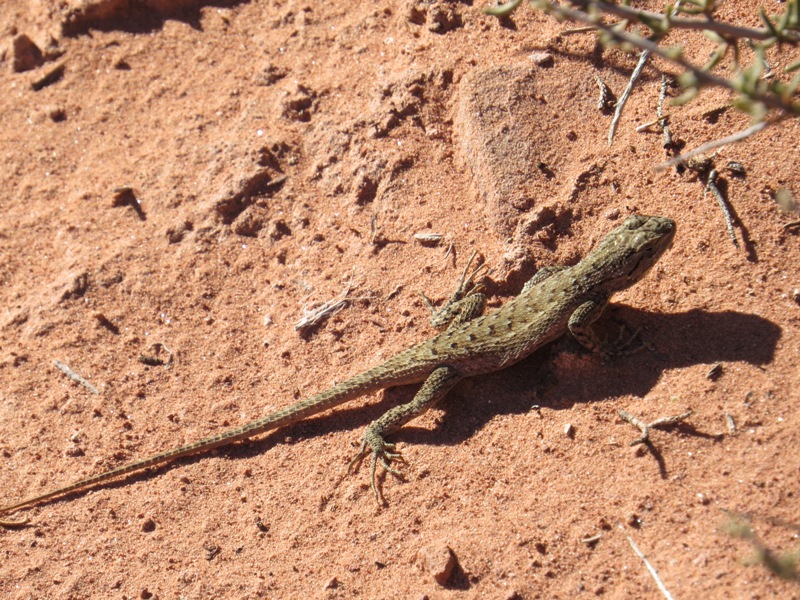 We saw many lizards enjoying the warm weather. This one is about six inches long tip to tail.





Canyonlands also has some arches.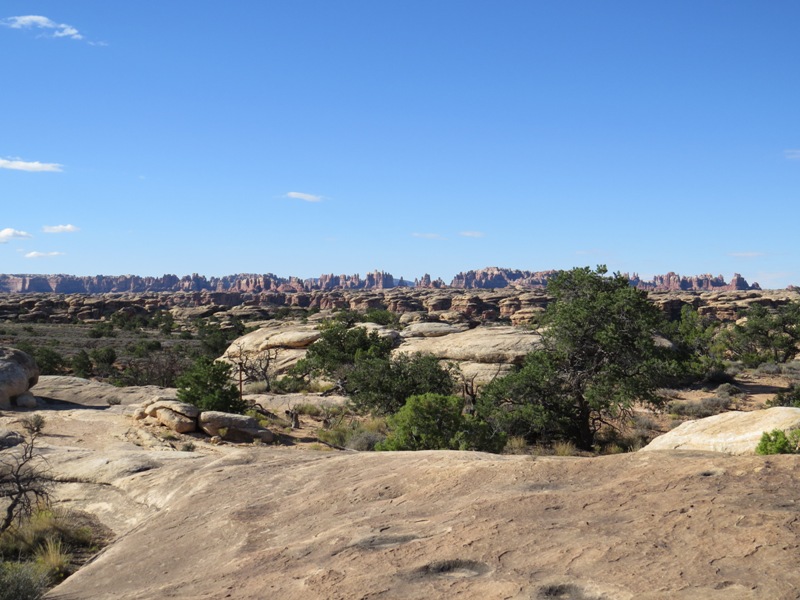 The more remote south portion of Canyonlands National Park is called The Needles, due to its profusion of sandstone spires (visible in the distance).





Biological soil crust is a living groundcover that decreases soil erosion, converts nitrogen, and helps the soil hold more water. If you step on it, it can take up to 50 YEARS to recover! (For scale, the plants in this photo are about two inches wide.)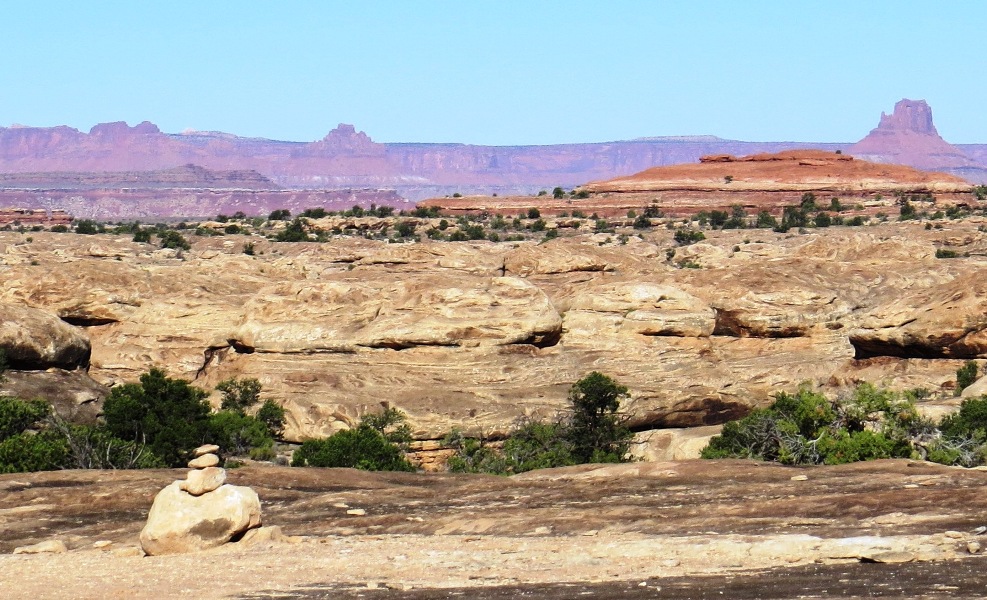 Little rock towers, called cairns, mark trails across rocky terrain.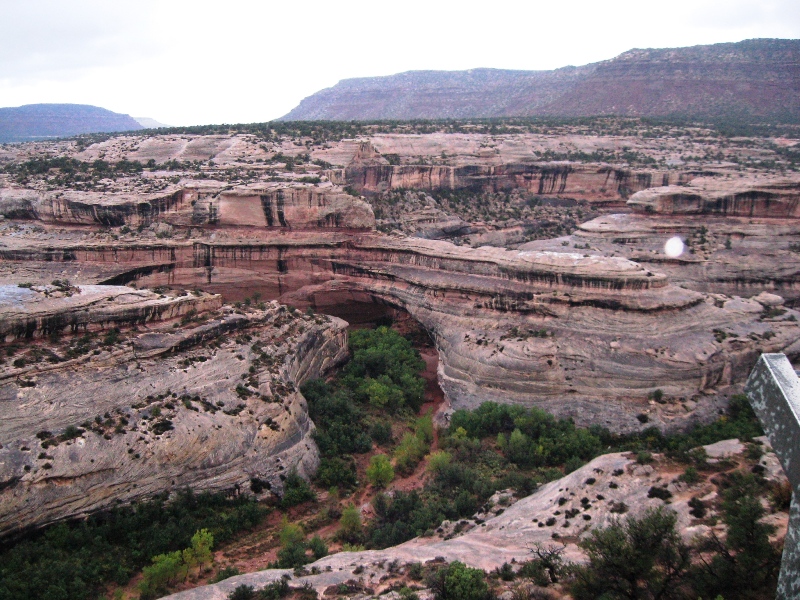 Natural Bridges National Monument lies south of Canyonlands. Bridges are carved by running water and are much rarer than arches, which are carved by a variety of erosional forces. Bridges tend to be found in deep canyons, whereas arches are usually high and exposed.





Farther west, Capitol Reef National Park preserves a 100-mile-long geologic "wrinkle" called the Waterpocket Fold.





Heirloom orchards planted by settlers are now maintained by park workers and volunteers.





Recent rains colored the rivers red. Sediment-laden water is called "liquid sandpaper," and is the powerful erosive agent that shaped the canyon country.





In Salt Lake City we visited our friend Mary (center), who was there visiting her daughter, Eve, and grandson, Eli. I've known Eve since she was born. She is now a doctor doing her residency in gynecology.



Idaho


From Utah we headed north back to Idaho, where they grow a lot of sugar beets. To harvest them, they mow the tops (foreground), then dig up the beets and send them through a rotary hopper, which shakes the dirt off. The beets pour into a tank, which offloads into a truck. Mesmerizing to watch!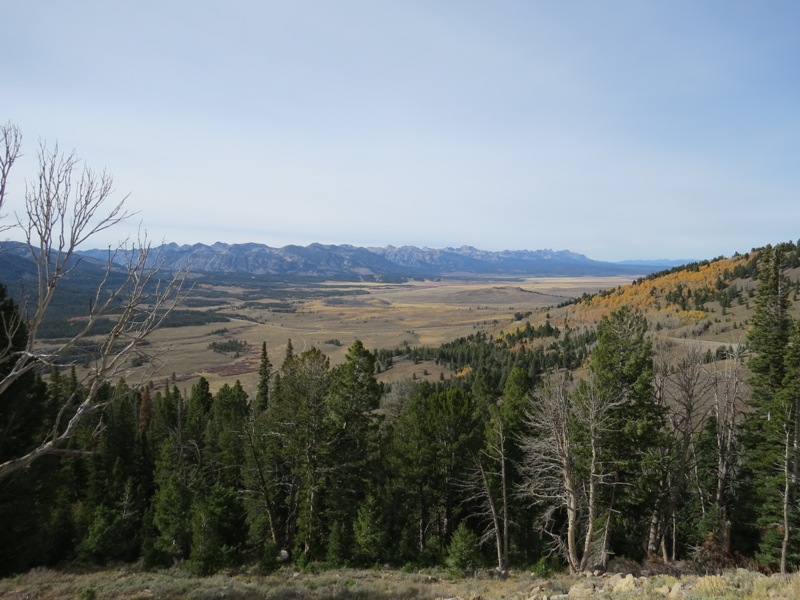 Sawtooth Valley from 9000-foot Galena Summit, on the Sawtooth Scenic Byway.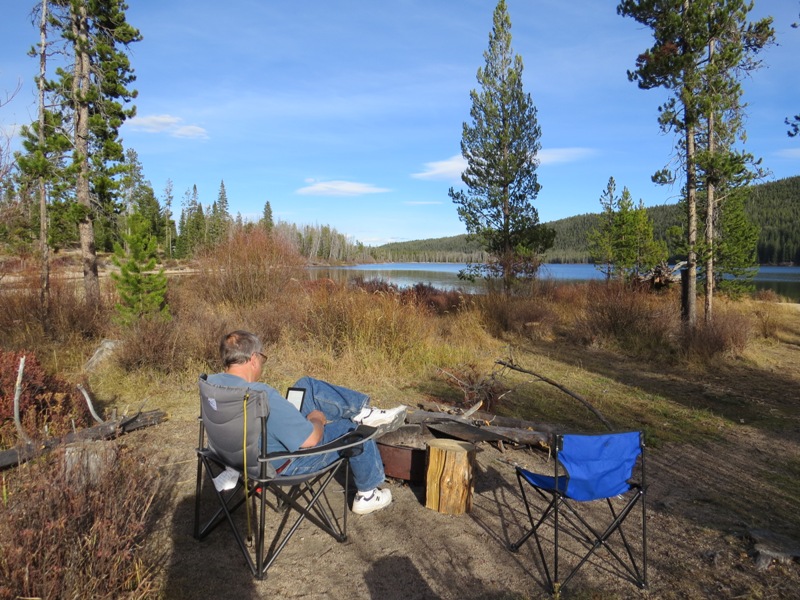 Camping on Stanley Lake in the Sawtooth mountains. Did we mention how much we love Forest Service Campgrounds?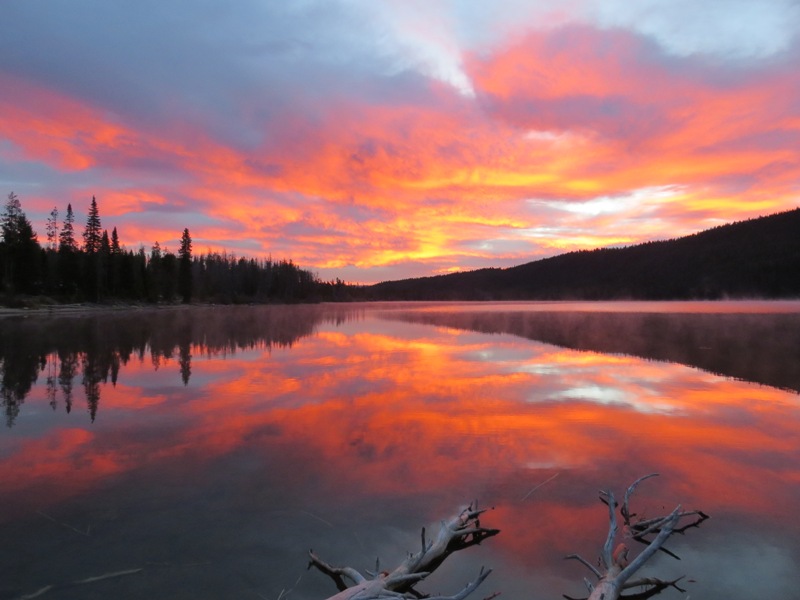 Sunrise over Stanley Lake.



Oregon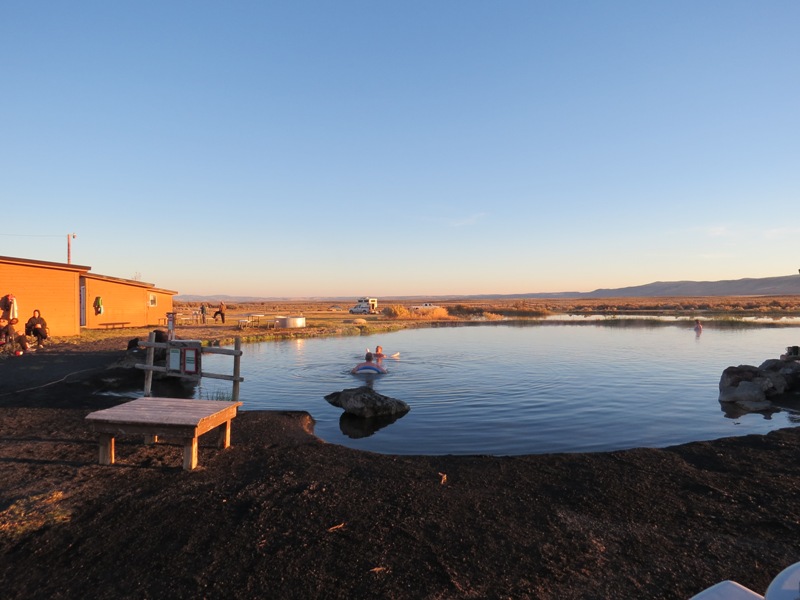 Delightful Crystal Crane Hot Springs in southeast Oregon. The water is about 103 degrees. There are cabins, a campground, hot showers, and stars galore. Grant heard coyotes singing in the night.





Malheur Wildlife Refuge in southeast Oregon.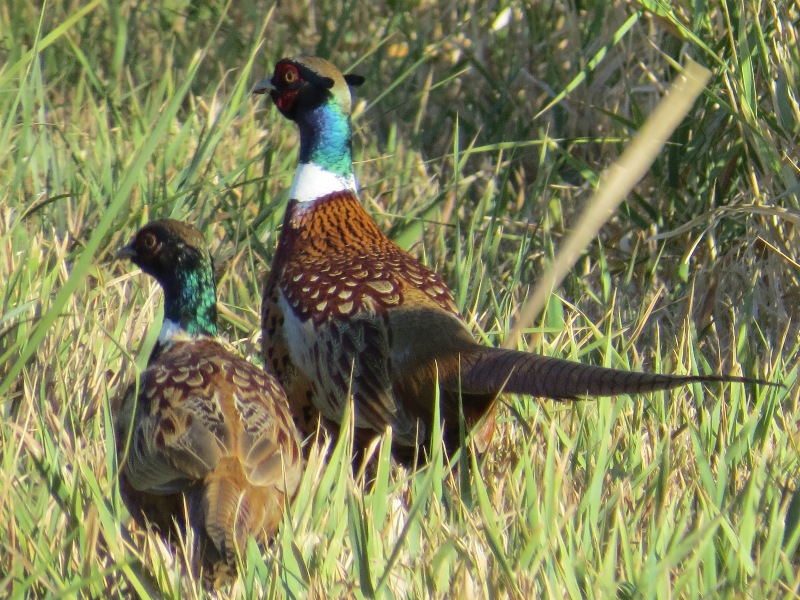 Pheasants in Malheur Wildlife Refuge. Wow.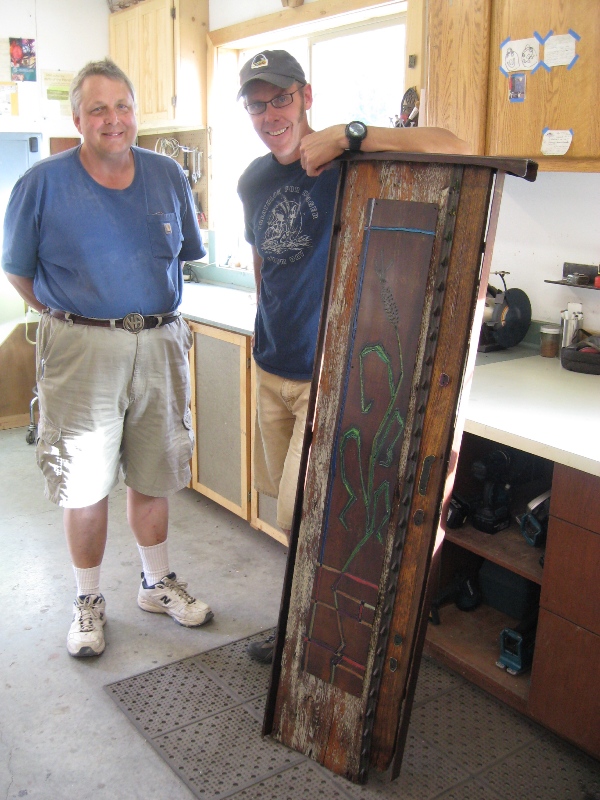 In John Day, Oregon, with our friend Mytchell Mead. His latest fine art steel and wood piece was headed for a gallery in Tahoe.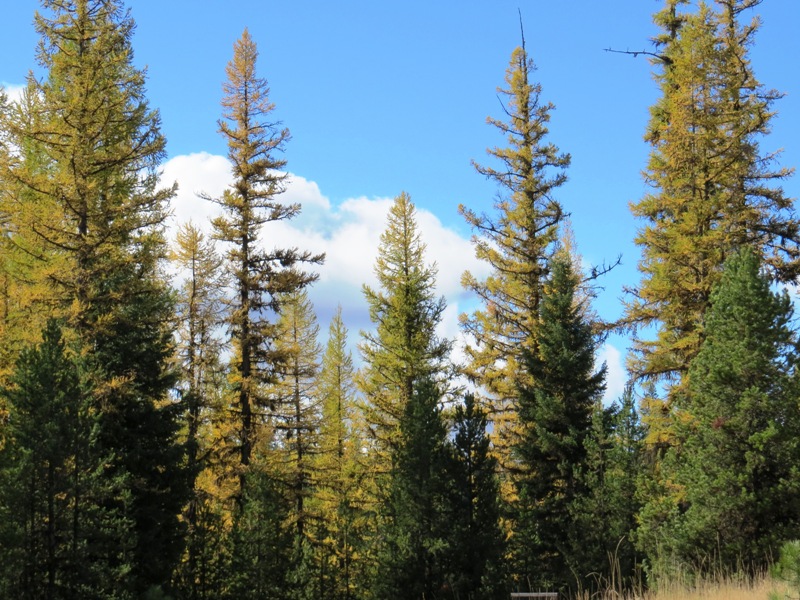 Larch trees are deciduous conifers. They turn gold in the fall and lose their needles.



Back Home


The view from Washington Pass overlook in North Cascades National Park in Washington, as we headed home.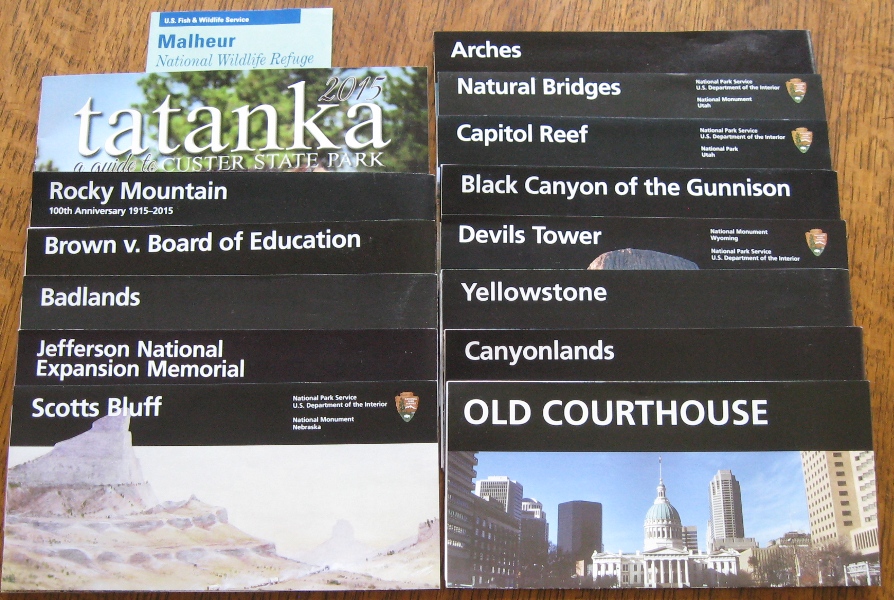 Parks and monuments we visited.


---
America the Beautiful
I propose that we change our national anthem from the Star Spangled Banner (a war song) to America the Beautiful. Once you've seen the majestic purple mountains, amber waves of grain, and spacious skies of this beautiful country, you can't hear this song without getting choked up. And wouldn't it be nice to focus on brotherhood instead of war?


Oh beautiful for spacious skies
For amber waves of grain
For purple mountains' majesty
Above the fruited plain
America, America, god shed his grace on thee
And crowned thy good with brotherhood
From sea to shining sea
---
Trip Costs
Gas: $1138 (we drove 7983 miles and we get about 17 miles per gallon)
Camping: $278 for 33 nights = $8.40 a night (this does not include the three nights we spent parked at people's houses; it also reflects our 50% senior discount at Federal campgrounds)