Guanajuato and Oaxaca, Mexico
Two weeks in Mexico's colonial and indigenous heartlands
February 2015


We spent a week in Guanajuato with friends, and then the two of us went on to Oaxaca for another week by ourselves. We had been to Guanajuato before, but this was our first trip to Oaxaca. We flew Seattle-Houston-Leon, took buses from Guanajuato to Oaxaca, and flew home Oaxaca-Houston-Seattle.

Both cities are up in the mountains where the weather is perfect (warm days, no humidity, cool nights) and there are no bugs. The Mexican people are soft-spoken and kind, with big, warm smiles. Both areas are very safe.



---
Guanajuato
Guanajuato is a lightly-touristed city in Mexico's "colonial heartland," known for its university and for cultural events. Founded in 1559, it's a UNESCO World Heritage Site. It sits at 6600 feet in a high desert.

The historic center of Guanajuato has a European flavor, with narrow cobblestone alleys, shady plazas, sidewalk cafés, and beautiful historic buildings. A picturesque underground tunnel network helps keep the city less congested and more pedestrian friendly.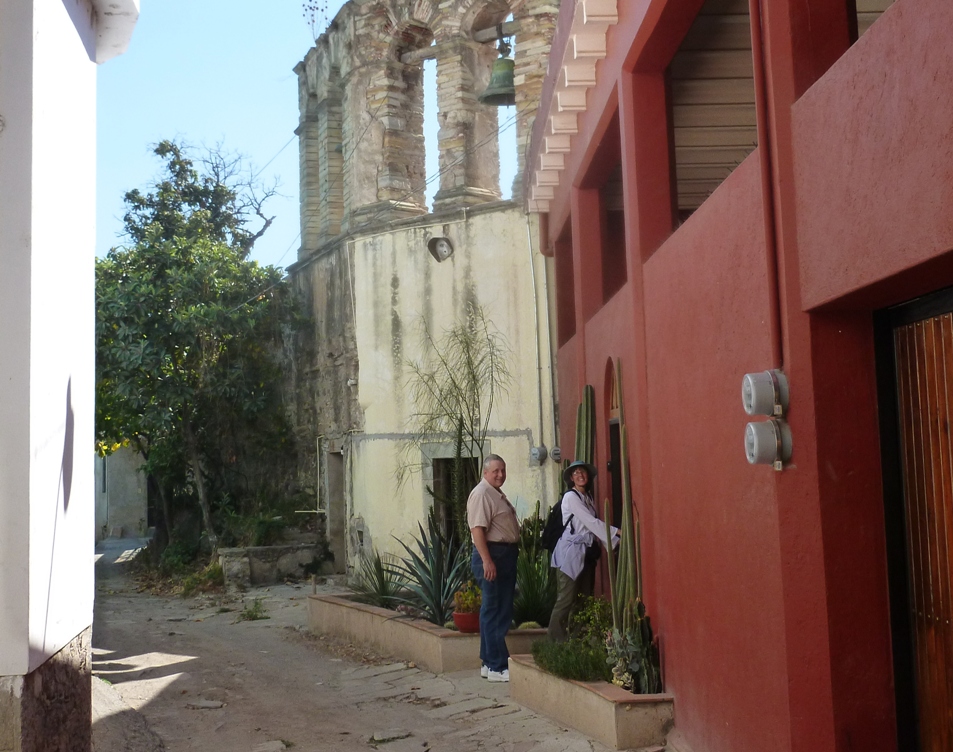 Welcome to Hacienda Escalera, owned by our friends Hank and Anna, in the "Dos Rios" neighborhood, a 20-minute walk from the center of town. We stayed here for one week with our Seattle friend, Mary.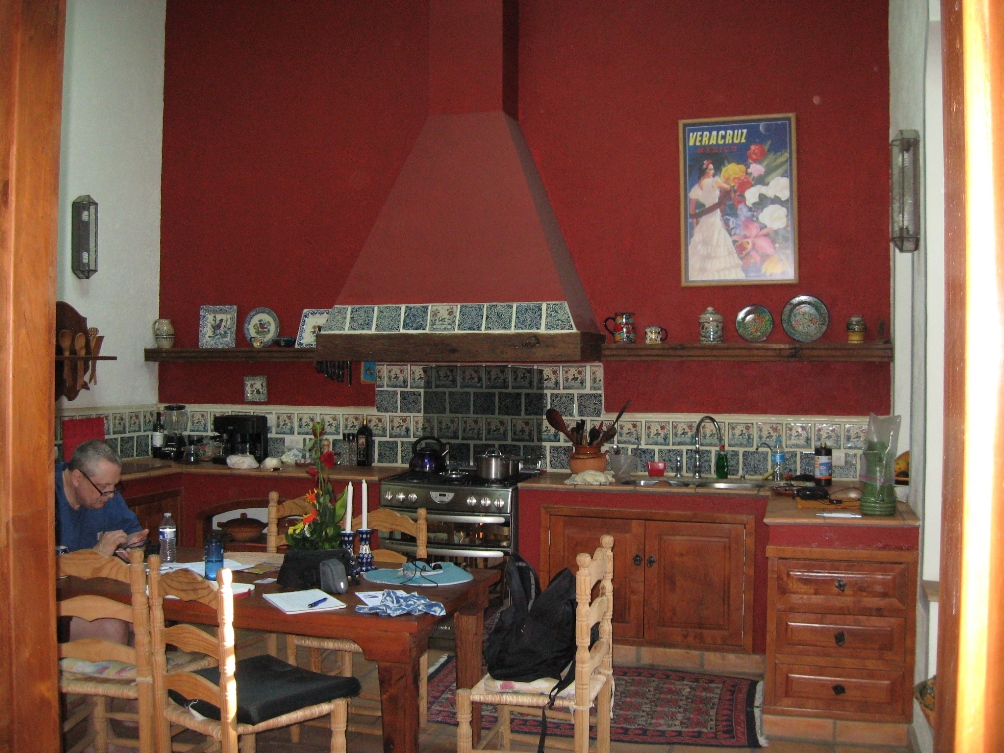 The kitchen of Hacienda Escalera. Hank and Anna bought the ruins of this old house, had it renovated, then decorated it beautifully.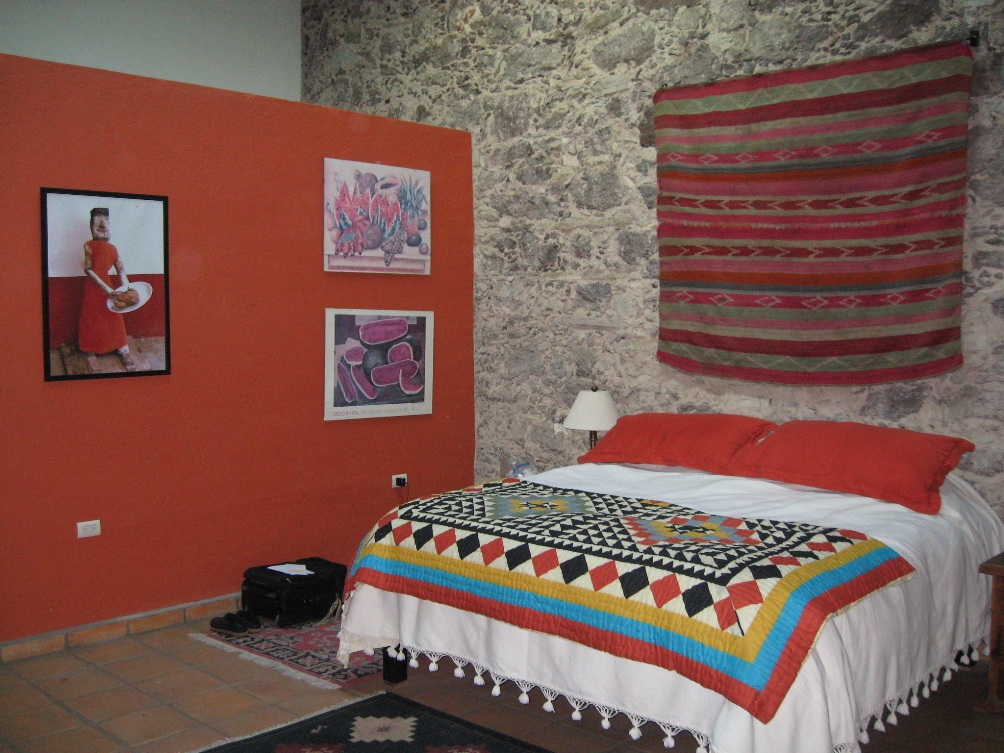 The bedroom of Hacienda Escalera.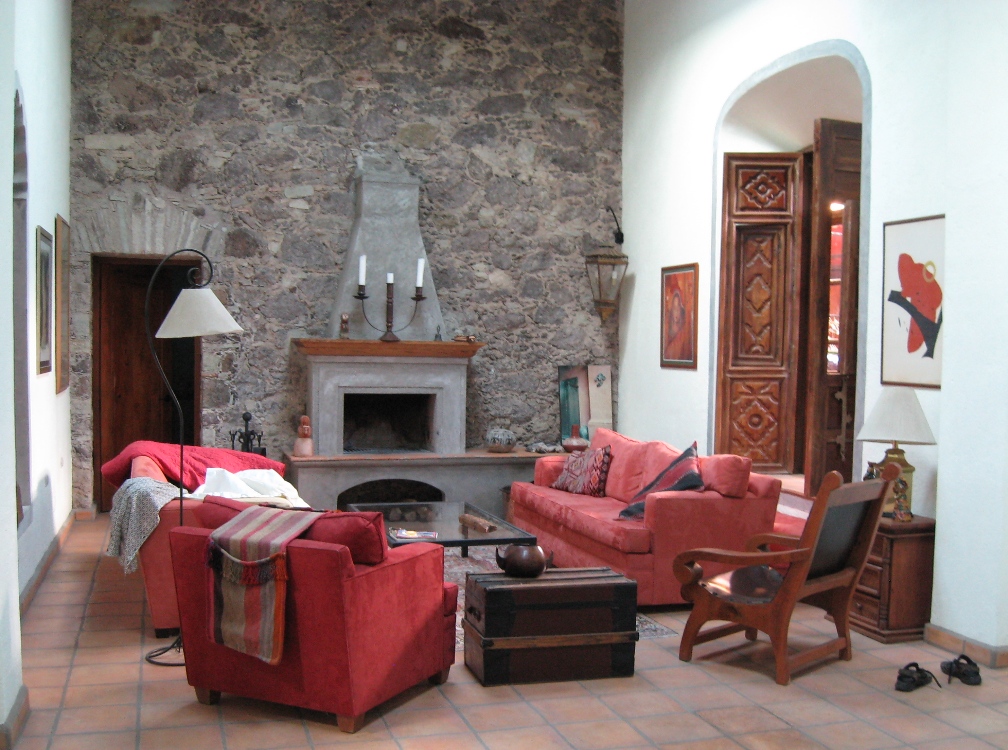 The living room of Hacienda Escalera.





The Basilica in the heart of Guanajuato was built in the late 1600s.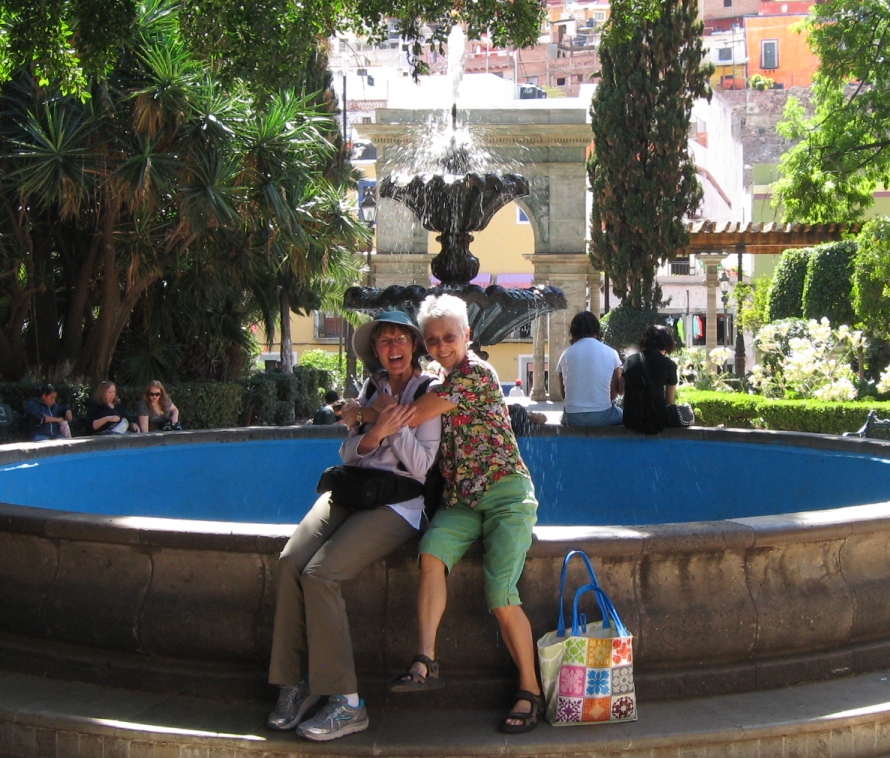 Mary and me in one of Guanajuato's beautiful plazas.





The San Francisco Church has a Baroque façade of pink stone.





The beautiful Teatro Juarez, completed in 1903.





View of the city center from the Teatro Juarez steps, a great place to hang out.





View of the El Pipila statue from the university steps. El Pipila was a hero of the Mexican revolution.





Looking down on Guanajuato from El Pipila.





"Frida Kahlo and Diego Rivera" greeting visitors to the Diego Rivera Museum's special exhibition. The real Rivera was born in the building that houses the museum, and the bottom floor recreates his childhood home with period furnishings.





This waiter's apron says "I do not sell alcohol to minors." The drinking age in Mexico is 18.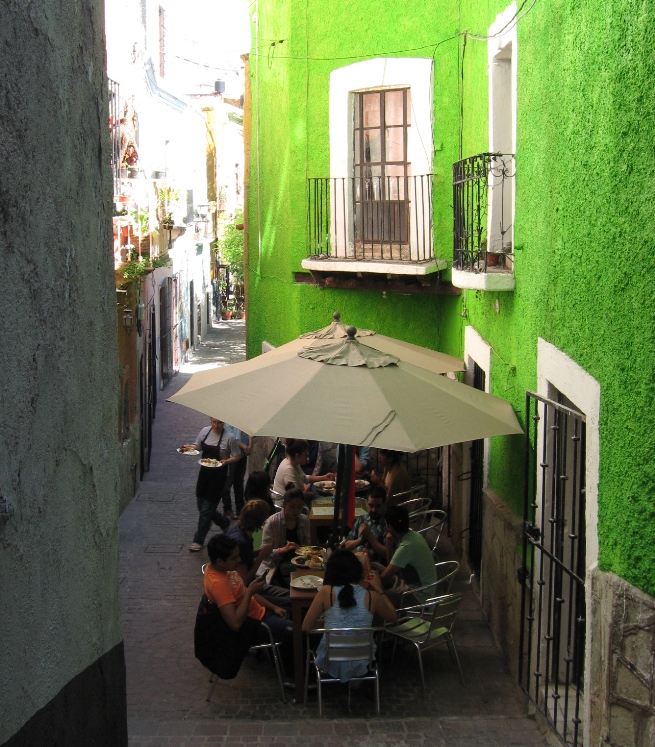 A colorful Guanajuato alleyway.





The Hidalgo market was designed by Gustav Eiffel. Here you can find fresh food, mercantile, and lunch counters.





Lunch counters in the Hidalgo market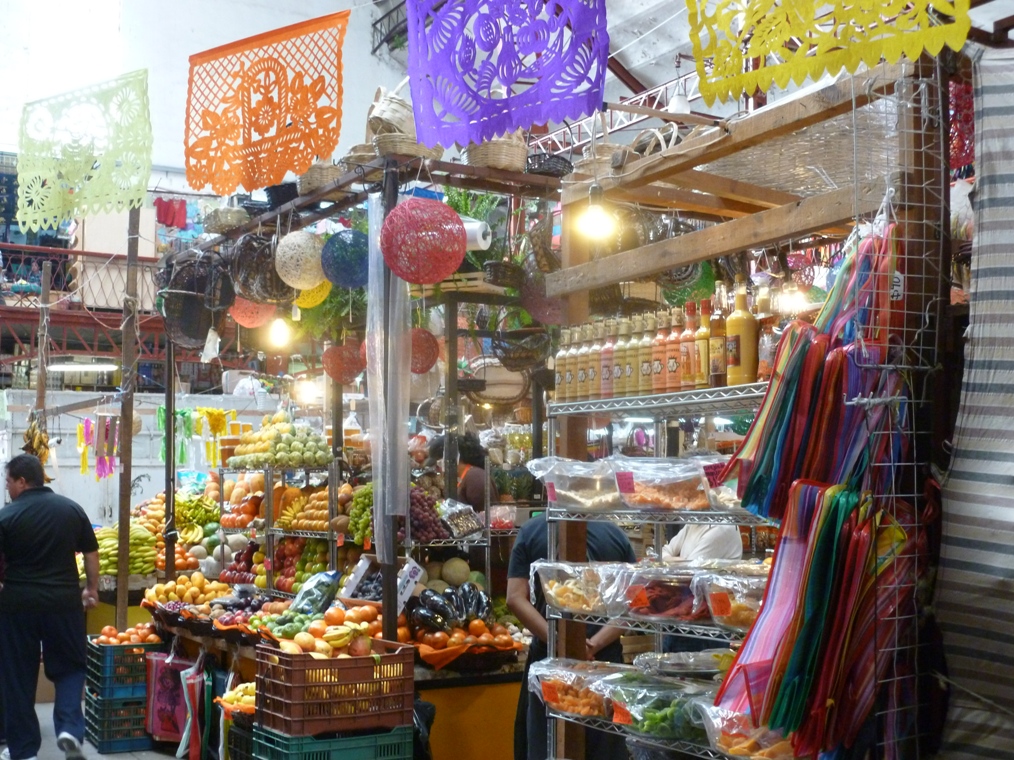 Market stalls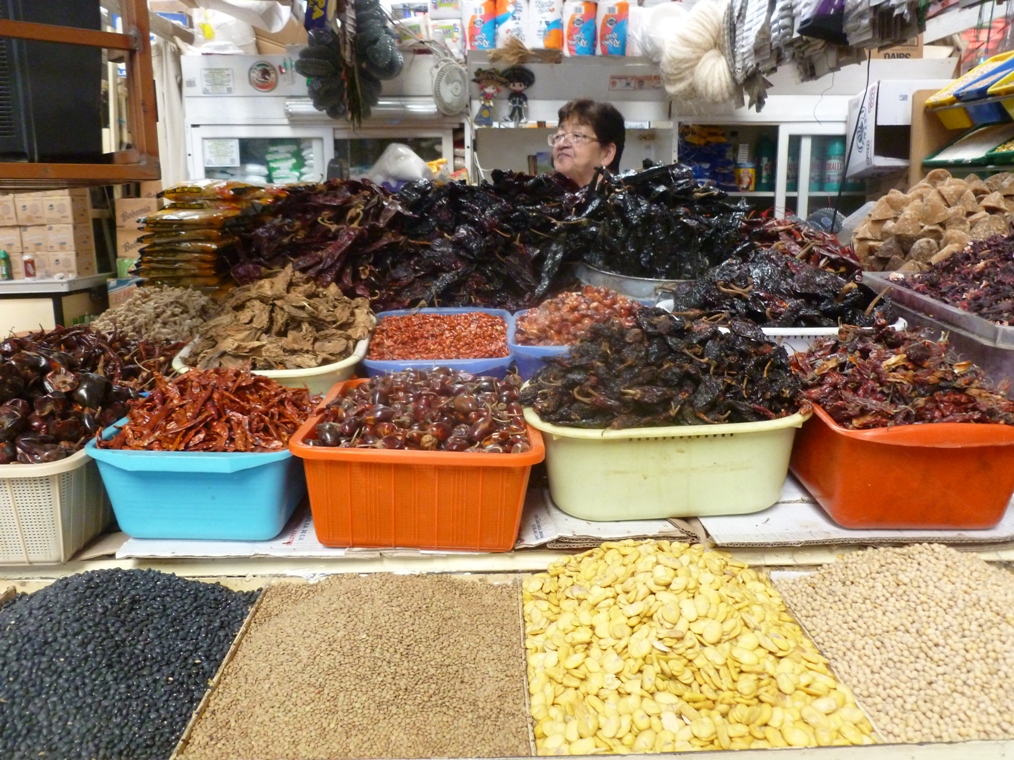 Market stall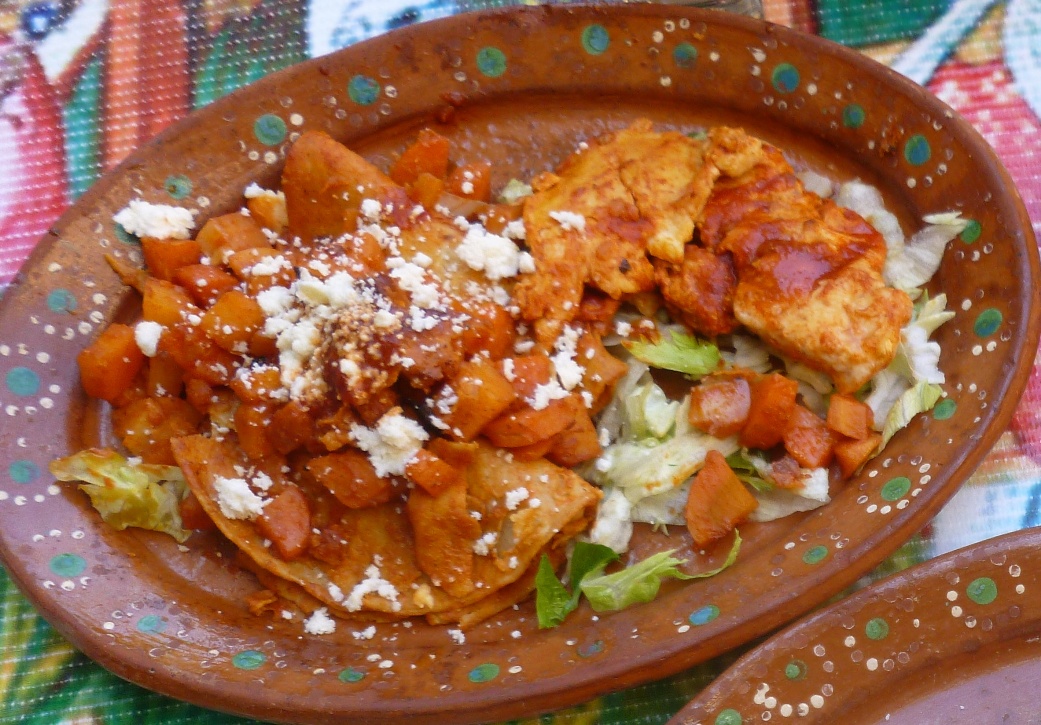 Enchiladas Mineras, topped with potatoes and carrots, are a Guanajuato specialty.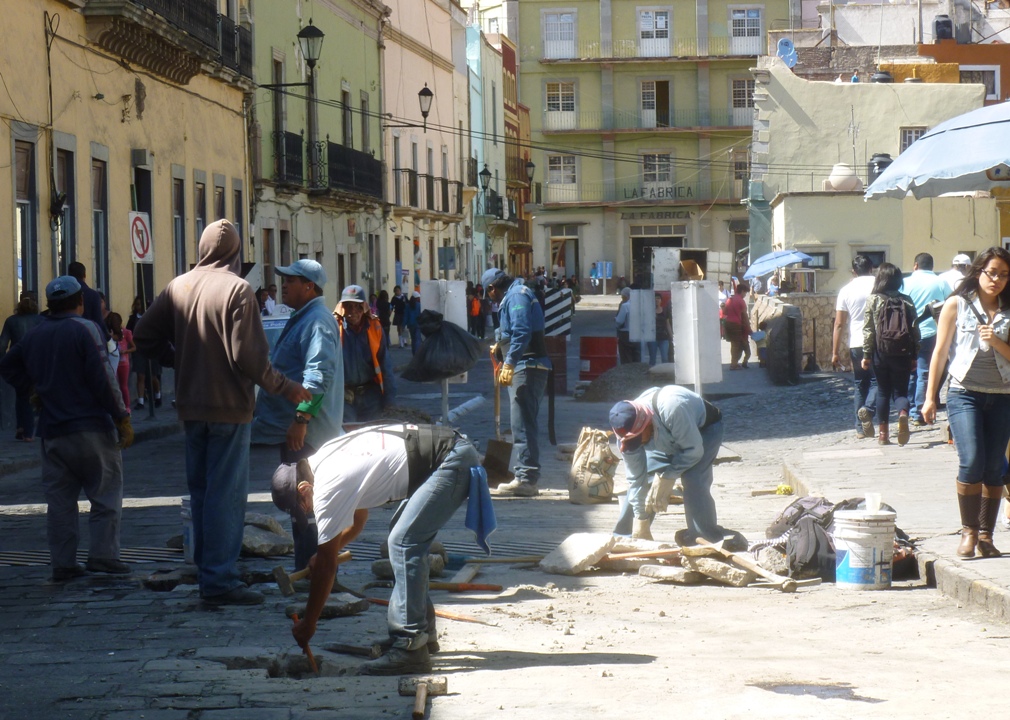 Streets are cobbled, and infrastructure repairs can be done with people power.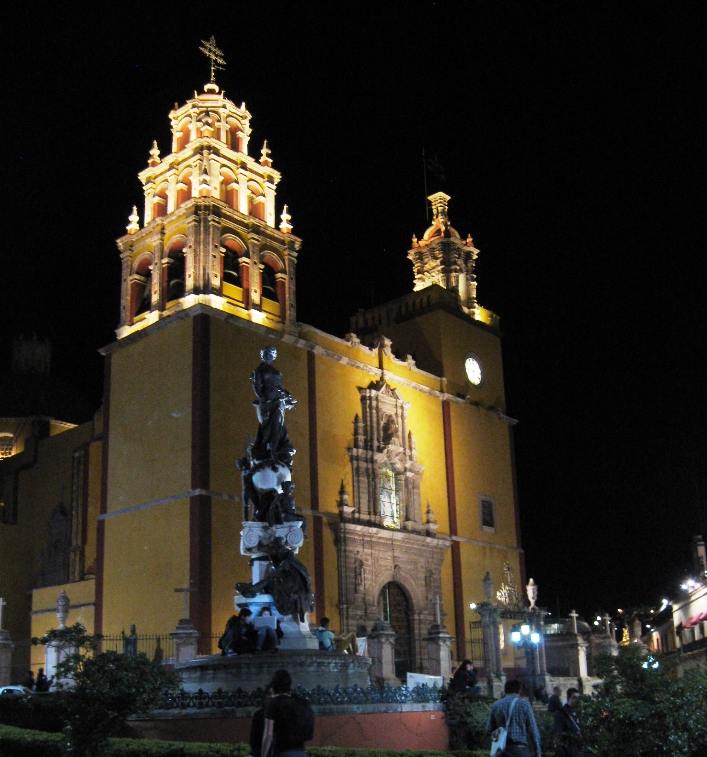 Guanajuato is especially beautiful at night. Evenings are warm, and people come out to stroll and snack.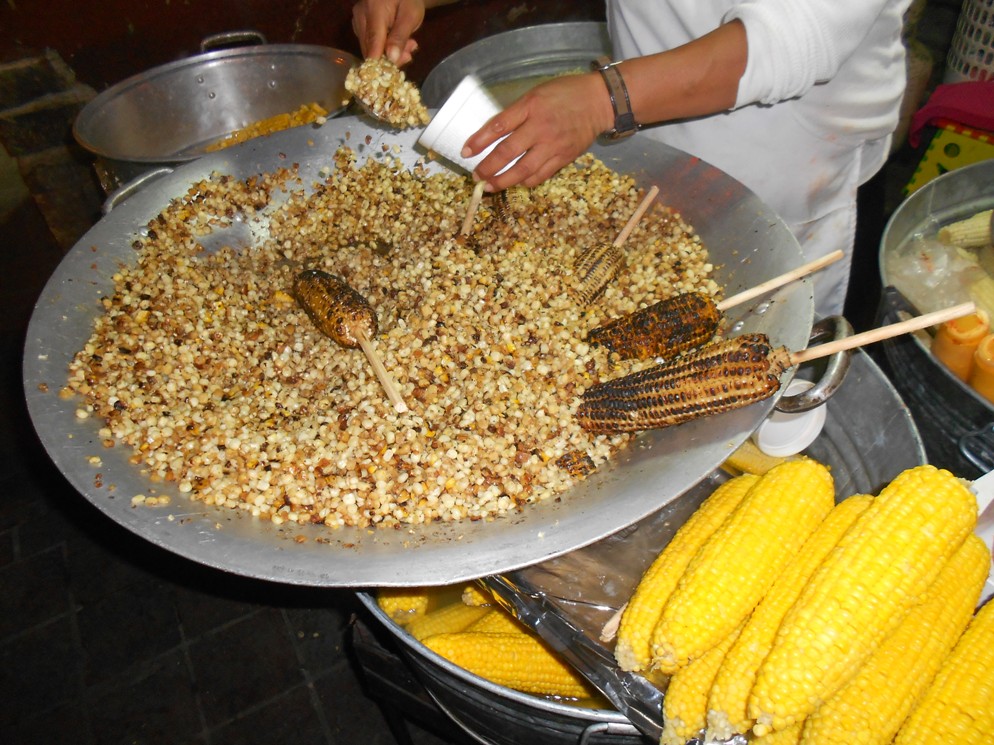 At night there are vendors selling elote (corn on the cob) and esquites (corn kernels).





Add your choice of mayonnaise, cotija cheese, chili, and lime. Yum!





The old granary, called the Alhondiga, is beautiful inside. It houses a wonderful Mexican history museum, which is free for seniors (60+).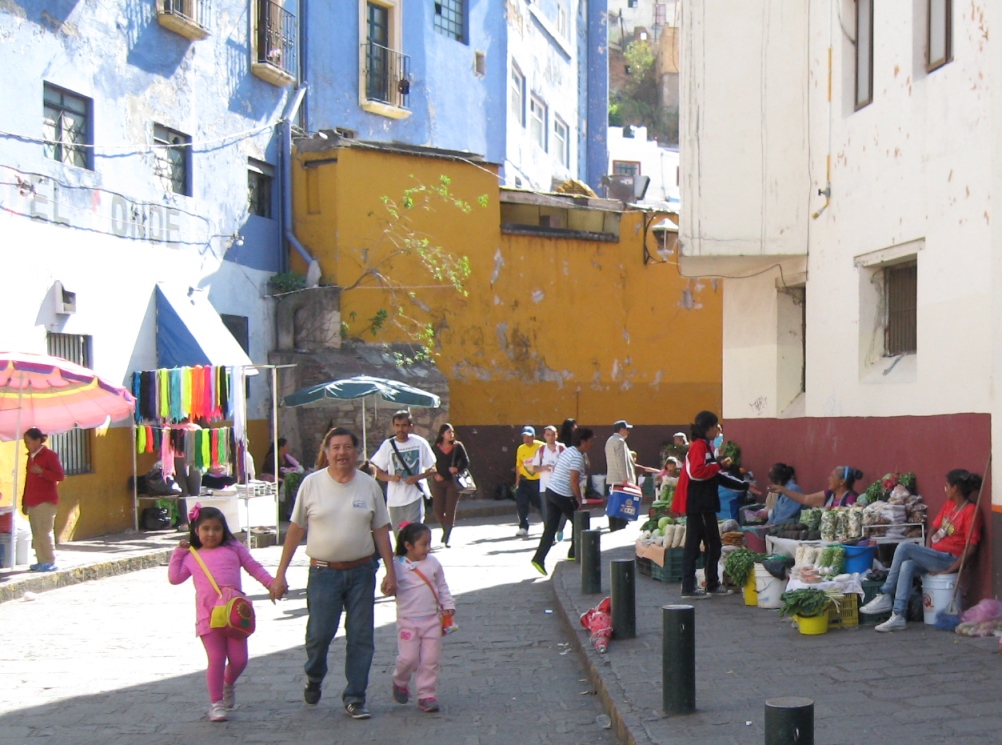 Market street near the Alhondiga.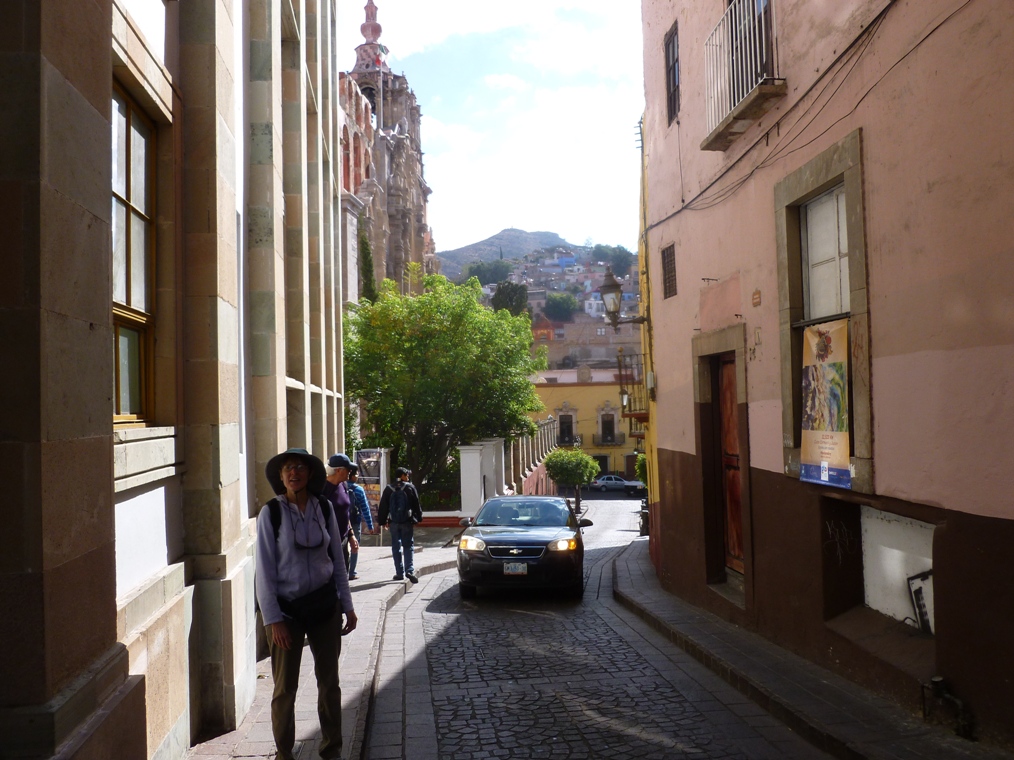 Street near the university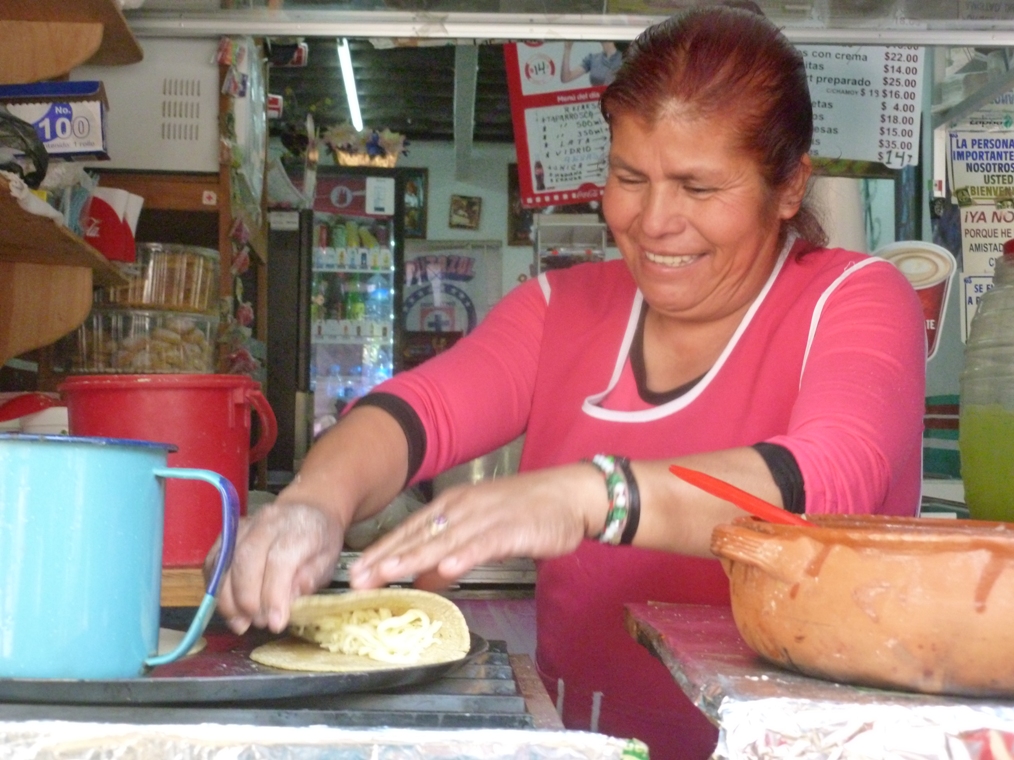 Best lunch in town! La Sauceda in Plaza San Francisco. $1 for a big taco on a made-that-minute tortilla, filled with your choice of ingredients.





Every time I passed this house I heard a symphony of bird song from the cages on the balcony.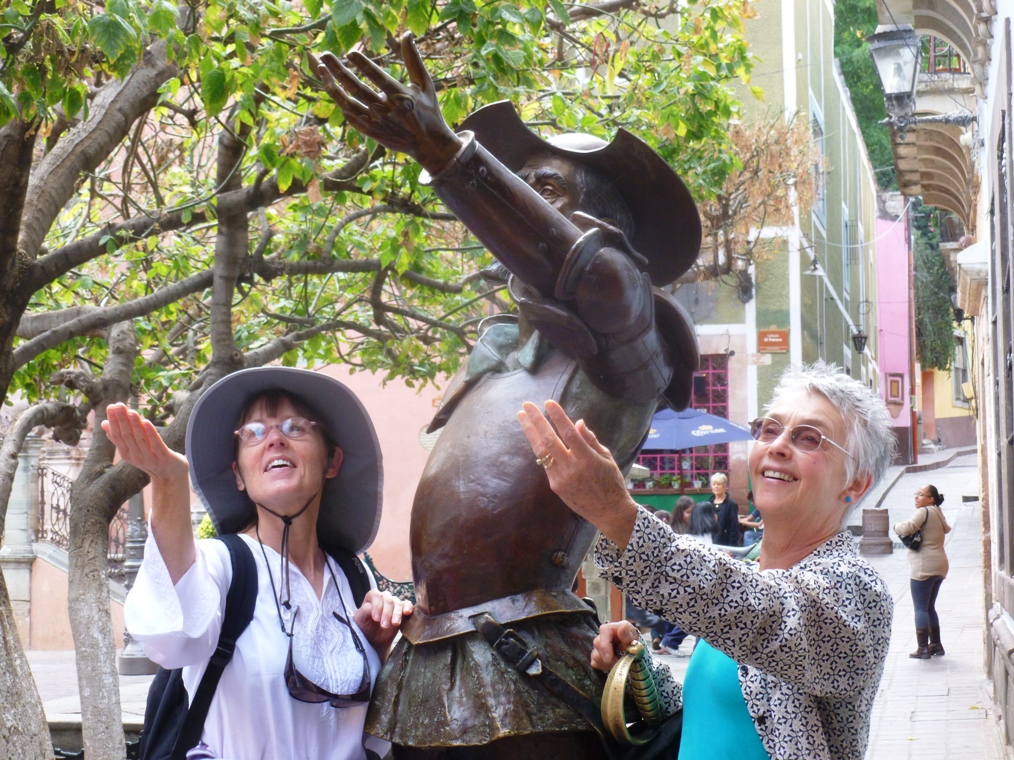 Communing with Don Quixote. Guanajuato is famous for the Cervantino festival, which features music, dance, and art from around the world. The festival began in 1972 as short plays performed by University of Guanajuato students based on the works of Cervantes, author of Don Quixote.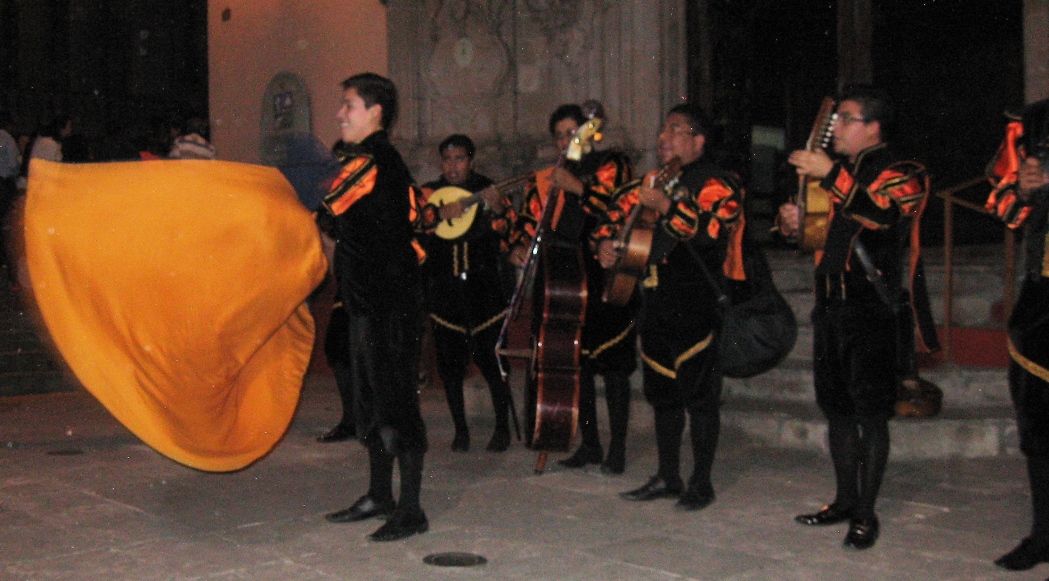 In keeping with the Cervantes theme, student musicians dressed in 17th century costumes conduct nightly "walking serenades," called callejoneadas. For a few dollars you can follow them as they weave their way through the cobblestone streets and narrow alleyways, playing music, singing popular folk songs, and telling stories. You don't need to speak Spanish to enjoy it!





Callejoneadas feature great music and musicians. It was a lot of fun!





Waiting for the bus for a day trip to Dolores Hidalgo, an hour away. Note the truck in the background that says "Bimbo." This is the Mexican brand of Wonder Bread. How apt.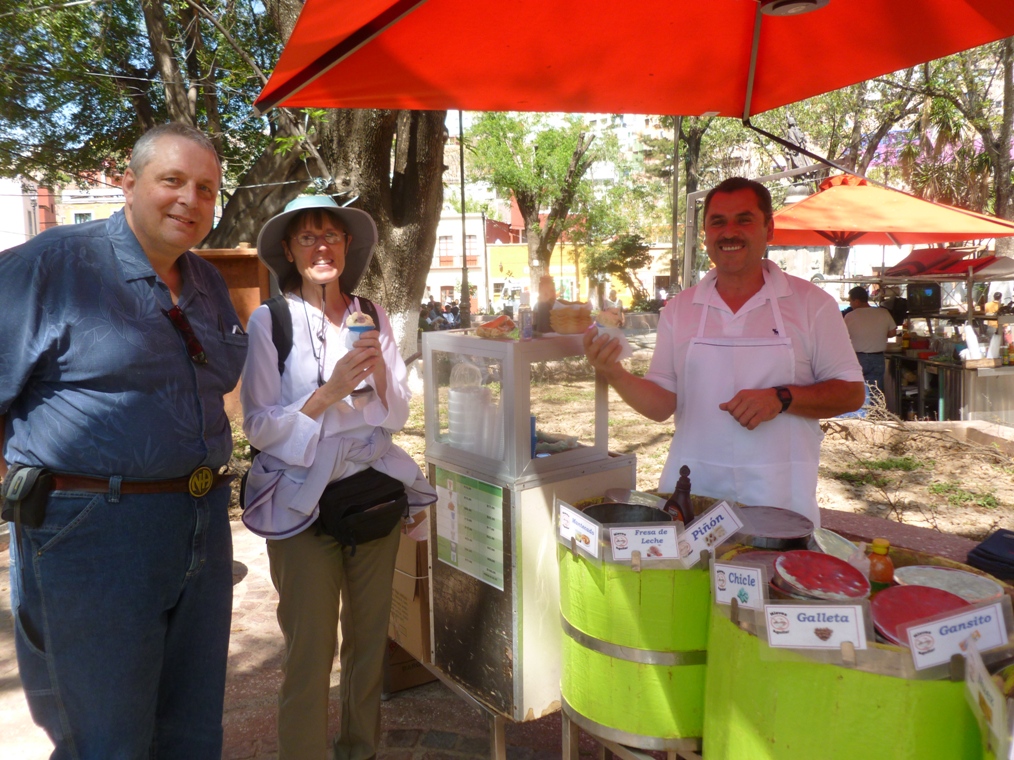 Dolores Hidalgo is famous for several things, and one of them is ice cream.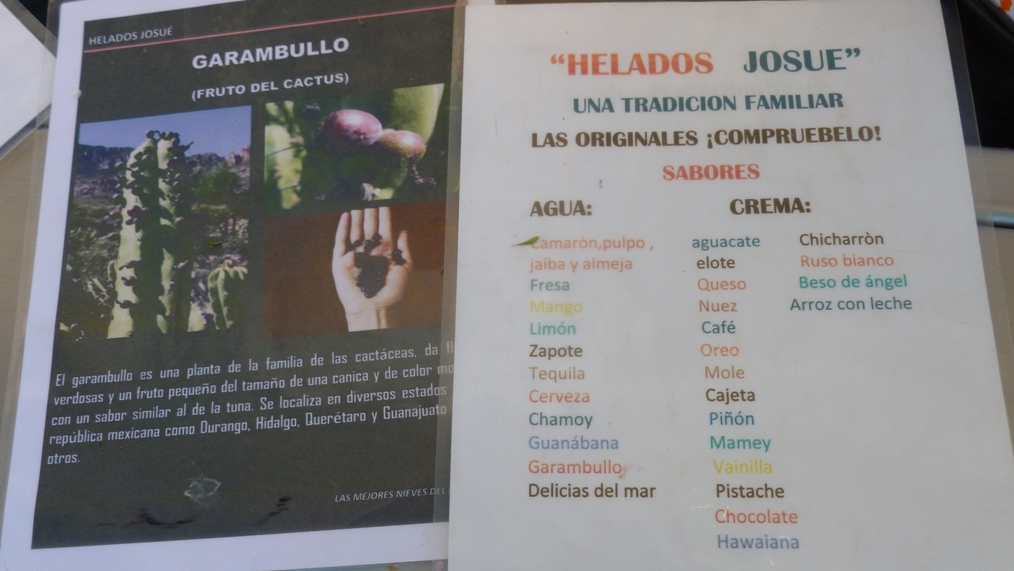 Each vendor makes their own and invents their own flavors. They say you can find over 100 flavors in town. Shrimp, anyone?





The shady central park in Dolores Hidalgo is a cool oasis on warm days.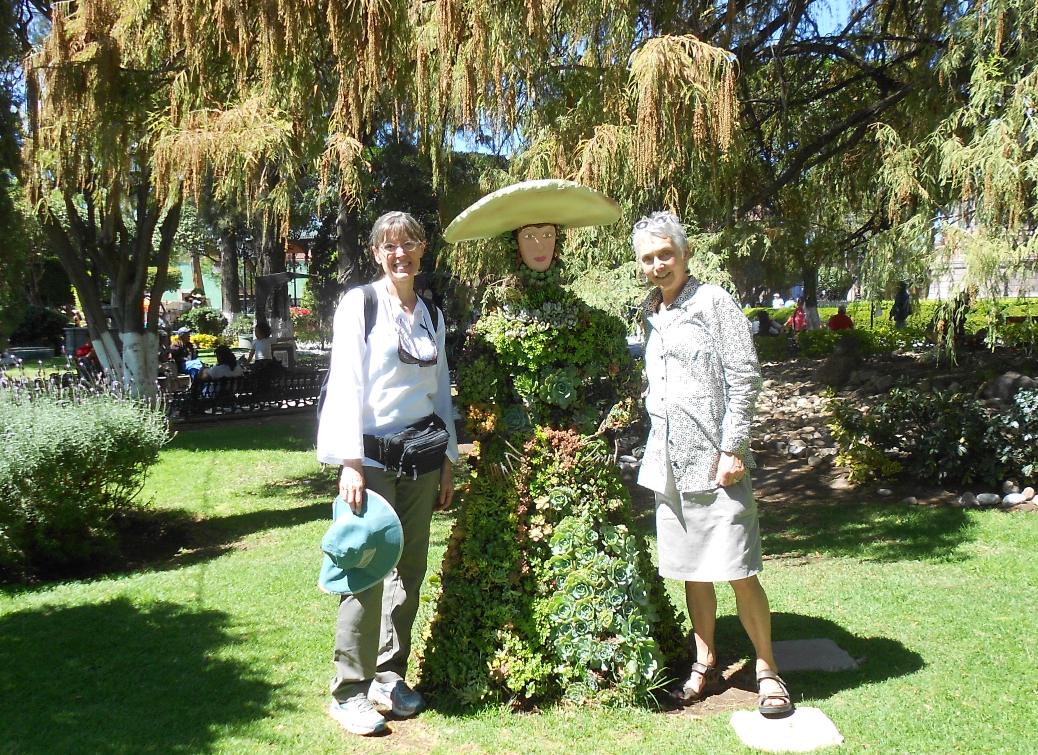 This wire mesh garden lady sports a dress made of succulent plants.





We had lunch at this counter in the market. Delicious homemade stews, beans, rice, tortillas. They reheat whatever you order until it's piping hot, ensuring that it's safe to eat.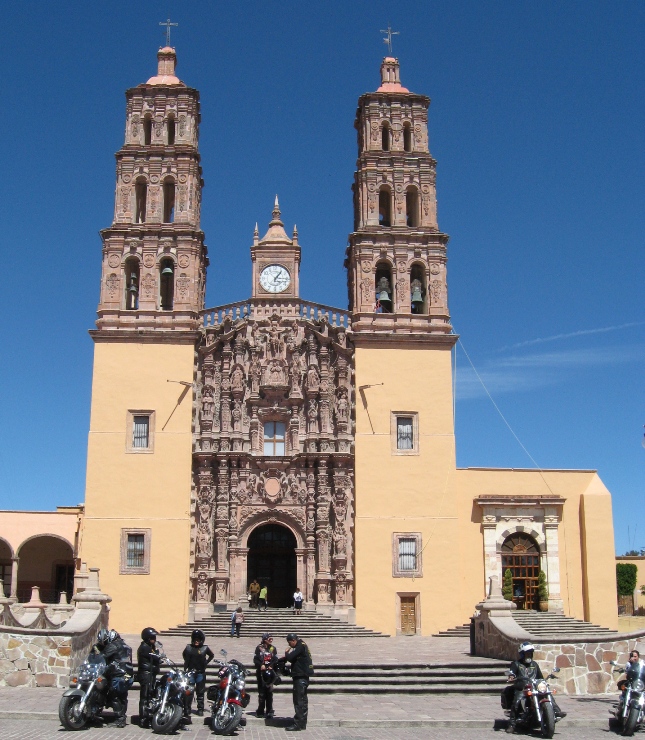 Dolores is also considered the birthplace of Mexican independence. This it the parish church where Father Hidalgo issued his famous "grito" (cry) of independence in 1810.





In another church, we watched this bride and groom walk down the aisle together, preceding their guests.





Dolores is also known for ceramics. Each family has their own items and designs.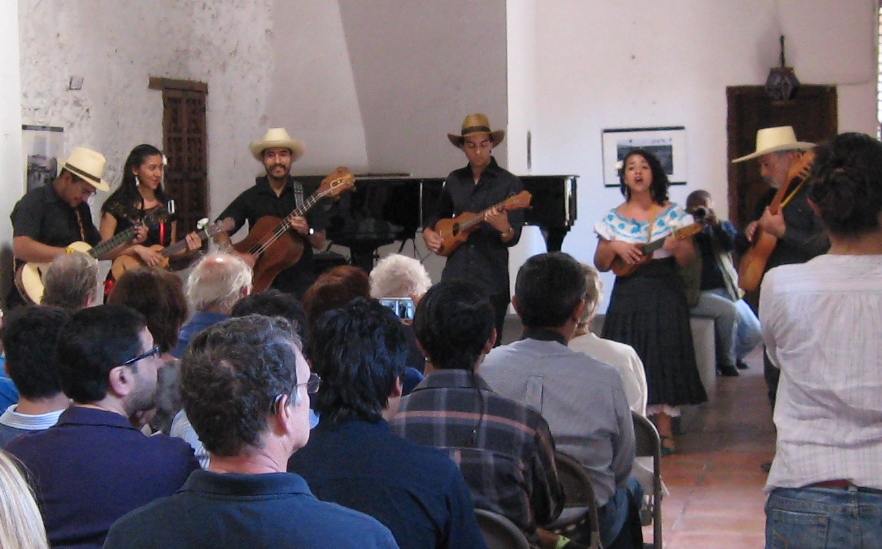 Back in Guanajuato, we attended a wonderful folk music concert at the Gene Byron museum. The band is Los Arribeños, and they play Jarocho, a delightful blend of African, Spanish, and indigenous Mexican music from Veracruz.





We loved the gardens at the Exhacienda San Gabriel De Barrera, near Guanajuato.





There are over a dozen gardens on the estate, each one with a different theme.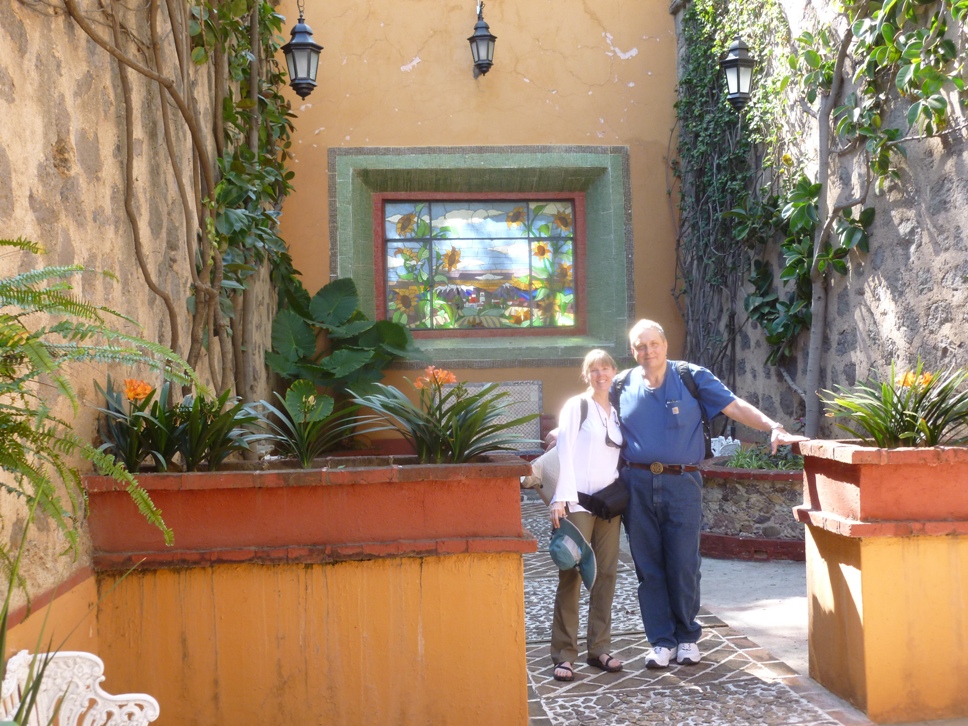 This enclosed garden features high walls and a stained glass window.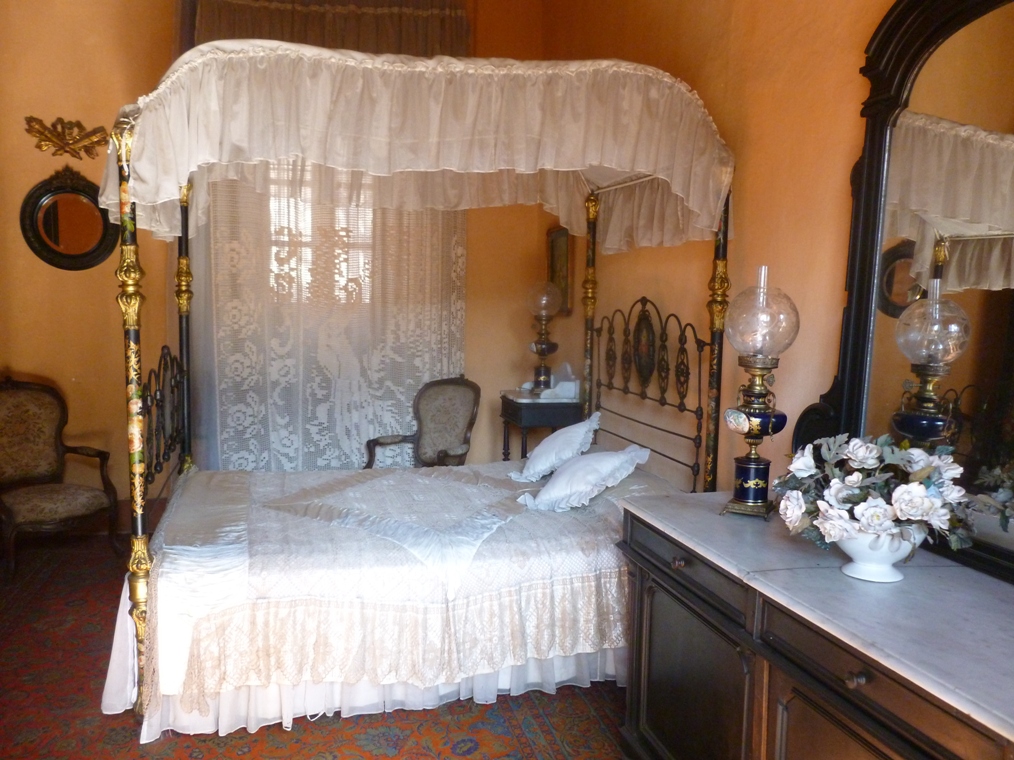 Built at the end of the 17th century, this was the estate of a wealthy mining family. The original furnishings have been preserved.





Exhacienda San Gabriel De Barrera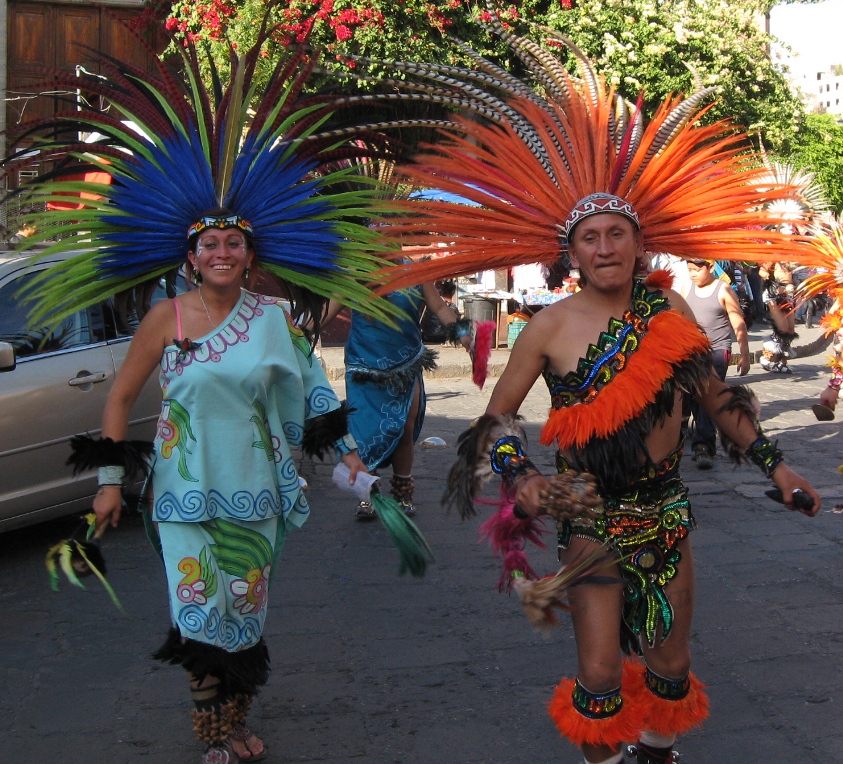 Mexicans love parades. One day we happened upon this one.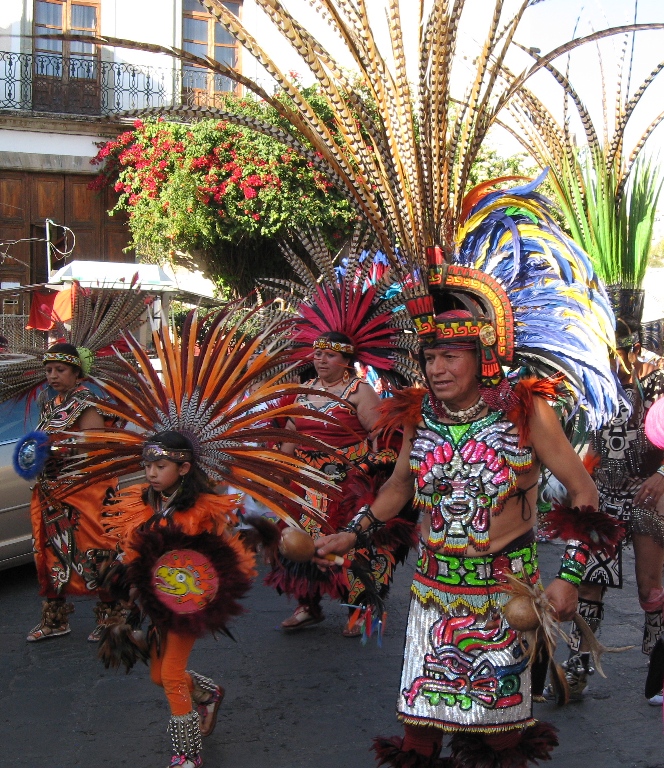 It featured Aztec dancers,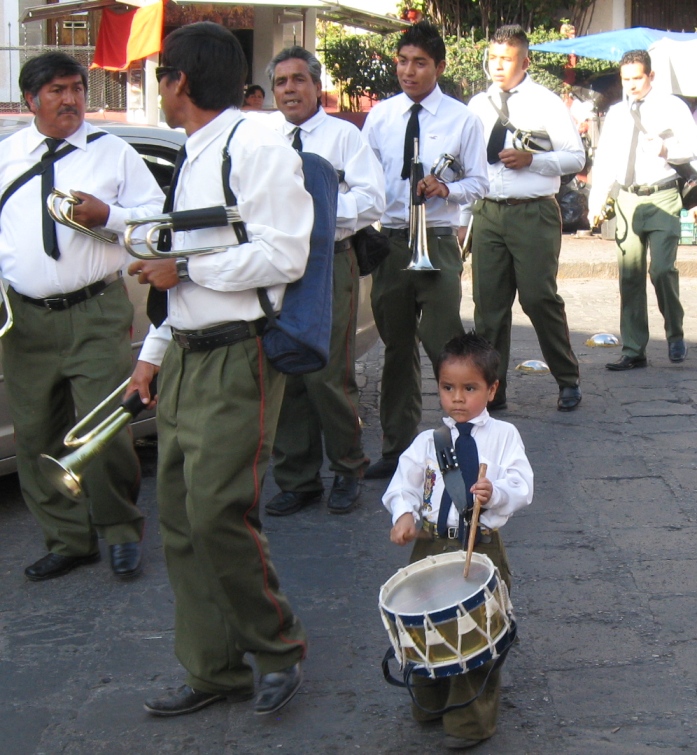 drummers,





and costumed revelers.





Typical street food vendors. As long as the food is hot, it's safe to eat.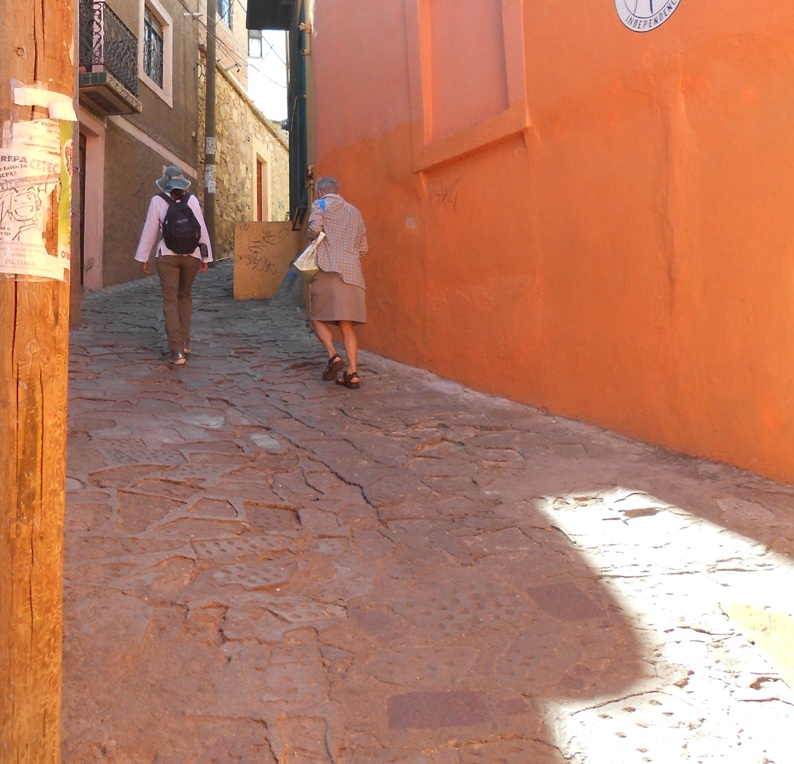 A shortcut to the hacienda.





This friendly artist made beautiful copper and pewter lamps. Love the dimples. I have no idea where he got that sweatshirt.





Mexico is so colorful. (photo credit Mary Preus)





The La Valencia mine on the outskirts of town. For years it was one of the richest and most productive silver mines in the world. The mines were fortified and inside the walls were like little cities.





The mouth of the San Ramon mine, part of the Valenciana complex.





You can walk down steps to a depth of 60 meters. I shouldn't be smiling. Miners were effectively slaves. In this mine, they carried the rock up the steps on their backs.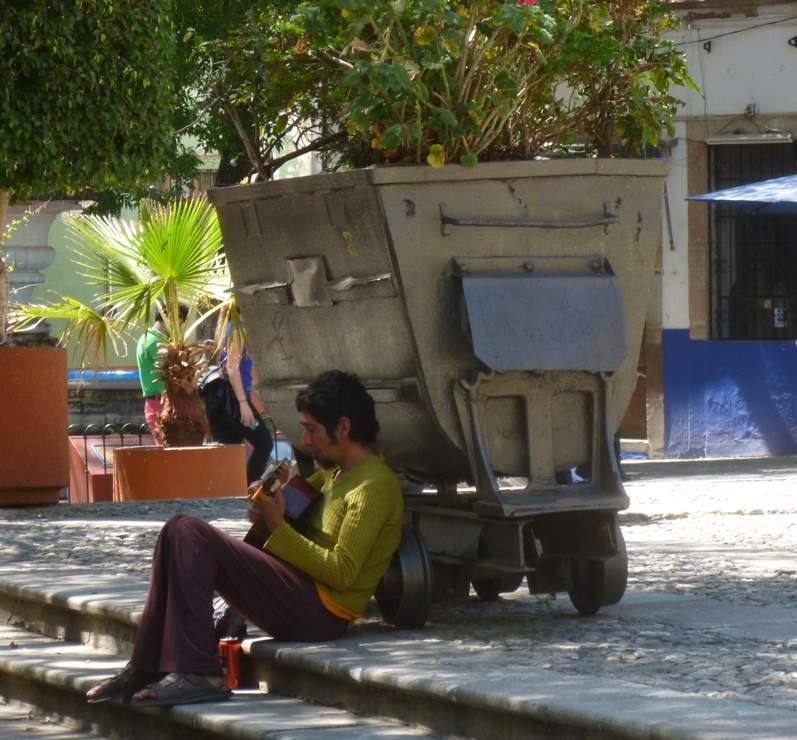 A mining car planter in one of Guanajuato's plazas. (photo credit Mary Preus)





Rotisserie chicken takeout!





Grant and Mary cooking in the hacienda kitchen





It was wonderful having a kitchen and being able to shop at the market. (Note the locally-made pottery.)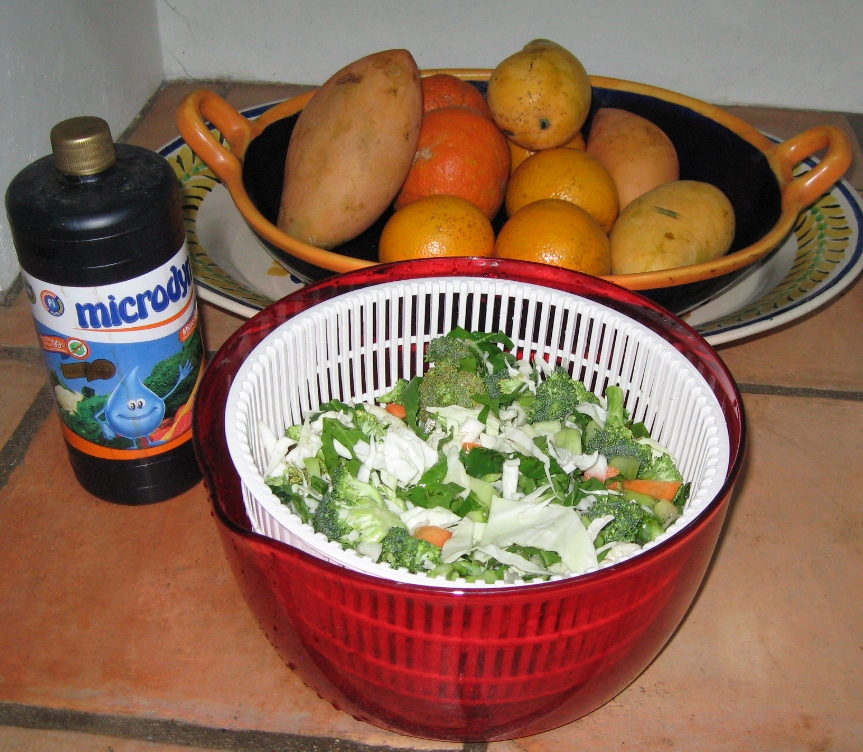 Still life with Microdyne. Vegetables are safe to eat if you soak them in an iodine solution for 10 minutes. This chopped vegetable mix is available in the market and works great for stir fry.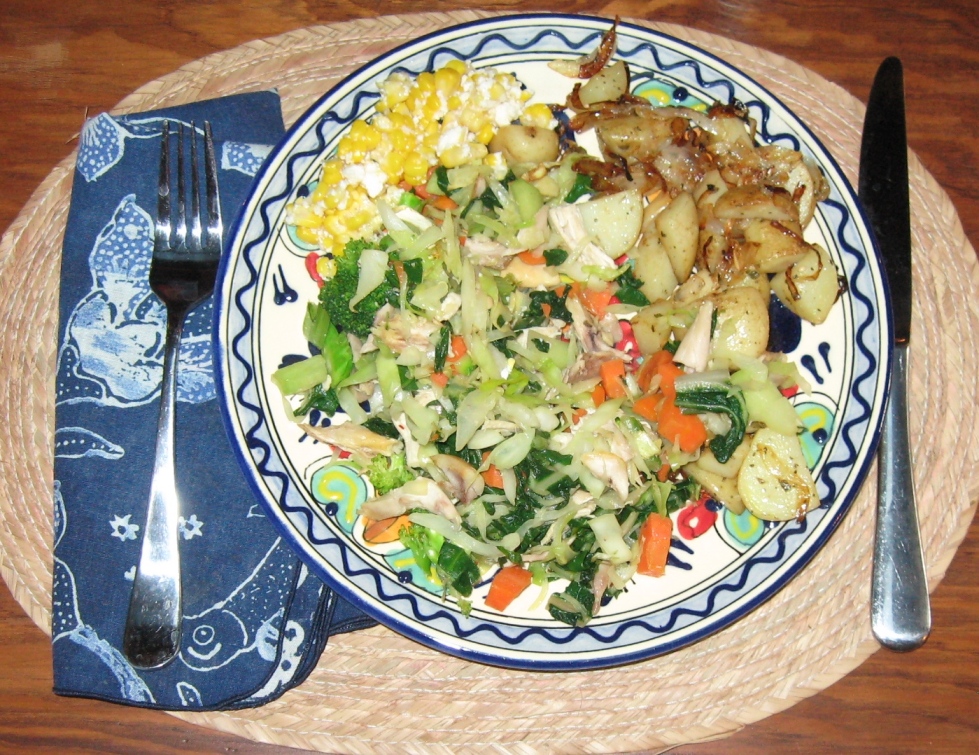 Stir fry, potatoes, and corn.





One night we took our hosts, Hank and Anna, out to dinner.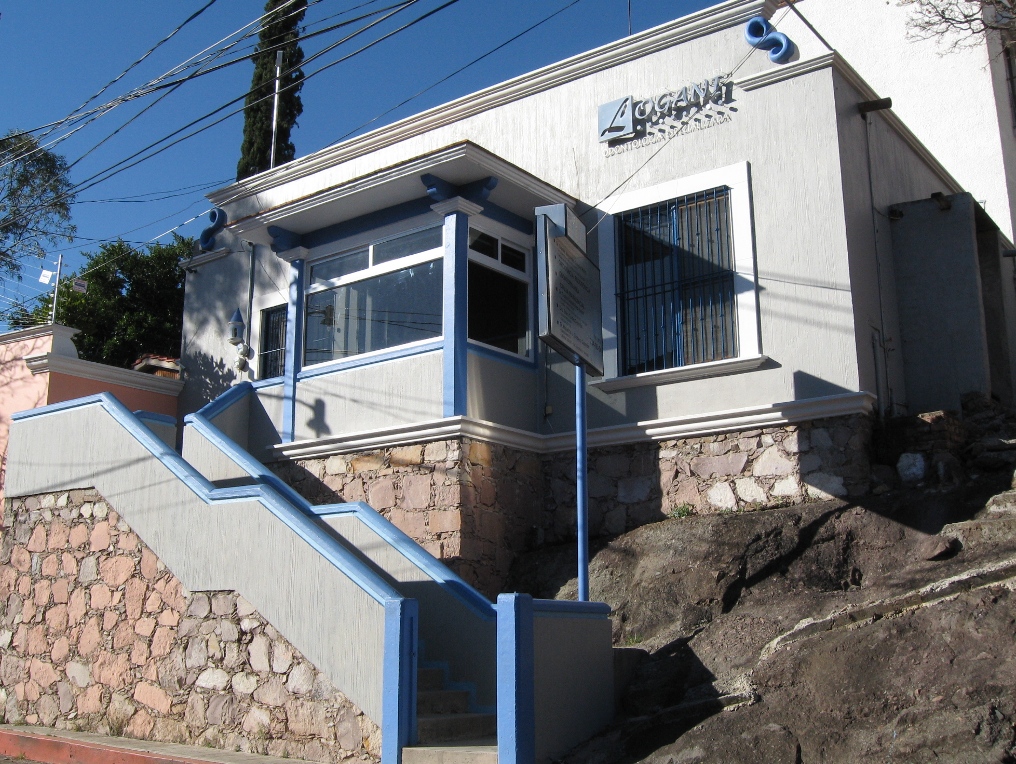 And no trip to Mexico would be complete without some affordable dental work.





Grant had a root canal done here for $260. He was very happy with the work, and with the endodontist.



---
Oaxaca
Mexico's southern state of Oaxaca is known for its indigenous people, culture, and crafts. The mile-high capital city, also called Oaxaca, is a bit more touristy than Guanajuato, but most of the tourists are Mexican, and the vendors aren't pushy.


A five-hour bus ride got us to Mexico City's clean, modern north terminal at noon. From there we caught this bus to Oaxaca City (6-7 hours). Mexico's long distance buses are clean, comfortable, on time, and inexpensive.





The Southern Mexico scenery was beautiful. First we crossed through pine-covered mountains, and then came down through a lush desert filled with Joshua trees, juniper, and cactus.





Green fields in February





The Hotel Maela, recommended by a friend, had a great location.





At $51 a night it was very clean, and had plenty of hot water, AC, and a ceiling fan.





The restaurant in front of the hotel.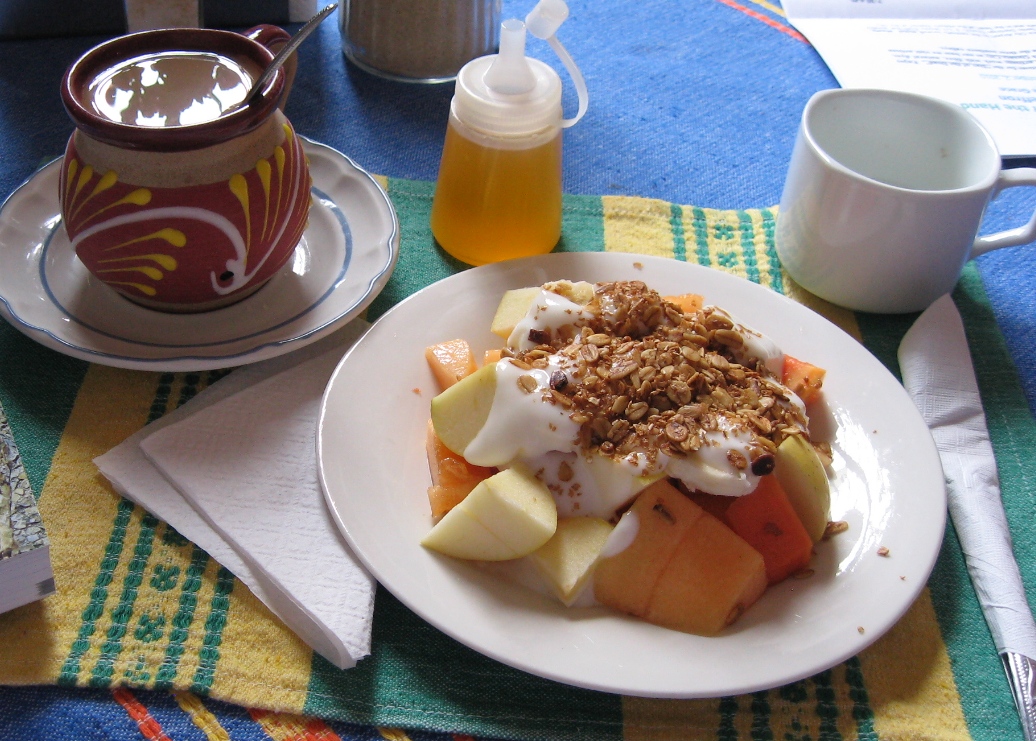 For breakfasts I had a big plate of fruit, yogurt, and granola for $1.50.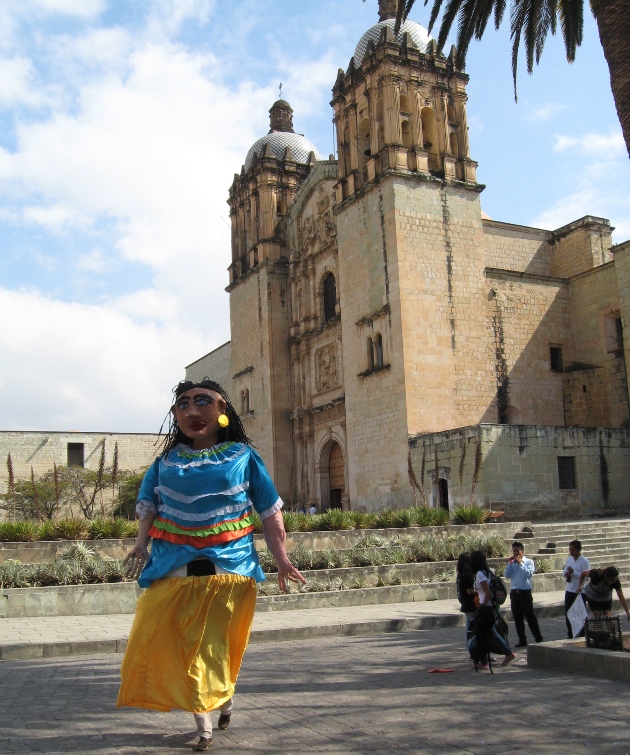 The Santo Domingo church was just a block from our hotel. The giant puppet is called a mojiganga, and they are popular in local parades.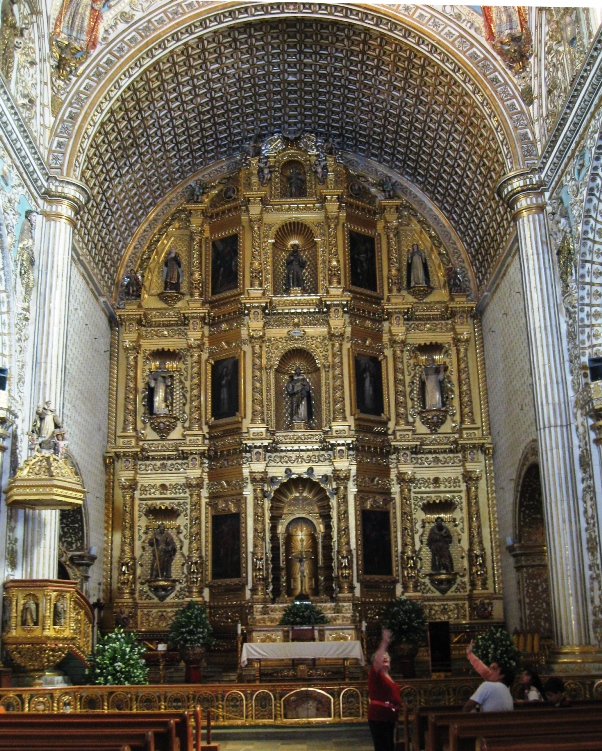 Called "Oaxaca's most brilliantly decorated church," the interior of Santo Domingo is a riot of white and yellow gold leaf.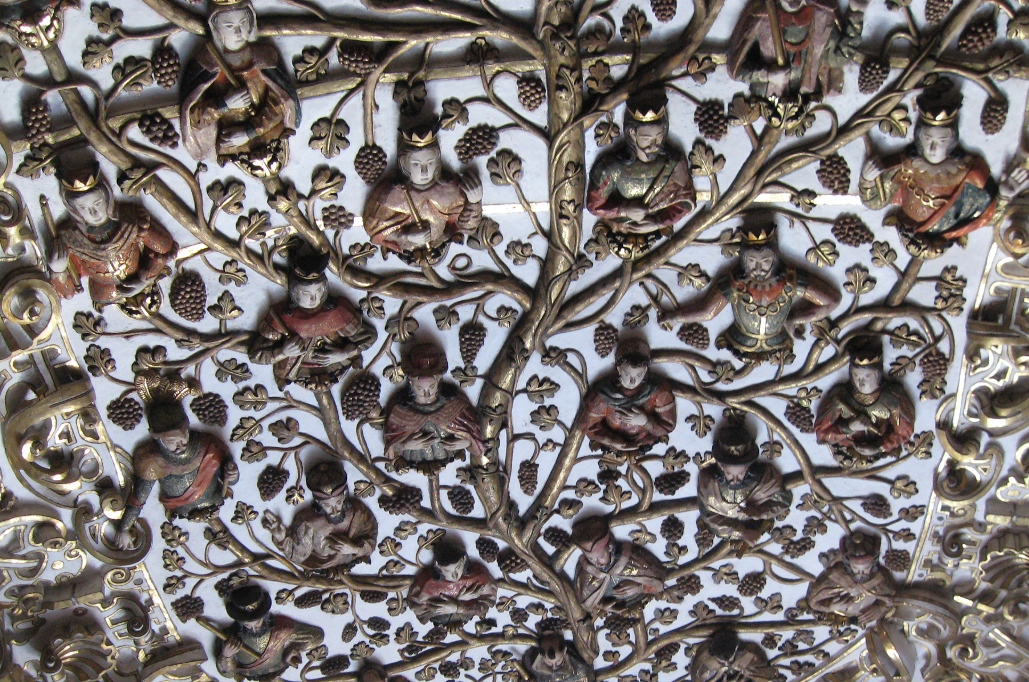 Plasterwork on the the church ceiling depicts the family tree of St. Dominic, founder of the Dominican order of monks.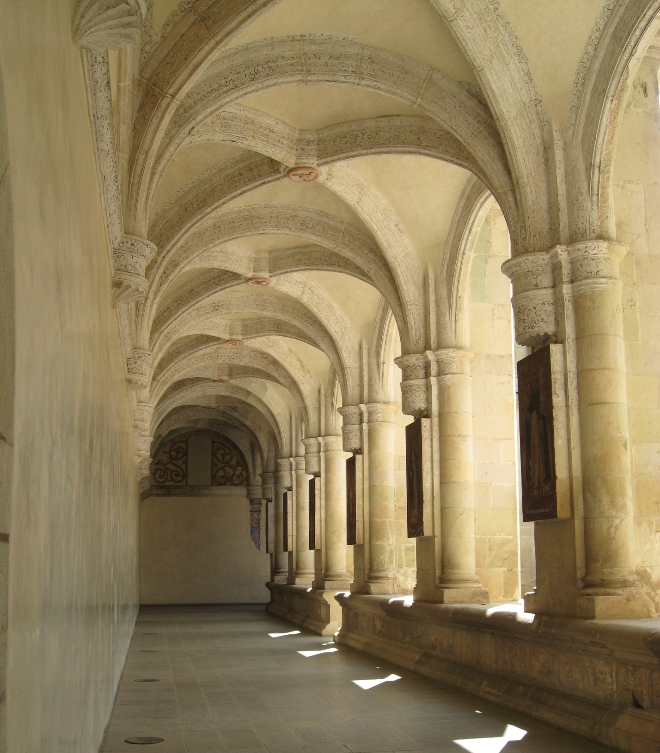 The Oaxacan Cultures Museum is in the beautifully-restored old convent of the Dominican order, next to the church of Santo Domingo. Even if you aren't big on museums, this one shouldn't be missed.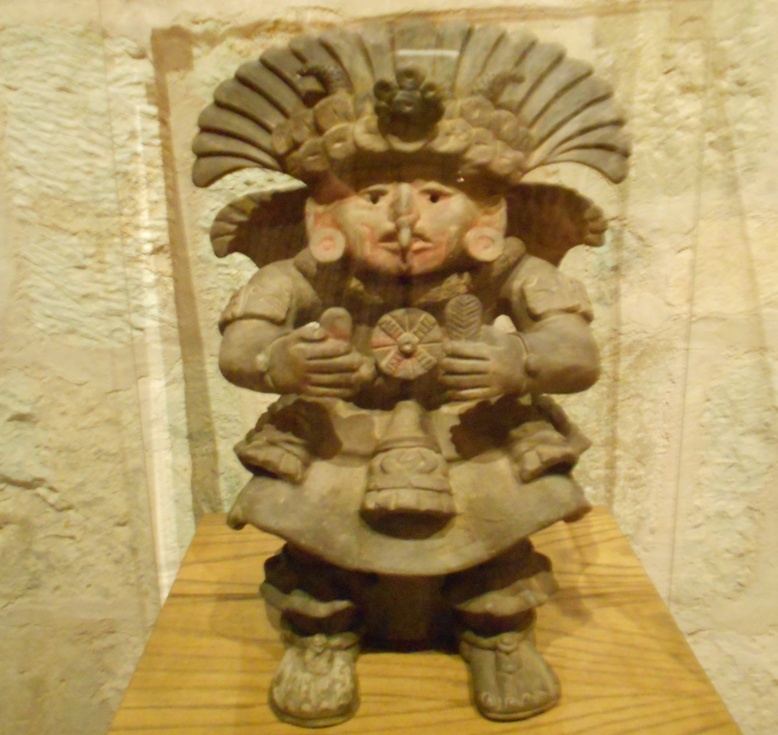 The museum includes a collection of ancient ceramic funerary urns.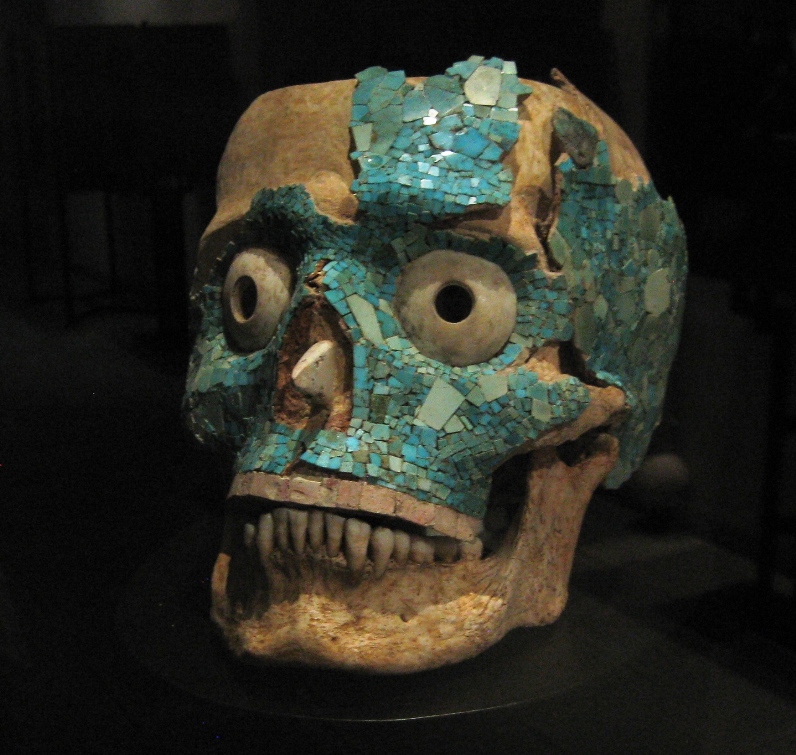 This turquoise-covered skull is one of the treasures found in a tomb at Monte Alban.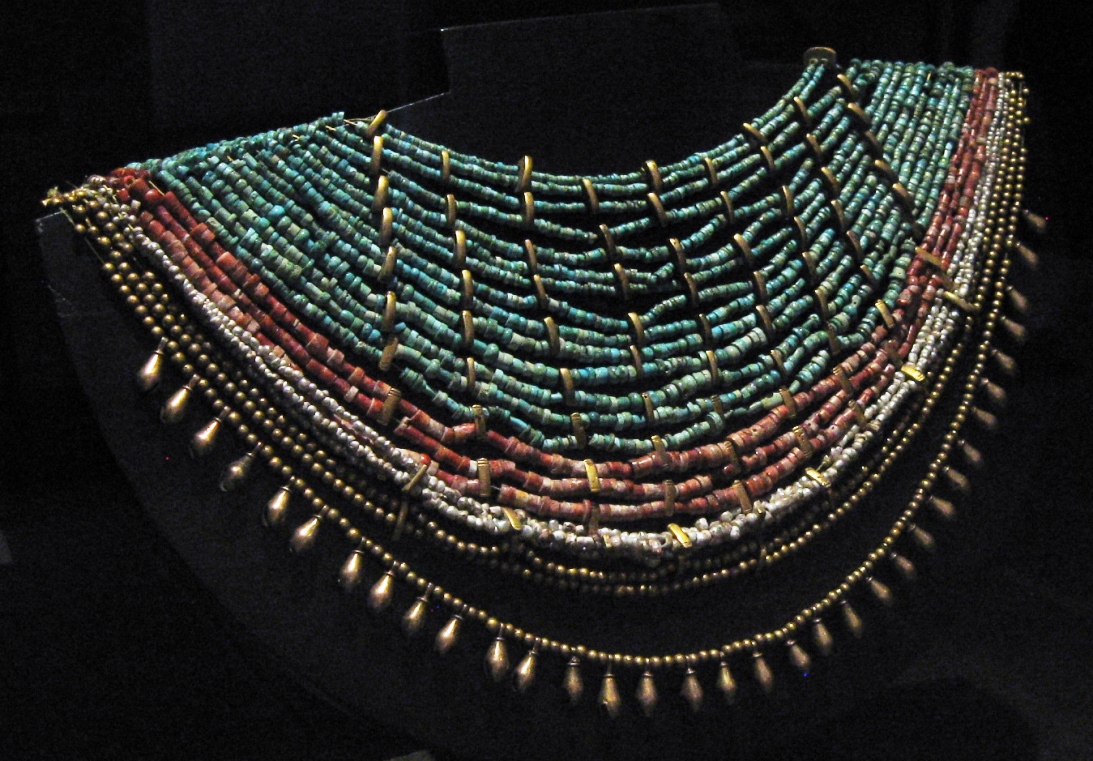 One of the many necklaces on display in the museum, from a tomb at Monte Alban.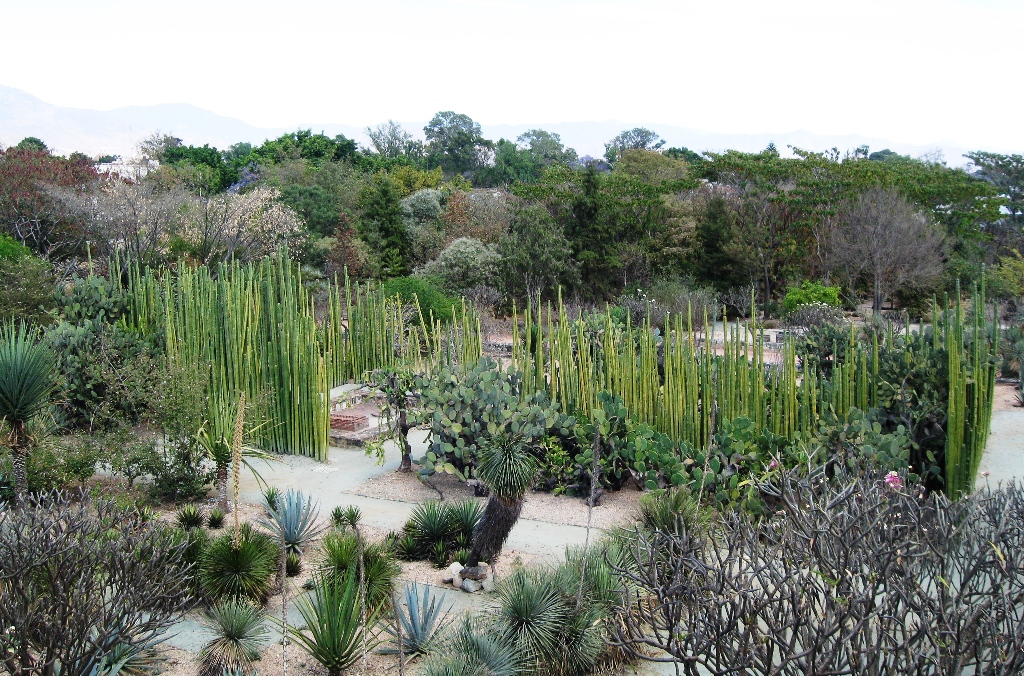 The adjacent ethnobotonical garden can only be entered on a tour. English tours are only offered once a week, and last two hours, so we contented ourselves with this view from the museum.





A pedestrian street runs past Santo Domingo church and down to the zocalo, or main square, of the city.





Parque Labastida is one of many pleasant places to hang out in the city.





The Oaxaca Cathedral behind a wall of vendors in the adjacent zocalo.





The zocalo is packed with vendors (we took to calling it the "zoocalo"). We bought a wooden spoon from this carver.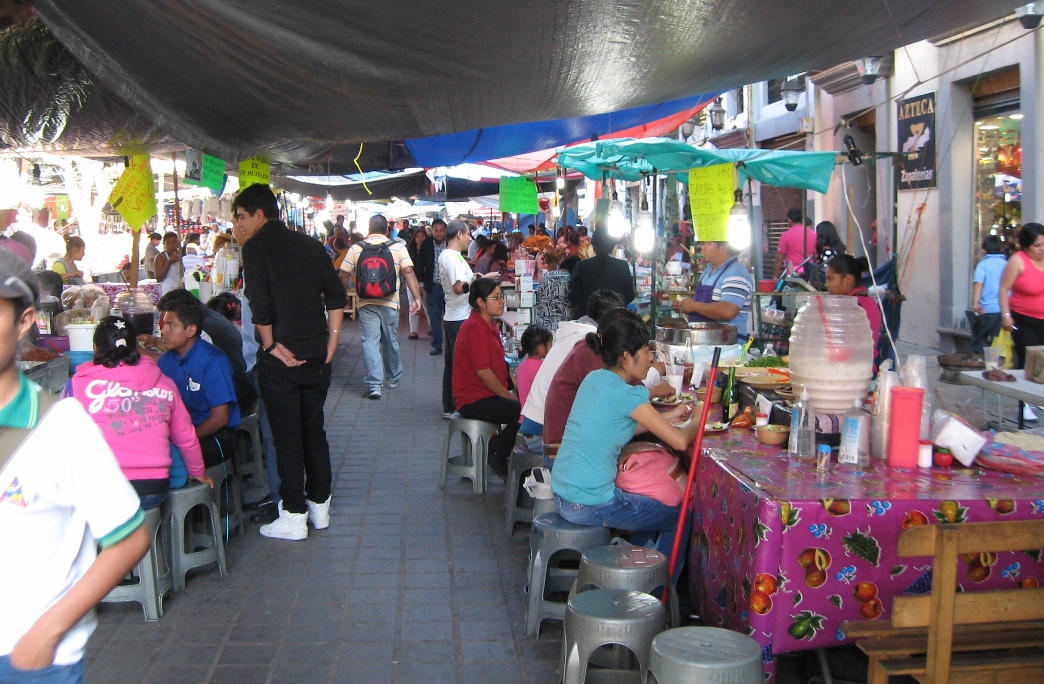 Tarps and tables in the zocalo.





The center of the zocalo, and the surrounding streets, were a "tent city" of protesters calling for the release of political prisoners.





Zocalo music vendors blast tunes, hoping to entice buyers. We bought this CD.





South of the zocalo are the Juarez and 20 November markets, where you can find dried grasshoppers, tossed with chili or lime juice. They tasted fine, but were not as crunchy as we expected.





A pedal-powered knife sharpener





Tree blossoms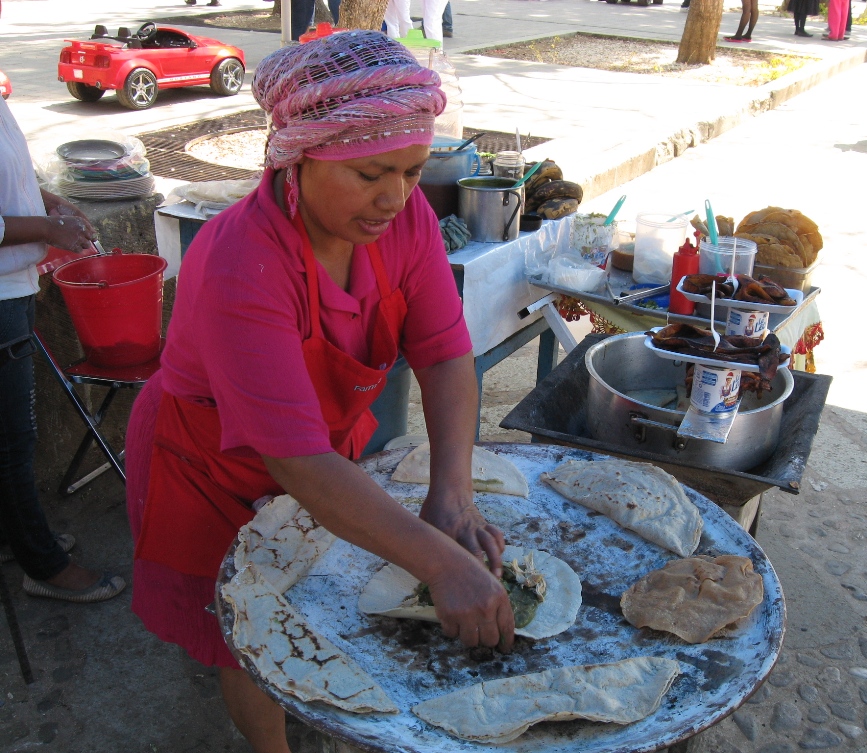 Empanadas are large corn tortillas filled with this or that, folded over, and toasted on a hot griddle over a charcoal fire. This one has cheese, chicken, and mole verde, a sauce made with fresh herbs.





Market day in Parque Juarez includes kiddie car rentals.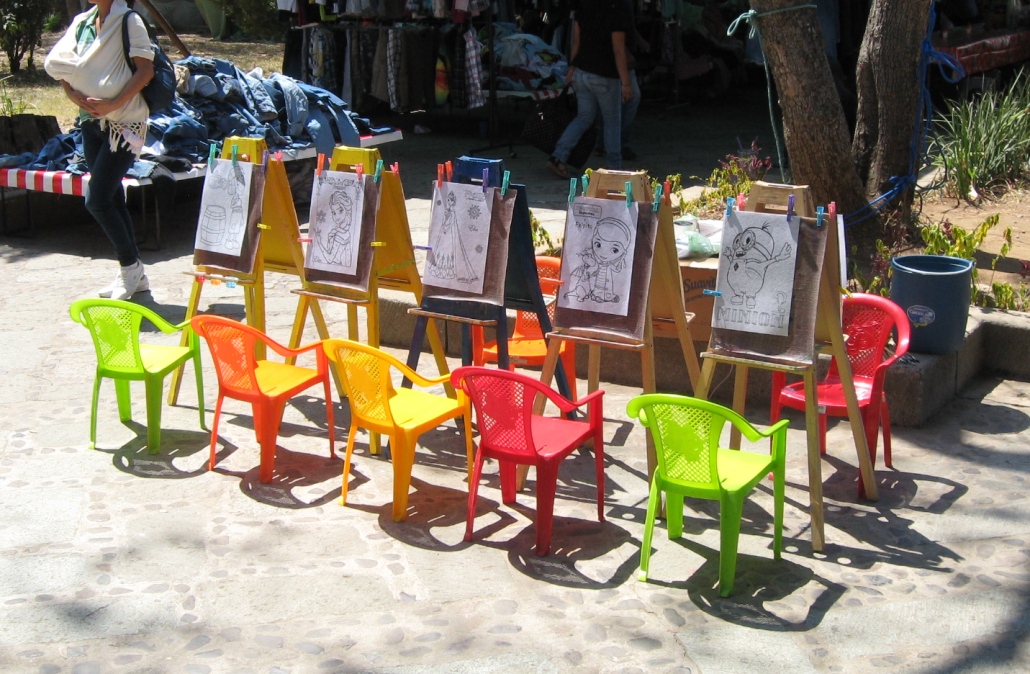 Or you can park the kiddos at an easel for a while.





School girls on lunch break in Parque Juarez





Parque Juarez





Spicy nuts for sale. There are so many yummy-looking things you can't eat because gringo intestines are wimpy.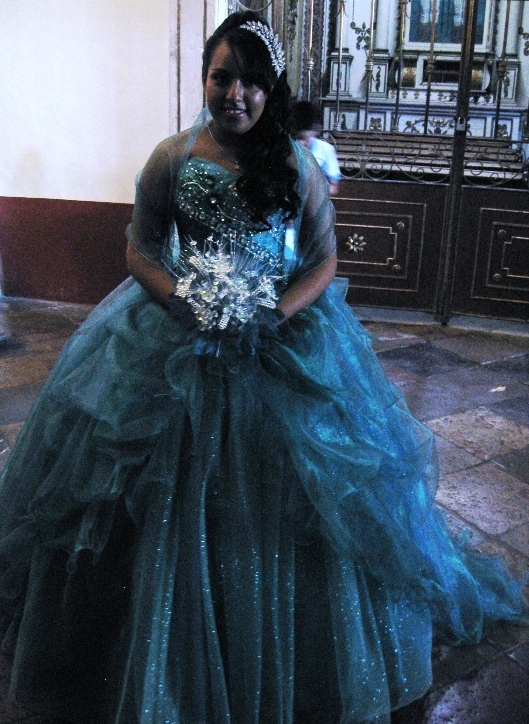 A young woman in a church for her 15th birthday mass. Turning 15 is a big deal in Latin American culture. Families that can afford it celebrate with a "quinceañera," an elaborate series of events that are like a combination of debutante ball and coming of age ceremony.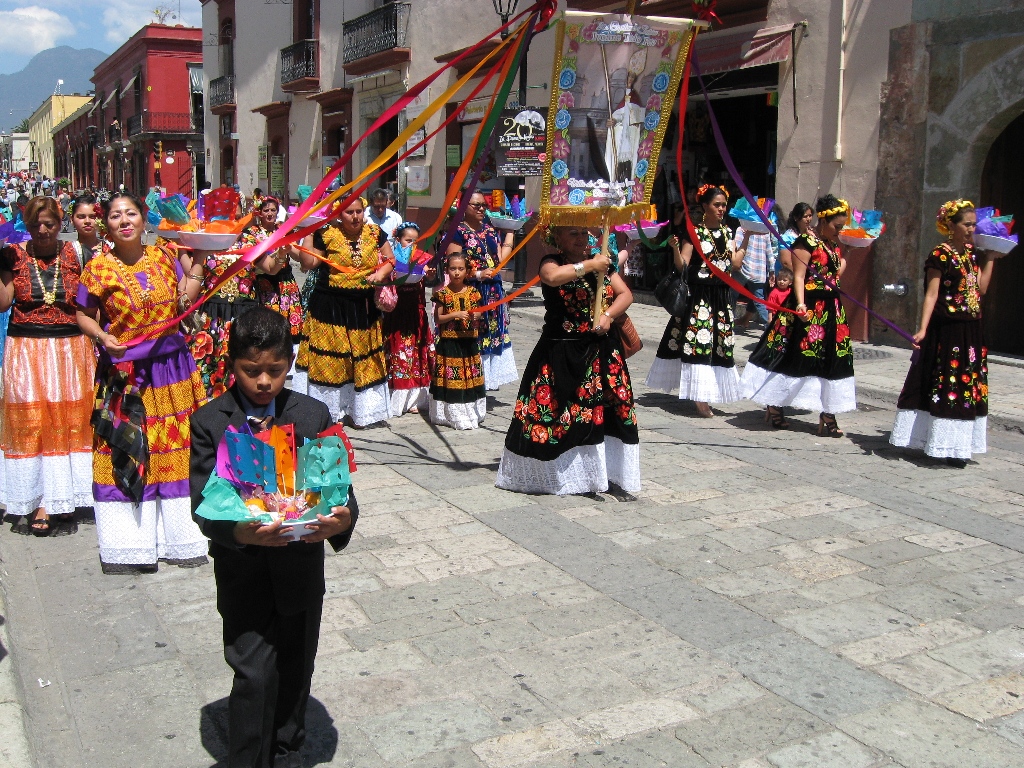 Another parade featured women in traditional Oaxacan embroidered dresses.





Tin mirrors for sale at an artist's cooperative.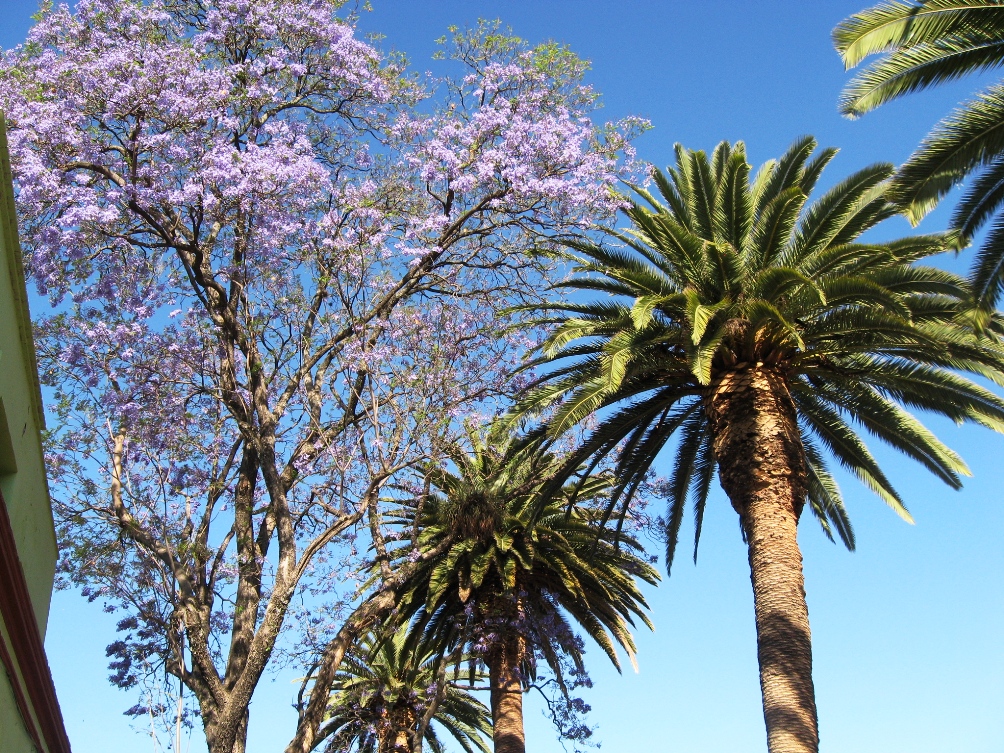 The purple jacaranda trees - my favorite - were all in bloom.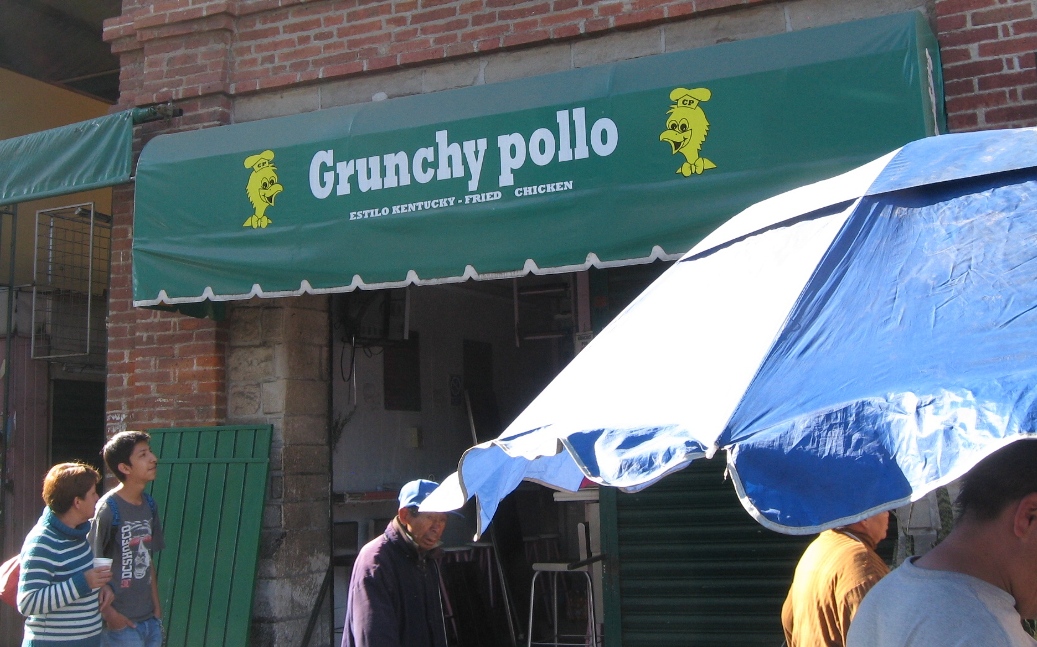 This shop offered "Grunchy" chicken, "Kentucky Fried Chicken style."





Bulk foods store





This market stall sells dozens of kinds of dried chiles.





For the amazingly low price of $14 each we joined an all-day tour in a small van with eight Spanish-speaking tourists and a bilingual guide. Our first stop was El Tule, a charming town with an enormous Montezuma cypress tree that is one of the oldest and largest trees in the world.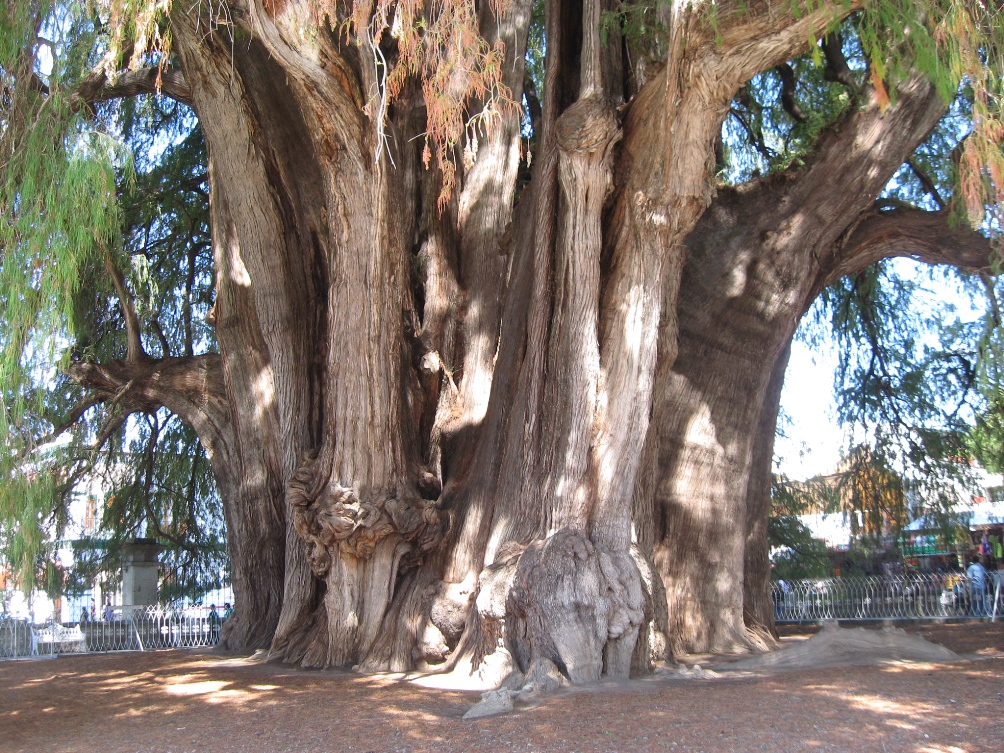 El Tule tree





Our next stop was Casa Vasquez rug weavers in Teotitlán del Valle, a small town about 20 miles from Oaxaca City that is known for handwoven wool rugs made with natural dyes. The excellent presenter showed us how they create each dye color.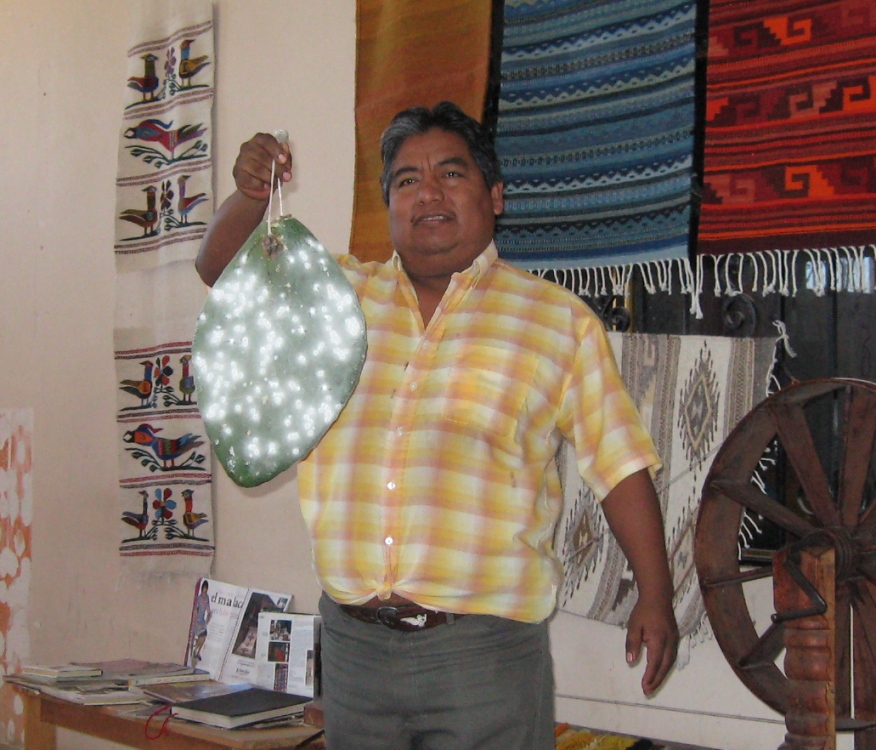 The white spots are clusters of tiny cochineal insects (related to aphids). They live on prickly pear cactus, and when dried and crushed, produce scarlet-red dye. This discovery brought much wealth to the Spaniards, and brought the color red to Europe's royal garments.





Rugs are woven on traditional looms and are extremely labor intensive to make.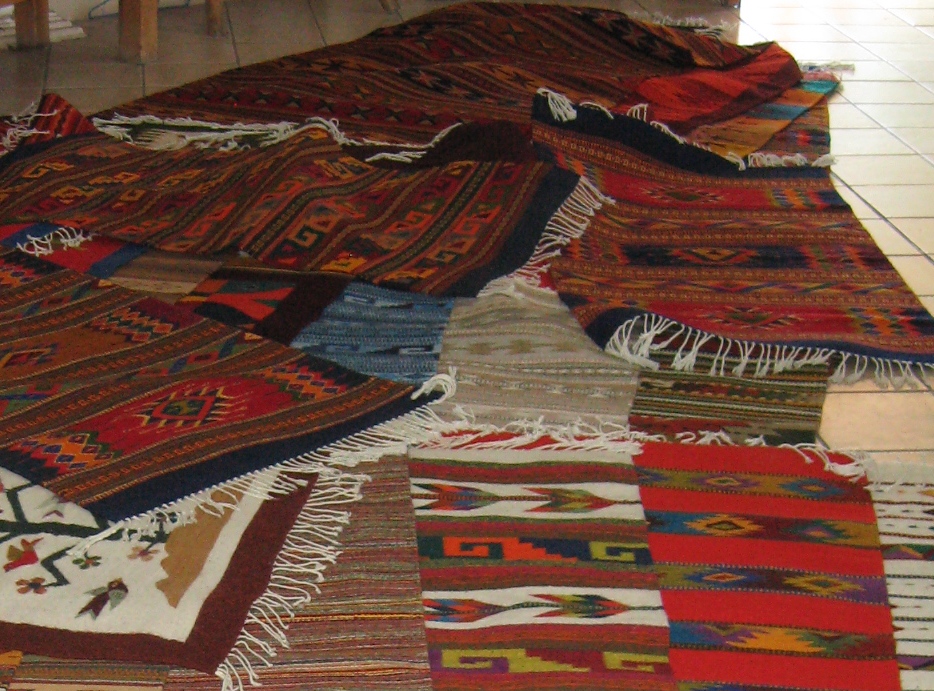 Each design tells a story. Which rug would you choose?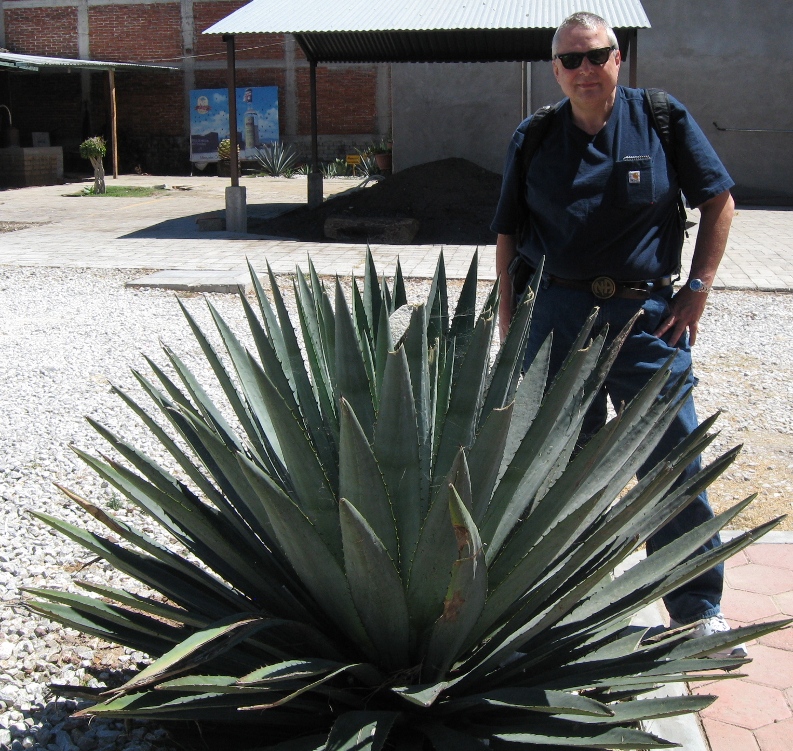 Our next stop was a Mezcal factory. Although we don't drink, we found it very interesting. This is a sword agave, the most common type used for mezcal, because it can be cultivated.





After eight years, the leaves are chopped off and the agave "heart" is roasted.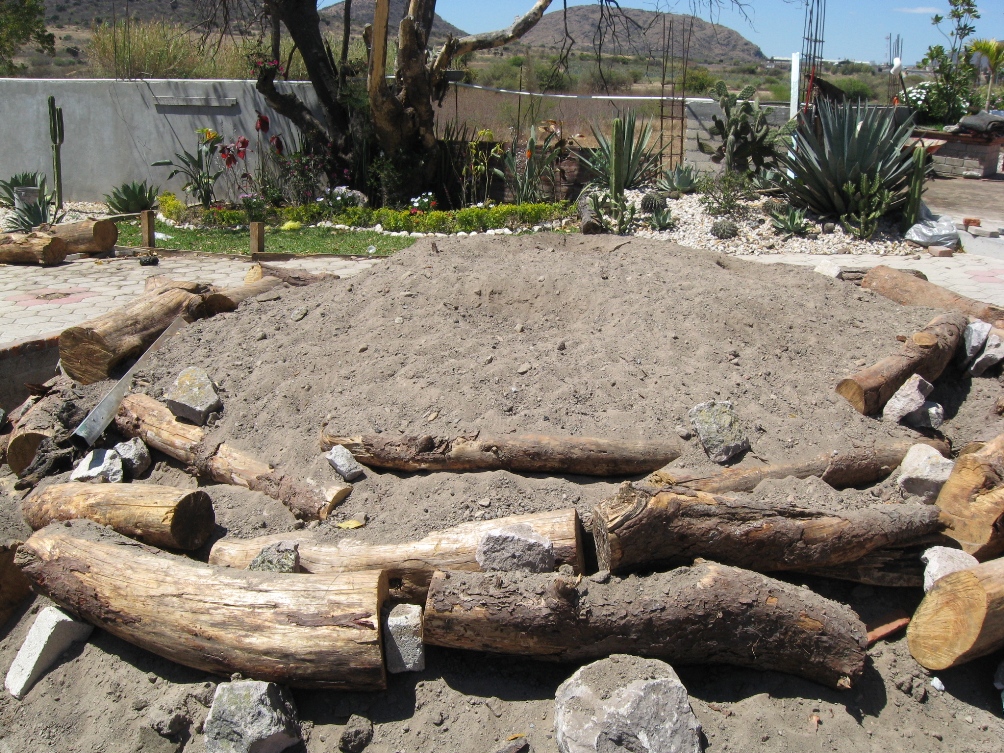 Agave hearts are roasting on a bed of coals under this pile of dirt.





They pull the stone around with a horse to crush the roasted agaves.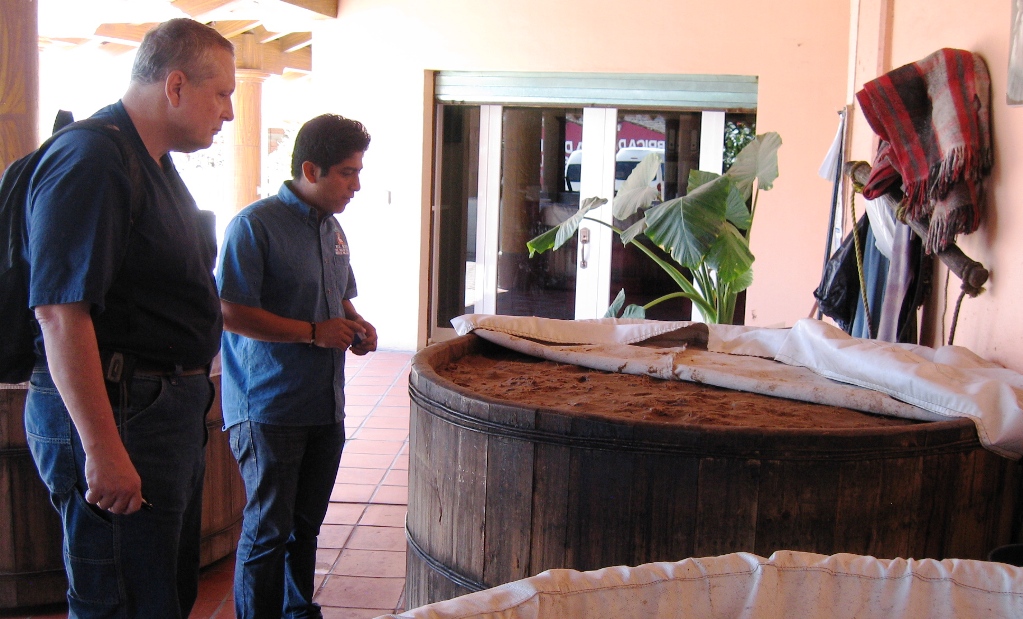 The ground agave ferments and is then distilled twice.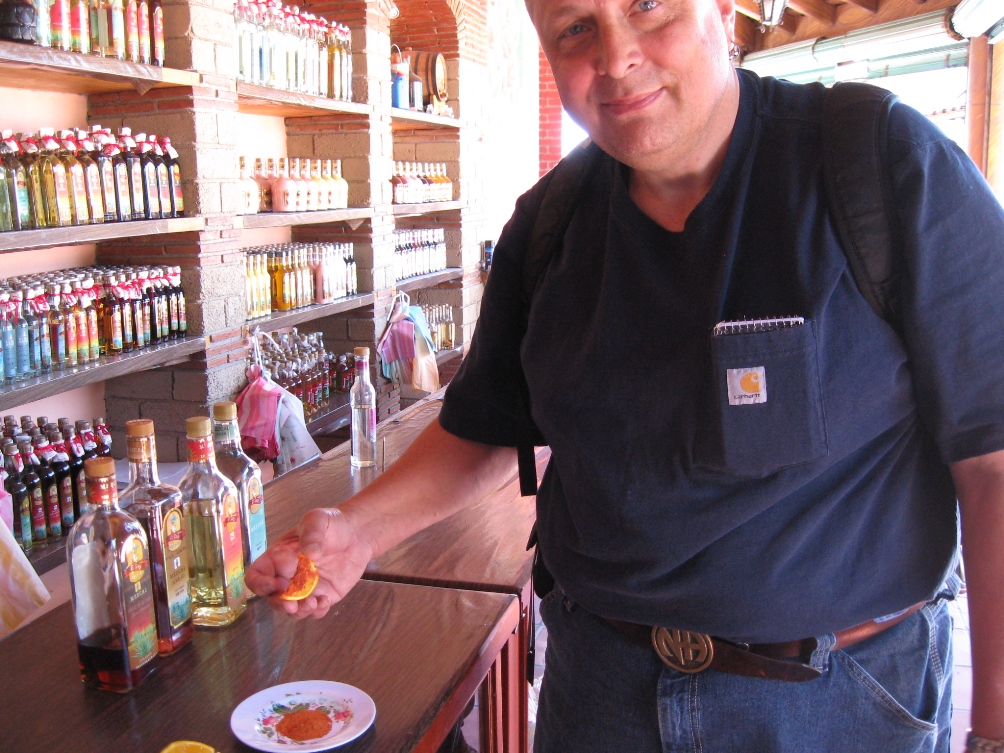 Mezcal is often chased with sliced oranges and chili salt (sometimes with dried agave worms ground in). Grant tried the chaser without the mezcal and pronounced it "intense." They say that Mezcal is similar to tequila, but different.





Agave is a principal crop in Oaxaca, in addition to corn and beans.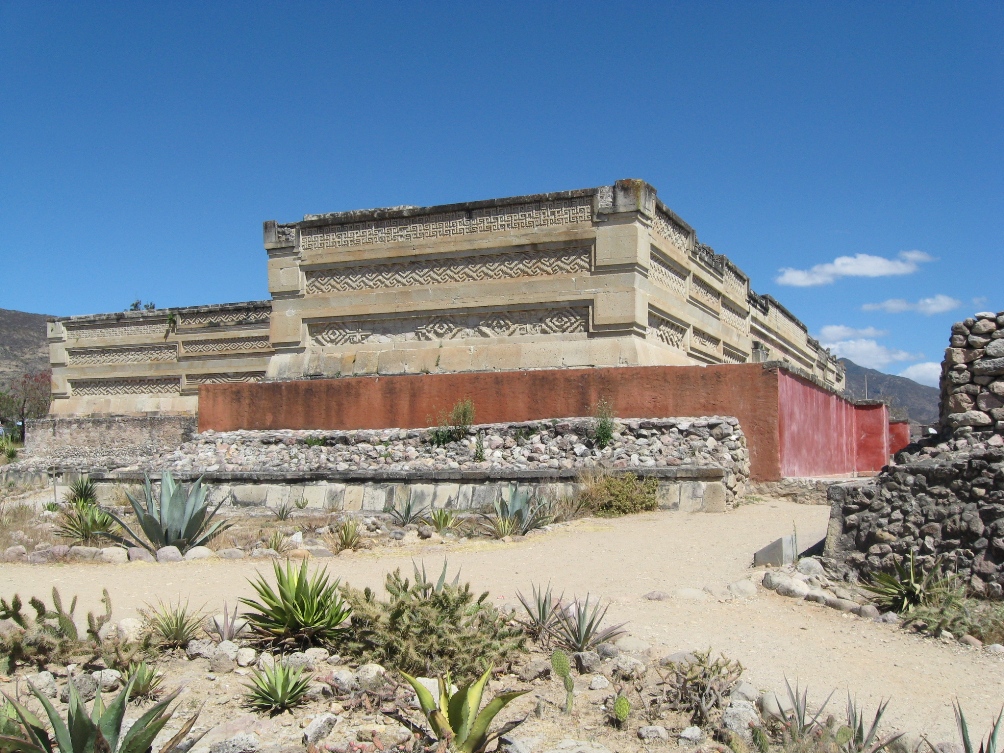 About 30 miles from Oaxaca City we next came to the exquisite ruins of Mitla, the main religious center of the Zapotec culture. This was a "city of the dead," where people with wealth or status were buried.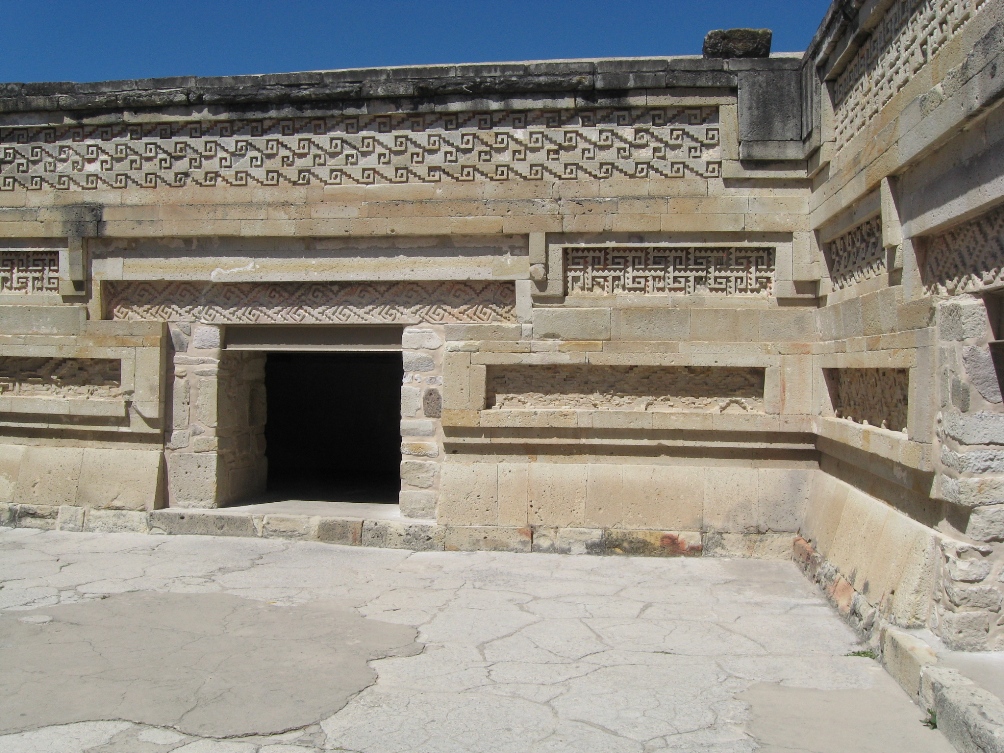 What makes Mitla unique among Mesoamerican sites are the intricate mosaics, made with small, finely cut stone pieces fitted together without mortar.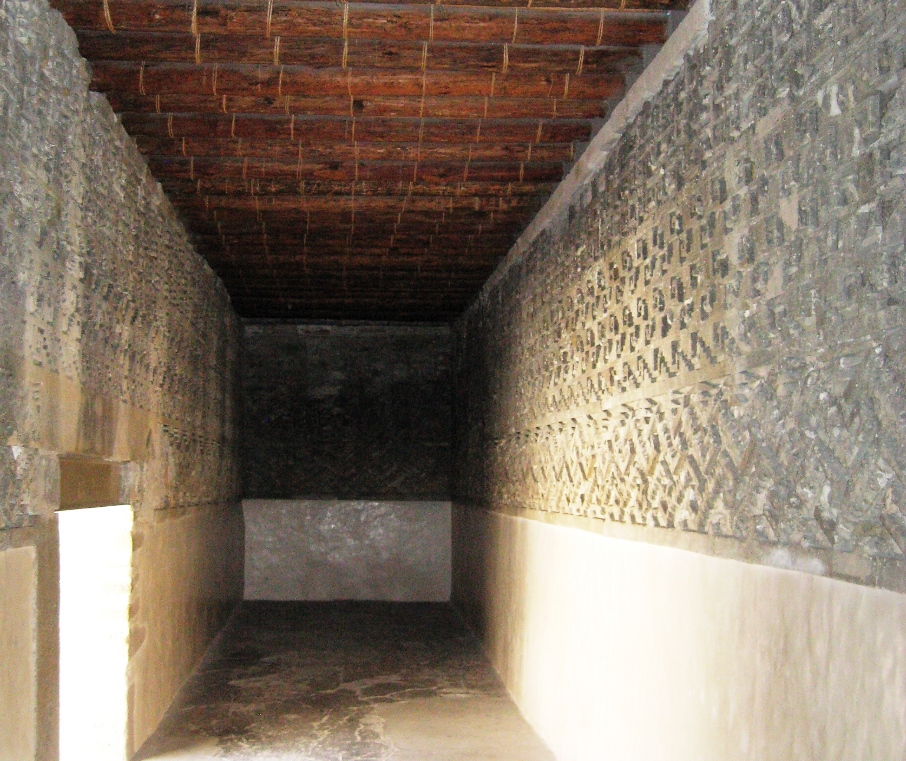 The roof of this chamber was reconstructed using historically accurate materials and techniques.





The courtyard where the burial ceremonies took place.





Our next stop was a buffet restaurant that served a staggering array of Oaxacan food for less than $10 per person. Here are the soups and moles.





Another of the dozen or so food stations.





The restaurant was filled with Mexican families, the children's plates heaped high with desserts (like children everywhere).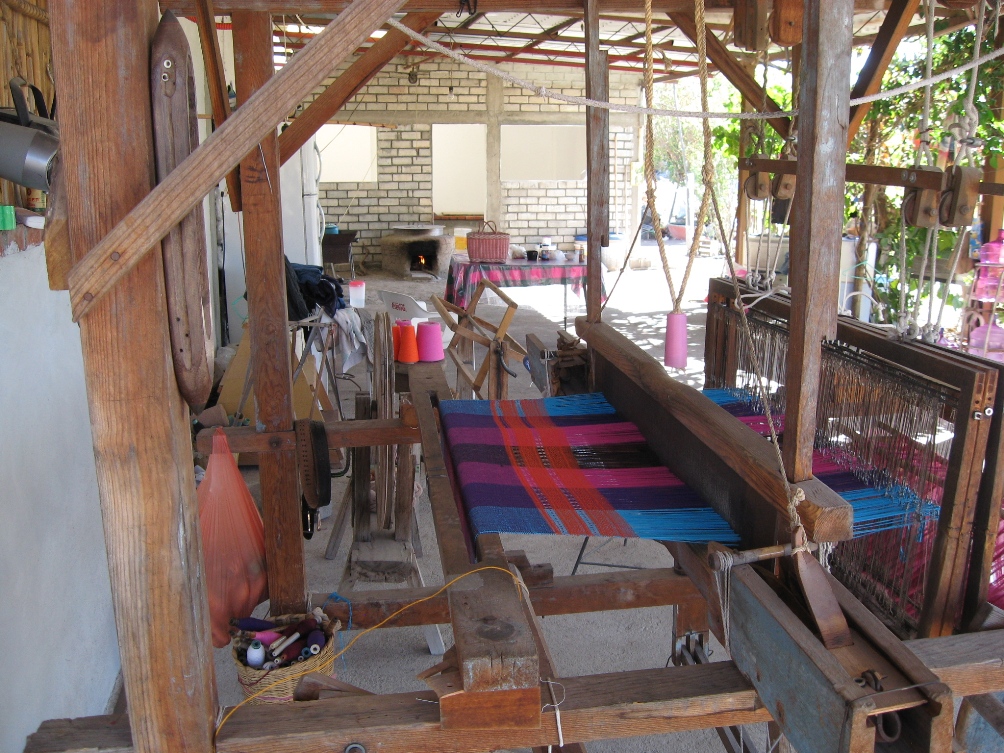 Out back someone was weaving a tablecloth.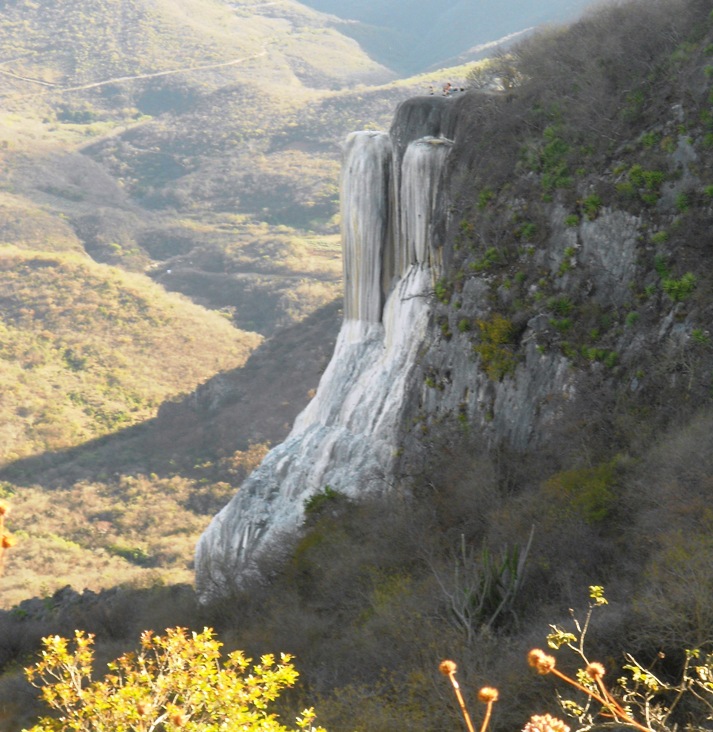 Our last stop of the day was Hierve el Aqua, two calcium carbonate "waterfalls" created by natural springs. This is one of the falls.





And this is the other.





The turquoise-blue water is perfect for cooling off on a hot day.





We were so impressed with the quality of the first tour that we signed up for another. This one started out at Monte Alban, an archeological site on the mountain top above Oaxaca city (visible in the distance).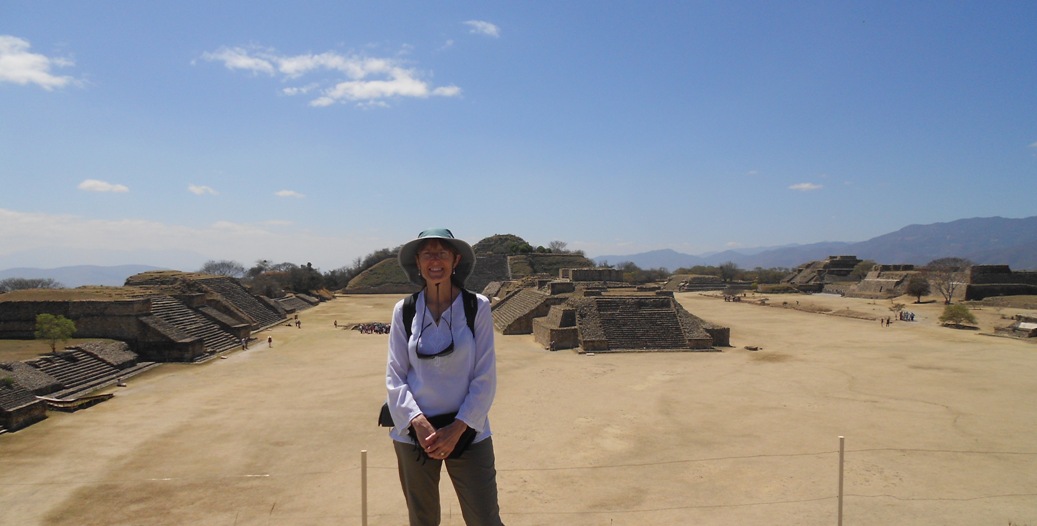 Monte Alban was one of the earliest cities in Mesoamerica and the Zapotec socio-political and economic center for close to a thousand years. Only a fraction of the site has been excavated.





This recessed sport court in Monte Alban kept the rubber balls from bouncing off down the mountain.





The next stop was the village of Arrazola, where we watched people carve and paint animal figures (alebrijes) made from copal wood.





Alebrijes are painted with tiny geometric designs. The nice ones are quite expensive.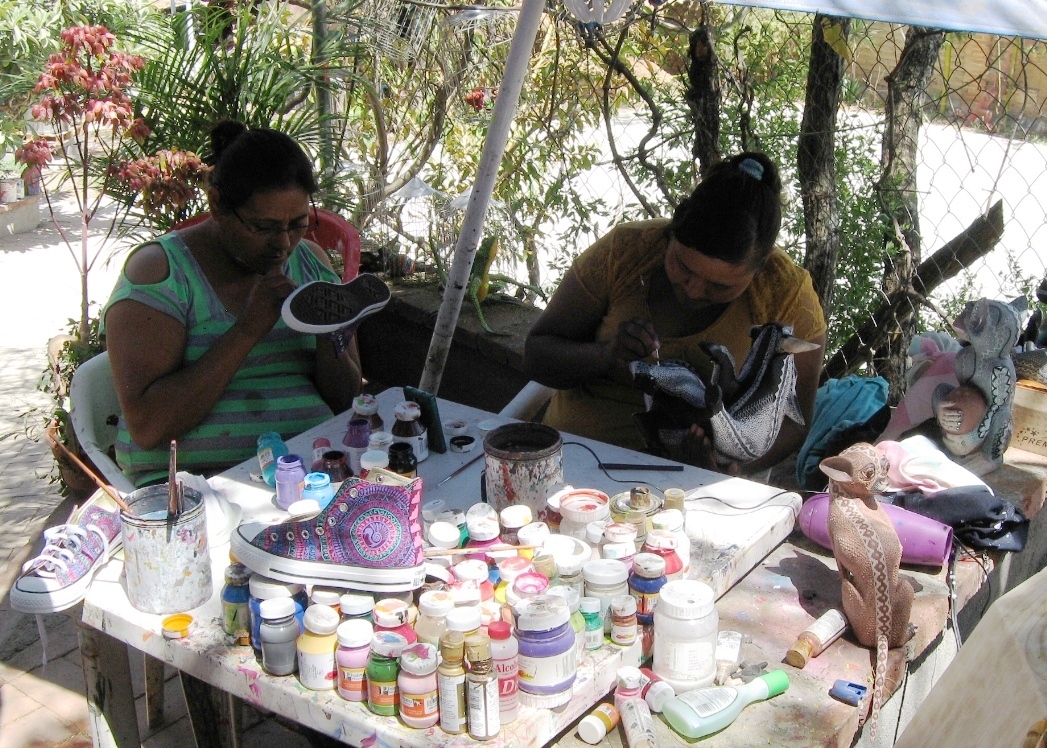 These women have branched out into shoes.





Next stop, the 16th-century Basilica of Cuilapan, a Dominican monastery that was abandoned, for reasons unknown, before it was completed.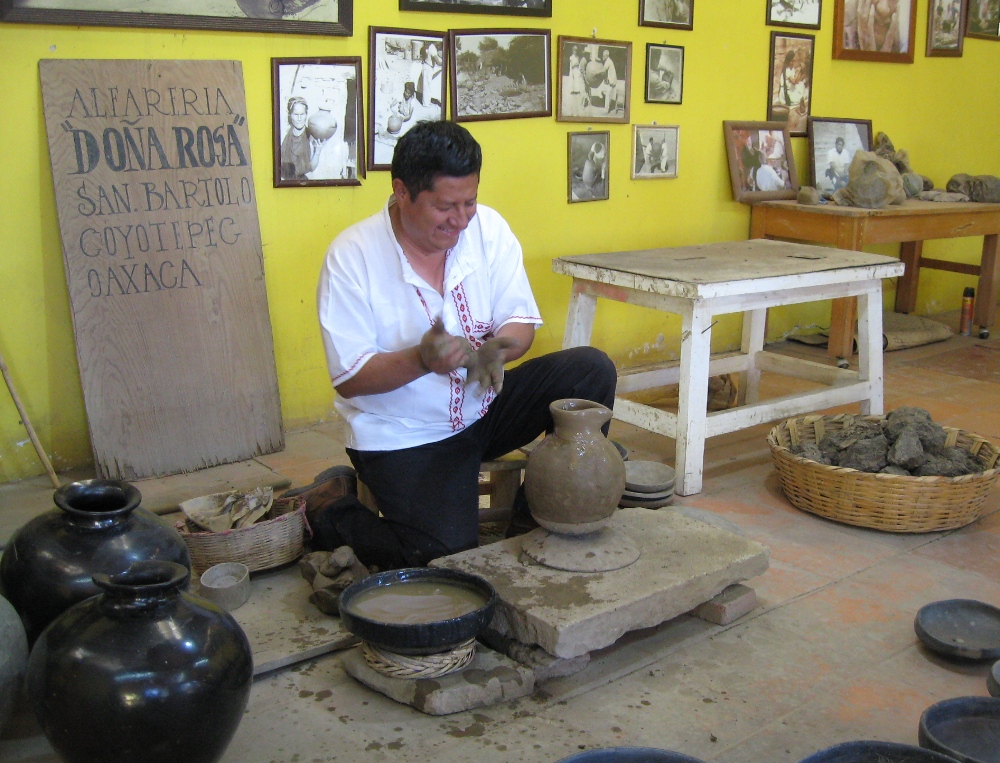 Our last stop was the town of San Bartolo Coyotepec, famous for black pottery. In the 1950s, Doña Rosa discovered a technique to make the clay turn black and shiny after firing. Her grandson gave us a demonstration on the pre-Columbian gourd pottery wheel they still use.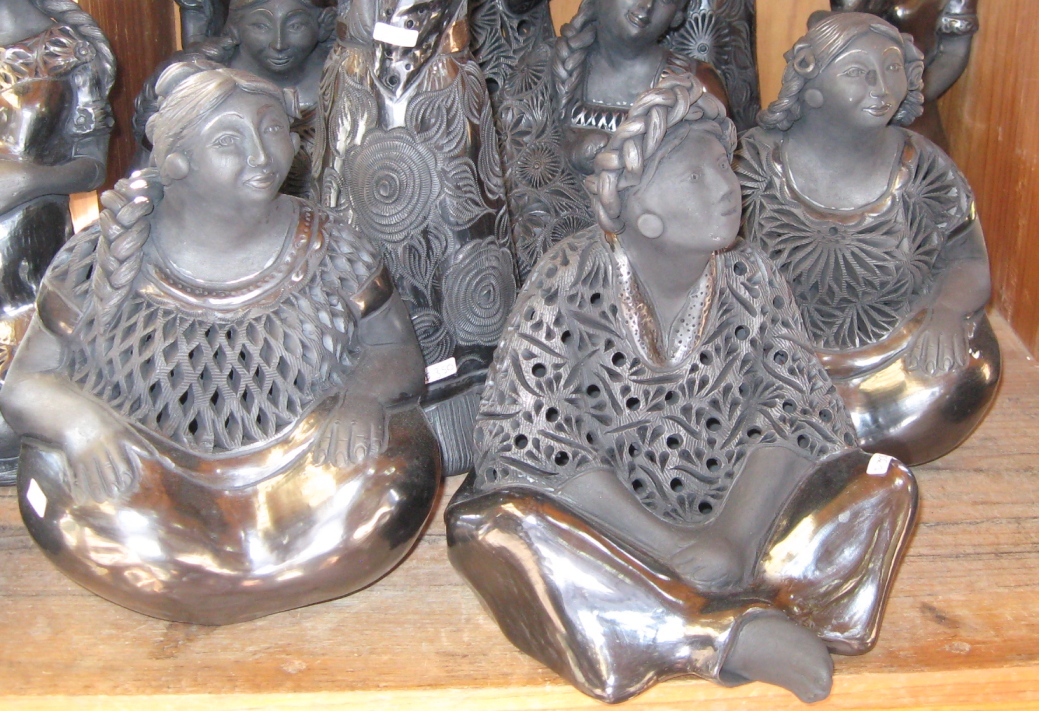 The firing technique that makes the clay turn black also makes the finished products more brittle, so they are mainly decorative items, such as these beautiful figurines. They are surprisingly inexpensive, but we didn't buy anything for fear of not getting it home in one piece.





Back in Oaxaca City, we had my favorite Oaxacan food: tlayudas! A thin, crispy (baked, not fried) corn tortilla topped with black beans, cheese, and your choice of meat or vegetables. Addicting!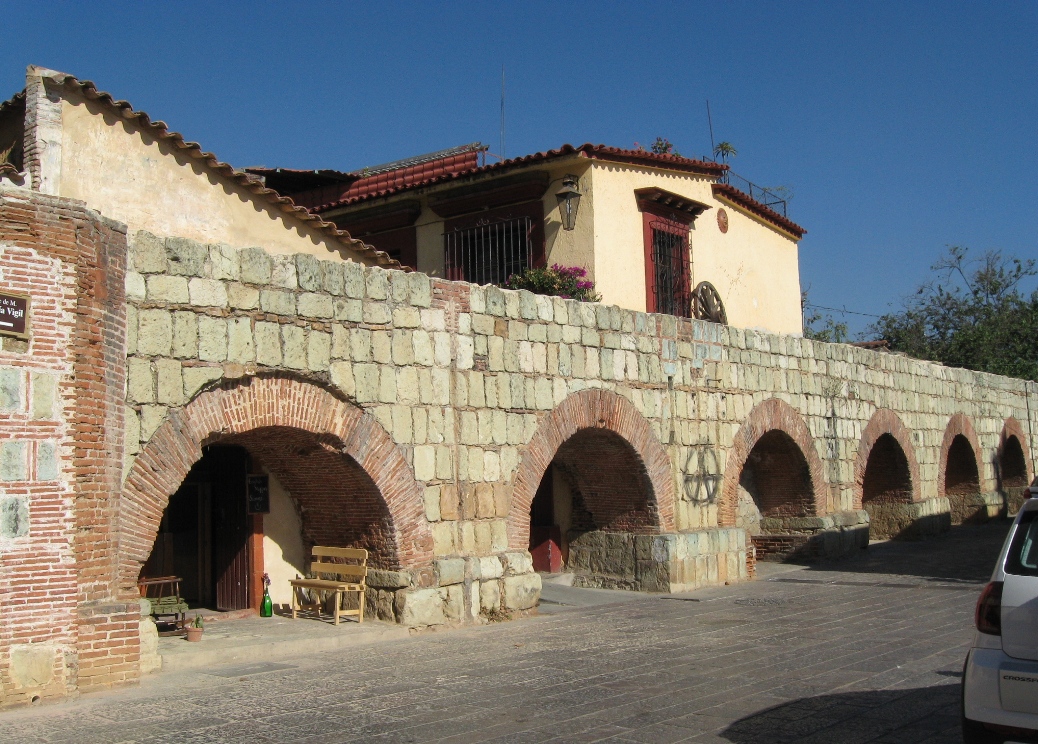 The quaint Los Arquitos neighborhood is tucked around an old stone aqueduct.





The 17th-century Baroque Basílica de Nuestra Señora de la Soledad is the most important religious site in the state of Oaxaca.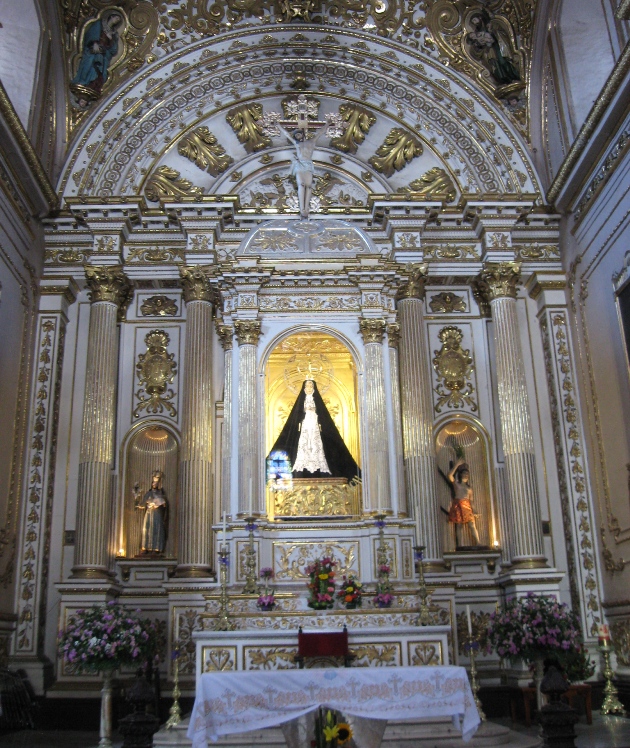 The Virgin of Solitude (Soledad) is Oaxaca's patron saint. On her head is a solid gold crown with 600 diamonds (actually a replica - robbers stole the original in the 1980s).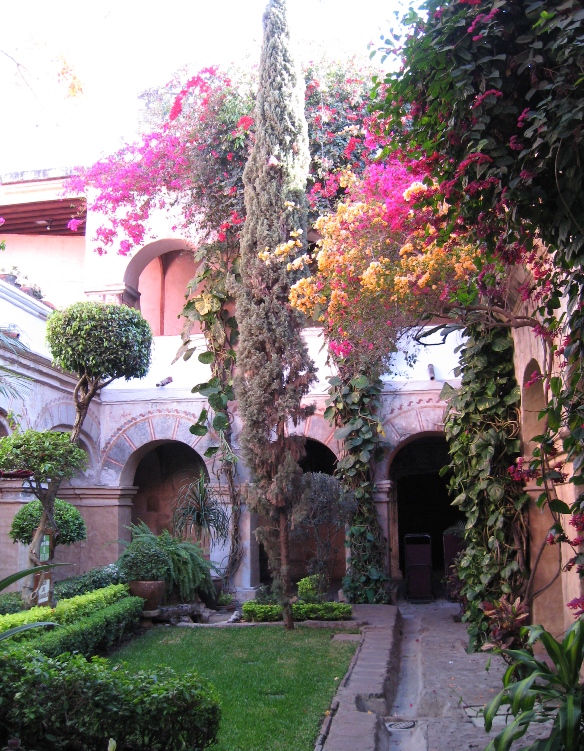 The grounds of the lushly restored Santa Catalina Convent, now the Hotel Quinta Real.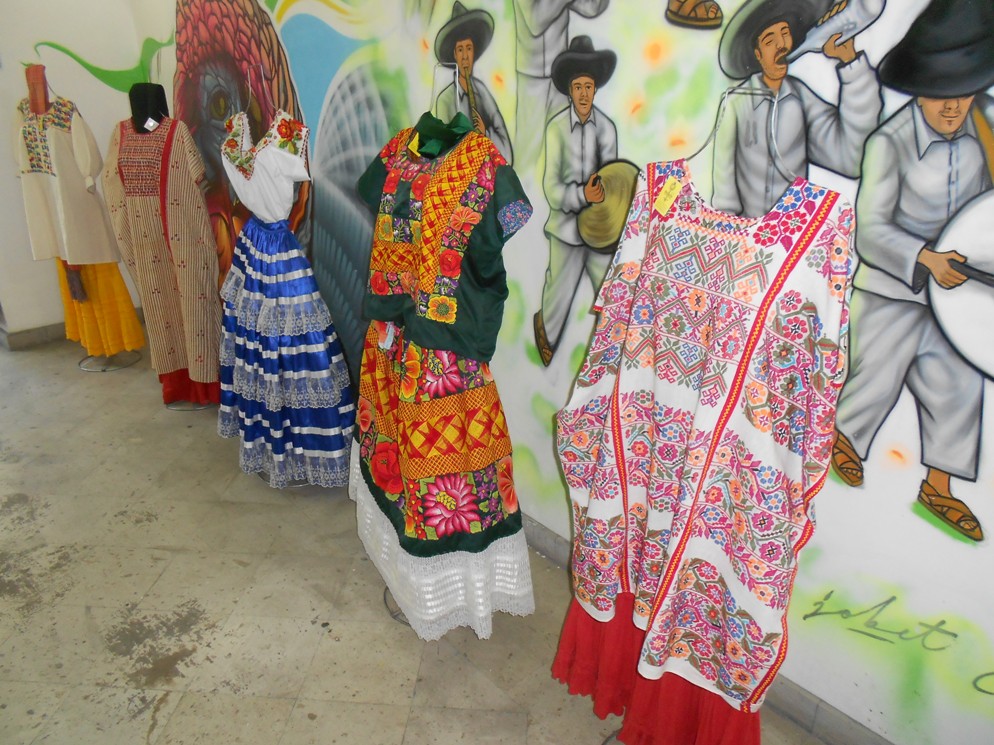 Traditional clothing displayed at the Huizache artist's cooperative.





This blues-rock band entertained folks in a plaza near the zocalo every night.





A posse of sweepers keeps the city streets amazingly clean.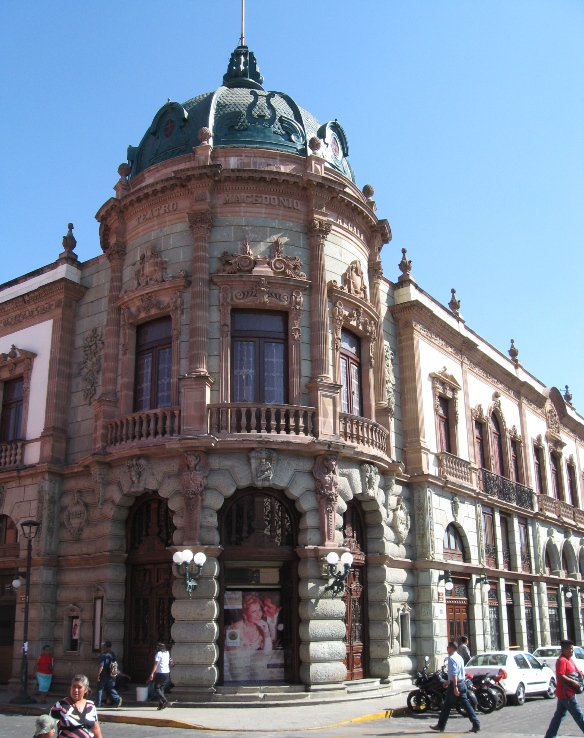 The beautiful Macedonio Alcala Theater.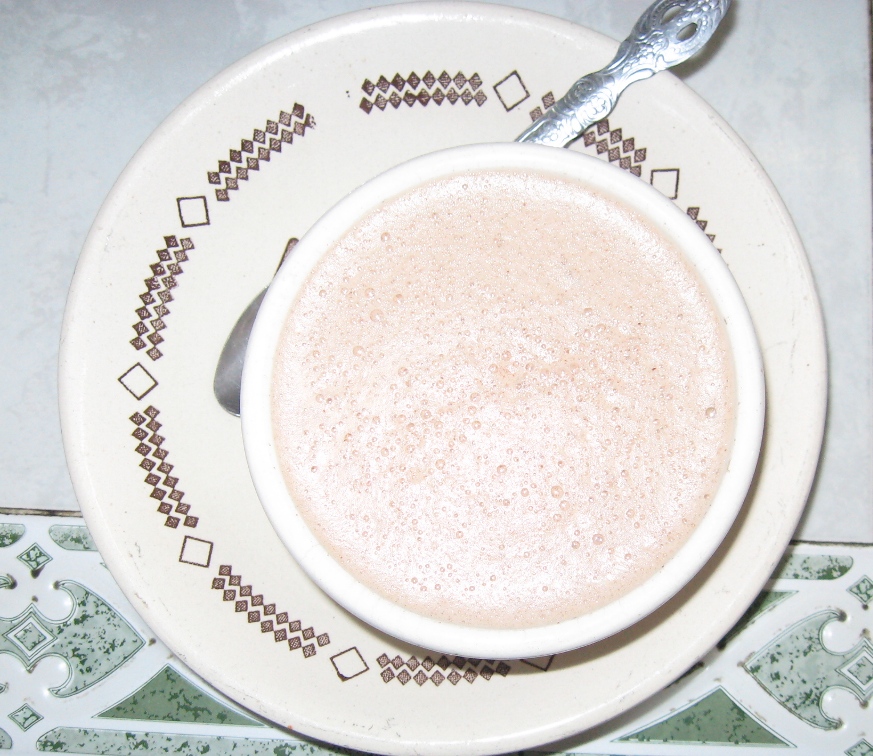 Mexican hot chocolate is to die for! Rich and frothy, with hints of cinnamon, vanilla, and maybe more.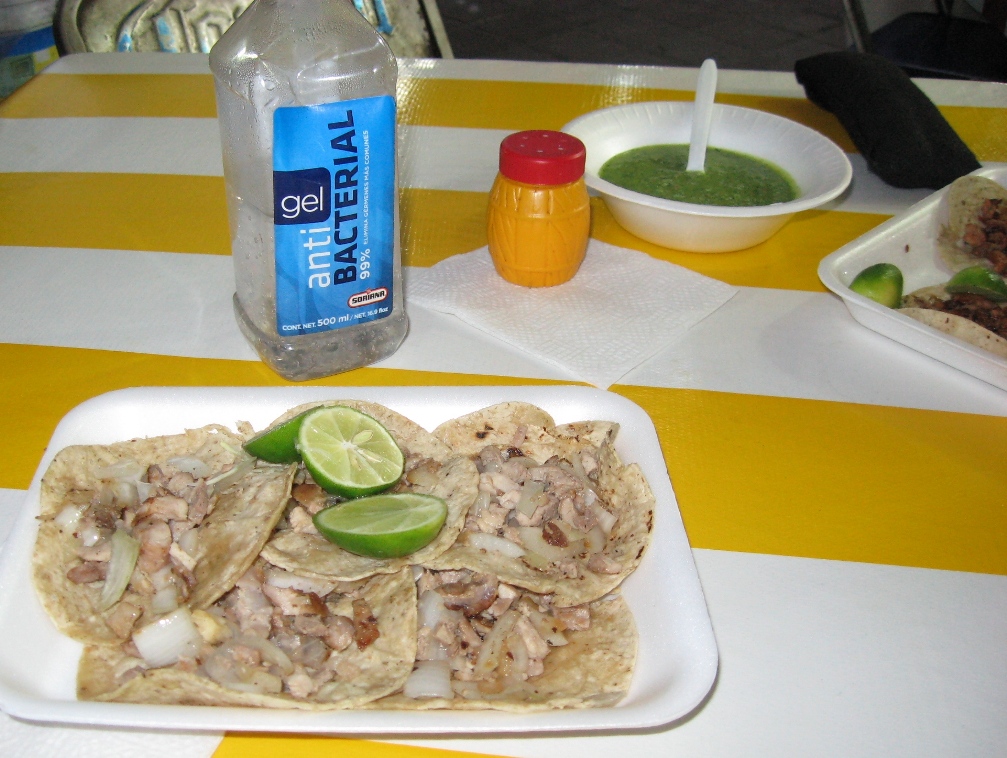 Mexicans are very cognizant of hygiene, as evidenced by the ubiquitous handwashing signs, and the anti-bacterial gel on eatery tables.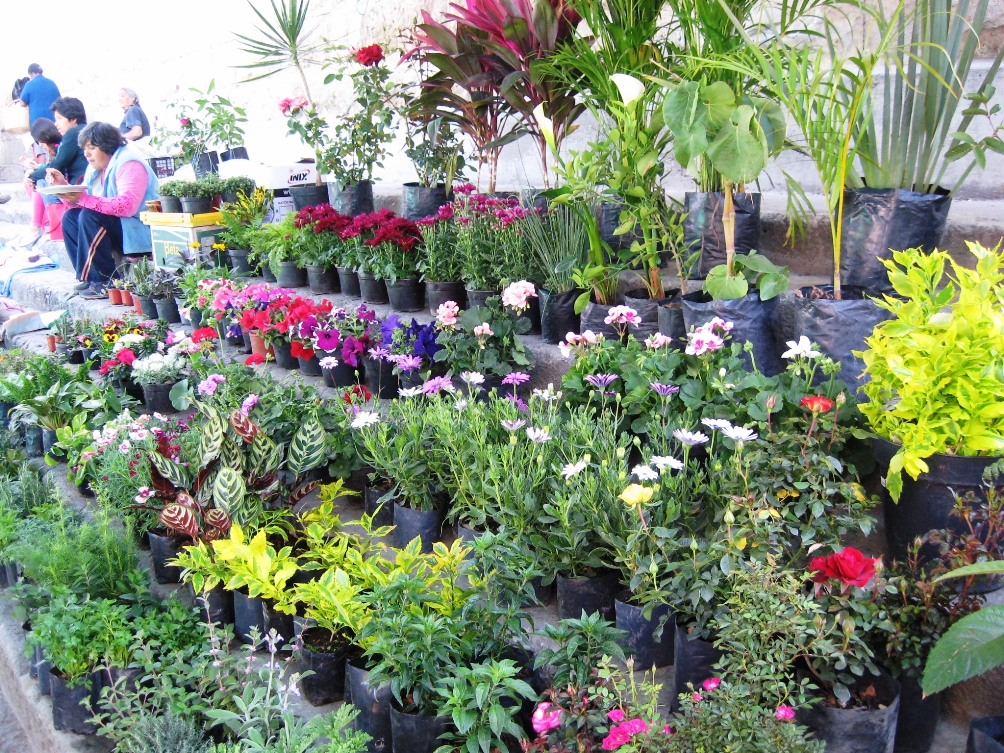 One day we ventured out to the weekly market in the nearby town of Etla. I was hoping to see women in traditional clothing, but didn't see any. I did see these beautiful plants for sale.





Mystery vegetable packs in the Etla market.





Grant felt right at home in the tool section of the Etla market.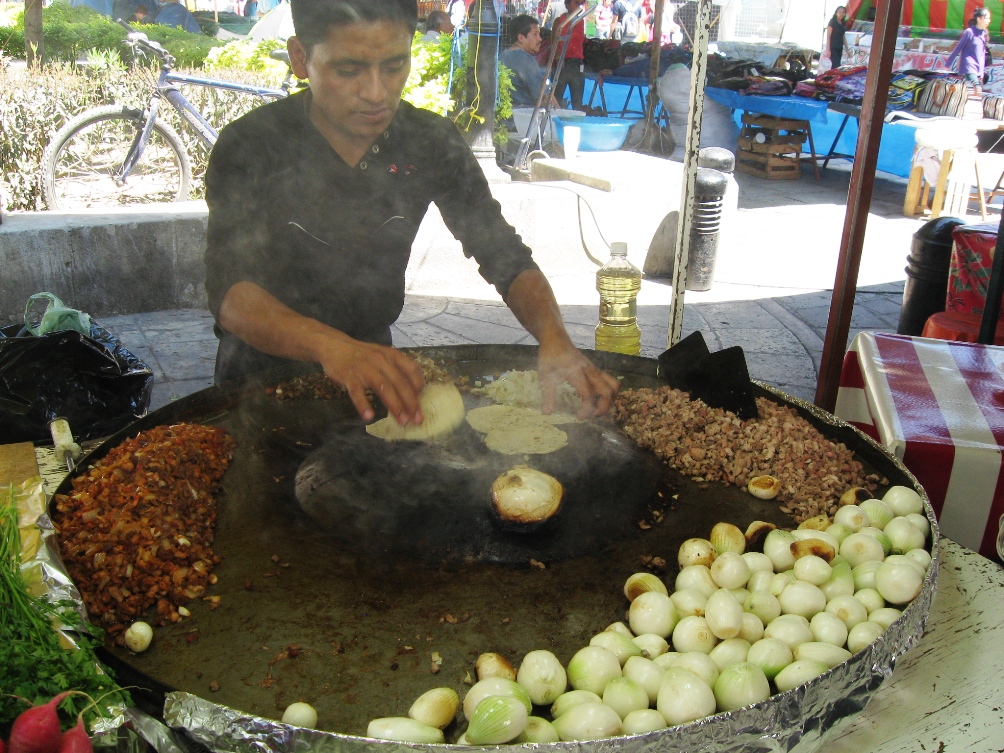 Back in the city, we had tasty tacos at this zocalo stand before heading back to our hotel to pack for our early flight the next day. Goodbye Oaxaca!