Highlights of Morocco
Casablanca, Rabat, Volubilis, Meknes, Fes, Sahara, Atlas Mountains, Ouarzazate, Essaouira, Marrakech
April 2014
Somewhat apprehensively, we decided to try our first tour because doing Morocco on our own was logistically complex. We chose a 15-day budget tour with Exodus, a UK company with good ratings and great prices. On the whole we were happy with the tour.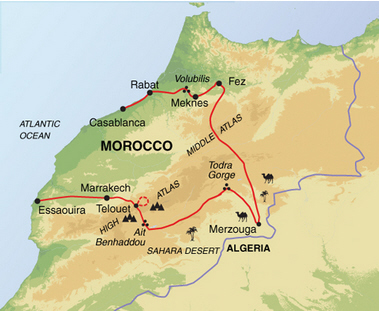 ---
Casablanca


We flew into Casablanca two days early, to give ourselves a chance to get on local time before the tour started. This former French colonial city is known for its faded Art Deco glory.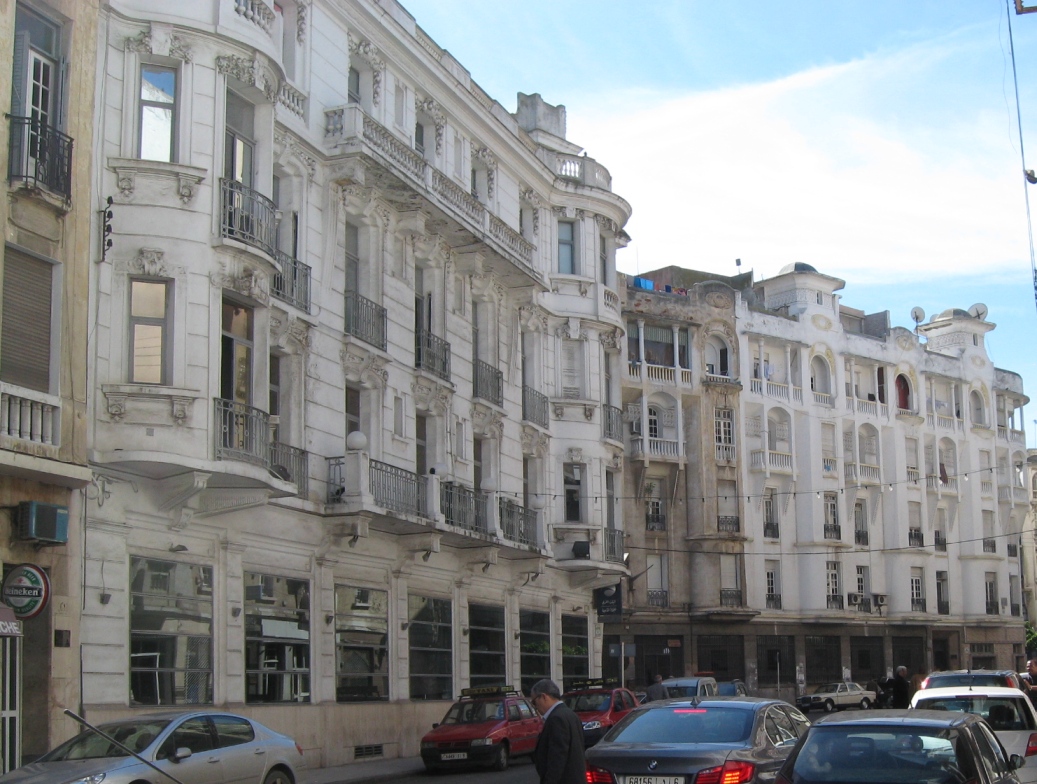 Art Deco buildings in the downtown core. We didn't expect to like Casablanca, a commercial city of 4 million people. In fact, it was one of our favorite places in Morocco.





Just look up and you see Art Deco everywhere.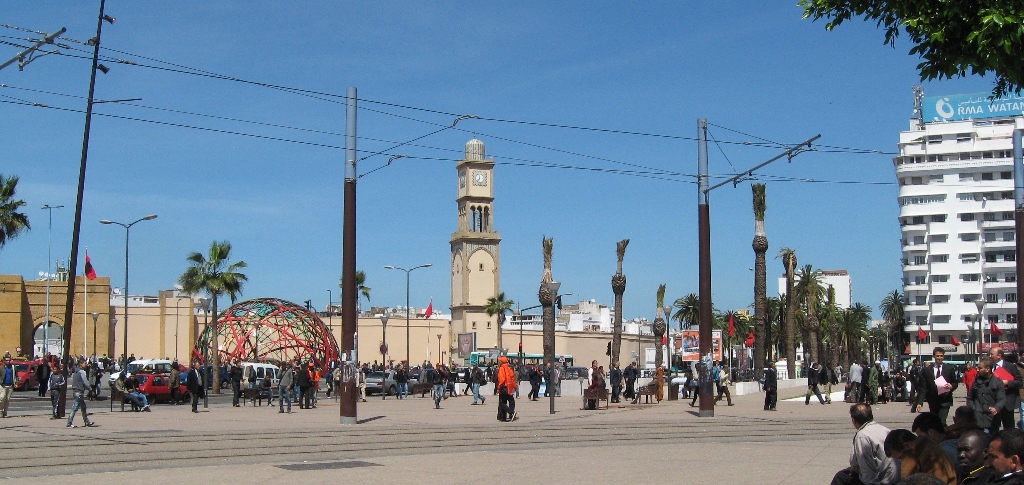 The main square, Place des Nations Unies. On the left is one of the gateways to the oldest part of town, the Old Medina, where we stayed in a room we found through AirBnB.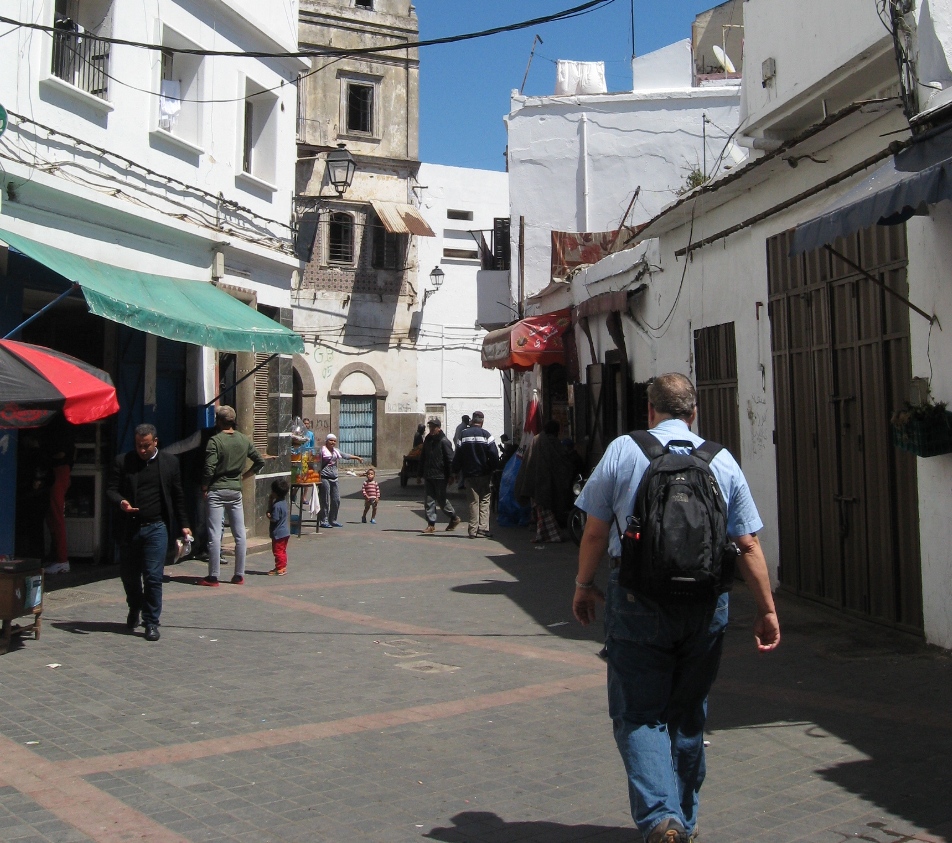 The Old Medina is a thriving neighborhood with few tourists and no cars. We loved living here for two days. Everyone ignored us.





Our room at Nadia and Yasim's. $45 a night.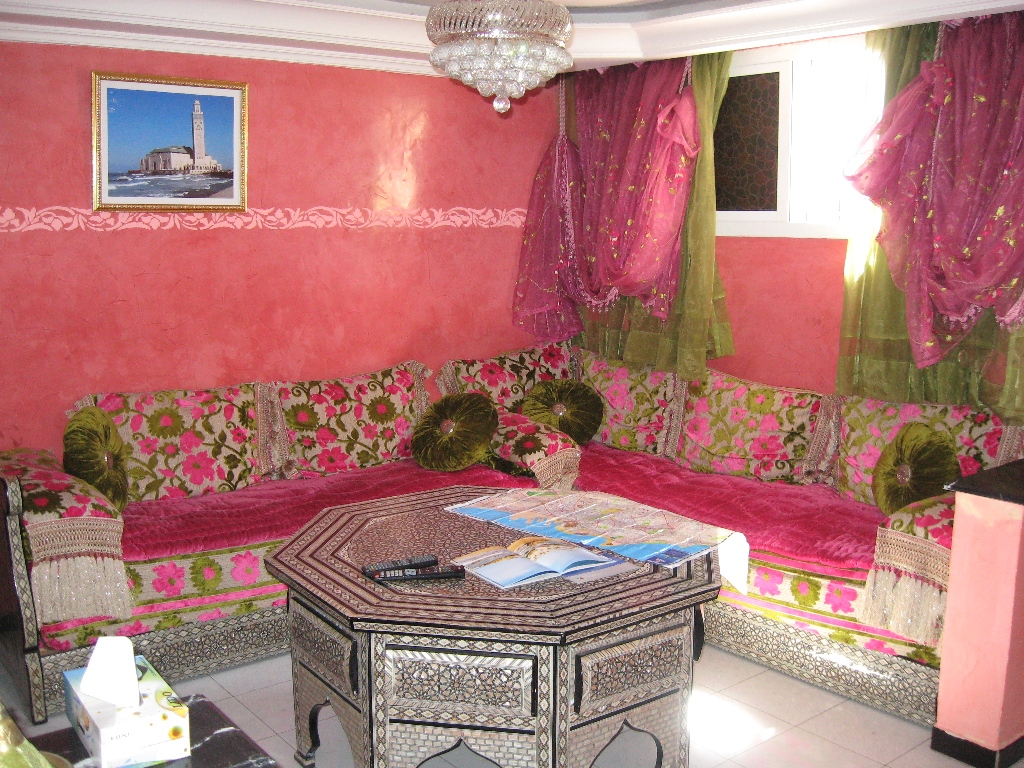 The sitting room.





Our hostess Nadia, who spoke four languages, brought us fabulous breakfasts, including fresh-squeezed orange juice.





Nadia, Yasim, and their children.





Strolling the Atlantic Ocean waterfront near Casablanca's port.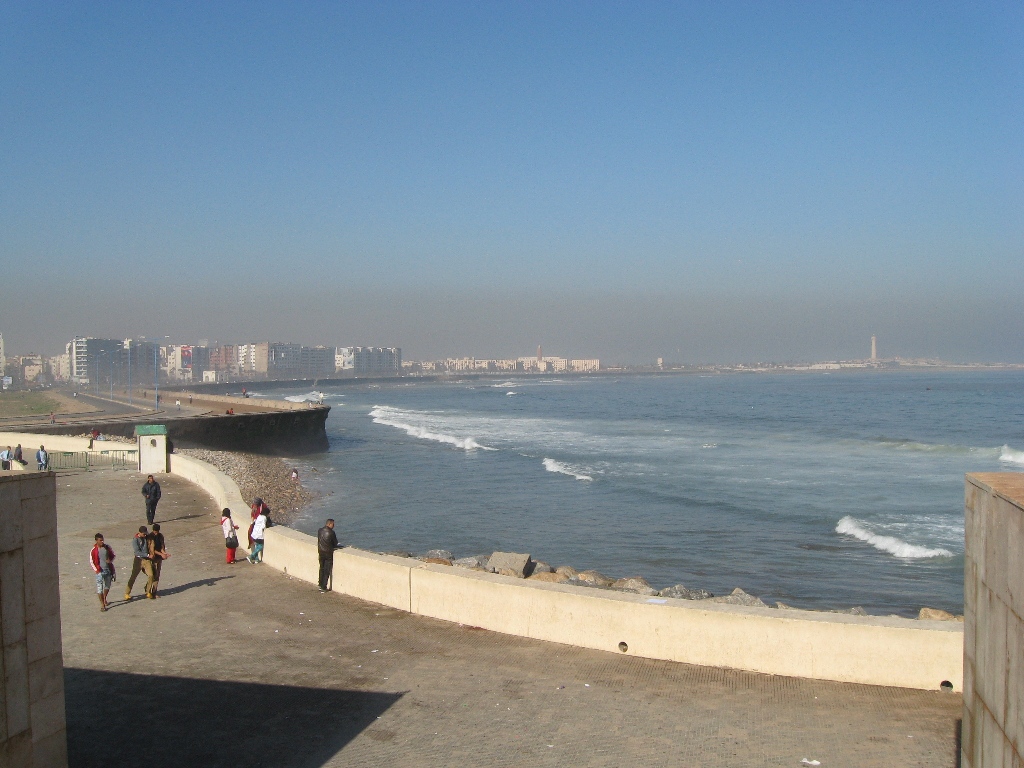 Looking south along the coast through the ocean mist. Dense clusters of high-rises are being built to house wealthier folks looking for ocean views.






The Tramway opened two years ago and provides cheap transport across the congested city.





We rode the Tramway to the Corniche, a neighborhood south of town where people come to escape the city, play on the beach, and stroll the crowded sidewalks eating ice cream. The ocean breeze is probably heavenly in summer, but was chilly in April!





Grant would have loved to bring one of these home!





After two nights at Nadia's, we moved into the tour hotel. It had a "thousand and one nights" theme.





On our last night in Casablanca we had mouthwatering chicken kebabs at a sidewalk stand where we could watch local life parade by.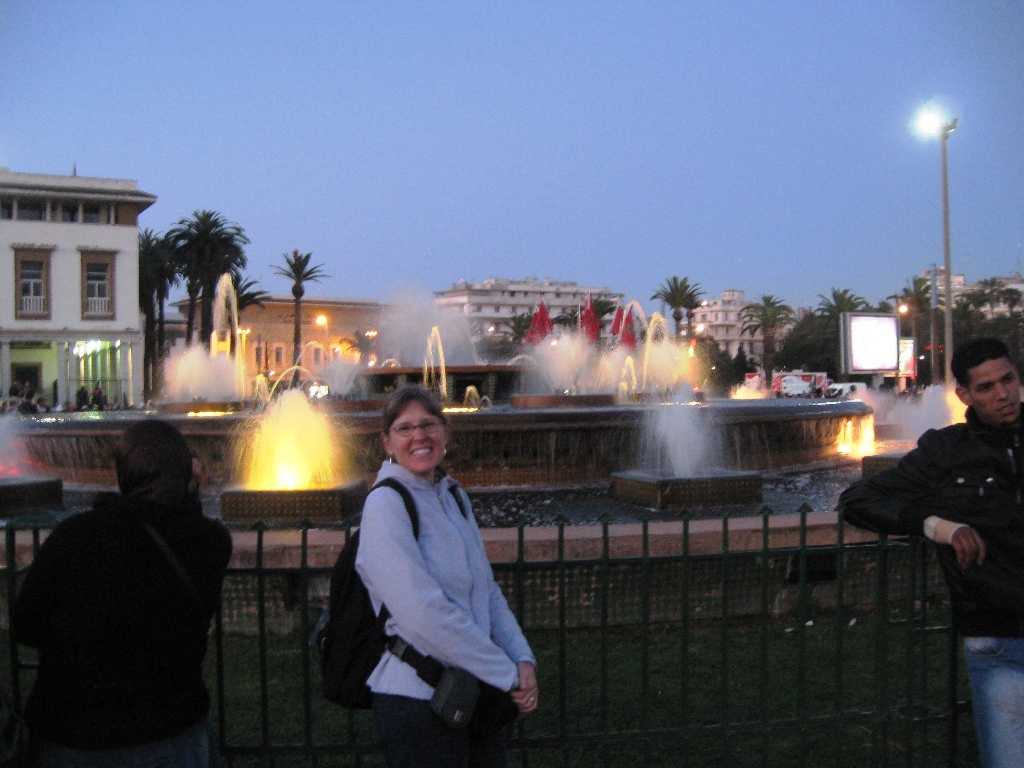 We capped the evening with a stroll around Place Mohammed V, where vendors sold snails and balloons.


---
The Tour Begins


The next morning we met our group. Here are most of our crew of 16, and our guide, Mustapha (on the right). There were Brits, Aussies, and two Icelanders. Everyone was really nice.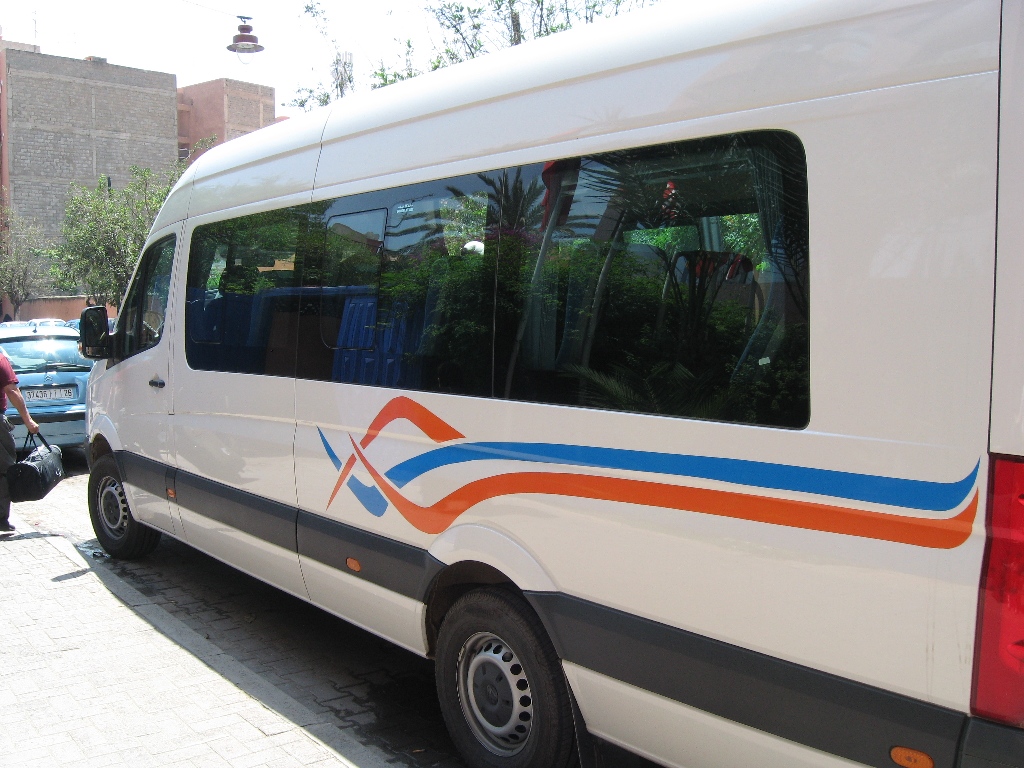 The 18-passenger tour van.





The van held 15 people in the back, and one up front with the driver and guide.





Luggage area in the back of the van. Our driver, Leson, was very safe and friendly, and kept the van and windows spotless.


---
Hassan II Mosque


The tour began with a trip to Casablanca's Hassan II mosque.





Completed in 1993, the mosque holds 25,000 people inside and 80,000 on its plaza.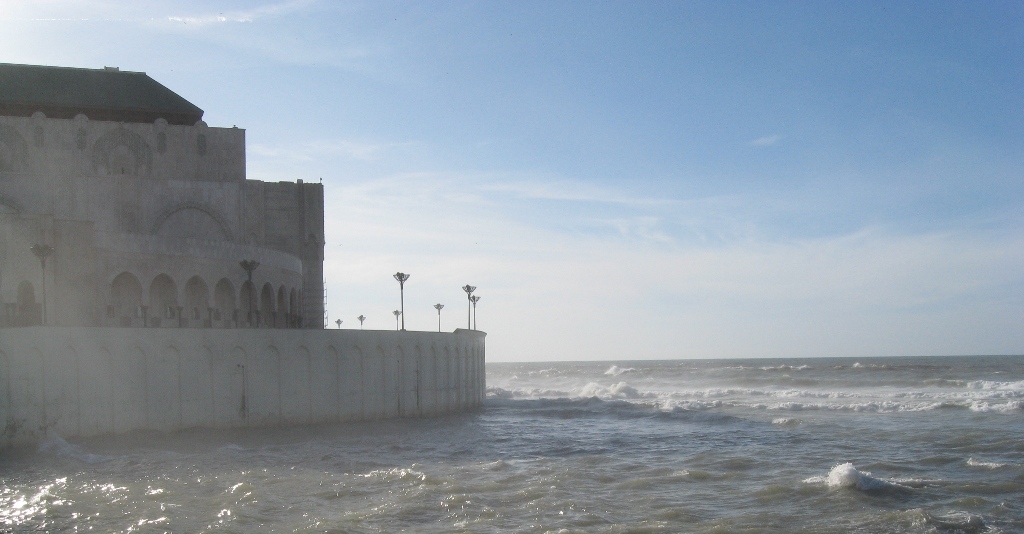 The mosque extends into the ocean because the Koran says that "God's throne was built upon water."


---
Rabat and the Royal Tomb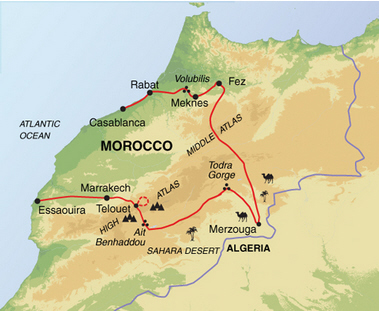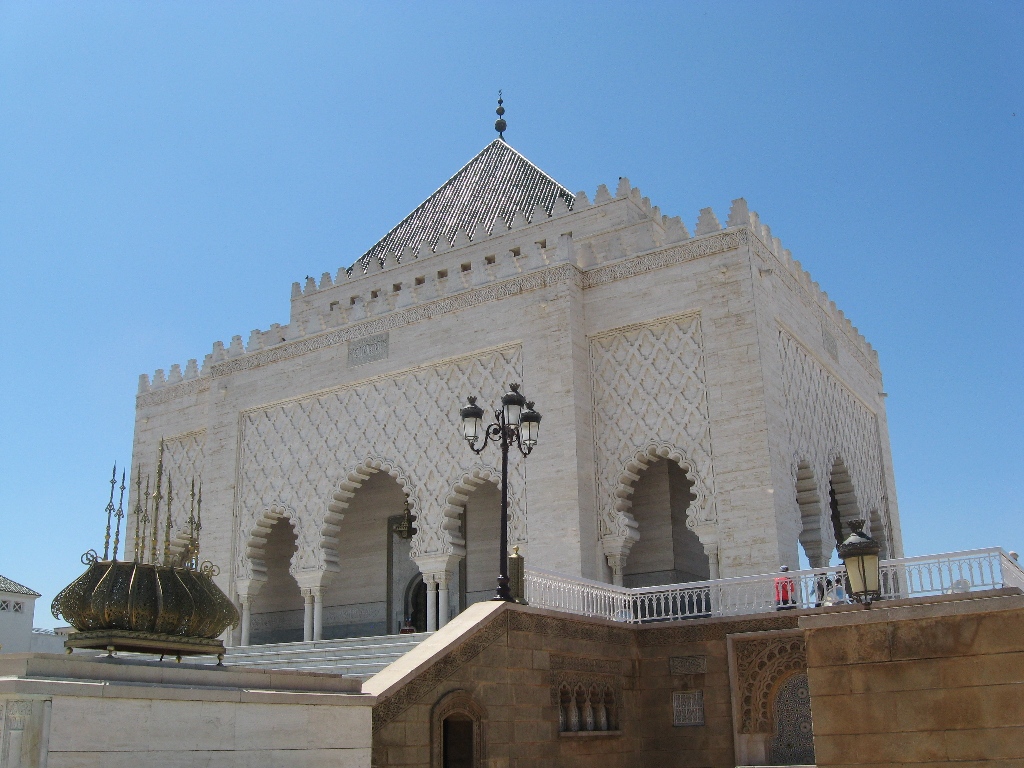 We drove one hour north to Rabat, the capital of Morocco and home of the popular King, Mohammed VI. This is the Royal Tomb.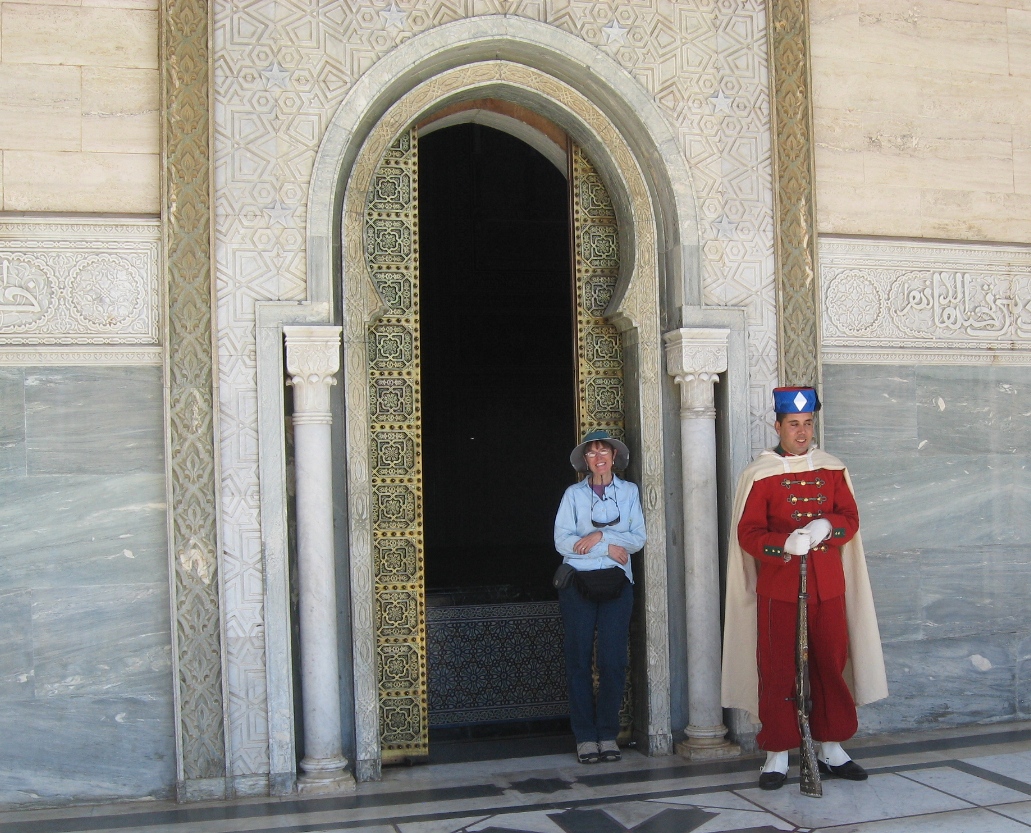 Side entrance to the Royal Tomb in Rabat.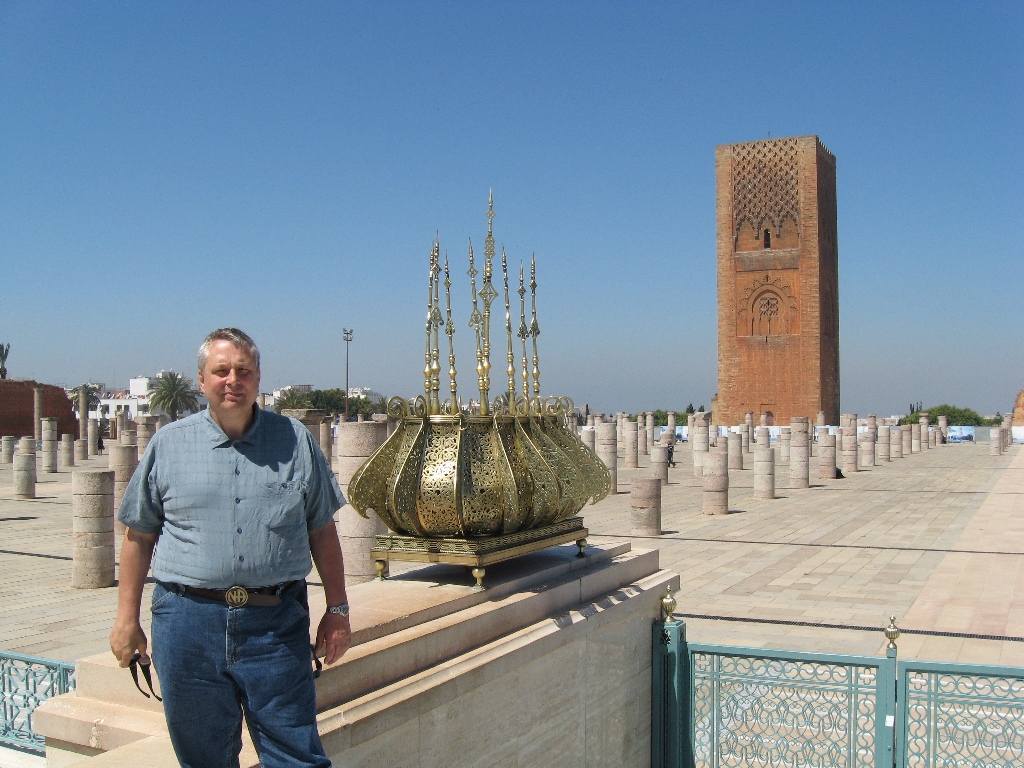 Next to the Royal Tomb are the ruins of a 12th century mosque.


---
Meknes and Volubilis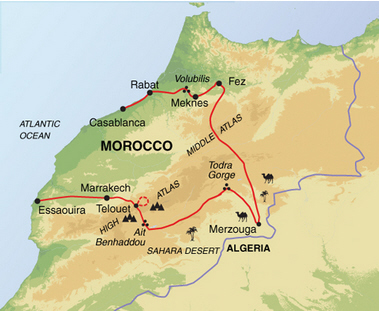 An hour and a half inland we came to the city of Meknes, where we had half a day free to explore this charming and not touristy university town. This is the Bab El Mansour gate at the heart of the old part of the city.





Roman ruins at Volubilis, near Meknes.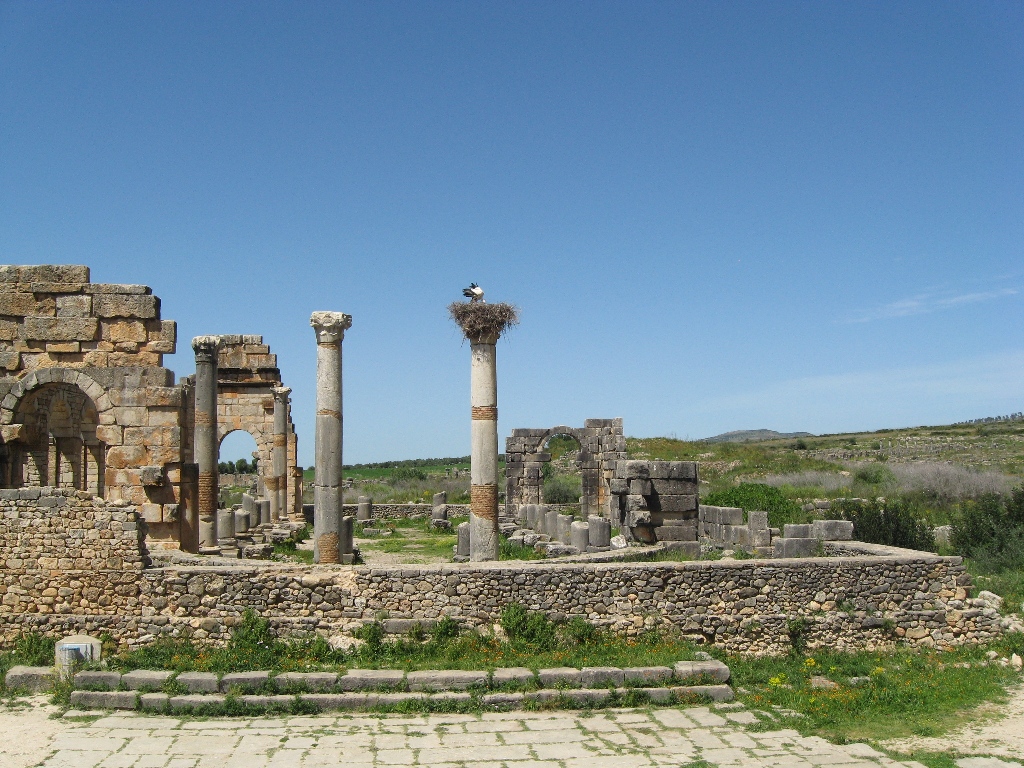 Stork on a nest at Volubilis.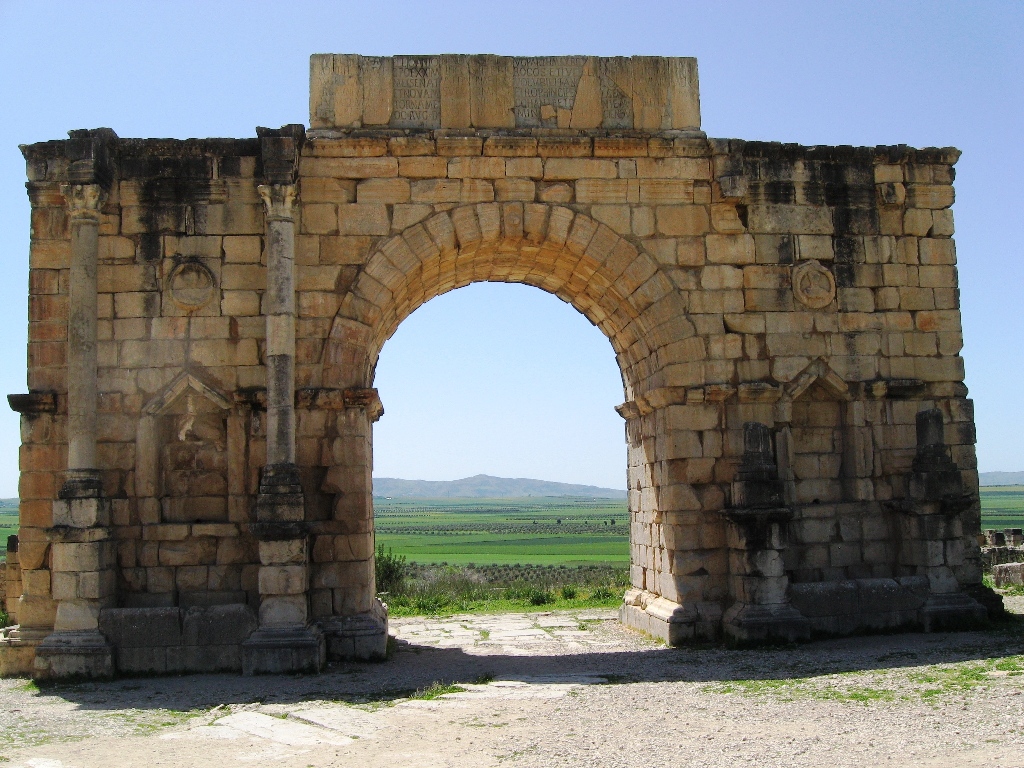 Volubilis sits in a fertile agricultural region.


---
Fez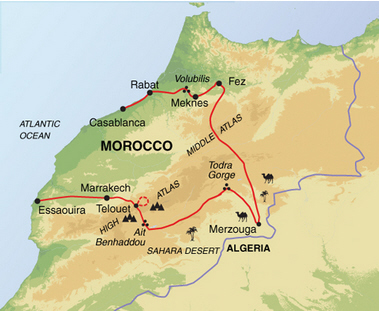 Another hour and a half inland lies the fabled city of Fez. These are the gates to the Royal Palace (one of many royal palaces in Morocco).





Fez Royal Palace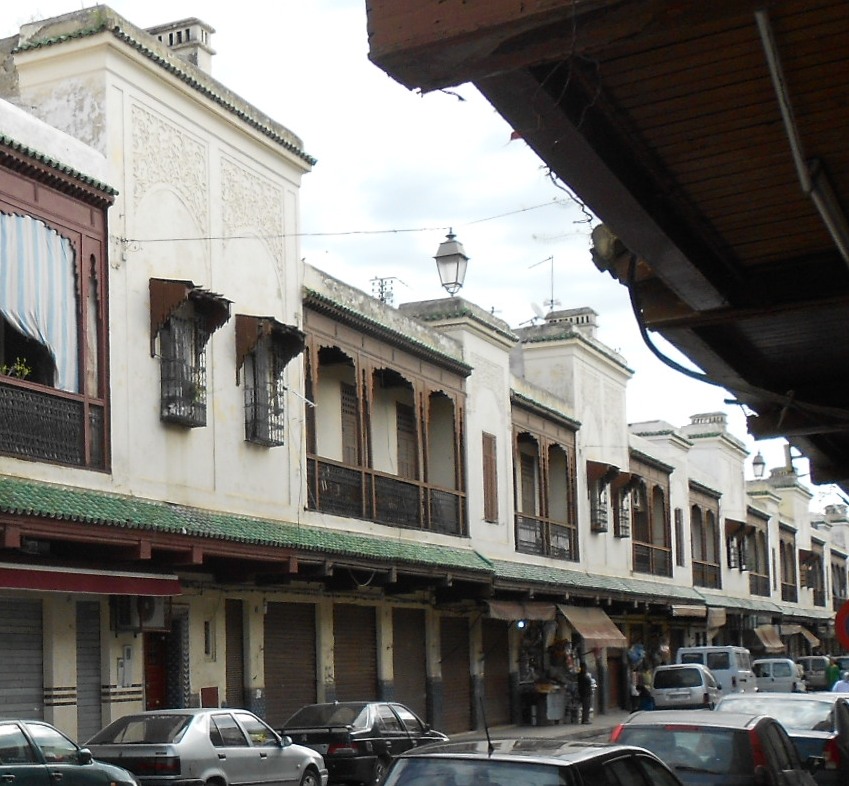 Morocco once had a large Jewish population. The Jewish quarters were called "Mellahs" and are distinguished by their beautiful wooden balconies.





We visited a mosaic and pottery cooperative. The mosaics, called zellij, are assembled upside down. Skilled craftsmen use a special hammer to chip colored tiles into intricate, tiny shapes.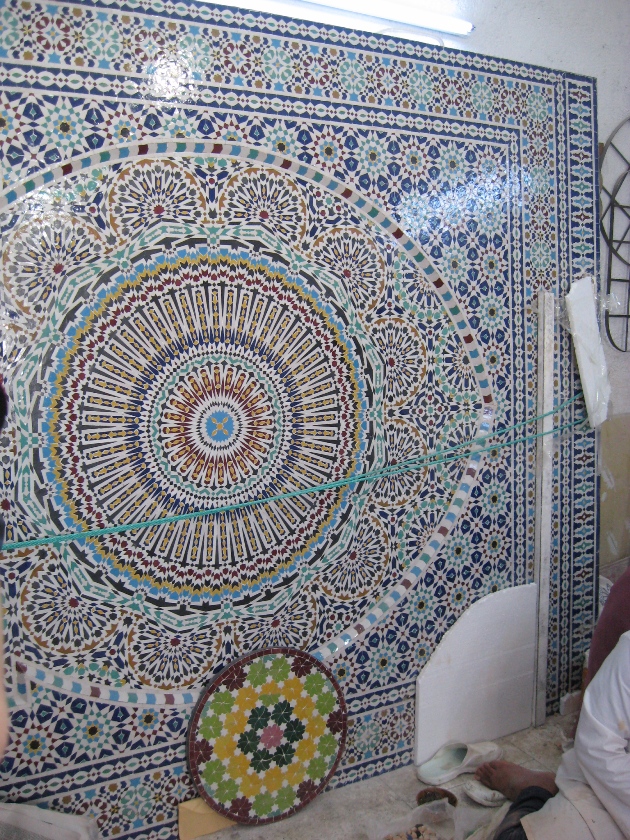 Stabilized with a cement backing, mosaics are used for tables, fountains, or walls.





Mosaic fountains.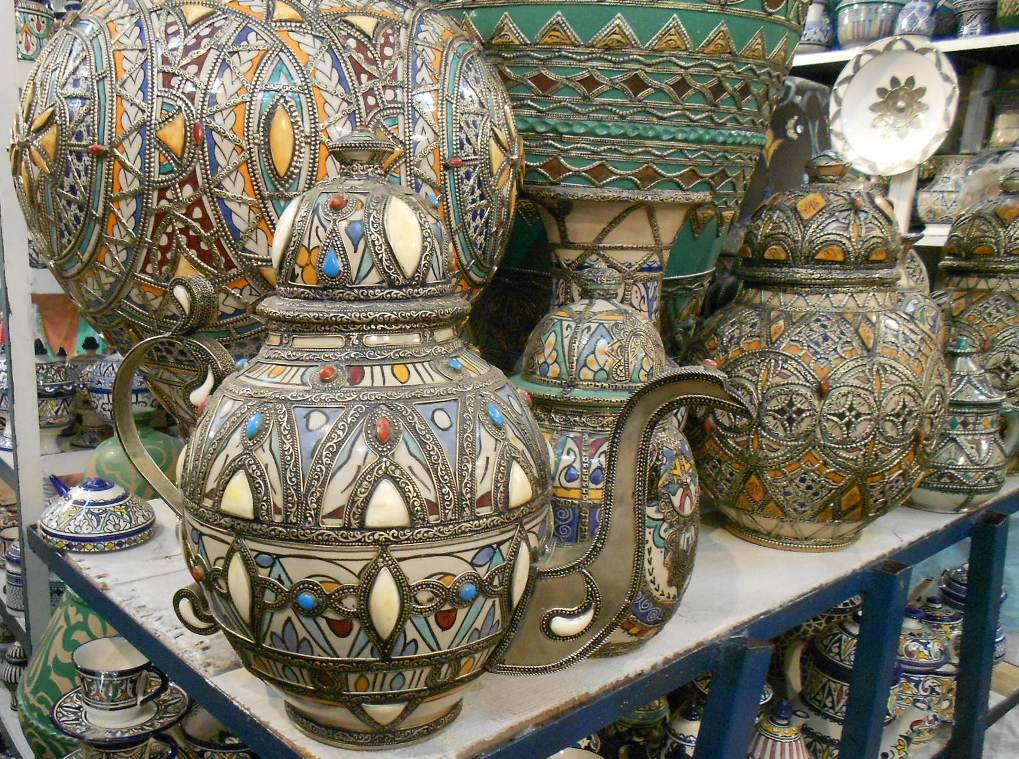 Stoneware overlaid with pewter, turquoise, coral, and camel bone.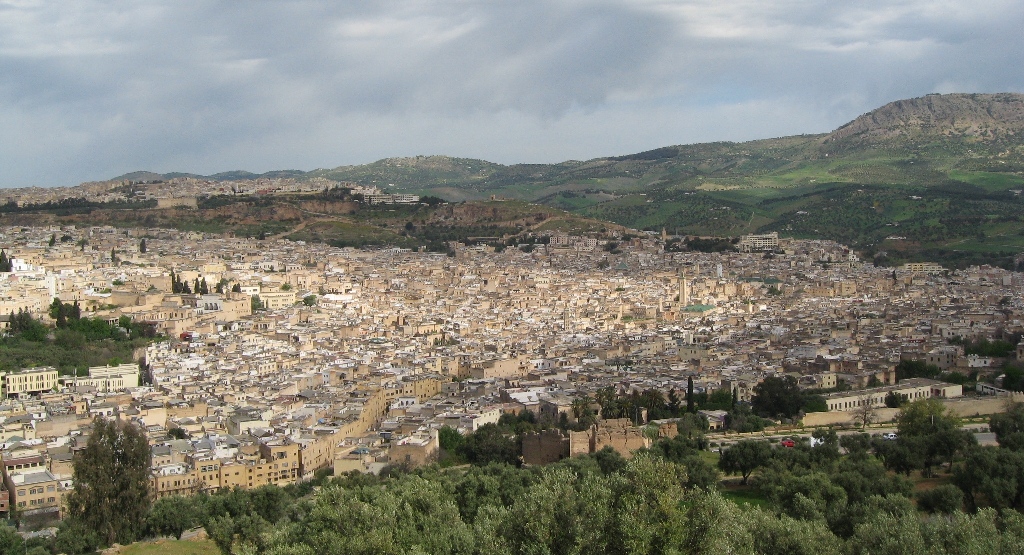 Looking down on the Fez medina, a UNESCO World Heritage site. Founded in the 9th century and home to the oldest university in the world, it is the best-preserved old city in the Arab world.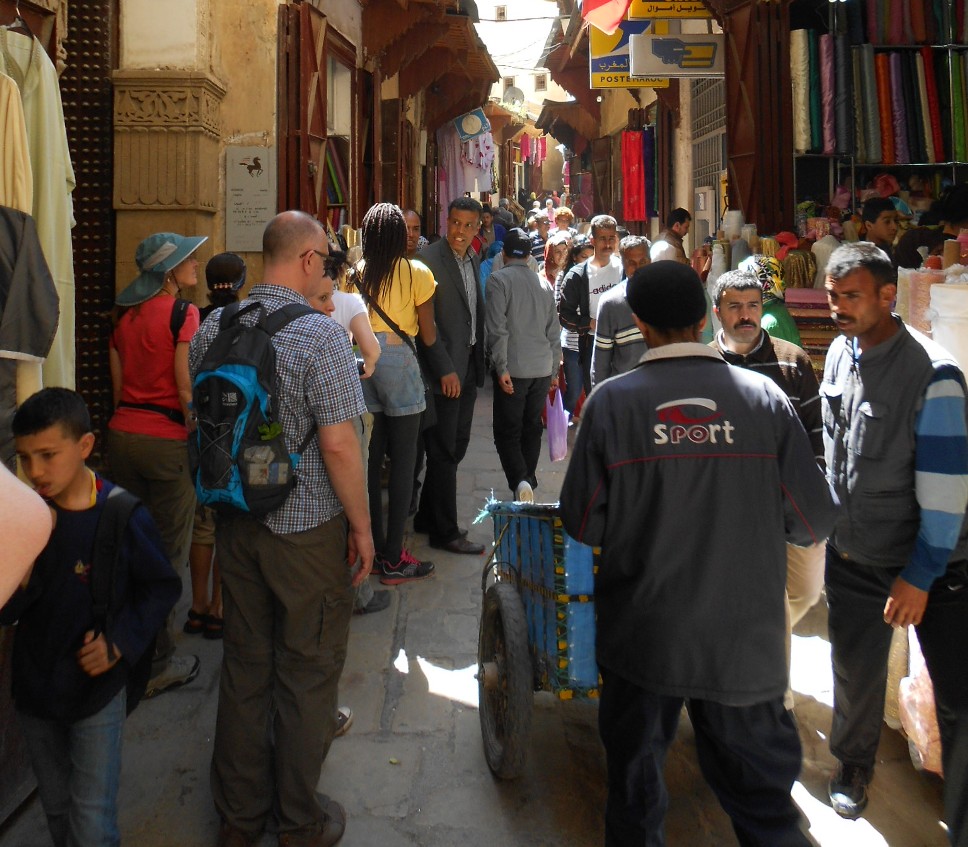 Streets in the Fez medina are narrow, crowded, and very interesting. We wished we'd had time to explore on our own.





Transport is via foot, donkey, bike, or scooter - needless to say, no cars.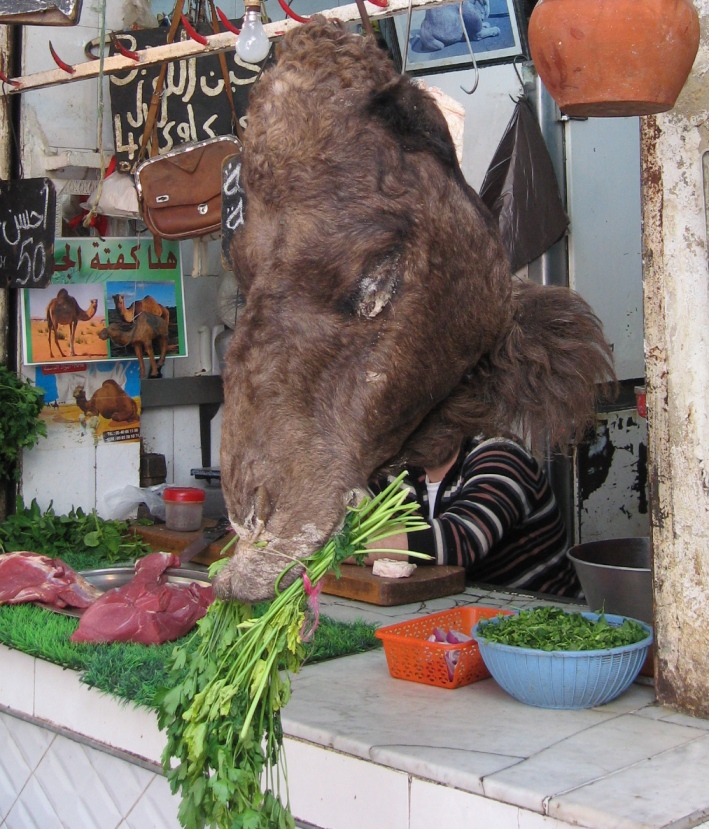 This shop sells camel meat.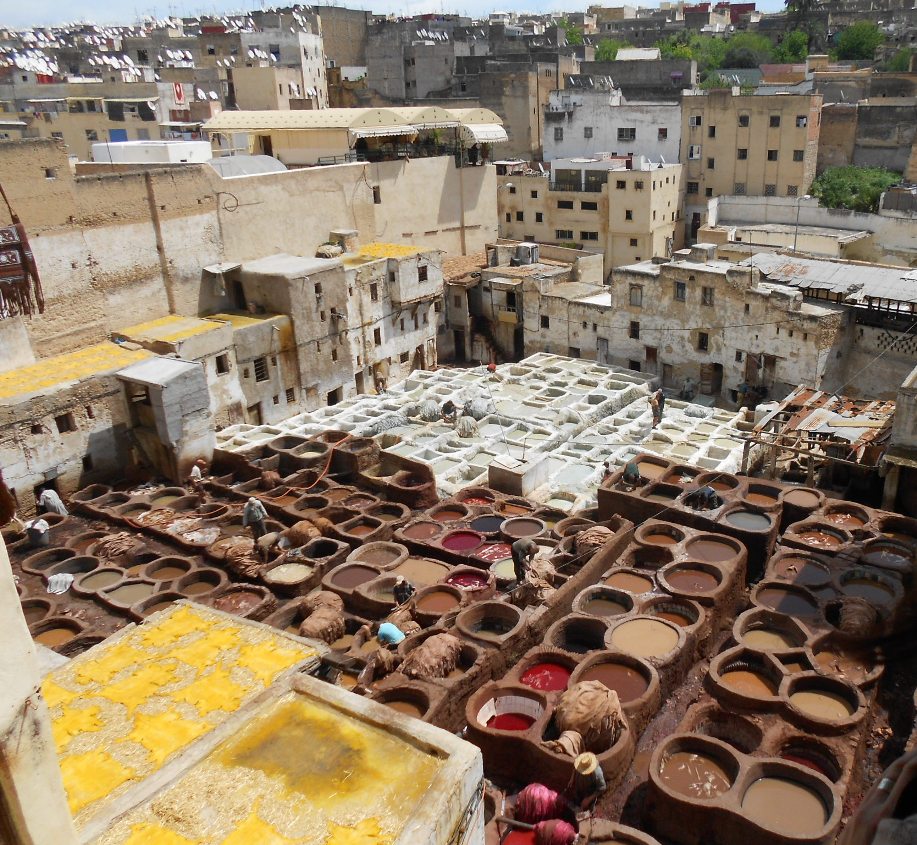 From one of the surrounding leather shops you can look down and see the tannery pots, where workers use various foul-smelling concoctions to first remove the hair from the hides (white pots) and then dye the hides. The smell wasn't bad on the day we were there - maybe the wind was in our favor.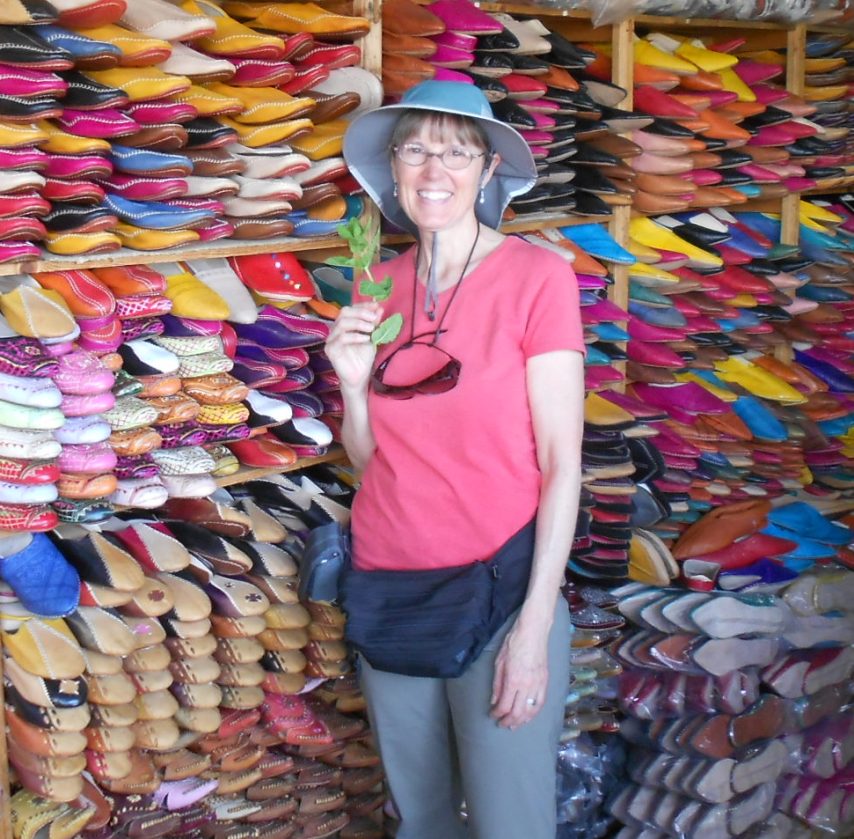 The sprig of mint is to mask the tannery smell. Leather slippers are called babouches.





Moroccan leather jackets.





The Attarine Madrassa, or Islamic school, was built in the 1300s. The ornately carved cedar and plaster is breathtaking.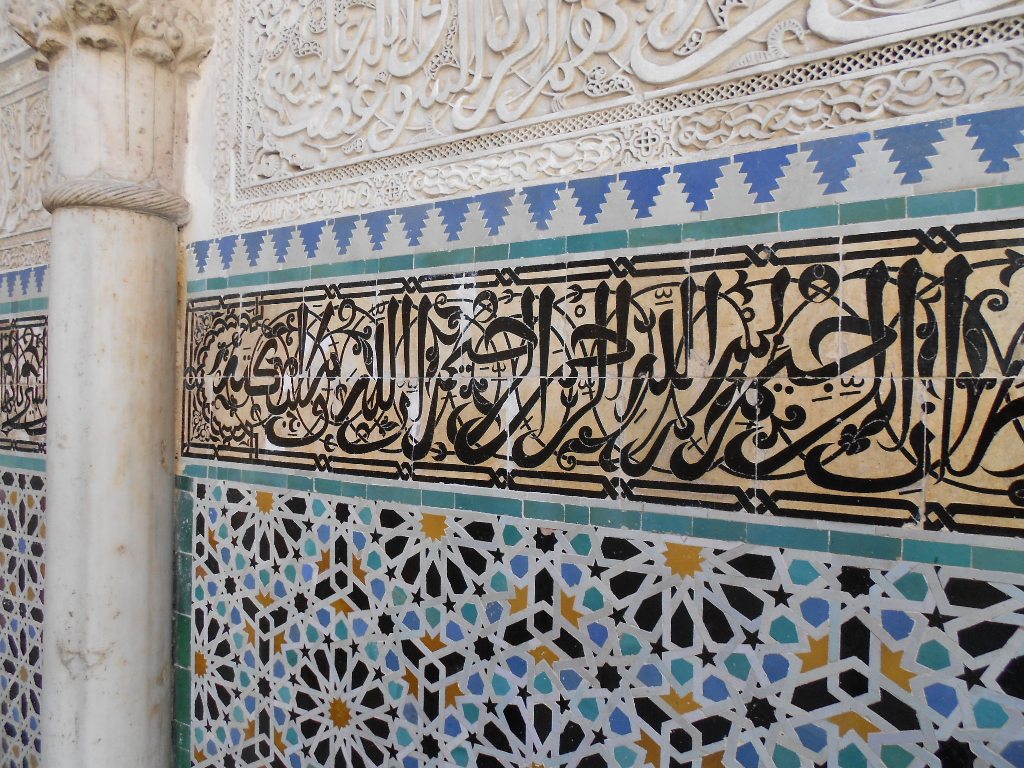 Tile and mosaic in the Attarine Madrassa.





In the wedding section of the Fez medina you can rent elaborate couches for carrying the bride, as well as guys to carry them.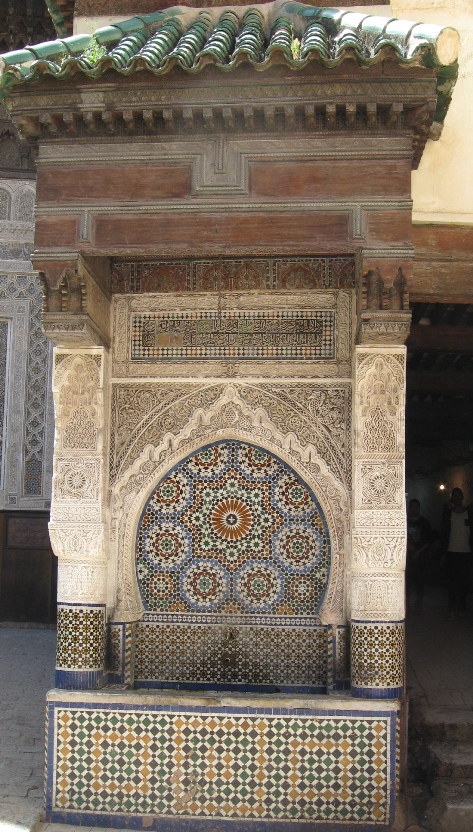 Nejjarine fountain, Fez medina.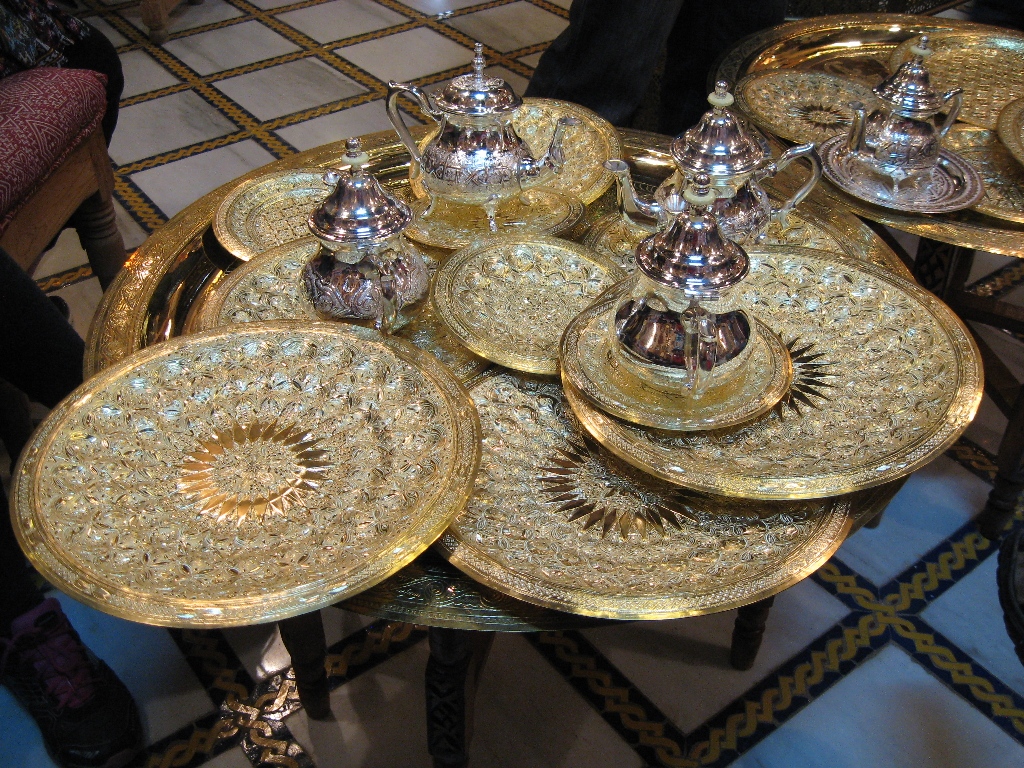 Hand-engraved brass trays and teapots.





Escargots, anyone?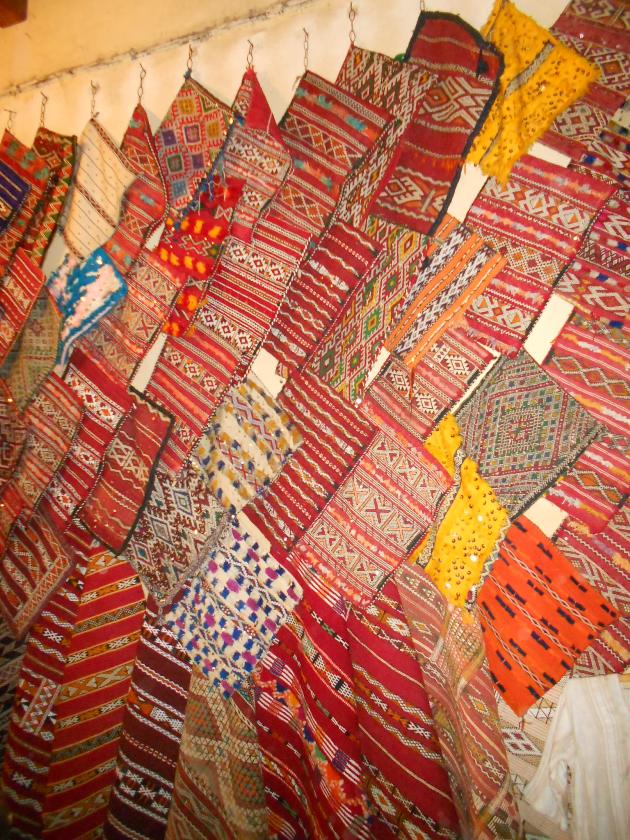 Handwoven cloth bags


---
Through the Mountains
From Fez we drove 9 hours south to the Sahara, through the Atlas mountains.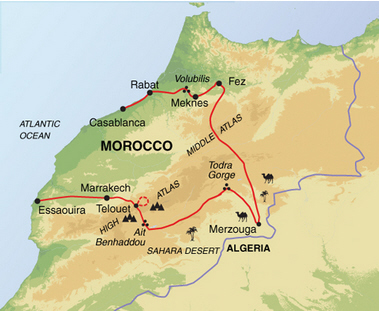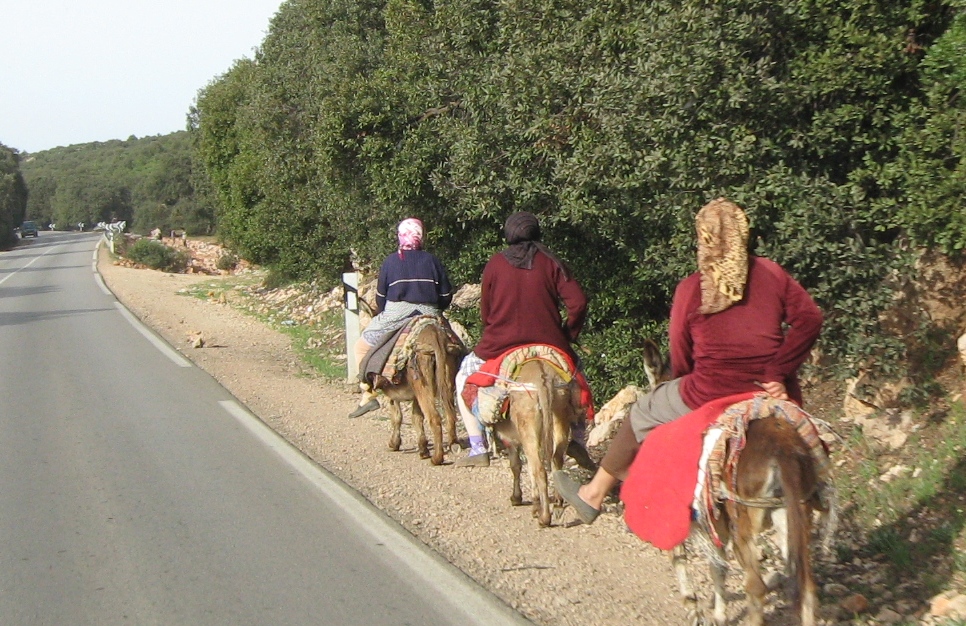 Roadside donkey riders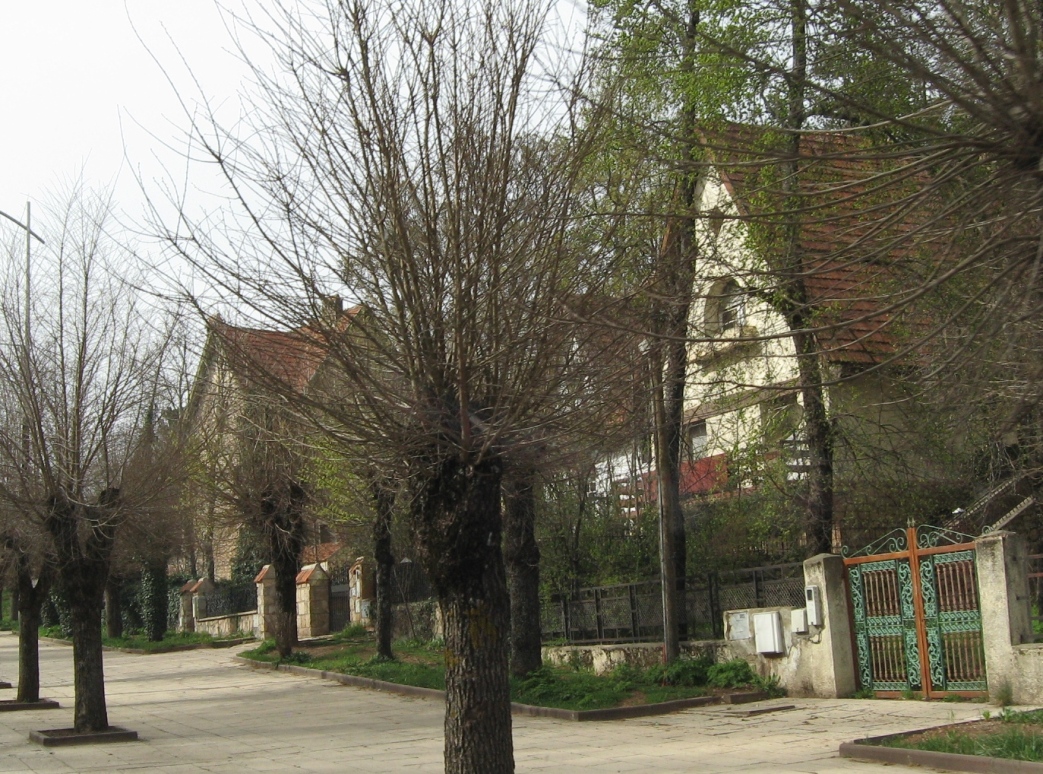 Ifrane, at 5500' elevation, is called the "Switzerland" of Morocco. It has chalet-style houses and a ski area.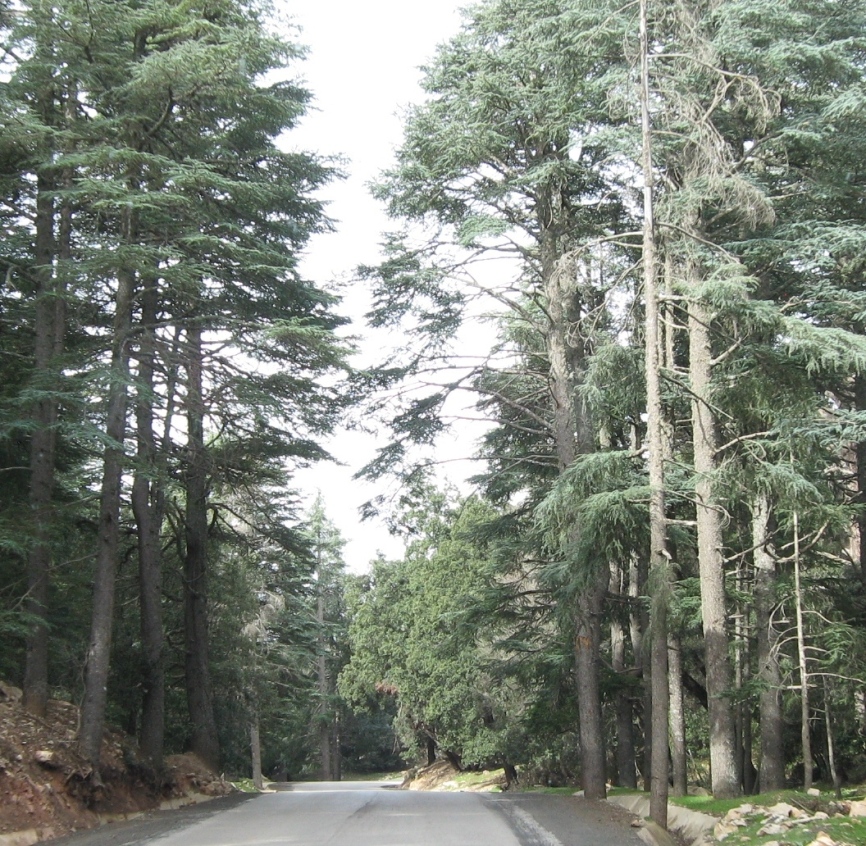 Atlas cedar forest. We got out and walked for a bit, hoping to see the resident monkeys (Barbary "Apes").





Double decker sheep truck in a typical Moroccan town. Note the Arabic writing on the hillside. It probably says "God, King, Country."





The Atlas mountains.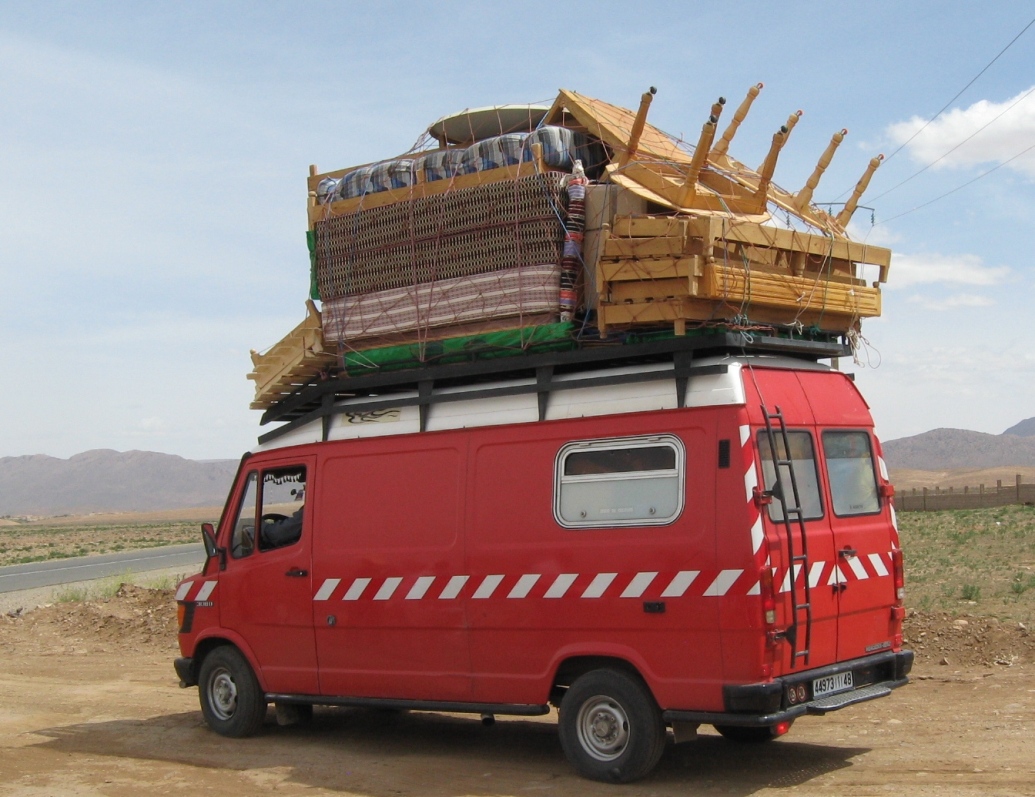 Moving day.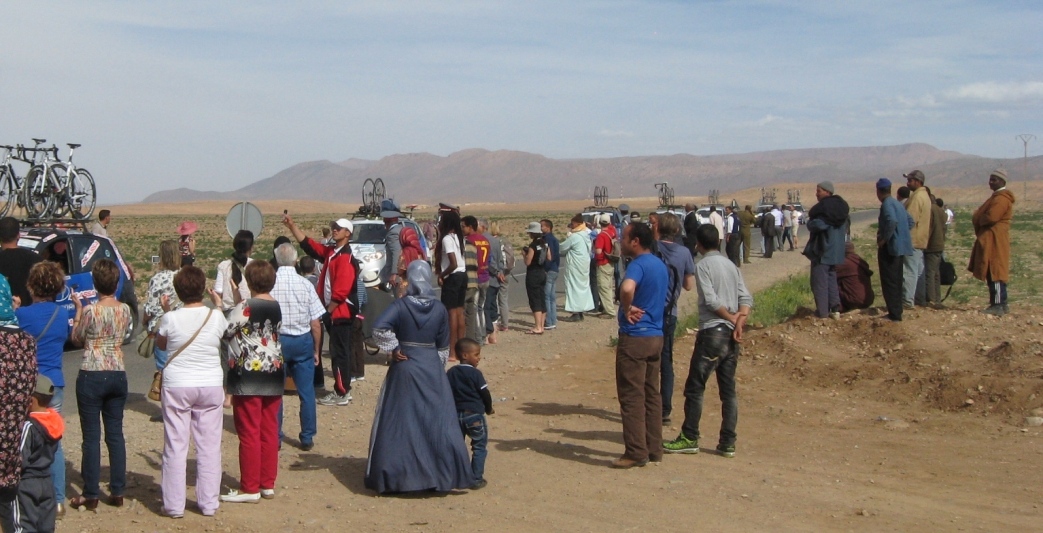 We were delayed for three hours due to a bicycle race. No one got upset, despite the long delay. It was quite warm in the sun. Morocco's weather is a lot like southern Arizona.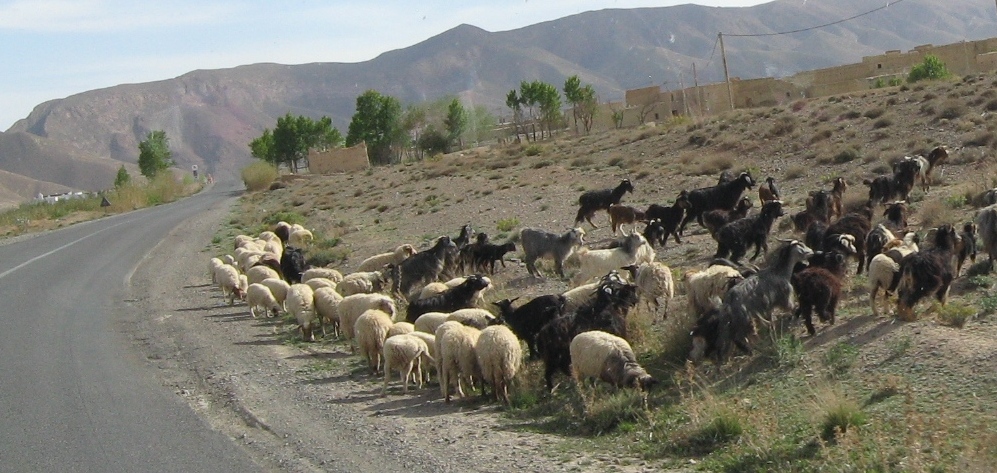 Mixed flocks of sheep and goats are just one of the many traffic hazards.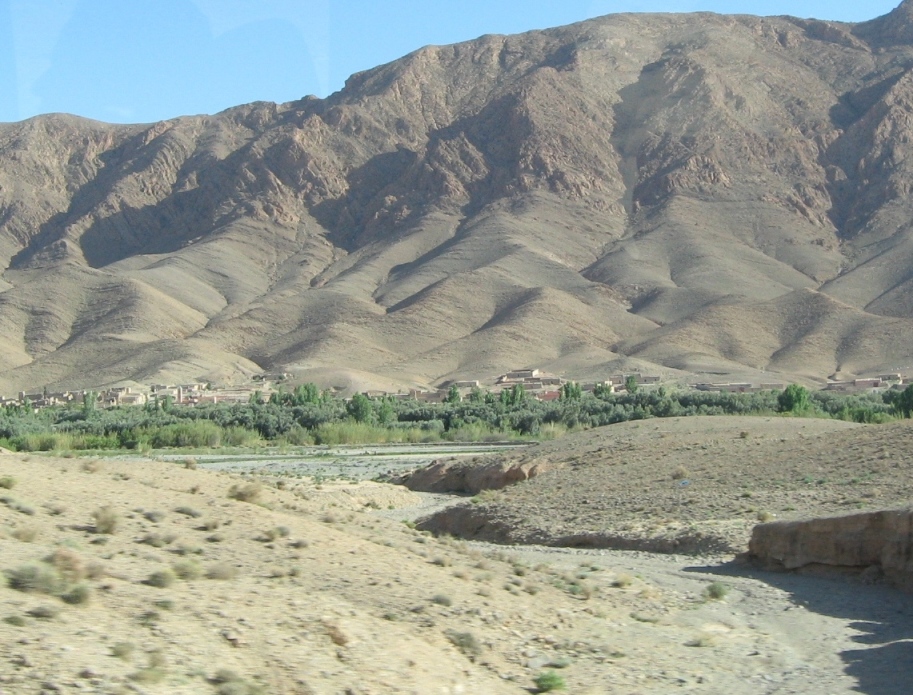 The mountains grew increasingly arid as we traveled south.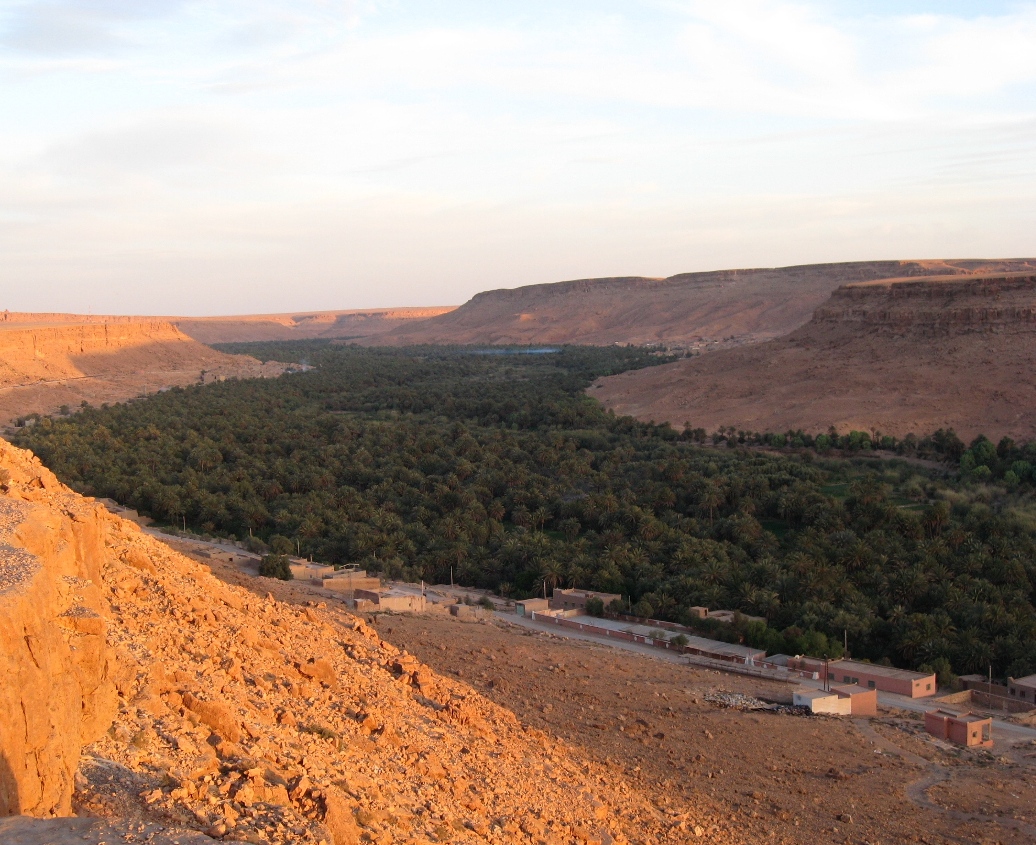 A date palm oasis along the Ziz river.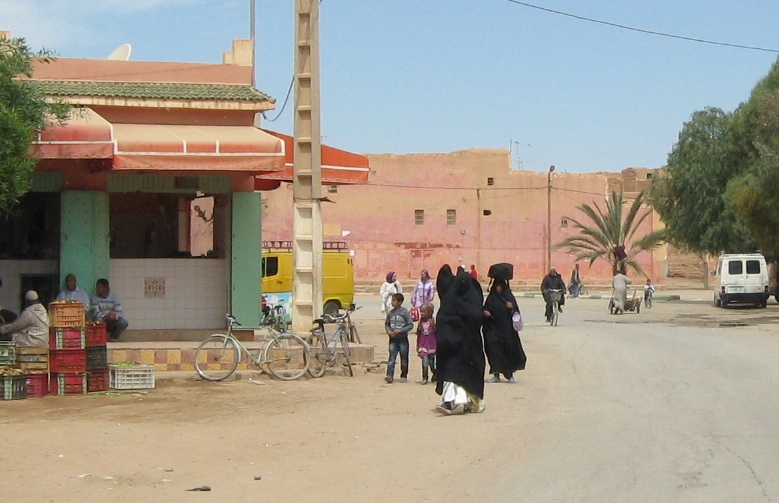 In rural areas, it's common to see women wearing black robes.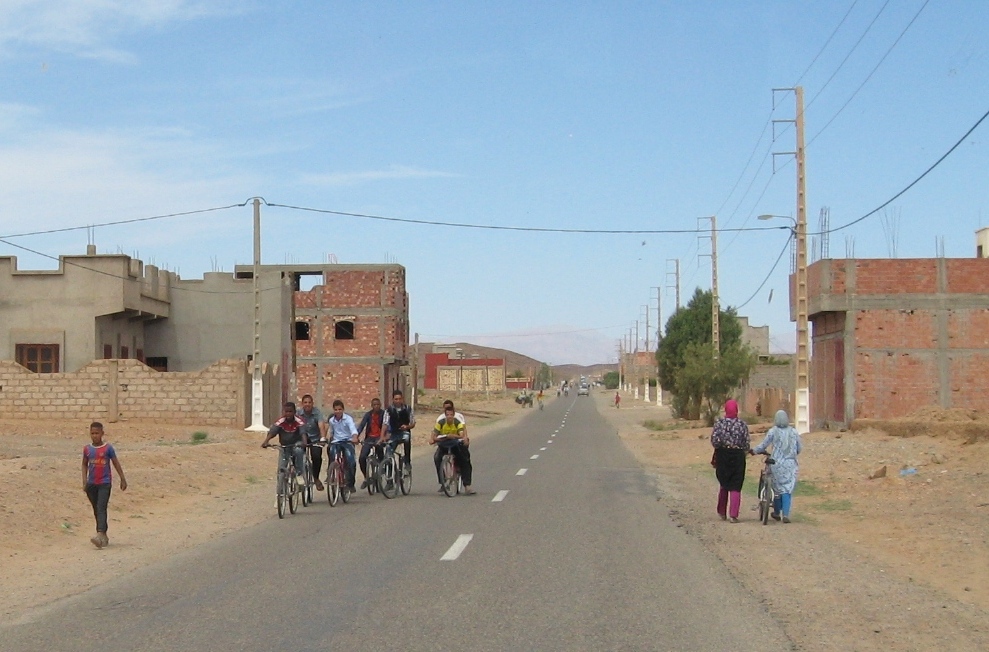 Boys on bikes. The under-construction houses are like bank accounts. When you save up some money, you build a bit more. Eventually you have a finished, paid-for house.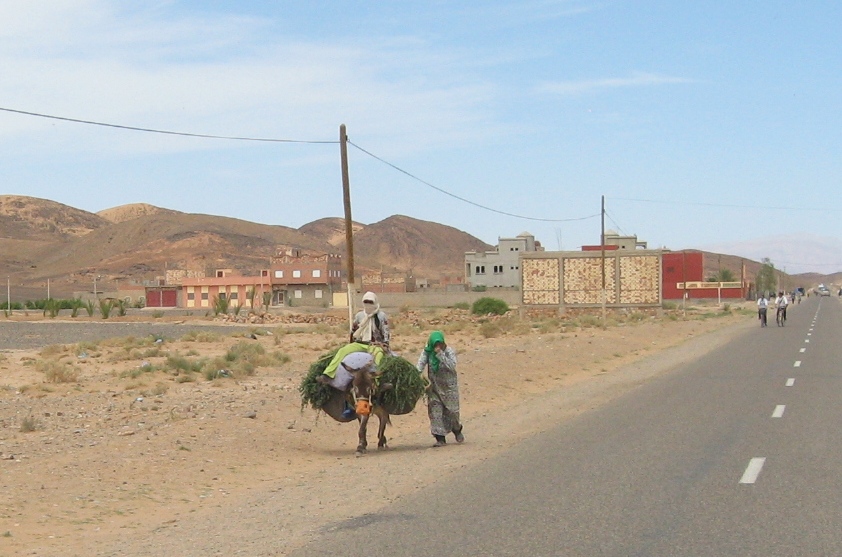 Donkey carrying fresh fodder home from the fields.


---
The Sahara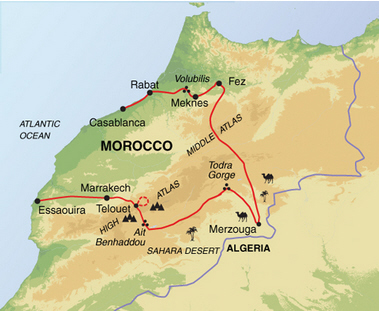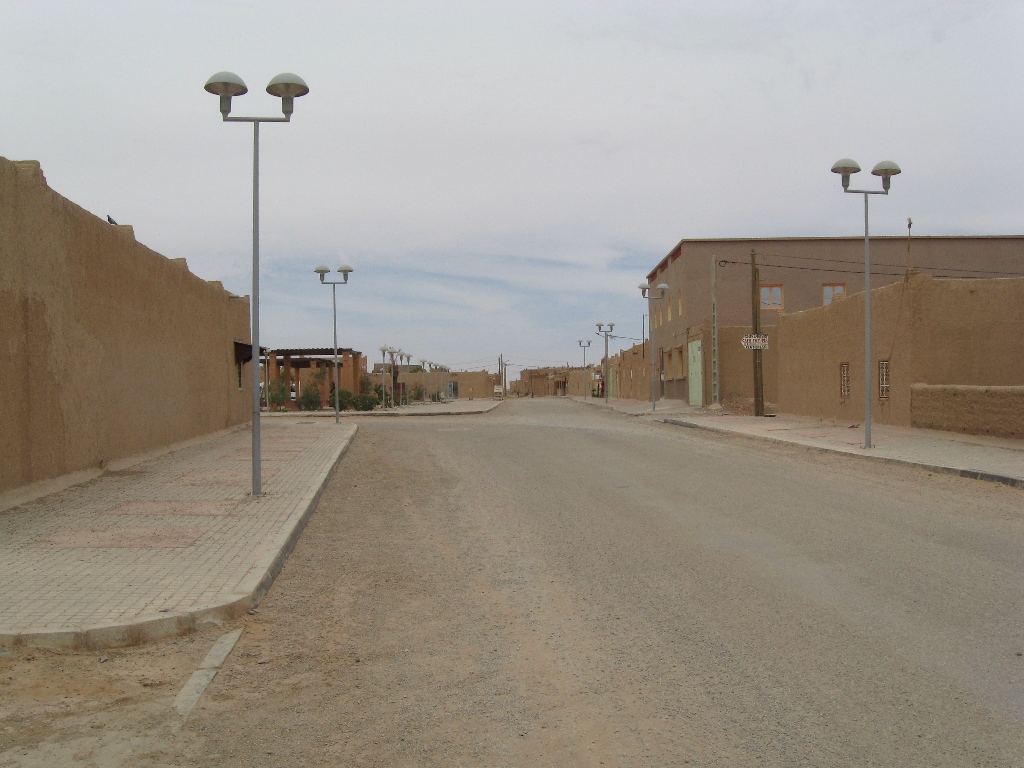 The quiet town of Hassilabied, near Merzouga, in the Erg Chebbi dunes about 12 miles from the Algerian border.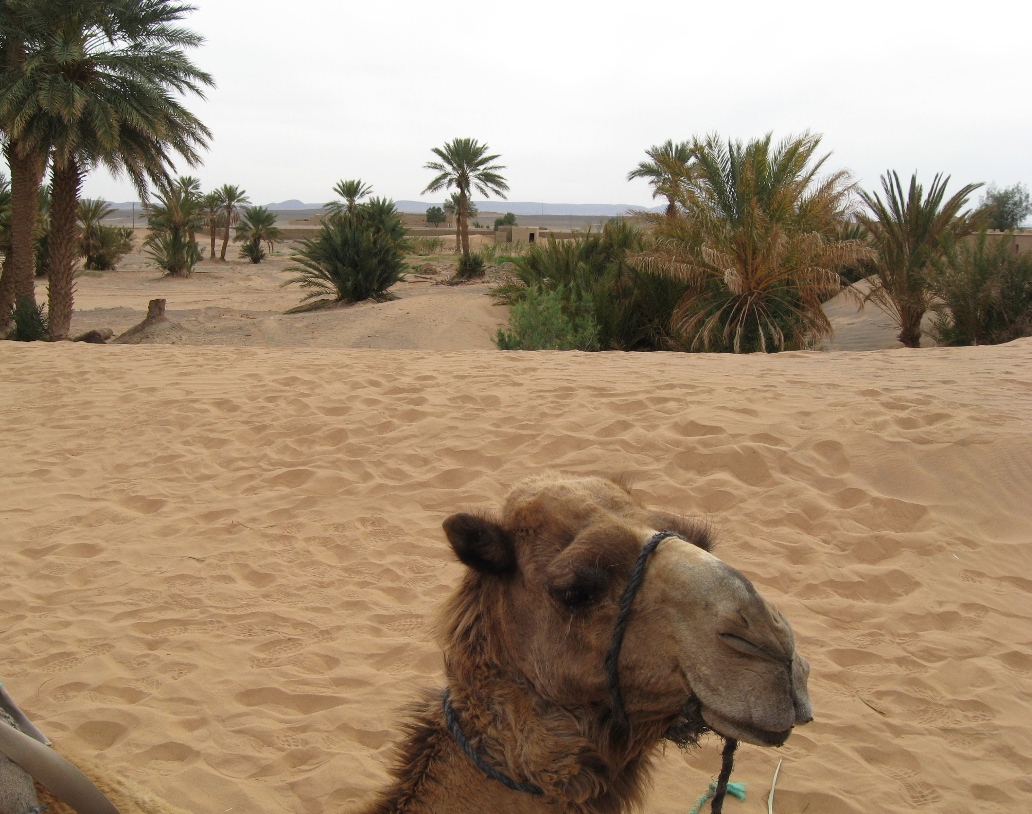 Our hotel, just visible behind the palms, was right next to the dunes. Camels are so photogenic.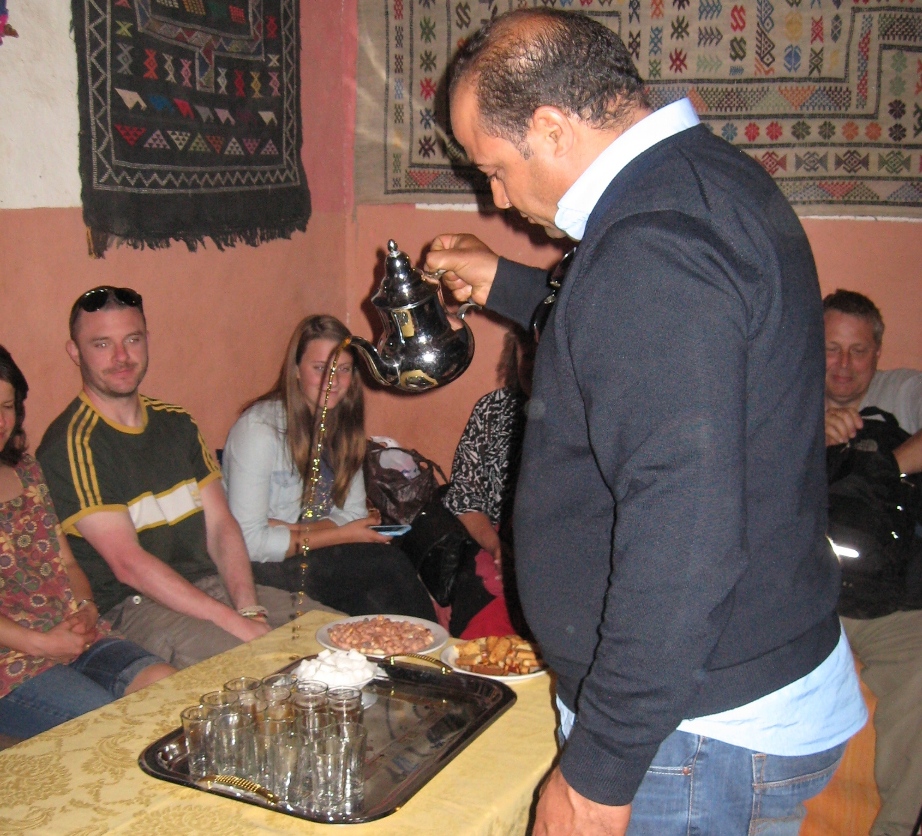 When we arrived, mint tea, salted nuts, and biscuits were waiting for us. Our guide demonstrated the proper pouring technique - higher is better.





We saw these beautiful birds, called Blue-cheeked bee eaters. (Photo courtesy of the internet.)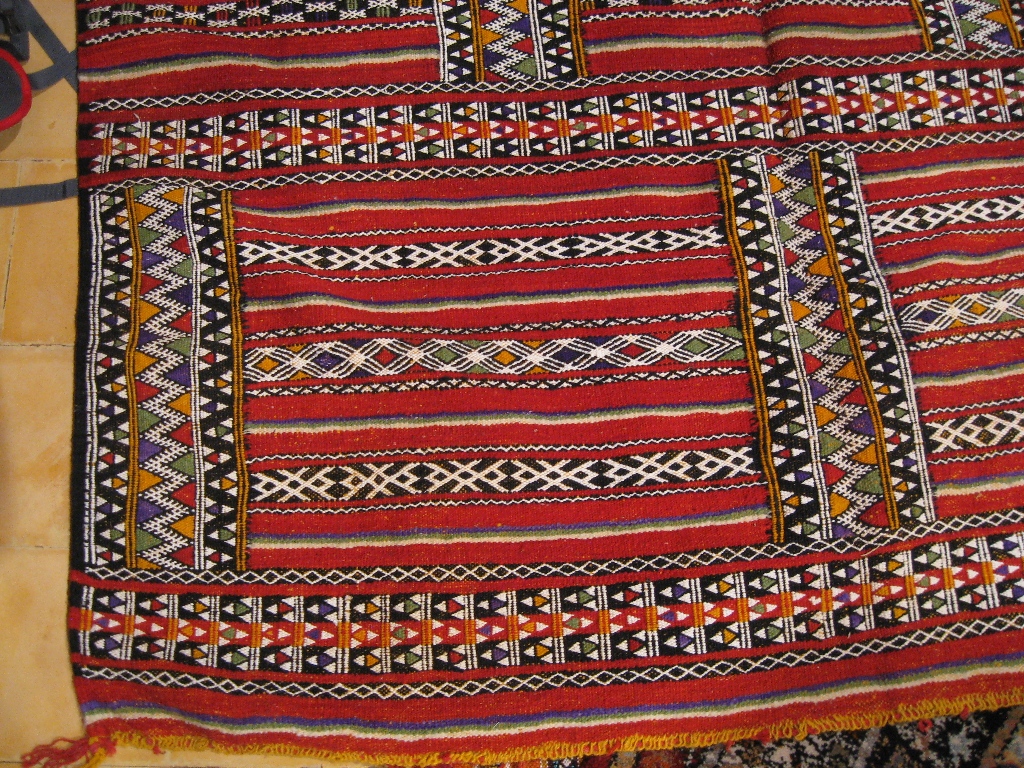 A local shop sold colorful Berber rugs. Berbers were the original inhabitants of Morocco, before the Arabs came.





Berber crafts are beautiful. Materials include brass, silver, wood, and camel bone.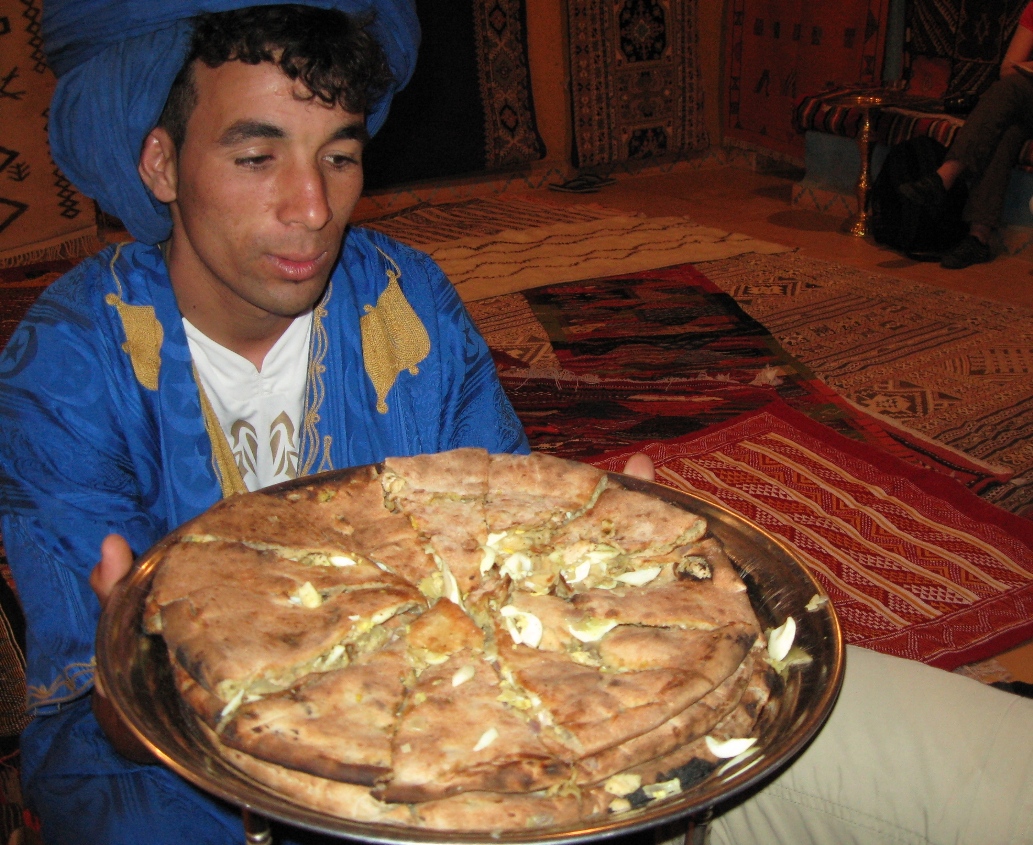 Stuffed flatbread, aka "Berber pizza." This one had onion, hard boiled egg, and turkey. It was tasty.


---
Camping in the Desert


In the afternoon, after it had cooled off a bit, we rode camels into the desert to spend the night.





Camel feet are perfectly adapted for walking on sand.





Before you can ride a camel it has to stand up. This means you first have to tip backward...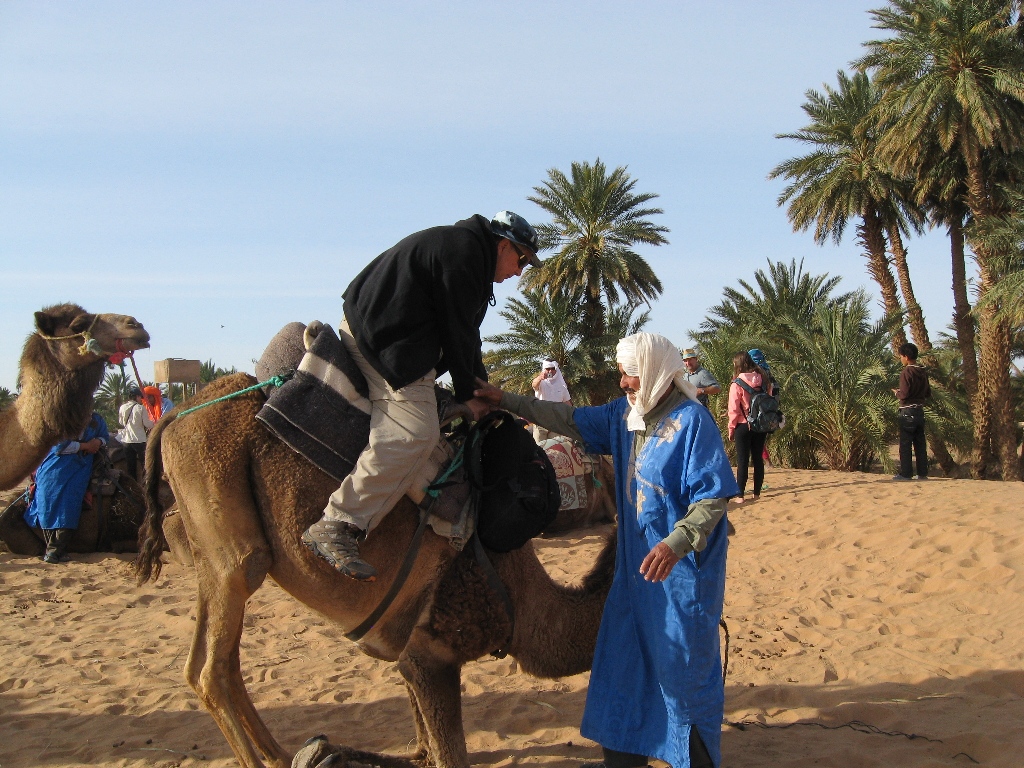 and then forward.





Hi Ho Silver!





Heading off into the sunset.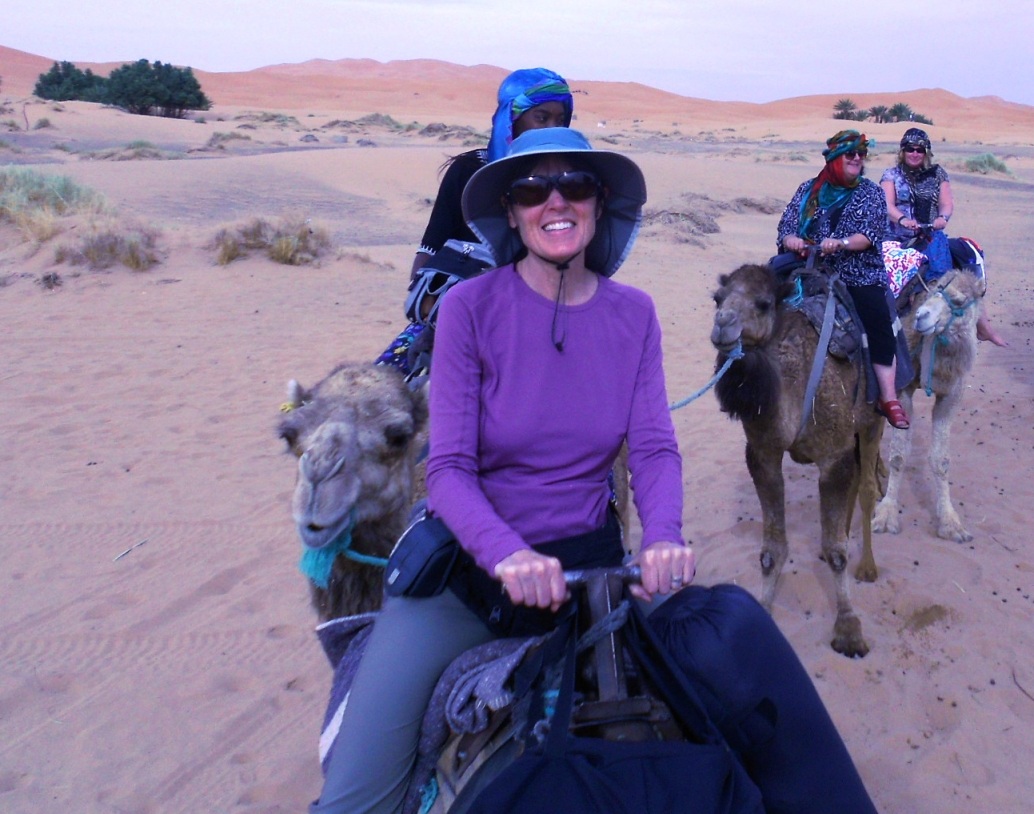 Riding a camel is very fun, but a bit uncomfortable. Maybe it was the lumpy wool blankets you sit on, or the lack of stirrups to take the weight off your legs, or perhaps it was the the bumpy gait of the lumbering beasts. An hour was plenty.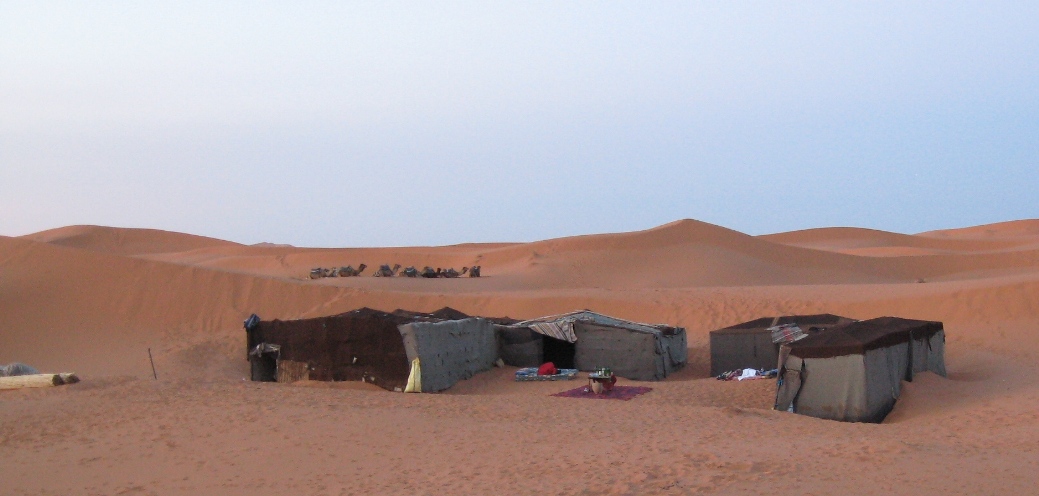 Our camp consisted of blanket-covered tents.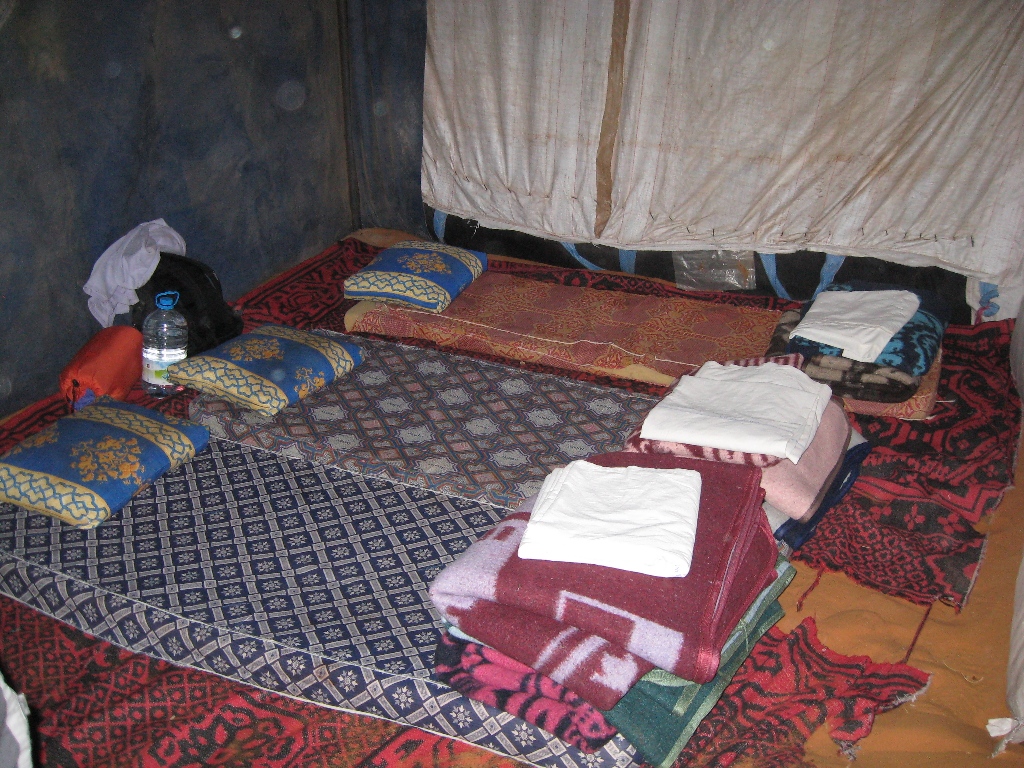 Our beds for the night. Unfortunately, they may have been the source of the itchy bed bug bites I was later covered in... (The bites can take up to two weeks to appear - you don't feel the bites when they occur.)





Inside the outhouse was a chemical toilet.





We all climbed a dune to watch the sunset.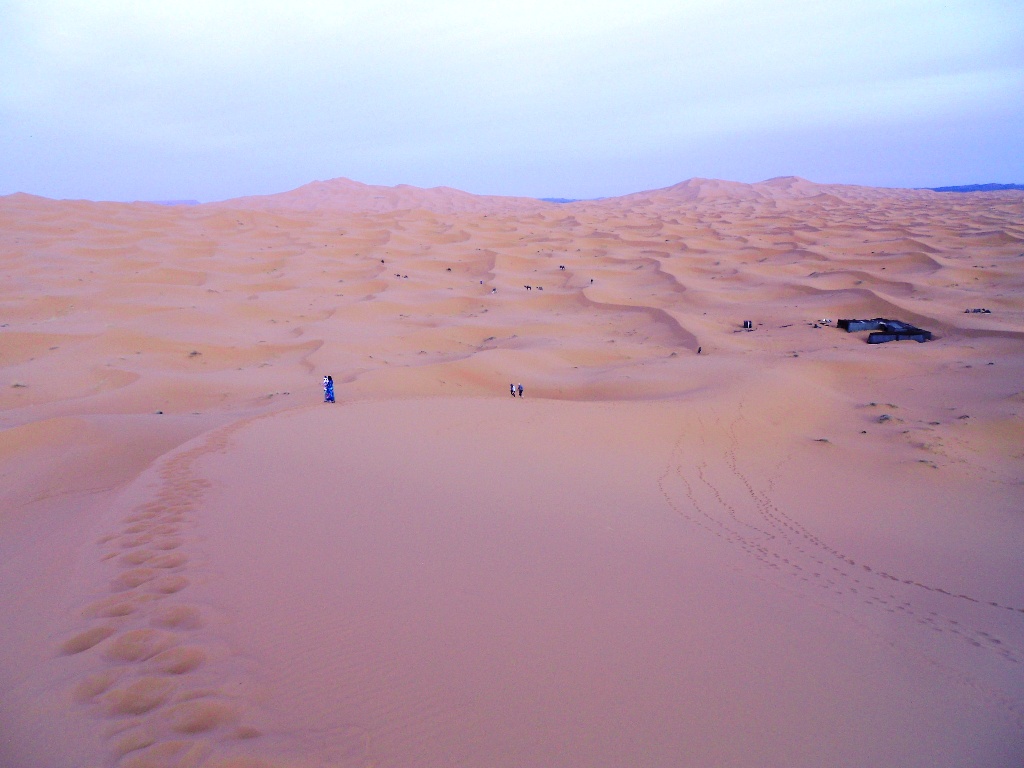 Our camp and camels far below.





Being in the desert was quite magical. The sand was soft as silk.


---
Todra Gorge
The next morning we rose early to watch the sunrise, then rode back to the van, packed up, and drove 5 hours to Todra Gorge.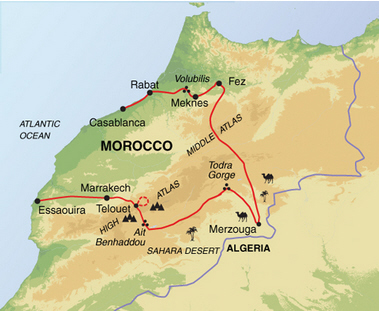 View from our window at Kasbah Taborihte in the Todra Gorge.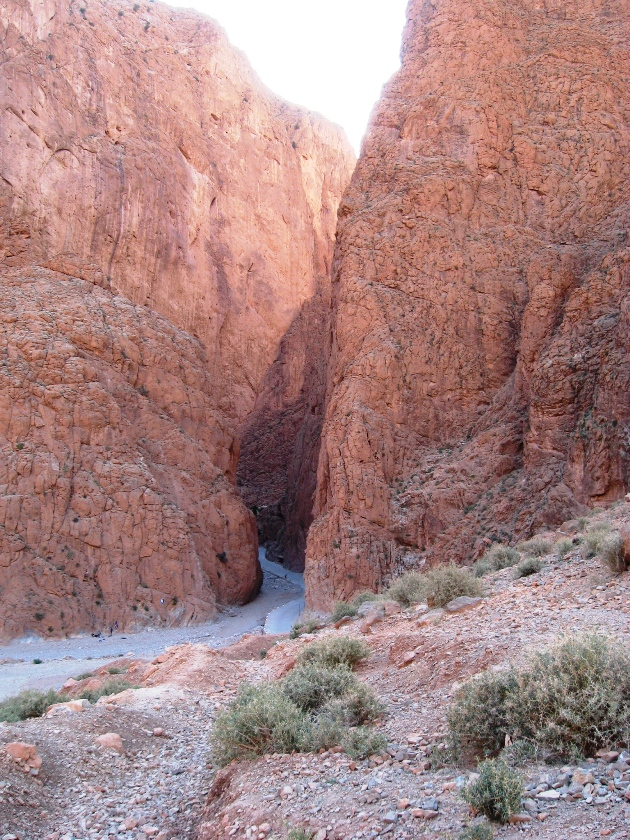 Todra Gorge.





A strenuous 4-hour hike above Todra Gorge.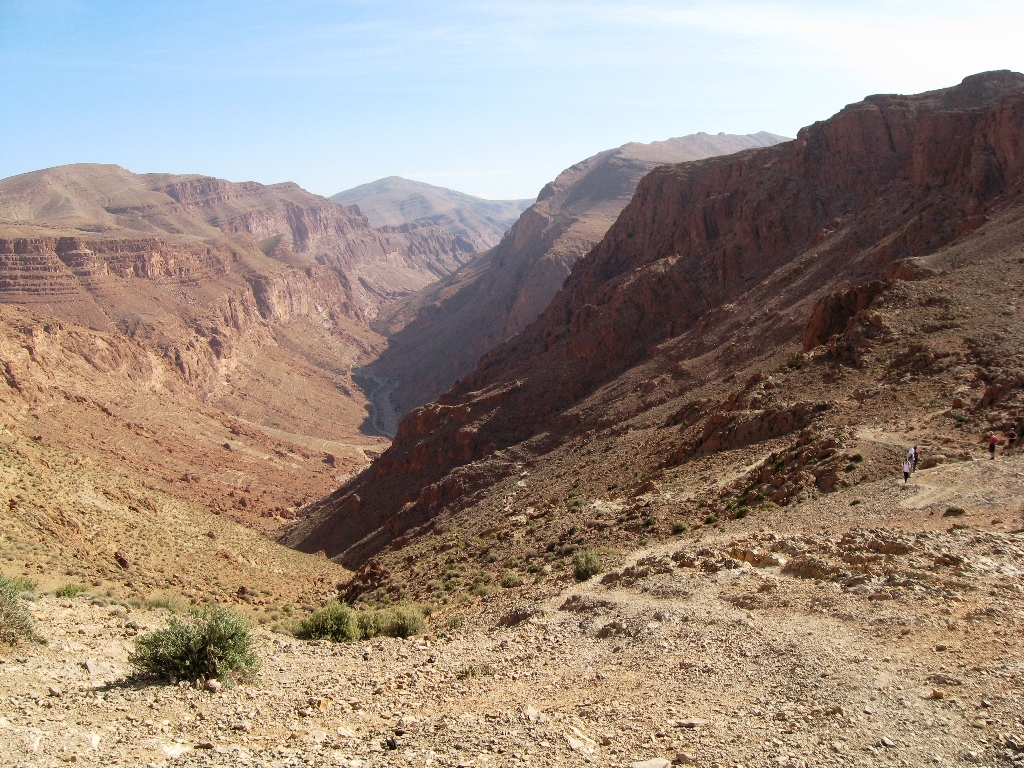 Todra Gorge scenery.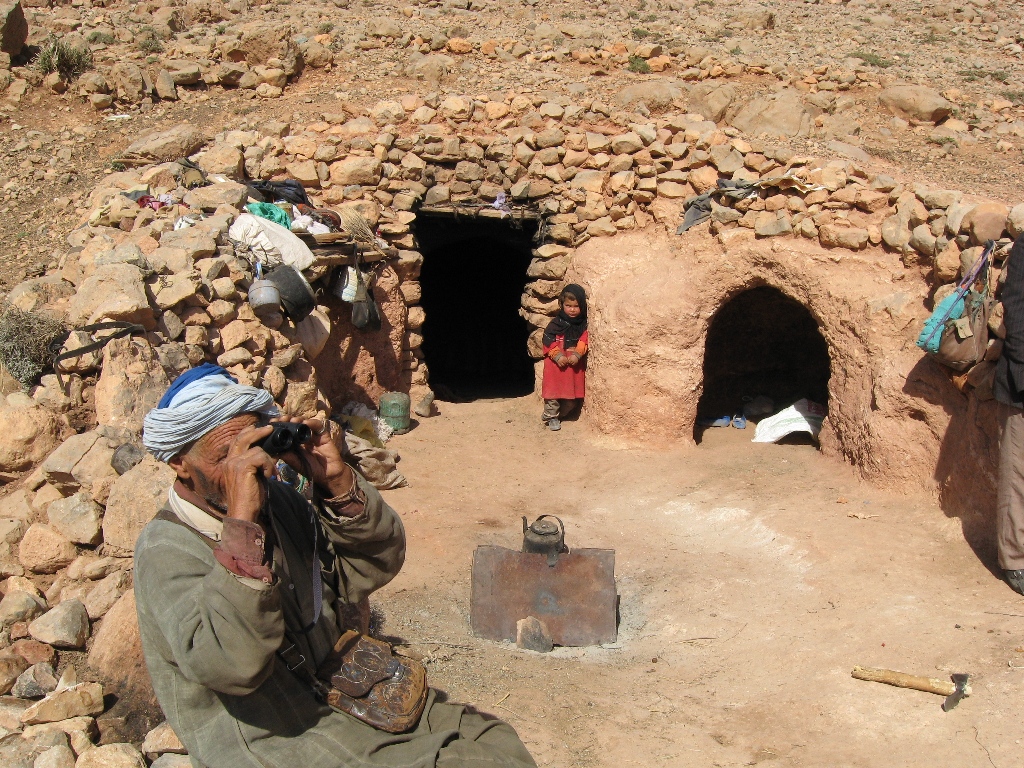 Near the top was a nomad camp. For a fee they let us take pictures. The old man was fascinated by my binoculars.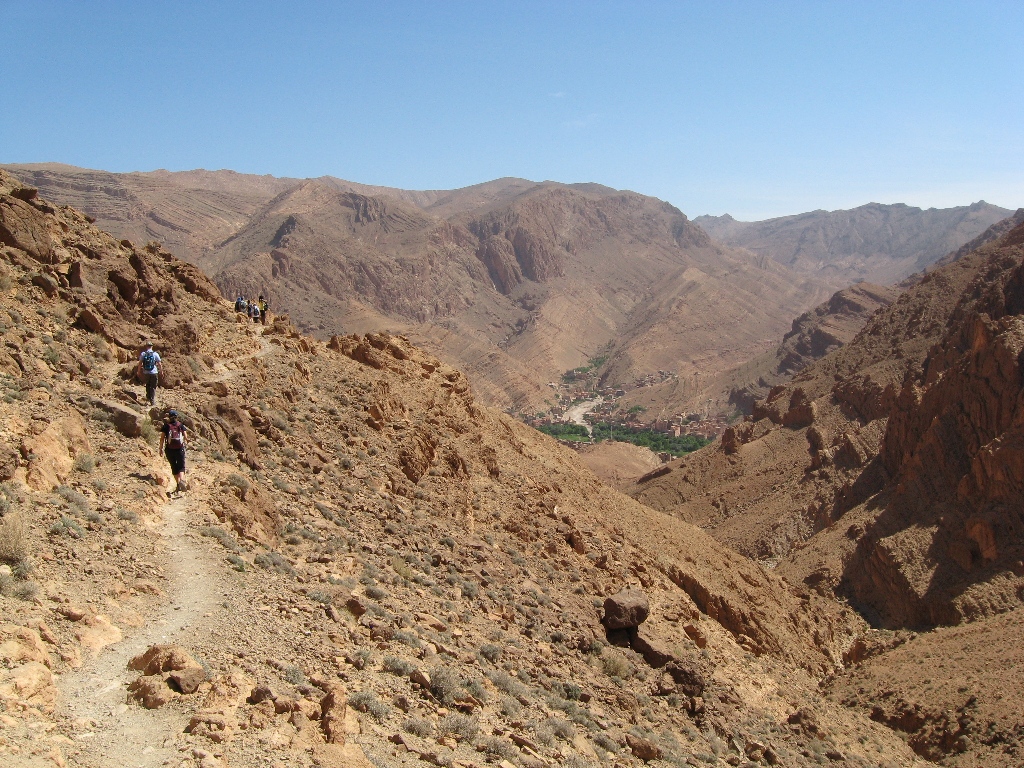 Hiking above Todra Gorge.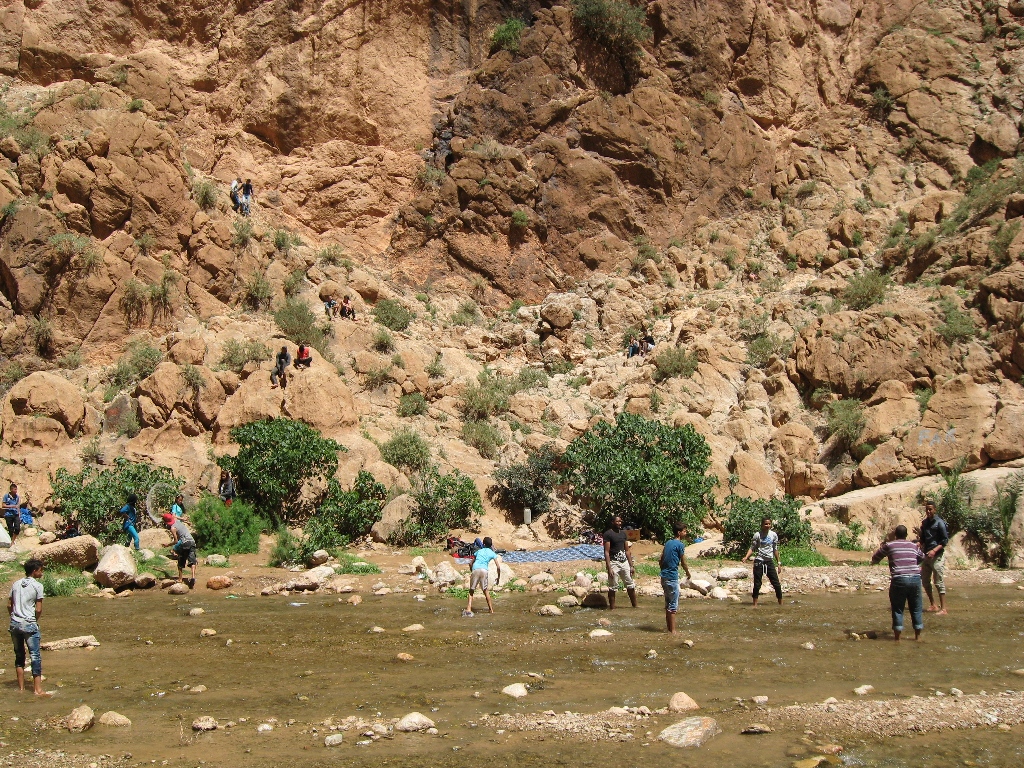 After the hike we strolled along the gorge. It was a warm afternoon and the stream was thronged with Moroccan families on Sunday outings.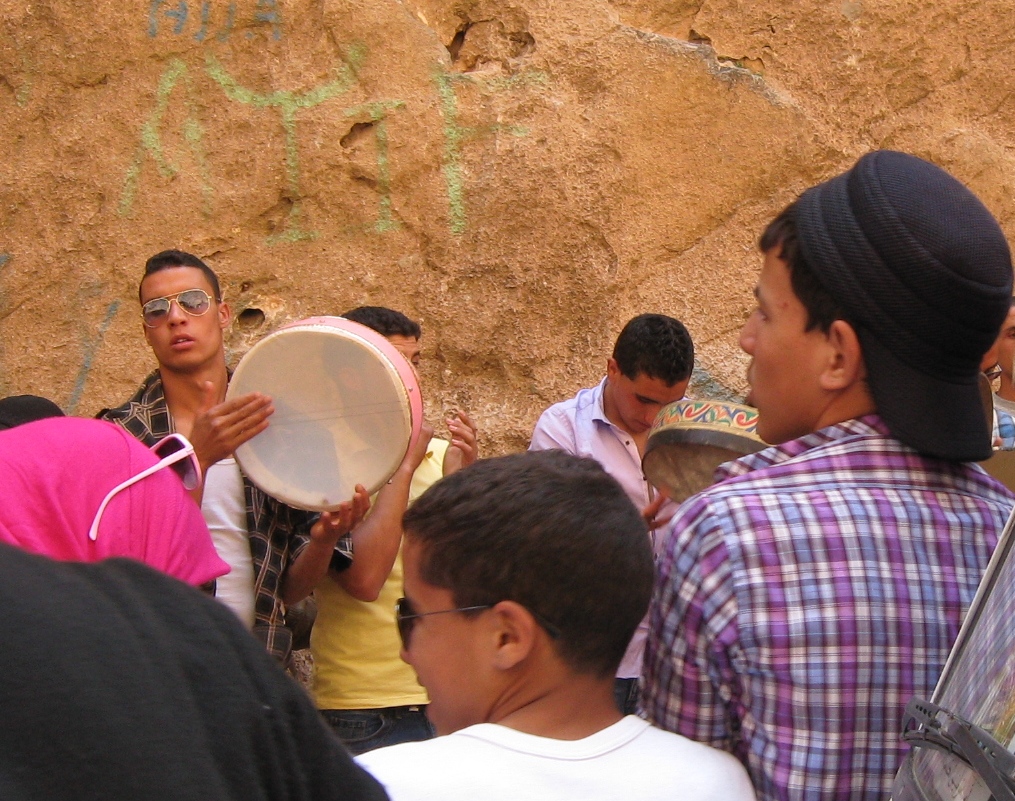 Groups of young people played and sang traditional music.





In the afternoon we took a walk through this palmery.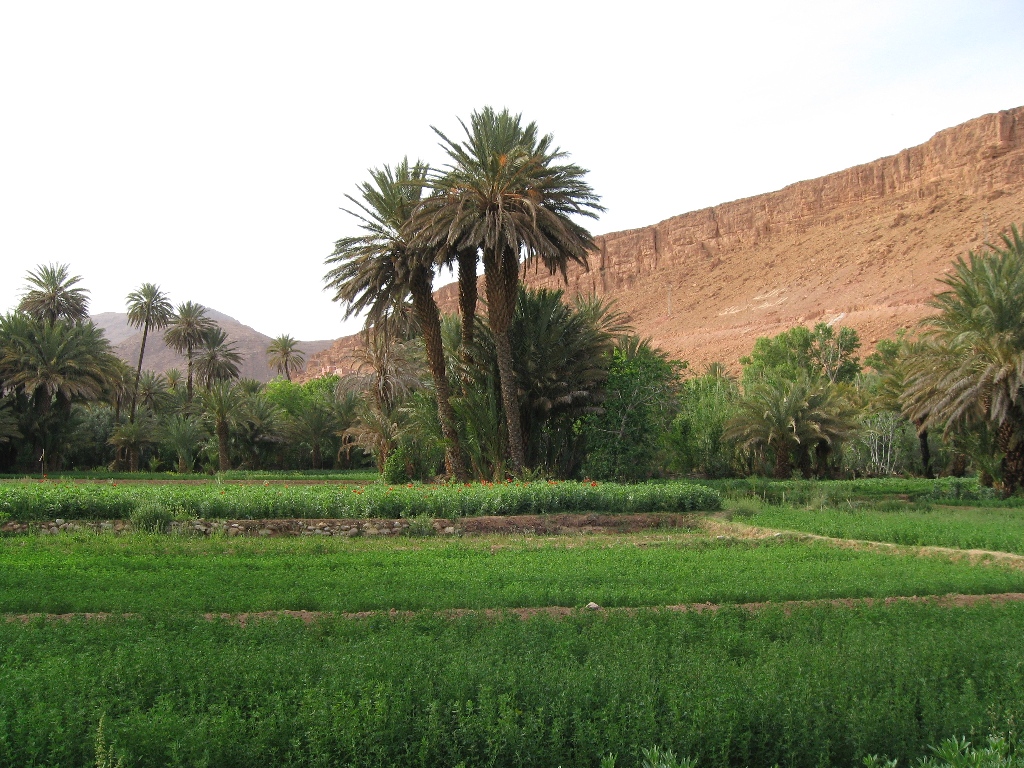 The palmery was a cool, green oasis of date, nut, and fruit trees, vegetables, wheat, alfalfa and wildflowers. Women and children weeded and harvested (they didn't want their photos taken). Donkeys brayed, birds sang, water gurgled. It was quite lovely and peaceful.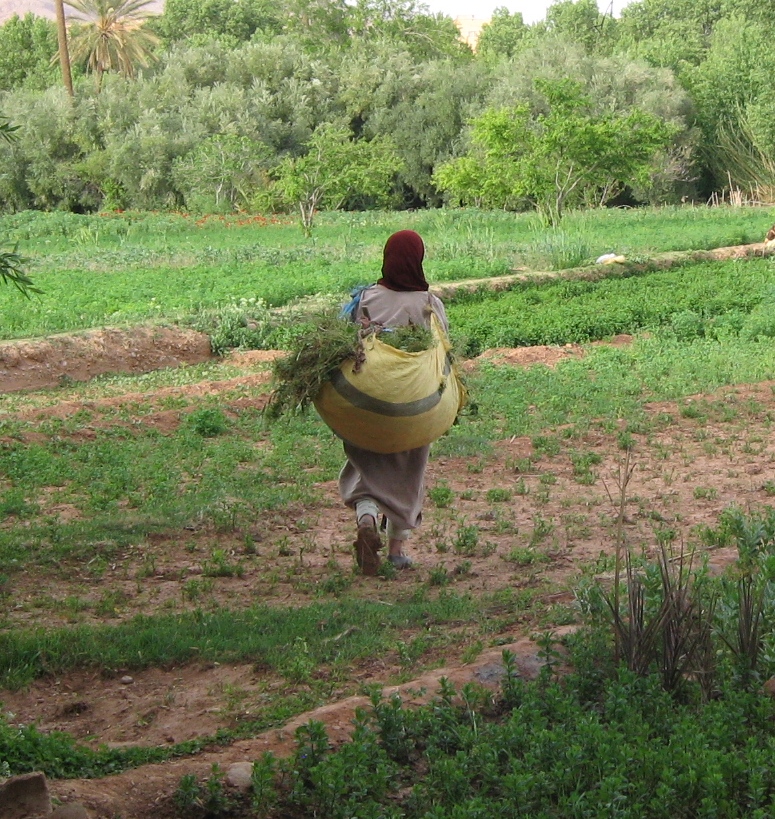 I snuck this photo of a woman carrying a heavy load of greens for her animals.


---
Rose Valley and the Route of a Thousand Kasbahs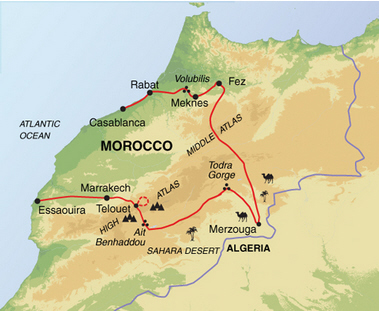 West of Todra Gorge is the valley of roses. Highly scented pink wild roses grow in profusion. Hundreds of shops sell "Produits de rose." Along the road, boys hold up strings of rose petals for sale.





This man is hoping people will pay to have their picture taken with his snakes.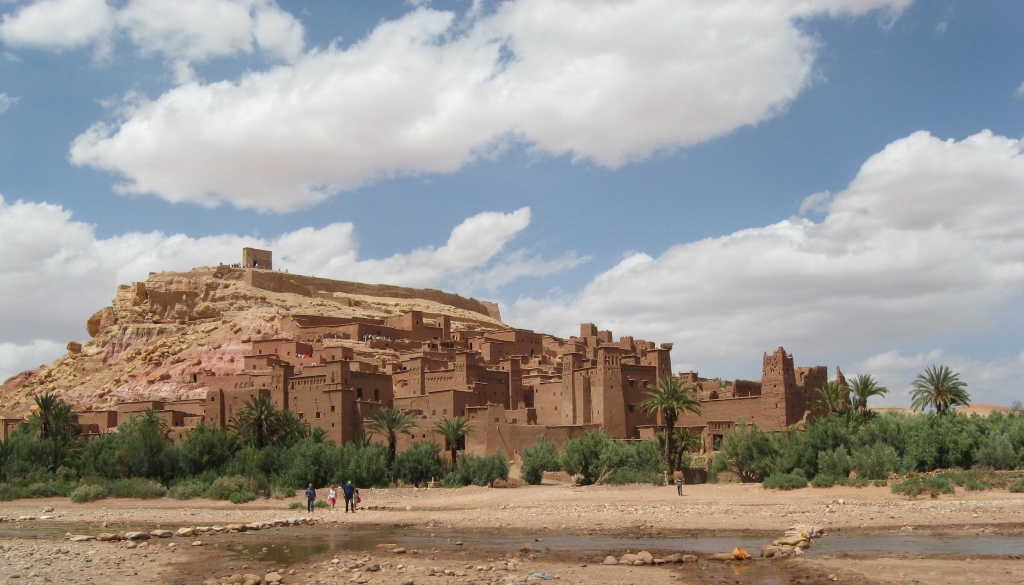 The earthen fortress of Ait Benhaddou was built in the 700s and has been used in numerous films, including Gladiator and Game of Thrones.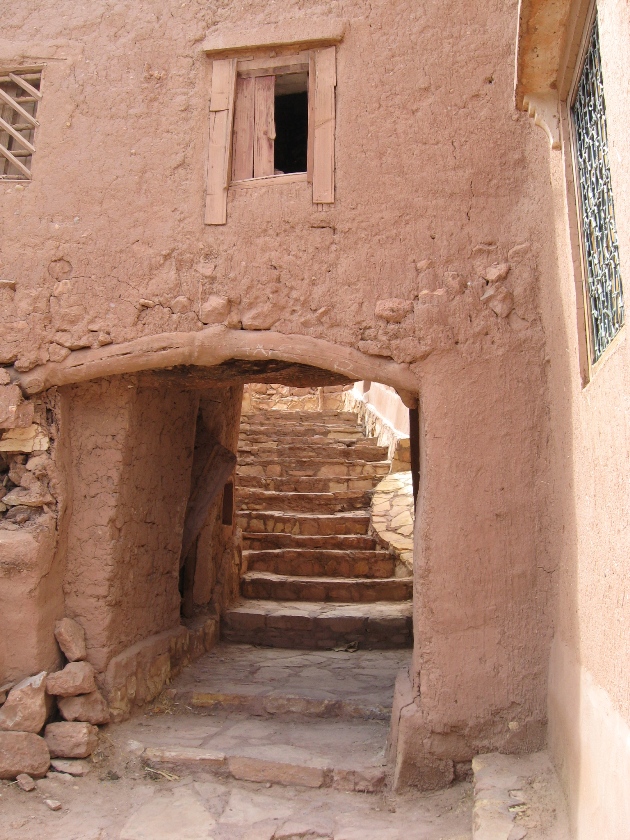 Ait Benhaddou was built as a tax collection center along the former caravan route between the Sahara and Marrakech.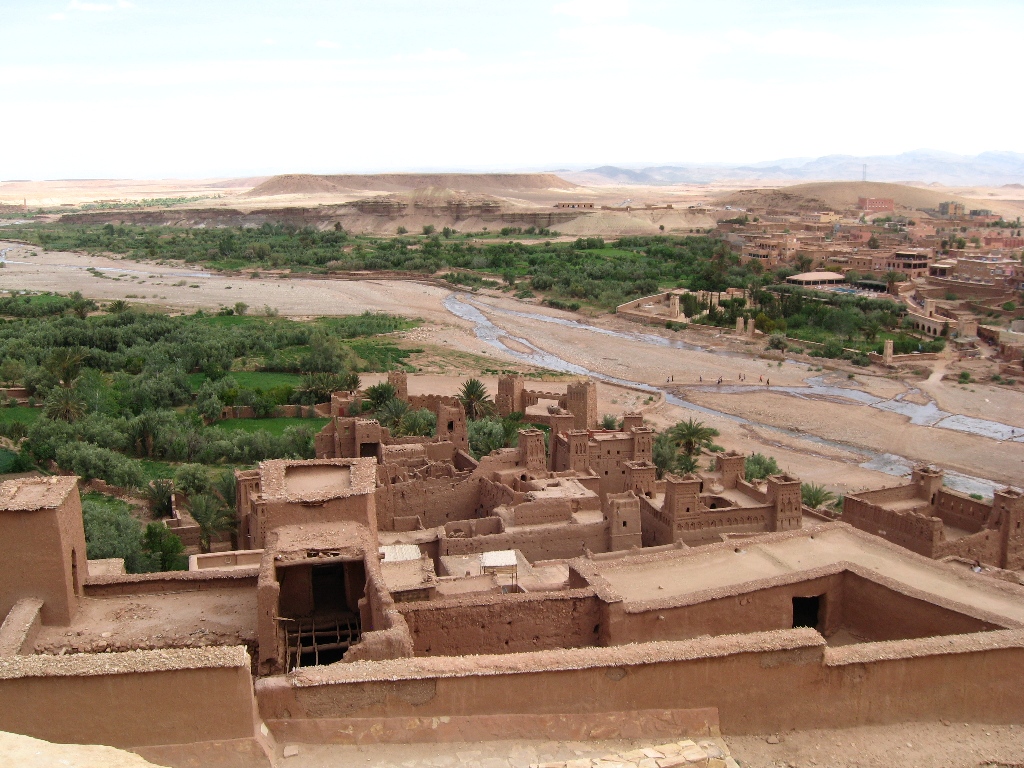 Ait Benhaddou





Ait Benhaddou





These enterprising lads earned money by posing with their lizard. In Morocco, half the people won't let you take their picture, and the other half charge you for the privilege.


---
A Berber Village in the Mountains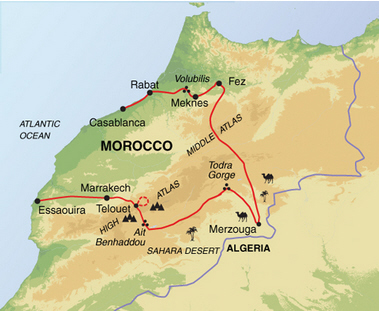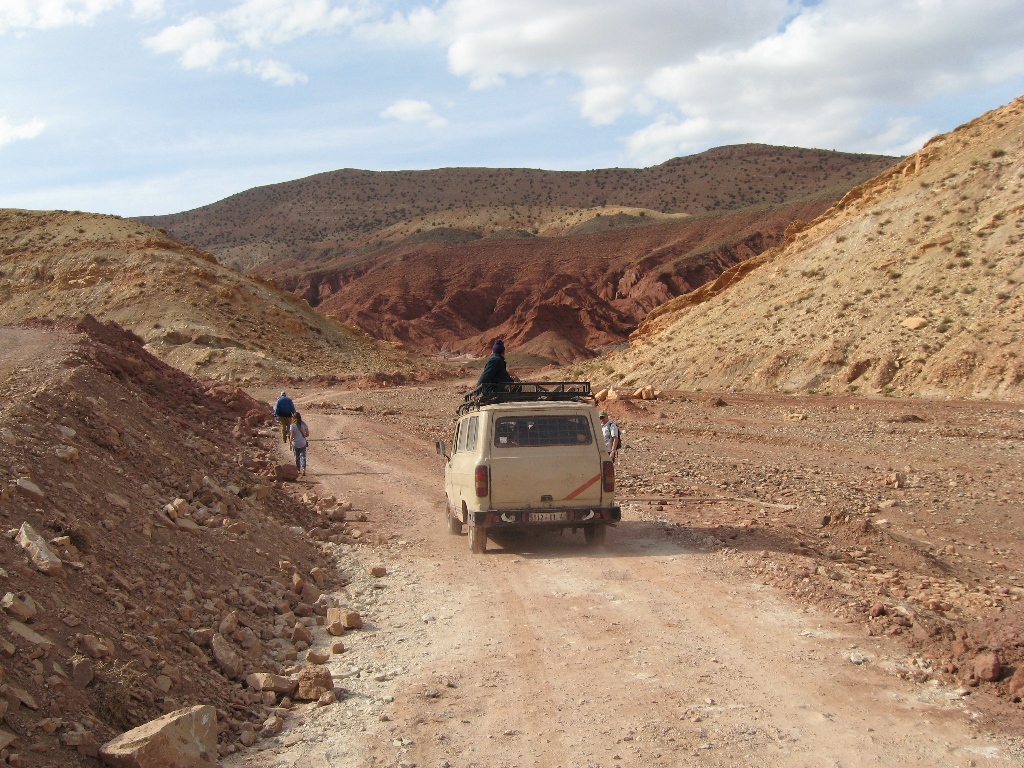 At a town called Anmiter we transferred our bags to a smaller van and walked about one hour to a Berber village. The road was too rough for our big van. (Dotted loop on the map.)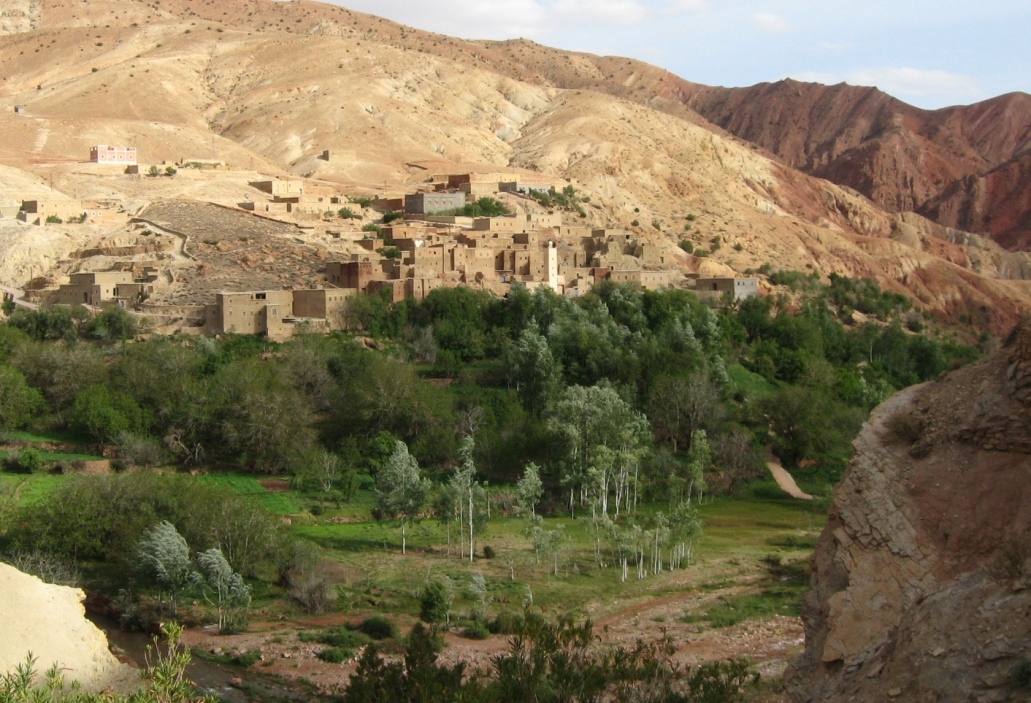 A river flows down from the mountains, supporting a series of small villages.





We spent two nights at Kasbah Oliver in the village of Tijhza. It had running water, electricity, and good food.





Lush fields below Kasbah Oliver.





Travel dollars helped fund a village Hammam. It was my first Hammam experience. I liked it!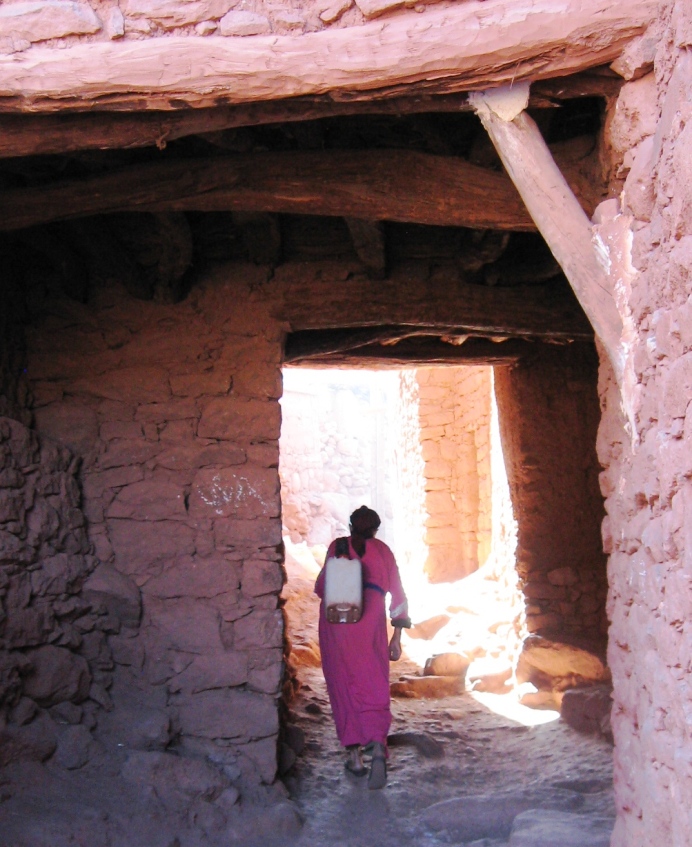 Tijhza is a rustic village where people work very hard. Most young men leave to find work, sending home money and coming for occasional visits.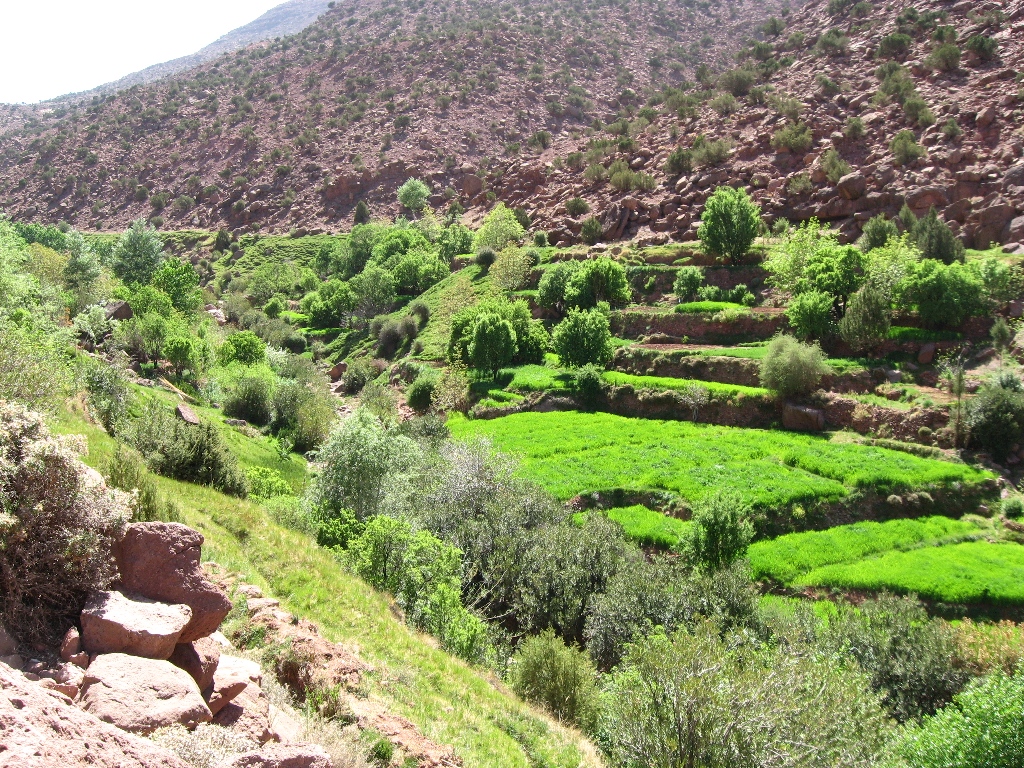 We went for a long walk up the valley, through a paradise of lush green foliage and birdsong along a rushing river. This was one of my favorite places in Morocco.





Wildflowers in Tijhza valley.


---
En route to Essaouira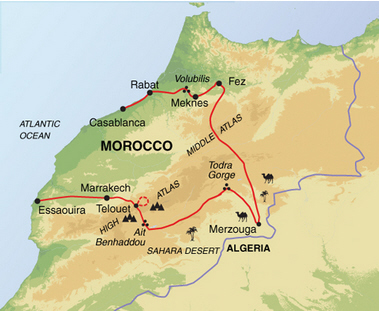 After leaving the mountain village we headed for Essaouira on the Atlantic coast. Along the way we passed through the beautiful High Atlas mountains on steep, windy roads through a patchwork of green vegetation and red rock.





In the High Atlas mountains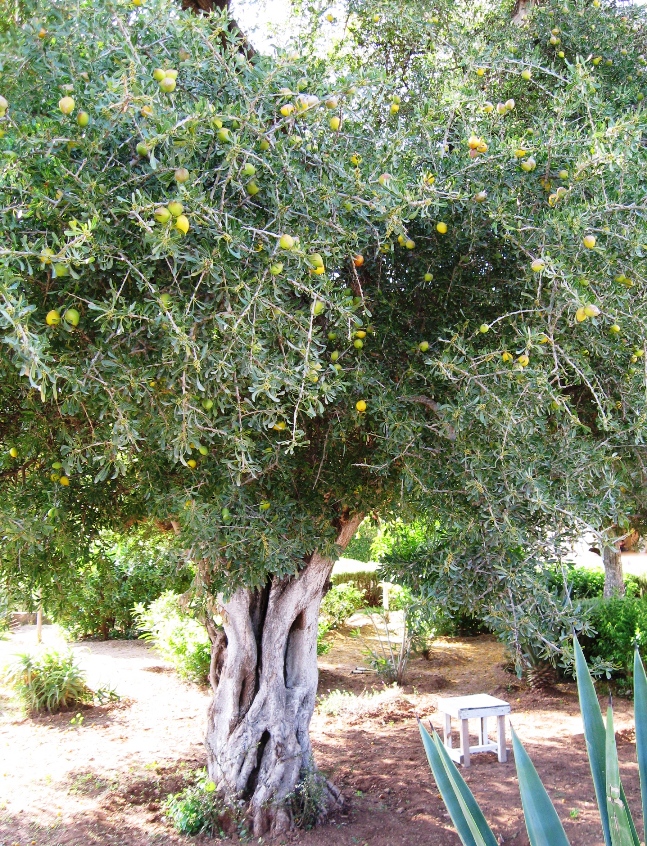 Argan trees grow only in parts of Morocco and Algeria. The expensive oil is prized for cosmetics and cooking.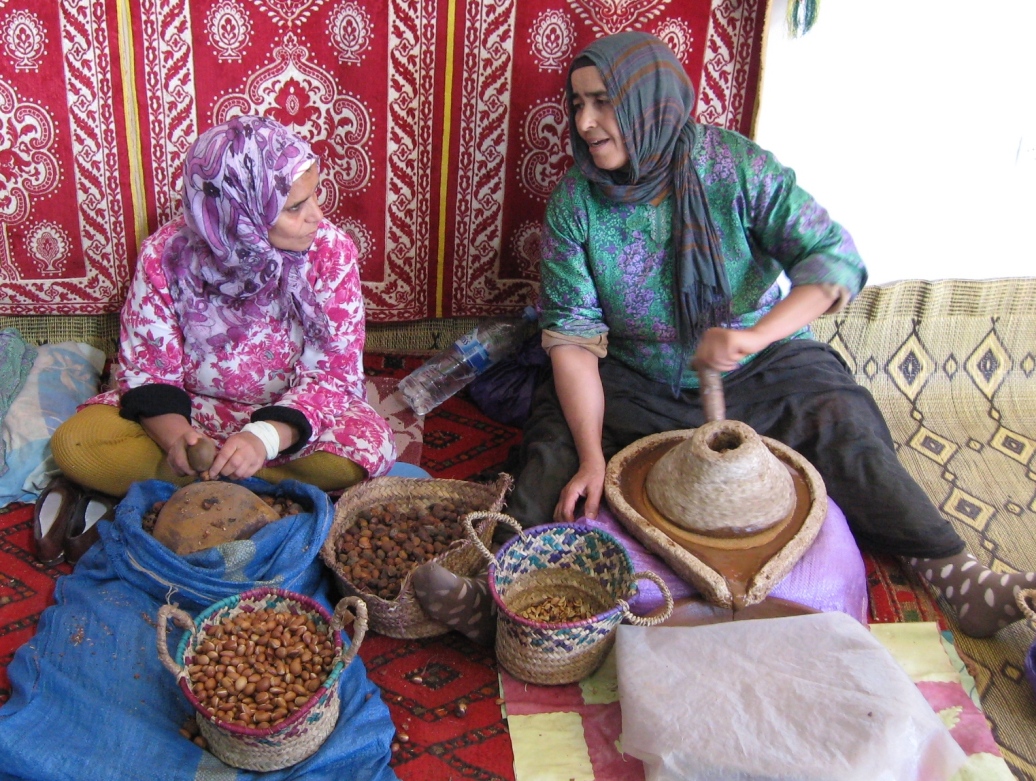 Women processing argan nuts at a cooperative.


---
Essaouira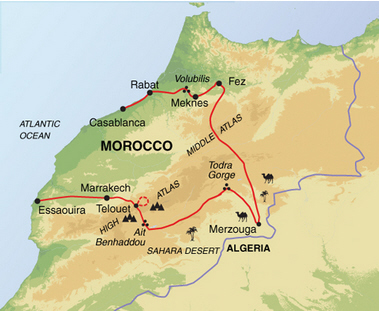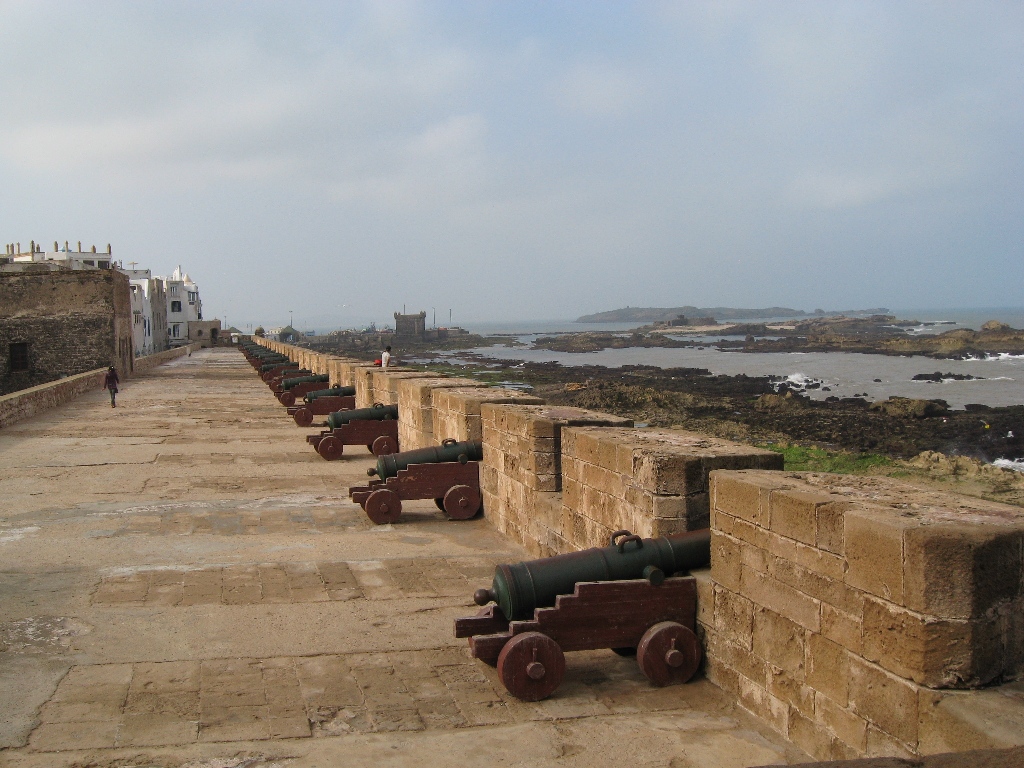 Cannons in Essaouira, a fortified town built by the Portuguese in the 18th century. We had a free day to explore on our own.





Both Moroccans and tourists flock here for seaside holidays. Camel rides on the beach are popular, but this is a kite surfing mecca as well - it's very windy.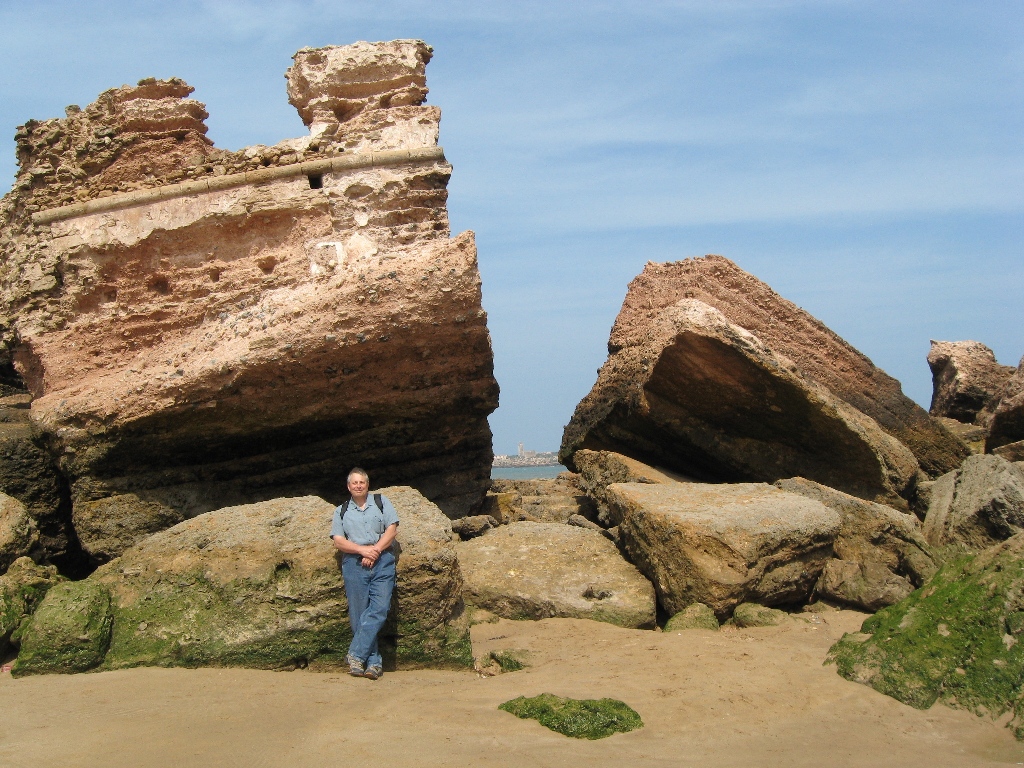 Legend has it that these ruins inspired the Jimi Hendrix song "Castles Made of Sand." In fact, Hendrix only visited Essaouria once, two years after the song was recorded. It's a great story though.





Hats in Essaouira.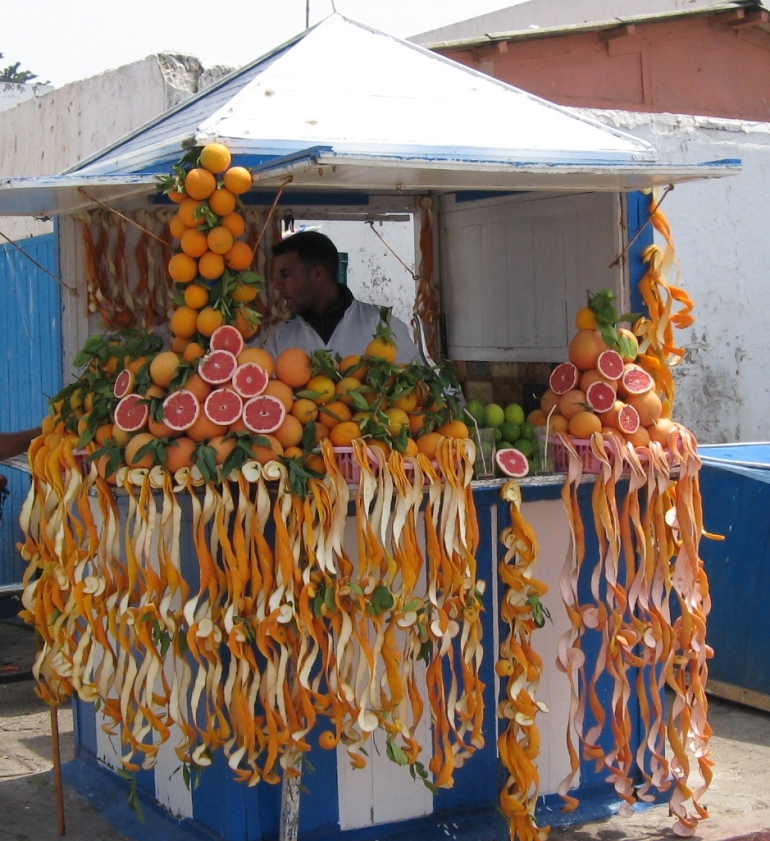 Juice stand.





Essaouira is famous for inlaid woodwork, called marquetry.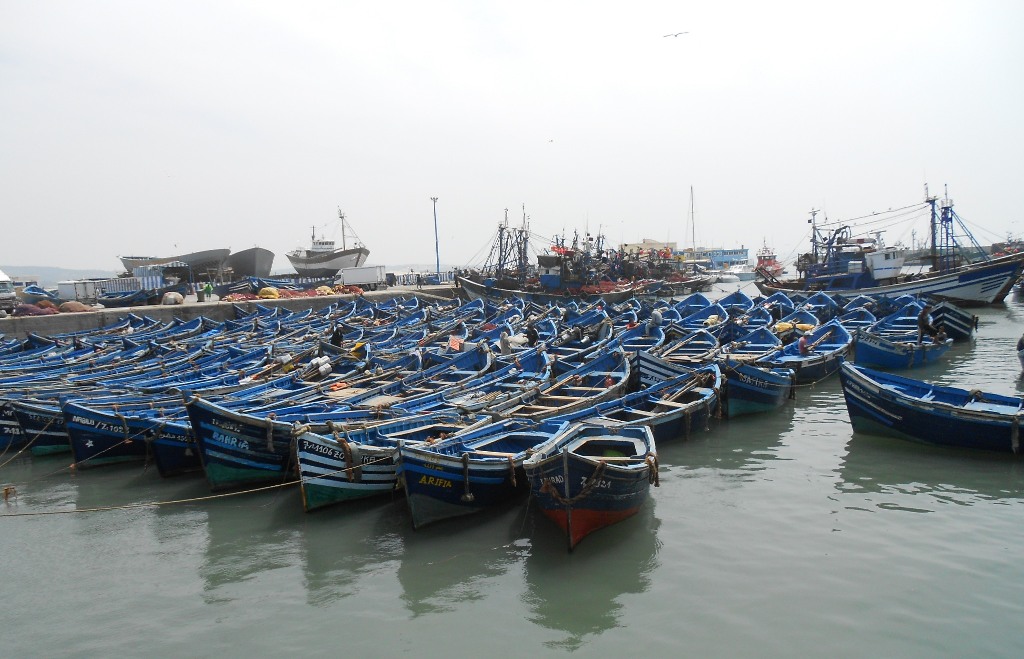 Essaouira is a working port town with many fishing boats, all painted blue.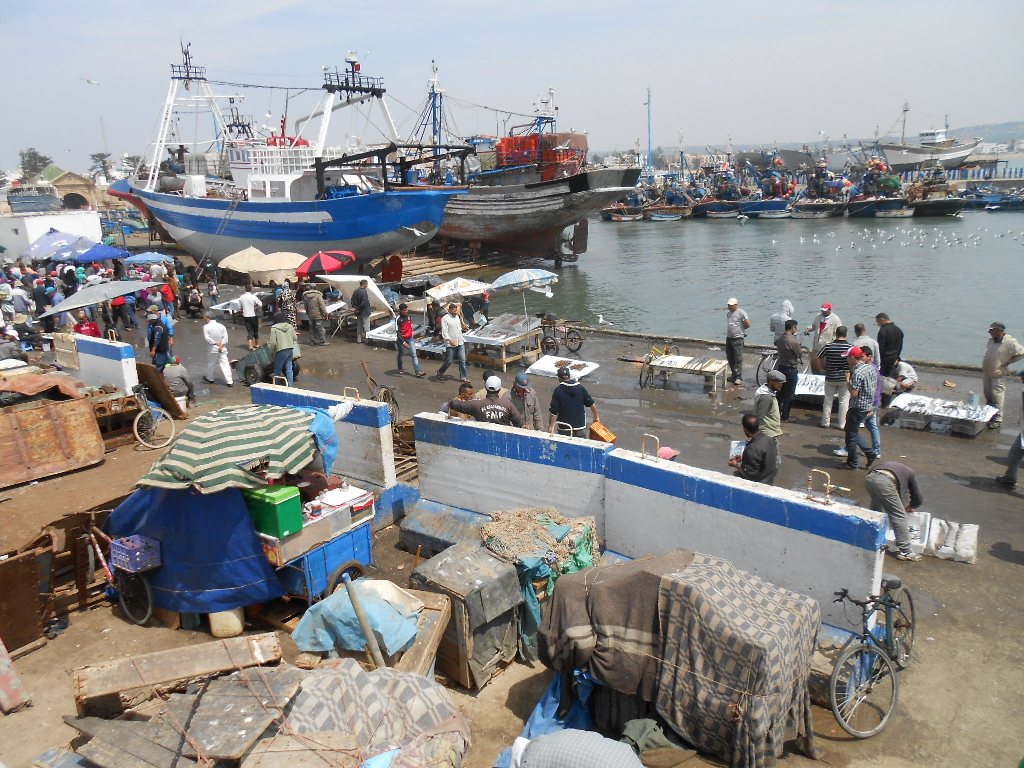 Fish vendors at Essaouira's port.





At one of the many fish restaurants you point to what you want from their display and they cook it for you.





We have always loved these lamps and looked forward to buying one in Morocco. They are made of goatskin and painted with henna designs.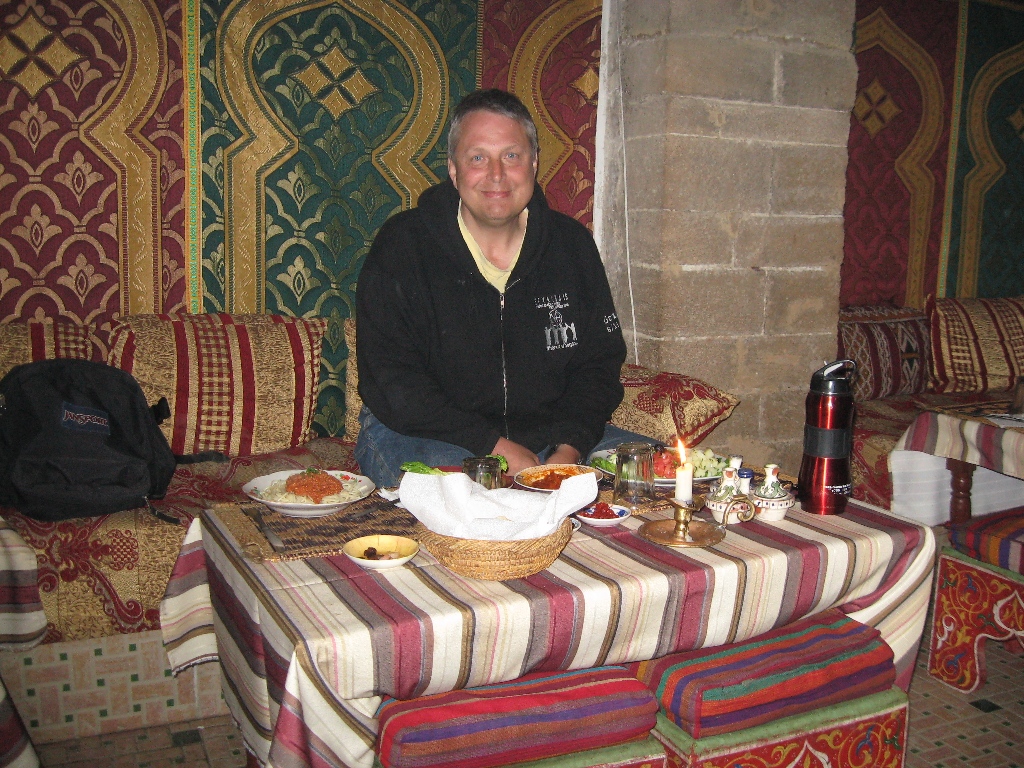 We enjoyed having a day off from the tour. Everyone was very nice, but it's a lot of togetherness.


---
Marrakech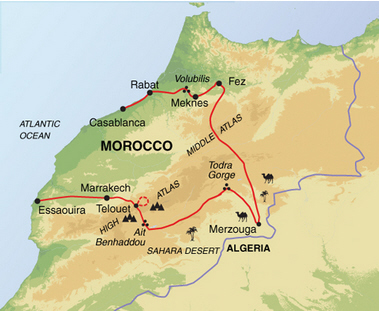 In Marrakech we visited the Saadian tombs and the Bahia palace (above) before being cut loose to spend the remaining day and a half on our own. (We all met for a farewell dinner on the last night.)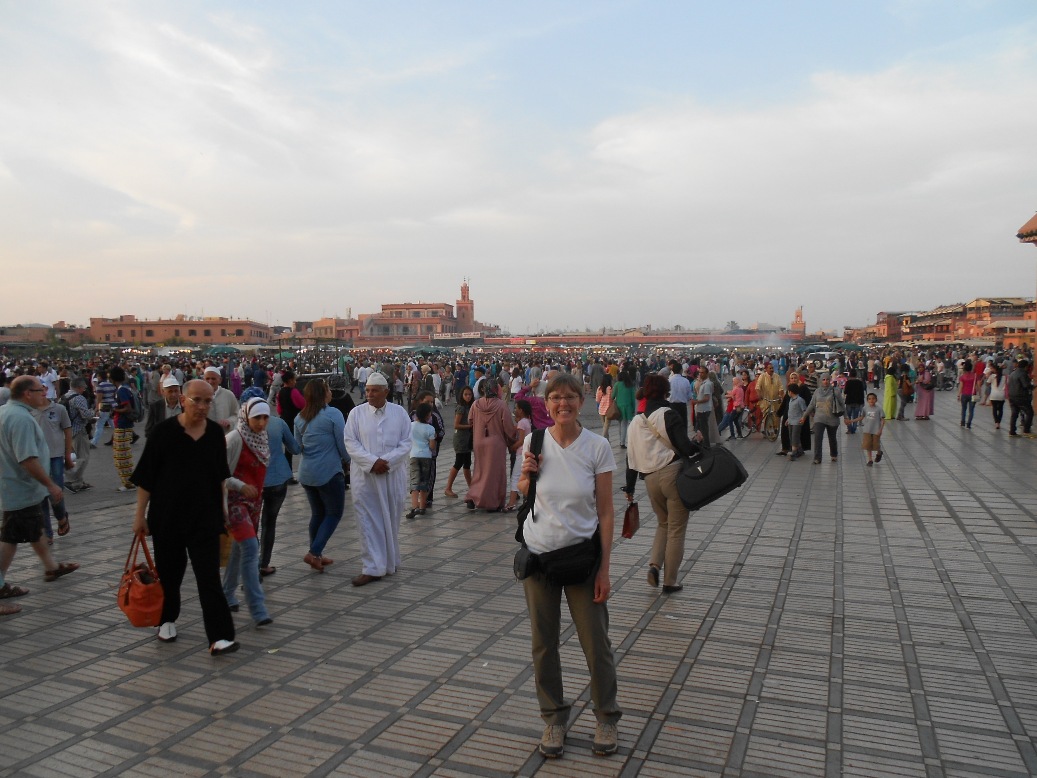 Marrakech is famous for its square, called Djemma el Fna. Behind me is a densely-packed cacaphony of acrobats, storytellers, snake charmers, and drumming. It was a bit touristy, loud, and frantic for us.





A lamp shop in the Marrakech medina.





These water sellers really do sell water. You pay them if you want a photo.





Roses in the hotel district. Marrakech's principal industry is tourism. There are many luxury hotels.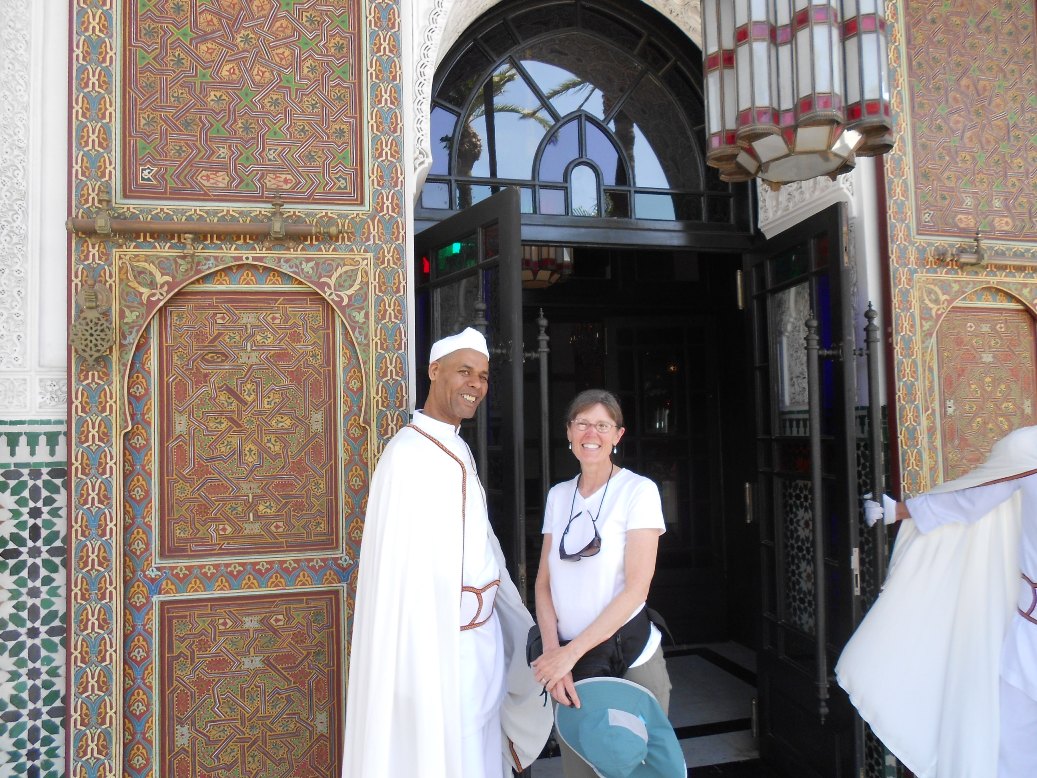 The 5-star Mamounia is perhaps the most famous. The charming senior doorman treated us like guests even though we had only come to gawk at the ornate lobby and grounds.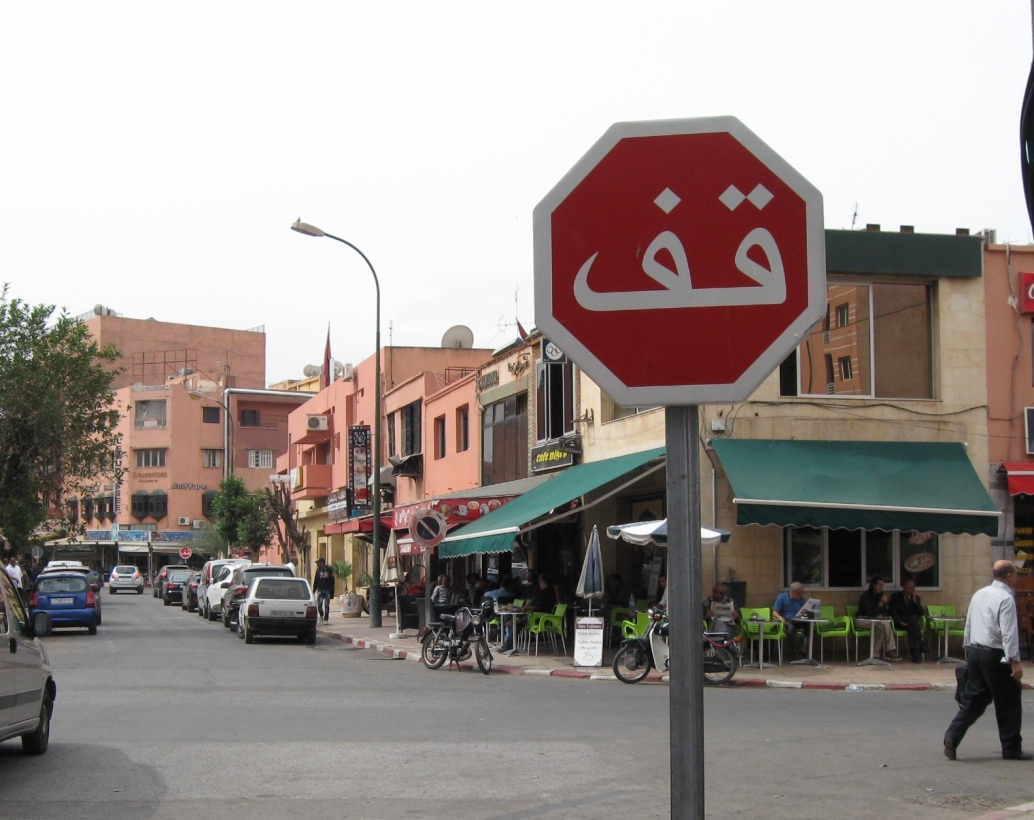 An Arabic stop sign. Wanting to get off the tourist circuit, we wandered through some of Marrakech's neighborhoods.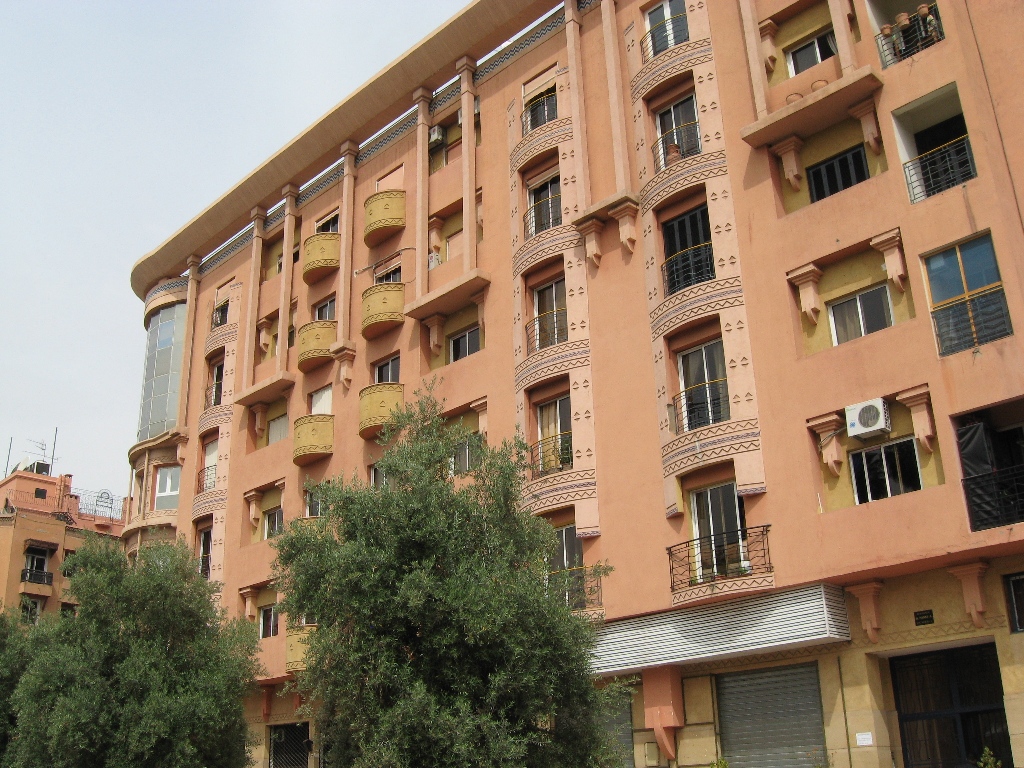 Marrakech is known as "the pink city" because almost all of its buildings are ... pink.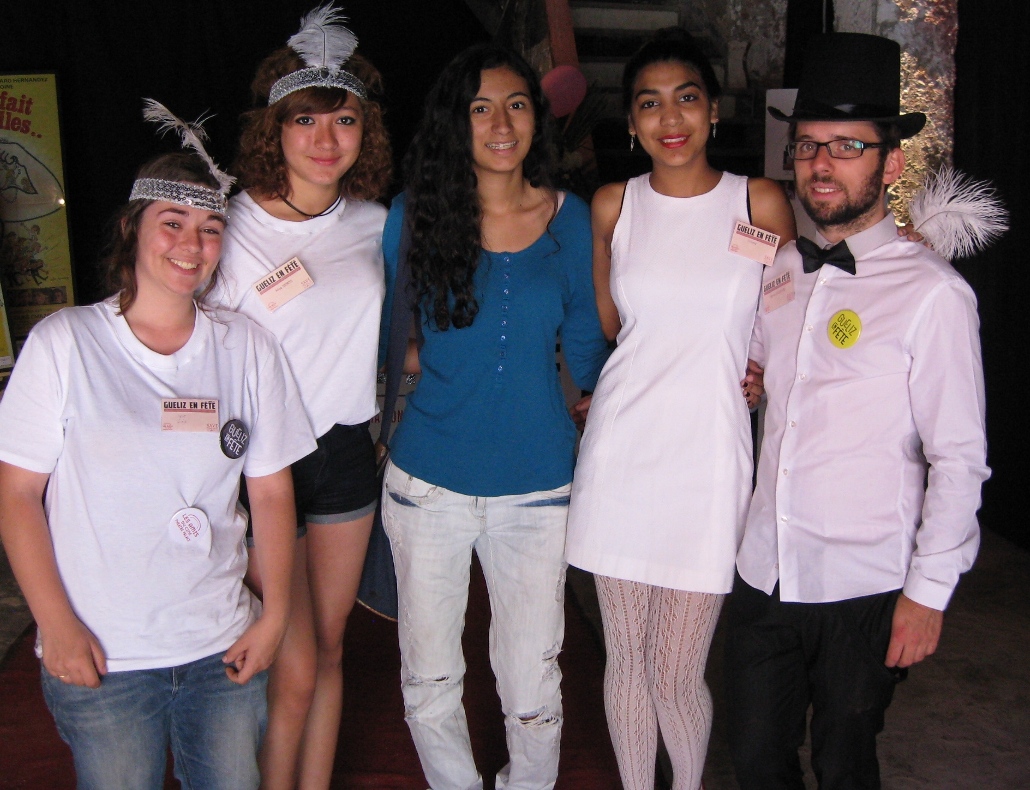 We stumbled into a street festival where these young volunteers were raising money to restore Marrakech's historic cinemas.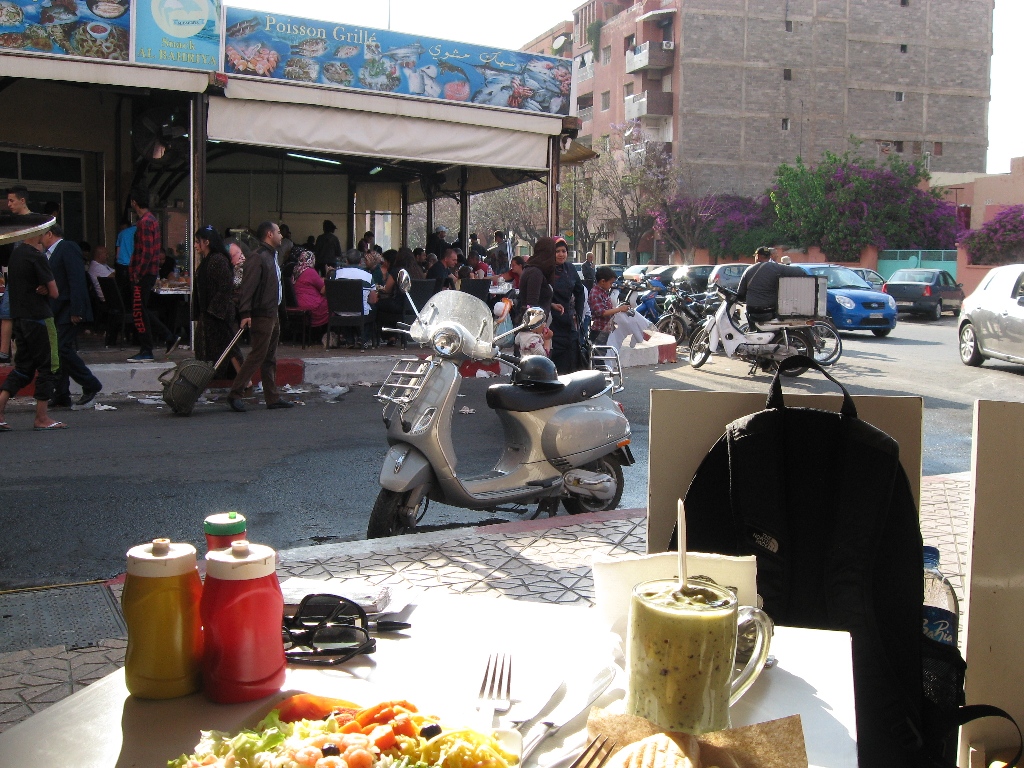 Sipping an avocado shake (surprisingly tasty) at a street corner cafe.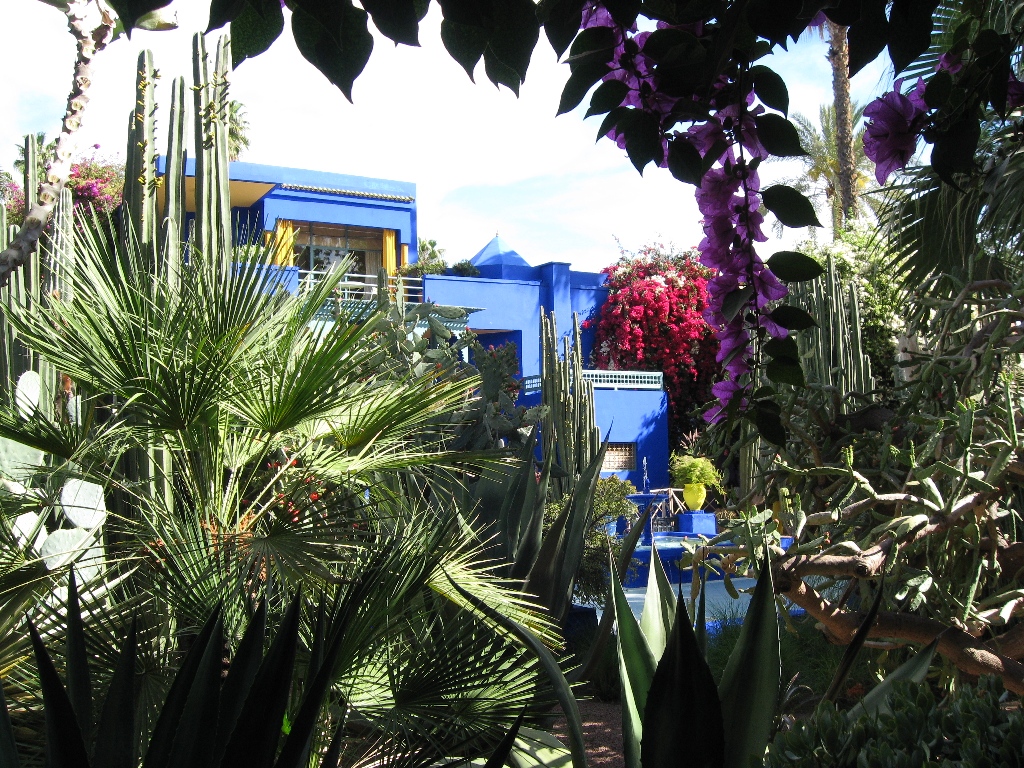 The Majorelle gardens were last owned by Yves St. Laurant. They are beautiful, but get there early, before the crowds.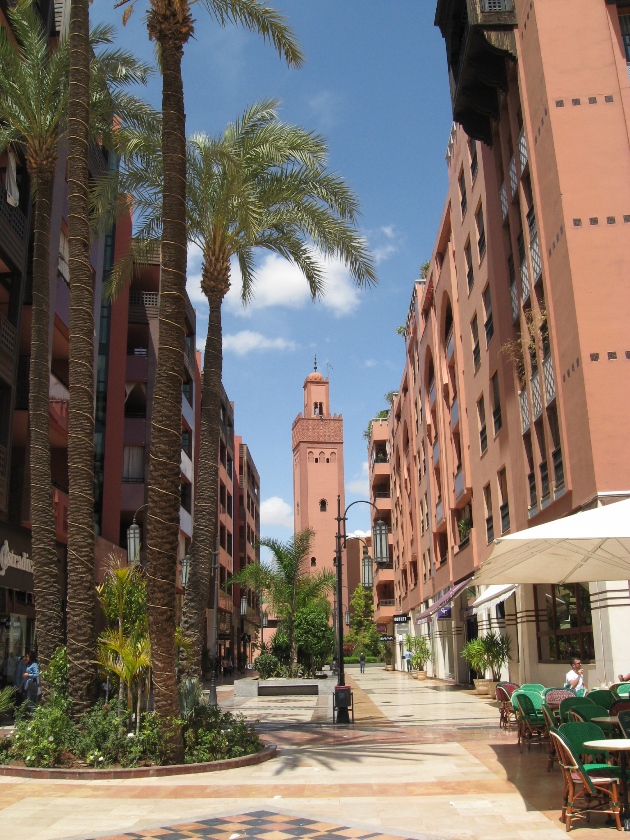 Minaret on a fancy shopping street in Marrakech.





The Koutoubia mosque.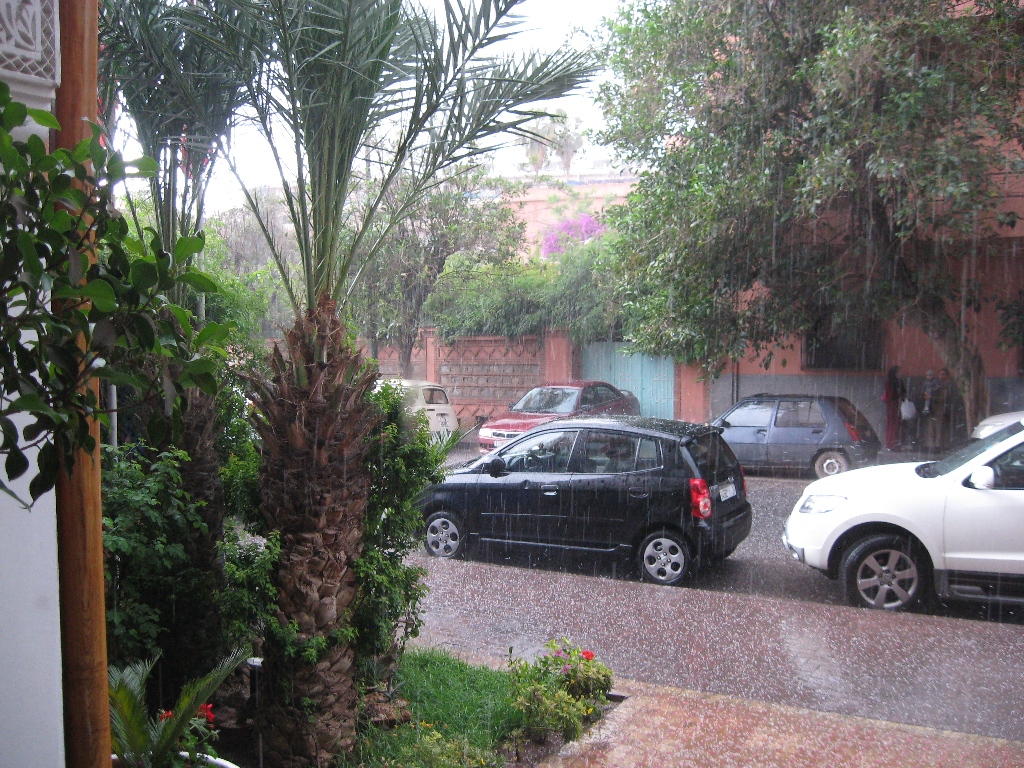 It hailed heavily on the day we left, something we were told happens about once a year.


---
Moroccan Food


Tagine refers to both the cooking vessel and the food it contains. It's a method of stovetop slow cooking. Typical tagines contain either vegetables or meat, sometimes with preserved lemon, olives, or prunes. They use a lot of root vegetables (think turnips) and not a lot of seasoning.





Prunes and meat are a beguiling combination.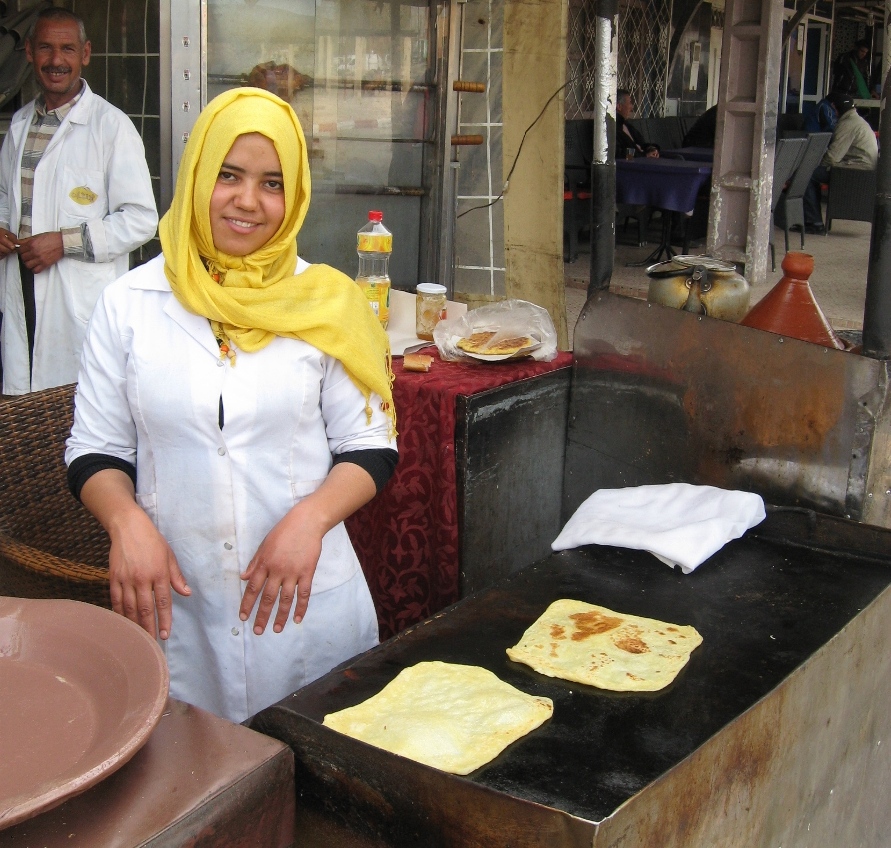 Msemen, or Moroccan pancakes, are delicious.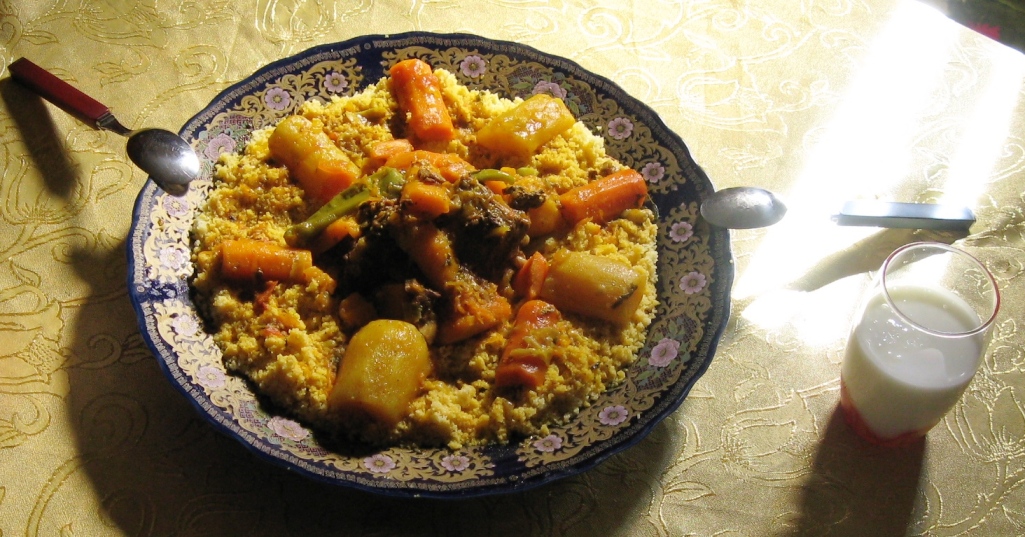 Couscous is tiny pasta balls with stew ladled over the top. Not tops on our hit parade.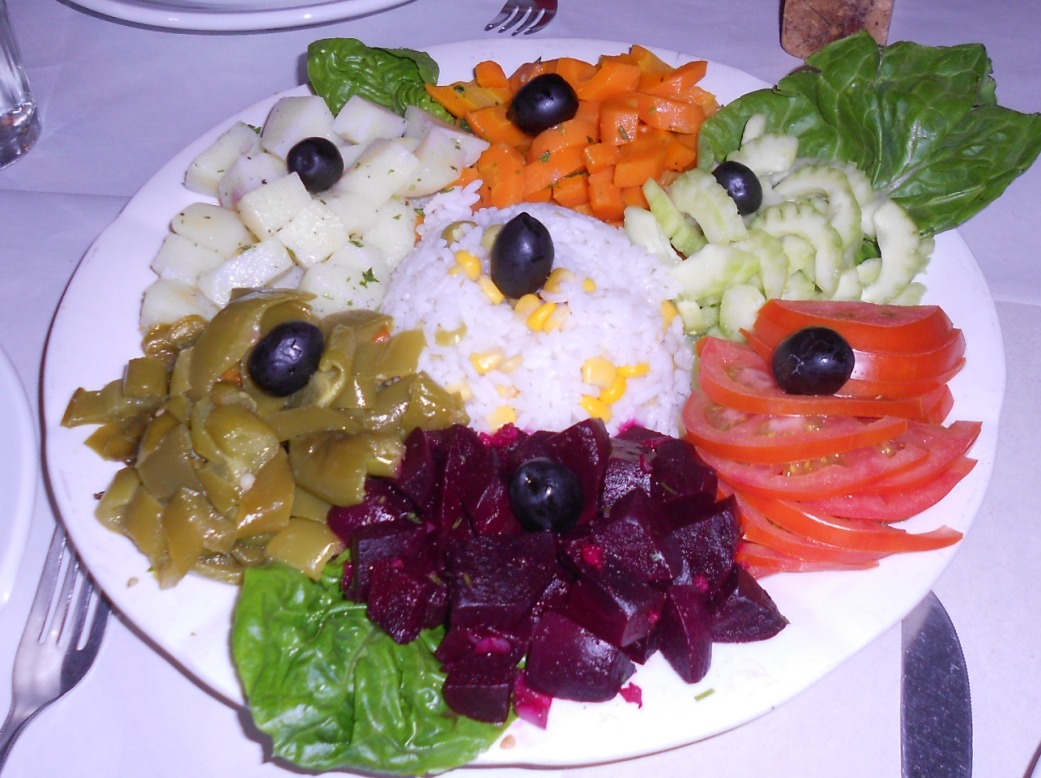 Some of the "mixed" salads were wonderful.


---
If You Go
Our 15-day tour cost $1225 per person plus $250 each for spending money (tips, non-included meals, bottled water, souvenirs).
We chose the "Highlights of Morocco" tour with Exodus and were happy with them. Intrepid offers the same tour at a similar price. (Be sure to check what is and is not included with any tour.)
I think doing this trip on our own would have been difficult and we wouldn't have been able to see nearly as much. Although a tour has drawbacks, such as limited freedom to explore on your own, you get to meet wonderful people, and you don't have to worry about any of the logistics.
We were told we'd hate the sales pressure in the markets, but we never felt harassed. It was easy to say "no thanks" and walk away.
One of the pillars of Islam is to give alms to beggars. But don't give to children. This only perpetuates behavior that makes traveling less pleasant for everyone, and it doesn't help the children.
You will get by very well with English. Many Moroccans speak more English than French, and pretty much everyone speaks tourist English.
Be very careful about food, water, and handwashing, and bring Pepto-Bismol, Immodium, and antibiotics.