Turkey, October 2009
Grant and Karen spent two weeks in Turkey to celebrate Karen's 50th birthday and our 10 years of domestic partnership. Why Turkey? Incredible history, fascinating culture, friendly people, gorgeous scenery, fabulous food, safe traveling, and half the cost of Europe.
Istanbul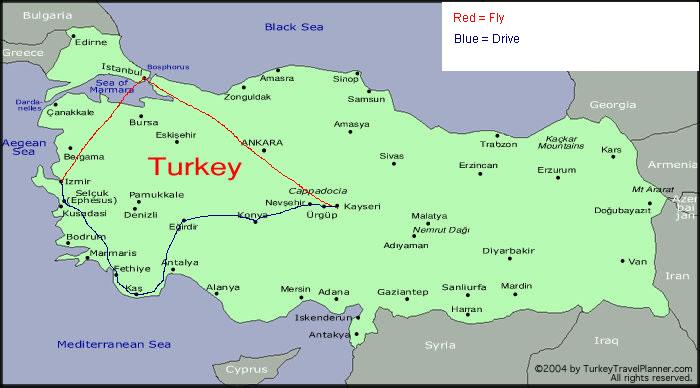 After three days in Istanbul, we flew to Izmir, rented a car, and spent eight days driving to Efesus, Kas, and Kapadokya. Then we dropped off the car and flew back to Istanbul. Although Turkey has an excellent bus system, a car gave us time to visit a few more places.





Sleeping chairs in the Amsterdam airport - how civilized! We flew KLM non-stop to Amsterdam (9 hours). Then it's 3 hours to Istanbul.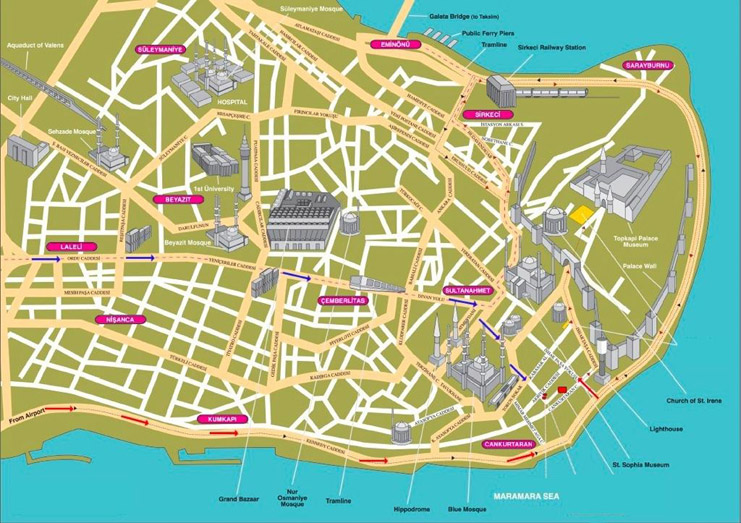 Old Istanbul. Our hotel was on the lower right, near the Blue Mosque and Aya Sofya.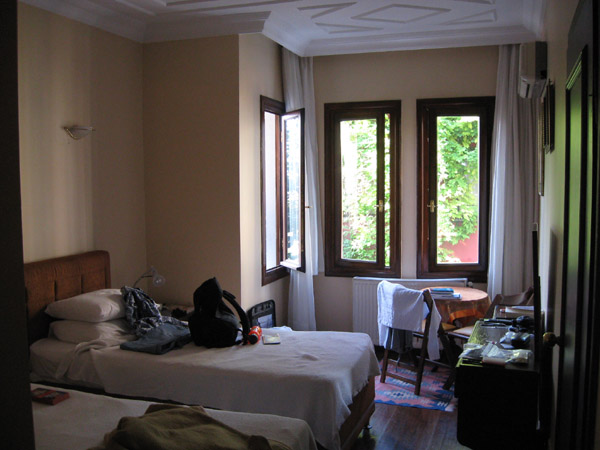 Our room at the Hotel Peninsula in Sultanahmet (old town), Istanbul.





We arrived mid-afternoon and headed out for a stroll along the old city walls. The Byzantine walls date back to the 5th century. The Byzantine Empire was the continuation of the Roman Empire during the Middle Ages, after the capital was moved to Constantinople.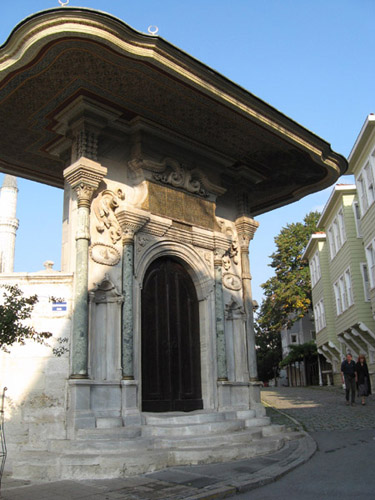 Everywhere you turn there are gorgeous things to look at. This elaborate "fountain" is outside the gate to Topkapi Palace.





Every inch is ornately decorated.





Really old things in the Hippodrome: Column of Constantine from the 10th century, and the spiral bronze base of a three-headed serpent sculpture brought from Delphi in Greece in the 1st century.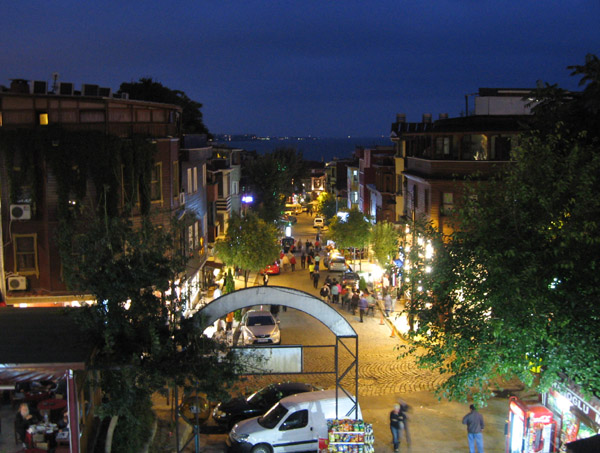 The end of our first intoxicating day in Istanbul. A balmy evening strolling the vibrant streets, the Sea of Marmara in the distance, a morsel of sweet, squishy baklava to top it off.





A warm, sunny morning on the hotel terrace. All hotels and pensions in Turkey include breakfast. At a minimum, we were always served fresh bread, cheeses, olives, cucumber, tomato, thick yogurt, fresh fruit marmalades, hard boiled eggs, and tea. Often there was also cake, butter, nutella, and fresh fruit juices.





View of the Blue Mosque from the hotel's rooftop terrace.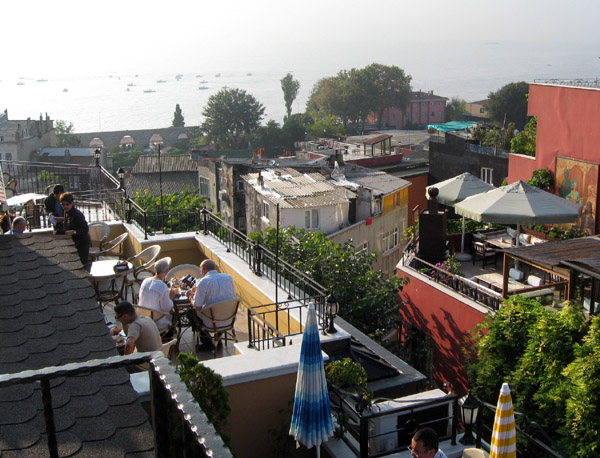 The breakfast terrace and fishing boats on the Sea of Marmara. One of the best views in the world.





After breakfast we walked to Aya Sofya. Built in the 6th century to be the grandest church in the world, it was converted to a mosque in 1453 after the Ottoman conquest of Constantinople.





Famous for its massive dome, it was the largest cathedral in the world for nearly a thousand years. Pictures can't capture the soaring spaces and the ornate beauty of the interior.





Marble walls and columns, ornate stone carving.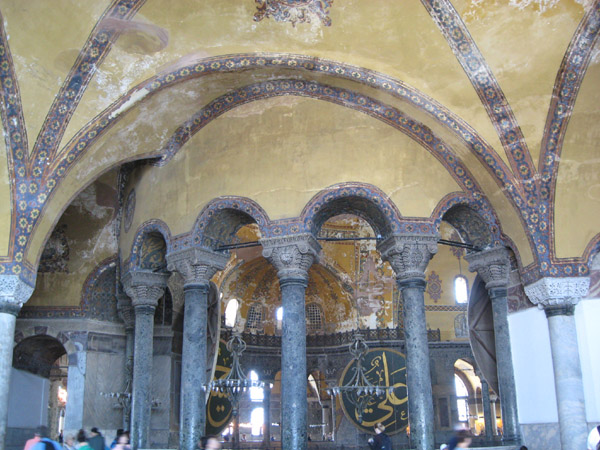 Aya Sofya, Istanbul





11th century mosaics. Christ flanked by Constantine IX and Empress Zoe. The mosaics were plastered over when the cathedral was converted to a mosque and some have been restored.





Next we went to the Blue Mosque, just across Sultanahmet Square.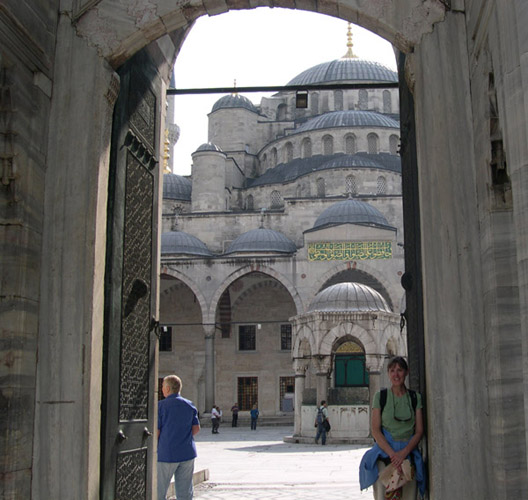 The entrance to the courtyard.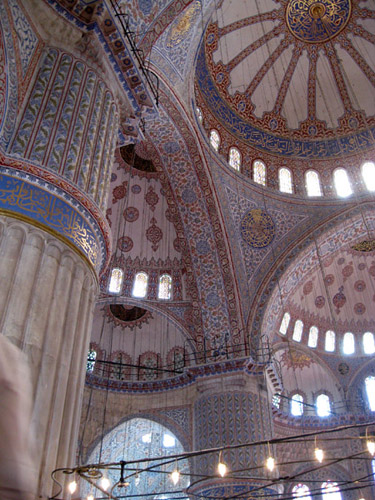 The Mosque of Sultan Ahmet I is called the Blue Mosque because some of its interior tiles are blue.





Built in the early 1600's, it's a grand and impressive space.





Grant takes a moment to tune out the crowds and try to feel the spiritual history of this ancient mosque that is still used every day.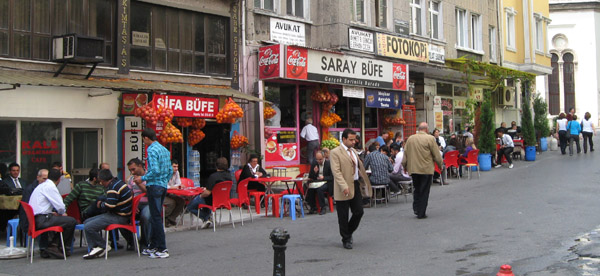 Eager to get away from the hordes of tourists, we wandered side streets looking for a place to eat a typical Turkish lunch. A "Bufe" offers a choice of vegetable and meat dishes - you point to what you want and specify the portion size and they bring you what you've ordered. A large meal costs a few dollars, and the food is delicious.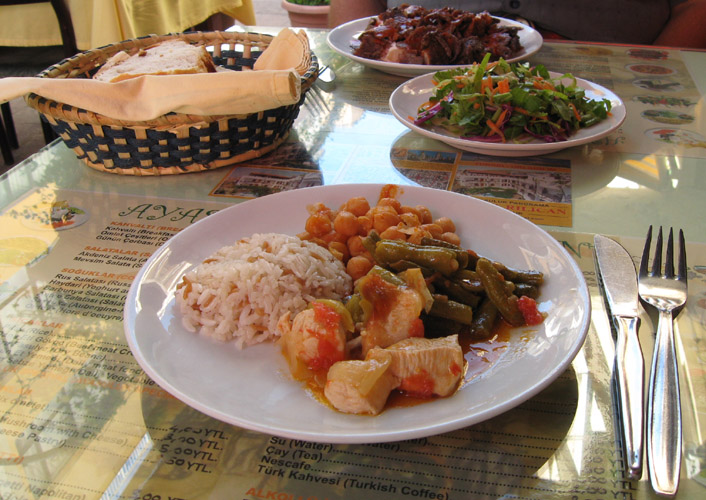 From the "bufe" we chose pilaf, garbanzo stew, chicken stew, and green beans. All home made by the proud owner - heavenly!





While we're on the subject of food, Turkish cooks work magic with eggplant. Here I'm eating an eggplant and tomato dish with ayran, a delicious salted yogurt drink.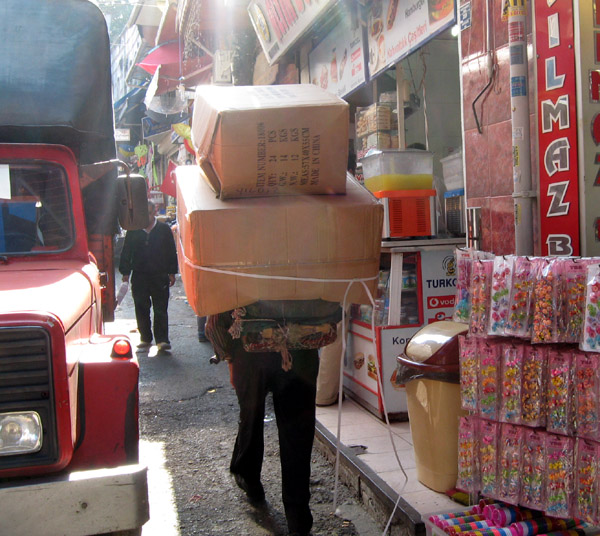 OK, enough about that amazing food. Here is the Grand Bazaar. Human "trucks" can navigate the crowded, narrow streets more quickly than the motorized variety.





One of the multiple entrances to the Grand Bazaar. One of the largest and oldest covered markets in the world, there are more than 58 streets and over 1,200 shops. Opened in 1461, it is especially known for jewelry, pottery, spices, and carpets. However, it has become quite touristy, and prices are higher in here than elsewhere.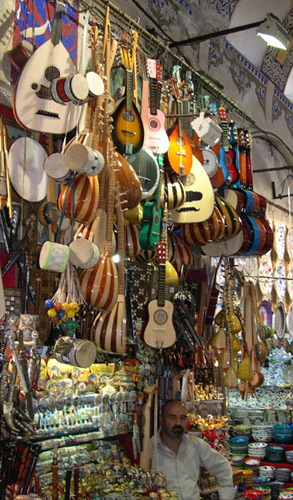 Musical instruments in the Grand Bazaar.





Scarves and shawls.





Glass amulets to guard against the evil eye. You see these everywhere in Turkey, in many sizes. People hang them from the rear view mirror of their car, give them to guests, hang them above their door, or wear them as jewelry.





I fell in love with the glass mosaic lamps and bought a small one.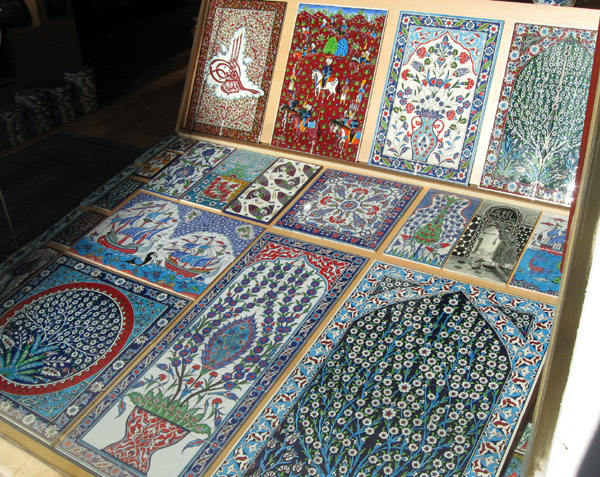 We loved the tilework and ceramics.





Istanbul is full of cats that roam freely and sleep wherever they like.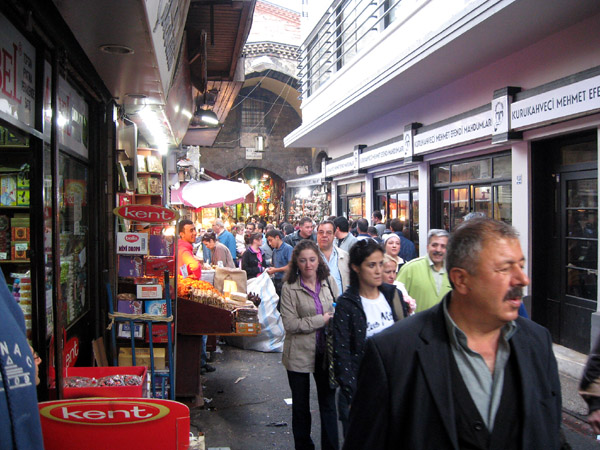 We soon had our fill of the "tourist" bazaar and headed back out to wander the streets. Istanbul is a wonderful city to walk in. It's very clean, and when you get tired of walking they have an excellent tram system.





Distances are small in the old quarter, and before we knew it we wandered into the Spice Bazaar. We loved it here! It's a feast for the senses - a sea of wonderful smells and colors. Here are dried nuts and fruits...





...aromatic dried things for teas...





...almost two dozen different kinds of olives...





...carob pods (left), and nougat.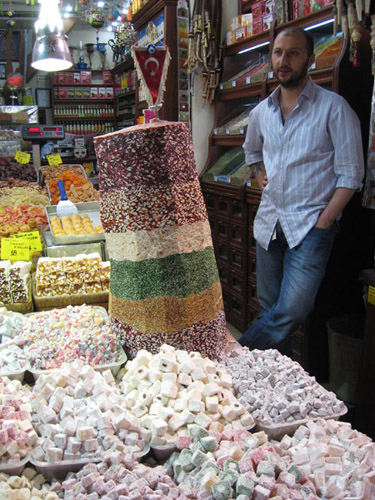 A multi-colored nougat mountain (roasted nuts in a chewy sweet coating) surrounded by Turkish delight (like a cross between Aplets and Cotlets and gummy bears).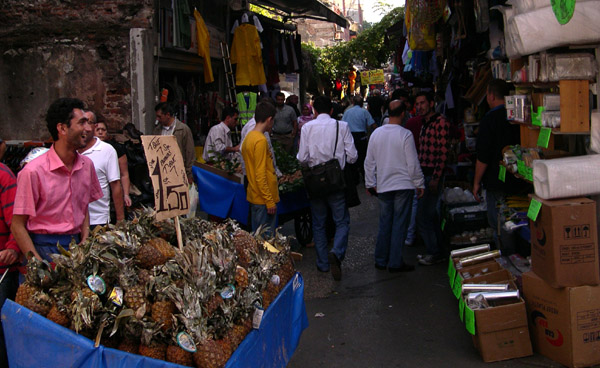 Then back out we went, onto another bustling side street. Here is a pineapple vendor.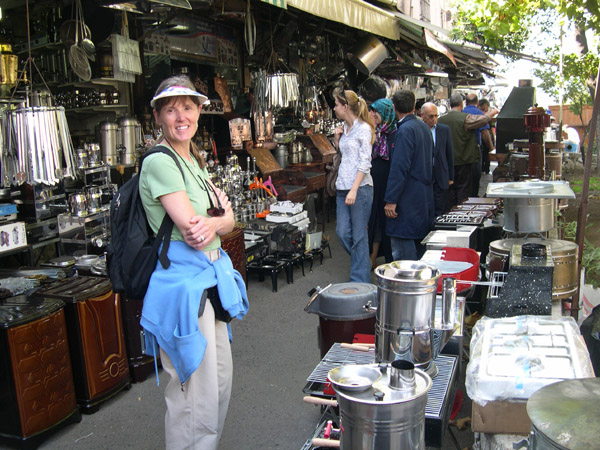 Here they sell things made of metal.





This is a charcoal-powered BBQ.





Strands of dried flowers hang above more dried fruit.





Cured meats, cheeses, olives. Istanbul is a food lover's paradise.





Grant ogling strands of turquoise at one of the many bead stores.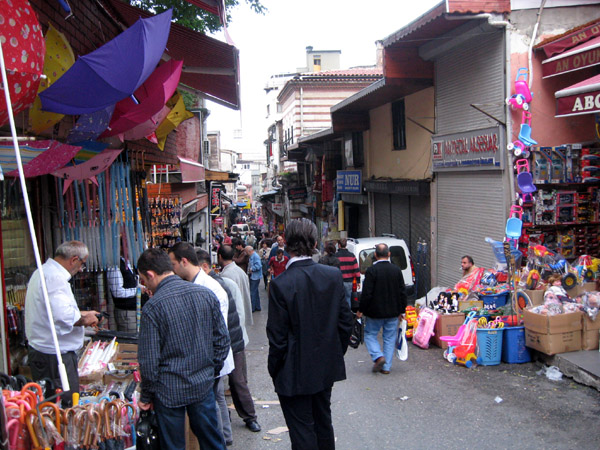 This street is filled with shops selling things made of plastic.





We worked our way downhill along "tram street" toward the waterfront.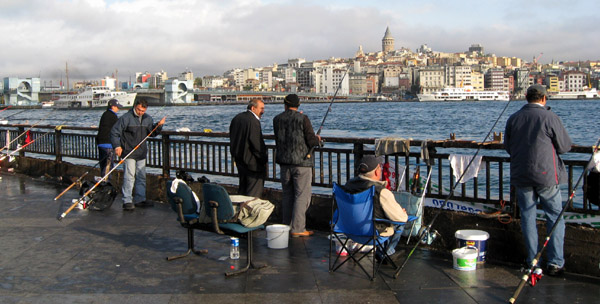 Istanbul, like Seattle, is a waterfront city, with ferryboats, salt air, fish, and fishermen. The Galata Tower in the distance used to be the highest point in Istanbul, and still affords panoramic views of the city.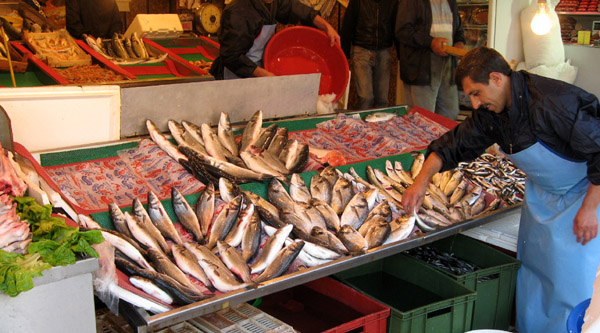 Bosphorus fish vendor.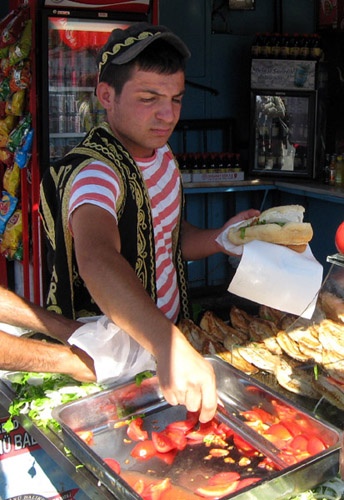 Fish sandwich: grilled mackerel, tomato, onion, lettuce on fresh bread - yum!





The Turks drink lots of delicious black tea. It's served boiling hot in little tulip-shaped glasses which you have to hold by the rim to save your fingertips from burning. You can add sugar but no milk, and you can have it weaker or stronger depending on your taste - they pour strong tea into the glass, then cut it with water to the desired strength.





Many cafes offer nargiles for puffing with your tea. The Turkish water pipe was an old way of smoking Turkish tobacco that has enjoyed a resurgence among tourists and some Turks as well. Sometimes the tobacco is flavored with apple or mint.





In the evening we went to see whirling dervishes. The dervishes are accompanied by Sufi music. Although whirling is a religious ceremony, and was never intended as entertainment, some dervishes agree to give small "performances" as a way to educate people about their beliefs. The instruments used (left to right) are oud, ney (flute), kanun (lap harp), and frame drum.





The Mevlevi Sufi order was founded in Turkey by the followers of Rumi, a 13th century Persian mystic, poet, and philosopher. Sufism is the inner, mystical dimension of Islam.





Whirling is a means to reach spiritual enlightenment. With one hand held facing up to God, and the other facing the earth, the dervish brings love from God to earth. It's a very moving experience to watch them whirl.





The next morning we rose early to visit Topkapi Palace before it got too crowded. This is the main entrance to the palace grounds. The palace was the residence of the Ottoman Sultans for 400 years, from 1465 to 1853.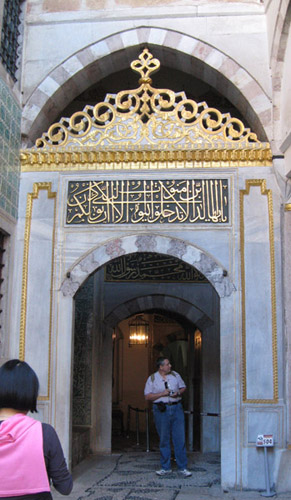 Entrance to the Imperial Harem. This 400-room wing of the palace was home to the Sultan's family, including his mother, concubines, wives, and children, and their servants.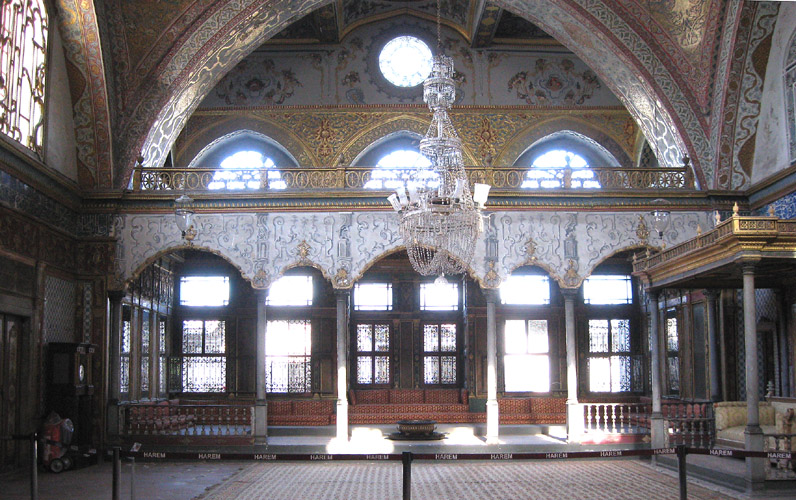 The Imperial Hall served as the official reception hall of the sultan as well as for the entertainment of the Harem.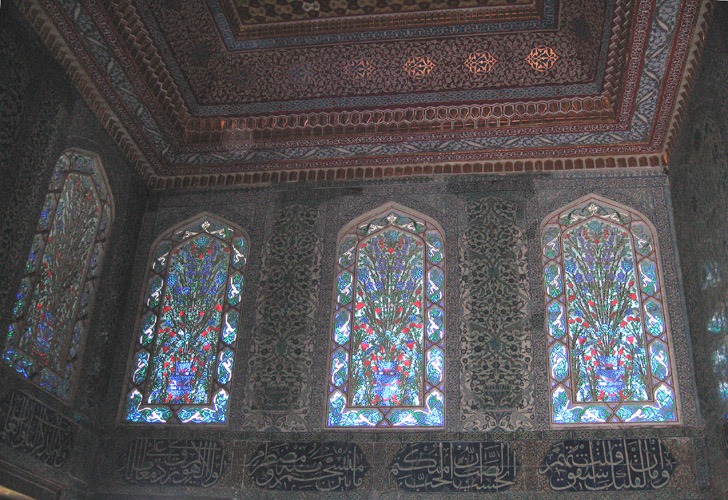 Gorgeous stained glass windows adorn many of the rooms.





The Harem courtyard. Every square inch of the palace is lavishly decorated.





The gilded Iftar Pavilion on the upper terrace.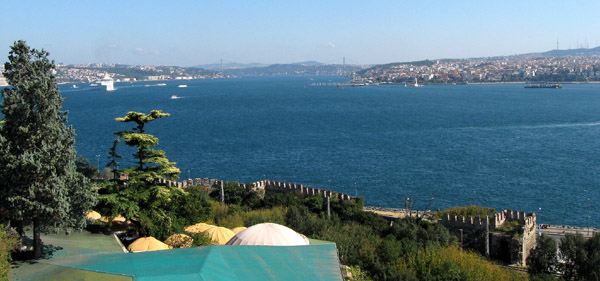 View of the Bosphorus from the upper terrace.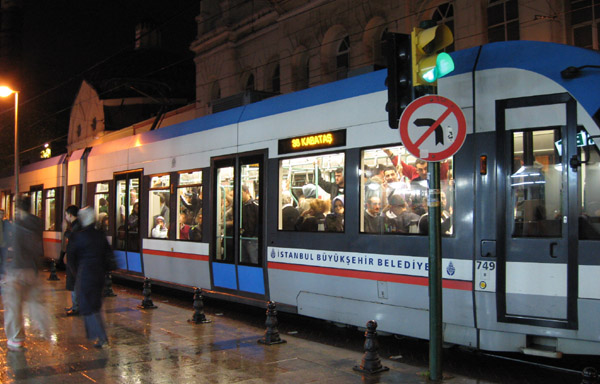 Istanbul's clean, modern tram system. Turkey also has a world class bus system that makes it easy to travel to every city and town quickly and cheaply in great comfort.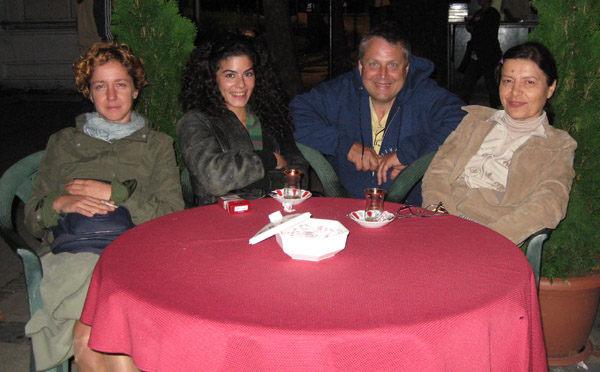 Betul, on the right, is a friend of one of Grant's friends. We met her for tea in Taksim Square, and she brought along two friends who also speak good English. It was fun to ask questions about life in Istanbul.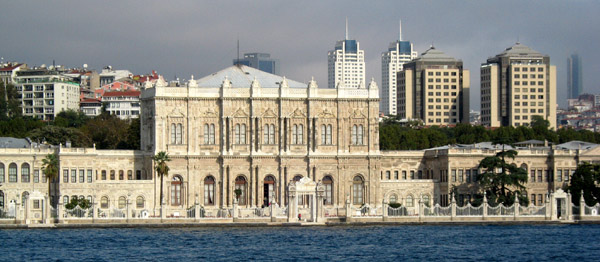 We took a day-long public ferry trip up the Bosphorus to the Black Sea. This is Dolmabahce Palace, the main administrative center of the Ottoman Empire during most of 1853 to 1922. We didn't have time to tour the palace, but it's known for "glittering opulence and grandeur."






The Bosphorus divides Istanbul - on one side is Europe, and on the other is Asia. Tiny Kucuksu Palace is on the Asian shore. It was used by Ottoman sultans for short stays during country excursions and hunting.





Rumeli Fortress on the European side of the Bosphorus. It was built in four months in 1452 to establish control of the waterway at this narrowest point of the strait. Soldiers used cannons to prevent the passage of ships during the siege of Constantinople.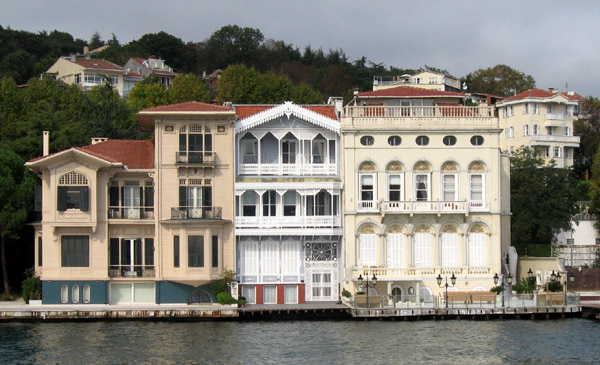 Restored Ottoman yalis (wooden seaside mansions).





Many opulent homes line the shores of the Bosphorus.





A quaint fishing town on the northern Bosphorus.





In our travels through western Turkey we saw very few women wearing burqas - perhaps 1%. Note the cell phone and other modern accessories.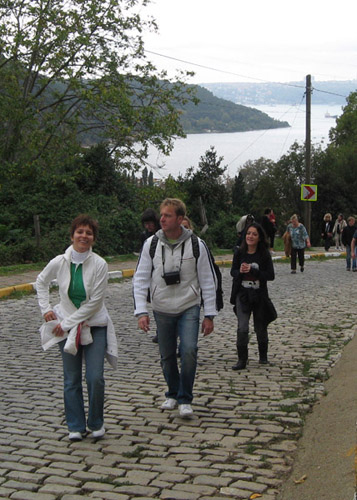 The ferry travels 1.5 hours to Anadolou, stops for 3 hours, then returns to Istanbul. On the ferry we met Andras and Evelyn, a well-traveled young couple from Budapest who spoke good English. We walked with them up the steep road to Anadolu castle.





Anadolu (Yoros) Castle, a ruined fortress at the confluence of the Bosporus and the Black Sea. These are remnants of the castle gate. The typical Byzantine construction method of alternating layers of stone and brick is clearly visible.





A tiny puppy sleeps with a piece of sesame bread, while its mom begs for more from visitors.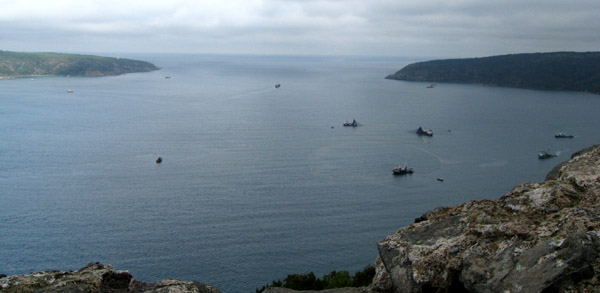 Fishing boats at the top of the Bosphorus, with the Black Sea (and Eastern Europe and the Caucasus) beyond!



The Aegean Coast, the Turquoise Coast, Sagalassos, and Kapadokya (8 days)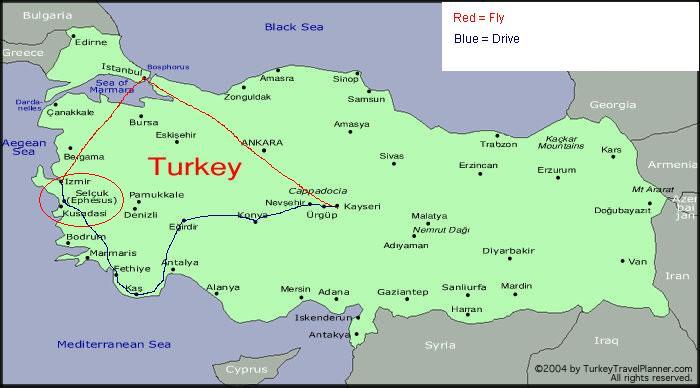 Turkey is about the same size as Texas. To save time, we flew from Istanbul to Izmir on Turkish Airlines. The airports and plane were modern, clean, and efficient, the flight was inexpensive, and even though it was only 90 minutes, they fed us a nice meal.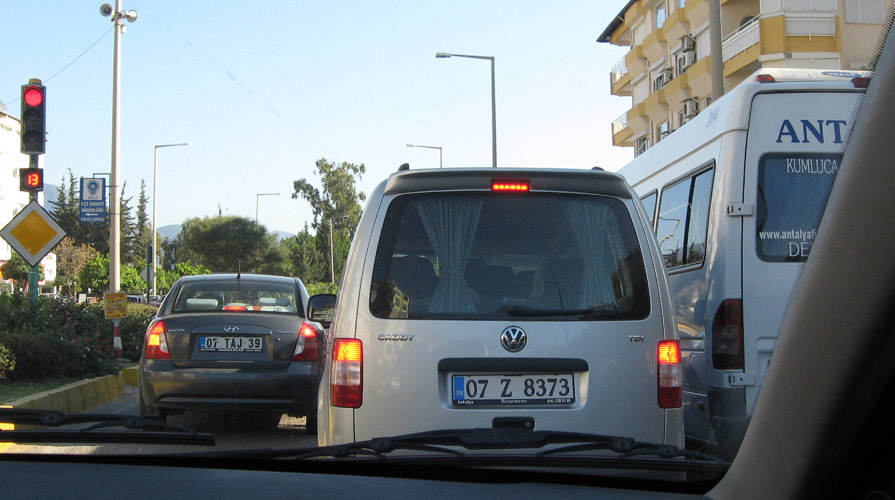 Driving in Turkey wasn't as bad as we'd been told. Once you get used to pedestrians darting across busy roads, and drivers ignoring lane markings (here three cars jockey for position in two lanes), it feels pretty safe and sensible. Note the counter on the left that lets you know when the light will turn green - what a great idea!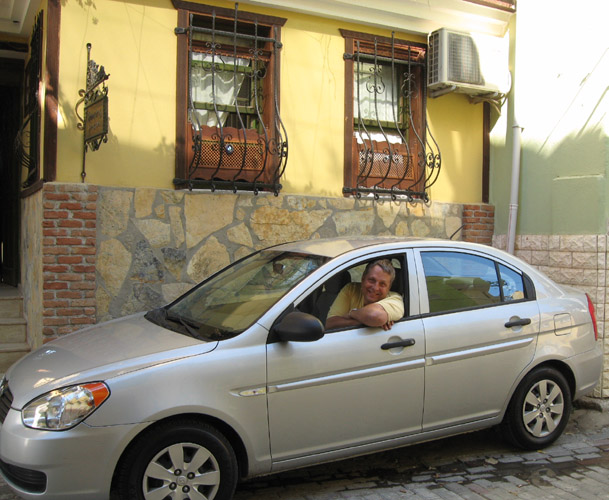 Road signage was excellent, and it was smooth sailing to Homeros Pansyon in the picturesque, low key town of Selcuk.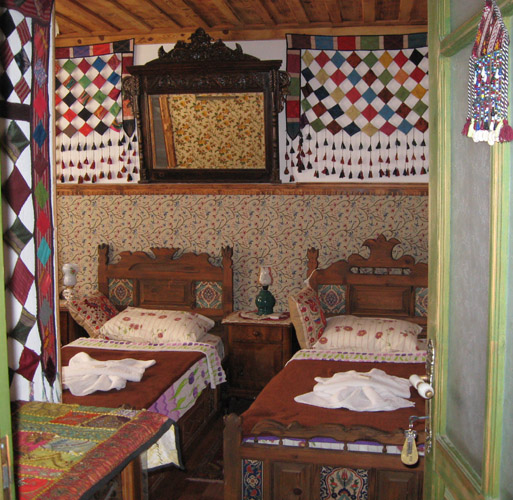 The pansyon was decorated with carved wood, carpets, and textiles. It felt Bavarian.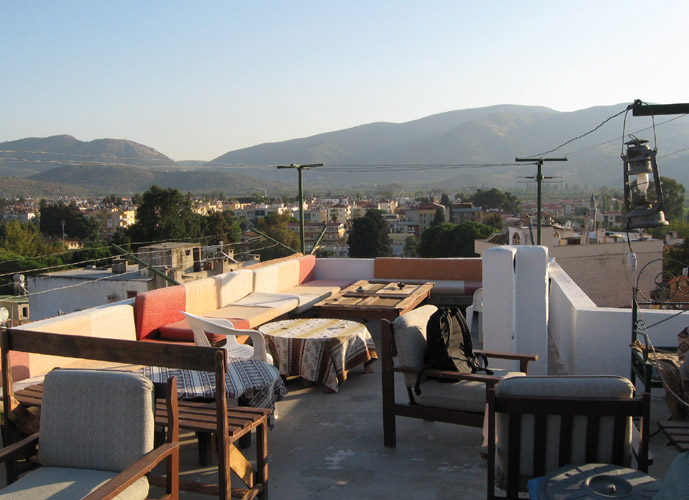 The rooftop terrace, where guests gather in the evening to swap stories of where they're from and where they've been.





To the right you can see the Byzantine fortress at the top of Ayasaluk Hill, and just below it, the basilica where St. John is buried. Note the solar hot water systems on top of many buildings.





In the middle left is a lone column - all that remains of the Temple of Artemis, one of the Seven Wonders of the ancient world. In the distance is Pamucak Beach. The haze is from burning the fields after harvest.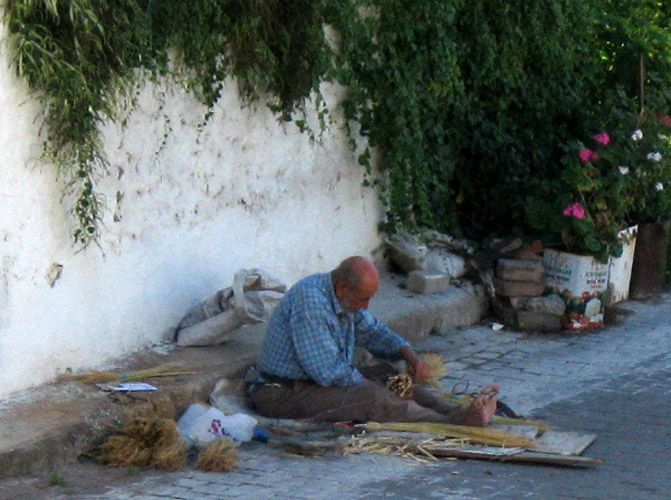 A man making brooms out of straw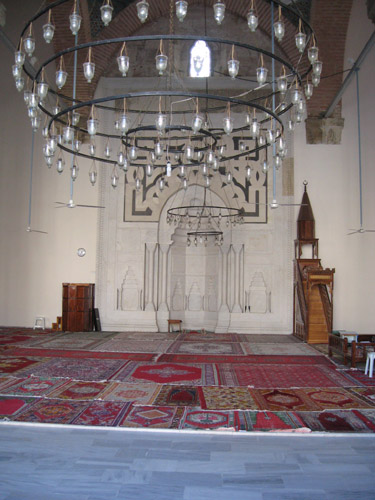 A typical mosque has a simple interior, and the floor is covered with prayer rugs. Turkey is a secular democracy, but Islam is the dominant religion. Calls to prayer ring out over PA systems five times a day and last about five minutes. Often you can hear overlapping calls from two mosques.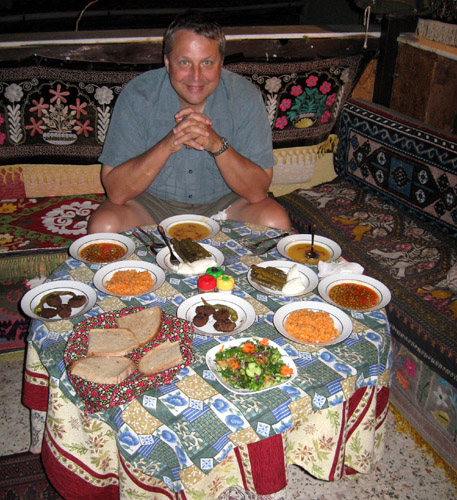 A fabulous evening meal cooked by the pansyon owner's mother: dolmades, meatballs, lentil soup, pilaf, and more. We couldn't possibly eat it all!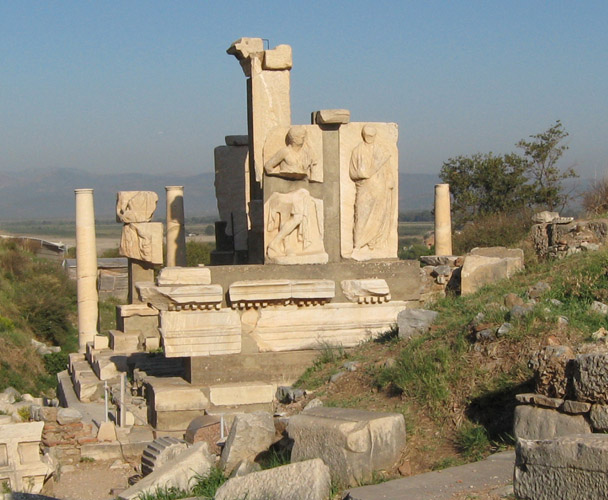 Ephesus (Efes in Turkish) is one of the largest and best preserved Roman ruins in the world. This is part of the two-story Gate of Hercules, constructed in the 4th century AD.





The Temple of Hadrian. St. Paul lived and proselytized in Ephesus for several years.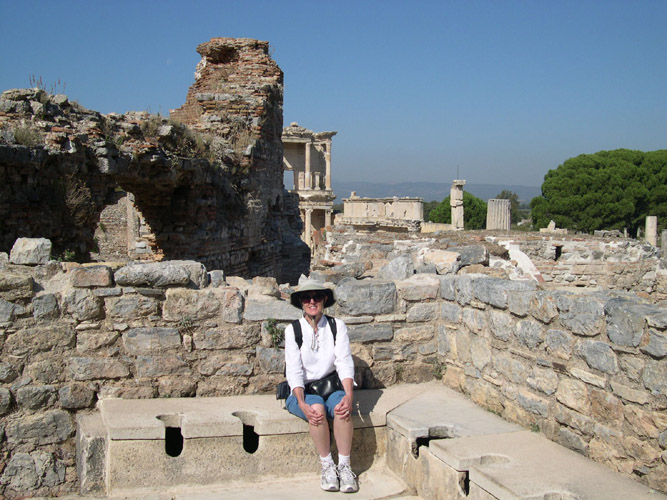 The communal men's toilets





The library of Celsus in the center of the city. Ephesus is fabulous, but crowded. Go during the tour bus lunch lull if possible.





The streets had water and sewer systems beneath marble paving stones.





The Library of Celsus. To the right is the Gate of Mazeus & Mithridates which leads into the Agora, or marketplace.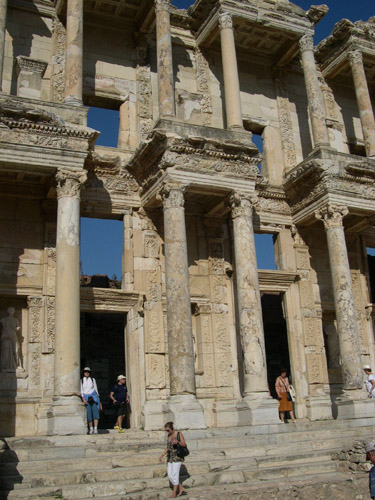 In AD 114, Consul Tiberius Julius Aquila erected the library in memory of his father, Celsus Polemaenus. The building held 12,000 scrolls in niches around its walls.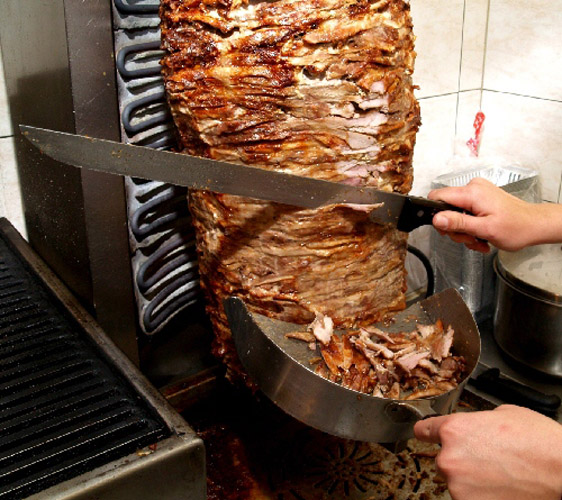 After spending the morning at Ephesus we were eager for more Turkish food! This is doner kebab: lamb that is slow roasted on a spit, carved into tiny pieces, and served in sandwiches or other dishes.





We ordered iskender kebab: cubes of bread doused in a yogurt sauce, topped with doner kebab meat, and drizzled with a flavorful tomato sauce. You eat it with salad, and of course, ayran, the salted yogurt drink. Incredible!





Cats are everywhere in Turkey, and there's at least one begging at every restaurant table. Who could resist that face?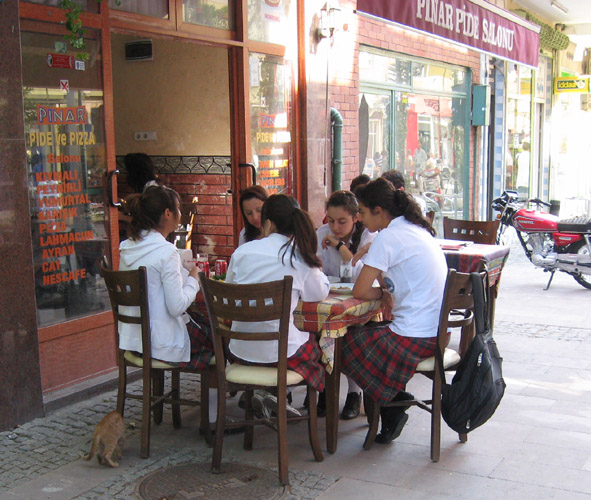 School girls on lunch break. Note the uniforms (all school children we saw wore them), and the cat.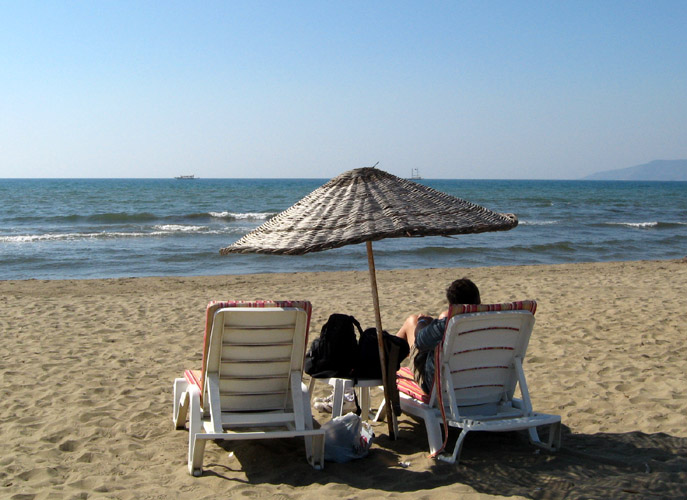 It was a hot day, so we headed for the beach. There were only a few other people there. We spent an idyllic afternoon reading, lounging, and listening to the waves lapping. The Mediterranean Sea has no tides.





Once it cooled off a bit, we drove the 7km up to Sirince, an extremely quaint hillside town.





A beautifully restored old house in Sirince.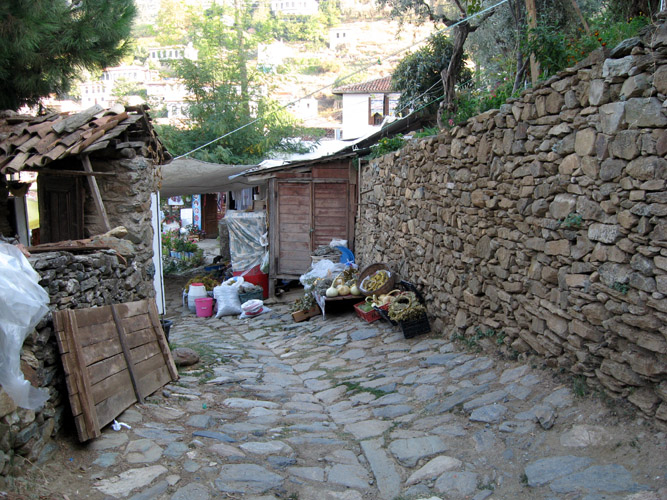 It happened to be market day in Sirince. The main square was packed with people and goods of all kinds. The side streets were much quieter, but everyone had things for sale.





Olive oil, soap, herbs, and dried tomato soup base for sale.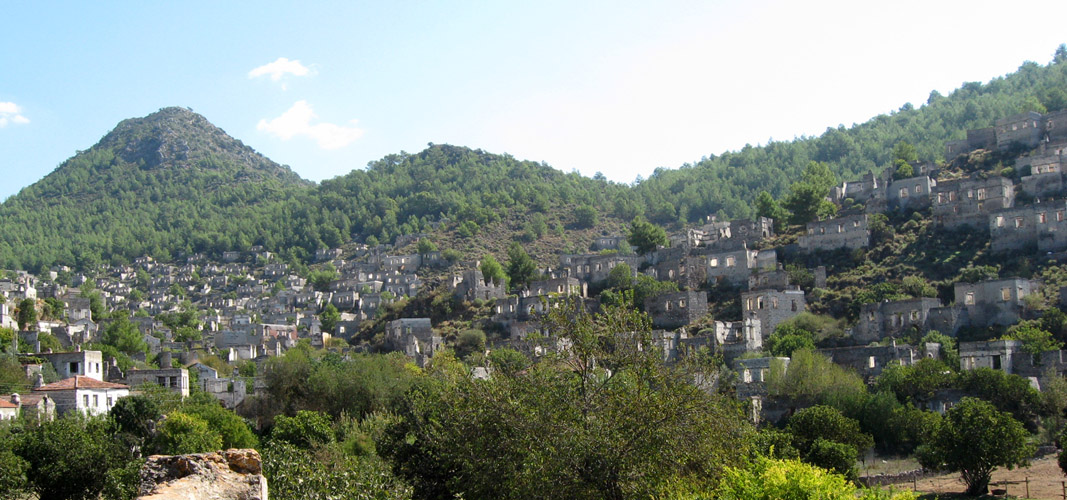 The poignant ghost town of Kayakoy is featured in Louis Bernieres' wonderful book, "Birds Without Wings." Once a thriving village, it was deserted in 1923 when the Greeks who lived here were repatriated to Greece through a government-mandated population exchange between Greece and Turkey. Kayakoy is in a beautiful pine forest near the sea. There is now a very small, peaceful town below the empty houses.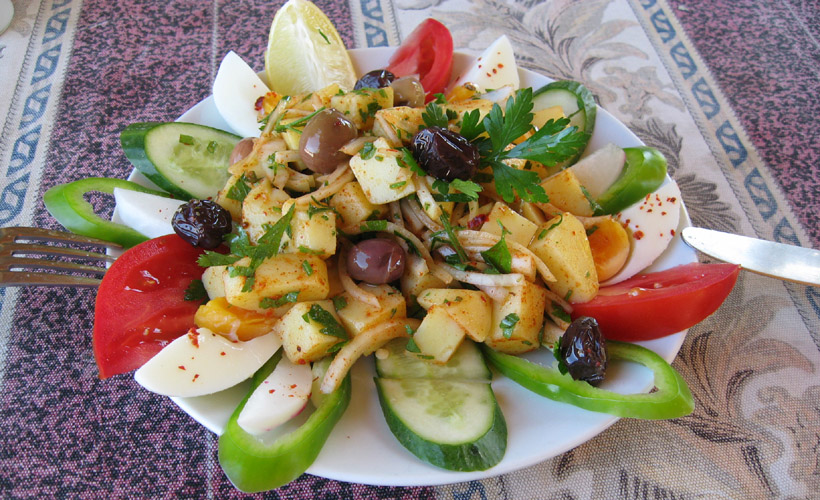 We stopped at a small cafe in the town and I ordered this delectable potato salad with feta and olives.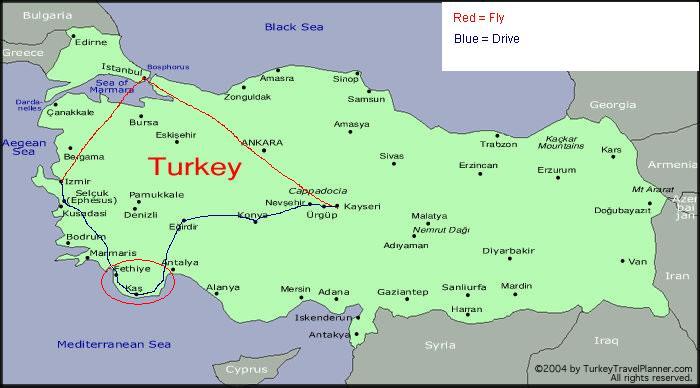 After about 6 hours of driving we arrived in Kas, on the south coast. It was a gorgeous drive, through pine forests and fertile fields of cotton, corn, and hay. Clusters of bee hives were tucked in the trees. The roads were very good, and well-maintained. The gas stations, including the bathrooms, are shiny and clean. There are few cars because gas is expensive ($10/gallon) and Turkey has an excellent, affordable intercity bus system.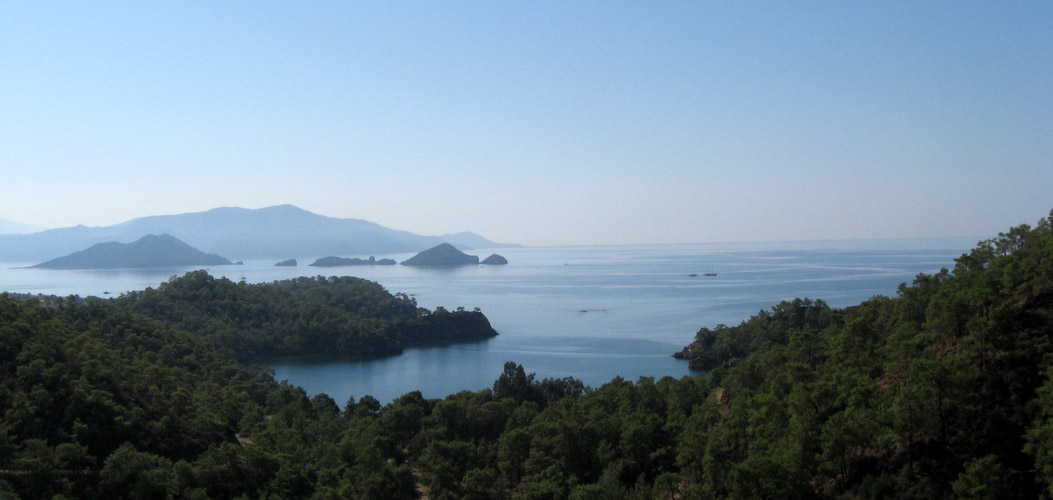 Our first view of the Turquoise Coast, Turkey's southern coastline. The picture doesn't begin to do it justice!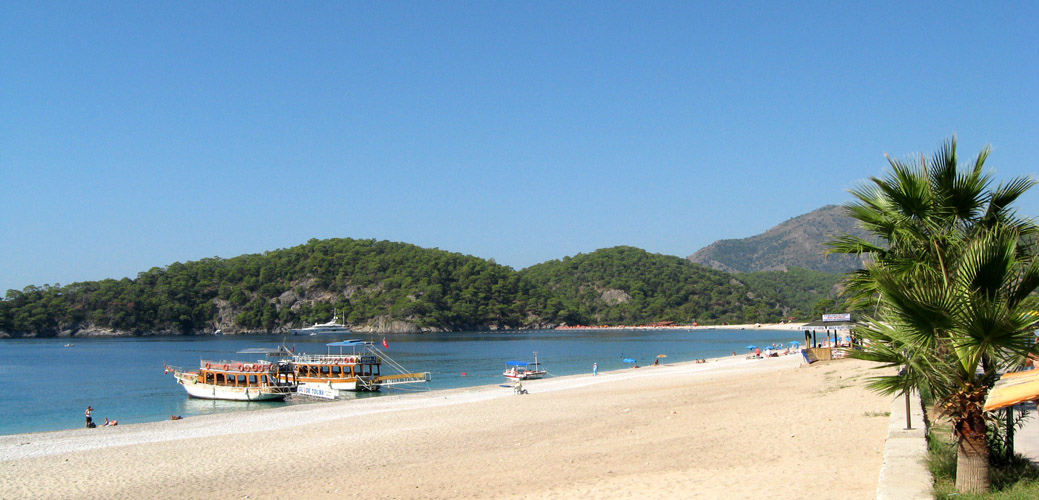 The beach at Ölüdeniz, a busy resort town near Kas. Just out of sight to the right is the famous "blue lagoon."





Kas, once an unspoiled fishing village, is now a relatively unspoiled tourist town.





The Greek island of Meis is just a short boat trip away.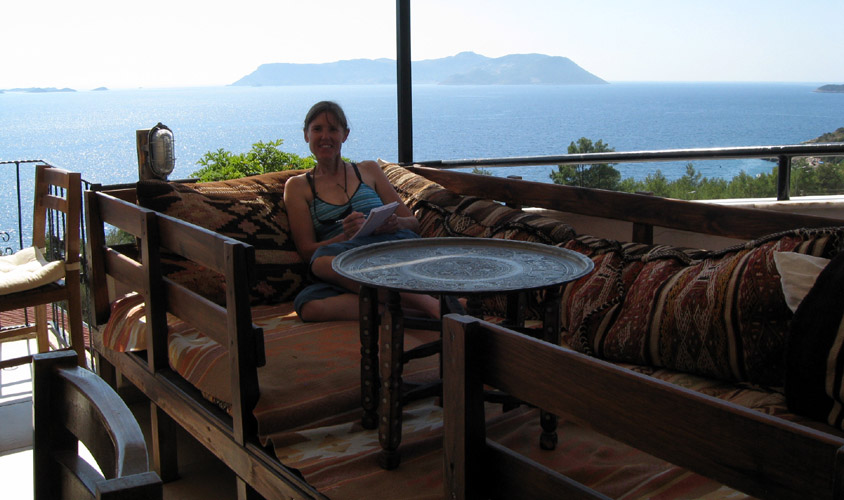 The panoramic view from our hotel's rooftop terrace. We had just returned from a blissful, refreshing swim in the clear, blue, salty, buoyant Mediterranean. It gets very hot here in the summer. In early October it was still hot, but comfortable.





Salatin preparing the breakfast buffet at the hotel. His wife does all the cooking, and is expecting their first baby in March. I studied Turkish for three months before our trip, and Salatin went out of his way to speak Turkish with me. You can get by just fine traveling in Turkey with only English, but few people speak it well enough for real conversation.





You can hop on a comfy "gulet" for a day or longer and cruise the Turquoise Coast, stopping for swims or hikes at secluded spots. Maybe on our next trip...





One of the Lycian tombs carved into the rocks above town. The view is glorious - what a place to spend eternity!





Another Lycian tomb, carved directly into the limestone. The Lycian people, about whom we apparently know very little, lived in this area over 2000 years ago.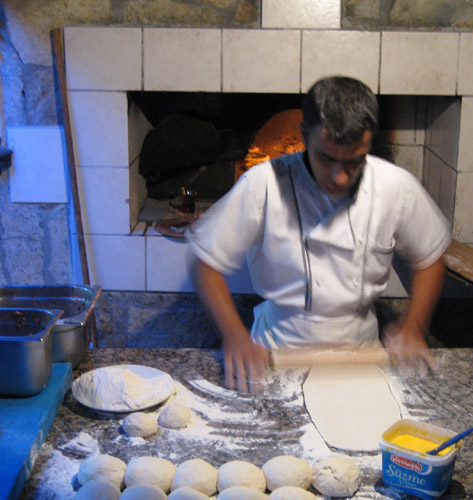 Making pide (puffed flat bread) and pizza in a wood fired oven.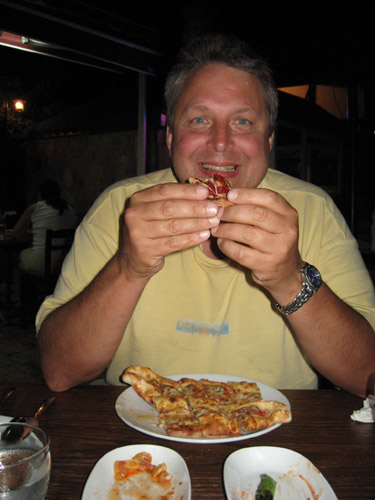 The pizza is boat shaped, and has no tomato sauce. This one is filled with cheese and meat.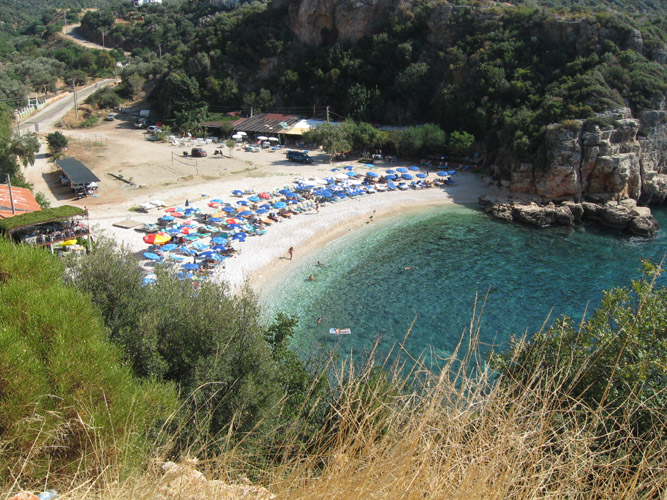 One afternoon we went for a walk up the coast. This beach is about 1 km north of Kas. It's called Buyukcakil in Turkish, which sounds a lot like "big chuckle," so that's what Grant called it.





We stopped at a small cafe and watched a woman pounding carob pods. The pieces are cooked, and the juice is strained and reduced to make molasses. When I asked what they were making, they ran to get me a glass of molasses to try. Turkish people are incredibly generous and hospitable.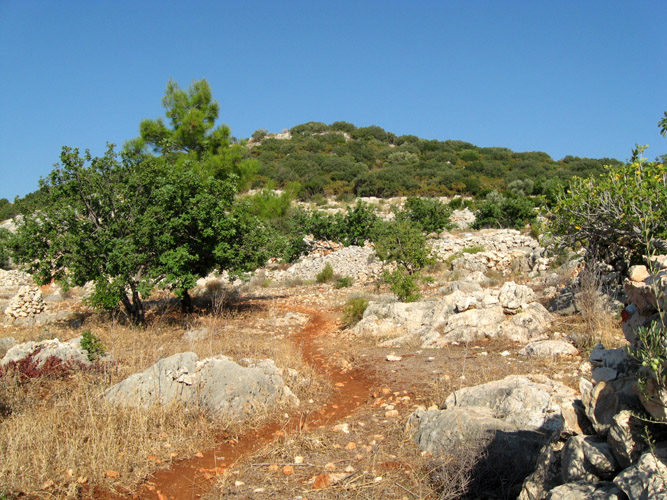 I went hiking along a portion of the Lycian Way, a 300 mile trail that runs along the southern coast of Turkey. It's wild and beautiful.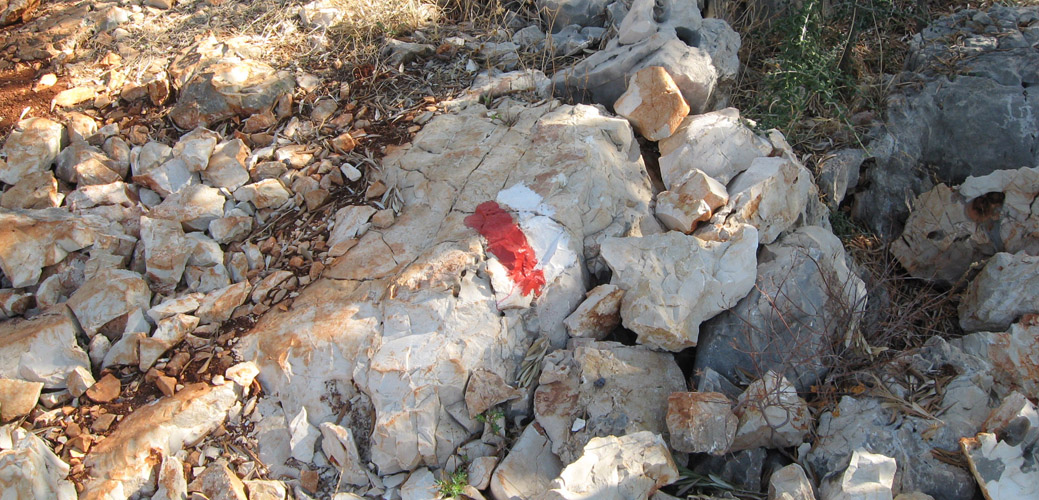 International waypoint markers are used to mark the trail. You have to pay close attention - it's easy to get lost!





Ancient Lycian tomb along the trail





An olive tree. On my way back from my hike, an older woman invited me in for tea. Her daughter lives in Maryland, and a young grandson she's never seen. Between her limited English, my limited Turkish, and a dictionary, we had a lovely conversation. As I waved goodbye and walked off down the road I realized that I'd forgotten to take a picture of her...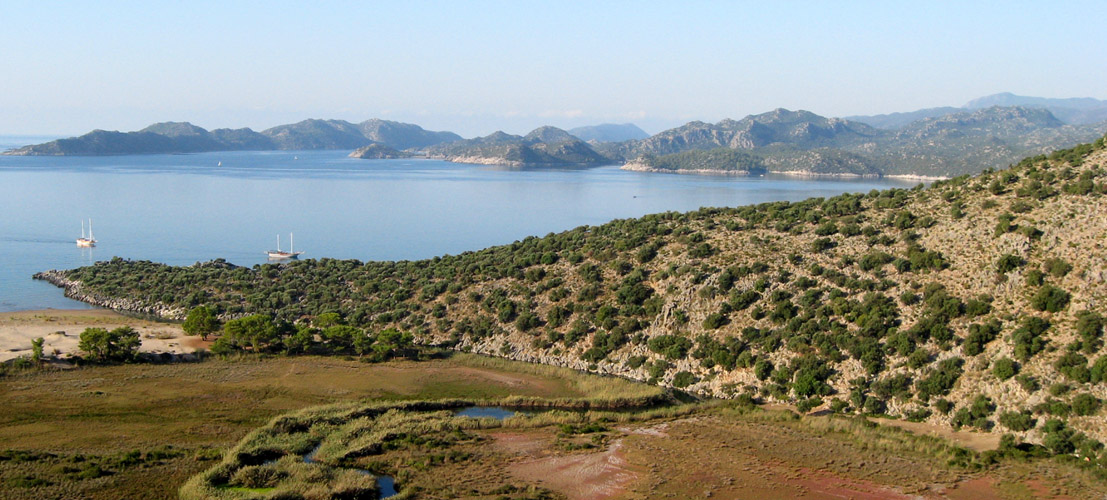 All too soon we had to leave Kas. We drove east along the coast through gorgeous scenery. Here a lush estuary winds its way to the sea. Turkey is supposed to have wonderful birdwatching.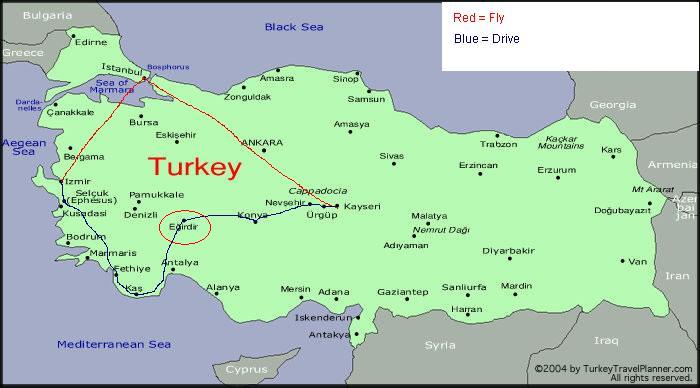 Then we headed north, past cloud-capped Mount Olympus, and up into the Taurus mountains. The drive from Kas to Egirdir, where we spent one night, took about 5 hours.





Along the way we took a side trip to see Sagalassos, an ancient Roman city high on a hill. There were only three other people there. You pay a small entrance fee and are then free to wander around the site. Along the steep, narrow road that winds up to the site, an old man flagged us down for a ride. On the way down we saw him working in his field.





Rediscovered in the 1960's by Belgian archeologists, Sagalassos had never been looted.





The city was destroyed by two earthquakes, but all the pieces remain and are slowly being excavated and reassembled.





The site is amazing, and its beauty is further enhanced by the lack of tour groups.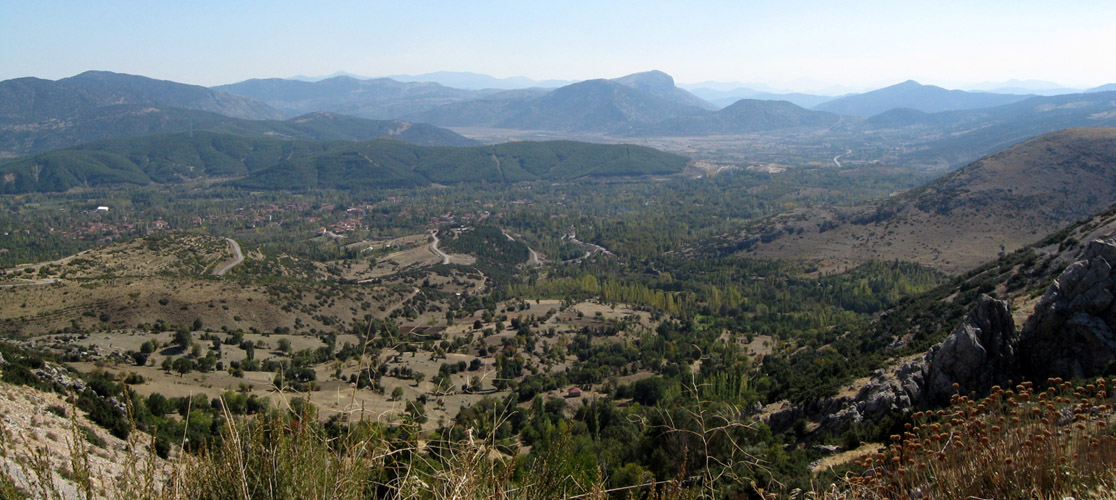 The city had a panoramic view. Romans came up here to escape the heat.





This stretch of road looked like Bavaria.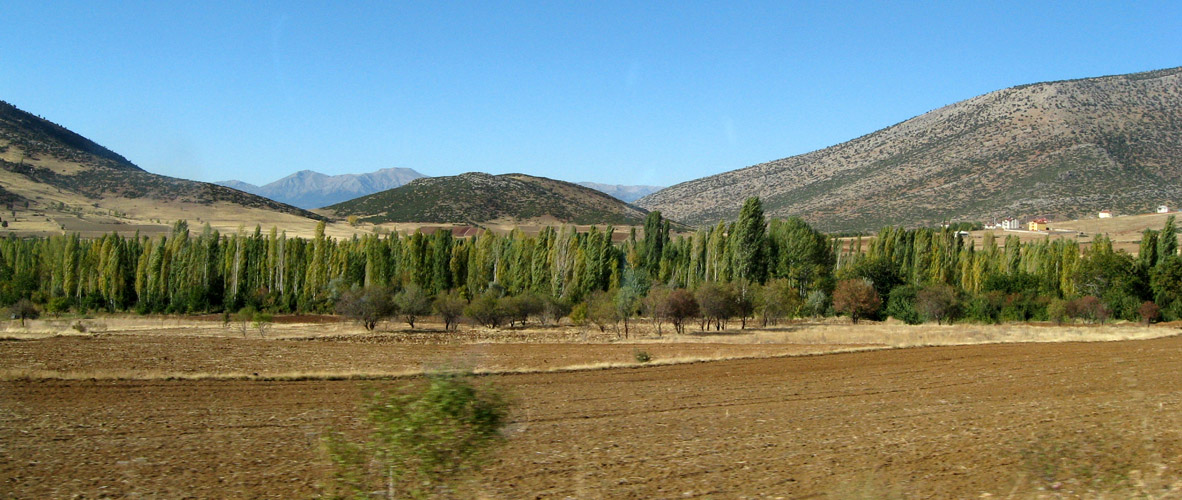 And this reminded us of Montana.





After a quick night in the unremarkable town of Egirdir, we drove another six hours to Kapadokya (Capadoccia). The road between Egirdir and Konya was lush and green, with many apple orchards and potato fields. Between Konya and Kapadokya the land becomes more dry and barren.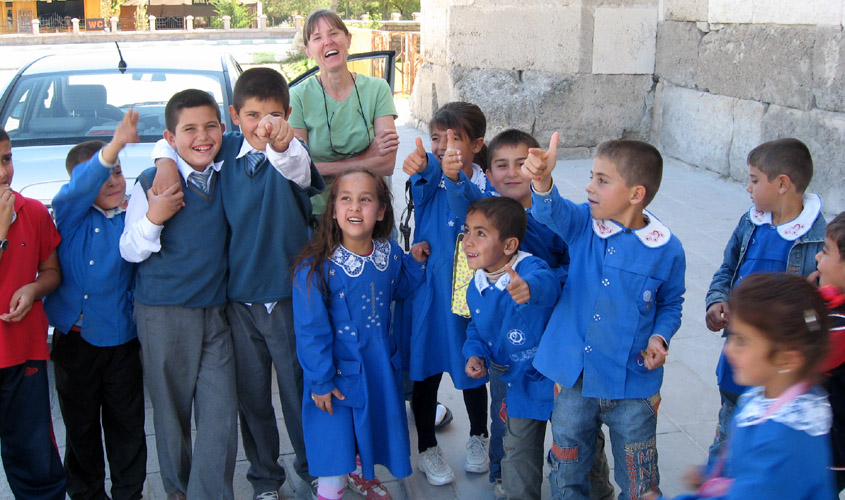 In Sultanhani a group of school kids asked us for money. That was the only time this happened to us. We laughed and said no.





In Sultanhani there is a beautiful caravanserai from the 13th century. Caravanserai were roadside inns along the Silk Road where travelers and their goods could spend the night - kind of like camel truck stops. Marco Polo stayed here!





A typical caravanserai is a huge stone building with a large open courtyard. Around the courtyard were baths, sleeping rooms, and places to eat. In the middle of the courtyard is this small mosque.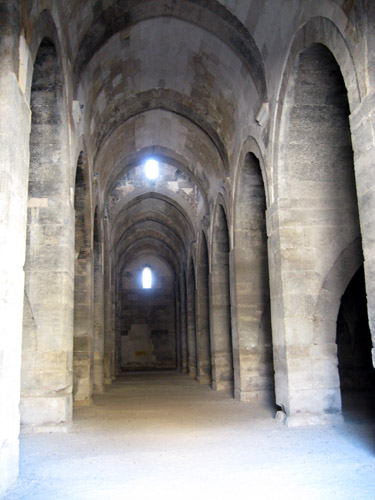 Traders stored their goods in guarded store rooms, safe from bandits.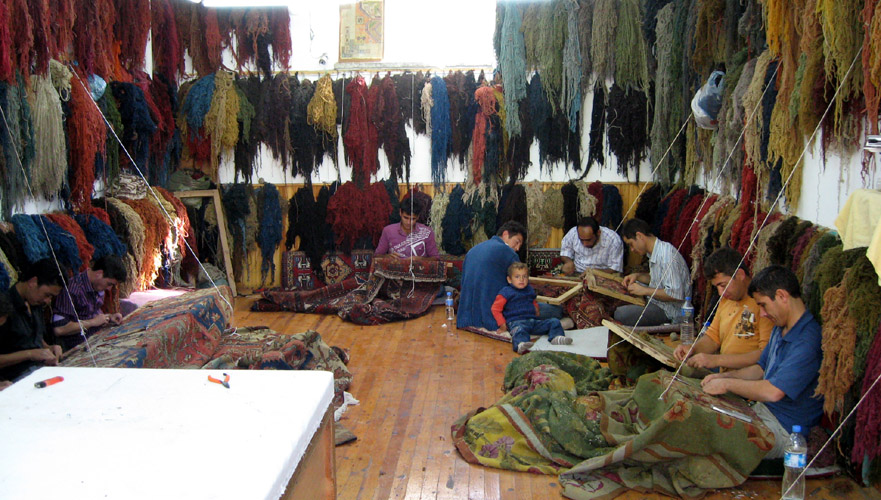 Grant's friend Turabi, a successful Seattle rug merchant, is from Sultanhani. He built a rug repair shop here. In trying to find it, we found this one instead. They offered to take us to Turabi's shop, but we didn't have time (and no one spoke English). Old rugs are very valuable. These skilled craftsmen do beautiful work.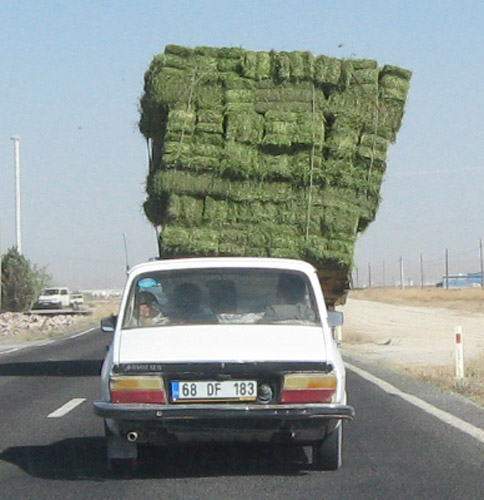 It was harvest season, and the little traffic we encountered was mostly trucks, overloaded with hay, potatoes, sugar beets, apples, or squash. Turkey has fertile soil and hard-working farmers, and it's one of the few countries in the world that is food self-sufficient. There is little use of pesticides or chemical fertilizers.





We saw acres and acres of these squash, which are grown only for their seeds. We were told that the squash themselves weren't edible, so they are fed to livestock or composted.





We arrived in Uchisar in time for a golden sunset. Uchisar, Goreme, and Urgup are the three main towns in Kapadokya. Uchisar has great views but lacks restaurants or other amenities, and Goreme felt touristy and artificial. If we went back we'd stay in Urgup.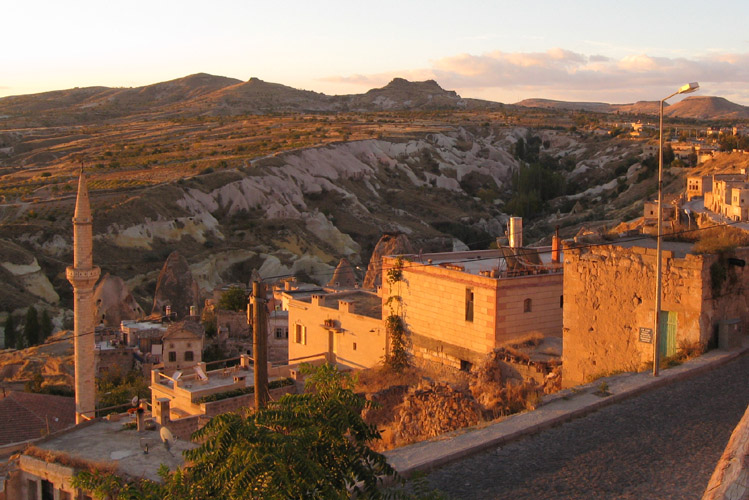 Uchisar sits high on a hill overlooking the surrounding valleys.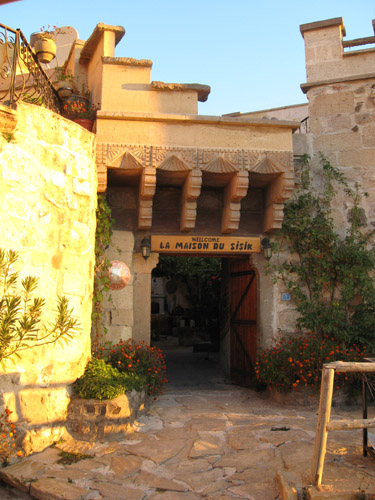 We stayed at Kilim Pansyon, owned by Sisik, a cosmopolitan local who speaks five languages fluently, and loves to cook.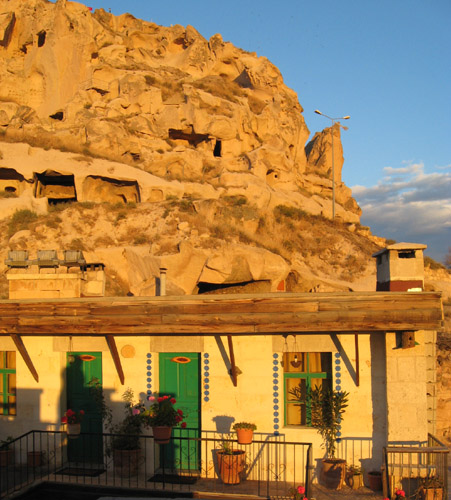 Our room is the green door on the right. Behind is Uchisar castle, a volcanic cone that was carved out to create a fortress.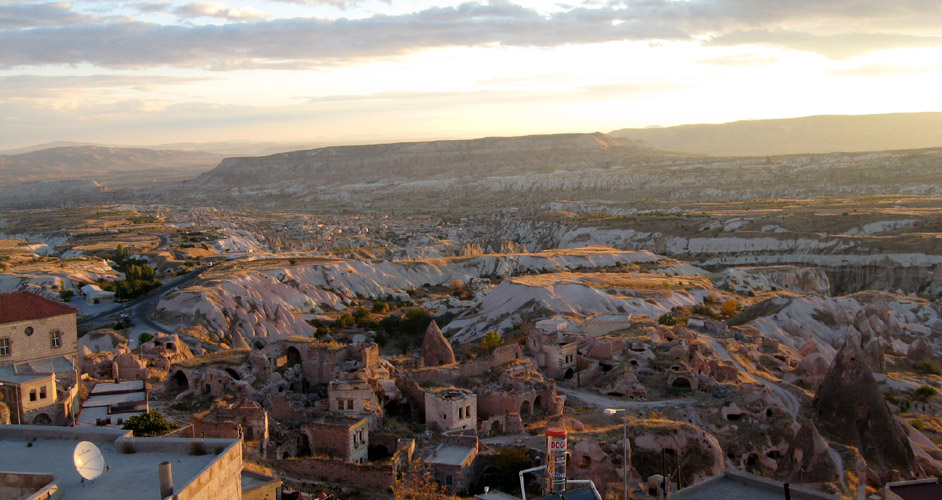 The valleys of Kapadokya resemble the American Southwest. Mount Erciyes erupted thousands of years ago, covering the area with hundreds of feet of ash and basalt. The ash hardened into tufa, a very soft stone. Tufa erodes more quickly than basalt, and the combination has allowed erosion to create beautiful shapes.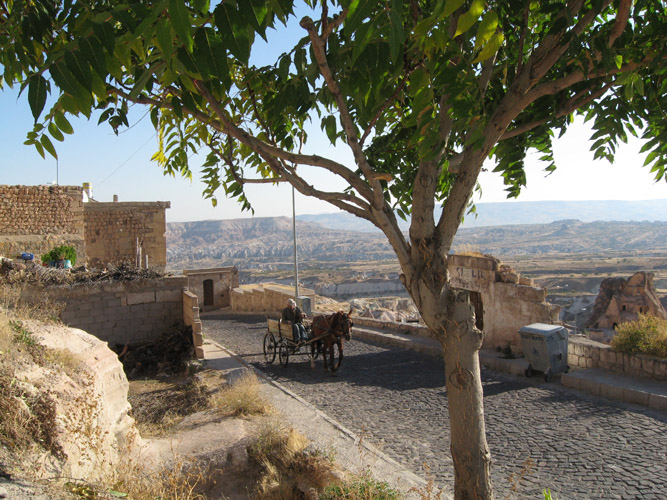 Donkey carts are common.





This man worked in the pension courtyard every day repairing rugs. It's a slow process: in the three days we stayed here, he did not complete this section. The rugs he repairs are shipped to France, where they command top dollar.





The best breakfast in Turkey: homemade yogurt, marmalades, breads, and pastries, with fresh squeezed orange juice, and all the other usual Turkish breakfast things.





The pension owner's father and cousin said goodbye to two guests, and then watched as the guests walked away. Most hotels in Turkey are owned and run by a family, and guests are treated like family.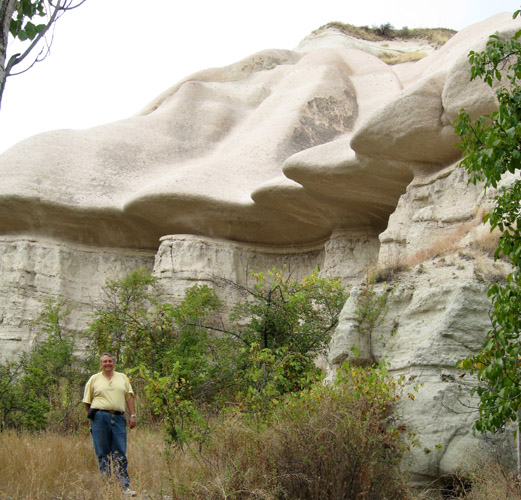 We embarked upon a hike up one of the valleys, only to find that we needed boots, which we hadn't brought. Still, we were able to access some beautiful spots.





For over two thousand years, people have been carving homes, churches, pigeon houses, barns, tombs, and storage chambers into the tufa. They also tunneled below, creating underground cities many stories deep.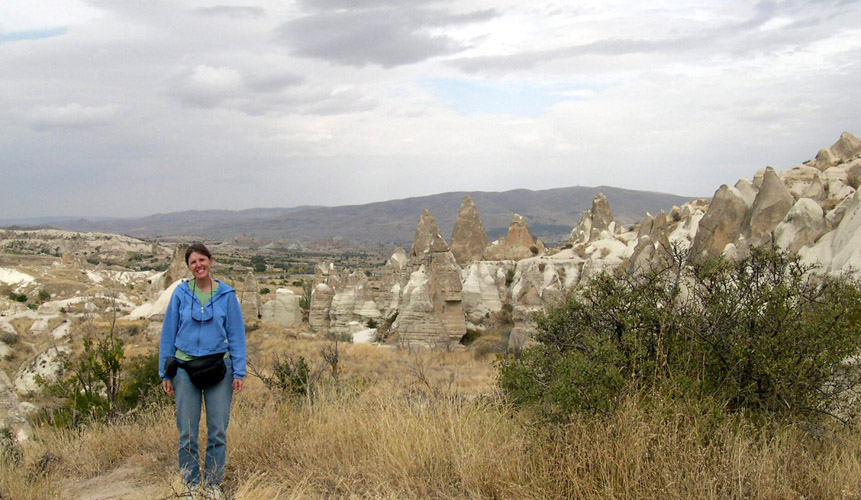 Another enticing valley we didn't have the footwear to explore.





Göreme was a monastic center from about 300-1200 AD, and many of the carved structures are small chapels and monastic retreats. The Cappadocian Fathers lived in monasteries here and were significant figures in the history of Christianity.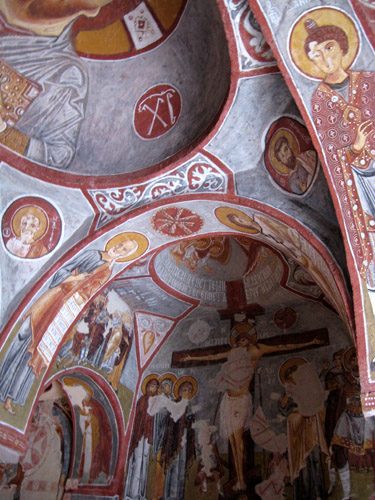 Medieval orthodox Christian monks (1000-1200 AD) carved more elaborate churches and decorated them with Byzantine frescoes.





The bases of these columns have eroded away, but because they are carved in place, the tops remain attached!





Making raisin molasses from seedless sultana grapes. The man is stomping on bags filled with grapes. The juice drains through the pipe into bowls and is cooked down until it's thick. The women are wearing shalvar, baggy pants that are not only comfortable, but very cool in hot weather.





More molasses makers. During the cooking process, the women skim the foam off the top. They rushed to get glasses so we could try the raisin juice - it tasted like prune juice. We tried to ask what they were making, but our dictionary didn't include the word molasses. It was so frustrating to not be able to have a conversation. An old man walked over and with a huge grin proudly uttered his one English phrase "Thank you very much!"





An old, abandoned village above the town of Cavusin. I found it more interesting than the Goreme churches, plus it's free, and there are no tourists. There are dozens of abandoned rock houses you can wander into...





and beyond the houses are beautiful pink and green rock formations. You can see, and wander, for miles.





There is water, and thus farming, in the valleys.





We drove along an extremely scenic country road to Soganli. The fall colors and river bottoms reminded us of parts of eastern Washington.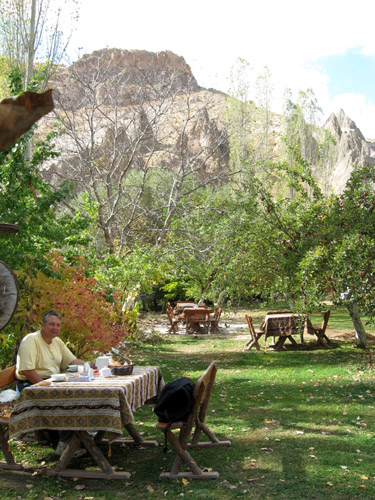 Lunch at the Kapadokya Restaurant in Soganli, where we were the only patrons (we had beat the lunch crowd). The owner speaks fluent French and English, all learned from tourists. We feasted on homemade bread and lentil soup, and yogurt with local honey.





Two weeks flew by, and soon we had to fly back to Istanbul and home. We were very sad to leave this friendly and beautiful country. Thank you for taking the time to look at our pictures!