Overland Through Africa from Cape Town to Kenya
August to October 2019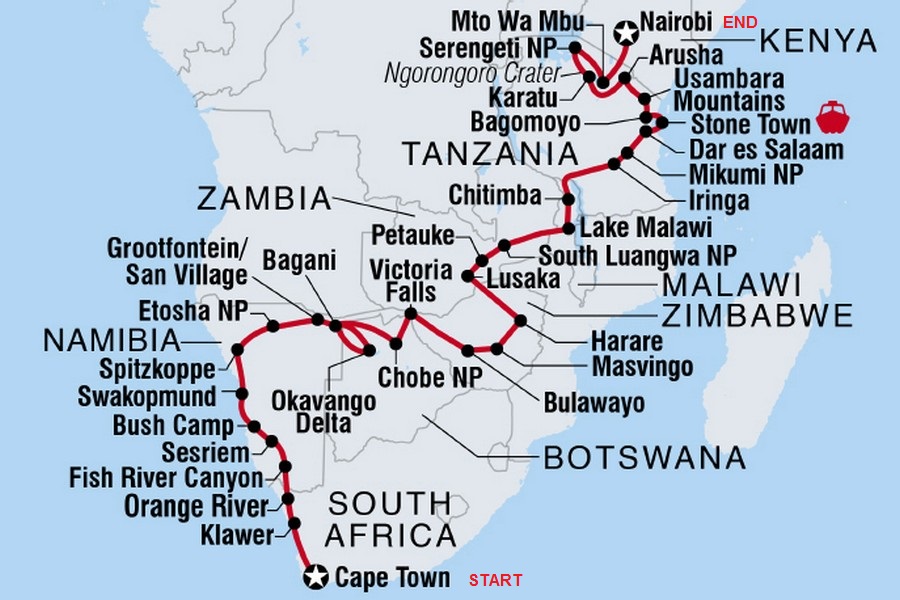 As they say in Swahili, Jambo (hi) and Karibu (welcome)!
Ever since serving in the Peace Corps in West Africa in the mid-80s, I have longed to explore other parts of Africa. To celebrate my 60th birthday, Grant and I signed up for a seven-week, 6500-mile, eight-country overland expedition through South Africa, Namibia, Botswana, Zimbabwe, Zambia, Malawi, Tanzania, and Kenya. Along the way we saw incredible wildlife and scenery, and had too many memorable experiences to count. The weather was mostly perfect, with some afternoon heat, and there were almost no insects. English was the common language everywhere except Tanzania.


What is Overlanding?
Basically, overlanding is an adventurous journey by vehicle, and usually implies camping and roughing it a bit. We'll tell you all about it, but first let's get to our starting point.
---
Why Fly to Dubai?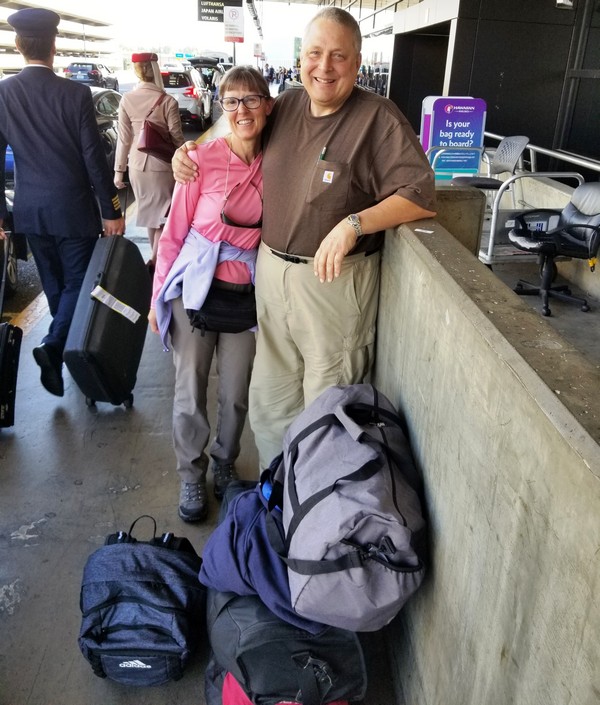 Air Emirates flies non-stop from Seattle to Dubai (about 14 hours), and then on to Cape Town (about 9 hours). It was not only the cheapest option, but they are a great airline, with comfortable planes and good food. And they gave us a free hotel room and meals because we had a 14-hour layover!





I took an evening tour of Dubai. Futuristic and opulent, it felt like Blade Runner meets Las Vegas.The needle-shaped Burj Khalifa is the tallest building in the world at 2,717 feet.





Mosque in a quiet neighborhood in Dubai



---
Cape Town, South Africa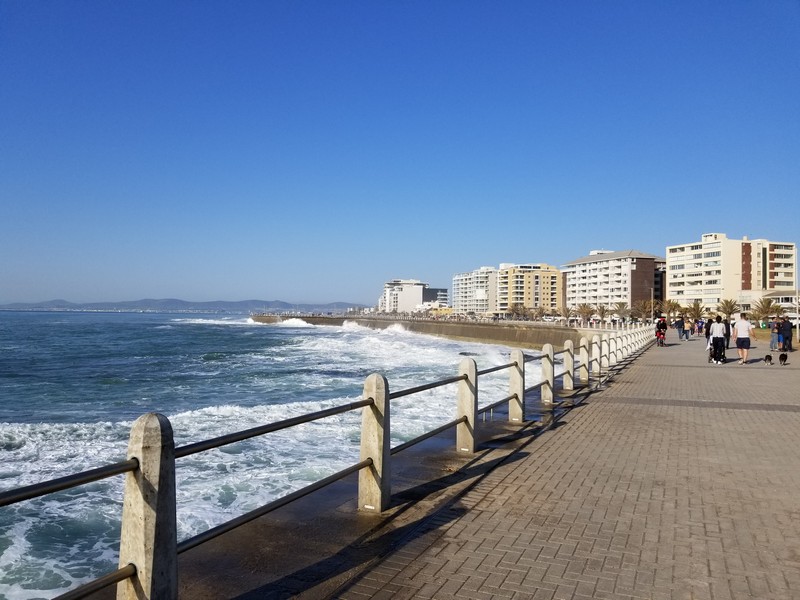 Before our tour began, we spent a few days enjoying this lovely city on the Atlantic Ocean. Our AirBnB apartment was right on the delightful Green Point promenade. Even though it was the tail of end of winter, the weather was warm and sunny.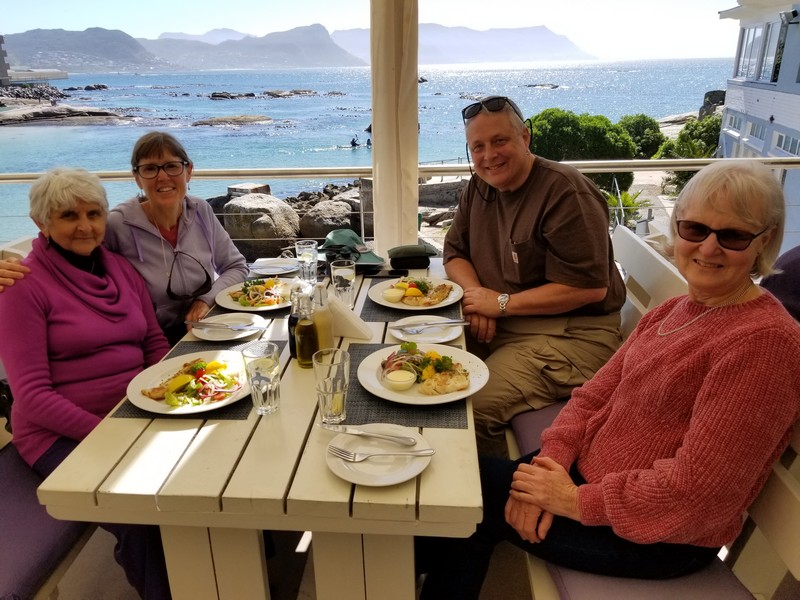 A fresh fish lunch by the sea with old family friend Margaret (left) and her sister-in-law, Mariana, who took us to see penguins and the Cape of Good Hope.





Over 2000 endangered African penguins frolic, fish, and raise their young on a sheltered cove near Simons Town.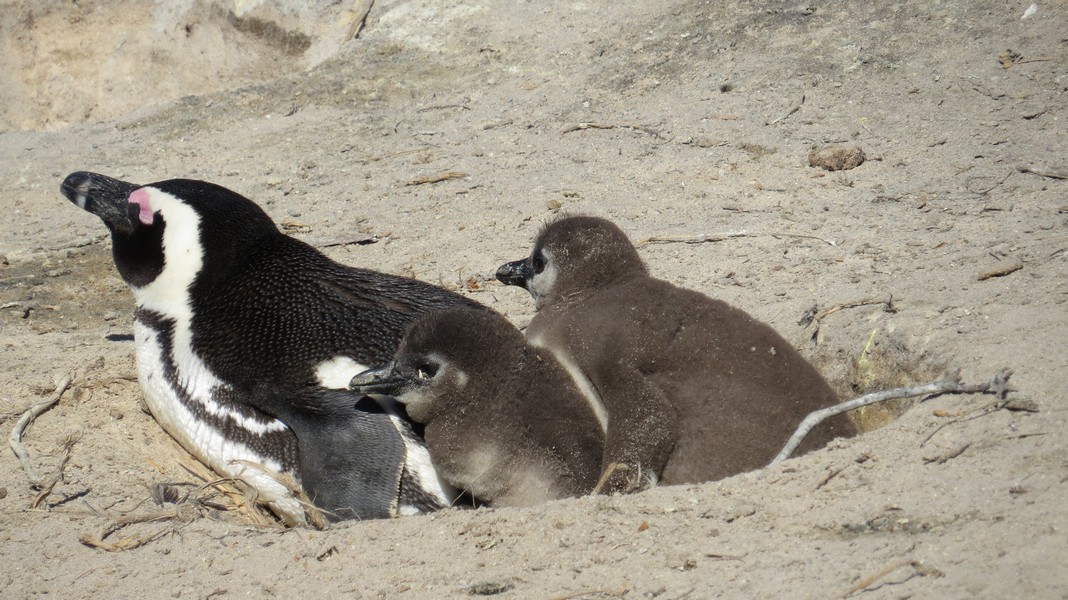 Trails and boardwalks get visitors up close to these cute, comical critters.





Looking north along the Atlantic coast from the Cape of Good Hope, about 40 miles south of Cape Town





Back in Cape Town, a steep cable car climb took us 3500 feet up to the top of Table Mountain.





View of the Atlantic coast looking south from Table Mountain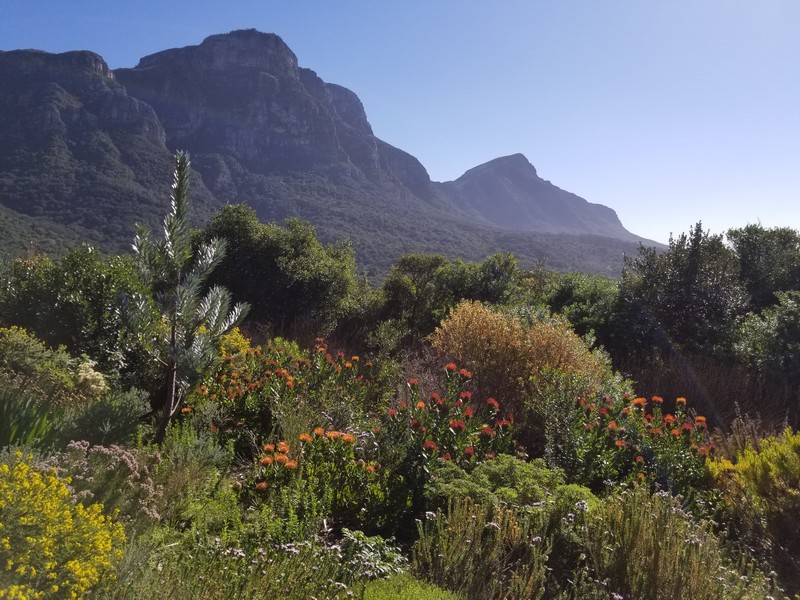 Gorgeous Kirstenbosch Botanical Gardens sits on the slopes of Table Mountain and showcases the plants found in this part of Africa.





The garden features a variety of proteas, a showy flower native to South Africa.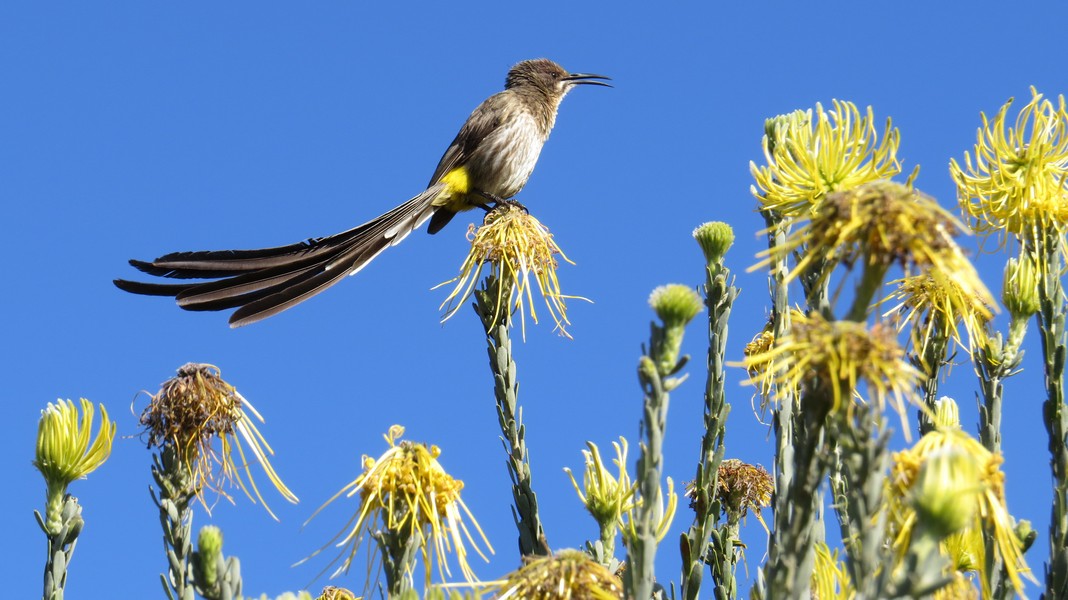 Cape sugarbird on a yellow protea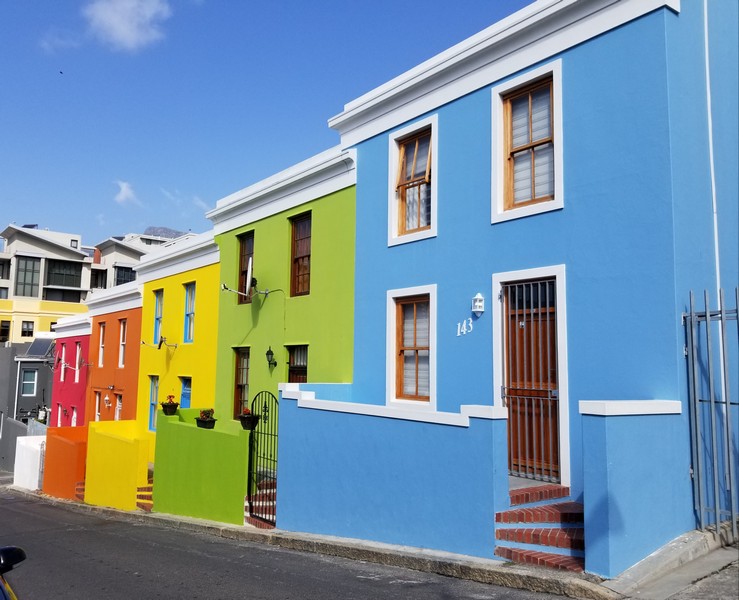 Brightly-colored houses and cobbled streets draw visitors to the mostly-Muslim Bo-Kaap neighborhood, the original home of the Cape Malay people who came as slaves, political prisoners, or exiles from the Dutch East Indies.



---
The Tour Begins!


Meet our truck. It holds up to 24 people and has comfortable bus seats.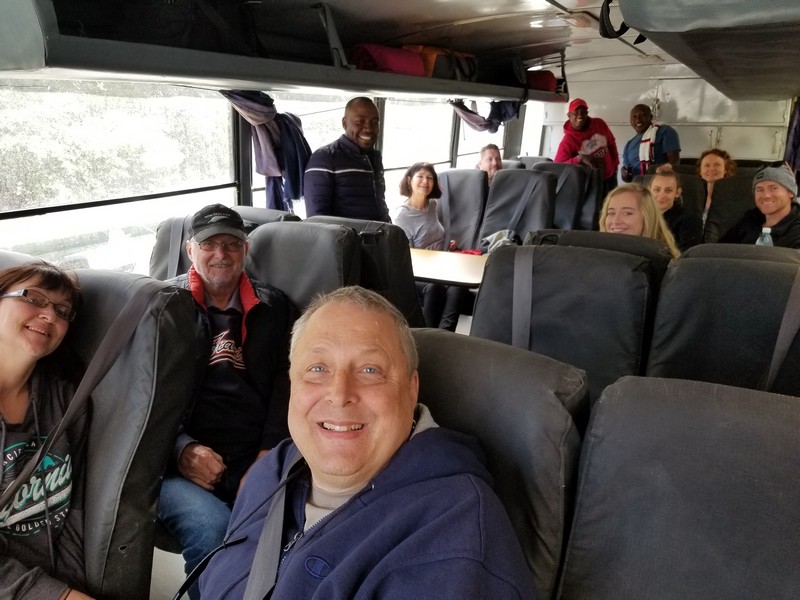 There were 10 people on the first leg of the trip (aged 26 to 75), plus our driver, guide, and cook (Kenyans who speak Kikuyu, Swahili, and English).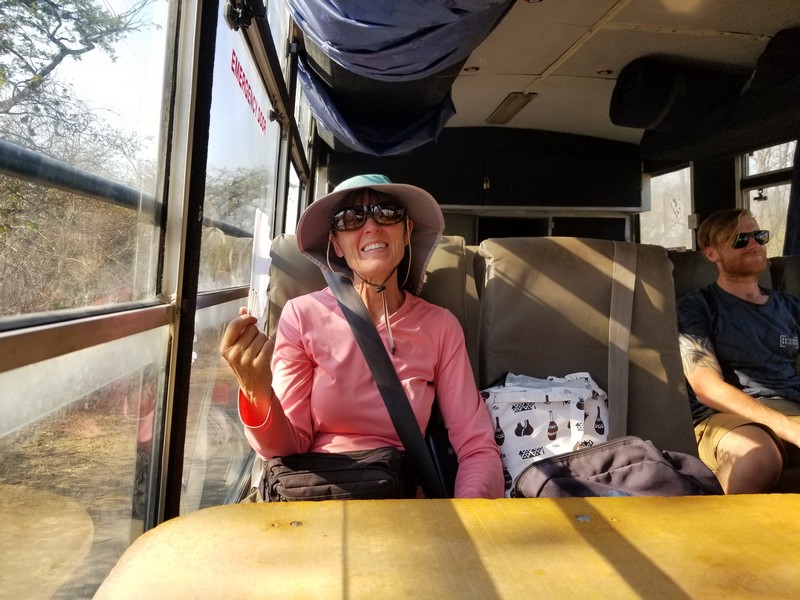 The middle seats face a table. Upper and lower windows open for air flow (there's no AC) and picture taking.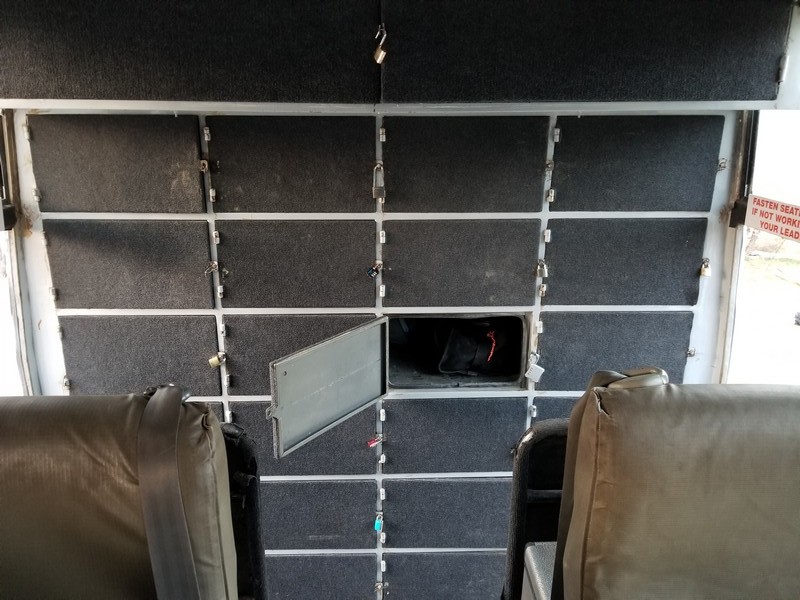 There is a roomy locker for each person, plus storage shelves for day packs above the seats.





Our jolly cook, Godfrey (left), and our guide, Martin. Large storage lockers under each side of the truck hold tents, tools, chairs, kitchen gear, and food. Lots of food.





Our driver, John, took good care of the truck and kept us safe on some challenging roads.



---
Overland Living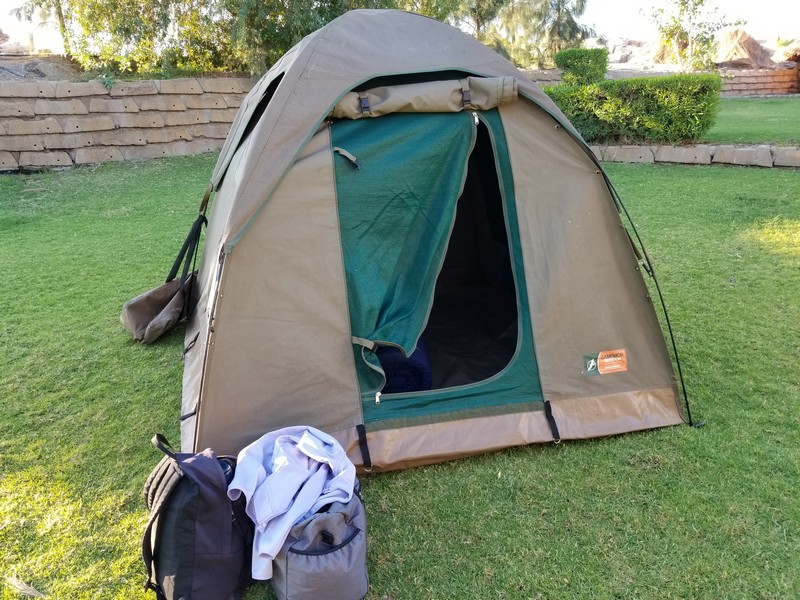 We set up our own heavy canvas tents each night.





Inside was space for two foam pads and a few personal items. We couldn't quite stand up. It was snug but comfortable. If you go, rent a sleeping bag. It's cheaper than getting yours dry cleaned when you get home, and saves space in your luggage.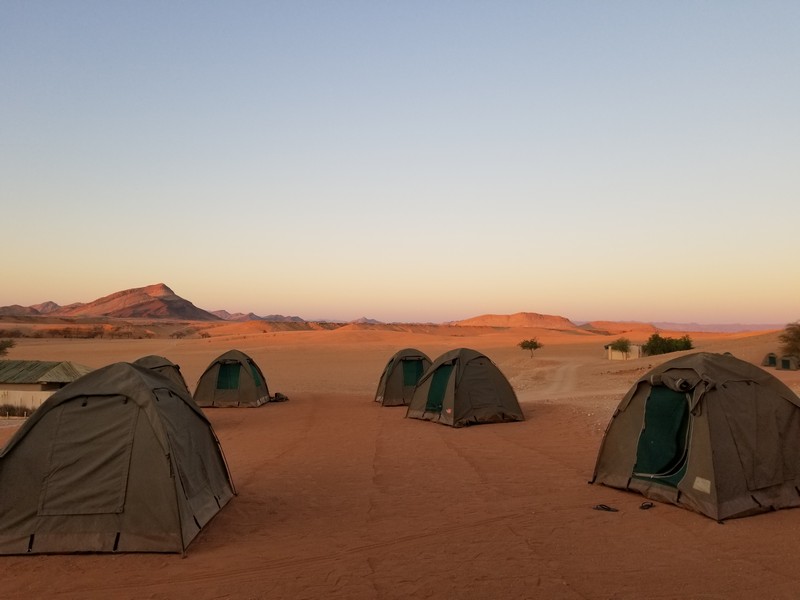 The camp sites varied a lot, but most were in quiet rural areas.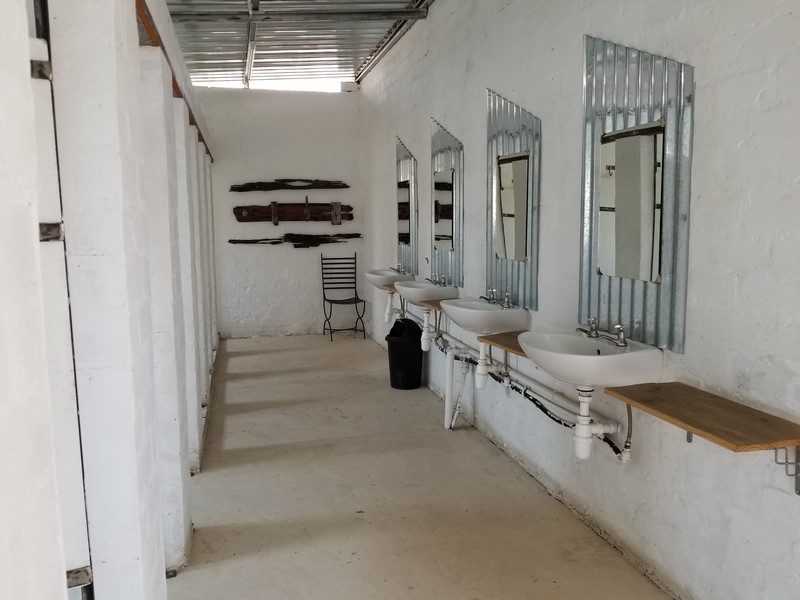 All of the camps had nice facilities, often with wifi and hot showers.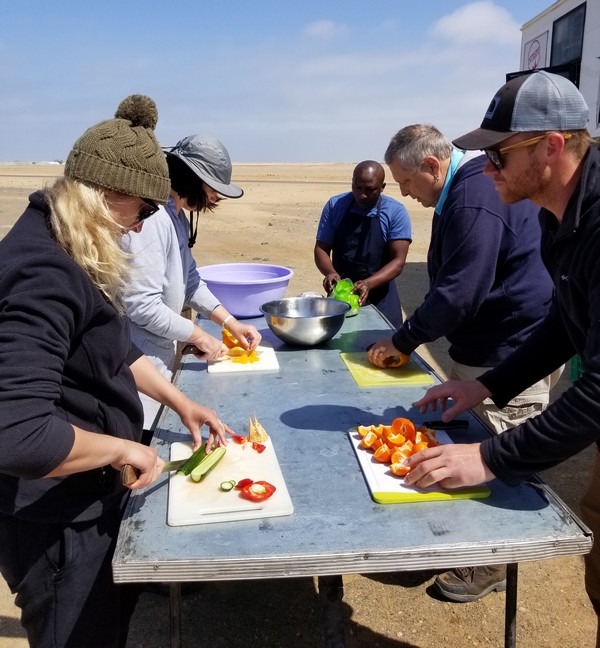 We took turns helping to prepare meals, which included a lot of fresh fruits and vegetables.





On long travel days we would often have a roadside picnic lunch.





We helped wash dishes after every meal: pre-wash, wash, antibacterial rinse, and boiling water rinse. Then we "flapped" the dishes to air dry them (towels can harbor germs). Scrupulous hygiene kept any of us from getting sick.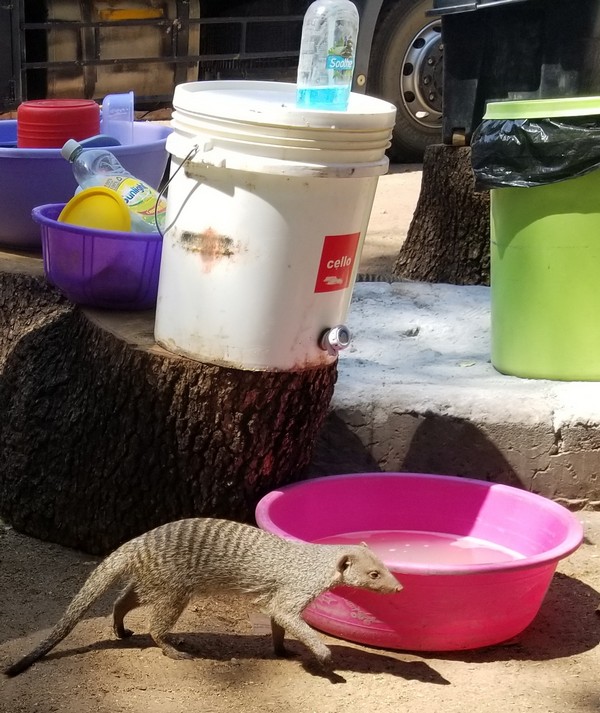 This banded mongoose is checking out our handwash station.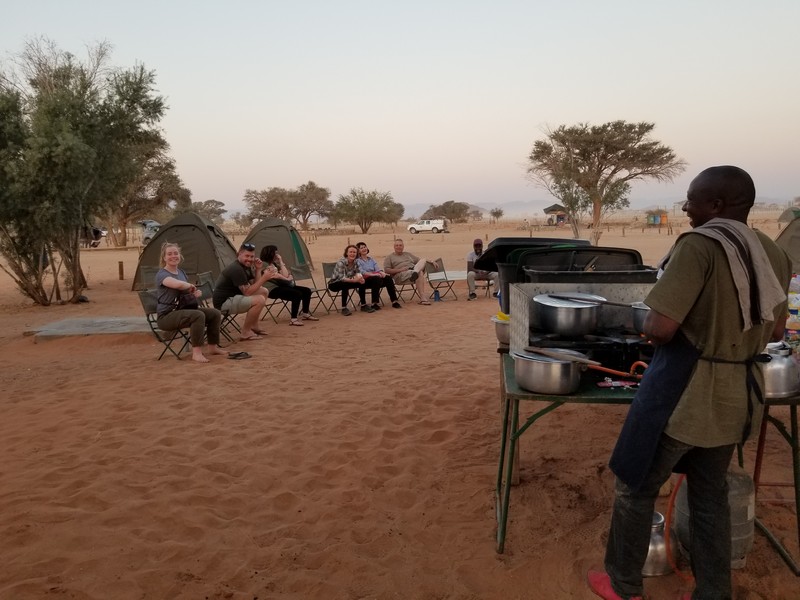 After a long day of adventuring, it was nice to hang out while we waited for Godfrey's dinner call: "Hand wash!" Meals were varied, tasty, and healthy: soup, vegetables, and stews with potatoes, rice, or pasta for dinner; salad, bread, and fruit for lunch; crepes, eggs, toast, bacon, fruit, and cereals for breakfast.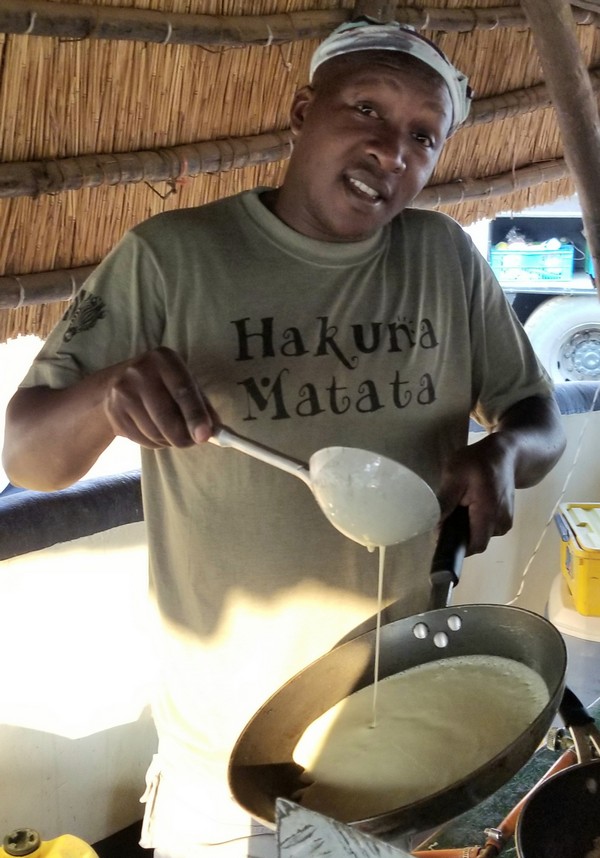 Godfrey cranking out crepes. (Take it from us: crepes with peanut butter are delicious.) Hakuna matata is Swahili for "No worries"!



---
South Africa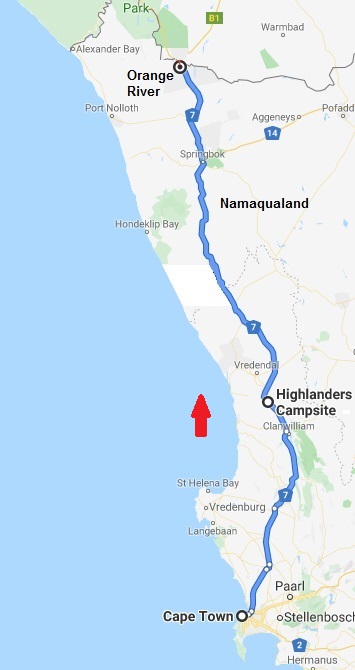 Highlights of our two-day drive up the west coast of South Africa included camping on a vineyard out in the country, and wildflowers in Namaqualand.





At our camp the first night, hundreds of spectacled weaver birds showed off their skill at building hanging nests.





I had chosen our departure date to coincide with the annual bloom of Namaqua daisies that carpets the whole region in brilliant oranges and golds.



---
Namibia


Namibia has desert, dunes, rocky peaks, ocean beaches, German colonial history, great wildlife, and some of Africa's most fascinating human culture. It's also an easy place to do your own driving tour, with good roads and infrastructure. We spent 10 days here.





The lovely Orange River forms the border between South Africa and Namibia, and is popular for rafting, canoeing, and bird watching.





Fish River Canyon is the second largest land canyon in the world, after the Grand Canyon. We took a sunset walk along the rim.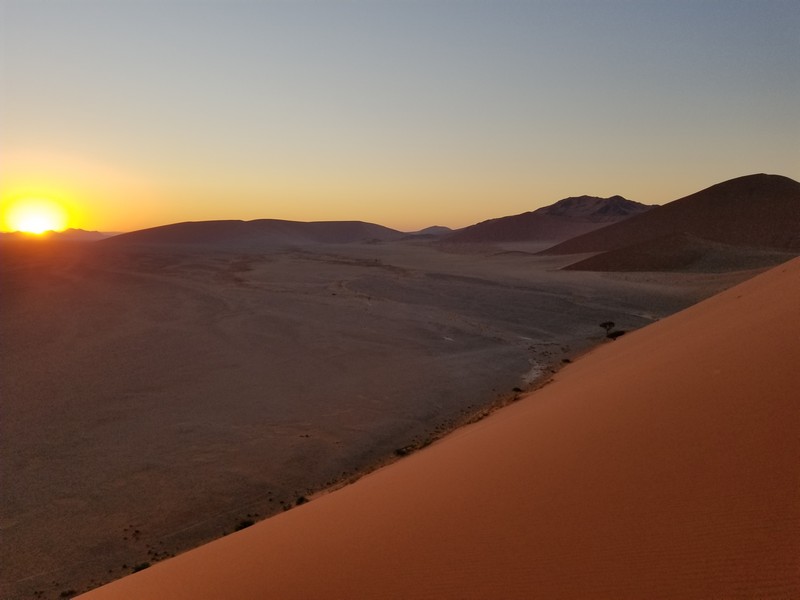 In Sesriem, we camped in the desert and climbed a dune at sunrise to watch the coral-colored sand glow in the early light.





Nearby Sossusvlei is a clay pan with skeleton trees surrounded by towering dunes. It's the remains of a marsh that now only receives water every 5-10 years.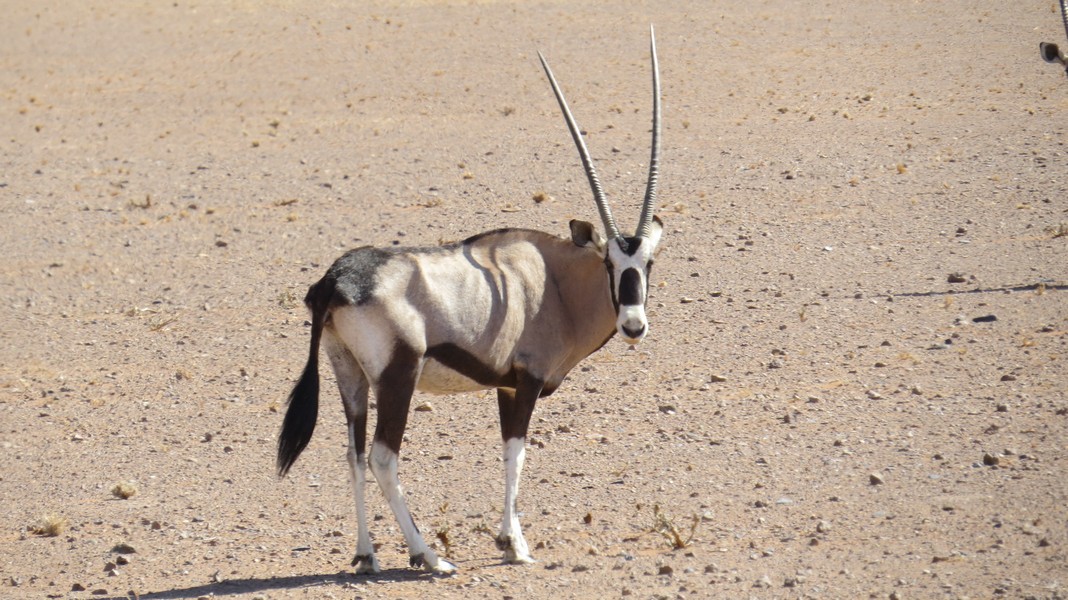 Magnificent gemsbok (oryx) roam about, somehow finding enough to eat on the arid gravel plain.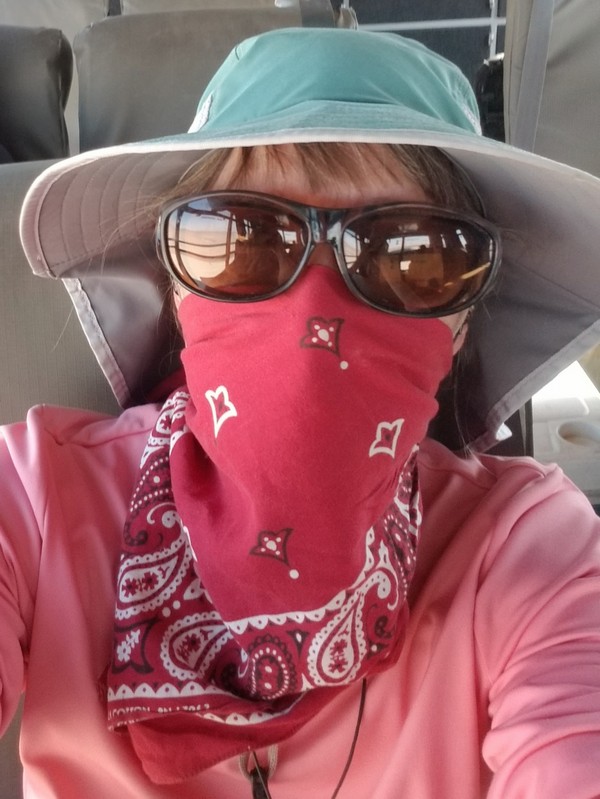 Namibian desert attire: bandana for dusty roads, hat and glasses for sun protection





Shopping center stops allowed us to go to an ATM, buy snacks, or get lunch on the days it wasn't provided. I did not expect to see shopping malls in Africa.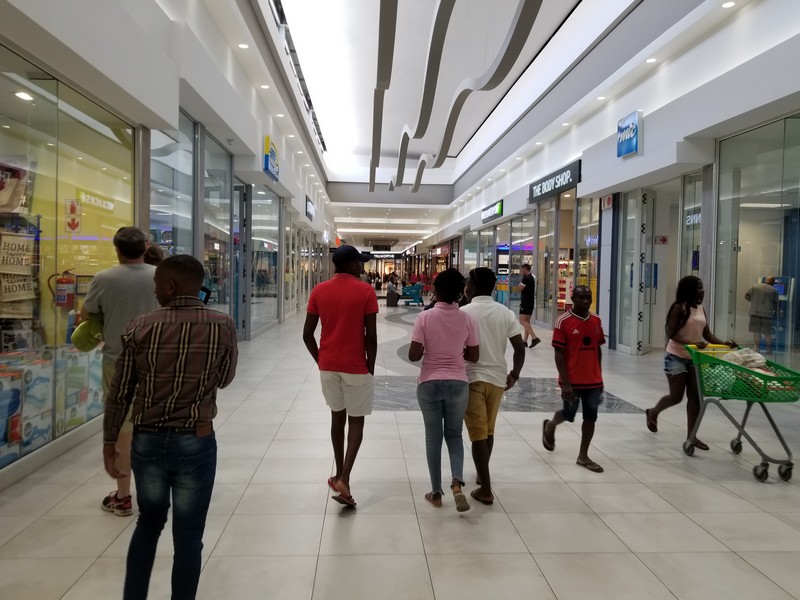 Inside the malls it felt like we could have been anywhere in the world. Although global homogeneity saddens me, it is a sign of increasing prosperity, and it seems like that is a good thing.





We love flamingos, and were delighted to watch hundreds of them feeding in Walvis Bay on the Namibian coast.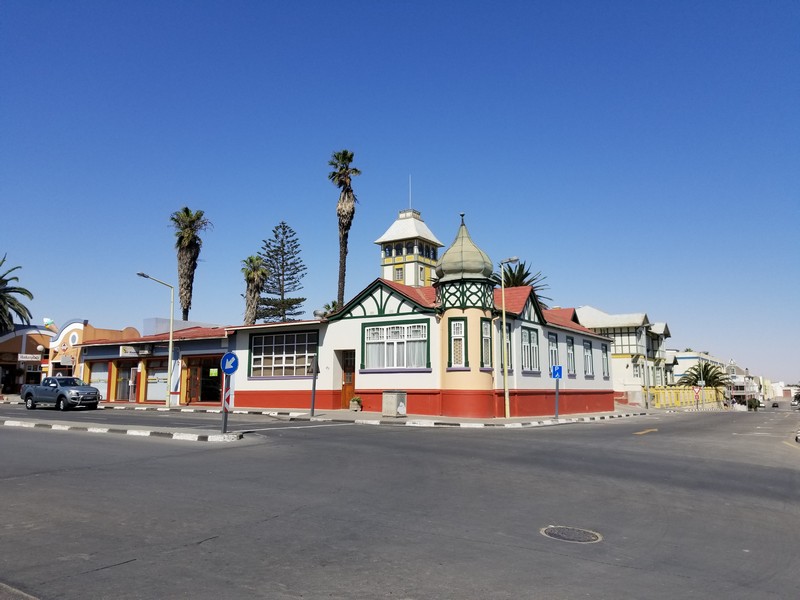 Taking a break from tents and desert, we spent three nights in nice bungalows in Swakopmund, a former German colonial town on the Atlantic coast. It boasts German architecture, bakeries, and beer, and many German tourists. It's usually cool and overcast, but we had warm, sunny weather.





A beach in Swakopmund





I went on a tour of the "townships," or settlements, on the outskirts of town, to see how the majority of Swakopmunders live. In some sections, people are only allowed to build temporary houses, to encourage them to save their money to buy the affordable homes being built by the government.





After stops at a women's cooperative, a daycare, and a market, we sampled typical food at a small restaurant: pap (cornmeal porridge), mopane worms, and spinach stew. I didn't try the worms, but the rest was delicious.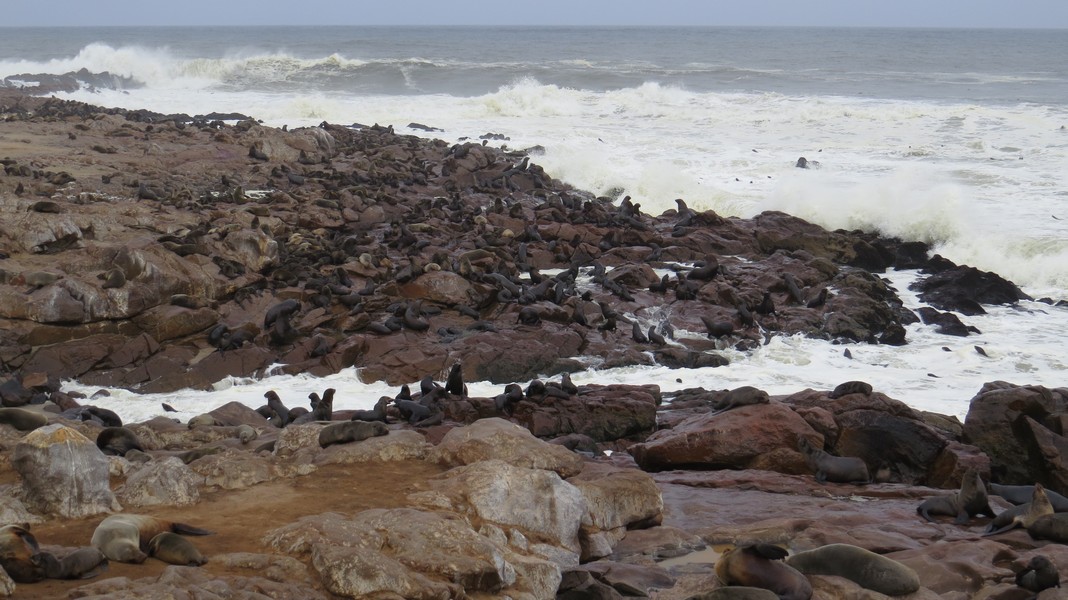 Back on the road, we headed north to Cape Cross. They say there are 100,000 fur seals in this colony.





You can walk right up to the seals as they bark, brawl, nurse their young, and lounge about looking contented.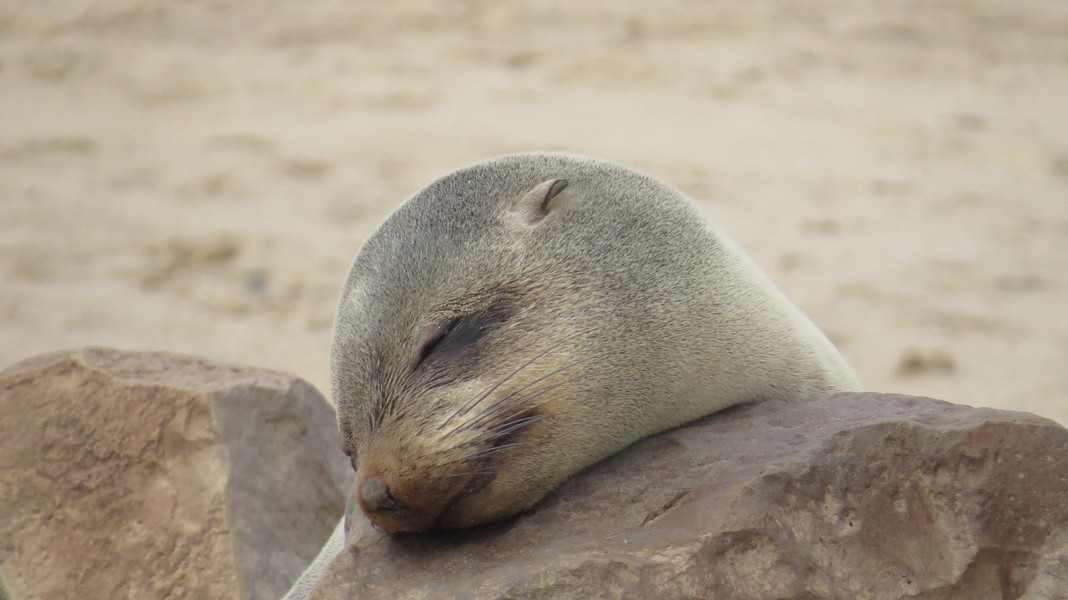 Lots of snoozing going on too.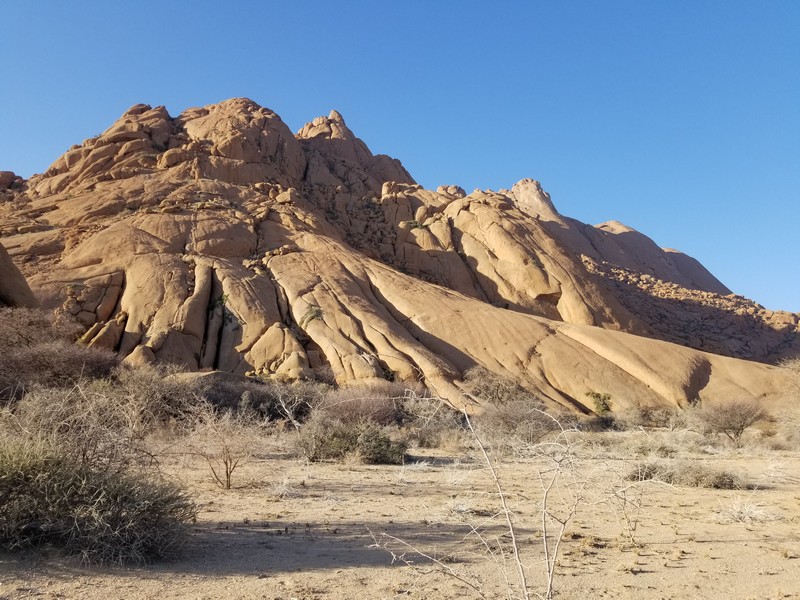 We left the coast and headed inland to Spitzkoppe, a magical ancient landscape of eroded granite formations rising from the desert floor. We hiked, saw 4,000-year-old San rock paintings, and camped under a sky filled with stars.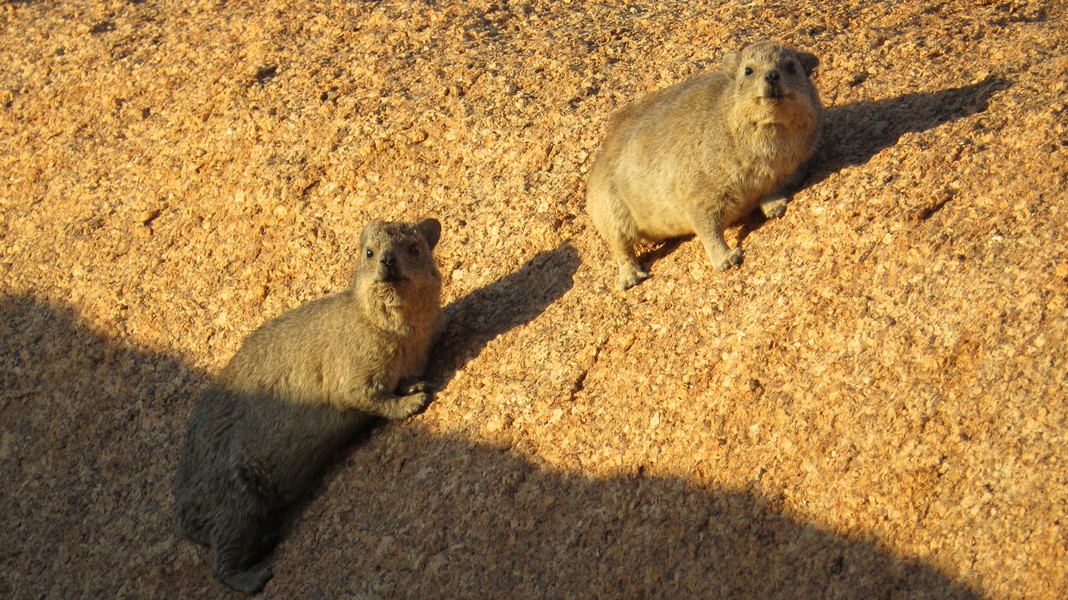 Who knew that the elephant's closest living relative is the ever-smiling rock hyrax? This pair was soaking up rays before the sun set.



Etosha National Park

Numerous natural and man-made water holes dot this vast open desert scrubland, making it easy to spot abundant wildlife. We spent two delightful days here.





Our guide told us we were very lucky to see this rare black rhino drinking at a water hole.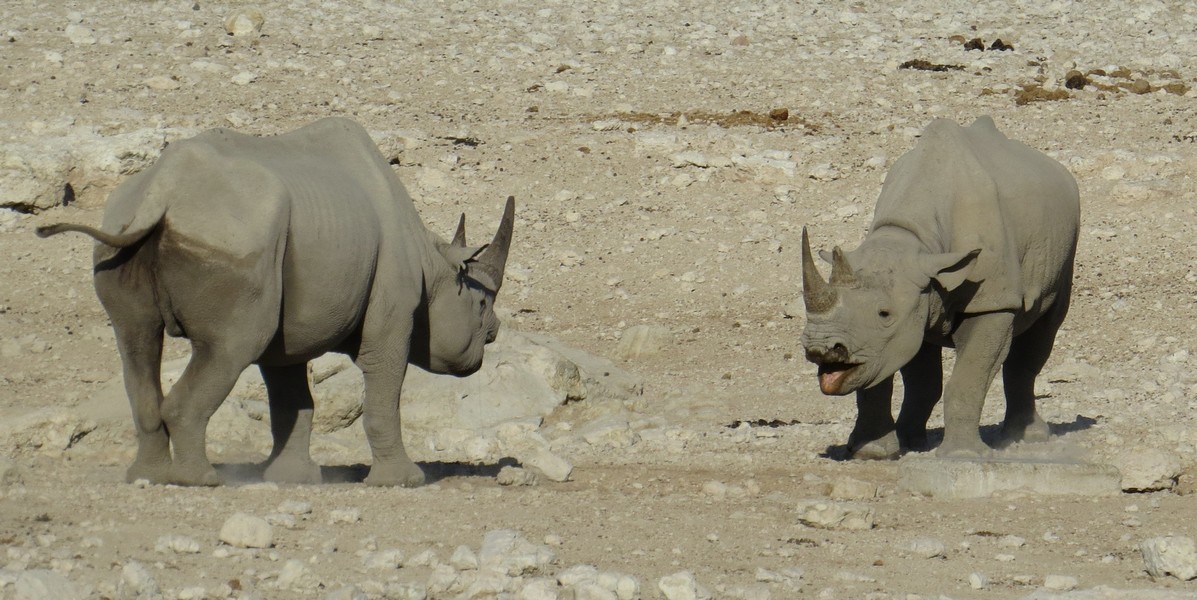 But then another one appeared! After some negotiating, tempers subsided. Later that night we saw eight black rhinos at the water hole near our camp!





Black-backed jackal





When this lion sauntered onto the scene, the other animals skedaddled.





We watched a parade of elephant families arrive at this water hole, drink their fill, bathe, frolic, then lumber off into the desert. It was truly a magnificent sight.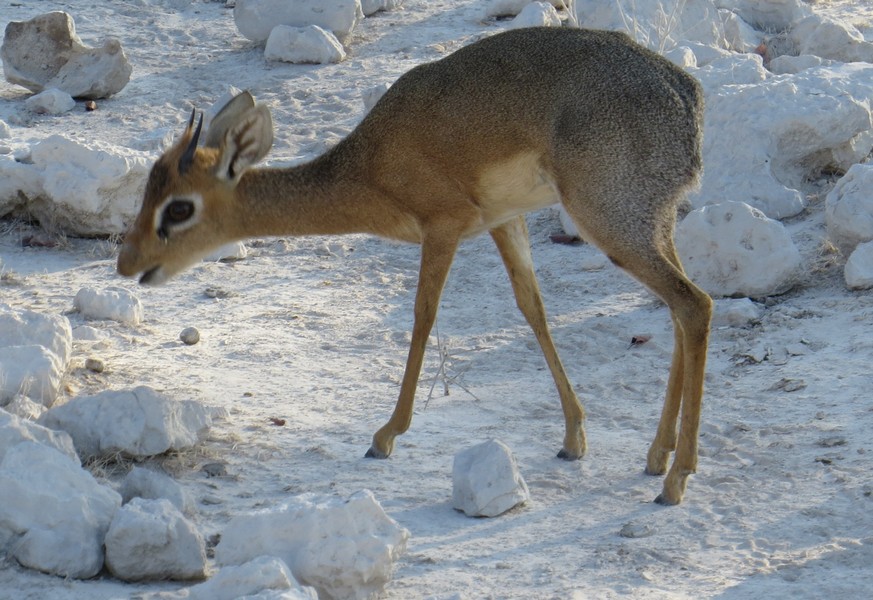 The tiny Damara dik dik is about 12 inches high at the shoulders and weighs just 11 pounds.





Ostriches, on the other hand, can stand up to nine feet tall and weigh 250 pounds!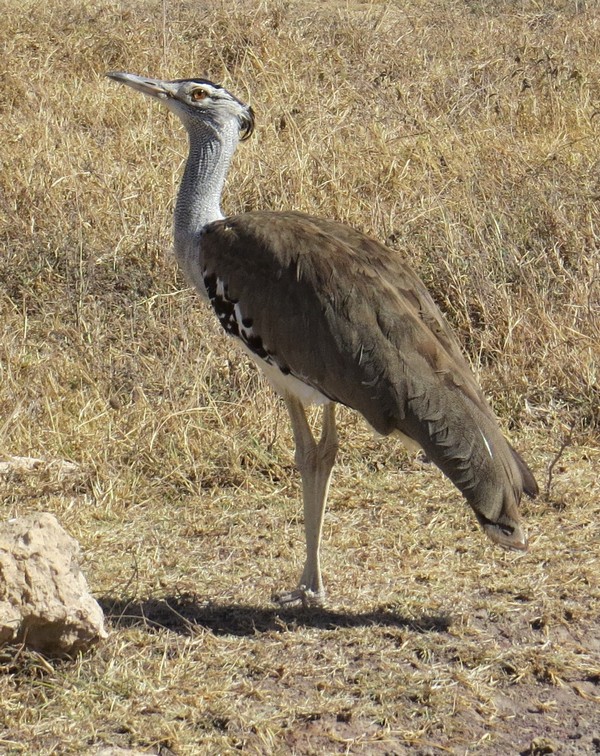 The Kori bustard, at up to 40 pounds, is Africa's heaviest flying bird.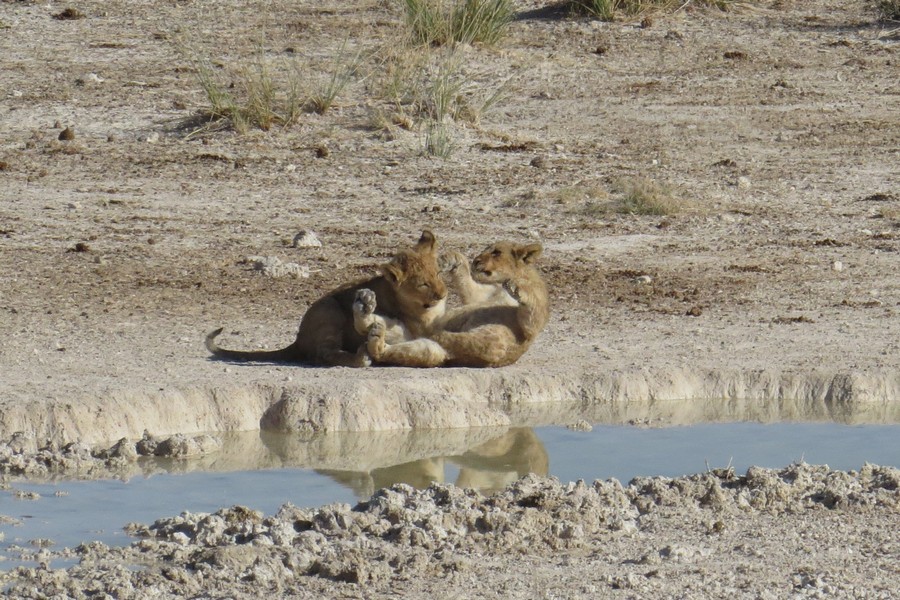 One of my favorite sightings of all was a lioness with three cubs. These two put on a display of wrestling cuteness.



The San Bushmen

The San culture is dying because hunting is illegal in Namibia, and because the San people have been relocated from their ancestral land. They now live in regular houses and wear Western clothing. Their living museum is a way to preserve and proudly share their culture.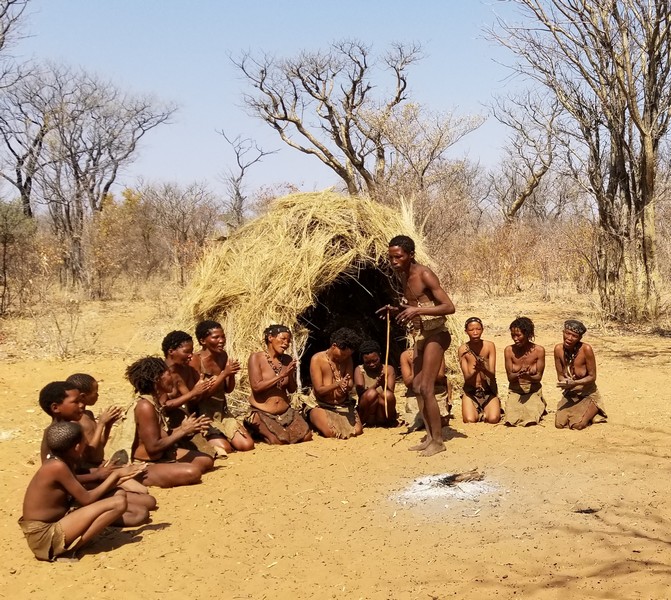 A traditional grass hut and a curing ceremony.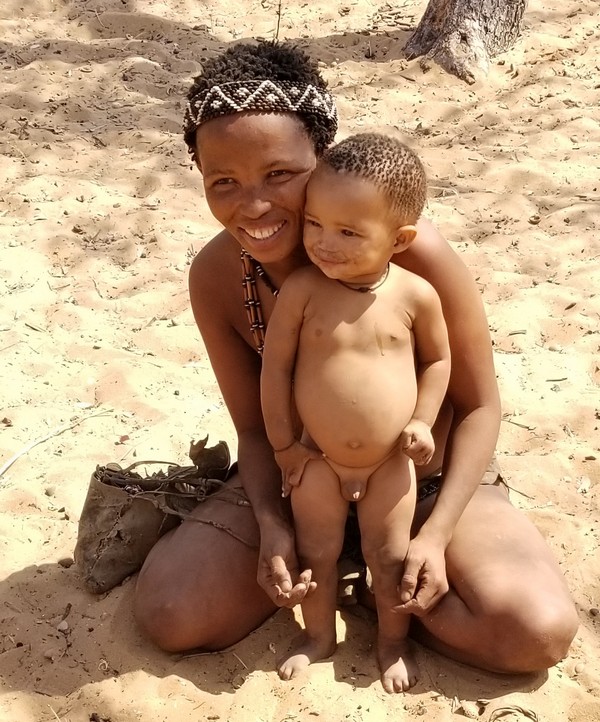 A San woman and child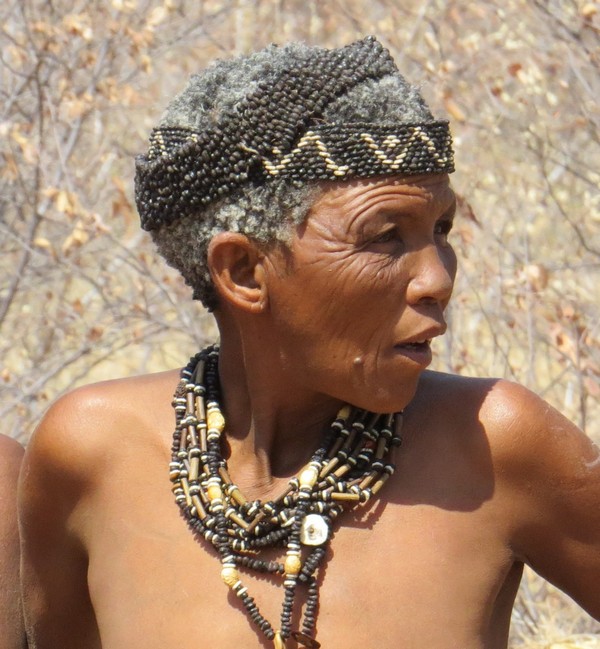 The women make beautiful jewelry from seeds and ostrich shells.





On the way back to camp we got stuck in the sand for three hours, which was all part of the adventure! (Our guide walked four miles in the heat to find this tractor.)






A typical family compound in Northeastern Namibia: wattle and daub huts with thatch roofs.



---
Botswana


We visited two places in Botswana: Okavango Delta and Chobe National Park, and both were highlights of the trip!



Okavango Delta

The Okavango is a vast inland river delta. Its grassy plains flood seasonally, becoming a lush animal habitat. If I had to pick my favorite place in Africa, this would be it. A peaceful, enchanting water world with elephants, hippos, and birds galore.





We crossed the Okavango River on a local ferry, then drove for two long hours on a bone-jarring, bladder-bashing dirt road. But it was worth it.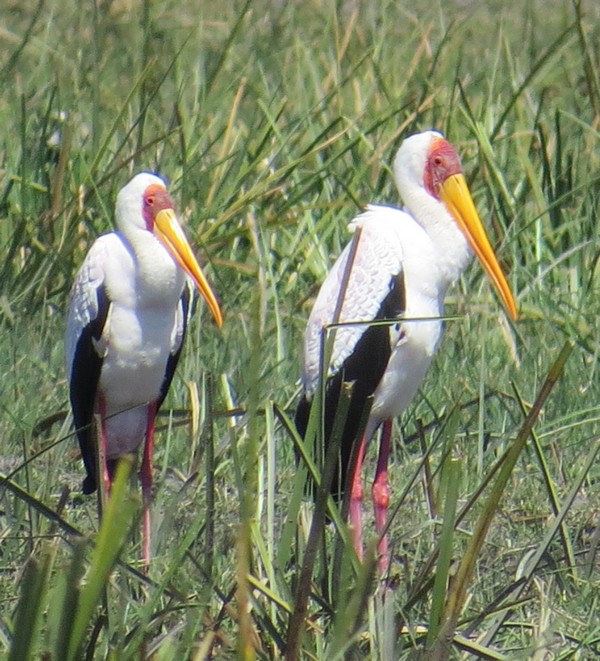 Hundreds of yellow-billed storks greeted us when we reached the edge of the delta.





We climbed into canoes called "mokoros" (now made of fiberglass to conserve trees), and local guides poled us through the shallow water, deftly navigating past submerged hippos.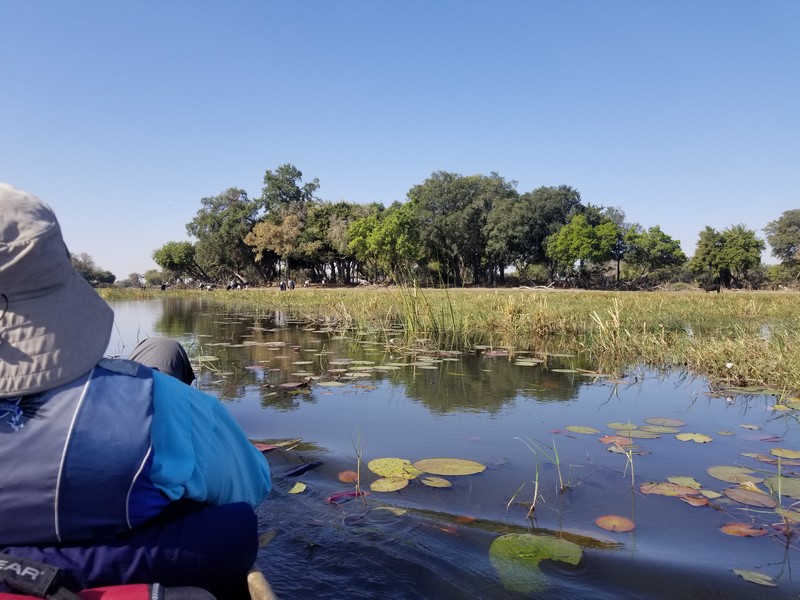 After an hour or so we arrived at this island to set up camp before heading out in the canoes again.





A family of elephants having a drink. The head nets were a precaution, but there were very few mosquitoes.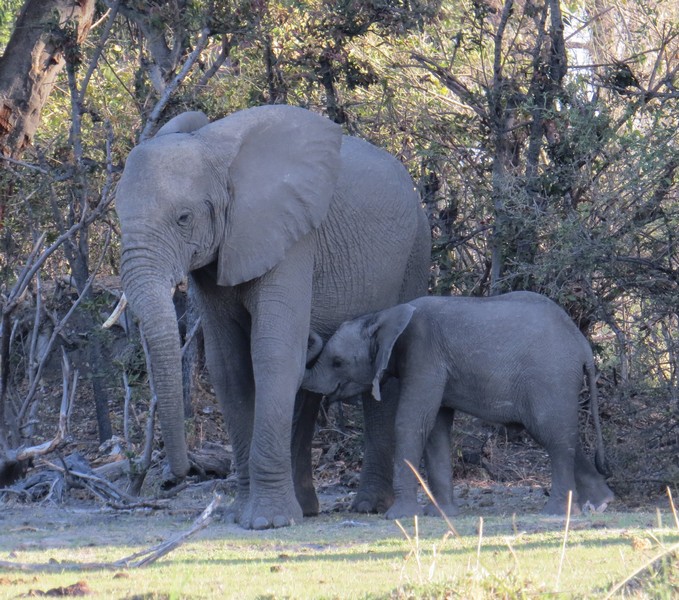 A mother and baby elephant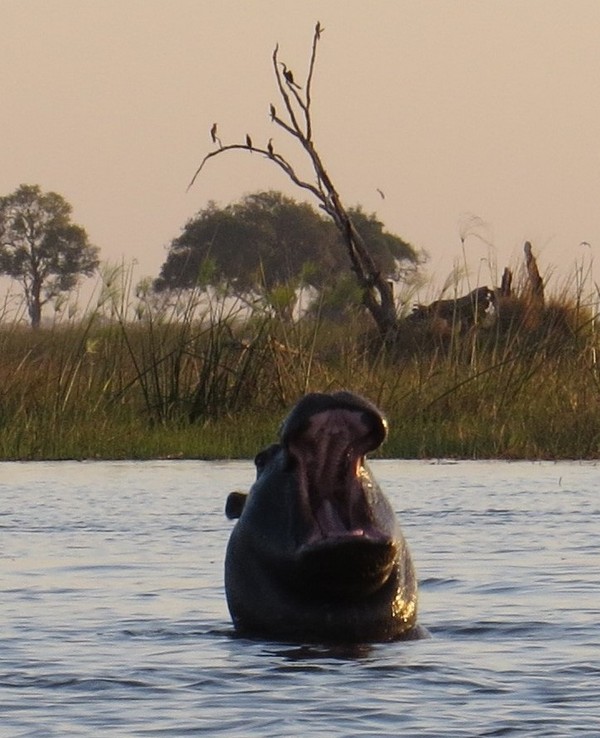 A hippo yawns before heading out for the evening. Hippos come onshore at night to feed.





Termite mounds abound throughout Africa, and are an important part of the ecosystem, providing food for animals as well as moister and more nutrient-rich soil for plants.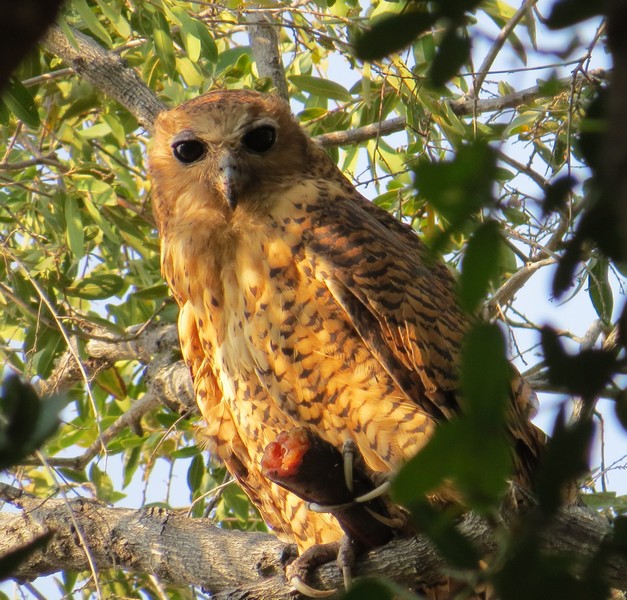 A Pel's fishing owl clutching a catfish. I saw 41 new species of birds in the delta!





Our bush camp was utterly, wonderfully primitive. Hippos and elephants wandered through while we were sleeping, so we had to leave plenty of room between the tents.

After two nights that flew by too quickly, we reluctantly said goodbye to the delta. But we were headed for one of Africa's best game parks.



Chobe National Park


We camped on the grounds of a posh safari lodge, on the banks of the Chobe River.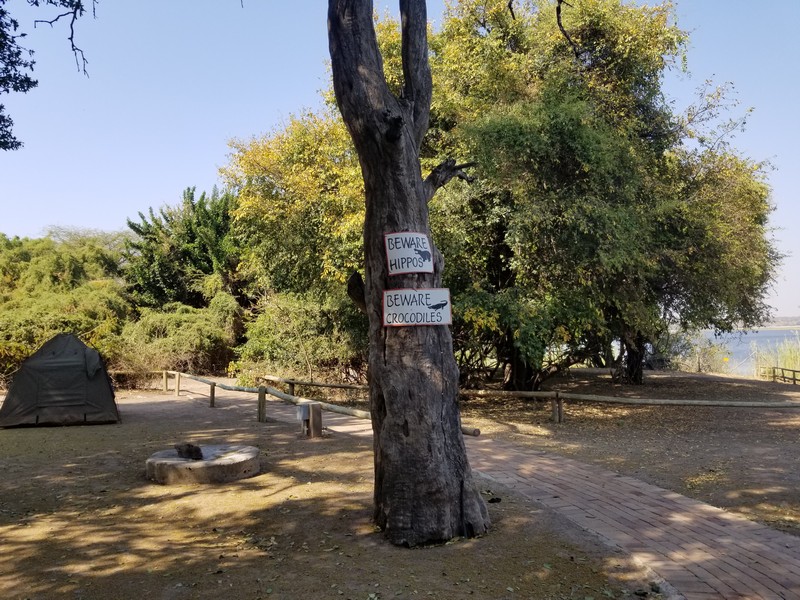 We refrained from swimming in the river.





Warthogs hovered hopefully.





Warthogs have short necks, and feed on their knees so their mouths can reach the ground.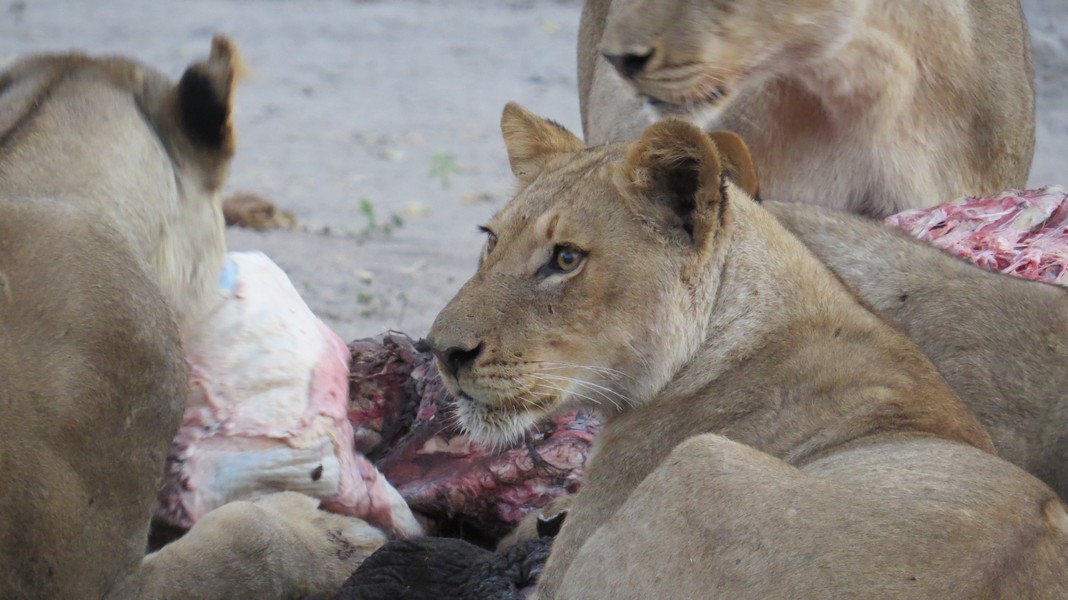 On our game drive we came upon these female lions gorging on a fresh kill.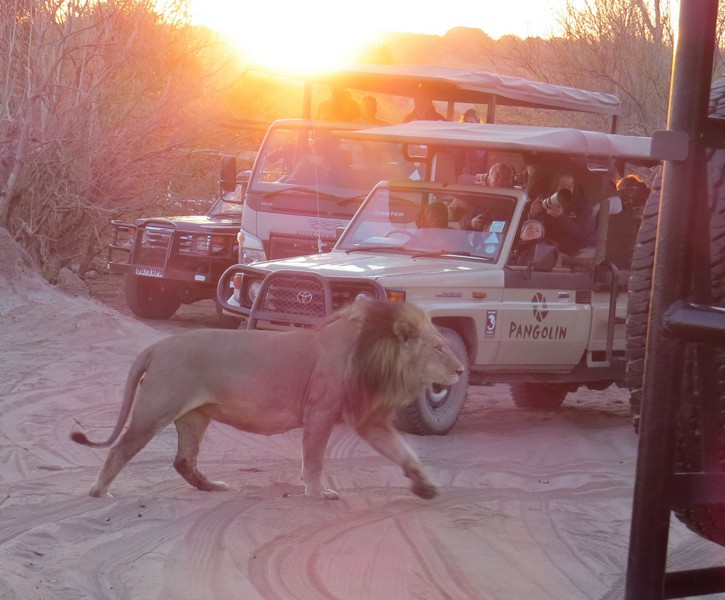 The male had had his fill, and wandered off for a good snooze. (The drivers communicate by radio to report sightings, thus the cluster of trucks. But it didn't seem to bother the animals at all; they completely ignored us.)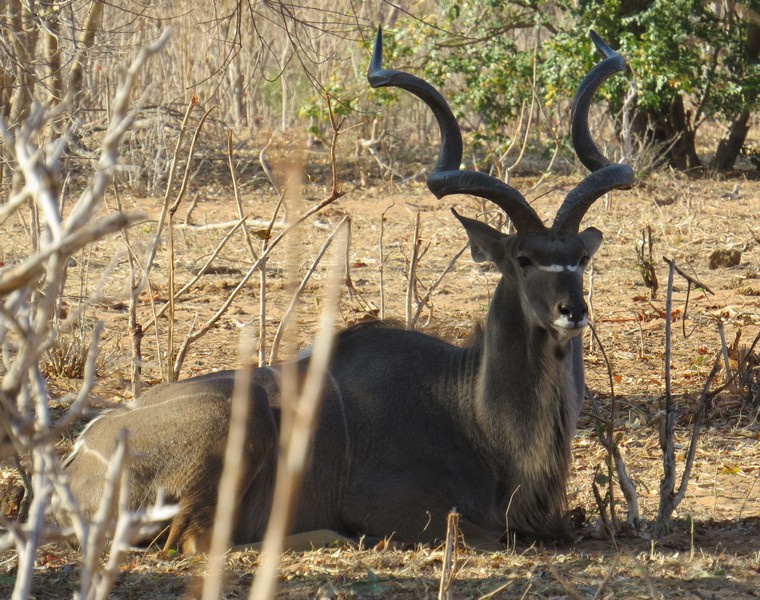 A male kudu resting in the shade.





Later that day we took a boat ride on the river and saw yet more animals.





Puku and hippos





Carmine bee eater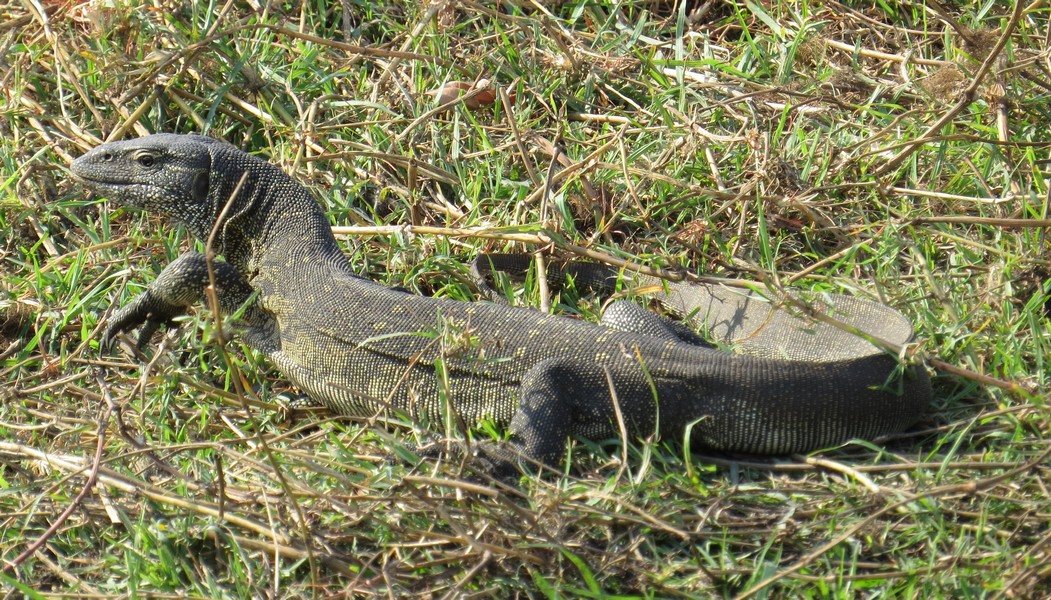 Monitor lizard





African spoonbill





Cape buffalo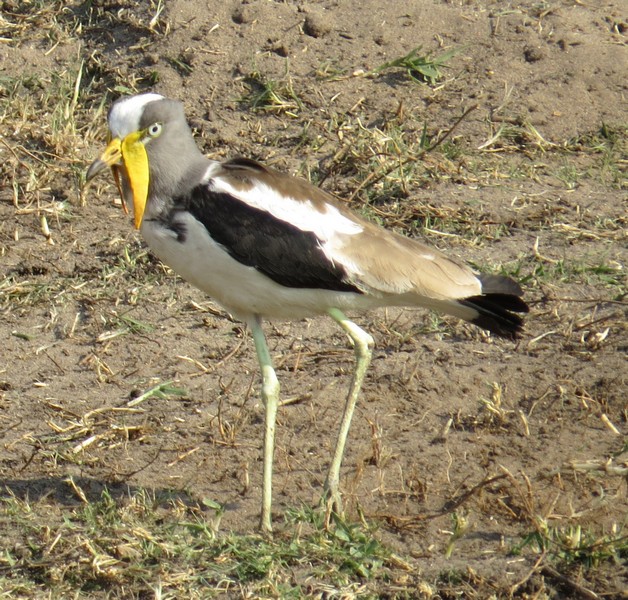 White-crowned lapwing





Nile crocodile





Marabou stork





Mother and baby hippo. Besides being fun to watch, hippos are fun to listen to. Search for "hippo noises" on Youtube if you want to hear a selection of their delightful grunts and bellows.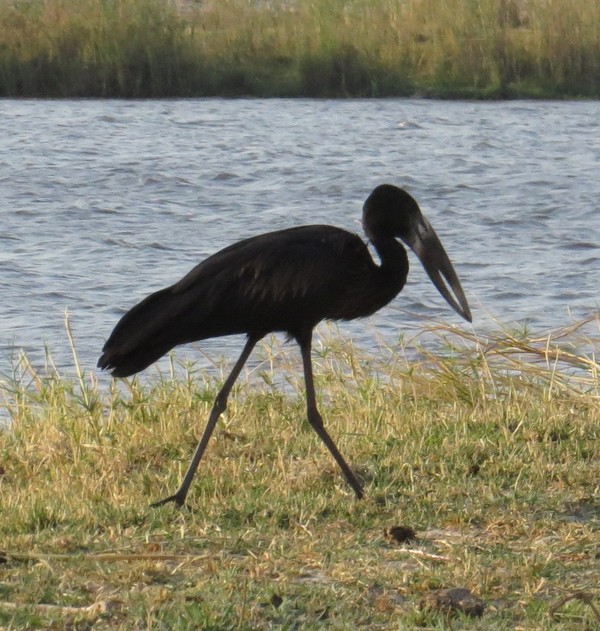 The open bill stork has a gap in its bill that's just the right size for the snails it cracks open.



---
Zimbabwe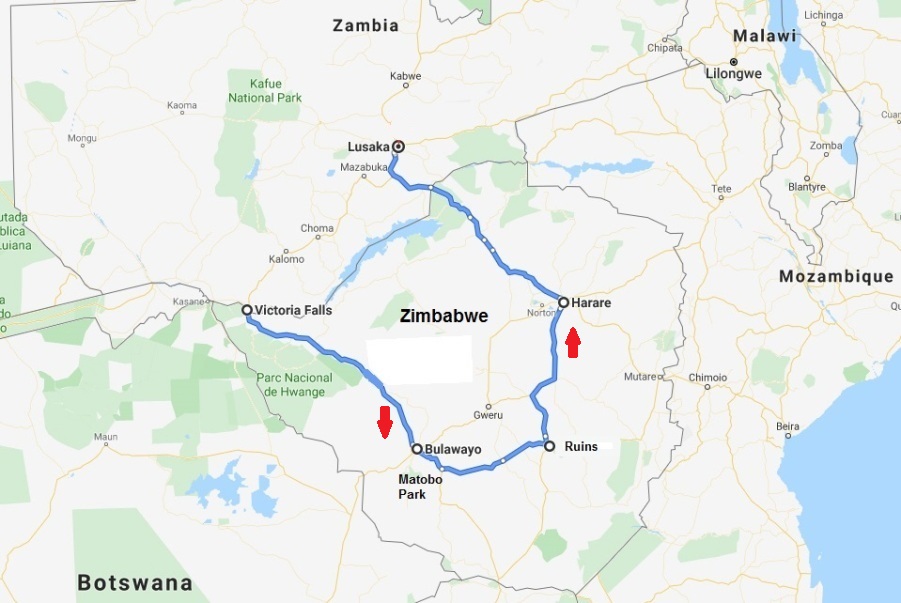 Zimbabwe is facing grievous economic problems, including collapsing currency, frequent power cuts, gasoline shortages, and lack of funds for imports. American dollars are the preferred form of payment. It's a beautiful, friendly country, grateful for tourist dollars.



Victoria Falls

The falls straddle Zimbabwe and Zambia. We stayed in the town of Victoria Falls, in Zimbabwe. It's more touristy than the town of Livingstone, on the Zambia side, but is walking distance to the falls and has a better view of the falls themselves.





The falls are stunning. In early September there was still plenty of water. In rainy season there is more water but also more spray.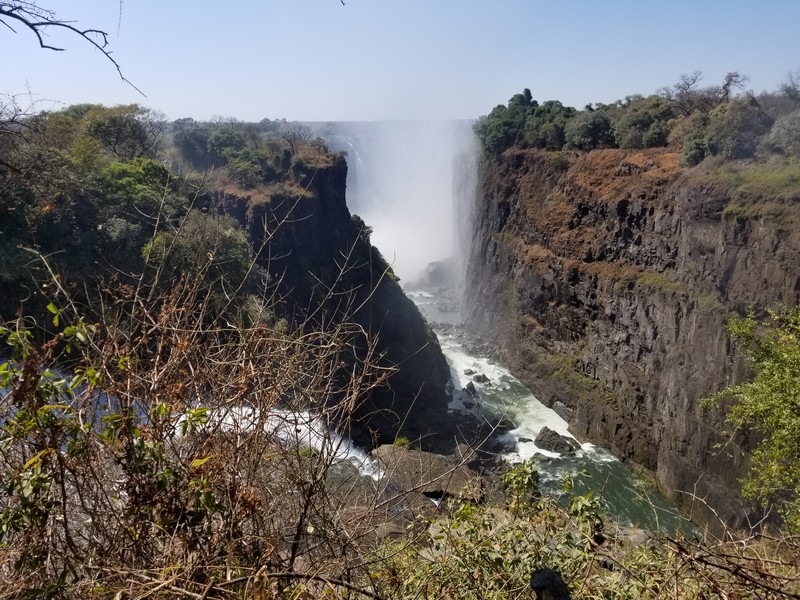 The falls are more than a mile wide. Nice trails take you to 17 viewpoints. The areas that get the most spray are lush with rainforest vegetation.





The beautiful old Victoria Falls hotel, built by the British in 1904, perches on the bank high above the Zambezi River.





We couldn't resist high tea on the veranda, complete with scones, cakes, and tiny sandwiches. A tradition unchanged for 100 years.



Bulawayo and Matopo National Park


Bulawayo, Zimbabwe's second largest city, is really pleasant, with a small town feel, parks, colonial architecture, and art deco street lights.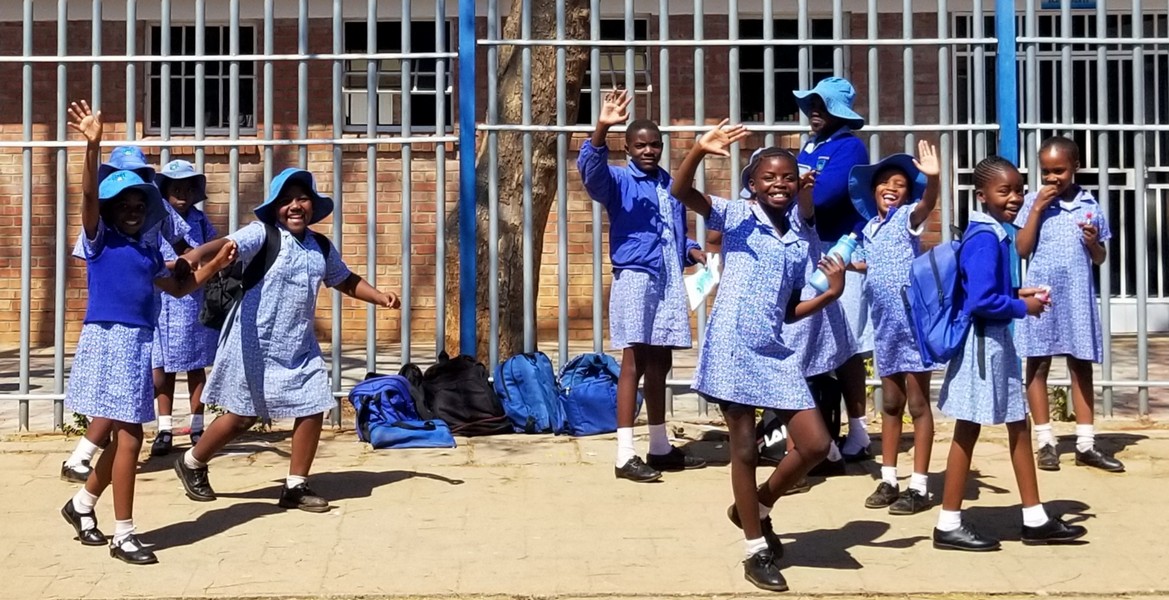 School girls in Bulawayo. Both public and private schools in Africa require uniforms.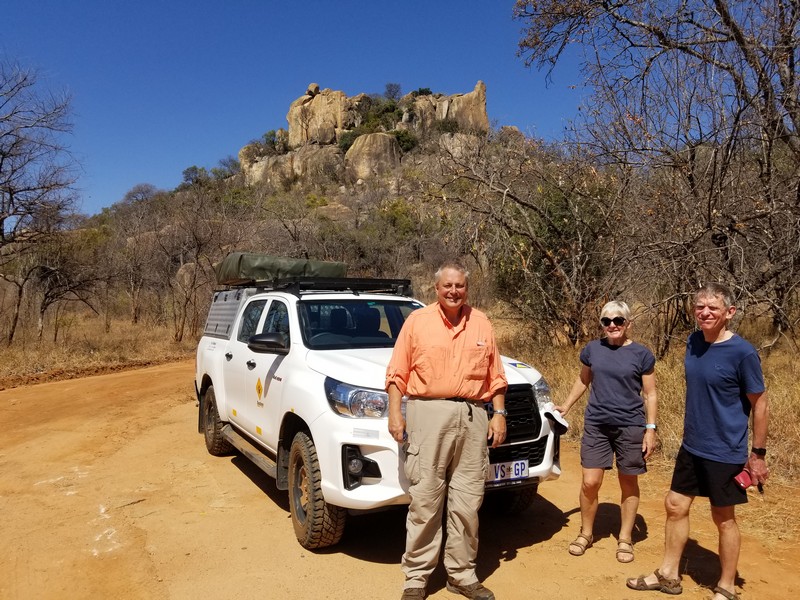 We had the great luck to meet Margie and Peter, an Australian couple, who were going to nearby Matopo National Park and offered to let us tag along (we had opted out of a strenuous group hike that day). The park is gorgeous, with vast expanses of granite outcroppings.





The grave of Cecil John Rhodes is nestled between these boulders on a hilltop aptly named View of the World. The controversial diamond magnate and imperialist gave his name to Rhodesia (now Zimbabwe and Zambia), and his money to create the Rhodes Scholarships.





Rainbow-colored agama lizards match the lichen on the rocks.





These ancient San paintings depict hunters pursuing buffalo.



The Great Zimbabwe Ruins


These ruins are the pride of Zimbabwe and gave the country its name. (Zimbabwe means "great stone house.") The complex, built out of hand-hewn granite blocks and dating from about 1100 CE, includes the King's house high on a hill.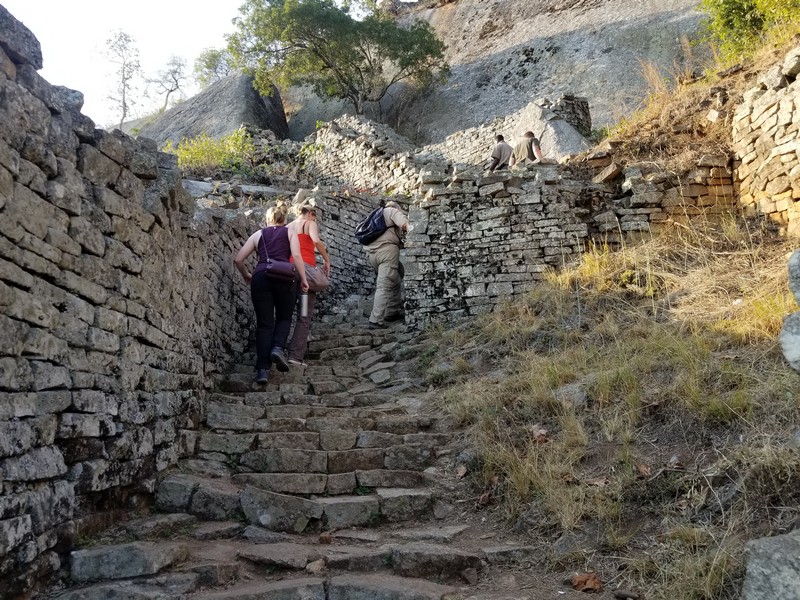 It was a steep, hot climb to the top.





The king could keep an eye on the world from up here, including his senior wife's compound. Smaller buildings housed the other 200 wives.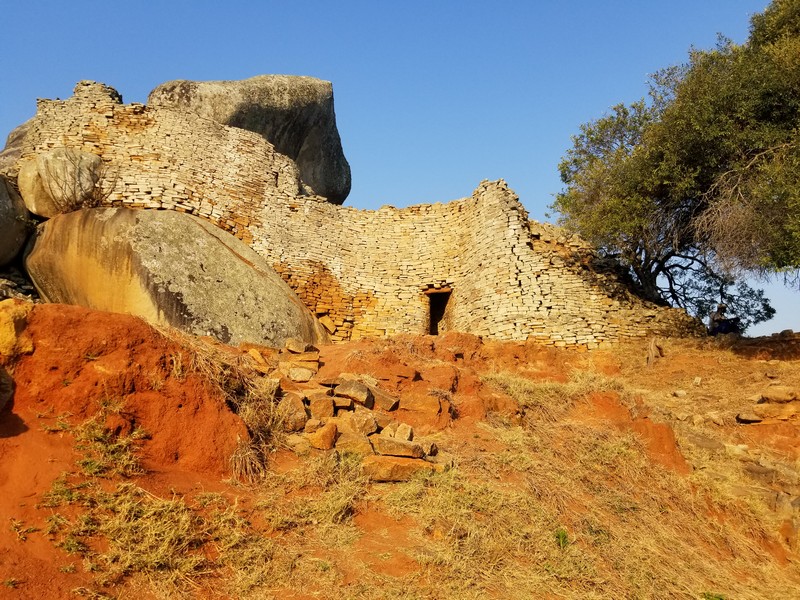 The curved, mortarless walls integrate with the rounded boulder formations, and have stood for almost 1000 years.





Baboons roam freely, providing great comic entertainment. They spend a lot of time grooming each other.





Typical huts of the Shona people, the majority tribe in Zimbabwe. Their ancestors built the stone houses.





Shona musicians playing thumb pianos inside gourds, to amplify the sound. The gentleman in the middle appears to have cataracts, possibly exacerbated by a lifetime of bright sunlight without eye protection. He's wearing an ostrich feather headdress.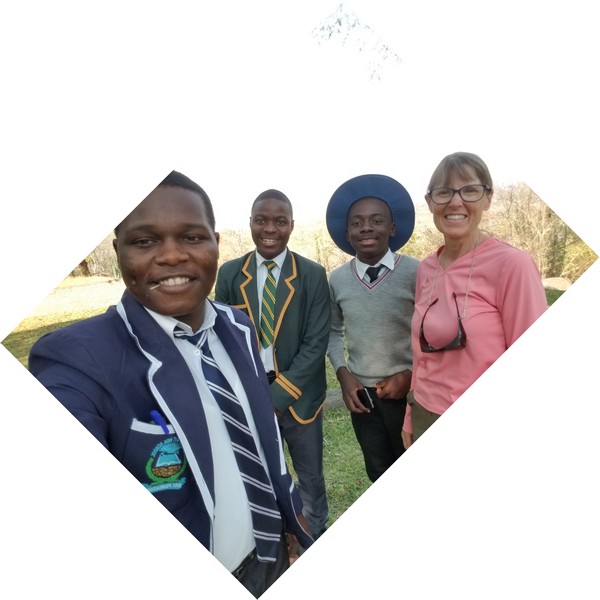 Brandon, Shane, and Sean were high school students attending a three-day "junior assembly" conference at the campground where we stayed. It was so fun talking to them and some of the other kids. Many of them hope to go to university abroad. They are the bright future of this struggling country, and I hope they can find a way to stay and contribute.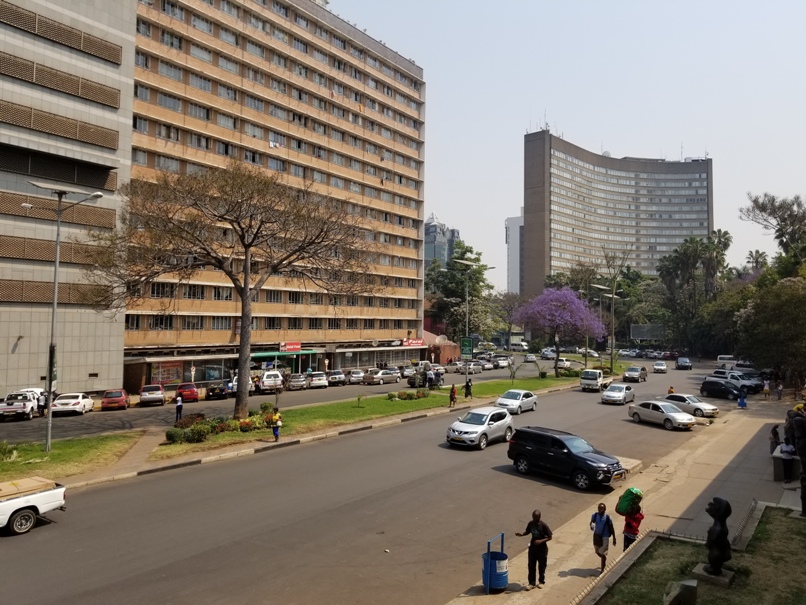 Harare, the capital and largest city, is pleasant and attractive, with wide avenues, blooming jacaranda trees, and a temperate climate.





Former prime minister Robert Mugabe died in exile just a few days before we arrived in Zimbabwe. He had been ousted in a coup in 2017 after dominating Zimbabwe politics for nearly 40 years, Some praise him as a revolutionary hero of the African liberation struggle, others revile him as a dictator responsible for economic mismanagement, widespread corruption, and crimes against humanity.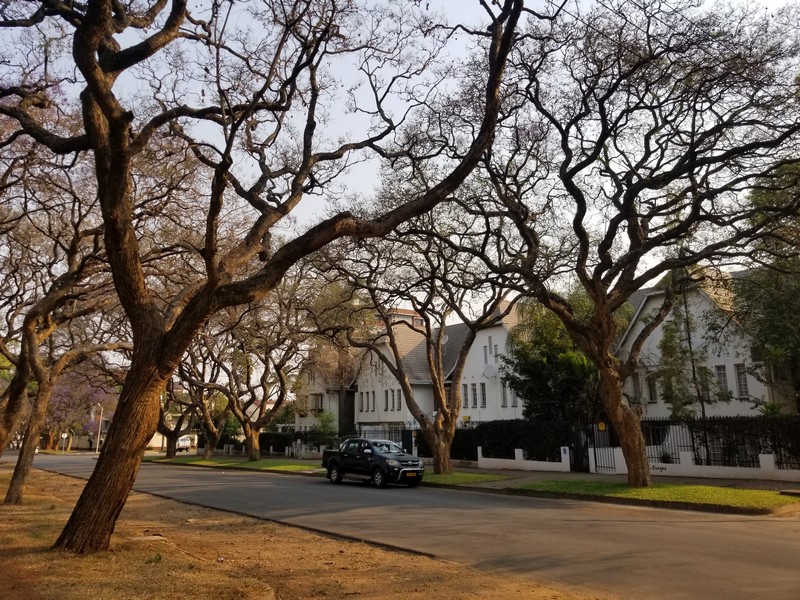 We camped on the grounds of a hostel in a lovely, quiet Harare neighborhood with colonial-era buildings.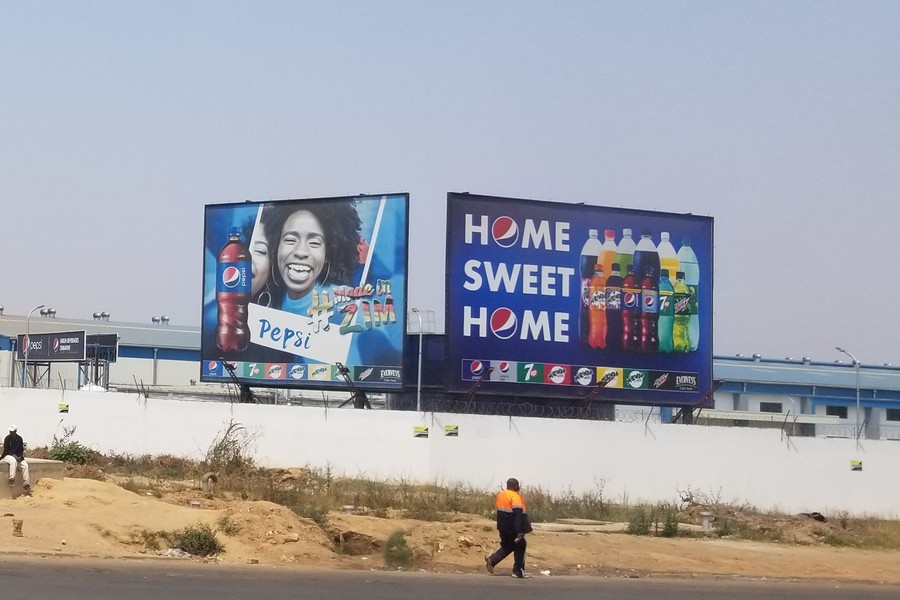 Soft drink companies are investing heavily in Africa, with seemingly unlimited marketing dollars. I expect this will impact obesity, dental health, and family budgets. The plastic bottles are often reused, but there did not appear to be a recycling infrastructure.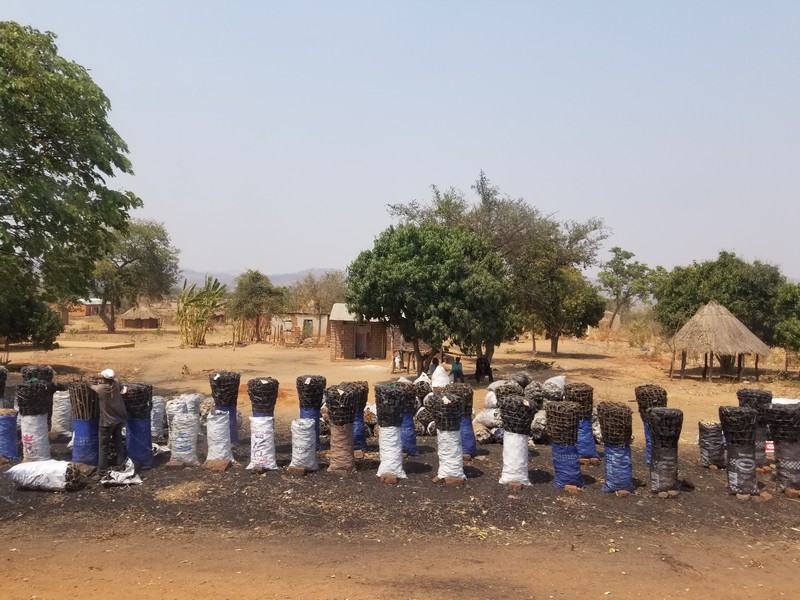 Charcoal is the most popular cooking fuel. It's cheap, easier to transport than wood, and burns relatively cleanly. We saw thousands of these bags lining the roads. Charcoal is made in earthen kilns that smolder for days, affecting local air quality. Deforestation is also a concern.





Clay earth bricks last longer when they are fired. Burning wood is inserted into the openings, the pile is covered with earth, and the bricks cook for a few days. This also contributes to air pollution and deforestation. Most people can't afford cement bricks, and unfired bricks wash away in the rain. There are no easy answers.





Hauling firewood for making charcoal or bricks





Locally-made baskets for sale at a roadside market





Locally-made furniture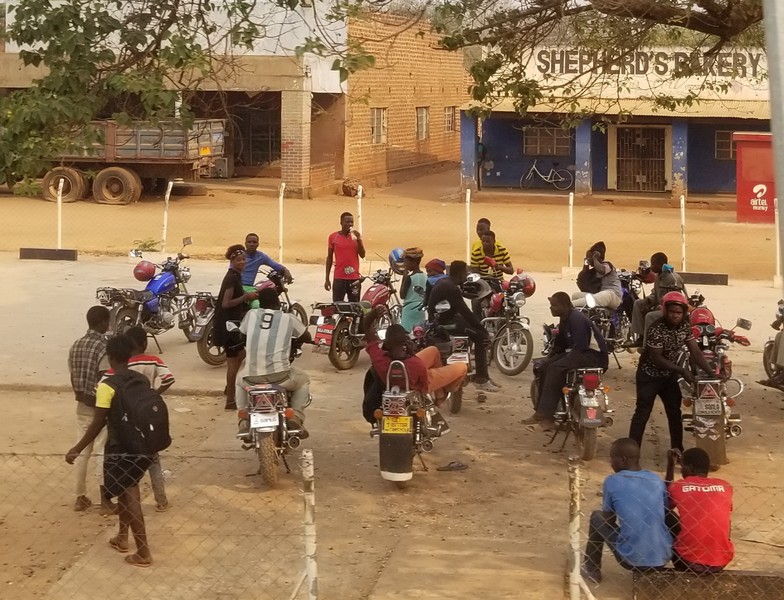 Motorcycle taxis waiting for customers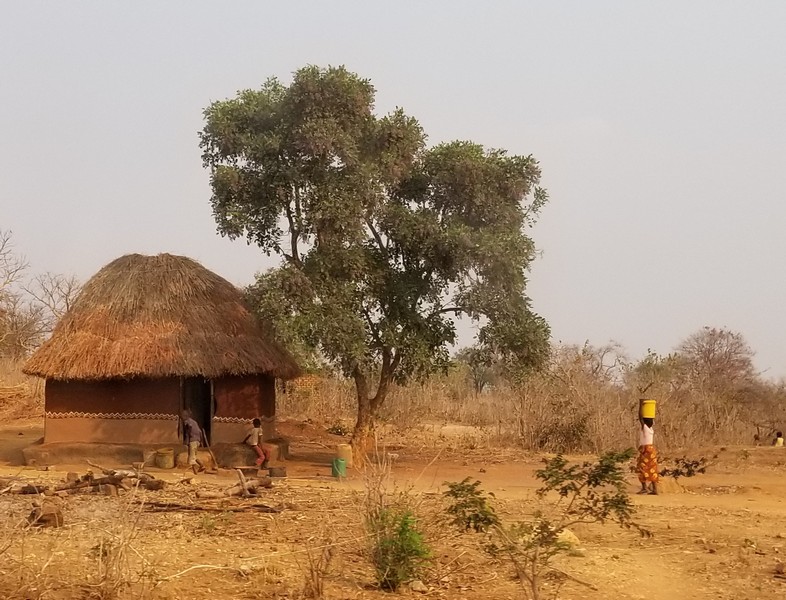 Typical family compound with decorated hut and woman carrying water. Although mud walls and thatch roofs don't necessarily hold up for a long time, they don't cost anything to build, and the interior stays cool on hot days and warm on cool nights. (Whereas cement buildings with tin roofs swelter on hot days and freeze on cool nights.)



---
Zambia


Baobab trees galore and another great game park





Despite the growth of shopping malls and grocery stores, colorful markets are still part of life in every town.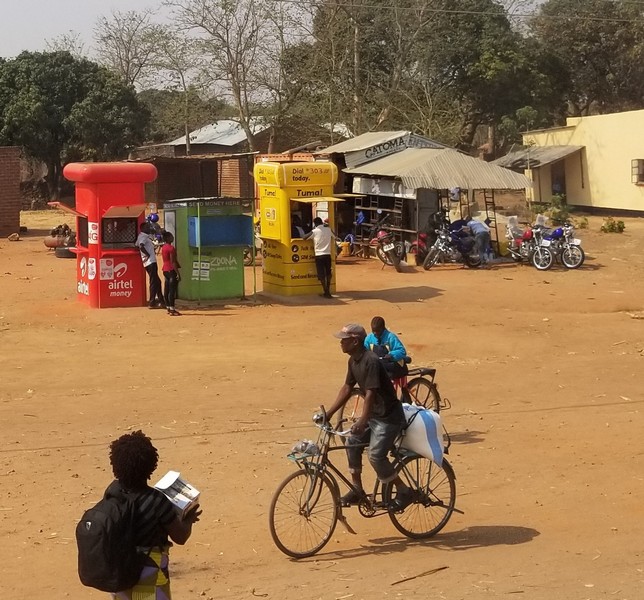 Electronic cash and mobile phones have really caught on in Africa. Booths like these are ubiquitous.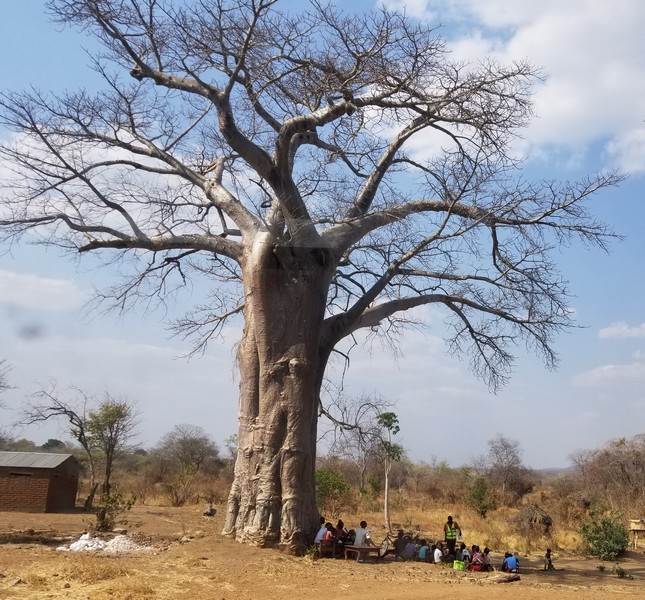 I absolutely love baobab trees, with their chunky trunks, their "roots in the air" appearance, and their myriad tiny fingers reaching for the sky. Later in the year their fruit pods will feed people and animals.



South Luangwa National Park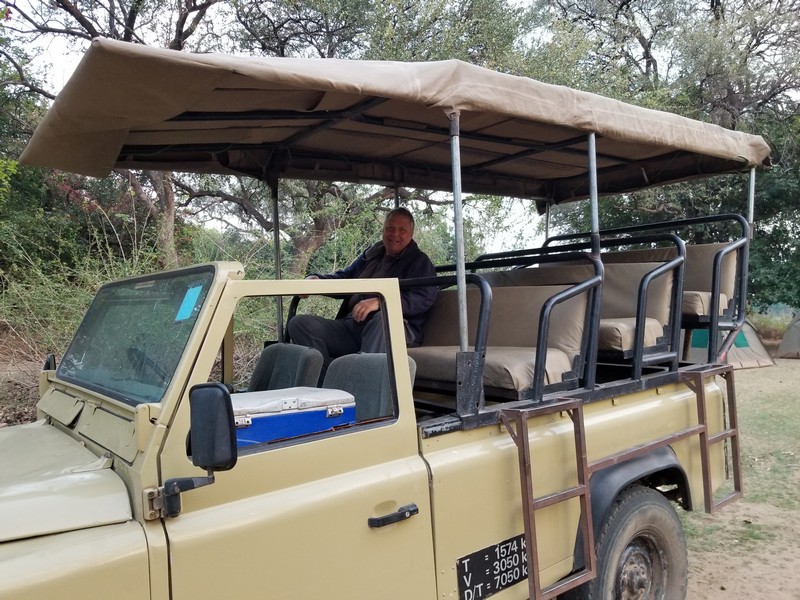 This was our game drive jeep. Here are a just a few of the things we saw in this park: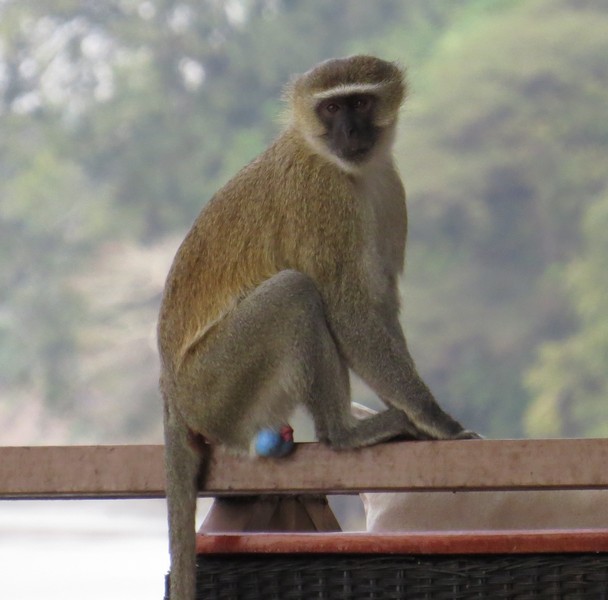 Vervet monkeys (You might wonder why they are also called blue ball monkeys. Then again, maybe you won't.)





Very pregnant hyena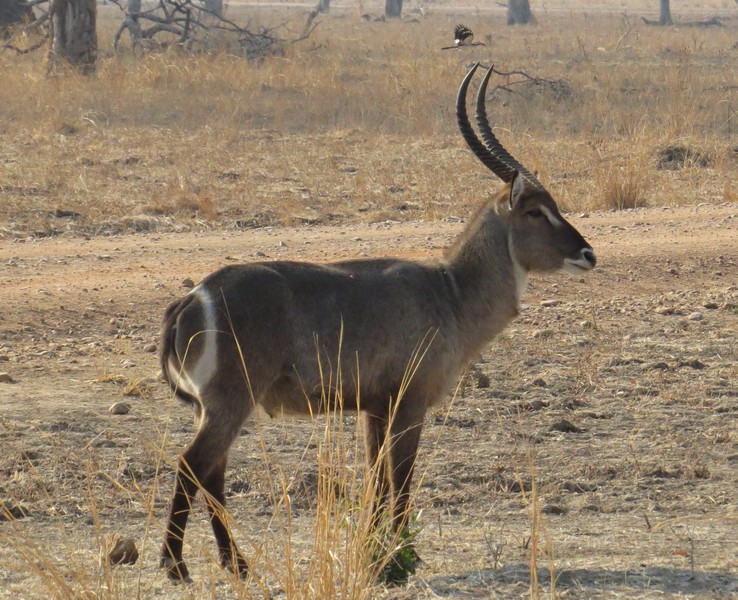 Waterbuck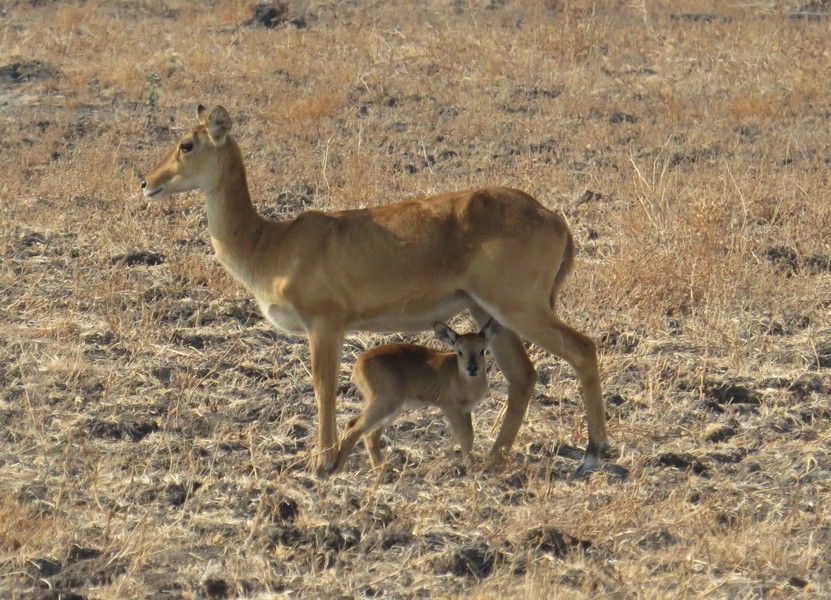 Puku baby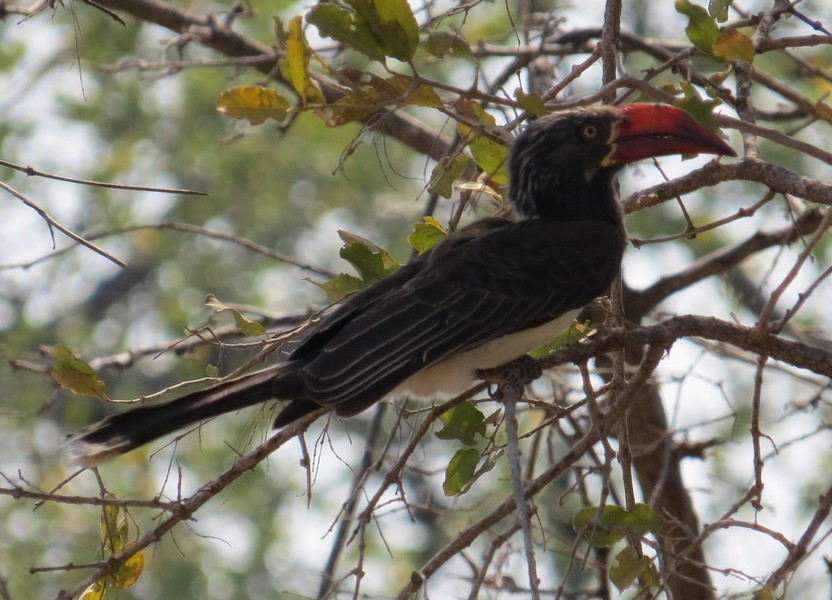 Red-billed hornbill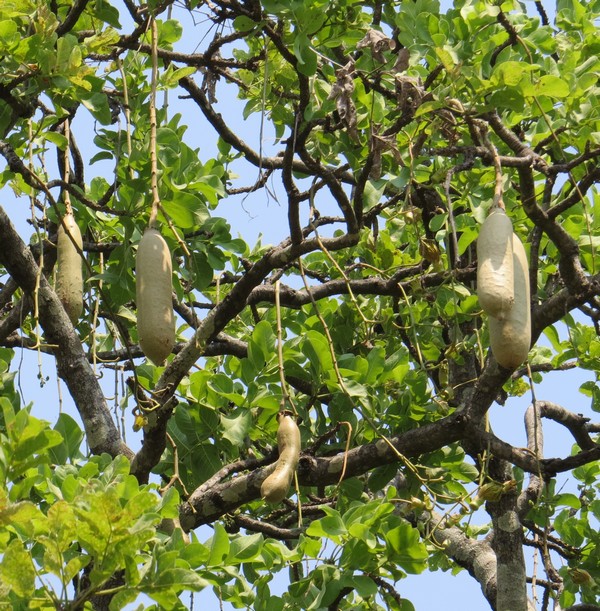 The fruits of the sausage tree can weigh over 20 pounds.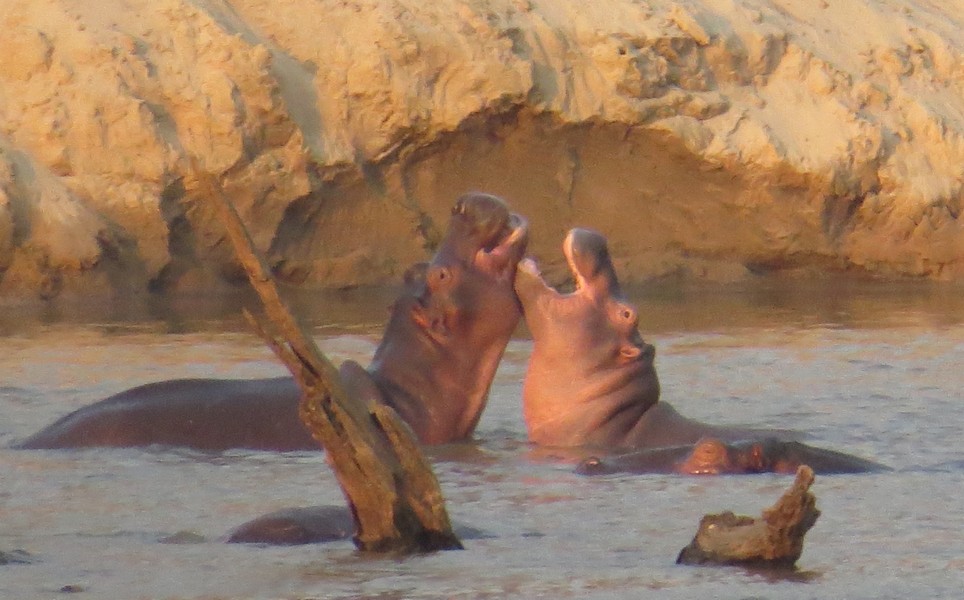 Hippos sparring in the Luangwa River near our camp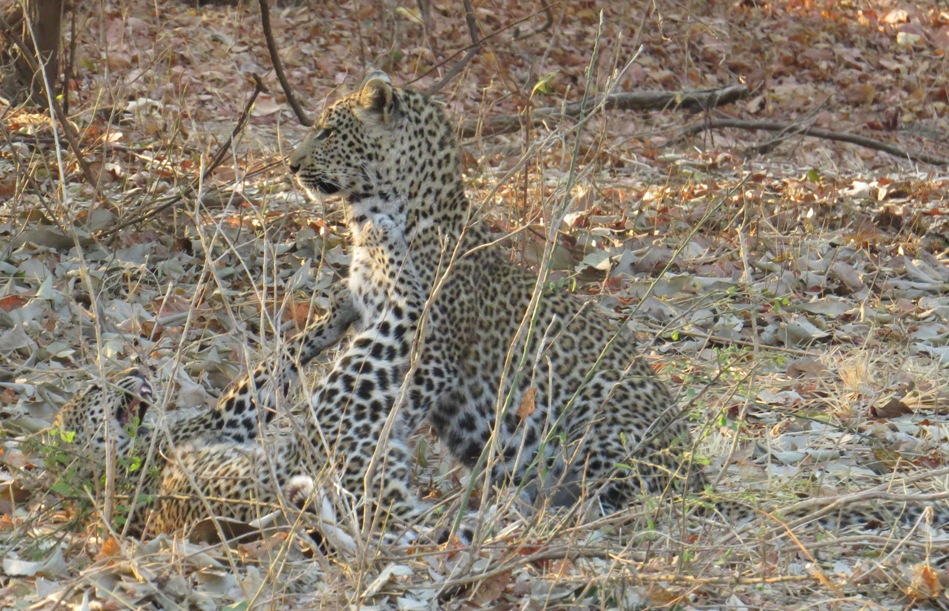 And the best sighting of all: two leopards wrestling.



---
Malawi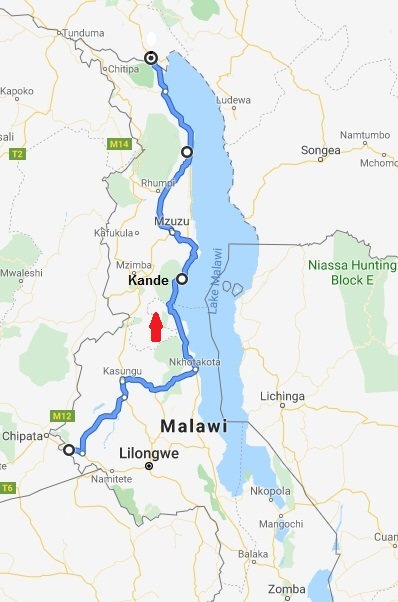 This very poor country is dominated by a massive lake 350 miles long. Fish are one of the country's primary food sources.





A decorated house with woven straw bins for storage





Boys typically wear ties to school.





Kids swimming in a pond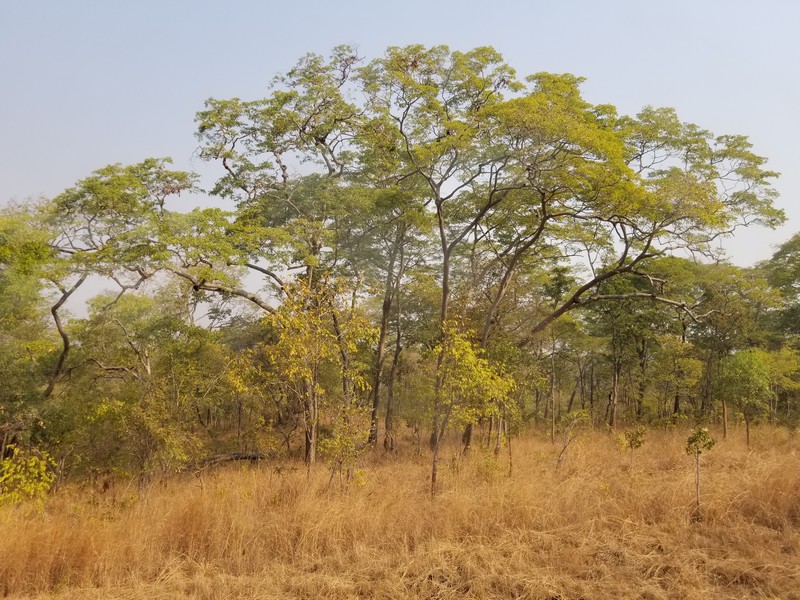 Where no cutting is allowed, the forest grows tall and thick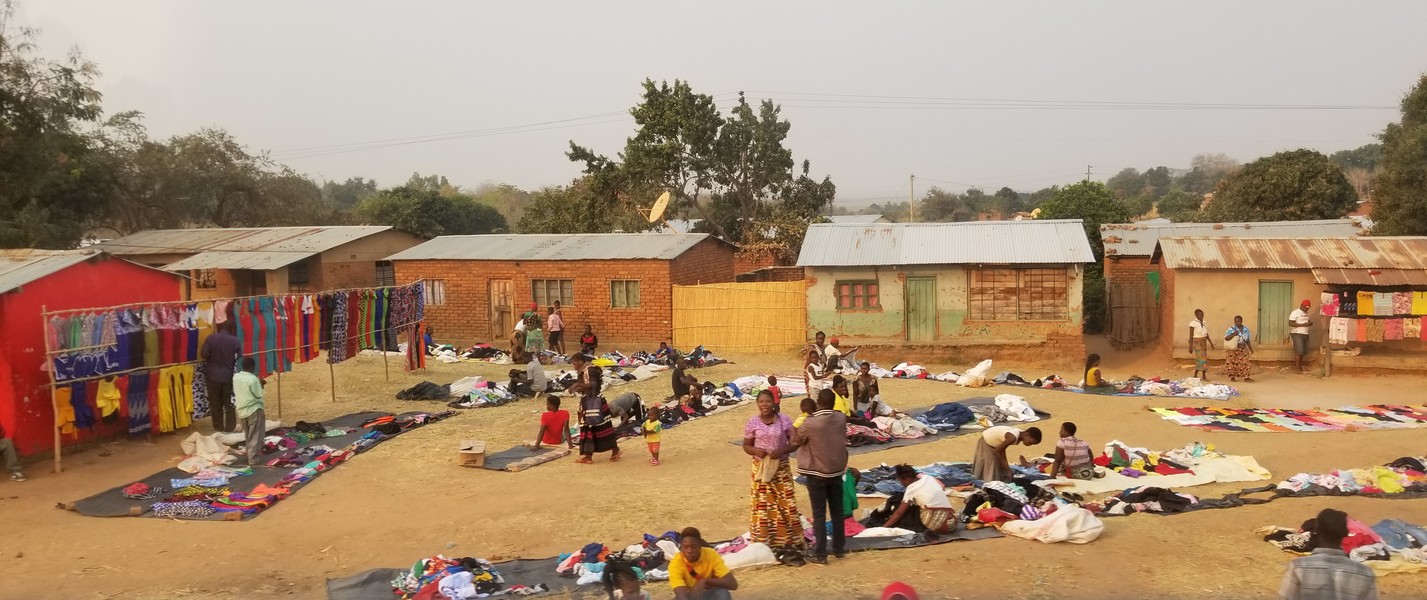 Ever wonder where your used clothing ends up? Items that don't sell are bundled up, shipped overseas, and sold in village markets.





We were told that a small solar panel system costs about $50. They are used to power light bulbs and charge cell phones.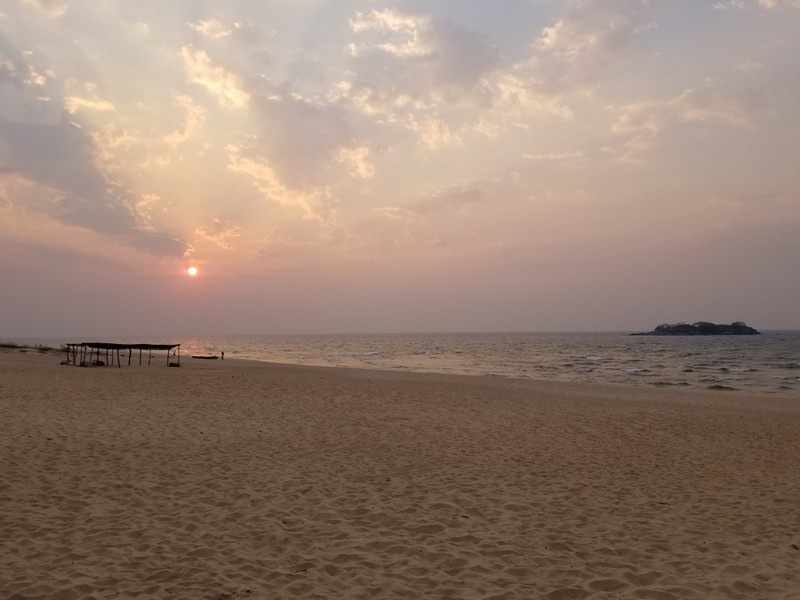 We stayed in a campgound on Lake Malawi. The campground benefits the adjacent village by providing jobs for local people.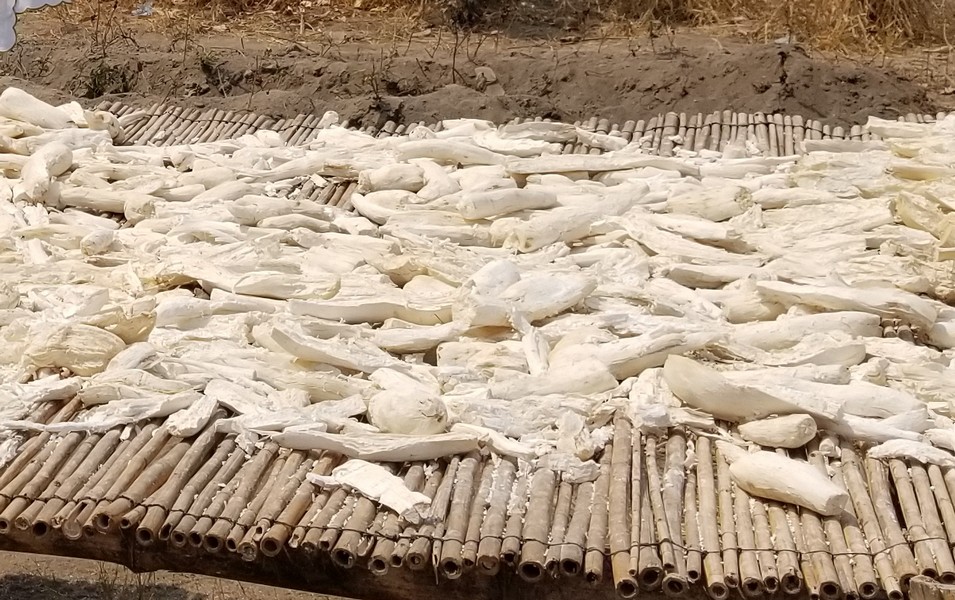 On a village tour we learned about cassava root, a staple food in many parts of Africa. It's easy to grow and drought tolerant. After harvesting, it's soaked, peeled, dried, pounded into flour, sifted, then cooked to a mashed-potato-like consistency.





Pounding is hard work! The pestle is heavy, and you have to pay attention so the two pestles don't collide.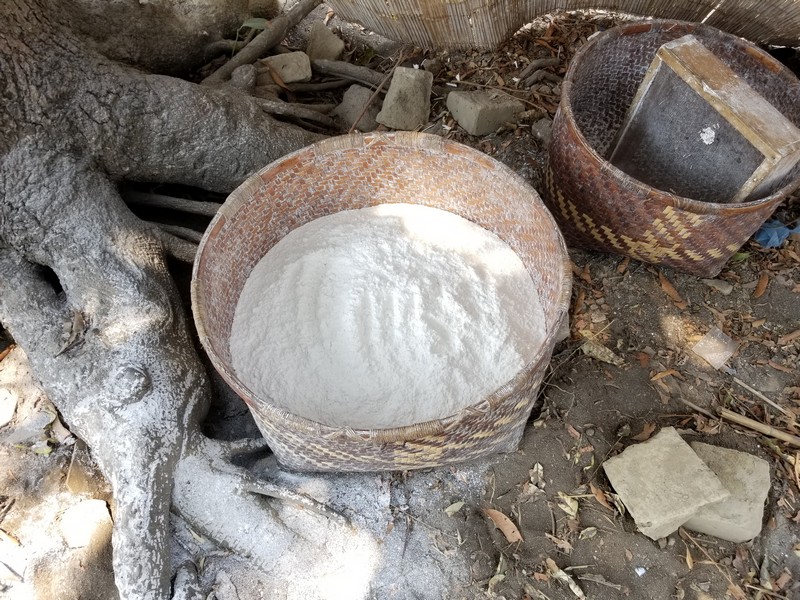 Cassava flour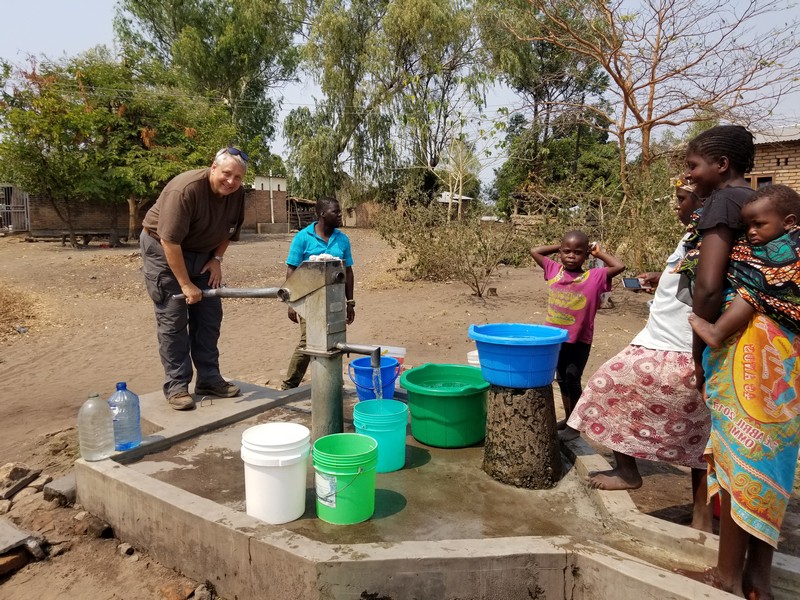 Pumps like this one provide safe water for drinking, as well as for cooking, bathing, and laundry. If girls don't have to spend as much time hauling water from distant sources, they are more likely to go to school. The pumps are easy and cheap to repair and maintain. Malawi is a very poor country that relies heavily on foreign aid. My sense is that aid has been effective at improving health and education. Our guide (in the blue shirt) talked about progress in empowering women, HIV education and treatment, family planning, educating girls, and eliminating marriage under age 18.





A typical kitchen, where a woman cooks for her family over an open fire.





The endless variety of nature never fails to delight me. This is a hamerkop, which means "hammer head."





Heading north, we climbed up a mountain road to 6000 feet on the Nyika plateau.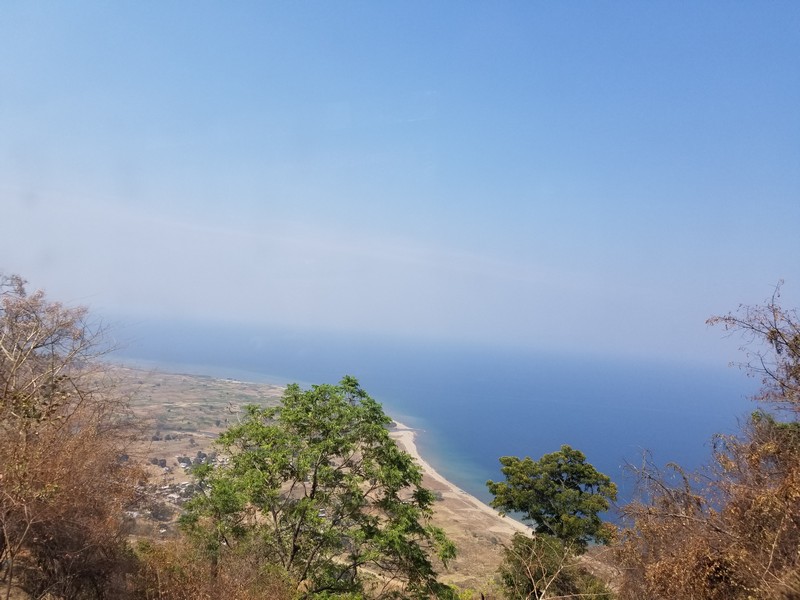 Looking down on Lake Malawi



---
Tanzania


Highlights of this beautiful country included tropical Zanzibar, the lush highlands of the Usambara Mountains, the stunning Ngorongoro Crater, and the iconic Serengeti. Swahili is more widely spoken than English.





Tea is grown in the south, at around 6000 feet elevation.





Sisal from these agave plants is one of Tanzania's main exports.





Fruit vendors cluster hopefully around our truck. Tanzania grows about 20 kinds of bananas.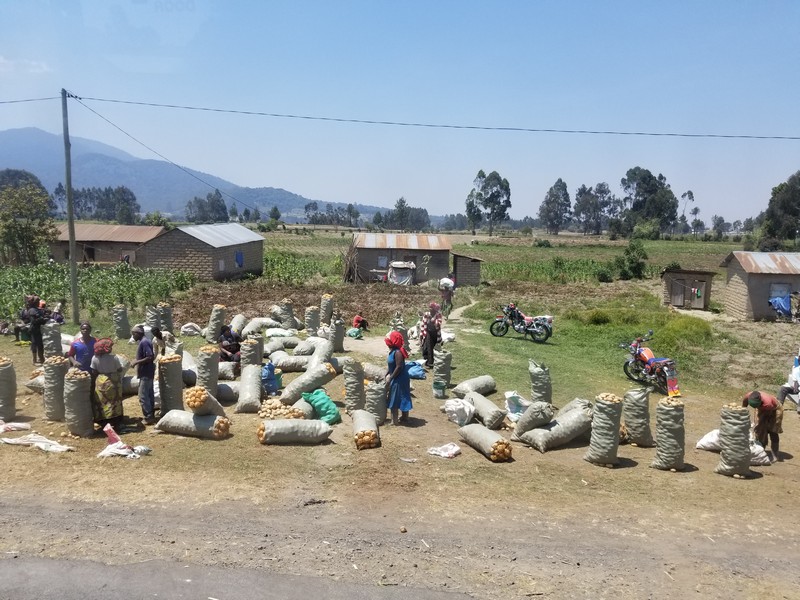 Bags of hand-harvested potatoes for sale





Kids are entrusted with responsibility at a young age.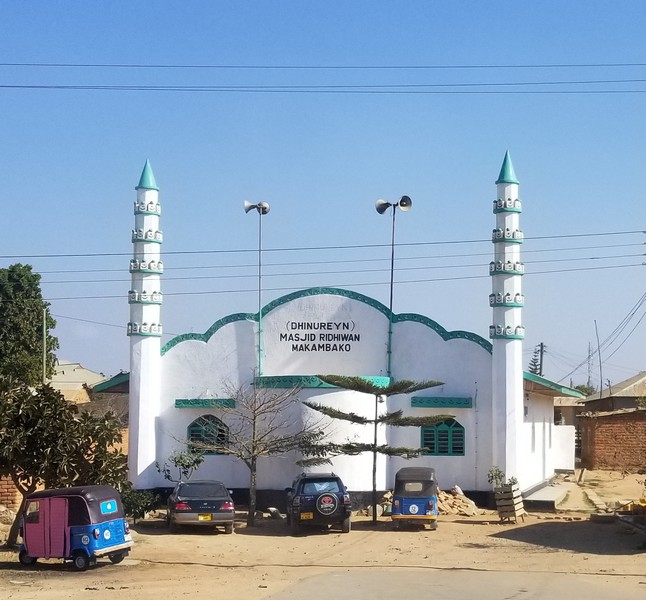 Approximately 35% of Tanzania is Muslim. Towns had a mix of mosques and churches, and we were told that there is no tension between religions.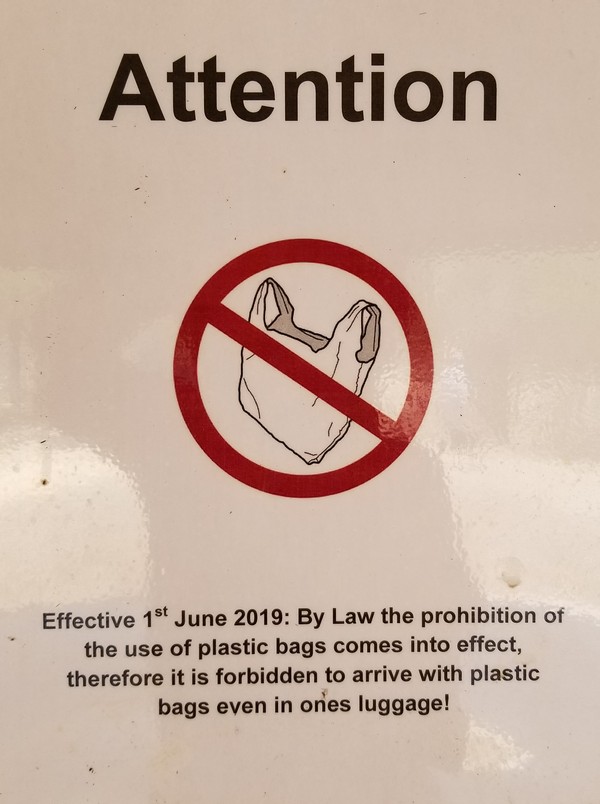 Both Tanzania and Kenya have banned "single-use" plastic bags.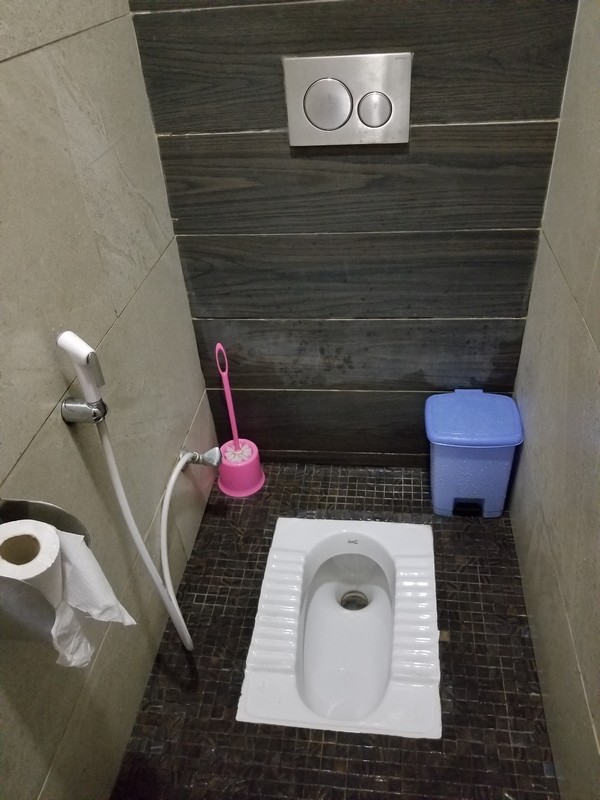 Squat toilets were the norm in Tanzania, but they were clean and modern.





It was amazing how much people could load onto a bicycle!





Masai herders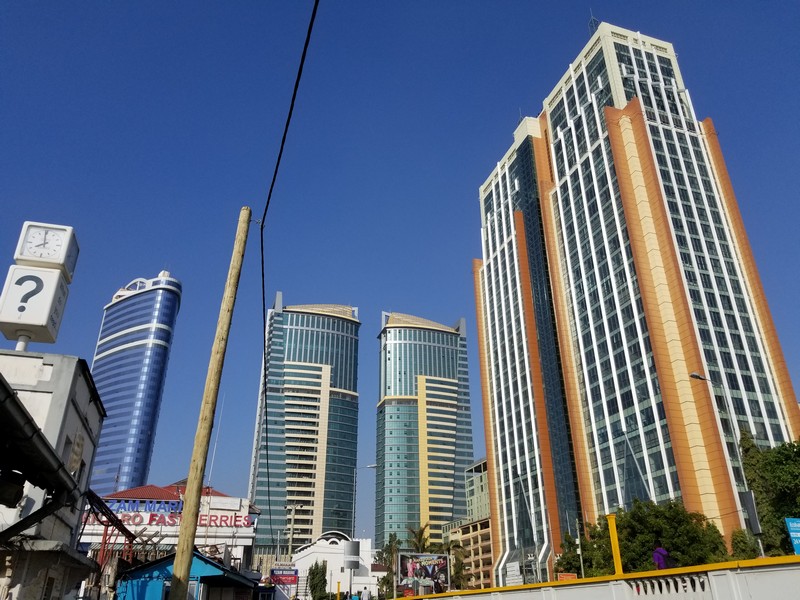 We slogged through heavy traffic in the bustling port city of Dar es Salaam (Dar) to the Zanzibar ferry terminal.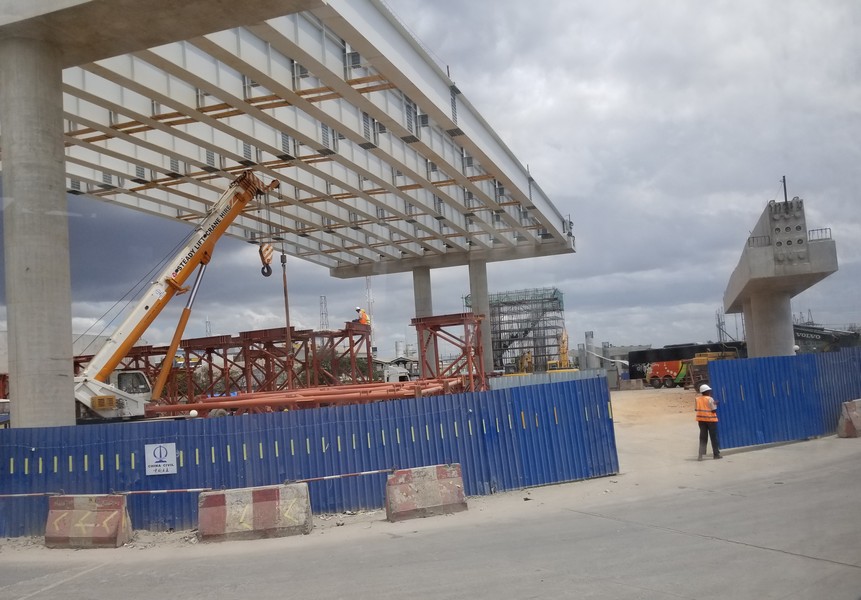 Massive road construction project in Dar (financed by China, which has economic hooks deep into Africa).



Zanzibar

Zanzibar is the name of the archipelago of more than 50 islands, as well as the main island, and the main town. It is truly as exotic as it sounds.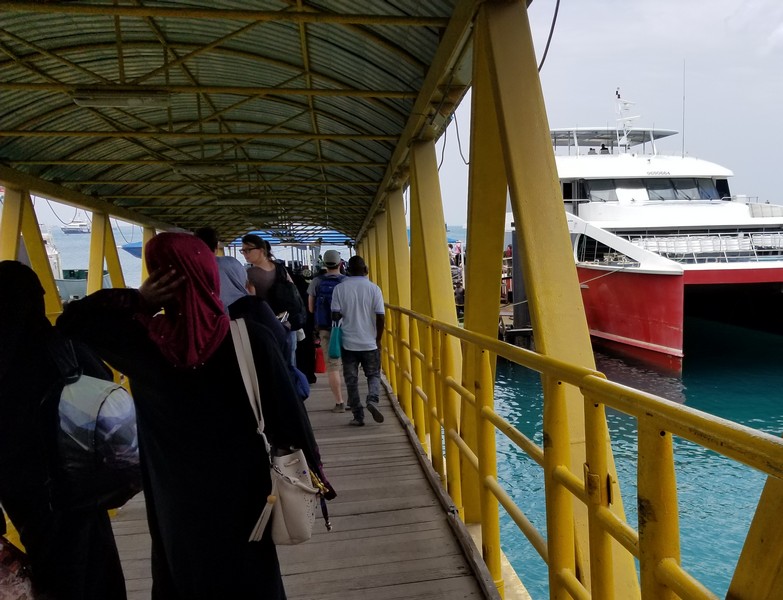 A modern catamaran ferry makes the two-hour trip back and forth to Zanzibar town.





The minute you land you feel you've been transported to an older, slower place and time. The tropical breezes and turquoise blue water are hypnotic.





Stone Town is the older, historic part of the city, with narrow streets and a mix of Arab, Persian, Indian, European, and African architecture from the late 1800s.





Freddie Mercury, lead singer of the band Queen, was born in Zanzibar in 1946. His family lived in various locations in Stone Town, including (probably) this one.





Beautifully-restored building in Stone Town





Typical narrow street in Stone Town





A Masai merchant artfully integrates the traditional and the modern





Zanzibar produces a lot of spices, so we went on a tour of a spice farm. This is turmeric root.





These are nutmeg pods.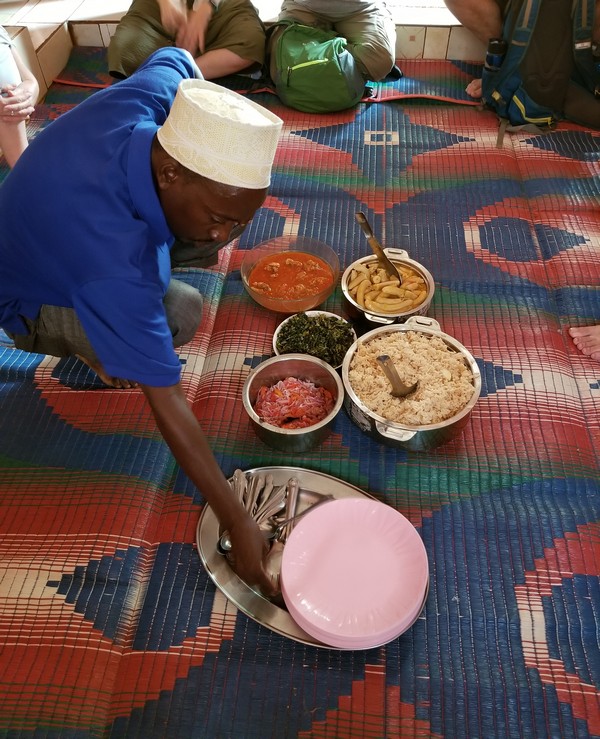 At the end of the tour we had a delicious meal featuring locally grown spices and foods: rice pilaf, chicken curry, greens, salad, and stewed bananas.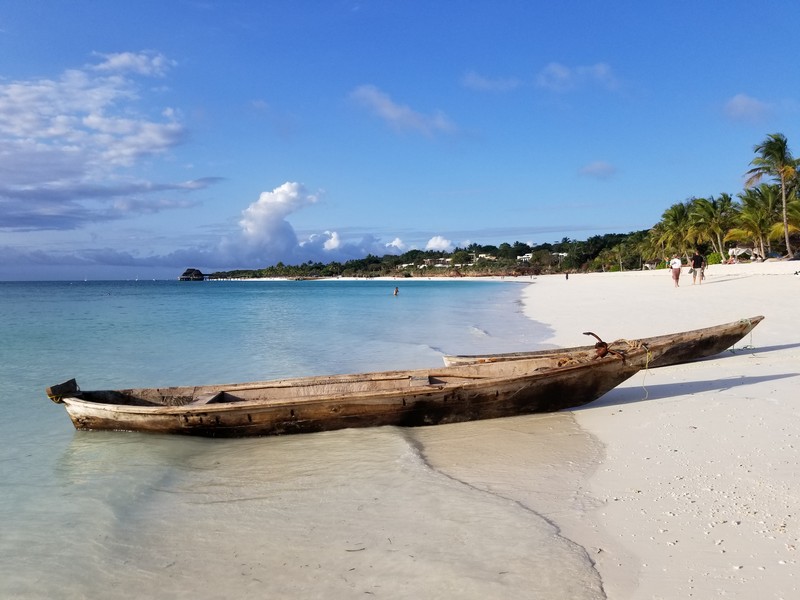 We then spent two nights at Kendwa Beach, on the north end of the island.





Our hotel room at Kendwa Beach was fancier than I expected on a budget tour.





Wooden sailing dhows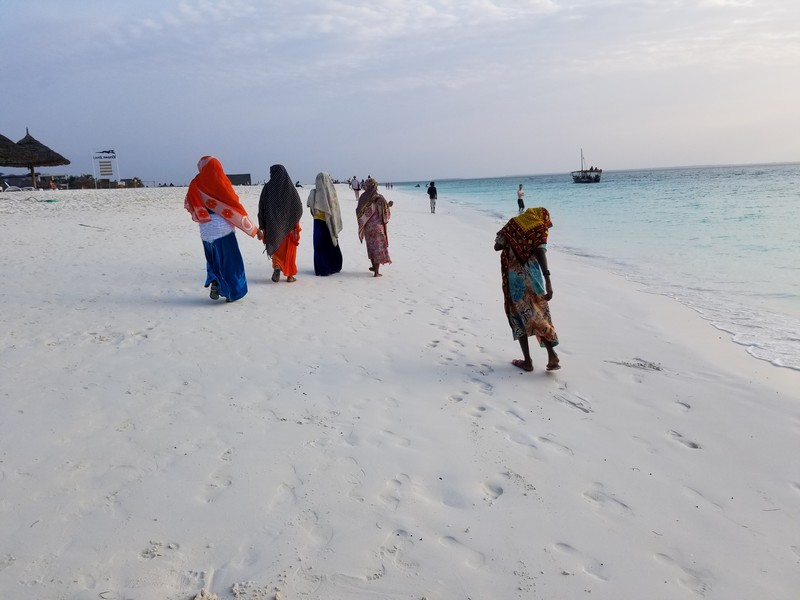 Women on the beach in Zanzibar in their colorful flowing robes and scarves. I couldn't help wondering how they feel about the mostly naked tourist women in their very skimpy bikinis!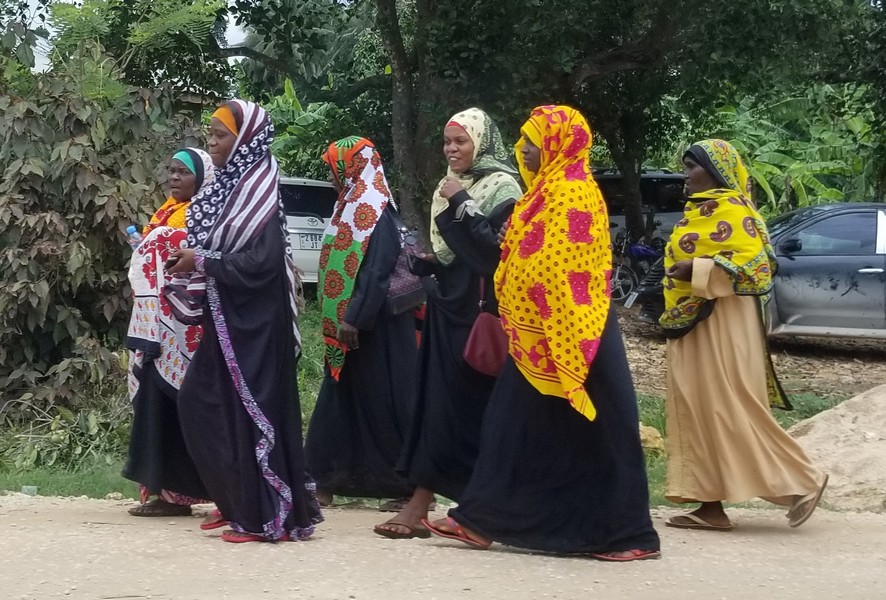 Women walking along the road. Zanzibar is largely Muslim.





School girl waving to our truck


Back to Mainland Tanzania

Additional people joined our tour at this point, bringing our total to 17. We thought we would prefer the smaller group, but in fact we ended up liking the bigger group better. If you want to be social you have more people to choose from, and if you want to isolate you don't leave a small group in the lurch. It's also easier to avoid people you may want a break from.





Fishermen in Bagamoyo. This was one of the most memorable sights I saw. Fishing that looks like it's been done this way since time immemorial.





The Usambara Mountains in Northern Tanzania are a paradise of fertile green fields, tilapia ponds, red earth villages, and picture postcard scenery. We stayed in the town of Lushoto.





We spent one day on a village tour, and it was one of the highlights of the trip. First we hiked to this viewpoint.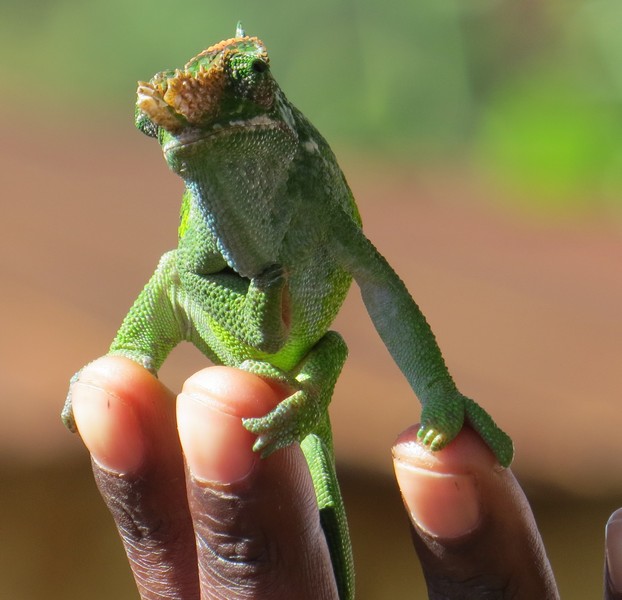 Our guide spotted nearly a dozen chameleons, which thrive in this area.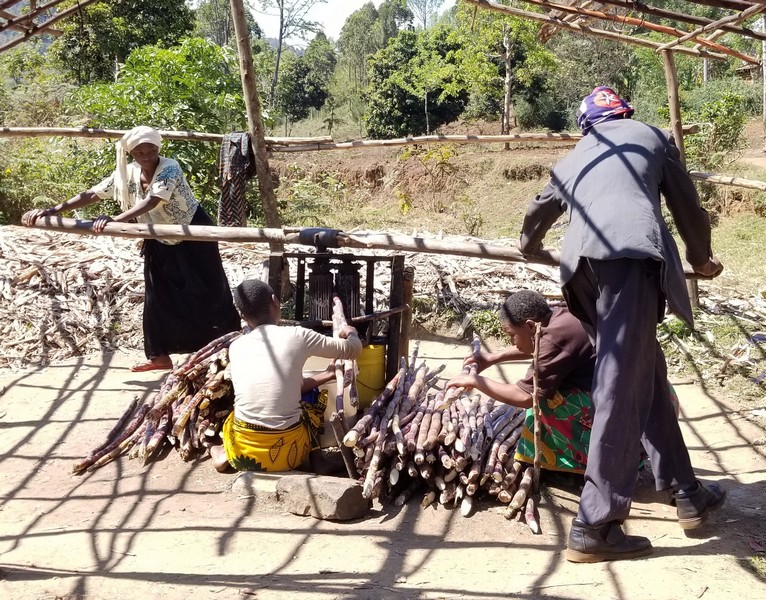 On our walk we saw people pressing sugarcane. The juice will be made into beer.





The local kids were very friendly (and cute) and wanted to practice their English. Our tour company, Intrepid, is passionate about "responsible travel," which includes never giving money or gifts to kids, as this would encourage a culture of begging (shameful for the families, and unpleasant for travelers).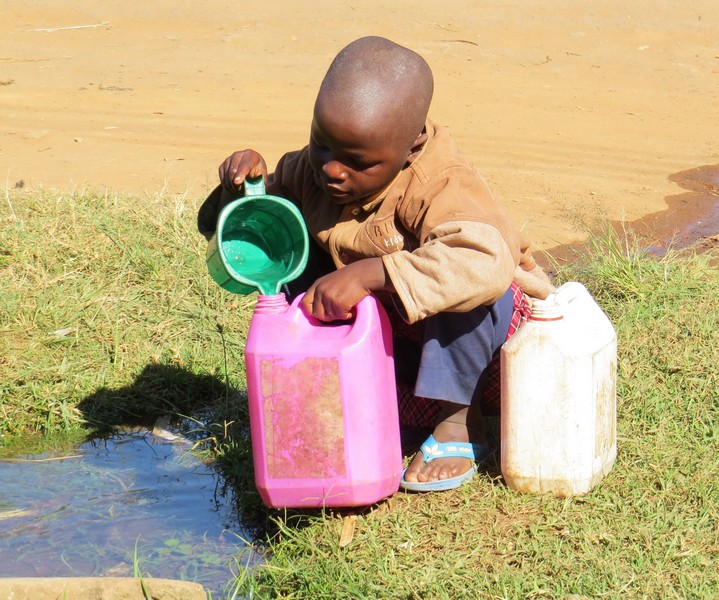 A young boy filling water jugs from a spring.





Most plowing, planting, and weeding is done by hand and it's backbreaking work.





At lunchtime we stopped here to sample local food.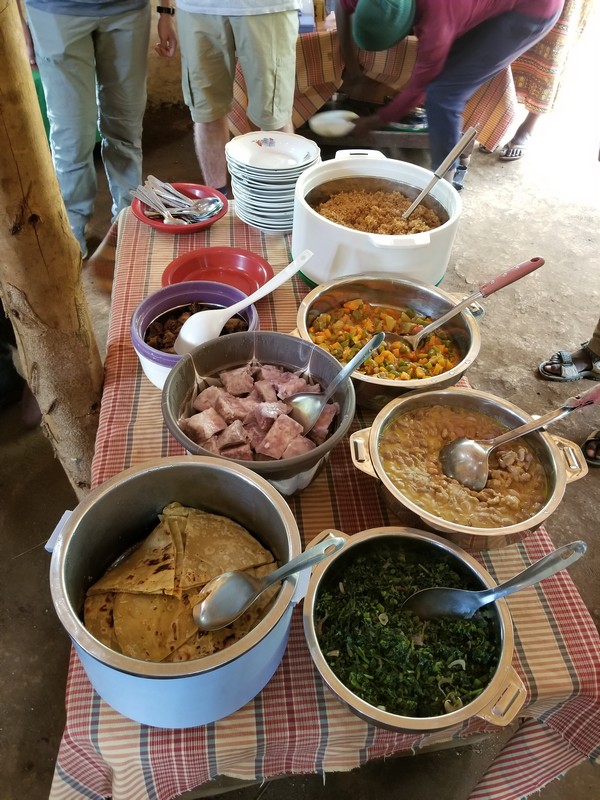 This feast of rice, vegetables, beans, greens, chapatis, arrowroot, and beef stew was cooked by a group of village women. Another table held avocados, tiny sweet bananas, and passionfruit.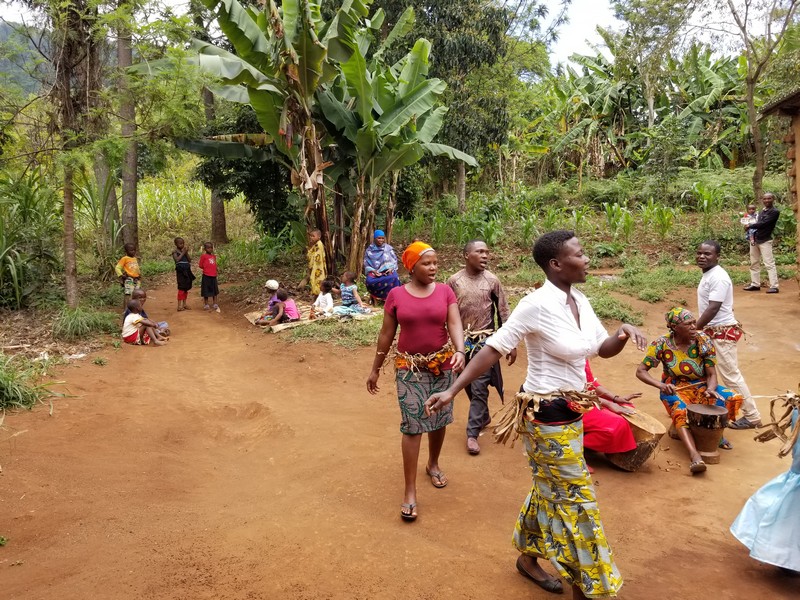 After lunch we learned some local dances.





People commonly burn the fields before the new planting season begins, which is not so great for air quality.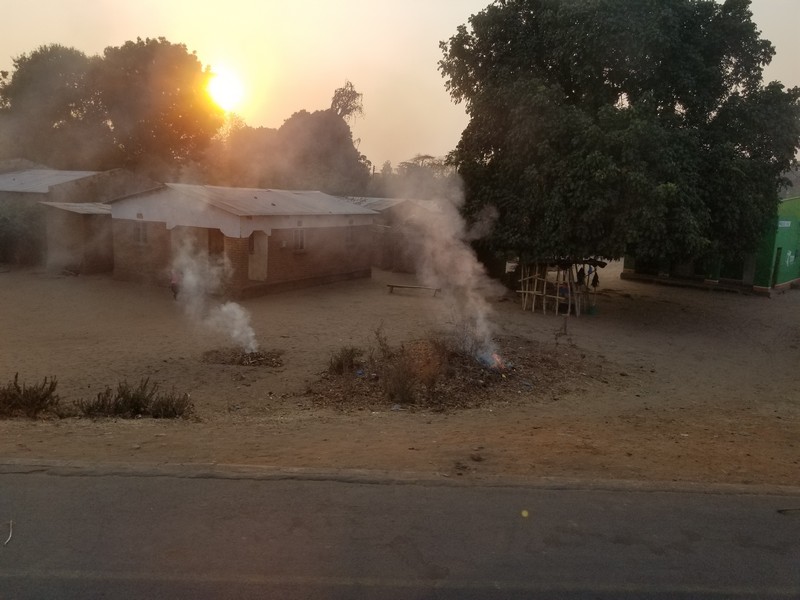 People also burn leaves and trash, and it's common to see smoldering piles like this.





We had a nice view of 19,000-foot Kilimanjaro (the bigger peak on the left). We were told that it is often hidden by clouds.





Experiential tours are a way to meet local people and learn about their lives while also providing income to the community. In this village near Arusha, we spent the morning cooking with local women. It was a lot of fun and the food was delicious.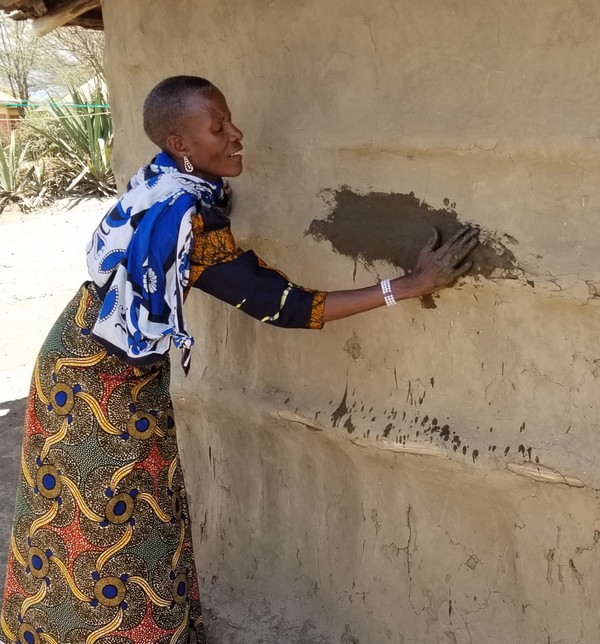 Sara, a Masai woman, showed us how she uses a mixture of clay soil, cow dung, and water to repair and waterproof her house.



Ngorongoro

The Ngorongoro Crater was formed when a large volcano erupted two and a half million years ago. It's 2000 feet deep and about 12 miles across.




Looking down on the crater from the rim. Lush grassland, swamp, forest, and a seasonal salt lake provide ideal habitat for an estimated 30,000 animals. It's primal, otherworldly, and one of the most popular places in Africa.





Typical Masai boma (compound) on the upper slopes of the crater





Are those boulders? No, they're sleeping hippos! The mist in the distance is evaporation from the seasonal lake bed.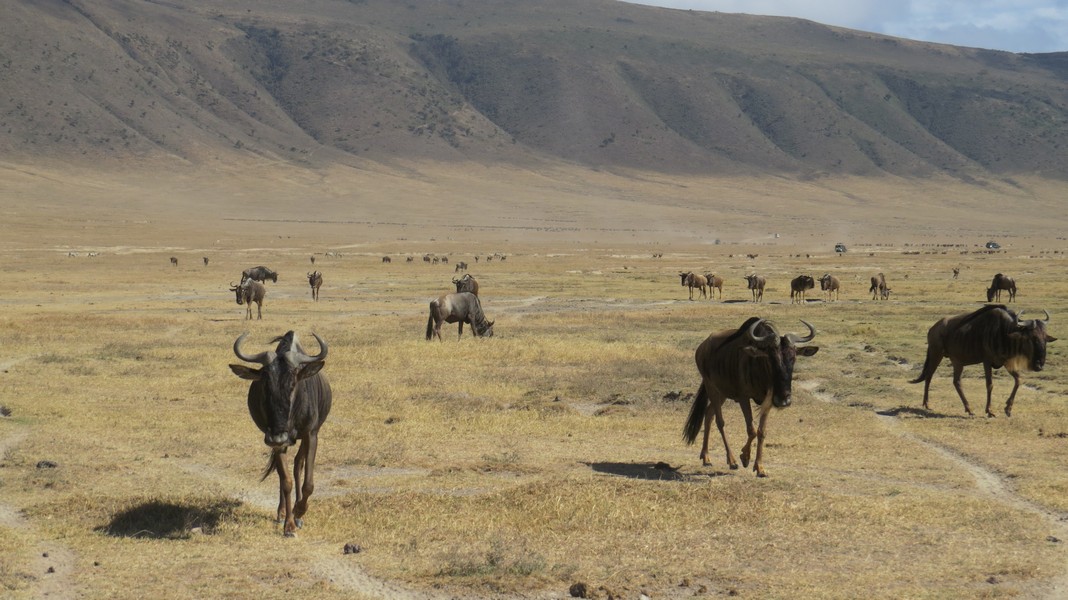 Ngorongoro supports enormous herds of wildebeest. We also saw zebra, ostrich, hyena, elephants, and much more.





After leaving the crater we headed north to the Serengeti, passing this monument at the entrance to Olduvai Gorge, where Louis and Mary Leakey made their famous discoveries of early humans.



Serengeti

This is the iconic Africa of endless plains and umbrella-shaped acacia trees. And very bumpy roads! (Our guide called it an "African massage.")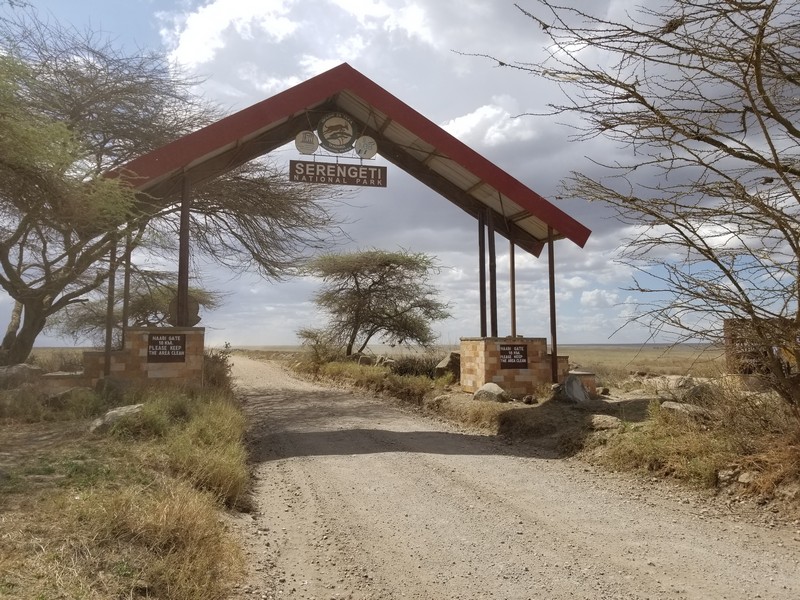 Main entrance to Serengeti National Park





Herds of zebra stretch to the horizon





This elephant came very close to our truck. It turns out we were parked next to a mud puddle he wanted to use.





Another excellent leopard sighting!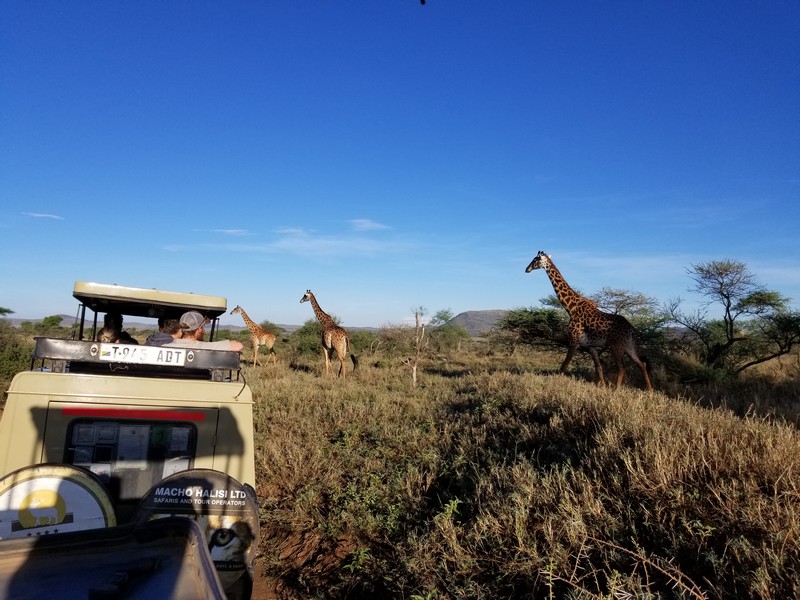 Giraffes glide through the landscape like models on runways, towering and majestic.





Tough tongues and gums allow them to eat tiny leaves off thorny acacia trees.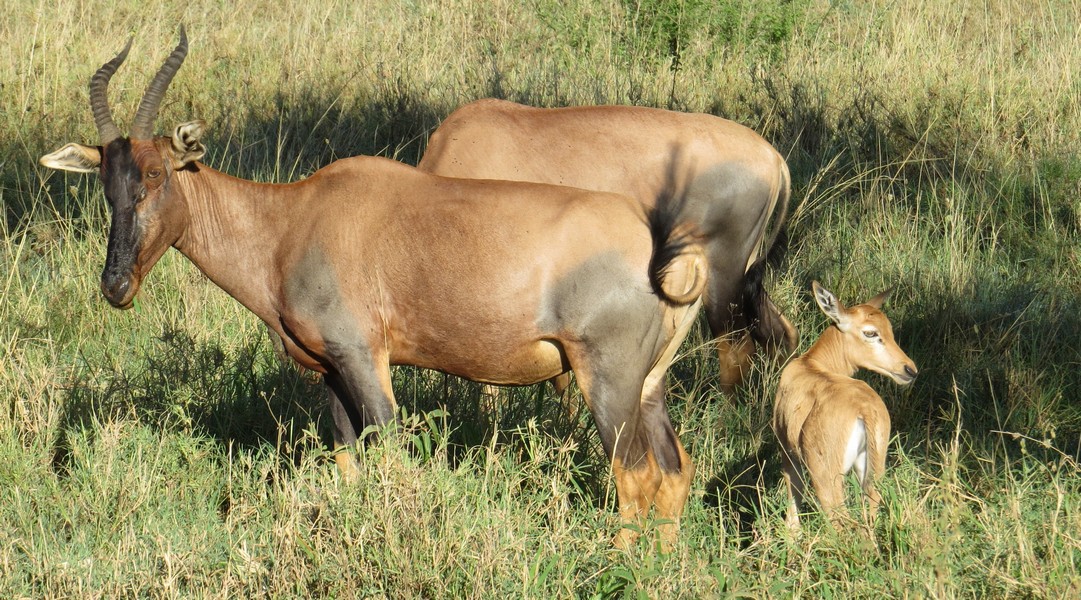 Topi antelope and baby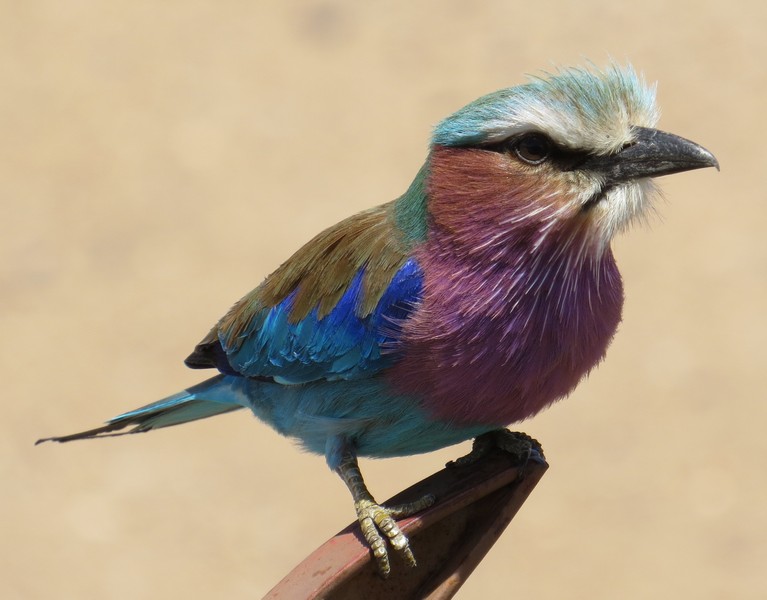 If I had to pick a favorite bird, it would be the lilac-breasted roller. Look at those colors!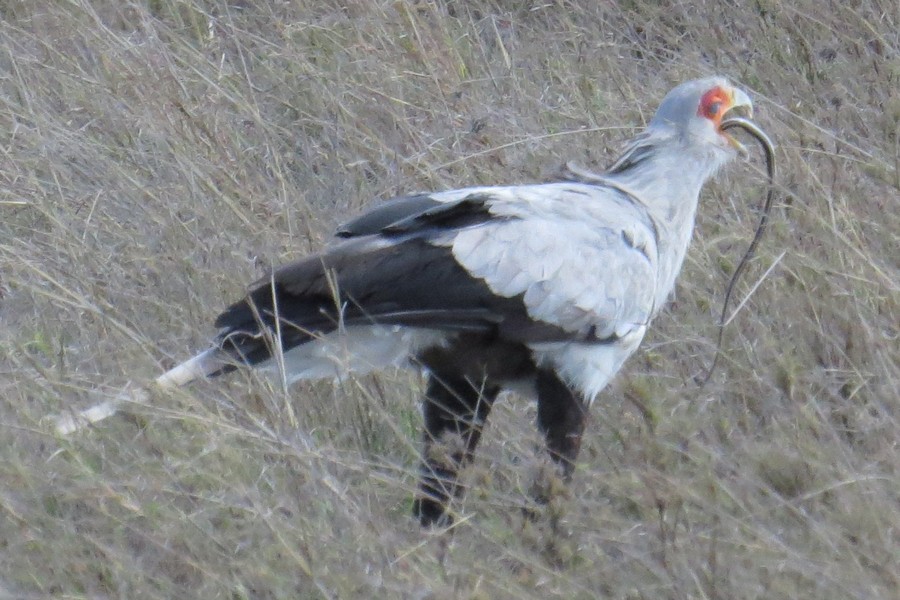 Secretary bird eating a snake. These long-legged raptors seldom fly.





Baboons are very affectionate with their young.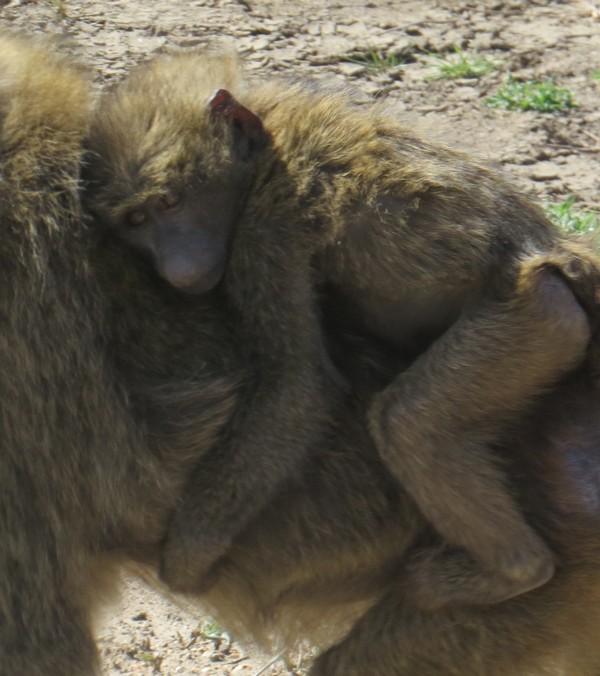 Baboon baby hitching a ride on mom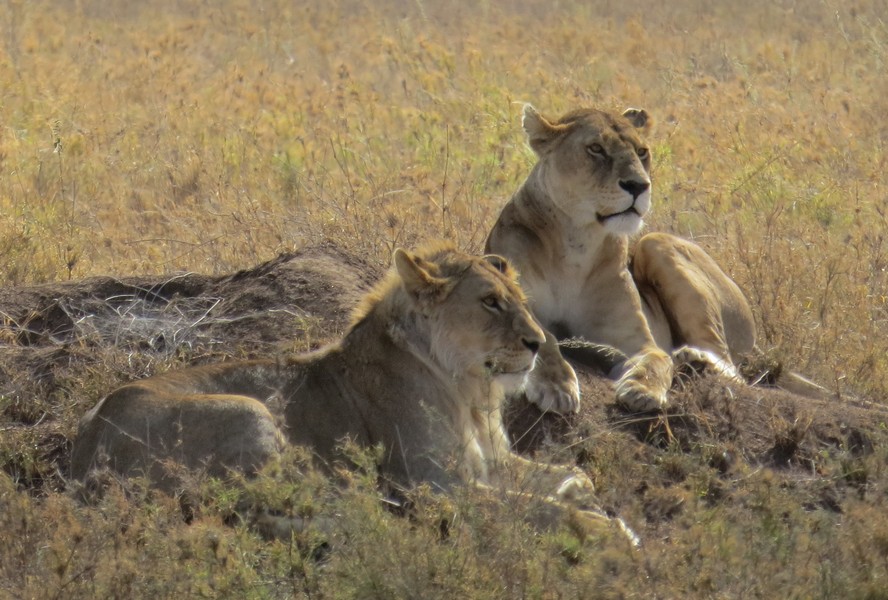 One never tires of watching lions in the wild. We had the good fortune to hear them vocalizing in the night near our tents, and saw their prints in the morning.





This lion is keeping an eye on the local zebra herd.





Lion yawning





We were very lucky to have multiple good cheetah sightings. They are gorgeous animals.





Crowned cranes and wildebeest





Male and female Thompson's gazelle with a wobbly newborn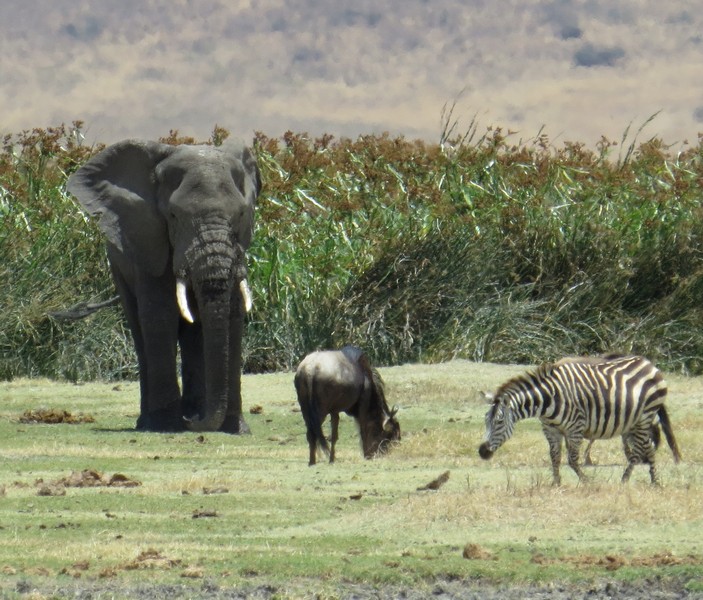 Serengeti scene



---
Kenya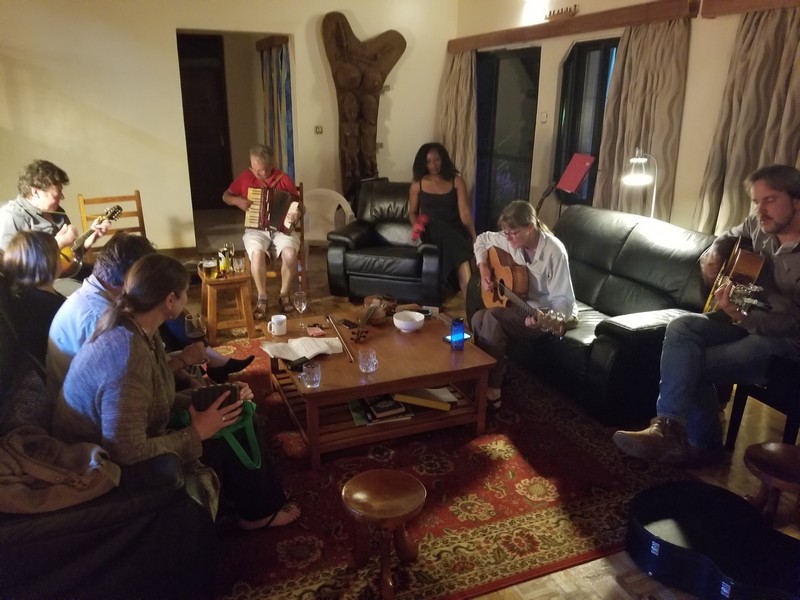 The tour ended in Nairobi and we said goodbye to everyone. Our last night in Africa was spent making music with a fascinating and talented group of international development workers at the home of old Belgian friend Hugo (on accordion) and his wife Shiku (on tambourine). I met Hugo in 1985 when I lived in Togo.





Nairobi-Dubai-Seattle. Between naps in the airport and half-empty planes (that never happens anymore) I was able to get a lot of sleep!



---
Pros and Cons of Overlanding
It's cheaper than renting a vehicle, or a traditional tour with hotel rooms and restaurant meals
(Some overland trips offer the option to stay in a real bed every night, and eat in restaurants)
It's fun to meet travelers from other places, and get to know your African tour leaders
It's easier than doing it on your own
You can do and see a lot more in less time than on your own
(but that also means some long days and long drives)
There's no chance for spontaneity or changing the schedule
There's limited time away from the group, or to explore on your own

Would we overland again? Absolutely! We prefer to travel on our own, but sometimes a tour makes more sense.


---
How to Choose an Overland Tour
Use a travel company that specializes in overland tours and represents multiple tour companies. They can help you pick the right tour for your needs.
We were very happy with www.africanoverlandtours.com, and going through them allowed us to pay in South African rand, which saved a lot of money.
This is the actual tour we chose: https://www.intrepidtravel.com/us/namibia/cape-town-kenya-117245 and we would recommend this company.
What is your budget and travel style?
How much time do you have available?
What are your priorities to do and see?
Compare cost per day, but pay attention to what is and isn't included


---
Costs

Our 49-day tour cost $5322 per person ($109 a day), travel insurance (required) was $189 each, and visas were $275 each, for a total of $5786 each.
You can pay less or more depending on the tour you choose and when you book.

You'll also need to budget for flights, vaccinations, medications, tips, souvenirs, meals not included, and personal items.



---
Borders, Money, and Medical

Having a guide helped us navigate border crossings, but all of the borders were friendly, English-speaking, and modern.
ATMs are ubiquitous; credit cards and dollars are widely accepted.
The only required vaccinations were typhoid and yellow fever. (WHO and CDC say yellow fever isn't needed, but several countries require it anyway. It's available at border crossings in Africa for much cheaper than in the US.)
Talk to your doctor about malaria medication.


---
The Big Five

In Africa, the Big Five game animals are the lion, leopard, rhinoceros, elephant, and Cape buffalo.
The term was coined by big-game hunters, and refers to the five most difficult animals to hunt on foot, but is now widely used by safari tour operators.


---
What's Changed

I lived in West Africa 30 years ago, and although West and East Africa are different, here are some changes I noticed:

Credit cards and ATMs are ubiquitous
There are now malls and grocery stores almost everywhere
Solar panels
More outhouses
More water pumps
Very strong China influence
Cell phones with signal almost everywhere
Lots of plastic waste
HIV was just beginning to ravage the continent when I left in 1987; education and medication have significantly reduced the death rate
More power lines
Fewer topless women
More junk food
Less corruption
---