Riding the Rockies: A Road Trip Down the Spine of the Continent
September 2016
---
6700 miles in five weeks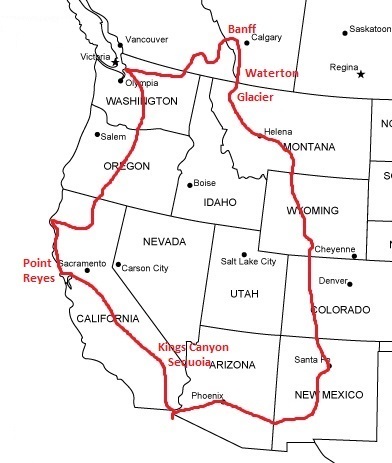 ---
Our Home Away from Home
If you haven't seen our van setup, click here for pictures.
---
Eastern Washington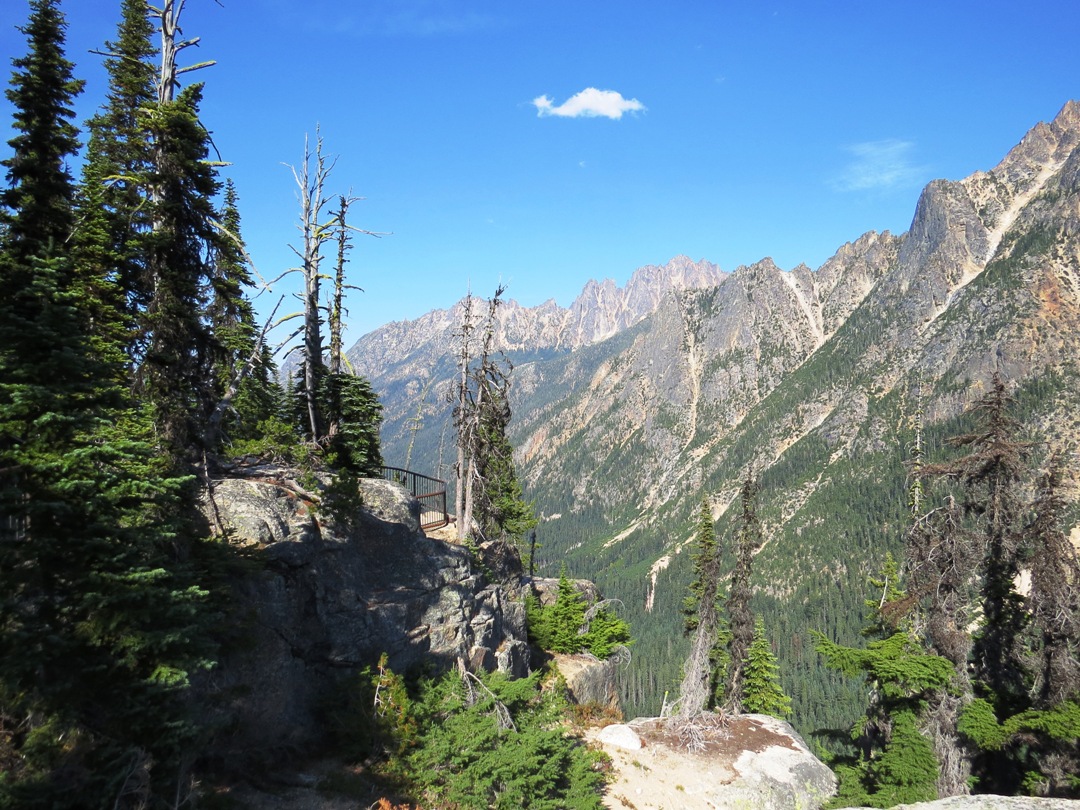 The trip started out with great weather! We stopped to see the magnificent view looking east from the Washington Pass overlook on Highway 20 in North Cascades National Park.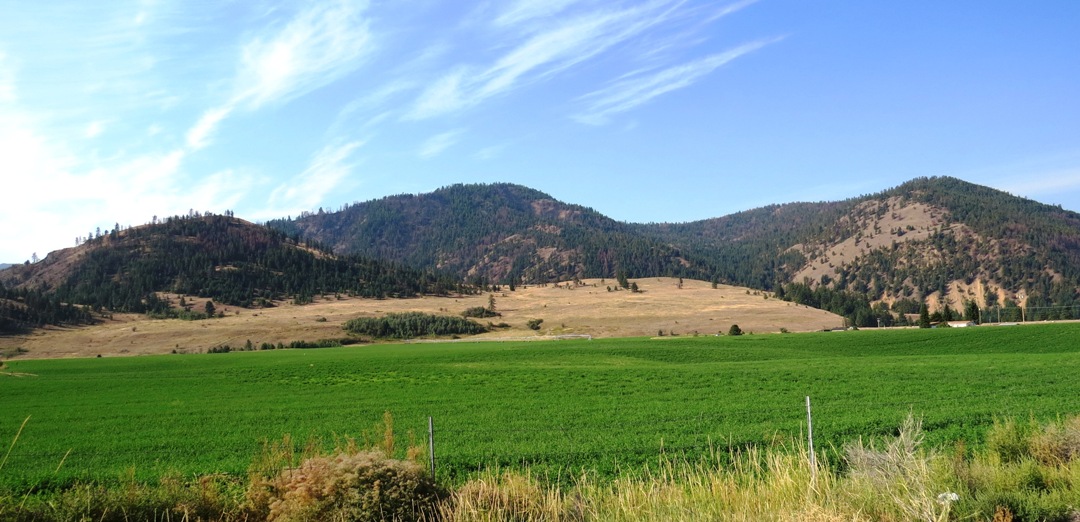 The beautiful Twisp River road winds past lush green fields of fresh mown hay. We camped at Poplar Flat and hiked up the Twisp Pass trail.



---
Canada


We crossed the Canadian border at Danville and spent the night at Nancy Greene Provincial Park near Robson, BC.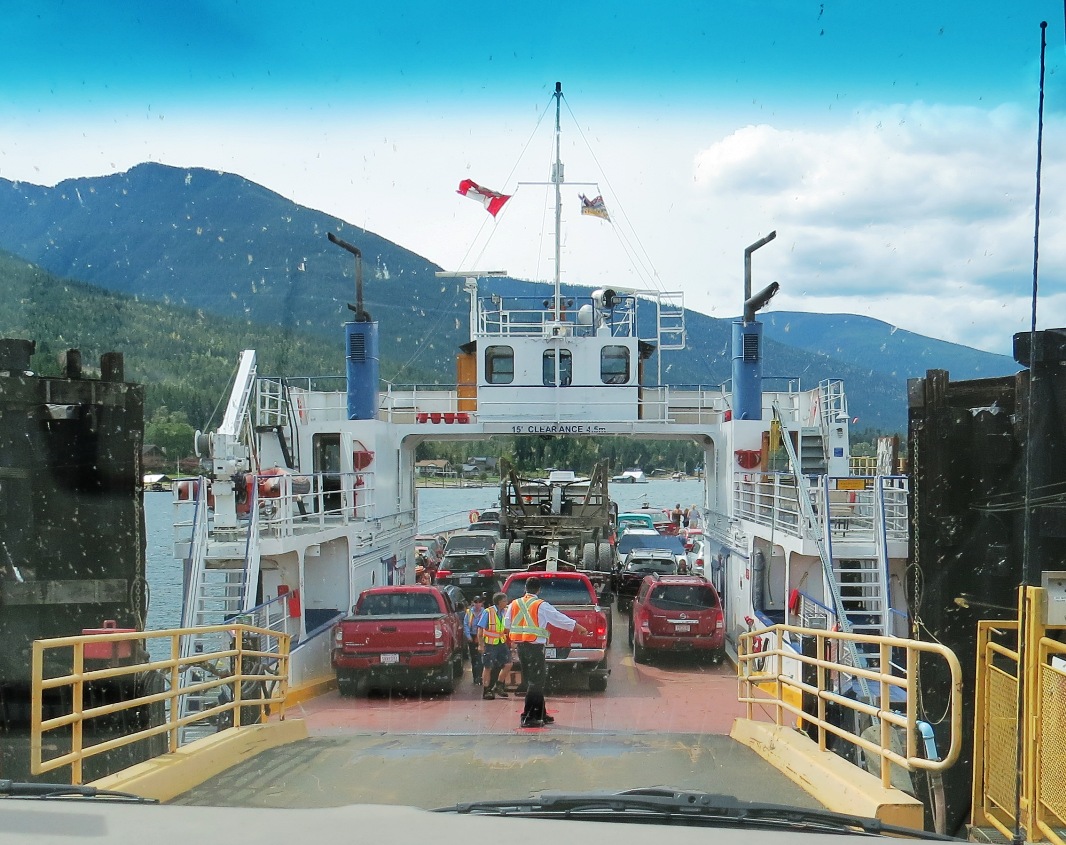 After a stop in Nelson (famous for harboring draft dodgers during the Vietnam War, and now a mix of loggers and hippies) we headed north to Balfour and the small free ferry across Kootenay Lake.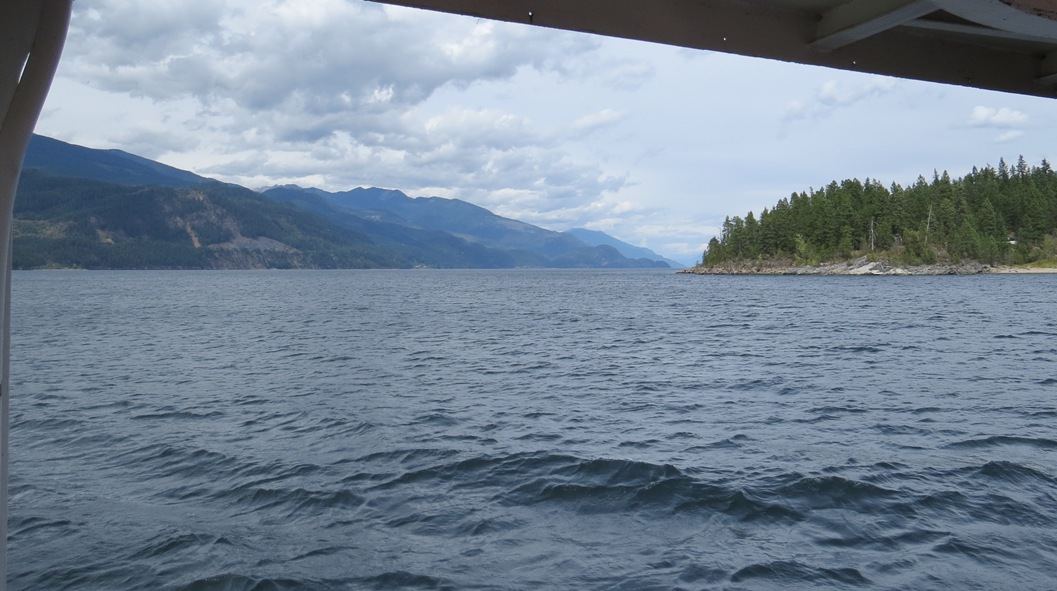 Crossing Kootenay Lake





Creston Flats in British Columbia - 25,000 miles of former floodplain, now farmland protected by 53 miles of dikes.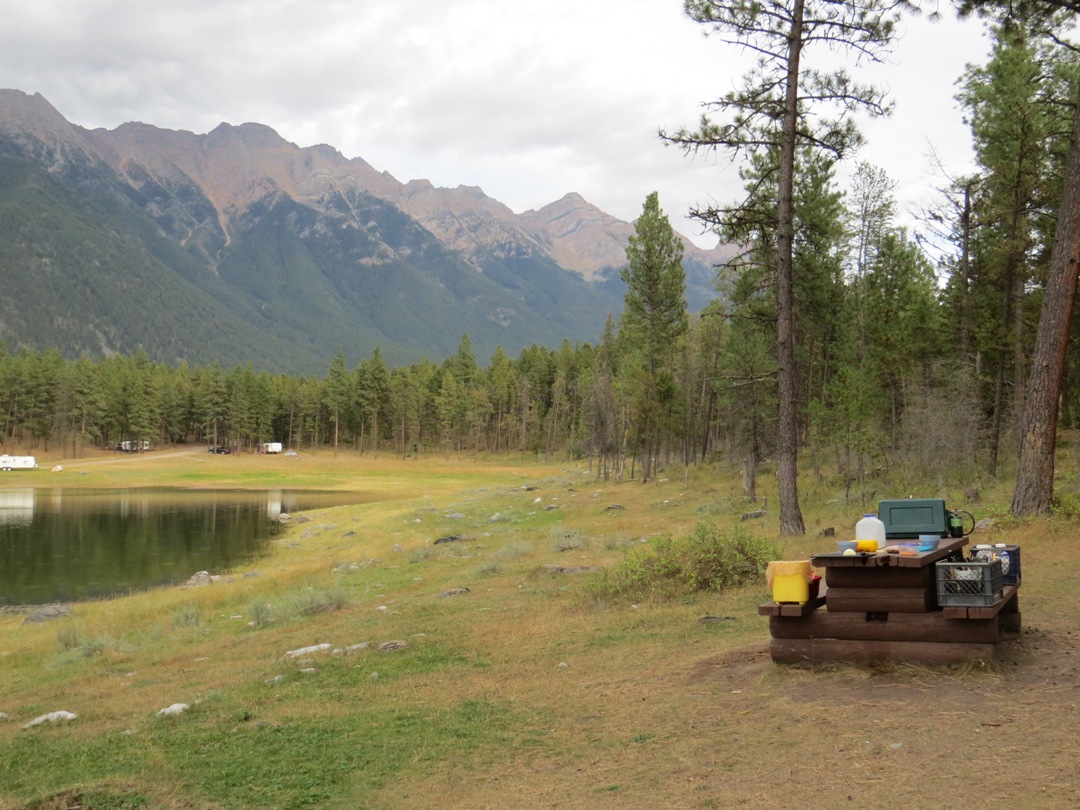 Horseshoe Lake Recreational Site, a free, "user-maintained" campground near Cranbrook, BC, nestles in the foothills of the Rocky Mountains.



Banff National Park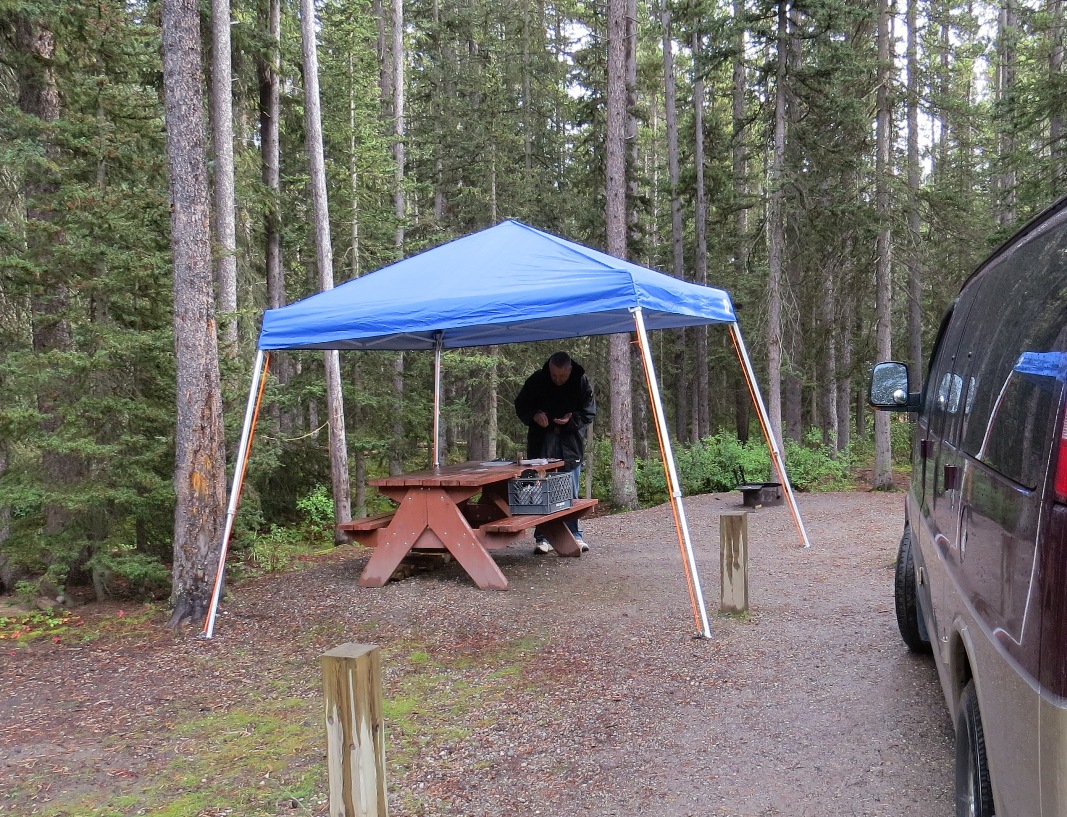 It was cold and rainy at Lake Louise, and we were grateful for our canopy.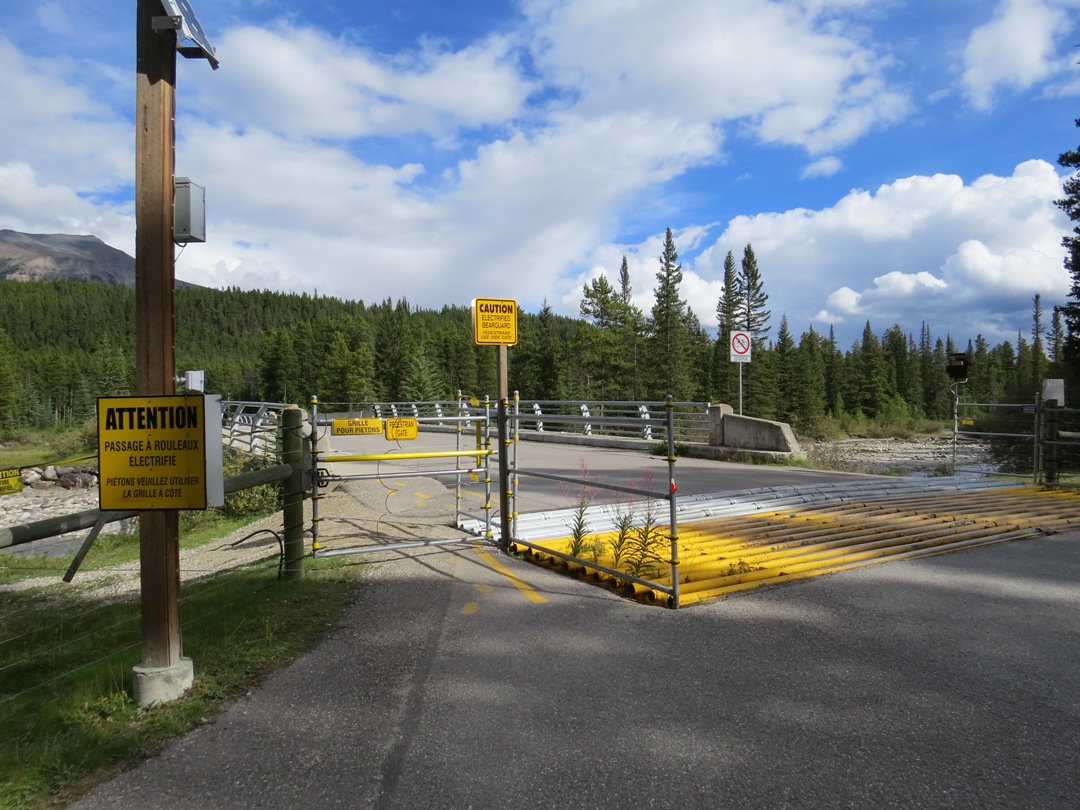 The Lake Louise campground is surrounded by an electric fence to deter grizzly bears. If you leave food or coolers out when you're not at your campsite, rangers come around and confiscate the items.





Low clouds blocked the magnificent views that Lake Louise is famous for, but didn't hide its famous color, the result of rock powder ground up by glaciers and washed into the lake.





A nice trail runs along - and sometimes through - one side of the lake.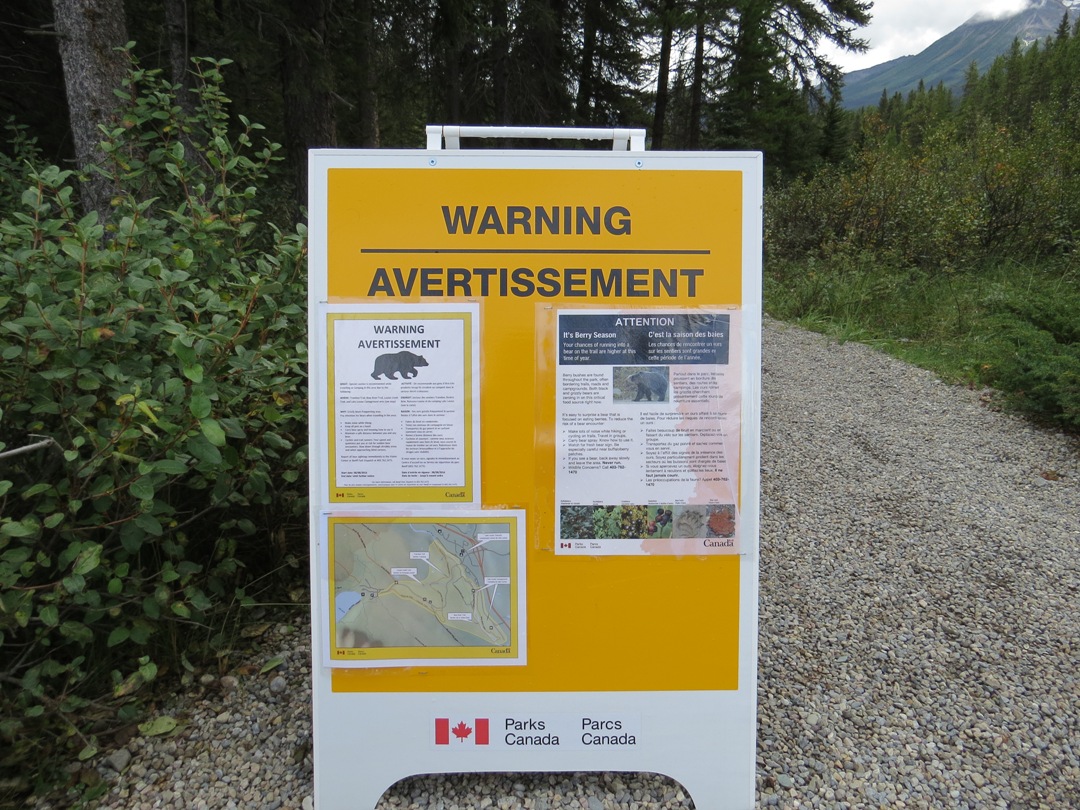 Warning signs at trailheads said it was berry season, and the grizzlies were stocking up for the winter. You're supposed to carry bear spray, hike in groups, and talk constantly.





Fresh bear droppings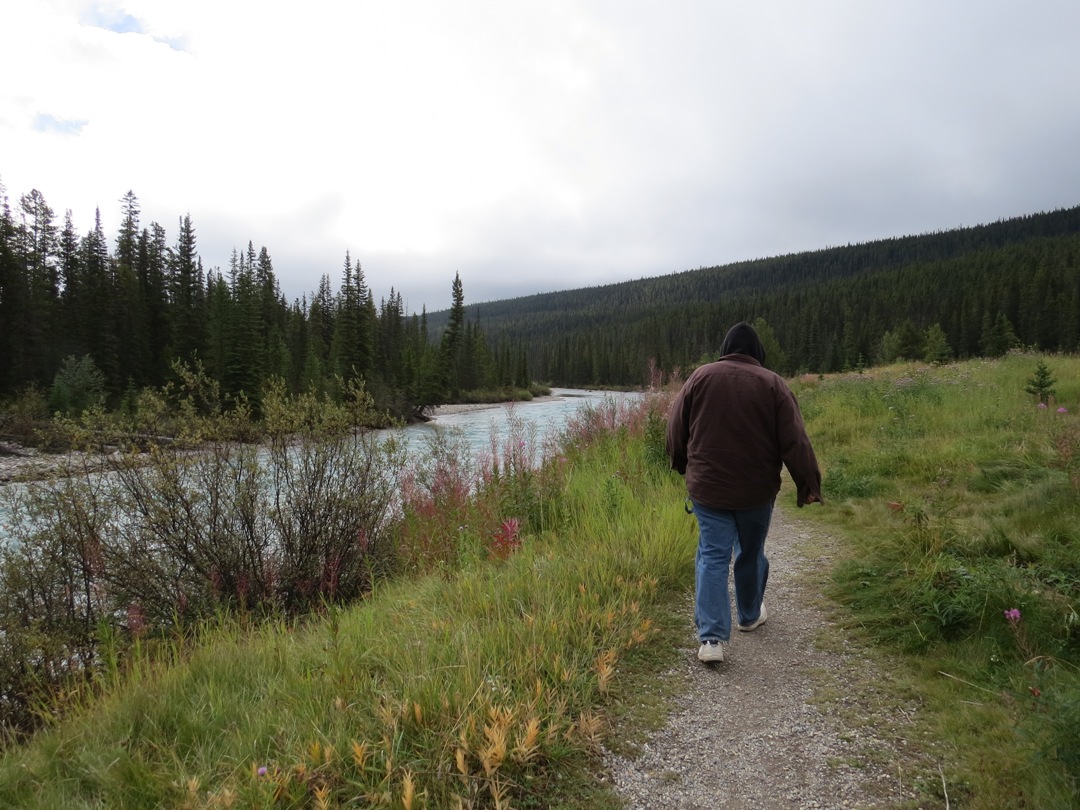 The Bow River trail is one of the best river walks we've ever found.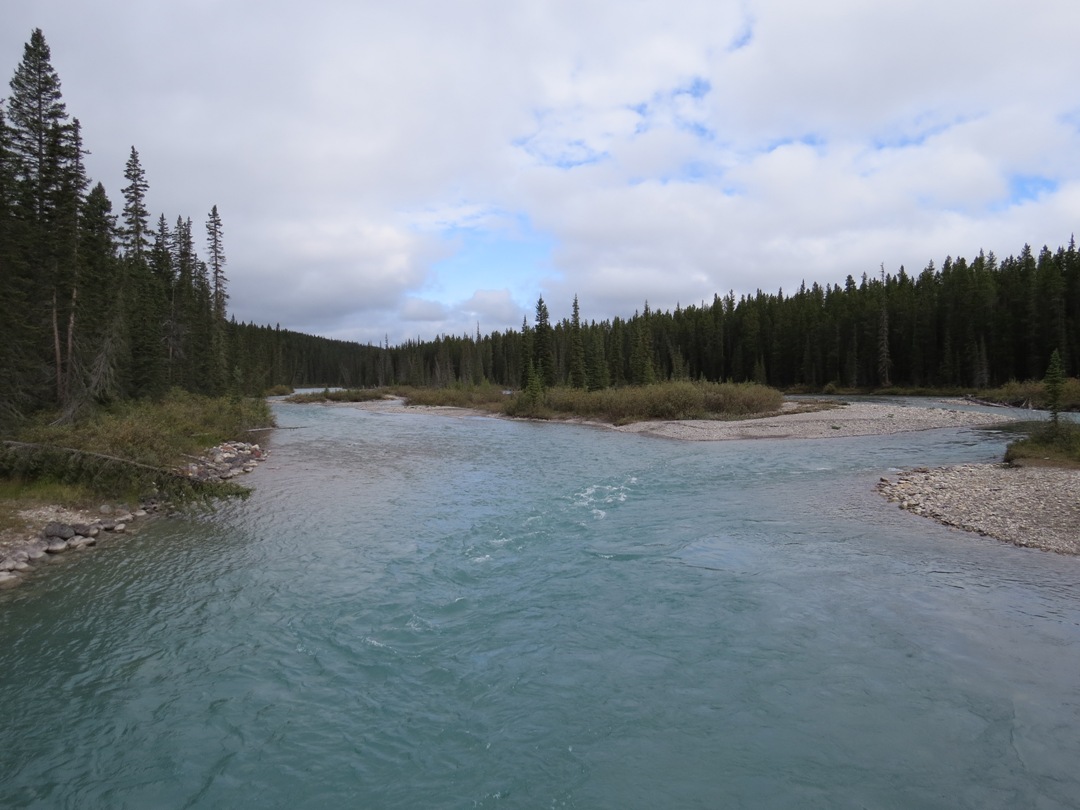 Glacial flour tints the Bow River aquamarine.





The mist at 6200' Moraine Lake made it feel like Avalon.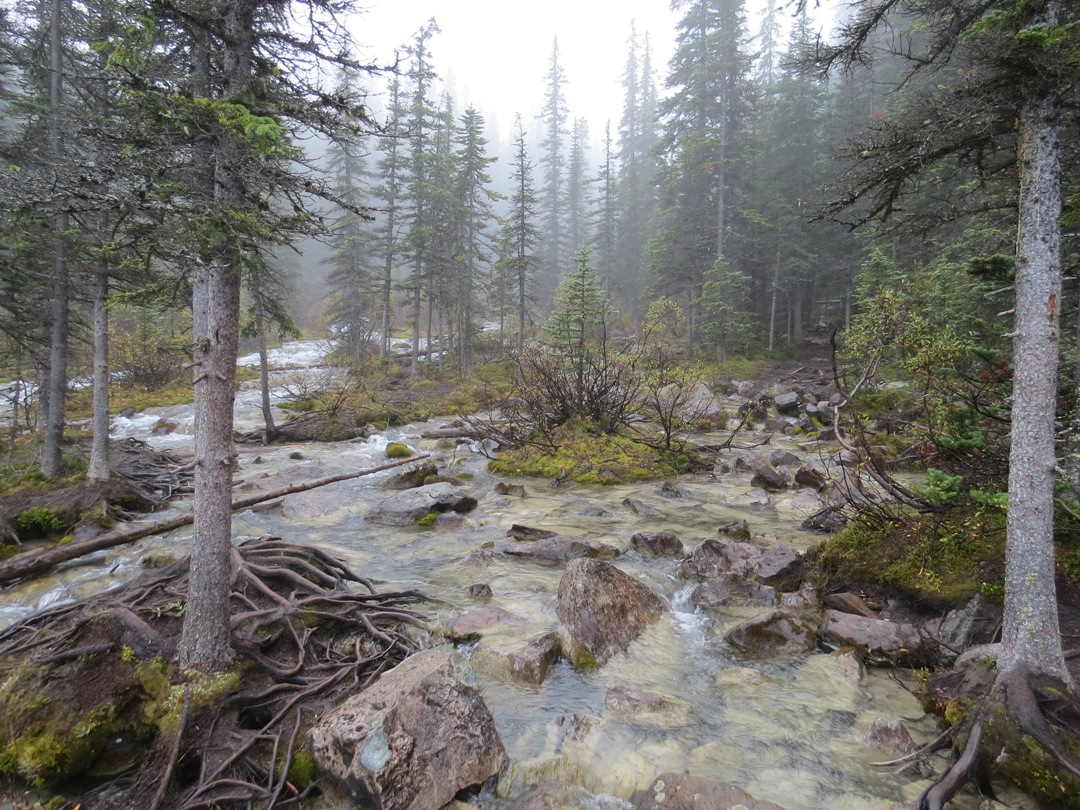 A seemingly enchanted river flows into Moraine Lake. (This photo is unedited.)





The weather began to clear in the evening, and we returned to Lake Louise for a better view.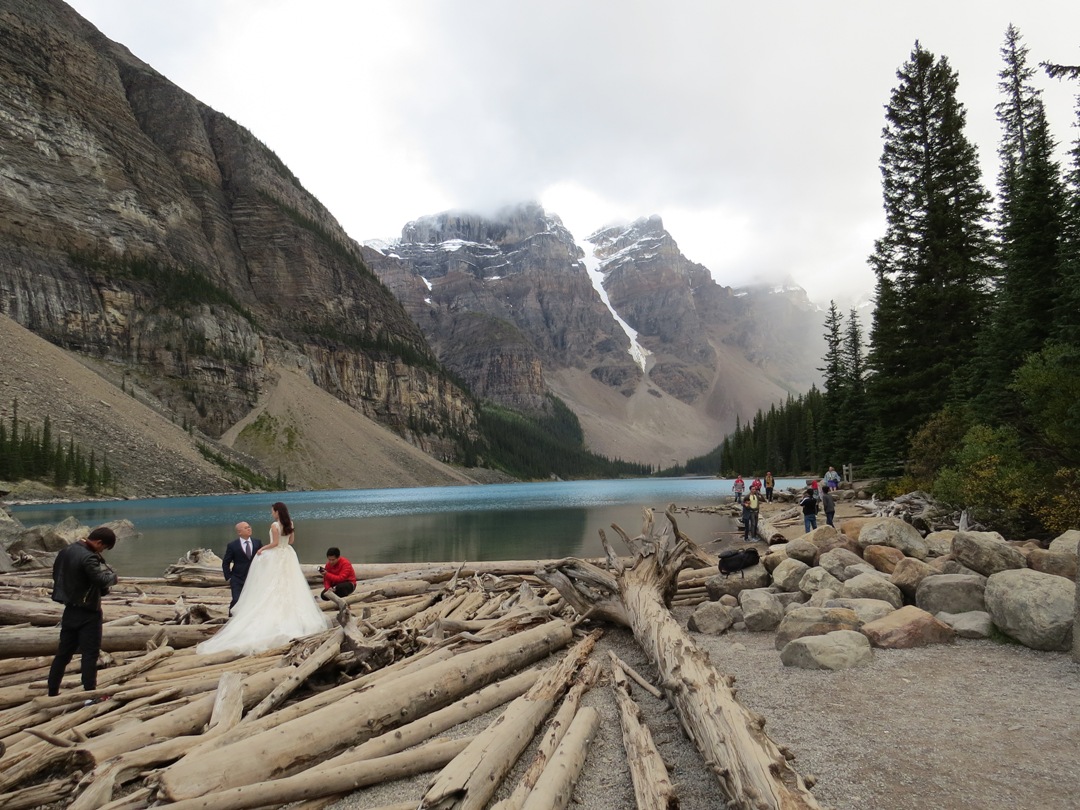 A chilly bride poses for pictures at Moraine Lake in the evening, after the fog had lifted.





After three days we headed south through Alberta's lush prairies. It was sunnier out on the prairie.





Mown hay waiting to be baled on the Alberta prairie.



Waterton Lakes National Park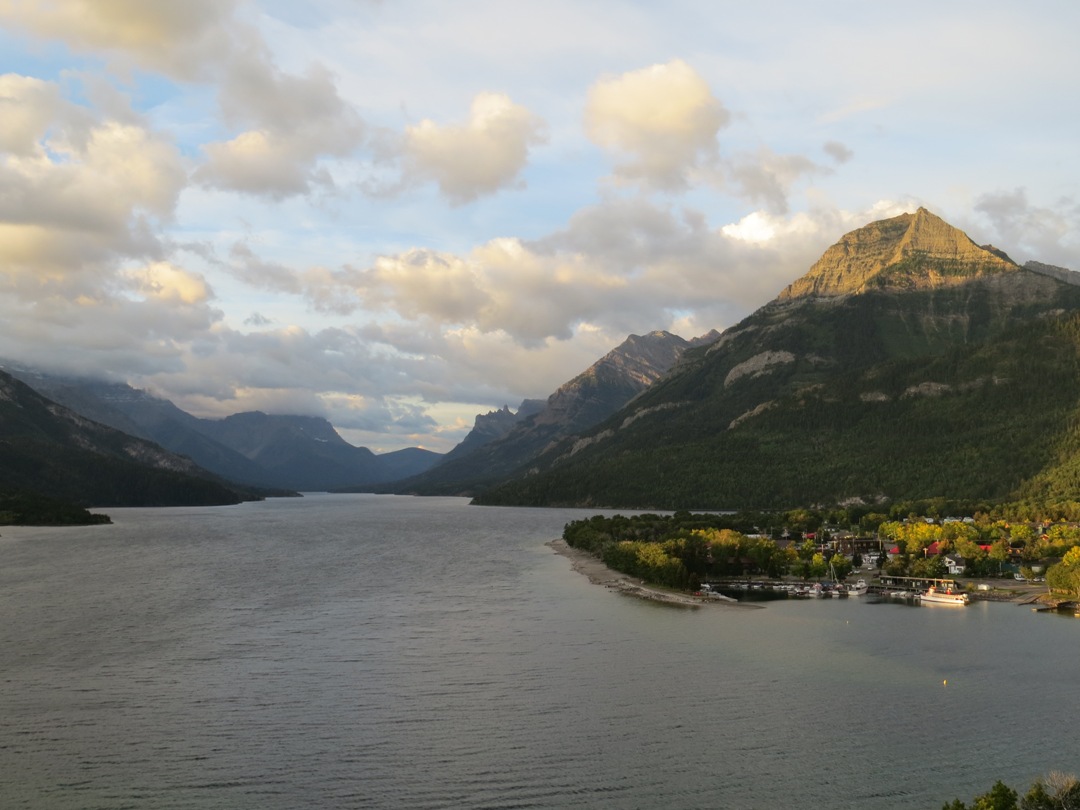 Upper Waterton Lake and the town of Waterton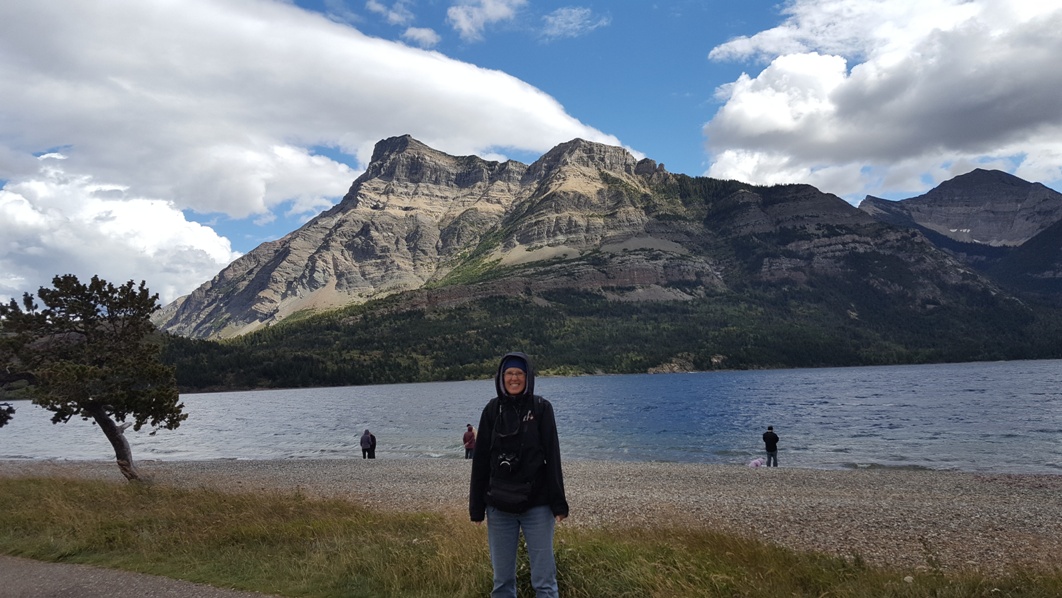 Braving the wind on the shore of Waterton Lake.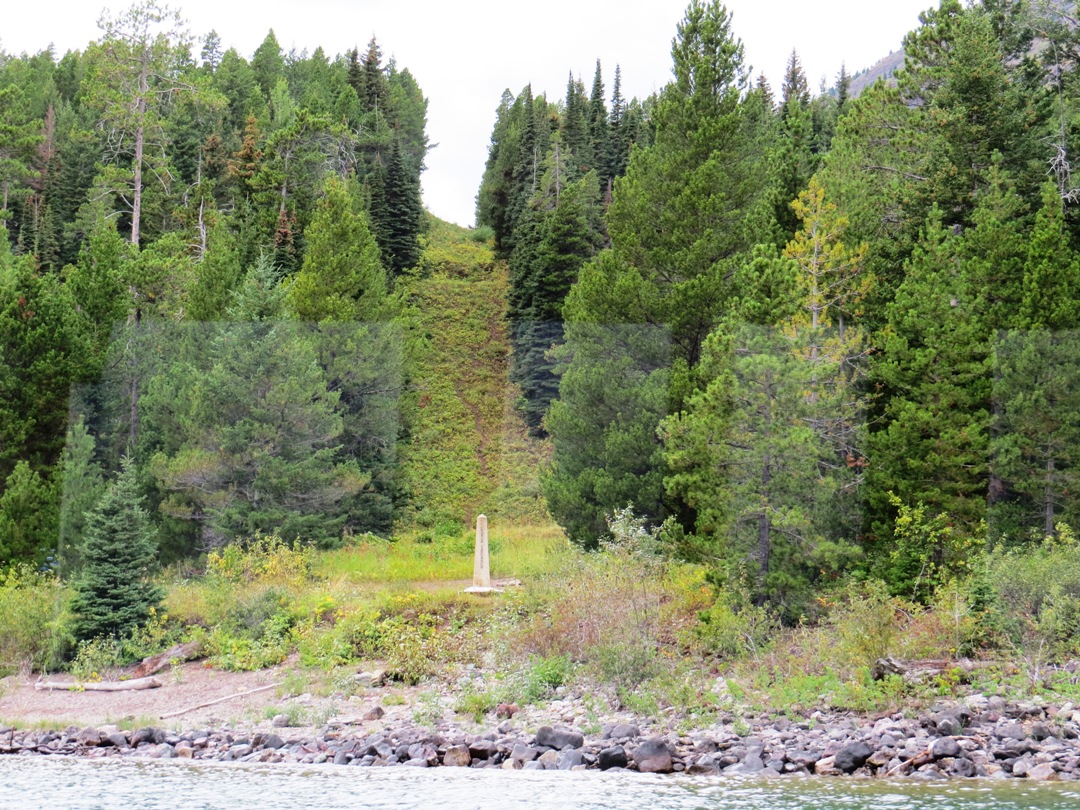 The lake straddles the US-Canada border, which is marked with concrete obelisks.





The boat ride ends at Goat Haunt, Montana, in Glacier National Park. There is a small customs outpost for hikers.





A striking example of folded sedimentary rocks on Waterton Lake. (The "crab claw" is a large piece of wood.)





We watched a mother black bear and her three cubs eating berries on the lakeshore.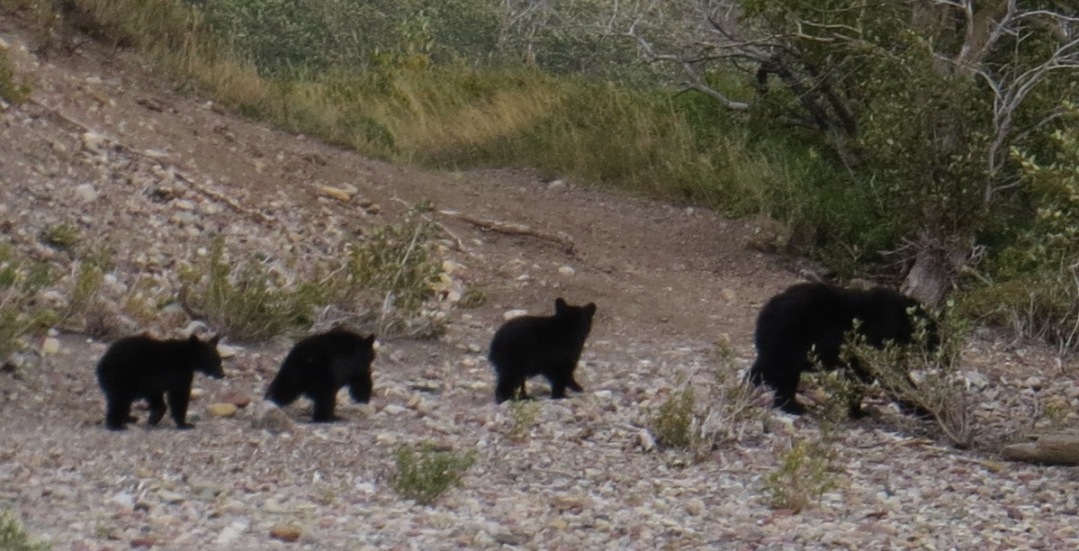 The bear family heading for another berry patch. Waterton attracts bear watchers. One couple we met had seen 27 in two days! Another couple had encountered a bear on each of the two hikes they'd been on.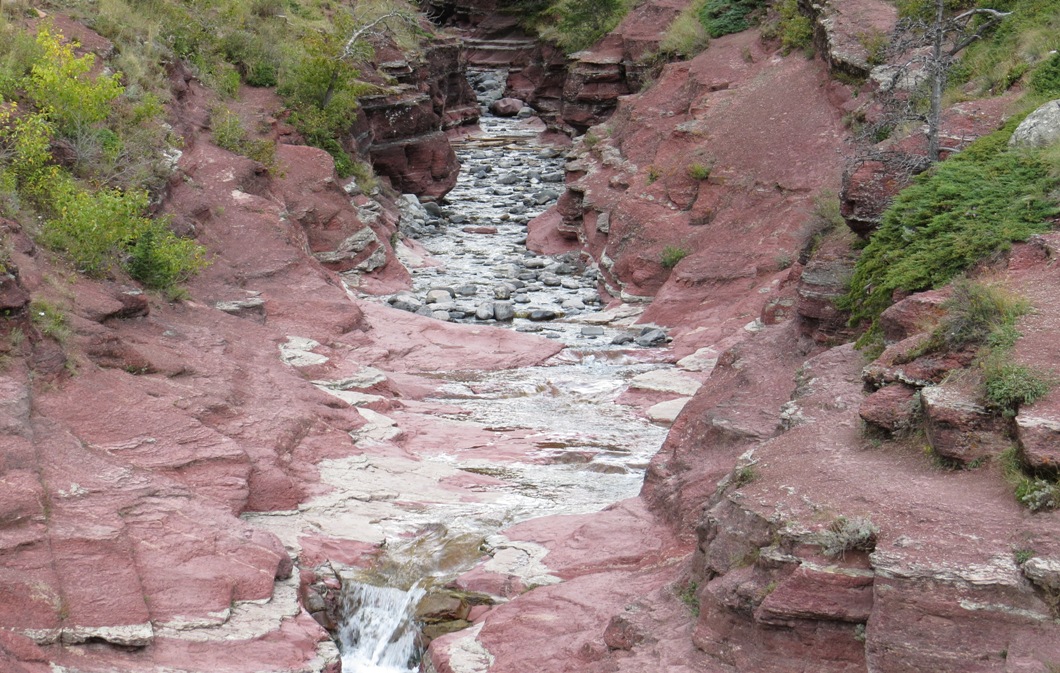 Red Rock Canyon





Even the mountains look like cutouts.





Numerous cooking shelters dot the Waterton Townsite campground, providing welcome relief from the strong winds that blow off the lake.





This strange sight greeted us at the campgound one morning. I guess they were planning a remodel...





Sunrise at the Waterton campground.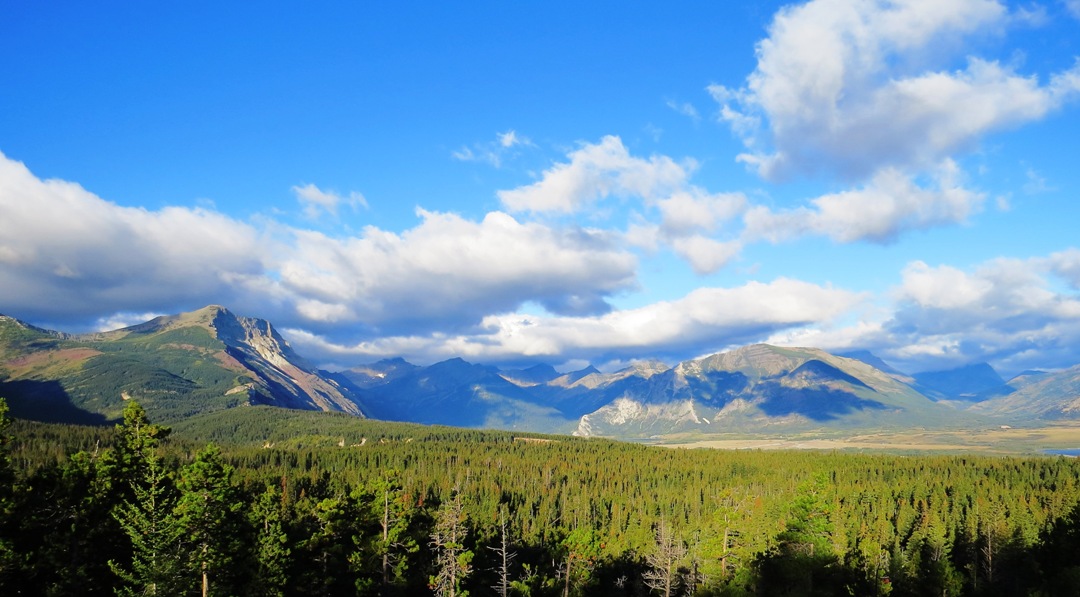 Heading south from Waterton Lakes, you can see how the prairie changes directly to mountains without any foothills.





Scenery south of Waterton, en route to Glacier National Park (the parks are adjoining, and their entrances are only an hour's drive apart, plus the border crossing).



---
Montana
Glacier National Park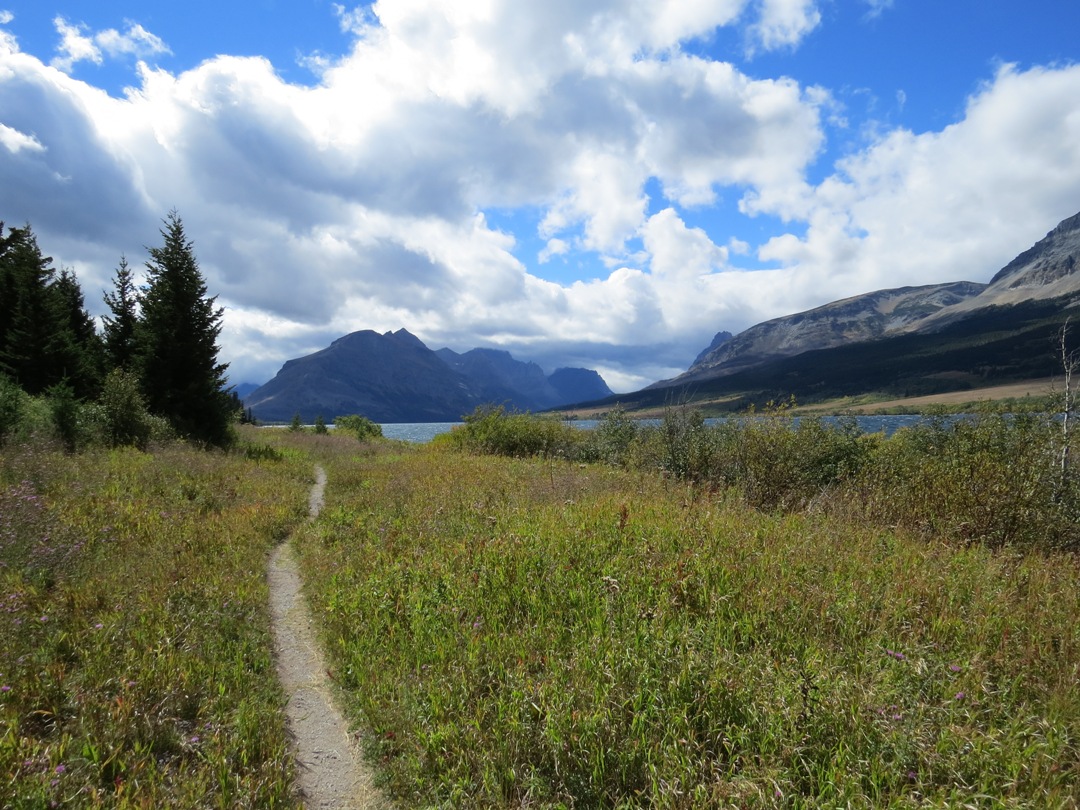 We took advantage of a weather break to hike on the Red Eagle Lake trail on the east side of the park. It was beautiful, although I was very nervous about encountering a grizzly...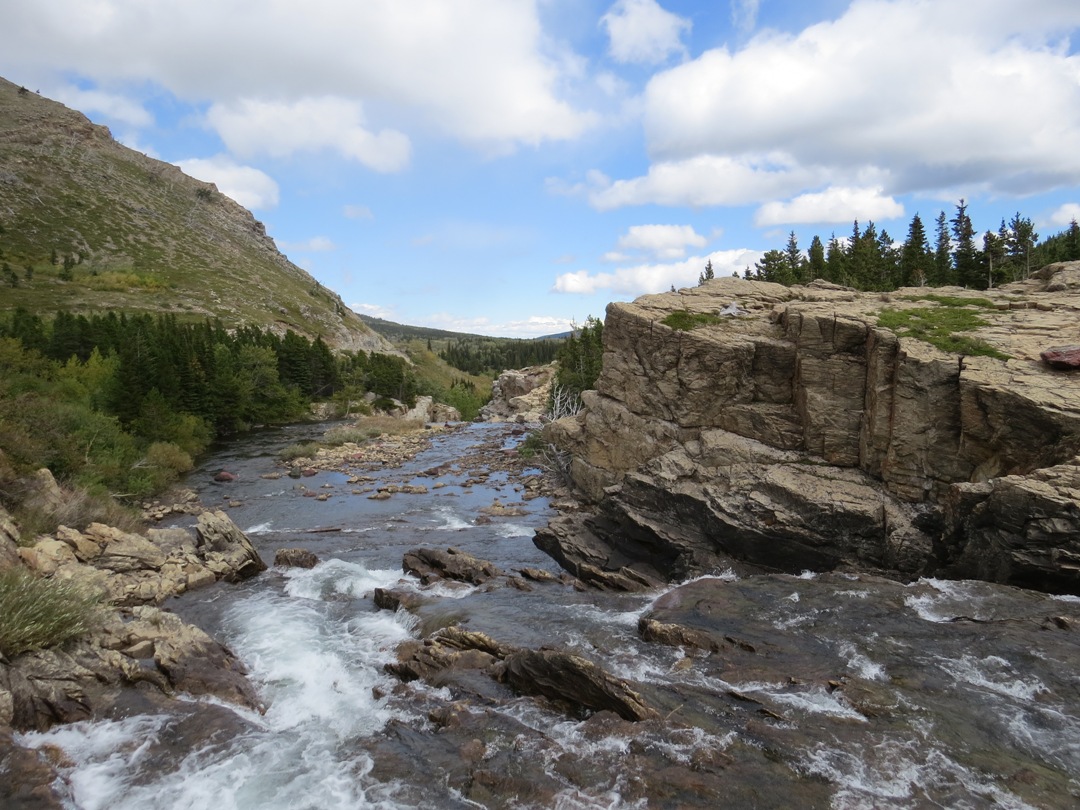 The Swiftcurrent River on the road to Many Glaciers, the northmost road in Glacier National Park.





A golden-mantled ground squirrel (aka chipmunk) eating a berry.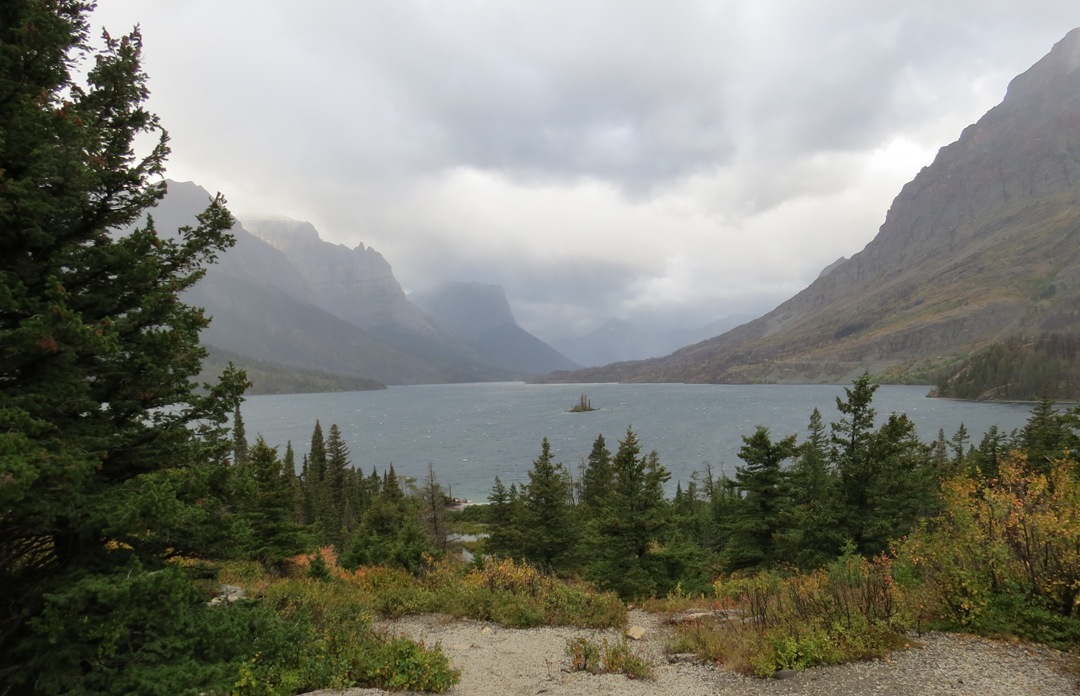 Tiny Wild Goose Island huddles in a cove of Lake McDonald.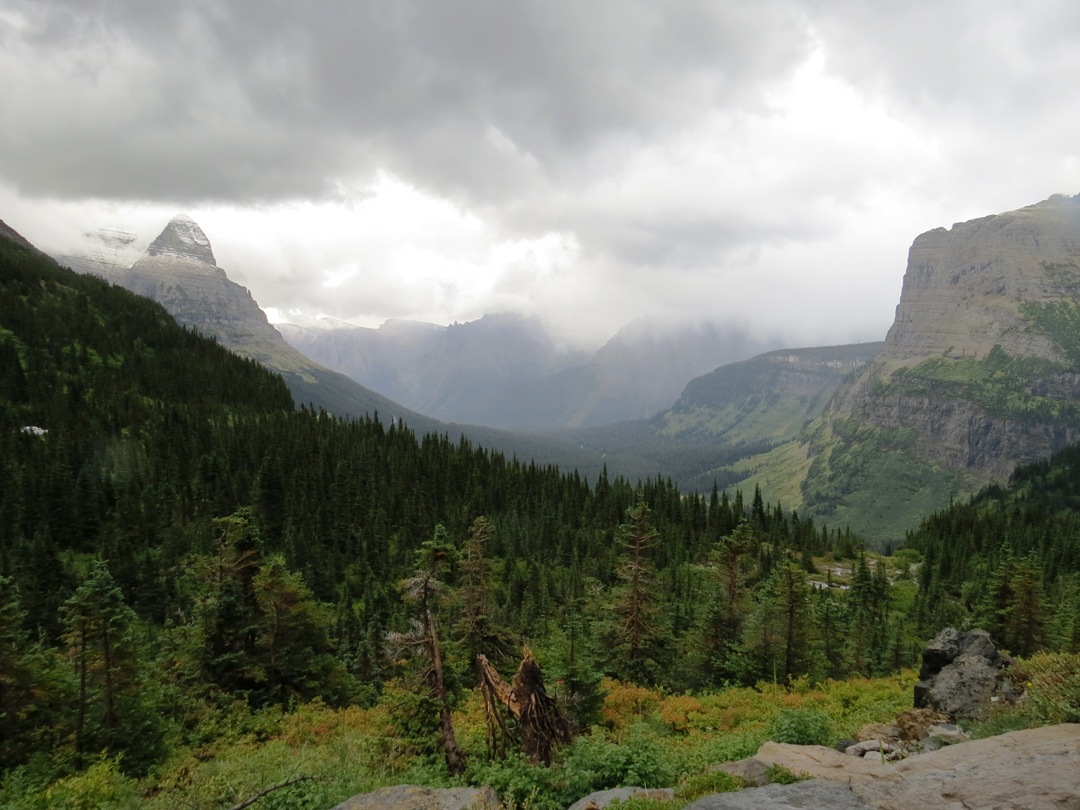 A rounded, glacier-carved valley on the Going to the Sun road. The road is 50 miles and takes at least two hours to drive (if you don't stop). Logan Pass is the highest point, at 6646 feet. Check for seasonal and construction closures before you go.





I was happy we drove the Going to the Sun road from east to west, so we were not on the cliff side! Despite the clouds it was a spectacular drive.





One of Glacier's last remaining glaciers. In 1850, there were about 150; today there are about 25. If the current rate of warming continues, the glaciers in Glacier National Park will be gone by 2030.





McDonald Creek flowing over tilted rock plates along the St. John's Loop Trail, on the west side of Glacier National Park.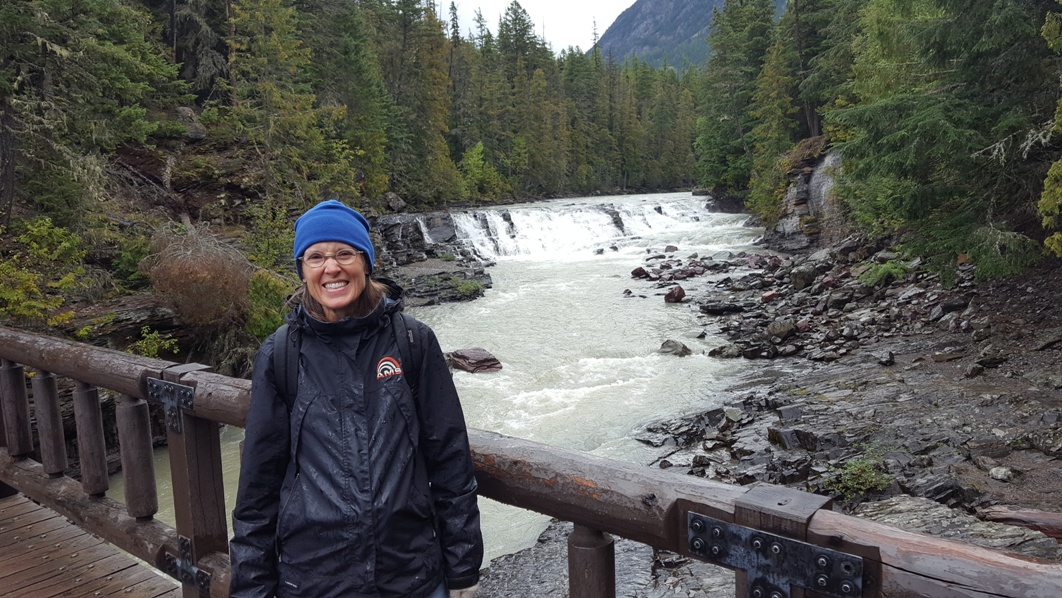 McDonald Creek waterfall along the St. John's Loop Trail.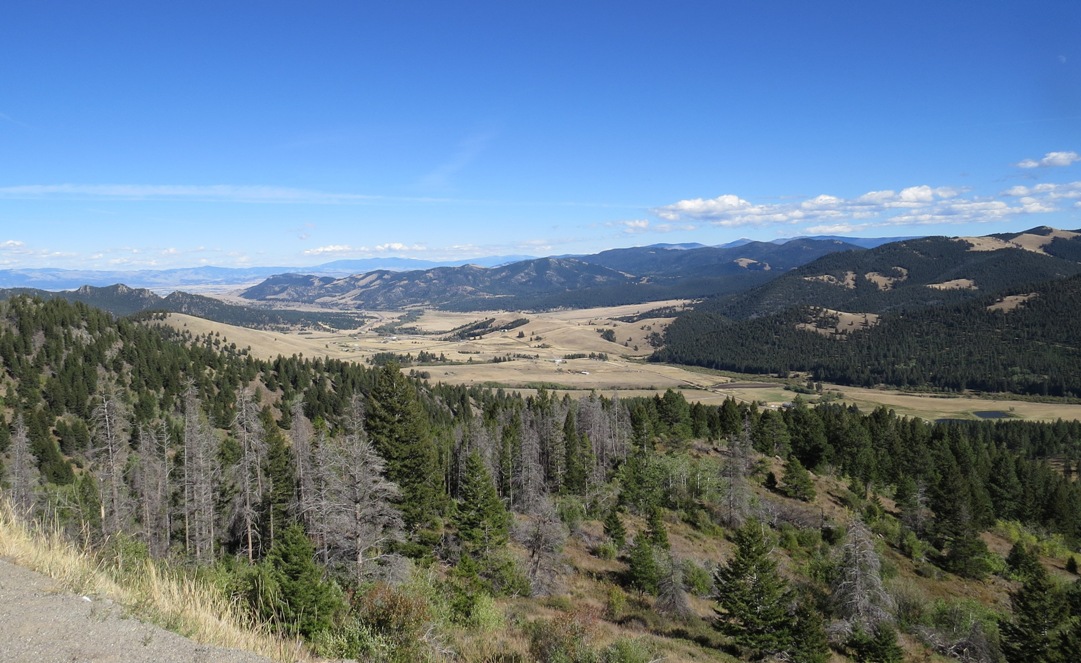 Heading south from Glacier through the beautiful state of Montana.





The black-billed, or "American," magpie, is common throughout the Western states. Grant, whose online handle is "metalmagpie," is partial to these dapper and intelligent birds, members of the crow family.





At the Canyon Ferry Reservoir Bureau of Reclamation campground near Helena, Montana, it was warm enough to sit outside! (Bureau of Reclamation - who knew? They "manage water in the West.")





A train made of round and square hay bales for the fall festival in Townsend, Montana, north of Bozeman.





Walking along the Yellowstone River in Sacajawea Park in Livingston, Montana, on a warm and windy day.





Visiting friends Mark and Michelle at their home in Livingston. They love life in this friendly, affordable town of 7000, just 30 miles from urban Bozeman.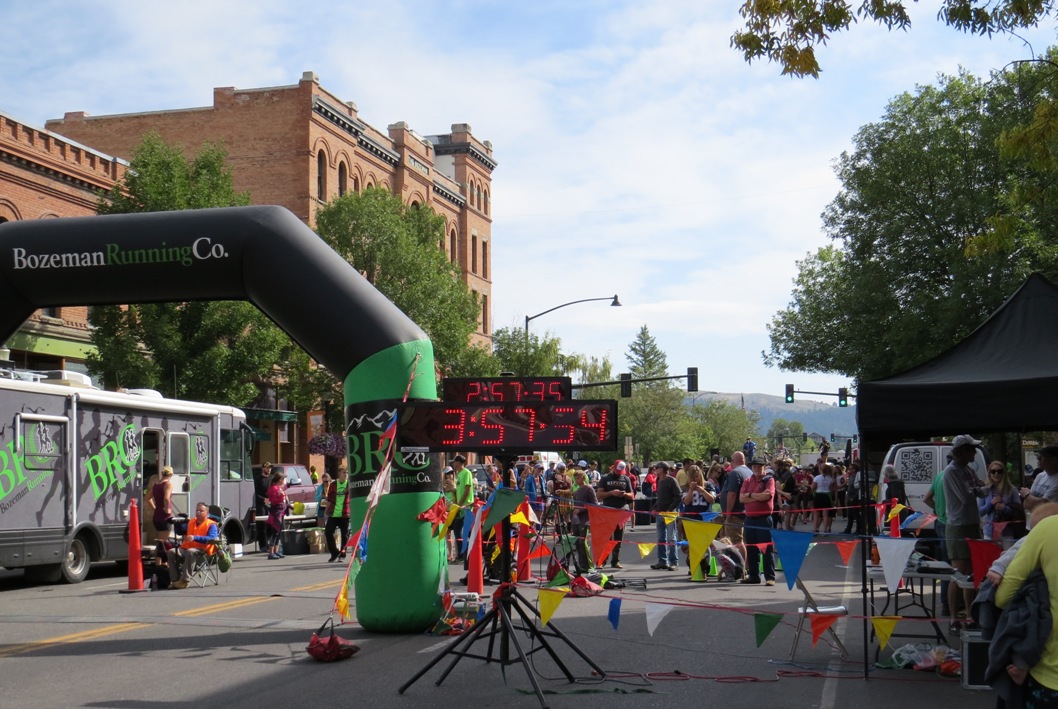 We happened into Bozeman during their annual marathon, and enjoyed the live music and excitement at the finish line.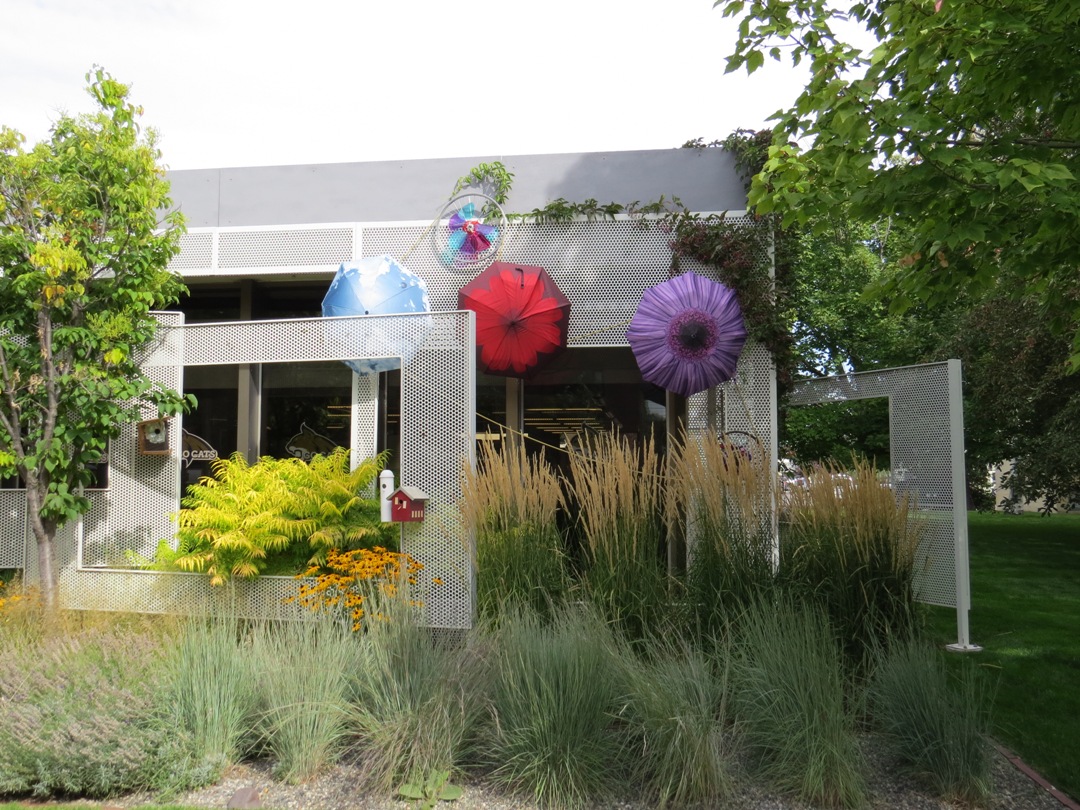 Bozeman is a college town of 40,000, with an artsy vibe. This is an architecture firm.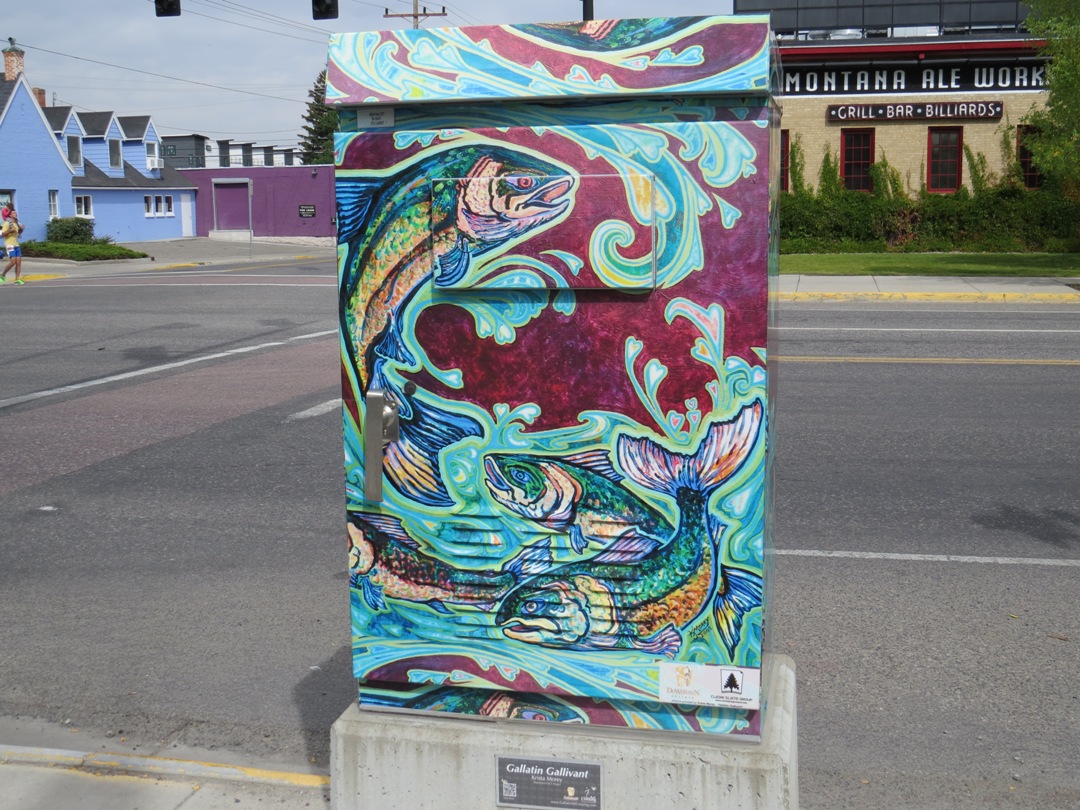 Each utility box is custom painted by a local artist.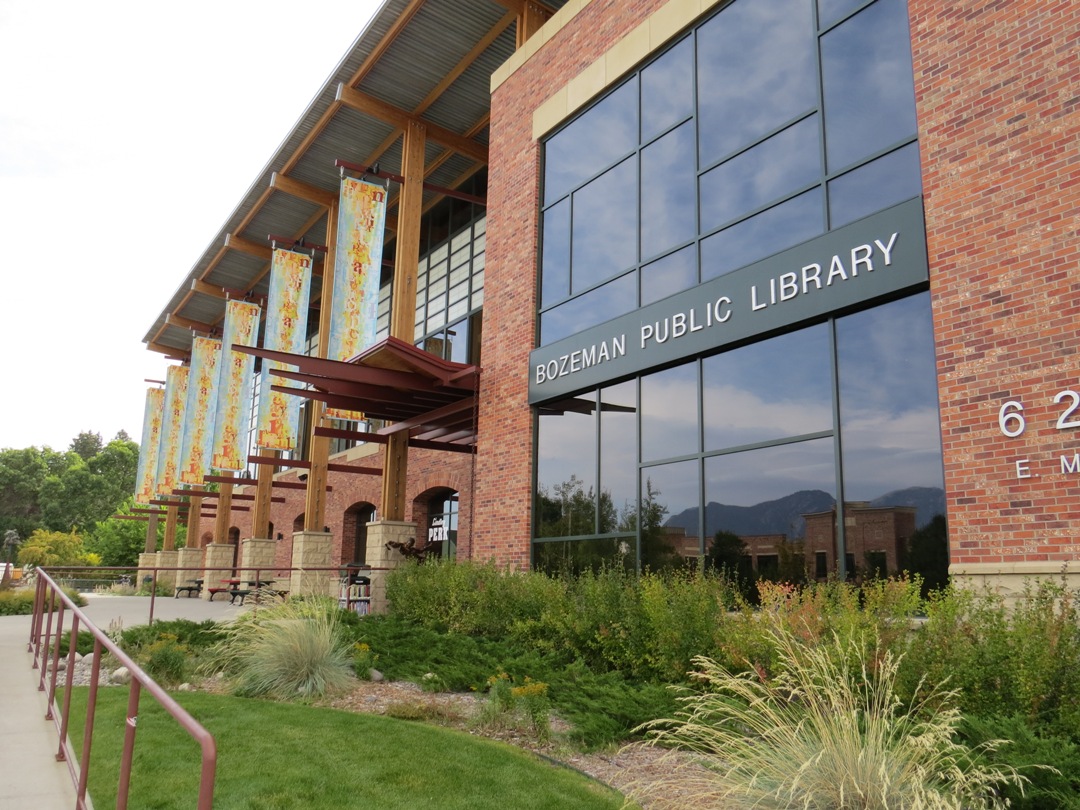 Bozeman has a world-class library. We often visit libraries in our travels. Besides being a great place for free wifi and local information, they give you a feel for a town and the people who live there.





The view of downtown Bozeman from the trail system on the hills above the library.



---
Wyoming
The north and west entrances to Yellowstone were closed due to snow, and the south entrance was closed due to a fire, so we decided to skip Yellowstone this time! However, Yellowstone is not the only place in Wyoming with hot springs...


Hot water flows into the Big Horn River at Hot Springs State Park in Thermopolis.





The free state bath house offers hot showers and lockers, plus towels for a small fee.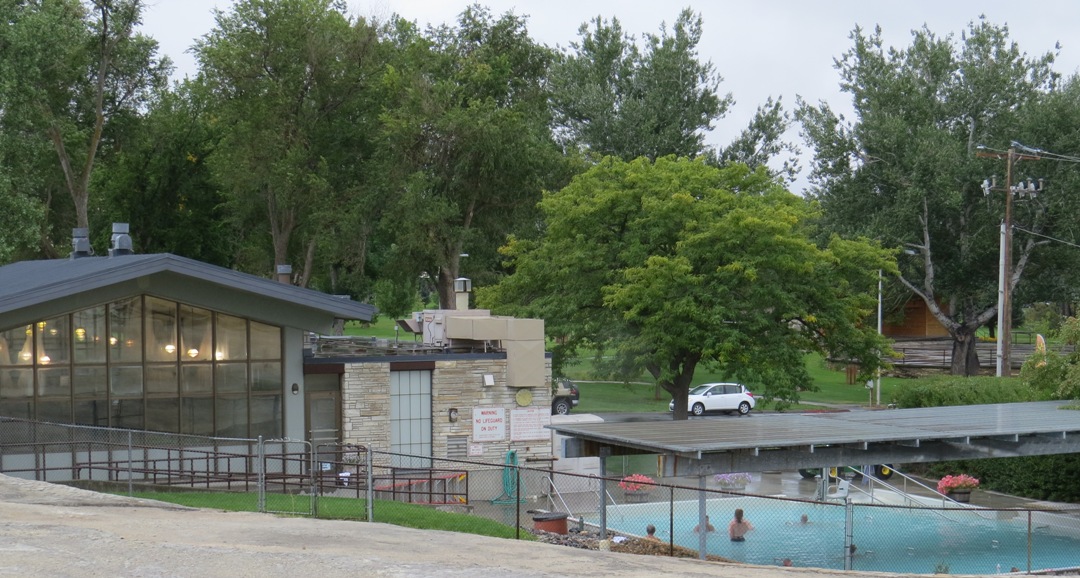 The 127-degree spring water is cooled to a perfect 104 degrees for the soaking pools. Although there is an indoor pool, I highly recommend the outdoor soak. It was utter bliss on a cold, wet, windy day. I was told this is a popular hangout for locals to socialize and talk business.





The Queen Anne-style George Ferris Mansion in Rawlins, Wyoming, is for sale. Just sayin'.



---
Colorado


I loved the detail on this upbeat carving in a park in Craig, in the northwest corner of Colorado.





Highway 13 between Craig and Rifle is gorgeous, with red cliffs along a sparkling river. It was thunderstorm season, with patches of blue sky emerging between windy squalls. It was in the low 30s most mornings.





The Crystal River flows through the charming and touristy town of Redstone (just south of Glenwood Springs), named for the surrounding red rock cliffs.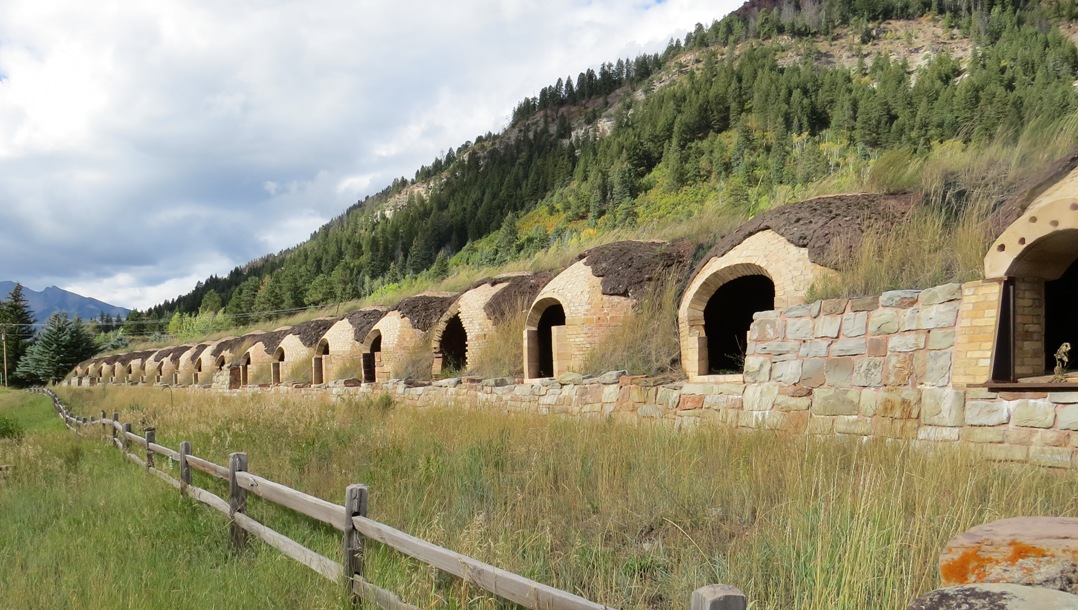 These coke ovens in Redstone were built at the end of the 19th century to distill, or purify, the abundant coal mined in this area. Long after the ovens were abandoned, they were lived in by hippies. They are now being restored as a history exhibit.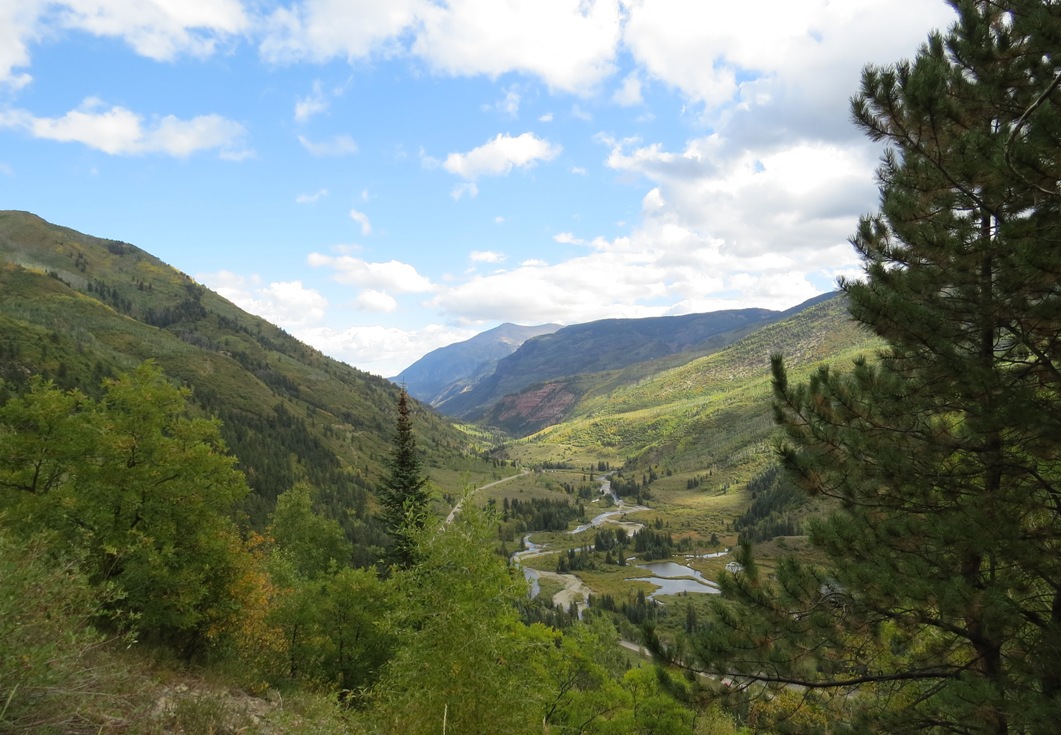 Highway 133 south of Redstone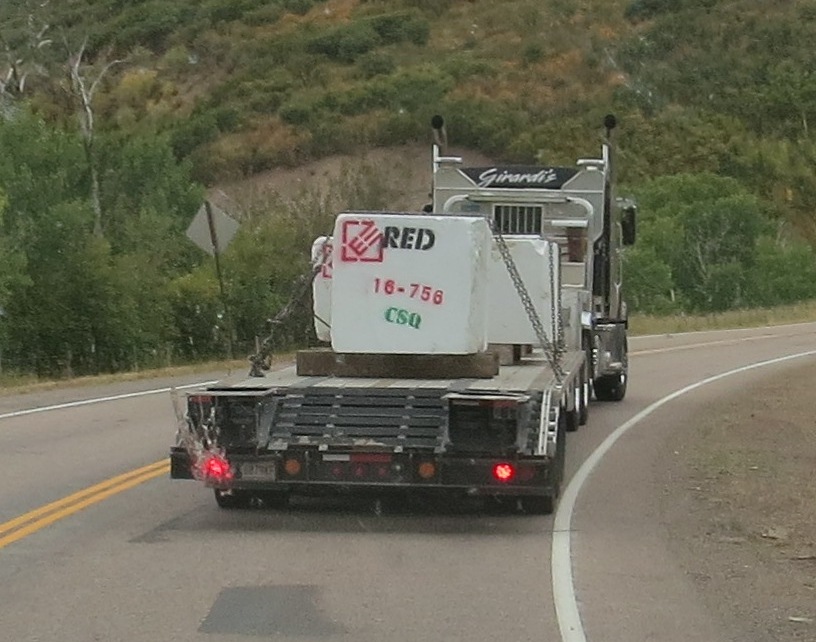 Colorado's state stone - white marble - is quarried in the town of ... Marble.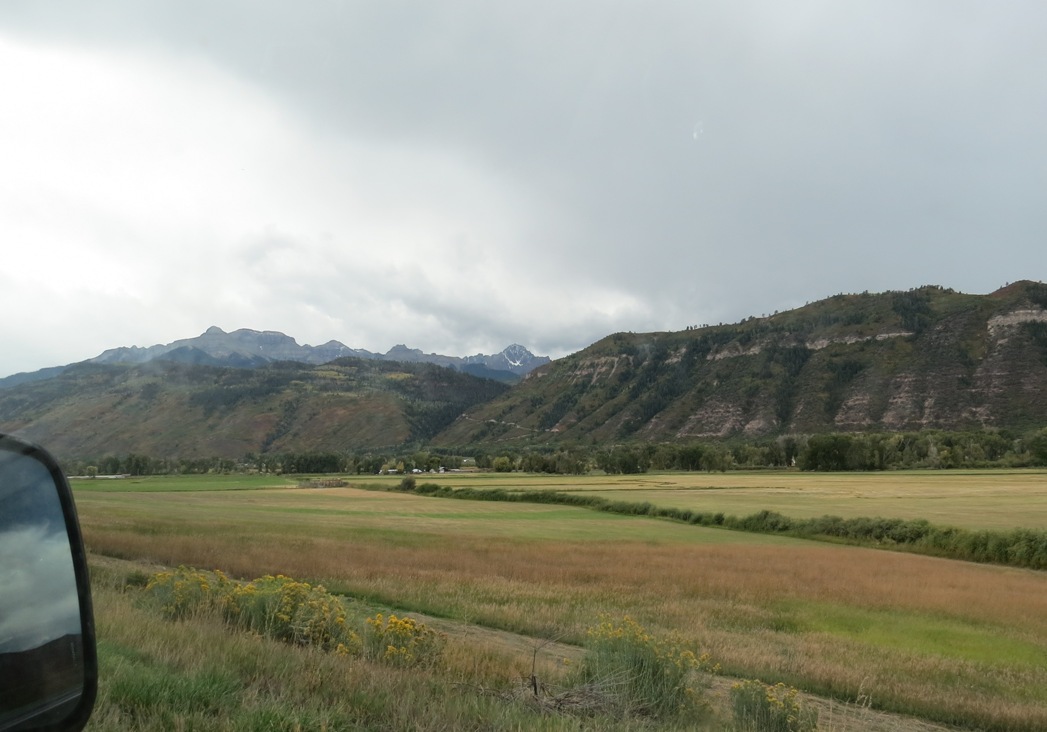 Scenery on the high plains near Delta, Colorado.





Ouray, Colorado, is a charming mountain town north of Durango.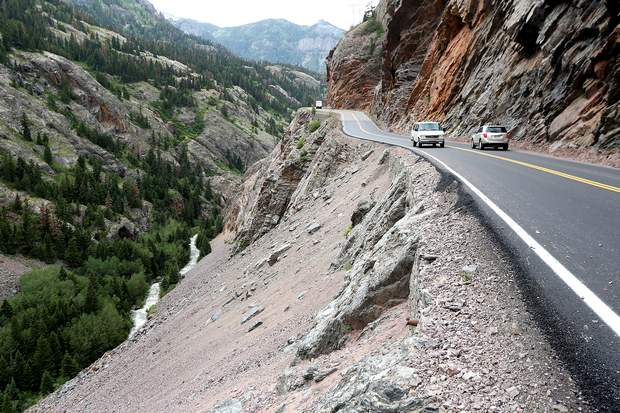 The scenery on the 67-mile road between Ouray and Durango is stunning - more spectacular than the Going to the Sun road, in my opinion - but, as one website says, "with steep grades, hairpin curves and no guard rails, this scenic highway is not for the faint of heart." Another website echoed my sentiments: "This was absolutely the SCARIEST road we have ever been on!" [Photo credit The Cortez Journal]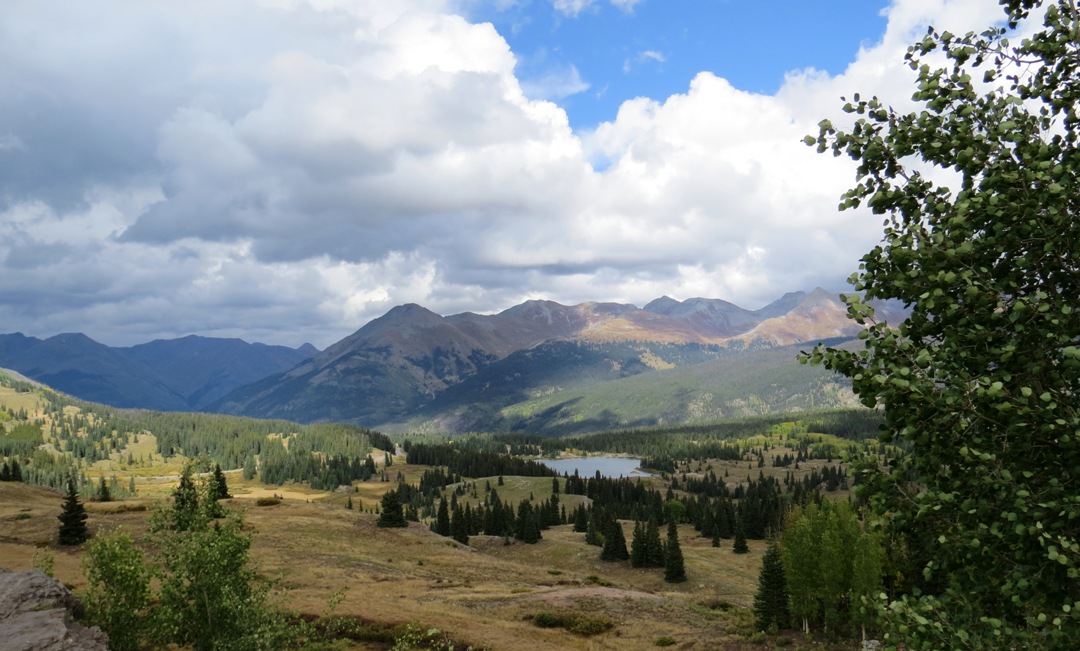 The view from 11,000-foot Molas Pass, one of three high passes on the road between Ouray and Durango.





The southern stretch of the Ouray-Colorado road is not scary, and goes through lovely ranchland.





The roadsides from Montana to New Mexico were carpeted in profusions of native purple asters.



---
New Mexico


The Black Canyon Forest Service Campground is only eight miles from downtown Santa Fe.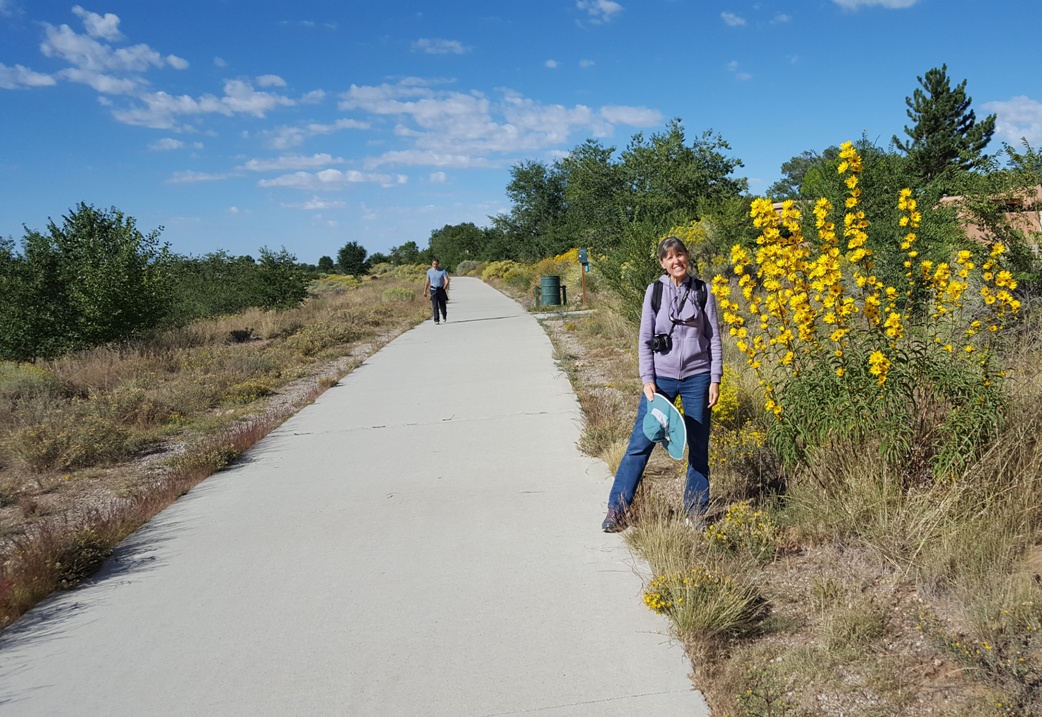 We liked walking on the Santa Fe River trail.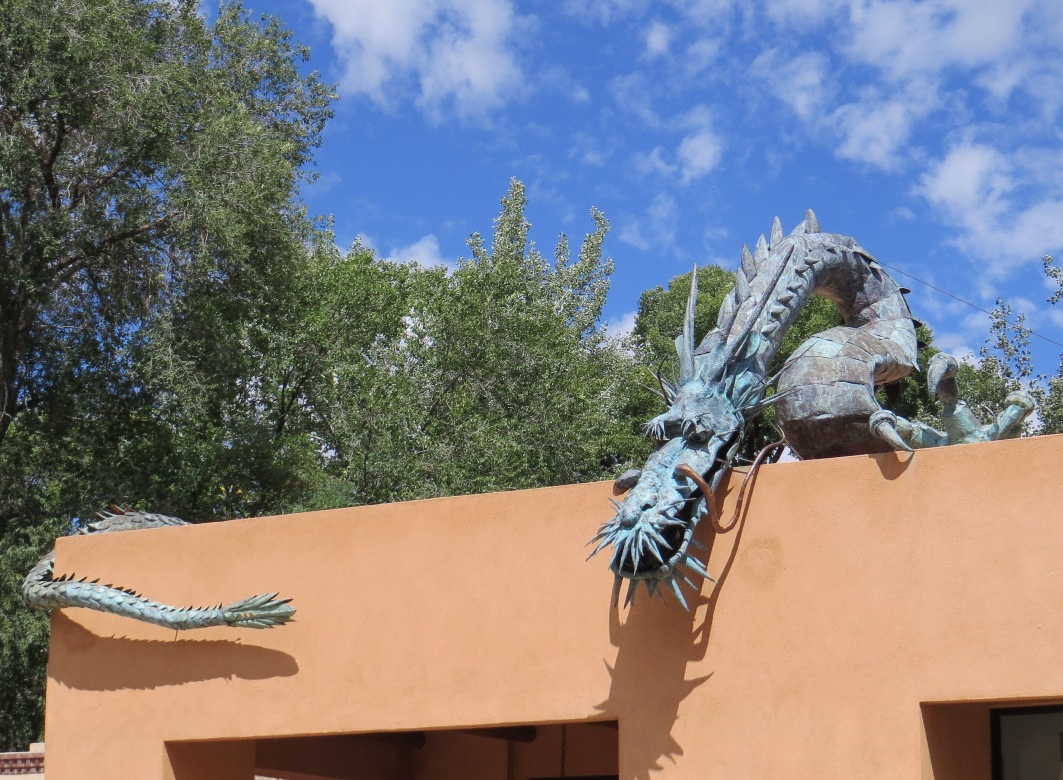 A fifty-five foot copper dragon scrutinizes passersby from the roof of a gallery on Palace Avenue in Santa Fe.





A statue of St. Kateri Tekakwitha, the first American Indian saint, in front of the cathedral in Santa Fe.





We came to Santa Fe to visit my close high school friend, Jane, who I hadn't seen in almost 40 years. We had lost touch and only reconnected about a year ago, so we had a lot of catching up to do.





Here is Jane with Carol, her partner (now spouse) of over 30 years, at their lovely home in Santa Fe.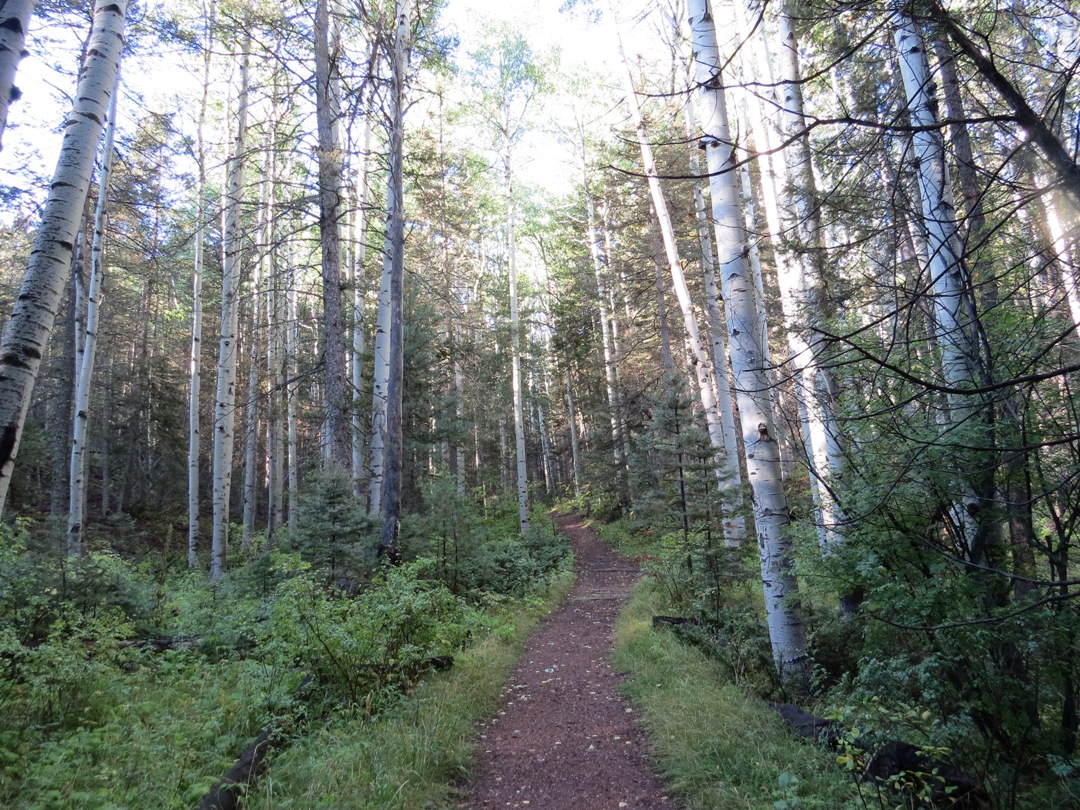 An aspen forest near Santa Fe.



The High Road to Taos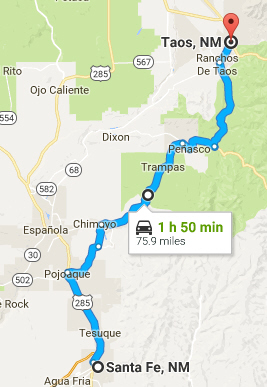 The scenic "High Road" to Taos winds through high desert and mountains between Santa Fe and Taos, through small towns, Indian pueblos, and artist communities.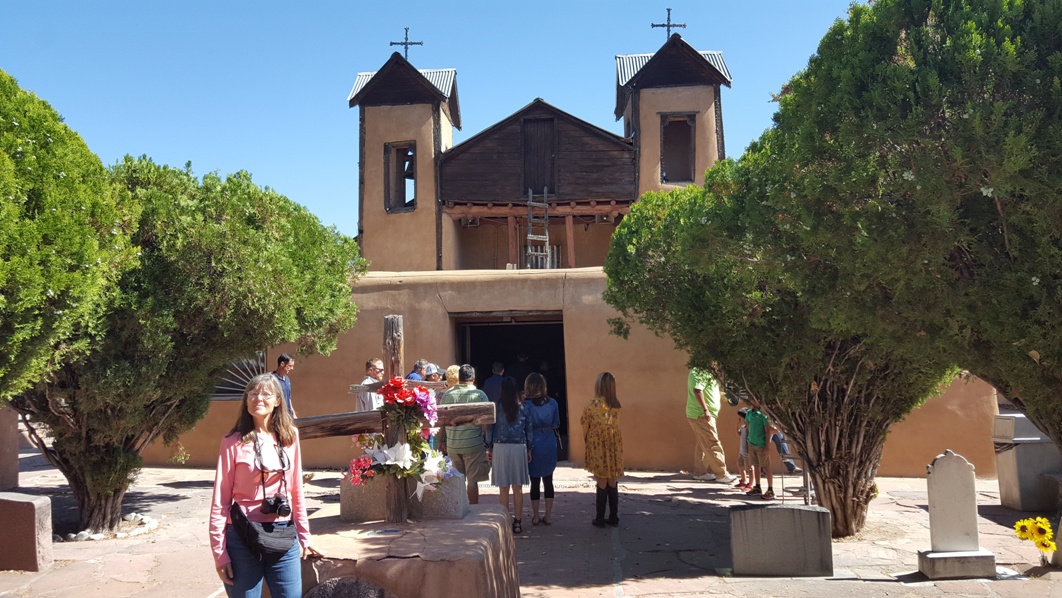 El Santuario de Chimayˇ, built in 1816, is a shrine and pilgrimage site in the small town of Chimayo.





We stumbled onto the fall festival in tiny Las Trampas, where this local woman was singing her heart out in Spanish to a small crowd of friends and relatives selling tamales and t-shirts.





We sampled chicos, sweet corn that has been roasted in the husk and then hung up to dry. The kernels are removed and then cooked into soups and stews. They are smoky, chewy, and quite tasty.





San JosÚ de Gracia Church in Las Trampas, built in 1760, is one of the most original and best-preserved examples of Spanish Colonial architecture in New Mexico.





San JosÚ de Gracia Church, Las Trampas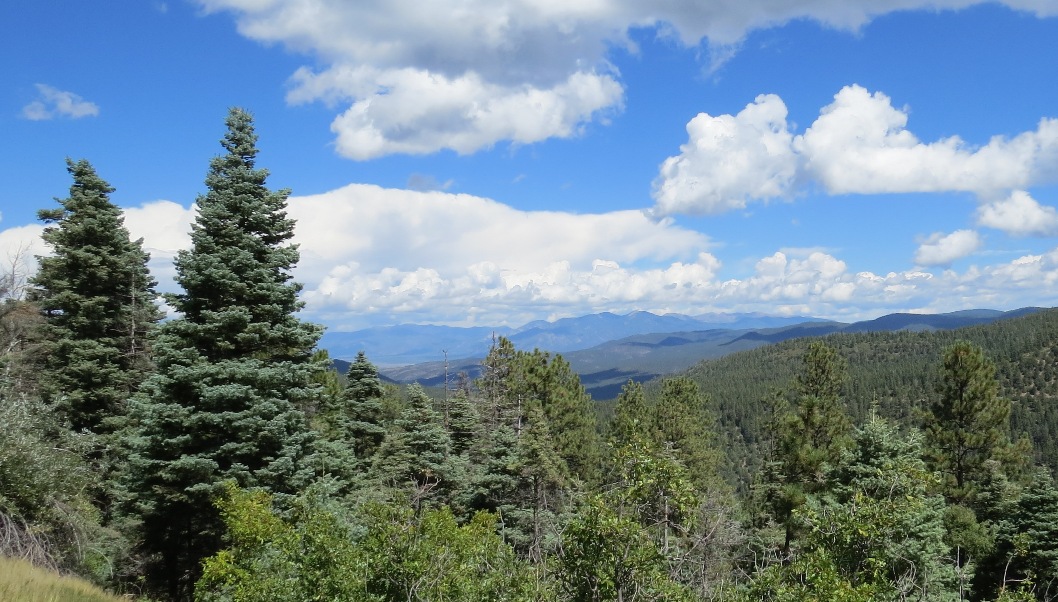 Scenery on the High Road to Taos.





The San Francisco de Asis church near Taos. Its rounded back - painted by Georgia O'Keeffe and photographed by Ansel Adams - is more famous than its front. The church was built in the late 1700s.





A suicide prevention call box on the the bridge over the Rio Grande Gorge near Taos. The gorge is 800 feet deep here. The box has saved two lives so far in 2016.





We were delighted to learn that there was a dance being held at the Ohkay Owinge pueblo on the road back to Santa Fe. Photographs are not allowed so I grabbed this one from the Santa Fe tourism website. This is not the exact dance we saw, but it gives you a sense of the setting. There were perhaps two hundred adult and young adult dancers in elaborate and colorful costumes, dancing in flowing circles and singing in Tewa, their native language. Each of the 19 pueblos in the Santa Fe area holds multiple dances per year, with different costumes, languages, and stories being reenacted. You can often find schedules online.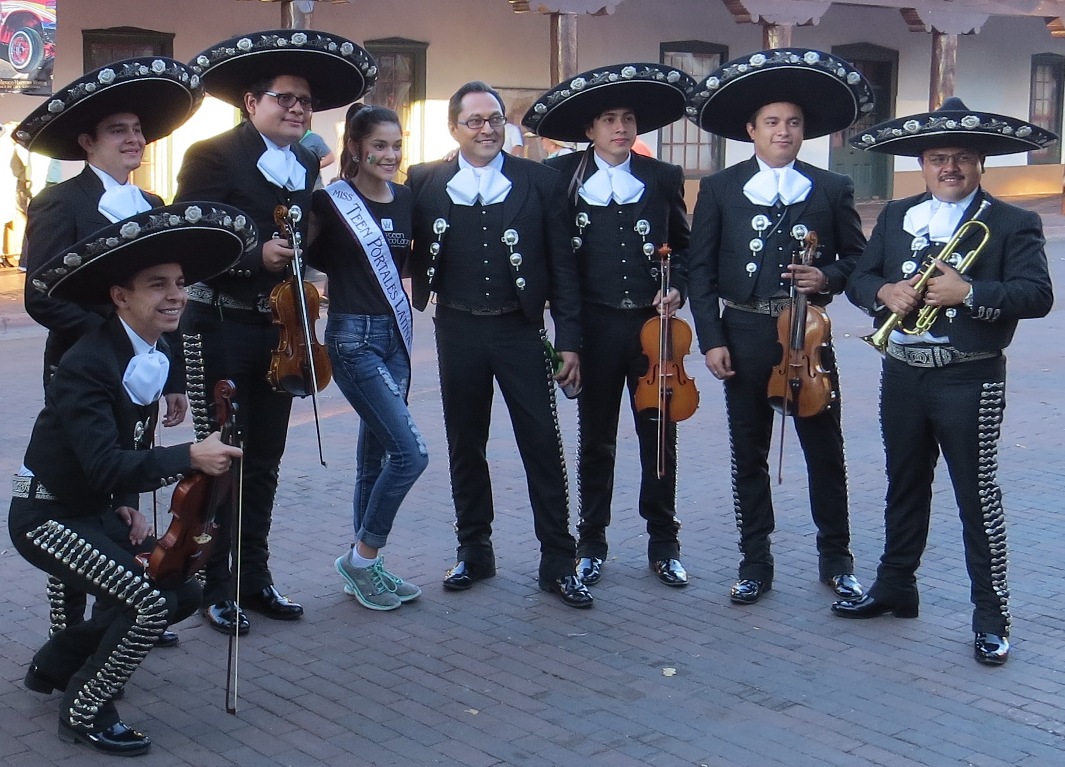 Back in Santa Fe, they were celebrating Mexican Independence Day in the plaza. Here a mariachi band poses with a Miss New Mexico teen contestant.





This talented singing and comedy duo had the Spanish-speaking crowd in stitches. The vendors, music, faces, and language made it feel like we were in Mexico.



Tent Rocks National Monument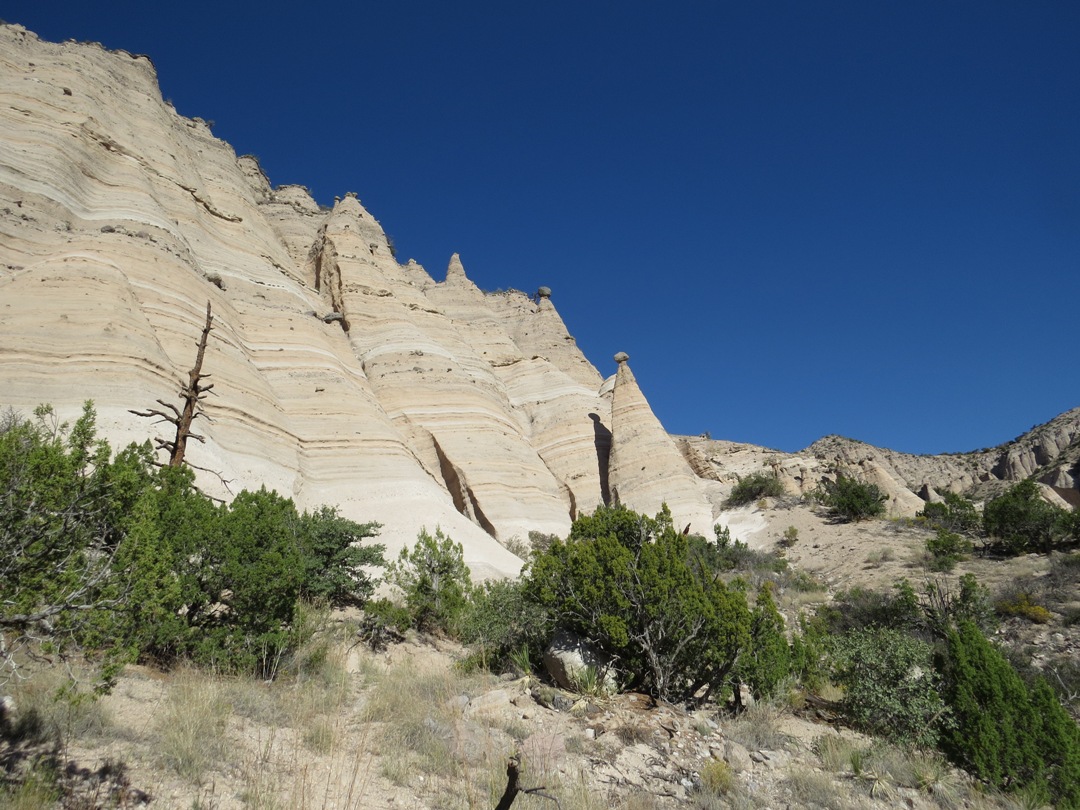 Tent Rocks National Monument is less than an hour from Santa Fe.





The cone-shaped rock formations were carved into a 1000-foot thick layer of volcanic ash and pumice laid down 6 to 7 million years ago. The formations reminded us of the Cappadocia region of Turkey.





One of the hiking trails goes up this slot canyon. You can see the layers of volcanic material.





Two desert cottontails hiding in the grass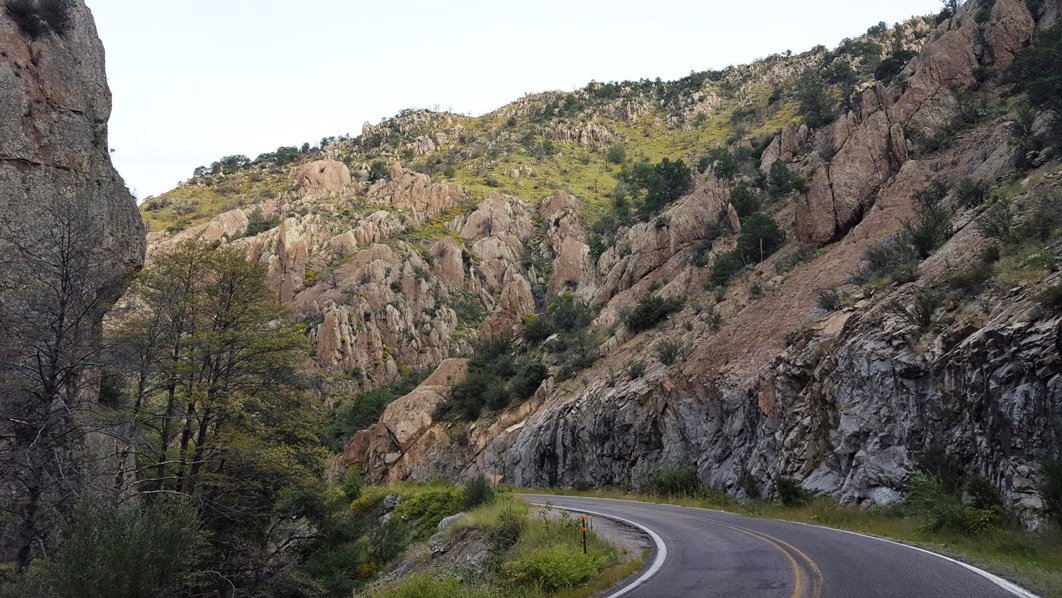 Scenery along Highway 152 in southwest New Mexico.





New Mexico is famous for chilis, and roadside stands abound. Since we had no room for a string of peppers in our van, we bought a delicious watermelon instead.



---
Arizona
It was blazing hot in Arizona, so we didn't linger.


Prickly pear fruits are called tunas, and the flesh is delicious.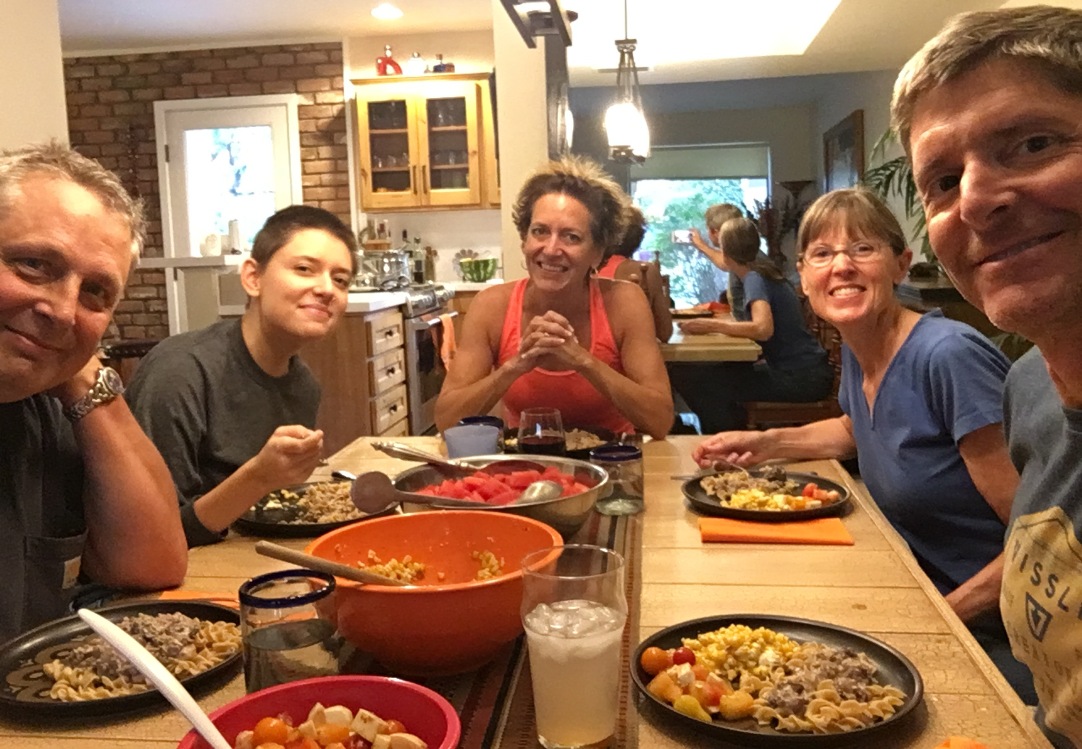 Dinner in Scottsdale with my brother Mark, his wife Denise, and their daughter, Emma.



---
Joshua Tree National Park, California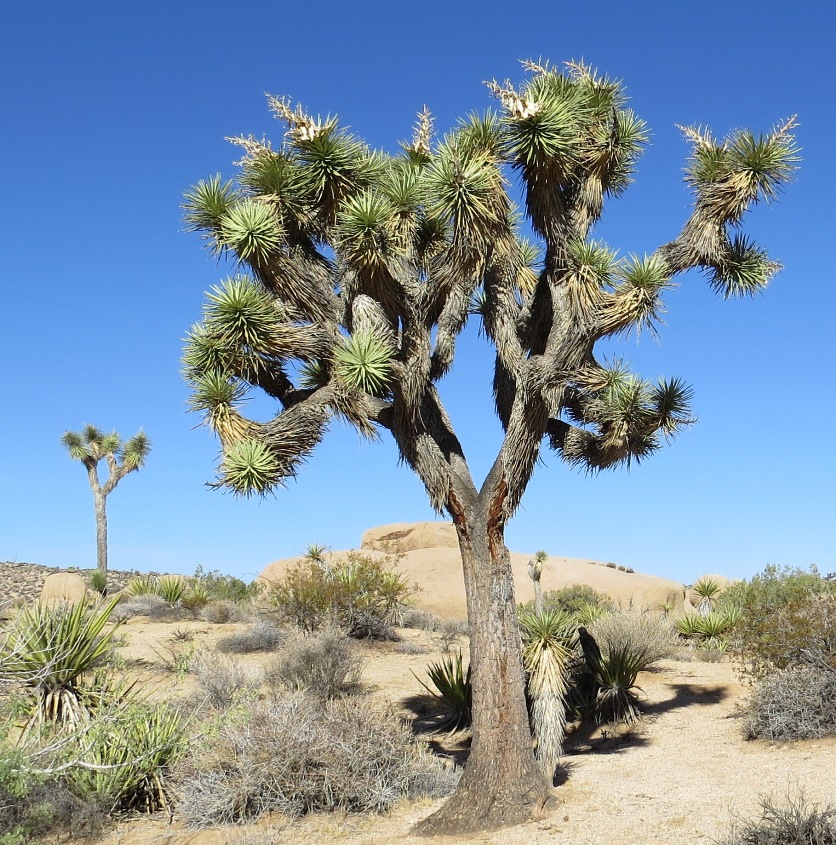 The park is named for its Joshua trees, which are found in the Mojave Desert of southwest California, Nevada, Utah, and Arizona, and only at elevations from 2,000 to 6,000 feet. They are actually tree-sized yuccas. They can get up to 40 feet tall, but are very slow growing.





What I love about Joshua Tree are the delightful boulder gardens. That fuzzy-looking cactus is called a Teddybear Cholla. Don't hug it!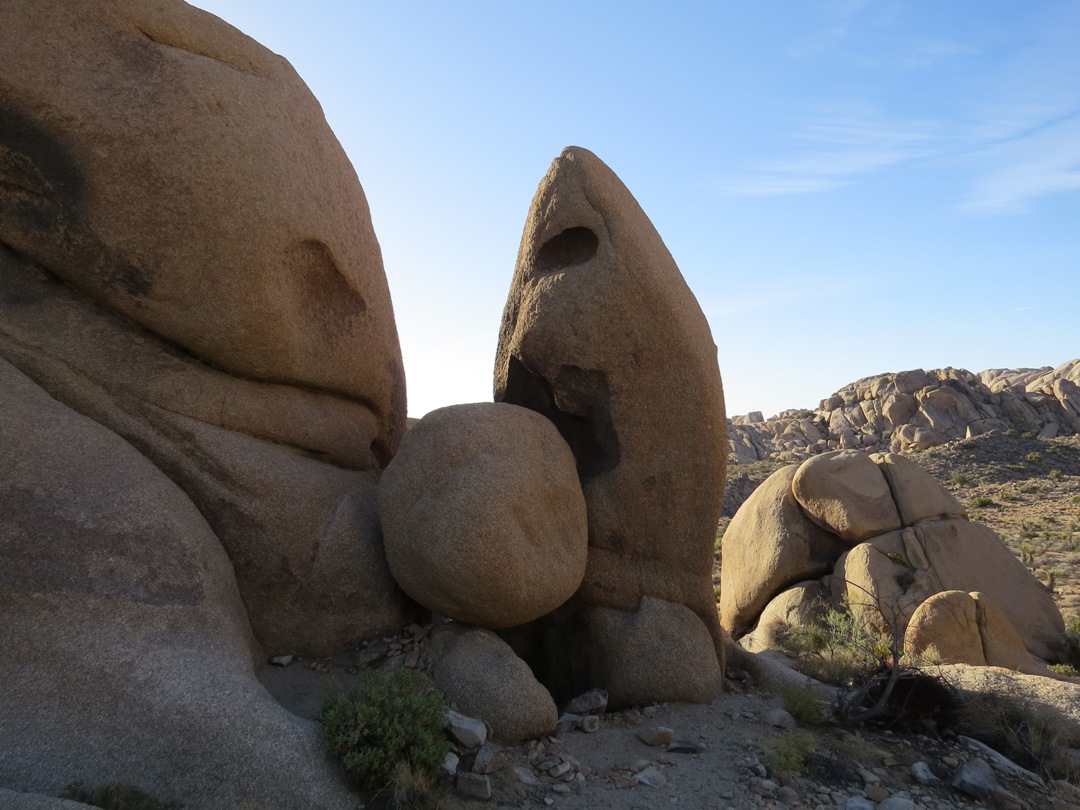 The park's rock formations are more than 100 million years old. First magma cooled beneath the surface. Then groundwater filtered through the rectangular joints and rounded the corners and edges. Finally flash floods washed away the soil cover to expose the piles of boulders. These outcrops are called inselbergs.





This is Face Rock.





This is Split Rock



---
California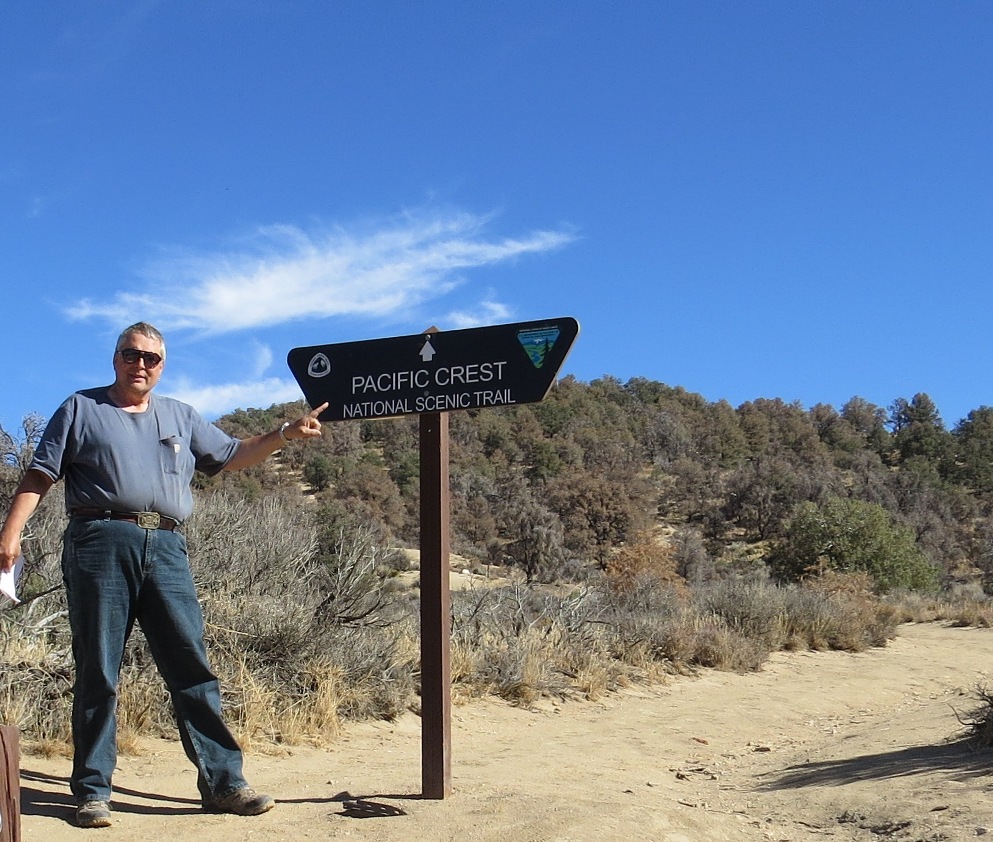 The Pacific Crest Trail crosses Highway 178 at Walker Pass. We have always thought it would be fun to be "trail angels" (people who hang out at trailheads and feed hikers, who are often really hungry, and tired of trail food). But we read the trail register, and very few hikers come here during this hot and dry time of year.



Sequoia National Park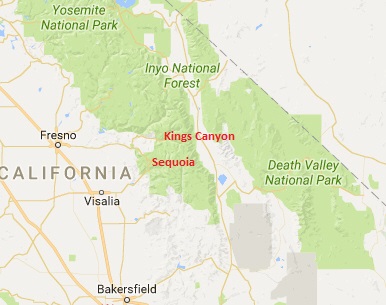 The sign at the Ash Mountain entrance to the park was carved out of blocks of sequoia wood by Civilian Conservation Corps (CCC) craftsmen.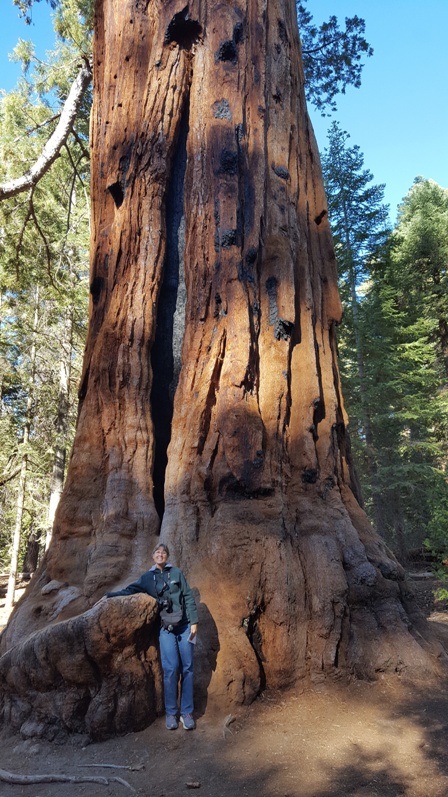 Giant Sequoias aren't as tall as Coast Redwoods, but they are larger in diameter. Fire is a natural part of forest life, and many of the trees wear slashes of black (visible above my head).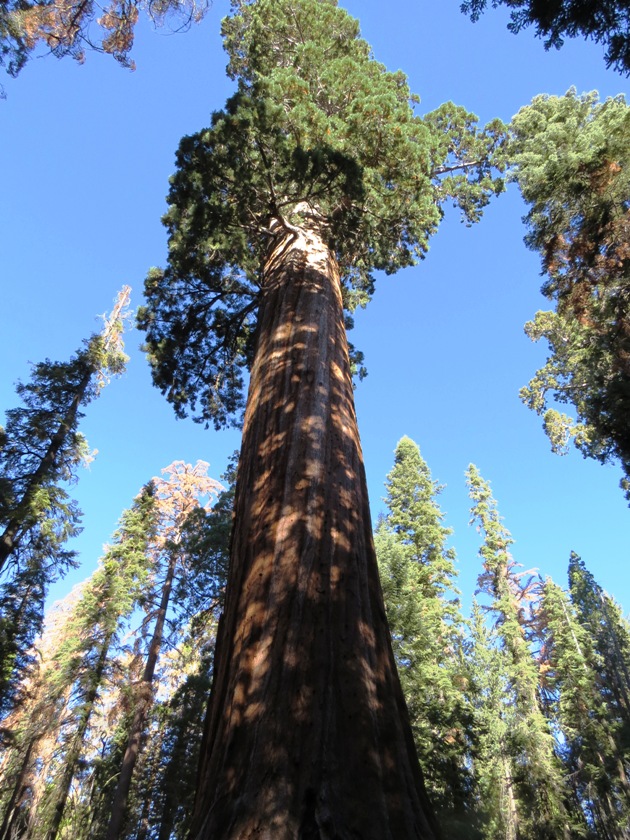 The Giant Sequoia is among the tallest, widest, and longest-lived of all organisms on Earth. They can live up to 2700 years!



Kings Canyon National Park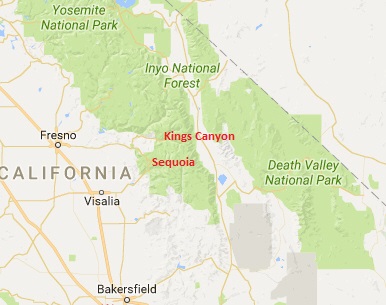 The General Grant tree is the second largest tree (in total mass) in the world. (The General Sherman tree in Sequoia National Park is the largest.) It is 267 feet tall and 107 feet in circumference, and is 1650 years old.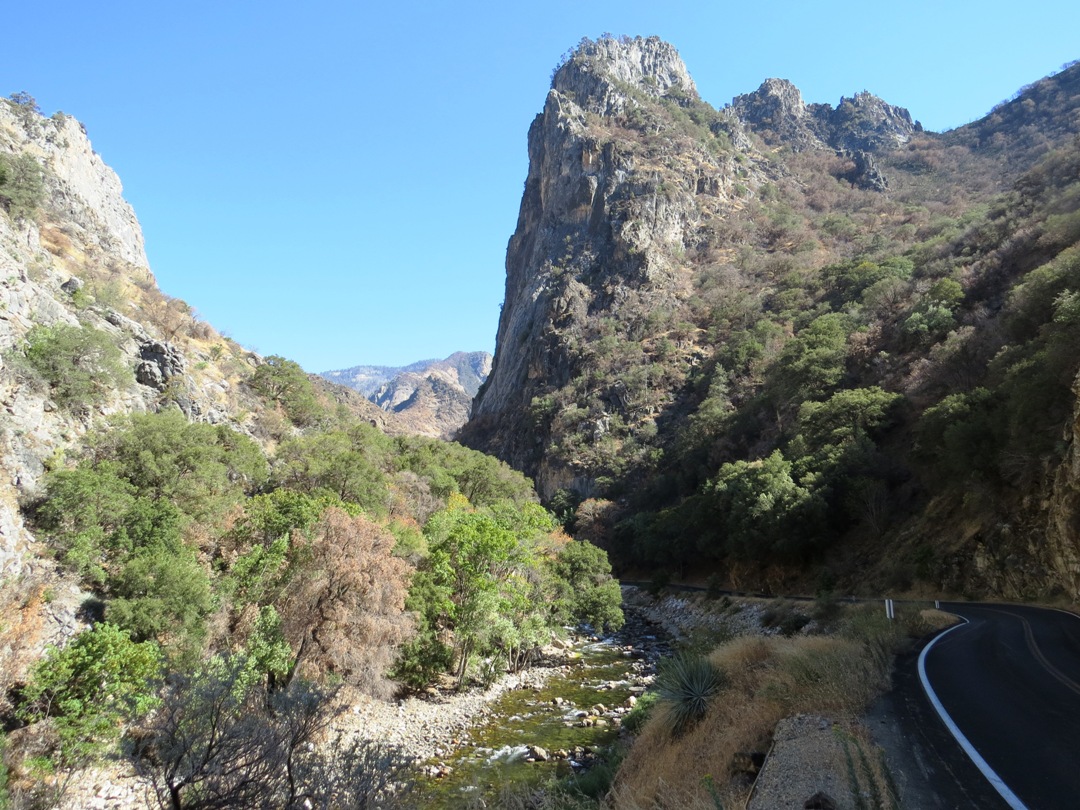 Kings Canyon National Park is named for the canyon of the Kings River.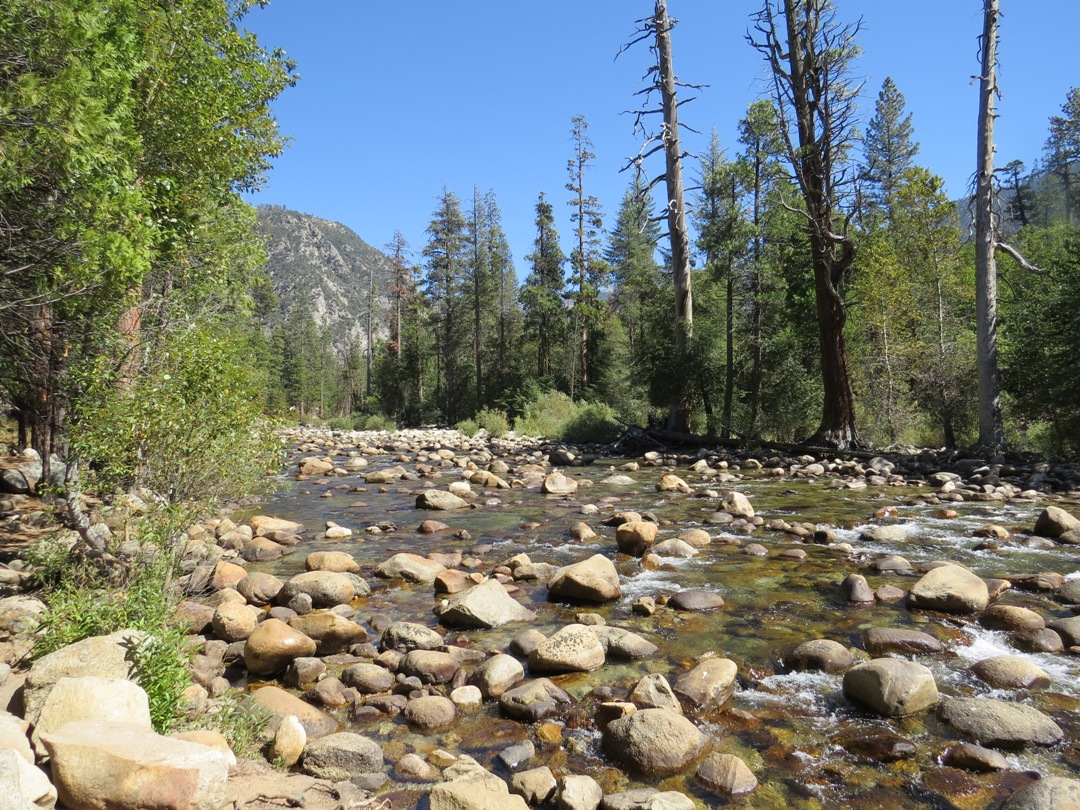 The Kings River





A mix of rock types visible in Kings Canyon.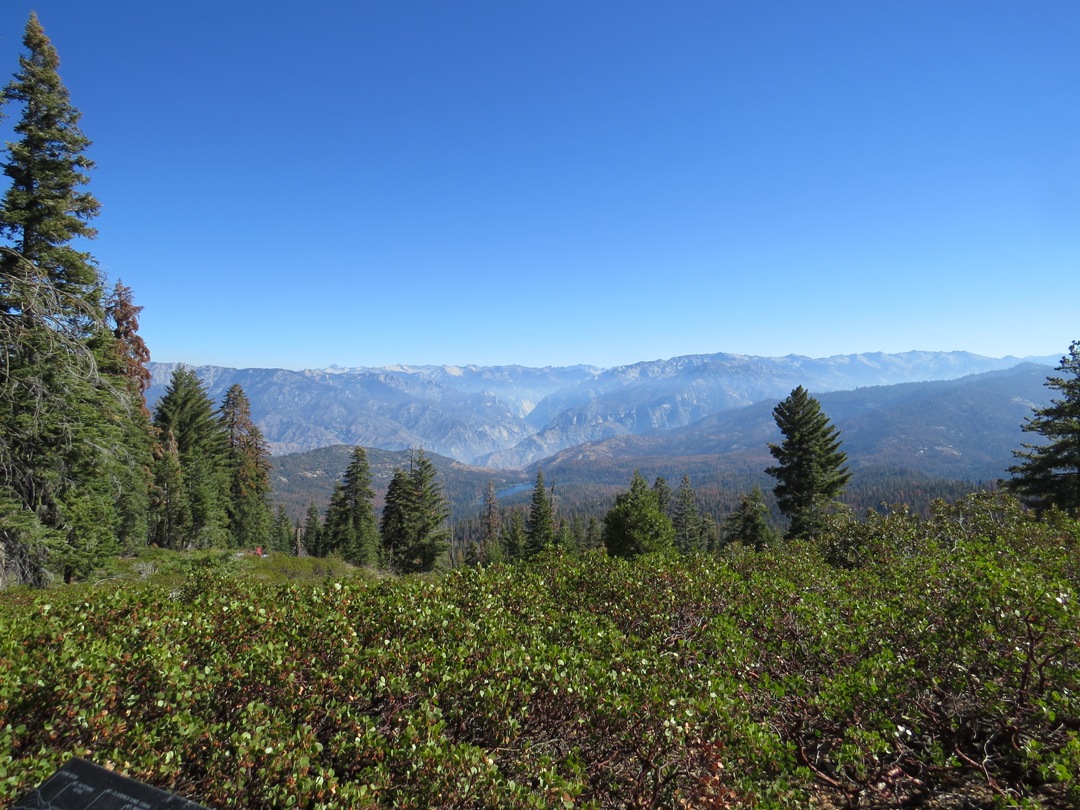 A view of Kings Canyon from the Panoramic Point trail.



Point Reyes National Seashore


Point Reyes National Seashore is a 71,028-acre nature preserve. With its abundance of beaches, headlands, trails, critters, and history, you could easily spend days exploring.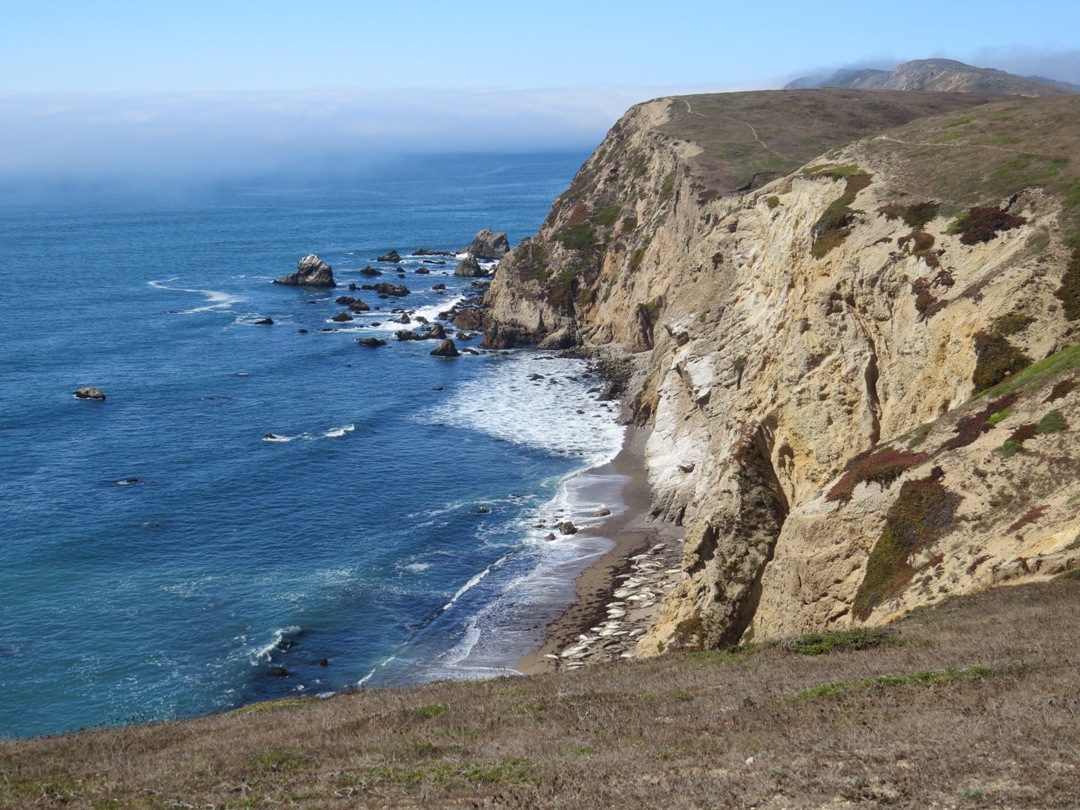 The one-mile trail to Chimney Rock was one of our favorite walks ever. Note the elephant seals snoozing on the beach far below.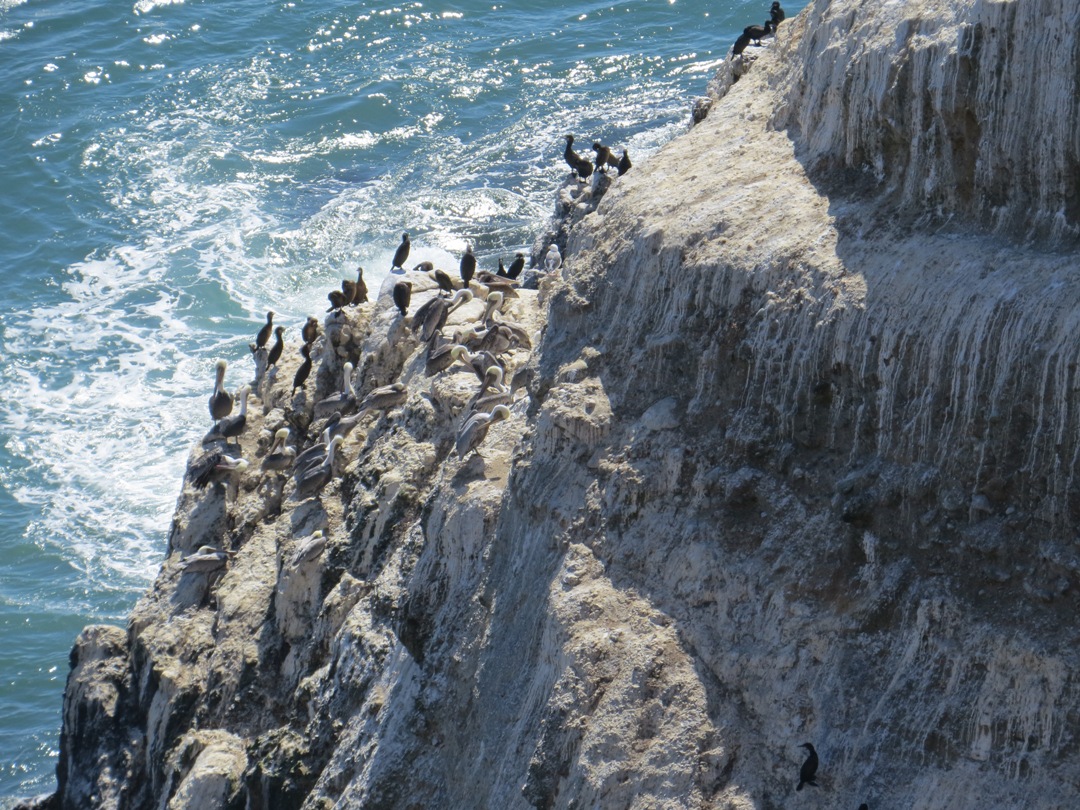 Pelicans and cormorants cluster on Chimney Rock.





Limantour Beach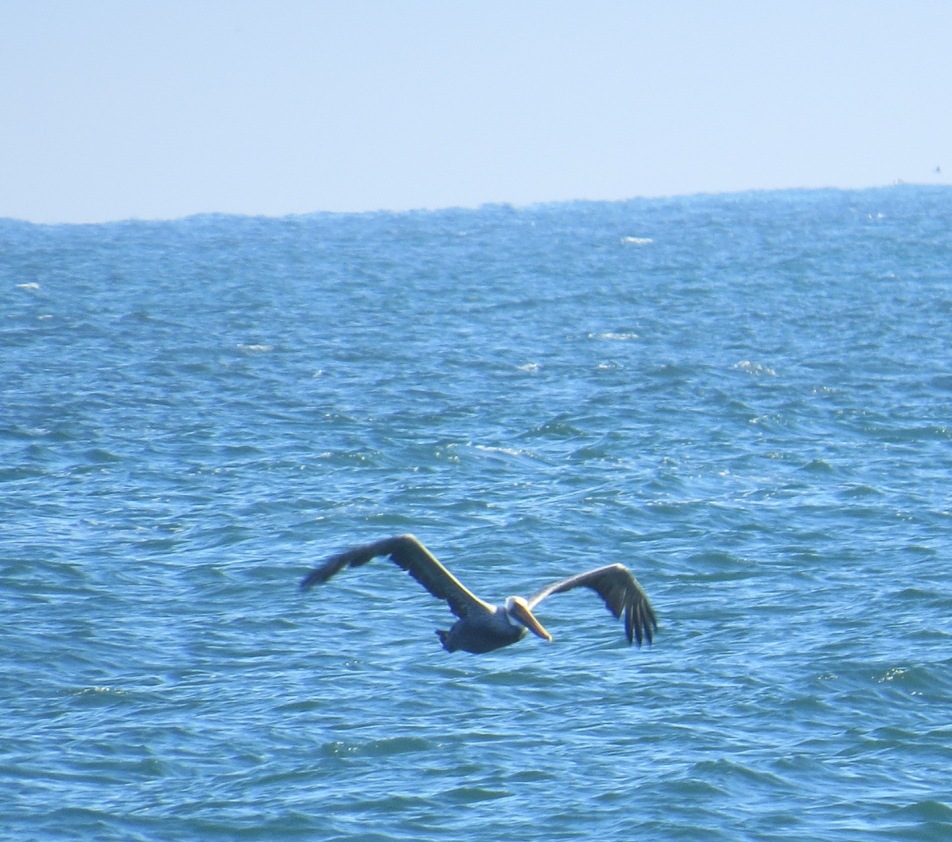 Pelican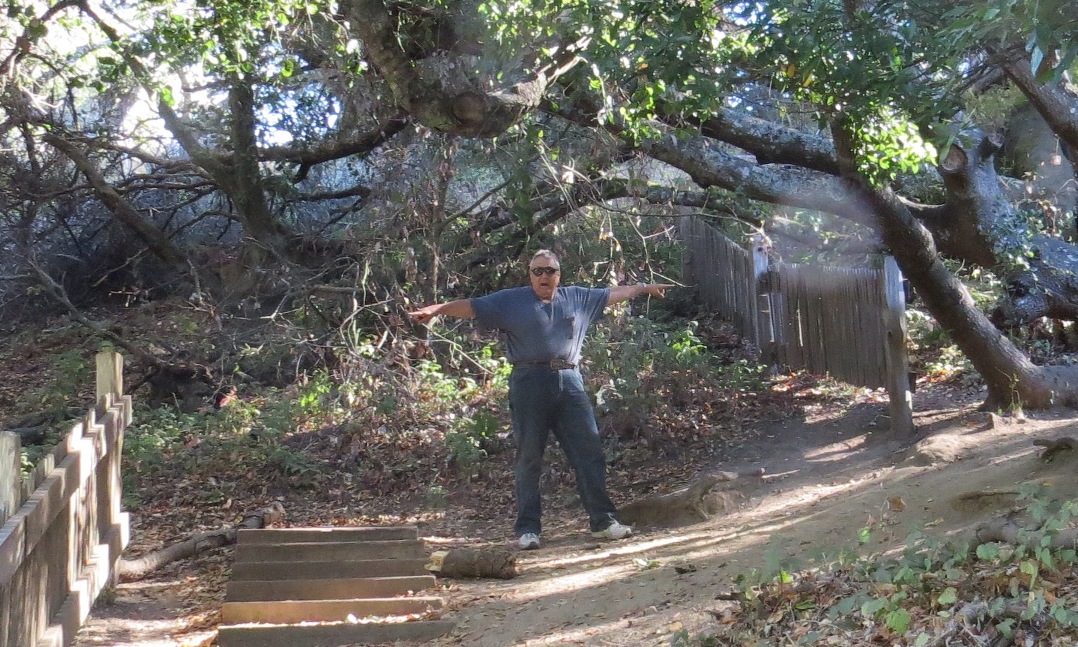 On the Earthquake Trail you can see where the San Andreas Fault shifted 16 feet in a matter of moments in 1906, creating an offset in this fence.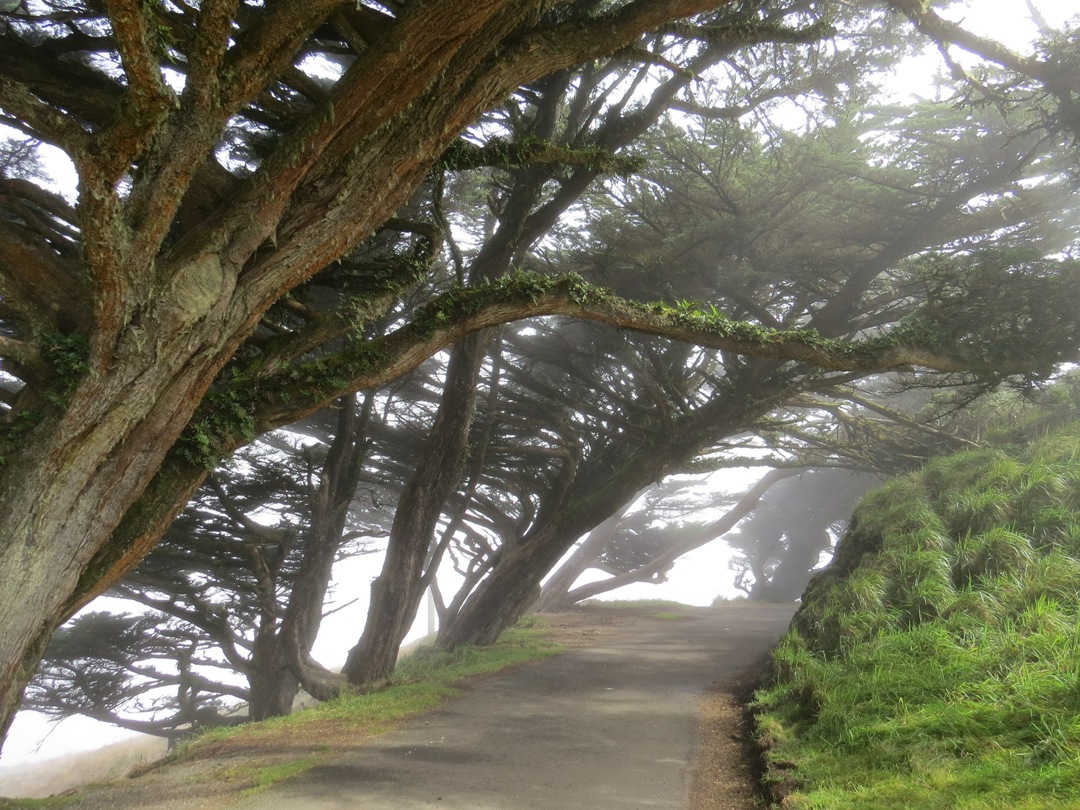 Cypress trees in the fog at the Point Reyes lighthouse





Elephant seals wrestling





Elephant seals snoozing





Recreated Coast Miwok sweat lodge





Point Reyes National Seashore has no campgrounds, so we stayed at nearby Samuel P. Taylor State Park, tucked in a grove of Coast Redwood trees.





Soaring, majestic Coast Redwoods deserve all of their hype.





Samuel P. Taylor State Park



---
Northern California


The Potter Schoolhouse in Bodega was featured in the Alfred Hitchcock movie "The Birds." Condemned and slated for demolition, it was purchased in 1966 by a family who restored it and still live there.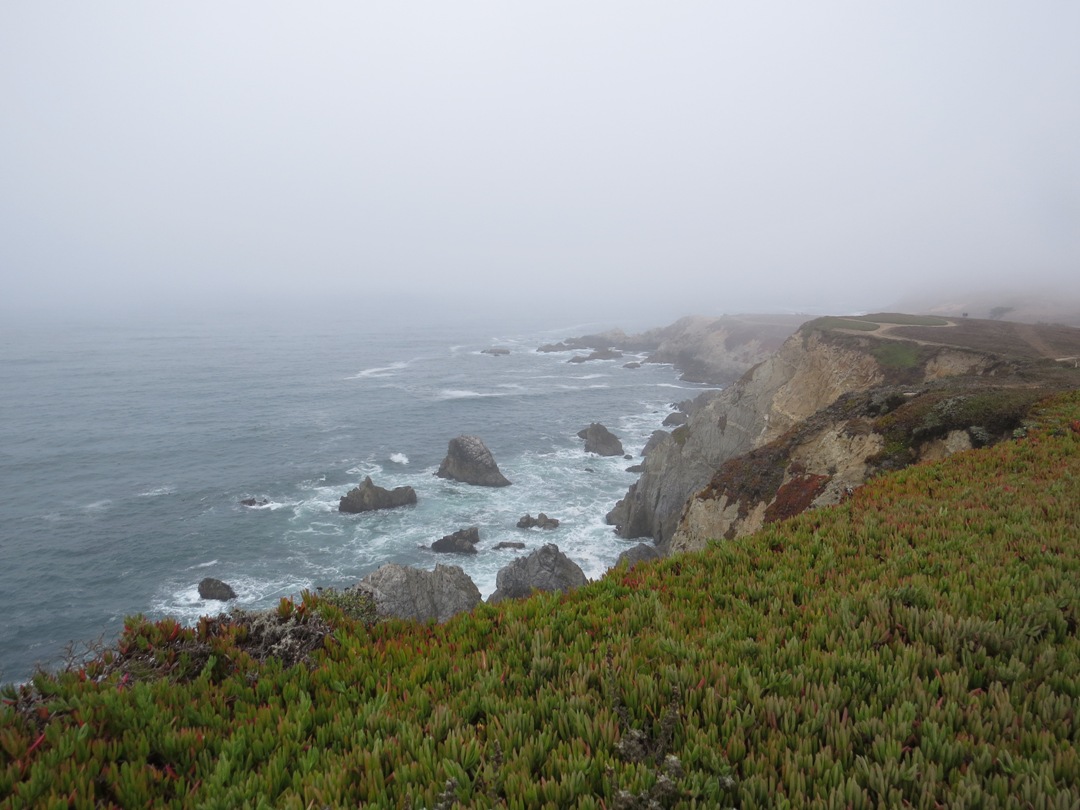 Fog on Bodega Head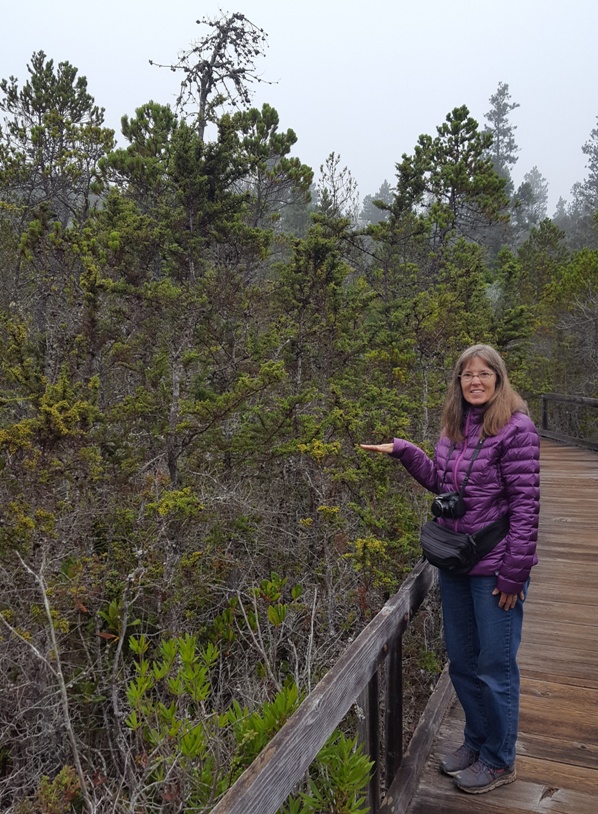 Pygmy Forest in Van Damme State Park, just south of Mendocino. Some of the trees are 100 years old but only six feet tall. The stunted growth is caused by an unusual combination of poor soil and poor drainage.





Russian Gulch State Park, just north of Mendocino, features headland trails, a craggy coast, a resident group of harbor seals, and a sinkhole that erupts with waves at high tide.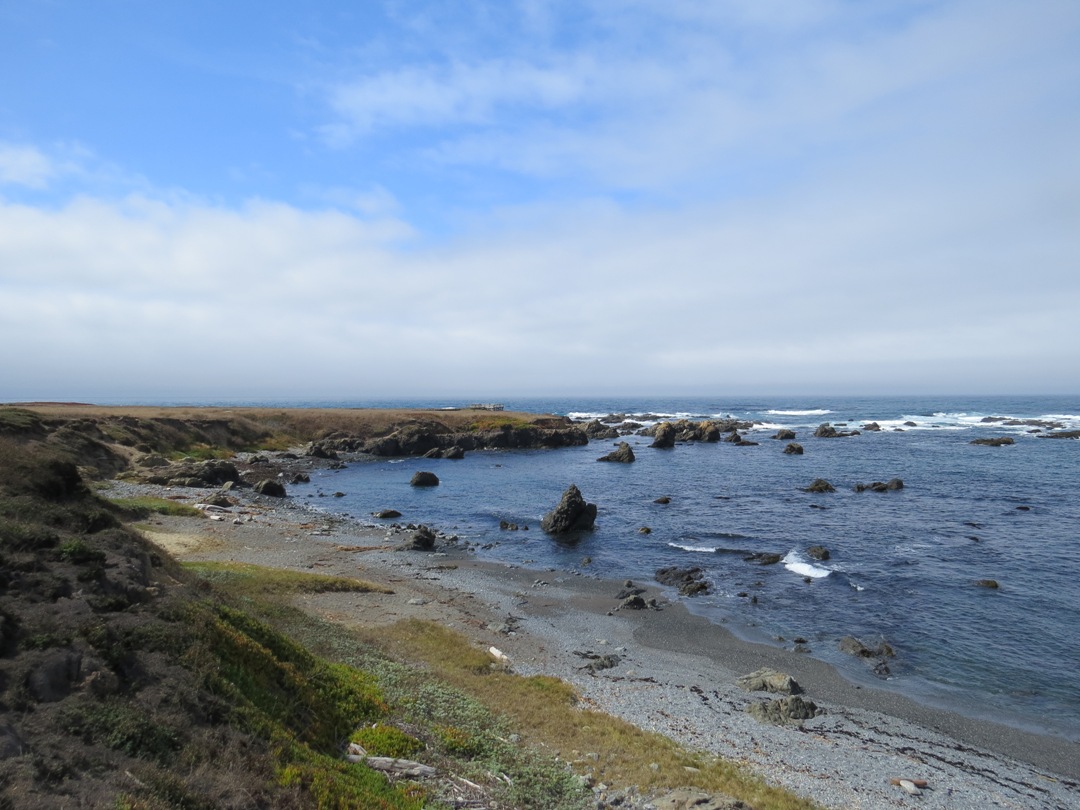 Russian Gulch State Park. The tide was high, so the harbor seals were off fishing.





Sundial Bridge in Redding. "The glass decked, cable-stayed cantilever suspension bridge reaches 217 feet into the sky, spans 710 feet across the Sacramento River, and forms a working sundial. It was constructed without river footings to leave the salmon-spawning habitat undisturbed." The bridge connects to a trail along the Sacramento River.



---
Eastern Oregon
Highway 97 angles northeast from Weed, California. This uber-scenic road goes through the high desert and "lava lands" of central Oregon.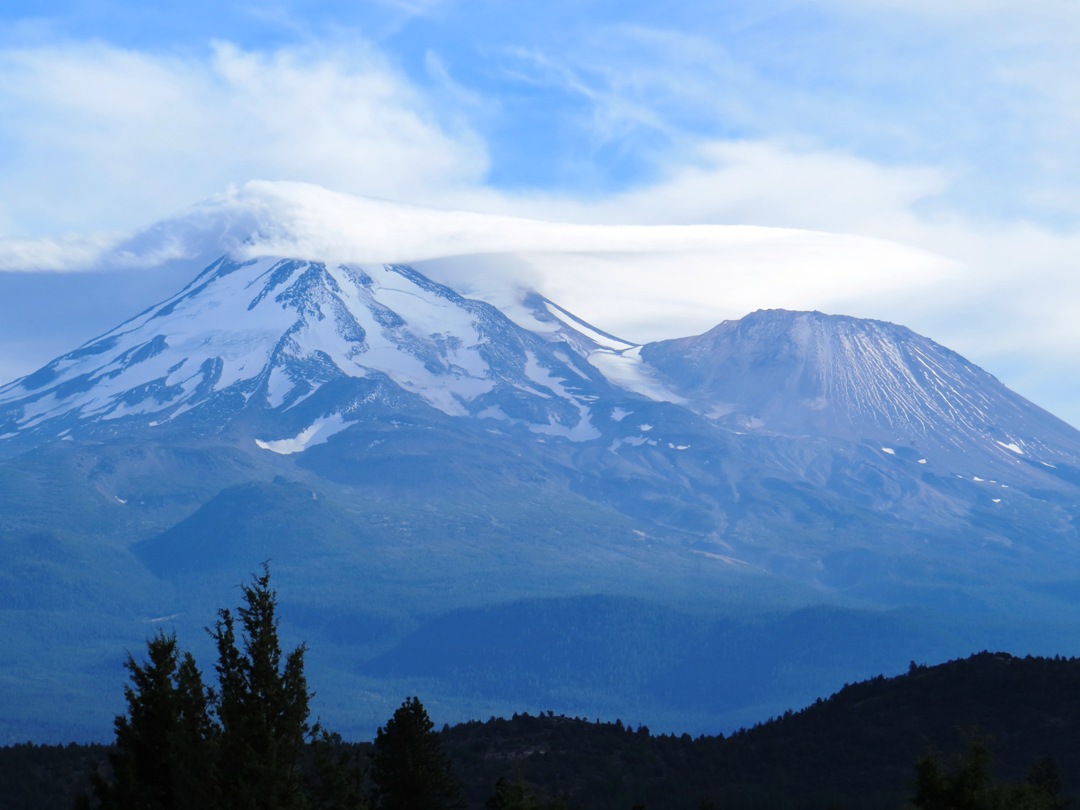 We had never seen Mt. Shasta with so little snow on it.





At Newberry National Volcanic Monument near Bend it was 23 degrees, snowing lightly, and blowing heartily. We braved a quick hike to see this pile of obsidian and pumice that streamed out of the Newberry volcano 1300 years ago (making it the youngest lava flow in Oregon). Obsidian is black glass formed from cooling lava.





Riverfront houses in trendy Bend, Oregon.



---
Trip Costs
Gas total $897 (6700 miles at about 17 miles per gallon)
Camping total $334 (average $10 per night; we get a 50% senior discount at Federal campgrounds)
This works out to a cost per week of $246 (not including food; we cook all our own meals, so grocery costs were the same as at home)