Boojums in Baja: A Road Trip to Mexico
Feb 13 to March 24, 2017
The West Coast was having a wet, cold winter, and we couldn't wait to head south. Baja did not disappoint: sun, beaches, gorgeous scenery, gray whales, and whimsical boojum trees. Don't believe the media hype: Mexico is a safe, welcoming, and easy place to travel, and the people are sweet as can be, even if you don't speak Spanish.
---
Our Route


6400 miles, five and a half weeks.
---
Our Home Away from Home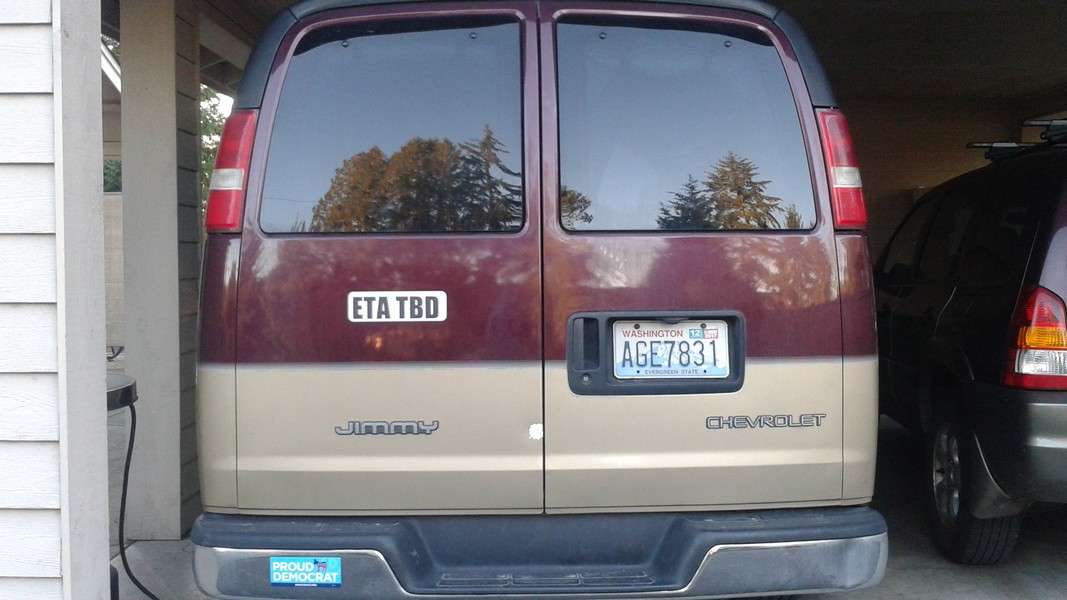 Our 2004 Chevy Express sporting its new magnetic decal, "ETA TBD." Inside are a queen size bed, portable kitchen, and many of the comforts of home. If you haven't seen our setup, click here for pictures.
---
South to Baja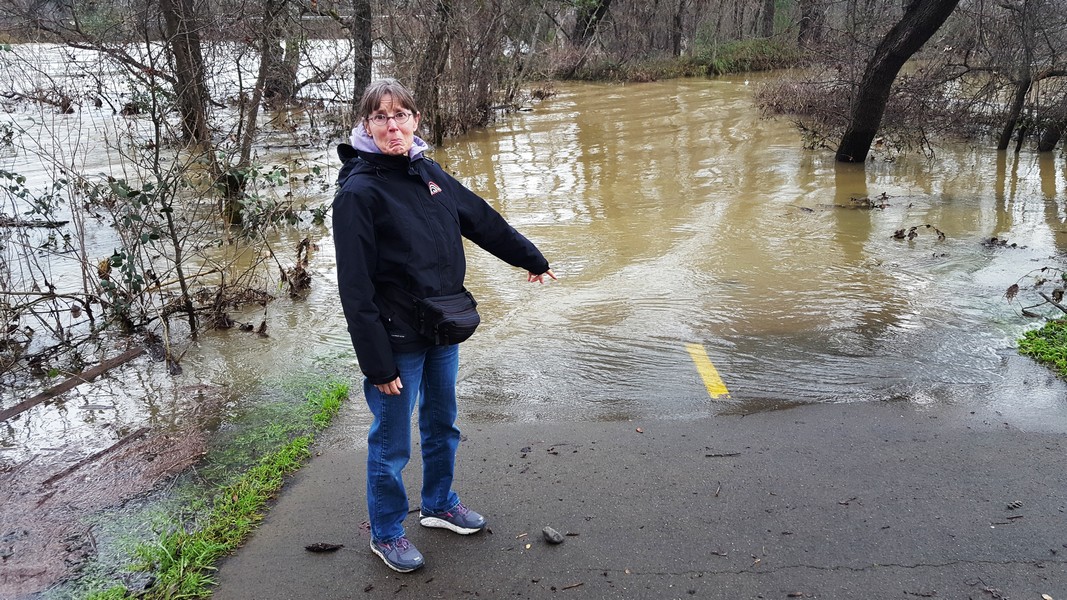 Drought-stricken California was inundated with rain this winter. The Sacramento River flooded the Sundial Bridge trail in Redding.





A break in the weather allowed us a lovely hike through fire-scarred oak forest on the Redbud Trail in Cache Creek Canyon near Clearlake, California. Many wildflowers were blooming.





Dinner with our friend Sarah in Sausalito.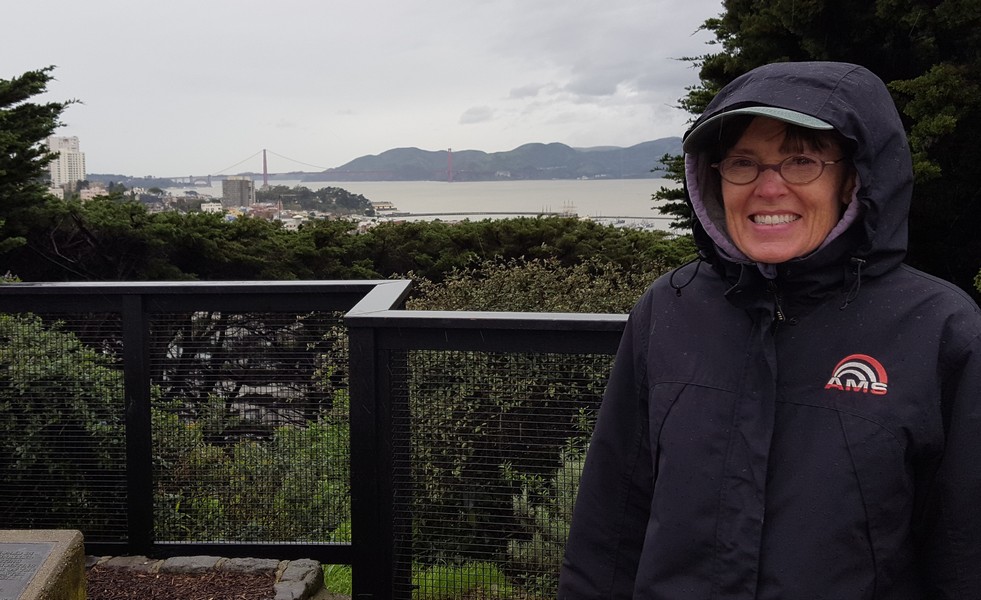 Heavy rain and wind in San Francisco. Many coast roads were blocked by downed trees and mudslides, quashing my hopes of finally visiting the Monterey aquarium. Next time!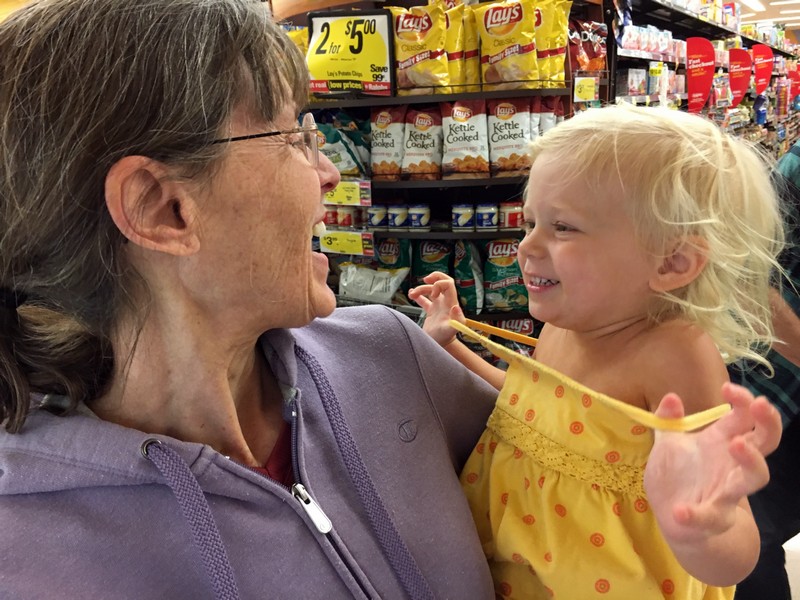 Delightul quality time with my almost-three-year-old niece (and brother and sister-in-law) in Burbank.





Balboa Park in San Diego was the site of the 1915 Panama-California Exposition, and many beautiful buildings remain.





The historic Hotel Del Coronado in San Diego has a nice public beach and waterfront promenade.



---
Baja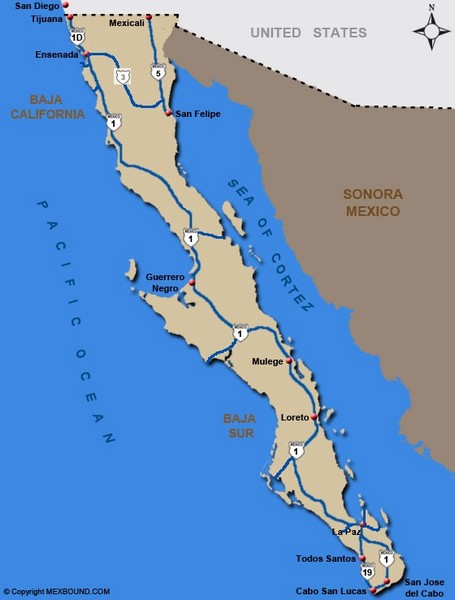 Our Baja route, in blue. The peninsula is 1000 miles long. We crossed over in Tijuana and back via Mexicali. When driving in Mexico you need car insurance (buy it online before you go), possibly a tourist visa (depending on where you're going and how long you're staying), and the Traveler's Guide to Camping Mexico's Baja (indispensable, even if you're not camping).





The roads in Baja are good, but often narrow, with no shoulders. Some places have a lot of potholes. Maintenance crews do their best to keep up, and many sections of road have been widened and repaved.





Road work can mean detours on rough stretches of dirt.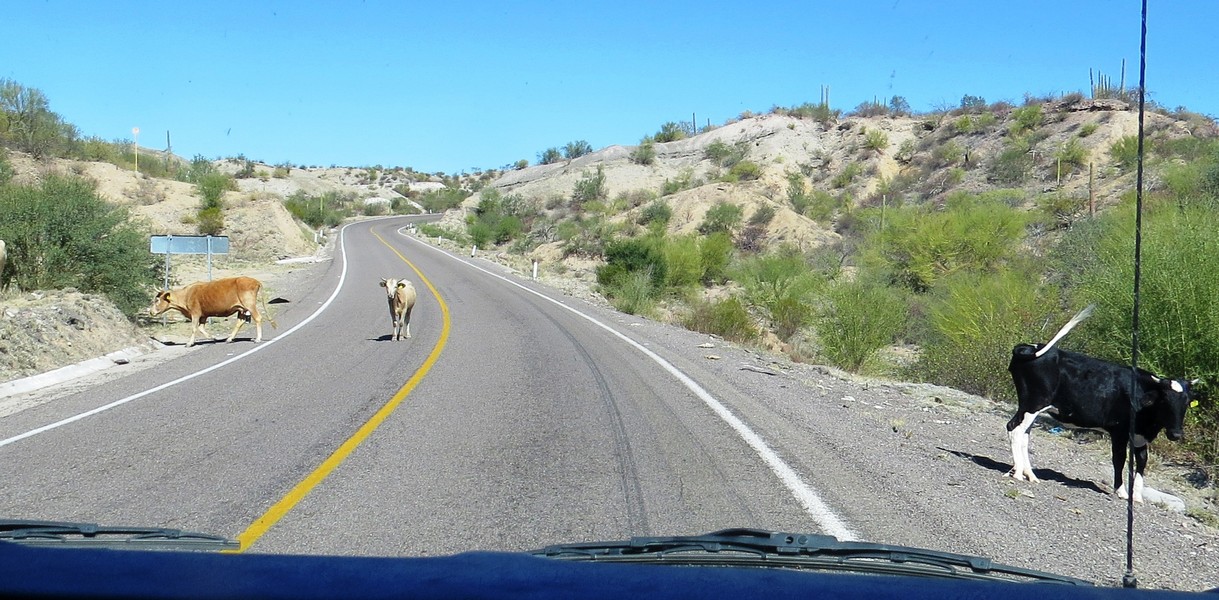 Another reason you can't be in a hurry when driving through Baja.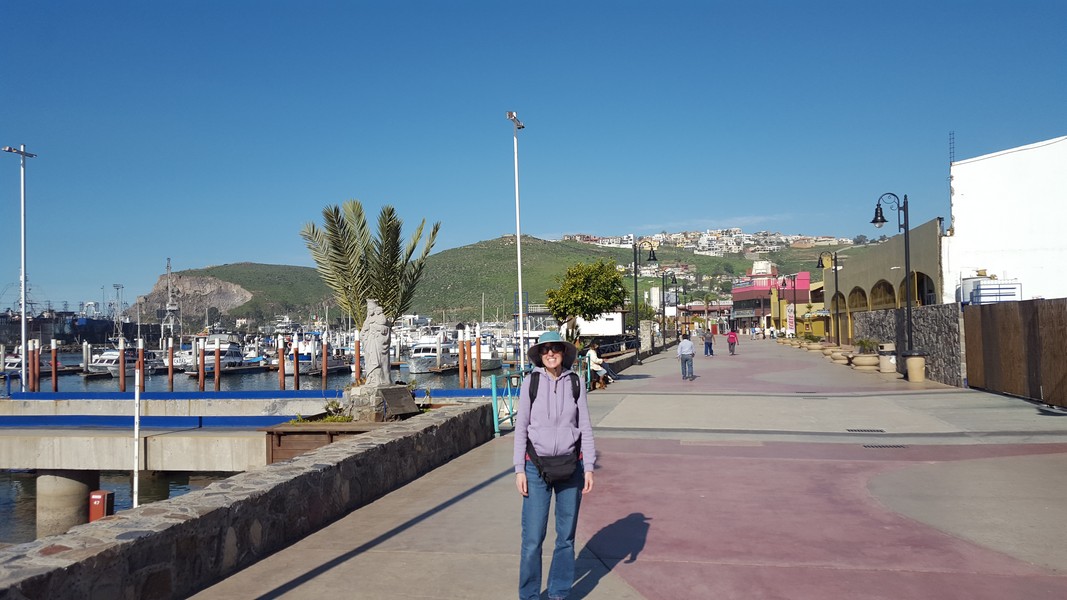 About two hours south of Tijuana we reached Ensenada, went for a stroll on the waterfront promenade, ate fish tacos, and celebrated escaping the rain!





These Ensenada minstrels make the rounds of local restaurants, hoping folks will pay them for a serenade.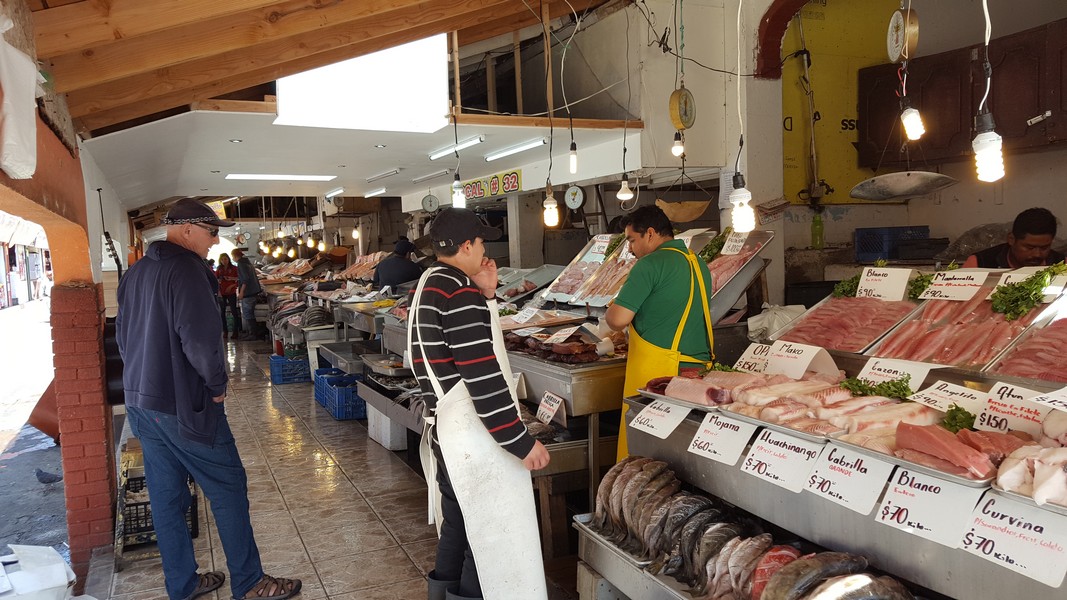 Fresh seafood at the Ensenada fish market





A row of seafood cafes next to the fish market





Fish tacos Ensenada style: crispy-fried fish with a selection of toppings. Fifty cents each.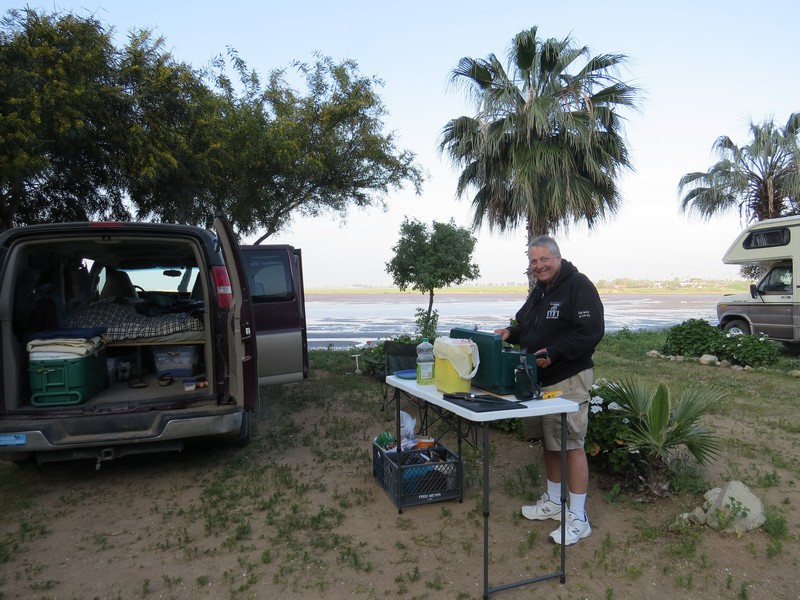 Camping on a lagoon south of Ensenada. The campgrounds we stayed at ranged in price from $5 to $20 a night. Most had clean toilets, and some had sinks, showers, or laundry. There are also many free places to stay.





The Pacific coast south of Ensenada. Northern Baja's weather is like southern California's. Needless to say, it gets warmer as you head south.





The San Tomas valley south of Ensenada is known for its vineyards.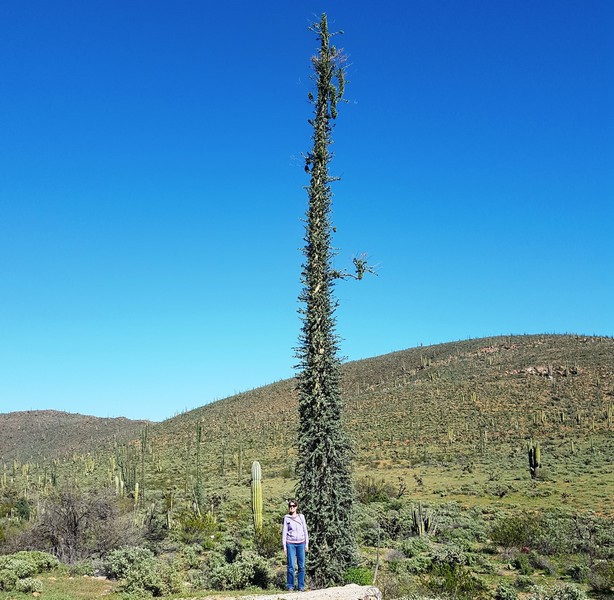 A bit farther south we entered Baja's magical central desert. Dr. Seussian "boojum" trees are only found in Mexico. (The name comes from Lewis Carroll's "The Hunting of the Snark.") In Spanish they are called "cirio," which means taper, or candle. They look like inverted carrots, and can grow up to 50 feet tall. A large chunk of central Baja is the "Valley of the Cirio" protected natural area.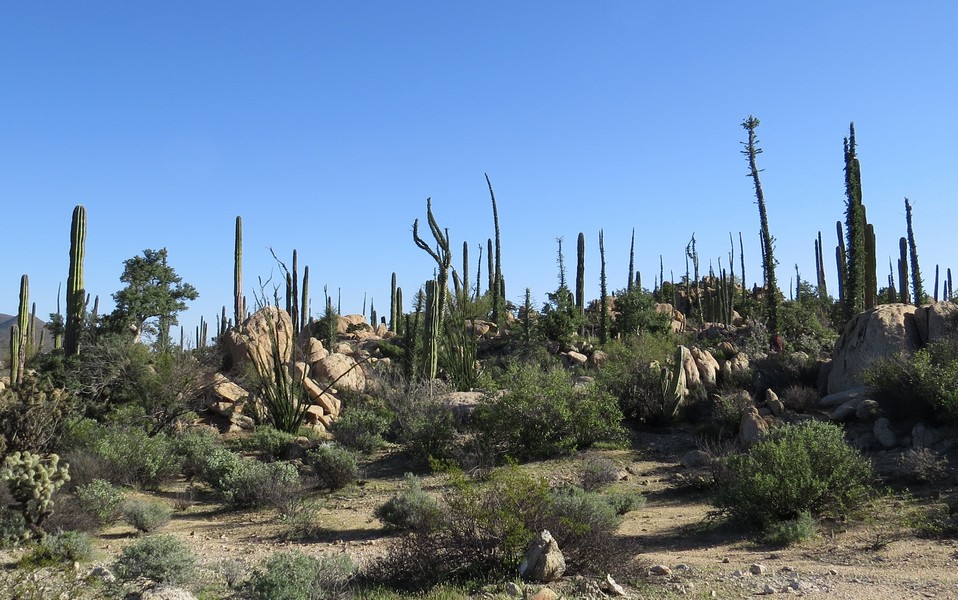 A boulder garden in central Baja (cardon are the Baja equivalent of Arizona's saguara cactus).





We arrived just after a period of heavy rain, and flowering pink sand verbena carpeted the desert floor. The central desert was one of our favorite parts of Baja.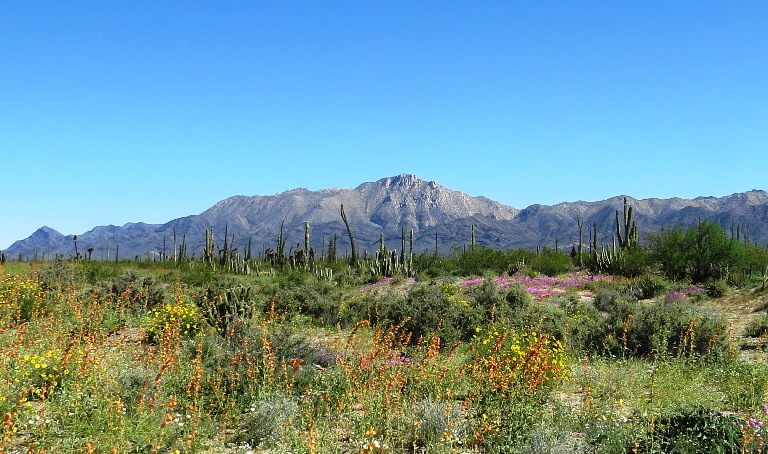 The desert abloom in orange, yellow, and pink. The unusually wet winter created what's called a "super bloom," for the first time in something like 20 years. Seeds can lie dormant for decades, waiting for enough moisture to germinate.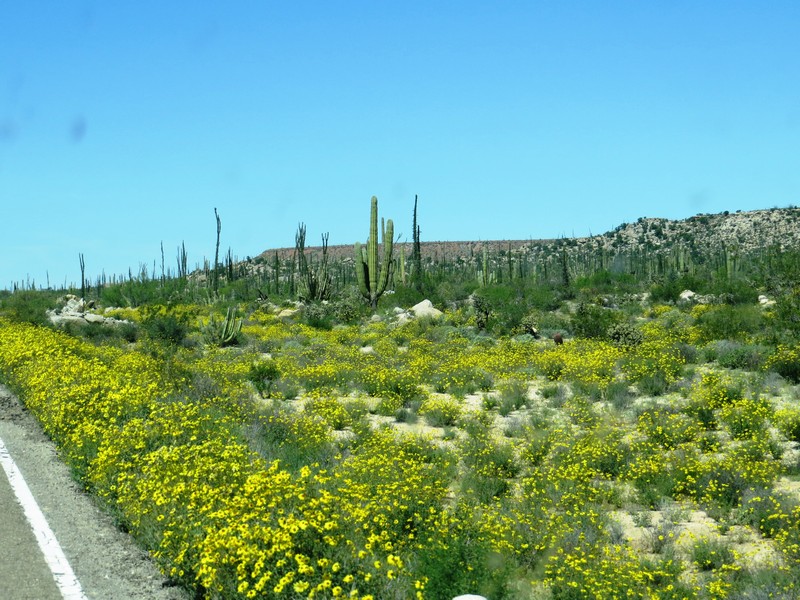 An explosion of yellow brittlebush





The cardon cactus were also in bloom. The fragrant white flowers are pollinated by insects during the day, and by bats at night.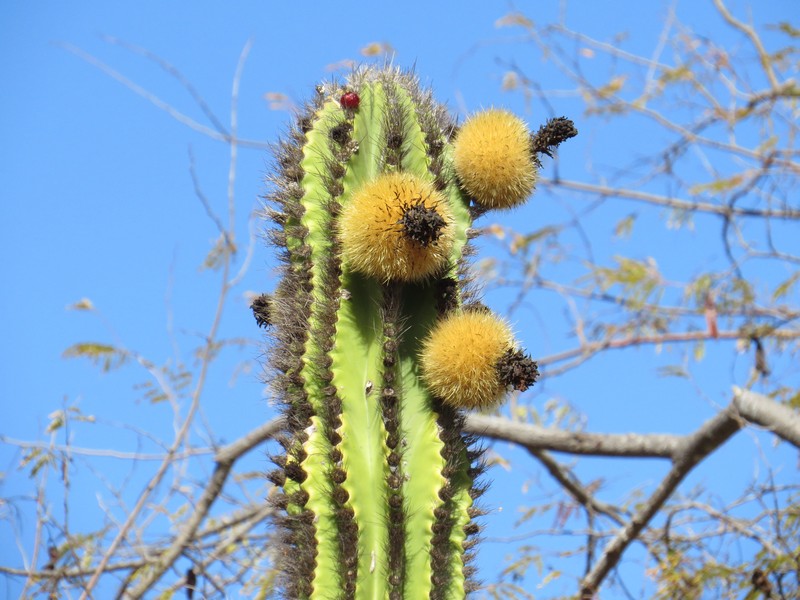 Cardon cactus fruits





Side trip to Bahia Los Angeles on the Gulf of California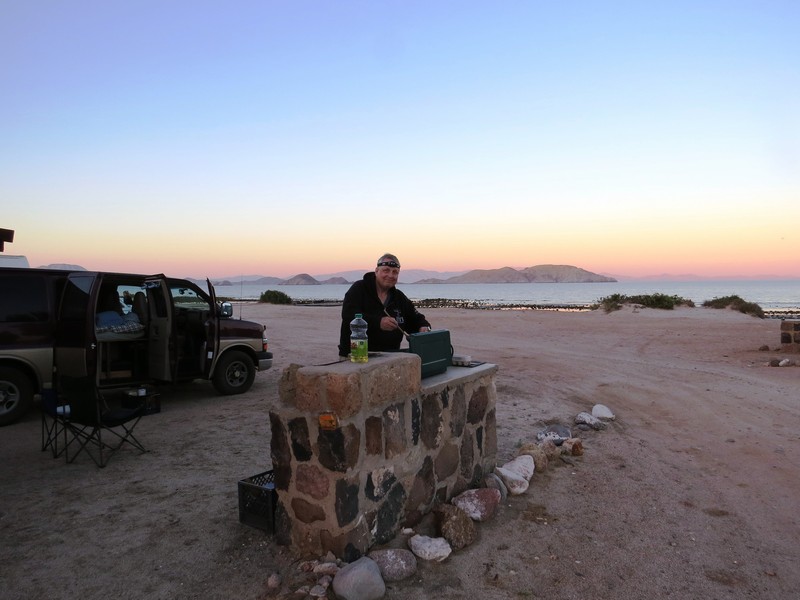 Camping at Bahia Los Angeles





Enjoying the serenity at Bahia Los Angeles





Guerrero Negro is one of three places on the Pacific Coast of Baja where you can see gray whales in the winter. We had heard you could even pet them, and we couldn't wait to find out!





From the town of Guerrero Negro you drive 25 miles on dirt roads through these commercial salt flats to reach the whale breeding lagoon.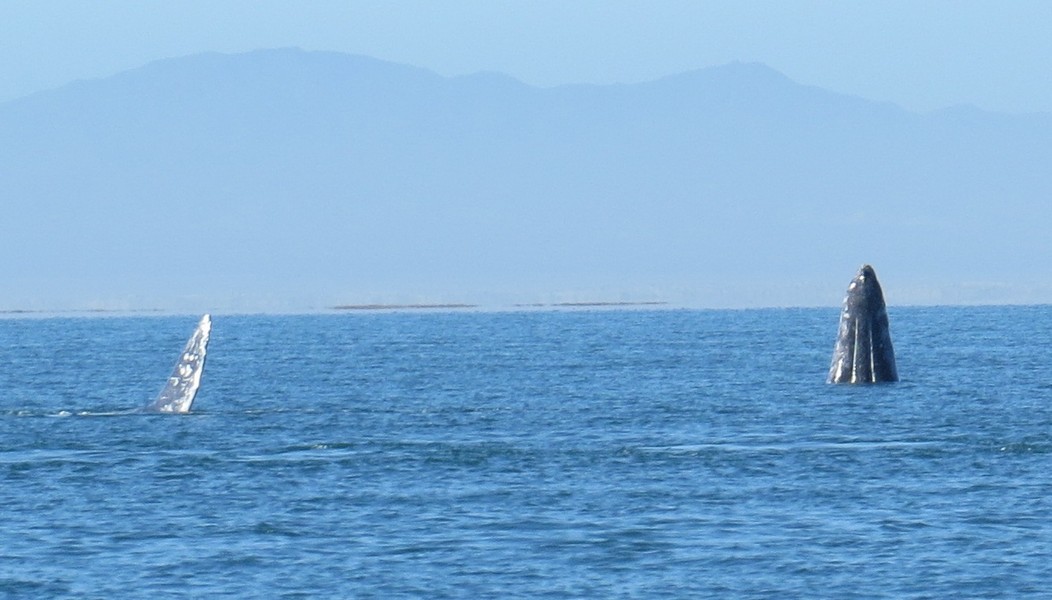 We paid $45 each for a two-hour trip in a small boat. There were whales all around us! (We were told there were well over 1000 whales in the lagoon.) Boats are licensed and regulated by the Mexican government.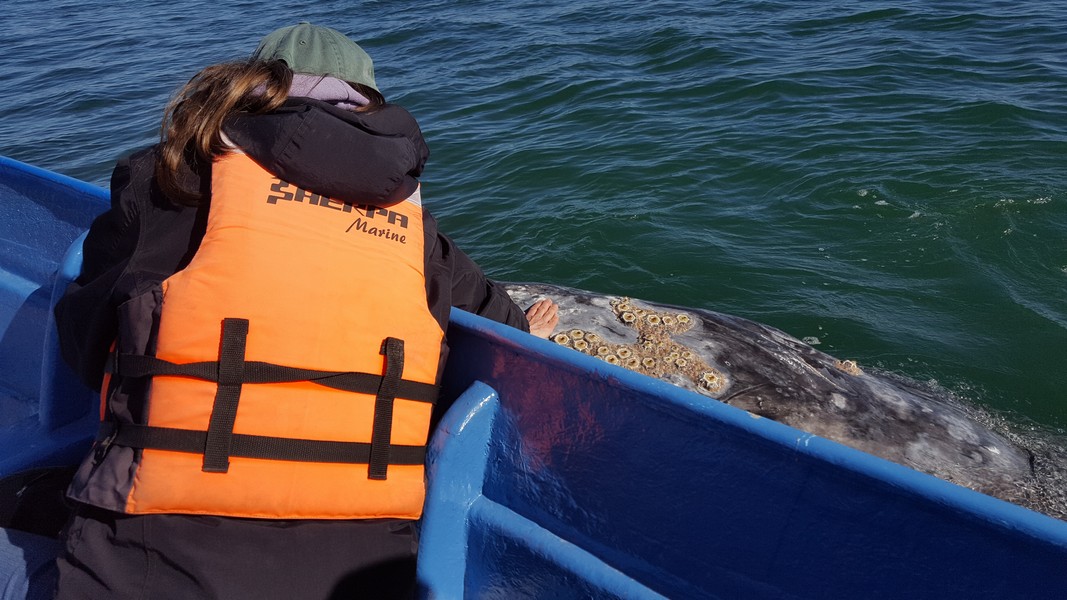 We got to pet a whale! It was an amazing experience. Their skin feels rubbery, like eggplant.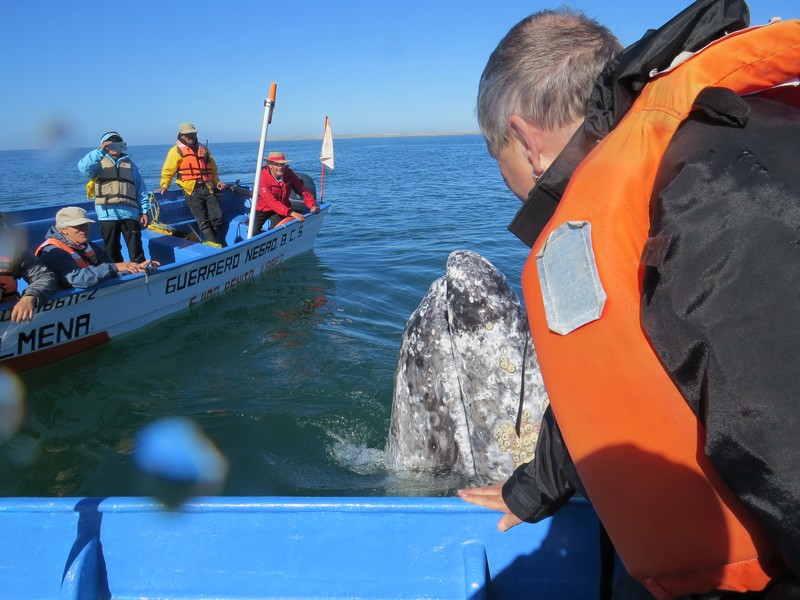 This adolescent male hung around for a good half hour.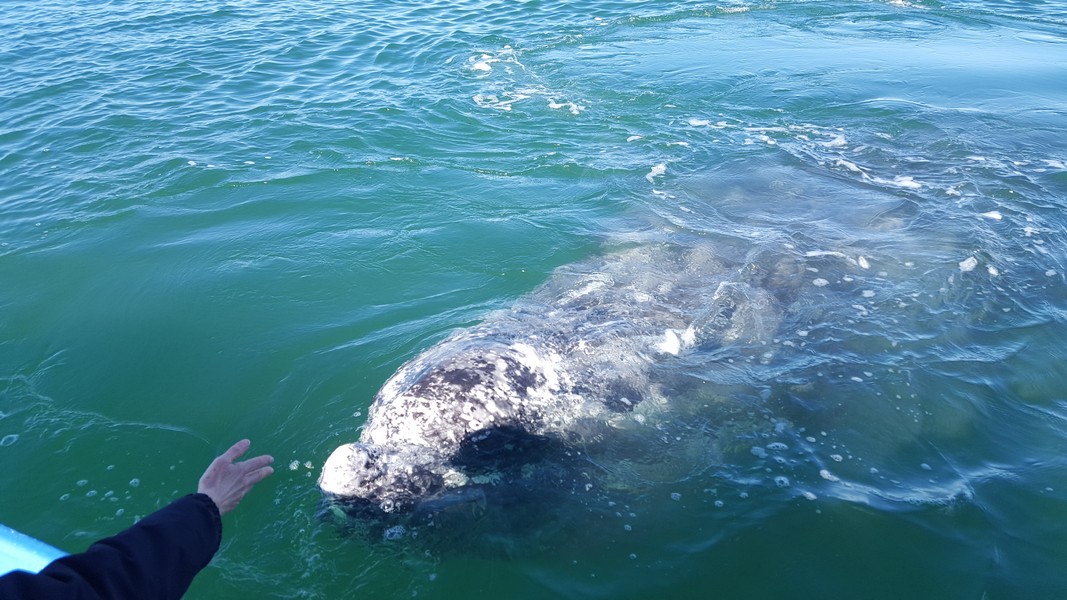 The boats don't approach the whales; the whales come up to the boat. They seem to love being petted.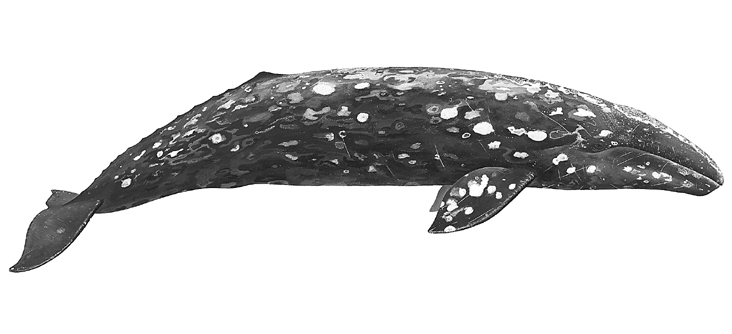 This is what the whole whale looks like. Adults are about 50 feet long and 30,000 pounds. In October, they begin to leave their feeding grounds in Alaska and head south to mate and calve in Baja. The journey south takes 2-3 months, they spend 2-3 months in the lagoons, and the return trip north takes another 2-3 months. It's about 14,000 miles round trip.





Back on land, we were greeted by this fearless osprey.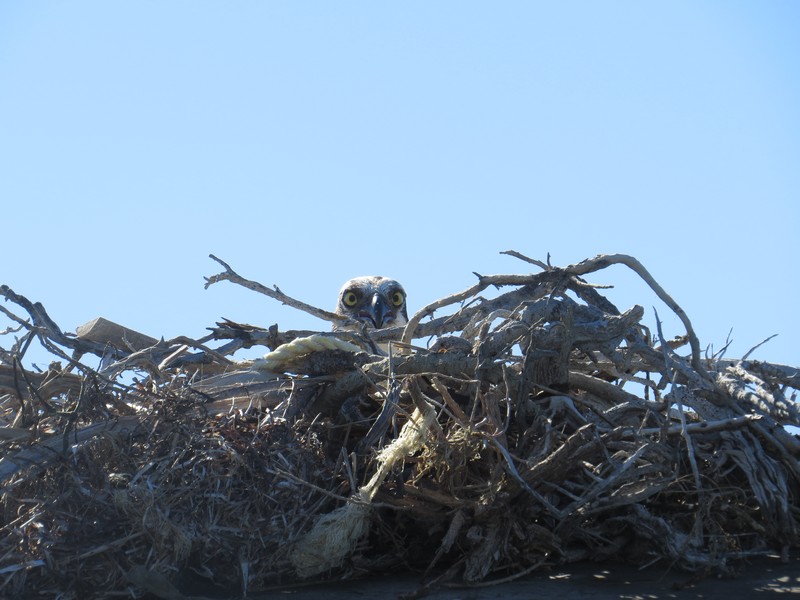 Its mate was guarding the nest.





San Ignacio is a quiet date palm oasis on a river with man-made lagoons.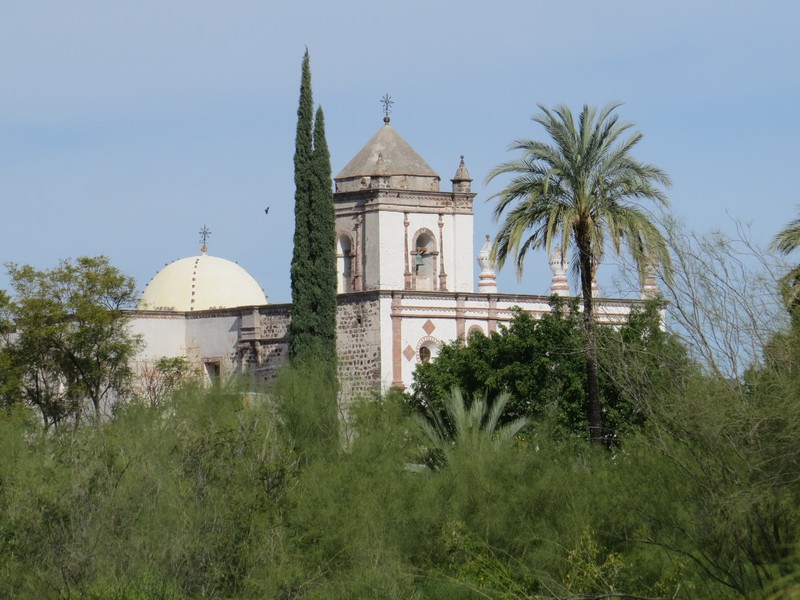 The mission church of San Ignacio is over 200 years old.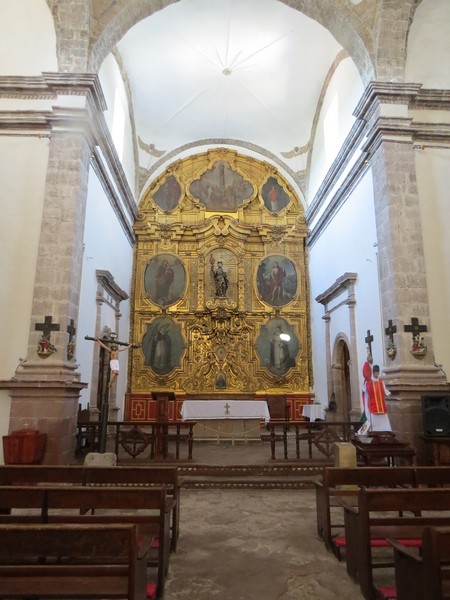 The gilt altar is carved from wood.





The town square is shady and quiet.





A typical street in San Ignacio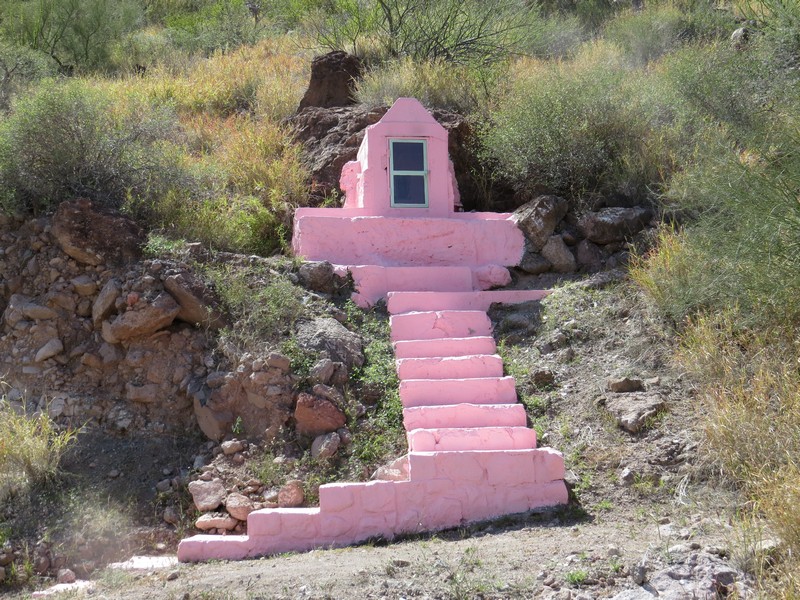 Roadside shrines like this one honor people who've died in traffic accidents at that spot.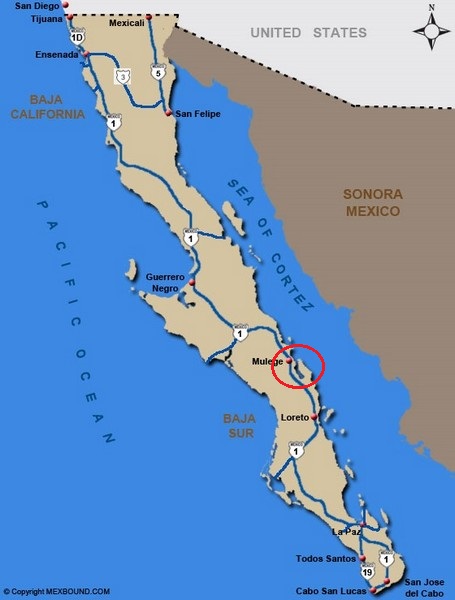 Bahia Concepcion, on the Gulf of California, is stunningly beautiful.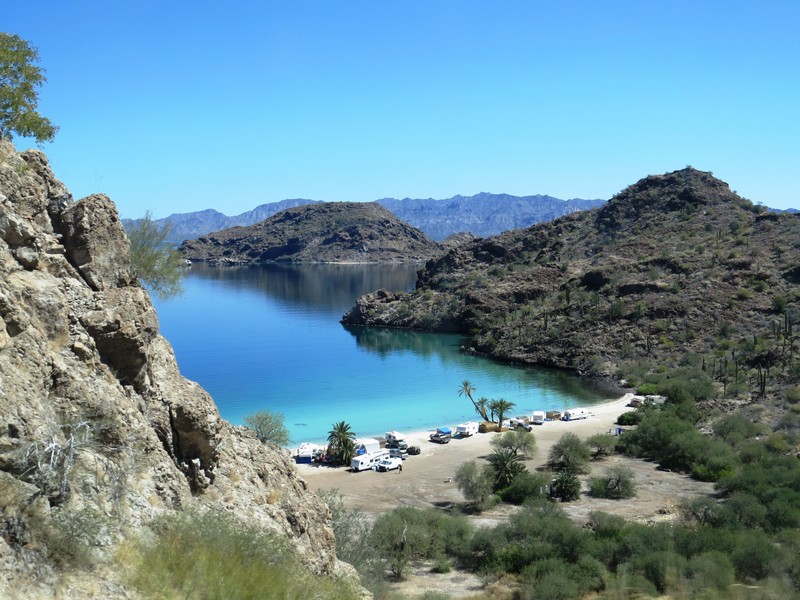 This Bahia Concepcion beach is popular with RVers, many of whom spend the winter here.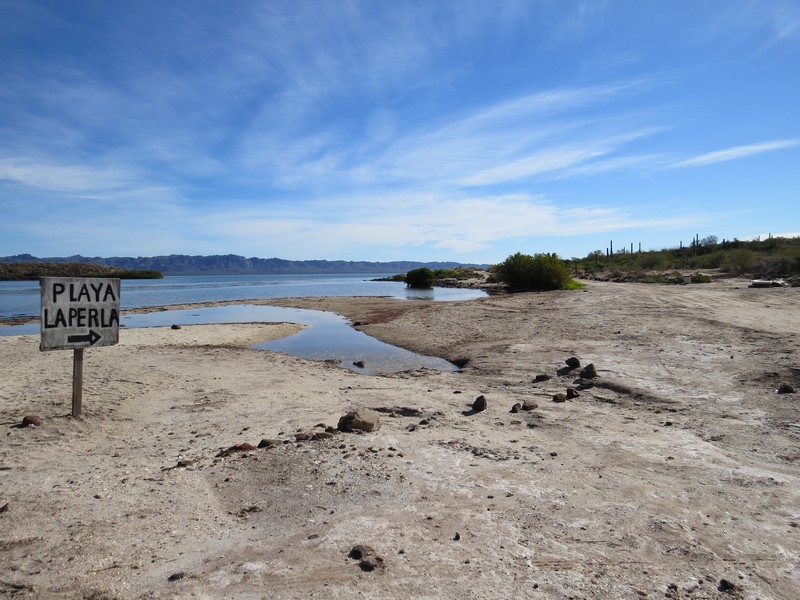 We opted for less-crowded Playa la Perla (playa means beach in Spanish).





The narrow, rocky entrance road discouraged RVs.





Playa la Perla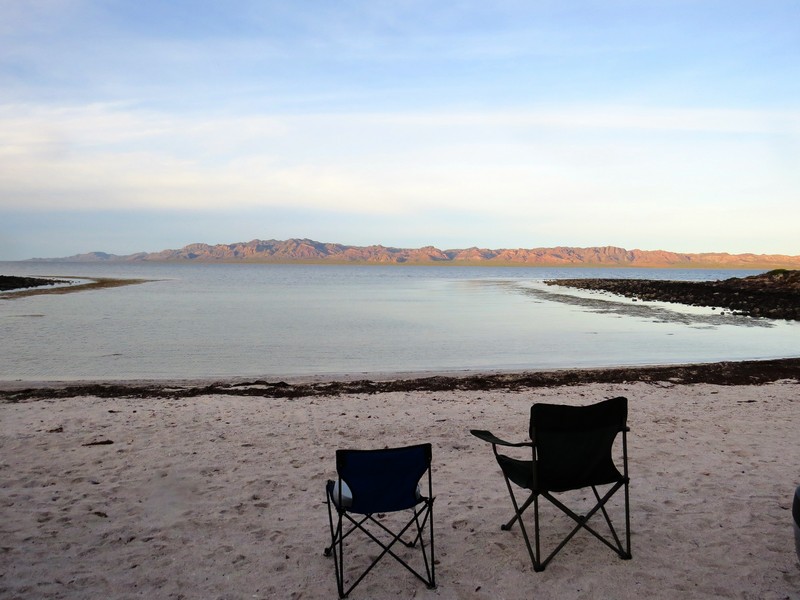 Playa la Perla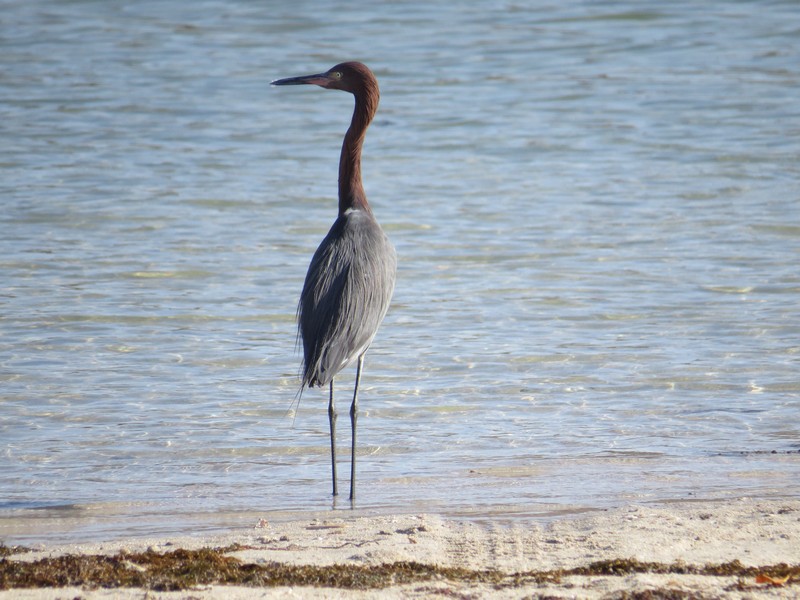 A maroon and blue-gray little blue heron at Playa la Perla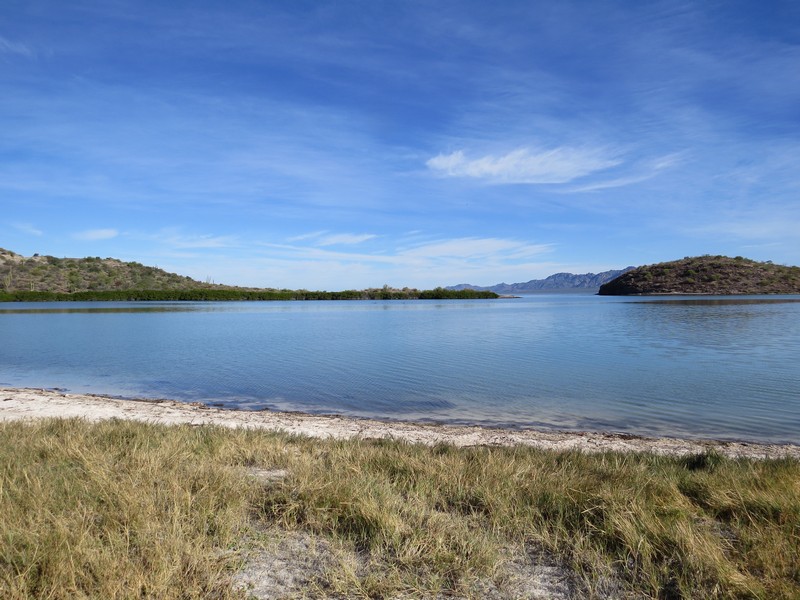 Playa la Perla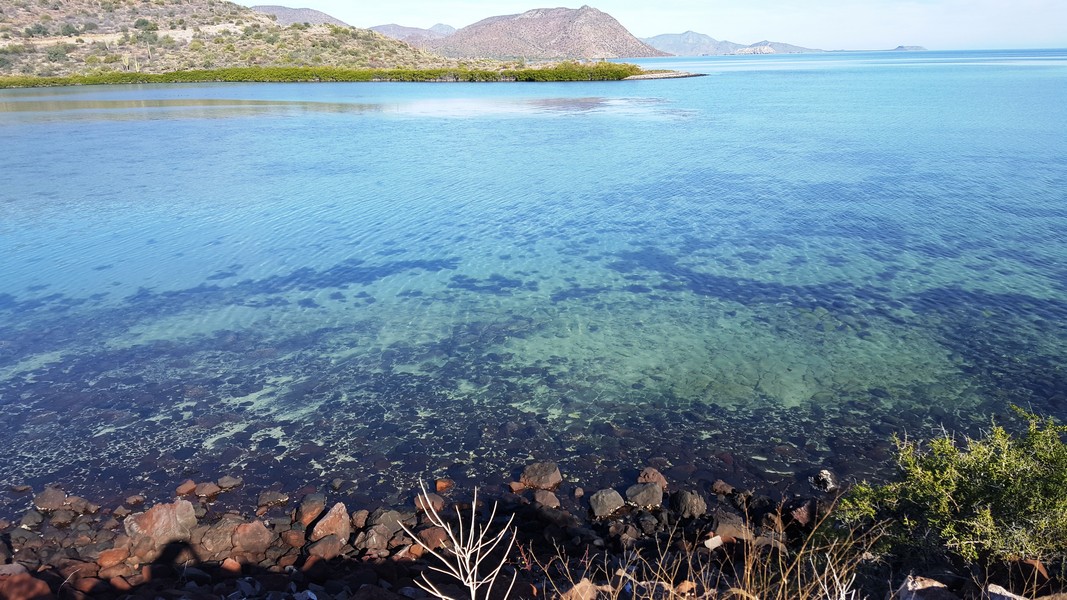 Bahia Concepcion is a kayaker's paradise.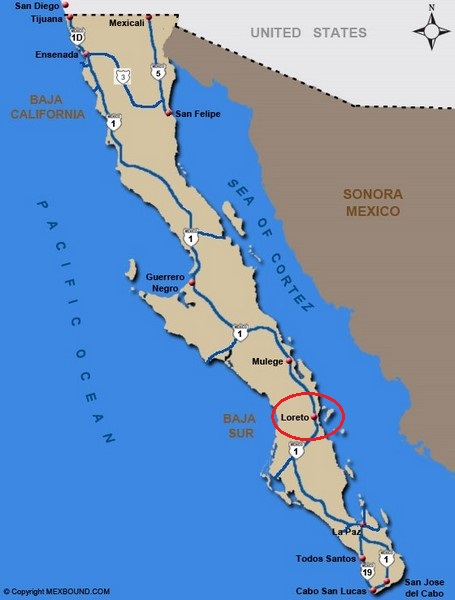 Loreto is a friendly, walkable town on the Gulf of California.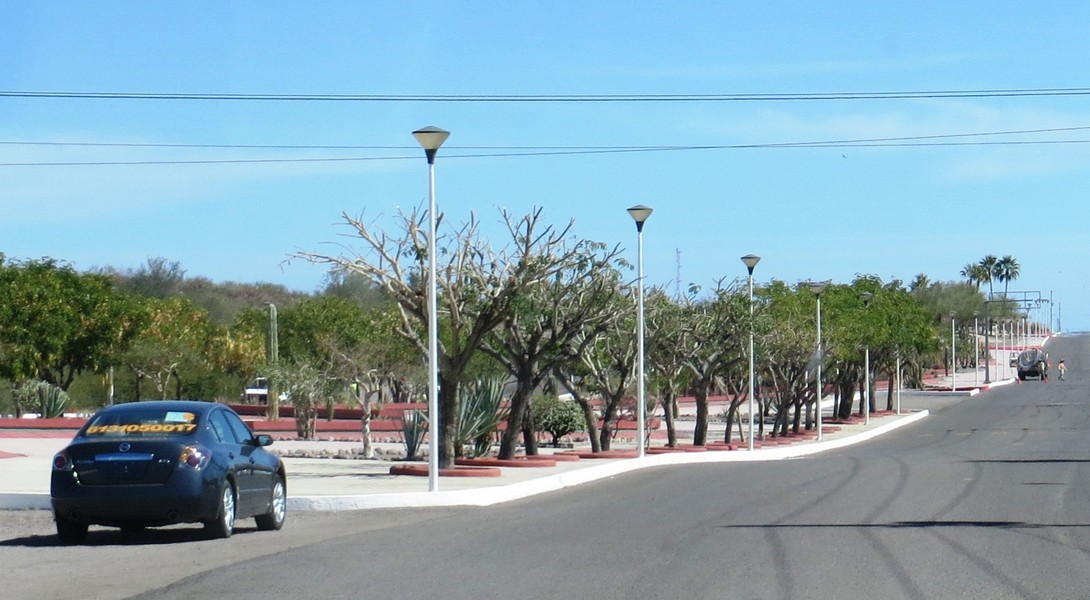 The welcoming entrance to Loreto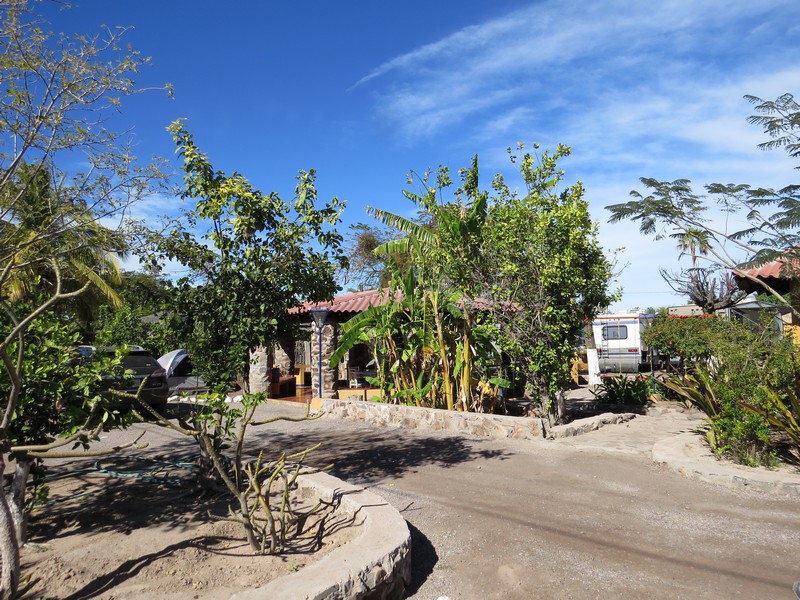 This campground is right in town, so it's easy to go exploring on foot.





The waterfront promenade is delightful. Loreto has an airport, and is a jumping off point for kayak trips.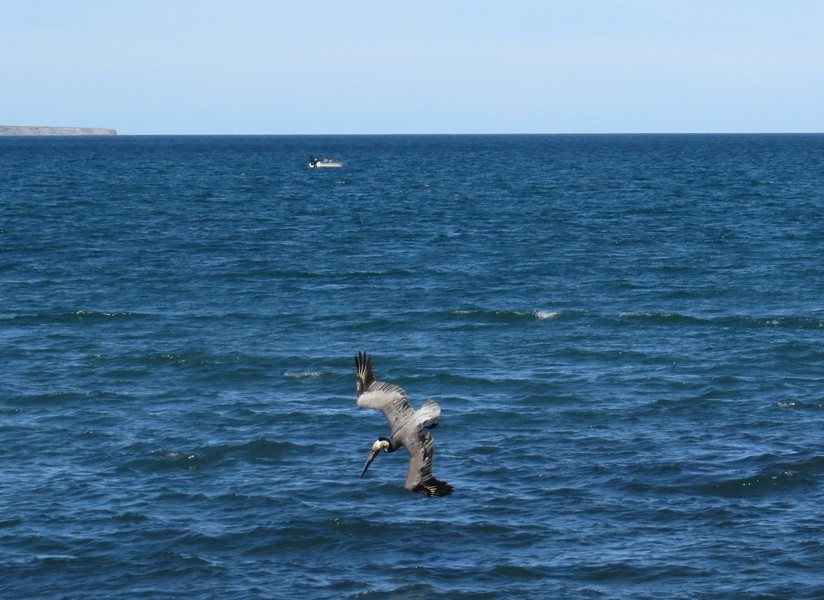 Pelicans dive into the water to catch fish, and it's quite comical to watch.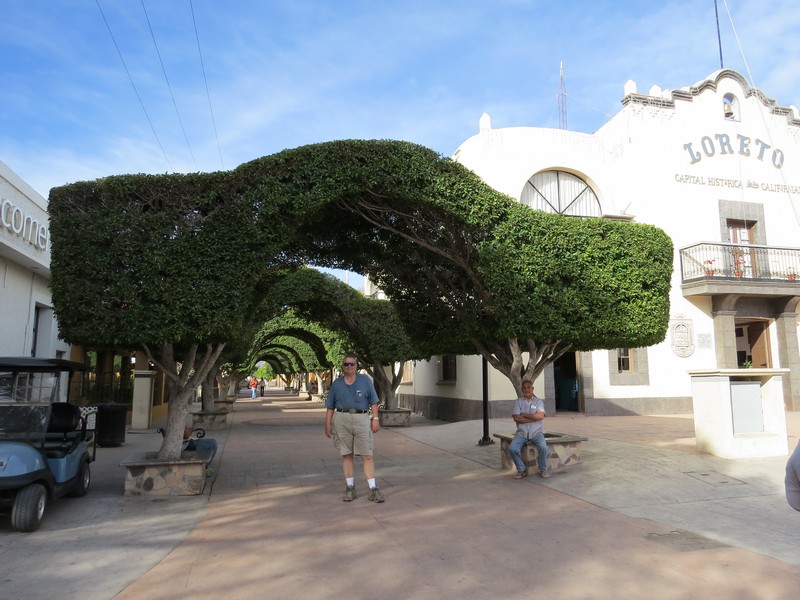 Topiary arches on Loreto's main plaza





A typical Mexico morning scene: business owners, residents, and workers sweep the sidewalks, streets, and planting strips every day.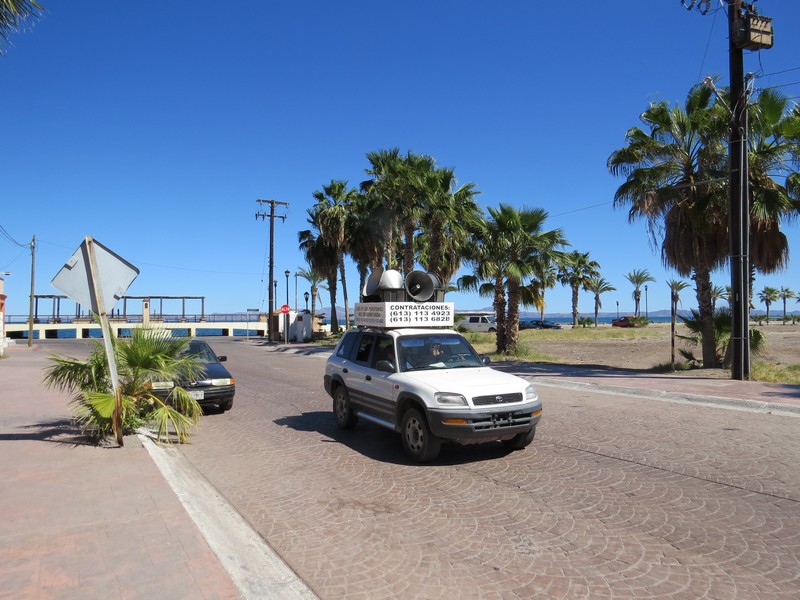 There are no noise regulations in Mexico, and vehicles roam the streets blaring ads.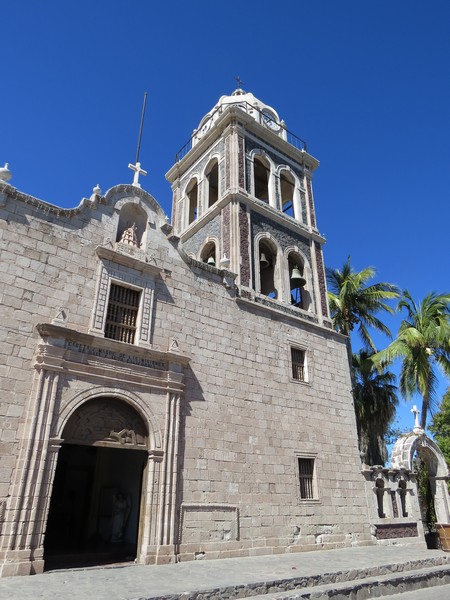 Loreto's 16th-century mission church





Quaint San Javier is a great day trip from Loreto. The road climbs up into the mountains, with views of the Gulf below.





Year-round springs are the reason San Javier was chosen as a mission site in 1710.





Like the sign says, this narrow, twisty mountain road is not a high speed road.





San Javier has the best-preserved (never rebuilt or remodeled) mission church in Mexico. It was built in the mid-1700s.





Continuing south, we stopped at this Gulf of California viewpoint south of Loreto.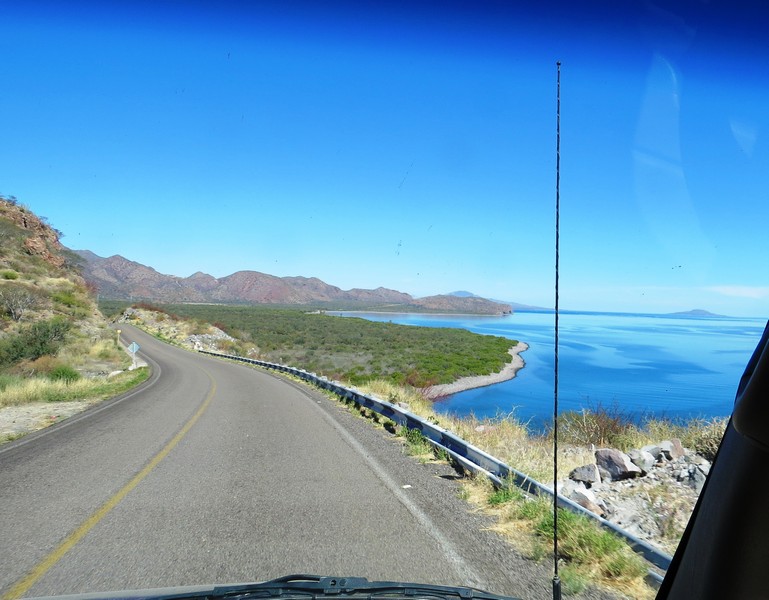 The Gulf Coast south of Loreto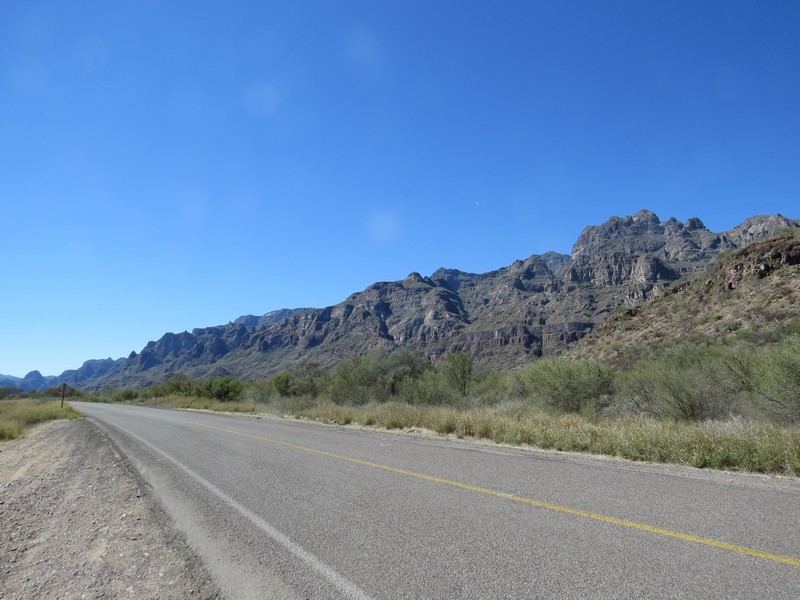 The mountains south of Loreto





The biggest - and orangest - shrine in Baja





Some friends of friends spend six months a year in Baja and graciously invited us to visit. Their house is accessed by about 7 miles of dirt road. They had to meet us in the closest town to show us the way.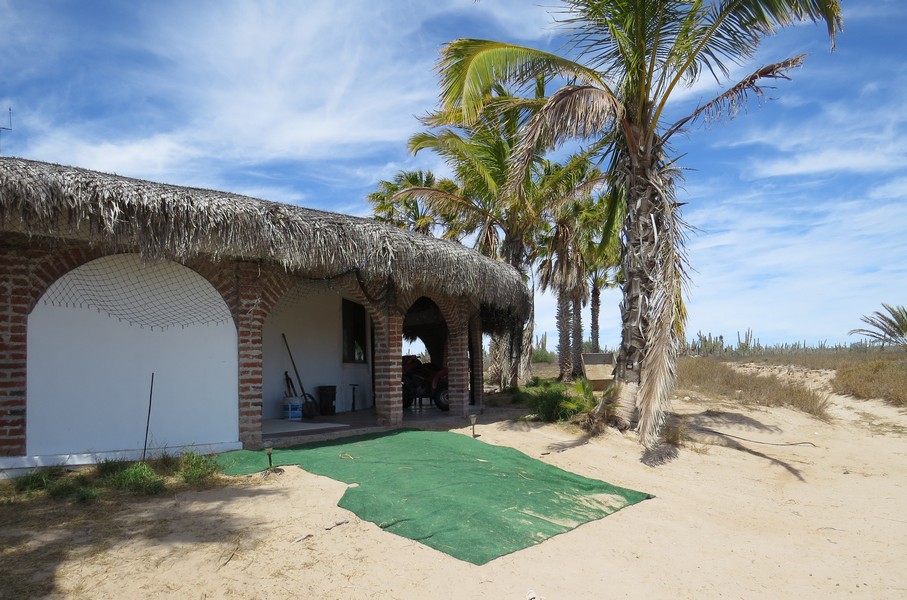 Their house is on the Pacific coast west of La Paz. The roof is made of palm thatch, which keeps it cool and dry. They live off the grid with solar power, a well, and satellite internet.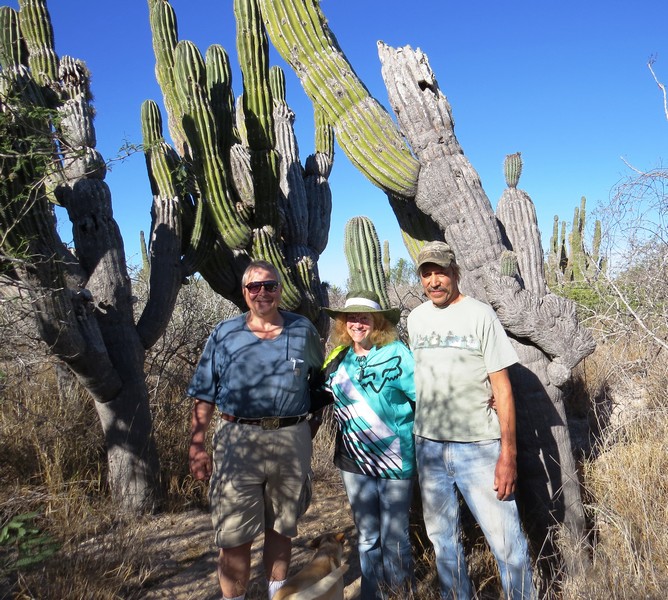 Walking with Vic and Jane on their property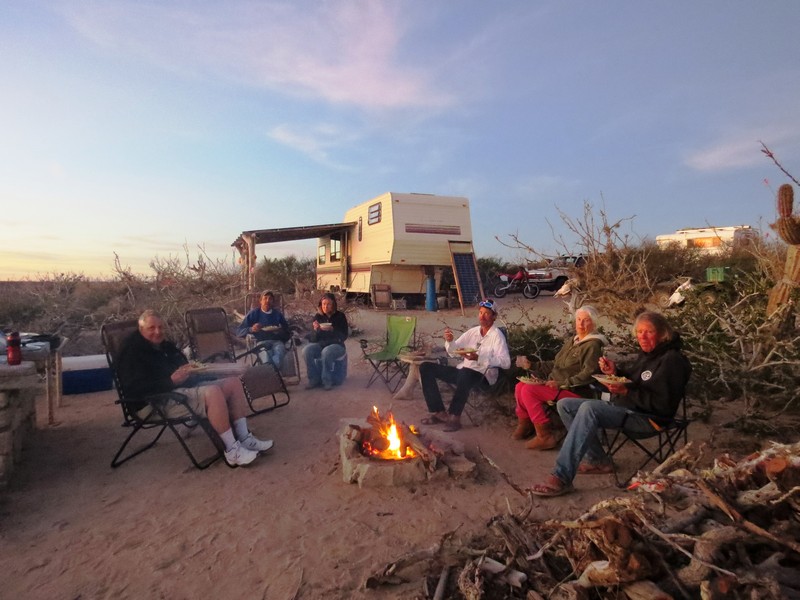 Visiting the neighbors, a couple who spend a few months each year on Vic and Jane's property





A Pacific Ocean sunset from the neighbors' porch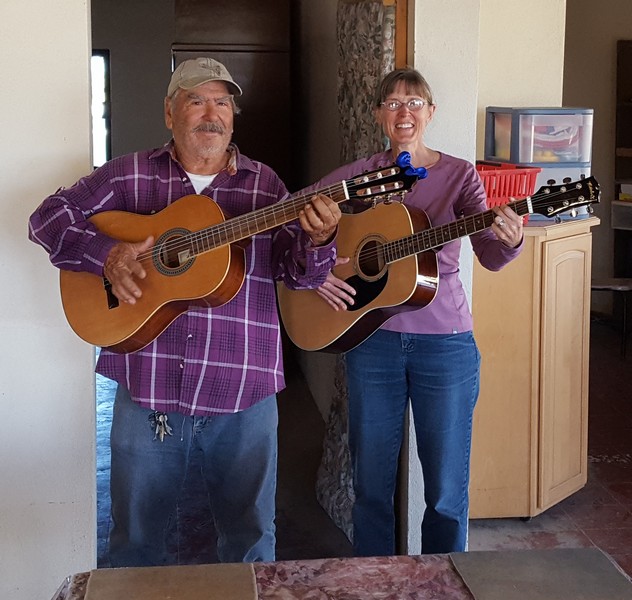 Trading songs with neighbor Juan, a retired x-ray technician who owns the adjacent ranch





A cactus blossom





La Paz is a big city with a walkable center and a delightful waterfront promenade.





The "malecon," or waterfront promenade, is three miles long.





The malecon is a popular place to exercise.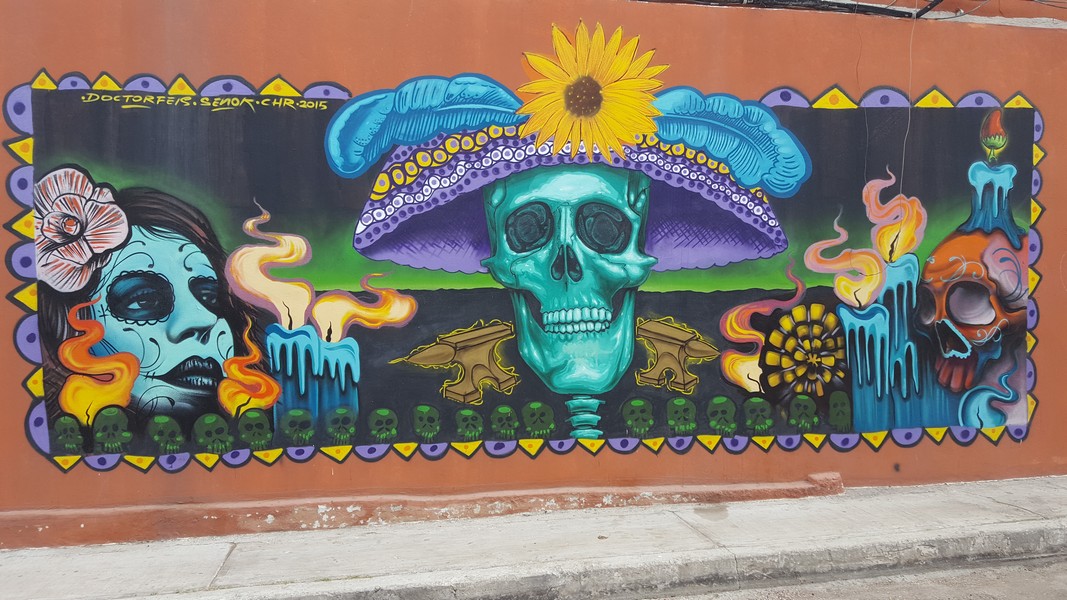 La Paz street art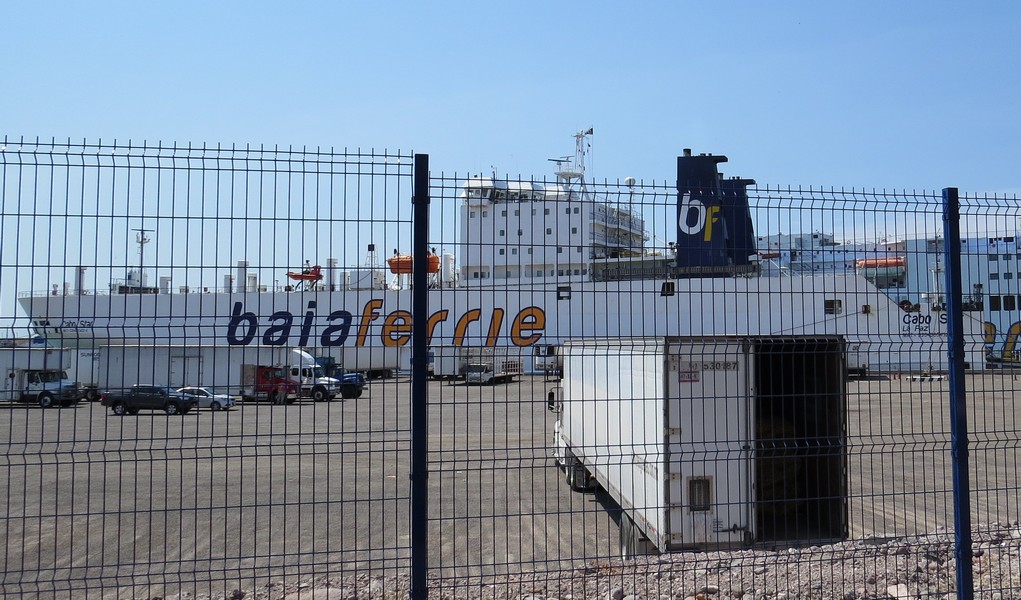 From La Paz you can catch a ferry to mainland Mexico.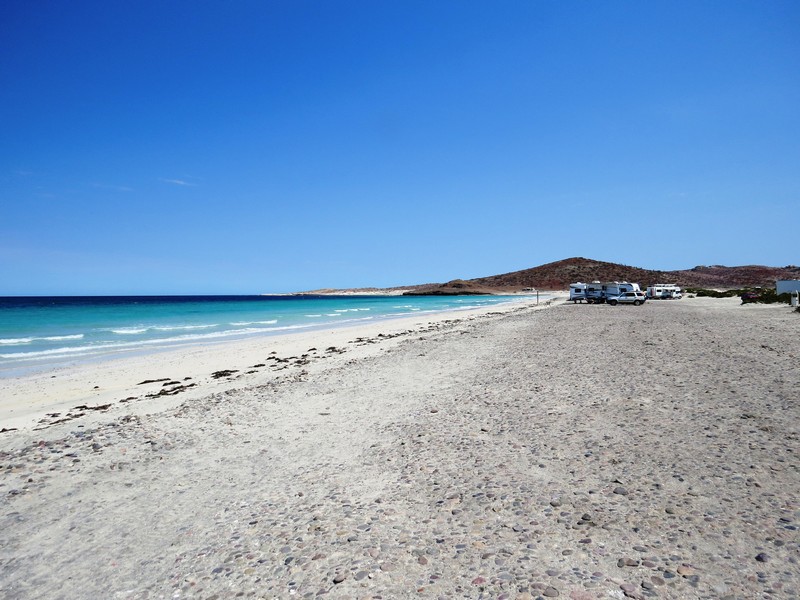 North of La Paz is Tecolote beach, a popular camping spot.





The road to La Ventana, south of La Paz on the Gulf of California.





Windy La Ventana is popular with kite surfers. We spent a delightful afternoon watching them dance across the water.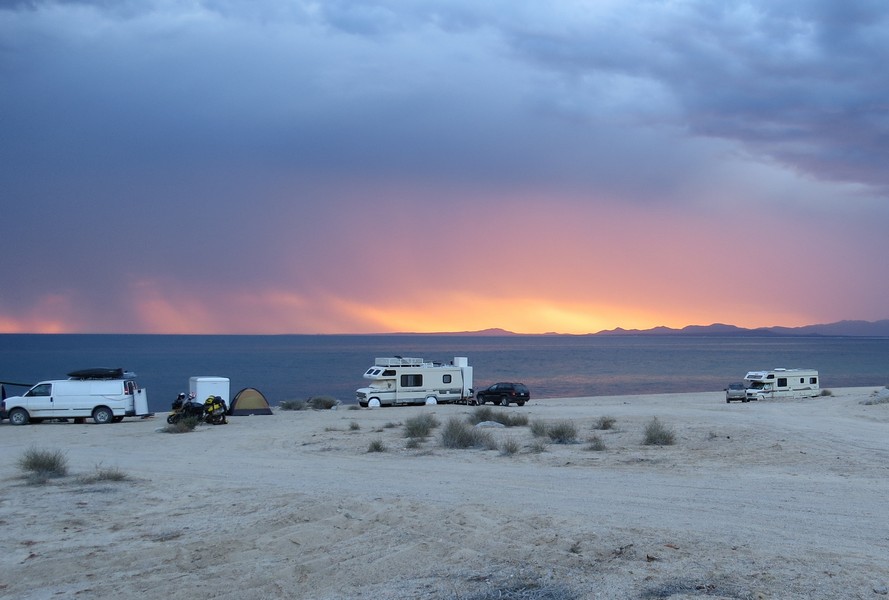 Sunset at La Ventana





Magnificent frigatebirds heading home to roost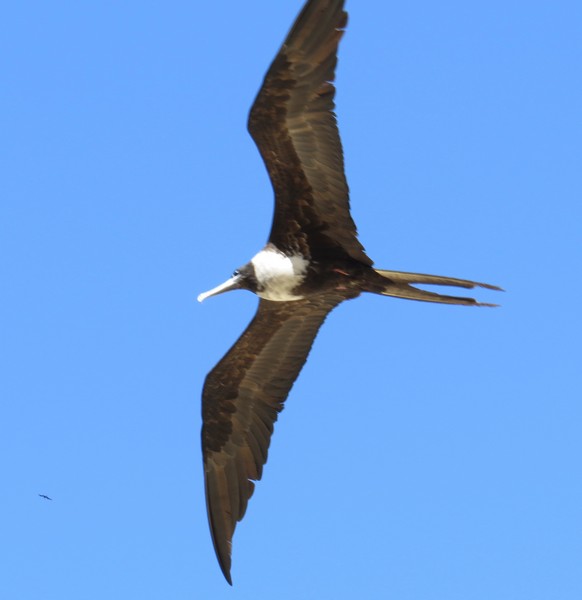 A female or juvenile magnificent frigatebird. The males have a red throat pouch.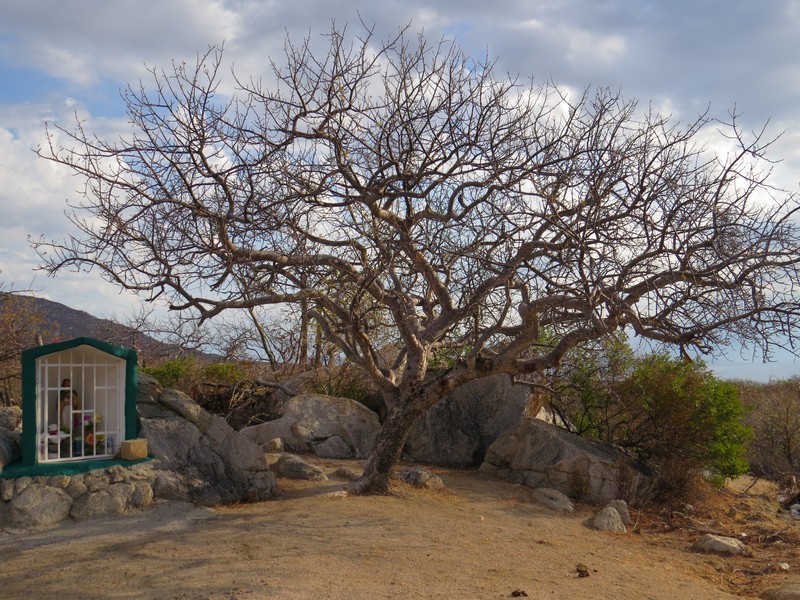 Another roadside shrine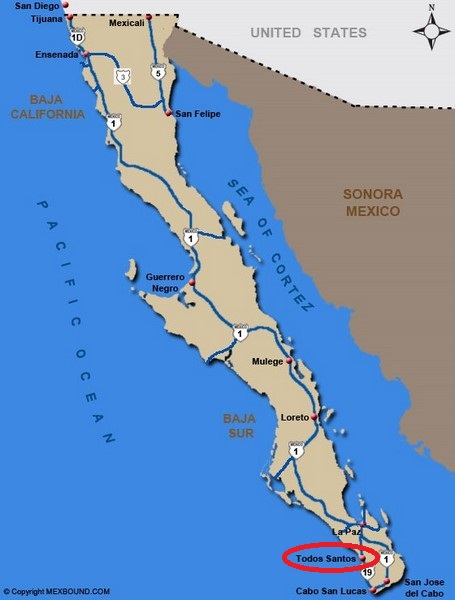 Our next stop was Todos Santos, a small artist town just an hour north of Cabo.





The church in the center of town





There are many expats in Baja (often called "Mexpats"). The Gringo Gazette keeps them up to date on Baja happenings.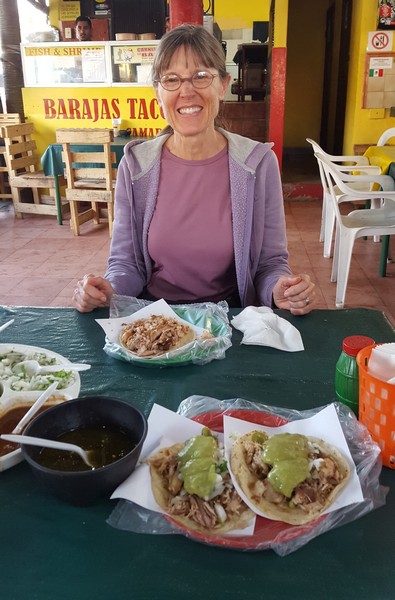 Todos Santos has many upscale restaurants, but we opted for tacos off the beaten path.





Las Playitas, Todos Santos. The beaches in Baja are beautiful, and each one is different.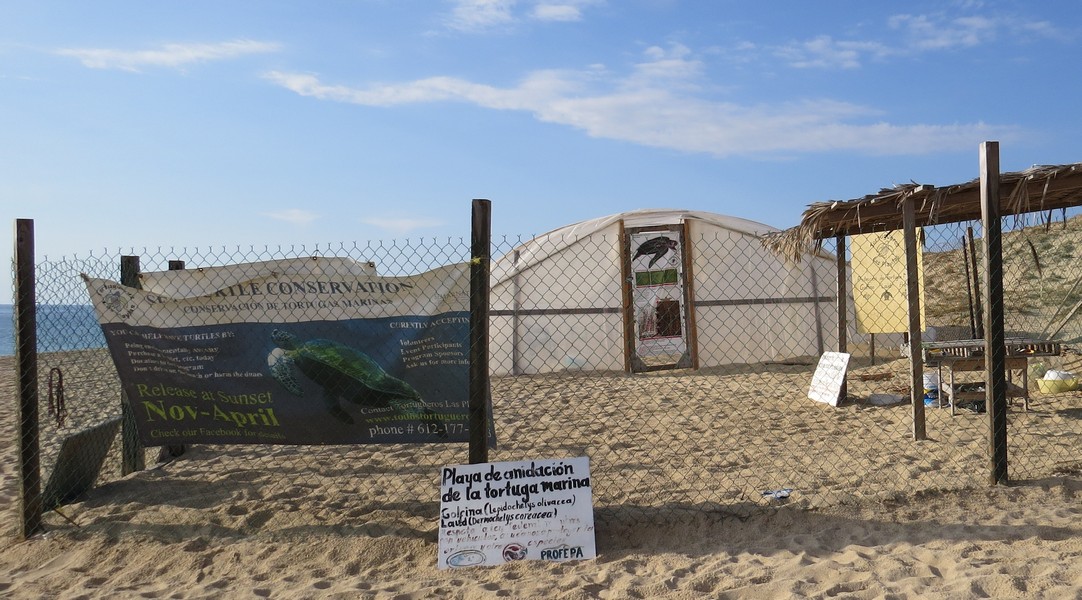 In an effort to save endangered sea turtles, a local organization built this hatchery. Each evening they release any turtles that hatched that day. No turtles had hatched on the day we were there.





In nearby Punta Lobos, the fishermen drive their boats up onto the beach at night. They gun the motor and ride a wave ...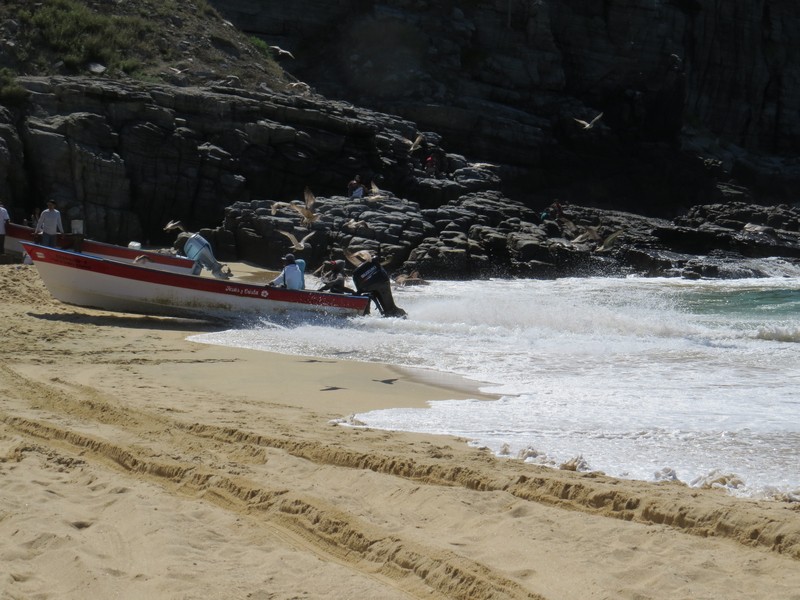 ... right up onto the beach. It's very fun to watch!





Sunday is family day in Mexico, and the beach was filled with fishermen and their families.





The day's catch





Selling fish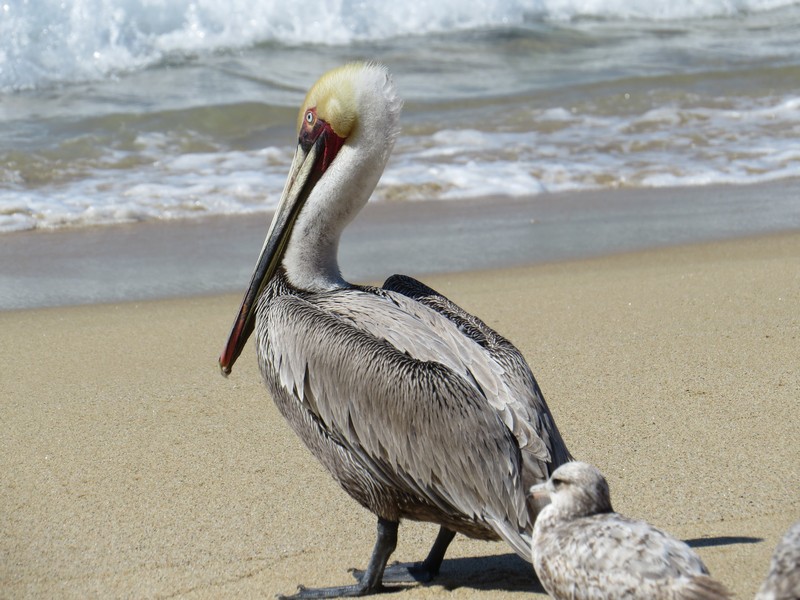 A pelican hoping for handouts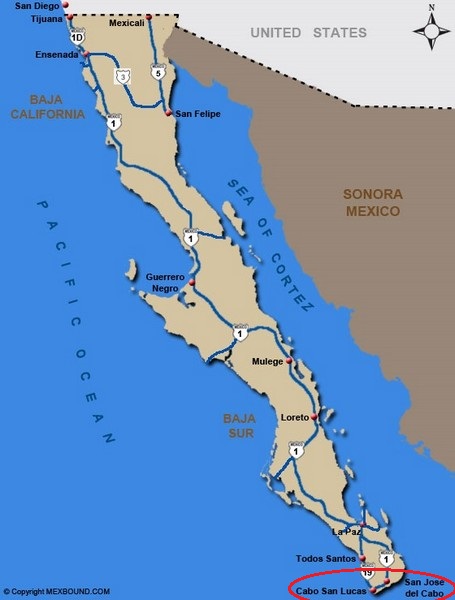 Cabo San Lucas (usually just called "Cabo") is a resort vacation destination; San Jose del Cabo, just an hour away, is a regular Mexican town.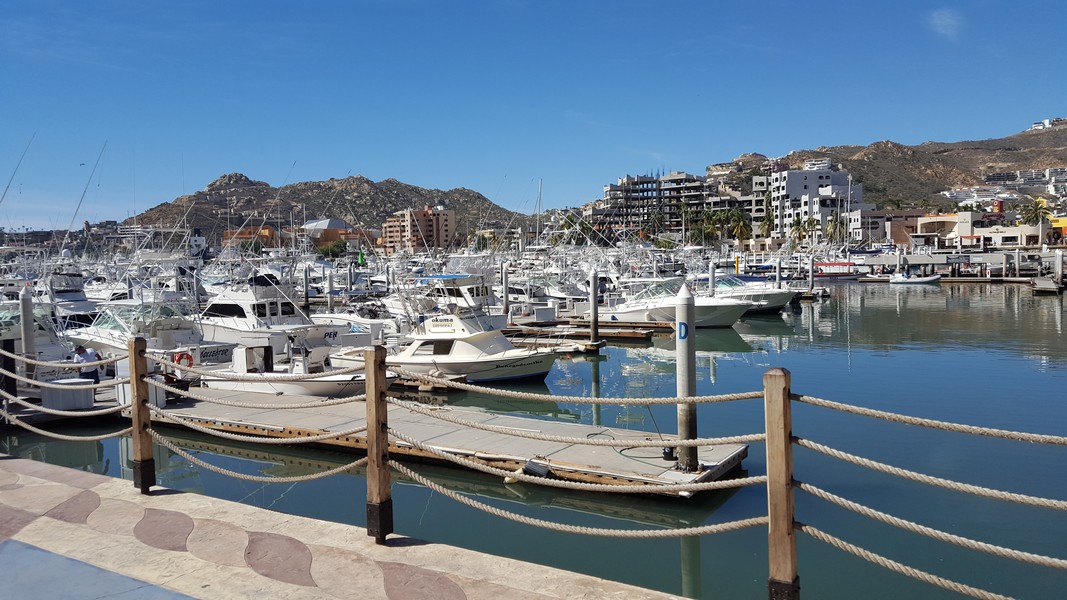 The Cabo San Lucas marina





For $10 per person you can take a 40-minute boat ride to see "land's end," where the Pacific Ocean meets the Gulf of California.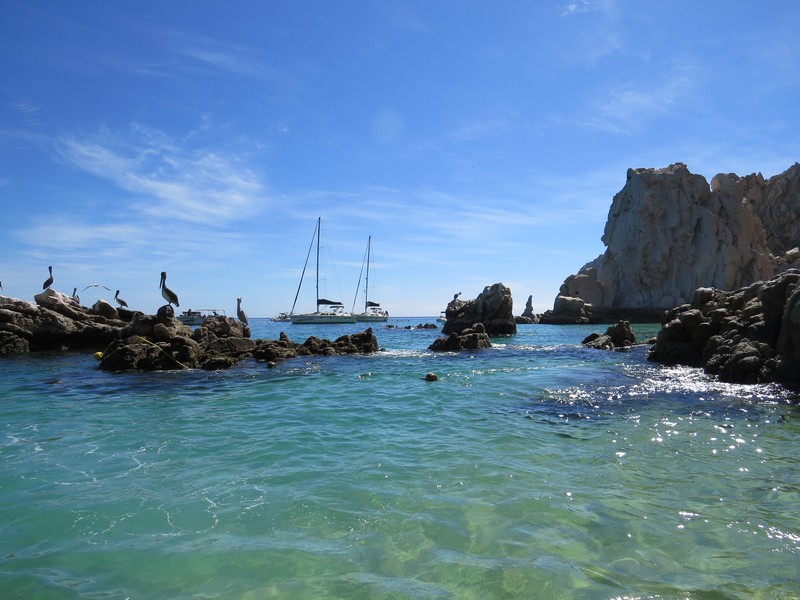 Gorgeous scenery, sunshine, and a plethora of watery activities -- although it's not my kind of vacation, I can see why Cabo is so popular!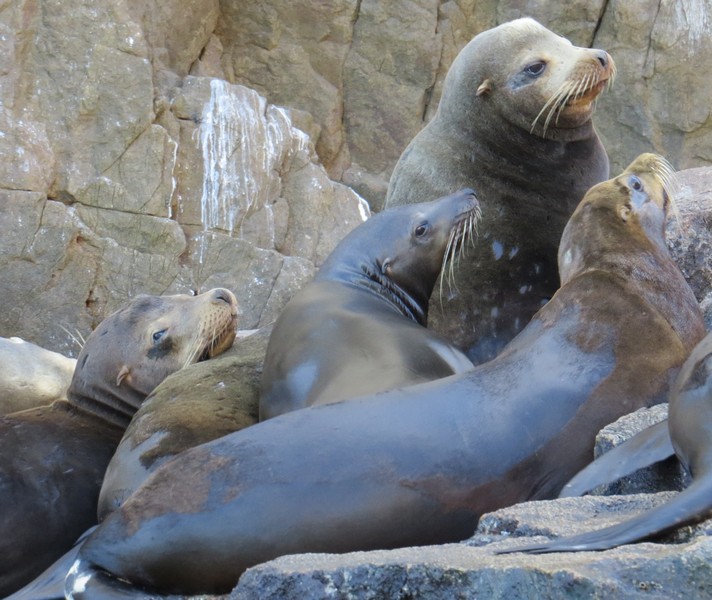 Sea lions are called "sea wolves" in Spanish. They are VERY smelly! (Think of a dumpster in the sun behind a fish market.)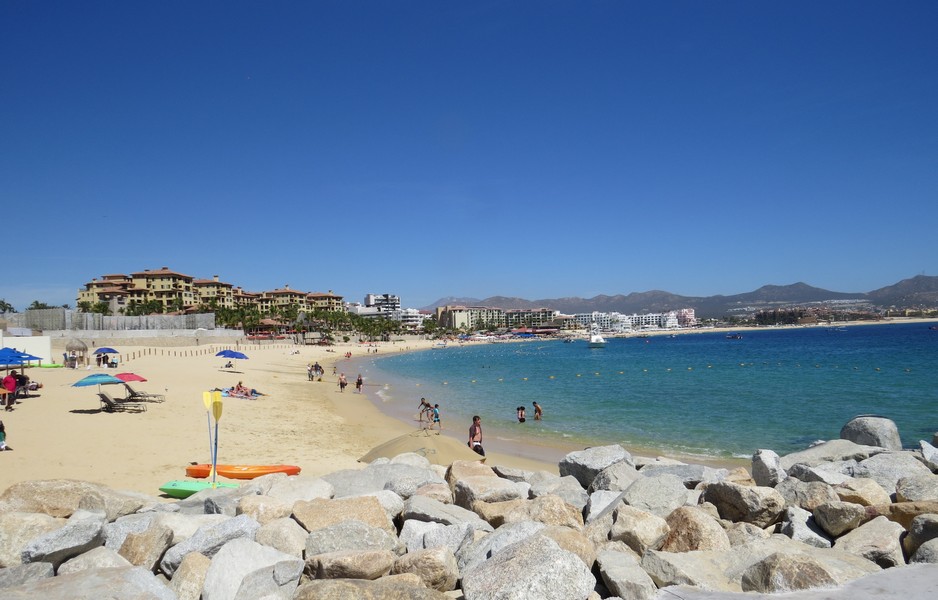 A beach in Cabo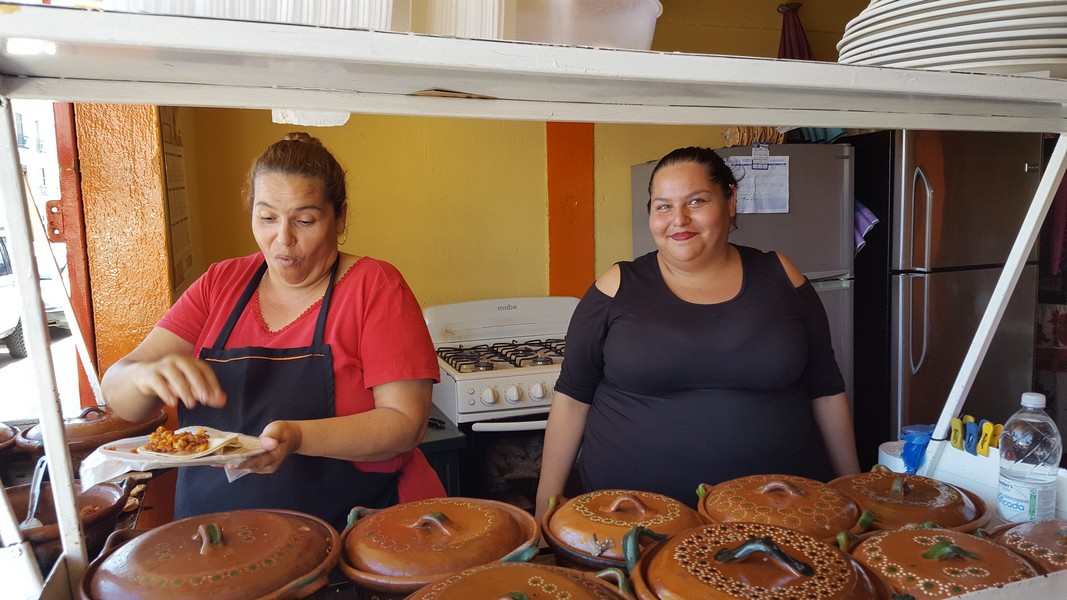 A few blocks from the resort area is the Mexican part of town. When we saw these two jolly cooks we just knew their food would be good, and it was!





Mushroom and cheese taco, anyone? Potato and chorizo?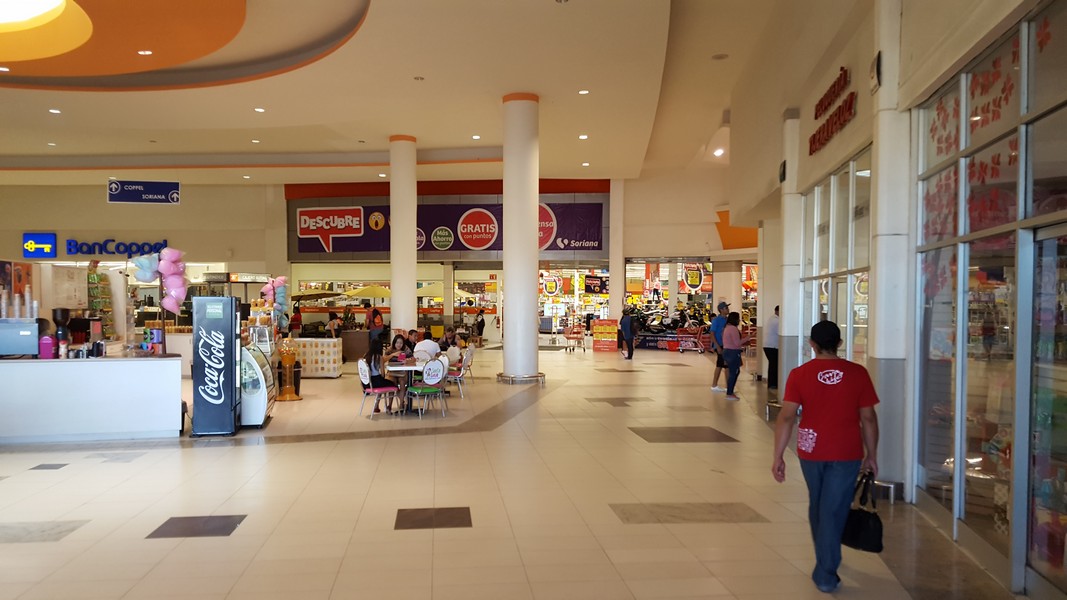 A megastore near Cabo. I hope stores like this don't put local shops out of business, like has happened in the US.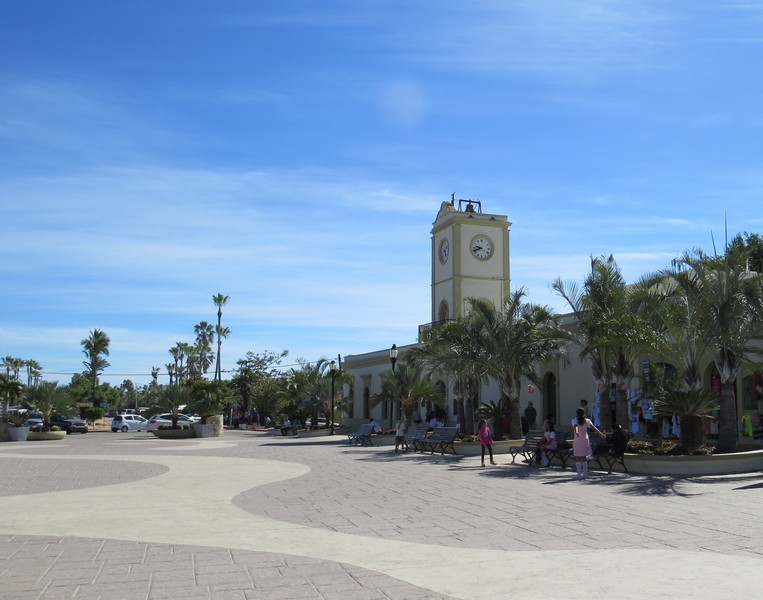 We really liked San Jose del Cabo. It has a large, pedestrian-only central square and isn't too big or touristy.





The Loncheria (from the English word "lunch") in the San Jose municipal market. A Mexican municipal market is the original one-stop-shopping center, where you can buy food, clothes, and household goods from local vendors, and grab a bite while you're there.





The San Jose estuary is a freshwater coastal lagoon and a bird refuge.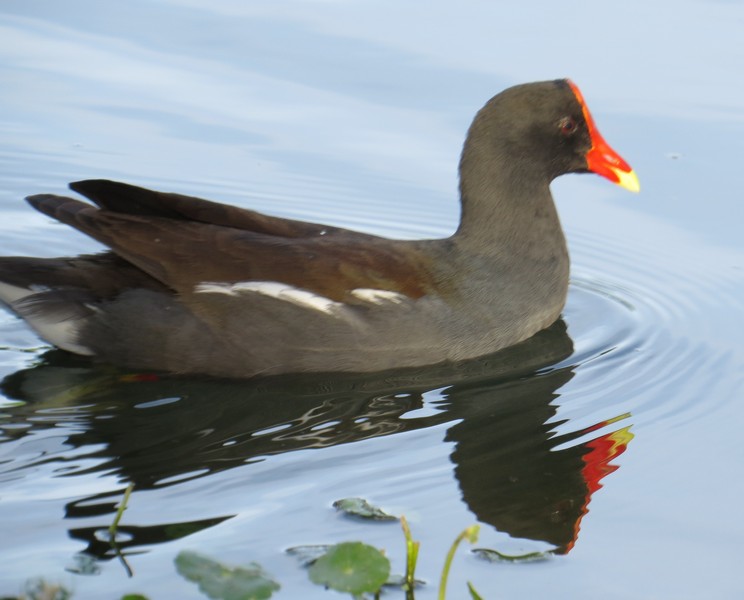 Moorhens have electric orange faces, as if they dipped their bills into a can of paint.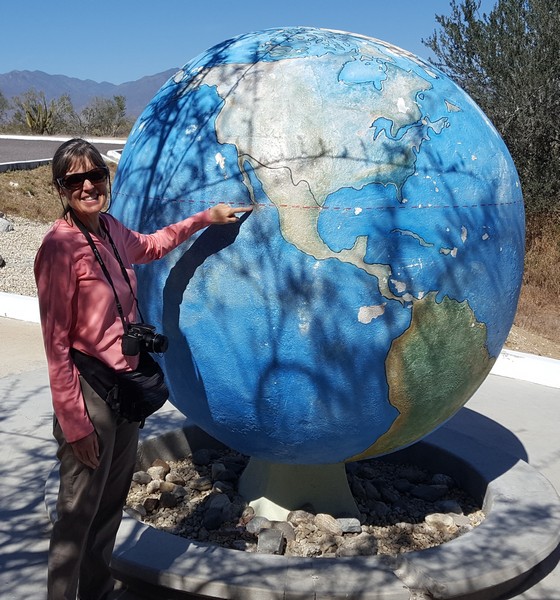 Heading north, we crossed the Tropic of Cancer.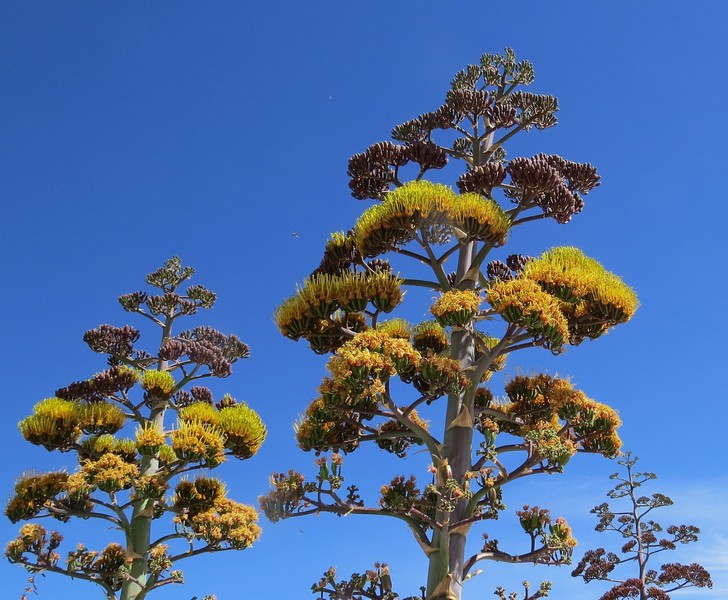 Coastal agave blossoms soar 12 feet high





There's a road around the East Cape, but part of it is unpaved, and it was in rough shape due to recent heavy rain. So we opted for the paved highway to Los Barriles,





The small town of Los Barriles is known for its beach and for kite surfing.





Los Barriles sunset





Like many Baja towns, Los Barriles is a fishing village whose livelihood increasingly revolves around tourism.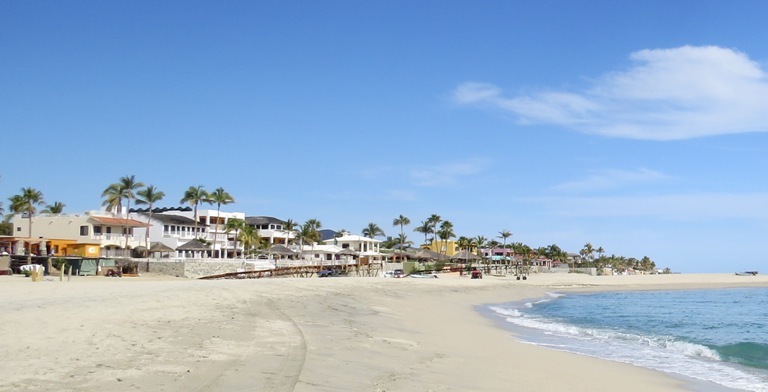 Gringo houses have transformed many beaches in Baja. I don't blame the Mexicans for wanting to capitalize on their real estate, but it's kind of sad to see the waterfront becoming privatized. Someday they may wish they had preserved it for public access, but it will be too late.





Los Barriles is also known for ATVs. They're loud and there are a lot of them.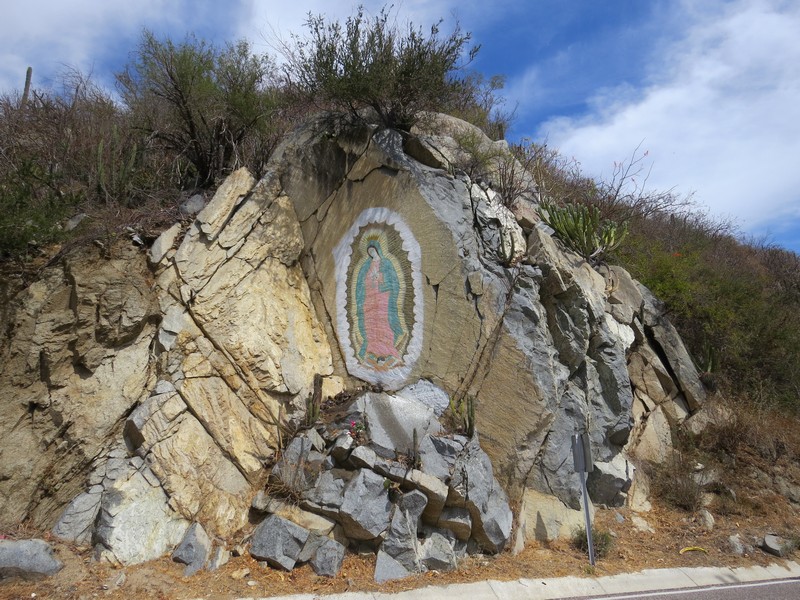 Mexico is a very Catholic country, and they especially love Mary.





Continuing north, we stopped for a picnic in the quiet town of San Antonio .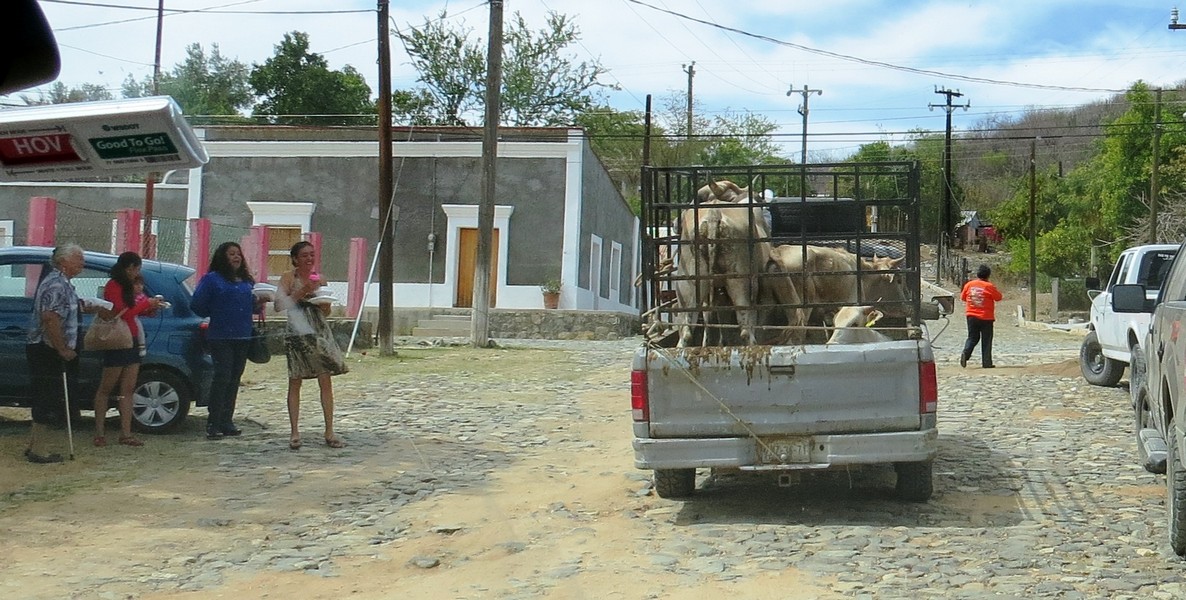 Weekday life in San Antonio





The mission church in El Triunfo. The town was once a prosperous silver and gold mining town, home to more than 10,000 miners.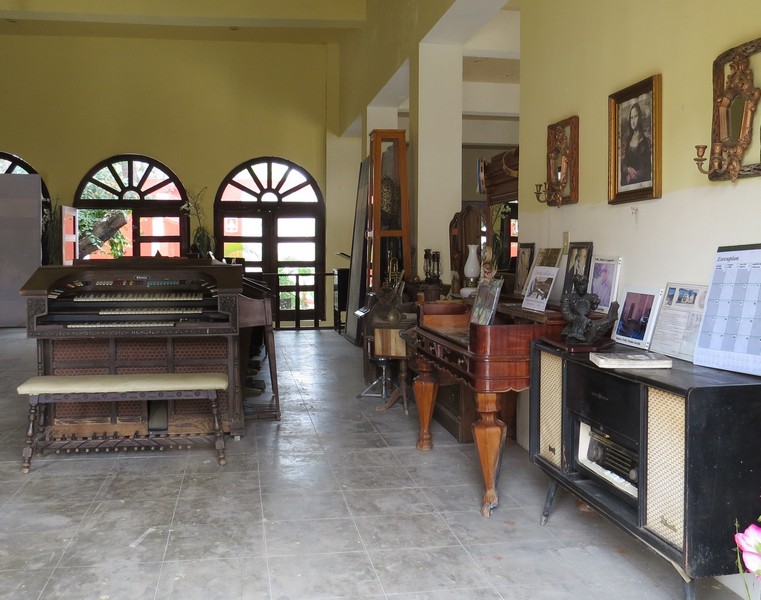 In its heyday the town was a cultural center. Pianos and other instruments were brought to El Triunfo from all over the world and are preserved in this museum.





Side trip to San Carlos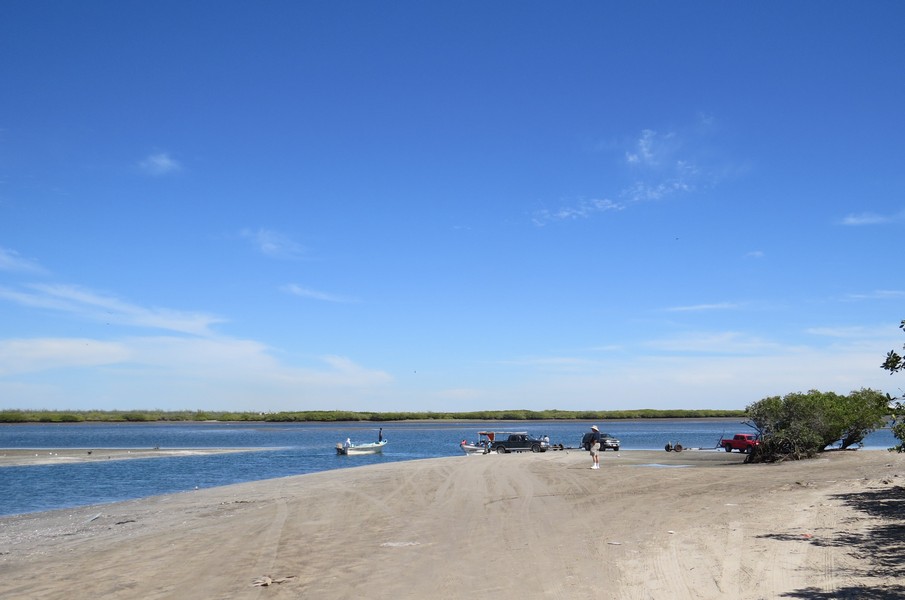 San Carlos is a sleepy fishing town on a bay of the Pacific, near another whale calving lagoon.





Local teens hanging out in San Carlos.





An osprey feeding its chick. What looks like the chick's tongue is a piece of fish.





In Ciudad Constitucion we stayed in a campground with a swimming pool, where we watched the local swim team practice.





The next morning the town was enveloped in a thick coastal fog.





Side trip to Punta Abreojos





The desert abloom on the road to Abreojos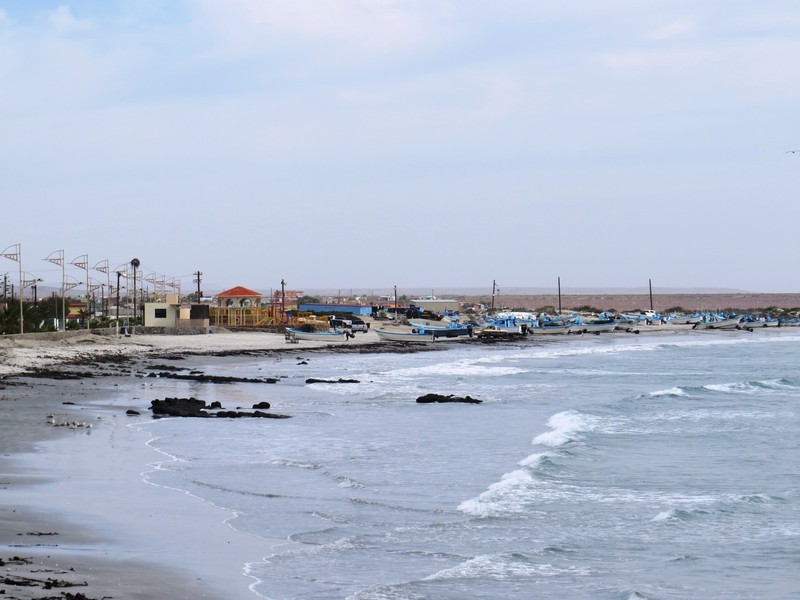 The quiet fishing town of Punta Abreojos





Abreojos was our favorite beach in Baja because it's beautiful, empty, and walkable. Many beaches are sloped or have deep, soft sand, but this one is almost flat and very firm.





Boondocking (camping for free) at Punta Abreojos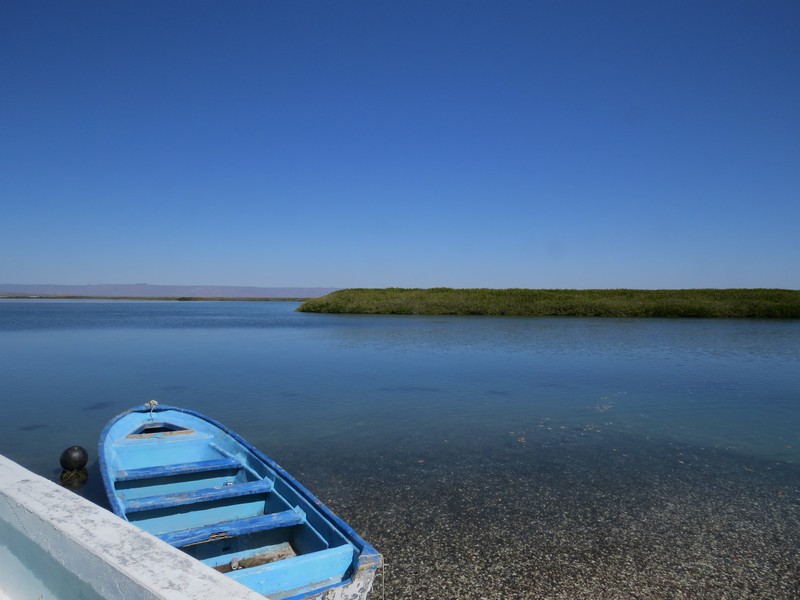 Coyote Estuary in Abreojos is a great place for watching birds, dolphins, and coyotes.





San Felipe is only a few hours south of the border and is a popular weekend destination.





We drove to San Felipe across the mountains from Ensenada. It's a very scenic road.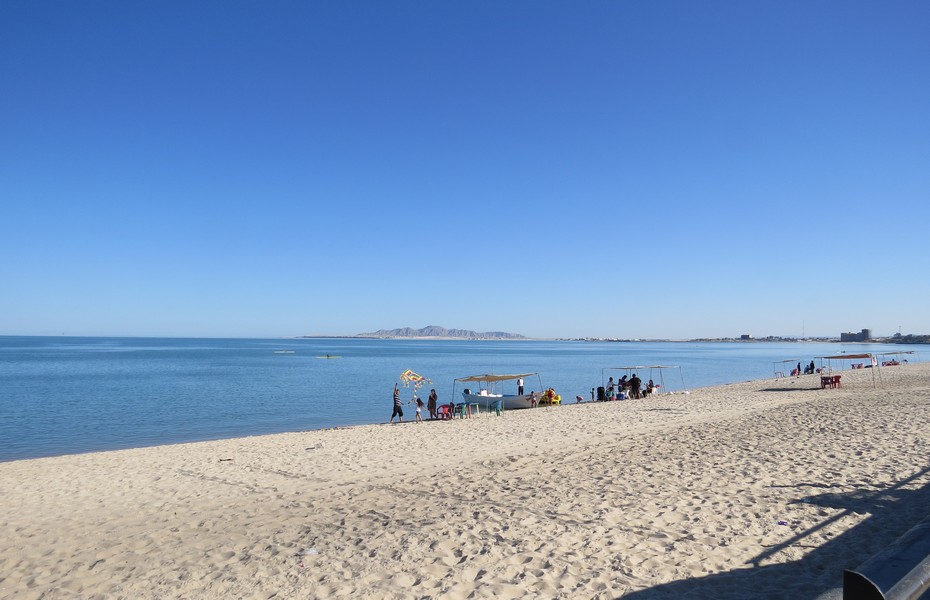 The beach in San Felipe. This wasn't our favorite town in Baja, because it's touristy, and it's very arid, so there are few plants.



---
Back in the US


Dinner with Karen's parents, brother, and niece in 95-degree Scotsdale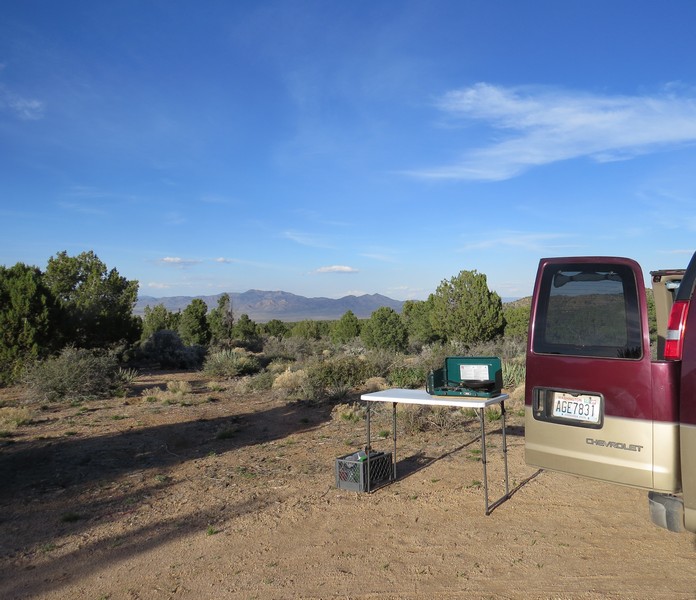 Boondocking near Kingman, Arizona, in the Hualapai Mountains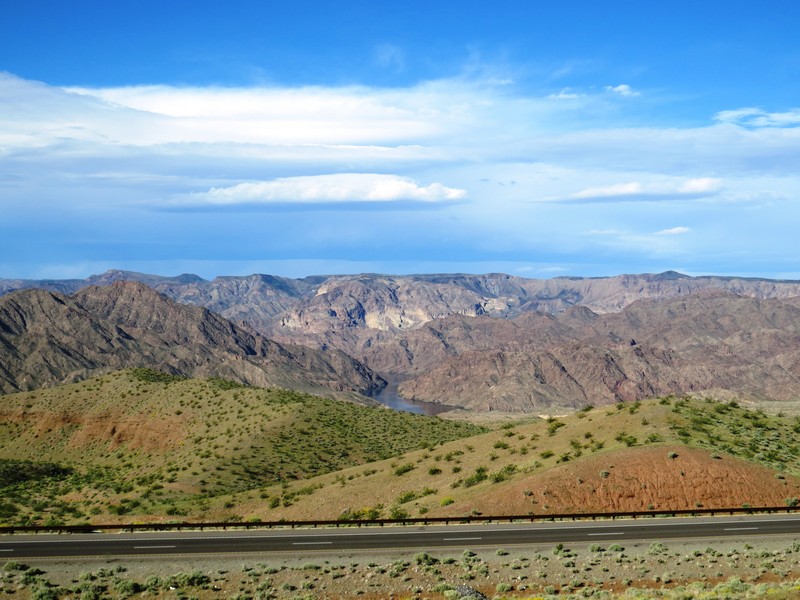 A finger of Lake Mead in southern Nevada





No, this was not taken in Mexico. Welcome to Eastern Oregon, where I'm pretty sure cows outnumber people.





Dramatic weather in Eastern Oregon





Remnants of winter on the mountains of Eastern Oregon





More Eastern Oregon scenery. Have we mentioned how much we love Eastern Oregon?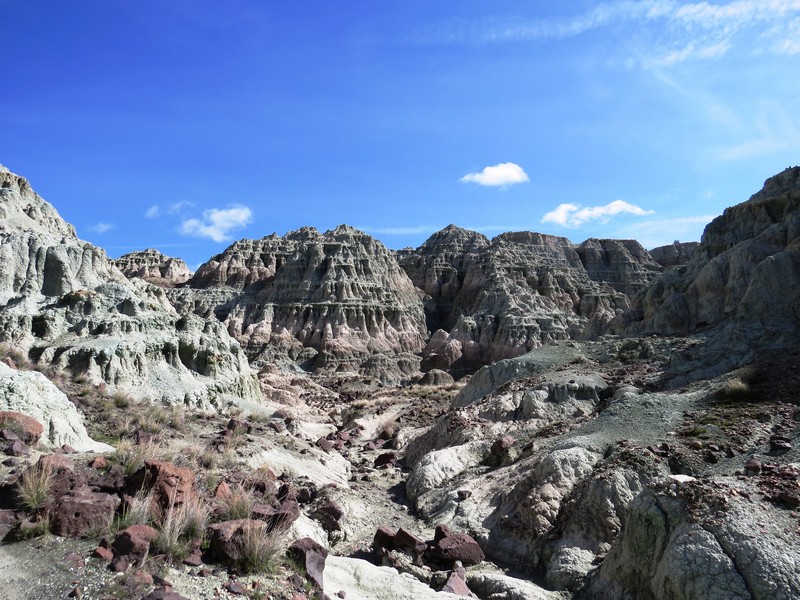 After a lovely visit with friends in John Day (I forgot to take pictures...) we went for a hike in John Day Fossil Beds National Monument. This is called the Blue Basin because the rock is tinged blue with copper.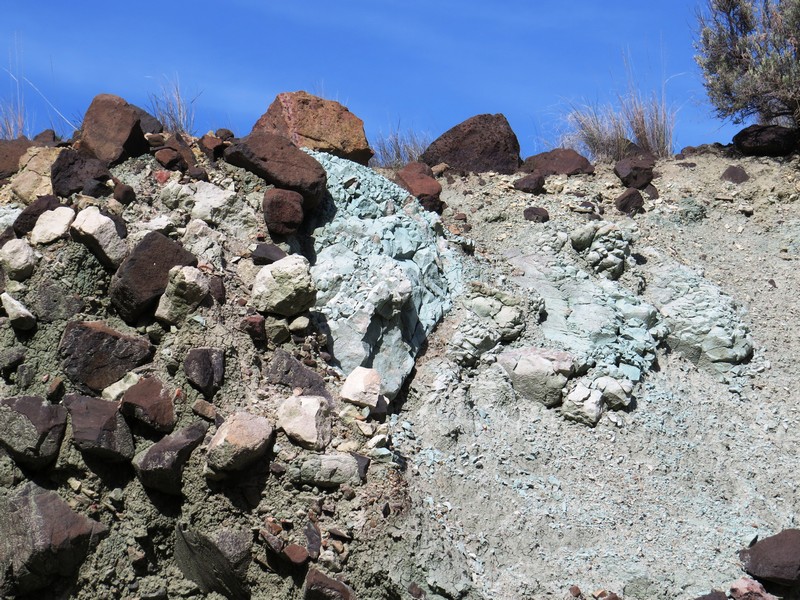 Blue rock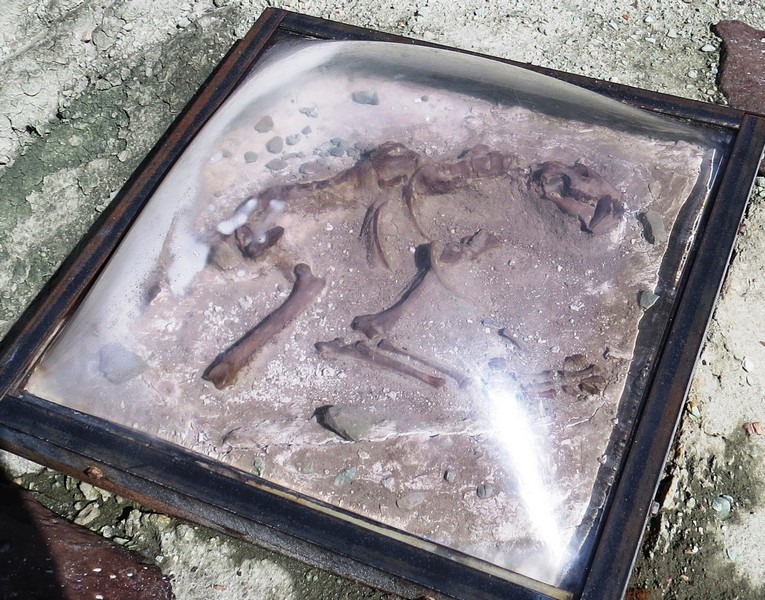 A plaster cast of a fossil. This region is known for its well-preserved layers of fossil plants and mammals that lived between 5 and 45 million years ago.





Hiking in John Day Fossil Beds National Monument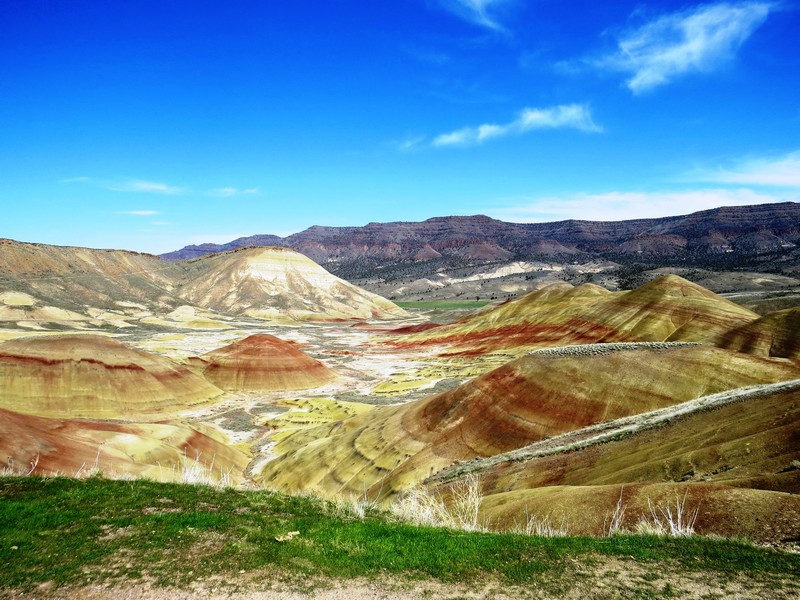 Eastern Oregon's Painted Hills are a rainbow of mineral-striped hills.



---
Trip Costs
Many of you ask how much a trip like this costs, and it's a lot less than most people think. The total (gas, groceries, camping, boat trips, car insurance, visas, restaurants, maps and books, toll roads, etc.) was $2483. That's $32 per person per day. Of course, that does not include 6400 miles' worth of wear and tear on the van.