To Newfoundland and Back: Canada's Atlantic Provinces
Summer 2022
Nine weeks and 13,000 miles took us from Seattle to the tip of Newfoundland and back. Along the way we visited family and friends, saw many beautiful places, and visited our 50th state, Rhode Island.
Click here to skip directly to the Atlantic Provinces.
Click here to learn about our Promaster van build.
---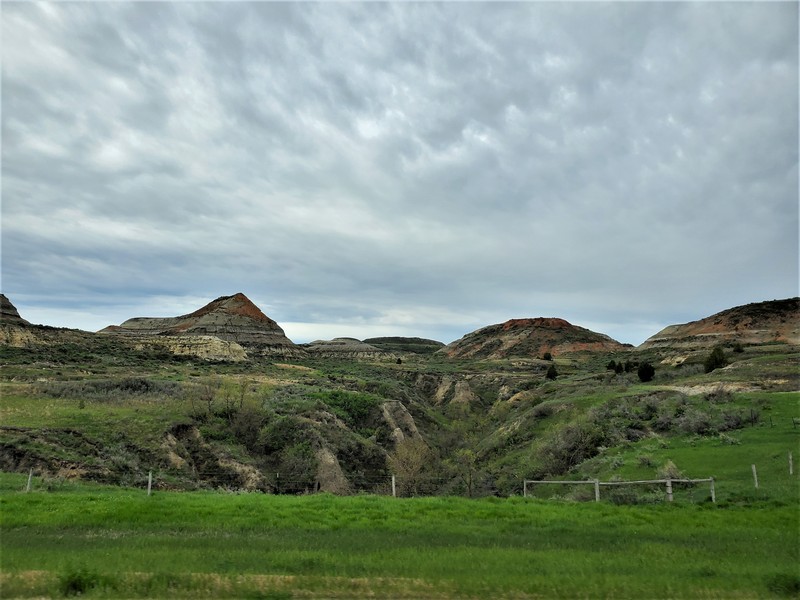 The colorful striped hills of Montana's badlands looked good covered in spring green.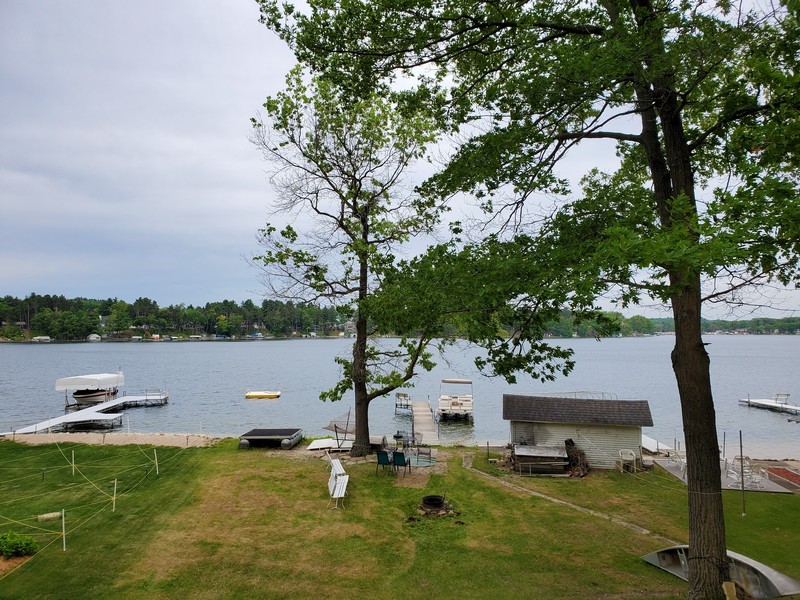 We made it to Wisconsin in time for the annual Memorial Day "pier push" with Grant's eight cousins at the lake cottage they all share. (The dock, or pier, is on wheels. It gets pulled out of the lake in the winter, and pushed back in the summer.) They've had everything from snow to 100+ degrees on Memorial Day. We got lucky and had perfect temps in the high 80s.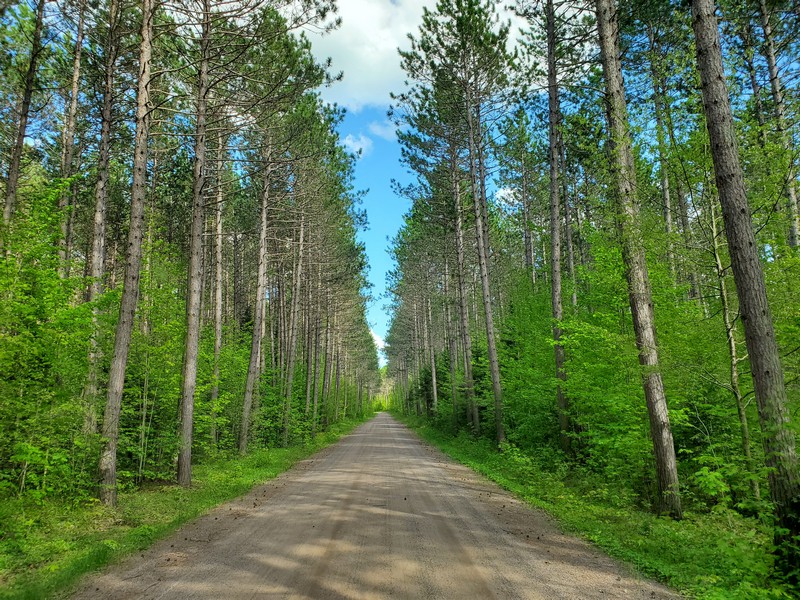 A forest drive in Michigan's Upper Peninsula. Buggy and beautiful!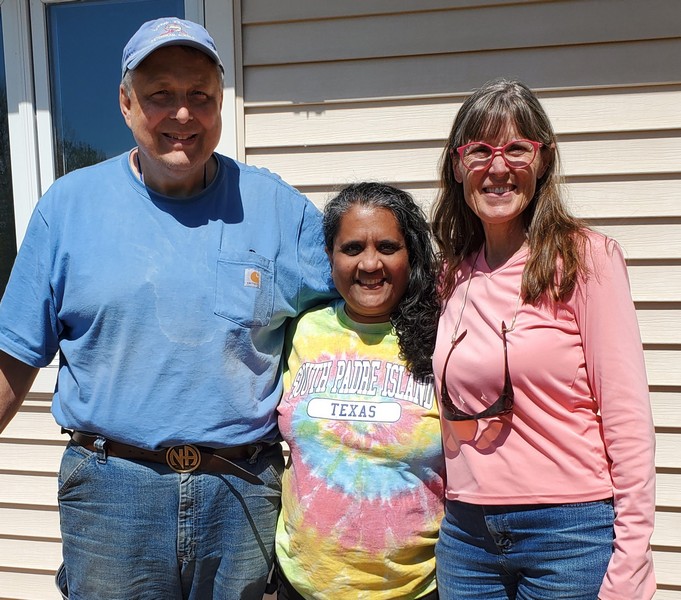 It was so nice to see our friend Charlene in Ashland. She is an immigration lawyer who's been working on the Texas border. While we were visiting her she was receiving text updates from the CBP in Texas, where a man was reuniting with two children he hadn't seen in 10 years! Charlene orchestrates many such reunions, but she doesn't attend them because she doesn't want her clients to feel indebted to her, and she wants the focus to be on them, not her. Did I mention that she is a fabulous cook? (Who knew that roasted sweet potatoes and blue cheese crumbles were such a great combination?)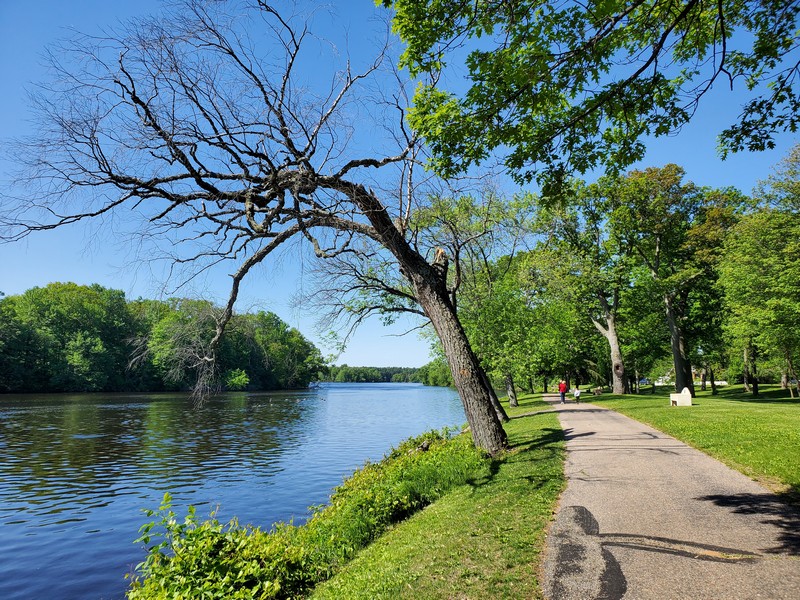 Walking along the river in the town of Wisconsin Rapids. Google Maps makes it easy to find parks and trails in any town.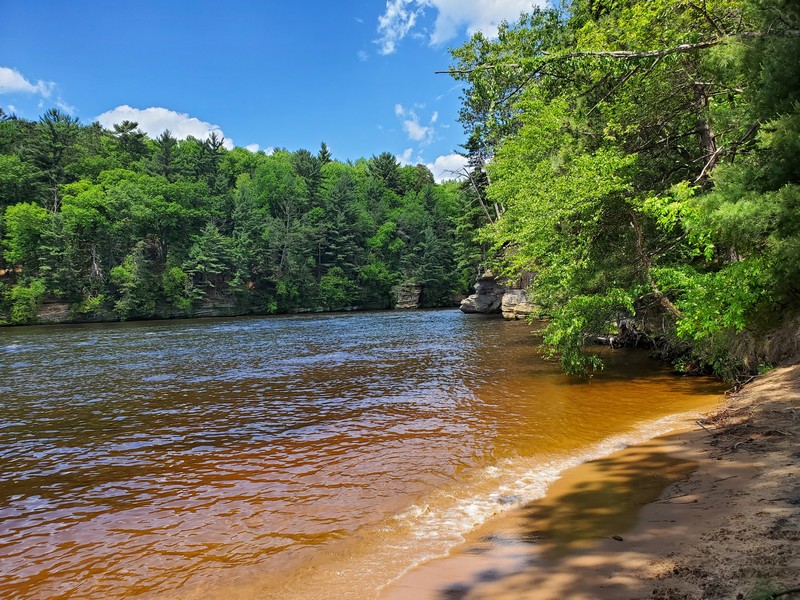 Chapel Gorge trail in the Wisconsin Dells. The town is touristy, but the rock formations along the river are beautiful. There are various boat ride options through the gorge.





We loved the university town of Madison, Wisconsin, especially the campus on the lake, mansion hill, and the arboretum.





The Madison arboretum features a Thai pavilion covered in gold leaf (donated by Thai alums).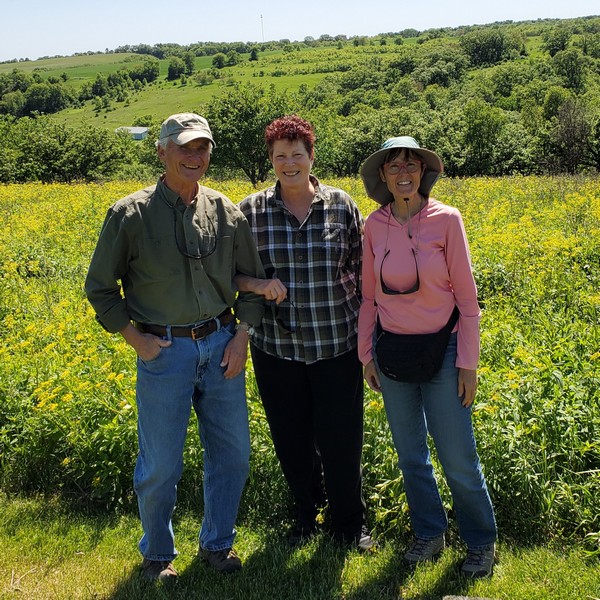 Marci and Jim Hess have restored over 50 acres of prairie, oak savannah, and forest on their 60-acre property in southwest Wisconsin. You can read about their inspiring work on their website. You can watch a brief interview with Marci on this PBS show. She speaks eloquently about the importance of native plants for insects; without them there would be no pollination, no birds, and no us.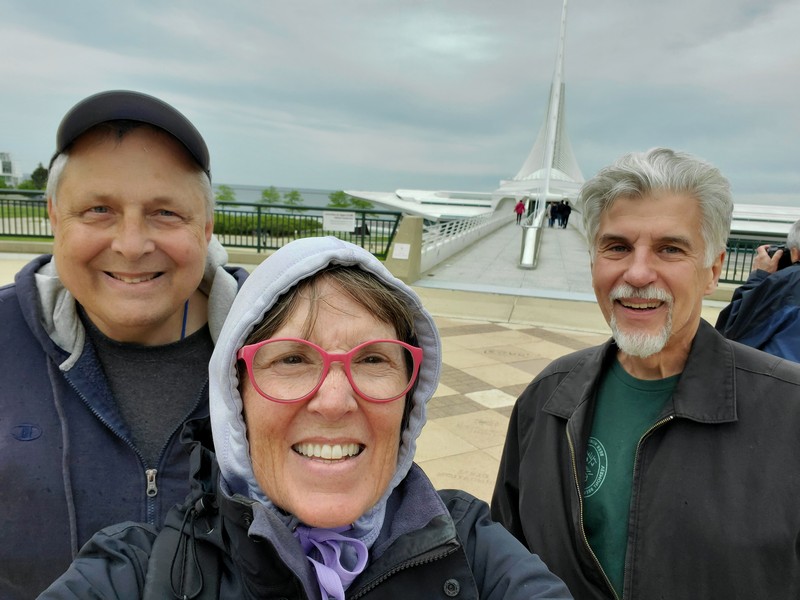 My cousin Bob took us on a fabulous tour of Milwaukee. This is the art museum. The roof opens into birdlike wings.





Milwaukee's once-gritty industrial waterfront now features delightful boardwalks, cafes, and condos. It's a great walking city with beautiful architecture, and is home to Harley Davidson.




Milwaukee is also home to the historic Pabst brewery. The architectural style is called "German Renaissance Revival." They had a great bluegrass band playing.





Indiana Dunes National Park on the shore of Lake Michigan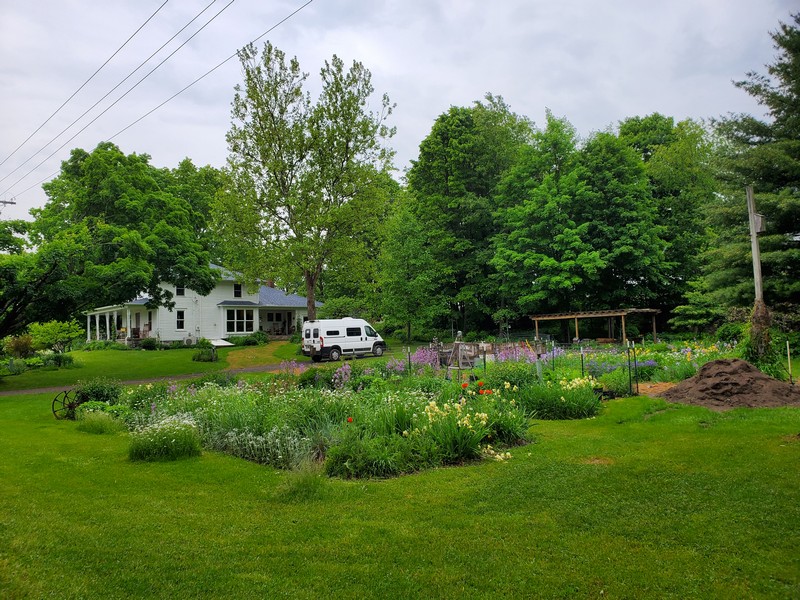 A lovely visit with Ralph and Patti, friends we met in Mexico, at their beautiful home out in the country near Hart, MI. Flowers, birds, mist, and tranquility.





Ralph and Patti's home is filled with treasures from their many years of traveling in Mexico. (Boy, do they have stories to tell!)





Wild azalea blooming at a viewpoint along Elk Scenic Drive in Pennsylvania. There are over 100 species of native trees here in what is called the "Pennsylvania Wilds" (one of the biggest blocks of green between New York City and Chicago, with two million acres of hilly and verdant public land). Pennsylvania is a very "sylvan" state!





Trail along the Susquehannah River in Lock Haven, PA





Lock Haven has many restored ornate mansions from the 1800s.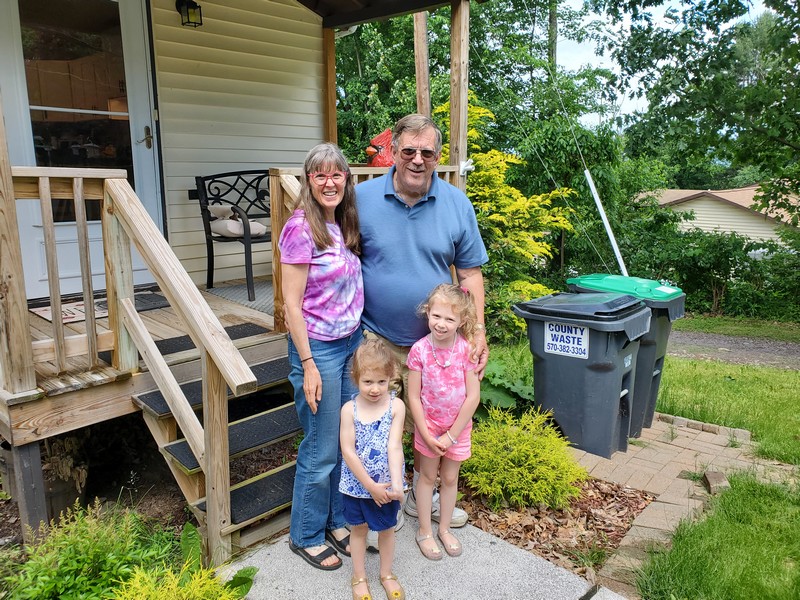 In Mountain Top, PA, I visited my dad's cousin John, keeper of many family photos and documents. He was babysitting his adorable granddaughters. How do you know if someone is your first or second or third cousin? It's easy: count the Gs! If you share Grandparents (one G) you are first cousins. If you share Great Grandparents (two Gs) you are second cousins, etc.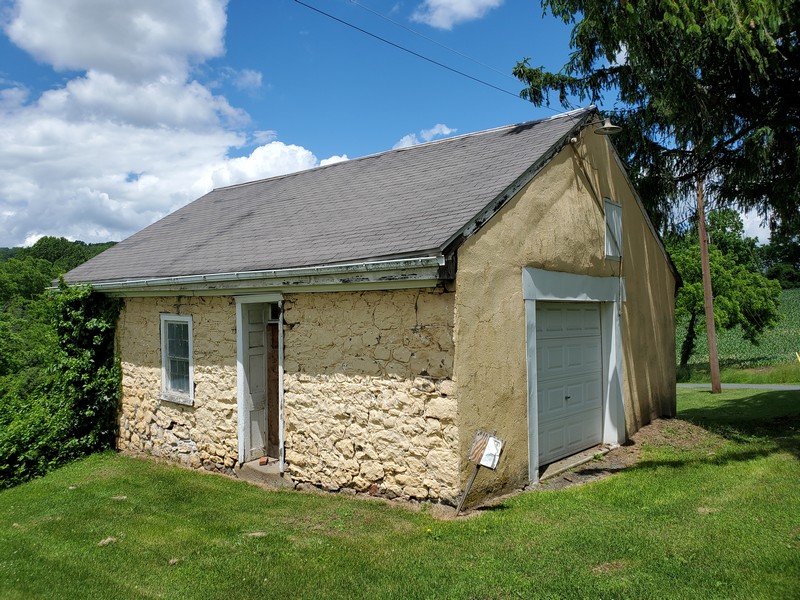 This stone house was originally built by my 6th great grandfather, Felix Arner, in 1748. Felix immigrated from Switzerland with his parents in 1743. It was an arduous and eventful voyage, well documented by several passengers.





Felix died in 1776 and is buried at the Union Church in Neffs, PA. The carving was obscured by lichen, so we used water and a soft brush to clean it. It was still a bit hard to decipher, and I wished I'd brought rubbing paper.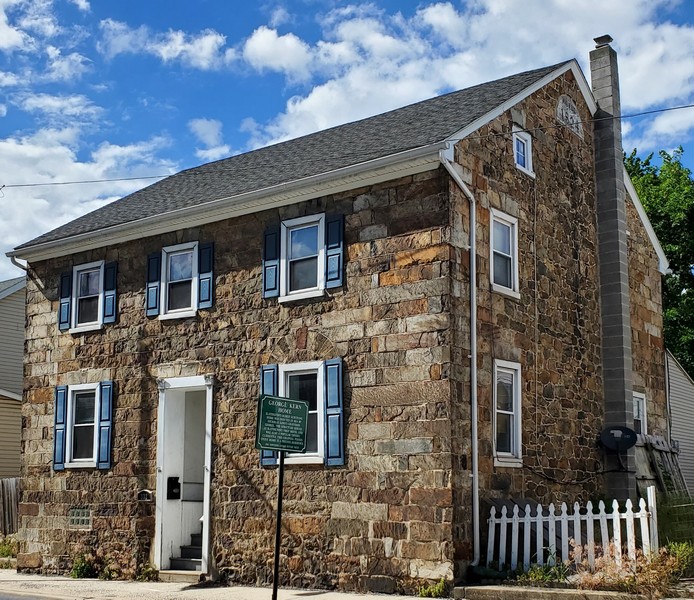 The oldest surviving home in nearby Slatington, PA (blackboard capital of America), was built in 1824. I never get tired of looking at the old homes in the Eastern US.





To keep costs down and save time, most nights we "boondocked," which means we found a spot that allowed overnight parking. Here we are next to a trail in Slatington.





The 165-mile-long D&L rail trail runs along the Lehigh River in Slatington.





Blocky outcroppings of slate are visible along the trail.





From Dobbs Ferry, on the Hudson River, you can see Manhattan to the south.





A joyous reunion for a sad occassion. My mom, siblings, and cousins gathered to inter the ashes of my beloved father in Hawthorne, NY.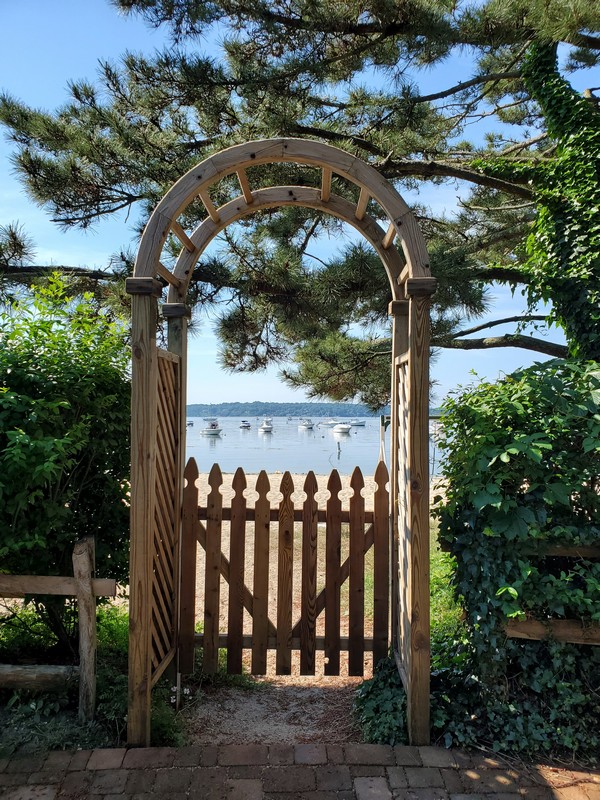 Entrance to the beach near my aunt's house in Northport, NY, on Long Island





My 84-year-old mom (left, in flowered shirt) with her sister Pat (center, in white) and various cousins. They all live in New York, and my mom lives in Seattle, so this was a rare and special gathering.





My cousin Carrie, her husband Dan, and daughter Sam at their 1740 home in charming Bethel, CT. Many parts of the house, including the ceiling beams, are original. The house, set in three forested acres, is called Fern Ridge. Palmolive Madge lived here for 20 years. P.T. Barnum was born and raised in Bethel.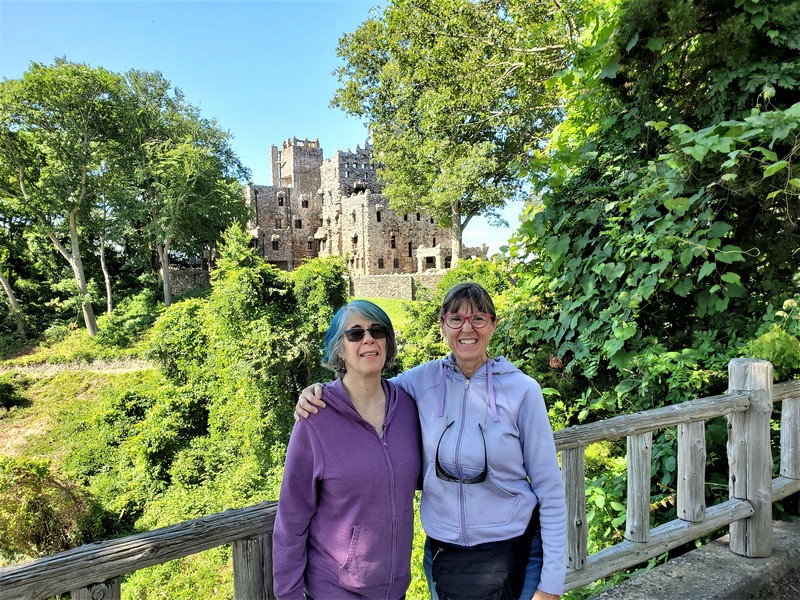 With my super hip cousin Lauren Agnelli at Gillette Castle State Park in East Haddam, CT. The castle was the estate of William Gillette, an actor famous for his stage portrayals of Sherlock Holmes. (As for Lauren, she was a Grammy-nominated musician with The Washington Squares, among many other musical and writerly achievements.)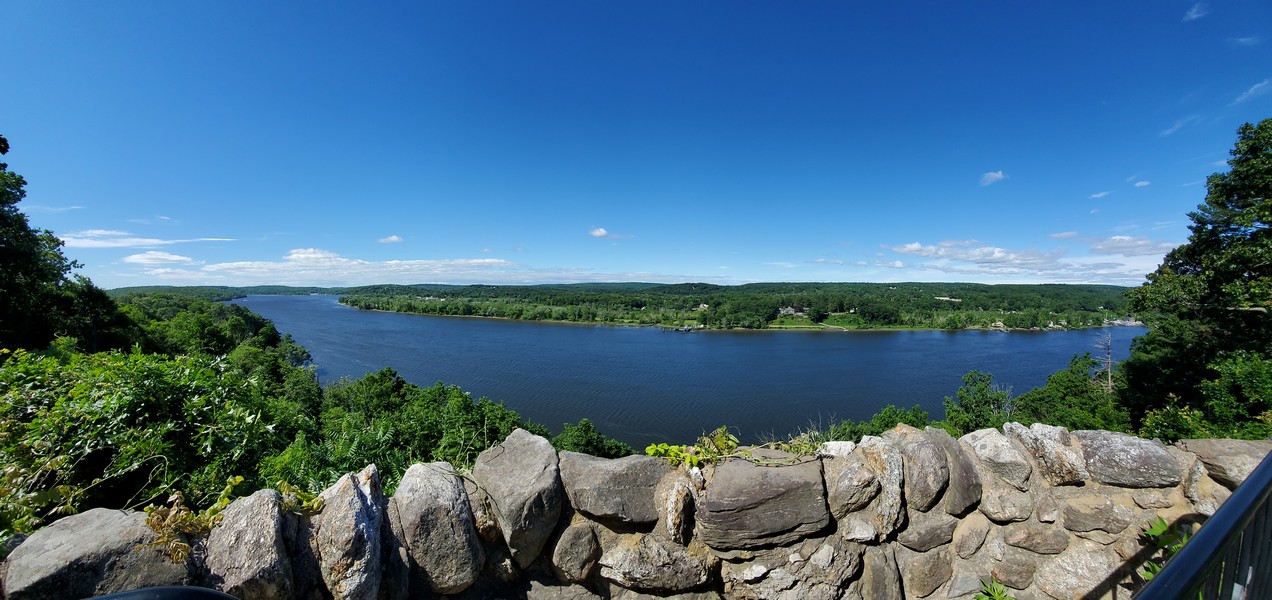 Looking from Gillette Castle across the Connecticut River to Chester, where Lauren and hubby Matthew live. New England is packed with charming towns, and Chester is one of them!





Mystic Seaport in Connecticut is a "living history" maritime museum with a re-created 19th-century seafaring village, old sailing ships, and working shipbuilding facilities. Fascinating!




The lower right quadrant of this video shows how wooden ship decks were caulked with oakum (hemp fibers soaked in tar).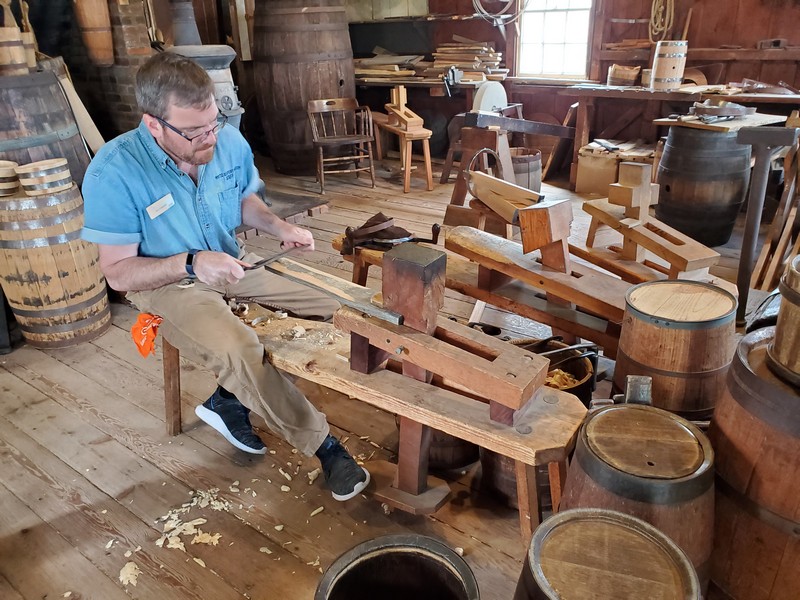 An ingeniously simple clamping device allows this woodworker to shape a barrel stave while the stave is held firmly in place.





If it was leeches you needed, they could be had at the local apothecary. (Leeches actually have beneficial properties and are still used in medicine today.)





What better way to celebrate visiting our 50th state, Rhode Island, than splitting a pint of pistachio ice cream! (It was heavenly.)





Newport, RI, was founded by English settlers in 1639, and is bursting with history. You read that right: the Colonial Legislature met at this tavern.





The Breakers is one of many Gilded Age mansions in Newport, RI; 62,482 square feet of living area on five floors. (The term "gilded age" was coined by Mark Twain to convey that the late 19th century was a time of opulent excess fueled by political corruption.)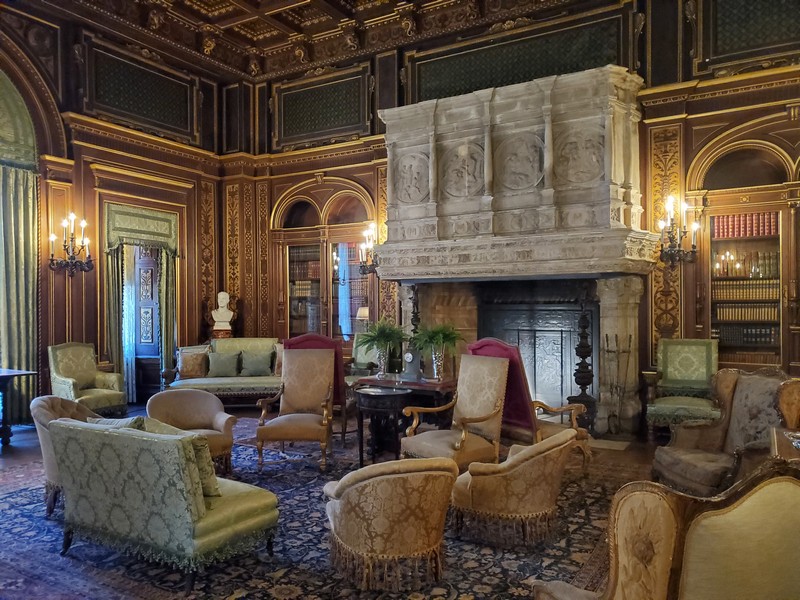 The library features an enormous stone fireplace imported from a French chateau.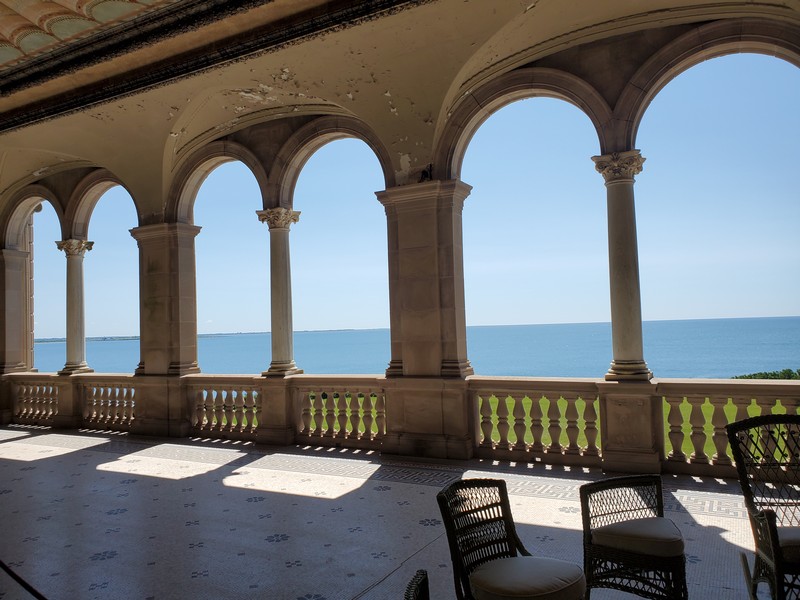 View from the terrace





Copper pots and a 21-foot-long cooking stove in the kitchen





The stunning Cliff Walk in Newport, RI, stretches 3.5 miles along the oceanfront, with views of several mansions. White daisies and fragrant wild roses spill down the cliffs.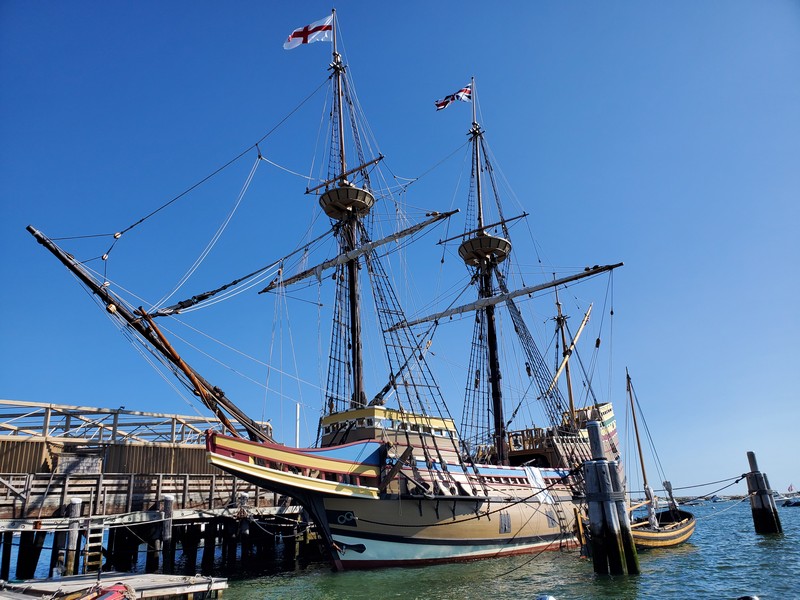 Plymouth, MA, was the site of the first Pilgrim settlement, founded in 1620. The Mayflower II is a full-size replica of the ship that carried the Pilgrims across the Atlantic.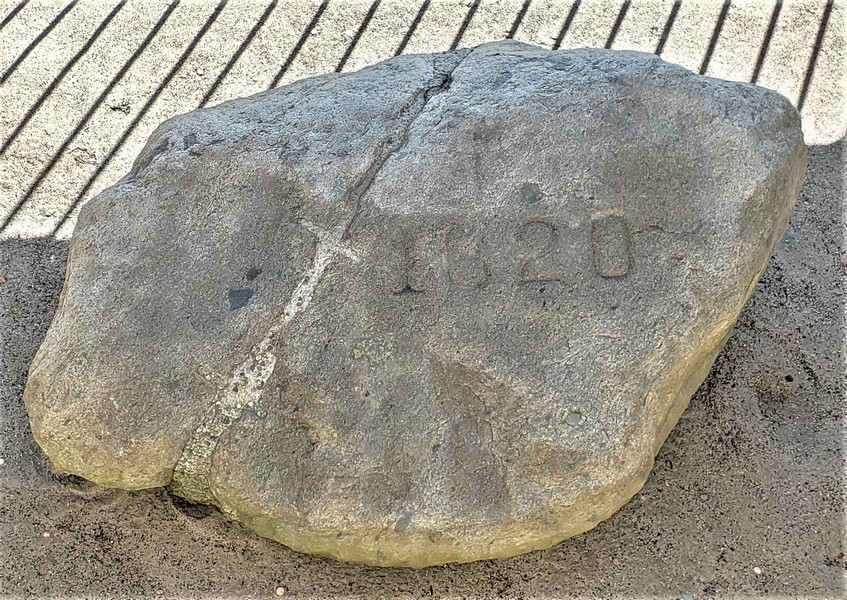 Plymouth Rock, a boulder in Pilgrim Memorial State Park, marks the place where the settlers are thought to have landed. It's about five feet wide. It used to be larger, but souvenir hunters chipped off pieces.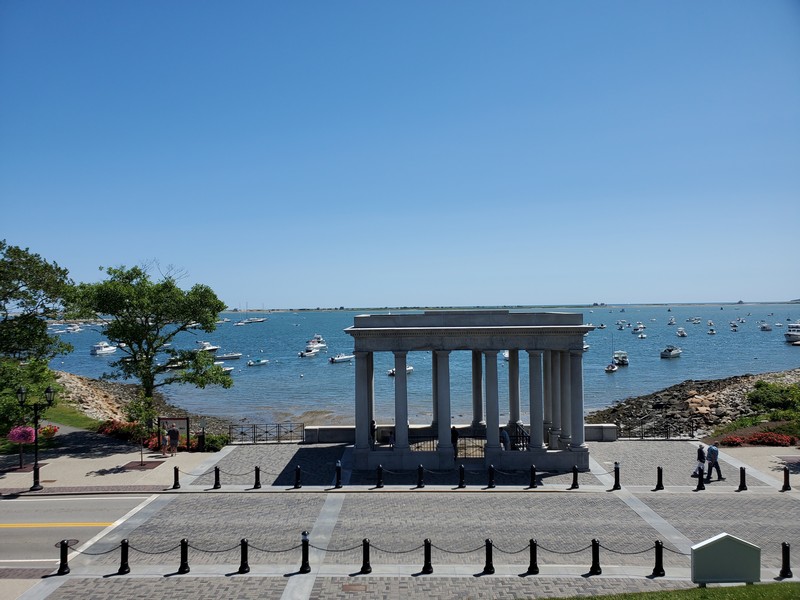 The rock is now enclosed by this monument to protect it.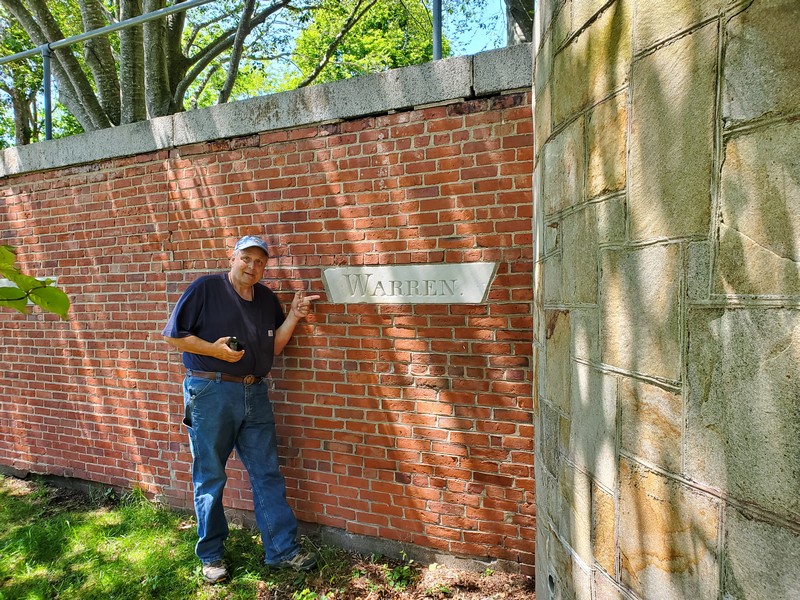 Grant is a 10th great grandson of Richard Warren, one of the Mayflower passengers. Richard's wife, Elizabeth, came on a later ship. She outlived her husband by many years and was a successful businesswoman; at the time of her death in 1673 she owned 13 miles of coastline. This plaque is at the Burial Hill graveyard in Plymouth.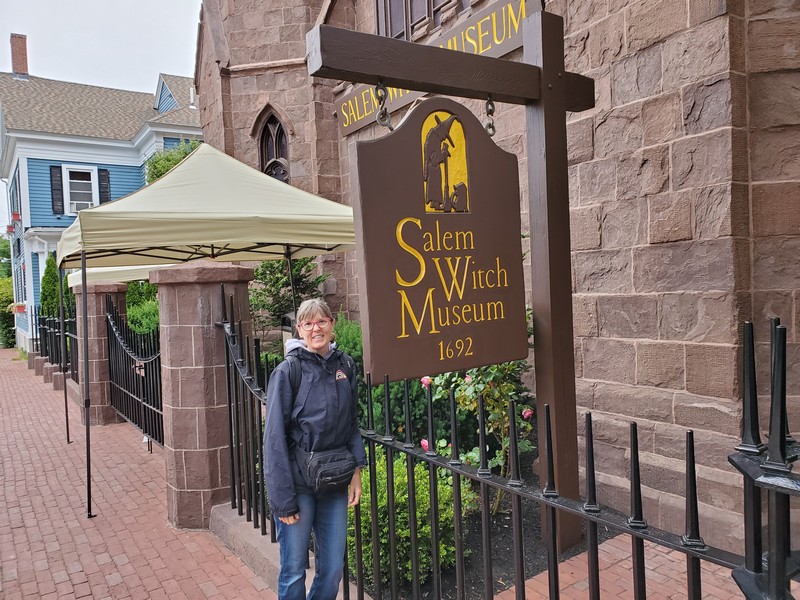 Salem, MA, has a lot of touristy kitschy witchy stuff, but it also has waterfront trails, lots of history, and many beautiful old houses.





The Salem Witch Trials Memorial pays poignant tribute to the people condemned to death for witchcraft: 19 by hanging and 1 by pressing. Six were men.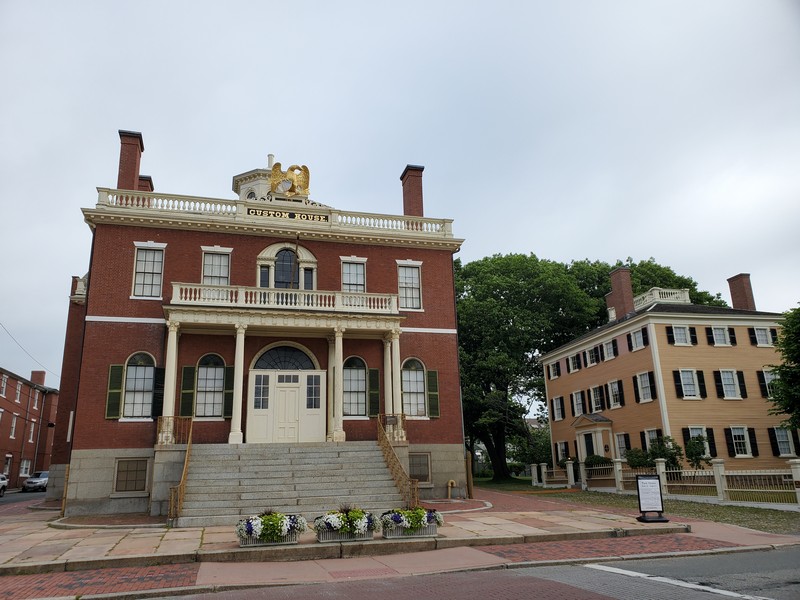 There has been a Custom House in Salem since 1649, to collect taxes on imported cargo. This one was built in 1819, and is preserved at the Salem Maritime National Historic Site. Nathaniel Hawthorne's three-year stint in this Custom House inspired his classic 1850 novel, The Scarlet Letter.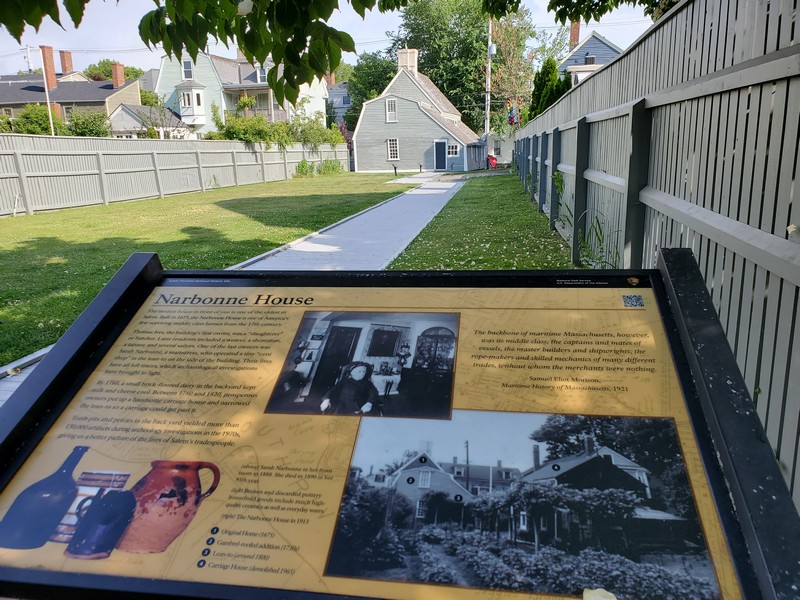 The Narbonne House was built in 1675. It's a great example of a middle-class family home of that time period. The house still has its original peaked roof and brick chimney.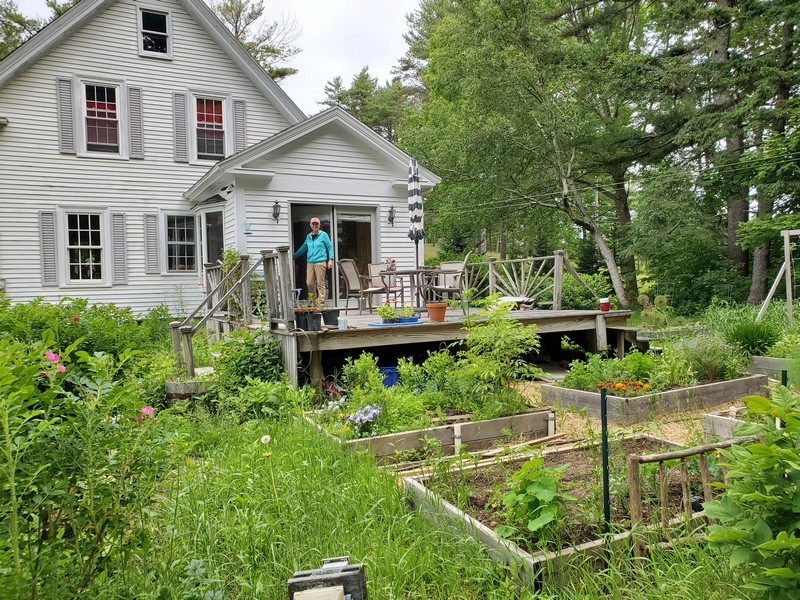 Peace Corps friend Leslie at her home in Boothbay Harbor, Maine.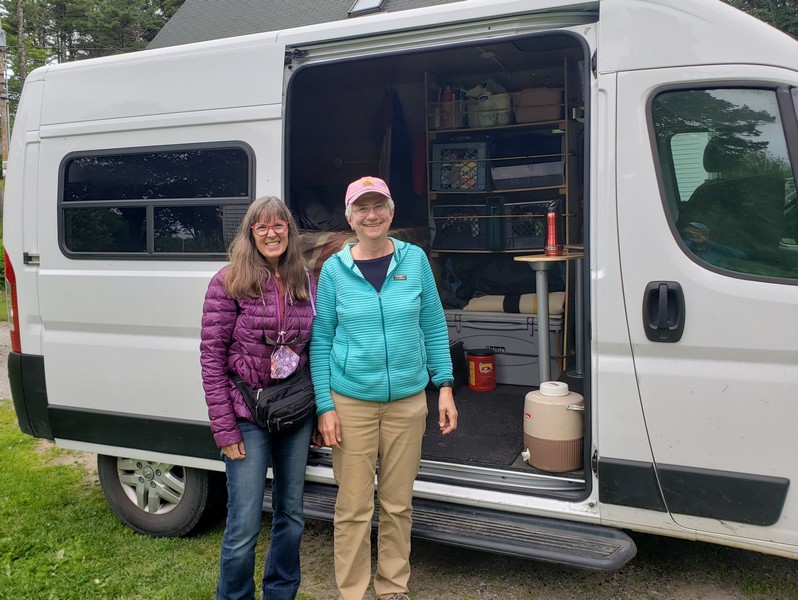 Leslie and I served in Togo, West Africa, in the mid-80s, where she worked with women's cooperatives.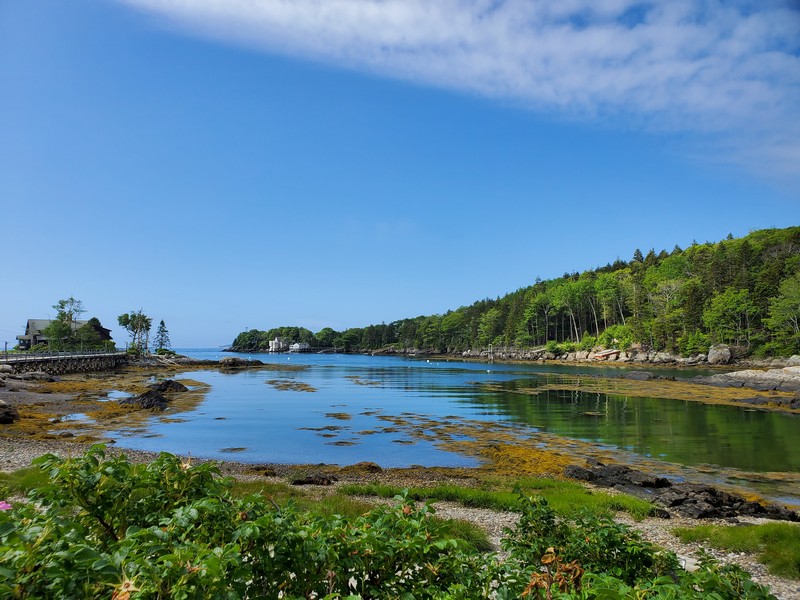 Leslie took us on a beautiful walk along the coast near her home. This area is called "Mid-Coast Maine."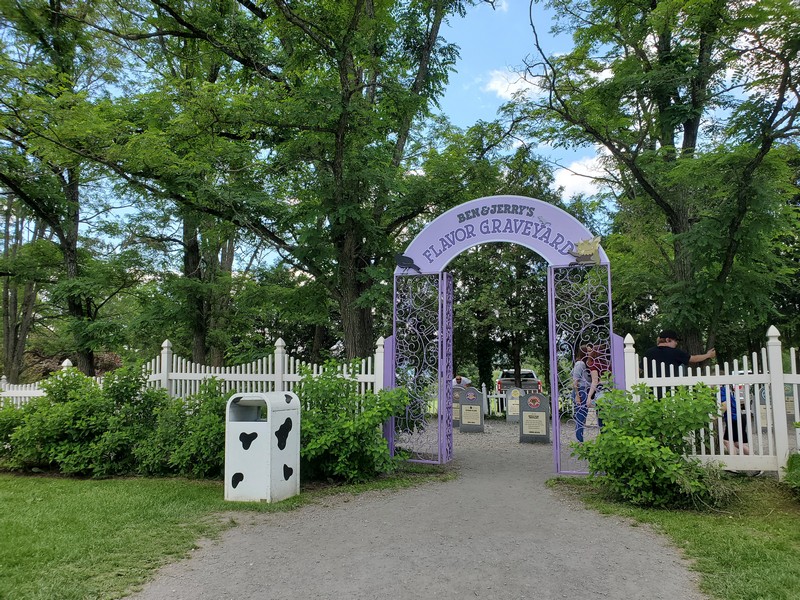 Besides the fact that they make great ice cream, I admire Ben & Jerry's for their social responsibility. Tours of their factory in Waterbury, VT, were closed, but it was fun to wander the grounds. The Flavor Graveyard is hilarious.





This one cracked me up because I am nuts about pistachios.





A joyous musical reunion with Peace Corps friends Brian and Dave in Essex, VT.





Hiking with Peace Corps friend Dave on the Vermont side of Lake Champlain.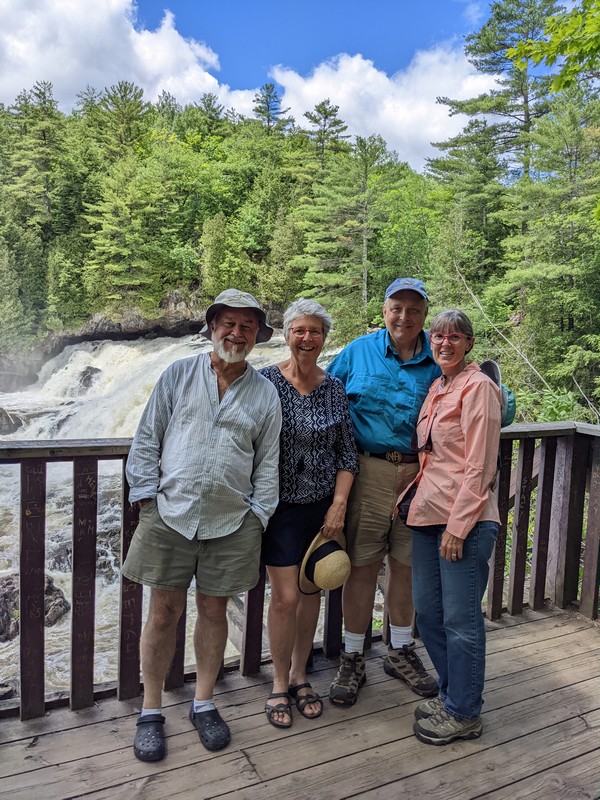 Friends Gary and Renee took us for a picnic at Chutes de Plaisance, near their home in southwest Quebec. There had been a lot of recent rain and the falls were spectacular.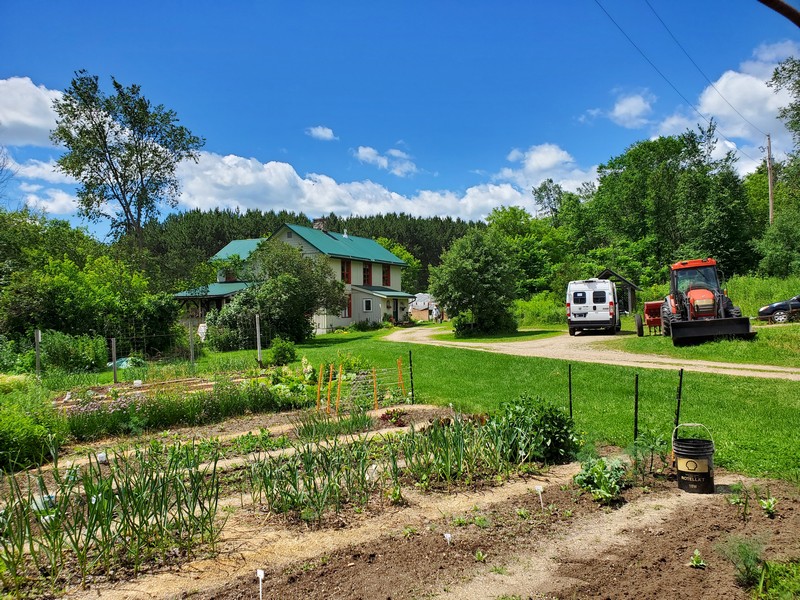 Gary and Renee live on 100 acres and grow 80% of the produce they eat. We met in Africa in the mid-80s, where they were Canadian volunteers.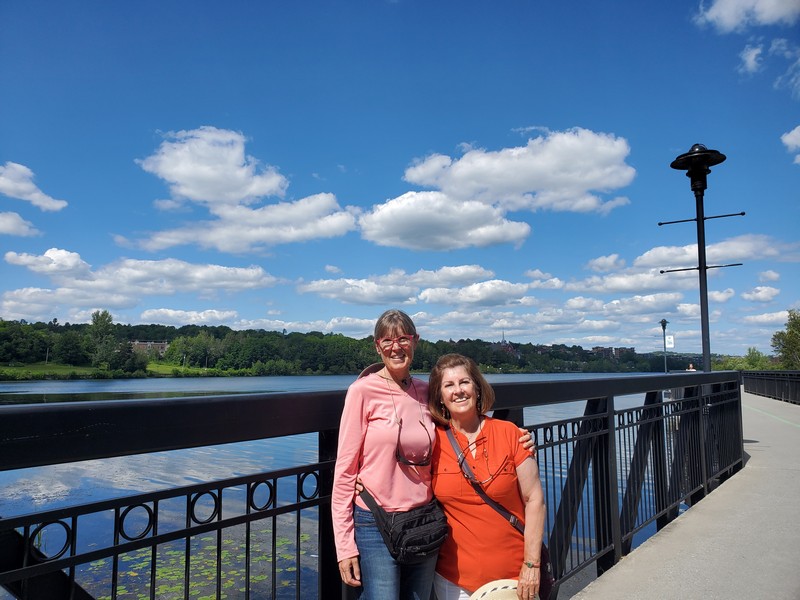 I met Micheline at line dancing class in Kirkland. She and her husband moved back to Quebec in 2019. She took me on a beautiful three-mile loop trail around Lac des Nations in Sherbrooke.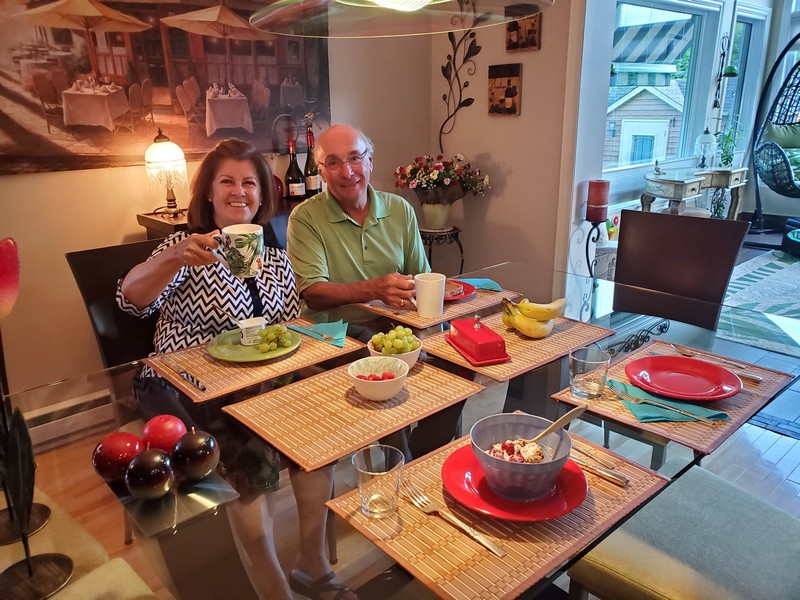 Micheline and Michel in their Paris-cafe-themed dining room. She is a talented interior decorator.



---
The Atlantic Provinces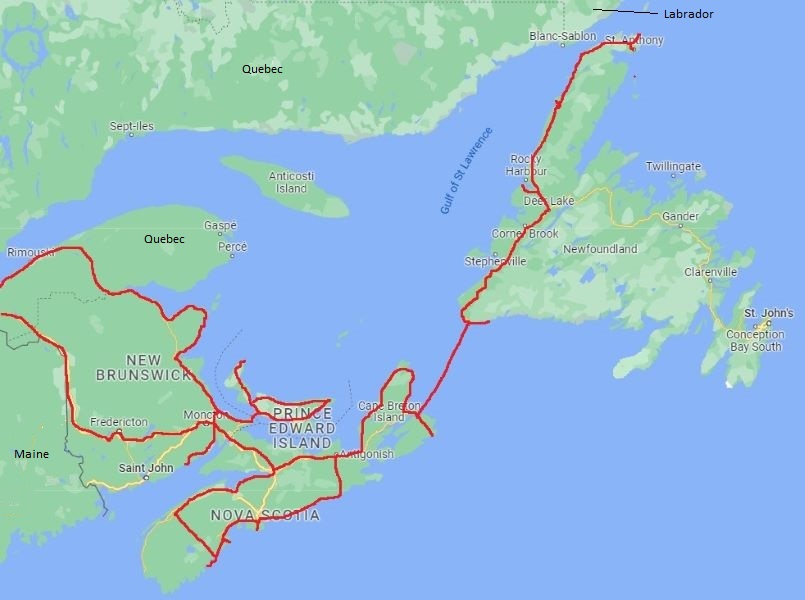 Canada's four Atlantic Provinces are New Brunswick, Nova Scotia, Prince Edward Island, and Newfoundland & Labrador. (Labrador is on the mainland, and is not shown on this map.) Our route is in red.
New Brunswick (NB)
New Brunswick is the only officially bilingual province in Canada. It's about half the size of Washington State.


Village Historique Acadien Provincial Park in Caraquet, NB, features 33 buildings that showcase the lives of Acadian families from 1773 to 1949. The buildings were moved here from nearby towns. This is the oldest house, built in 1773.





Interpreters in period costume tell the history of each building and the people who lived and worked there. There are demonstrations of cooking, farming, weaving, carpentry, and other skills.




This fiddler learned from his father, who learned from his father, and his father, going all the way back to France.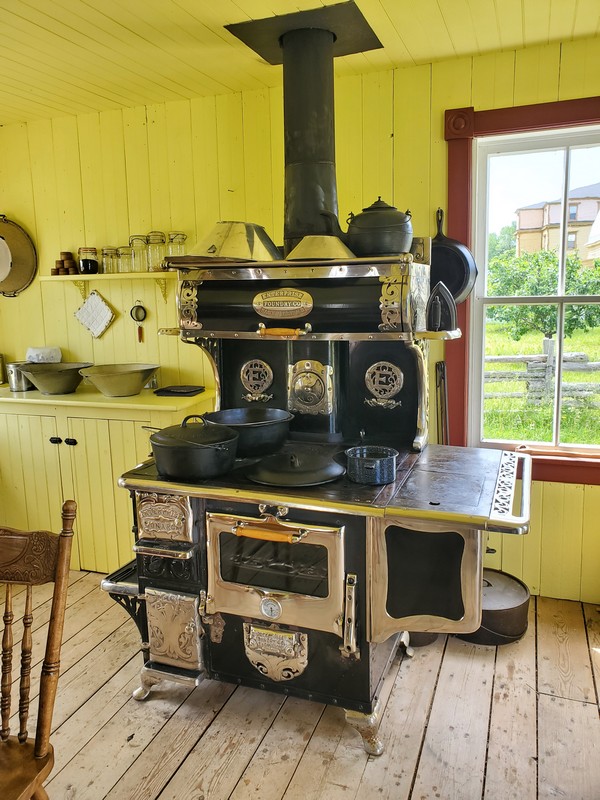 Each house is furnished with items from that period. The wood cookstoves got more ornate in later homes.





Boardwalk trail to the beach at Kouchibouguac National Park, New Brunswick





Looking from an observation tower out over the Bog Trail in Kouchibouguac National Park. Peat, sometimes called "peat moss," increases soil's ability to retain water. Peat bogs are ecologically important because they can absorb large amounts of precipitation and release it slowly, reducing flooding and sustaining plants in dry spells.





Lady's slipper orchid growing in the bog





Pitcher plant "pitchers" and flowers. Bog soils are nutrient-poor, so carnivorous plants such as these evolved to eat insects.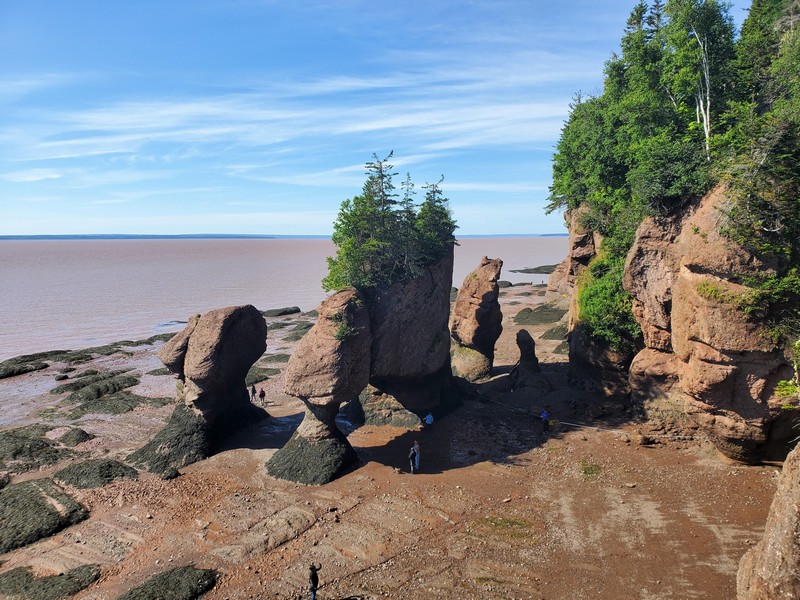 Hopewell Rocks on the Bay of Fundy, which is known for its huge tide swings (48+ feet). At high tide you can kayak among the half-covered rocks.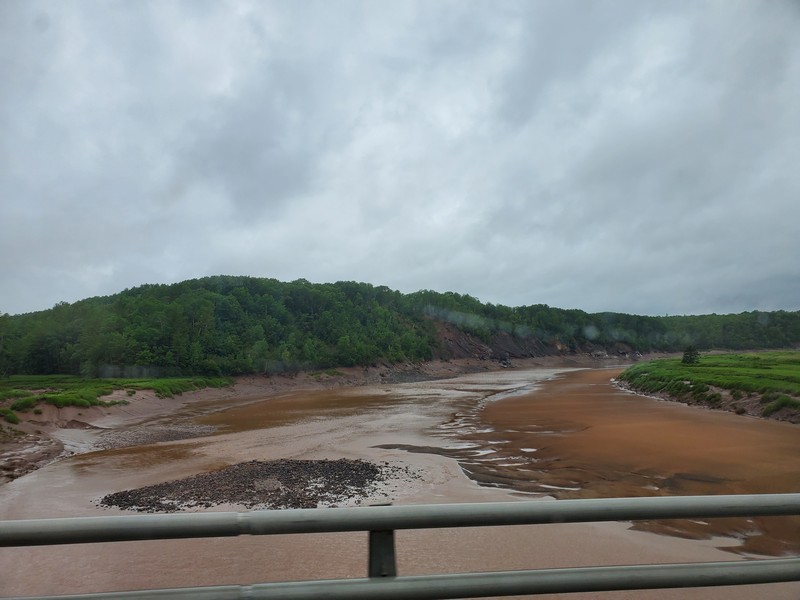 The water at the head of the bay is brown because there is no slack tide, and the sediment is constantly churned up.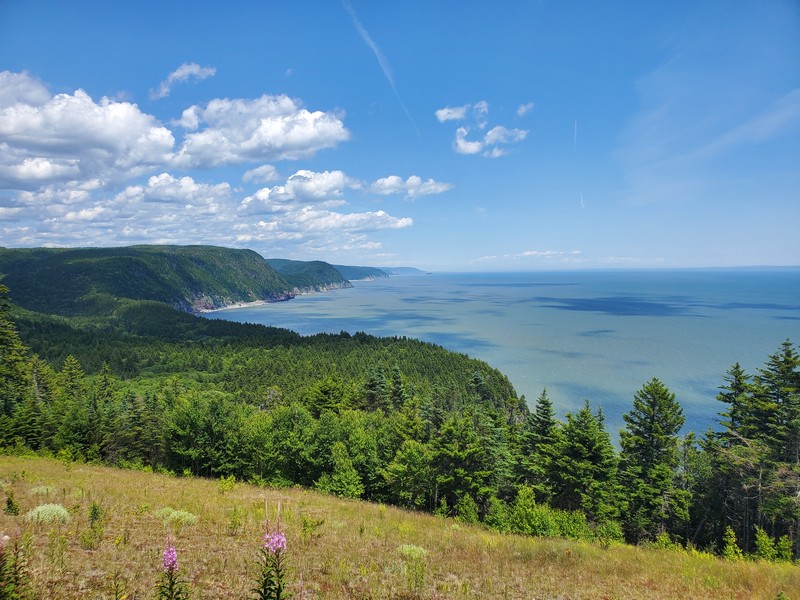 Coastal scenery along the Fundy Trail Parkway





This railroad bridge is now a walking trail across the St. John River in Fredericton, NB.





Fredericton has trails along both sides of the river.





Dinner with new friends Cathy and Mike near Fredericton. Thanks to my mom for the introduction.



Prince Edward Island (PEI)
PEI is perhaps most famous as the home of author Lucy Maud Montgomery, and the setting for her book, Anne of Green Gables.


The 8-mile-long Confederation Bridge is the longest bridge in the world crossing ice-covered water. (Winters up here get cold!) The bridge connects New Brunswick to Prince Edward Island.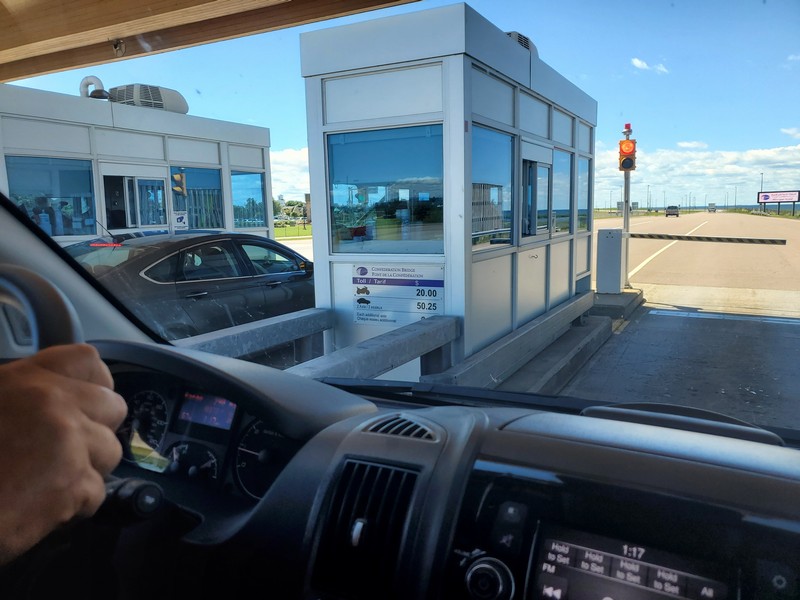 It's free to get to the island, but if you want to drive off, you gotta PAY! ($39 US at an exchange rate of $1 CAD to $0.77 USD)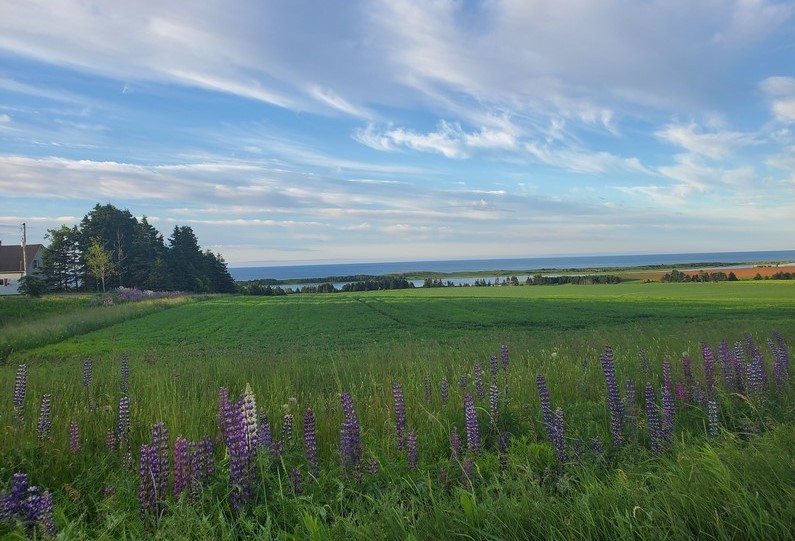 My impressions of PEI were of blue sea, red soil, green fields, wild roses, and thick swaths of purple lupine along the roadsides.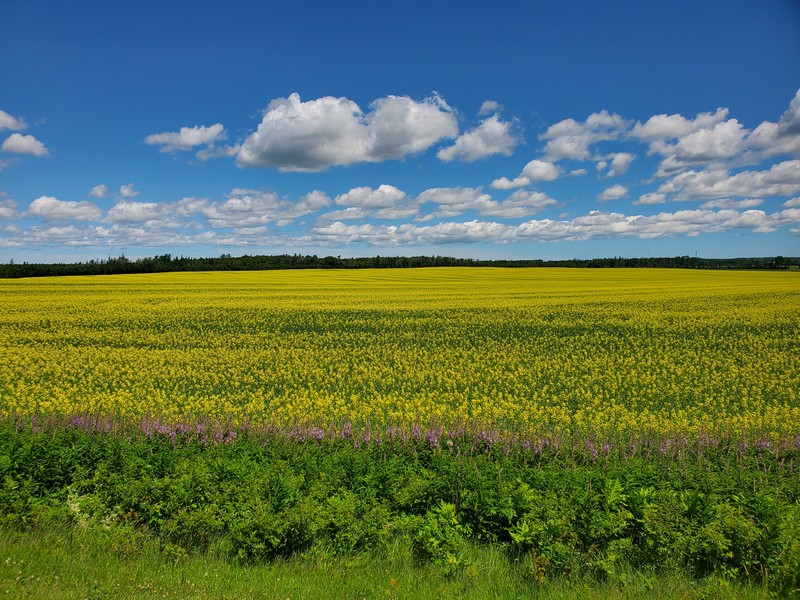 PEI is known for its potatoes, but also grows a lot of this crop: mustard.





Lobster boats in Alberton. My favorite boat name: Weather Oar Knot.





We tried our first lobster roll ever. A toasted and buttered bun, mayo, a little lettuce, and fresh lobster drizzled with melted butter and lemon. To be honest, I think anything would taste good with all that butter and mayo!





A floating boardwalk across a freshwater pond at Greenwich Dunes in PEI National Park, on the north shore of the island. Magical!





The Greenwich Dunes boardwalk leads to tall dunes and a long sandy beach.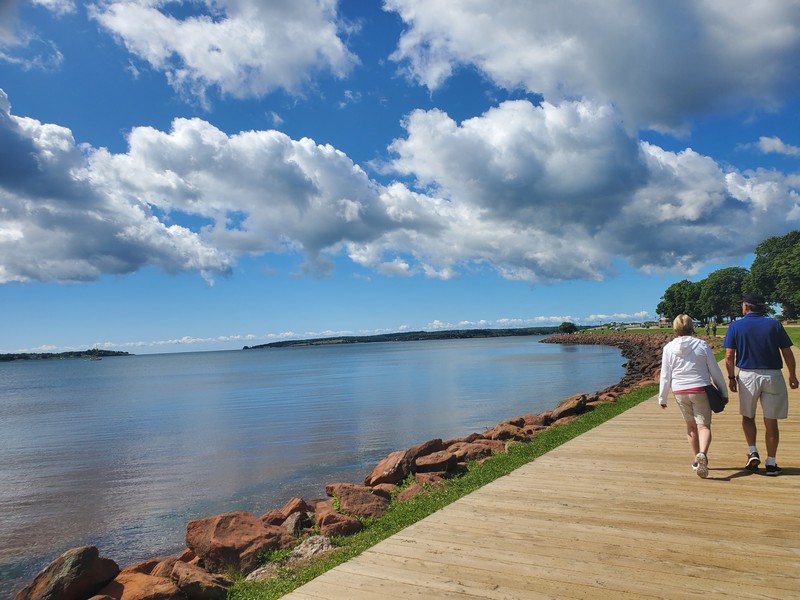 Charlottetown, PEI's capital, has a wonderful waterfront boardwalk. It's also where the Confederation documents were signed on July 1, 1867, to create the country of Canada.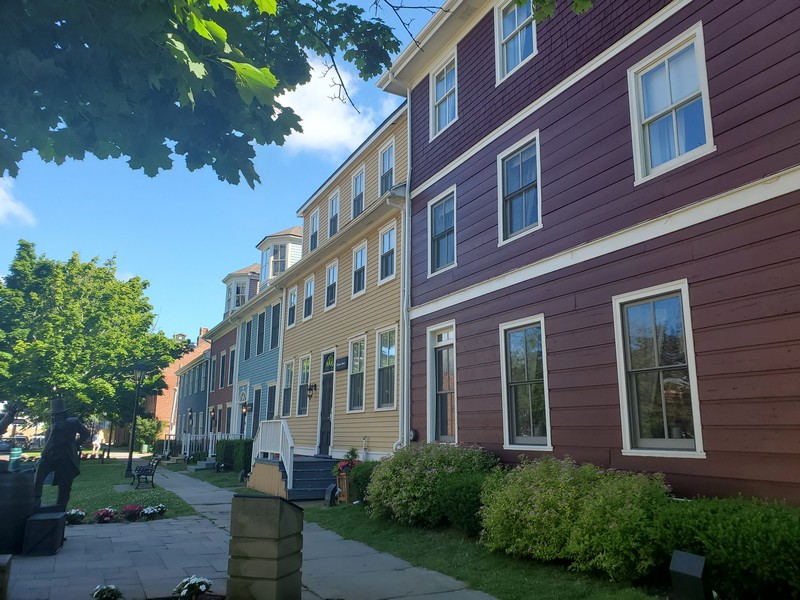 Preserved historic row homes in Charlottetown





Charlottetown has a vibrant waterfront scene.



Nova Scotia (NS)


Starting in 1755, more than 10,000 Acadians were forcibly expelled from Nova Scotia and New Brunswick. (Many eventually returned; others ended up in Louisiana and are called Cajuns.) Grand-Pré National Historic Site was once the epicentre of Acadian culture, and is a monument to the expulsion. The church is a reproduction. The statue is of Evangeline, the fictional heroine of Longfellow's poem, which tells the story of the expulsion.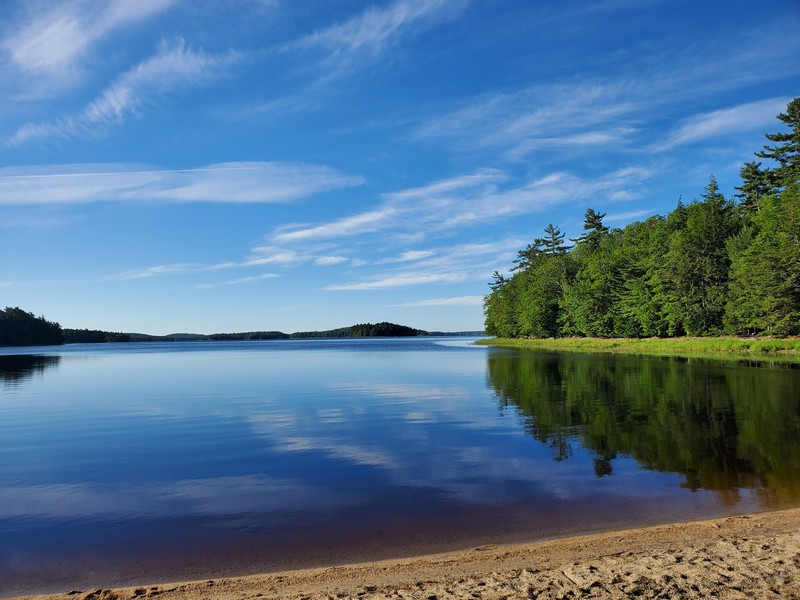 Kejimkujik lake in Kejimkujik National Park, Nova Scotia. The name means "little fairies" in the Mi'kmaq language (pronounced migmaw).





Kejimkujik seashore is wild and beautiful.





Lunenberg is picturesque, colorful, and crawling with tourists!





The Lunenberg Bump is an oversized, usually five-sided, central dormer popular in the late 19th century.





Crayola-colored fishing boats in Lower Prospect, Nova Scotia, near Halifax.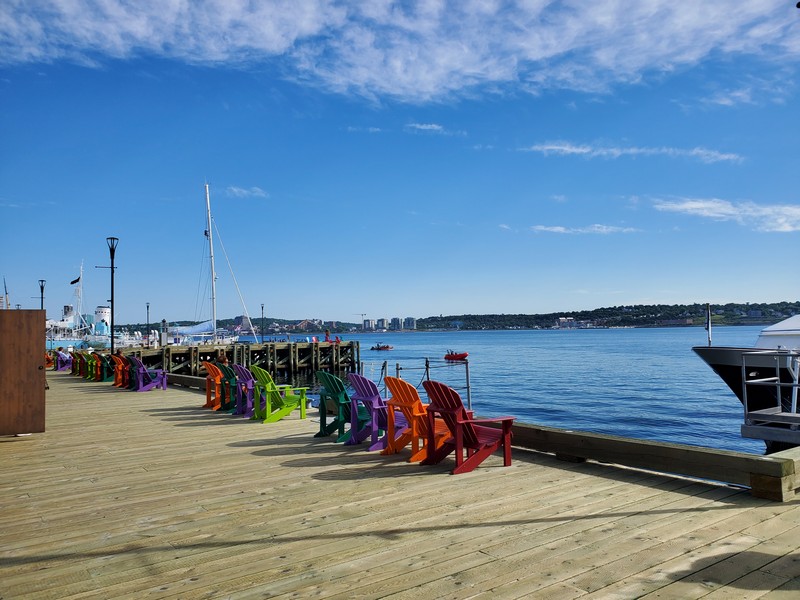 Halifax has a delightful waterfront boardwalk.





Hammocking in Halifax





Victorian public gardens in Halifax



Cape Breton Island and the Cabot Trail, Nova Scotia
Cape Breton Island is connected to the rest of Nova Scotia by a causeway. The Cabot Trail is a 185-mile loop around the island. (Up here, the term "trail" means scenic byway.) The winding route has coastal vistas, Scottish culture, sandy beaches, a big national park with hiking trails, and relatively few tourists, even in peak season.


Lobster pots, ropes, and buoys neatly stacked and coiled in the small fishing town of Port Hood




Port Hood was having a small music festival to raise money for community projects.





Our boondocking spot on the Cabot Trail, Cape Breton Island, Nova Scotia. This is the Gulf of St. Lawrence, the entrance to the St. Lawrence Seaway, which leads to the Great Lakes.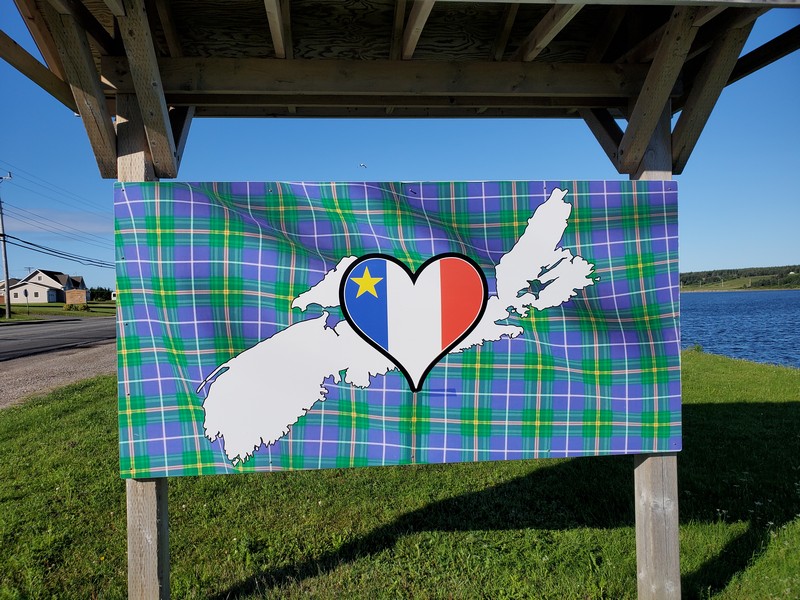 A heart-shaped Acadian flag over a map of Nova Scotia, with a tartan background, representing the Acadian and Scottish heritage of the region. Cape Breton Island is to the right of the heart.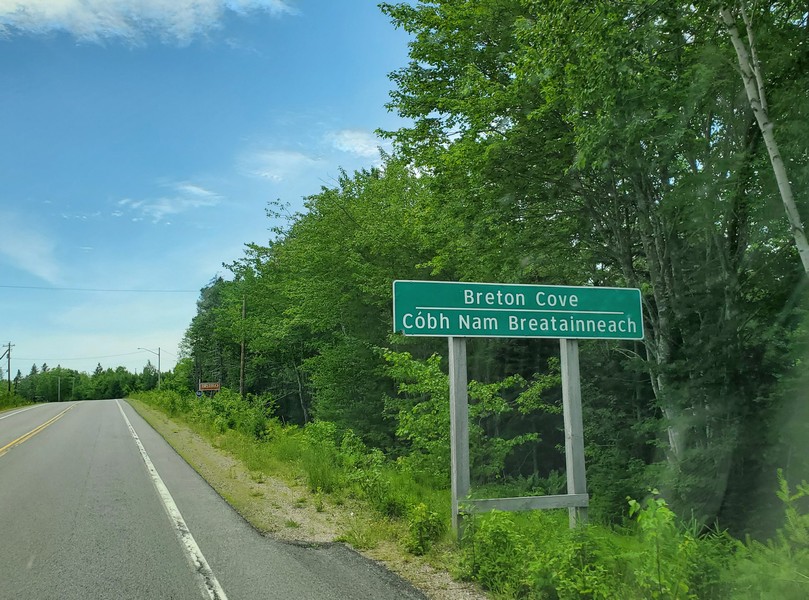 Signs on Cape Breton Island are in English and Gaelic.





The Skyline Trail in Cape Breton Highlands National Park winds through boreal forest of gnarled spruce and birch.





The 3.5-mile-round-trip Skyline Trail ends at this stunning headland. The Cabot Trail (road) is visible on the green hillside.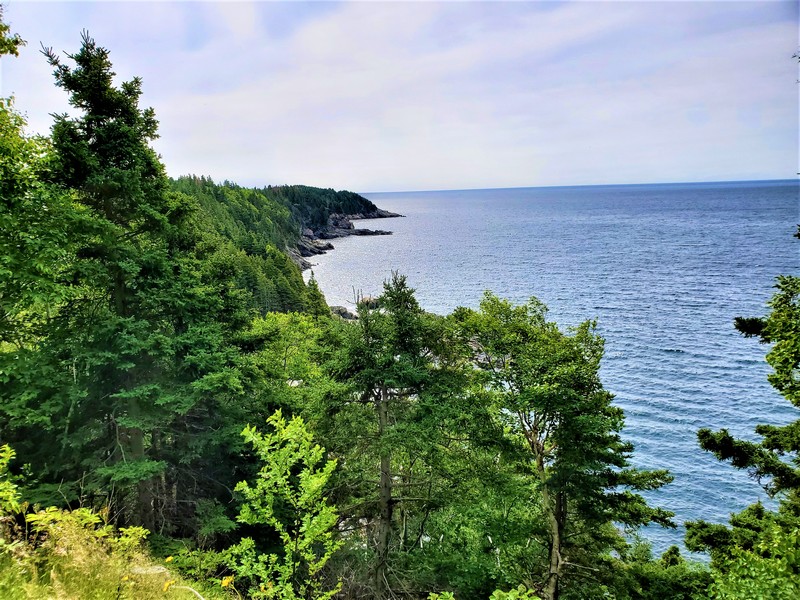 One of many trails in the National Park, Middle Head trail leads to the tip of a headland overlooking the Atlantic.





Cabots Landing Provincial Park near the tip of Cape Breton. Englishman John Cabot landed hereabouts in 1497 and claimed this land for the King.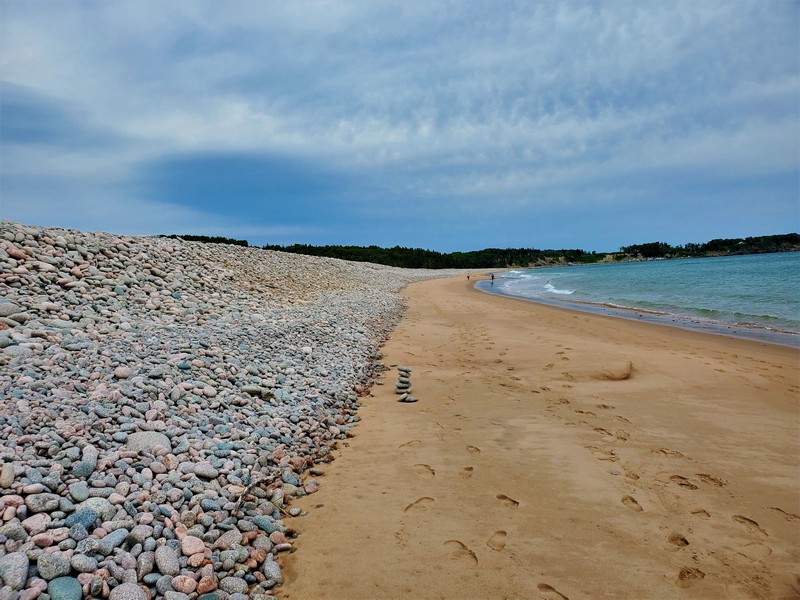 Cobblestone dunes at Ingonish Beach, Cape Breton Highlands National Park





The Fortress of Louisbourg National Historic Site in Nova Scotia gives an authentic and fascinating glimpse into life in a French outpost in the mid-1700s. So far a quarter of the fortress has been faithfully reconstructed based on detailed drawings and death inventories.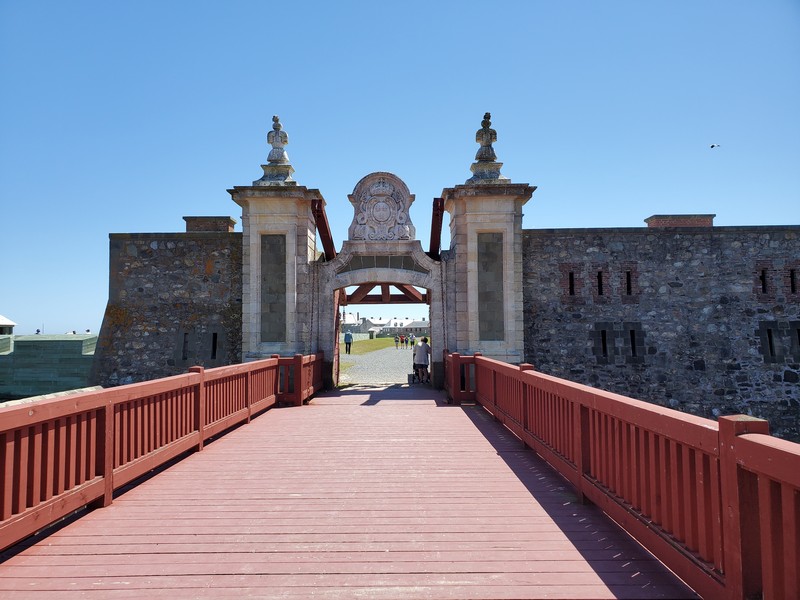 The fort existed to harvest, salt, and export cod, which was traded to France and its colonies in a system called Mercantilism. Catholics didn't eat meat some 140 days per year, and since France had depleted its fisheries, there was a huge demand for cod from the New World. Salted cod can keep up to two years, and after being soaked to remove the salt, it is almost like fresh.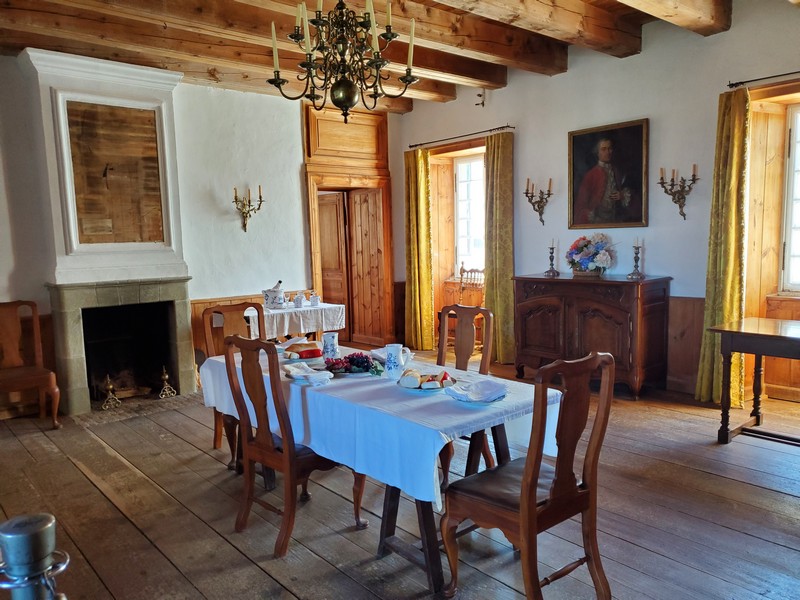 The royal engineers who lived and worked in this house (one of the fanciest in town) were urban planners, architects, and construction managers. They laid out the streets, designed the public buildings, and were consulted on all scientific and technical issues.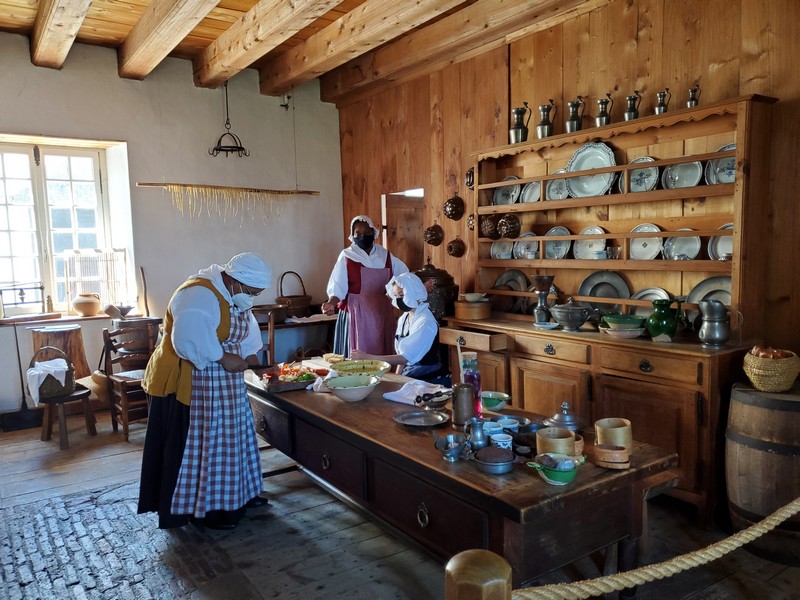 Servants in the kitchen of the Engineer's residence, preparing vegetables from the garden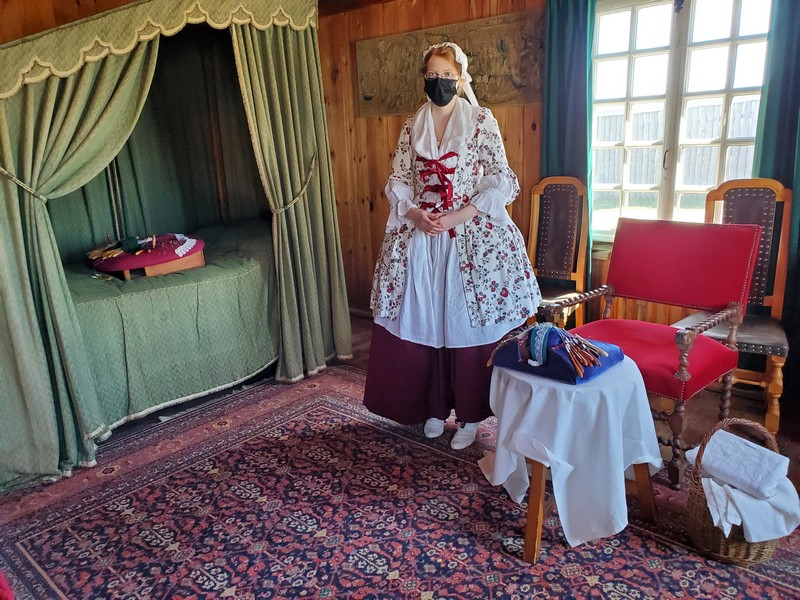 The lady of this wealthy household makes her own lace because imported is so expensive. She told us all about her six children and her life. She doesn't spend much time with her kids; that is the nanny's job.





Children dancing in Louisbourg town




Preparing to fire the cannons! Once a day, visitors are treated to a demonstration of cleaning, loading, and firing two cannons. Here the musicians are leading the soldiers up to the cannons.



Newfoundland and Labrador (NL)
Newfoundland (pronounced "NewfinLAND") is an island about half the size of Washington State. Labrador is on the mainland and is almost three times the size of Newfoundland. Together they comprise a single province. We considered taking the short ferry from Newfoundland to Labrador and driving the Translabrador highway (now fully paved) to Quebec and back to the US, but they say the black flies in the summer make it difficult to be outside, and there is no cell service for much of the route. In fact, the government will loan you a satellite phone that you pick up at one end of the road and return at the other.
Newfoundland impressions: lots of trees but it feels open; pristine, rocky coastlines; sparkling blue lakes, ponds, and rocky streams, each one with a beaver lodge; patches of snow on the hills in July.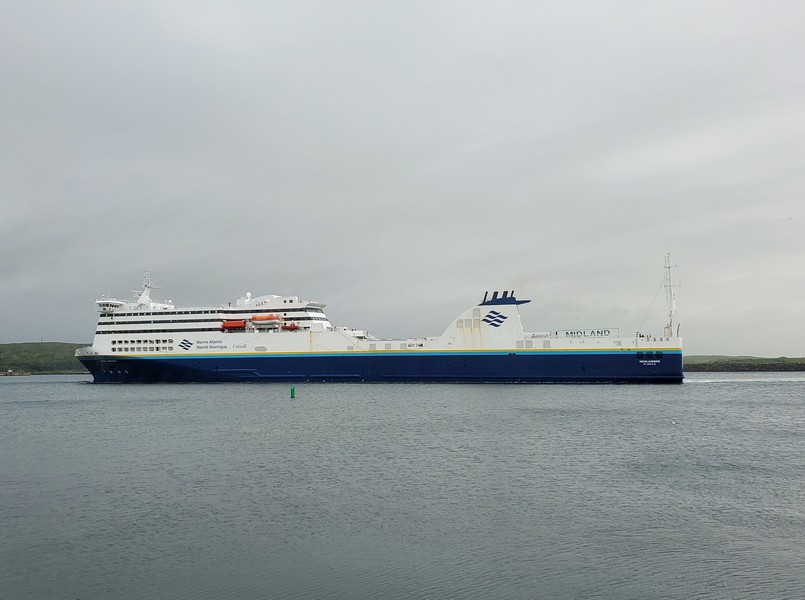 The shortest ferry crossing from Nova Scotia to Newfoundland takes six hours on a large, sturdy ferry that runs several times a day year round.





Into the maw of the ferry. Besides hundreds of passenger vehicles, it carries dozens of commercial trucks.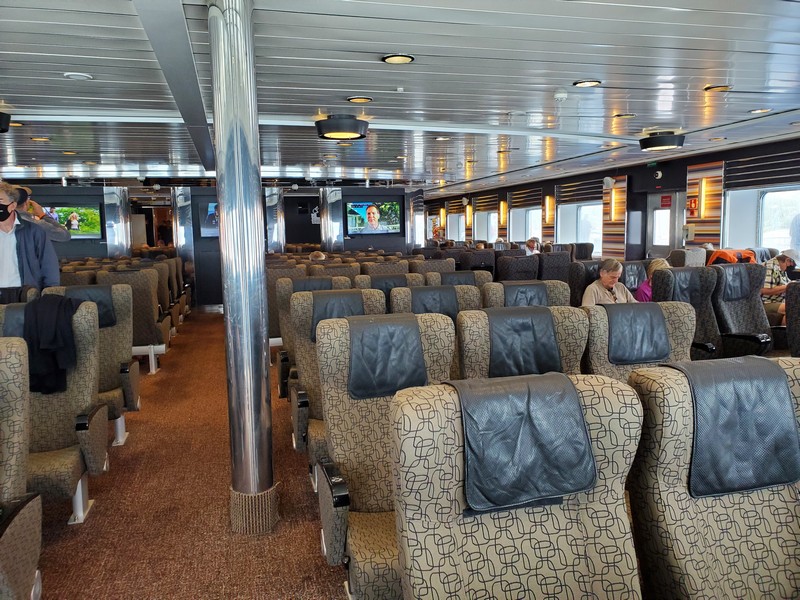 You're not allowed to stay in your vehicle during the crossing. There are comfortable reclining chairs on level 7, and sleeping cabins on the two upper decks. The sea was calm on the way over, and a bit bumpy on the way back. I'm prone to seasickness, but sitting amidships to minimize motion, and taking dramamine (which also made me sleepy enough to snooze for much of the crossing) did the trick.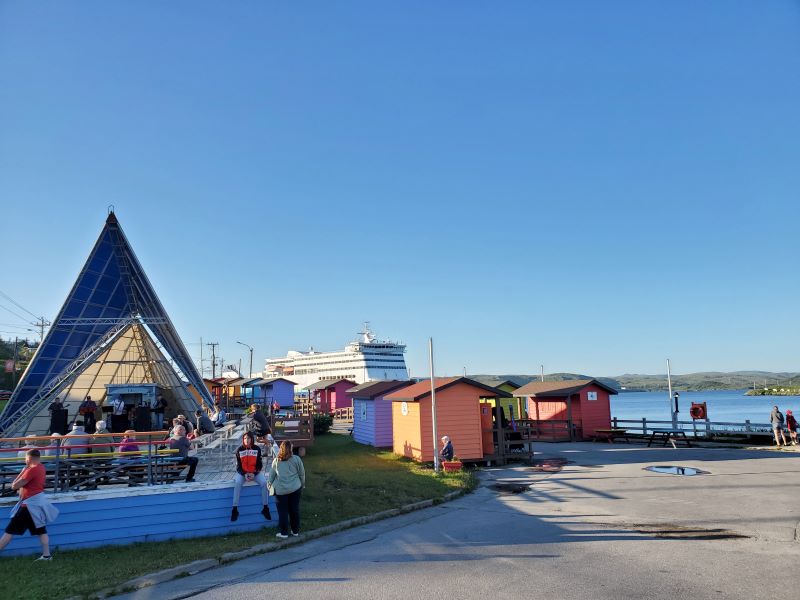 At the dock in Channel-Port-Aux-Basques, there was a live band and a row of candy-colored souvenir and snack shacks. They say that brightly-painted houses helped fishermen find their way home through fog and inclement weather.




A live band plays four nights a week in summer, weather permitting. What a nice way to welcome visitors to NL!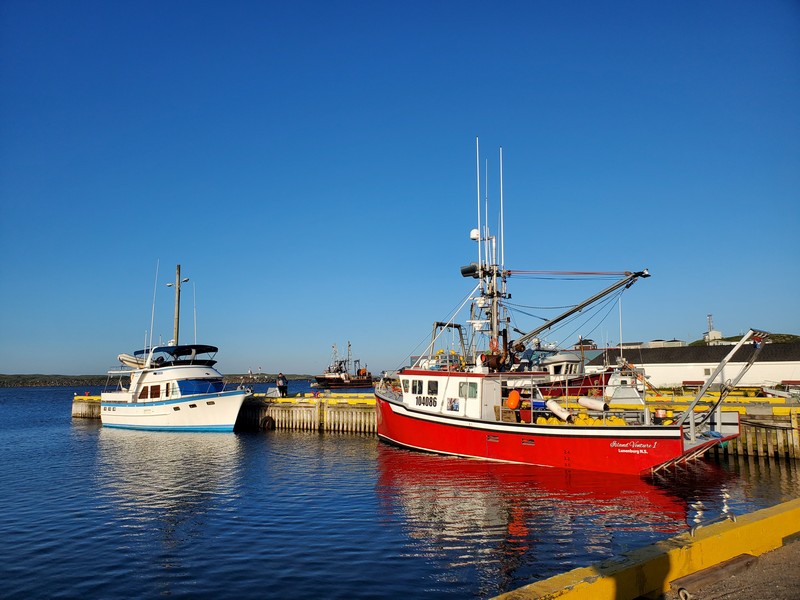 Fishing boats in Channel-Port-Aux-Basques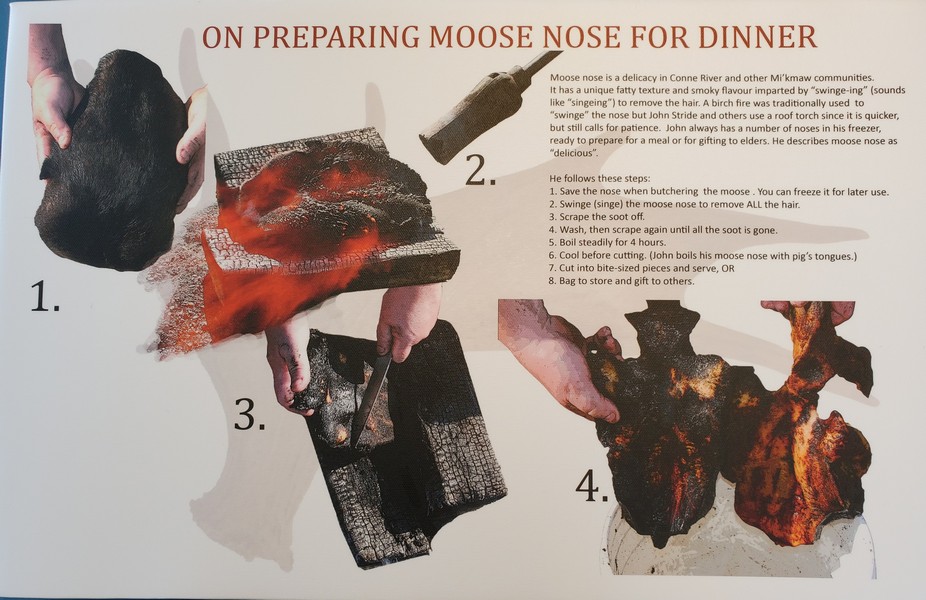 The Gros Morne National Park Discovery Centre had a wonderful exhibit about the local Mi'kmaq culture and traditions. Well-written information panels covered dance regalia, making birch bark canoes, and much more.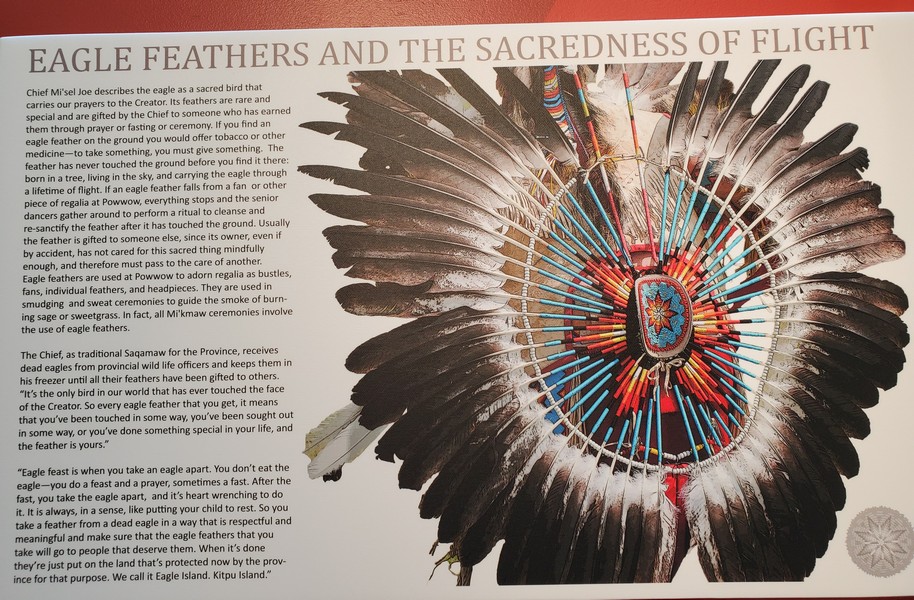 These were some of the best displays I've seen about the culture and beliefs of the First Nations people (as they are called in Canada).





We hiked the majestic Tablelands trail in Gros Morne National Park.





The Tablelands are an otherworldly, ancient rocky landscape.





Glaciers carved fjords elsewhere in the park, allowing arms of the sea to sweep inland.





The fishing village of Trout River is one of the small towns that provides lodging and services for people visiting Gros Morne National Park.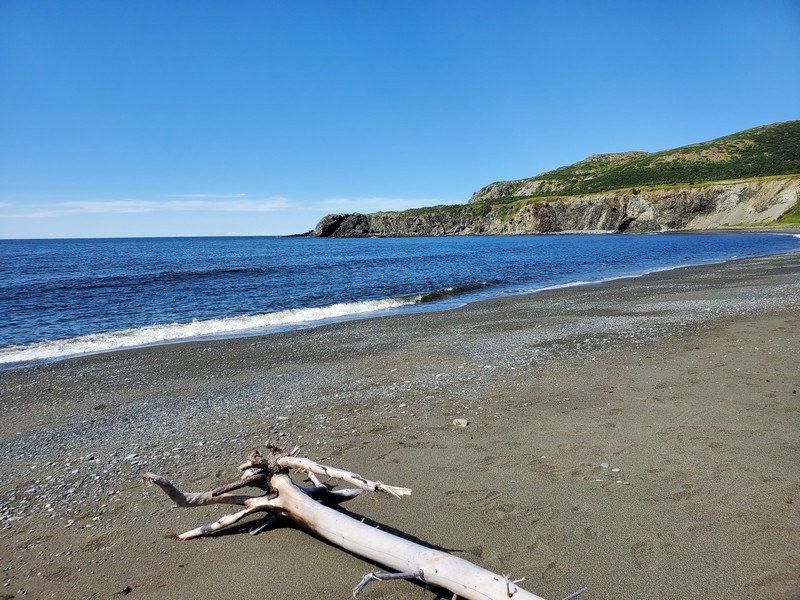 The beach in Trout River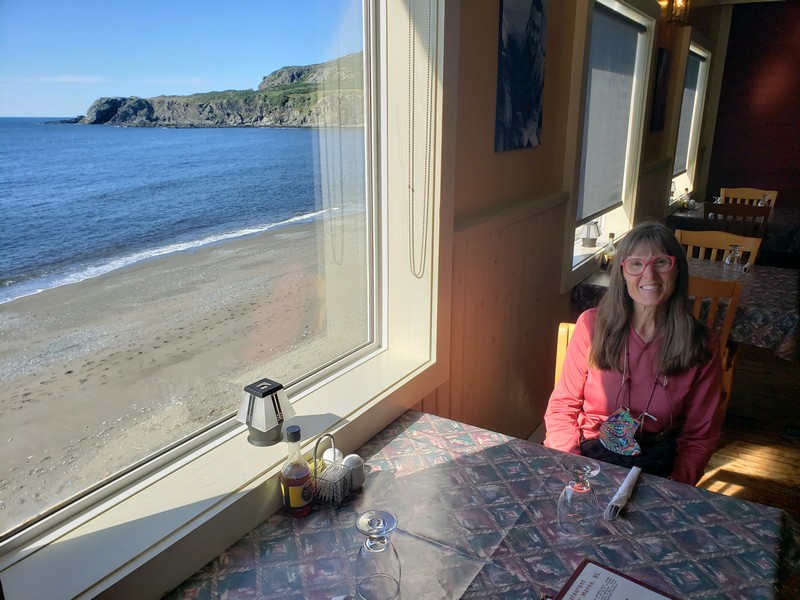 We celebrated my birthday with dinner at the Seaside Restaurant in Trout River.





Halibut cheeks for me, and cod for Grant (he said it was the best he'd ever had). Although the commercial cod fishery is closed, recreational fishing is allowed, with strict limits.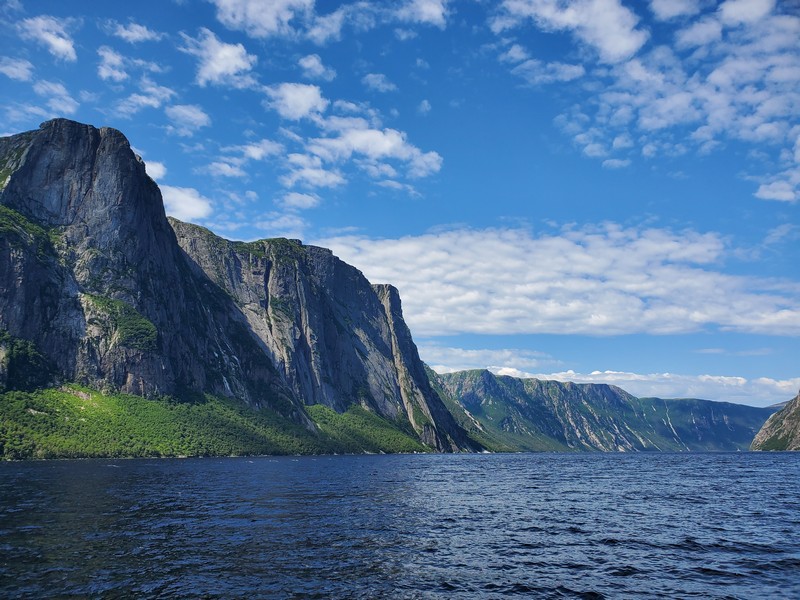 We took a two-hour boat trip on Western Brook Pond, a 16-km-long, freshwater, glacier-carved "fjord" in Gros Morne National Park. (Technically, a fjord is salt water.)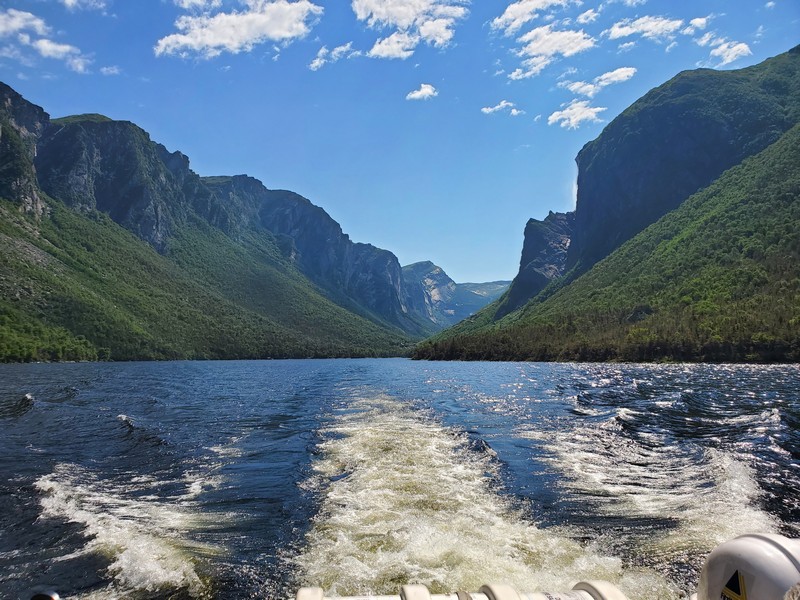 This is one of the last wild ultra-oligotrophic lakes in the world (clear water with little organic matter or sediment and minimum biological activity). It's in the Long Range Mountains, the most northern section of the Appalachians.





The northern tip of Newfoundland and the town of Hay Cove. We saw an iceberg floating in the distance! This area is called Iceberg Alley, but there are more icebergs earlier in the spring.





This friendly pair are brothers Sean and Barnaby, born and raised in northern Newfoundland. They are bucking up firewood for the winter (four to five cords each). Their favorite season here is fall, when the trees are turning color. They said that winters here are getting shorter and milder, but they are still very cold!




Newfoundland English has a lovely Irish lilt. Click on the video to hear the brothers' charming accents.





L'Anse aux Meadows is the fascinating archaeological site of a Norse settlement dated to approximately 1,000 years ago. (The people were Norse; the raiders among them are called Vikings.) The five-minute introductory video at the visitor center is very interesting.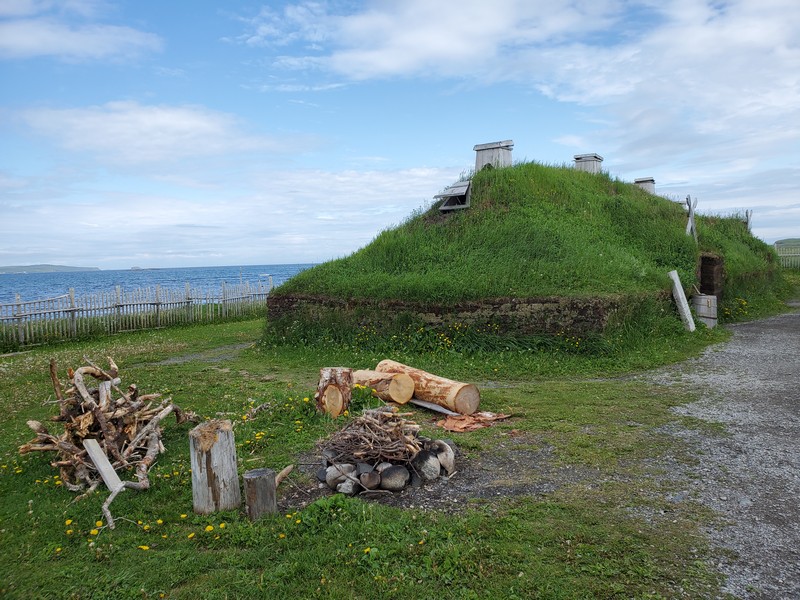 Reconstructed turf and timber buildings show how the people lived. Costumed interpreters demonstrate the skills needed to survive here 1000 years ago.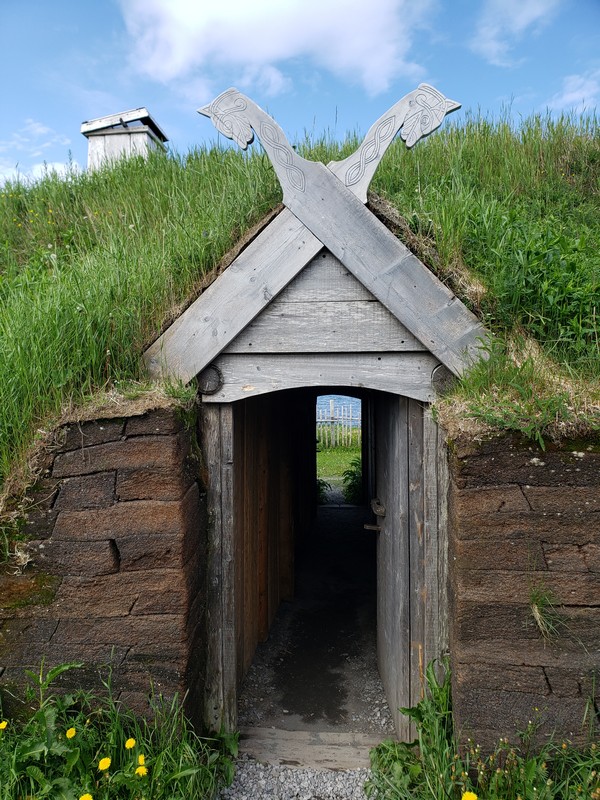 Front door of a Norse house. Archeologists think the people came from Greenland in search of resources.





The inside was surprisingly cozy and functional. Paint was made from plant dyes mixed with animal fat.





The coastline is magnificent.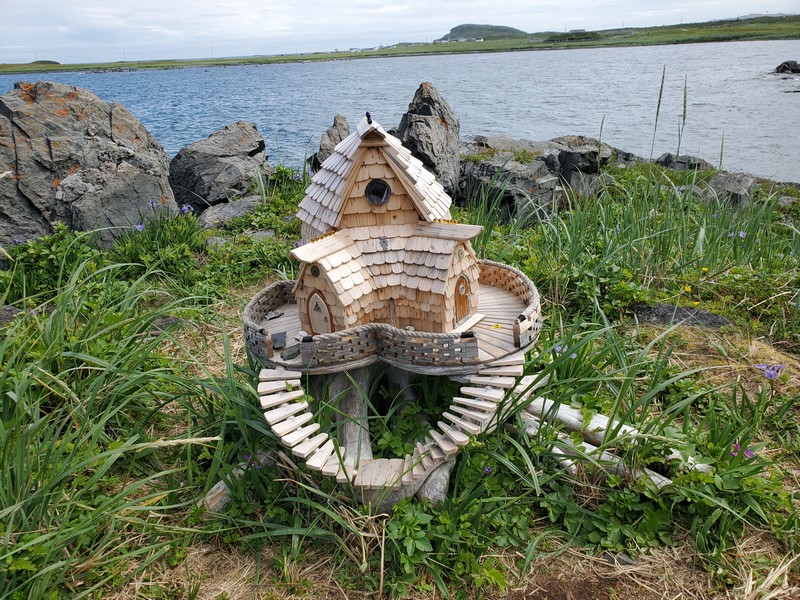 We were delighted to find a series of intricate, whimsical fairy houses along the coast trail.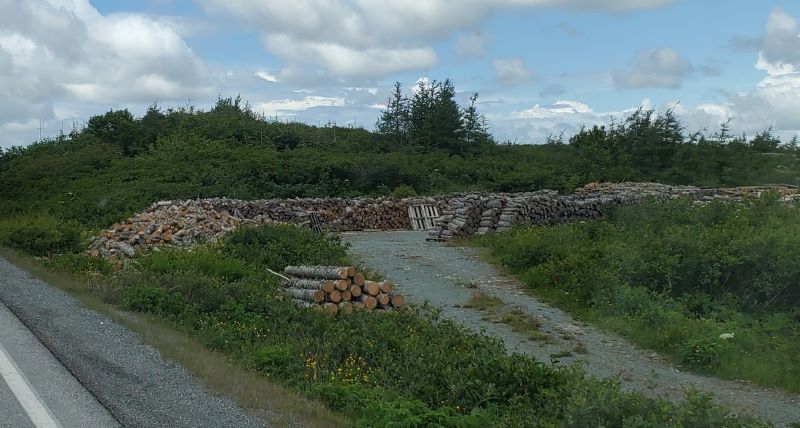 Piles of logs are a common sight along the road in northern Newfoundland. Each pile belongs to someone, who bucks and splits it, and eventually hauls it home. No one steals the wood; everyone would know, and the thief would be ostracized. Survival up here depends on community cooperation.





Our boondocking spot in Nameless Cove, on the west coast of NL. The buildings are an unused lighthouse and homes on a small island.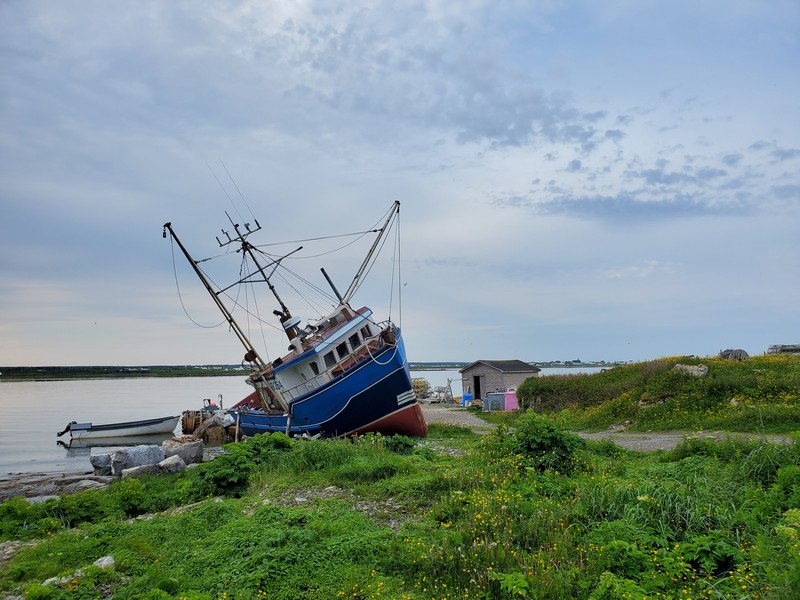 Fishing boat in Nameless Cove, NL





Archeologists have uncovered evidence of Paleo-Inuit people who lived in the Port au Choix area over 1000 years ago. Some of them may have worn sealskin suits like this one on display at the visitor center. Beautifully made, soft, and looks like it would keep you warm in the coldest weather!





Caribou in Port au Choix Newfoundland. (Caribou and reindeer are the same animal. In Europe, they're called reindeer; in North America, they're called caribou.)





Like other species of deer, they are mostly unafraid of people. Their hooves are adapted for walking on snow and scraping up lichen to eat. This young caribou is shedding its winter coat.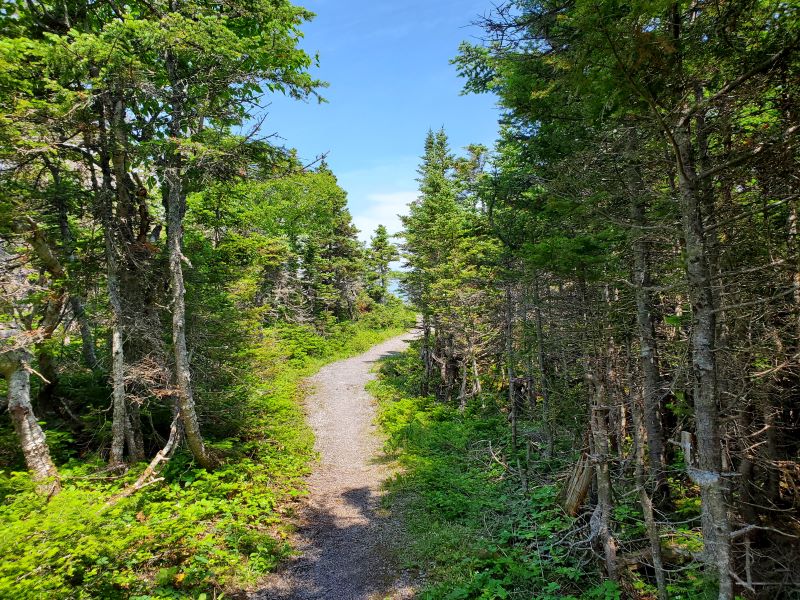 On Philip's Garden Trail in Port au Choix, we startled a moose, who ran up the trail ahead of us and off into the trees. They are tall, and they run fast!





July is a great time to see wildflowers in the Atlantic Provinces.





The western Newfoundland coast is beautiful, wild, and empty. Parks Canada says they have placed over 200 red Adirondack chairs "in peaceful, breathtaking locations from coast to coast to coast," so people can have what I call "Red chair moments."





Wild iris bordering a pond





This wood-fired bread oven in Port-au-Choix is one of seven built in Newfoundland to preserve the heritage of French people who fished these shores for centuries. They start the fire at 10 each morning, and at 2 they scrape out the coals and start baking rolls.





The soft, doughy rolls are served with local berry jams. We sampled wild blueberry and tart red partridgeberry (like cranberry), both delicious.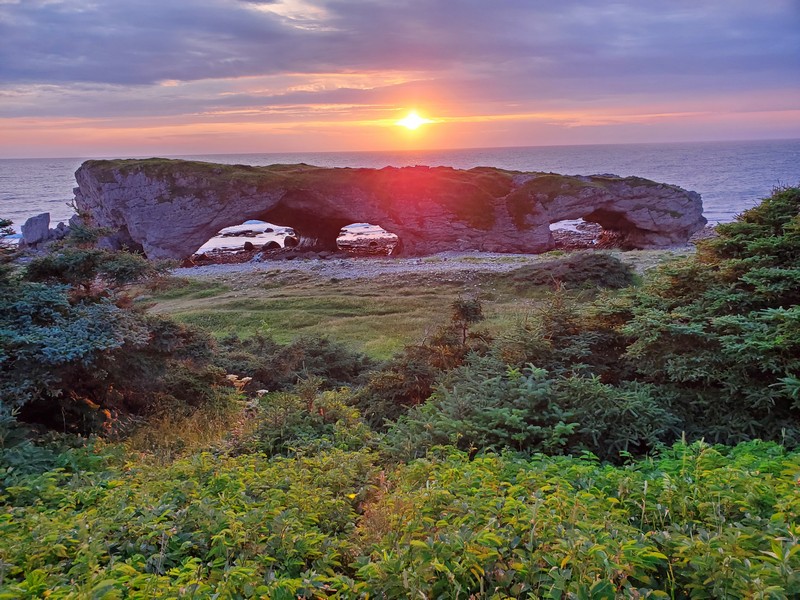 Arches Provincial Park on the west coast of Newfoundland





The southwest coast of Newfoundland is enchanting, with waterfalls, ponds, bogs, and stunted trees.





The Barachois Falls trail, Rose Blanche, Newfoundland





The wharf in Margaree on the only rainy day we had. It was a fitting goodbye to Newfoundland, where it rains even more than Seattle!



Homeward Bound
We drove home across Quebec and Ottawa, crossing the border at Sault St. Marie.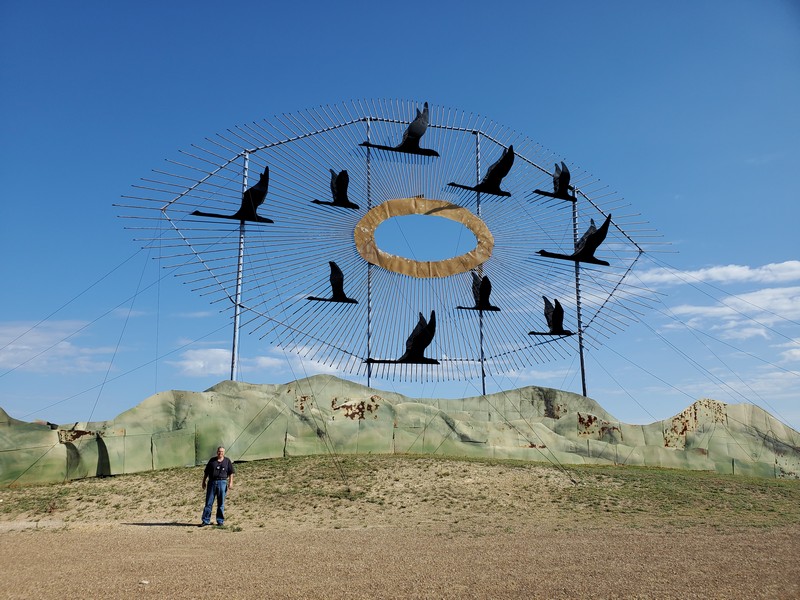 The world's largest scrap metal sculpture, on I-94 in North Dakota. "Geese in Flight" is one of seven enormous sculptures along "The Enchanted Highway," a farm road that runs south of the interstate. All the sculptures were designed, built, paid for, and are maintained by one man with a vision to give an economic boost to his tiny town.





Painted Canyon, Roosevelt National Park, ND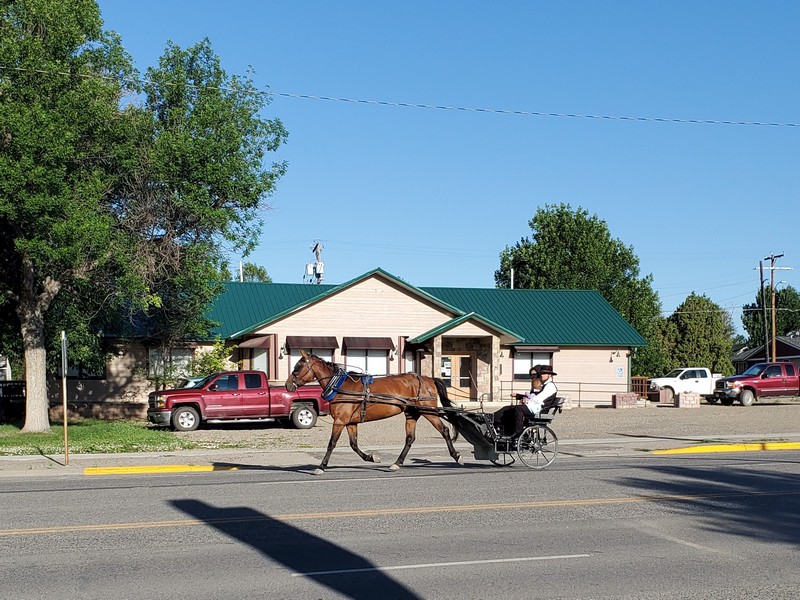 Roundup, Montana. Amish people with horse and buggy are an increasingly common sight in rural America. This young family was waving to people they passed, so I didn't feel too inappropriate taking a picture. The mom was holding the reins and the dad was holding the baby.





We met up with my second cousin Ken at a campground on the Clark Fork River in Montana.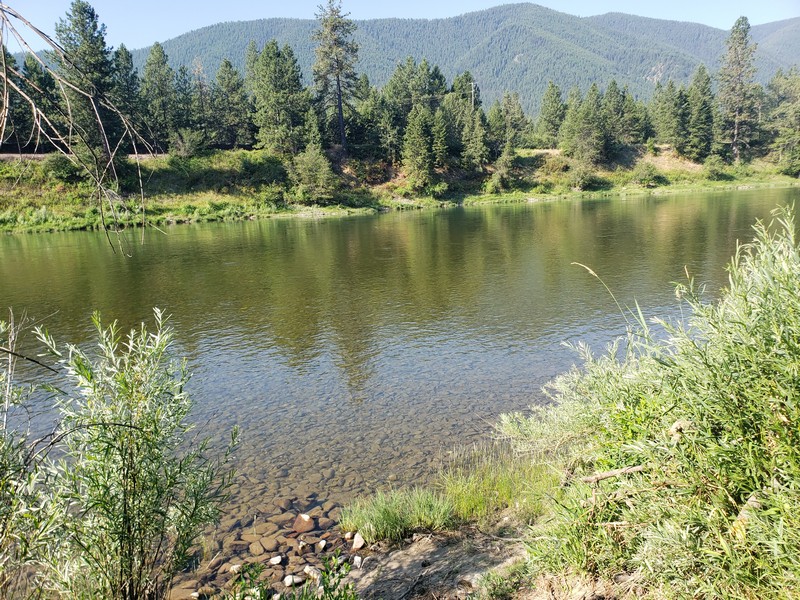 Clark Fork River, MT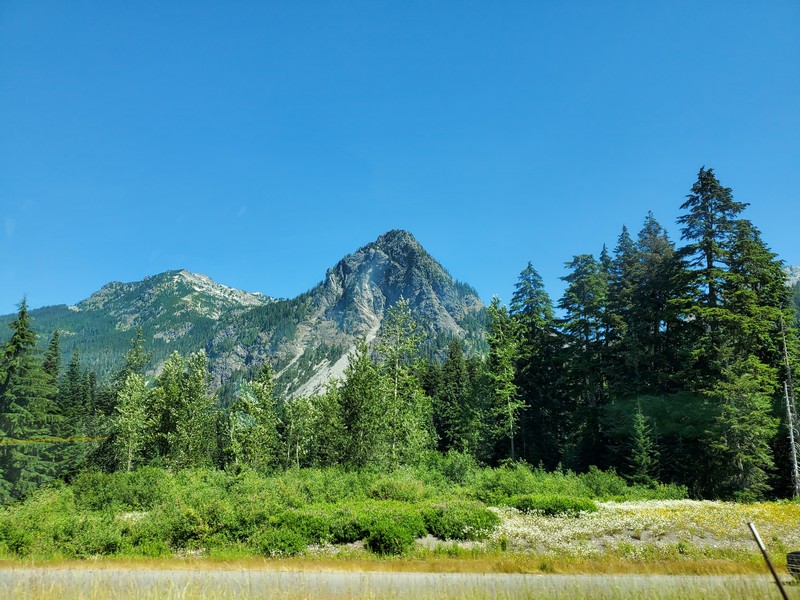 There are many beautiful places in this world, but we haven't seen anything prettier than the Cascade Mountains of Washington State!



---
Trip Costs
Gas prices were high (up to $7 US per gallon in Canada, and over $5 a gallon in the US).
Total gas cost: $3450
Miles: 12,728
Cost of gas per mile: 27 cents
Accommodations: $22.50 for three nights at campgrounds
Tolls and ferry: $405
Entrance fees: $226
Food costs were the same as at home: grocery stores plus a very occasional restaurant meal.
---