Bobos and Cocos: Driving Mexico's Pacific Coast
Jan-Feb 2019
In Spanish, blue-footed boobies (a type of bird) are called "bobos." Cocos are coconuts. We saw many of both on our journey down the beautiful Pacific coast of mainland Mexico. We also saw miles of white, sandy beaches, and ate lots of fresh shrimp and fish.

In southern Mexico we marveled at Mayan culture, then returned through Mexico's gorgeous colonial interior.

This was our fourth driving trip to Mexico, and we can't wait to go back. It's safe, friendly, affordable, and endlessly interesting. It's also a great place to escape winter, with practically perfect weather everywhere.
Click here to learn more about our van.


9000 miles and ten weeks round trip from Seattle, 4600 miles and seven weeks of that in Mexico



San Carlos, Sonora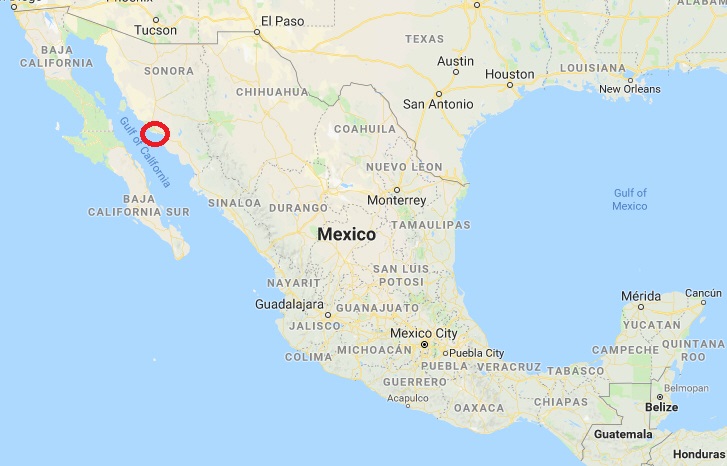 Our first stop was San Carlos, about five hours south of the border. This lovely beach town has many vacation homes, and is also popular with big rigs that spend the winter. It's great for kayaking. There are dolphins and birdwatching.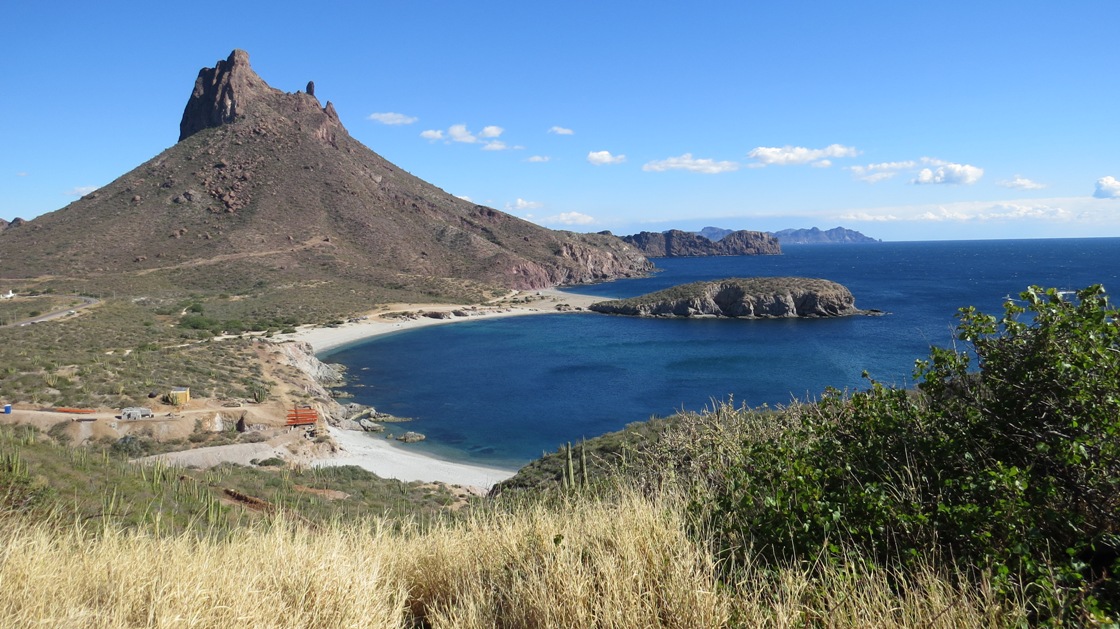 A San Carlos beach



Alamos, Sonora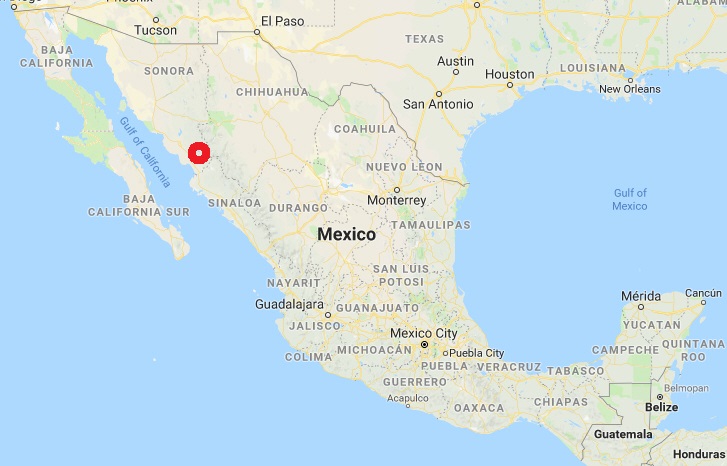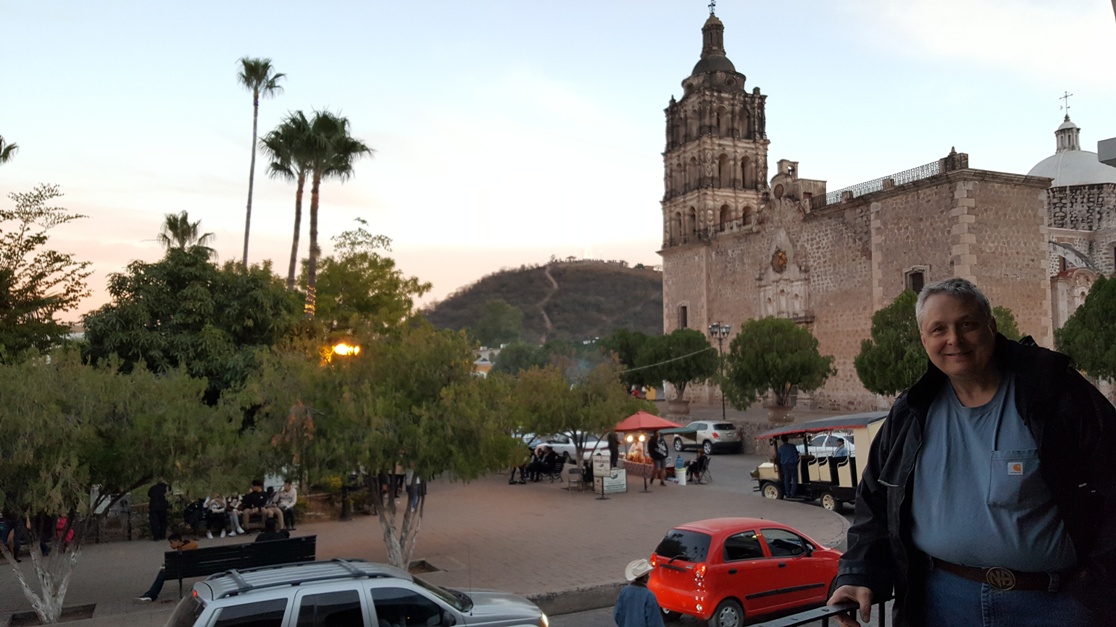 The central plaza in Alamos, a quiet colonial town in the mountains





One corner of the large Alamos cemetery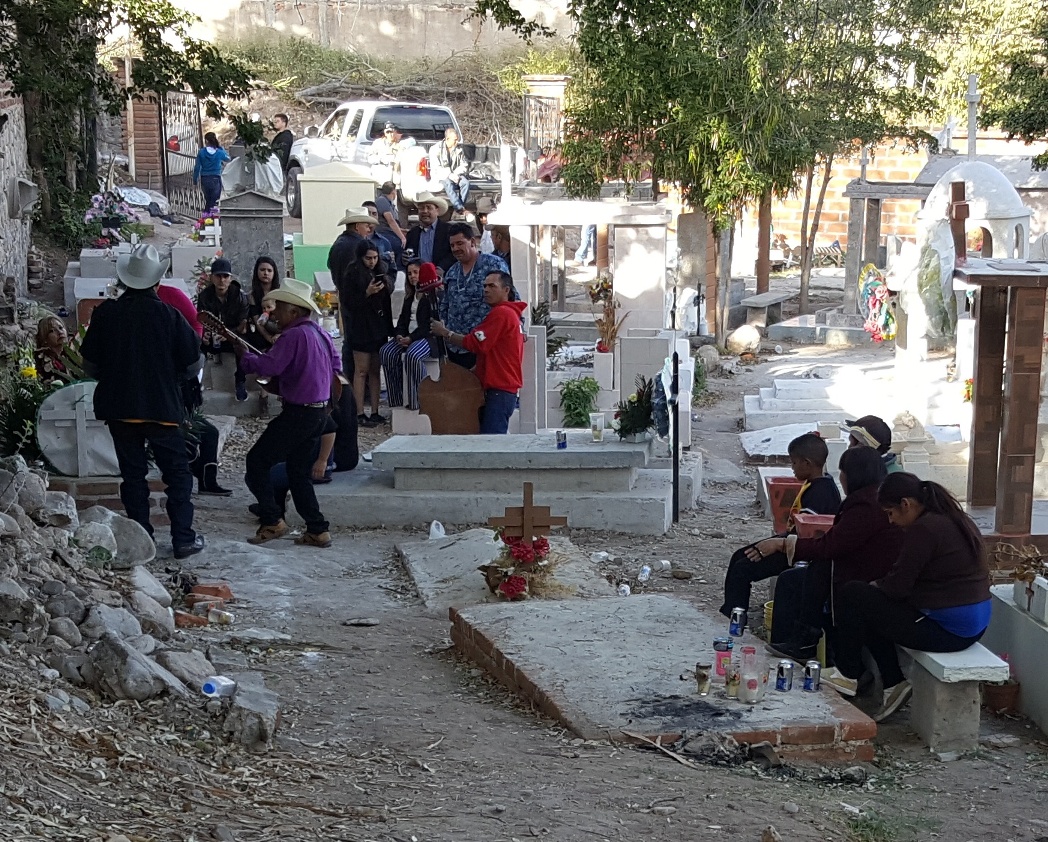 On New Year's day many people spend the day at their family's grave site. They hire bands to play music, sing along, laugh and cry, and offer beer to all.





This magnificent statue honors the deer dance of Sonora's Yaqui people.



Sinaloa state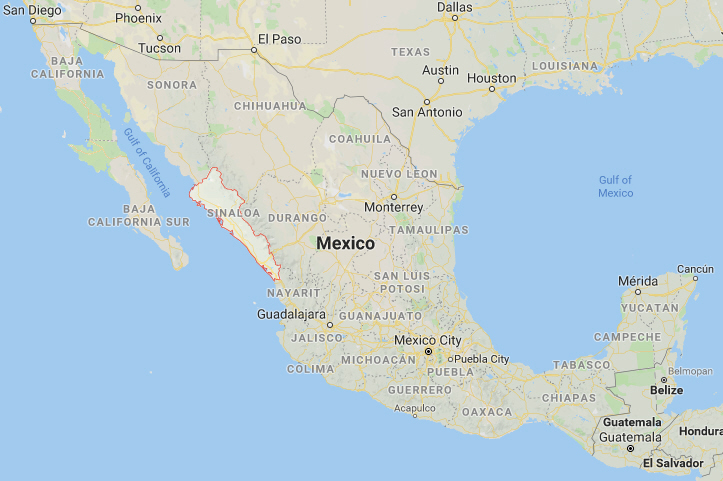 Giant iguana sleeping in a tree at a campground on a freshwater lake south of Culiacan





Irridescent glossy ibis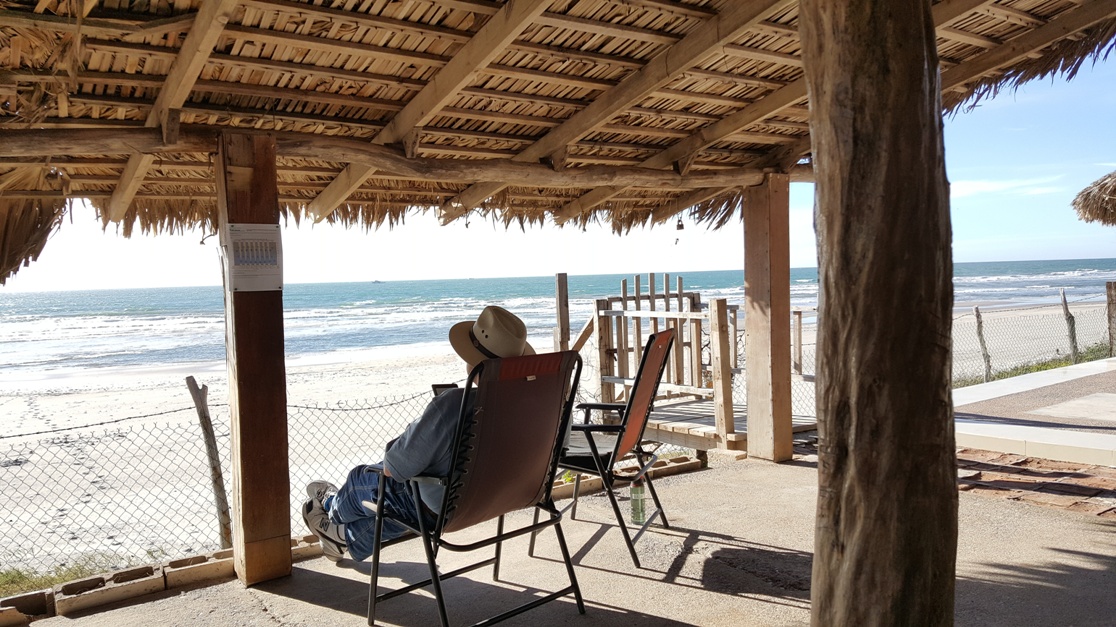 We love the Villa Celeste campground, about an hour north of Mazatlan.





It took one guy five hours of hard work to harvest these 200 pounds of oysters, which he can sell for about $60.





A fresh seafood lunch with new friends Sandra and Kevin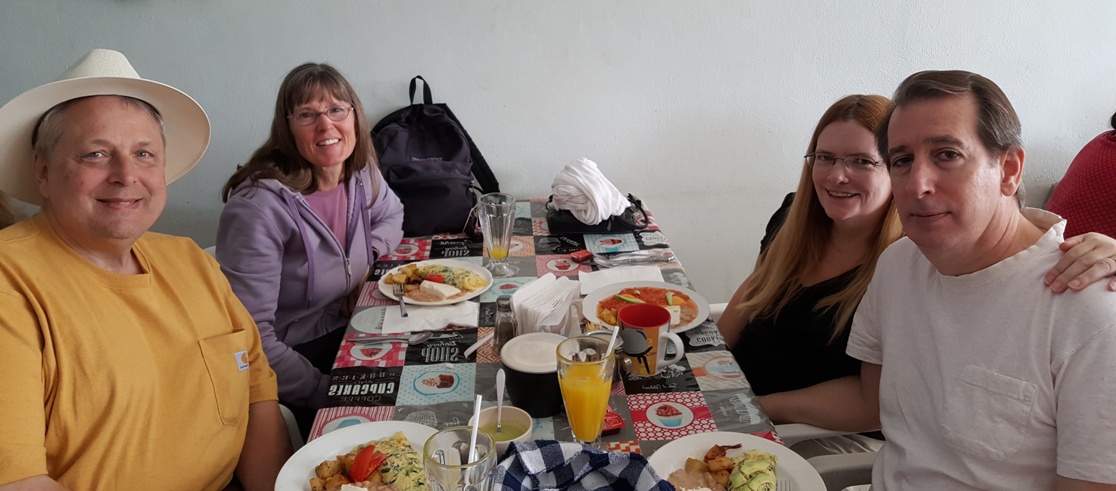 Amazing spinach omelettes in Mazatlan with former coworker Paul and his wife Trish. They live there full time.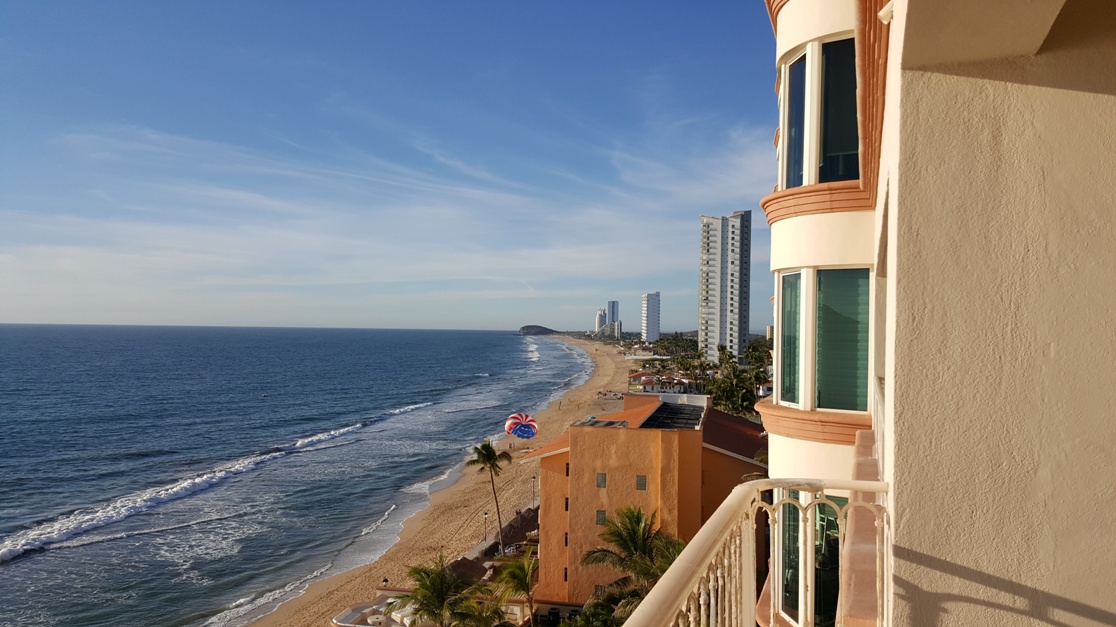 The view from Paul and Trish's condo in the quieter northern part of Mazatlan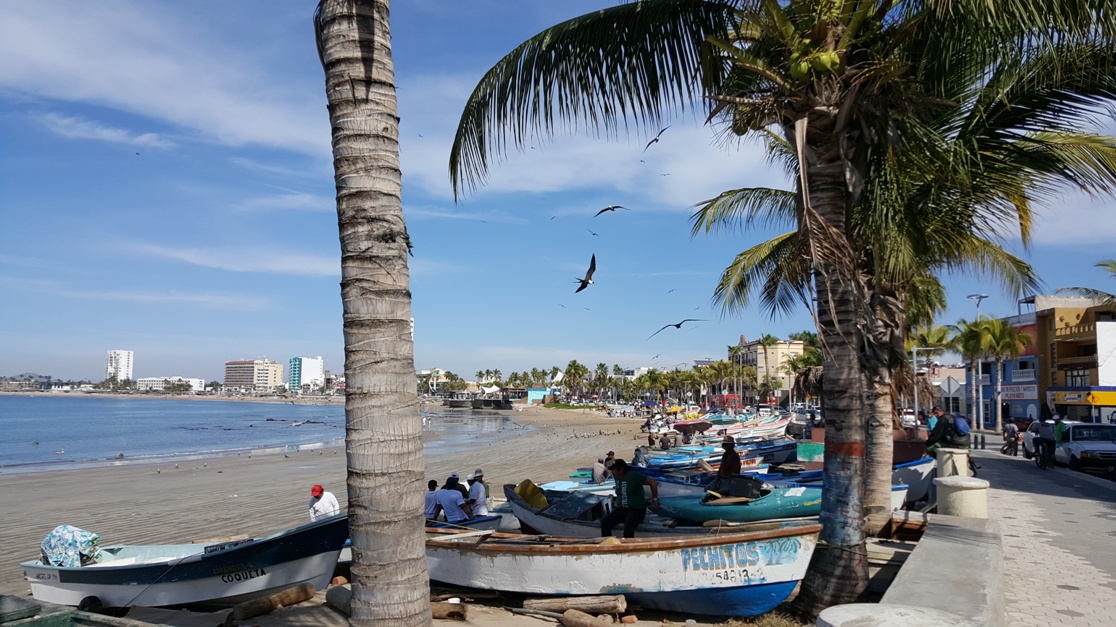 Fishing boats in Mazatlan





A Mazatlan speciality: marshmallows rolled in grated coconut. It's not possible to eat just one...



San Blas, Nayarit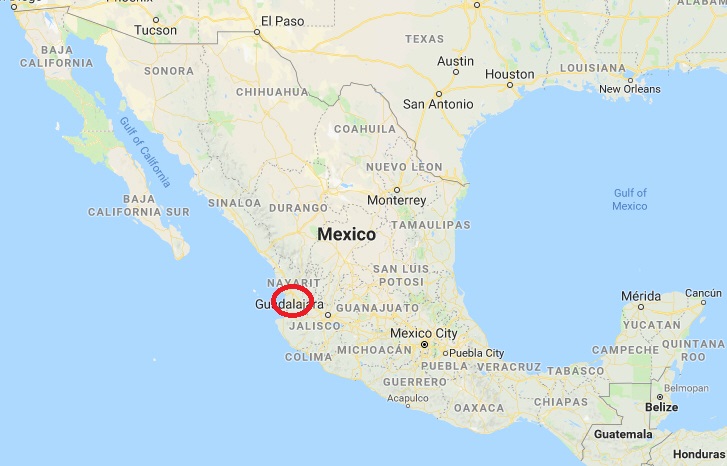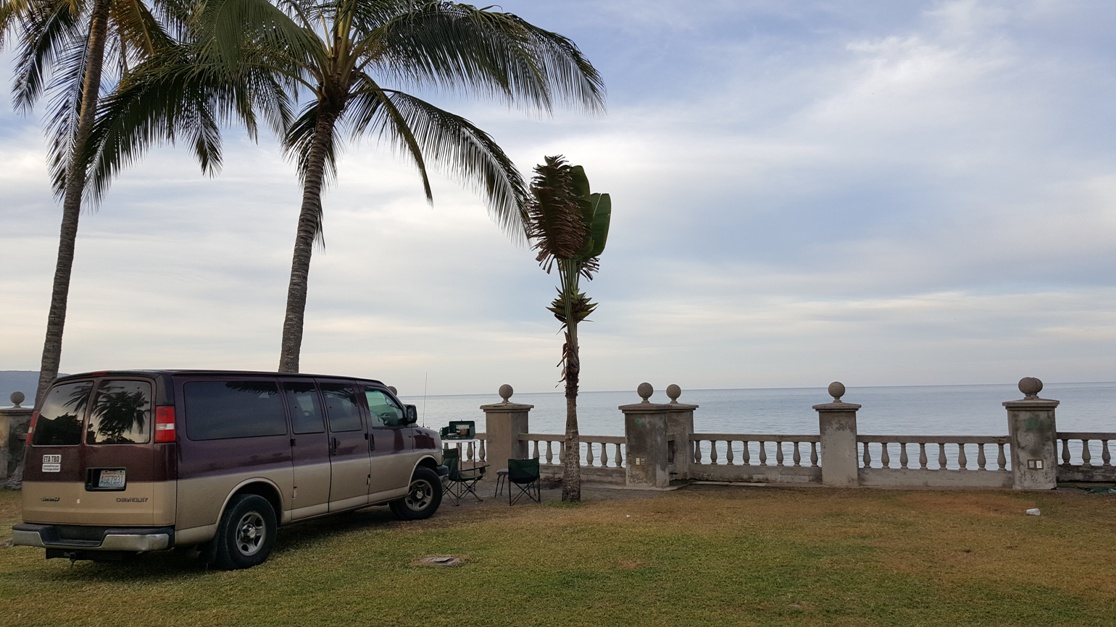 Playa Amor campground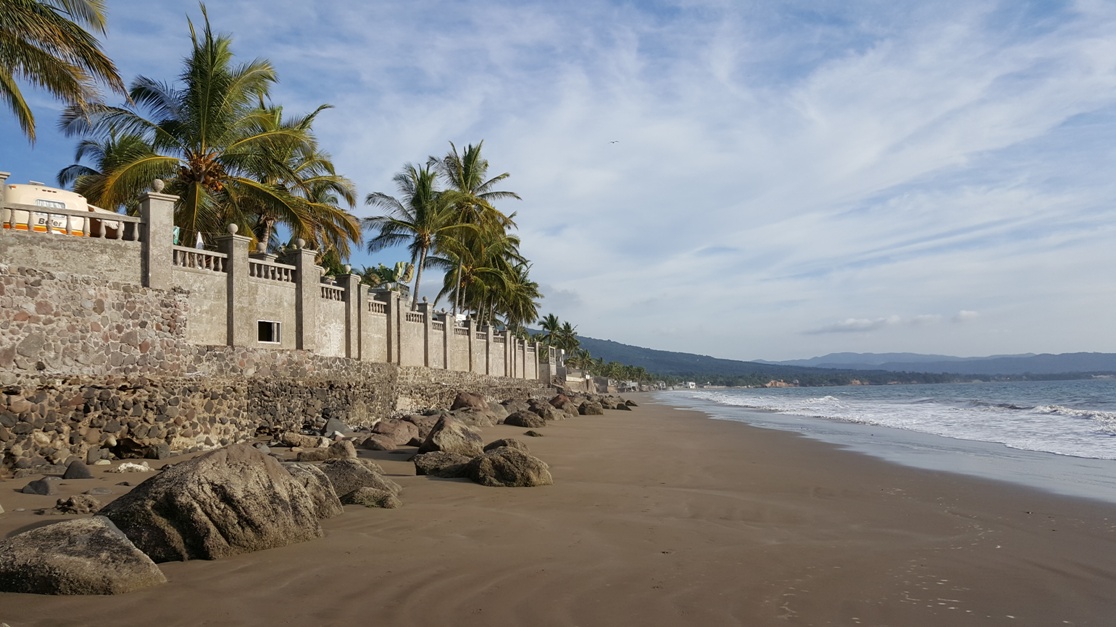 The beach at Playa Amor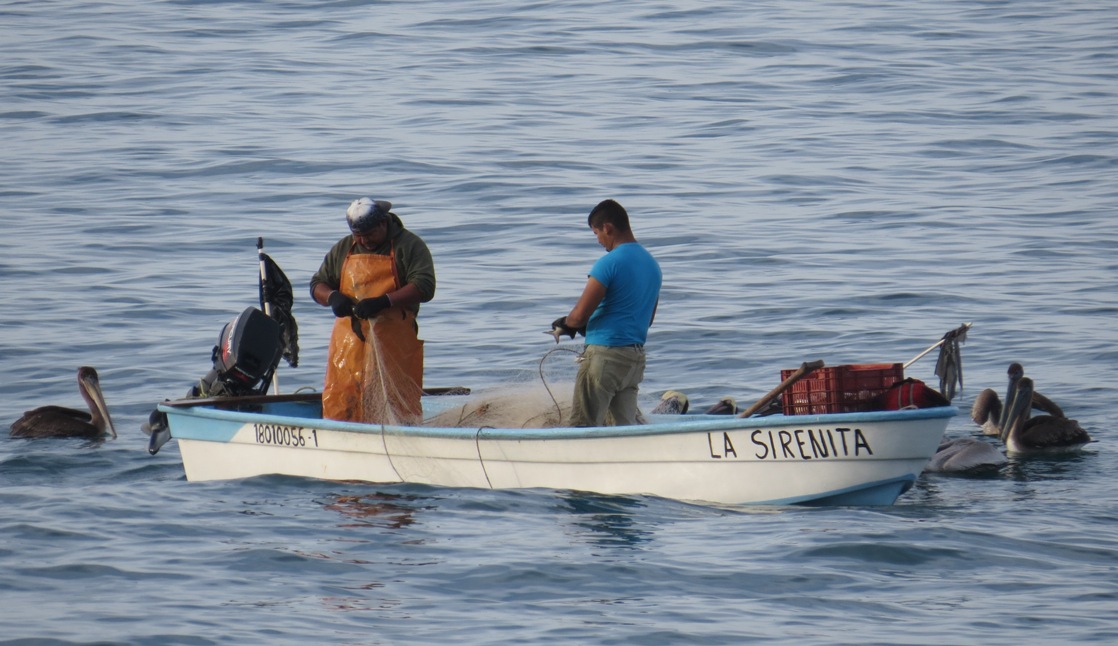 Hopeful pelicans watch fishermen on the "Little Mermaid" pick fish out of a net.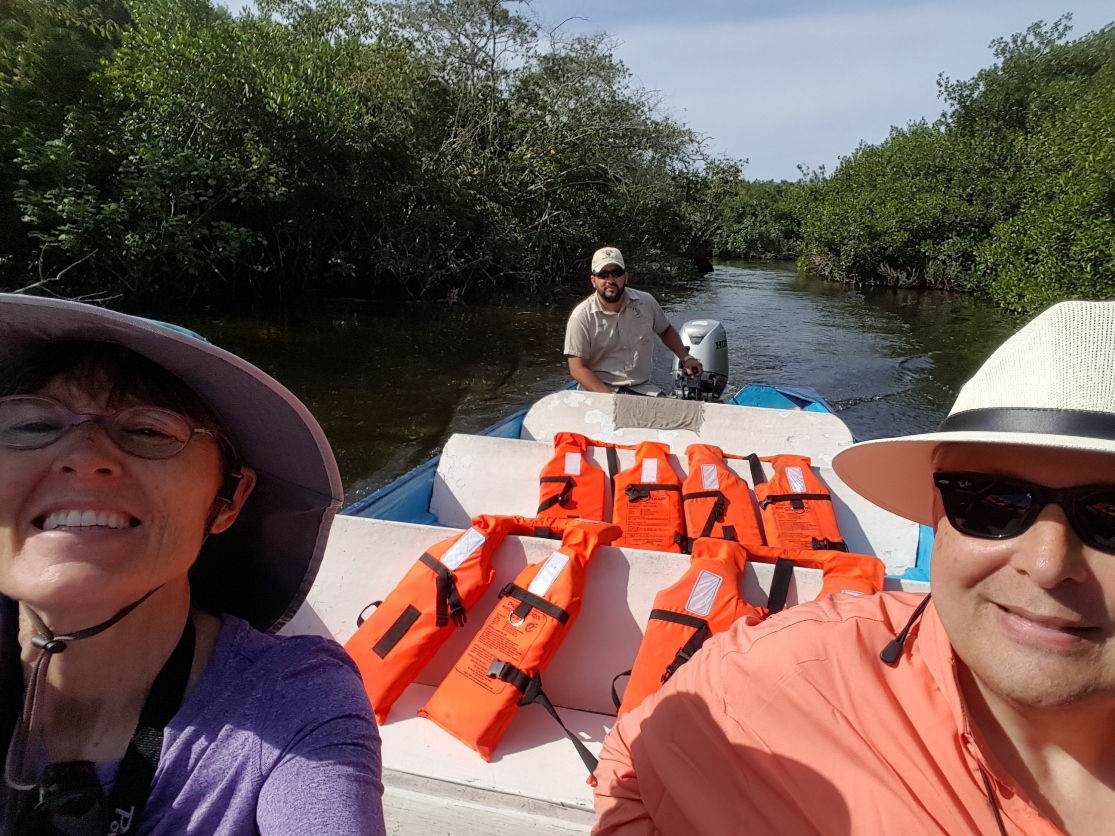 The boat trip through the swamps and mangroves of La Tovara park was a highlight of our trip.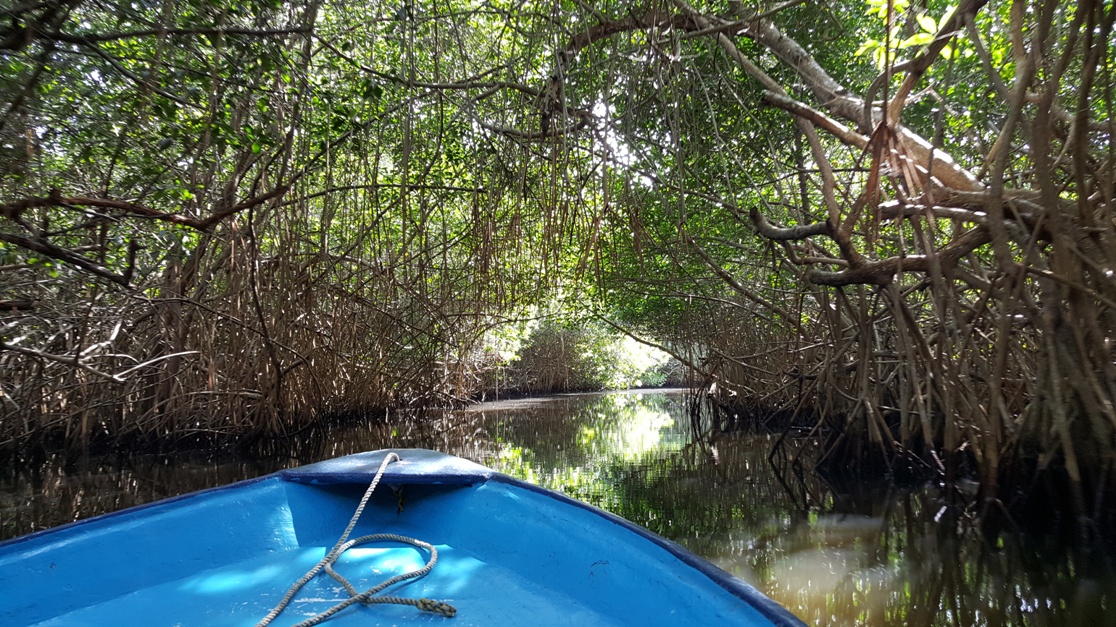 La Tovara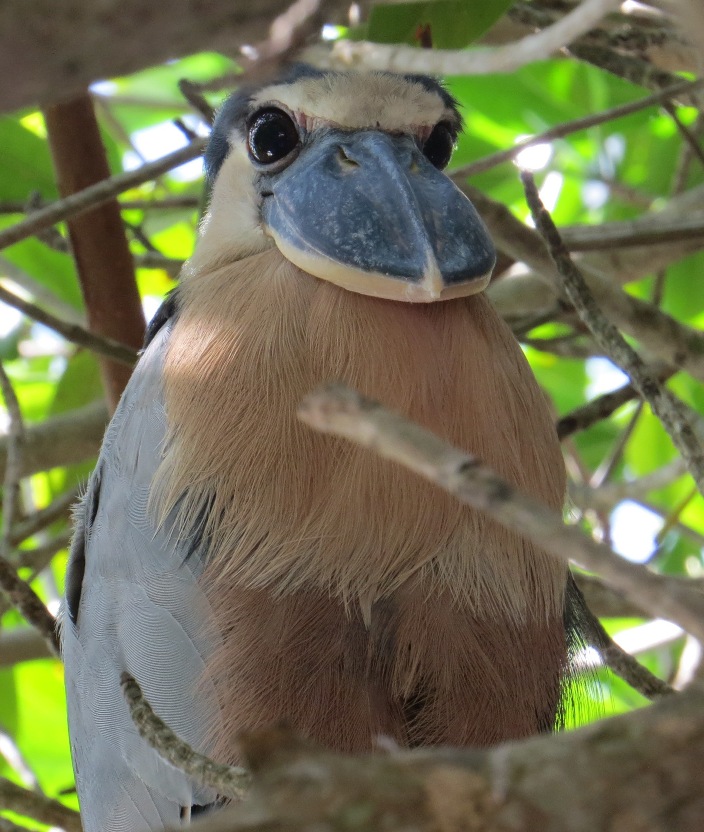 We saw several new species of birds, including boat-billed herons.





Tiger heron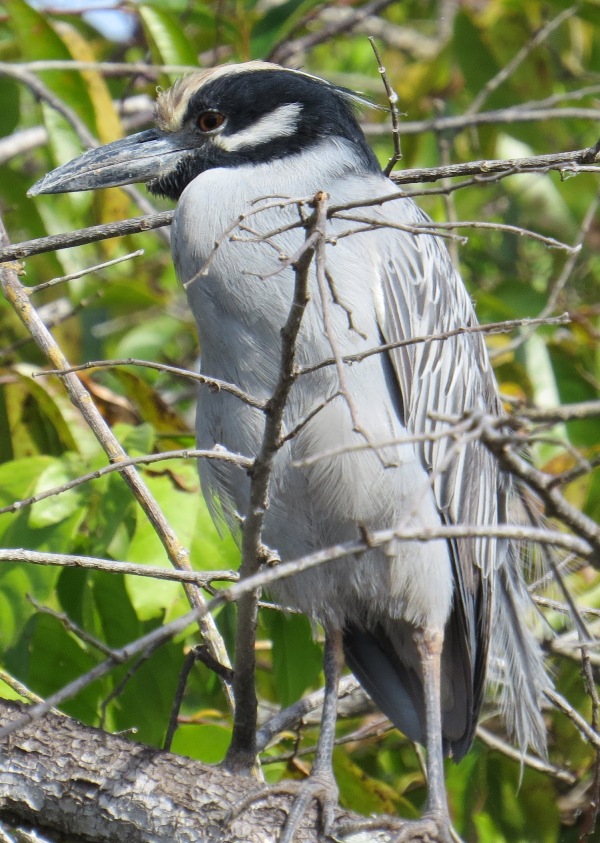 Yellow-crowned night heron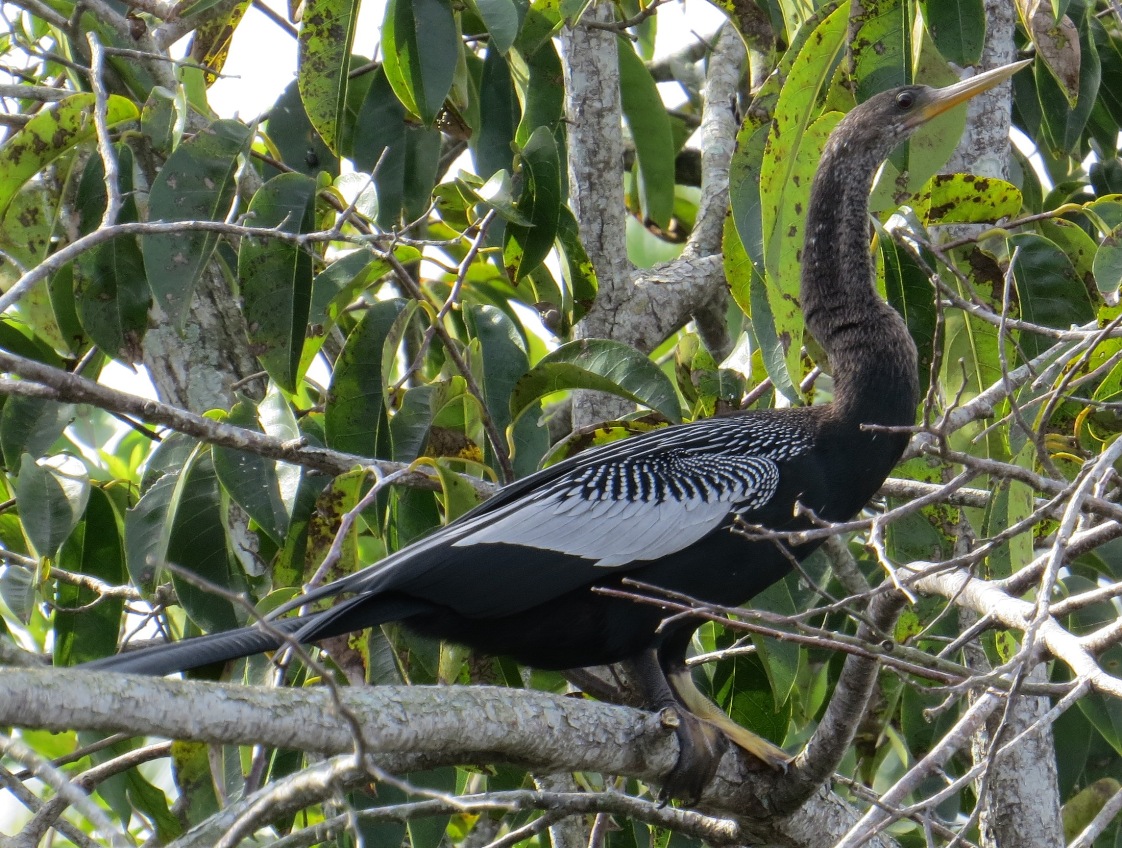 Anhinga





Orange (male) and green (female) iguanas





A nearby crocodile hatchery has ensured that this once-locally-endangered species is now thriving.





Mural from the movie "Coco" on the wall of the San Blas cemetery. "When no one remembers you in the land of the living, you disappear from the land of the dead." "Remember me, even though I must say goodbye."





Entrance to the San Blas cemetery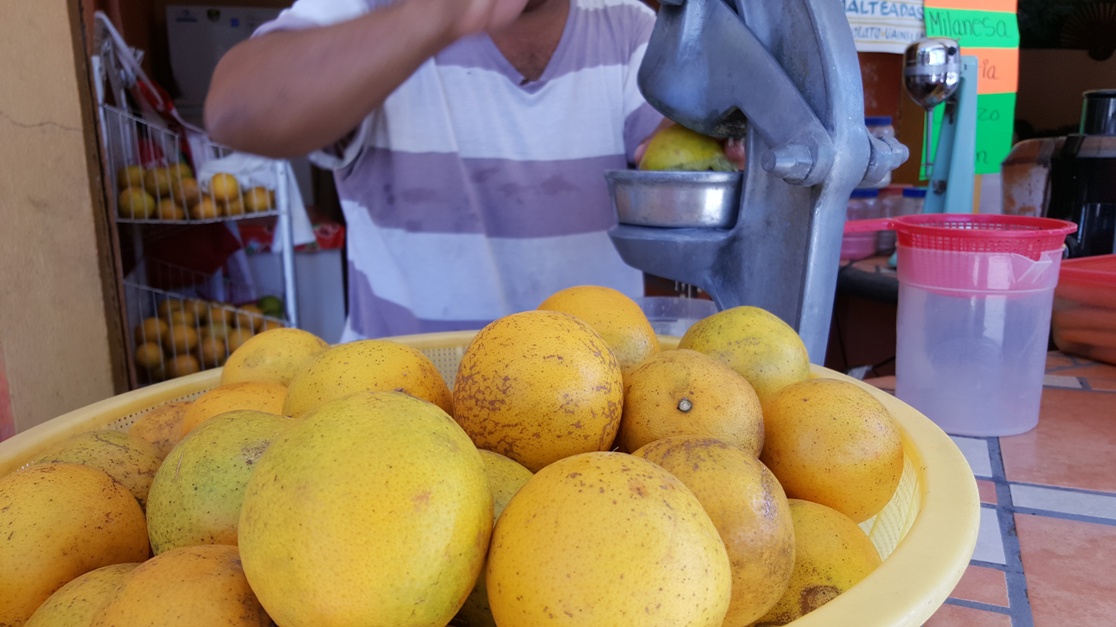 Fresh-squeezed orange juice is readily available everywhere in Mexico



The coast of Jalisco state


Typical Mexican "trailer park" (for big rigs). Punta Perula is a lovely small town two and a half hours south of Puerto Vallarta, with a nice beach.





The beach in Punta Perula





Punta Perula is a popular gringo winter haven with a large pickleball contingent.



The coast of Michoacan state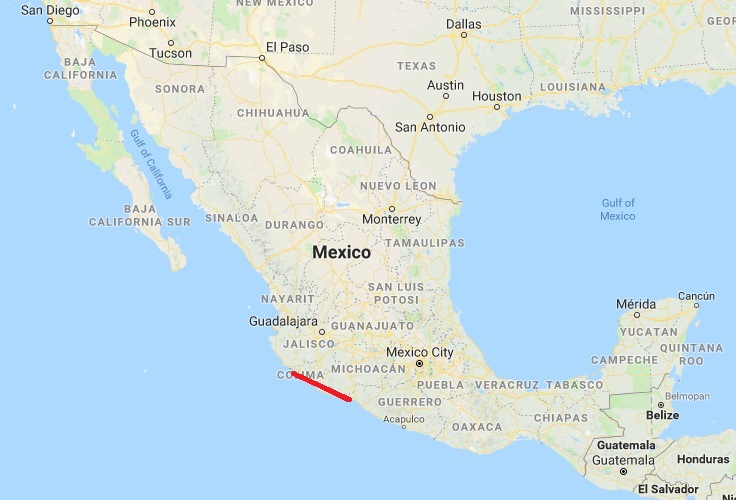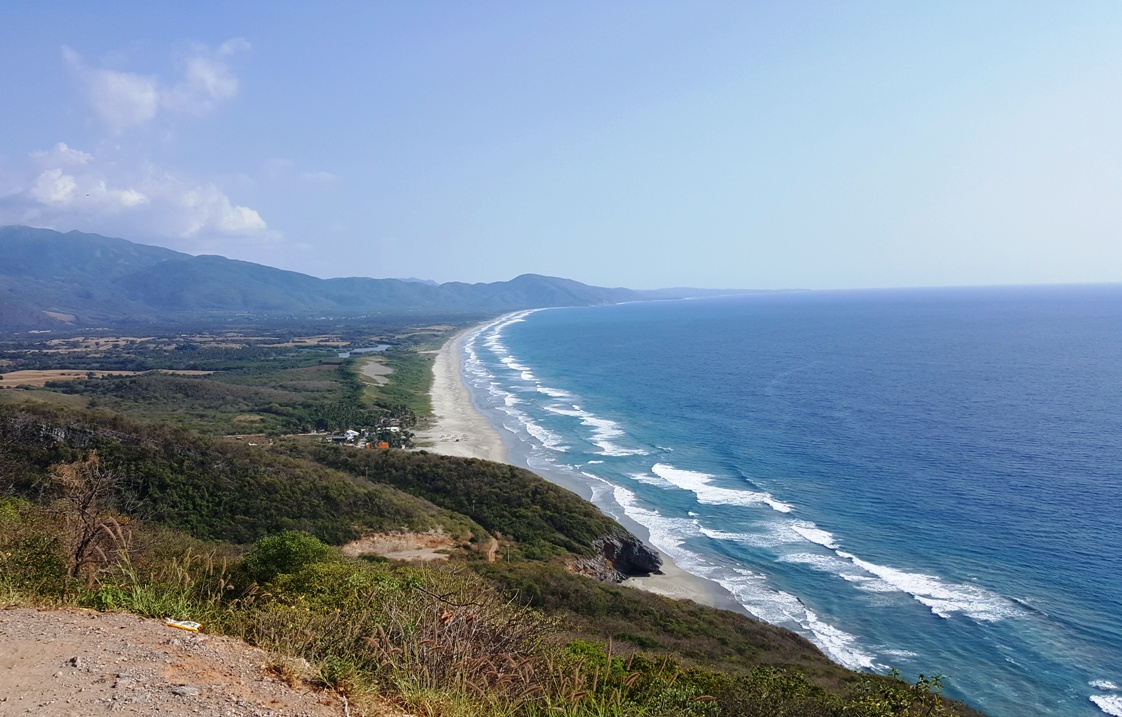 The Michoacan coast is stunning and little developed.





Typical Michoacan beach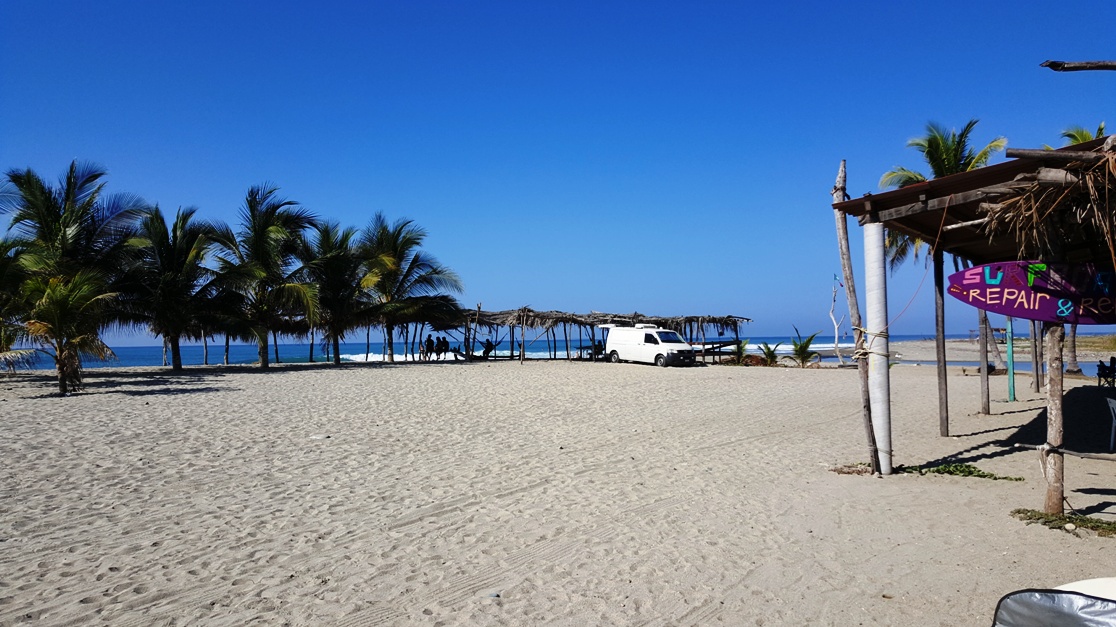 Excellent surfing attracts a young crowd to surf camps like this one.





Rocky headlands at Maruata beach





Maruata





Fresh local shrimp coated in coconut. To die for!





Motorcyles may not be the safest mode of transportation for a young family, but they are more affordable than cars.





This sign says, "Hunting prohibited." Wild jaguar live in this area.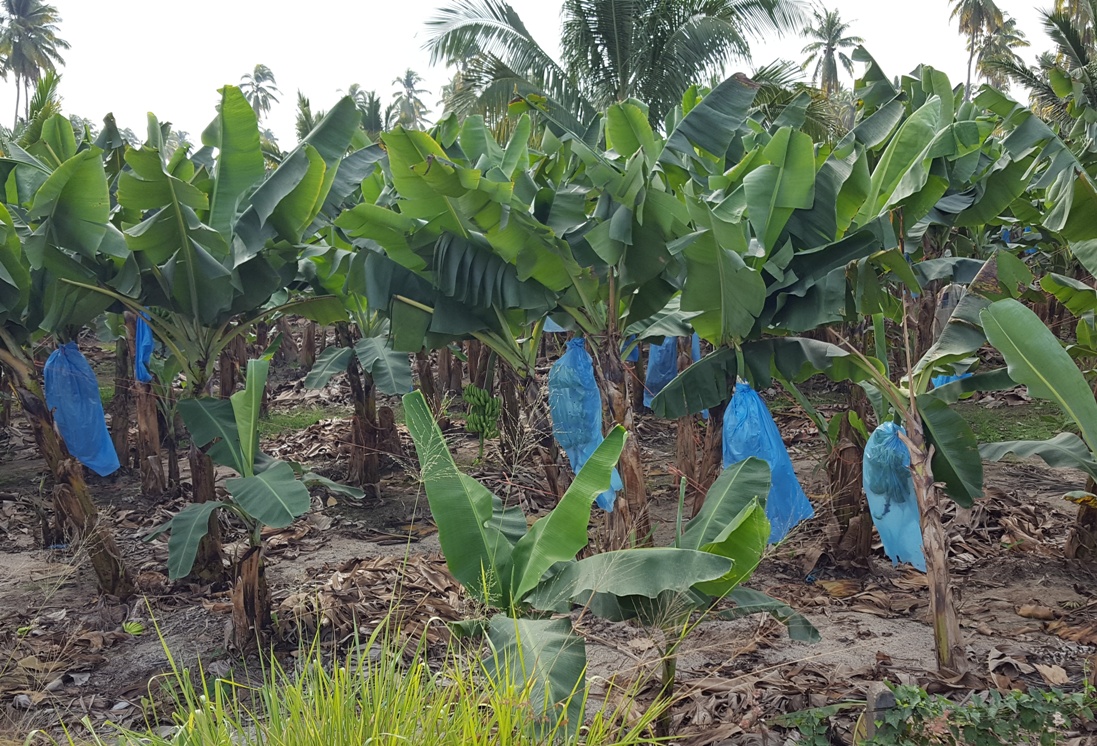 Who knew? Bananas are covered with bags to protect the fruit from animals, weather, and chemical sprays.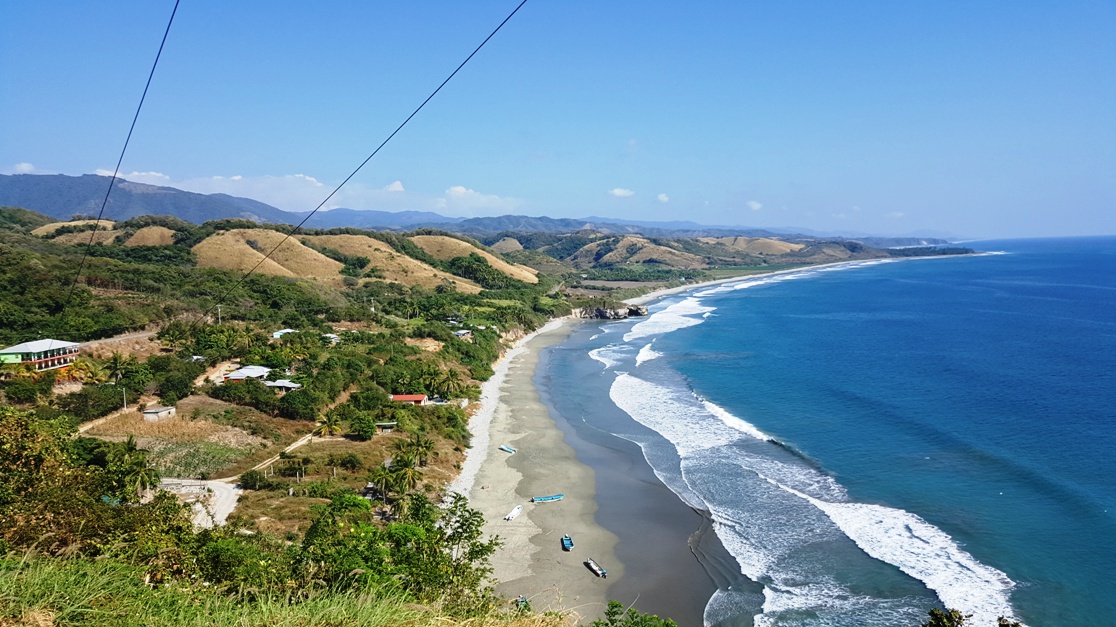 Fishing boats on a beach





Once you dip into the tropics you can see the southern cross early in the morning. (The white lines illustrate the shape. Photo courtesy Wikipedia.)



The coast of Guerrero state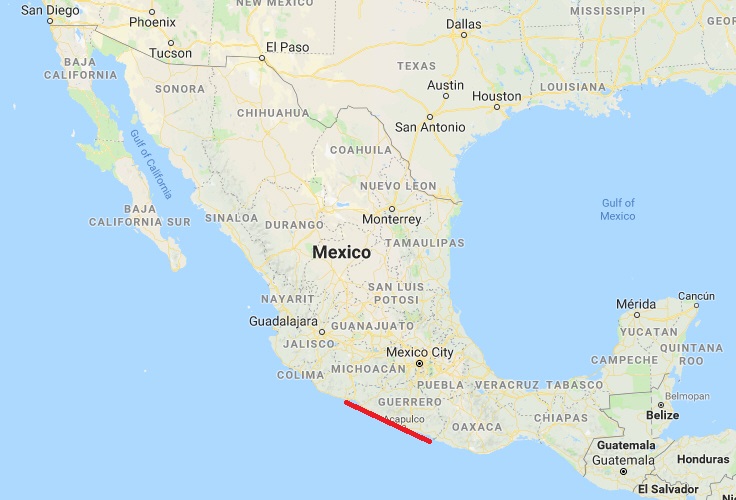 Most of the beggars we see in Mexico are crippled or elderly. Although there is poverty in Mexico, the economy is pretty strong, and there is a thriving middle class.





The resort town of Ixtapa





The Zihuatanejo waterfront





Fresh fish for sale in Zihuatanejo





Iguana and bougainvillea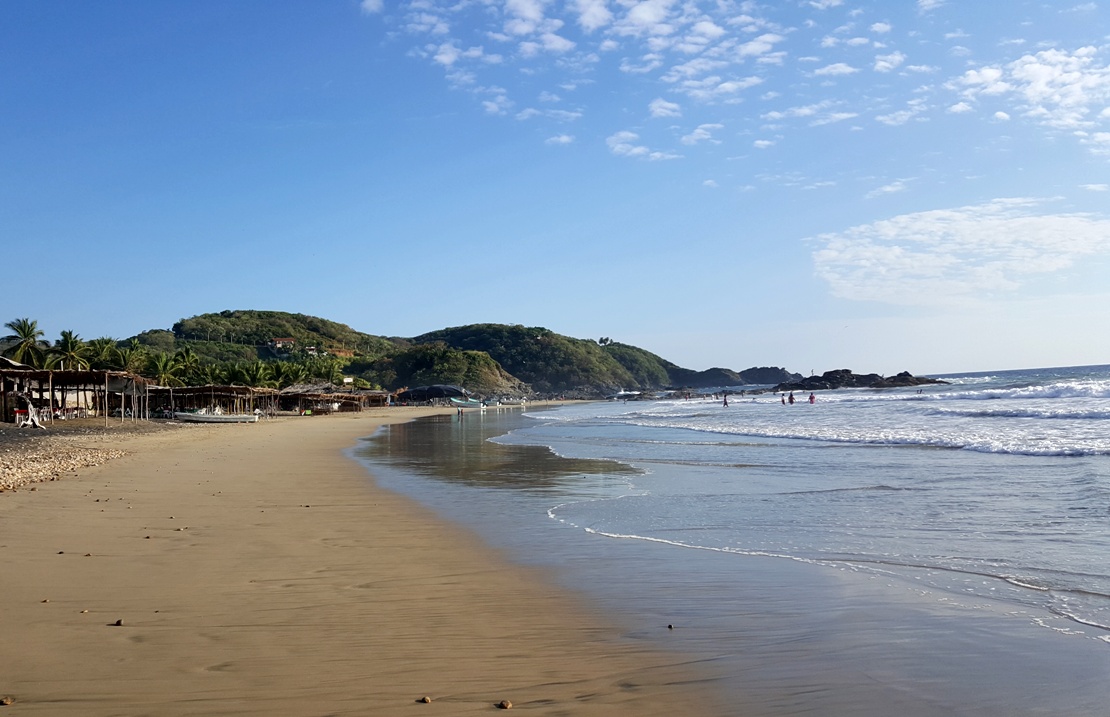 The tiny fishing village of La Barrita, an hour south of Zihuatanejo





The campground in La Barrita was one of our favorites.





Fishermen and swimmers at La Barrita





The beach at La Tortuguita campground near Copala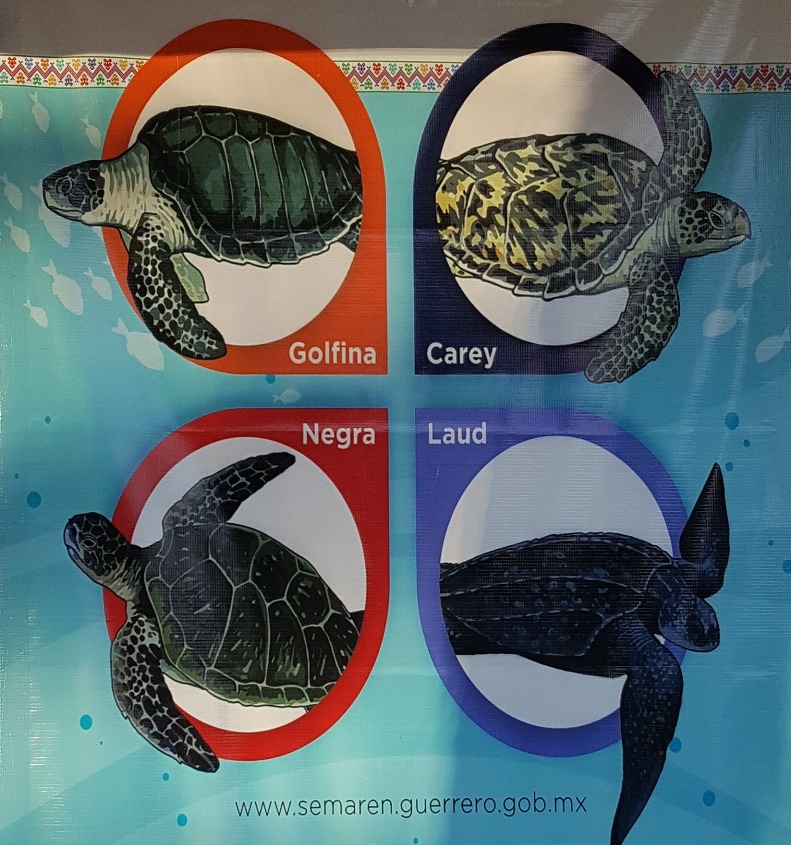 The campground is also a government sea turtle hatchery.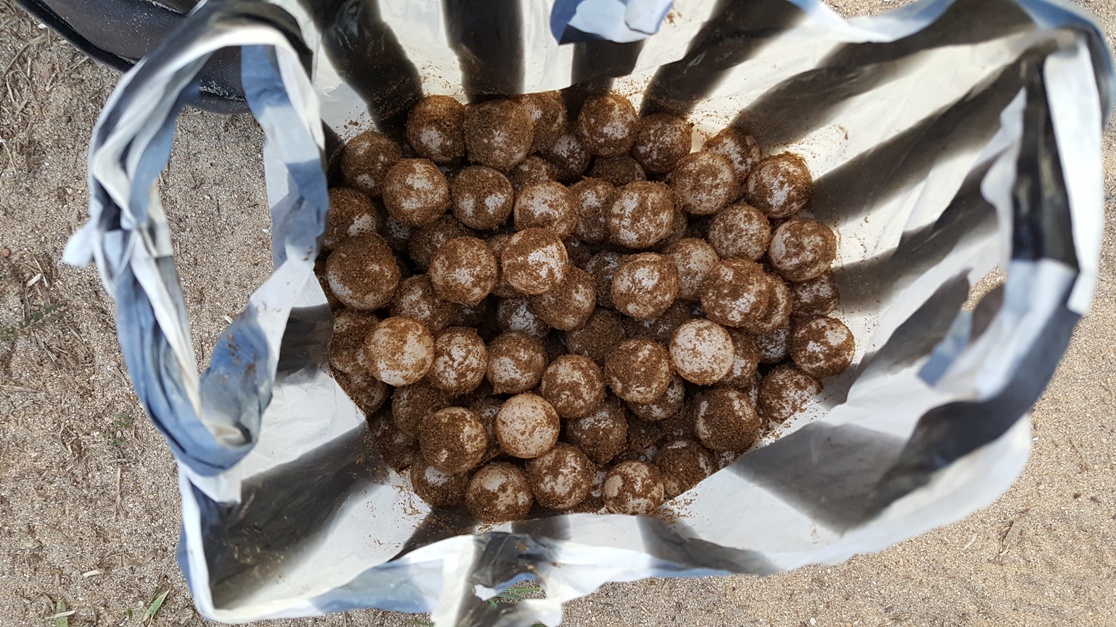 Each morning biologists collect the turtle eggs that were laid during the night and move them to a protected area where they can't be eaten by local dogs, pigs, and people. The round eggs are about the size of a ping pong ball, and have pliable shells.





The biologist digs a hole (about armpit deep) to make a nest for the eggs, then labels it with the number of eggs and the dates of harvest and hatching. When the eggs hatch, they are taken to the beach and set free.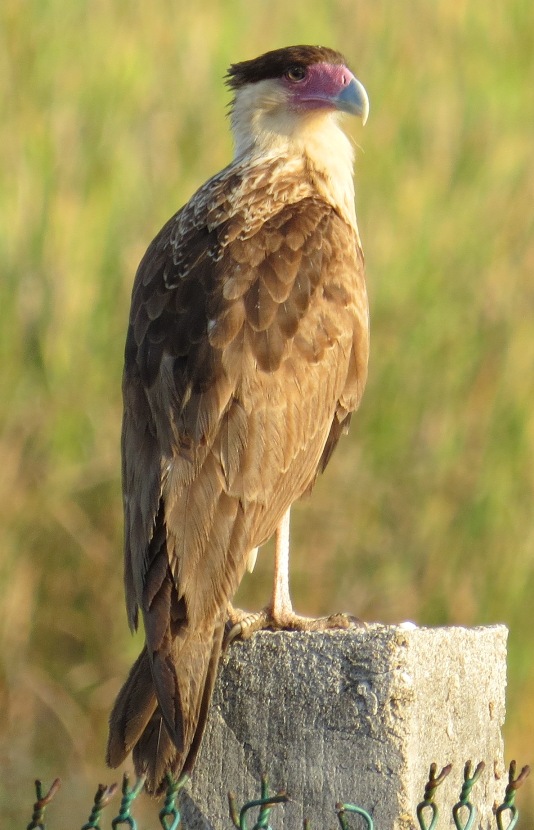 Caracara are common in Mexico.



The coast of Oaxaca state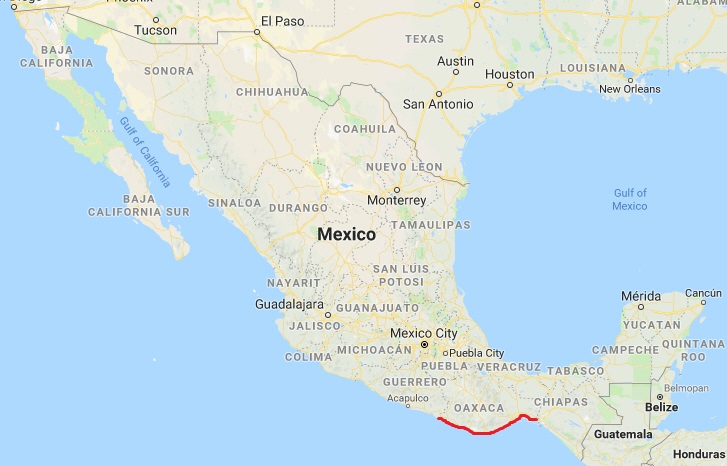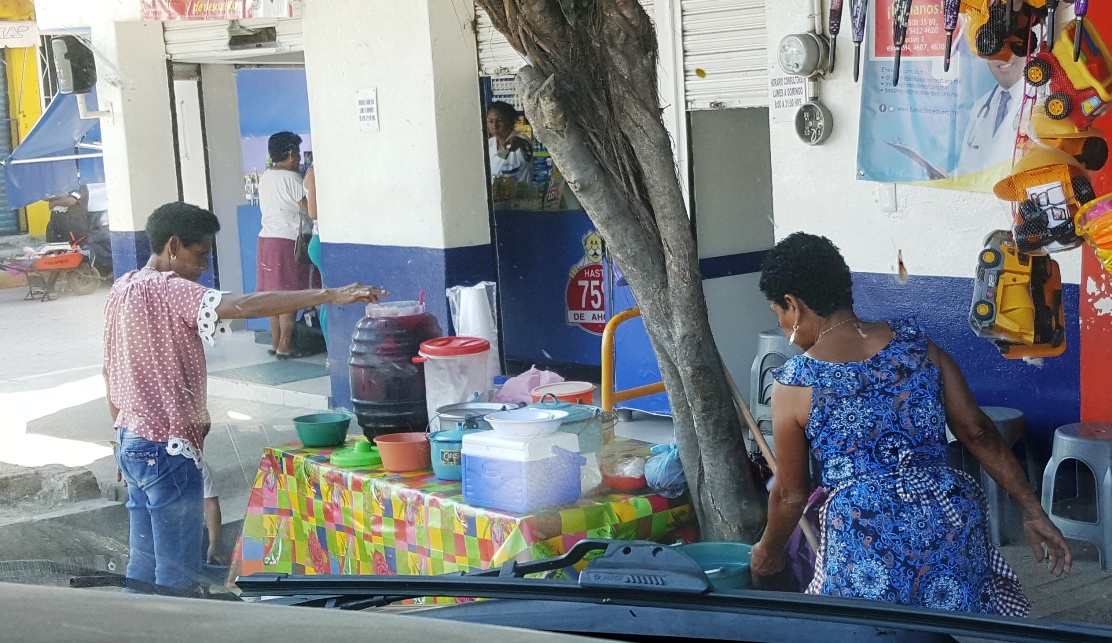 Afro-Mexicans are descended from African slaves brought to Mexico during the Spanish colonial era.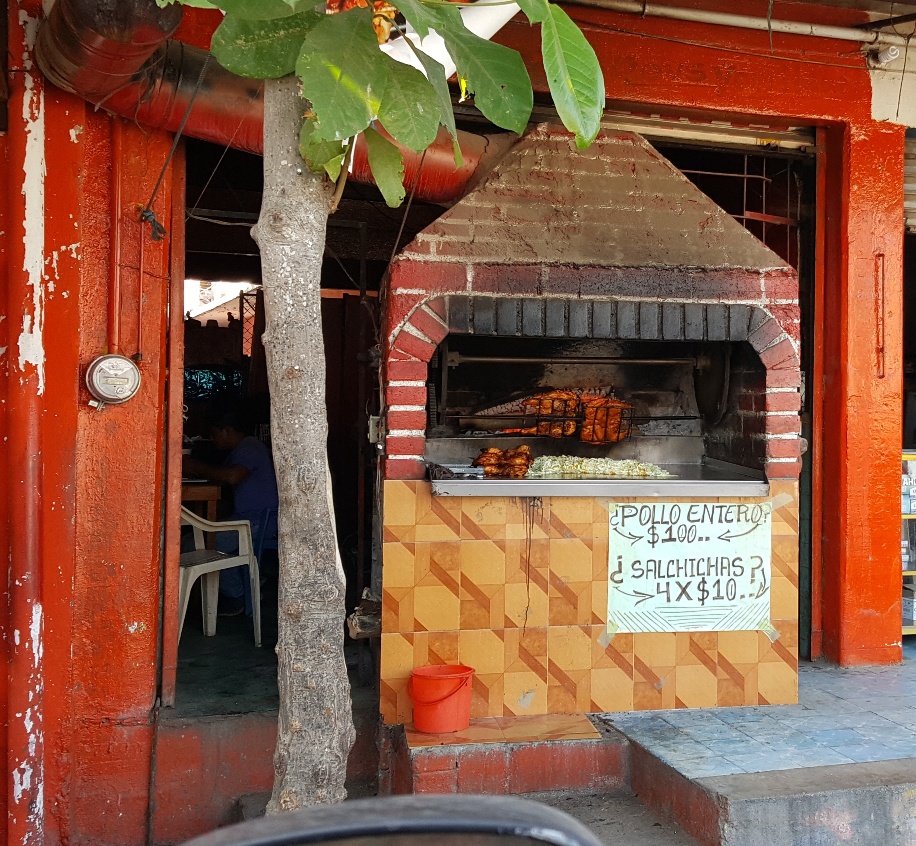 We're big fans of the rotisserie chickens found everywhere in Mexico.





There are no campgrounds in the tiny town of Cerro Hermoso, in Lagunas de Chacahua National Park, so we spent the night at a restaurant on the beach.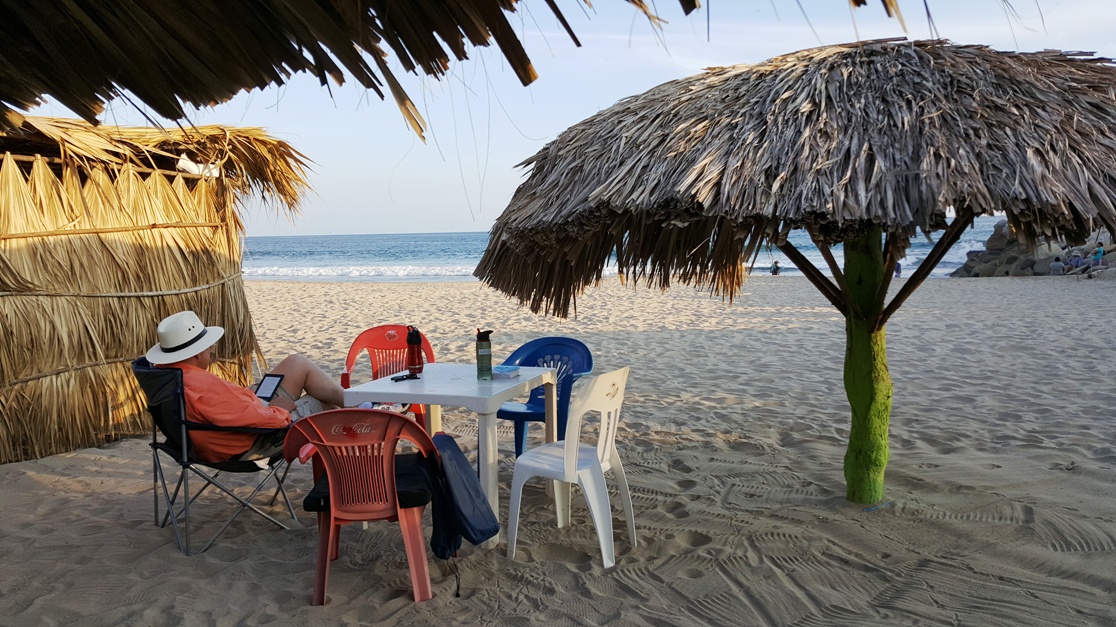 The beach at Cerro Hermoso. This part of Mexico felt remote and disconnected from the modern world. Few foreigners come here.





Fresh fish and spicy shrimp soup for dinner on the beach. We had the whole place to ourselves.





A coastal river





This campground in Salina Cruz is popular with surfers, but was mostly empty when we were there.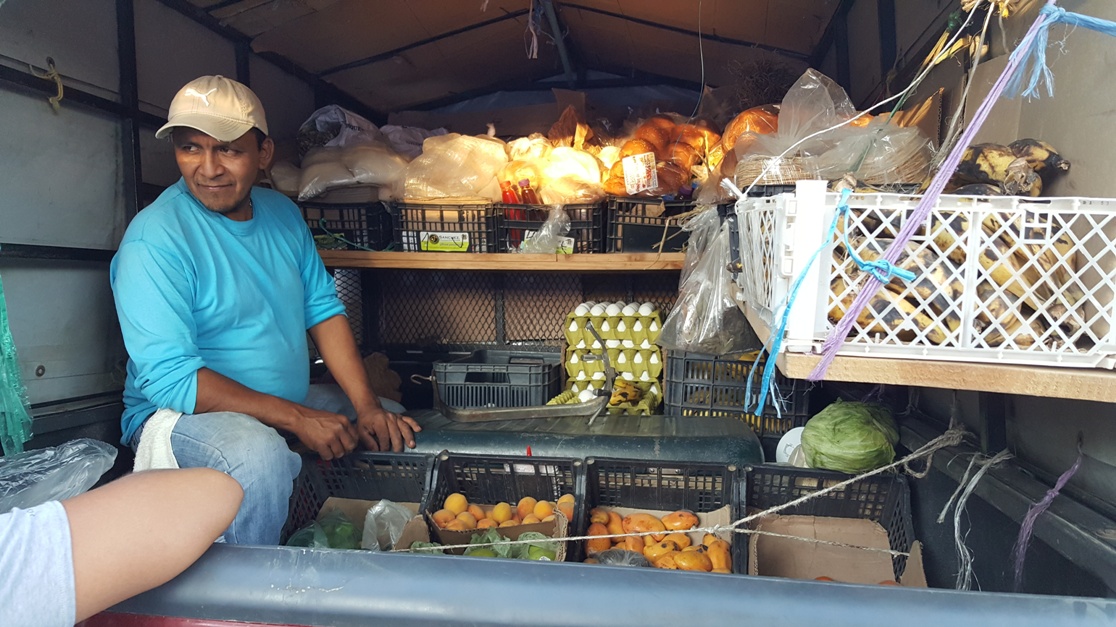 A grocery truck goes from town to town selling all the basics.



Chiapas state


Chiapas borders Guatemala and is home to many indigenous Mayan people.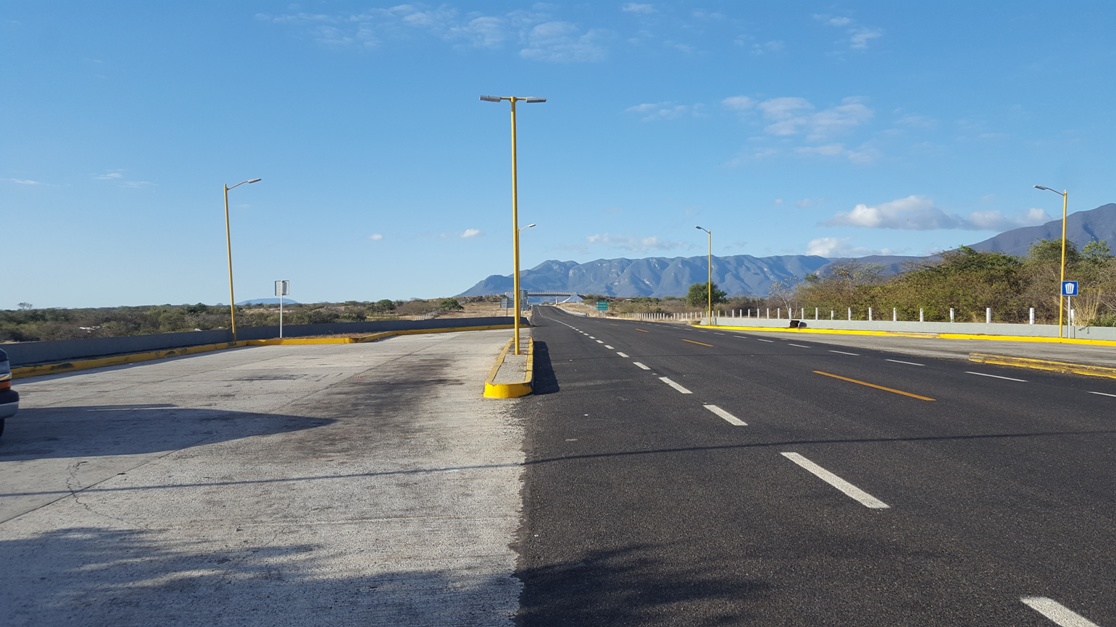 From Salina Cruz, we headed inland on a toll road. Tolls in Mexico can be steep, but these are good roads with rest areas.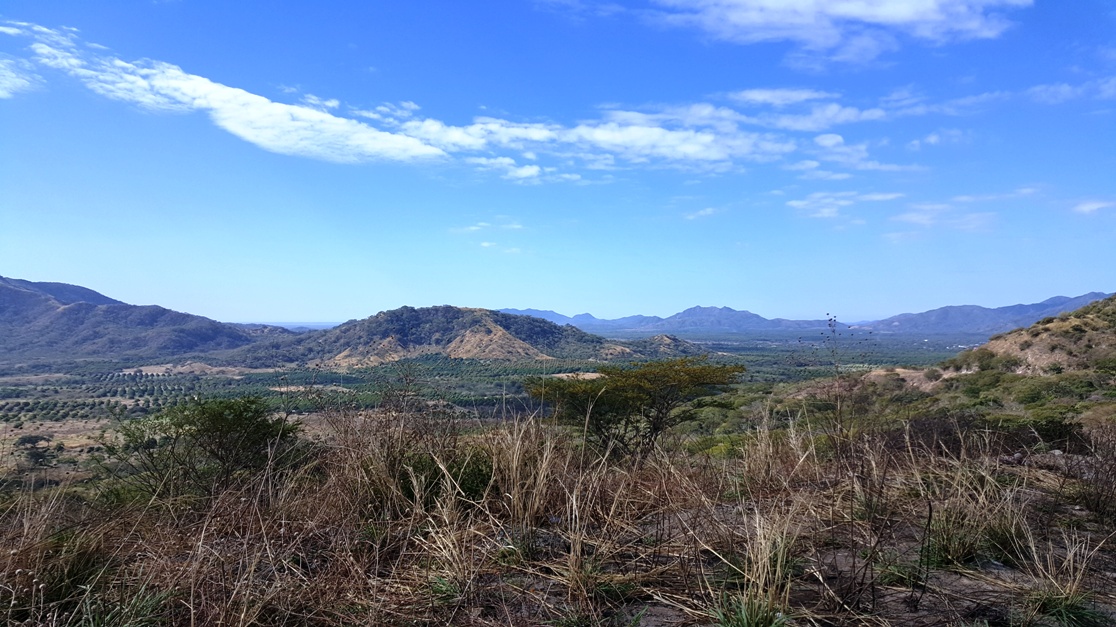 The road left the coast, crossed a low plain with high winds (we saw a semi tipped on its side) and wound up into high mountains (we crossed a 7500-foot pass).





San Cristóbal de Las Casas is the capital of Chiapas. This campground on the edge of town makes it easy to walk to all the sights. The city is at almost 7000 feet, surrounded by pine forests. It was in the low 40s at night, and in the 70s during the day.





Farms and houses near the campground





Grant enjoying a tamale in front of the San Cristóbal cathedral. Religious beliefs are a mix of Christianity and indigenous traditions.





Me enjoying a bag of fresh popcorn hot off the coals in the San Cristóbal market. Look how tiny this woman is.





Strawberries for sale in the market. They were delicious. (We soaked them in a microdyn solution before eating them.)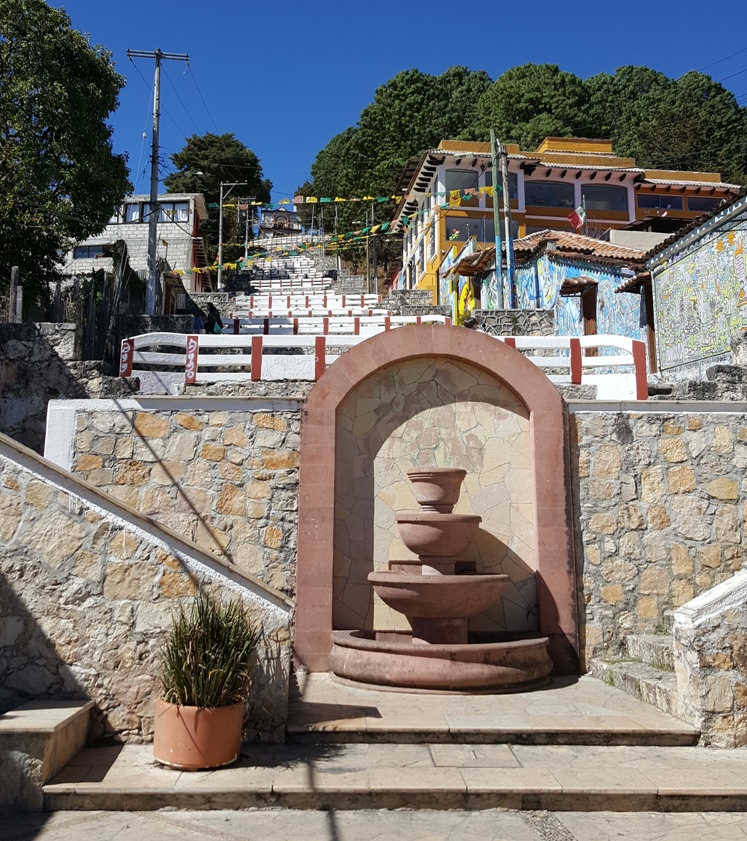 A long set of stairs leads to the Iglesia del Cerrito. I wasn't used to the altitude yet, so I had to take it slow!





The view of San Cristóbal from the Iglesia del Cerrito





I'm a big fan of pedestrian streets. They become the heart of a city. San Cristóbal has several. This is Guadalupe Street, lined with shops and restaurants.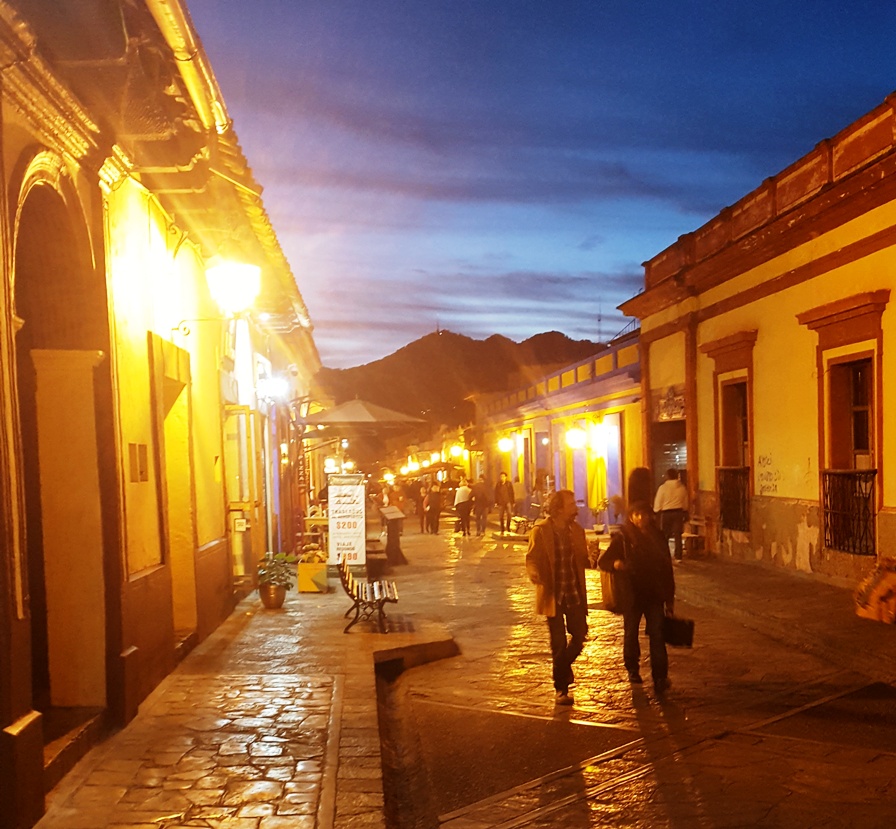 Guadalupe Street at night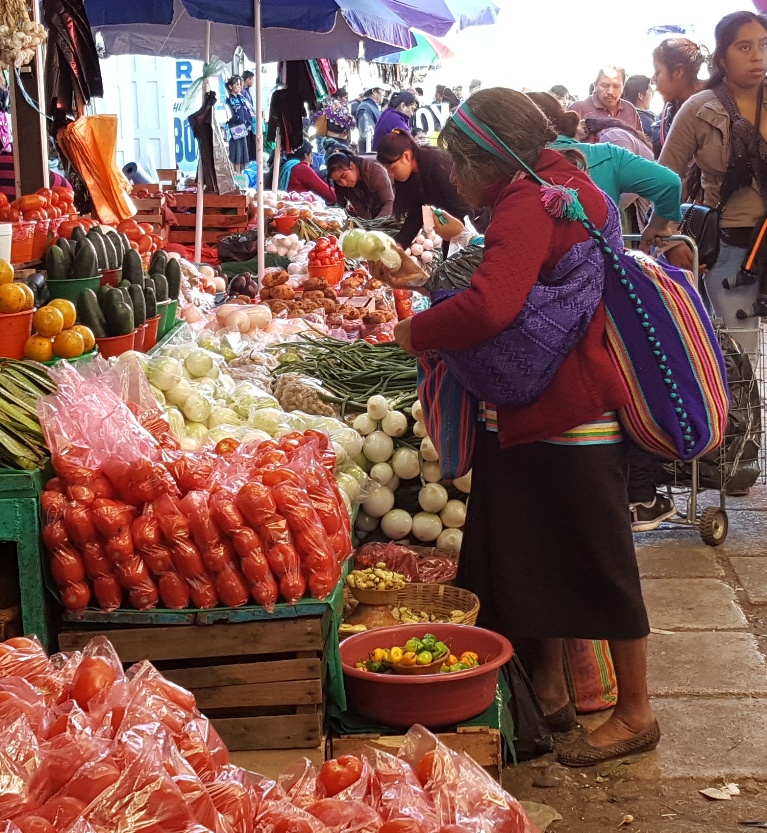 A tiny Mayan woman shopping at the market





Each town has its own unique clothing. This woman's fuzzy black wool skirt indicates that she is from the nearby town of San Juan Chamula.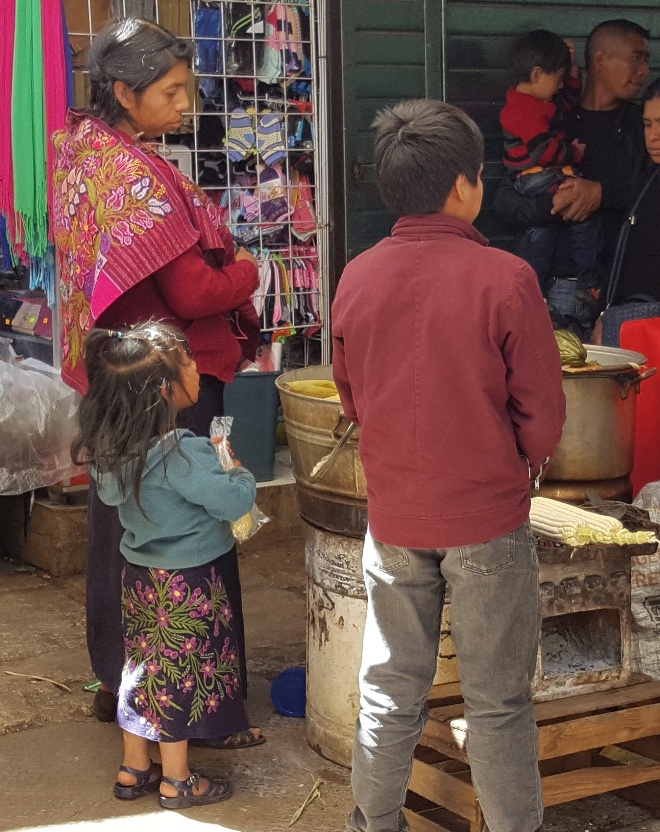 This woman and little girl are from the town of Zinacantán. They're buying grilled corn.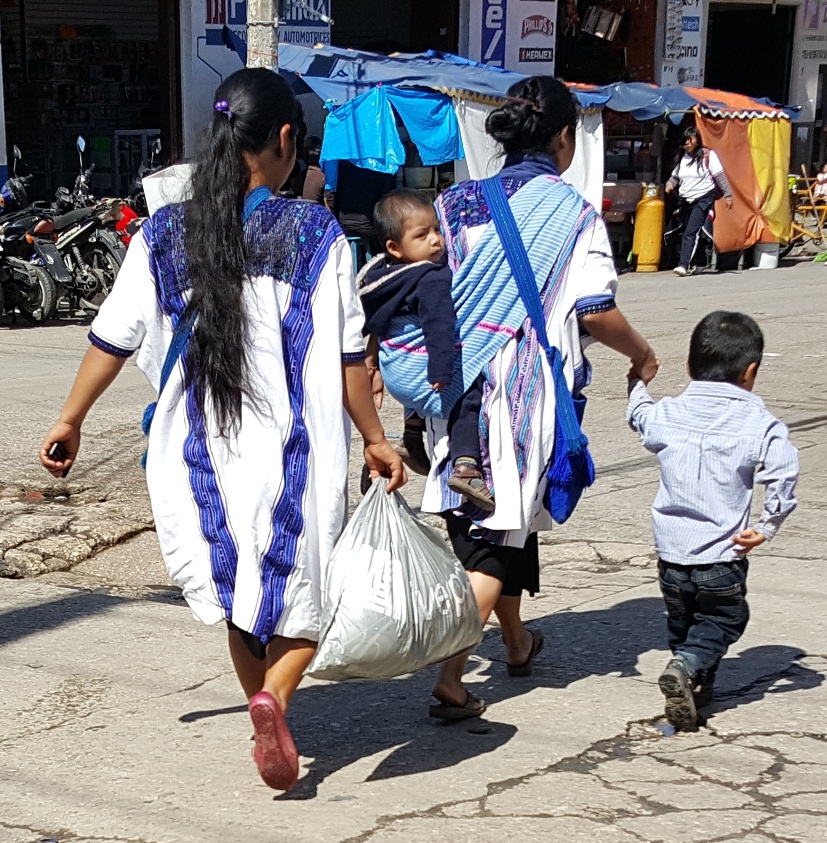 These women are from yet another town (San Juan Cancuc, I think).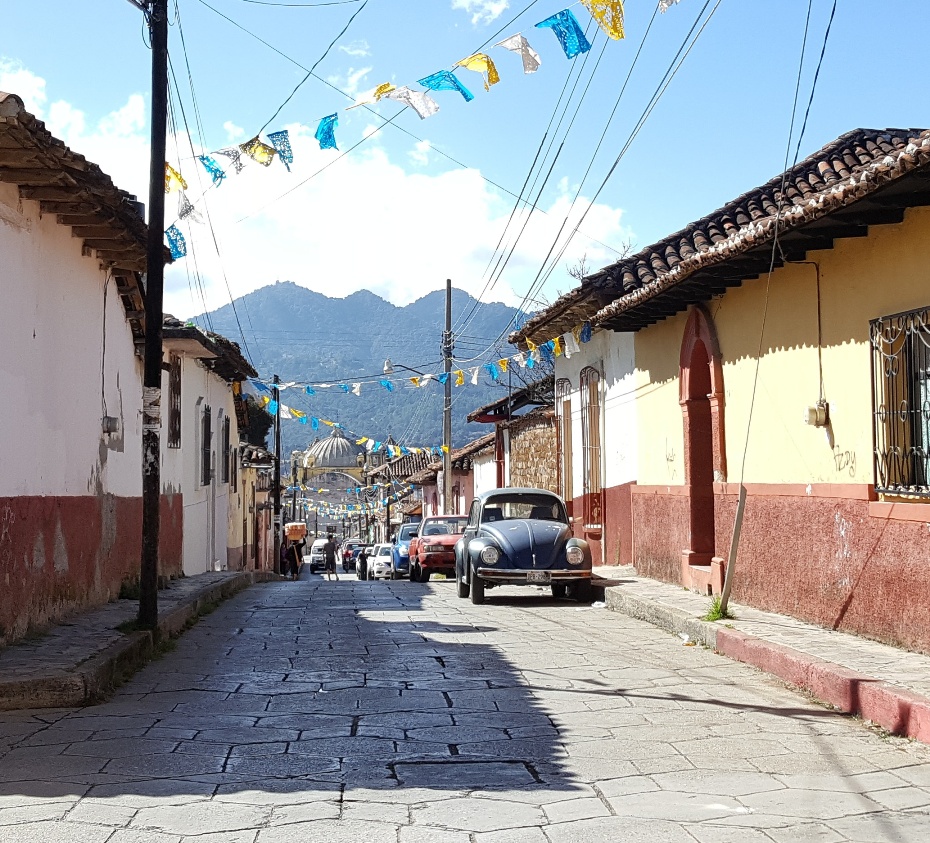 A typical cobbled street in San Cristóbal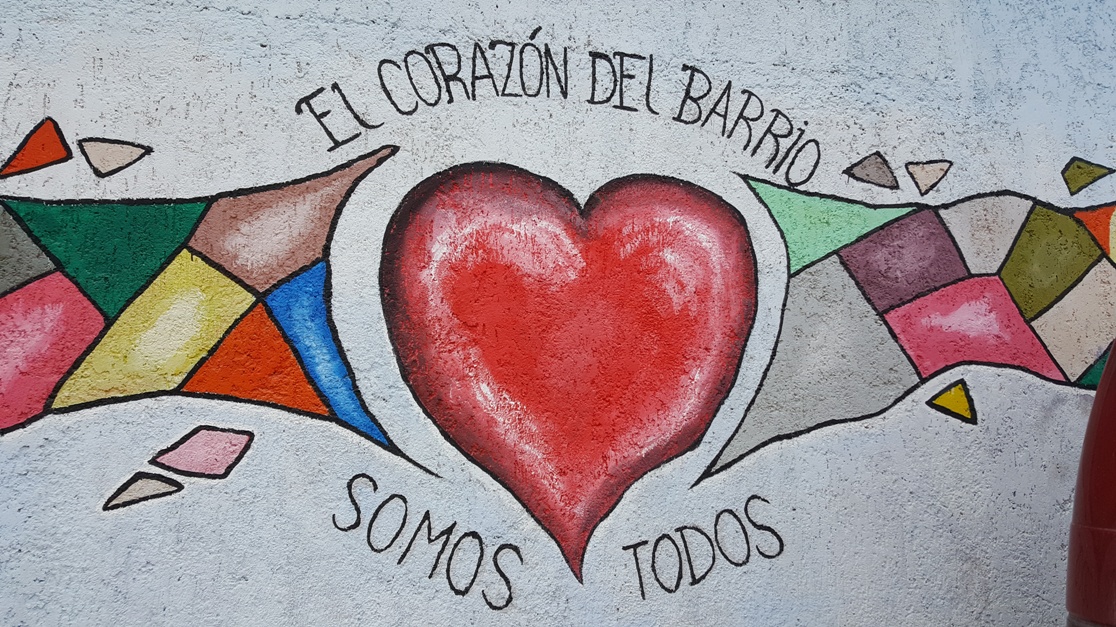 Positive street murals enliven neighborhoods. This one says, "The heart of the neighborhood is all of us."





"This is a happy neighborhood." The woman's shirt matches the fence.





"Love is the only force capable of turning an enemy into a friend." Notice how close these are in Spanish: "enemigo" (enemy) and "en amigo" (into friend).





The Zapatistas are a socialist political and militant group that's been seeking improvements in the lives of marginalized indigenous people since 1994. The stickers say, "Without women there is no revolution."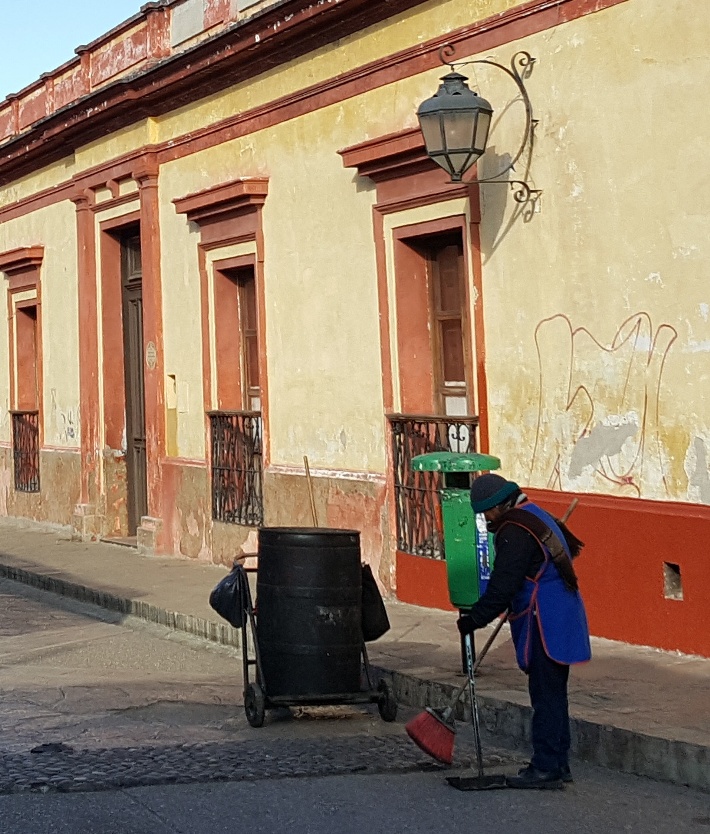 Towns and cities in Mexico are generally quite clean. Municipal workers sweep streets, and property owners often sweep and wash the area in front of their home or business.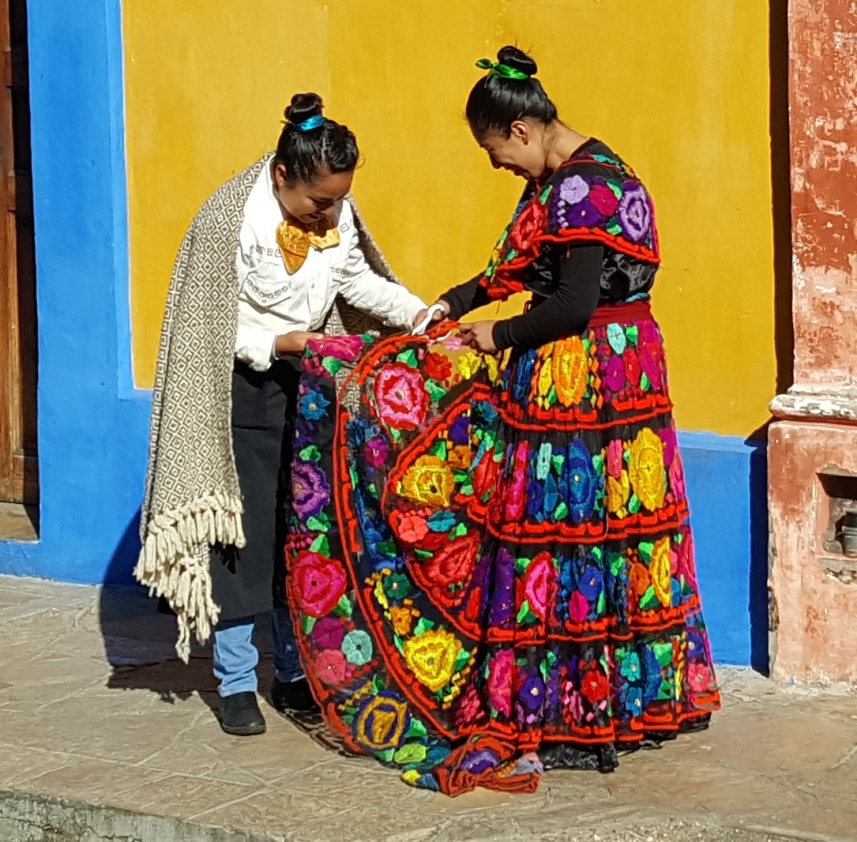 Traditional dress from the town of Chiapa del Corzo (they are cutting off the bottom layer because it's too long).





Woman and child wearing traditional clothing from San Juan Chamula





The men of Chamula wear tunics woven from sheep's wool.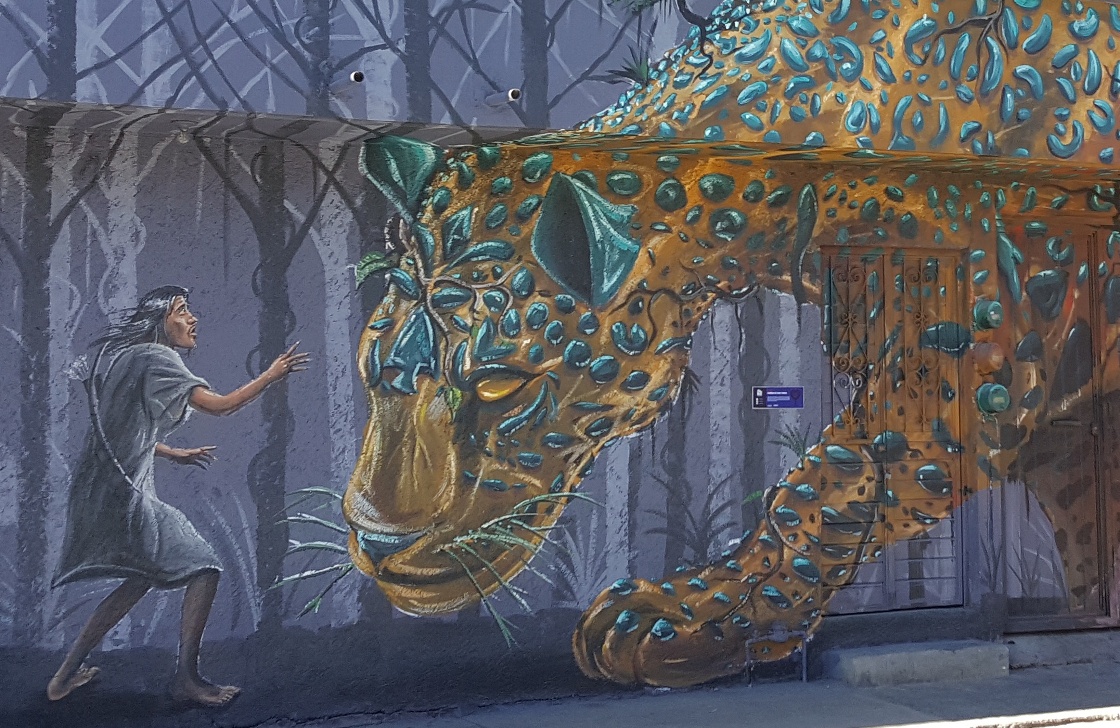 This mural incorporates jaguar and jade, two powerful Mayan symbols.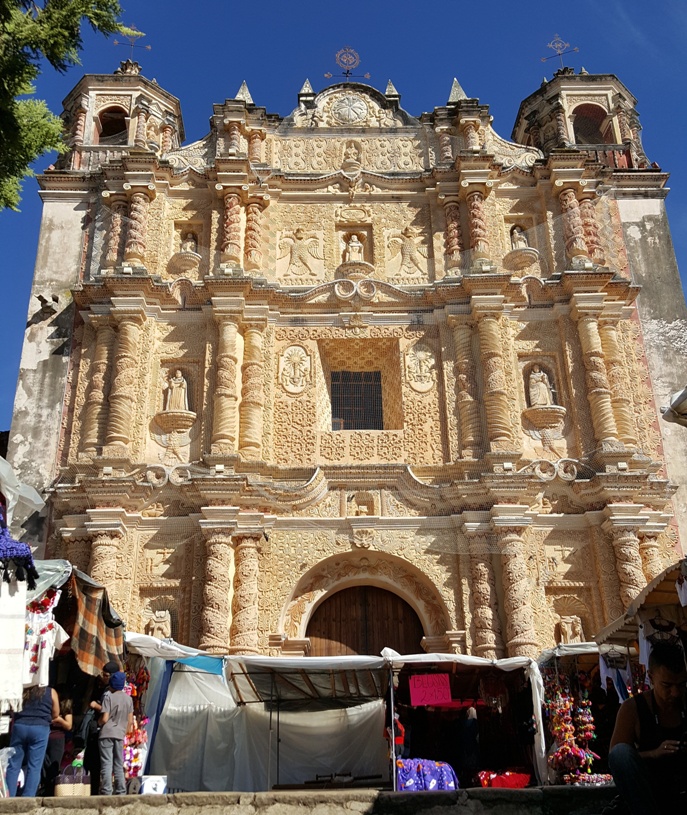 Santo Domingo church was built in 1547. It has a lavishly carved baroque facade, and is surrounded by a craft market.



San Juan Chamula
This indigenous Mayan town is famous for its intact Mayan culture and a very unusual church. The people speak the Tzotzil language.




San Juan Bautista looks like a regular church on the outside.





Inside, the church is utterly magical. There are no pews, no services, and no priests. Candles, mirrors, statues of saints (repurposed as Mayan gods), and incense create an otherwordly space that is intensely spiritual. Visitors are tolerated, but you may not talk to anyone inside the church, you must have a guide to enter, and you absolutely may not take pictures (I found these online).





The floor is covered with fresh pine needles. Families clear a space on the floor, burn candles, and pray. People drink corn liquor or carbonated beverages so they will burp to release bad spirits. Traditional healers are available to those in need. Experiencing this church was an unforgettable highlight of the trip.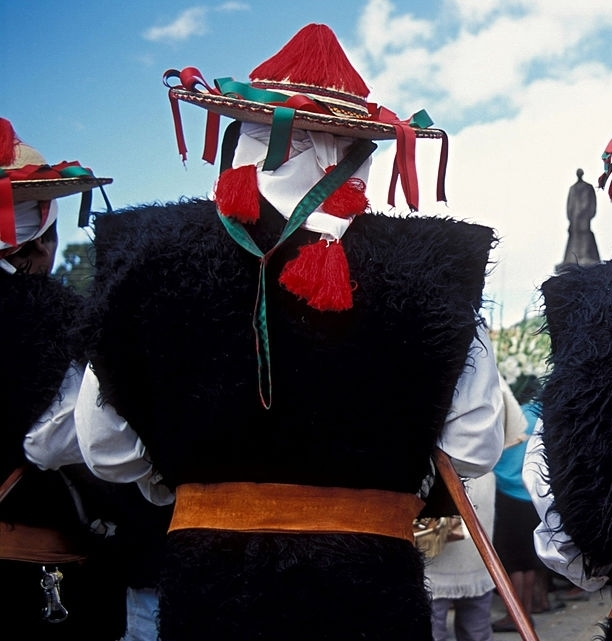 Once a year, new village leaders are chosen and a transfer of power takes place. Men on horseback galloped back and forth across the plaza in front of the church wearing outfits like the one in this picture. Again, no photos were allowed, so I found this photo online. I could not find any photos of the men on horses.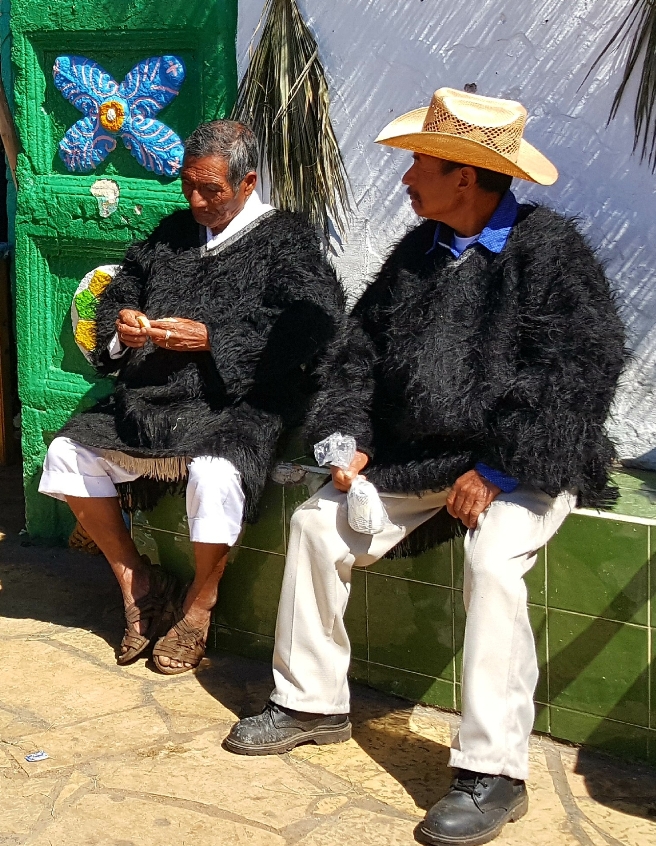 Two men in traditional wool tunics sit outside the church.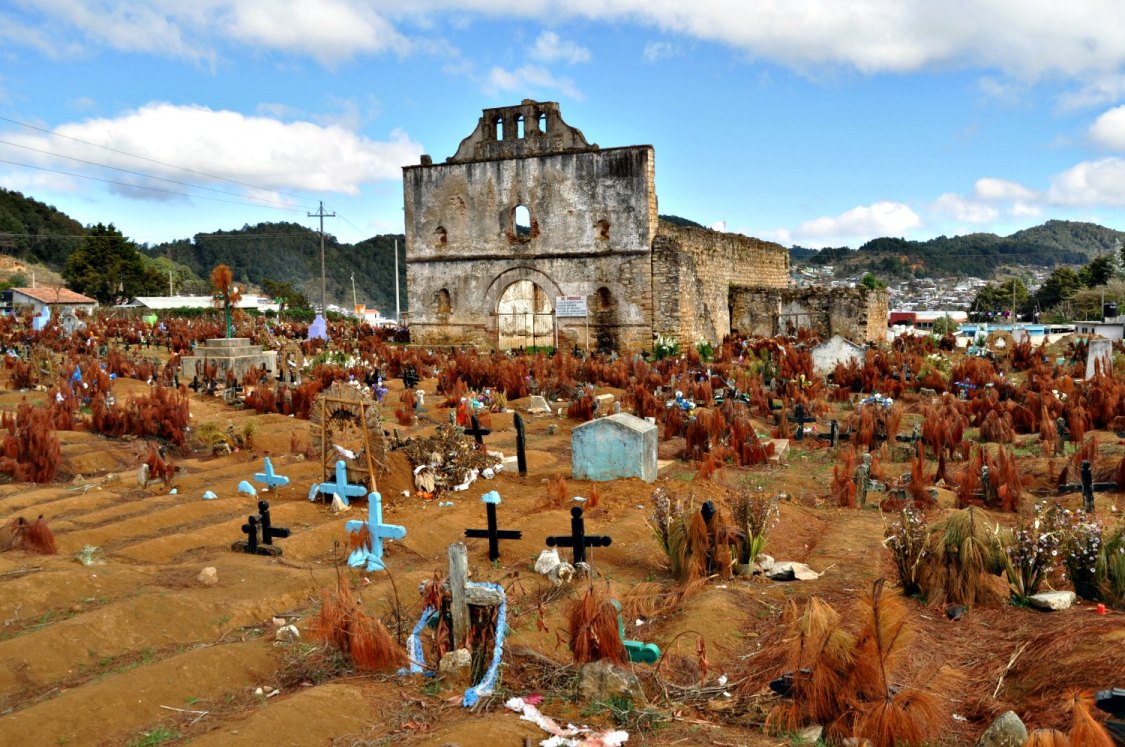 In the cemetery, the cross color tells whether the person died as a baby, a young person, or an old person. Pine branch adornments are left to turn brown.





Black and white sheep grazing. The sheep are raised for wool only.



Zinacantán
This indigenous Mayan town is known for its flower-embroidered textiles and the greenhouses that ship fresh flowers all over Mexico. As in Chamula, tourism is tolerated for the income it brings. The people speak Tzotzil.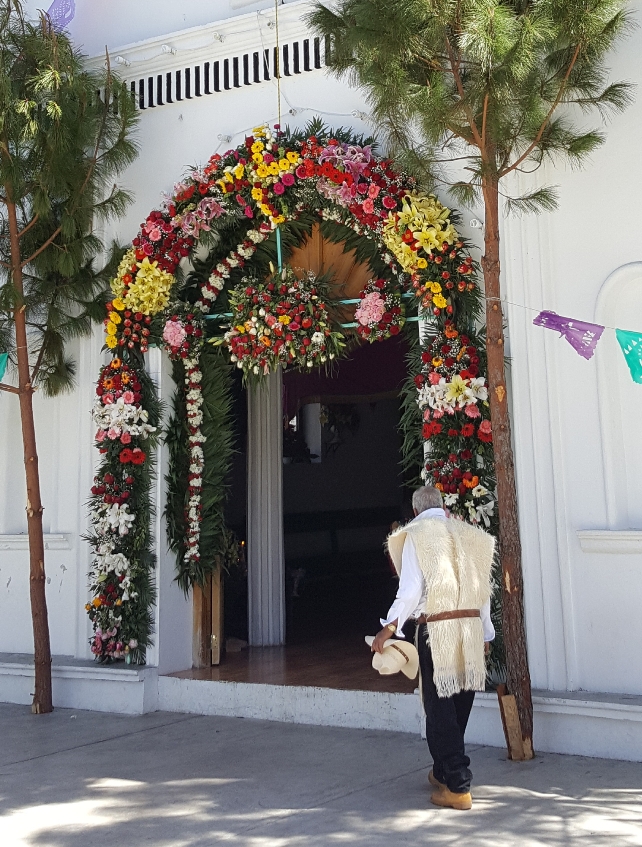 Man in traditional white wool tunic in front of the flower-draped church of Zinacantán





Handwoven and hand-embroidered men's shirts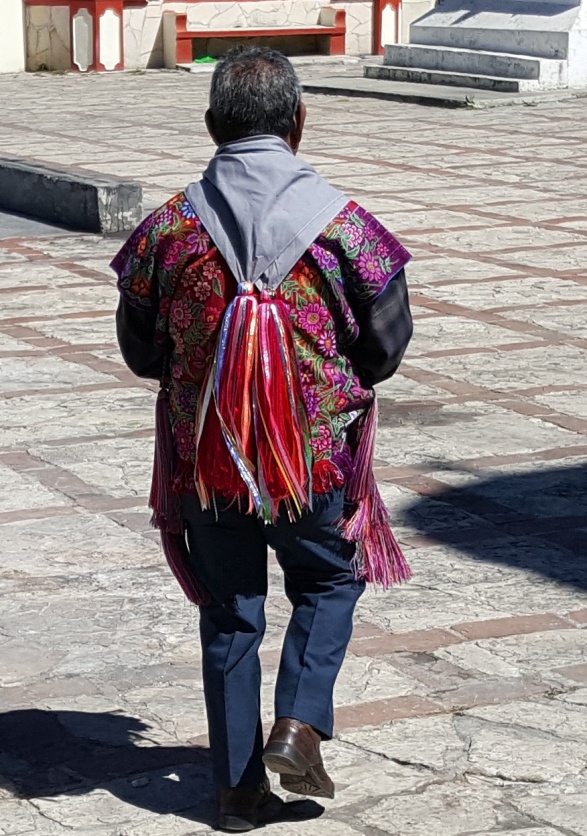 Zinacantán man in his finery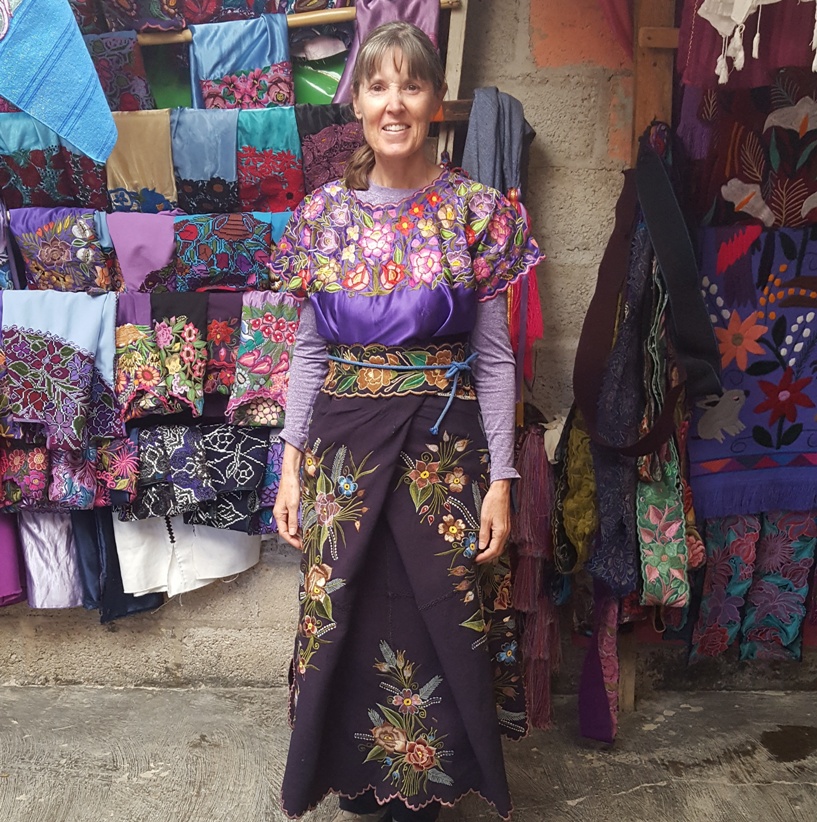 Traditional Zinacantán clothing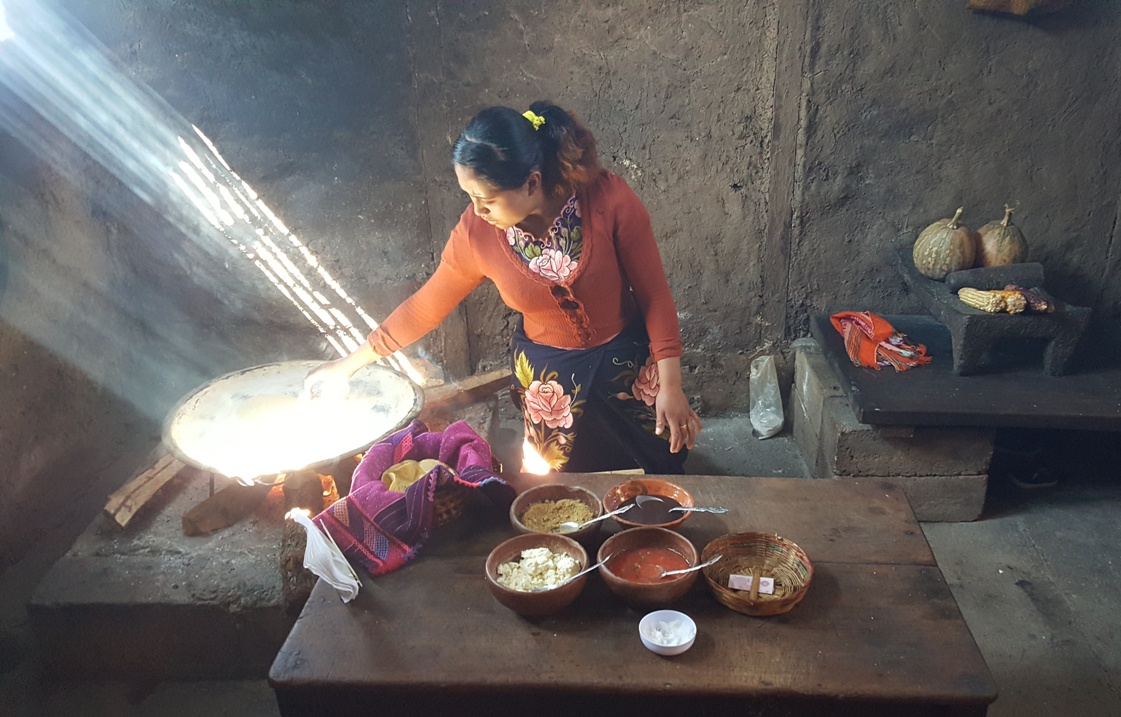 Corn tortillas cooked on a grill and served with salty white cheese, ground squash seeds, salsa, and black beans. Delicious.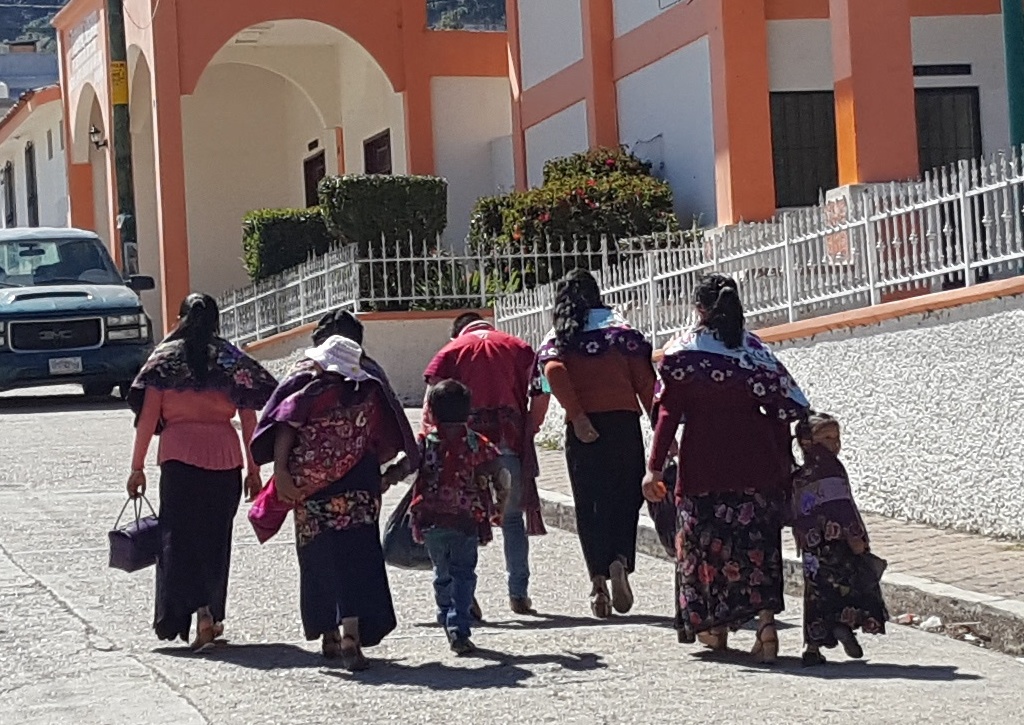 Zinacantán family in traditional clothing





Men in Zinacantán



Villahermosa and Palenque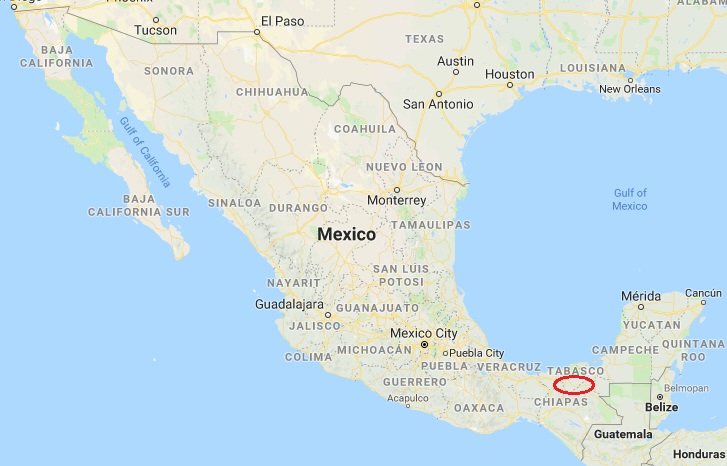 .





Leaving the Chiapas highlands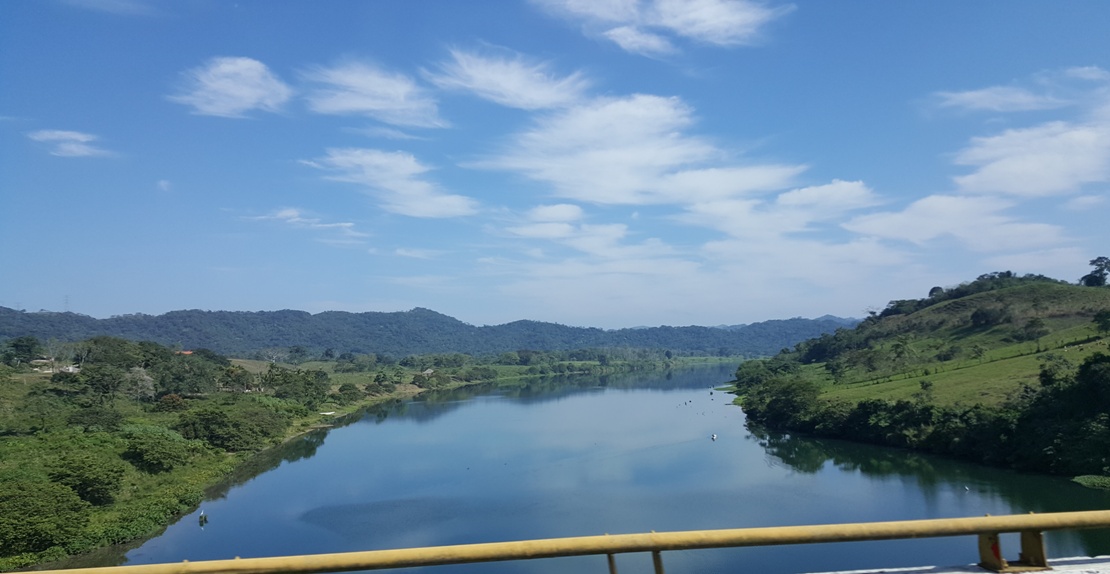 Back down at sea level, we entered the state of Tabasco, on the Gulf of Mexico. It is said to have more water than land.





The "campground" in Villahermosa is the parking lot of a swimming complex. There are clean bathrooms and a guard at night. We were the only ones there.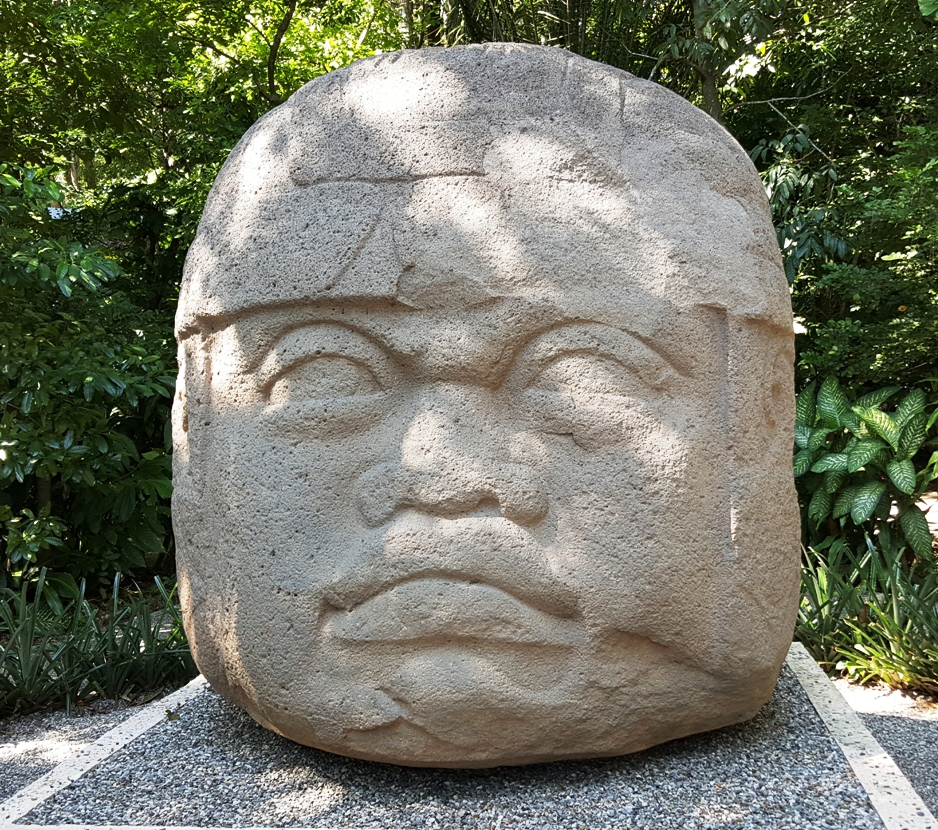 This nine-foot-high stone head was carved almost 3000 years ago by the Olmec people in Tabasco, Mexico. It's one of many impressive stone carvings on display in the beautiful La Venta outdoor museum in Villahermosa.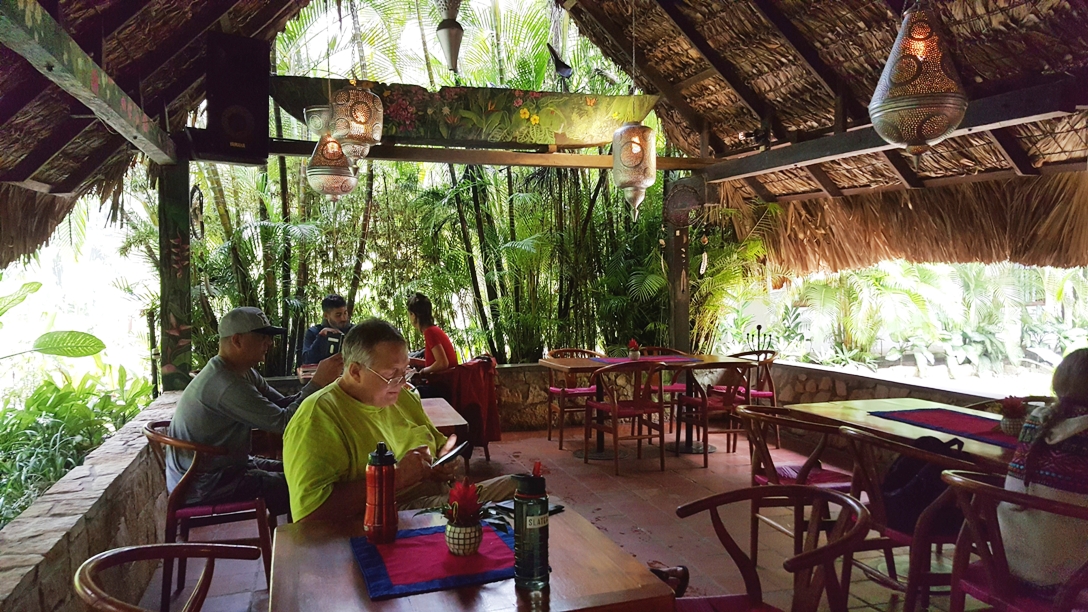 The Mayabell campground and hotel in Palenque has a beautiful cafe area. Good thing, because it poured rain while we were there and we were unable to visit the Mayan ruins.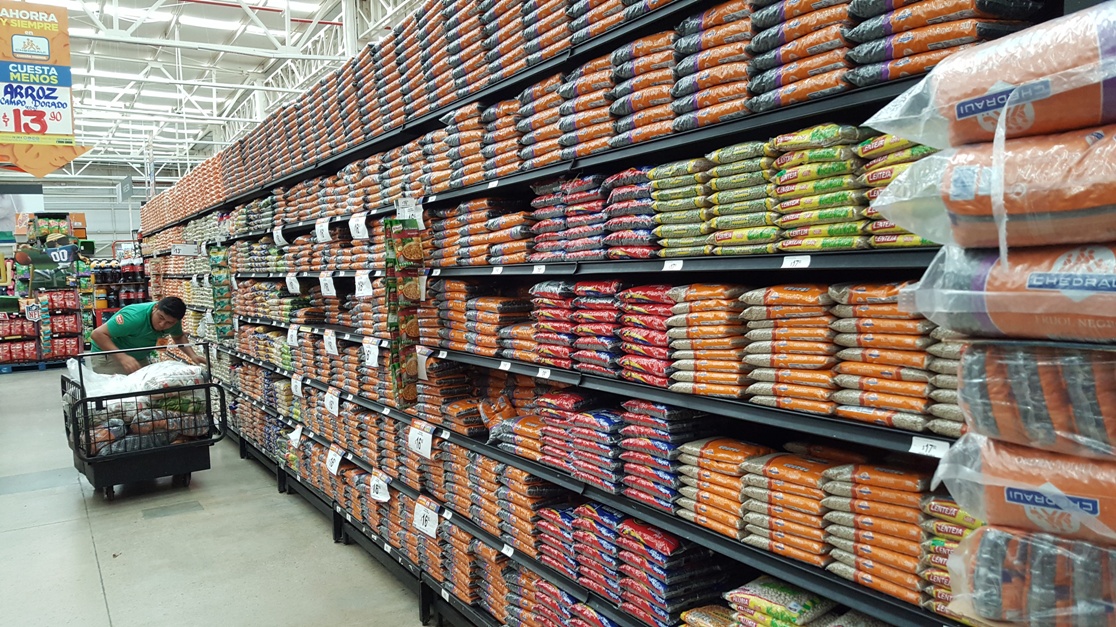 The bean aisle at a big grocery store. Mexicans make delicious beans and eat them frequently.



San Miguel de Allende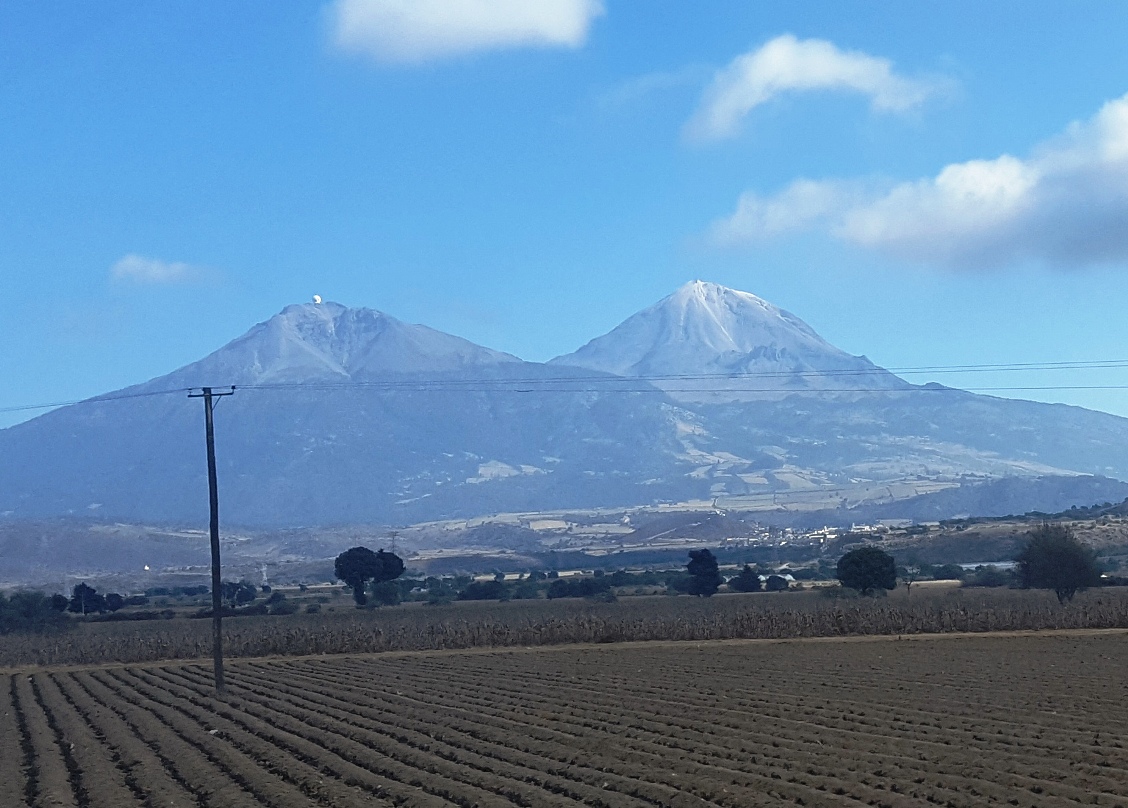 Scenery en route to San Miguel. There are many volcanoes in this area.





San Miguel's iconic pink 17th-century church is called the Parroquia. The spires were added in the 1800s by an indigenous stonemason who reputedly based them on a postcard of a Belgian church.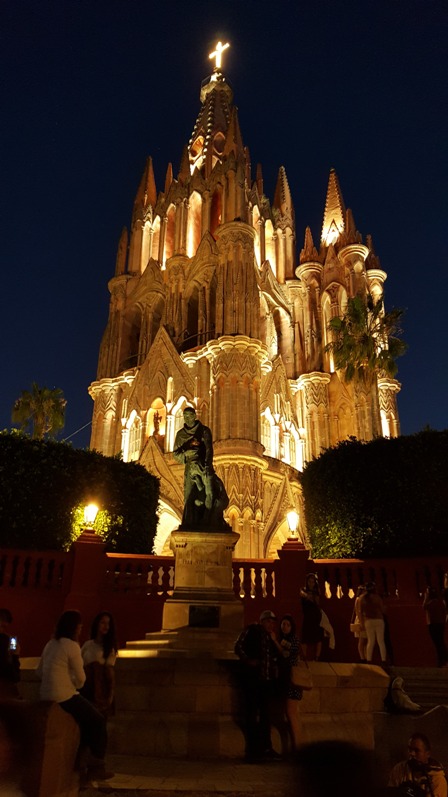 The Parroquia at night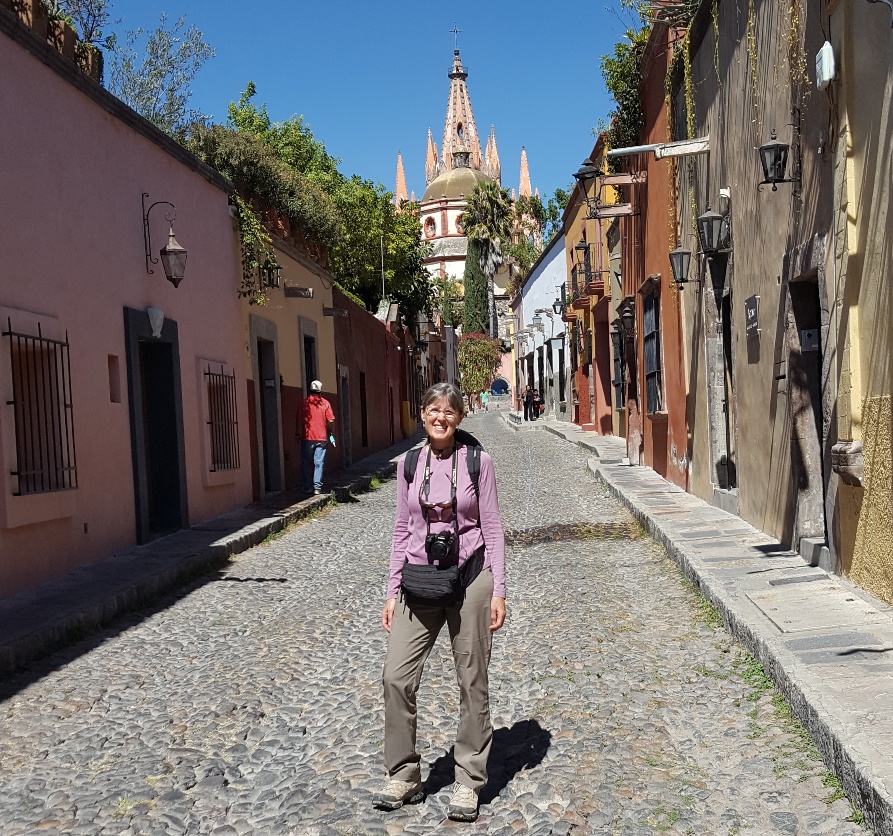 One of San Miguel's charming streets. The parroquia is visible from all over town.





San Miguel has a campground (small rigs only) right in the city, which means you can walk to everything. It's a friendly place where many people spend months each winter.





The lively central plaza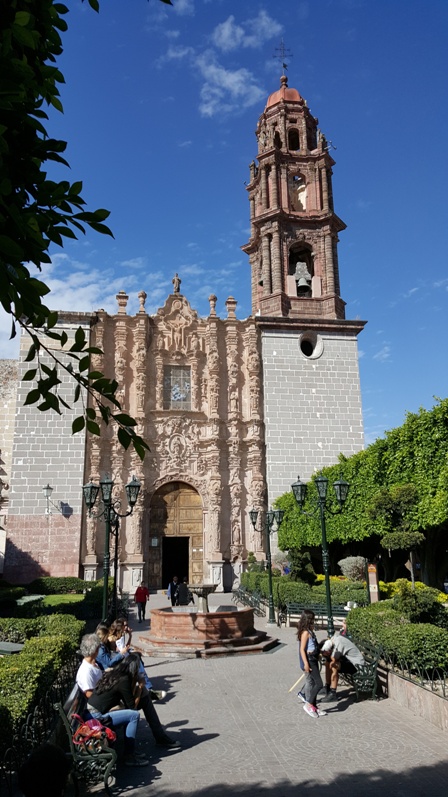 San Miguel de Allende is filled with colonial architecture.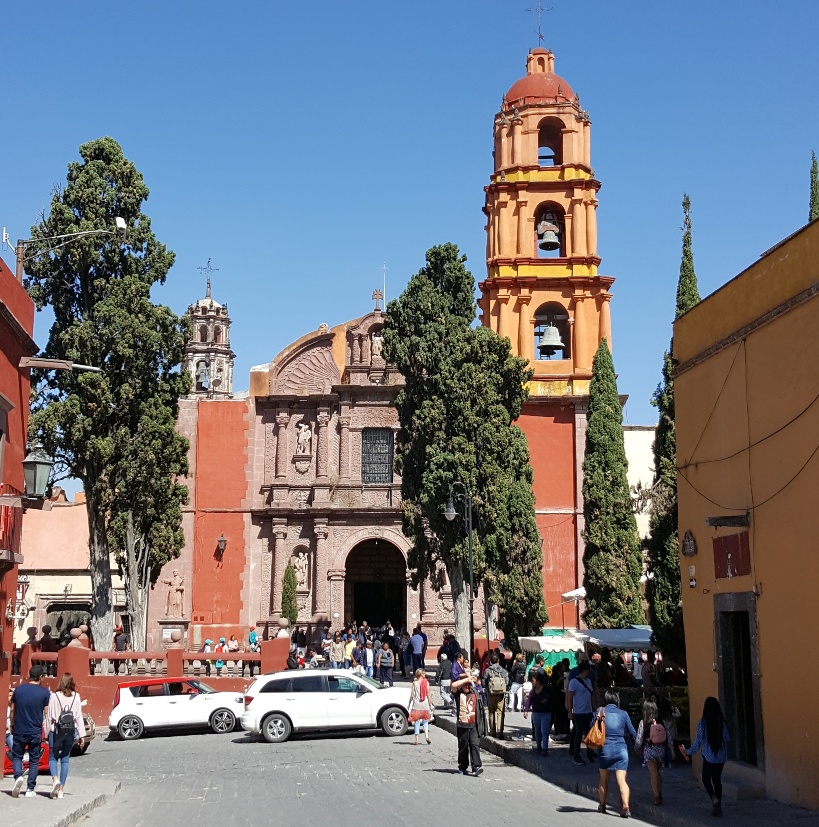 San Miguel de Allende church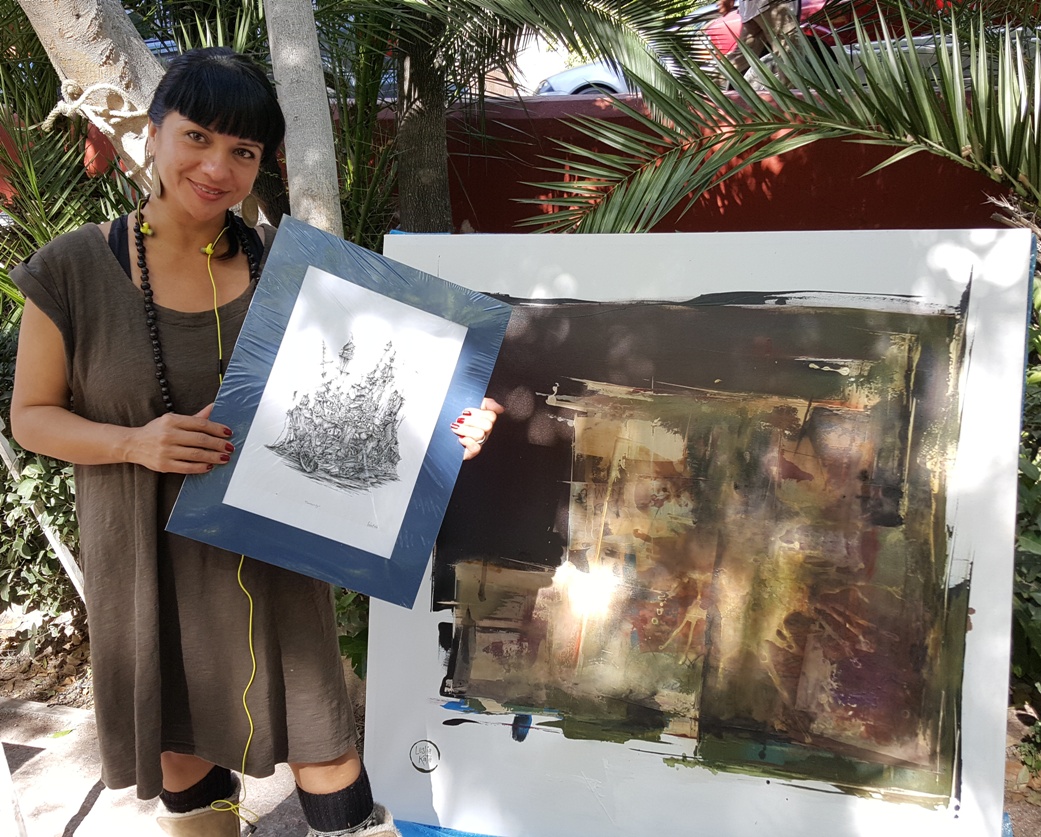 We became friends with this talented Mexican artist and bought this line drawing. She also painted the large abstract canvas. Click here to check out her work.





Flower and garden show in Parque Juarez





San Miguel's folklore troupe performing dances of Mexico in Parque Juarez. This dance is from Veracruz.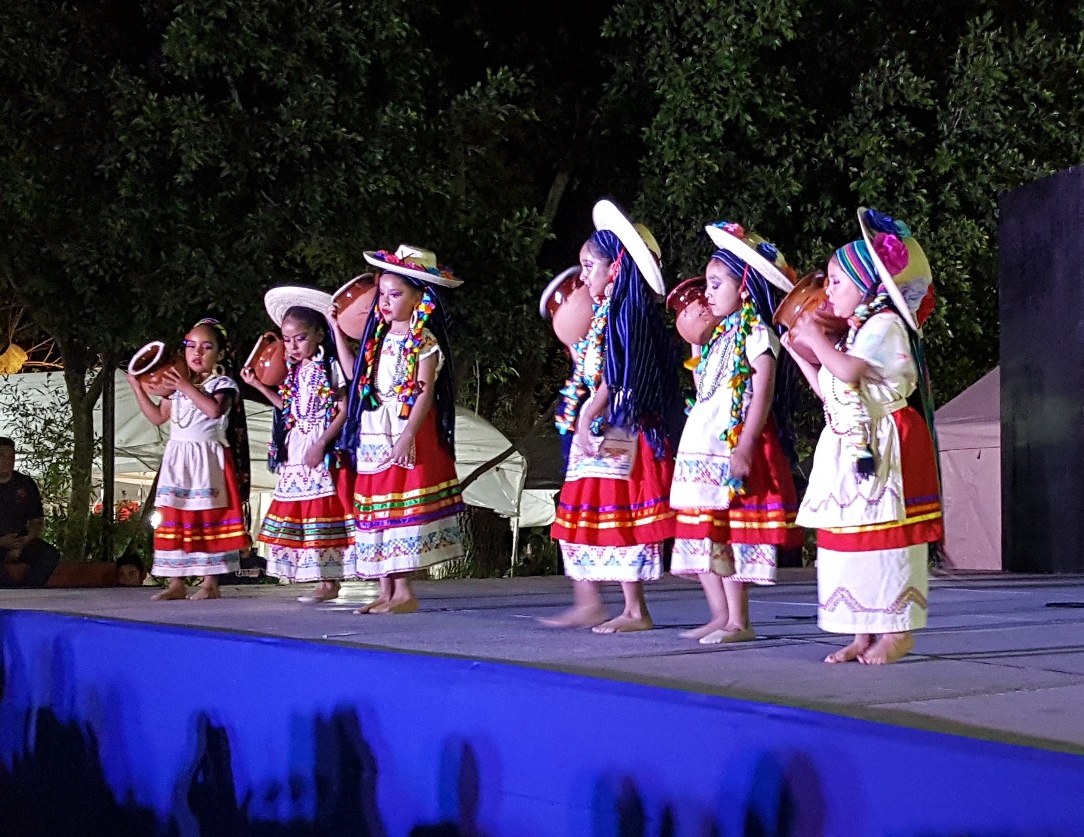 Young dancers





Young dancer waiting his turn to go on stage





Whole photo books have been published about the doors of San Miguel de Allende.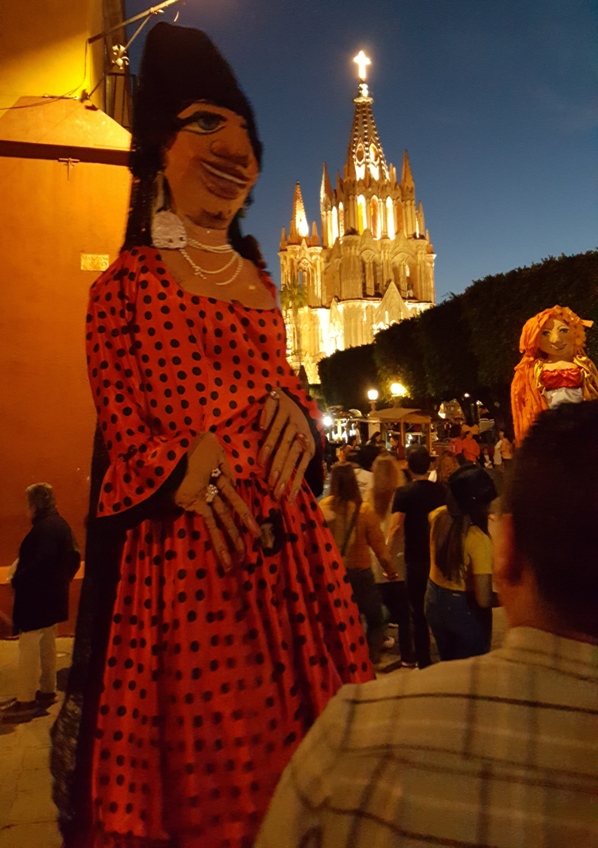 Giant puppets walk the streets for smiles and photos. They are made by skilled artisans and are much loved.





A live band playing Cuban music for a street dance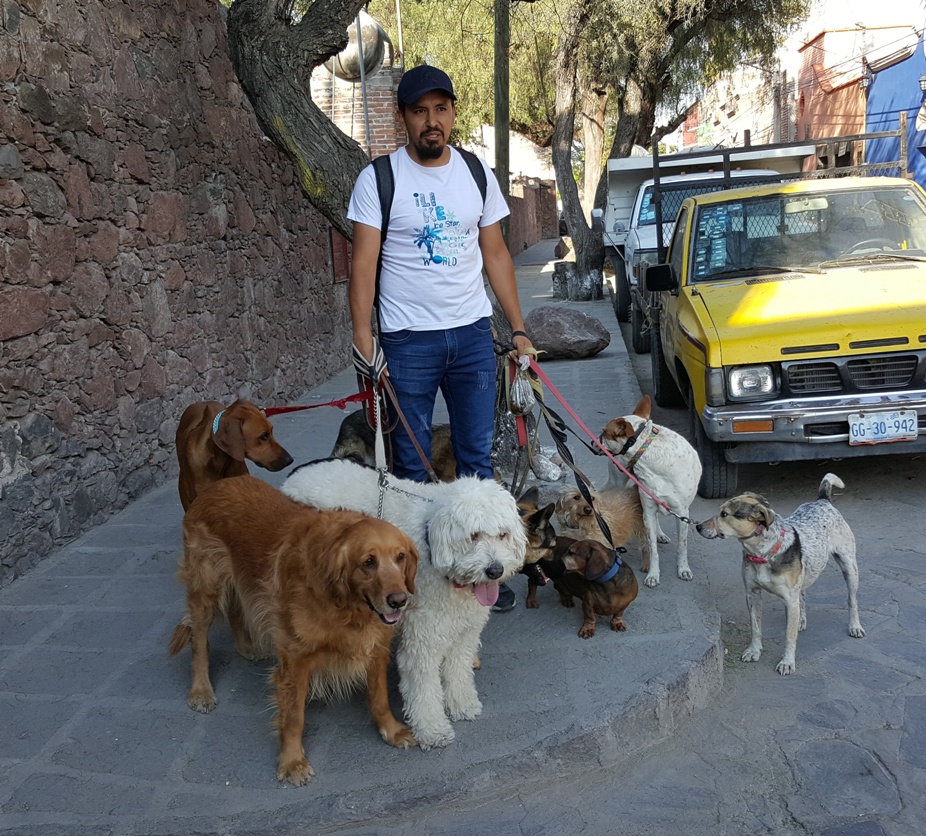 Many of the gringos who live in San Miguel hire dog walkers. I have no idea how this guy can keep all these leashes untangled, let alone pick up all the dog piles.





Corn fields, sheep, and mountains near San Miguel



Dolores Hidalgo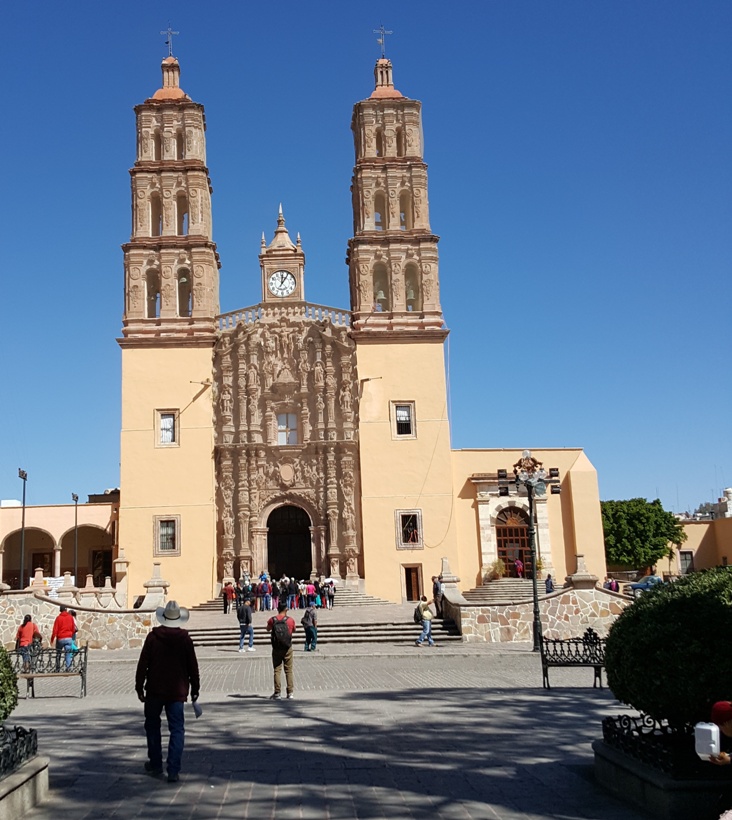 We took a day trip to nearby Dolores Hidalgo. This church is where the "Cry of Independence" in 1810 started the Mexican War of Independence with Spain.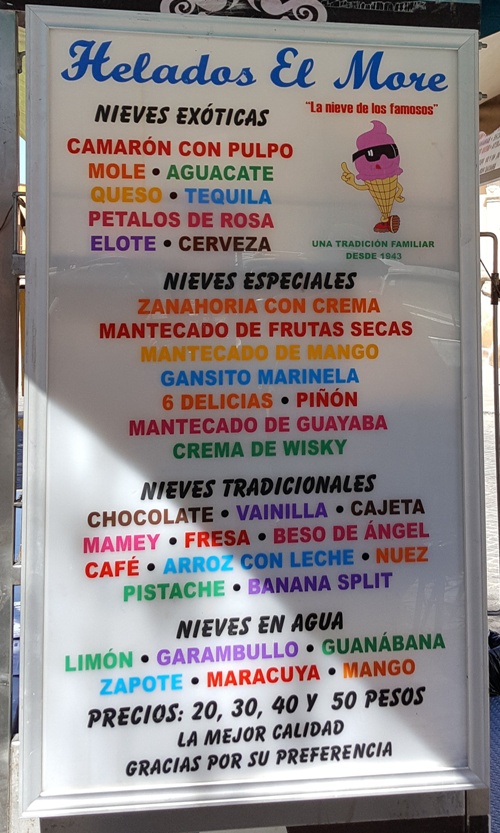 Dolores Hidalgo is also famous for pottery, and for many flavors of handmade ice cream. This stand offers everything from the exotic (shrimp, octopus, tequila) to the traditional. We had carrot and it was incredible.



Guanajuato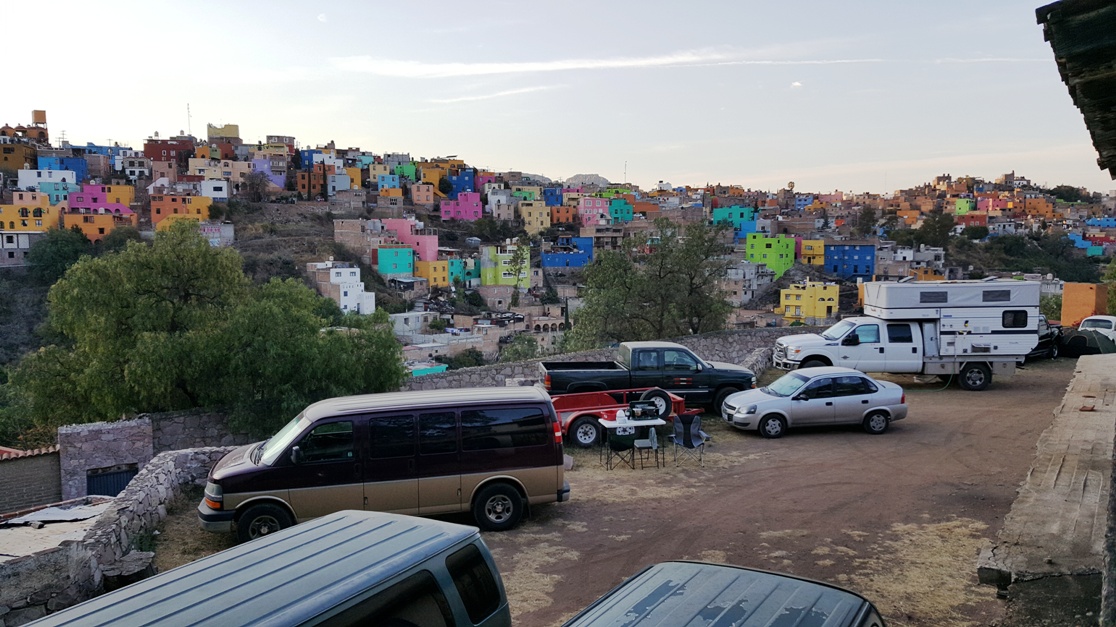 There are no campgrounds in town, so this parking lot owner allows people to camp and provides clean bathrooms and hot showers. It's walking distance to the center of town.





This funicular goes up to a viewpoint.





Looking down on the charming city of Guanajuato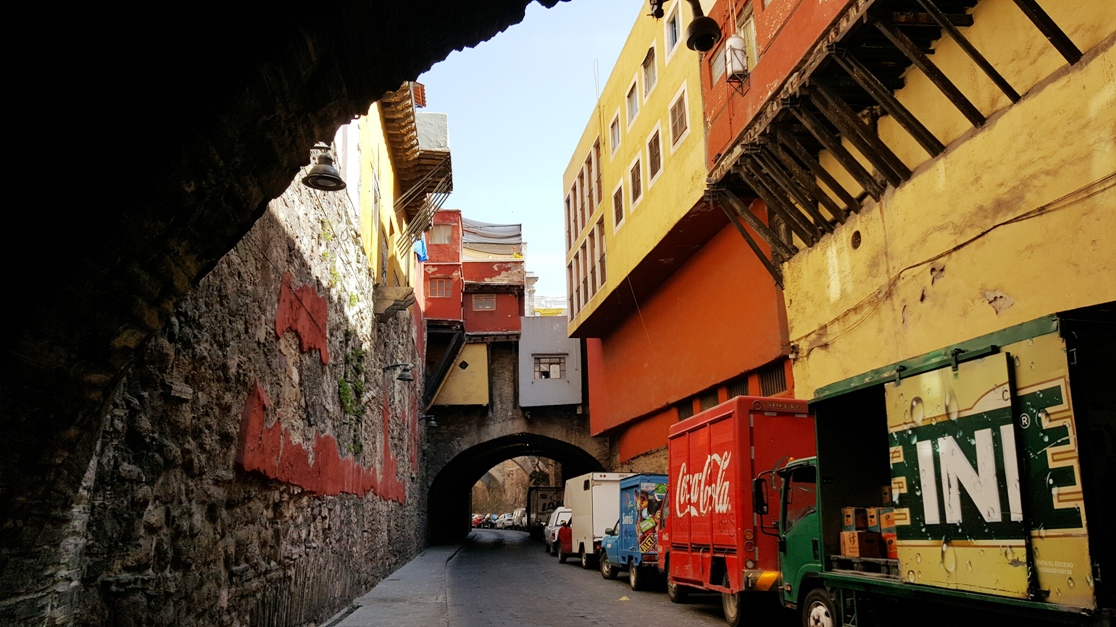 Tunnels funnel traffic under the city, helping to reduce traffic congestion.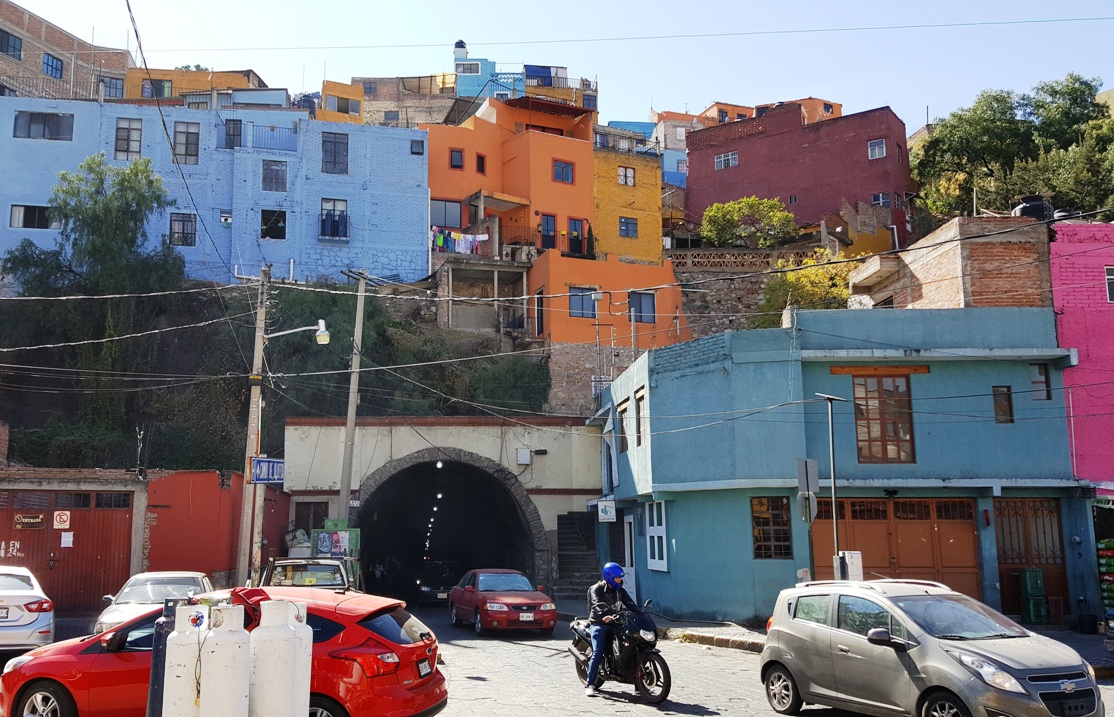 Tunnels also provide shortcuts for cars and pedestrians.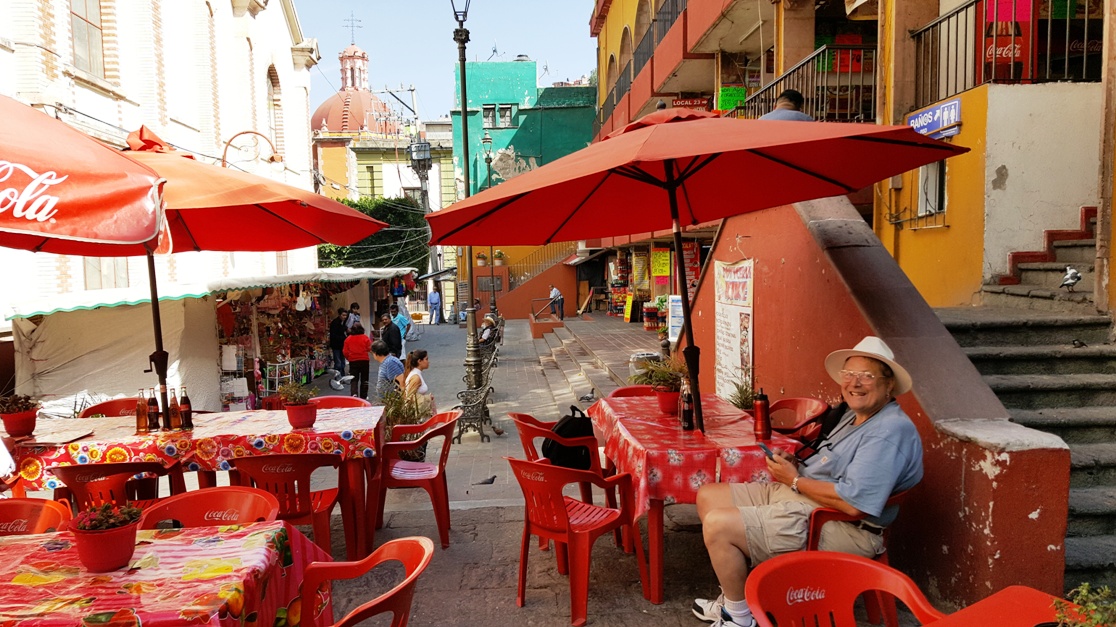 Lunch at the market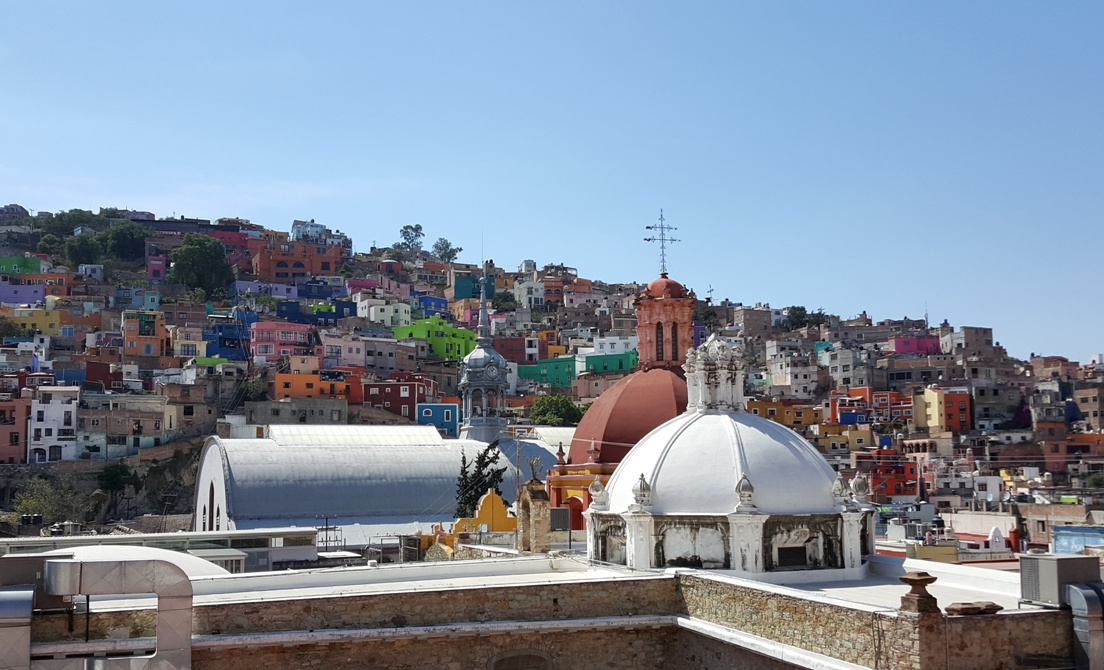 Rooftops in colorful Guanajuato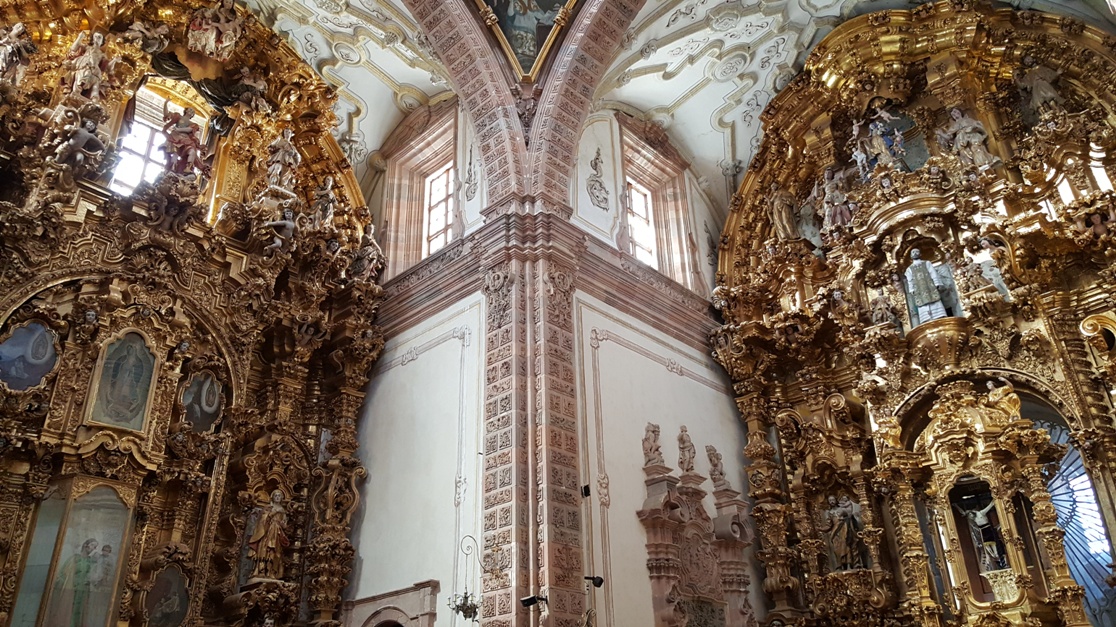 Two of the three gold altarpieces at the Valenciana church above the city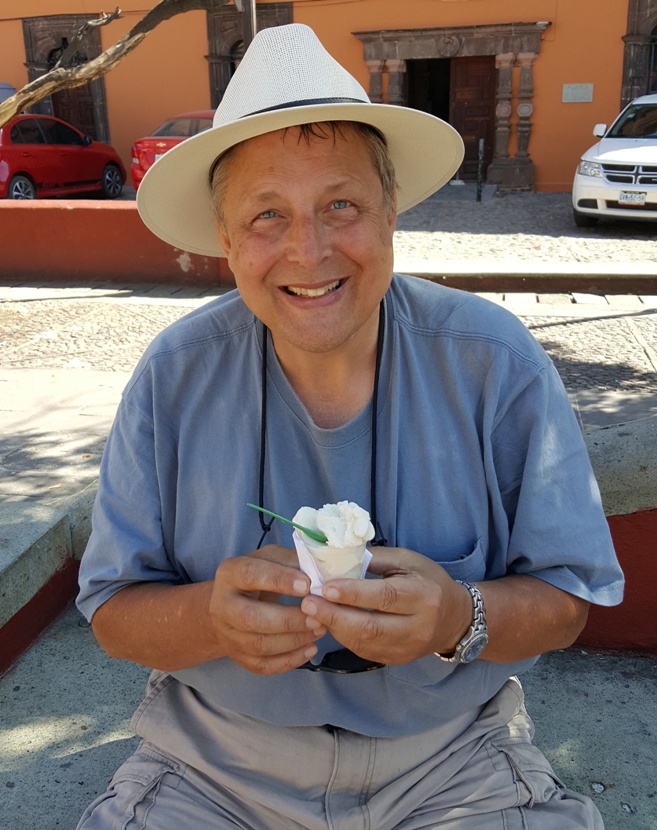 Nieve means snow, and is a sorbet-like ice cream. This one is coconut. I had pineapple. Yes, I ate yellow snow.



Zacatecas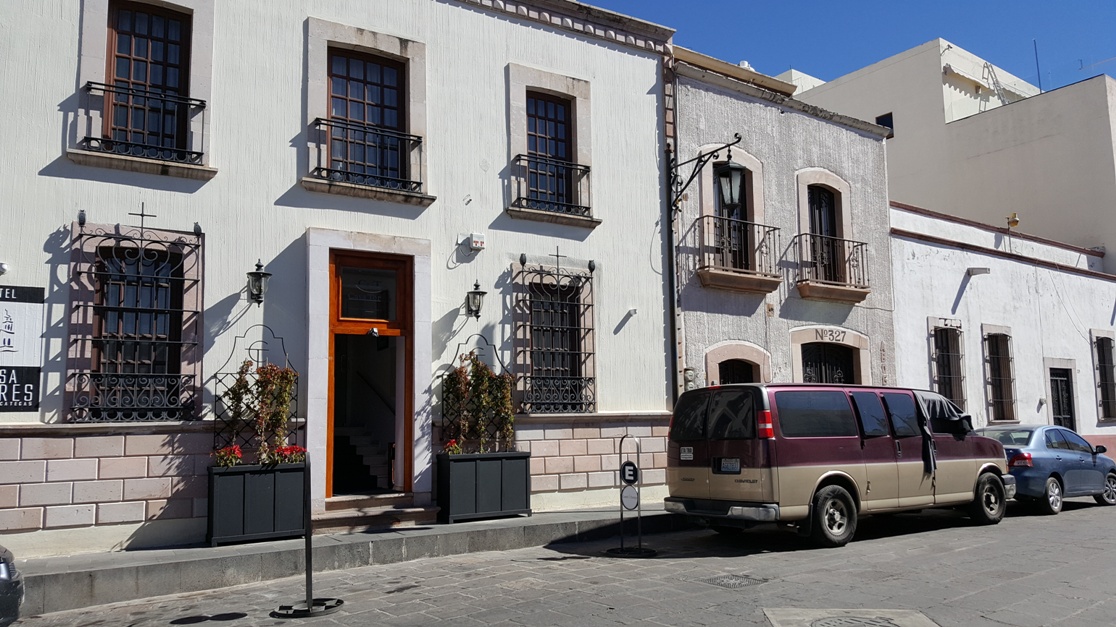 There are no campgrounds in Zacatecas so we found a parking spot on the street. It was in front of a nice hotel and they assured us we'd be perfectly safe.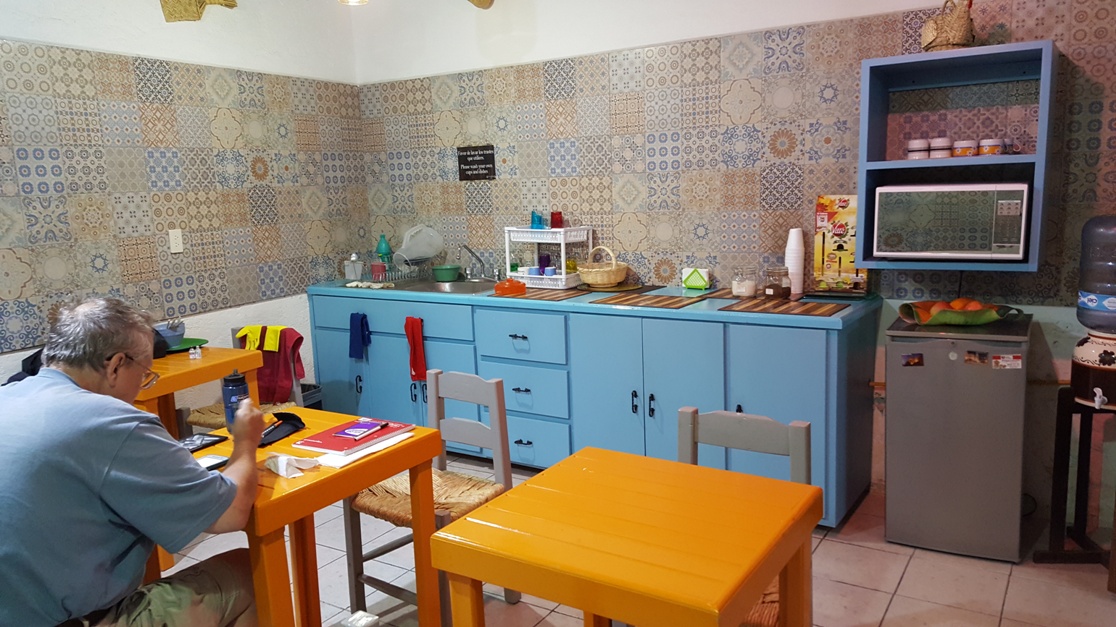 We paid $10 a day to use the bathrooms and kitchen of a nearby hostel.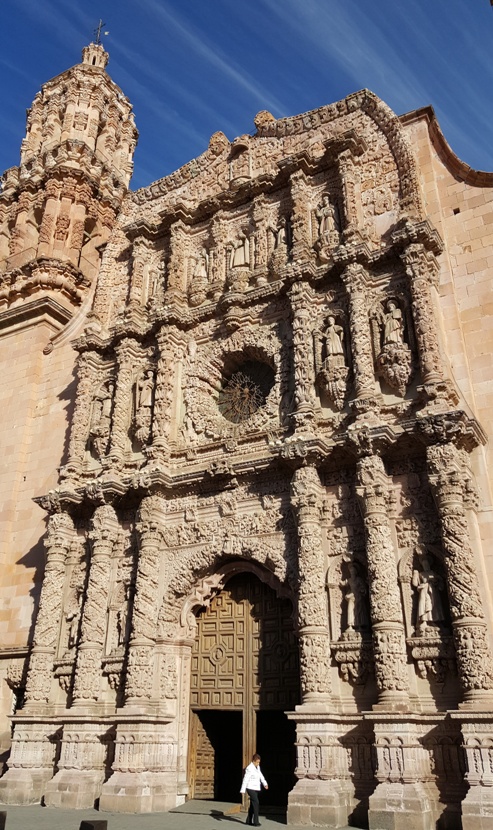 Zacatecas is stuffed with well-preserved colonial architecture, and is a UNESCO World Heritage site. It has very few foreign visitors.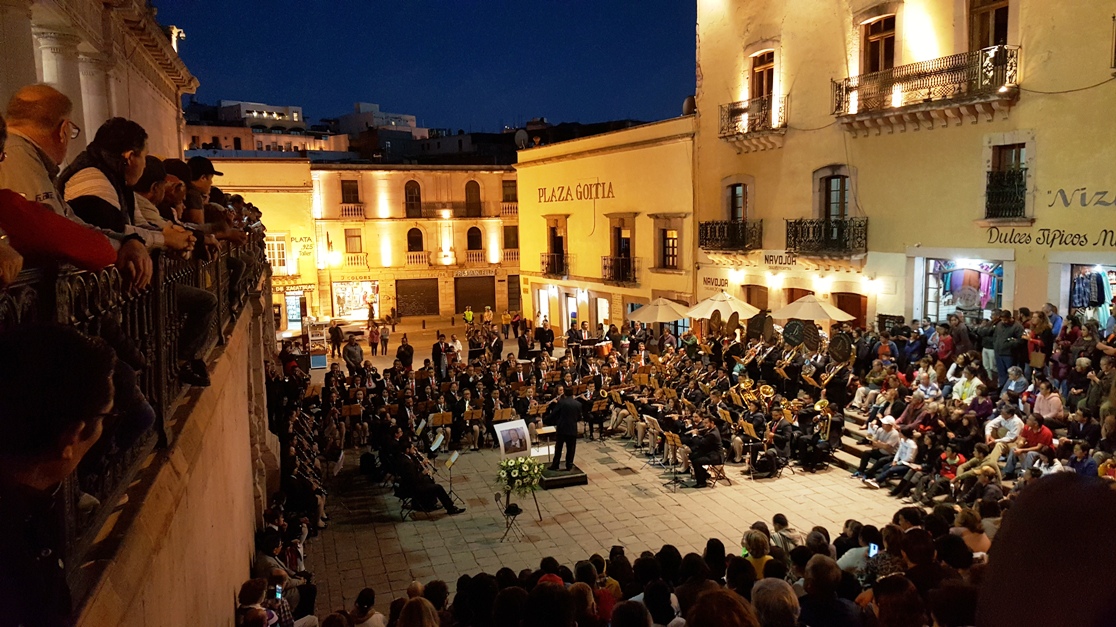 The local symphony plays regular concerts in one of the plazas.





A gondola goes up to a viewpoint.





Devil masks in the Raphael Coronel museum. Coronel collected 11,000 masks from all over Mexico.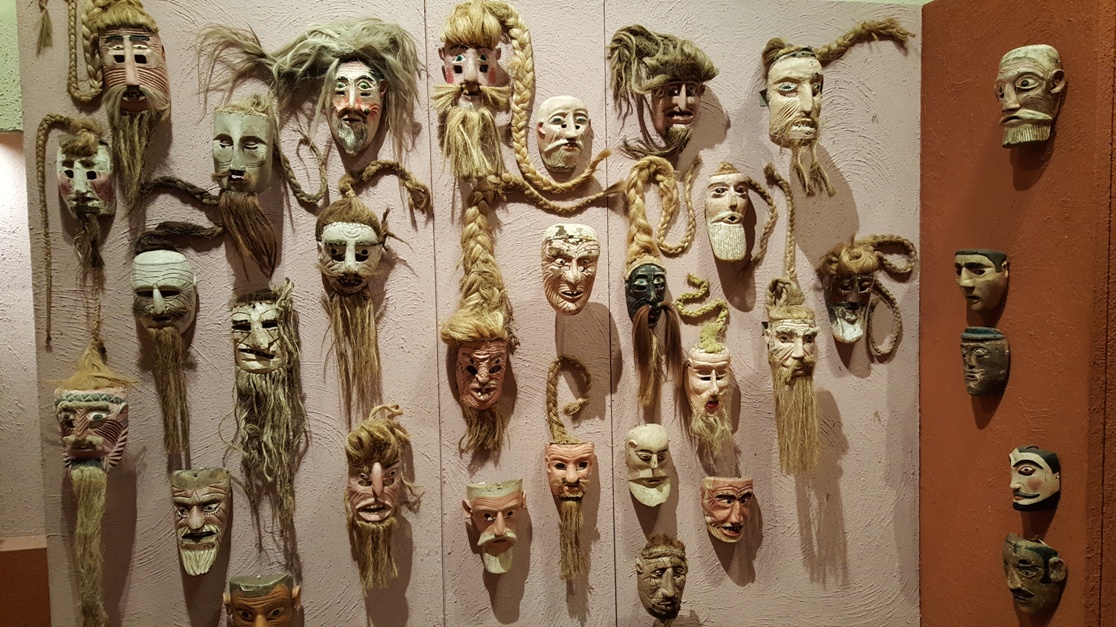 Three thousand masks are on display at the museum.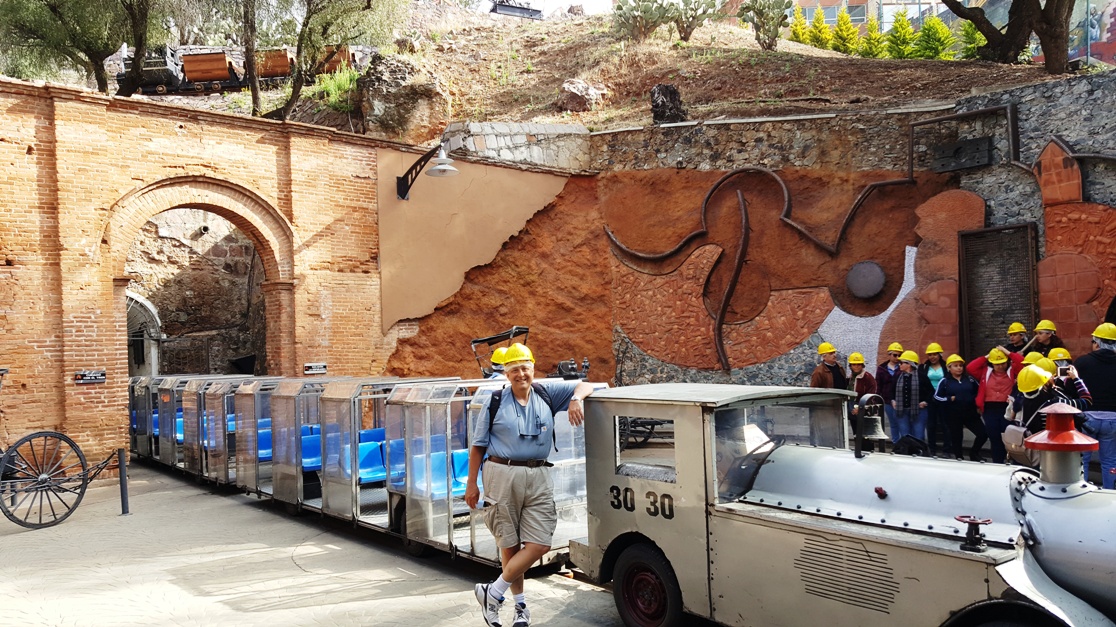 Like many towns in central Mexico, Zacatecas was once a wealthy colonial mining center. Mining is still an important industry. We took this train into the mountain for a tour of one of the old mines.





Deep shafts made looking up (and down, through grating) dizzying.



Durango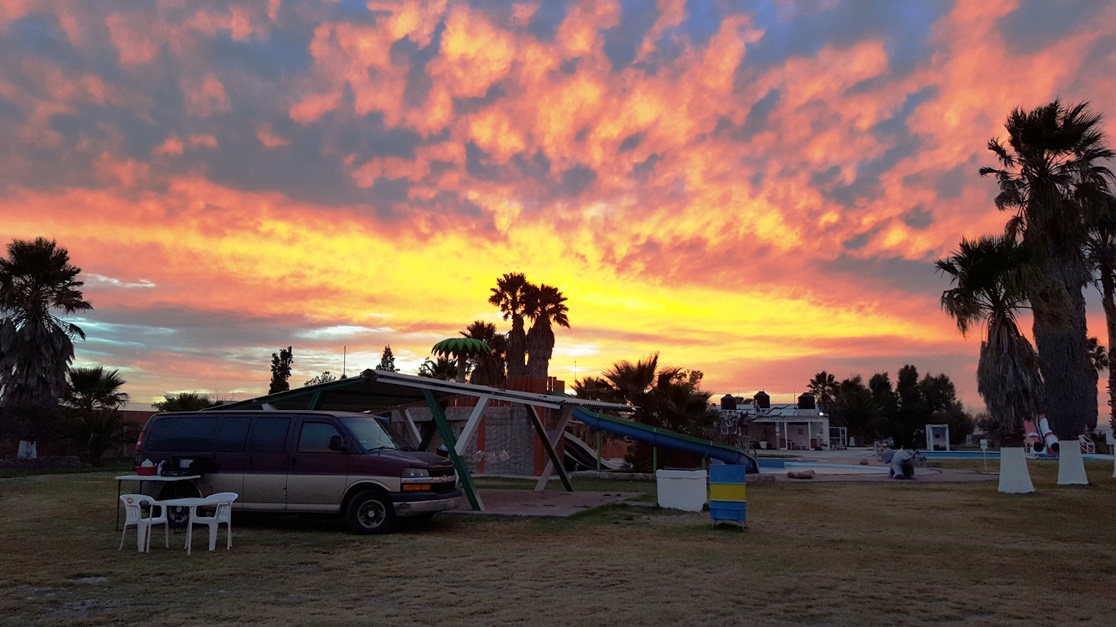 Our campsite at a friendly, peaceful water park outside of Durango





The thermal pools were heavenly.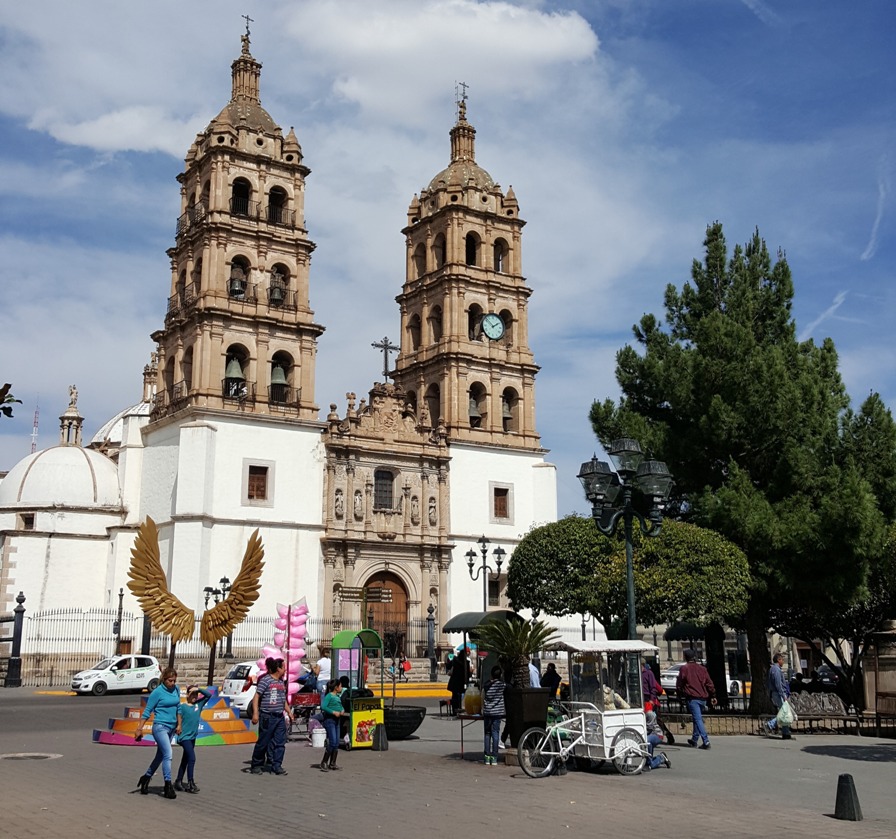 Durango is another colonial mining city with gorgeous architecture.





A family out for a Sunday stroll on Durango's walking street





A colonial palace was the seat of the state government for many years.





Free music downtown on Sundays



Durango to Mazatlan


The scenery around Durango is gorgeous.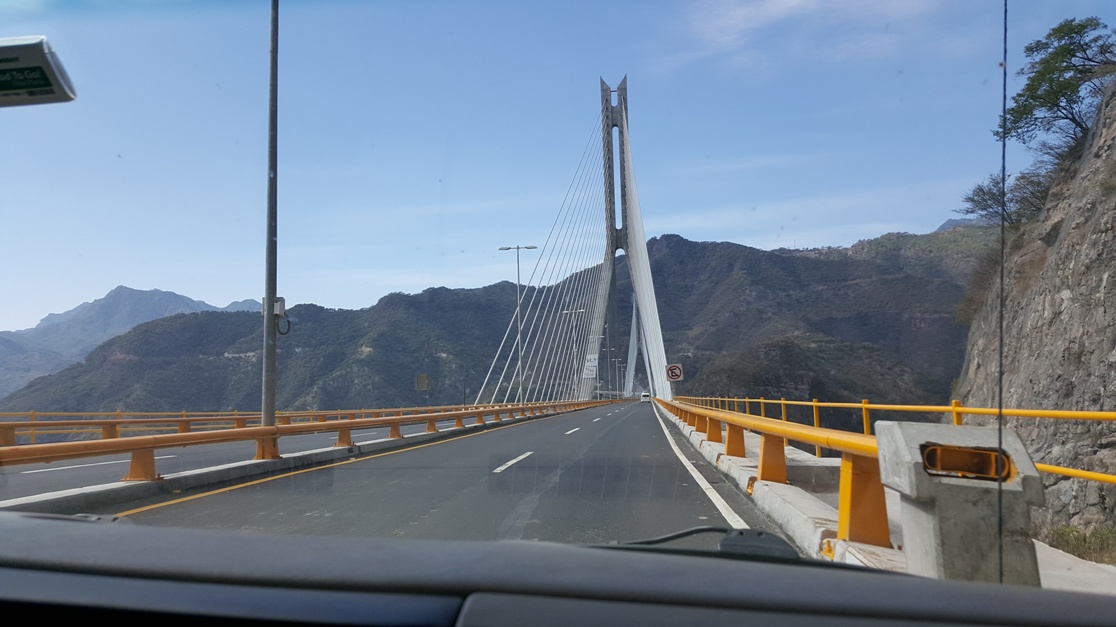 It used to take many hours on a narrow, windy mountain road, but a new highway with impressively engineered tunnels and suspension bridges has reduced the drive from Durango to Mazatlan to less than four hours.





A tunnel and rock formations along the Durango-Mazatlan highway



El Quelite


Just north of Mazatlan is the adorable town of El Quelite.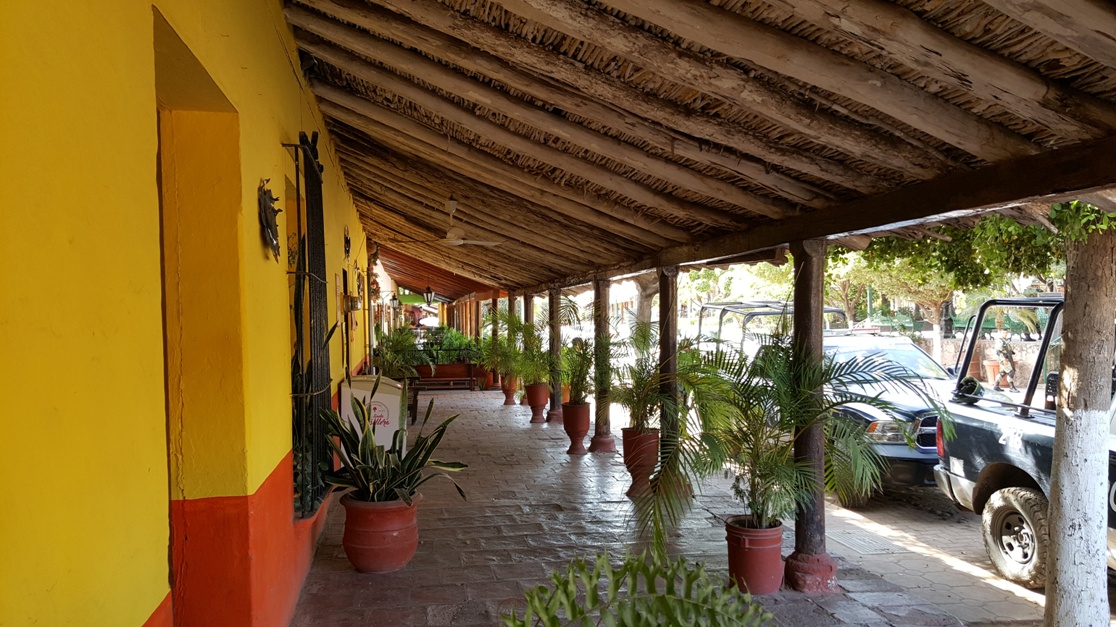 Typical porch in the sparkling town of El Quelite, where a sign as you enter says it is a "garbage free" place. We arrived early in the morning and everyone was washing the cobbled streets with hoses!





The famous El Meson de los Laureanos restaurant





Our $6 breakfast entrees included this spread of fresh-squeezed orange juice, fruit, yogurt, cheeses, and more. Afterward, they brought us caramel and pineapple flans. Everything was delicious. The roaming chickens and crowing roosters added to the ambience.





Scenery north of Mazatlan





A field of sword agave destined for making tequila



Navopatia
Last stop: blue-footed boobies!


This remote research station paradise on the shore of the Agiabampo estuary was started by one of my former college professors. Visitors are welcome, but you have to brave fourteen miles of rough dirt road, and you must have a reservation. Navopatia.org





View of the estuary and organ pipe cactus forest that make this area so special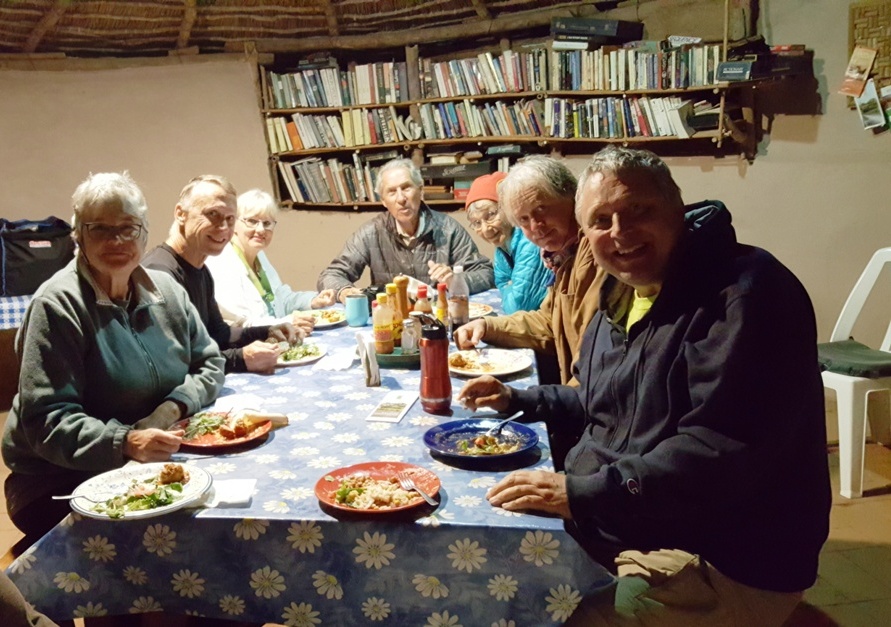 We met up with six friends from previous trips to Mexico.





The field station is run by Adam (center) and his wife Sally (not pictured) with help from a local family.





You can purchase up to three meals a day. Lupita is a fabulous cook. Here she is serving cream cheese-stuffed meatballs.





Dolphins leap and fish near shore every morning.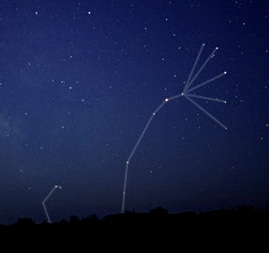 We saw the stunning constellation Scorpius for the first time (photo courtesy Wikipedia).





Hundreds of species of birds live in this area. This is a whimbrel.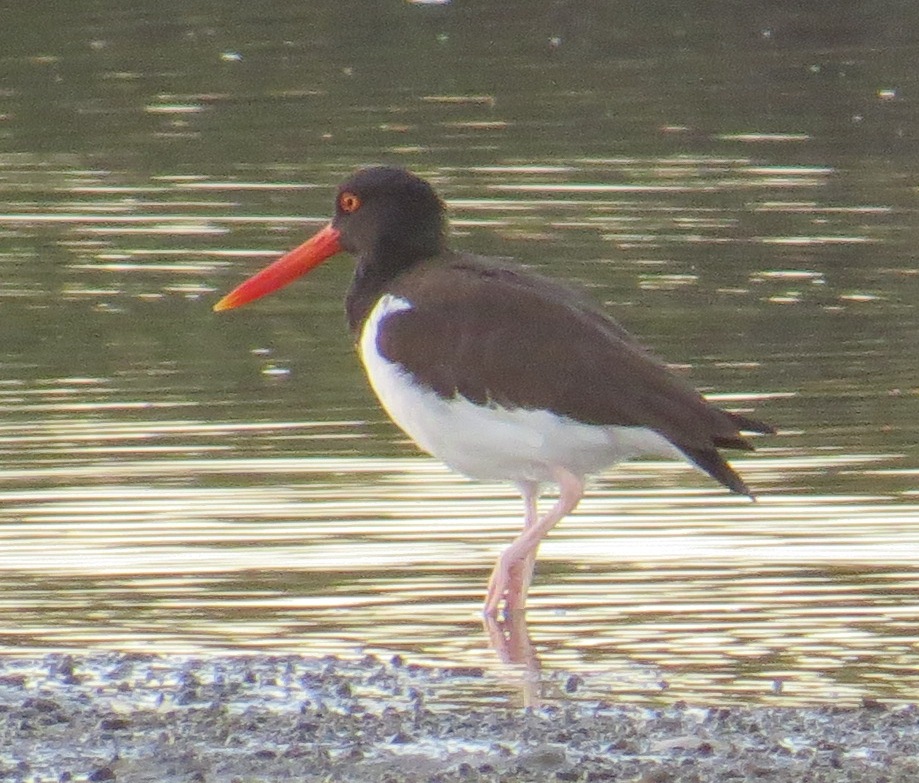 Oystercatcher





Male magnificent frigatebird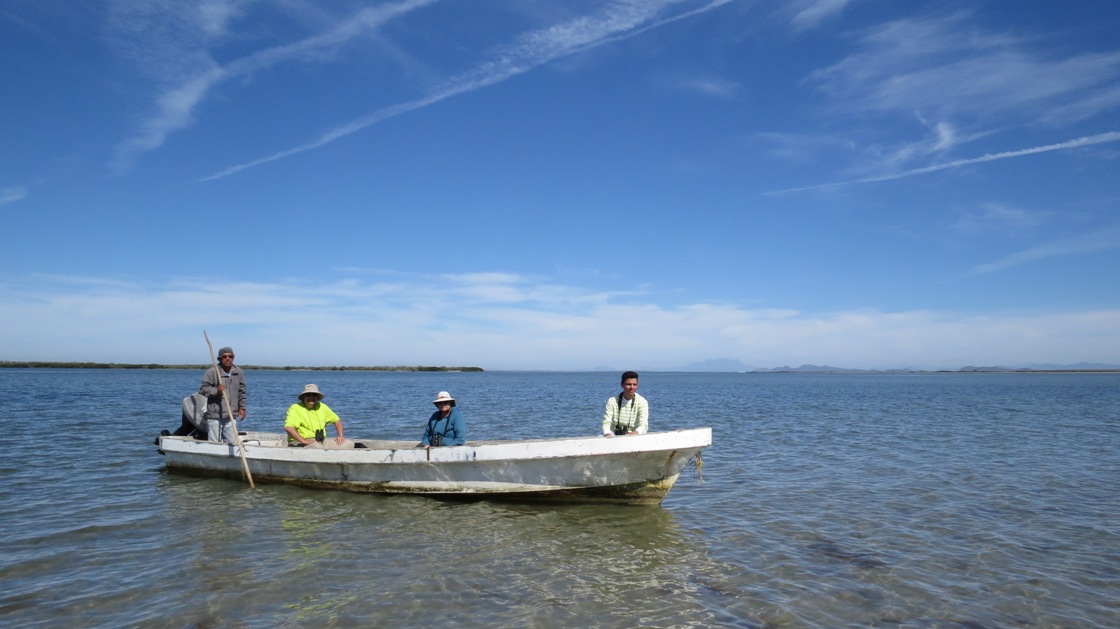 For many years I have longed to see blue-footed boobies. There is a nesting colony near the field station.





Approaching the nesting colony





Standing in the warm, shallow water (as close as we were allowed to get)





Blue-footed booby showing off his blue feet in a mating dance





Bowing is part of the mating dance.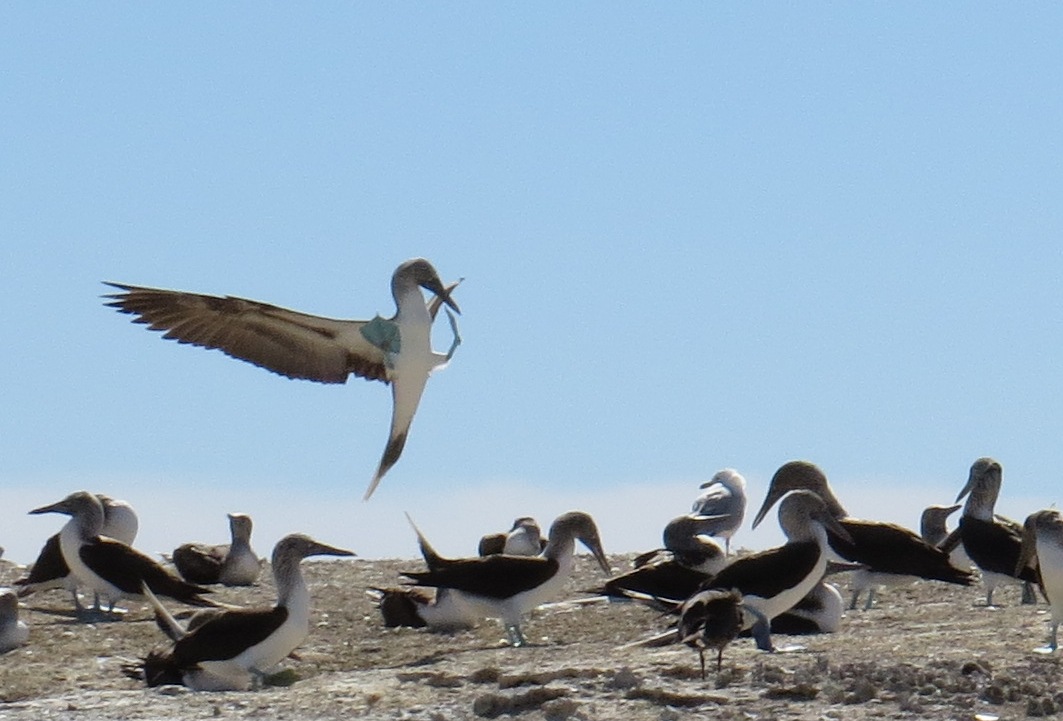 Blue-footed booby landing





Blue-footed booby chick



---
Trip Notes
Total cost round trip from Seattle was $4200 for 71 days (about $59 a day, includes gas, groceries, restaurants, campgrounds, and Mexico insurance/visas/car permit/tolls).
Gas in Mexico is $4 a gallon and road tolls can be pricey (especially if you're in a bigger rig).
Mexican campgrounds run $5 to $20 a night.
A 6-month insurance policy with car import permit was $227.
An app called iOverlander makes it easy to find places to camp.
We use T-Mobile, which includes calls, data, and texting in Mexico. Cell service is excellent.