Agaves and Aves: Motoring through Mexico
Jan-Feb-March 2020
Highlights of this year's road trip to Mexico included agave-filled desert scenery, and many species of beautiful aves (birds).
(Click here to learn more about our van.)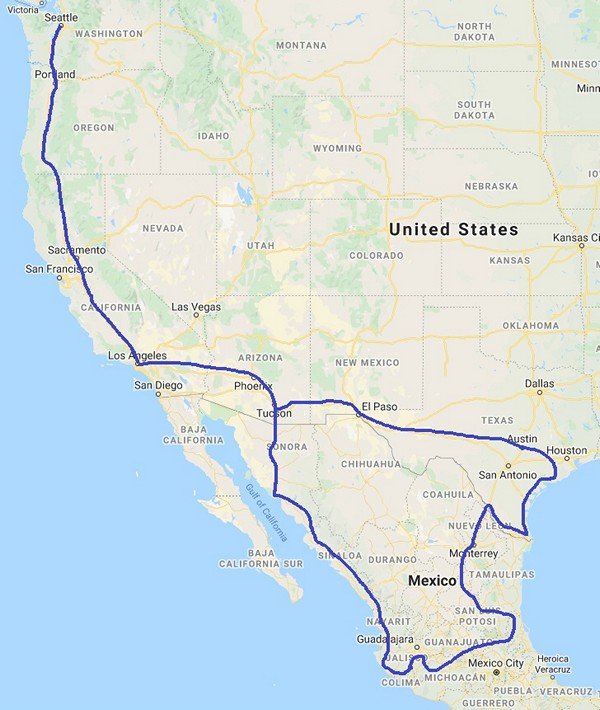 We like to escape the sometimes grey and chilly moistness of Seattle winters, and Mexico has become our favorite destination. Why? Not only is it safe, affordable, friendly, and fascinating, but we can drive there and camp in our van! No airplanes, hotels, luggage limits, or set itineraries. This year we covered about 8600 miles, discovering new places and returning to old favorites.



Seattle to the Border
(To skip straight to our Mexico pics, click here.)





In Portland we visited Grant's stepbrother Ramsey and wife Carol. We were delighted that daughter Alex was able to join us. If you are ever in the Portland area, check out Ramsey's soul band.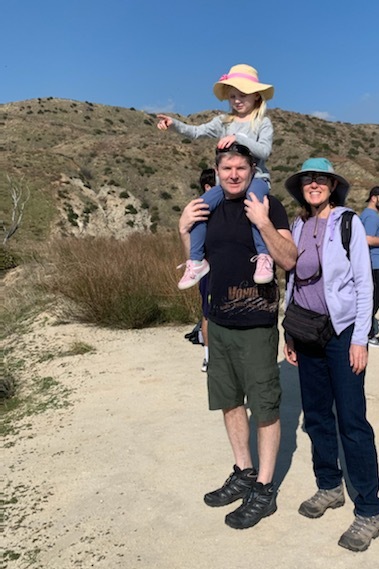 Next stop was Burbank to see Karen's brother David and five-year-old Ava (and mom Annie, not pictured) and go hiking in the sunny hills near their home.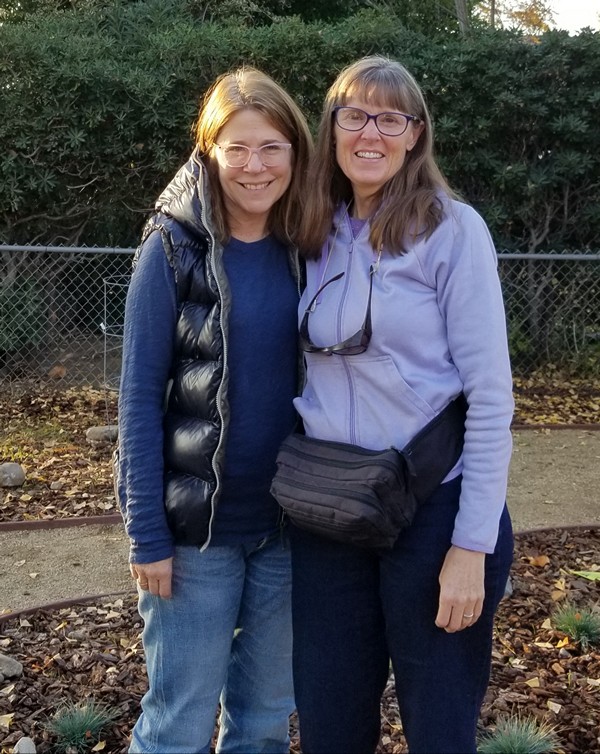 In Pasadena I was delighted to meet second cousin Catherine for the first time. I found her by doing genealogy research.





A beautiful hike in Tahquitz Canyon in Palm Springs





In Scottsdale we visited my parents (that's my dad on the right; sorry mom, I didn't get a picture of you this time!) and I met another second cousin, Joan. She had wonderful stories to tell!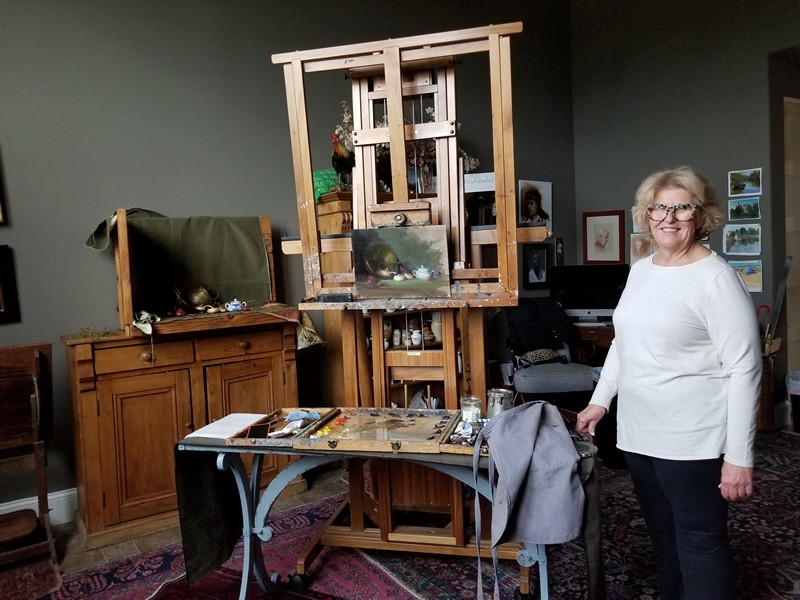 The next day we drove up to Cave Creek to meet Joan's sister, Nancy, a very talented painter.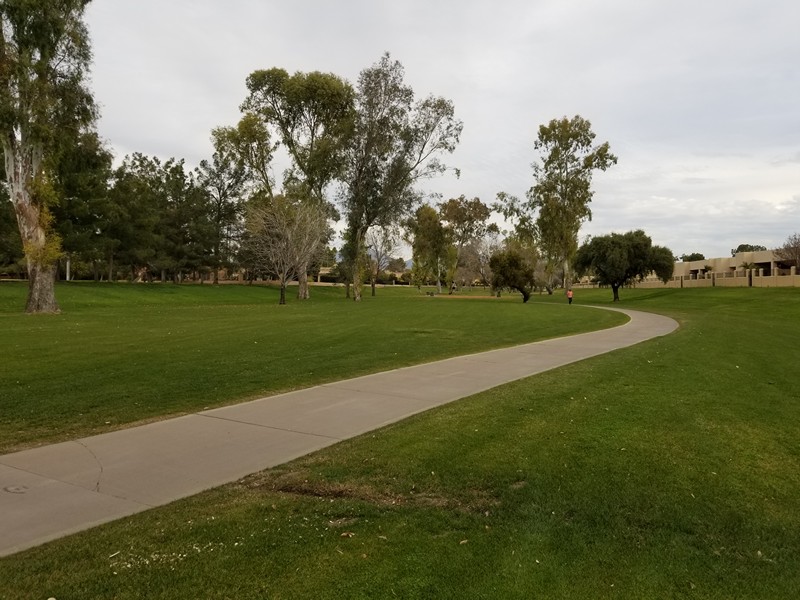 We love Scottsdale's extensive, well-maintained trail system.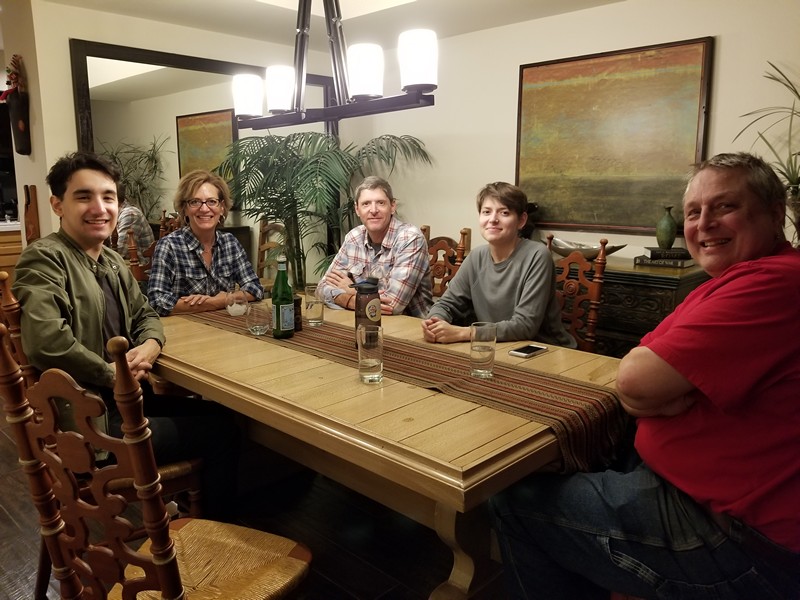 Dinner at Karen's brother Mark's house with his wife Denise, daughter Emma, and friend George



---
Mexico


Six hours south of the Arizona border stands this majestic statue of a Yaqui Indian deer dancer. This year I finally got to see a deer dance performance. Read on to learn more!



Alamos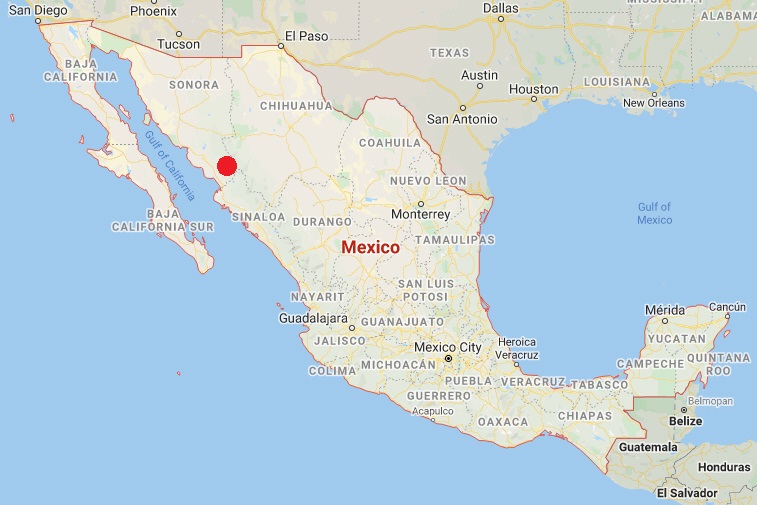 Alamos is a lovely old mining town in the mountains of Sonora.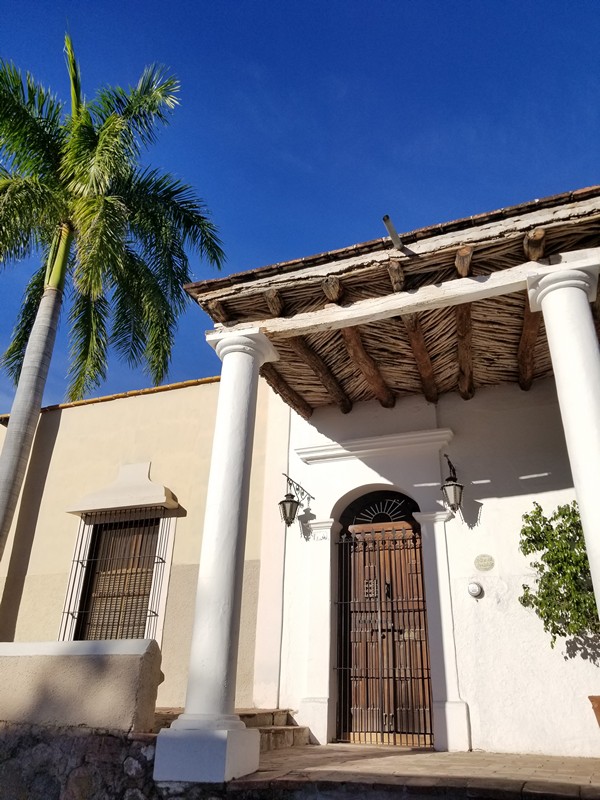 Many of the original buildings have been beautifully restored.





Gazebo and church in the main square





The landscape is a biodiverse mix of desert and semi-tropical forest.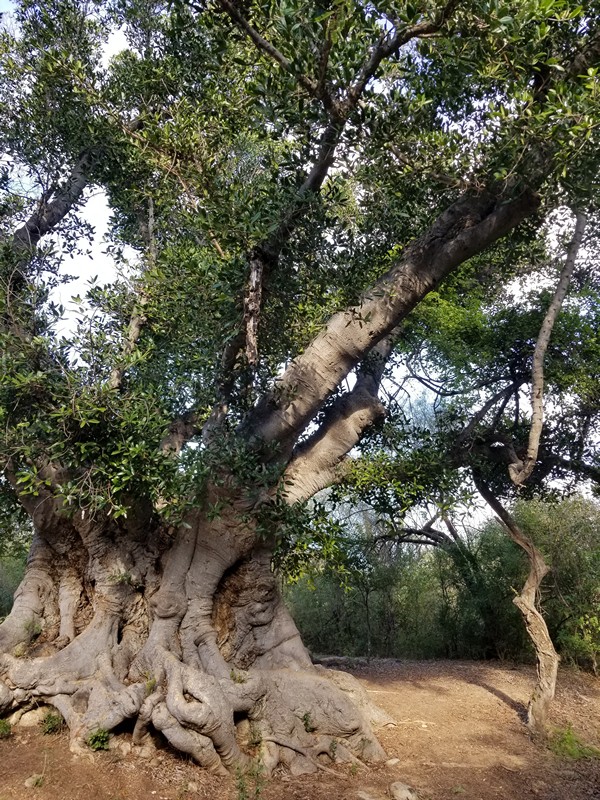 A giant fig tree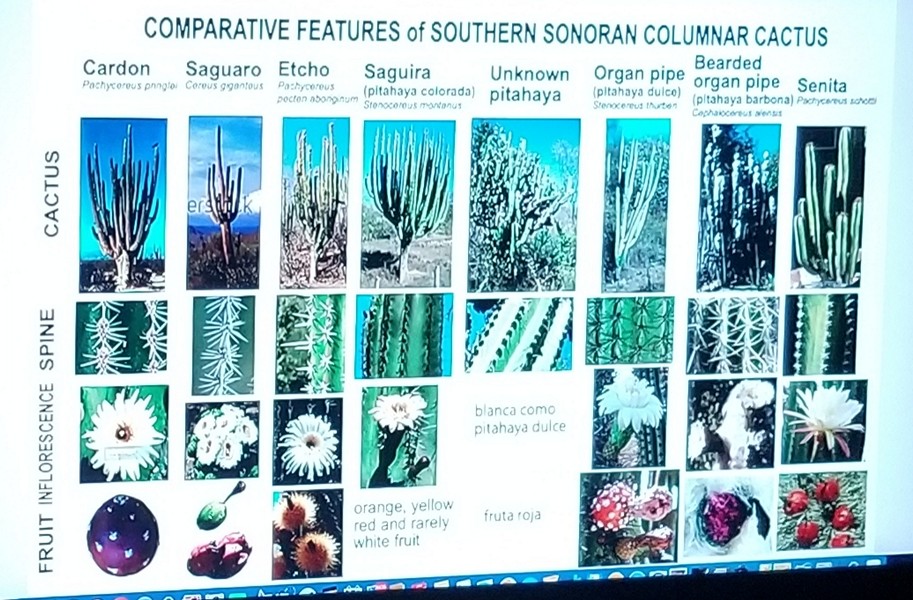 Some of the cactus that grow in this area





This varied bunting is one of the many species of birds that are found here.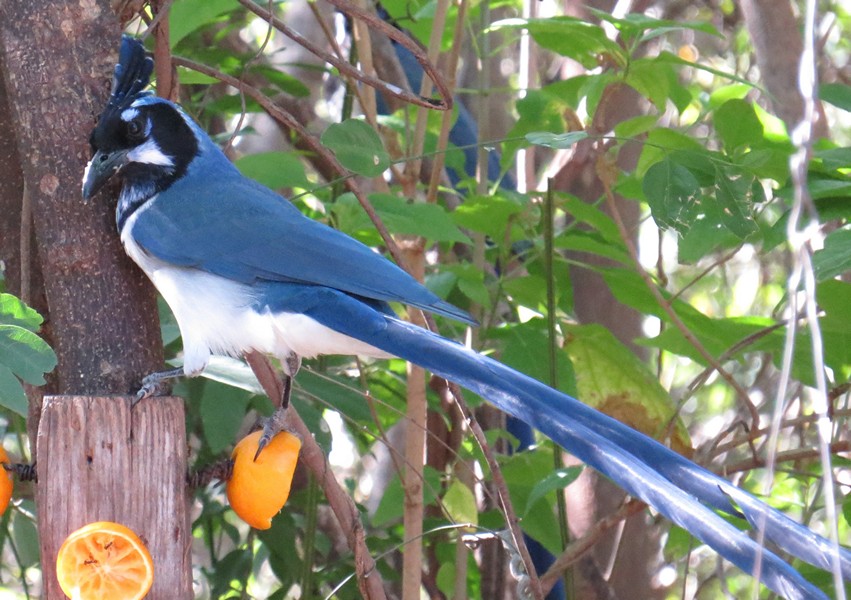 Magpie jay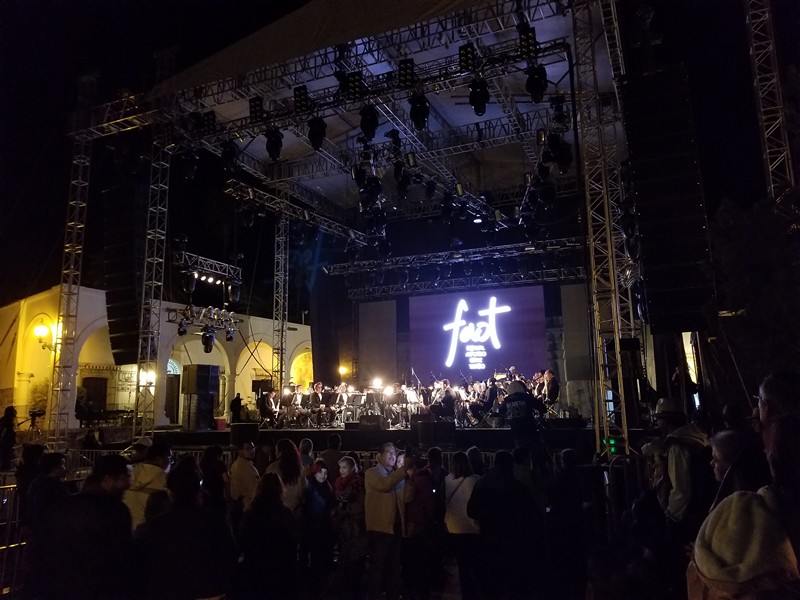 The annual FAOT music festival at the end of January features nine days of free or low-cost concerts and performances in many genres, held on stages large and small all over town.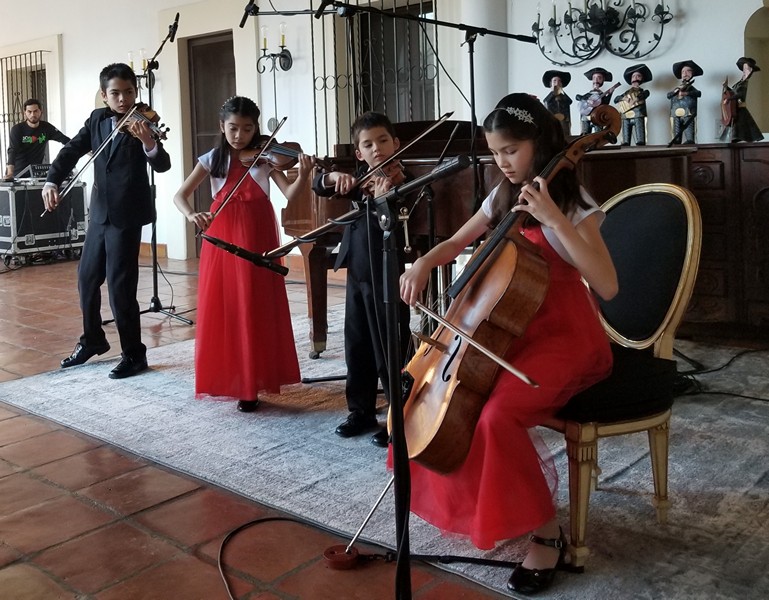 I'm not a classical music lover, but the Stars Aligned Siblings were adorable and phenomenally talented.




I loved La Rondalla del Pitic, a guitar and voice choir. Click to hear a snippet, and you can find more online.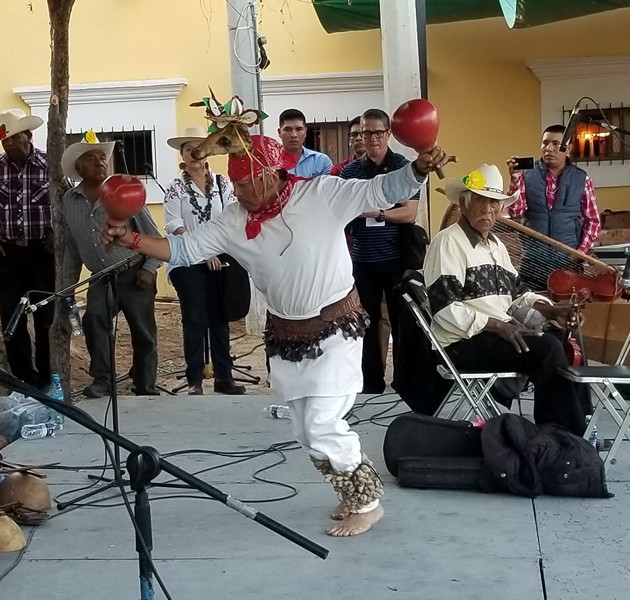 One stage featured indigenous music and dance. In the "Dance of the Pascolas and the Deer," one dancer represents the deer. Every element of the costumes and dance is symbolic. Originally a rain dance, it is now a fusion of indigenous and Christian elements.




The deer dancer imitates the actions of a deer. Click for a short video.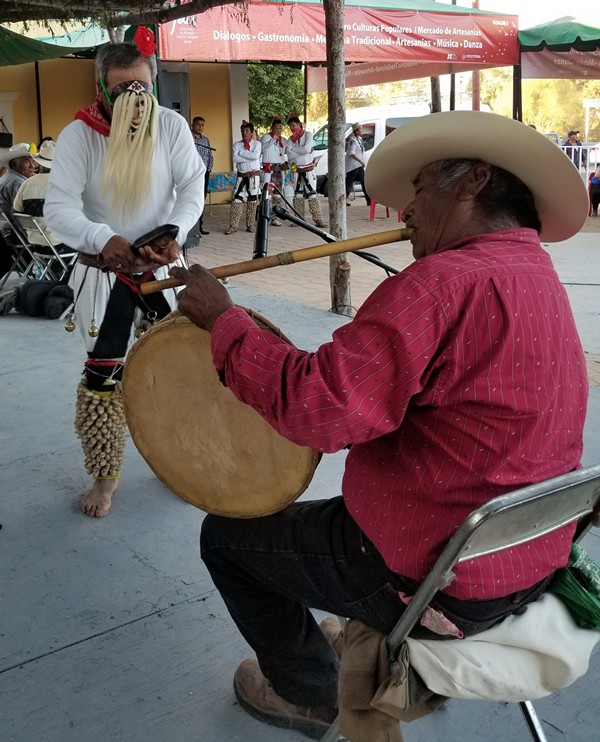 Other dancers, called pascolas, wear masks that represent old men. Butterfly cocoon rattles on their legs symbolize rattlesnakes.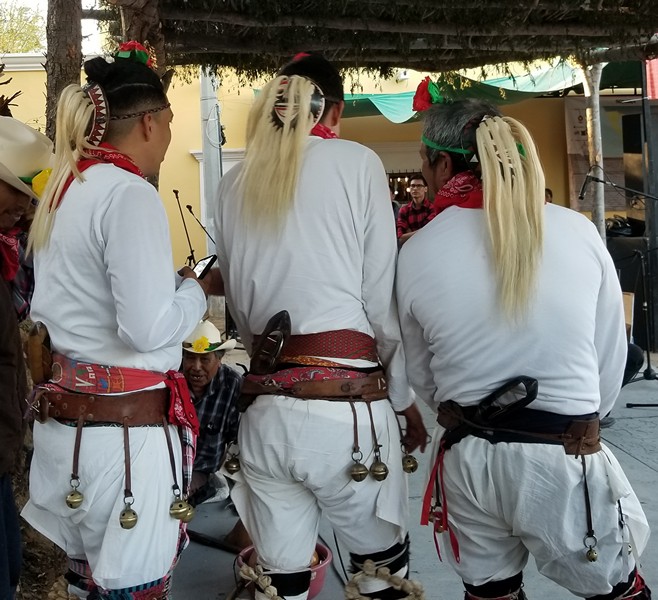 Pascola dancers turn their masks around when they're not performing.





Alamos has the best fish and shrimp tacos we've ever eaten. (FYI: the red and yellow containers do not contain mustard and ketchup!)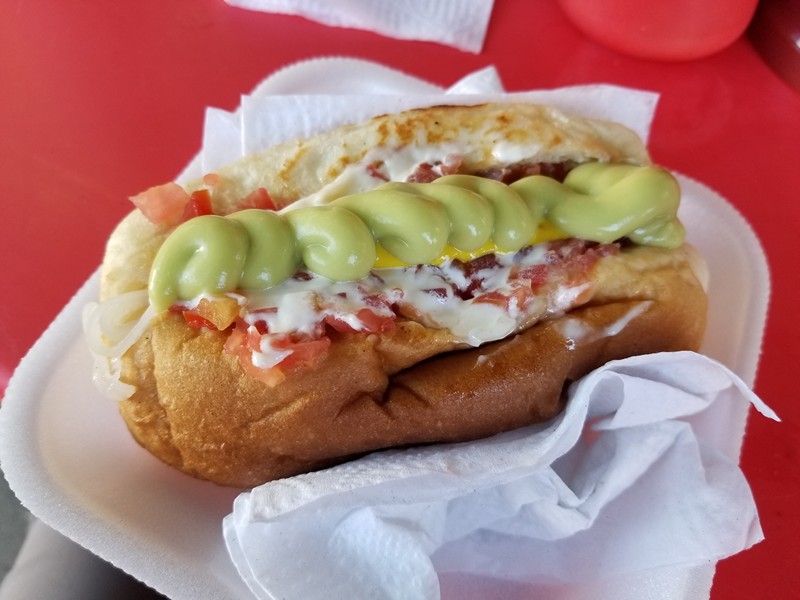 I generally avoid hot dogs, but can't resist them in Alamos. The squishy buns! The toppings! (Caramelized onion, tomato, crema, avocado sauce, cheese...)





This year we discovered gorditas de nata con cajeta (a scone-like biscuit topped with goat's milk caramel).





We also discovered cocadas (sweetened coconut pressed into bars or cones). This one celebrates the Mexican flag.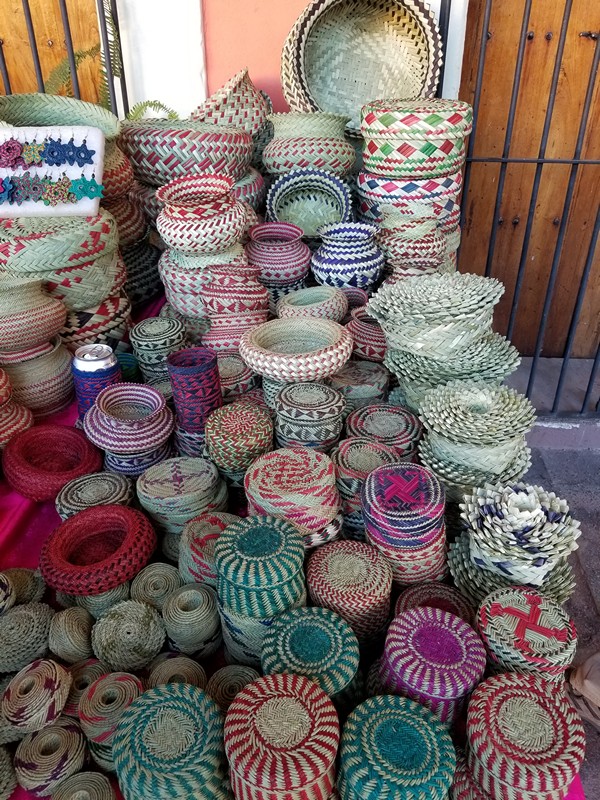 Intricate pine needle baskets made by the Tarahumara Indians of Copper Canyon.





Some of the wonderful people we've met over the years at the Alamos campground. This year we had a potluck and slide show.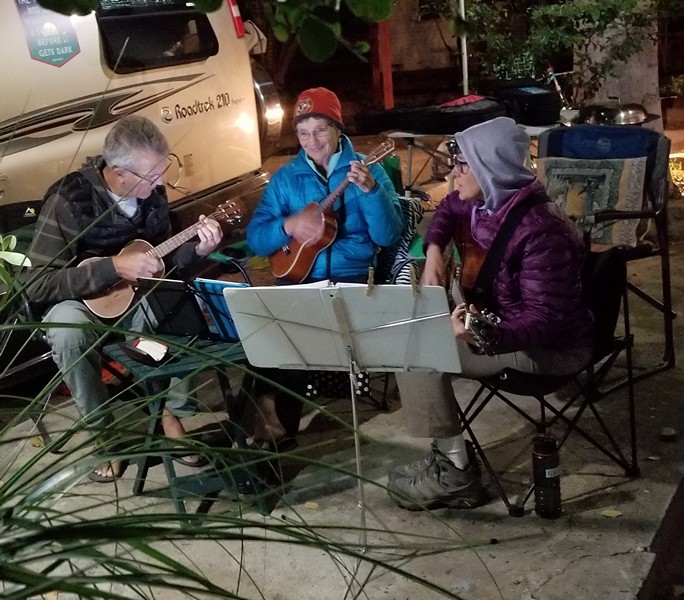 In the evenings, Rick, Bobbi, and I created our own concerts.



Celestino Gasca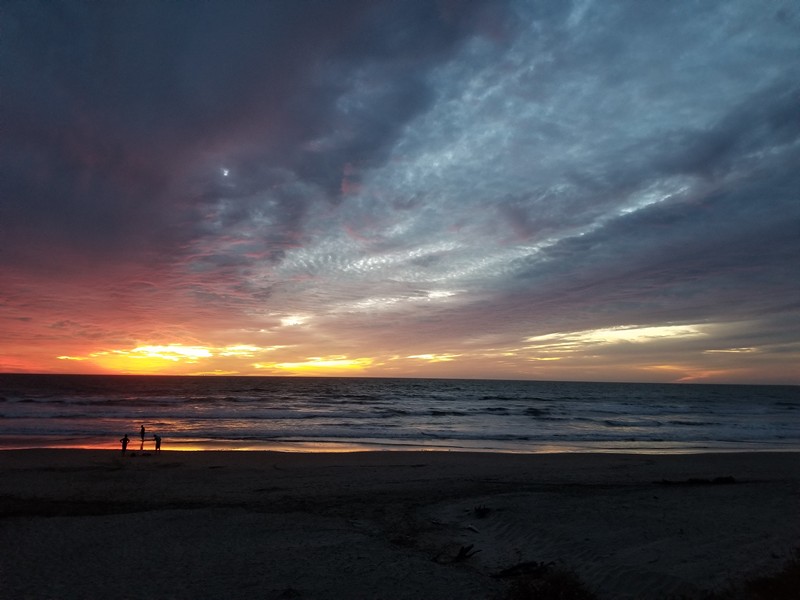 Heading south from Alamos we stayed at a campground we like in Celestino Gasca, a quiet fishing village on the coast.





Celestino is at the north end of Mexico's Pacific Coast, at the mouth of the Gulf of California.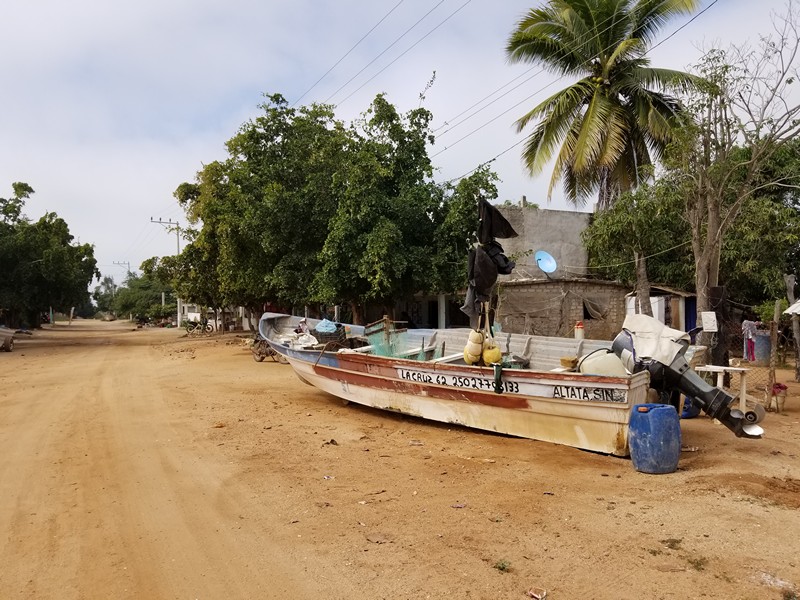 Fishing boat on a quiet street in Celestino Gasca





Typical Celestino eatery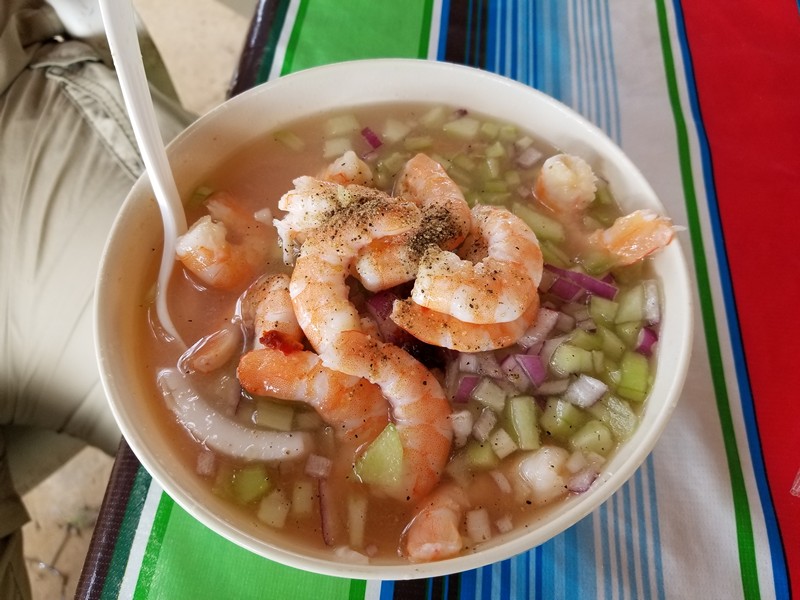 Cold shrimp and coconut soup. You won't find fresher seafood!



El Palmito: Tufted Jay Reserve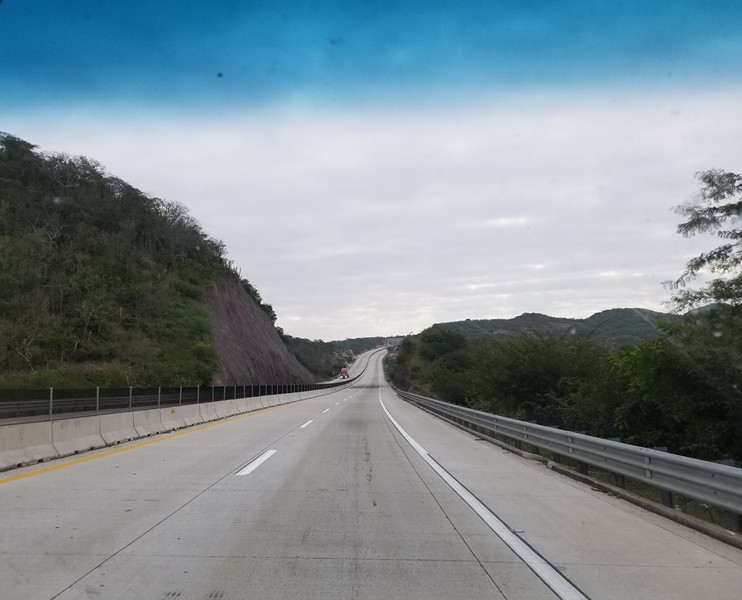 Driving south on one of Mexico's excellent toll roads





Eager to see the elusive painted jay, we headed for the tiny pueblo of El Palmito, in the mountains east of Mazatlan. We took the old road, called "the devil's spine" for its twists and curves.





Surprise!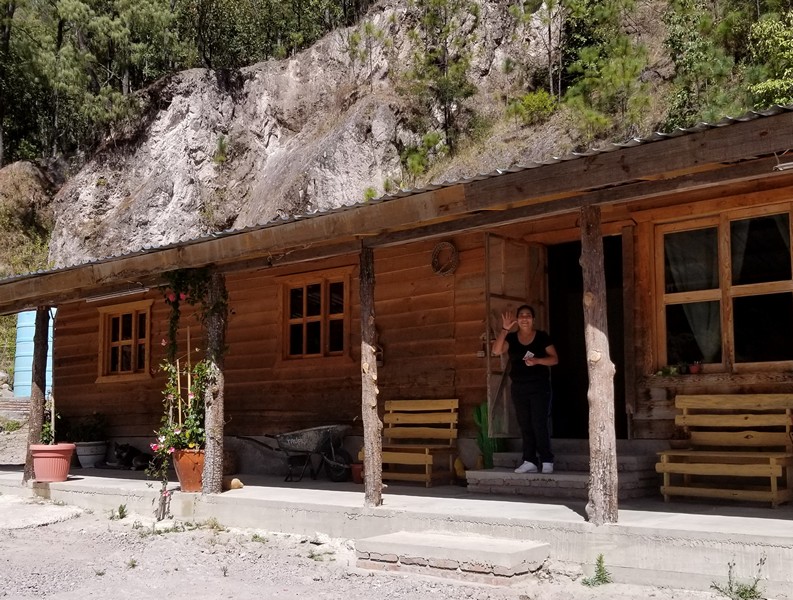 Elvira's restaurant is open 24/7. The new high speed toll road has decimated businesses and towns along the old highway, but smiling Elvira is hanging in there. Buildings in the mountains are made of wood.





Elvira made us a delicious lunch of fried potatoes, carne asada, mayacoba beans, cheese, and fresh blue corn tortillas for less than $2 each.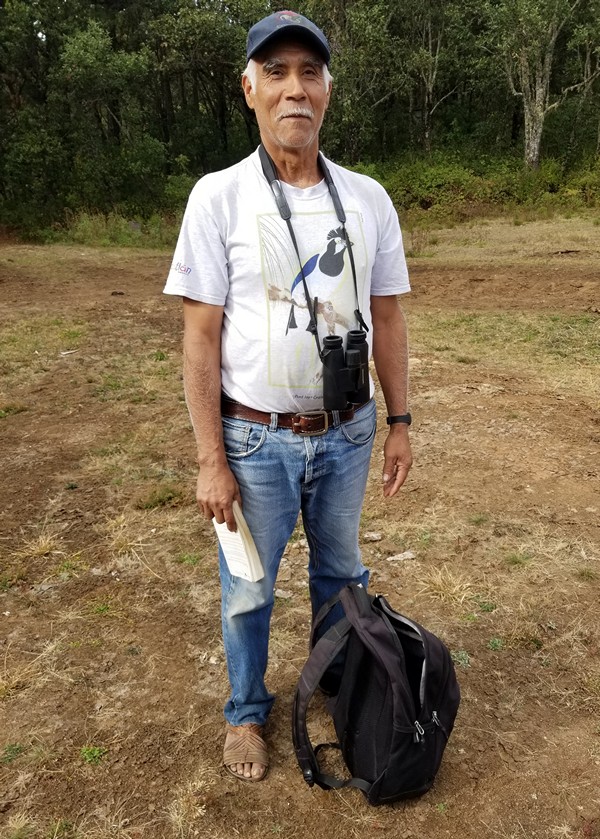 A friend helped us contact Santos, a local birding guide who spoke only Spanish. He's wearing a painted jay t-shirt.





The road to the painted jay reserve (Reserva Chara Pinta). The reserve is run by the local land cooperative, which chose to create a reserve to protect the indigenous jay, rather than log the land.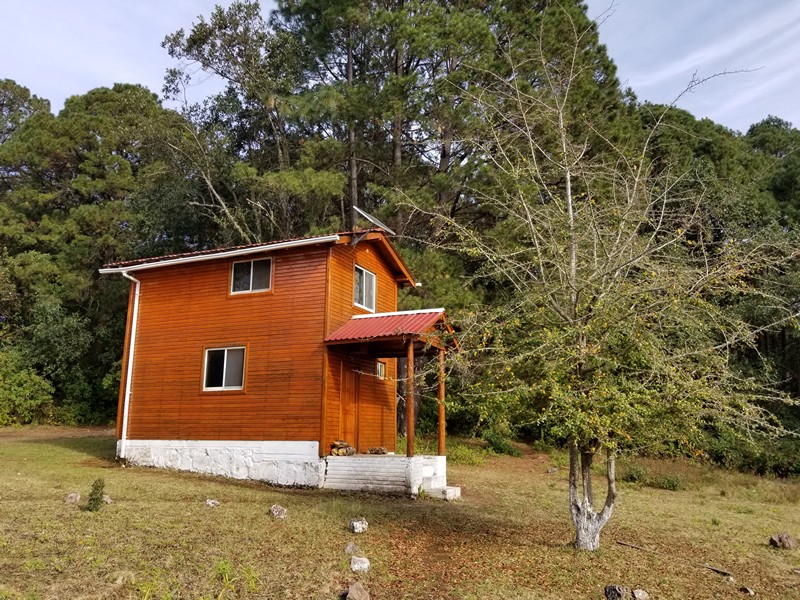 One of several well-appointed cabins the community has built to host vistors and school groups.





These high elevation pine forests contain surprises like agave...





... and blooming bromeliads, at 7200 feet!





Due to the unusual rainy weather, bird sightings were few, but I was thrilled to see a mountain trogon. The painted jays were hiding from the rain.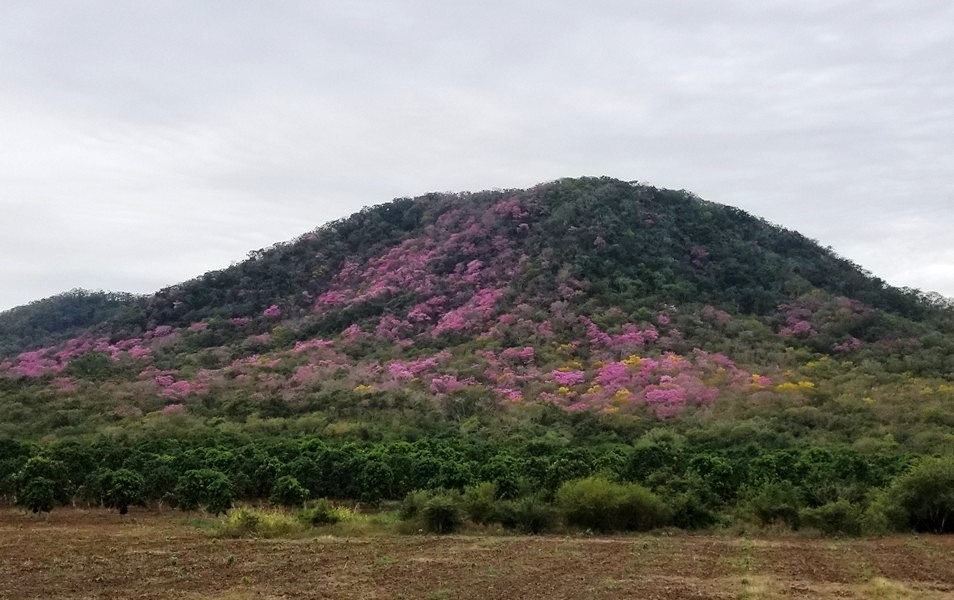 Blooming amapa trees covered the hillsides in swaths of bright pink.



Chacala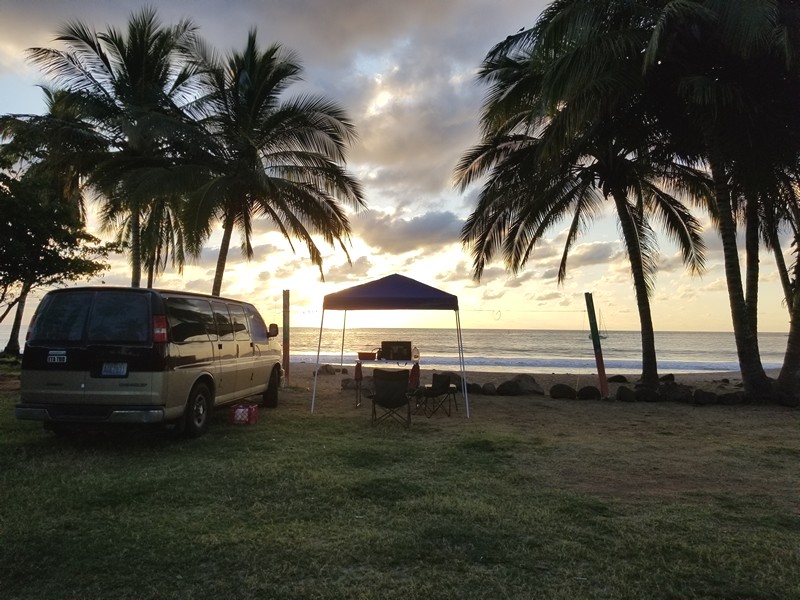 In Chacala, we settled in to a lovely beachfront campground for a few days.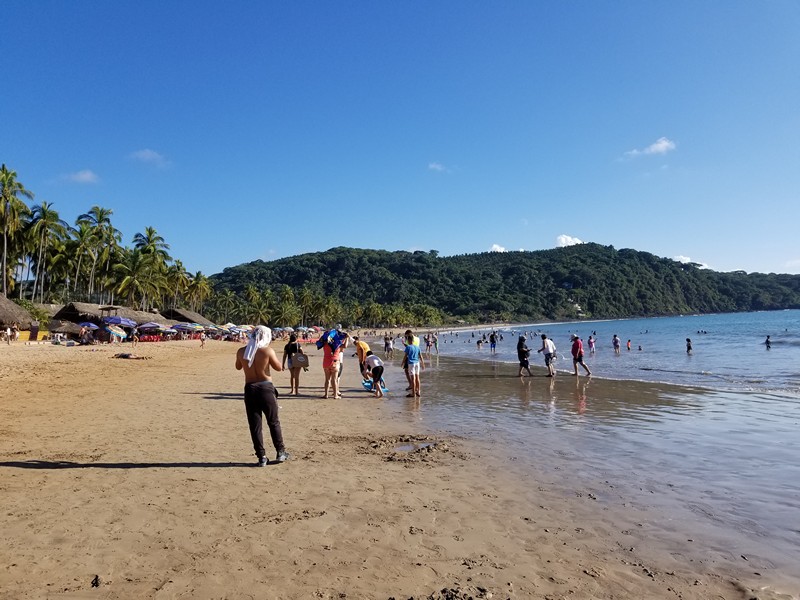 The beach is busy with happy families on weekend days.






Most of the time it is empty and quiet.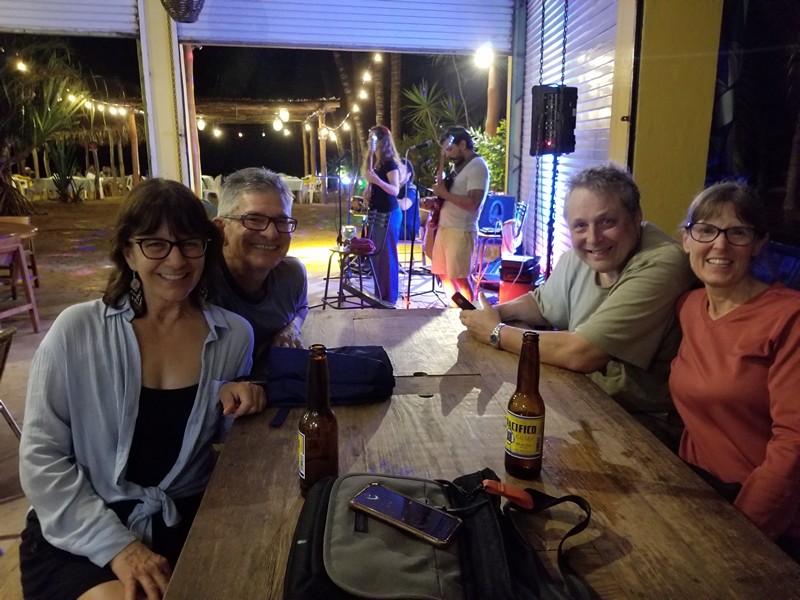 We met up with friends Kevin and Sandra, who were staying in town. (The band was excellent.)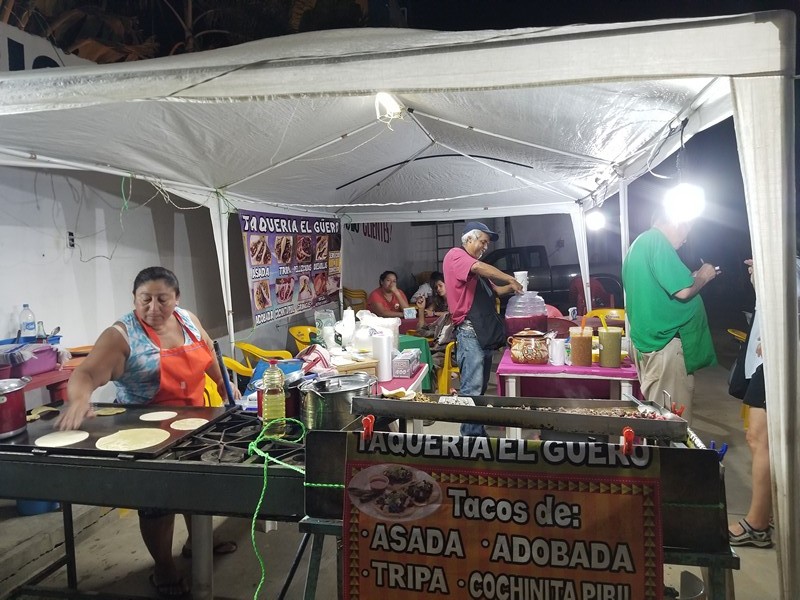 This hardworking family assembles their popup restaurant every evening and serves sabrosos (tasty) tacos!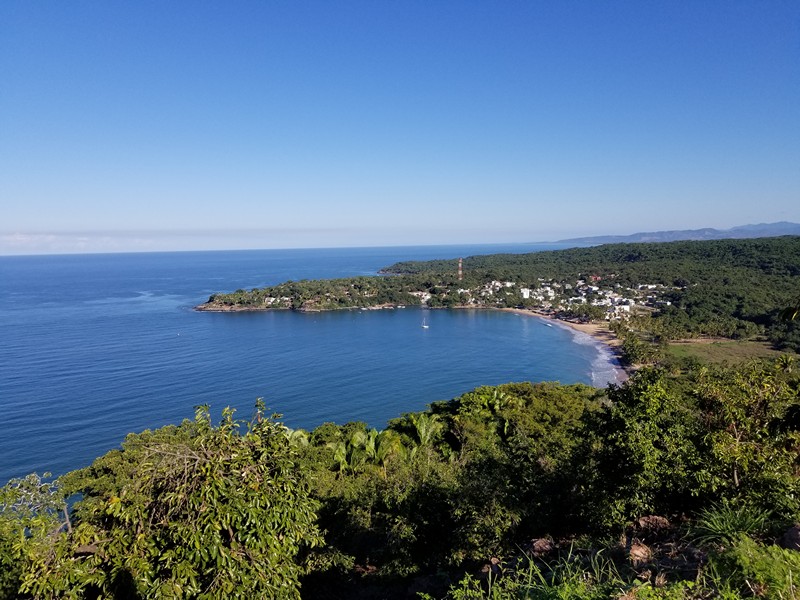 View from the top of Chacala's extinct volcano





Fishing boats on the bay





A cheerful fisherman shares fish trimmings with his pelican amigos.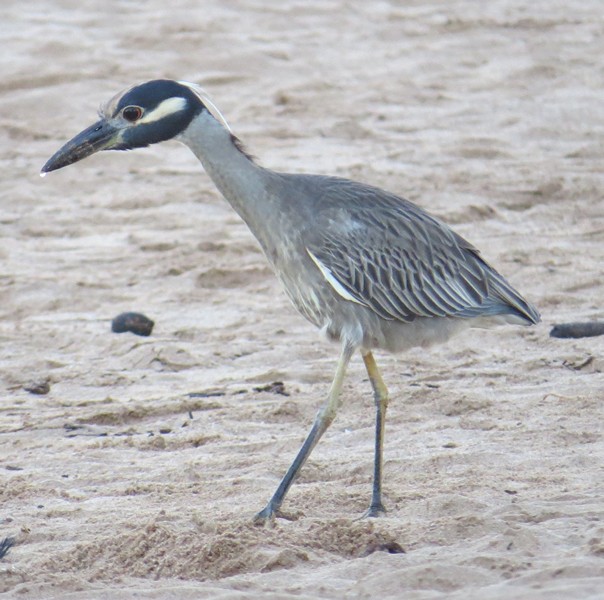 A night heron hunting for crabs on the beach





Lupita came around every morning with her wheelbarrow, selling tamales and atole. In the afternoons she sold banana bread.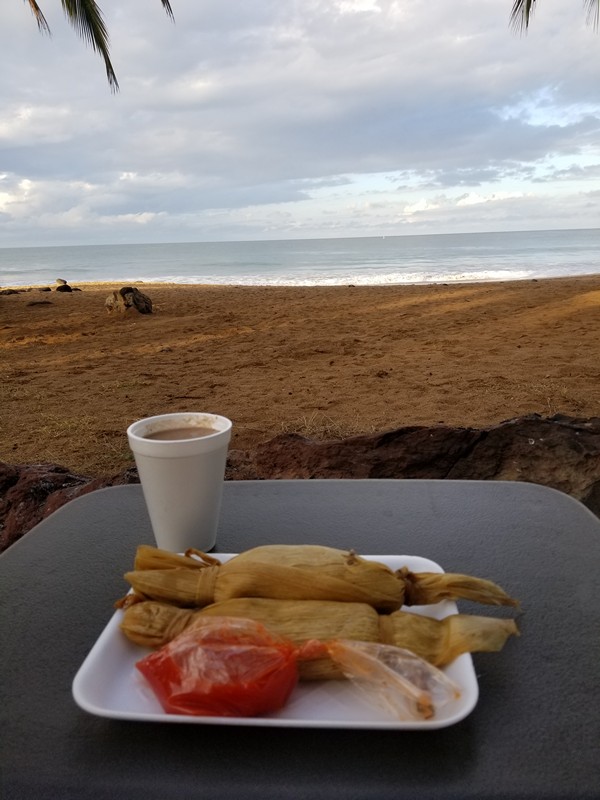 Breakfast of champions: Lupita's tamales for Grant and atole (a hearty hot beverage made of corn or rice) for me.



San Sebastian del Oeste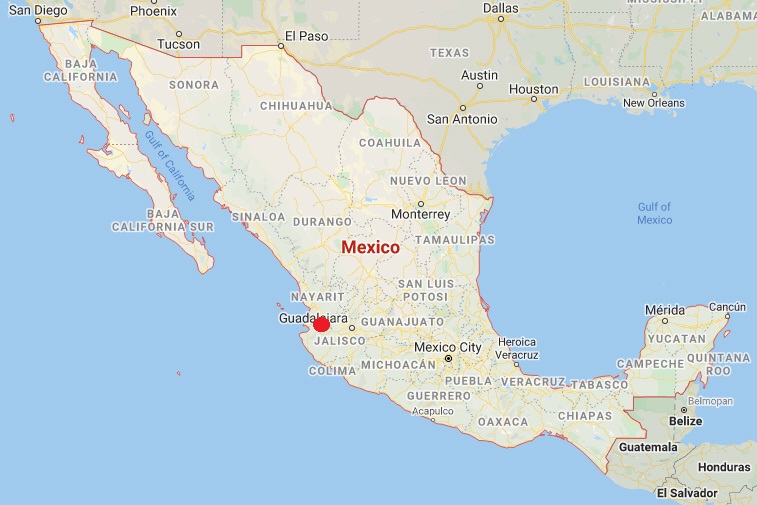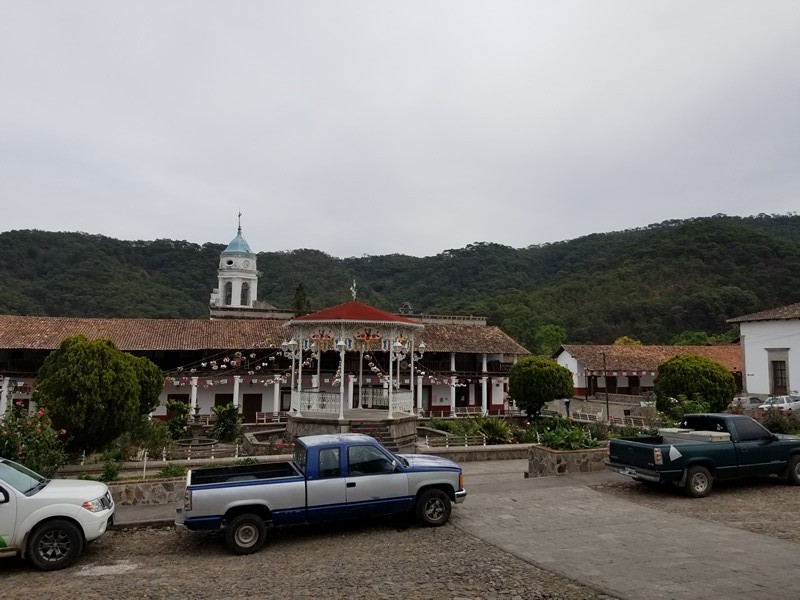 San Sebastian del Oeste is a charming old mining town in the mountains east of Puerto Vallarta. The 200-year-old buildings have white-washed walls and red tile roofs. We'd heard it could be mobbed on weekends, but mid-week it was empty and quiet.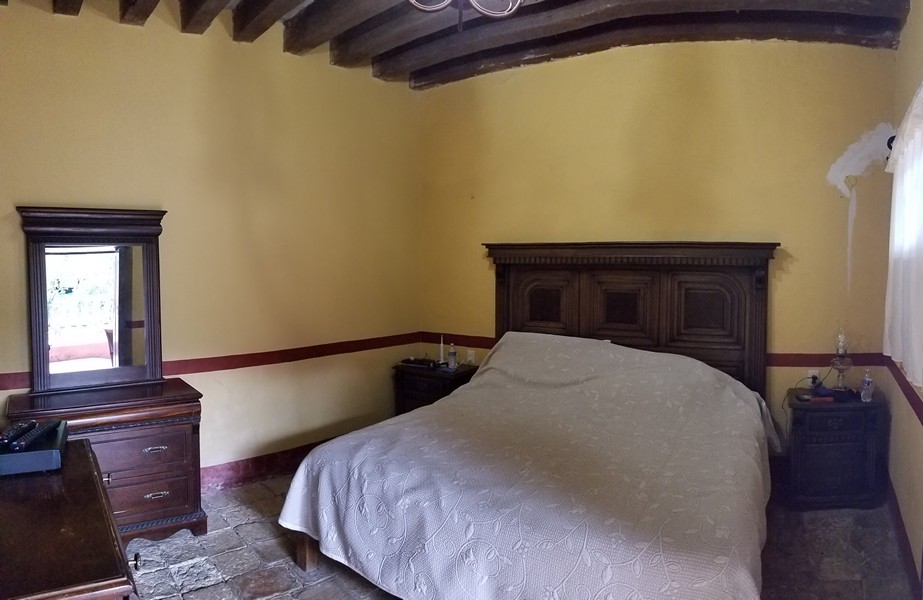 People told us it never rains here in the winter, but this year it rained (climate change is everywhere). So we opted to spend two nights in a hotel. Our clean and cozy room with ensuite bath cost 600 pesos a night (about $34).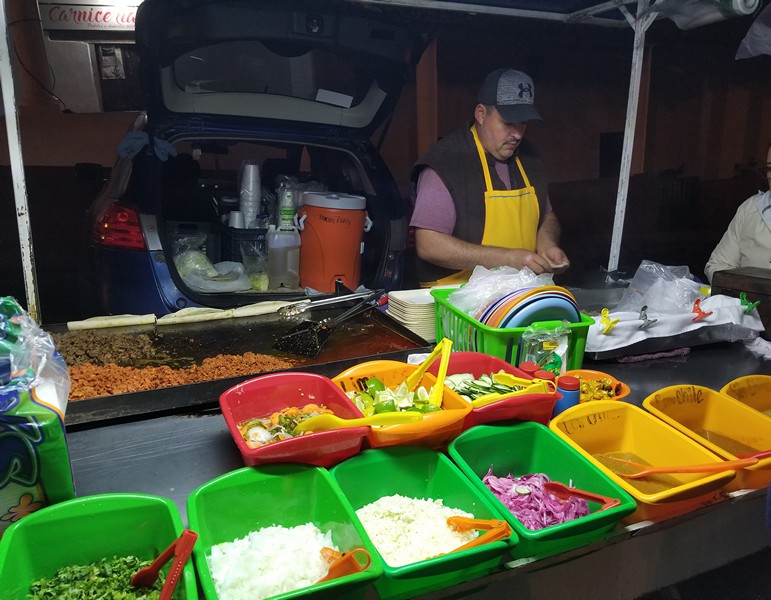 This taco stand materialized out of the back of a van just as we arrived, hungry from our drive.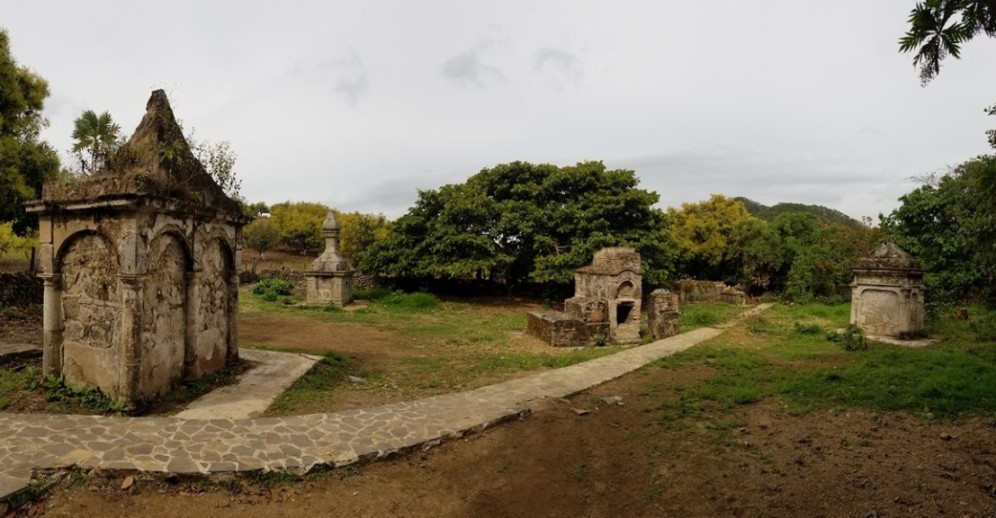 The old cemetery is set in a jungly guava orchard at the end of a narrow cobblestone road.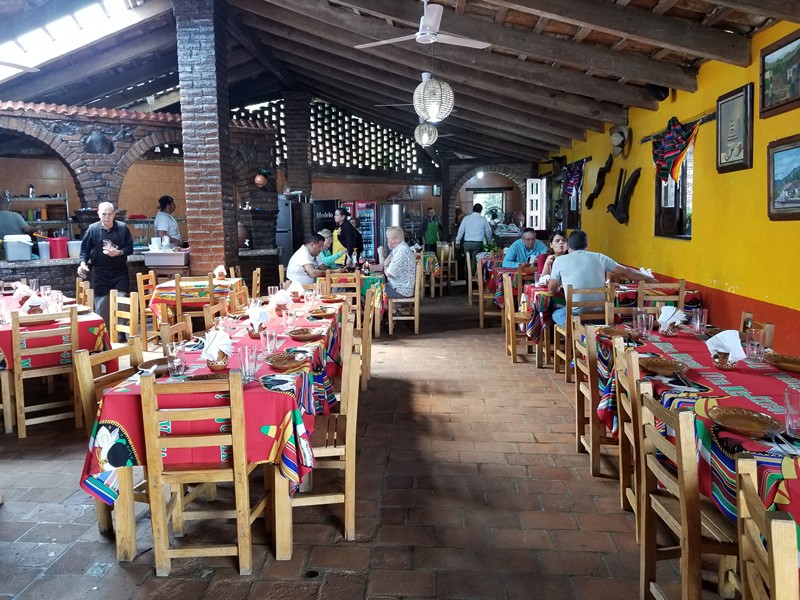 Comedor La Lupita has that quintessential Mexican ambience.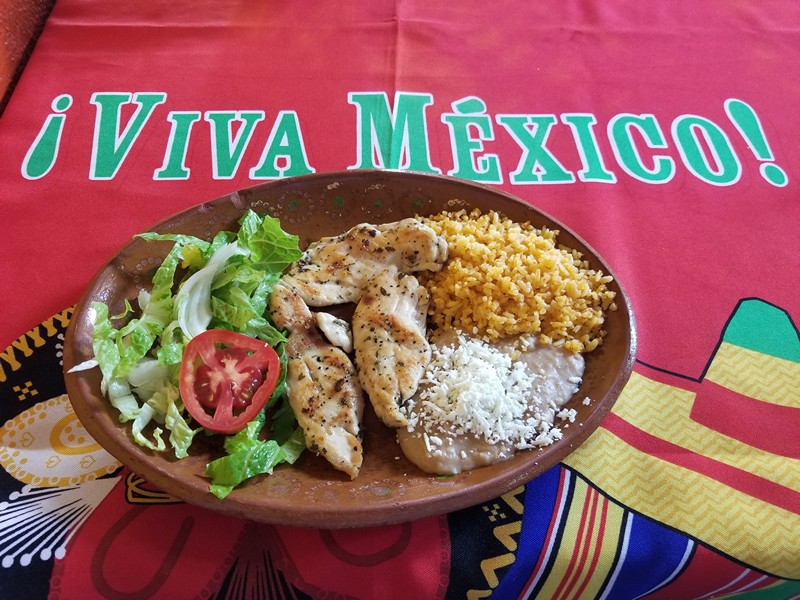 The "plank" chicken was juicy and flavorful.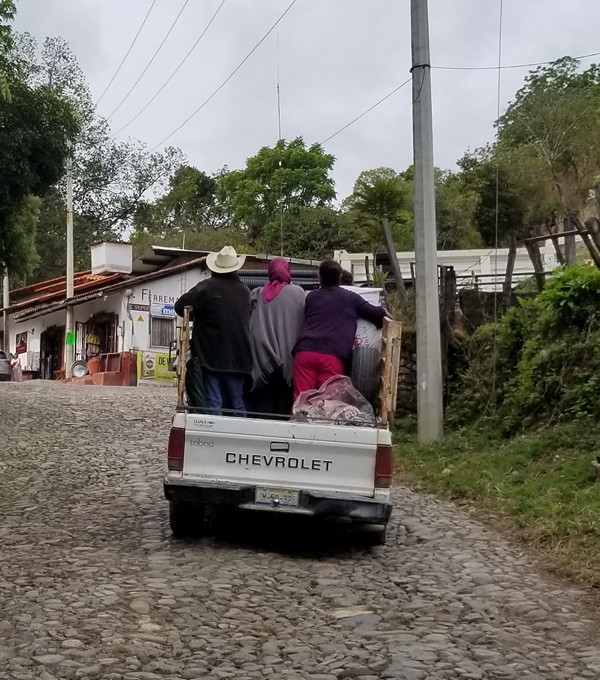 Standup transport like this is common in Mexico, even though seatbelts are "required."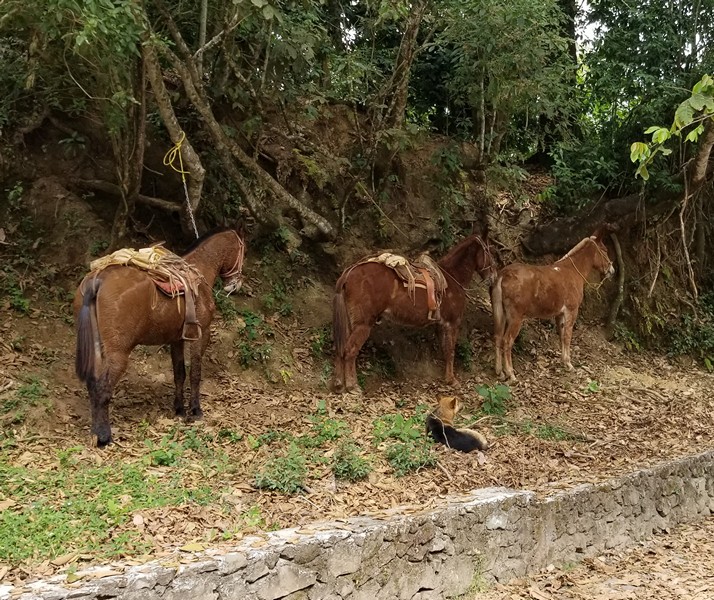 A dog keeping an eye on his horses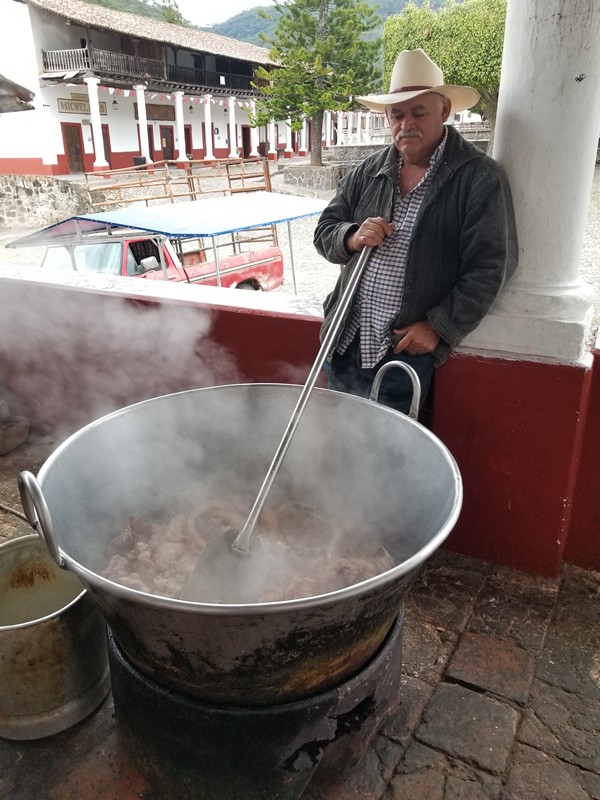 Cooking chicharones on a chilly mountain morning





View over the town of San Sebastian del Oeste



La Manzanilla


Before heading inland, we made a quick stop in La Manzanilla to visit old friend Kimberly, who has lived there for many years.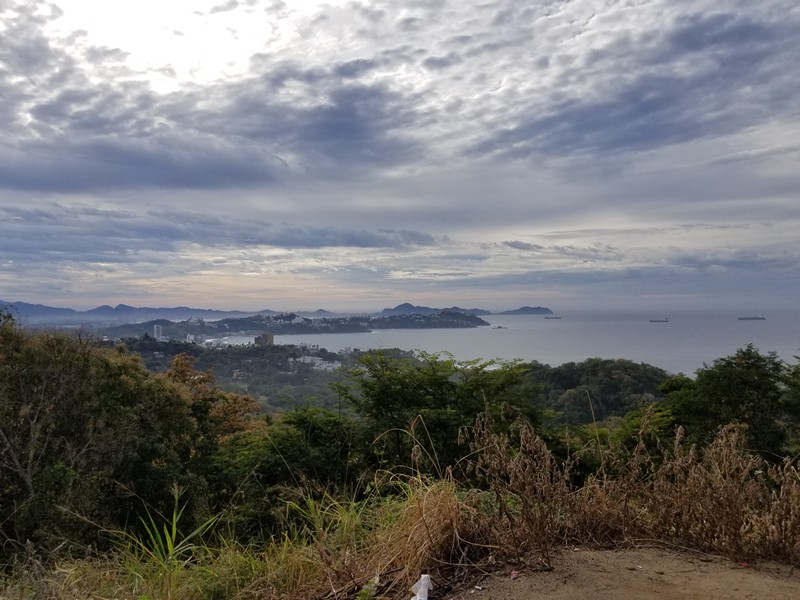 Our last view of the Pacific coast on an atypically cloudy winter day.



Lake Chapala


Lake Chapala, south of Guadalajara, is Mexico's largest freshwater lake.





We stayed in a campground near the town of Jocotepec, which has a really nice waterfront promenade.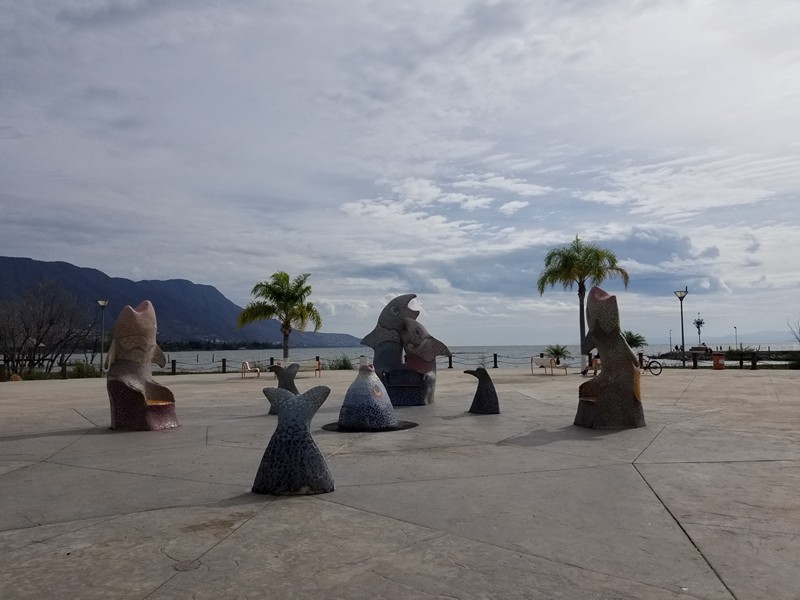 Jocotepec waterfront. Mexicans generally vacation in the summer, thus many places in Mexico are quiet in the winter, when Northerners generally come here.





Mural depicting pre-Hispanic life on Lake Chapala.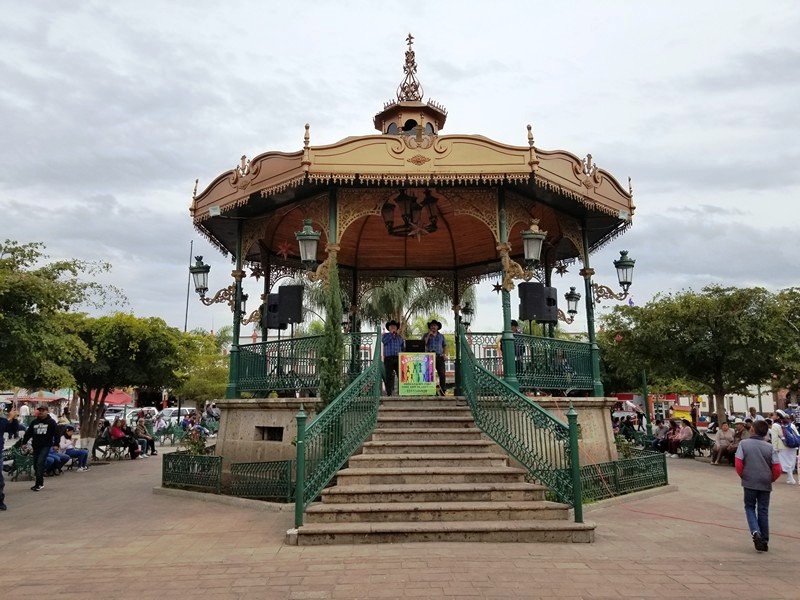 In general, Mexican towns seem to provide a lot of free entertainment for their citizens. These amazing singers were performing in the town square on a Sunday afternoon.




Click to hear a snippet.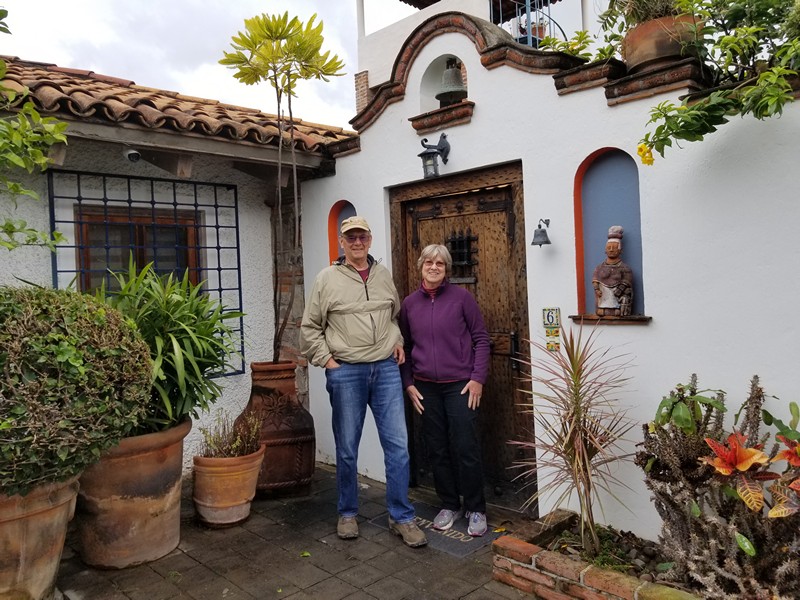 We visited friends Jim and Diane, who were housesitting in the lakeside town of Ajijic.





Ajijic has many wonderful murals. This one is called "Fiesta."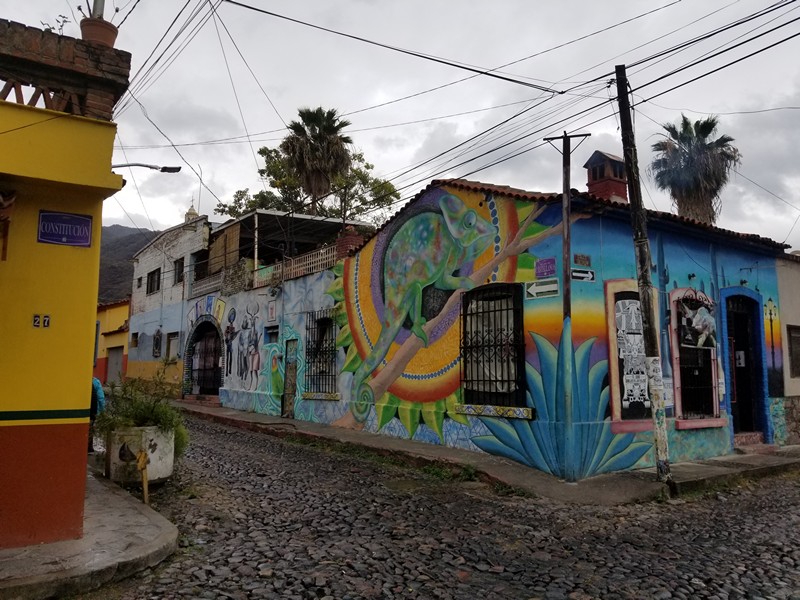 Ajijic mural





This wall of clay skulls symbolizes the role of death as one of humanity's great unifiers. It was inspired by the beliefs of many ancient Mesoamerican cultures. Each skull is labeled with the name of an Ajijic resident who has died. About half are Spanish names and the rest are names of expats from all over the world. Each skull can hold a candle or light that is lit during Day of the Dead.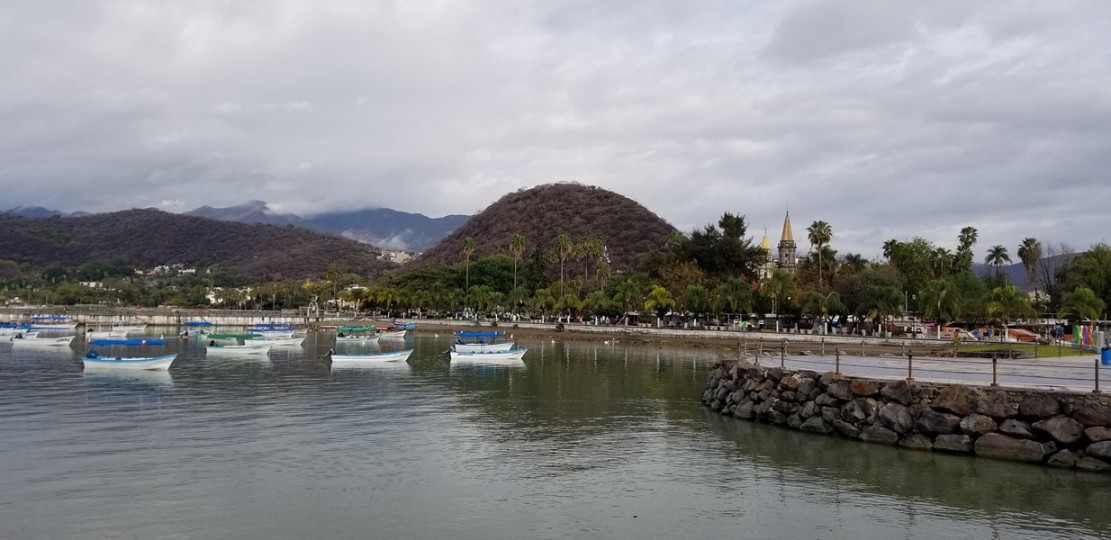 The town of Chapala





Mosaic fish on the Chapala waterfront promenade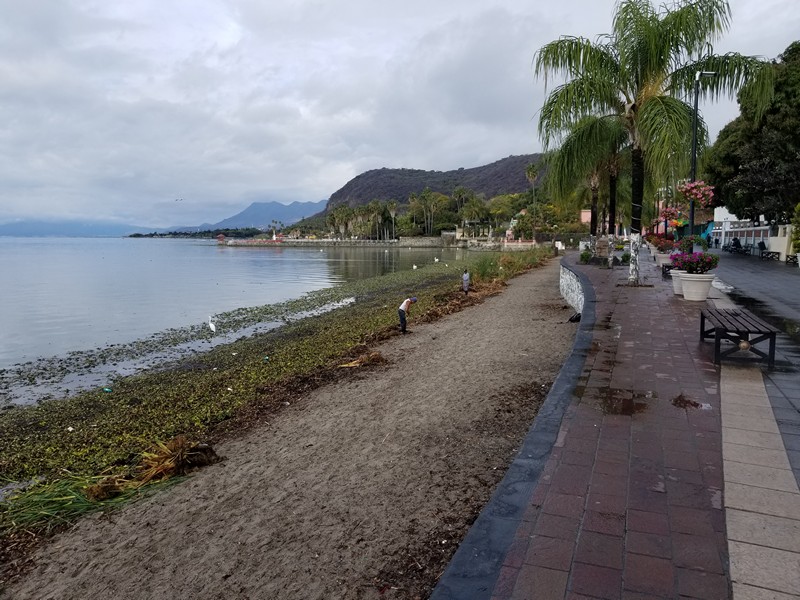 Workers removing invasive water hyacinth that is clogging the lake and beaches.



Guadalajara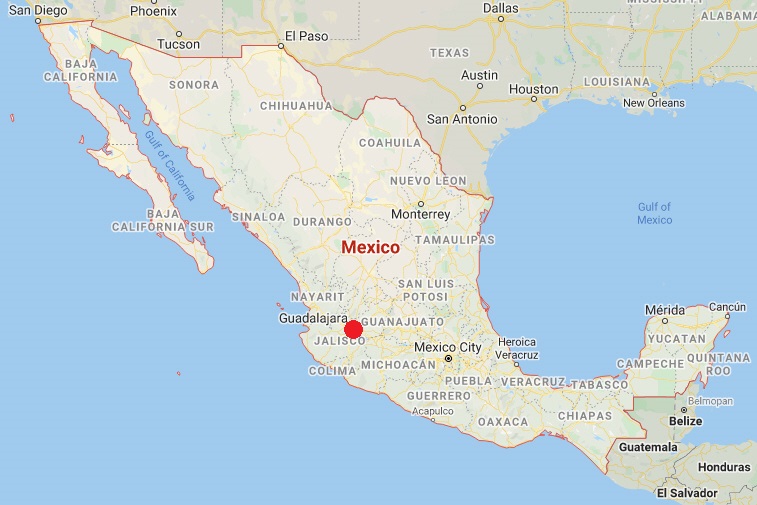 For three dollars we took a deluxe bus one hour north to visit the big city of Guadalajara. The center of town is gorgeous, and has a large cathedral.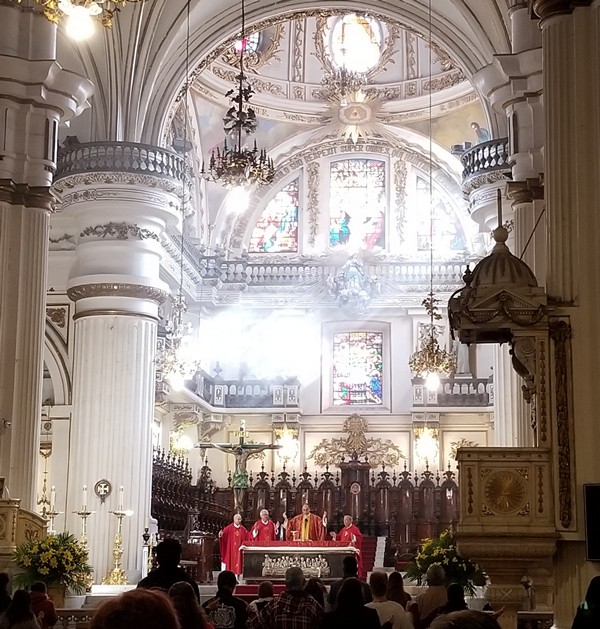 I was surprised to see four priests celebrating mass in the Guadalajara cathedral. I've heard that priests are in short supply worldwide, and parishes often share a single priest. The smoke is from incense.





Plaza de Armas and Palacio de Gobierno, Guadalajara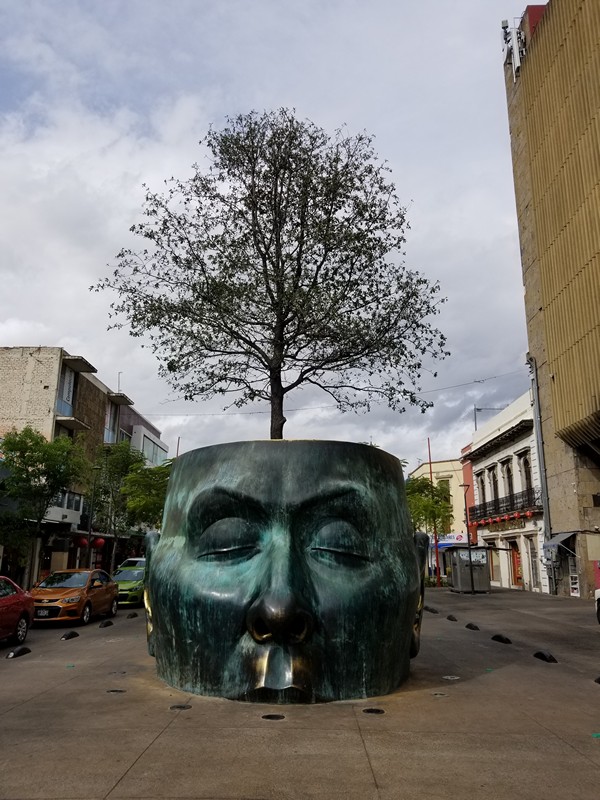 Like all great cities, Guadalajara is a delightful mix of old and new.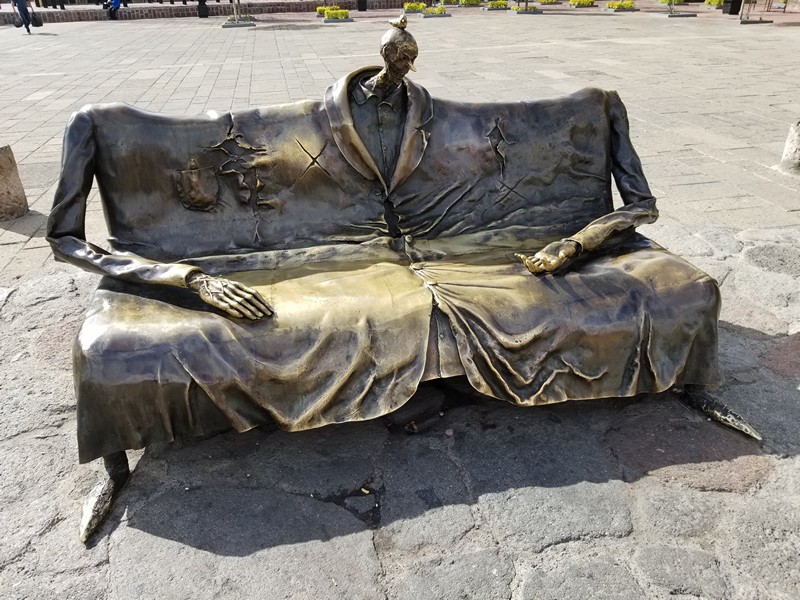 Fanciful bronze bench in a plaza near the market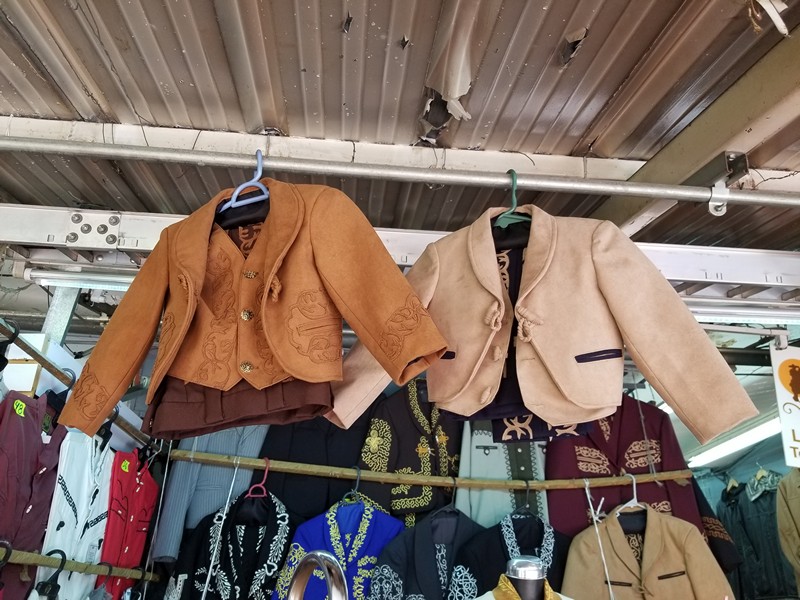 Toddler-size mariachi suits in the Guadalajara market. (Guadalajara is the birthplace of mariachi music.)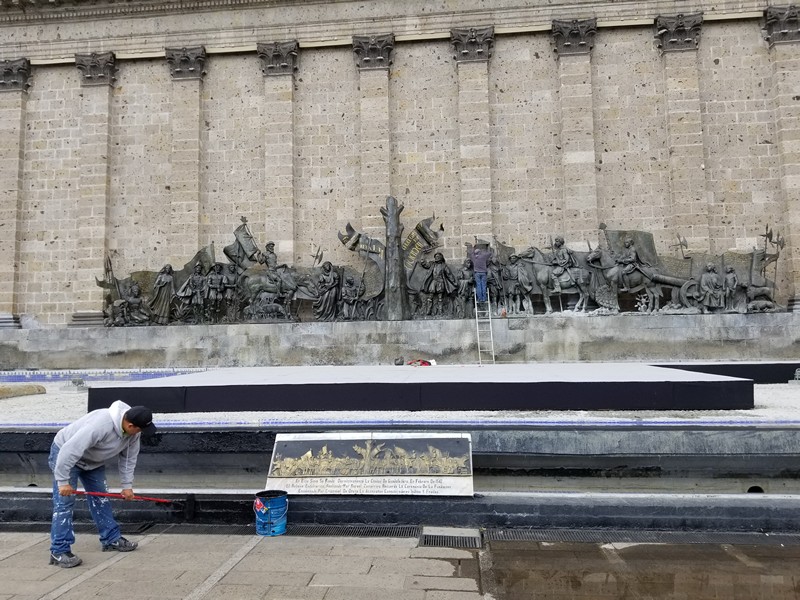 The city was a hive of activity preparing for their 478th anniversary, with workers painting, scrubbing, and putting up stages and tents all over town.



Mazamitla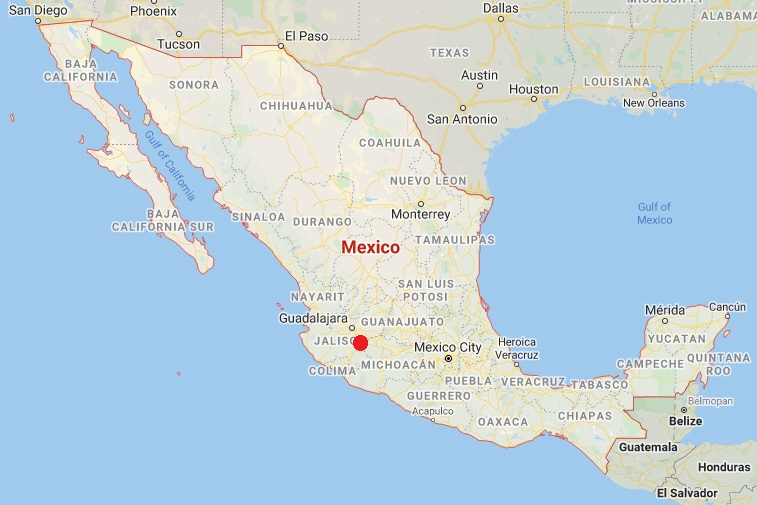 Mazamitla, south of Lake Chapala, is another picturesque whitewashed mountain town. It's a popular weekend and holiday destination, but we were there on a quiet weekday.





Mazamitla's unusual mid-1900s church was inspired by the Far East.





Parents walking kids home from school in Mazamitla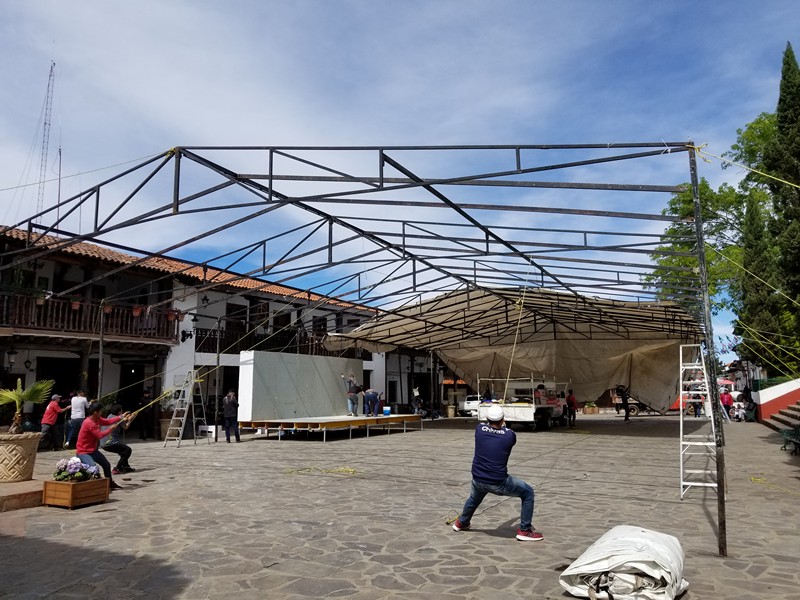 Setting up a large tent for a weekend fiesta celebrating the town's "Pueblo Magico" designation. (Pueblos Magicos are towns that have preserved their architecture and culture and have been recognized by the government as worthy tourism destinations.)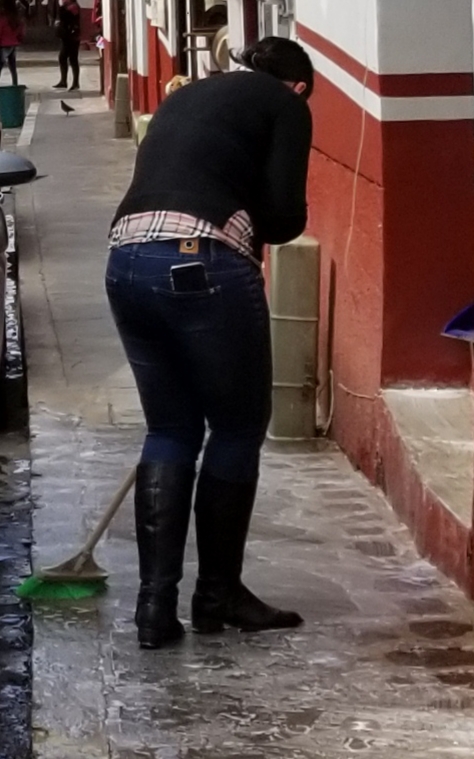 All over Mexico, owners sweep and mop the sidewalks in front of their businesses.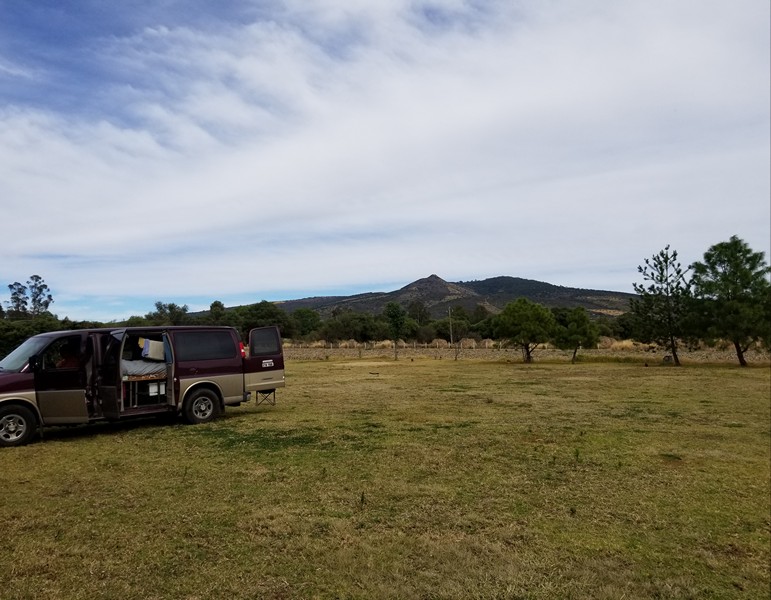 Our peaceful campground out in the country south of Lake Chapala.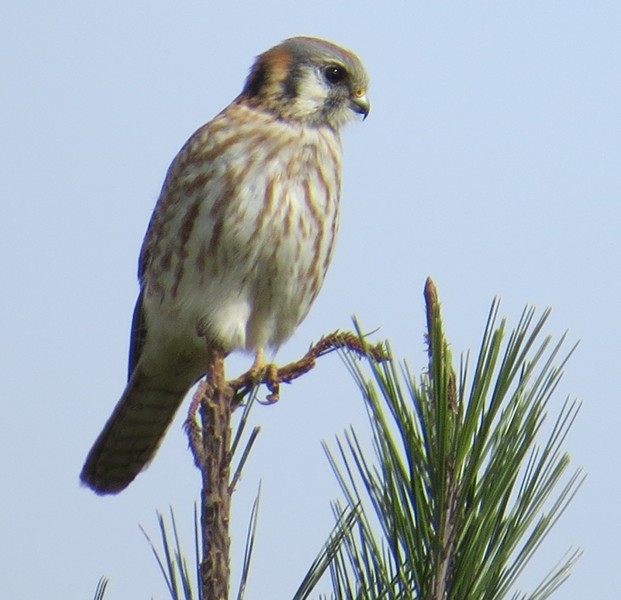 A female kestrel scans for her next meal from the top of a pine tree.



Lake Camecuaro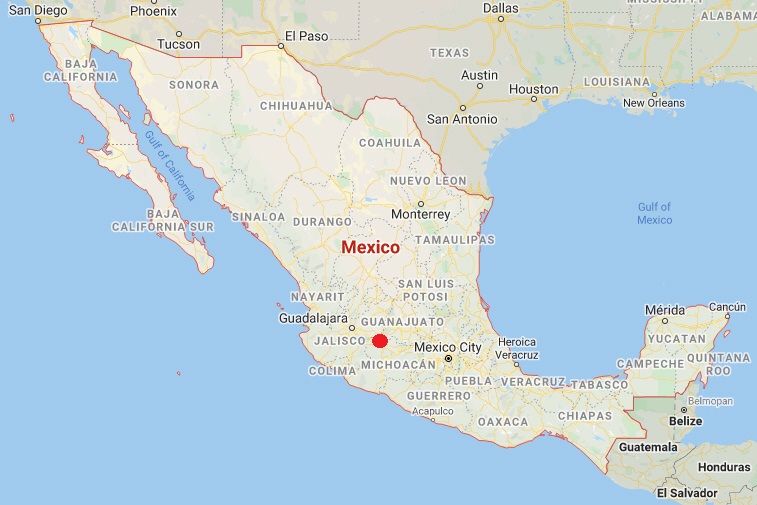 Camecuaro National Park is pretty magical, with tangled masses of bald cypress growing in the water.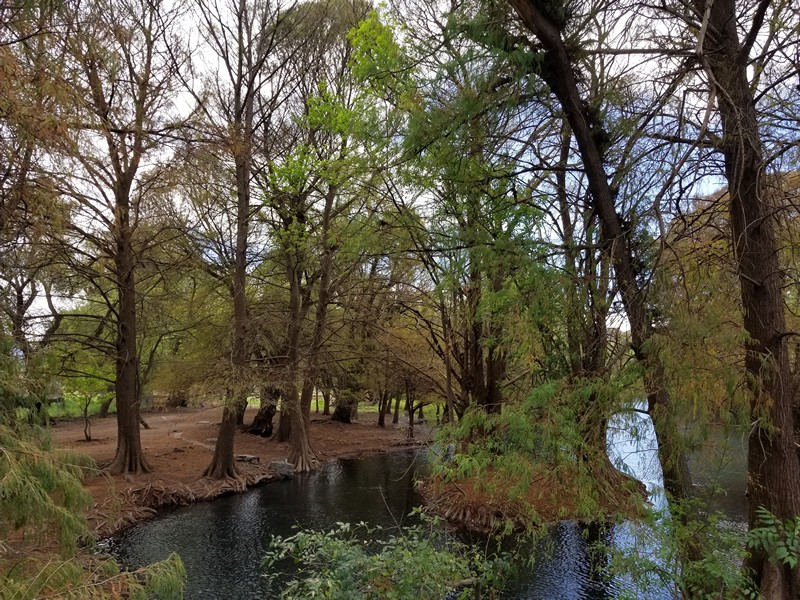 A trail goes around the lake.





The water comes from springs and is a lovely aqua color.



Patzcuaro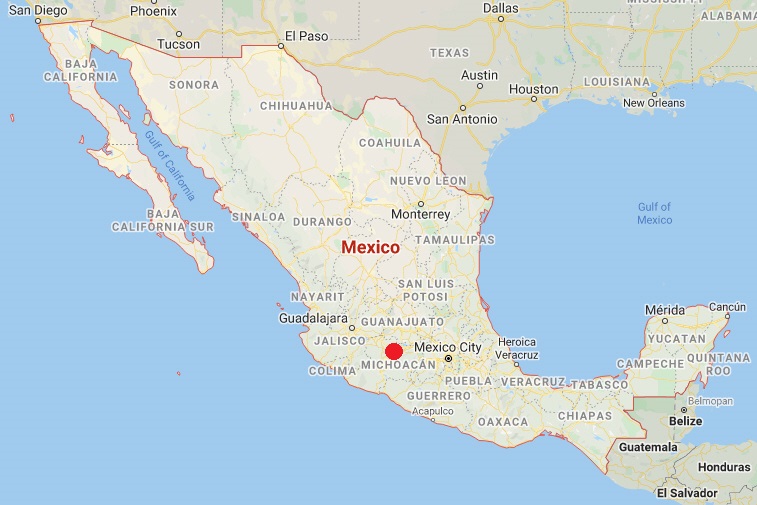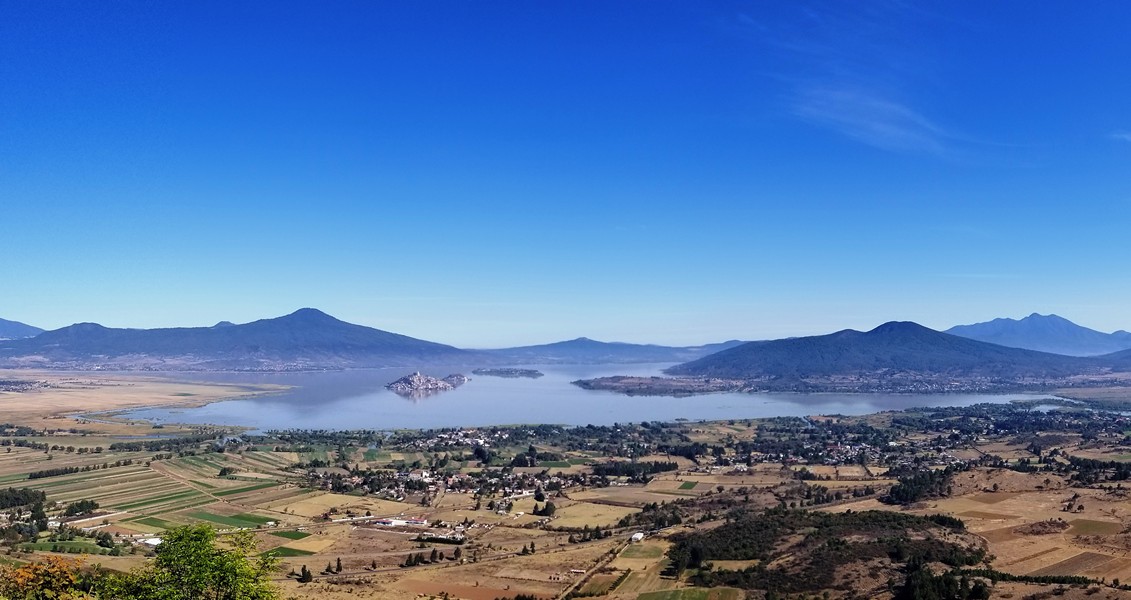 We like to stay at a campground in Patzcuaro, next to this lake of the same name. From here we can easily explore the towns around the lake, each of which specializes in a different craft. This area is home to the Purepecha Indian people, who have a fascinating history and a relatively intact culture.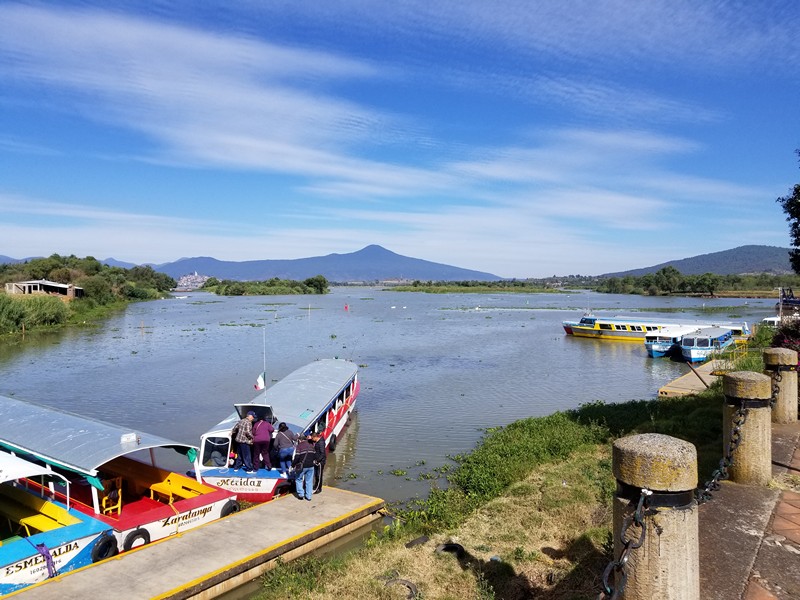 Boats take tourists and residents back and forth to Janitzio island, the largest on the lake.





Purepecha woman in a beautiful outfit, selling honey at the market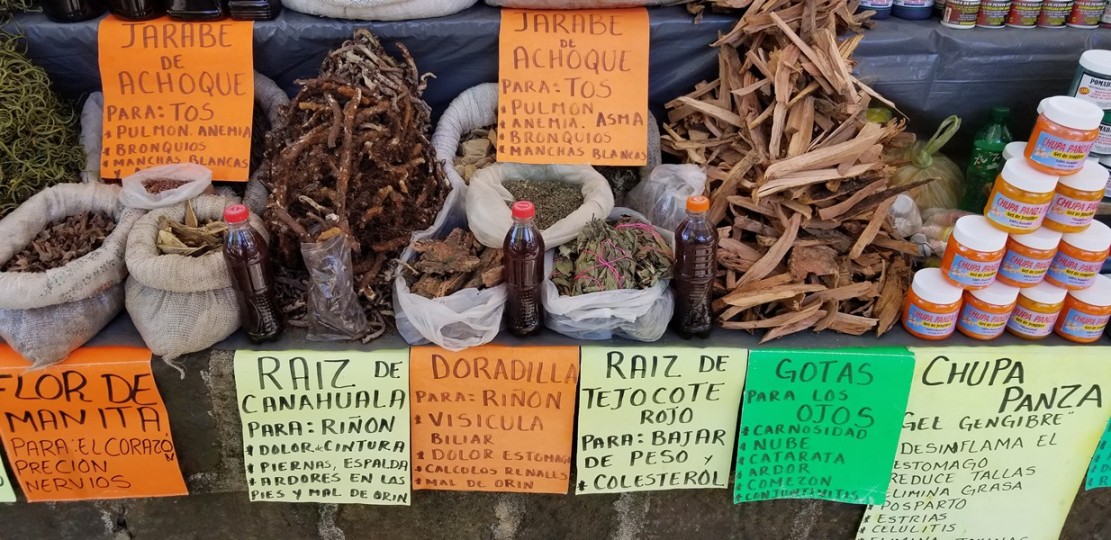 Herbal remedies for sale in the Patzcuaro market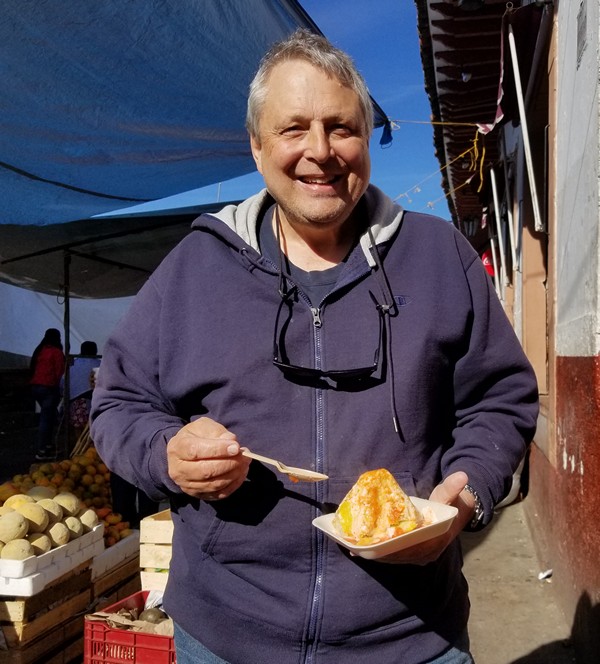 A corunda is a velvety-soft triangular corn tamale served with crema and salsa. Grant likes the ones filled with poblanos and cheese.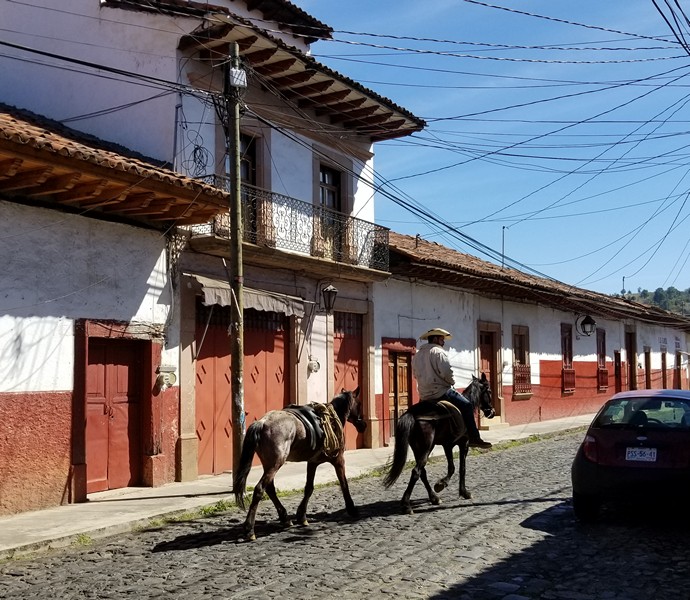 Running errands on horseback in Patzcuaro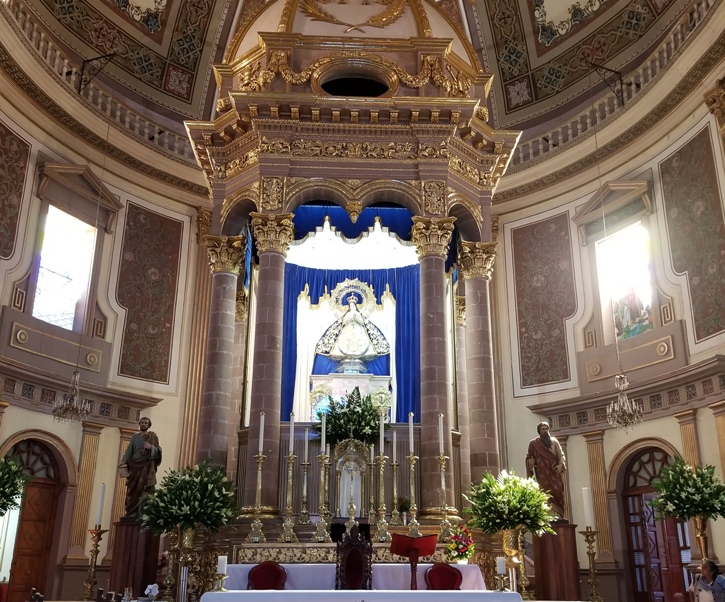 The Basilica of Our Lady of Good Health draws many visitors to see the statue of the region's patroness, which was made from corn stalk paste in the 1500s.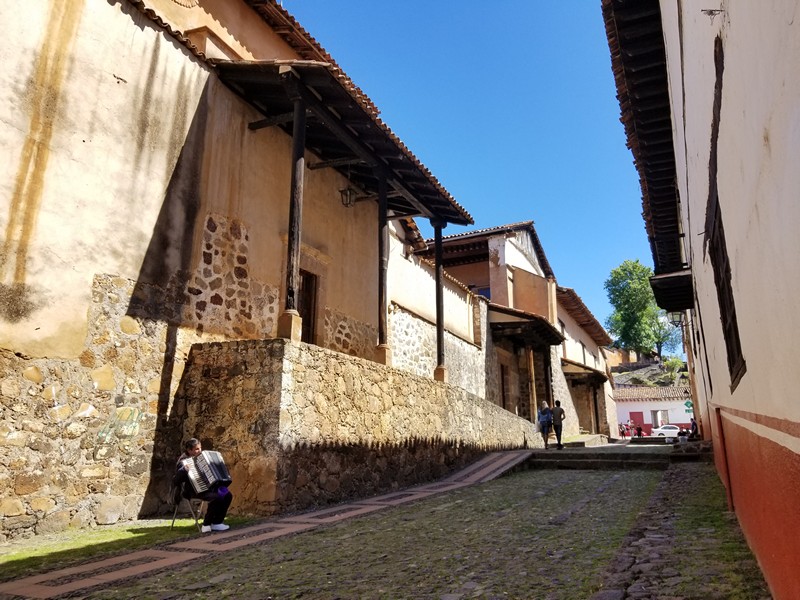 Many streets and buildings date from the mid-1700s.




The Dance of the Little Old Men is traditional to the state of Michoacán. After Spanish colonization, it became a parody of old Spanish men. Click for a short video.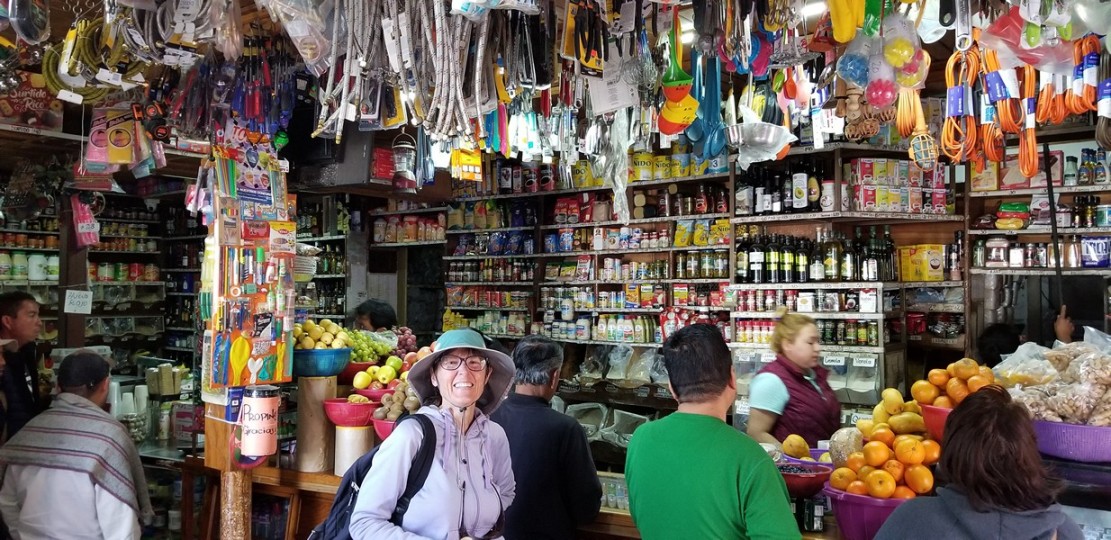 Don Chuchos general store in Patzcuaro sells almost everything. Just ask, and if they have it they'll know where it is. Which might be hanging from the ceiling.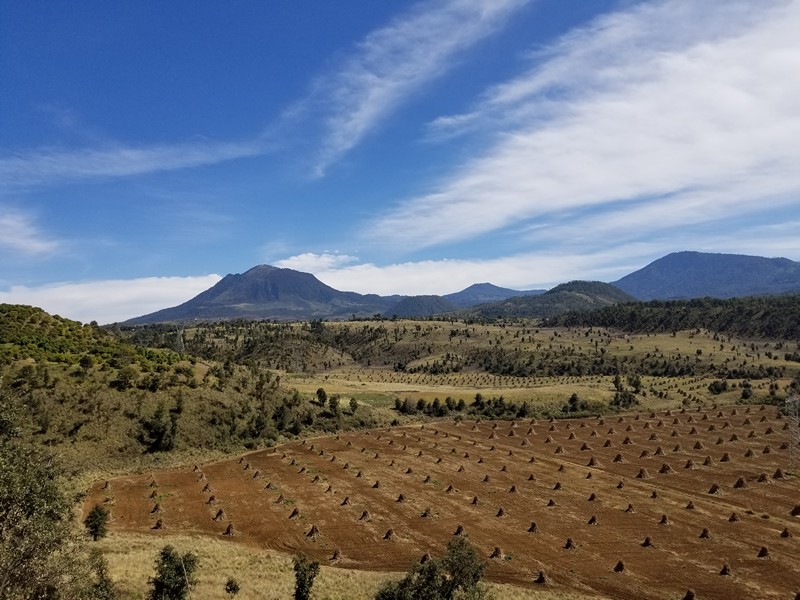 Michoacan is a beautiful state. Here, corn stalk stacks are drying in the fields.





Each of the towns around Patzcuaro Lake has a craft specialty. Santa Clara del Cobre is the home of skilled copper artisans. This is where the copper "cazos" (pots) for making carnitas come from.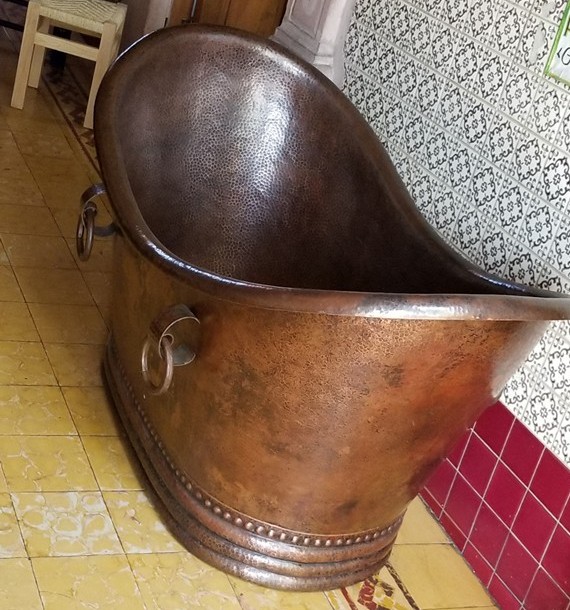 You can buy a handmade copper bathtub for about $1000.





The church square in Santa Clara del Cobre





The town of Capula specializes in making handpainted catrina figurines.





Tzintzuntzan (the name means means "place of hummingbirds") was the capital of the Purépecha Empire from about 1350 to 1520. The pyramid construction is unique in Mesoamerica for the combination of rectangular and circular stepped pyramids on a large flat platform.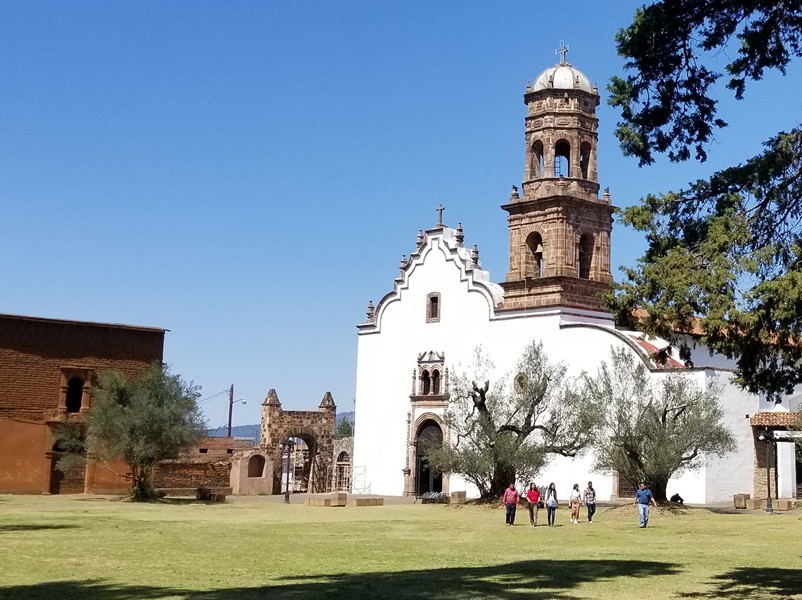 The former monastery complex of San Francisco in Tzintzuntzan was founded in the 1500s. The gnarled olive trees are also about 500 years old.






Michoacan is a land of lakes. This is Lake Zirahuen.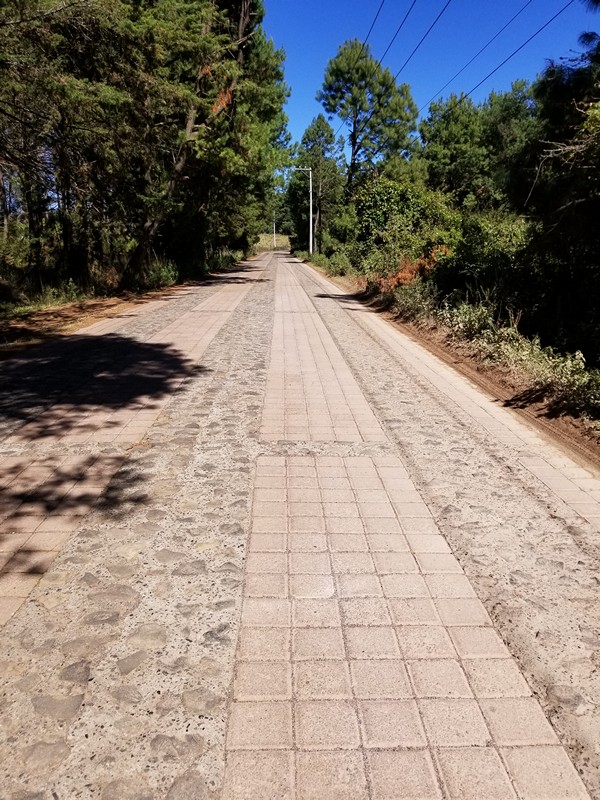 We drove around the lake on this elegant road made of cobbles and pavers.





In another lakeside town, Arocutin, we had the great pleasure of staying at our friend Georgia's hillside home in her lovely casita.





View of fog-shrouded Lake Patzcuaro from the casita.





Berylline hummingbirds zoomed around the feeders.





A causeway across the lake leads to the tiny town of Jaracuaro on a low hill.





Mural in Jaracuaro





Georgia (right) and Marilyn, a friend from the campground, at an expat social event.





Buying a quesadilla for dinner in Erongarícuaro, another small town on the lake.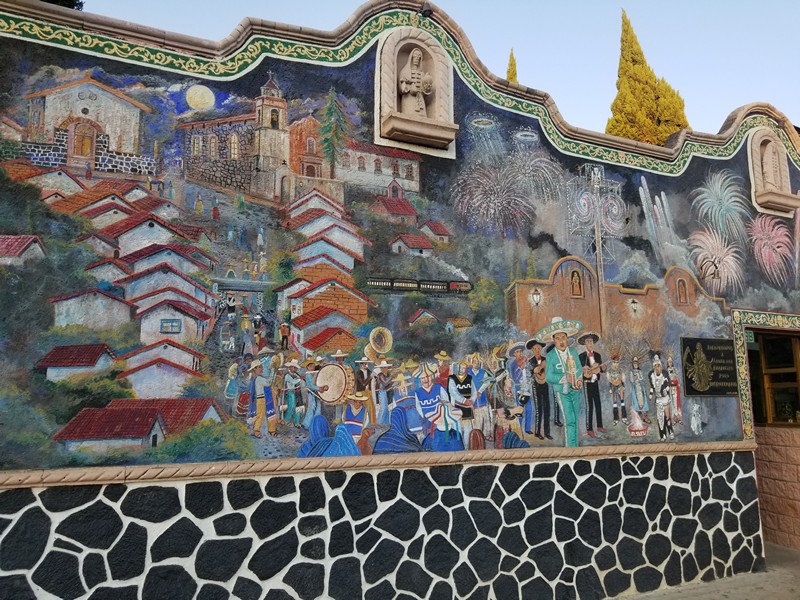 Mural at the entrance to the Temple of Santa Muerte in the town of Santa Ana Chapitiro.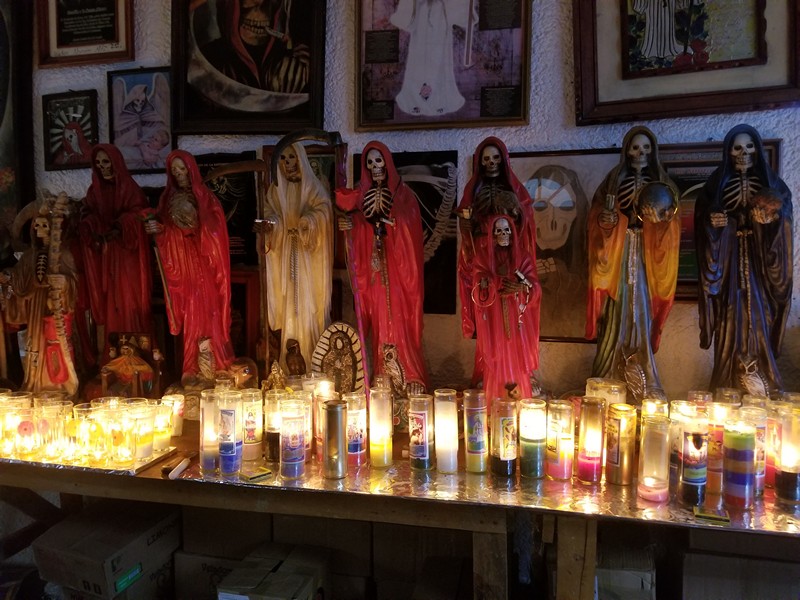 Santa Muerte (the saint of death) is associated with healing, protection, and safe delivery to the afterlife by her devotees. Her cult arose from a mix of indigenous Mesoamerican and Spanish Catholic beliefs and practices.





Santa Muerte is usually depicted as a female skeletal figure, clad in a long robe and holding objects such as a scythe and a globe.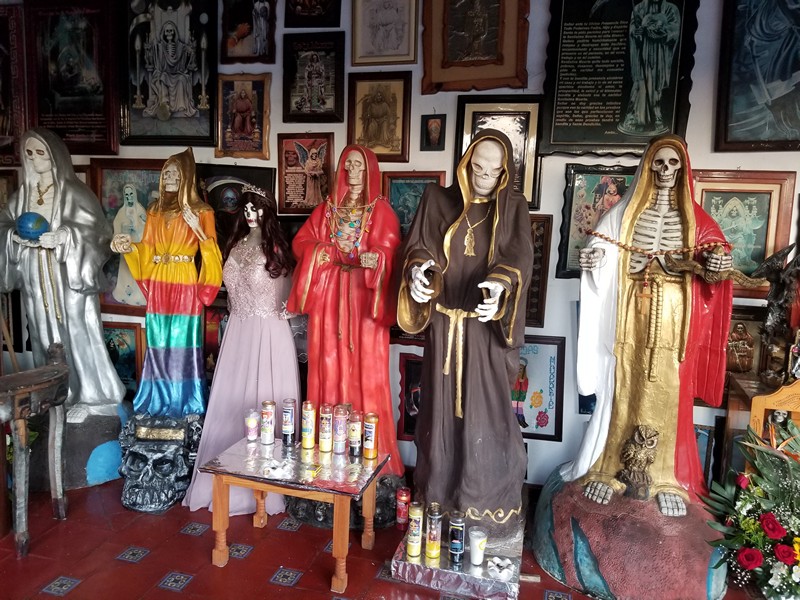 The sculptures and pictures are offerings from devotees. This place was one of the highlights of the trip for me. I found it absolutely fascinating.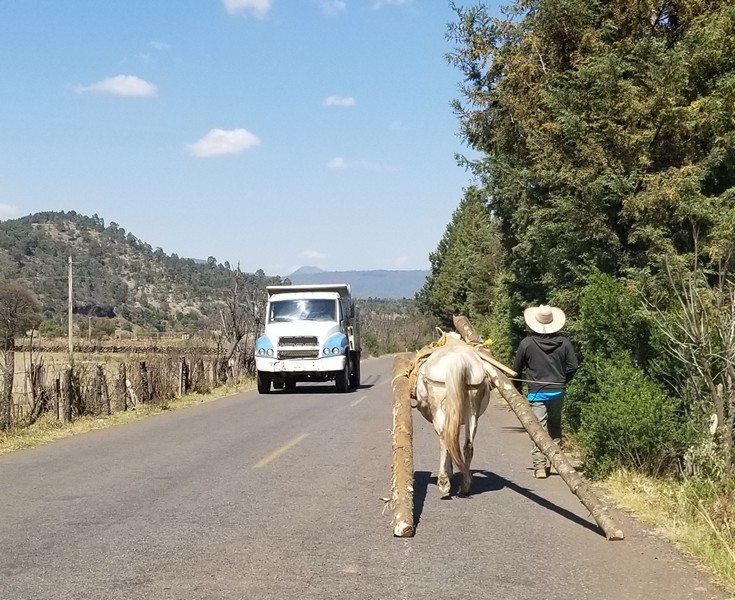 Typical "multi-use" country road in Mexico.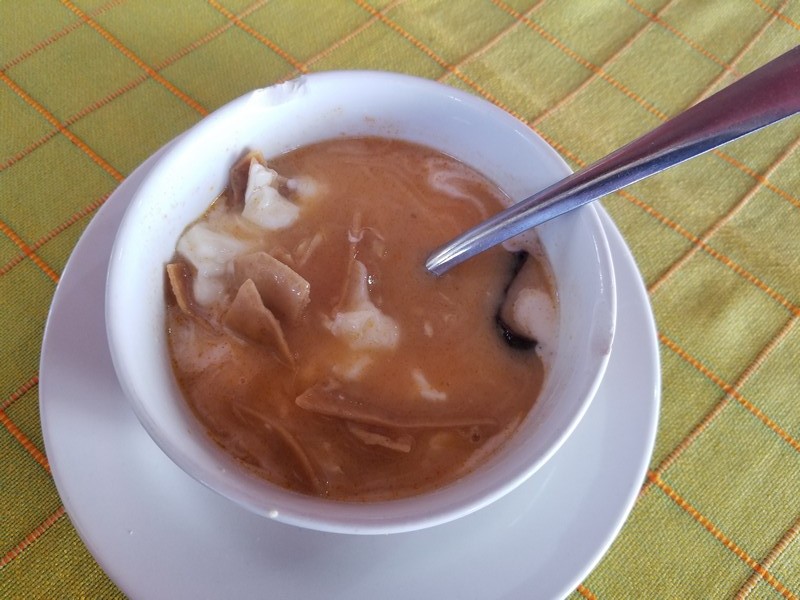 Tarascan soup, a Patzuaro specialty, is a delicious puree of roasted tomatoes, stock, and beans, topped with crunchy tortilla strips. Sometimes cheese is added.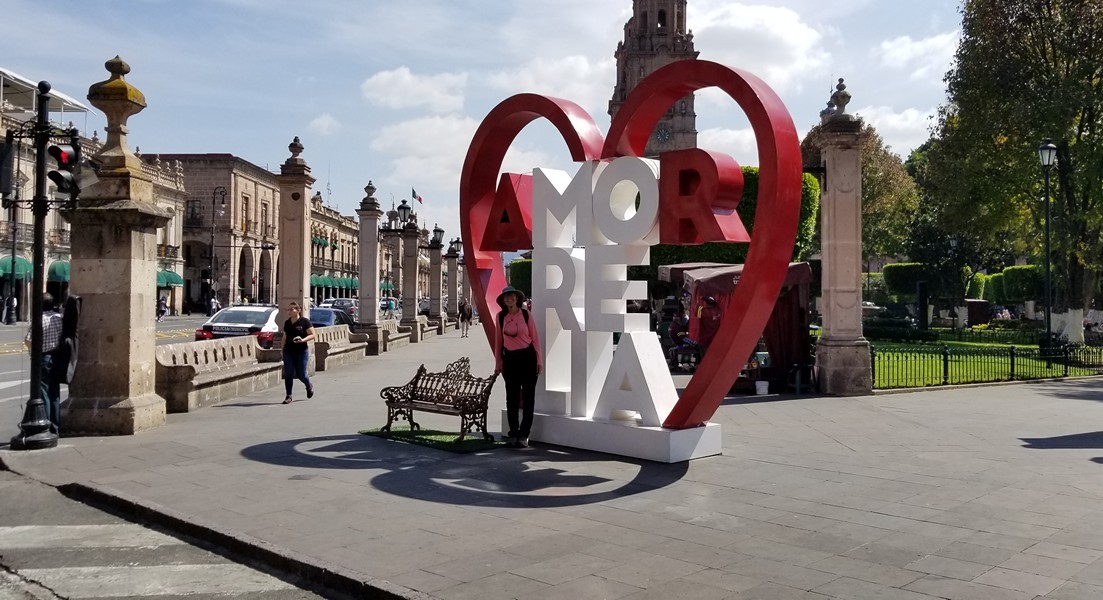 We made a quick trip to see Morelia, another beautiful Mexican city bursting with well-preserved colonial architecture.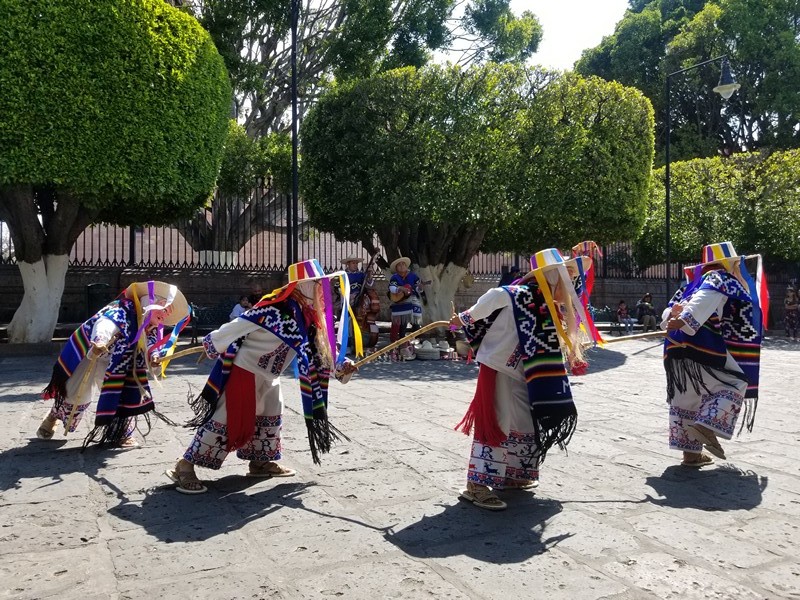 Another group performing the Dance of the Little Old Men, wearing beautiful blue ponchos.



San Miguel de Allende


An early morning balloon drifts over the San Miguel de Allende campground. We like staying here because it's walking distance to everything in town.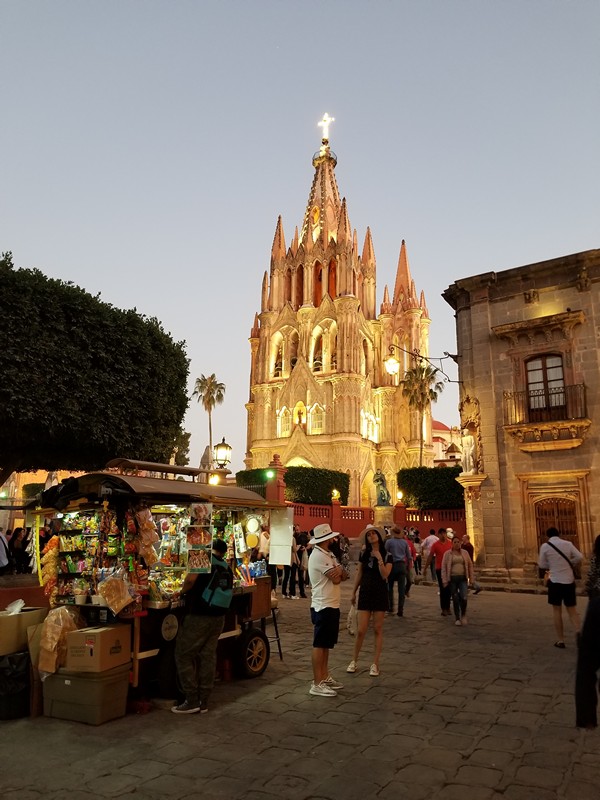 One of my favorite buildings in the world is the fairytale parroquia church in San Miguel's main square.





San Miguel boasts some of the best-preserved colonial-era buildings in Mexico.





On weekends the town is packed with mostly Mexican tourists. Many will happily pay for photo ops with these historical characters.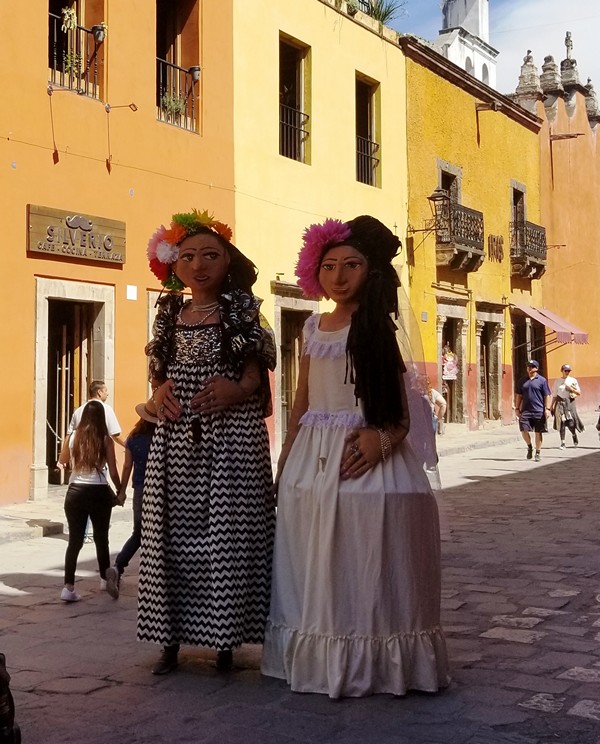 Fifteen-foot tall mojigangas, introduced by the Spaniards in the 1600s and Mexicanized by local artisans, can often be seen wandering the streets of San Miguel.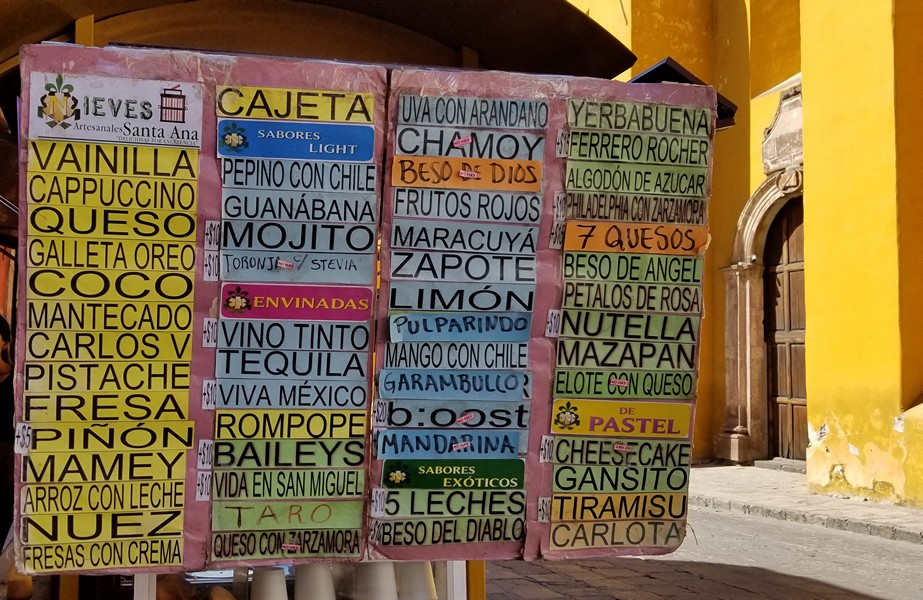 Ice cream vendors try to outdo each other with their selections of flavors.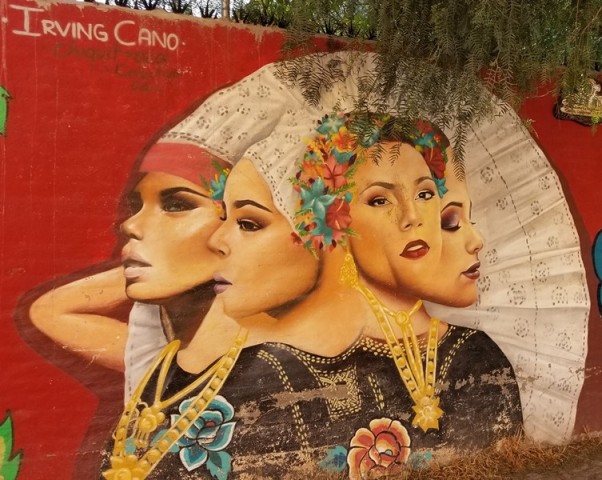 Street murals in the Guadalupe neighborhood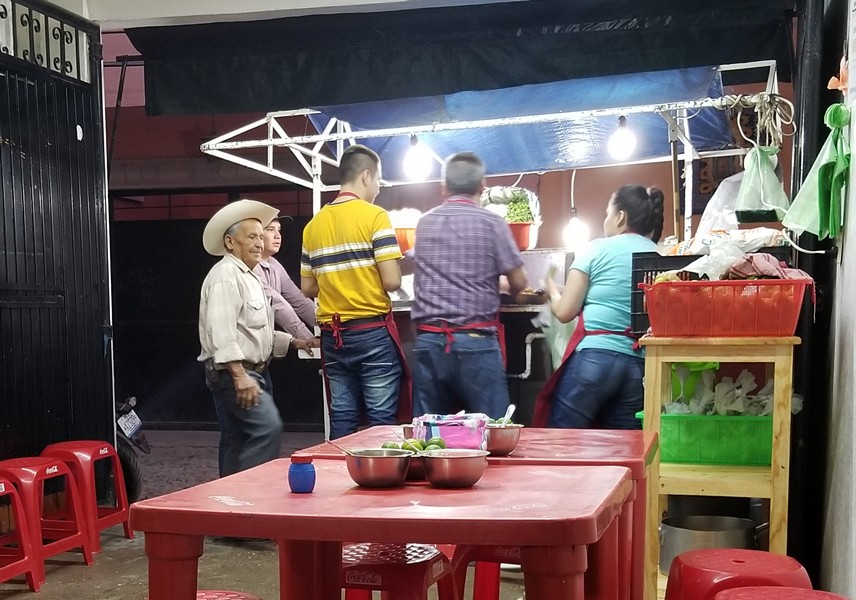 Typical neighborhood taqueria





View of San Miguel from the botanical garden above town





The church next to the campground held an outdoor mass on Shrove Tuesday. Mexico is a very Catholic country.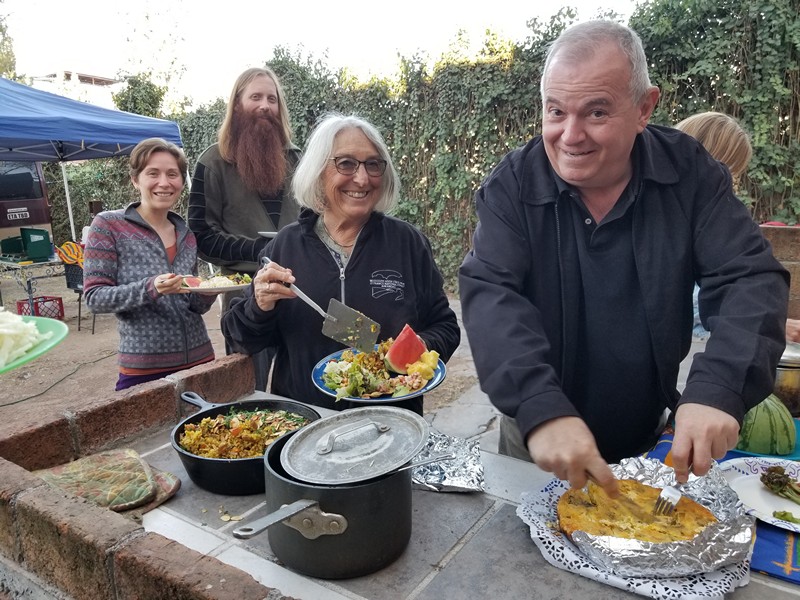 Campground potluck with friends old and new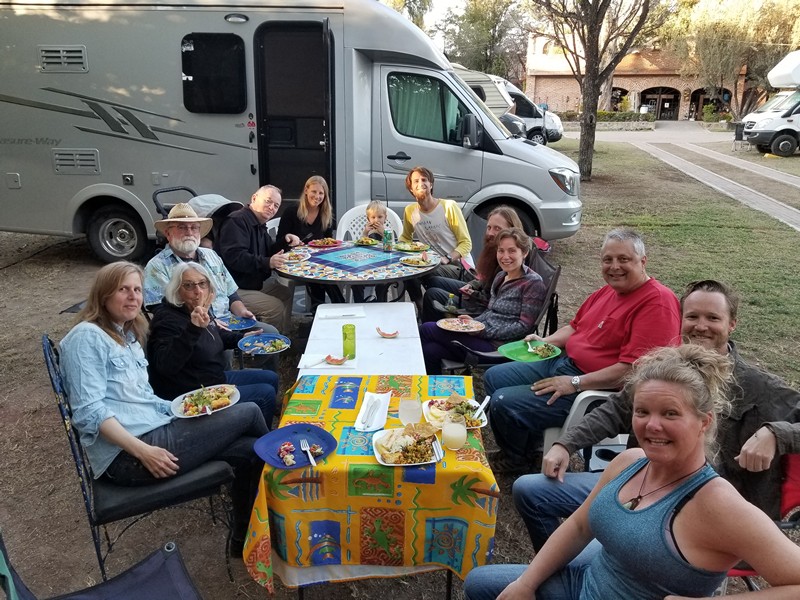 Three languages, four countries, a 76-year age spread, and some amazing food.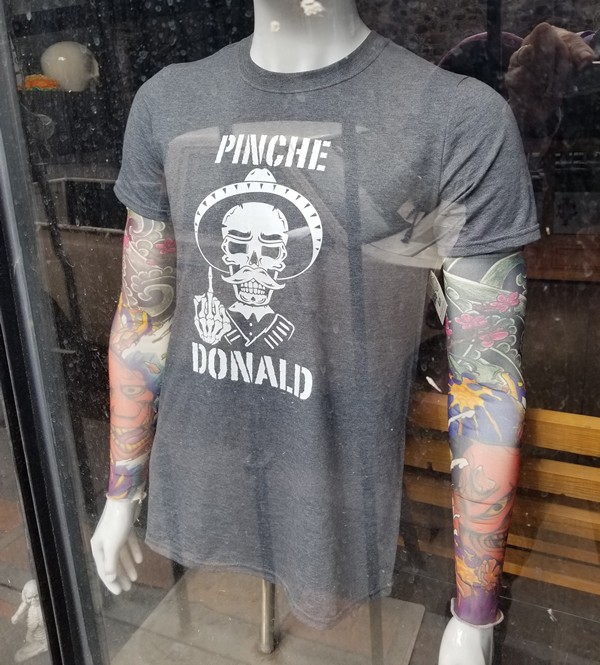 This store window display expresses how Mexicans feel about you-know-who.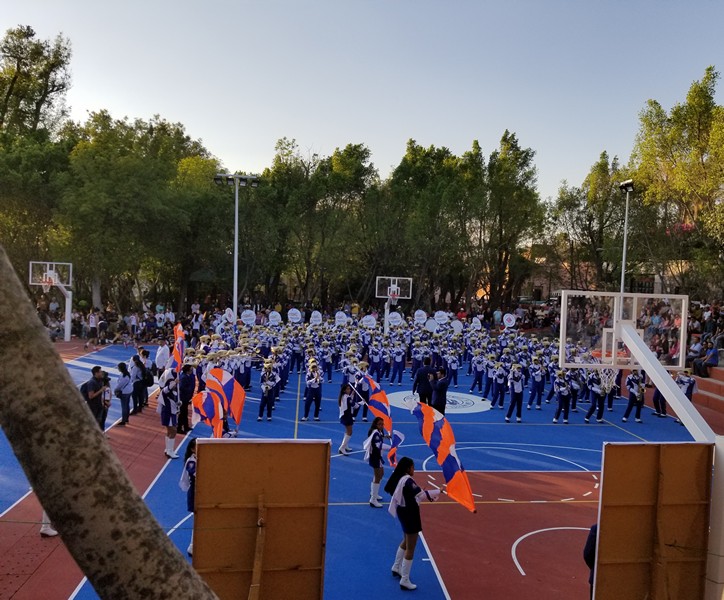 Marching band playing at the grand re-opening of newly-remodeled Juarez Park, a few blocks from the campground.





Road construction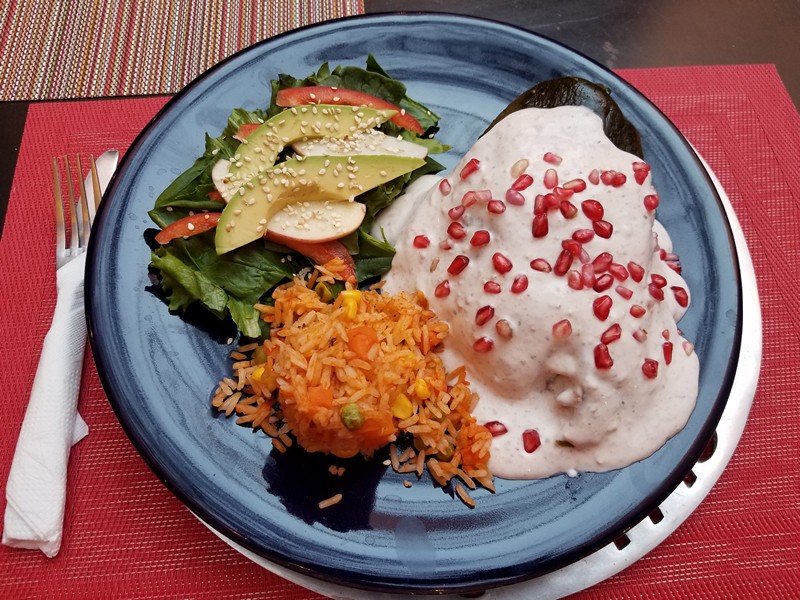 My favorite Mexican food is Chiles en Nogada: poblano peppers stuffed with a ground meat/fruit/nut mixture, topped with a walnut cream sauce, and sprinkled with pomegranate seeds, creating the colors of the Mexican flag.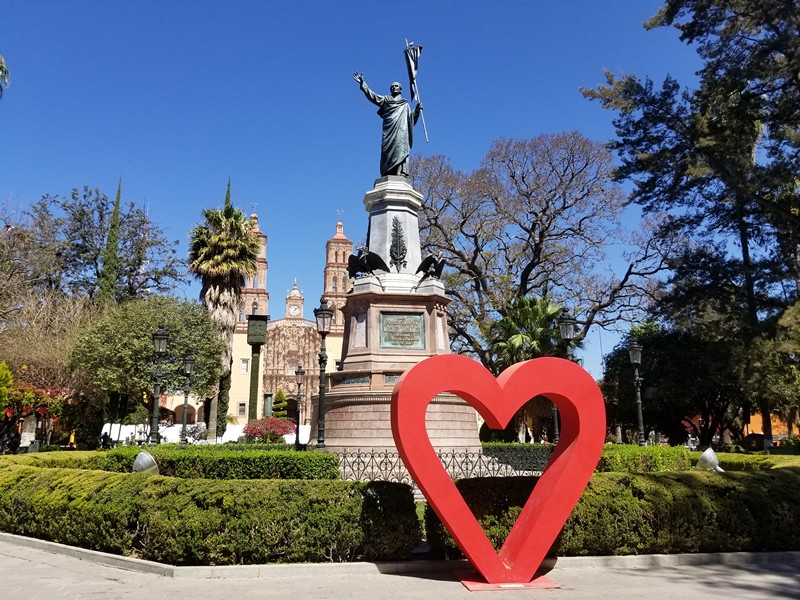 Dolores Hidalgo is an easy bus ride from San Miguel. The town was still decorated from their recent Love Festival. A banner read "Peace can be achieved through understanding, tolerance, and love."





Dolores is known for talavera-style pottery. We purchased this piece.



San Luis Potosi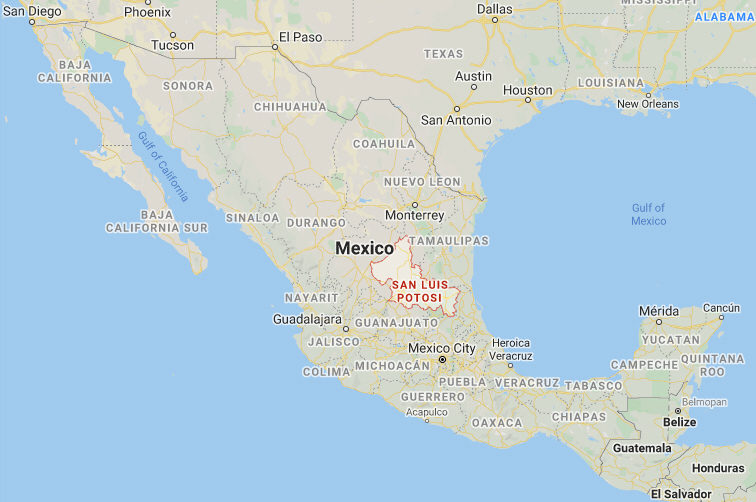 From San Miguel, in the state of Guanajuato, we headed east toward the state of San Luis Potosi. On the way we passed by the town of Bernal, known for the Peña de Bernal, the third tallest rock monolith on the planet.






As we began climbing into the mountains, the desert grew lush with yucca and columnar cacti.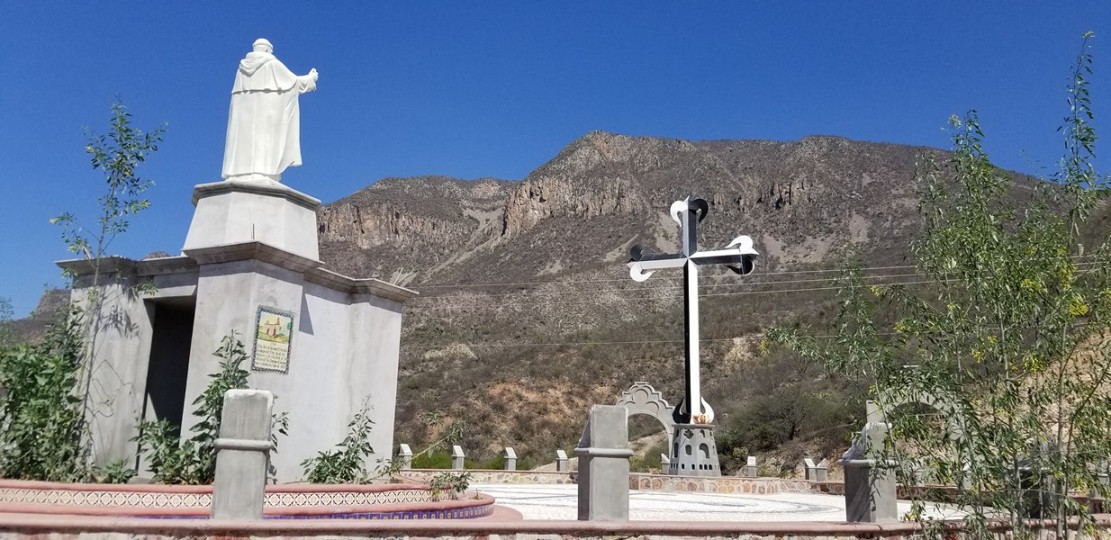 We passed this elaborate shrine.





The road got curvier and climbed up to 8700 feet.





Then we descended, down and down, to the town of Jalpan de Serra at 2500 feet, where it was 99 degrees! This ornate mission church was built in the 1750s.





Xilitla is the location of Las Pozas, a surrealist garden created by English artist Edward James between 1949 and 1984.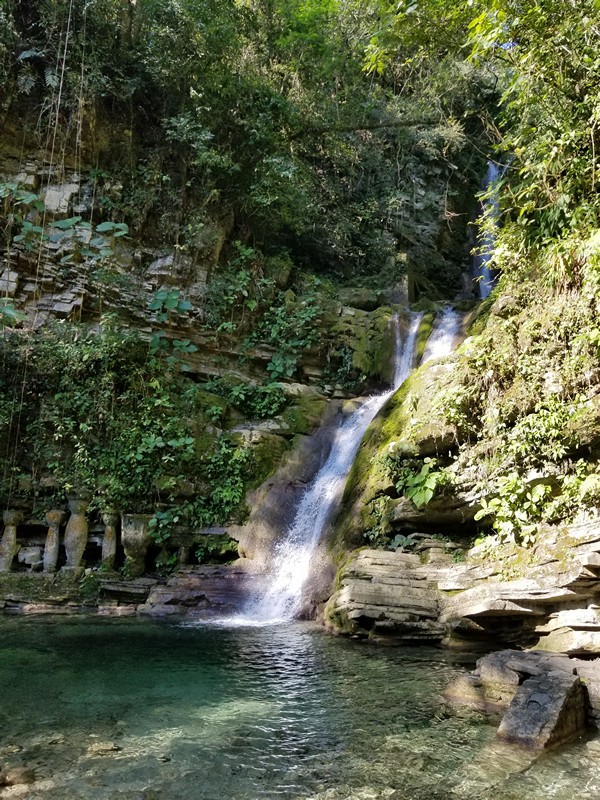 Set in a rainforest, Las Pozas features fanciful concrete sculptures built among the natural pools and waterfalls.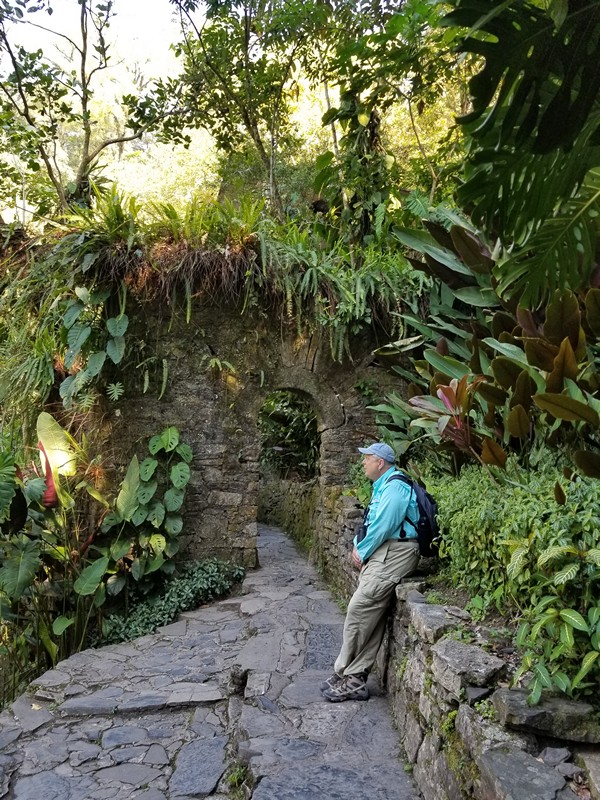 Paths wind through the jungle.





Bromeliads cover the trees.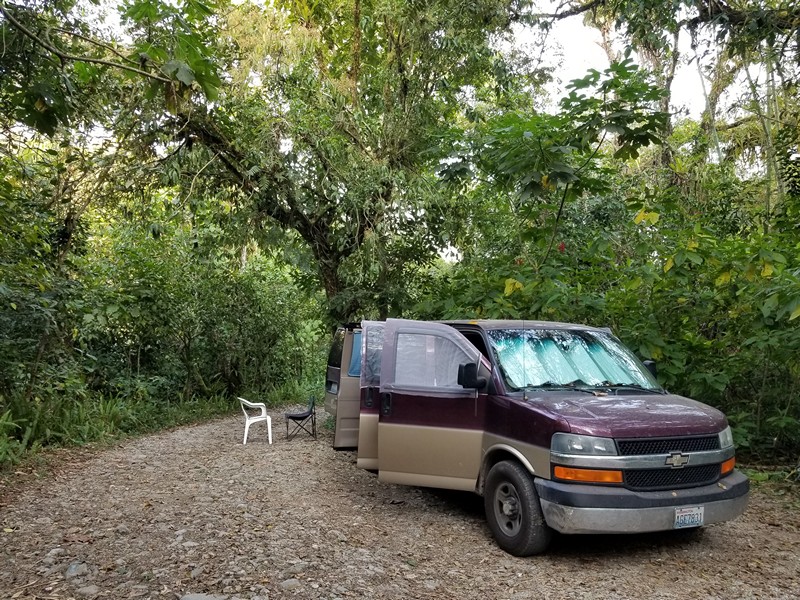 We camped in a quiet glade next to a stream at nearby Casa Caracol, a fun hippie hostel decorated with mandalas and mosaics. It was warm and humid mid-day, but perfect the rest of the time. A tropical paradise.





Lush agricultural scenery on the road north to Tamasopo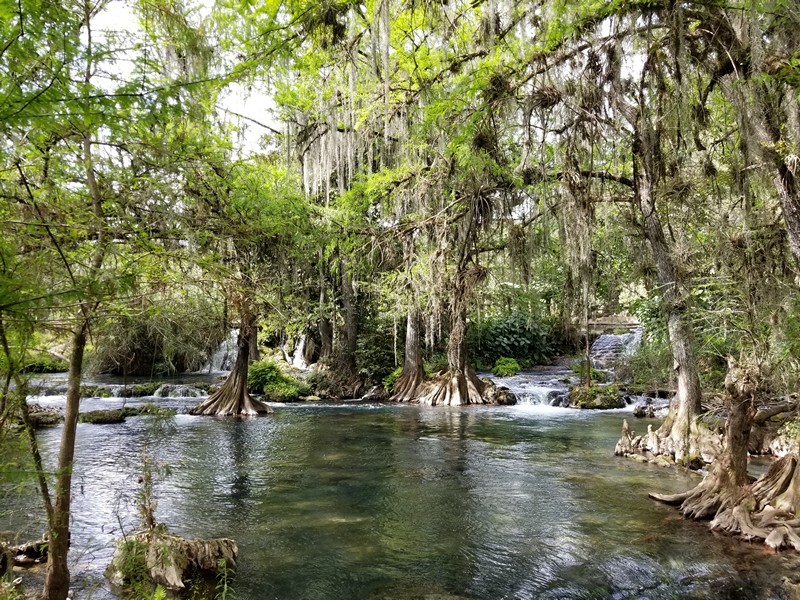 This region is called La Huasteca Potosina and is known for ethereal blue waterfalls. On a weekday we had the place to ourselves.




Some of the many beautiful waterfalls at Tamasopo. Click for a short video.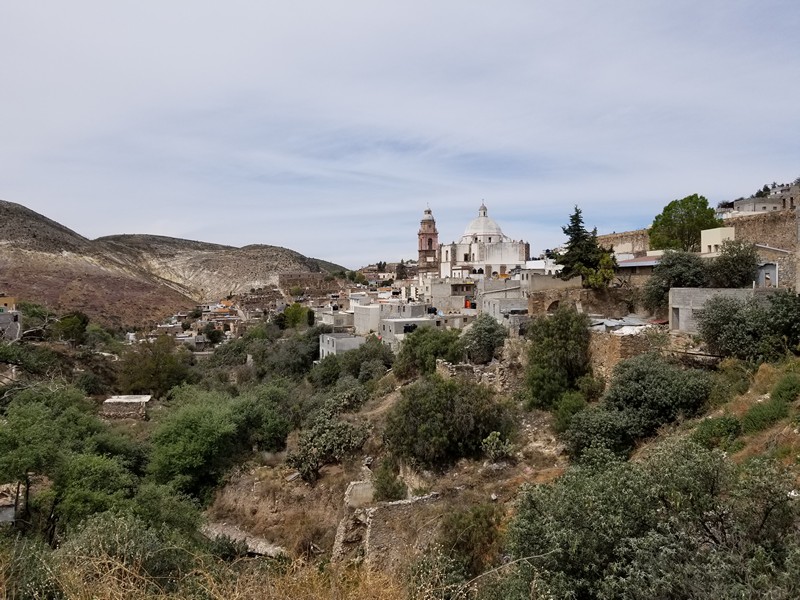 Leaving the jungle behind, we headed west to Real de Catorce, a former mining town at almost 9000 feet in the mountains north of the city of San Luis Potosi.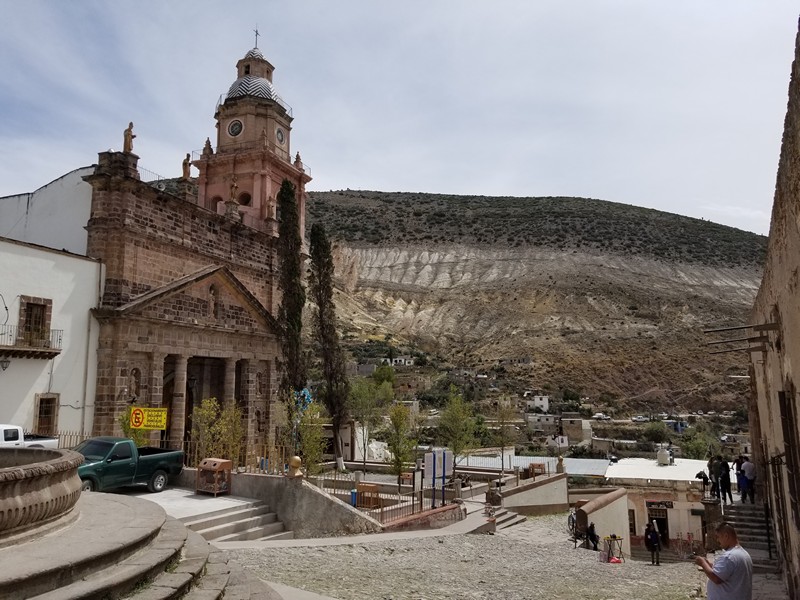 Real de Catorce's heyday was in the late 1800s, when it had a population of 15,000, some of Mexico's richest silver mines, and shops selling European luxury goods.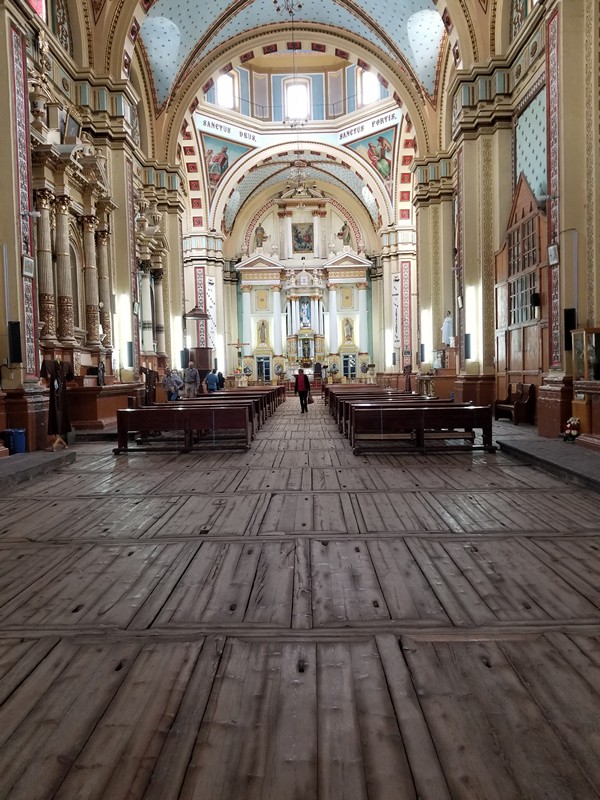 The floor of the 200-year-old church is made of pine boards that have been preserved in the dry mountain air. Many pilgrims come to see a reputedly miraculous image of St. Francis.





In Mexico you can enjoy a delicious home-cooked restaurant meal for a few dollars each.





To get to Real de Catorce you drive through a narrow 1.5-mile-long tunnel.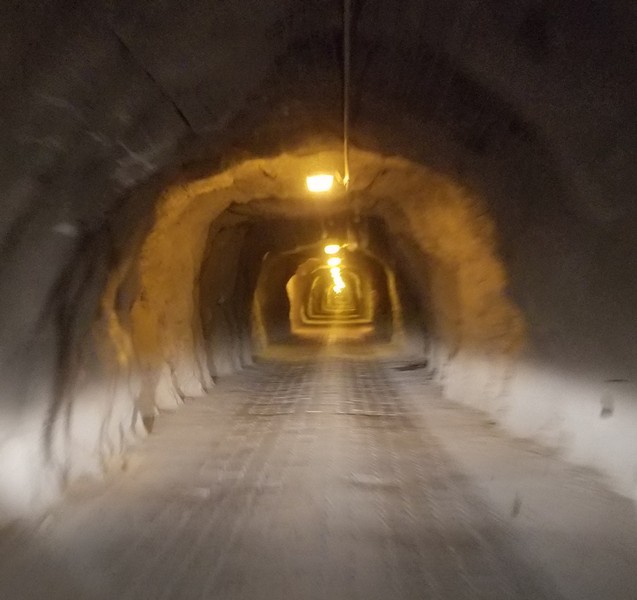 The tunnel to Real de Catorce





Mexico's Joshua-tree-like yucca faxoniana were in bloom.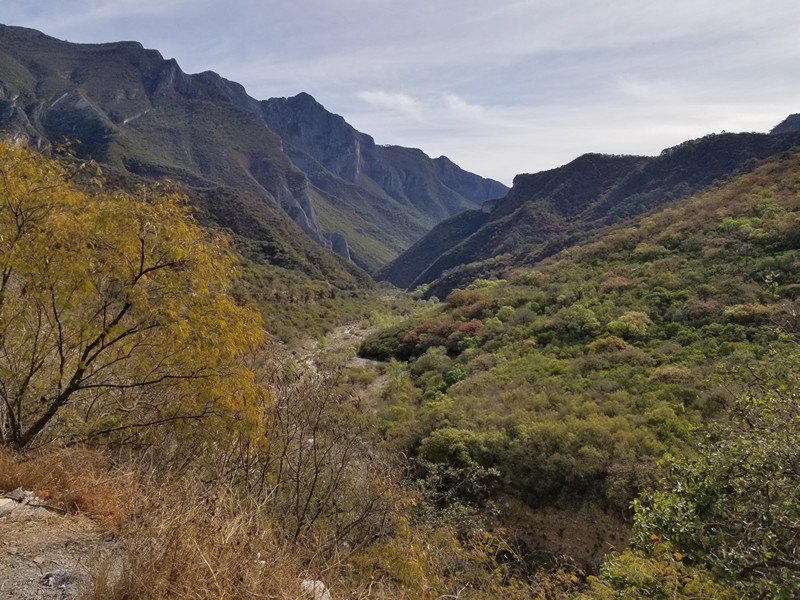 The mountains of northeast Mexico are gorgeous.



Texas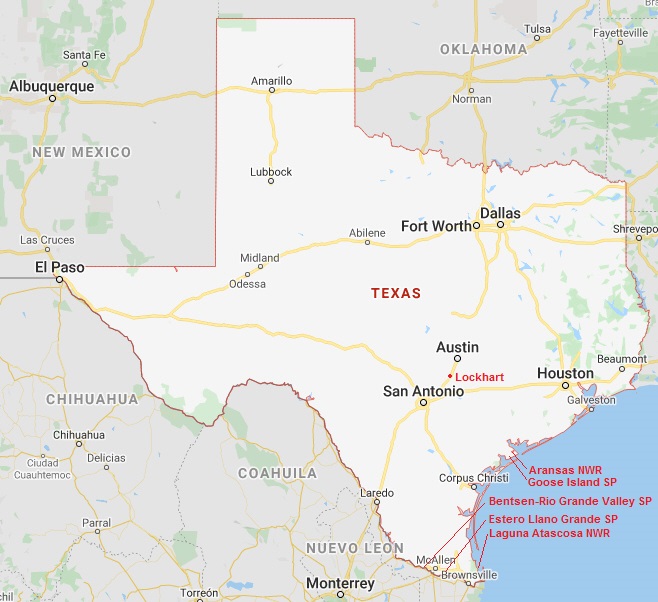 There are miles of trails through oak forests at Bentsen-Rio Grande Valley State Park in south Texas.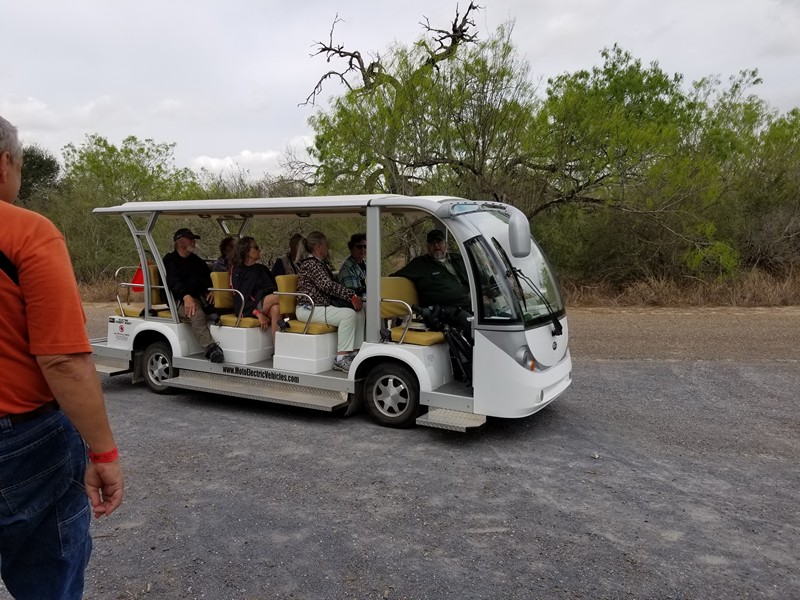 You can hop on and off an electric tram to explore the car-free park.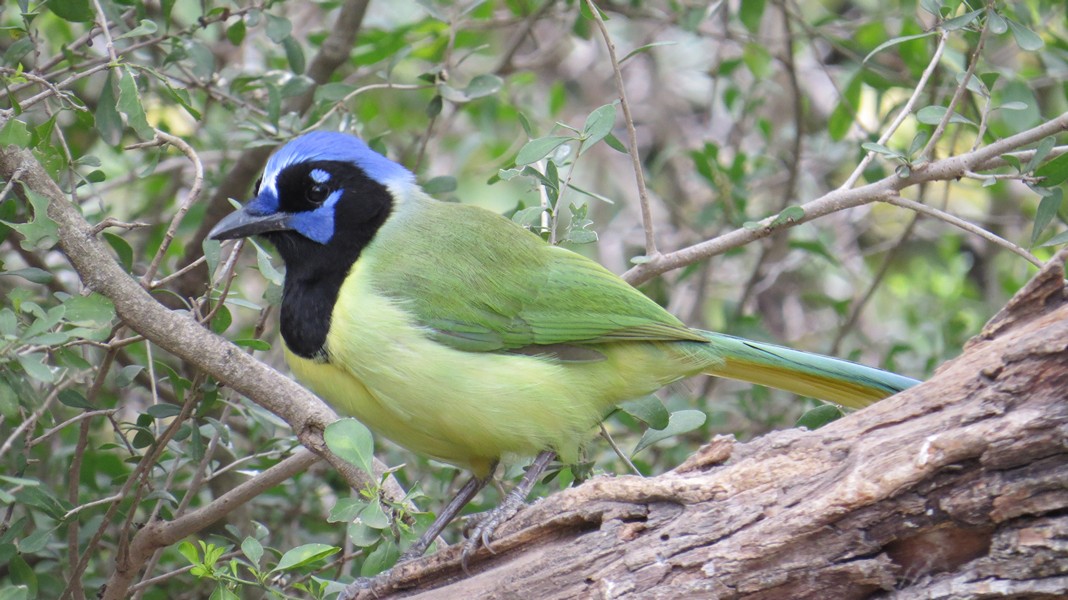 The Rio Grande Valley has great birdwatching. This is a green jay.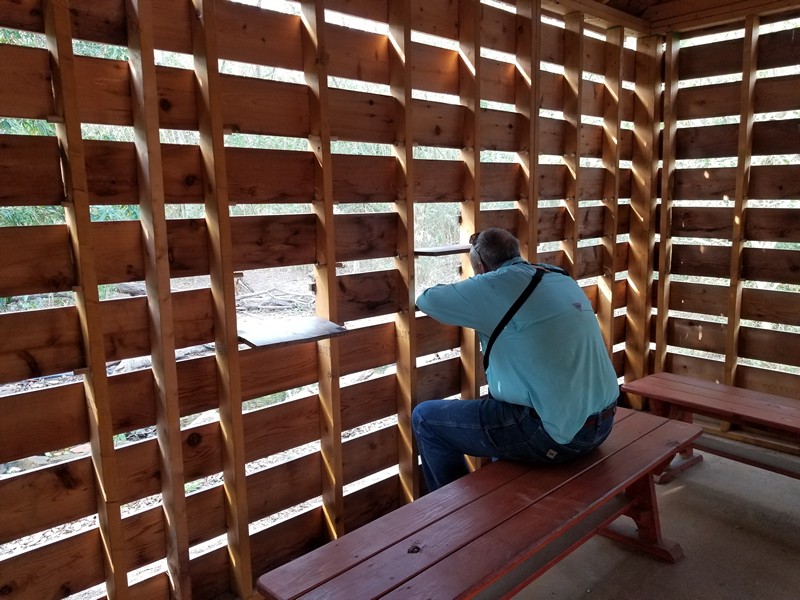 These clever bird blinds make it easy to see birds up close. (There are feeders on the other side.)





At Estero Llano Grande State Park we watched this female great horned owl sitting on her nest.





A pauraque is a cute, owl-colored nocturnal bird that sleeps on the ground during the day, blending almost completely into the leaves and sticks. I love how it wraps its wings up around its face.





A javalina, also called a peccary





Chachalaca are comical, noisy, chicken-like birds that stumble through the tree tops in groups.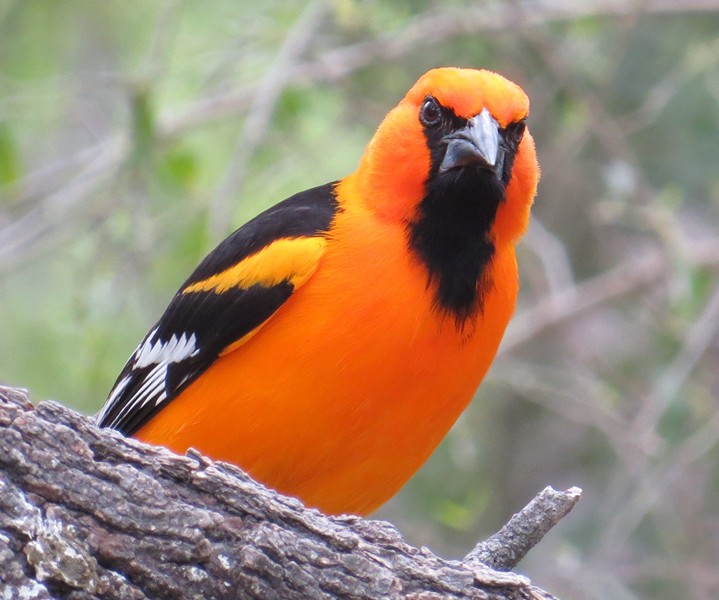 Altamira oriole





Curve-billed thrasher





Anhinga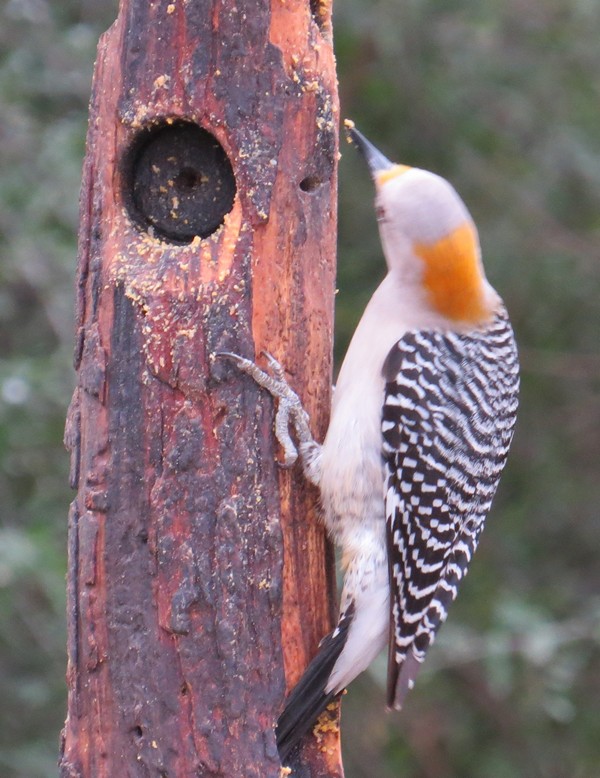 Golden-fronted woodpecker






Excerpt from the American Birding Association Code of Birding Ethics





Walking a trail at Laguna Atascosa Wildlife Refuge on the south Texas coast with friend Charlene, an immigration attorney who helps refugees at the border.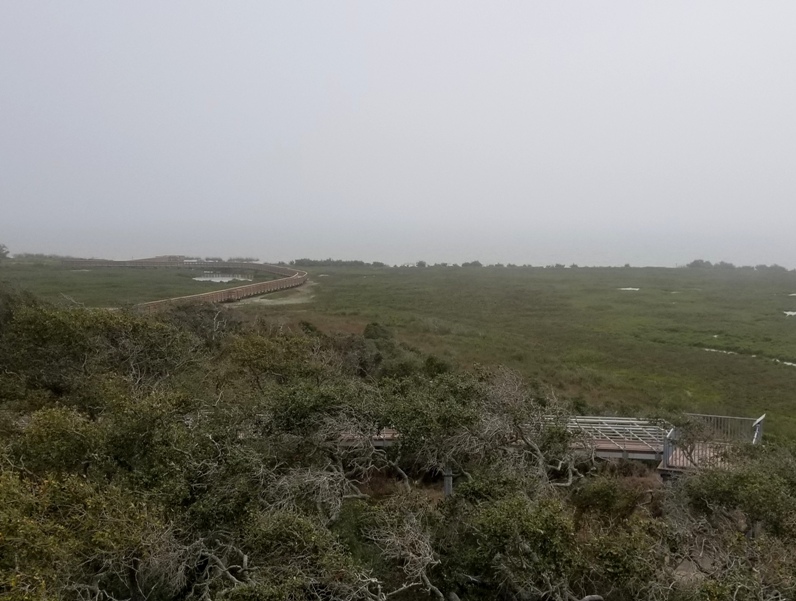 Remote and wild Aransas National Wildlife Refuge on the Gulf Coast has a trail system with boardwalks and viewing towers. It also has whooping cranes!





Ever since I read a book about them in the 70s I have longed to see the endangered whooping crane. Since that time their numbers have slightly rebounded.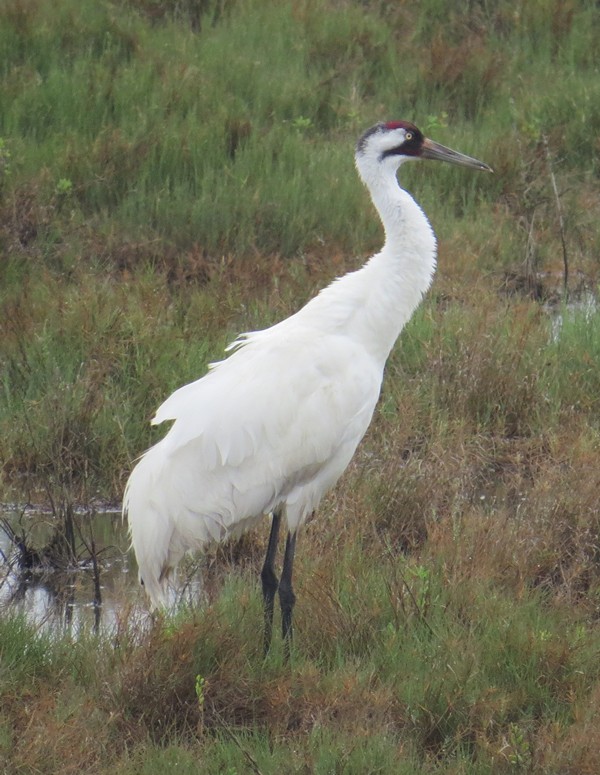 Seeing whooping cranes in person was a huge thrill. They are magnificent creatures.





Grant has always wanted to see an armadillo. We both got our wishes fulfilled on the same day!





Little 'gator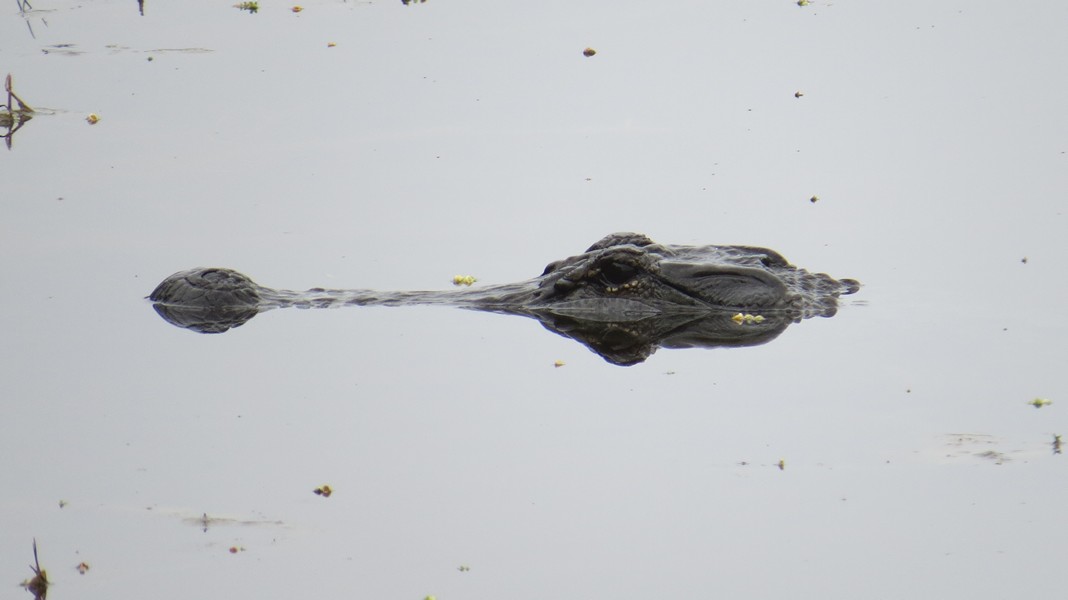 Big 'gator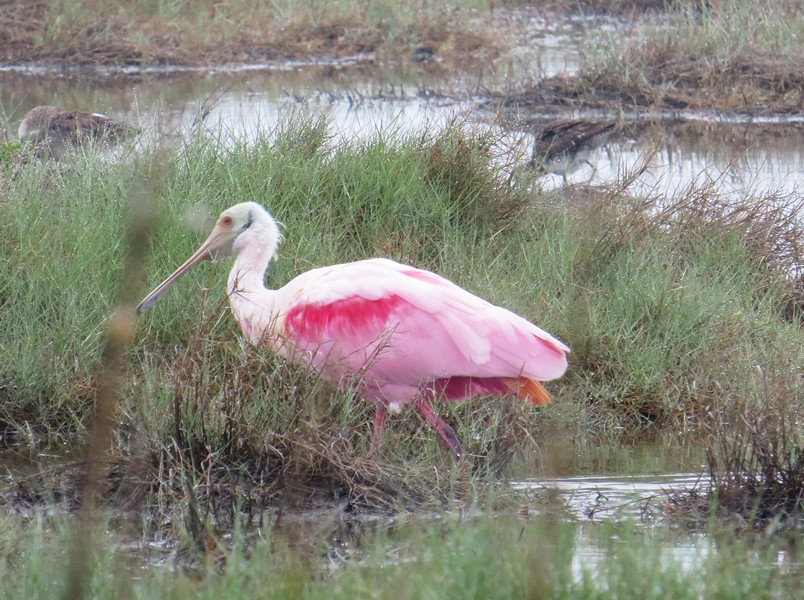 Like flamingoes, roseate spoonbills get their pink color from the carotenoids in the crustaceans and other aquatic invertebrates they eat.





Goose Island State Park is a great place to see enormous, sprawling live oak trees that are hundreds of years old.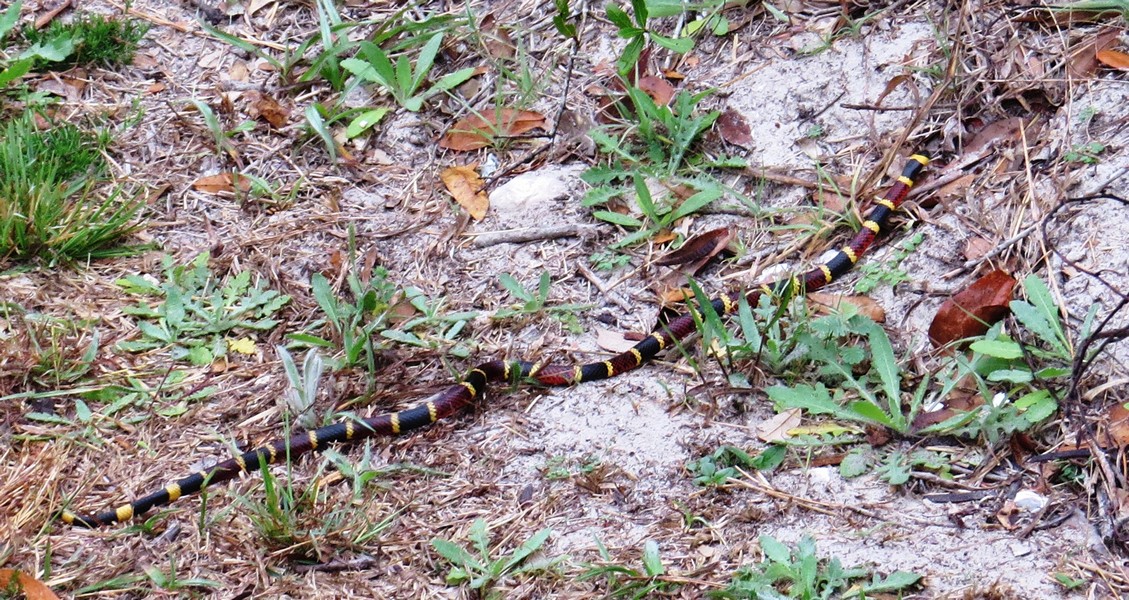 Coral snake crossing a trail in Goose Island State Park





However you pronounce them, good kolaches are amazing! These dense and yeasty fruit-filled pastries were brought to Texas by Czech immigrants many years ago. (Texans say koh-LAH-chee, Czechs say KOH-lah-cha.)





But don't buy them just anywhere. Good ones will rock your world, the rest are just ... meh. Do your online research and get them at one of the top rated places, such as Weikel's in La Grange. ("Jak se máš" means "How are you?" in Czech.)





Bastrop State Park east of Austin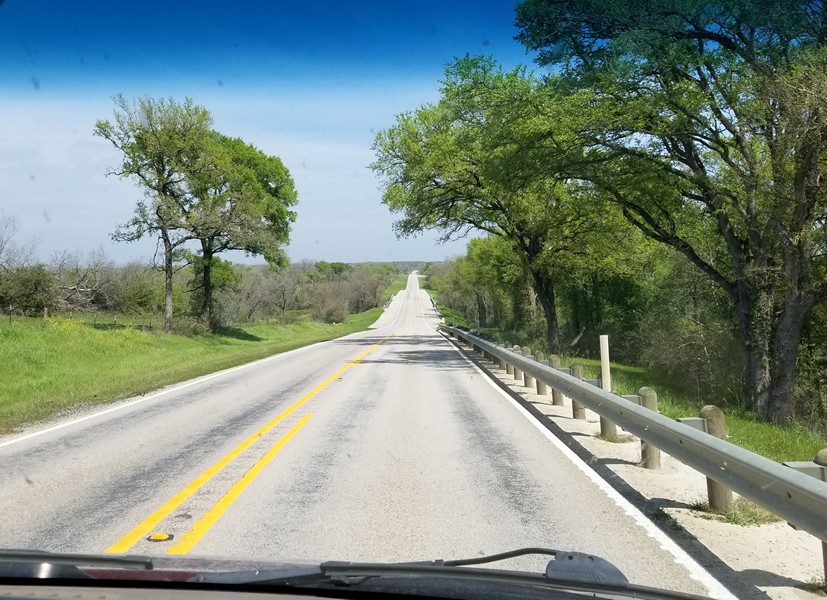 Driving through the lovely oak forests of the Texas Hill Country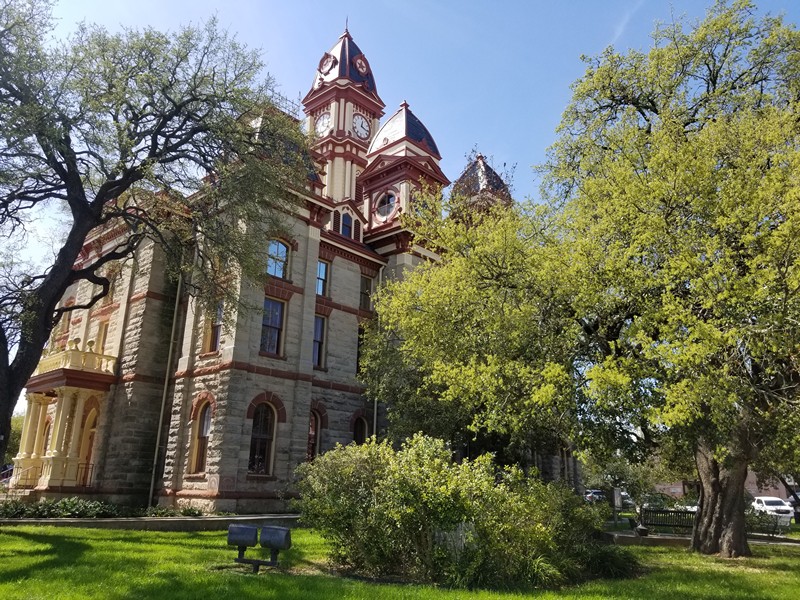 Lockhart has some of the best barbecue in Texas. It also has a handsome courthouse.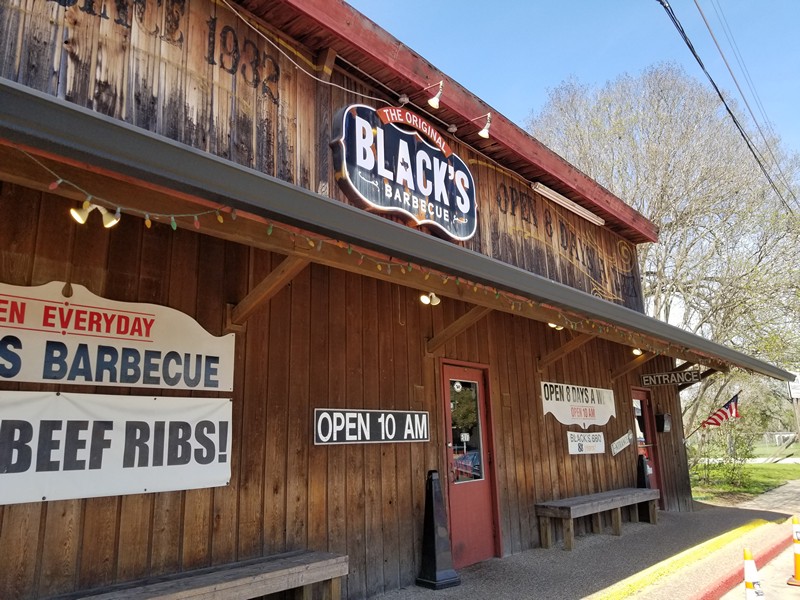 Black's Barbecue, Lockhart, Texas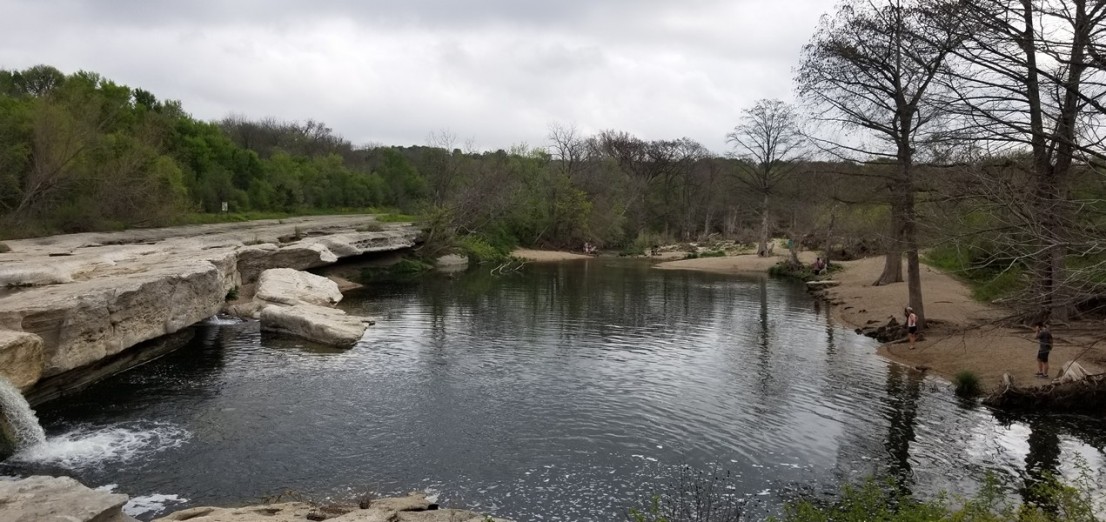 McKinney Falls State Park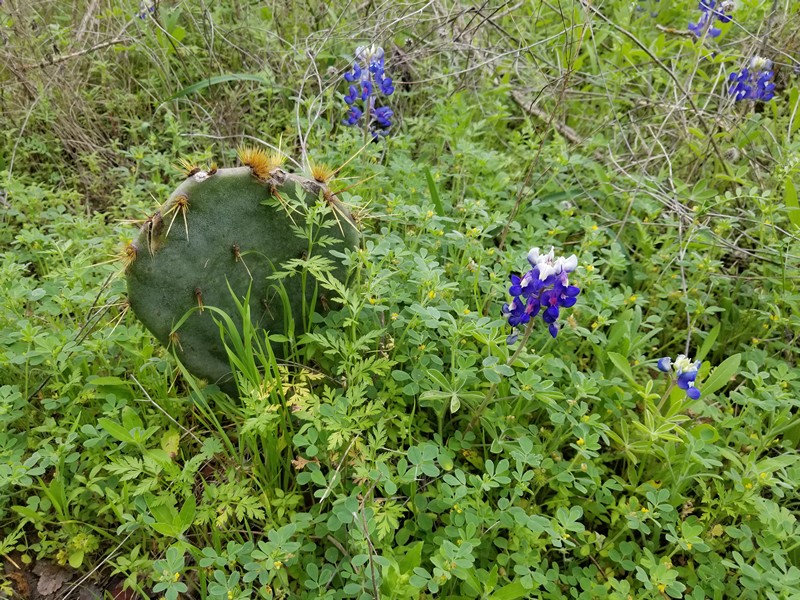 Texas bluebonnets (lupine) and prickly pear cactus. In 1969, Lady Bird Johnson created the Texas Highway Beautification Awards and wrote personal checks to the winners. Soon everyone was planting native bluebonnets, Indian paintbrushes, and black-eyed Susans in the hopes of winning her approval. The results live on today, in the gorgeous spring feast for the eyes along every Texas roadside.






Pedernales Falls State Park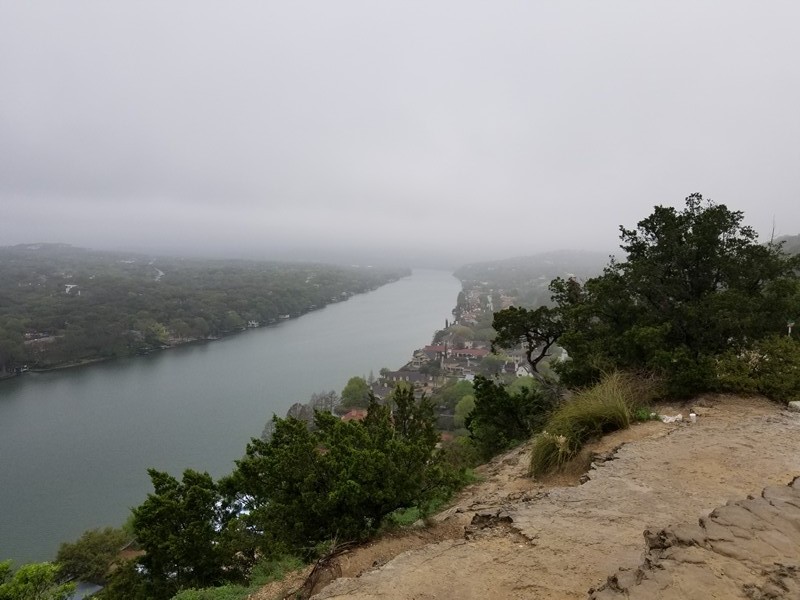 View of the Colorado River from Mt. Bonnell in Austin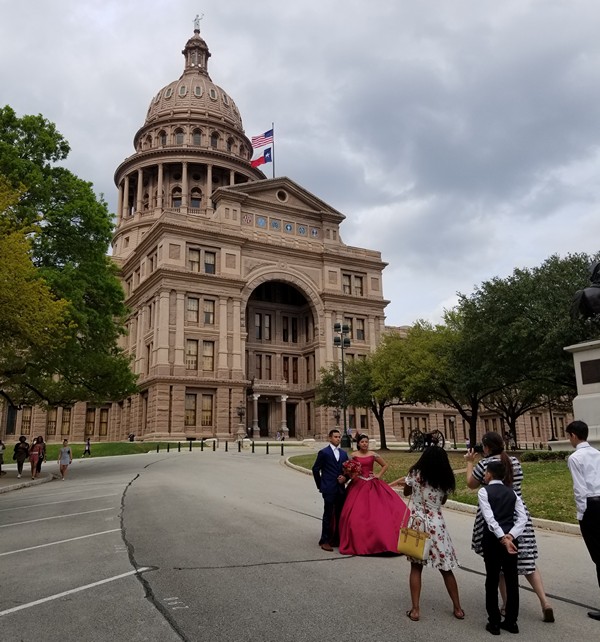 A quinceanera photo session at the Texas capitol in Austin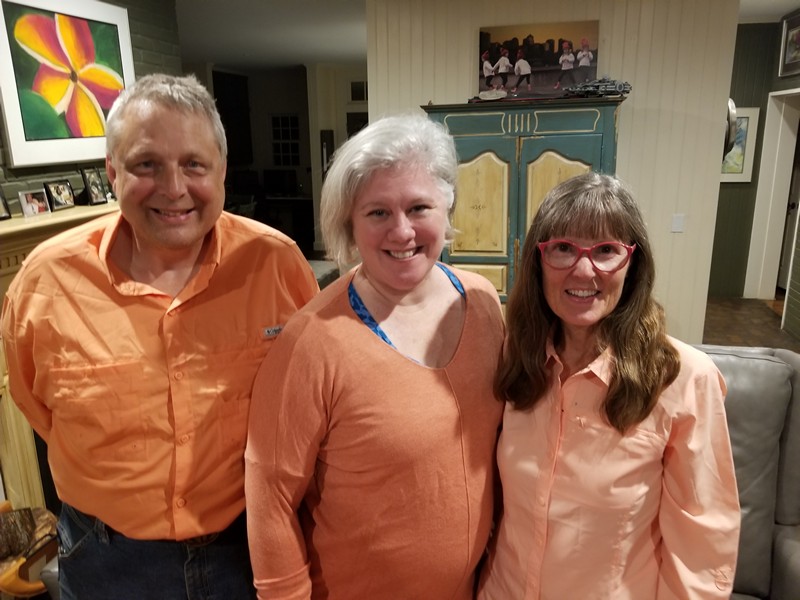 A visit with our former coworker Susan and her delightful family in Austin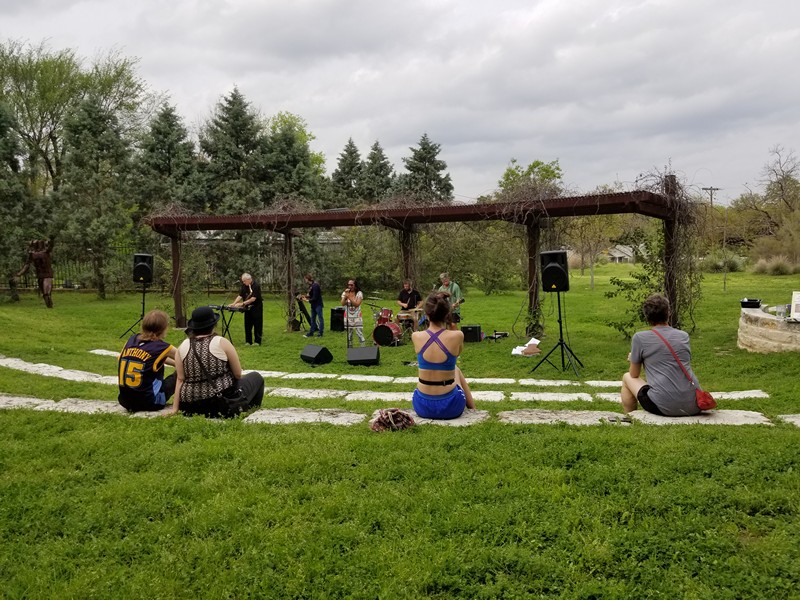 The coronavirus news was growing worse. Although nothing was cancelled yet, this outdoor concert was lightly attended.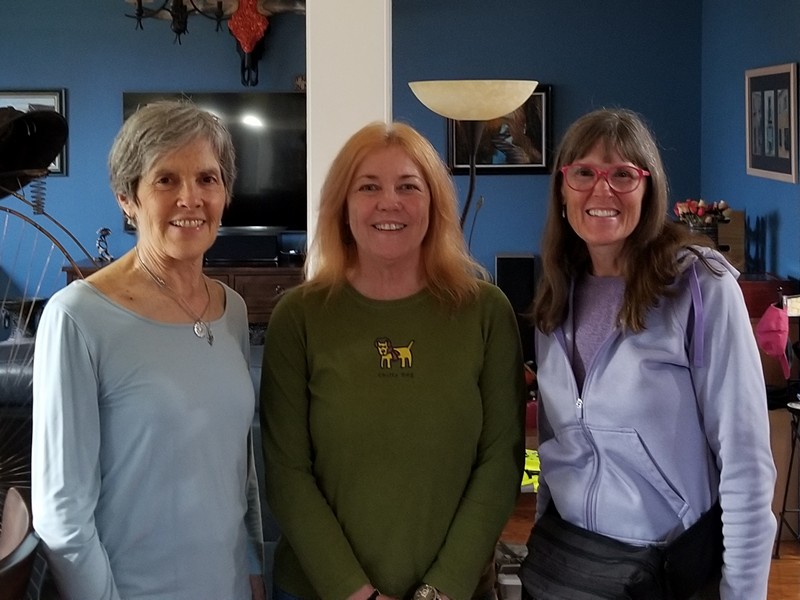 Social distancing hadn't been declared yet, so we went ahead with a visit to long-lost cousins Laurie and Marcie.



Home
As the severity of the virus situation grew, we realized we'd better stop visiting people and hightail it home as quickly as possible. So we hopped on Interstate 10 and made it back to Kirkland in three days.


The Arizona desert was in spectacular bloom.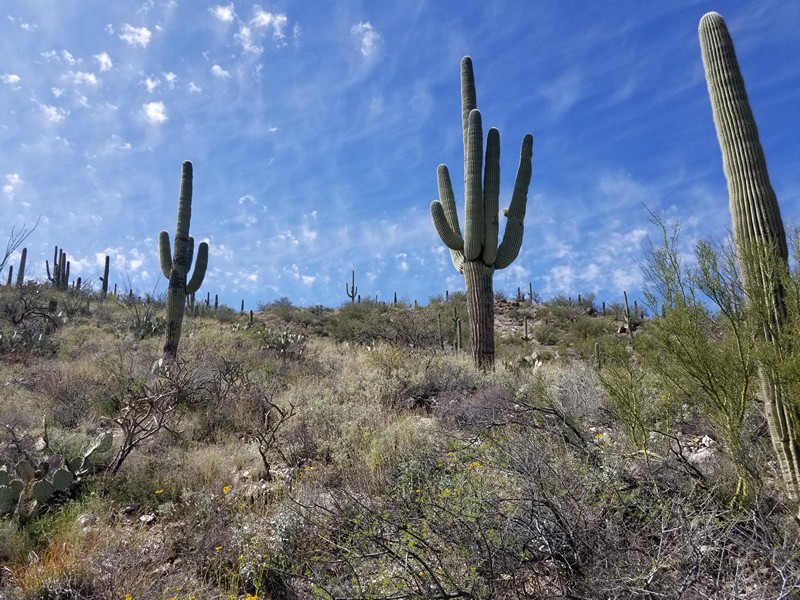 When you see saguaro cactus, you know you are in the Sonoran desert. This is near Tucson.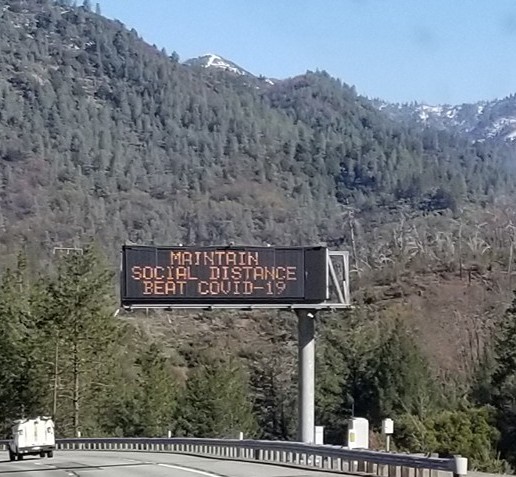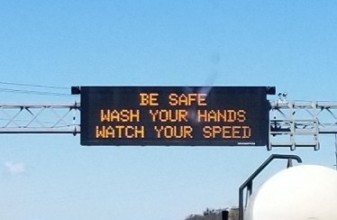 Covid signs on Interstate 5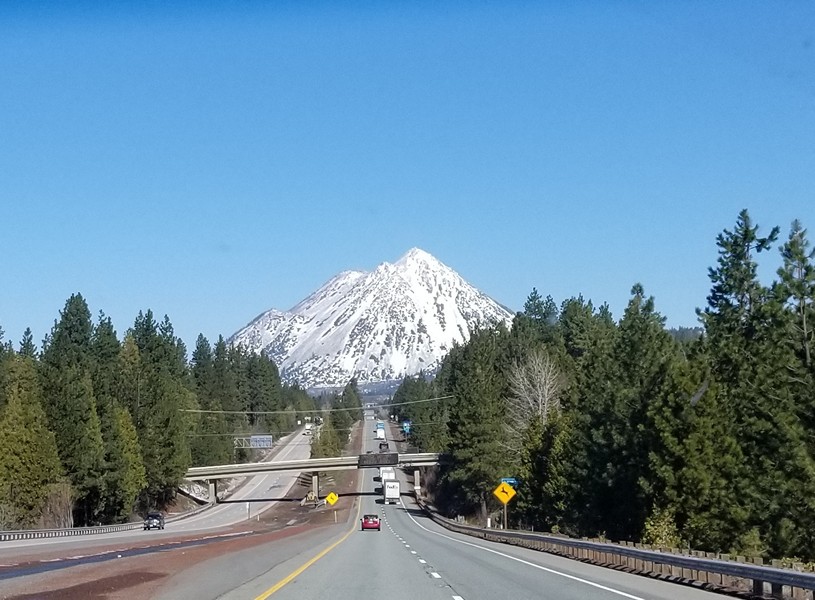 Black Butte looms over I-5 as we make our final push home. We were wowed by the clear skies, sunshine, snow-free passes, and light traffic.



---
Trip Notes
Total cost round trip from Seattle was $4400 for 70 days ($63 a day). Of that, $1754 was for gas and $362 was for car insurance and import permit. Campgrounds run $10 to $20 a day.
In Mexico gas is $4 a gallon and road tolls can be pricey (especially if you're in a bigger rig).
An app called iOverlander makes it easy to find places to camp.